SCOTLAND - GT TOUR
If your browser does not support JavaScript, please read the page content below:
SCOTLAND - GT TOUR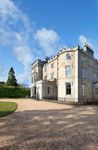 NEW EXPERIENCES THAT GO BEYOND IMAGINATION Luxury, power, elegance: these are the cornerstones of a lifestyle capable of telling the story of a unique world, the world of Ferrari. Conceived to satisfy your desire for exclusivity, here is a series of experiences designed for those who want to take their Ferrari lifestyle to the next level. Passione Ferrari Club Rally is a selection of emotions born to exalt a timeless passion and share with a lucky few the uniqueness of a timeless dream.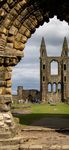 Fall in love with scotland EMBARK ON A MAGICAL JOURNEY THROUGH THE LAND OF GOLFING AND ANCIENT CASTLES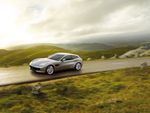 SURROUNDED BY HISTORY, LEGENDARY MYTHS, AND MYSTICAL LAKES St Andrews is well known to be one of Europe's finest towns, a place of history, learning and culture, as well as a wonderful coastal resort and the world's home of golf! And not to forget, the home of the mystical Loch Ness Monster! Located on the east coast of Scotland within the Kingdom of Fife, St Andrews' long-standing reputation as a luxury destination has blessed it with a plethora of places to stay, shops and restaurants which are unrivalled anywhere in Scotland in terms of consistent high quality. Today, it is also recognised across the globe as the 'Home of Golf'.
Golfing in St. Andrews – at the spiritual heartland of the sport – is the ultimate ambition of many golfers.
Fairmont St Andrews 5* Resort & Spa St Andrews Scotland United Kingdom KY16 8PN Make yourself at home in luxury at the Fairmont Hotel St Andrews,surroundedby520acresofruggedscenerywithviews over the breathtaking St Andrews Bay. This world-class resort will give you a warm Scottish welcome with its comfortable and stylish rooms, comprehensive top of the class SPA and a 7,230 yard long championship course, originally designed by golfer Gene Sarazen and former European Ryder Cup Captain Sam Torrance. EXPERIENCE THE DEVINE COASTLINE OF THE NORTH SEA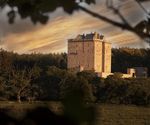 11.30 - 13.00 Guest arrival at SeaFood Ristorante (Saint Andrews) Exclusive Lunch and welcome Drink at SeaFood Ristorante The Seafood Ristorante is a panoramic view restaurant over Saint Andrews Bay where you can enjoy top quality seafood dishes.
All the plates are created with locally sourced and sustainable products, with an inspired Italian twist. During the briefing, professional Ferrari drivers will share insightful tips to maximize your driving experience. Panoramic road tour Visit and tasting at Lindores Distillery (Lindores) Enjoy a private visit at the place where whiskey was born and one of the most famous distilleries in the area. The distillery was created by converting and enlarging the original old Abbey farm steading by Organic Architects. The glass-fronted stillroom looks out directly over the historic abbey grounds.
The adjacent ruined abbey is a Scheduled Ancient Monument.
Panoramic road tour Guest Check-In and downtime in Fairmont Hotel Shuttle transfer to Peat Inn Restaurant Welcome cocktail and aperitif Dinner at Michelin Star Restaurant Peat Inn Small and characteristic restaurant with the award winning chef Geoffrey Smeddle at the heart of the kitchen. The Peat Inn restaurant has been successful in building on the very fine reputation of one of Scotland's most cherished destinations. 13.00 - 15.00 15.00 - 16.15 16.15 - 17.30 17.30 - 19.00 19.00 - 20.15 20.15 - 20.30 20.30 - 21.00 21.00 - 23.00 JUNE 7TH FRIDAY DAY 1
Fairmont Hotel Lindores Distillery Seafood Ristorante New Gilston Kennoway Falkland Abernethy Errol Bridge of Earn Tayport Kincaple Dundee Lindores Distillery Seafood Ristorante 15.00 – 16.15 PanoramicRoadTourfromSeafoodRistorante to Lindores Distillery 53 km 17.30 – 19.00 Panoramic Road Tour from Lindores Distillery to Fairmont Hotel 93 km ROAD MAP DAY 1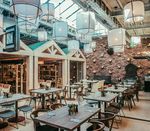 9.30 - 10.45 10.45 - 12.00 12.00 - 12.45 12.45 - 15.00 Panoramic road tour to Hopetown Castle Visit at Hopetown Castle Hopetoun is a place of outstanding natural beauty, which has Scotland's finest stately home at its heart. This typical castle will offer you the opportunity to have fun with unique activities within its premises. Panoramic road tour to Edinburgh dedicated parking area Transfer via shuttle to the exclusive lunch at the Signet Library Immersed in the History of Scotland, the Signet library is one of the oldest libraries in Edinburgh where a whole area of the building will be privatized for an exclusive and suggestive lunch.
JUNE 8TH Morning SATURDAY DAY 2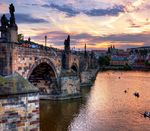 15.45 - 16.15 16.15 - 17.15 17.15 - 19.30 19.30 - 20.30 20.30 - 24.00 Panoramic road tour to Borthwick Castle Visit at Borthwick Castle Nestling in the heart of the Scottish countryside, it is the perfect setting for a Quintessential Castle Experience. Enter the ancient arched gateway of Borthwick Castle, a hidden world of luxury and majestic style built is 1430 and steeped in 600 years of dramatic Scottish history. Panoramic road tour back to Fairmont Hotel Saint Andrews through the typical and iconic fishing villages on the FIFE coasts Relax and downtime in Fairmont Hotel Exclusive Scottish theme dinner at Forgan's Saint Andrews Typical scottish restaurant in the centre of Saint Andrews, where a local band of musicians will entertain you with a private concert and an after dinner dancing session.
JUNE 8TH Afternoon/Evening SATURDAY DAY 2
9.30 – 10.30 Panoramic Road Tour from Hotel to Hopetoun castle 73 km 12.00 – 12.45 Panoramic Road Tour from Hopetoun Castle to Edinburgh 21 km Hopetown Castle Edinburgh ROAD MAP Morning Edinburgh Fairmont Hotel Hopetown House Lundin Links Lathones Cowdenbeath Buckhaven DAY 2
Borthwick Castle Forgans's 15.00 – 15.30 Panoramic Road Tour from Edinburgh to Borthwick Castle 17 km 17.15 – 19.30 Panoramic Road tour from Borthwick Castle to Fairmont Hotel 90 km ROAD MAP Afternoon/Evening Fairmont Hotel Borthwick Castle Edinburgh Dalgety Bay Kinghorn Methil Anstruther Worminston DAY 2
9.30 - 10.00 10.00 - 11.30 11.30 - 13.00 13.00 - 15.00 Panoramic road tour Surprise activity Panoramic road tour to Crossbasket Castle Exclusive lunch at Crossbasket Castle Crossbasket Castle is a small but luxurious castle located nearby Glasgow which will be privatised for lunch. The Castle is also able to host guests in its bedrooms for extra nights after the event (upon request and subject to availability). JUNE 9TH SUNDAY DAY 3
Crossbasket Castle 9.30 – 10.30 Panoramic Road Tour from Hotel 15 km 11.30 – 12.45 Panoramic Road Tour to Crossbasket Castle 125 km ROAD MAP Crossbasket Castle Fairmont Hotel Ingliston Saint Andrews Glenrothes DAY 3
April 5 TH - 7 TH GT Tour TUSCANY May 10 TH - 12 TH GT Tour BASQUE COAST May 24 TH - 26 TH GT Tour SWISS ALPS June 7 TH - 9 TH GT Tour SCOTLAND June 28 TH - 30 TH GT Tour BAVARIA GT TOURS October 10 TH - 13 TH Iconic Tour TARGA FLORIO FERRARI TRIBUTE April 29 TH - May 2 ND Iconic Tour TOUR AUTO OPTIC 2000 ICONIC TOURS Sport Tour VALENCIA March 29 TH - 31 ST September 27 TH - 29 TH Sport Tour IMOLA SPORT TOURS PASSIONE FERRARI CLUB RALLY TOURS
PASSIONE FERRARI CLUB RALLY PACKAGES € 7.500 + VAT CLUB RALLY COMBO | GT + ICONIC
Package includes access to one GT Tour and one Iconic Tour € 6.500 + VAT CLUB RALLY COMBO | GT TWIN
Package includes access to two GT Tours € 6.000 + VAT CLUB RALLY COMBO | GT + SPORT
Package includes access to one GT Tour and one Sport Tour € 7.000 + VAT CLUB RALLY COMBO | ICONIC + SPORT
Package includes access to one Iconic Tour and one Sport Tour € 3.500 + VAT GT TOUR SELECTION
Access to one GT Tour from the selected locations € 4.500 + VAT ICONIC TOUR SELECTION
Access to one ICONIC Tour from the selected locations € 3.000 + VAT SPORT TOUR SELECTION
Access to one SPORT Tour from the selected locations € 10.500 + VAT CLUB RALLY 360º
The complete package includes access to one GT Tour, one Iconic Tour, and one Sport Tour Passione Ferrari Club Rally Membership € 1.200 + VAT
Passione Ferrari Club Rally Membership required before purchasing any package (Membership valid until December 2022)
Due to a limited number of exclusive packages, event selection is subject to a first come, first served criteria
Logistic support may be available for all tours upon request
Car loan service available for GT Tours only (subject to availability)
For further information and reservation please contact your Official Dealer. Please note that the schedule of events is subject to change. ferrari.com
Going to next pages ...
Cancel