Stick to the plan - COL Financial
Page content transcription ( If your browser does not render page correctly, please read the page content below )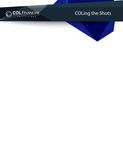 TUE 22 MAY 2018

Stick to the plan

The PSEi showed some signs of life the last two weeks, triggered by several positive developments.
While this could be an indicator that we have already seen the bottom, we don't expect to see a
rapid or "V" shaped recovery but rather a slow or "L" shaped recovery.
                                                                                                                                              A monthly publication by COL
One of the reasons for our subdued outlook is the disappointing first quarter earnings season.                                                which provides insights on
Similar to the fourth quarter 2017 earnings season, the recently concluded first quarter 2018                                                 investments opportunities
earnings season was largely disappointing, with more than twice as many companies delivering                                                  based on global and local
weaker than expected results than those delivering better than expected results. Moreover,
                                                                                                                                              developments that could affect
median earnings growth was very slow at 5.9%, with only the gaming, property and telco sectors
delivered double digit earnings growth. Most consumer, power and media companies posted                                                       the market.
slower or negative earnings growth as profits were hurt by higher inflation. Meanwhile, banks
suffered from trading losses brought about by higher rates.                                                                                   COLing the Shots aim to
                                                                                                                                              provide timely and relevant
Despite higher interest rates, inflation is expected to remain a problem for most of 2018 because                                             information and analysis as
of the continuous increase in the price of oil and other commodity products. It doesn't help
                                                                                                                                              well as a model portfolio for
that the peso remains weak. Higher inflation will continue to hurt the profitability of companies,
                                                                                                                                              successful investing.
limiting the ability of their share prices to rally strongly in the short term.

Since the stock market's recovery is expected to be slow, we advise investors to stay disciplined
and stick to the strategy of accumulating stocks only below certain levels using peso cost
averaging strategy. Our recommendation is to buy only when the PSEi trades below 7,900.

There were two stocks in our COLing the Shots stock picks list of nine that performed poorly
the past month – SCC and PIZZA. However, among the two, we are keeping SCC while we are
removing PIZZA from our list of stock picks.

The main reason why SCC fell during the period in review was because of the news that the
outage of Calaca unit 3 would be extended for another 90 days up to end July. However, we are
not too concerned given the elevated prices of coal, which already allowed the profits of SCC's
coal mining business to more than offset the poor performance of its power generation business
during the first quarter of the year. Valuations are also very attractive, with SCC trading at only
8X 2018E P/E, more than 1 standard deviation below its 10-year historical average P/E of 11.9X.
Insiders are also buying the stock, with total insider buying reaching 67.5 million shares at an
average price of Php37.80/sh during the past 12 months.

In contrast, PIZZA disclosed disappointing first quarter 2018 profits which grew by only 6.5%
to Php184 Mil. Performance disappointed as margins were negatively affected by rising raw
material costs and higher operating expenses. Going forward, margins could remain weak as raw                                                  APRIL LYNN TAN, CFA
material prices remain elevated. Valuations are also not yet attractive, with the stock still trading                                          VP & HEAD OF RESEARCH
at 25.4X P/E and only slightly below our fair value estimate.                                                                                  april.tan@colfinancial.com




 Disclaimer: All content provided in COL Reports are meant to be read in the COL Financial website. Accuracy and completeness of content cannot be guaranteed if reports are viewed outside of
 the COL Financial website as these may be subject to tampering or unauthorized alterations.
COLING THE SHOTS I STICK TO THE PLAN


TUE 22 MAY 2018




                            Lump sum or peso cost averaging?

                            After performing poorly for the most part of April, the PSEi showed some signs of life the last
                            two weeks, triggered by several positive developments. On April 27, S&P raised the Philippines'
                            credit rating outlook to "positive" from "stable". On May 10, the government announced that
                            first quarter 2018 GDP grew by 6.8% and on the same day, the BSP raised interest rates by 25
                            basis points helping alleviate concerns that inflation would go out of control. Finally, on May
                            14, there was surprising news that the Philippines' weighting in the MSCI Emerging Market
                            index would not be reduced despite the addition of China in the index. Consequently, the PSEi
                            rallied by as much as 5.4% from its low of 7,499.26.

                            While the strength of the market recently could be an indicator that we have already seen the
                            bottom, we don't expect to see a rapid or a "V" shaped recovery. We think there is a stronger
                            possibility that we will see a slow or an "L" shaped recovery in the stock market for the following
                            reasons.

                                Disappointing first quarter earnings season

                                Similar to the fourth quarter 2017 earnings season, the recently concluded first quarter
                                2018 earnings season was largely disappointing, with more than twice as many companies
                                delivering weaker than expected results than those delivering better than expected
                                results. Moreover, median earnings growth was very slow at only 5.9%. Out of the various
                                sectors that are part of the Philippine stock market, only the gaming, property and telco
                                sectors delivered double digit earnings growth. Most consumer and power companies
                                posted slower or negative earnings growth as profits were negatively affected by higher
                                costs due to the weak peso and rising commodity prices or simply put, these companies
                                were negatively affected by higher inflation. Media companies were indirectly affected
                                too as ad revenues weakened due to the numerous companies' decision to reduce ad
                                spending as a means to cut costs. Meanwhile, banks suffered from trading losses brought
                                about by higher rates.

                                Exhibit 1: Median Earnings Growth of Different Sectors in the PSE
                                 Sector                                Median
                                 Gaming                                 53.40%
                                 Properties                             12.40%
                                 Consumers                               4.50%
                                 Conglomerates                           9.10%
                                 Banks                                   1.90%
                                 Power                                  -2.40%
                                 Telcos                                 31.80%
                                 Cement                                 -17.20%
                                 Media                                  -21.30%
                                 Total                                  5.90%
                                Source: Listed Cos, COL Estimates




COL Financial Group, Inc.                                                                                                         2
COLING THE SHOTS I STICK TO THE PLAN


TUE 22 MAY 2018



                                Inflation will most likely remain a problem for most of 2018

                                Despite higher interest rates, inflation is expected to remain a problem. This is not because
                                of the impact of the tax reform program, but because of the continuous increase in the
                                price of oil and other commodity products. For example, the price of oil has increased from
                                only US$60.37/barrel during the start of the year to around US$71.63/barrel currently,
                                higher by 18.7% for the year to date period. It doesn't help that the peso remains weak.
                                Higher inflation will continue to hurt the profitability of companies, limiting the ability of
                                their share prices to rally strongly in the short term.

                                Exhibit 2: Oil Price (US$/Barrel, Year to Date)




                                Source: Bloomberg



                            In our opinion, the main reason why the market rallied strongly during the past two weeks
                            was because investor sentiment was just too negative. This was reflected in the depressed
                            valuations of numerous stocks. In fact, at 7,500, most stocks in the PSEi were already trading
                            at par or below their 10-year historical average P/Es. As a result, when economic indicators
                            proved that things were not as bad as they seemed, and when the BSP finally raised interest
                            rates to control inflation, the market rallied to more normalized levels.




COL Financial Group, Inc.                                                                                                        3
COLING THE SHOTS I STICK TO THE PLAN


TUE 22 MAY 2018



                            Exhibit 3: PSEi Members' Current P/E Relative to their 10-Year
                                       Historical Average vs. Market Capitalization




                            Source: Bloomberg, COL Estimates



                            However, as discussed earlier, we don't think that the challenges facing corporate earnings will
                            go away anytime soon. As such, it is pre-mature to expect stocks to rally on a sustainable basis,
                            explaining why we think we will see a slow "L" shaped and not a rapid "V" shaped recovery.

                            For the said reason, we advise investors to stay disciplined and stick to the strategy of
                            accumulating stocks only below certain levels using peso cost averaging strategy. Our
                            recommendation is to buy only when the PSEi is trading below 7,900.



                            COLing the Shots – Removing PIZZA

                            Stocks in our COLing the Shots list performed relatively better during the past month. Although
                            an equal weighted portfolio comprised of our stock picks would have suffered from a loss of
                            1.2%, this is better than the 3.3% drop registered by the PSEi during the same period.




COL Financial Group, Inc.                                                                                                       4
COLING THE SHOTS I STICK TO THE PLAN


TUE 22 MAY 2018



                            Exhibit 4: Period Return of COLing the Shots Stock Picks
                                  Stock              Price (4/10)            Price (5/18)               Return
                                   SCC                  31.70                   29.00                   -8.50%
                                    AP                  37.55                   38.85                    3.50%
                                   MEG                   4.50                    4.53                    0.70%
                                   ALI                  41.25                   42.00                    1.80%
                                   MBT                  82.80                   82.75                   -0.10%
                                   DNL                  10.70                   11.10                    3.70%
                                  PIZZA                 14.38                   13.22                   -8.10%
                                 BLOOM                  13.10                   12.78                   -2.40%
                                    AC                  938.50                  929.00                  -1.00%
                                 Average                                                                -1.20%
                                   PSEi                7934.68                 7672.28                  -3.30%



                            There were two major drags among our nine stock picks – SCC and PIZZA. The share price of
                            both stocks fell by 8.5% for the period in review.

                            However, among the two, we are keeping SCC while we are removing PIZZA from our list of
                            stock picks.

                            The main reason why SCC fell was because of the news that the outage of Calaca unit 3 would
                            be extended for another 90 days up to end July. This would result to foregone revenues of
                            around Php1.7 Bil or 3.2% of 2018 revenues.

                            However, during the recently concluded first quarter earnings season, the strong performance
                            of SCC's coal mining business more than offset the poor performance of the power generation
                            business. SCC's profits during the first quarter of 2018 managed to grow by 3.3% to Php4.6 Bil,
                            beating our forecast. Consolidated revenues grew by 7.6% as the 17.1% jump in coal mining
                            revenues more than offset the 13.9% drop in power generation revenues. Revenues from the
                            coal mining business increased strongly due to the 24% increase in the average selling price of
                            coal, thanks to rising coal prices. This trend should continue, at least during the second quarter,
                            as coal prices remain elevated.

                            Moreover, SCC said that it has an insurance policy against unplanned outages, which should
                            allow it to reduce potential losses from the outage of Calaca 3.

                            Finally, valuations are very attractive. At SCC's current price, the stock is trading at only 8X
                            2018E P/E, more than 1 standard deviation below its 10-year historical average P/E of 11.9X.
                            Insiders are also buying the stock, with total insider buying reaching 67.5 Million shares at an
                            average price of Php37.80/sh during the past 12 months.




COL Financial Group, Inc.                                                                                                         5
COLING THE SHOTS I STICK TO THE PLAN


TUE 22 MAY 2018



                            In contrast, PIZZA disclosed disappointing first quarter 2018 profits which grew by only 6.5%
                            to Php184 Mil. Performance disappointed as margins were negatively affected by rising raw
                            material costs and higher operating expenses.

                            Going forward, margins could remain weak for PIZZA as raw material prices remain elevated.
                            Valuations are also not yet attractive, with the stock still trading at 25.4X P/E and only slightly
                            below our fair value estimate. As such, we are removing PIZZA from our COLing the Shots list.

                            AP also disclosed disappointing first quarter earnings results, with core profits growing by
                            4.4% to Php5.2 Bil, accounting for only 20.3% of COL's full year forecast. Results were below
                            expected as AP's coal and geothermal plants suffered from lower than expected output and
                            higher than expected costs. Moreover, several of its new power generation projects have yet
                            to start commercial operations.

                            Despite AP's below expected first quarter 2018 earnings results, we are keeping the stock in
                            our COLing the Shots list as we believe that the bad news is already reflected in AP's depressed
                            share price.

                            Exhibit 5: COLing the Shots Stock Picks

                            Sector              Stock         Price         FV        Buy Below     Buy Date      Buy Price
                                                 SCC          29.00        45.70        39.70      30/01/2017       34.65
                            Power/Mining
                                                  AP          38.85        49.90        43.40      19/01/2018       41.15
                                                 MEG          4.53          6.15         5.30       9/9/2015         4.18
                            Properties
                                                  ALI         42.00        53.12        46.20      24/05/2017       38.95
                            Banks                MBT          82.75       103.00        89.60      21/07/2016       92.50
                            Consumer             DNL          11.10        11.60        10.10      23/11/2017       10.68
                            Gaming             BLOOM          12.78        14.10        12.30      24/05/2017        9.54
                            Conglomerates         AC         929.00       1,090.00      947.80      1/12/2017      1,007.00




COL Financial Group, Inc.                                                                                                         6
COLING THE SHOTS I STICK TO THE PLAN


TUE 22 MAY 2018



IMPORTANT RATING DEFINITIONS
BUY
Stocks that have a BUY rating have attractive fundamentals and valuations based on our analysis. We expect the share price to outperform the market in the next six to
12 months.


HOLD
Stocks that have a HOLD rating have either 1) attractive fundamentals but expensive valuations 2) attractive valuations but near-term earnings outlook might be poor
or vulnerable to numerous risks. Given the said factors, the share price of the stock may perform merely in line or underperform in the market in the next six to twelve
months.


SELL
We dislike both the valuations and fundamentals of stocks with a SELL rating. We expect the share price to underperform in the next six to12 months.


IMPORTANT DISCLAIMER
Securities recommended, offered or sold by COL Financial Group, Inc. are subject to investment risks, including the possible loss of the principal amount invested.
Although information has been obtained from and is based upon sources we believe to be reliable, we do not guarantee its accuracy and said information may be
incomplete or condensed. All opinions and estimates constitute the judgment of COL's Equity Research Department as of the date of the report and are subject to change
without prior notice. This report is for informational purposes only and is not intended as an offer or solicitation for the purchase or sale of a security. COL Financial and/
or its employees not involved in the preparation of this report may have investments in securities of derivatives of the companies mentioned in this report and may trade
them in ways different from those discussed in this report.




COL RESEARCH TEAM

APRIL LYNN TAN, CFA
VP & HEAD OF RESEARCH
april.tan@colfinancial.com


CHARLES WILLIAM ANG, CFA				GEORGE CHING					RICHARD LAÑEDA, CFA
DEPUTY HEAD OF RESEARCH		     		 SENIOR RESEARCH MANAGER				     SENIOR RESEARCH MANAGER
charles.ang@colfinancial.com				george.ching@colfinancial.com				richard.laneda@colfinancial.com


ANDY DELA CRUZ					JOHN MARTIN LUCIANO				                         FRANCES ROLFA NICOLAS
SENIOR RESEARCH ANALYST				SENIOR RESEARCH ANALYST				RESEARCH ANALYST
andy.delacruz@colfinancial.com				john.luciano@colfinancial.com				rolfa.nicolas@colfinancial.com


JUSTIN RICHMOND CHENG				        ADRIAN ALEXANDER YU
RESEARCH ANALYST					RESEARCH ANALYST
justin.cheng@colfinancial.com				adrian.yu@colfinancial.com




COL FINANCIAL GROUP, INC.
2402-D EAST TOWER, PHILIPPINE STOCK EXCHANGE CENTRE,
EXCHANGE ROAD, ORTIGAS CENTER, PASIG CITY
PHILIPPINES 1605
TEL NO. +632 636-5411
FAX NO. +632 635-4632
WEBSITE: www.colfinancial.com



COL Financial Group, Inc.                                                                                                                                                         7