Term 1 2019 Activity Guide - Alexandrina Connect
Page content transcription
If your browser does not render page correctly, please read the page content below
37a Gardiner Street – GOOLWA          Open: 9-3 Mon-Fri
  Ph: 8555 3941 Email: reception@alexandrinaconnect.org.au

            Term 1 2019 Activity Guide

Stephanie Pitcher Visual Arts – Resident Artist & Art
Facilitator
Acknowledgement of country
We acknowledge and respect the traditional custodians whose ancestral
lands we are meeting upon here today – the Rarrindjeri People. The
Rarrindjeri people come under the Ngarrindjeri Nation. We respect the
past and the present Elders.

We acknowledge the deep feelings of attachment and relationship of
Aboriginal people to Country. We also pay respect to the cultural
authority of Aboriginal people visiting from other areas of South
Australia or Australia who are present here with us today.

Our Vision

A strong, vibrant and inclusive community in which people feel
supported to connect and learn from each other.

Mission
To develop, embrace and share, skills and knowledge; Engage and
contribute to a common purpose; Inspire to explore opportunities.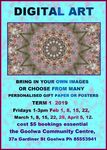 Our Supporters & Partners:
Alexandrina Council – 11 Cadell St, GOOLWA
Foodland Goolwa – Hutchinson St, GOOLWA
Southern Coast Legal: Anna Jones – 34 Cadell St, GOOLWA
Goolwa Newsagency – Shop 1A 22 Cadell St, GOOLWA
KIES Building Supplies – Gardiner St, GOOLWA
The Farm Shop – 28 Cadell St, GOOLWA
Goolwa Hotel – 7 Cadell St, GOOLWA
The Smiling Frog – Shop 3b Goolwa Village Shopping Centre
Flowerworx – Shop 4 1 Cadell St, GOOLWA
Coastlines: Ashley Porter – www.coastlines.com.au
De Groot Coffee Co: Bernadette & Trevor De Groot – Shed 5, Factory 9, Cnr Hill
St & Waterport Rd, PORT ELLIOT
Aspire To Inspire Together – www.aspire2.org.au
Goolwa Central Meats – Shop 7 33 Hutchinson St, GOOLWA
90 Mile Wines – 1 Laurie Lane, GOOLWA
Charlie & Jack: Kristie Robertshaw – rear 2 Sturt St, VICTOR HARBOR
Merlea Investments: Garry Ashworth – 2 Alfred Pl, STRATHALBYN
Mist: Jodie Coombe – Shop 2 26 The Strand, PORT ELLIOT
Harcourts Southcoast: Kate Wilson – 2/24 Cadell St, GOOLWA
Cittaslow Goolwa – Cnr Cadell St & Goolwa Tce, GOOLWA
Niya Holistic Therapies: Meagan Wittchen – 14 Hays St, GOOLWA
Trent's Plumbing and Gas: Trent Marles – www.trentsplumbingandgas.com.au
Xelect Electrician: Tony Jackson – 0407016012
Great Southern Security – 8 Ferguson Rd, GOOLWA
Bunnings Warehouse: Jodie Byerlee – Lot 5 Adelaide Rd, VICTOR HARBOR
Zonta: Margaret Stephens. Club of Fleurieu Peninsula Inc. Empowering Women
Through Service & Advocacy
Tuesday 29th Jan – 9th April

 Leatherwork – 1pm – 3pm - $5 per session
Tuesday 29th Jan – 9th April

Shared Skills – 3.45pm – 5.45pm - $5 per session
Wednesday 30th Jan – 10th April

  Create & Connect – 10am – 2pm - $5 per session
Wednesday 30th Jan – 10th April

    Craft Circle – 3pm – 5pm - $5 per session
Thursday 30th Jan – 11th April

ACE (Adult Community Education) – 9am – 12pm – free
Thursday 30th Jan – 11th April

ACE (Adult Community Education) – 12.30pm – 3.30pm – free
Friday 1st Feb – 12th April

ACE (Adult Community Education) – 9am – 12pm - free
Friday 1st Feb – 12th April

  Crochet – 1pm – 3pm - $2 per session
Friday 1st Feb – 12th April

 Digital Art – 1pm – 3pm - $5 per session
'The Connections'
  At a local gig