The Most Puissant Grand Council of Royal and Select Masters of Connecticut 2021 - CT York Rite
Page content transcription
If your browser does not render page correctly, please read the page content below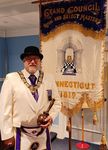 PROCEEDINGS

  The Most Puissant
    Grand Council
           of
Royal and Select Masters
           of
      Connecticut

         2021
202nd ANNIVERSARY REPORT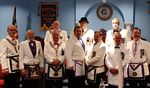 The Most Puissant Grand Council
Royal and Select Masters of Connecticut

         William L. Miller, II
           Grand Recorder
             4 Aspen Rise
        East Granby, CT 06026

            860-716-0004
            860-205-5928

       William.l.miller@snet.net

             Website:
      www.yorkritect.org/gcrsm/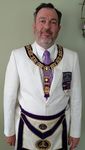 2021                   Royal & Select Masters of Connecticut                                     Page 3

                                         CONTENTS

Title Page . . . . . . . . . . . . . . . . . . . . . . . . . . . . . . . . . . . . . . . . . . . . . . . . 1
Contents . . . . . . . . . . . . . . . . . . . . . . . . . . . . . . . . . . . . . . . . . . . . . . . . . 3
Picture – Martin Ede . . . . . . . . . . . . . . . . . . . . . . . . . . . . . . . . . . . . . . . . 5
Biography – Martin Ede . . . . . . . . . . . . . . . . . . . . . . . . . . . . . . . . . . . . . 6
Annual Meeting . . . . . . . . . . . . . . . . . . . . . . . . . . . . . . . . . . . . . . . . . . . 9
    Attendance
        Grand Officers . . . . . . . . . . . . . . . . . . . . . . . . . . . . . . . . . . . . . . 9
        Past Most Puissant Grand Masters . . . . . . . . . . . . . . . . . . . . . 10
        Constituent Council Representatives. . . . . . . . . . . . . . . . . . . . 10
        Past Thrice Illustrious Masters . . . . . . . . . . . . . . . . . . . . . . . . 10
    Deliberations of the Grand Council . . . . . . . . . . . . . . . . . . . . . . . . 11
        Distinguished Guests . . . . . . . . . . . . . . . . . . . . . . . . . . . . . . . . 11
        Elections and Appointments . . . . . . . . . . . . . . . . . . . . . . . . . . 13
        Installation . . . . . . . . . . . . . . . . . . . . . . . . . . . . . . . . . . . . . . . . 14
    Report & Address of the Most Puissant Grand Master . . . . . . . . . 17
        Dispensations . . . . . . . . . . . . . . . . . . . . . . . . . . . . . . . . . . . . . . 18
        Recommendations . . . . . . . . . . . . . . . . . . . . . . . . . . . . . . . . . . 19
    Reports, Officer
        Deputy Puissant Grand Master . . . . . . . . . . . . . . . . . . . . . . . . 22
        Grand Principal Conductor of the Work . . . . . . . . . . . . . . . . . 23
        Grand Treasurer . . . . . . . . . . . . . . . . . . . . . . . . . . . . . . . . . . . . 24
        Grand Recorder . . . . . . . . . . . . . . . . . . . . . . . . . . . . . . . . . . . . 25
        Grand Captain of the Guard. . . . . . . . . . . . . . . . . . . . . . . . . . . 28
        Grand Conductor . . . . . . . . . . . . . . . . . . . . . . . . . . . . . . . . . . . 29
        Grand Steward . . . . . . . . . . . . . . . . . . . . . . . . . . . . . . . . . . . . . 29
        Grand Historian . . . . . . . . . . . . . . . . . . . . . . . . . . . . . . . . . . . . 30
        Grand Trustees. . . . . . . . . . . . . . . . . . . . . . . . . . . . . . . . . . . . . 31
    Reports, Committee
        Address of the MPGM. . . . . . . . . . . . . . . . . . . . . . . . . . . . . . . 32
        Auditing . . . . . . . . . . . . . . . . . . . . . . . . . . . . . . . . . . . . . . . . . . 32
        Awards . . . . . . . . . . . . . . . . . . . . . . . . . . . . . . . . . . . . . . . . . . . 27
        Budget . . . . . . . . . . . . . . . . . . . . . . . . . . . . . . . . . . . . . . . . . . . 33
        Bylaws . . . . . . . . . . . . . . . . . . . . . . . . . . . . . . . . . . . . . . . . . . . 35
        Credentials . . . . . . . . . . . . . . . . . . . . . . . . . . . . . . . . . . . . . . . . 36
        Delinquencies. . . . . . . . . . . . . . . . . . . . . . . . . . . . . . . . . . . . . . 36
        Insurance . . . . . . . . . . . . . . . . . . . . . . . . . . . . . . . . . . . . . . . . . 37
        Masonic Jurisprudence . . . . . . . . . . . . . . . . . . . . . . . . . . . . . . 40
Page 4                     The Most Puissant Grand Council                                           2021

         Necrology. . . . . . . . . . . . . . . . . . . . . . . . . . . . . . . . . . . . . . . . .       41
         Nominations. . . . . . . . . . . . . . . . . . . . . . . . . . . . . . . . . . . . . . .         43
         Ritual . . . . . . . . . . . . . . . . . . . . . . . . . . . . . . . . . . . . . . . . . . . .   43
         Training . . . . . . . . . . . . . . . . . . . . . . . . . . . . . . . . . . . . . . . . . .     43
         Tri-State Festival . . . . . . . . . . . . . . . . . . . . . . . . . . . . . . . . . . .         44
         York Rite Coordination . . . . . . . . . . . . . . . . . . . . . . . . . . . . . .               44
Constituent Council Returns. . . . . . . . . . . . . . . . . . . . . . . . . . . . . . . . .              45
    Abstract of Returns . . . . . . . . . . . . . . . . . . . . . . . . . . . . . . . . . . . .           62
Most Puissant Grand Masters . . . . . . . . . . . . . . . . . . . . . . . . . . . . . . .                 63
Philip J. Jones Award . . . . . . . . . . . . . . . . . . . . . . . . . . . . . . . . . . . . . .         66
    Recipient Biography - Richard L. Allen . . . . . . . . . . . . . . . . . . . .                        68
Knight of Ish Sodi Meritorious Service Award . . . . . . . . . . . . . . . . . .                          70
    Recipient Biographies
         Dale T. Cunningham . . . . . . . . . . . . . . . . . . . . . . . . . . . . . . . .               74
         Michael K. Butteri . . . . . . . . . . . . . . . . . . . . . . . . . . . . . . . . . .           76
James Royal Case Award . . . . . . . . . . . . . . . . . . . . . . . . . . . . . . . . . . .              78
Picture -- James S. McNeely, IV. . . . . . . . . . . . . . . . . . . . . . . . . . . . . .                79
Biography – James S. McNeely, IV . . . . . . . . . . . . . . . . . . . . . . . . . . .                    80
    Acceptance Address . . . . . . . . . . . . . . . . . . . . . . . . . . . . . . . . . . . .            84
Directories
    Grand Officers . . . . . . . . . . . . . . . . . . . . . . . . . . . . . . . . . . . . . . . .        85
    Grand Trustees . . . . . . . . . . . . . . . . . . . . . . . . . . . . . . . . . . . . . . . .        87
    Active Past Most Puissant Grand Masters . . . . . . . . . . . . . . . . . . .                         87
    Committees. . . . . . . . . . . . . . . . . . . . . . . . . . . . . . . . . . . . . . . . . . .       88
    Grand Representatives . . . . . . . . . . . . . . . . . . . . . . . . . . . . . . . . . .             90
Sister Grand Jurisdictions . . . . . . . . . . . . . . . . . . . . . . . . . . . . . . . . . . .          92
CMMRF . . . . . . . . . . . . . . . . . . . . . . . . . . . . . . . . . . . . . . . . . . . . . . . .     92
CT Council of Super Excellent Masters . . . . . . . . . . . . . . . . . . . . . . . .                     93
CT Council of Anointed Kings. . . . . . . . . . . . . . . . . . . . . . . . . . . . . . .                 93
2021   Royal & Select Masters of Connecticut   Page 5

                 MARTIN EDE
          Most Puissant Grand Master
                  2020-2021
Page 6            The Most Puissant Grand Council                  2021

                           MARTIN EDE

    Martin was born in June 1967, in Durham in the northeast of
England to Eileen and the late Terence Ede. When Martin was two,
the family, now including a sister Helen, moved down south first to
Swanmore and then to Waltham Chase (both close to Portsmouth on
the south coast) where he lived for over twelve years. Martin
attended Meoncross School, but then in 1975 moved to Portsmouth
Grammar School for a more academic centered education and
remained there until 1985 when the family moved to the USA. While
in England, Martin was active in the cub scouts as well as fencing,
judo and lots of reading.
    On arriving in the US, Martin spent a year at Amity Regional
High School and then entered the University of Connecticut in fall of
1986, graduating in 1990 with a BS in Geology. He took his first job
as a project geologist at Technical Environmental Specialists in
Manchester. Over the next few years, he also worked for Environ-
mental Management Consultants and Environmental Products and
Services, before making the decision to move into science teaching.
He entered Southern Connecticut State University, earning a MS in
Environmental Education as well as a science teaching certification.
He was employed in Central High School in Bridgeport CT, teaching
ninth grade physical science as well as electives in Environmental
Science. After 3 years, he moved to teach in both high schools in
Stratford CT, and then to the Independent Day School in Middlefield
CT, where he taught middle school biology and physical sciences; all
the while continuing his studies at SCSU primarily in American
History.
    After teaching, he returned to school at Porter & Chester Institute
to study Low Voltage Electronics, with a view to starting a small
business or returning to teaching at the technical school/college level.
Lately, he has been able to become semi-retired to devote more time
to historic and philosophical studies, with an aim to writing more in
depth on philosophy and our Craft.
    In 2010, as a result of his American History studies and growing
respect for the Founding Fathers, he became a United States citizen
taking his Oath of Citizenship in New Haven.
2021           Royal & Select Masters of Connecticut            Page 7

    Martin has many interests including the martial arts, having
attained a black belt in Aikijitsu Karate, travel and golf. Ever the
student of history, he has traveled to various European countries as
well as Mexico, Italy, Egypt and Turkey. His passion for reading and
history lead to an interest in Freemasonry spurred by the fact that his
old school had a Masonic lodge associated with it, and later by the
writings of John J. Robinson, in particular "The Pilgrim's Path".
    His path to Freemasonry truly began when a family friend asked
if he was interested in a free dinner from Hiram Lodge No. 1. Martin
accepted and was raised in Hiram Lodge in November of 1999.
While finishing evening classes, he became interested in the Scottish
Rite and the York Rite.
    He became Master of the Masonic Lodge of Research in 2004,
followed by becoming Master of Hiram Lodge No. 1 in 2005, and
Philosophic Lodge of Research in 2010, becoming only the second
brother to be master of both Connecticut research lodges. Since then
he has returned a number of times to be Master of MLR and had the
honor of being Master during its 50th Anniversary year. He is also a
Past President of the 4th District Actual Past Master's Association.
    He has served as High Priest for Franklin Chapter No. 2 and has
been honored with the Ephraim Kirby Citation for Distinguished
Masonic Service in 2011. Likewise, he has served as Thrice
Illustrious Mater for Harmony Council No. 8, and was honored to
receive the Knight of Ish Sodi Meritorious Service Award in 2008,
and was also honored to be appointed to the Grand Council line. He
was elected Most Puissant Grand Master for 2020-2021. He is
currently Eminent Commander for New Haven Commandery No. 2,
Knights Templar, and was recently appointed as Grand
Historiographer for the Grand Commandery of Connecticut.
    He has served as Thrice Potent Master in the E.G. Storer Lodge
of Perfection and Sovereign Prince for the Elm City Princes of
Jerusalem for the Valley of New Haven, AASR, and takes part in
many of the degrees of both Valley and Consistory. He was presented
with the Arthur M. Brown, 33
Page 8           The Most Puissant Grand Council                  2021

months before the session and making his first visit to Independence
Hall and the National Constitution Center truly memorable. He is
also the secretary for the Masonic Temple Association of New Haven
and historian for Hiram Lodge.
Martin has become quite fascinated with the history, philosophy and
esoteric nature of Freemasonry leading to membership in not only
both Connecticut research lodges but also in the Scottish Rite
Research Society, the Grand College of Rites, the Philalethes Society
and the Masonic Society.
    He was invited to join Nathan Hale Council No. 78, Allied
Masonic Degrees where he is a Past Sovereign Master; Connecticut
College, Societas Rosicruciana In Civitatibus Foederatis; the
Connecticut York Rite College No. 17, currently serving as Pre-
eminent Governor. He is also a member of Mohawk Council No. 28
of Knight Masons, where he is a Past Excellent Chief. On turning 50,
he was invited to join the Dusis Society of Greater New Haven where
he serves as secretary/treasurer; and is also a Past President of the
Connecticut Convention of Anointed High Priests in Royal Arch
Masonry.
    He has contributed a number of research papers to the Connecti-
cut research lodges and the SRICF, some of which were also
submitted for credit in history classes at SCSU.
    He had the honor of being appointed as a Grand Custodian of the
Work for the Grand Chapter of Royal Arch Masons of Connecticut
by MEPGHP Danny Camp, and served the Royal Arch Masons of our
state as Most Excellent Grand High Priest for the years 2016-18.
    In 2015, Martin was appointed to the Grand Council line and in
a virtual session in 2020 (due to the COVID-19 pandemic) of the
Grand Council of Royal and Select Masters of Connecticut, he was
elected to serve as Most Puissant Grand Master.
    He currently resides in Bethany with two cats, an extensive library
and a large number of Masonic research projects waiting to get
written.
2021           Royal & Select Masters of Connecticut           Page 9

               ANNUAL ASSEMBLY
    Due to the Coronavirus Pandemic, the 202nd Anniversary Annual
Assembly of The Most Puissant Grand Council of Royal and Select
Masters of Connecticut could not for the second time be held in the
traditional manner as COVID restrictions were still in effect negating
the usual banquet and full physical gathering. The Annual Assembly
was however held instead by a hybrid collection of officers in person
at the Masonic Temple in Meriden, CT in conjunction with video
conferencing staged from the same location. Appreciations go to RI
James S. McNeely for arranging the electronic registration and
reception of Companions and guests by means of ZOOM.

                    ANNUAL MEETING
                         ATTENDANCE

                       GRAND OFFICERS

 Martin Ede (08)                  Most Puissant Grand Master
 James S. McNeely (01)            R.I. Dep. Puissant Grand Master
 Bradley K. Cooney (08)           R.I. Principal Conductor of Work
 Charles A. McCollum (06)         R.I. Grand Treasurer
 William L. Miller, II (01)       R.I. Grand Recorder
 Darrin D. Silhavy (06)           Ill. Grand Captain of the Guard
 William E. Weisert (04)          Ill. Grand Conductor
 Michael D. Sabia, Jr. (06)       Ill. Grand Steward
 Bruce R. Bellmore (08), PGM      Ill. Grand Chaplain
 Martin Ede (08)                  Ill. Grand Historian
 David Soderberg (01)             Ill. Grand Organist
 Scott T. Sherrick (16), PGM      Ill. Assistant Grand Treasurer
 James S. McNMeely, IV (01)       Ill. Assistant Grand Recorder
 Charles B. Fowler, Jr (01) Hon   Ill. Assistant Grand Recorder
 Scott Sherrick (16), PGM         Grand Trustee
 Charles D. O'Neill (06), PGM     Grand Trustee
 Paul L. Chello (19,36), PGM      Grand Trustee
Page 10           The Most Puissant Grand Council                 2021

           PAST MOST PUISSANT GRAND MASTERS

 Richard G. Barrows (02)               James C. Kleinkauf (36)
 Bruce R. Bellmore (08)                Charles A. McCollum (06)
 A. John Birdsall (04)                 Michael E. Seamon (01)
 Paul L. Chello (19)                   Robert D. Sherrick (35)
 Richard A. Eppler (19)                Scott T. Sherrick (16)
 Charles B. Fowler, Jr. (01) Hon       Randy S. Stevens (19)
 Clyde W. Kayser II (08)               Raymond Tomlinson (08)

              COUNCILS REPRESENTED – 12 of 12

Constituent Council Representatives                    # Denotes Proxy
 NO.           T.I.M.               D.I.M.             IPCW
   1     Brian Berk          Jeffery Flynn     Edward Varjabedian
   2     Gail Smith          Richard Barrows   Art Mullenstone
   4     Scott Daniels       William Weisert   Richard Allen
   6     John Amarilios      James Wood
   8     Ray Tomlinson       Martin Ede        Scott Atkins
   9     Steve Chiappalone   Harold Elwell     Christian Schunmann
  16     James Whitaker      Gary Shepard      Craig Nelson
  19     Gerald Calabritto # John Ryan #
  20     Richard Corey       Ian Jones
  23     Dale Cunningham     Thomas Duclos
  25     Michael Butteri                       Harrison Redford
  36     Paul Chello         James Kleinkauf   Peter Alling #

                 PAST TIMs ( Not Otherwise Listed)

David Abrames (01)                  Robert J. Knowles (22)
Danny Camp (20)                     Daniel Luft (09)
Vincent A. Cowie (09)               Kristian Maiorino (09)
Robert G. Fitzgerald (01)           Michael D. Sabia Jr (06)
Arnold S. Grot (01)                 Richard L. Sawyers (01)
Charles M. Jewart (01)              Mychael Scribner (20)
2021          Royal & Select Masters of Connecticut       Page 11

       NON-VOTING COMPANIONS IN ATTENDANCE

Douglas Barnard (25)             Robert Krawic (04)
William Field (09)               William Lang (19)
Nicholas Ives (09)               Gregory Messier (02)
Robert Jones (09)                Russell Scull (23)
Raymond C. Knieriem (02)         Bruce Work (25)

         DELIBERATIONS OF GRAND COUNCIL

    The Annual Assembly of the Grand Council of Royal & Select
Masters of Connecticut was declared to be open by Most Puissant
Grand Master Martin Ede at 9:00 am on Saturday, 5 June 2021.He
called upon Grand Chaplain Bruce R. Bellmore to offer prayer, and
led the Companions in the Pledge of Allegiance to the U. S. Flag.

                  DISTINGUISHED GUESTS

    MPGM Ede welcomed and acknowledged the presence of several
distinguished guests as follows:

General Grand Council, Cryptic Masons International
   Ill. Comp. Charles A. McCollum, General Grand Treasurer
   Ill. Comp. Steven A. Balke, General Grand Recorder
   Ill. Comp. Gary Wyne, Executive Secretary CMMRF
Ancient Accepted Scottish Rite, Northern Masonic Jurisdiction
   Ill. Bruce T. Work, 33o , Deputy for Connecticut

Grand Lodge AF&AM of Connecticut
   Bro. Bruce R. Bellmore, RW Deputy Grand Master of Grand
      Lodge AF&AM of CT Representing Bro. William E.
      Bohman, MW Grand Master.

    MPGM Ede welcomed all of the Past Most Puissant Grand
Masters of Connecticut who were present and thanked them for their
help.
Page 12          The Most Puissant Grand Council                  2021

    The holders of the Phillip J. Jones Award were recognized as a
group, as were the Knights of Ish Sodi.
    On motion by MPGM Ede, the Companions VOTED to approve
the minutes of the 201st Anniversary Assembly as printed in the
Proceedings.

          REPORT AND ADDRESS OF THE MPGM

   MPGM Ede then delivered his Report and Address after which.
RI DPGM McNeely referred the report to the Committee on Address.

    Reporting for the Committee on Address was Chairman
PMPGM Seamon who apportioned the report's dispensations and
recommendations accordingly, and expressed appreciation for MP
Martin's efforts this troublesome year in keeping our Councils viable.
Upon his motion, the report was ACCEPTED.

             REPORT SUMMARIES & REMARKS

    RW Bro. & Rev Bellmore delivered an inspirational Necrology
for our Companions who were welcomed by the GAU this last year
followed by prayer in remembrance of their time with us. His report
was, upon motion, ACCEPTED
    PMPGM Kleinkauf reported for the Committee on Audit that the
financial records of the Treasurer were found to be in good order with
appreciation for our Grand Treasurer's efforts. This report was also
ACCEPTED upon motion.
    The reports of the Treasurer, Recorder, and Trustees were each
presented in turn, and on motion, APPROVED.
    MP Martin then recognized ME Companion Jeffery A. Flynn,
Grand High Priest of the Grand Chapter (whose session comes next)
who offered his remarks on their year together in keeping our
Companions educated and brought greetings from the Grand Chapter.
    For the Committee on Awards, and as its Chairman, MP Martin
announced that for their service to our Councils, our York Rite,
Fraternity and beyond, he was pleased to present "virtually" the Philip
J Jones Award to Ill. Comp Richard L. Allen (04), and two Ish Sodi
2021           Royal & Select Masters of Connecticut          Page 13

Awards, one each to Ill. Companion Dale T Cunningham (23) and
Michael K. Butteri (25). All were on the "call" and surprised and
expressed their appreciations for these honors. In-person presenta-
tions of these awards will be arranged later.
    PMPGM Charles A. McCollum delivered the report of the
Committee on Masonic Jurisprudence. The report and its recom-
mendations were ACCEPTED.
    The Budget was presented by DPGM McNeely which expands
upon that of 2020 to include provisions for returns to our traditional
pre-COVID activities, gatherings and travels. With funds unexpended
from last year, no change in per-capita is required, and so resolved.
Upon his motion, the budget was ADOPTED.
    The report of the Committee on Bylaws was given by Comp.
Chm. Darrin Silhavy who noted that no ByLaws requests were
submitted for their review and hence no action by the Committee.
This report was ACCEPTED
    Companion McNeely presented the report of the Committee on
Delinquencies which was pleased to announce all Councils had
submitted their reports and payments as required, including those
leftover from last year. All are clear on the books and no fines are
needed. This report was upon motion, also APPROVED.
    MPGM Ede then ordered all other reports not read but received
nonetheless, to be printed in the Proceedings.
    Companion Craig R. Nelson, Right Eminent Grand Com-
mander, brought greetings from the Grand Commandery of Knights
Templar of Connecticut.
    Ill. Brother and Companion Bruce T. Work, 33rd Deputy AASR
for CT for the Northern Masonic Jurisdiction also brought his
remarks and support from "the other Rite".

                           ELECTIONS

PMPGM Bruce R. Bellmore, reporting for the Committee on
Nominations, recommended the below listed slate of officers. After
asking three times for further nominations, there being none, MPGM
Ede declared the following nominees elected:
Page 14          The Most Puissant Grand Council               2021

 Most Puissant Grand Master             James S. McNeely IV
 R.I. Deputy Puissant Grand Master      Bradley K. Cooney
 R.I. Princ Conductor of the Work       Darrin D. Silhavy
 R.I. Grand Treasurer                   Charles A. McCollum
 R.I. Grand Recorder                    William L. Miller II
 Grand Trustee to June 2024             Scott T. Sherrick

MPGM-elect McNeely announced the following appointments:

 Ill. Grand Captain of the Guard     William E. Weisert II
 Ill. Grand Conductor                Michael D. Sabia Jr
 Ill. Grand Steward                  Jeffery A. Flynn
 Ill. Grand Sentinel                 Scott R. Akins
 Ill. Grand Chaplain                 Arnie S. Grot
 Ill. Grand Historian                Martin Ede
 Ill. Grand Marshal                  Charles M. Jewart
 Ill. Asst Grand Treasurer           Scott T. Sherrick
 Ill. Asst Grand Recorder            Charles B. Fowler Jr.

                        INSTALLATION

    The new officers for 2021-2022 of The Most Puissant Grand
Council of CT were then installed by PMPGM Andy Birdsall, having
traveled north especially to pay this tribute to James McNeely, with
PMPGM Mike Seamon assisting as Marshal and Rev. Bruce
Bellmore as Chaplain.
    Newly installed Most Puissant James McNeely then offered his
acceptance address and overview of plans for the year ahead.

          General Grand Council R&SM International

   MP James then introduced his guest speaker from the General
Grand Council, MI Gary Wyne, Executive Secretary for CMMRF
(our Grand charity) who presented information on the circulatory
2021          Royal & Select Masters of Connecticut          Page 15

ailments and blood related diseases that affect us as we age and the
signs and symptoms to watch for. His presentation concluded with
fraternal greetings from the General Grand Council, and was well
received.

             Grand Lodge AF&AM of Connecticut

    Bro. Bruce R. Bellmore, RW Deputy Grand Master of the Grand
Lodge AF&AM of CT representing Bro. William E. Bohman, MW
Grand Master, then provided concluding remarks, including how
there are a disproportionately large number of Master Masons that
have yet to be introduced to the York Rite and represent our future.

                        ADJOURNMENT

   There being no further business, MPGM Ede called upon Grand
Chaplain Bellmore for a Benediction, and declared the Annual
Assembly of the Grand Council completed at 11:00 am.

                                     Attest

                                     William L. Miller, II
                                     Grand Recorder
Page 16          The Most Puissant Grand Council                2021

                 NEXT ANNUAL ASSEMBLY

    The 203rd Anniversary Assembly of the Grand Council of Royal
and Select Masters of CT will be held in conjunction with the 223rd
Convocation of the Grand Chapter of Royal Arch Masons of
Connecticut on Saturday, 4 June 2022, starting at 1:00 pm, at a venue
to be announced and in return to our pre-COVID traditions.
    The Most Puissant Grand Council of Royal and Select Masters of
Connecticut will meet in Annual Assembly at 9:00 am that same day
and place.
    The Banquet in honor of the Most Excellent Grand High Priest
and the Most Puissant Grand Master will be on Friday evening, 3
June 2022.
2021           Royal & Select Masters of Connecticut           Page 17

REPORTS

             MOST PUISSANT GRAND MASTER

Greetings Companions,
    It has been, to say the least, a very strange year. I am reminded of
a tee shirt of Spaceman Spiff, sold many years ago when at UConn,
with the saying "What a long strange trip it's been". If you know
both allusions, you are at least as old as me!
    I came into this office virtually via Zoom, and leave it in a
hybrid/in-person meeting. Progress is progress whatever shape it
takes. This year during the COVID-19 pandemic, we have learnt
many new things – from becoming adept at Zoom, the joys of
anonymity with masking being able to make comments under one's
breath to all and sundry grocery shopping etc., to learning the value
of one's own company, that of our families and brothers and taking,
hopefully, a more thoughtful approach to life with all that has gone on
this past year.
    I hope we have all learned from this year and have taken our time
in quarantine and lock down to learn all those skills we always
wanted to do, fix our houses up and so on – though if you are like me
that meant binge watching series like Supernatural, building Star
Wars Lego with a trusty glass of Bourbon at my side and playing golf.
    But enough reminiscing, Freemasonry has come through this
stronger than many feared. We have successfully navigated virtual
formats for meetings and greeted again many Companions who now
live out of state. We have turned more focus on education, using the
Cryptic Masonry Education Course, and have enjoyed many an
interesting evenings' discussion, albeit virtually. I hope we can look
forward to this continued interest in our degrees and history.

Visitations:
    Unfortunately, due to the pandemic, I have not been able to attend
any in person meetings until the last couple of months, and then
primarily to my own York Rite bodies, lodge and Scottish Rite Valley
as we sorted out the ins and outs of meeting again in person and
finishing a years' business from annual meetings to installations.
Page 18          The Most Puissant Grand Council                 2021

    Virtually, I was able to attend the Grand Session of Vermont on
6/13/20; the Grand Council of Massachusetts on 7/20/20 and
10/31/20; Wolcott Council on 9/8/20; the Scottish Rite Council of
Deliberation on 9/25/20; the Triennial of the General Grand Chapter
on 11/21/20; the Christmas Observances for Palestine/St. Johns on
12/11/20, Hamilton/Trinity on 12/12/20, St. Elmo/Cyrene on
12/13/20, Washington on 12/15/20, New Haven on 12/18/20;
Cushing Council #4 on 12/14/20 for the 50yr pin presentation to
Companion Charlie Hall; along with Zoom meetings for my own YR
bodies of Franklin Chapter #2, Harmony Council Council #8, New
Haven Commandery #2 and Connecticut York Rite College. I
attended in-person/hybrid meetings for the Semi-Annual and Annual
Sessions of the Grand Lodge of Connecticut on 10/17/20 and 4/10/21
and the Grand Commandery of Connecticut on 4/17/21.

Dispensations:
2020-01 To Crawford Council #19 on 12/19/20, to change their
meeting night to the second Thursday to allow it to coincide with the
new RAM Chapter meeting night.
2020-02 To all Councils on 2/4/21, a General Dispensation to allow
two term Thrice Illustrious Masters to serve a third term to allow for
continuity during the pandemic and if so elected by their respective
Councils.
2020-03 To Lee Council #25 on 3/8/21, to change the date of their
annual meeting to April 23, 2021 as the scheduled date conflicts with
Good Friday.

    No decisions were needed, except to continue with the previous
dispensations for virtual meetings during the pandemic restrictions.

Tri-State Meeting:
    This was cancelled to the pandemic and will be rescheduled for
the forthcoming Cryptic year.

State of the Cryptic Rite:
     Although we have been stuck in limbo somewhat this year, we
still have the same problems the previous Most Puissants have
2021           Royal & Select Masters of Connecticut          Page 19

identified. We are in the situation of seeing more Council mergers.
This year has not helped us grow, and we are unfortunately looking
to further consolidation. Even though Masonic membership has
declined, we still have a pool of brothers who are not yet in the York
Rite so we can still grow if we put our collective minds to it.
    Education has fortunately come to the fore again. In using the
Cryptic Masonry Development Course, more Companions have
become interested in the history and philosophical meaning of our
degrees and hopefully this will continue.
    Councils still struggle with reporting and need to coordinate more
with the Grand Recorder. It is also concerning that some Councils
have trouble finding and keeping secretaries, the Grand Recorder and
Assistant Recorder are very approachable and are willing to help.
    We have not been stuck in limbo for just this past year, but we
have been proverbially treading water for a while. If we do not take
this pause to reassess and move forward, we risk being pushed into
forced decisions and consolidations that we may not want to make.
But all is not doom and gloom, as noted there has been more interest
in the meaning of our degrees and this must be capitalized on.

Awards:
    Several worthy Companions have been nominated for the Ish Sodi
and Philip J. Jones Awards and I look forward to their presentation
today.

Lincoln Bible:
    This has usually been awarded to the Council with the most
positive increase in membership. Last year this went to Harmony #8,
and due to the pandemic status, I suggest that it remain with Harmony
#8 so they can get a year of actually being able to use it.

Recommendations:
   In no particular order, they are as follows:
   1) That the Grand Council revisit membership in the General
       Grand Council. We are the oldest Grand Council and with
       the current issues facing Freemasonry in general, we are far
       better off being an integral part of the General Grand Council.
Page 20           The Most Puissant Grand Council                  2021

        For a few extra dollars, we will have full access to their
        support and resources. Previous reasons that have been put
        forth against membership are, to be blunt, without any
        foundation. Our titles will not change, we will not lose any
        autonomy and we will not lose any part of our ritual or
        standing. Any perceived slights in the past are just that – in
        the past. We need to look and move forward and we will be
        able to do it better as part of the General Grand Council.
   2)   That the Cryptic Masonry Development Course be officially
        adopted and that the current interest in our history and Cryptic
        philosophy be promoted and nourished.
   3)   That the York Rite Coordinating Committee continue to be
        supported and that all three York Rite heads be actively
        involved and encourage the line officers to be actively
        engaged with their counterparts.
   4)   That the York Rite Testimonial and Awards Dinner be
        revamped and possibly be made part of the Grand Chap-
        ter/Council Annual Session. As we have found in the past,
        free nights for the testimonial dinner can be few and far
        between, and there is no reason for not having two dinners
        over the session weekend, inviting our Grand Commandery
        Sir Knights, most of whom we know quite well, to join us on
        our weekend. This is one suggestion for a date and we need
        to actively discuss this so that the dinner can get back on the
        calendar somewhere.
   5)   That social Zoom meetings continue and be allowed to count
        toward one of the required number of yearly meetings. We
        have found that many out of state or home bound Compan-
        ions have been able to attend virtual meetings. The value of
        having these Companions join us for our discussions and
        education is clear and should be encouraged.
   6)   That if further mergers are seen to be on the horizon, that
        serious planning and thought be given to a regional Council
        system. Consolidation of some type is clearly in our future.
        Whether we let it happen piecemeal, a Council or two at a
        time, we could end up with no representation in large parts of
        the state. We need to look at the potential need for locating
        at least one Council in each county, for example, that mergers
2021           Royal & Select Masters of Connecticut          Page 21

       would fall into. We need to assess what the best Masonic
       Temple is (from a location, financial stability and availability
       standpoint) in the various counties and to look at either
       moving or potentially instituting a Council there. Picking on
       my own area, in New Haven, there are 3-4 mostly struggling
       Councils all trying to survive and essentially drawing from the
       same Lodges and Chapters. As the inevitable happens, plans
       need to be made now for when there is only one Council in
       the New Haven area surviving. I realize I may be ruffling
       some feathers but we cannot avoid the facts and we need to
       make sure that the surviving Council is strong. This planning
       will also need to be coordinated with the Grand Chapter and
       Grand Commandery as we all face the same issues. As such,
       the idea of planning for regional York Rite centers should
       also be looked at seriously and objectively.
       7) That the possibility of combining the Grand York Rite
       sessions into one weekend should be revisited and a future
       plan developed, again for the above reasons so that we don't
       paint ourselves into respective corners that we cannot get out
       of.
    I would like to thank all the Companions in and out of the State
for their dedication to continuing their work in the Secret Vault in
these trying times. We can now look forward to finishing the Ninth
Arch together and moving forward into the Light.
    I also thank my Mum and sister for their continued support, and
in the lockdown to my cats, Tess, the terror of Turkish rugs every-
where, and Emma, one of the nicest, good-natured cats you could
ever hope to meet and who passed away unfortunately a month ago.
This past year has shown how truly fortunate we are to have family
and friends, along with our many brothers, to support us in trying
times.
    I would like to thank my officers who have gone through this year
with very little need of oversight and I am confident in the continued
strength of our Grand Council. Bill Miller, James McNeely, Chuck
Fowler and Bruce Bellmore have been especially helpful, with a
special shout out to Jim our Zoom Master extraordinaire, who kept
York Rite groups not only in this State but around the country and
world as well virtually afloat. Thank you all.
Page 22           The Most Puissant Grand Council                  2021

    It was unfortunate that I did not get to travel with my York Rite
compatriots, REGC Jim McNeely and MEGHP Jeff Flynn, in our
respective years but I am glad of your support and friendship.
    As we look forward, in line with what many before us have said,
the future is in our hands. We have something very valuable in our
hands that can only benefit society – that great philosophy of
Freemasonry – and we need to make sure that we remain a corner-
stone of our civilization.

   "Speedily do we hasten to the end of these cares and labors.
  What an incentive is this to an industrious use of our faculties
  That we should labor diligently to complete that Inner Temple
                   For God's eternal praise,"

                                                           Martin Ede

            DEPUTY PUISSANT GRAND MASTER

    It is a pleasure to serve this Grand Council. During the year, I
was able to attend all of our Councils via Zoom at least once during
the past year. One of the bright sides of the pandemic has been the
number of Companions that have returned to being active members
due to being able to attend virtually. As there was no degree work
that could be done all of the Councils worked to find ways to keep
their Companions engaged. In most cases this was accomplished by
providing excellent general masonic and Cryptic Masonic education.
To continue what has been started this year I would strongly recom-
mend that we create a Grand Arch Master who would serve as the
Grand Council Cryptic Education Officer. This person would serve
not only the Grand Council but all of the Councils by helping to
develop education programs and hopefully encourage Councils to
provide education.
    As our Councils prepare to re-open, all of them need to give their
members a reason to attend and be active other than just for the sake
of being. If your Council is just reading minutes then you are wasting
the precious time of your Companions. If a Council wants to survive,
let alone have a chance to thrive, it needs to do more. Give your
Companions good ritual, education, and fellowship and never be
afraid to try new events and activities. Lastly, never be afraid to talk
2021           Royal & Select Masters of Connecticut           Page 23

about Council; we have wonderful degrees that are filled with more
light if we take time to look and engage our Companions. If you need
help to develop new ideas please reach out to your Grand Officers.

                                                James S. McNeely IV

         PRINCIPAL CONDUCTOR OF THE WORK

    This past year has tested our ability to face serious--too often
lethal--adversity as a planet, a nation, and as a fraternity. I believe
we have--on the whole--faced the pandemic with courage, ingenuity,
patience, and true brotherhood. Many of our Councils and Masonic
bodies have continued to meet online, with very promising results.
Your Grand Council Officers hope to continue educational programs,
in particular, on-line long after the threat of the pandemic has passed.
This practice allows Brothers who could not otherwise participate, to
share fellowship and education with us even when we are no longer
living under the threat of the covid virus. On-line educational
programs can also easily include video and audio components that
may be even easier to see and hear on-line than in person. Further,
on-line programs can be recorded and replayed at later times for
those who could not be available the first time – or who now want to
see it, based on favorable reviews.
    There is an old joke, that can be used with any number of groups
or persons: "How many [past masters] does it take to change a light
bulb?" The answer: "Change???"
    We've learned over the past sixteen months that we can adapt to
the most challenging of circumstances. The challenge--now--is how
best to increase our ability to improve ourselves in Masonry, while
holding fast to those values which brought us to this Gentle Craft in
the first place. That path, I believe, leads through the lessons of our
Rituals. The better we can learn and understand–and find ways to
apply–those lessons, the better Masons we will be. Thus, too, we
will become better men, husbands, fathers, grandfathers, and citizens.

                                                   Bradley K. Cooney
Page 24        The Most Puissant Grand Council          2021

                   GRAND TREASURER
                  5/1/2020 THRU 4/30/2021

 Balance in account 5/1/2020                      $7,071.80
 INCOME
   Bicentennial                           0.00
   CMMRF In                              75.00
   Per Capita                        10,945.00
   Other Income                          30.00
   Sales                                  0.00
   Transfer from Trustees                 0.00
       Total Income                              $11,050.00
            TOTAL AVAILABLE                      $18,121.80
 EXPENSE
   Bicentennial                           0.00
   Annual Assembly                        0.00
       Gifts                              0.00
   Aprons & Jewels                      121.88
   CMMRF Donation                        75.00
   Gratuity Organist                      0.00
   Insurance                          2,523.15
   Miscellaneous                        190.00
   MPGM Travel                            0.00
   Office Equipment Rental              400.00
   Postage                               93.15
   Printing                             379.46
   Salary Recorder                    2,400.00
   Salary Treasurer                     600.00
   Storage                               27.50
   Supplies                              78.70
   Taxes                                265.73
   Website                              350.00
   YRCC                                   0.00
       Total Expenses                             $7,504.57
 Balance in account 04/30/2021                   $10,617.23

                                         Charles A. McCollum
2021           Royal & Select Masters of Connecticut            Page 25

                       GRAND RECORDER

     I stand before you now as proof that I have survived not only
COVID and my first year as Grand Secretary, but also my first year
as your new Grand Recorder, and not without a lot of help and
training, the largest coming from my predecessor and mentor, dearest
Brother and life friend, Charles Fowler, to whom I can only express
my deepest gratitude. This is not to say I am now the expert in all
these matters, but my dining and living rooms would attest otherwise.
Clearly this is still a transitional process and in taking this on, I had
one main goal, namely to simplify as much of the process as I can
along the way, as well as depend more upon the good work of others.
To this end, this first year was arranged so that the Office of Recorder
(like Grand Chapter) would be performed by a "team" as it were: RI
James McNeely assisting from his Zoom and REGC perches with
communications and scheduling matters, and the new "Retiree"
Chuck mothering his Access Data base, his legacy creation, to field
all those pesky monthly reports and contained data. That's his sports
car and I do not have the "keys" just yet as it is too fast for me, but
am permitted small trips up the street for bread. That has left me to
answer the phone and emails, assist Councils and Companions who
asked for assistance, and serve our MPGM Martin, as we navigated
the COVID. My appreciations to them all.
     This has NOT been a routine year in any manner of speaking, and
we are facing some serious situations which affect the whole of our
CT York Rite.         The difficult news begins with the statistical
summary which appears along with this report. It goes without saying
(but I will anyway), this year our membership tanked. The COVID
precluded any ability of Chapters to exalt new Companions, and
complete open work in Councils, and h ence couldn't receive
candidates nor ship them off to Commandery. Yet news filtering out
from Chapters sounds promising once the gong sounds for return to
the SV. Our Most Puissant has been in lock step with the MEGHP
to assure the COVID mandates from on high were and are followed,
and Councils also given maximum flexibility to utilize the virtual
work space to keep their Companions engaged, including a general
dispensation that TIMs may, if elected, serve a third consecutive term.
Page 26           The Most Puissant Grand Council                  2021

    From a loss standpoint, it is not apparent that the COVID effect
"medically" was as bad as we may have feared, over and above the
usual Lodge losses, Council deaths, NPDs and dimits which we have
become accustomed to in recent years. We started with 788 Compan-
ions and ended March 31, 2021 with 728, a net loss of 65.
    If one adds back in the average 30-40 or more new Companions
we have seen in any given year, the end result would actually be
comparable and not be all that bad, even better than some REALLY
BAD years. The tougher statistic is the loss of 65 paying members
(per capita) and resulting reduction in our income ($975). This
information has been forwarded to our Budget Committee. In short,
we can only hope for some kind of a surge once we can resume
regular work.
    But the story does not end here, as you will see in the details of
the Council by Council returns. In fact, it is not rosy. There are
several elephants in the room which bode uncertain futures for all of
us. First, council viability, especially among the weaker ones.
Menunketuck is barely hanging on (they did settle up their arrearages
from last year and though last, did get this year's annual return done
and report the statutory number of meetings…so they can be
considered clear, for now.) But mergers continue to save Compan-
ions…last year Columbia Council moved in with Hamilton.
    But the real tough story lies in the details of annual returns which
shows a serious lack of succession capability…if a dedicated working
Companion is lost (death, inability to serve, moving away), there is
no one to fill the void. A quick list of how bizarre this is, groups are
re-electing Companions to the East who are in rest homes; Treasurers
are important, their loss in some cases has triggered probate; a new
Recorder is making plans to move, and my favorite: there are 3
Companions holding down 10, yes ten, Tres-Secretary-Recorder
jobs…where are the 10 new Companions coming from to replace
them? To help address our lack of succession planning, I have
prepared a missal on this very topic with recommendations based on
our annual returns for our local and Grand Officers of both bodies to
study.
    Basically the time is at hand when surviving Councils can no
longer afford the luxury of waiting it out, and be happy with the
survivors. It is often forgotten that a lost Companion in Chapter is
2021           Royal & Select Masters of Connecticut             Page 27

likely to be an automatic loss in their Council. (The same can be said
of Commanderies, as well). So it would seem a "neighborhood
assistance program" as it were, can take on a pre-emptive role if a
Chapter is foundering.
    I have had the pleasure to work with our Grand Treasurer Charles
McCollum, to whom I have turned over $11,050.00 in receipts
gathered in and deposited for the fiscal year ending April 30, 2021,
consisting mostly of per-capita from Councils, adding to a healthy
balance more than enough to cover expenses without Trustee
assistance. I issued vouchers totaling $7,504.57 for payment of
regular budget obligations, including Council reimbursements to
Grand Chapter for share of expenses in common.
    In closing, it has been an honor to have served the Grand Council
in this new capacity and with your continued support, guidance and
inspiration, we can only move forward.

                                                    William L. Miller, II

             Membership Changes for Past 10 Years

Year Ending 2012 2013    2014   2015 2016 2017 2018 2019      2020 2021
Greeted      69 76        47     18 24 37 31 23                17    1
Affil & Rein  5   10       6     12    6    6 89      3        33    4
Total Adds   74 86        53     30 30 43 120 26               50    5
Dimits       17 19        12     11   8    9 97      6         37   4

Involuntary   44 40        62    49      45    54    43    28 34 19
Deceased      58 30        29    41      26    23    31    22 26 42
Total Losses 119 89       103   101     79    86    171    56 97 65
Beginning    1182 1137   1135   1078   1008   959   916   865 835 788
Net Change    -45 -3      -50    -71    -49   -43   -51   -30 -47 -60
Endling      1137 1134   1085   1007    959   916   865   835 788 728

   * Dual, 50 Year, MHC.
Page 28           The Most Puissant Grand Council                   2021

              GRAND CAPTAIN OF THE GUARD

     Companions, after more than 14 months of enduring the most
trying time in recent history, we stand at the gate that will allow us to
put the misery of 2020 behind us and make the shift from virtual to
in-person building within our York Rite Councils. Thus, my report
breaks from a traditional report on the health, welfare, and state of my
assigned Councils to one which is an overall reflection of this
unprecedented year, along with my thoughts about the future.
     During this past year, I had the privilege of attending many
Council meetings via Zoom. It was incredible to connect with my
fellow Companions from the comfort of my home and to see out-of-
state Companions connecting with their Connecticut Councils. It is
my sincere hope that our Councils will continue to utilize this
technology and allow Companions to participate virtually in all their
meetings. The effort that our Thrice Illustrious Masters devoted to
creating and delivering quality education programs this year did not
go unnoticed. I have spoken to several companions who achieved
great personal growth through many engaging discussions during
these meetings.
     Toward the end of the year, several Councils decided to conduct
hybrid meetings. These hybrid meetings continued to allow those
who are unable to attend in-person meetings to participate in our
labors. Although I look forward to seeing our Companions in person
at their home Councils in 2020-2021, I hope that many Councils will
continue to provide hybrid meetings when possible.
     The future of the York Rite Councils in Connecticut is promising.
The Grand Council officers are preparing to seize the opportunity as
the state of Connecticut lifts the restrictions that had us gated for such
a long period. Stay tuned for an exciting year ahead. I will see you
in your Councils soon!

                                                      Darrin D. Silhavy
2021           Royal & Select Masters of Connecticut            Page 29

                      GRAND CONDUCTOR

    Due to Covid restrictions, I have not been able to fully visit in-
person any assigned councils, nor conduct any inspections. Only
recently was I able to visit Collinsville in-person, and that was fairly
pleasant. I look forward to fulfilling my obligations to their fullest
extent should I be fortunate to advance. Attending via zoom was the
only option available to me prior to this writing.

                                                 William E. Weisert II

                        GRAND STEWARD

     As this has been a most unprecedented year, I wish to thank MP
Companion Martin Ede for appointing me to serve in the Grand
Council this year. I unfortunately was unable to make any Official
Inspections, as no work could be done in Greeting Companions
through the pandemic. I did make zoom visits to the following
Councils: Washington #6, Paugussett #16, Crawford #19, Buel #20,
Suffield #23 and Menunketuck #36. I was unable to make a visitation
to one of my assigned Councils, Wolcott #1. As I do not have a
better feel of the condition of some Councils other than that of the
few I was assigned this year, I hope that if re-appointed to continue
in the line next year, that I can get a better picture of Cryptic Masonry
in Connecticut moving forward. With restrictions easing up as more
are vaccinated, I look forward to in-person visitations and being able
to inspect the work of Councils and being available to assist where
needed to improve the state of our Art in this jurisdiction.

                                                  Michael D. Sabia Jr.
Page 30           The Most Puissant Grand Council                  2021

                       GRAND HISTORIAN

    As we move through a more than usual trying year due to the
pandemic, we need to look forward to strengthening the Cryptic
Councils in our state. As your Grand Historian, I am always available
to help you with any presentations you may give in your lodges or
Blue Lodge Councils and may be available to be there in person. Our
Grand Lodge may be shrinking, but there are thousands of brothers,
including some of our Chapter Companions who have not yet
received the teachings of the Secret Vault. We form a crucial link in
the Masonic Hiramic Legend. We link the Master Mason degree with
the lost secrets found in the Royal Arch degree and provide the path
that sees the completion of King Solomon's Temple in the Most
Excellent Master degree.
    The value of our degrees has not gone unnoticed; author and
noted TV presenter of "America Unearthed" Scott Wolter on p. 67
of his book "Cryptic Code of the Templars in America" says "The
three Cryptic Council degrees were my favorite with the second, the
Select Master degree, being the most interesting." It is also interest-
ing to note that our Cryptic triangle features prominently on the cover
of his book. Whether you agree or disagree with him, there is no
doubt as to his sincere interest in the Craft and the positive effect it
has had on him. It is this type of excitement that we should promote
in conversations with our Brothers as well as the work done in the
charities that we support.
    As Grand Historian, it is also pleasing to note the recognition our
Grand Council has received from the General Grand Council of
Cryptic Masons International that I found out about in the June issue
of CT Freemason. Our Companion Richard Eppler, PMPGM, was
awarded the prestigious General Grand Council Medal of Honor.
Only one of these awards is given out each Triennial, which shows
how worthy our Companion Richard is viewed nationally for Cryptic
Masonry. At the same time, Companion Charles O'Neill, PMPGM
and RI Companion James S. McNeely IV, DPGM, were awarded the
Order of the Secret Vault for their dedicated service to Cryptic
Masonry.
    Well done to our valued Companions!

                                                           Martin Ede
2021           Royal & Select Masters of Connecticut          Page 31

                       GRAND TRUSTEES

    As a status, the Trustees will be updating the contact information
with the investment company to assure proper communication with
the trustees and investment broker so we have better control of the
investments and can easily access the funds when needed.
    As soon as this is completed, there will be better handling of the
investments. A full report will then be forthcoming to the leadership
of the Grand Council.

                                                  Scott Sherrick, Ch
                                                      Paul L. Chello
                                                  Charles D. O'Neill
Page 32          The Most Puissant Grand Council                  2021

REPORTS OF COMMITTEES

          COMMITTEE ON ADDRESS OF THE MPGM

    In accordance with Section 5 f of the Constitution of the Most
Puissant Grand Council of Royal and Select Masters of the State of
Connecticut, Most Puissant Grand Master Martin Ede has submitted
his report containing his official acts and recommendations for the
year 2020-2021. The Committee finds that Companion Ede has
fulfilled the requirements for this report. The Committee recom-
mends that so much of the report which refers to dispensations and
Official acts of the Most Puissant Grand Master be referred to the
Committee on Jurisprudence. The Committee further recommends
that as so much of the report as refers to recommendations to the
Grand Council be referred to the incoming Most Puissant Grand
Master.
    Your Committee acknowledges with appreciation the service of
Most Puissant Grand Master Martin Ede and the timeliness of his
report.
                                              Michael E. Seamon, Ch
                                                   Clyde W. Kayser
                                                    James Kleinkauf

                    COMMITTEE ON AUDIT

    The records of expenditures and receipts of the Grand Council
Treasurer for the 2020-2021 fiscal year ending April 30,2021, were
reviewed and found accurate and complete as presented electronically
to the Committee Members.
    We, the Committee, recommend the acceptance of the Grand
Treasurer's Annual Report as presented.
    We commend Grand Treasurer Charles A. McCollum for the
availability and orderliness of the records for the Committee's review.

                                             James C. Kleinkauf,Ch.
                                                 Michael E. Seamon
                                               James S. McNeely IV
2021          Royal & Select Masters of Connecticut       Page 33

                 COMMITTEE ON AWARDS

    The Committee on Awards received several nominations this
year, and we are pleased to recommend the following Companions for
their service to Cryptic Masonry:
    The Philip J. Jones Award to Companion Richard L. Allen.
    The Knight of Ish Sodi Award to Companions Dale T.
    Cunningham and Michael K. Butteri.

   Congratulations to these worthy Companions!

    Due to the pandemic, the Lincoln Bible was not able to be used
by last years' awardee so it is recommended that Harmony Council
No. 8 retain it for the coming Cryptic year.

                                                  Martin Ede, Ch
                                             William L. Miller, II
                                            James S. McNeely IV

                 COMMITTEE ON BUDGET
                  Fiscal Year Ending 04.30.2022

Taxable Membership on 3.31       720                     663
INCOME                         2020-21     2020-21     2021-22
Bicentennial                         200
Per Capita - Members x $15        10,800   10,945.00     9,945.00
Other Income (GRA Xfers in)          200       30.00       200.00
CMMRF                                125       75.00       120.00
Sales                                200                   200.00
Xfer from Trustees                     0
Total Income                      11,525       11050        10465
Cash on Hand 05.01                 7,081    7,071.80    10,626.43
         TOTAL AVAILABLE          18,606   18,121.80    21,091.43
Page 34          The Most Puissant Grand Council          2021

EXPENSES
Annual Assembly                       0        0.00    2,000.00
    Hospitality, Gifts, Food          0        0.00    1,000.00
Aprons & Jewels                     900       67.00    1,500.00
    Badges                            0       54.88        0.00
Bicentennial                          0        0.00        0.00
CMMRF (from donations)              100       75.00      120.00
Gratuity Organist                   100                  100.00
Insurance Exp - Council share     2,200    2,024.15    2,200.00
         Liability                    0      499.00      513.00
Miscellaneour (Donations)           239      160.00      250.00
    (Xfers to GRA)                    0       30.00        0.00
MPGM Travel Allowance             3,000                3,000.00
Office Equip Rental                 400      400.00      400.00
Postage                             150       93.15      150.00
Printing                            350      379.46      400.00
Salary Recorder                   2,400    2,216.40    2,800.00
Salary Treasurer                    600      554.08      800.00
Storage (NE Archives)                26       27.50       30.00
Supplies                            100       78.70      100.00
Tax (Employer - SS, Med, UI         260      495.25      600.00
Training & Festivals                  0        0.00    1,000.00
Youth (DeMolay, Rainbow)              0        0.00    1,000.00
YRCC (If still gonna do it)         125        0.00      125.00
Web Page                            350      350.00      350.00
TOTAL EXPENSE                    11,300    7,504.57   18,438.00
BALANCE 04.30                     7,306   10,617.23    2,653.43
2021           Royal & Select Masters of Connecticut           Page 35

       RESOLUTIONS CONCERNING 2021-2022 BUDGET

Be it resolved:
     That the proposed budget of $18,438.00 be adopted.
     That each Council pay to the Grand Recorder the Per Capita of
$15.00 for each member on the rolls on 31 March 2022 in accord
with requirements and exemptions set forth in the Constitution and
Law. This is no increase.
     That the Grand Treasurer is authorized to transfer unexpended
funds from one budget expense category to another with permission
of the Most Puissant Grand Master.
     That the Grand Treasurer is authorized after 30 April 2022 to
expend funds at the same rate as in this budget until the budget for the
next fiscal year shall have been approved.
     That the amount designated in the budget as MPGM Travel
Allowance is intended to reimburse the Most Puissant Grand Master
for the cost of visiting the annual assemblies of Grand Councils in the
Northeast United States and Eastern Canada, the Northeast Cryptic
Conference, and the General Grand Council Triennial. Receipts and
other supporting data must be provided to the Grand Recorder to
obtain reimbursement at 57 cents per mile for out of state travel.

                                               James S. McNeely, Ch.
                                                   William L .Miller
                                                Charles A. McCollum
                                                  Bradley K. Cooney

                  COMMITTEE ON BYLAWS

    The committee on bylaws received no requests for the review and
evaluation of changes to the bylaws of any constituent council during
the 2020-2021 cryptic year.

                                                Darrin D. Silhavy, Ch
                                                Charles A. McCollum
                                                     Michael D Sabia
Page 36          The Most Puissant Grand Council                2021

              COMMITTEE ON CREDENTIALS

   The following is a summary of the attendance of registrants to the
"Virtual" Grand Assembly on June 5, 2021 that establishes the
member delegates eligible for voting.

 Grand Officers *                                                 8
 Councils Represented (out of 12)                                12
 Past Most Pu Grand Masters                                      15
 Past TI Masters                                                 14
 TI Masters                                                      11
 TI Master Proxies                                                1
 Deputy Masters                                                   9
 Deputy Proxies                                                   1
 Ill Princ Cond                                                   6
 Ill Princ Cond Proxies                                           0
 Total voting delegates ( * excludes Grand Officers )            57

                                                    Peter Smyth, Ch
                                                        Fred Stinard
                                                     John Amarilios

            COMMITTEE ON DELINQUENCIES

   We are happy to report that due to the efforts of our Grand
Recorder that all Councils are current with their annual returns as
wells as previous returns.

                                                James McNeely, Ch
                                                     Scott Sherrick
                                                      Brad Cooney
2021           Royal & Select Masters of Connecticut          Page 37

                COMMITTEE ON INSURANCE

   The General Liability policy providing coverage for the York Rite
bodies of CT has a primary policy with a $1,000,000 limit of liability
with an excess policy providing an additional $1,000,000. The
non-owned auto coverage provides $1,000,000 excess of the vehicle
owner's underlying policy. Coverage for damage to rented locations
such as Masonic Temple Corporations is $100,000. Medical payment
coverage is limited to $10,000 per person. Other sub-limits include:
 Business Travel Accident Benefit            $50,000
 Conference Cancellation                     $25,000
 Donation Assurance                          $50,000
 Emergency Real Estate Consulting Fee        $50,000
 Fundraising Event Blackout                  $25,000
 Identity Theft Expense                      $50,000
 Image Restoration and Counseling            $50,000

 Key Individual Replacement Expenses         $50,000
 Kidnap Expense                              $50,000
 Political Unrest                            $ 5,000 per employee
                                             $25,000 policy limit
 Temporary Meeting Space Reimbursement       $25,000
 Terrorism Travel Reimbursement              $50,000
 Travel Delay Reimbursement                  $ 1,500
 Workplace Violence Counseling               $50,000

    A separate Umbrella Policy provides a $2,000,000 Limit in excess
of the above primary policy for Commercial General Liability (CGL)
coverage only. These policies are written by the Philadelphia
Insurance Company through the Auburn Insurance Agency (AIA) in
Massachusetts. They specialize in handling various Masonic
programs. (In October of 2020, AIA was acquired by the insurance
operations of Eastern Bank.)
    The premium charged for these policies is apportioned between
the Grand bodies based on membership at the beginning of the policy
year. Grand Chapter pays the entire premium and is reimbursed by
Grand Council and Grand Commandery. One member Chapter of the
Page 38          The Most Puissant Grand Council                  2021

Grand Chapter chooses to insure their paraphernalia and reimburses
the Grand Chapter for the cost.
     This appears to be an equitable basis for premium sharing as the
cost of insurance protection/coverage should reflect the total involved
time of individual Companions and Sir Knights. At our request we
had changed the annual renewal date of the coverage in order to be
able to utilize the current membership reports from the bodies. The
new renewal date became June 24 as a result.
     AIA/Eastern Bank have a proprietary set of endorsements with the
PIC for Masonic business. This sets them apart from anyone else
placing Masonic business with PIC or other companies. In addition,
as of late, we have been informed that there have been a number of
companies which have decided to exit the fraternal business and the
AIA has been picking up additional accounts as a result.
     In Connecticut they handle the Grand Lodge of Connecticut, the
CT constituent Lodge Masonic Temple Corporations (which choose
to have them do so) and the York Masons Hall Corporation in East
Hartford.
     Your committee, working with the AIA, had been looking into the
purchase of Directors & Officers (D&O) insurance coverage for each
of the three Bodies. This type coverage, written by the Great Ameri-
can Insurance Company (GA), is for the purpose of protecting those
serving in executive positions (i.e. Line Officers) in each Grand York
Rite body from any lawsuits filed against them for "alleged injury"
arising out the performance of their duties. It also provides coverage
for the respective Grand Body Corporations. Without such insurance,
the personal assets of those serving as officers are at risk.
     While officers and directors of not-for-profit entities are exempt
from liability under both state and federal law, in our litigious
society, this would not prevent a party from alleging injury and filing
suit. Until a court of competent jurisdiction makes a ruling on the
applicability of the exemption laws, or if the court decides that the
exemption does not apply to the case under consideration, there are
legal expenses to be paid. This insurance provides coverage for those
legal expenses.
     In consequence of considering the three (3) proposals for the three
Grand Bodies and the authority of them, coverage was bound