VISIT RUAPEHU TONGARIRO NATIONAL PARK & THE WHANGANUI RIVER
Page content transcription
If your browser does not render page correctly, please read the page content below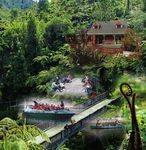 contents
Culture and Heritage                                                  4
Volcanic                                                              7
Tongariro National Park                                               8
whanganui national park                                               9
hiking                                                               10
Tongariro Alpine Crossing                                            10
Te Araroa - The Long Pathway                                         11
Tongariro Northern Circuit                                           12
RIVER                                                                13
The Whanganui Journey                                                13
BIKING                                                               14
Mountain to Seas - Ngā Ara Tūhono                                    14
Timber Trail                                                         16
Forgotten World Highway                                              17
MT RUAPEHu                                                           19
EVENTs CALENDAR                                                      20
FAMOUS FILM LOCAtionS                                                22
CONServation                                                         24
market gardening                                                     25
farming                                                              26
forgotten world highway                                              27
Taumarunui, Ohura & Ongarue
Northern Whanganui Gateway                                           34
Owhango, Raurimu & Whakahoro
Northern Tongariro Gateway                                           38
National Park Village, Whakapapa & Horopito
Southern Tongariro Gateway                                           48
Ohakune, Turoa & Waiouru
Southern Whanganui Gateway                                           56
Raetihi, Pipiriki & Ruatiti
Touring Routes                                                       66
Visitor Information                                                  68

                     www.visitruapehu.com
Disclaimer: This Visitor Guide is published by Visit Ruapehu, the Regional
Tourism Organsation for Ruapehu District. At the time of printing Visit
Ruapehu has, to the best of its knowledge been suppplied accurate
information, however Visit Ruapehu cannot be held responsible for any
errors, omissions or changes to details. All rights reserved. No part of
this Visitor Guide may be reproduced without prior permission of Visit
Ruapehu. Copyright Visit Ruapehu December 2014.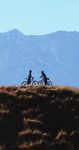 Two great walks,
two national cycle trails,
three ski areas,
A dual world heritage area,
new zealands longest navigable river
& largest biodiversity project.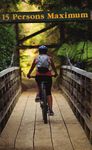 Culture + heritage
The culture and heritage of the Ruapehu region is as diverse
as it is fascinating.

mĀori culture
Paramount to the region is the respect, recognition and
relationship with the local iwi (māori tribes) from Ngāti
Tūwharetoa, Ngāti Hikaro, Ngati Rāngi and Ngāti Uēnuku,
pillars of the regions māori spiritual and cultural values and
environmental status.
Māori identify with the geographical features of their area,
with maunga (mountain) and awa (river) as a vital part of
whakapapa (genealogy) and history passed from generation
to generation through traditions and legend.
There is a special relationship between local iwi and the
mountains of Tongariro National Park. The Ngāti Tūwharetoa
and Ngāti Rangi people are the kaitiaki (guardians) of the
park, their relationship is a direct connection between todays
people and their ancestors.
Visitors are asked to have respect for tikanga (customs) during
their time in the Ruapehu district. You should visit a marae
(meeting house) only if you are invited. While exploring our
national parks, please take with you all that you bring and
keep to formed tracks.

european settlement
The arrival of European settlers into the region during the
later part of the nineteenth century coincided with the
joining of the northern and southern sections of the North
Island main trunk (rail) line. The completion of the railway
linked the region with the rest of the North Island
enabling further settlement and growth of the timber industry,
particularly in the southern part of Ruapehu.

                                    Chateau tongariro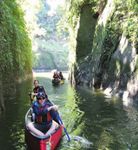 Ohakune junction

The abundant forest, labour resource and rail infrastructure
promoted the timber industry which in a short time grew to
a height of seventeen mills around the current Ohakune area.
Unfortunately industry practices at the time were far from
sustainable and the natural resource was depleted. Many
mills were abandoned in the 1920s, a time that coincided with
the Great Depression.
The iconic Bridge to Nowhere in the Whanganui National
Park and the story behind its origin further illustrates the
challenges of life in rural New Zealand in the early twentieth
century. In 1917 the New Zealand government opened up
land on the banks of the Whanganui River for settlement by
servicemen returning from World War I. Access was a two day
journey via riverboat from Whanganui or Taumarunui. The
landscape the men arrived to was dense, virgin forest, steep
gorges, bluffs and streams. The government at the time had
plans to convert this wild and rugged terrain into farmland.
After years of clearing giant natives including the magnificent
rimu tree by hand, the men were closer to realising their dream.
They purchased stock, built homes and brought their wives
and children into the valley. Initially the Mangapurua Valley
prospered, there was a school, a rugby team and the
women took annual shopping trips to town. Access remained
a problem. The government agreed to erect a bridge across
the Mangapurua Stream linking Mangapurua Track from

                  www.visitruapehu.com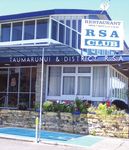 the carrot arrives in ohakune

Culture + heritage (continued)
Raetihi to the Mangapurua Valley. The new bridge couldn't
save the valley from the economic hardship felt by the
onset of the Great Depression. The government could no
longer maintain the Mangapurua Track and the riverboat
service ceased to continue. Erosion on the Mangapurua
Track meant access was treacherous. There was no way
to trade, the farmers and their families were completely
isolated. One by one they walked off their land. By 1942
only three families remained and they were forced to leave
as the government closed the valley in May that year. The
disappearing roads and fence lines are all that remain of this
ill-fated settlement.
The arrival of Chinese immigrants in the 1920s provided
a new opportunity for the region. Land which had been
recently cleared for milling was utlised for market
gardening. The market garden industry, as well as sheep
and beef farming today remains significant industry
within the area. There are farming communities in
the Ruapehu region with over 100 years of history that
continue to prosper with a strong support ethic that makes the
district a positive one socially.

                              6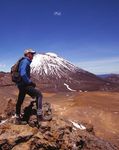 historic lava - tongariro alpine crossing

VOLCANIC                                          mt tongariro
The Ruapehu region hosts the andesitic cone volcanoes
Ruapehu and Tongariro/ Ngauruhoe, a volcanic grouping at
the southern end of the Taupo Volcanic Zone.
                                                        M
Ruapehu is the largest active volcano in New Zealand, the
highest peak in the North Island at 2797m (9176ft) and has
the North Islands only glaciers. The warm, acidic crater lake
is fed by snow melt. Lahars (mud flows) which flow from the
crater lake are the result of eruptions or collapse of the crater
lake wall.              mt ngauruhoe
Ngauruhoe is the largest, youngest and most active cone in
the much larger Tongaririo Volcano complex. The sides of
the cone are steep, loose scree. The most recent Ngauruhoe
eruption was in 1975 but the volcano has more recently
found fame as Mt Doom in the Sir Peter Jackson Lord of the
Rings Trilogy.
The oldest of the regions volcanoes, Tongariro, is a massive
complex of volcanic cones and craters formed by eruptions
from a minimum of twelve vents over more than 275,000
years. The Te Maari craters on Tongaririo became active again
in 2012, the regions most recent volcanic activity. In addition
to the three prominent volcanic features, the region contains
other extinct volcanoes, lava and glacial deposits, fumaroles
and a variety of mineral springs. These extraordinary features
are recognised by the Tongariro National Parks dual World
Heritage status.    MT RUAPEHU
             mt ruapehu
                  www.visitruapehu.com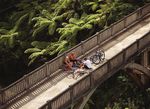 TONGARIRO NATIONAL PARK
UNESCO DUAL WORLD HERITAGE site
Tongariro National Park was established in 1887 as New
Zealands first national park. Its UNESCO dual World Heritage
status recognises the parks important māori cultural and
spiritual associations as well as its outstanding volcanic
features.
For tangata whenua (people of the land), the mountains
are a vital part of their history. Their whakapapa (genealogy)
and legends are respected accordingly. The parks bounda-
ries enclose over 79,000 hectares. It is home to the famous
Tongariro Alpine Crossing and the Tongariro Northern Circuit,
one of New Zealands nine Great Walks. Other fantastic walks
include the Round the Mountain Track, Ruapehu Crater Lake
Climb and Tama Lakes. Several short walks are available near
Whakapapa Village and on the Mountain Road near Ohakune.
In conjunction with the Department of Conservation
(DOC), a small group of passionate volunteers devote their
time to implementing projects aimed at promoting a wider
understanding of the flora, fauna, geology, conservation
and the history of Tongariro National Park. Project
Tongariro is a community focused initiative integrating pest
management with the native biodiversity of Mt Pihanga and
Lake Rotopounamu.

mt ruapehu
                              8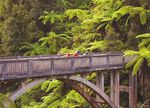 Whanganui river                     JERUSALEM (HIRUHARAMA)

The bridge to nowhere

WHANGANUI NATIONAL PARK
New Zealands 11th National Park, Whanganui offers many
attractions for visitors and locals. With a selection of one to
four day walking tracks, cycle trails and canoe trips the area
offers a wide variety of opportunities for outdoor enthusiasts
from thrill seekers to families. The Whanganui River with its
depth and mystical qualities is the main gateway for people
visiting the park and along with the surrounding native forests
provides a stunning natural backdrop in an area rich in culture
and history.

                  www.visitruapehu.com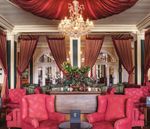 tongariro Alpine crossing

HIKING
TONGARIRO ALPINE CROSSING
The Tongariro Alpine Crossing is considered New Zealands
best one day hike. Located within the Tongariro National
Park the combination of the areas cultural significance and
dramatic, awe inspiring natural scenery also puts the hike
as one of the best on an international scale. Many who
complete the 19.4km journey will tell you the climbs can
be steep and the weather unpredictable, though worth it in
every aspect.
The hike starts at Mangatepopo and ends at Ketetahi. The
summer months from November to April are recommended
as the best time to complete the hike as often during the
winter the route is snow covered and may require specialist
equipment and mountaineering experience. Local guiding
services are available year round. You will need to allow a day
to complete it. Several local bus operators provide transport
to the beginning of the track and a pick up service at the end
of the day but this must be booked in advance.
Remember the hike is within an alpine environment. Take
plenty of water, food and warm clothing. Weather conditions
can change dramatically so be prepared for the elements.
Signs advising hikers about what to do in the event of
volcanic activity were erected after the Te Maari crater on
Mt Tongariro erupted in 2012. Parts of the track are uneven
due to the lahar that followed. Prior to 2012, the last time Mt
Tongariro erupted was in 1897.

                            10
mt ruapehu crater hike

TE ARAROA - THE LONG PATHWAY
Te Araroa is a 3000km trail stretching from Cape Reinga in the
north of New Zealand to Bluff in the south. The trail opened
in December 2011 and is one of the longest walking routes in
the world.
Starting at Owhango, Te Araroa follows the 42 Traverse,
Tongariro Alpine Crossing and the lower Taranaki Falls track to
Whakapapa Village. From the Village follow the Whakapapaiti
Track before turning right onto the Mangahuia Campsite.
Beyond the campsite, follow the vehicle track to join SH47 and
continue to the junction with SH4.
At National Park Village follow Fishers Track. This backcountry
adventure forms part of the Mountains to Sea National Cycle
Trail and has very good signage that will lead you onto Oio
Road and the Kaiwhakauka Track to the Bridge to Nowhere.
A short distance past the Bridge to Nowhere is the
Mangapurua Landing. From here to Pipiriki is 32kms. River
transport is the only option. You must pre-book a jetboat
pickup or delivery of kayaks/ canoes to the Mangapurua
Landing before departure. This section ends at the boat ramp
at Pipiriki.
The Te Araroa route passes through some very remote
areas with few re-supply points and limited cellphone
reception. Hikers need to plan well and organise food and
accommodation before departure.
More information can be found at: teararoa.org.nz
HIKING

HIKING
TONGARIRO NORTHERN CIRCUIT
From alpine herb fields to forests and tranquil lakes to
desert-like plateaus, this multi-day hike is full of extremes
and surprises. You will see unique and stunning landscapes
including active volcanic craters, brilliant blue lakes, steaming
geothermal areas and glacial valleys.
The Tongariro Northern Circuit is a 51.5km, three to four day
track around the active volcanoes of Mt Tongariro and Mt
Ngauruhoe. It showcases the spectacular volcanic terrain of
the dual World Heritage Tongariro National Park. One of New
Zealands nine Great Walks, it is a well marked and well formed
track with comfortable huts.
As with the Tongariro Alpine Crossing, which is included in the
Tongariro Northern Circuit, the summer months from Novem-
ber to April are recommended as the best time to complete
the hike as often during the winter the route is snow covered
and may require specialist equipment and mountaineering
experience. Local guiding services are available year round.
During the Peak season (November to April) you need to book
huts and campsites in advance.

                             12
whanganui canoe journey

RIVER
THE WHANGANUI JOURNEY
'Ko au te awa, ko te awa ko au' I am the river, the river is me'
These words embody the spiritual, cultural and historical
relationship of Whanganui Māori and the river that holds
their ancestry.
Once home to 30,000 people of Māori and European origin,
the Whanganui Journey, one of New Zealands nine Great
Walks, is a great way to experience Whanganui National Park
and visit the Bridge to Nowhere. If mountain biking isn't your
thing, access to this remote region is possible by canoe, kayak
or jet boat.
The 145km river journey from Taumarunui to Pipiriki takes
an average of five days to complete by canoe. A shorter two
day journey from Taumarunui to Whakahoro or a three day
journey from Whakahoro to Pipiriki are also possible. Camp or
stay overnight in DOC huts.
One day jet boat, canoe and kayak options are supported from
Taumarunui, Whakahoro and Pipiriki. Adventure abounds
between Taumarunui and Ohinepane with 46 rapids over a
22km stretch and a lunch stop along the Forgotten World
Highway. Guided and unguided options are available.
There is no cellphone reception on the river. Once you leave
Whakahoro there is no turning back and no place to buy
anything you may have forgotten.
For further information visit: doc.govt.nz
                  www.visitruapehu.com
Kaiwhakauka TRACK

BIKING
In 2009 an idea was born to create a network of cycle trails
that would not only provide a healthy and enjoyable way for
Kiwis and international visitors to see the country, but would
also generate economic, social and environmental benefits for
New Zealand communities. Amongst many other awesome
rides the Ruapehu region is lucky enough to be home to two
of the great rides which are part of the New Zealand Cycle
Trail network; the Timber Trail and the Mountains to Sea - Ngā
Ara Tūhono.

MOUNTAINS TO SEA- NGĀ ARA TŪHONO
The Mountains to Sea - Ngā Ara Tūhono and the Timber
Trail are part of Ngā Haerenga - the New Zealand Cycle Trail
network.
Time: 3-7 days Distance: Over 200km Grade: 3
The Mountains to Sea - Ngā Ara Tūhono cycle trail starts
on the flanks of Mt Ruapehu, travels through Tongariro
and Whanganui National Parks, then follows New Zealands
longest navigable river to the ocean shore in Whanganui.
Start within Tongariro National Park with a downhill blast from
Turoa onto Ohakune Old Coach Road. The trail is well marked
with interpretation along the way. Choose to head north

                           14
TIMBER TRAIL

and join Fishers Track, or south along Middle Road onto
Ruatiti Road.
A gradual climb following the Mangapurua or Kaiwhakauka
Tracks takes you through Whanganui National Park. The 26km
descent to the Bridge to Nowhere is simply breathtaking. Load
your bikes onto a jetboat for the thrilling 31km Whanganui
river section to Pipiriki.
Ride along the Whanganui River Road on the final leg of your
journey to the Tasman Sea in Whanganui. Day ride options
are supported from Raetihi, Ohakune and National Park
Village returning each day to your preferred accommodation.
Alternatively, plan your journey to start at any of these
communities then follow cycle trail maps and signs to your
preferred destination.
The best time of the year to ride is autumn. Snow is not
uncommon in winter and during summer temperatures can
exceed 30˚C. Ruapehu activity operators can take care of
your logistics. An average level of fitness with above average
off road bike skills and mountain bikes with front suspension
are recommended. There are several accommodation options
available. The jet boat pick up and other shuttle transport
must be booked in advance.
For further information visit: mountainstosea.co.nz

                 www.visitruapehu.com
MARAMATAHA Suspension bridge

TIMBER TRAIL
piropiro flats to ongarue
Time: 1 day Distance: 44km Grade: 2
The 44km cycle trail between Piropiro Flats and Ongarue
is largely centred around Pureora Forest. A family friendly
cycling adventure on easy gradients and surfaces, following
historic bush tramways, old bulldozer roads and a newly
constructed track. The Timber Trail features large suspension
bridges (the longest being 141 metres in length, 55 metres
high), and the recently restored historic Ongarue Spiral.
The Timber Trail passes through magnificent podocarp forests
of rimu, totara, miro, matai and kahikatea and offers extensive
views of the surrounding landscape. Listen out for birds
especially the rare kaka which are active in this section of
the trail.
Day ride options are supported from Taumarunui with a
transport pick up and drop off service to your preferred
accommodation. Alternatively, continue along Ongarue Back
Road to Taumarunui or follow the Okahakura Saddle Road to
Ohura then continue on to the Forgotten World Highway.
Access to the one day option and campsite facilities
are available at Piropiro Flats via Ongarue off SH4. This is a
shared-use track. Follow the mountain bikers code, keep to
the left and respect others.

                               16
Ohakune old coach road

FORGOTTEN WORLD HIGHWAY
CYCLE TRAIL
Time: 2-3 days Distance: 180km Grade: 3
After following the Whanganui River for several
kilometres this mostly sealed road travels through hilly
farmland before climbing over Paparata Saddle. The route
drops down into the beautiful Tangarakau Gorge surrounded
by beautiful native forest. A short, gravel section is relatively
smooth, road bike tyres will easily cope. Beyond the gorge
there is a moderate climb to the Hobbit Hole tunnel and over
Tahora Saddle followed by a long and gentle downhill to the
settlement of Whangamomona.
The route turns off the state highway and heads west
on Junction Road. The first 16km is gravel and typical
backcountry New Zealand so you will need to watch out for
goats, sheep and cattle. The final leg of your journey takes
you over Tarata Saddle and down to a historic suspension
bridge across the Waitara River, through Bell Block and
around the coast to New Plymouth.

                  www.visitruapehu.com
walk up, run up
or catch the lift.

mt ruapehu is the crowning glory of the
tongariro national park in new zealand.
an incredible mountain wilderness –
at any time of year. no wonder it's one of
the world's only dual-heritage sites.
mtruapehu.com
central north island, just an
hour south of taupo.
next door to the tongariro crossing
MT RUAPEHU
WINTER - SNOW
Mt Ruapehu is home to New Zealands largest ski areas,
Whakapapa and Turoa, and the smaller club ski field of
Tukino. Whakapapa sits on the mountains north-western
slopes and is known for its outstanding beginner area,
Happy Valley. On the southwestern slopes Turoa offers the most
awesome natural skiing and snowboarding terrain New
Zealand has available.
Huge snow filled basins, steep chutes, drop-offs and secret
powder stashes compliment the fantastic learner facilities,
ski and snowboard schools, retail stores and cafes. Terrain
Parks are custom built for snowboarders and free skiers of all
abilities plus Mt Ruapehu has the best spring skiing, typically
staying open until late October or early November.
Nestled on the eastern slopes of Mt Ruapehu, just off the
Desert Road, friendly Tukino lacks crowds but not adventure.
On a good day advanced skiers and snowboarders can hike
to Mt Ruapehu's Crater Lake. Well worth it for the 1,000m
vertical ride back down.

SUMMER - HIKE + Sightsee
Experience Mt Ruapehu in summer! Scenic chairlift rides
operate daily providing access to an altitude of 2020m above
sea level (weather conditions permitting, and excluding
Christmas day). Enjoy a fantastic coffee and lunch at New
Zealands highest café whilst enjoying the breathtaking views.
Snow conditions allowing, Mt Ruapehu understands the thrill
of snow play for all ages! - build a snowman or throw that
snowball.
Mt Ruapehu offer a guided Crater Lake hike and cultural
experience; local Ngāti Hikaro guides and safety and
mountaineering guides will host and entertain you through
the spectacular and sometimes challenging terrain to the awe
inspiring Crater Lake. A guided service is also available for the
Tongariro Alpine Crossing, New Zealands most popular one
day hike. Additionally, there are a variety of volcanic short
walks on the mountain, suitable for a range of abilities.

                  www.visitruapehu.com
M2C mountainS to sea multisport

EVENTS calender
One of the great things about the Ruapehu region is that
summer or winter, from the North to the South, there is
always something going on! Whether you're into the
outdoors, multi sports, arts and crafts, or a great family
day out we've something for you.

JANUARY
Whangamomona Independence Day - Whangamomona
Tongariro Kite Day - Whakapapa Village
DOC Summer Nature Programme - Tongariro National Park
Kakahi Rodeo (2nd Division) - Kakahi
Tongariro Tussock Traverse - Tongariro National Park
Highfields Gutbuster - Tongariro National Park
FEBRUARY
Taumarunui A & P Show - Taumarunui
Waimarino A & P Show - Raetihi
Kururau Krusher - Taumarunui
Karioi Sports - Karioi
Ohura A & P Show - Ohura
Wild Food Challenge - Raetihi
The NZO Trailblazer - Pureora Forest
MARCH
4X4 National Park - National Park Village
Waimarino Rodeo - Raetihi
Waimarino Shears - Raetihi
Ohakune Motorcross Champs - Ohakune
APRIL
Waimarino Easter Hunt - Ohakune
Raetihi Gutbuster - Raetihi

                               20
north island primary school champs

MAY
T42 Central Plateau - National Park Village / Owhango
Desert Storm Trail Ride - Ohakune / Waiouru
M2C Mountain to Seas Mulitsport Race - Ruapehu/ Whanganui
JUNE
Ohakune Winter Fashion Show - Ohakune
Turoa & Whakapapa Ski Area Winter Season Opening -
Mt Ruapehu
Ruapehu Mountain Mardi Gras - Ohakune
JULY
Waimarino Art Awards - Raetihi
Mt Ruapehu Mini X Games - Whakapapa Ski Area
Tukino Ski Area Winter Season Opening - Mt Ruapehu
AUGUST
Mt Ruapehu JIB Nationals - Turoa Ski Area
Mt Ruapehu Slope Style - Turoa Ski Area
Cold Kiwi Motorcycle Rally - Horopito
SEPTEMBER
Ruapehu Snow Queen - Ohakune
Mt Ruapehu BoarderX/SkierX - Turoa Ski Area
Mt Ruapehu Ski Masters Race - Whakapapa Ski Area
Waimarino Spring (Flower) Show – Raetihi
OCTOBER
Mt Ruapehu Peak To Powderkeg - Turoa
Desert Defenders - Tongariro National Park
NOVEMBER
Dave Logue Cycle Classic - Taumarunui / Ohura
Raetihi Ripper - Raetihi
DECEMBER
The Goat Adventure Run Tongariro - Tongariro National Park
Taumarunui Christmas Parade - Taumarunui
Raetihi Christmas Carnival and Market Day – Raetihi
Ohutu Grazing Company

FAMOUS FILM LOCATIONS
Award winning New Zealand filmmaker Sir Peter Jackson
has brought quite possibly the most famous fantasy
stories ever written to life using locations right here in the
Ruapehu District.

The Hobbit and Lord of the Rings Trilogies
The unique combination of spectacular landscapes including
the rocky slopes, volcanic terrain, grassy tussock and podocarp
forests has provided identifiable scenes throughout the Lord
of the Rings and Hobbit Trilogies.

The Hobbit filming in the Tongariro National Park was
significant as it was the first major feature to be shot in the
park since The Lord of the Rings Trilogy 10 years prior.

The Hobbit Trilogy cast and crew spent one day filming at
Turoa Ski Area. This event was been preceded by significant
planning and discussion with representatives of local Māori
and the Department of Conservation to ensure respect of
the regions unique Māori spiritual and cultural values and
conservation status.

Turoa was the setting for Hidden Bay, the entrance to
the Lonely Mountain in The Hobbit: The Desolation of
Smaug. Giant scaffolding was built down to the site in
order to protect native flora and fauna on the mountain.
Filming also occurred at Ohutu Grazing Company, 6km east
of Ohakune. The wooded green pastures featured in The
Hobbit: An Unexpected Journey as the outskirts of Hobbiton.

                              22
river queen

The Lord of the Rings trilogy which won 17 Academy Awards
has numerous recognisable sites from throughout the regions.
The international cast of famous actors stayed in the Ruapehu
District where entire film sets were constructed on location.

Many key locations were shot in Ruapehu including;
Mordor and the Emyn Muil (Iwikau Village at Whakapapa),
Ithilien Camp (Mangawhero Falls) and Orc Army scenes
(Rangipo Desert).

While film locations can be visited independently, due to the
difficulty in accessing and identifying some of the locations,
guided tours to the film locations are recommended.

OTHER FAMOUS RUAPEHU LOCATIONS
FLIGHT OF THE CONCORDS - globally famous comedians, also known
as the fourth most popular folk duet in New Zealand, filmed
an episode near Ohakune which starred local sheep.
RIVER QUEEN - starring Samantha Morton and Kiefer Sutherland
was filmed on the Whanganui River in 2005.
WITHOUT A PADDLE - Seth Green, Burt Reynolds and crew joined
local personalities on the main street of Raetihi in 2004.
SMASH PALACE – the iconic kiwi movie was filmed at Horopitos
car museum. Many of the actors still live locally.

                  www.visitruapehu.com
whanganui national park

CONSERVATION
The largest remaining population of brown kiwi exist within
Whanganui National Park, along with a critical number of blue
ducks (whio). Conservation is a combined effort with local
iwi (māori tribes), the Department of Conservation and
others working together as part of a biodiversity initiative
called Kia Wharite.
This great initiative focuses on decreasing the number of
possums and goats, which destroy native bush, and
predators such as rats and stoats, which threaten
native bird species. Restoring the health of the forest also
benefits waterways by reducing erosion and improving water
quality and habitat. It also has the potential to see more
carbon stored within native forests.
Tongariro National Park is an outstanding World Heritage
Site with unique values. Along with native bird species, long
 tailed bats and many precious plants and invertebrates, its
landscape and cultural values attract hundreds of thousands
of visitors each year. With these visitors comes the impact on
the environment.
A group of conservation enthusiasts have provided visitors
with a way to continue supporting conservation efforts long
after their stay in the Ruapehu has ended. The opportunity to
sponsor a hectare of land surrounding Lake Rotopouanamu
within the Tongariro National Park exists to assist pest control
and weed eradication.
For further information visit tongariro.org.nz

                              24
market gardening present day

                                     market gardening late 70s

MARKET GARDENING
The first market gardens in the Ohakune area were
established by several Chinese families in 1925. Ohakune
had real advantages - railway for fast delivery, a late growing
season, inexpensive land and a cold winter climate to
discourage pests. Much of the land was cleared by hand and
explosives before the first bulldozer appeared in 1937.
More hectares were cleared and crops planted as demand
increased to feed local and US military troops. In 1984 the 'Big
Carrot' was unveiled at the entrance to Ohakune, recognising
the importance of market gardening to the local economy.
Today the market garden industry is the provider of root
vegetables including parsnips, swedes, washed potatoes,
carrots, brussel sprouts, cabbages and cauliflowers. The
local growers play a vital role in supplying these vegetables
to the North Island and beyond as this is the only area where
they can be successfully grown and stored largely due to the
volcanic soil and cold winter climate.
Photo credit: Fernleaf Rams

                                                                           romney lambs

                          waipuna ridge

                          FARMING
                          Ruapehu farmers enjoy a moderate climate that provides
                          good summer rainfall in an average season. The district is
                          made up of fertile river flats surrounded by rolling hills, mist
                          in the valleys and little wind to dry out pasture. There is a
                          balance of sheep and cattle with dairying in a few select sites
                          where the terrain is better suited. Some sheep farmers sell
                          lambs to other farmers in better fattening provinces, others
                          finish all their stock to good weights. Ruapehu dairy farms are
                          some of the most productive in New Zealand.
                          Regenerating native bush is evident in remote areas where
                          steep hill faces are being returned to allow manuka to grow
                          and produce high value UMF honey. The Ruapehu is centrally
                          located which allows for good market selling opportunities.

                                                        26
rail cart touring

FORGOTTEN WORLD
TAUMARUNUI, OHURA & ONGARUE
The bush lined Whanganui and Ongarue rivers welcome
visitors to the Ruapehu Districts largest town, Taumarunui.
Known for its railway history, farming, weaving and more
recently cycle trails, Taumarunui also prides itself on being the
start of the Whanganui River Journey.
The Timber Trail from Piropiro Flats to Ongarue is a fantastic
mountain bike ride or walk following much of the Ongarue
bush tram system. This nationally significant site represents
an important part of the timber industry and early pioneering.
The old tram route with its numerous cuttings, embankments
and stream crossings winds through picturesque native bush.
The Ongarue Spiral is an impressive sight. It is comprised of
a lower-level bridge, a very deep cutting, a curved tunnel, a
complete circle of track and an over-bridge.
Situated west of Taumarunui, the small township of Ohura is
a real step back in time complete with one or two colourful
characters, a museum and a new railcart adventure. A cycle
or vehicle touring route, the Forgotten World Highway starts
at Taumarunui and traverses the quietest state highway in
New Zealand. After following the graceful Whanganui River
for several kilometres, the route heads over hilly farmland
then drops down into the beautiful Tangarakau Gorge. This is
followed by 15kms of gravel road, but it is relatively smooth,
for cyclists road bike tyres will easily cope.

                  www.visitruapehu.com
FORGOTTEN WORLD
RIDES, WALKS & OTHER ACTIVITIES
Difficulty of Walk: Easy, Moderate, Difficult
Grade of Ride: 1= Easiest to 5 = Expert

The Timber Trail                                RIDes
Distance: 85km Grade: 2 - 3
A two day ride from Pureora in the North to Ongarue in the
South. The Timber Trail follows historic bush tramways and
features a series of spectacular swing bridges including the
141m Maramataha and the famous Ongarue Spiral.

Waione Tram Mountain Bike Track
Distance: 25km Grade: 4-5
A side trail from the Timber Trail recommended for advanced
to expert riders.

Makokomiko Road Circuit
Distance: 28.5kms Grade: 2
Travel south on SH4 from Taumarunui to Piriaka. The trail
loops back to Taumarunui crossing the Whanganui River over
Victory
 ohura Bridge.

Forgotten World Highway
Distance: 150km Grade: Moderate
Designed as a two day ride to Stratford overnighting in the
historic village of Whangamomona. There are many amazing
places along the journey including Laurens Lavender Farm,
Ohinepane, Saddler Road and Niven's Lookout.

Timber Trail Connection
Distance: 24km Grade: 2-3
Taumarunui to Historic is the first section (11.5km). The ride
then travels through scenic farmland on a gentle gravel road
along the main trunk railway and the Ongarue River.

                              28
ongarue

TE MARIE BUSH RESERVE                                walks
Distance: 10km Difficulty: Easy
This loop track takes around two hours and covers only a
small part of the 420 hectare reserve. Suitable for people
of all ages.

RIVER BANK WALK
Distance: 8km Difficulty: Easy
From Cherry Grove to just north of Manunui, this well
defined walk has an easy gradient and can be started
anywhere where there is road access.

TE PEKA LOOKOUT
Distance: 1km Difficulty: Easy
At the northern end of Taumarunui, this short walk
through bush leads to a lookout platform and extensive
views of Taumarunui and the surrounding valleys.

SUNSHINE SCENIC RESERVE
Distance: 2km Difficulty: Moderate
A short uphill walk will give you great views to the west
down the Whanganui River and north over Taumarunui.
Glowworms are visible at night.

RANGAROA RESERVE
Distance: 1.5km Difficulty: Moderate
Through native bush at the top of the Rangaroa Incline, taumarunui
this track gives walkers a birds-eye view of the town, rivers
and mountains.

MANUNUI BUSH RESERVE
Distance: 1.5km Difficulty: Moderate
An area of mature podocarp forest on a flat river terrace
beside the Whanganui River just a few kilometres south
of Taumarunui.

                 www.visitruapehu.com
FORGOTTEN WORLD
RIDES, WALKS & OTHER ACTIVITIES

OPOTIKI ROAD BUSH RESERVE                             walks
Distance: 7km Difficulty: Moderate
It is a walk on a public road. From the start of the reserve,
it is a steady climb to the top where you can get extensive
views of the Southern King Country and the mountains.

Kururau Hill
Distance: 8km Difficulty: Easy
From the Carters Road junction this walk follows a steady
climb to the top. Extensive views can be seen from the road
all the way.

OHURA MUSEUM                                     activities
A centre piece of Ohura, the Museum was first established
in 1976 and hosts a wonderful collection of local treasures
from times past.

TROUT FISHING
The Whanganui and Ongarue rivers offer excellent,
backcountry fly fishing from a large supply of Rainbow
and Brown Trout.

rail cart touring
See rural New Zealand from a different perspective, take
 ohura
a tour along the decommissioned railway line of the
Forgotten World Highway in a railcart.

TAUMARUNUI GOLF
Taumarunui's Golf Course, 'Tarrangower', dates back to
the early 1920s and features 18 holes of undulating
fairways with a park like appearance.

TAUMARUNUI FARMERS MARKET
Held on the third Saturday of each month, this local Farmers
Market sells authentic arts and crafts and an array of home
produce and food.

                             30
LITTLE THEATRE                                                  activities
     Often hilarious, rarely serious. Local performers put on a
     fine show at Taumarunui's Little Theatre. Find out what's
     on and plan your night out.

     GARDEN TOURS
     Old villas, homesteads and lifestyle properties open
     their immaculate gardens for visitors to enjoy. Delightful
     fragrances and colours abound and friendly hosts share
     gardening secrets.

     CANOE, KAYAK OR JET BOAT
     During normal river flows the Whanganui is safe enough
     to freedom kayak or canoe. Rapids make the jet boat a
     real adrenaline blast.

                        www.visitruapehu.com

  The Timber Trail
     Pureora Forest
         For more information contact:

Taumarunui or Te Kuiti i-SITE: 07 895 7494 or 07 878 8077

FORGOTTEN WORLD ADVENTURES
                            Experience the Forgotten World from
                            the comfort of a railcart, cleverly
                            adapted to be self-driven along the
                            tracks of the Forgotten World railway.

                            P: 0800 RAIL CART (7245 2278)
                            E: bookings@fwa.co.nz
                            W: fwa.co.nz

Business
nevaleaName
         alpacas
                            Be spoilt by choice at Nevalea Alpacas,
                            where we farm over 400 alpacas. Come
                            feed the alpacas and visit our farm
                            shop, 100% NZ.

                            P: +64 7 896 6333
                            E: leonie@nevaleaalpacas.co.nz
                            W: nevaleaalpacas.co.nz
Restaurant open 7 days
from 5.30pm to members & visitors.

    Entertainment Includes:
  Snooker and pool tables, SKY TV,
Gaming Machines, Darts and Juke box.

 P: +64 7 895 7517
 E: taumras@xtra.co.nz
 W: taumarunuirsa.co.nz
Fernleaf BED & BREAKFAST FARM STAY
                                Fernleaf Bed and Breakfast Farm Stay
                                is located in a beautiful rural setting on
                                our Romney sheep farm. Midway between
                                Wellington and Auckland, close to SH4 in
                                quiet surroundings. Enjoy our generous
                                country hospitality. Meals available.          FERNLEAF FARMSTAY

                                P: +64 7 895 4847 or +64 27 362 2993
                                E: fernleaf.farm@xtra.co.nz
                                W: fernleaffarmstay.co.nz

Business Name
MAHOE MOTEL
                                 Nine family and studio self contained
                                 units. Sky TV, laundry, restaurant and
                                 bar. Close to fishing, rafting, jet boat
                                 and mountain. Tariff from $75.00.

                                 P: +64 7 895 8988
                                 E: mahoe.motel@xtra.co.nz

taumarunui Holiday park
                                Located beside the Whanganui river.
                                Fishing, swimming, bushwalk, canoe/
                                kayaking. Self contained Kiwi Cottage
                                (sleeps 7), standard cabins (sleep 2-5),
                                powdered and non powdered camper-
                                van/ tent sites. Hosts: Phil & Helene.
                                P: +64 7 895 9345 or 0800 473 281
                                E: taumarunui-holiday-park@xtra.co.nz
                                W: taumarunuiholidaypark.co.nz

                                                                              No1. on
                                                                            Trip Advisor

 Taumarunui CANOE HIRE
 and JET BOAT Tours
                         "An unforgettable family experience"

  •   Canoe Hire 1-8 days                              •   Home baking for multi day tours
  •   Jet Boat Tours                                       on pick up
  •   Canadian canoes & kayaks                         •   Panoramic Mountain & River
  •   Barista coffee & cold drinks                         views on site
  •   Free camping beside river                        •   Based in Taumarunui
  •   Experienced friendly staff                       •   Free pick up & drop off to & from
  •   Professional service                                 Taumarunui & the river
  •   Modern quality equipment                         •   All buses/vans air-conditioned

  0800 CANOE 4 U (22663 48)
  07 895 RIVER (895 7483)
  tmncanoehire@xtra.co.nz
  taumarunuicanoehire.co.nz
mountains to sea cycle trail                         Waterfall

NORTHERN WHANGANUI GATEWAY
OWHANGO, RAURIMU & WHAKAHORO
Owhango is situated between the Tongariro Forest and
Whanganui National Park. The town lies on the 39 South
Circle of Latitude which spans across South America, Australia
and through the middle of Owhango. The main trunk line runs
alongside Owhango township and was historically used as the
main supply line carrying timber and livestock.
Further south, the small settlement of Raurimu is hard
to miss with its life size driftwood sculptures. The area is
most famous for the Raurimu Spiral. During construction
of the North Island Main Trunk railway between Wellington
and Auckland, a major obstacle was faced, how to cross
the steep slopes between the volcanic plateau and
gorges of the Whanganui River. Attempts to find an
alternative route were fruitless until the problem was solved
in 1898 by engineer R. W. Holmes. Holmes proposed a line
that looped back upon itself and then spiralled around
with the aid of tunnels and bridges. The most remarkable
feature is that there is no place to view the complete line.
To the west of Raurimu is the settlement of Whakahoro.
Remnants of both Māori and European history can be seen
along this section of the Mountains to Sea Cycle Trail. Restored
historic buildings pay tribute to the bustling life this remote
valley would have once known. The area is also part of Kia
Wharite. Kayakers may see the rare and endangered blue duck
(whio) while paddling the Retaruke River or walking along the
Kaiwhakauka Track above the waterfall.

                               34
historic hut

    whanganui river

Wades Landing/Forest Lodge & motel
                      Canoe or kayak the spectacular
                      Whanganui river. 1-5 day journeys.
                      Tongariro Alpine Crossing, 42
                      Traverse, Lodge and Moutain bike
                      shuttles. Motel accommodation in
                      beautiful Owhango.
                      P: +64 7 895 4854
                      E: info@wadeslanding.co.nz
                      W: wadeslanding.co.nz

Blue Duck STATION
                      Comfortable backpacker
                      accommodation, exclusive private
                      lodges plus activities. at the start of
                      the Whanganui Canoe Journey
                      on the Mountains to Sea Cycle Trail.

                      P: +64 7 895 6276
                      E: info@blueduckstation.co.nz
                      W: blueduckstation.co.nz
NORTHERN WHANGANUI GATEWAY
 RIDES, WALKS, & OTHER ACTIVITIES
 Difficulty of Walk: Easy, Moderate, Difficult
 Grade of Ride: 1= Easiest to 5 = Expert

 OWHANGO LOOP                                       RIDes
 Distance: 35km Grade: 4
 This loop requires a good map and directions as there are a
 myriad of tracks to negotiate. Begin at the 42 Traverse, return
 to Owhango.

 FISHERS TRACK
 Distance: 28km Grade: 2
 Part of the Mountains to Sea Cycle Trail. Ride from National
 Park Village to Oio Road or continue on to Whakahoro. Book
 return transport before departure.

 42 TRAVERSE
 Distance: 46km Grade: 4
 Renowned for its long and rutted downhills. Book transport
 to the start of the track and ride back to Owhango through
 Tongariro Forest Park.

 KAIWHAKAUKA TRACK
 Distance: 42km Grade: 3
 From Whakahoro to the Mangapurua landing, this trail has
 many patches of relatively undisturbed native forest and is
 shared by walkers, mountain bikers and hunters.

 OIO ROAD
 Distance: 44km (from SH4) Grade: 2
whakahoro
 This quiet, backcountry, gravel road forms a link between
 Fishers Track and the Kaiwhakauka Track. Rural views and
 wild goats make the ride interesting.

 MARTON SASH & DOOR TRAMWAY
 Distance: 16km Grade: 2
 A loop trail from National Park Village, this trail follows a
 recovered bush tramway route, backcountry roads and
 travels through a pine plantation.
 whanganui
NATIONAL PARK

                                36
OHINETONGA SCENIC RESERVE                             walks
A loop track through Ohinetonga Scenic Reserve begins at
the picnic area by the Whakapapa River Bridge. A boardwalk
crosses Ohinetonga lagoon. Great for swimming.

DRIFTWOOD SCULPTURE PARK                           activities
Giant driftwood sculptures have been created with wood
collected from the remains of ancient forests destroyed
by historic volcanic eruptions. The work of local artist
Jack Marsden-Maher.
                                         owhango
RETARUKE RIVER
Some of the best trout fishing in the Ruapehu District, the
Retaruke flows into the Whanganui and forms part of the Kia
Wharite conservation project.

FARM TOURS
Experience the 'real' rural New Zealand on a working sheep
and beef station. Watch live sheep shearing, cattle mustering
and meet a few local farmers.

RAURIMU SPIRAL
The Northern Explorer Train travels along the spiral between
Taumarunui and National Park Village/Ohakune. If travelling
by vehicle, there is a viewing platform at Raurimu.

OWHANGO MARKET DAY
Held on the first Sunday of every month, the atmosphere
here is always relaxed and friendly. Arts, crafts, garden
products and homemade jam available.

HUNTING
Pigs, goats, red and fallow deer are considered a pest in
and around Whanganui National Park. Several tourism             raurimu
operators within the Ruapehu region offer the ultimate
hunting experience.

                 www.visitruapehu.com
upper tama lake

NORTHERN TONGARIRO GATEWAY
NATIONAL PARK VILLAGE, WHAKAPAPA & HOROPITO

National Park Village, Whakapapa Village and Horopito are
among the highest settlements in New Zealand. National Park
Village sits at 825 metres above sea level and has panoramic
views of Tongariro, Ngauruhoe and Ruapehu. In the summer
it is a popular base for hiking, biking and kayaking within
Tongariro and Whanganui National Parks. Transport services
are available for the Tongariro Alpine Crossing, other walks
and hikes, the Mountains to Sea - Ngā Ara Tūhono Cycle Trail
and the Timber Trail. The starting point for the three-day
canoe journey on the Whanganui River is less than one hour
away. National Park Village is well served with train and bus
connections. Bikes, clothing and other equipment can be
hired for activities.
At the base of the access road to Whakapapa Ski Area is
Whakapapa Village. From here you can access local transport,
join a guided tour on the Tongariro Alpine Crossing, Mt
Ruapehu Crater Lake or start the Tongariro Northern
Circuit hike.
The scenic drive to Turoa Ski Area on the south-western
slopes of Mt Ruapehu travels through Erua and passes historic
Horopito. Car enthusiasts and photographers delight in the
many vintage vehicles at the Horopito Car Museum. This
is also the starting point for the Ohakune Old Coach Road
walking and cycle track.

                  www.visitruapehu.com
                            38
iconic building

spring hiking                         volcanic rock

mt ruapehu crater hike                taranaki falls

            www.nationalpark.co.nz
NORTHERN TONGARIRO GATEWAY
      RIDES, WALKS & OTHER ACTIVITIES
      Difficulty of Walk: Easy, Moderate, Difficult
      Grade of Ride: 1= Easiest to 5 = Expert

      FISHERS TRACK                                     RIDes
      Distance: 28km Grade: 2
      Part of the Mountains to Sea Cycle Trail, this track includes
      a 520m descent through farmland. Book your pick-up from
      Monument Corner on Oio Road.

      42 TRAVERSE
        Distance: 46km Grade: 3-4
        Starting on Kapoors Road off SH47, this trail is known for its
NATIONALlong, winding downhills. Leave plenty of energy for the 2km
  PARK climb to Owhango.

      BRUCE ROAD
      Distance: 6km Grade: 2
      The access road to Whakapapa Ski Area is an uphill challenge
      or downhill blast. Book transport or self drive to the top for
   ERUA
      the easy option.

      MARTON SASH & DOOR TRAMWAY
      Distance: 16km Grade: 2
      A loop trail from National Park Village, this trail follows a
      recovered bush tramway route, backcountry roads and
      travels through a pine plantation.

      RUAPEHU CRATER LAKE CLIMB                                 walks
      Distance: 7-10km Difficulty: Moderate
      Ride the Whakapapa Ski Area chairlifts to 2020m above sea
      level before hiking to Mt Ruapehu's Crater Lake. Spectacular
      360° views.

      TARANAKI FALLS
        Distance: 5km Difficulty: Easy
HOROPITOA loop trail takes you across the Wairere stream and over
        15,000 year old lava formations to the 20m high cascade of
        Taranaki Falls, returning to Whakapapa Village.

                                     40
WHAKAPAPANUI                                       walks
      Distance: 6km Difficulty: Easy
      Follow the Whakapapanui Stream through slowly
      regenerating beech forest previously affected by storm
      damage. Return via the same track or follow the Bruce Road.
                                                MT tongariro
      TAMA LAKES
      Distance: 17km Difficulty: Moderate
      An extension of the Taranaki Falls Track, the Tama Lakes
      occupy old explosion craters on the Tama Saddle between
      Mt Ruapehu and Mt Ngauruhoe.
                                           MT NGAURUHOE
      ROUND THE MOUNTAIN TRACK
      Distance: 14km Difficulty: Moderate
      For those seeking solitude, magnificent mountain views
      and a backcountry experience, this four to six day hike
      around Mt Ruapehu won't disappoint. Prepare for all
      weather conditions.
                             Tongariro
      SILICA RAPIDS        National Park
       Distance: 6km Difficulty: Easy
       A pleasant walk alongside a cascading stream, subalpine
       plants and a mixture of swamp and tussock passing the
       creamy white terraces of Silica Rapids.
WHAKAPAPA
 VILLAGE
      TAWHAI FALLS
      Distance: 1km Difficulty: Easy
      Tumbling over the edge of an ancient lava flow and
      surrounded by native forest, the short walk to Tawhai
      Falls starts 4km below Whakapapa Village.
               WHAKAPAPA
      WHAKAPAPA DOC VISITOR CENTRE                  activities
      Learn about the unique cultural and volcanic history of
      Tongariro National Park and its three volcanoes through two
      audio-visual shows in the purpose built media room.

                    MT RUAPEHU
      TONGARIRO & WHAKAPAPA   RIVERS
      Experience the thrills and spills of kayaking or rafting down
      the mighty Tongariro or Whakapapa Rivers. Beautiful scenery
      and plenty of fun. Trout fishing is also popular.

                       www.visitruapehu.com
fishers track

    NORTHERN TONGARIRO GATEWAY
    RIDES, WALKS & OTHER ACTIVITIES

    SCENIC FLIGHTS                                               activities
    View the spectacular Emerald Lakes, Blue Lake and Tama
    Lakes. See into live volcanic craters and marvel at the
    landscape of two National Parks.

    WHAKAPAPA GOLF
    A nine hole golf course, on the doorstep of the historic
    Chateau Tongariro within Whakapapa Village. Picturesque
    scenery from the putting greens.

    NATIONAL PARK MINI GOLF
    An eighteen hole mini golf course which opened in 2014
    provides fun for all the family. A unique course with a
    design focused on the local environment.

    TE ARAROA
    The Long Pathway includes part of the Tongariro Alpine
    Crossing, the Whakapapaiti Track and Fishers Track and is
    known as one of the longest walking tracks in the world.

the crossing backpackers
                         Quality accommodation with spacious
                         common facilities, Wi-fi, pool table, spa
                         pool, projector room, satellite TV and
                         laundry facilities. Free National Park
                         pick ups from bus or train.
                         P: +64 7 892 2894
                         E: stay@thecrossingbackpackers.co.nz
                         W: thecrossingbackpackers.co.nz
Discovery
                         Enjoy breath taking views of the
                         volcanoes and surrounding nature.
                         Luxury chalets, motel apartments,
                         huts and camping. Enjoy friendly
                         kiwi hospitality and expert local advice.

                         P: +64 7 892 2744 or 0800 122 122
                         E: info@discovery.net.nz
                         W: discovery.net.nz

Business
plateau Name
         lodge & Shuttle
                         On the edge of the Dual World
                         Heritage Tongariro National Park.
                         Our family lodge offers apartments,
                         ensuites, budget rooms & daily
                         shuttles to the Tongariro Alpine Crossing.

                         P: +64 7 892 2993
                         E: info@plateaulodge.co.nz
                         W: plateaulodge.co.nz

National park Backpackers
                         Magnificient view of the volcanoes.
                         Accommodation from budget dorm
                         beds to private ensuite rooms. Indoor
                         Climbing Wall. Bus to Tongariro Alpine
                         Crossing, Whakapapa Village/ski area,
                         mountain bike trails.
                         P: +64 7 892 2870
                         E: nat.park.backpackers@xtra.co.nz
                         W: npbp.co.nz

the park hotel
                         The Park, a character alpine lodge
                         located in National Park Village
                         offers three star plus Qualmark
                         accommodation, restaurant, cafe,
                         bar, open fire places, hot tubs and
                         Tongariro Crossing transport.
                         P: 0800 800 491
                         E: bookings@the-park.co.nz
                         W: the-park.co.nz

TONGARIRO HOLIDAY PARK
                         Located between the start and finish of
                         the Tongariro Alpine Crossing.Transport
                         year round, spa pool, games room/TV.
                         Sunny or shaded campsites, clean and
                         comfortable.
                         P: +64 7 386 8062
                         E: info@thp.co.nz
                         W: thp.co.nz

wood pigeon lodge
                         Affordable, awards, accommodation.
                         Barn, boutique, bush, birdlife. Hut. Loca-
                         tion. Relaxed, romantic, rural, Ruapehu.
                         Solitude, service. Treehouse, tranquil,
                         transfers, Tongariro. Views, volcanoes.
                         Wi-fi, welcome, Wood Pigeon Lodge!
                         P: +64 7 892 2933
                         E: woodpigeonlodge@actrix.co.nz
                         W: woodpigeonlodge.co.nz
TIMELES S
   Chateau
  TONGARIRO
  Chateau Tongariro Hotel believes in providing visitors
  with a timeless elegance and in preserving history and
tradition. The elegant Chateau Tongariro is located within
 Whakapapa Village - in the heart of Tongariro National
 Park and was constructed during the 'roaring twenties'.

 Today, the hotel provides accommodation, restaurants,
bars, High Tea lounge service, conference facilities and is
  a popular wedding destination throughout the year.

The Chateau Tongariro Hotel is surrounded by a stunning
natural playground bursting with diverse landscapes for
   visitors to the Tongariro National Park to discover.

chateau.co.nz                  0800 Chateau
Mountain Air
  Volcanic Flights
Be inspired by a spectacular flight around the volcanic region of the Tongariro
National Park Dual World Heritage Area. View the live volcanoes, Mt Ruapehu,
Tongariro and Ngauruhoe and be informed of ancient Maori legends of these
mountains. Observe the highlights of the Tongariro Alpine Crossing, the Emerald
Lakes and Blue Lake and marvel at the birds eye view of the volcanic craters.

                  P: +64 7 892 2812
                  FP: 0800 922 812
                  W: mountainair.co.nz
                  E: mountainair@xtra.co.nz
kiwi mountain bikes ltd.
                       Mountain bike hire and transport.
                       42 Traverse, Fishers Track, Marton
                       Sash and Door and Mountains to Sea
                       Cycle way. Retail and Maintenance.

                       P: 0800 562 4573 (KMBIKES)
                       E: info@kiwimountainbikes.co.nz
                       W: kiwimountainbikes.co.nz

schnapps bar
                       The perfect place to relax, enjoy a
                       delicious meal, 18 holes of Mini Golf
                       and a few drinks, after the Tongariro
                       Alpine Crossing or spending the day on
                       the ski field.

                       P: +64 7 892 2788
                       E: info@schnappsbarruapehu.com
                       W: schnappsbarruapehu.com

the station cafe and restaurant
                       Situated in the historic National
                       Park railway station. The Station
                       offers brunch, lunch and evening
                       dining. Home baked cakes and
                       savouries, awesome coffee and
                       a friendly atmosphere.
                       P: +64 7 892 2881
                       E: info@thestationcafe.co.nz
                       W: thestationcafe.co.nz
In any season, the Skotel Alpine Resort, in Whakapapa Village
just above the Chateau, has the mountain style and position,
family-friendly facilities, and the views, for guests to enjoy their
activities in the Park.
Regular transport leaves from our door to the ski-fields or the
Tongariro Crossing. Our staff can help you plan your trips or
activities with any of the local operators.

For Best Deals Book Direct
0800 756 835
www.skotel.co.nz
info@skotel.co.nz

                                   Restaurant and Bar
                                   Our à la carte restaurant has
                                   dishes with a range of prices and
                                   pizzas. Room packages include
                                   B and B, Tongariro Crossing and
                                   multi-day.

                                   Rooms
                                   Hotel rooms include bunk, family
                                   and budget options. Our back-
                                   packer twin, double and triple
                                   rooms give private occupation.

                                   Cabins
                                   Our cabins, though small,
                                   can take a family of 6 and are self
                                   contained. Each has its own deck
                                   with extensive mountain views.

                       www.skotel.co.nz
SOUTHERN TONGARIRO GATEWAY
OHAKUNE, TUROA & WAIOURU

Charming Ohakune, the small settlement of Rangataua and
the army town of Waiouru are connected through history by
the North Island Main Trunk Railway which was completed in
1907. Access to Turoa ski area is via the Mountain Road. Fast
becoming regarded as the North Island's premier ski area,
Turoa is open late June to early November.
The North Island's mountain town, Ohakune, is set at the
foot of Mt Ruapehu. A destination township Ohakune has an
extensive range of cafes, restaurants, bars and accommo-
dation plus services including banks, a Postshop, chemist
and supermarket. Ohakune with its small town charm has a
surprising number of retail options from merino wool
clothing, hunting, fishing and biking /cycling clothing and
equipment to boutique gift and art wares making it the
perfect place to base yourself whilst visiting the many local
attractions and activities.
Shuttles leave daily for Ohakune Old Coach Road, the start
of the Mountains to Sea Cycle Trail and the Tongariro Alpine
Crossing. Bike rental businesses can deliver cyclists to any of
the great trails and also drop thrill seekers off at the Turoa Ski
Area car park for the 18km descent down the Mountain Road.
At 814m above sea level, Waiouru is the home of the National
Army Museum and the base for one of New Zealands National
Army Training Facilities. North of Waiouru is the scenic section
of SH1 called the Desert Road.
Seven kms to the west of Waiouru is Tangiwai, the site of New
Zealands worst railway disaster. On 24 December, 1953 the
train from Wellington to Auckland passed over the Tangiwai
railway bridge just after it had been weakened by a lahar from
Mt Ruapehu. The bridge collapsed, sending the train into the
Whangaehu River. Many army personnel were involved in the
rescue of survivors.

                               48
hapuawhenua viaduct

 turoa ski area                         ohakune

                                        shopping

ohakune carrot                  waitonga falls
SOUTHERN TONGARIRO GATEWAY
RIDES, WALKS, & OTHER ACTIVITIES
Difficulty of Walk: Easy, Moderate, Difficult
Grade of Ride: 1= Easiest to 5 = Expert

OHAKUNE OLD COACH ROAD                            RIDes
Distance: 15km Grade: 2
This historic trail was used by horse drawn coaches to
transport passengers between the two rail heads of the
unfinished North Island trunk line.

OHAKUNE MOUNTAIN ROAD                                     TUROA
Distance: 17kmhoropito
                 Grade: 2
The start of the Mountains to Sea Cycle Trail, this sealed
road leads to and from Turoa Ski Area with a 1000m vertical
ascent/descent.

TREE TRUNK GORGE
Distance: 18km Grade: 3                   TONGARIRO
On a side road off the Desert Road, travel through old lava
                                        NATIONAL PARK
flows, stands of beech forest and pristine native bush
leading to the Pillars of Hercules.

TUKINO ROAD
Distance: 26km Grade: 3
Providing access to Tukino Ski Area, this lovely, desert like
scenic ride offersOHAKUNE
                   a challenging uphill climb and/or a
thrilling 600m descent.

RANGATAUA FOREST
Distance: 12km Grade: 3
A picturesque loop at the base of Mt Ruapehu which follows
an old forest road. Start on Rangataua Road or Middle Track.

MANGAWHERO RIVER WALK                                  walks
Distance: 2km Difficulty: Easy
Meandering along the banks of the Mangawhero River,
this easy path connects Ohakune's town centre with 'The
Junction' area at the foot of Mt Ruapehu.

RIMU WALK
Distance: 1.5km Difficulty: Easy
Looping off the Mangawhero Forest track this walk crosses a
peaceful mountain stream and passes through native ferns
and kamahi. Wheelchair accessible.

                               50
WAITONGA FALLS                                       walks
Distance: 4km Difficulty: Easy
Follow the wooden boardwalk through alpine tussock and
a meandering trail through beech forest before reaching
the falls.

LAKE ROTOKURA
Distance: 5km Difficulty: Easy
This ecological reserve between Ohakune and Waiouru is
home to an increasing population of native bird species.
Fishing is strictly prohibited. Not suitable for bikes.

LAKES RESERVE
MT RUAPEHU
Distance: 1.8km Difficulty: Easy
Walk, bike or drive around the southern most vent of The
Pacific Rim. Native bush and an easy track surround the Lake.

LAKE SURPRISE
Distance: 9km Difficulty: Moderate
Off the Ohakune Mountain Road, this superb trail crosses
rocky landscapes before descending into the Mangaturuturu
Valley. Evidence of the 1975 lahar is still visible.

OLD BLYTH TRACK
Distance: 11km Difficulty: Moderate
Constructed in the early 1900s and named after school
headmaster Joe Blyth, this hike eventually connects with
Waitonga Falls and the Round the Mountain Track.

TE PEPE BIKE PARK & PUMP TRACK                  activities
Custom designed in the shape of a magnificent New
Zealand puriri moth, the new bike park and Pump Track
is located at the Junction in Ohakune.

OHAKUNE MUSEUM
Featuring items and displays from the late 1800s including
the Tangiwai train disaster and a brief history of the North
Island Main Trunk Railway.

TANGIWAI MEMORIAL
On Christmas Eve 1953 the Wellington-Auckland express
plunged into the Whangaehu River following a Mt Ruapehu
lahar. The memorial honours the 151 lives that were lost.
                                                             waiouru
NATIONAL ARMY MUSEUM
New Zealands most comprehensive Army Museum. A
unique collection of military exhibits, memorabilia and
public research material, situated at Waiouru.