Women's Artistic Gymnastics NDP Grades 2018 2021
Page content transcription ( If your browser does not render page correctly, please read the page content below )
Page 3



                                NATIONAL DEVELOPMENT PLAN - PROGRESSION CHART
                                                (2018 onwards)


               CLUB & REGIONAL GRADES                                                         NATIONAL GRADES

       COUNTY/ REGIONAL COMPETITIONS ONLY                       REGIONAL QUALIFYING COMPETITION LEADING TO A NATIONAL FINAL
  GRADE                AGE [in year of competition]               GRADE                            AGE [in year of competition]
    6                      8 years [minimum]
    5                      9 years [minimum]
    4                     10 years [minimum]                         4                                 10 years [minimum]
    3                     11 years [minimum]                         3                                 11 years [minimum]
    2                     12 years [minimum]                         2                                 12 years [minimum]
    1                     13 years [minimum]                         1                                 13 years [minimum]

For a more in-depth eligibility chart, please see the most up to date Women's National Competition Handbook on the British
Gymnastics website.

   •     A gymnast is not eligible to enter Club, Regional or National Grades if she has qualified for British Championships
   •     Only one Grade may be taken per year
   •     A Grade may only be repeated if it was failed the previous year
   •     Progression should be forward and developmental
   •     All Grades are marked out of a maximum of14.00 - D Score (4.00 maximum) + E Score (10.00)
   •     To qualify for the National Grades Final, a gymnast must have passed the Grade
   •     There is NO minimum score on any apparatus, including Range & Conditioning
   •     Range and Conditioning will be performed at National Final
Page 4




                                   PASS MARKS

         REGIONAL GRADES
            PASS:          47.50
            COMMENDED:     55.00
            DISTINCTION:   60.00



         NATIONAL GRADES
            PASS:          50.00
            COMMENDED:     55.00
            DISTINCTION:   60.00
Page 5




                            GENERAL NOTES ON THE CLUB, REGIONAL AND NATIONAL GRADES

Current FIG Code of Points (CoP) General Faults / Penalties / Artistry deductions for Floor and Beam are to be applied when evaluating
each exercise in addition to the Specific Element Penalties for faults stated in the text for each Grade on each apparatus. Wherever
possible, the text will indicate at what point an element is considered not valid and will lose the Value of the Move (VM).


                                      FINAL SCORE - WHAT IS TAKEN AND FROM WHERE

                           Penalty                                        Taken by:                         Taken From:
              Non attempt of an element (2.00)
                                                                       D Panel judges             Final Score (as Neutral Penalties)
                     Series Break (0.50)
Value of Move (VM) – elements not completed to the technical
     requirement e.g. lack of hold / turns incomplete etc.              D Panel judge                      4.00 (D Score)
          VM generally 0.50 but refer to specific text
                       Execution faults
                 Specific Apparatus faults                              E Panel judges                     10.00 (E score)
                        Artistry faults

   NOTE: EACH NON-ATTEMPT OF AN ELEMENT WILL INCUR BOTH A 'NON-ATTEMPT' PENALTY (FROM FS) AND A 'VM' PENALTY (FROM D SCORE)
Page 7



                   VAULT – all Grades: - D Score = 4.00 (exceptions – in Regional Grade 2 & National Grade 1)

                          CLUB GRADES 6 & 5; REGIONAL and NATIONAL GRADES 4 – 1:- 2 VAULTS - BEST VAULT TO COUNT


           LEVEL                                                 VAULT                                                     APPARATUS

                        Run and hurdle step with 2 footed take-off from springboard to land on 2 feet on 60cm       60cm foam block with level
            GRADE 6
                        foam block – step into handspring flatback from block to level safety mats               safety mattresses at back of block
CLUB




                                                                                                                 Safety mattresses + tumbler or firm
            GRADE 5     Handspring flatback
                                                                                                                    matting [total height 100cm]

                                                                                                                Vault height: 110cm + 5cm mat on
            GRADE 4     Handspring flatback                                                                     vault with level safety mattresses at
                                                                                                                            back of vault

            GRADE 3     Handspring                                                                                      Vault height: 120cm
REGIONAL




                                     Handspring – D Score 3.00
            GRADE 2     Choice of    ½ on – ½ off                                                                       Vault height: 120cm
                                     Handspring full twist

                                     ½ on – ½ off
            GRADE 1     Choice of                                                                                       Vault height: 125cm
                                     Handspring full twist

            GRADE 4     Handspring                                                                                      Vault height: 120cm

                                     Handspring to stand – fall forwards to lie face down
                                                                                                                Vault height: 120cm with level safety
            GRADE 3     Choice of    ¼ - ½ on to stand (Tsukahara prep) – fall backwards to lie on back
                                                                                                                     mattresses at back of vault
NATIONAL




                                     Yurchenko prep to stand – fall backwards to lie on back

                                     ¼ - ½ on (Tsukahara prep) to flat back                                     Vault height: 125cm with level safety
            GRADE 2     Choice of
                                     Yurchenko prep to flat back                                                     mattresses at back of vault

                                     Handspring full twist – D Score 3.50
            GRADE 1     Choice of    Tsukahara tucked or piked                                                          Vault height 125cm
                                     Yurchenko tucked or piked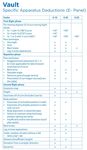 Page 8

                                                           VAULT – CLUB GRADE 6
Run and hurdle step with 2 footed take off from springboard to land in a controlled stationary position on 2 feet on 60cm foam block –
one step into handspring flatback from block to land on level safety mats. Gymnast may walk forwards or backwards into correct
starting position for handspring flatback with no deduction OR start from where the jump has landed. Handspring flatback - place
hands on block - land on back on safety mats.

          PHASE                                                EXECUTION FAULTS                                             PENALTIES
                         Poor co-ordination of arm swing                                                             0.10
   TAKE OFF BOARD        Leaning forwards on the board                                                               0.10
                         Arms already up on jump onto board                                                                     0.30
                         Rebound from 1 foot                                                                                                0.50
                         Body alignment in jump                                                                      0.10
                         Lack of height in jump                                                                      0.10       0.30        0.50
  JUMP AND LANDING       Bent legs in jump                                                                           0.10       0.30        0.50
     ONTO BLOCK          Legs apart                                                                                  0.10       0.30
                         Lack of control in landing                                                                  0.10       0.30
                         Shoulder angle on contact with block                                                        0.10       0.30
                         Bent arms                                                                                   0.10       0.30        0.50
         REPULSION       Repulsion from hands on safety mat (and not block)                                                                 0.50
                         More than one step into handspring flatback (walk into correct starting position allowed)          0.30 per step
                         Run/jump/hurdle step into handspring flatback                                                                      0.50
                         Bent legs                                                                                   0.10        0.30       0.50
  FLIGHT PHASE FROM      Failure to maintain straight body position                                                  0.10        0.30
BLOCK TO SAFETY MATS     Insufficient height                                                                         0.10        0.30       0.50
                         Insufficient length                                                                         0.10        0.30
                         Legs apart in flight phase                                                                  0.10        0.30

  LANDING ON SAFETY      Landing with hands still touching the block (or touching if arms/hands were placed down)                           0.50
        MATS             Landing on mats with legs apart                                                             0.10
                         Failure to land on flat back (landing in dish)                                                         0.30
         GENERAL         Dynamics                                                                                    0.10       0.30
Page 9

                                                            VAULT – CLUB GRADE 5


Handspring flatback to safety mats + tumbler or firm matting

Total height of matting - 100cm


          PHASE                                                 EXECUTION FAULTS          PENALTIES

   TAKE OFF BOARD       Poor co-ordination of arm swing                            0.10
                        Arms already up on jump onto board                                    0.30
                        Hip angle                                                  0.10      0.30
                        Arch                                                       0.10      0.30
     FIRST FLIGHT       Bent legs                                                  0.10      0.30      0.50
                        Legs apart                                                 0.10      0.30
                        Shoulder angle on contact with mat                         0.10       0.30
         REPULSION      Bent arms                                                  0.10       0.30      0.50
                        Walking on hands                                                  0.10 per step
                        Double bounce on hands                                                          1.00
                        Bent legs                                                  0.10      0.30      0.50
                        Failure to maintain straight body position                 0.10      0.30
  SECOND FLIGHT and     Insufficient height                                        0.10      0.30      0.50
      LANDING           Insufficient length                                        0.10      0.30
                        Legs apart                                                 0.10      0.30
                        Failure to land on flat back (landing in dish)                       0.30


         GENERAL        Body alignment at any phase (taken only once)              0.10
                        Dynamics                                                   0.10      0.30
Page 10

                                                      VAULT – REGIONAL GRADE 4


Handspring flatback on Vault - to land on level safety mats behind vault

Height of Vault 110cm + 5cm roll mat over vault – total height 115cm

          PHASE                                                 EXECUTION FAULTS                                           PENALTIES

   TAKE OFF BOARD        Poor co-ordination of arm swing                                                            0.10
                         Arms already up on jump onto board                                                                    0.30
                         Hip angle                                                                                  0.10      0.30
                         Arch                                                                                       0.10      0.30
     FIRST FLIGHT        Bent legs                                                                                  0.10      0.30      0.50
                         Legs apart                                                                                 0.10      0.30
                         Shoulder angle on contact with vault                                                       0.10       0.30
      REPULSION          Bent arms                                                                                  0.10       0.30      0.50
                         Walking on hands                                                                                  0.10 per step
                         Double bounce on hands                                                                                          1.00
                         Bent legs                                                                                  0.10      0.30      0.50
                         Failure to maintain straight body position                                                 0.10      0.30
                         Insufficient height                                                                        0.10      0.30      0.50
  SECOND FLIGHT and
                         Insufficient length                                                                        0.10      0.30
      LANDING
                         Landing with hands still touching the vault (or touching if arms/hands were placed down)                       0.50
                         Legs apart                                                                                 0.10      0.30
                         Failure to land on flat back (landing in dish)                                                       0.30


                         Body alignment at any phase (taken only once)                                              0.10
          GENERAL        Dynamics                                                                                   0.10      0.30
Page 11

                                                  VAULT – REGIONAL GRADE 3


Handspring

Height of Vault 120cm

Current FIG Code of Point penalties apply (including Dynamics 0.10 / 0.30)
Page 12

                                                   VAULT – REGIONAL GRADE 2


Choice of the following 3 vaults:-


Handspring full twist    D Score 4.00

½ on ½ off               D Score 4.00

Handspring               D Score 3.00

Height of Vault 120cm

Current FIG Code of Point penalties apply (including Dynamics 0.10 / 0.30)

NOTE: If twist is not fully completed in handspring full twist vault – D Panel credit Handspring vault (D Score = 3.00). E Panel proceed
with Execution Penalties from 10.00
Page 13

                                                    VAULT – REGIONAL GRADE 1


Choice of the following 2 vaults – both vaults D Score 4.00:-

Handspring full twist

½ on ½ off


Height of Vault 125cm

Current FIG Code of Point penalties apply (including Dynamics 0.10 / 0.30)

NOTE: If twist is not fully completed in handspring full twist vault – D Panel take off VM 4.00 (i.e. D Score = 0.00). E Panel proceed with
Execution Penalties from 10.00
Page 14

                                                  VAULT – NATIONAL GRADE 4


Handspring

Height of Vault 120cm

Current FIG Code of Point penalties apply (including Dynamics 0.10 / 0.30)
Page 15

                                                        VAULT – NATIONAL GRADE 3
Height of Vault 120cm - to land on level safety mats behind vault

Choice of the following 3 vaults – all vaults D Score 4.00:-

                                       Vault 1 - Handspring to stand – fall forwards to lie face down
                                       Vault 2 - ¼ - ½ on to stand (Tsukahara prep) – fall backwards to lie on back
                                       Vault 3 - Yurchenko prep to stand – fall backwards to lie on back
                                                                        VAULT 1
          PHASE                                                 EXECUTION FAULTS                                       PENALTIES
                          Hip angle                                                                             0.10     0.30
     FIRST FLIGHT         Arch                                                                                  0.10     0.30
                          Bent legs                                                                             0.10     0.30      0.50
                          Legs apart                                                                            0.10     0.30
                          Staggered / alternate hand placement on vault                                         0.10
      REPULSION           Shoulder angle on contact with vault                                                  0.10     0.30
                          Bent arms                                                                             0.10     0.30      0.50
                          Bent legs                                                                             0.10     0.30      0.50
                          Failure to maintain straight body position                                            0.10     0.30
                          Insufficient height                                                                   0.10     0.30      0.50
                          Insufficient length                                                                   0.10     0.30
                          Landing on the table (before falling forwards)                                                           0.50
  SECOND FLIGHT and
                          Legs apart                                                                            0.10     0.30
      LANDING
                          Landing in squat                                                                      0.10     0.30      0.50
                          Failure to maintain correct body position during fall (arm position optional)         0.10     0.30
                          Steps backwards on landing (under rotation) – without a fall                          0.10    0.30 (max 0.80)
                          Under rotation – with a fall                                                                  0.30 (+1.00 fall)



                          Body alignment at any phase (taken only once)                                         0.10
          GENERAL         Dynamics                                                                              0.10     0.30
Page 16




                                                       VAULT – NATIONAL GRADE 3

Height of Vault 120cm - to land on level safety mats behind vault – arm position optional on landing on back

                                                                 VAULT 2 & VAULT 3

          PHASE                                                 EXECUTION FAULTS                                  PENALTIES
                         Hip angle                                                                         0.10     0.30
     FIRST FLIGHT        Arch                                                                              0.10     0.30
                         Bent legs                                                                         0.10     0.30      0.50
                         Legs apart                                                                        0.10     0.30
                         Failure to pass through the vertical                                              0.10
      REPULSION          Shoulder angle on contact with vault                                              0.10     0.30
                         Bent arms                                                                         0.10     0.30      0.50
                         Excessive snap                                                                    0.10     0.30
                         Bent legs                                                                         0.10     0.30      0.50
                         Failure to maintain straight body position                                        0.10     0.30
                         Insufficient height                                                               0.10     0.30      0.50
                         Insufficient length                                                               0.10     0.30
                         Landing on the table (before falling backwards)                                                       0.50
  SECOND FLIGHT and      Legs apart                                                                        0.10     0.30
      LANDING            Failure to maintain correct body position during fall (arm position optional)     0.10     0.30
                         Steps forwards on landing (under rotation) – without a fall                       0.10    0.30 (max 0.80)
                         Under rotation – with a fall                                                              0.30 (+1.00 fall)
                         Landing in squat                                                                  0.10     0.30      0.50
                         Feet not touching mat before landing on back                                                         0.50




          GENERAL        Dynamics                                                                          0.10     0.30
Page 17

                                                       VAULT – NATIONAL GRADE 2

Height of Vault 125cm - to land on level safety mats behind vault - arm position optional on landing on back

Choice of the following 2 vaults – both vaults D Score 4.00:-

                                      Vault 1 - ¼ - ½ on (Tsukahara prep) to flat back
                                      Vault 2 - Yurchenko prep to flat back


          PHASE                                                 EXECUTION FAULTS                                            PENALTIES
                         Hip angle                                                                                   0.10     0.30
                         Arch                                                                                        0.10     0.30
     FIRST FLIGHT        Bent legs                                                                                   0.10     0.30      0.50
                         Legs apart                                                                                  0.10     0.30
                         Failure to pass through the vertical                                                        0.10
      REPULSION          Shoulder angle on contact with vault                                                        0.10     0.30
                         Bent arms                                                                                   0.10     0.30      0.50
                         Bent legs                                                                                   0.10     0.30      0.50
                         Failure to maintain straight body position                                                  0.10     0.30
                         Insufficient height                                                                         0.10     0.30      0.50
  SECOND FLIGHT and      Insufficient length                                                                         0.10     0.30
      LANDING            Landing with feet / legs touching the vault (or touching if legs / feet were placed down)                      0.50
                         Landing on back in a pike position                                                          0.10     0.30
                         Legs apart                                                                                  0.10     0.30
                         Brushing the mat with feet                                                                                     0.50
                         Failure to land on flat back (landing on feet then falling to back)                                            1.00
                         Body alignment at any phase (taken only once)                                               0.10
          GENERAL        Dynamics                                                                                    0.10     0.30
Page 18

                                                    VAULT – NATIONAL GRADE 1


Choice of the following 5 vaults:-


Tsukahara tucked          D Score 4.00

Tsukahara piked           D Score 4.00

Yurchenko tucked          D Score 4.00

Yurchenko piked           D Score 4.00

Handspring full twist     D Score 3.50


Height of Vault 125cm

Current FIG Code of Point penalties apply (including Dynamics 0.10 / 0.30)


NOTE: If twist is not fully completed in handspring full twist vault – D Panel take off VM 3.50 (i.e. D Score = 0.00). E Panel proceed with
Execution Penalties from 10.00
Page 20

BARS – CLUB, REGIONAL & NATIONAL GRADES
CLUB GRADES 6 & 5                           SINGLE HIGH BAR OR TOP BAR OF UNEVEN BARS

REGIONAL GRADES 4 - 1                       UNEVEN BARS

NATIONAL GRADE 4                            UNEVEN BARS WITH HIGH BAR AS STRAP BAR AND LOW BAR AS WOODEN BAR

NATIONAL GRADES 3 - 1                       UNEVEN BARS


ALL Grades: - D Score = 4.00 (exception – in National Grade 1)

CASTS (including casts to handstand)
All casts may be performed with legs together or straddled (unless otherwise stated)


ADDITIONAL ELEMENTS
Additional upstarts / casts / giants etc. may be performed but will incur execution penalties as FIG CoP


NON ATTEMPT of an element – refer to Page 5
Deduction 2.00 (taken as a NEUTRAL PENALTY) + Value of Move [VM] (taken from the D SCORE)


INCOMPLETE / FAILED ATTEMPT of an element
The VM penalty is taken from the D SCORE; however elements may be repeated in order to achieve VM (as FIG CoP). If the element is
then completed successfully, the gymnast will incur execution penalties for all attempts, which may include fall penalties, but will not
lose VM penalty.

DIAGRAMS
See Pages 21 and 22 for swings/ casts / close bar circle penalties. Penalty diagrams have also been included on the appropriate pages.
Page 21

CLUB GRADES – UNEVEN BARS - DIAGRAMS AND PENALTIES



Club Grade 5
                     Swing penalties                 Back swing penalties
Page 22

NATIONAL & REGIONAL GRADES – UNEVEN BARS - DIAGRAMS AND PENALTIES

                                         National Grades 4, 3, 2 & 1              National Grade 1
                                             Cast to handstand              Close bar circle to handstand




          National Grade 2 & Regional Grade 1
              Clear circle / close bar circle                          Regional Grades 3, 2 & 1
                     to 45˚or above                                      Cast to horizontal
Page 23

                                                                     BARS – CLUB GRADE 6
Single high bar or high bar of Uneven Bars

                            DESCRIPTION                                  VALUE                      EXECUTION FAULTS                                  PENALTIES
Assisted by Coach - Jump to catch the bar in reverse grip                        Lack of body extension in jump and hang                       0.10      0.30
                                                                          0.00
Show straight hang position with good body shape
Reverse chin up (chin over the bar)                                              Failure to make 90° elbow angle                                    Non-attempt
                                                                                 Forehead not at the height of bar                                      VM
Lower to straight hang in control                                                Chin level with bar                                                   0.30
                                                                          0.50
                                                                                 Chin resting on bar                                                   0.30
                                                                                 Poor technique (arch to initiate a swing)                     0.10    0.30
                                                                                 Lowering out of control                                       0.10    0.30
Half turn to regular grip by releasing one hand to side of body to               Failure to execute turn and re-grasp bar                                 VM
                                                                          0.50
execute turn and re-grasp bar                                                    Deviation from straight body shape (body alignment)           0.10
Leg lift with straight legs (feet to touch bar)                                  Failure to lift legs to horizontal                                   Non-attempt
                                                                          0.50   Failure to lift feet to 45° from vertical                                VM
Lower to straight hang in control                                                Failure to touch bar with feet                                0.10
Leg lift with straight legs (feet to touch bar)                                  Shoulder angle and head back (body alignment)                 0.10
                                                                          0.50   Lack of control in lowering legs                              0.10      0.30
Lower to straight hang in control                                                Failure to finish in straight hang (finishing in dish)        0.10
Chin up and circle over the bar to finish in front support                       Failure to circle over to front support                                  VM
                                                                                 Chin not level with or above bar before circle over           0.10
(NO deduction for pausing / stopping in front support)                           Chin resting on bar before circle over                                  0.30
                                                                          0.50   Poor technique in circle over [use of leg swing to initiate   0.10      0.30
                                                                                 circle]
                                                                                 Not completing front support position before roll                       0.30
                                                                                 forwards
Roll forward to chin up position, lower to straight hang                         Chin resting on bar before lowering                                     0.30
                                                                          0.50
                                                                                 Lowering out of control                                       0.10      0.30
Dish/arch (fish) swings in preparation for the tap in the backward               Failure to show 3 consecutive dish/arch shapes                           VM
giant (not intended to be full swings) - 5 swings maximum (best 3                Lack of co-ordination in fish swings                          0.10      0.30
                                                                          0.50
consecutive swings to be judged)                                                 Hang and STOP before releasing to dismount (not                         0.30
Dismount - release bar at end of forward or backward swing to land               releasing at end of forward / backward swing)
Page 24



                                                                     BARS – CLUB GRADE 5
Single high bar or high bar of Uneven Bars



                            DESCRIPTION                                  VALUE                      EXECUTION FAULTS                                  PENALTIES
Assisted by Coach - Jump to catch the bar in reverse grip                        Lack of body extension in jump and hang                       0.10      0.30
                                                                          0.00
Show straight hang position with good body shape
Reverse chin up (chin over the bar)                                              Failure to make 90° elbow angle                                    Non-attempt
                                                                                 Forehead not at the height of bar                                      VM
Lower to straight hang in control                                                Chin level with bar                                                   0.30
                                                                          0.50
                                                                                 Chin resting on bar                                                   0.30
                                                                                 Poor technique (arch to initiate a swing)                     0.10    0.30
                                                                                 Lowering out of control                                       0.10    0.30
Half turn to regular grip by releasing one hand to side of body to               Failure to execute turn and re-grasp bar                                 VM
                                                                          0.50
execute turn and re-grasp bar                                                    Deviation from straight body shape (body alignment)           0.10
Leg lift with straight legs (feet to touch bar)                                  Failure to lift legs to horizontal                                   Non-attempt
                                                                                 Failure to lift feet to 45° from vertical                                VM
Lower to straight hang in control                                                Failure to touch bar with feet                                0.10
                                                                          0.50
                                                                                 Shoulder angle and head back (body alignment)                 0.10
                                                                                 Lack of control in lowering legs                              0.10      0.30
                                                                                 Failure to finish in straight hang (finishing in dish)        0.10
Chin up and circle over the bar to finish in front support                       Failure to circle over to front support                                  VM
                                                                                 Chin not level with or above bar before circle over           0.10
(NO deduction for stopping in front support)                                     Chin resting on bar before circle over                                   0.30
                                                                          0.50
                                                                                 Poor technique in circle over (use of leg swing to initiate   0.10       0.30
                                                                                 circle)
                                                                                 Not completing front support position before roll fwd                    0.30
Roll forward to chin up position, lower to straight hang                         Chin resting on bar before lowering                                     0.30
                                                                          0.50
                                                                                 Lowering out of control                                       0.10      0.30
Trolley swing (may be initiated by ONE dish and / or arch)                       Body alignment                                                0.10
                                                                          0.00   Bent legs                                                     0.10       0.30     0.50
                                                                                 More than one dish and / or arch into trolley swing                  0.50 (empty swing)
Page 25

Swing forward and backward                                     0.50   Swing penalties                                                 see diagrams
Swing forward and backward                                            Body alignment at any phase                              0.10
                                                                      Only ONE fwd/bwd swing performed                           Non-attempt + 1xVM
                                                               0.50   3 fwd/ bwd swings performed then circle over completed           0.50 (int. swing)
                                                                      More than 3 fwd/bwd swings before circle over            1.00 + VM for circle
                                                                                                                               over
Swing forward and circle over bar to front support                    Attempt to circle over, fall back same way or fall off             1.00 (fall) + VM
(NO composition deduction for empty swing after circle over)   0.50   Late wrist movement around bar (shoulders not lifting)             0.30
                                                                      Lack of control in circle over                           0.10      0.30
Dismount - cast into straddle on and undershoot                       Failure of feet to touch bar                                       VM
                                                               0.50
(NO height of cast penalties into element)                            Element penalties                                                 As CoP
Page 26



                                                               BARS – REGIONAL GRADE 4
Uneven Bars – if using the springboard, the gymnast must use the Yurchenko surround around the board (for safety). The surround
must remain around the board however both the board and surround may be removed if required after gymnast has jumped to bar.
                          DESCRIPTION                                 VALUE                     EXECUTION FAULTS                              PENALTIES
Jump from floor OR springboard to catch LB, swing forward and                 Insufficient height of hips in jump to catch LB          0.10     0.30
backward with legs together (jump into float upstart swing).                  Feet apart in swings                                     0.10
                                                                              Legs straddled in swings                                          0.30
Remaining on the bar, continue into 2nd float upstart swing (below)           Insufficient extension in hip angle at end of forward    0.10
                                                                       0.50
                                                                              swing
                                                                              Insufficient height of hips at end of back swing         0.10
                                                                              Jumping from Yurchenko surround                                   0.30
                                                                              Dismounting at end of 1st swing (classed as a fall)                          1.00
Remaining on LB, swing forward and backward with legs together a              Feet apart in swings                                     0.10
2nd time (float upstart swing)                                                Legs straddled in swings                                          0.30
Dismount at end of this back swing and land on floor OR                       Insufficient extension in hip angle at end of forward    0.10
springboard. Gymnast should not land on Yurchenko surround.                   swing
                                                                       0.50
                                                                              Lack of dish shape at the back of the swing              0.10     0.30
Gymnast may now step forwards or backwards if necessary, to                   Landing on Yurchenko surround                                     0.30
reach bar.                                                                    Brushing floor / springboard / Yurchenko surround on              0.30
                                                                              either swing (each time)
Upward circle to front support
                                                                       0.50   Failure to complete circle                                         VM
(NO composition deduction for empty swing after circle over)
Squat or stoop on                                                             Squat on one foot before the other                                0.30
                                                                       0.50
(NO height of cast deduction into element)                                    Sole circle performed                                             VM
Jump to catch HB                                                              Failure to jump to HB (includes following a fall)             Non-attempt
(NO composition deduction for jump to HB)                              0.50   Failure to catch the HB                                          1.00 (fall) + VM
                                                                              Lack of control in jump to HB                            0.10    0.30
Swing forward and circle over bar to front support                            Attempt to circle over, fall back same way or fall off           1.00 (fall) + VM
(NO composition deduction for empty swing after circle over)                  Late wrist movement around bar (shoulders not lifting)            0.30
                                                                       0.50
                                                                              Lack of control in circle over                           0.10     0.30
                                                                              Lack of hang shape in the tap swing                      0.10     0.30
Dismount - cast into straddle or stoop on and undershoot                      Failure of feet to touch bar                                      VM
                                                                       0.50
(NO height of cast deduction into element)                                    Element penalties                                                As CoP
Page 27

                                                               BARS – REGIONAL GRADE 3
Uneven Bars
                          DESCRIPTION                                 VALUE                      EXECUTION FAULTS                             PENALTIES
Mount - Float upstart (legs together or straddled)                             Failure to complete upstart                                      1.00 (fall) + VM
                                                                       0.50
                                                                               Element penalties                                                As CoP
Cast to (minimum) horizontal with legs together and                            Cast penalties                                                See diagram
                                                                               Cast with legs apart or straddled                        0.10    0.30
Back hip circle                                                        0.50    Failure to circle the bar                                         VM
(NO composition deduction for empty swing after back hip circle)               Going round twice                                                           0.50
                                                                               Element penalties (back hip circle)                              As CoP
Squat or stoop on                                                              Squat on one foot before the other                                0.30
                                                                       0.50
(NO height of cast deduction into element)                                     Sole circle performed                                             VM
Jump to catch HB                                                               Failure to jump to HB (includes following a fall)             Non-attempt
(NO composition deduction for jump to HB)                              0.50    Failure to catch the HB                                          1.00 (fall) + VM
                                                                               Lack of control in jump to HB                            0.10    0.30
Long upstart                                                                   Failure to complete upstart                                      1.00 (fall) + VM
                                                                       0.50
                                                                               Element penalties                                                As CoP
Cast to (minimum) horizontal with legs together and                            Cast penalties                                                See diagram
                                                                               Cast with legs apart or straddled                        0.10    0.30
Baby giant                                                                     Attempt to circle over, fall back same way or fall off           1.00 (fall) + VM
                                                                       0.50
(NO composition deduction for empty swing after circle over)                   Late wrist movement around bar (shoulders not lifting)           0.30
                                                                               Lack of control in circle over                           0.10    0.30
                                                                               Lack of hang shape in the tap swing                      0.10    0.30
Dismount - cast into straddle or stoop on and undershoot with ½                Failure of feet to touch bar                                      VM
turn                                                                   0.50    Failure to complete ½ turn                                        VM
(NO height of cast deduction into element)                                     Element penalties                                                As CoP


                                                                Cast to horizontal penalties
Page 28

                                                            BARS – REGIONAL GRADE 2
Uneven Bars

                          DESCRIPTION                                VALUE                       EXECUTION FAULTS                        PENALTIES
Mount - Float upstart (legs together or straddled)                             Failure to complete upstart                                 1.00 (fall) + VM
                                                                      0.50
                                                                               Element penalties                                           As CoP
Cast to (minimum) horizontal with legs together and                            Cast penalties                                           See diagram
                                                                               Cast with legs apart or straddled                   0.10     0.30
                                                                      0.50
Layaway upstart (legs together or straddled)                                   Failure to complete upstart                                 1.00 (fall) + VM
                                                                               Element penalties (upstart)                                As CoP
Cast to (minimum) horizontal with legs together and                            Cast penalties                                           See diagram
                                                                               Cast with legs apart or straddled                   0.10    0.30
Back hip circle                                                       0.50     Failure to circle the bar                                    VM
(NO composition deduction for empty swing after back hip circle)               Going round twice                                                      0.50
                                                                               Element penalties (back hip circle)                         As CoP
Squat or stoop on                                                              Squat on one foot before the other                           0.30
                                                                      0.50
(NO height of cast deduction into element)                                     Sole circle performed                                        VM
Jump to catch HB                                                               Failure to jump to HB (includes following a fall)        Non-attempt
(NO composition deduction for jump to HB)                             0.50     Failure to catch the HB                                     1.00 (fall) + VM
                                                                               Lack of control in jump to HB                       0.10    0.30
Long upstart                                                                   Failure to complete upstart                                 1.00 (fall) + VM
                                                                      0.50
                                                                               Element penalties                                           As CoP
Dismount – any 'A' coded dismount                                              Dismount higher value than 'A'                       VM (+ CoP penalties)
                                                                      0.50
                                                                               Element penalties including cast penalties                 As CoP

                                                               Cast to horizontal penalties
Page 29

                                                            BARS – REGIONAL GRADE 1
Uneven Bars

                           DESCRIPTION                               VALUE                     EXECUTION FAULTS                                 PENALTIES
Mount - Float upstart (legs together or straddled)                           Failure to complete upstart                                          1.00 (fall) + VM
                                                                      0.50
                                                                             Element penalties                                                   As CoP
Cast to (minimum) horizontal with legs together and                          Cast penalties                                                    See diagram
                                                                             Cast with legs apart or straddled                            0.10    0.30
                                                                      0.50
Clear circle to 45° or above                                                 Clear circle penalties                                            See diagram
                                                                             Back hip circle                                                       VM
Upstart (legs together or straddled) – OPTIONAL – i.e. gymnast may           Failure to complete upstart                                                1.00 (fall)
                                                                      0.00
go straight from clear circle into sole circle                               Element penalties                                                   As CoP
Squat/stoop/step on and sole circle                                          Squat/stoop/step on and no sole circle (i.e. jump straight        Non-attempt
(NO height of cast deduction into element)                                   to HB)
                                                                      0.50   Going round twice                                                                  0.50
                                                                             Going round more than twice                                       1.00 (count as fall)
                                                                             Bent leg penalties                                                   As CoP
Jump to catch HB                                                             Failure to jump to HB (includes following a fall)                 Non-attempt
(NO composition deduction for jump to HB)                             0.50   Failure to catch the HB                                               1.00 (fall) + VM
                                                                             Lack of control in jump to HB                                0.10     0.30
Long upstart                                                                 Failure to complete upstart                                           1.00 (fall) + VM
                                                                      0.50
                                                                             Element penalties                                                    As CoP
Dismount – any 'A' coded dismount                                            Dismount higher value than 'A'                                 VM (+ CoP penalties)
                                                                      0.50
                                                                             Element penalties including cast penalties                           As CoP


            Cast to horizontal penalties                                                                      Clear circle to 45° penalties
Page 30



                                                               BARS – NATIONAL GRADE 4
Uneven bars with high bar as strap bar (gloves and loops) and low bar as wooden bar

                           DESCRIPTION                                     VALUE                     EXECUTION FAULTS                               PENALTIES
                                                                                    Body alignment                                           0.10
From long hang, in regular grip, trolley swing (may be initiated by                 Bent legs
                                                                            0.00                                                             0.10       0.30     0.50
ONE dish and/ or arch)                                                              More than one dish and / or arch                                0.50 (empty swing)
                                                                                    Failure to complete upstart                                        1.00 (fall) + VM
Long upstart                                                                0.50
                                                                                    Element penalties                                                 As CoP
                                                                                    Cast penalties                                                  See diagram
                                                                                    Cast over the top                                                        1.00 (fall)
Cast to handstand                                                           0.50
                                                                                    Completed forward giant (over the bar from a failed               0.50 (int. swing)
                                                                                    handstand)
Giant circle backwards through handstand x 3 (legs together or                      Failure to complete any giant circle (*see NOTE below)           0.50 (each time)
                                                                            0.50
straddled on downswing)                                                             Excessive EARLY pike or straddle in downswing (bail)     0.10 0.30 (each giant)
                                                                                    Head out (chin up)                                       0.10 0.30 (each giant)
Coach to stop gymnast after 3 complete giant circles                        0.50    Slight arch in last ¼ of giant circle (body alignment)   0.10 (each giant)
                                                                                    Excessive arch in last ¼ of giant circle                        0.30 (each giant)
                                                                                    Lack of hang shape in the tap swing                      0.10 0.30 (each giant)
                                                                            0.50    Completed forward giant (over the bar from a failed              0.50 (each time)
                                                                                    giant)

NOTE: *Failure in completing giant circles: - an intermediate swing (fwd then bwd) occurring before a backward giant gets over the bar will incur a penalty of
0.50. The maximum number of intermediate swings permitted per occasion will be THREE (total intermediate swing penalty on any one occasion = 1.00). If the
gymnast has still not completed the giant circle by this time the coach must stop the gymnast and she must return to front support to attempt the next giant
circle. The penalty for this occurring would be 1.00 + 1xVM.
                                                                      Cast to handstand penalties
Page 31



                                                             BARS – NATIONAL GRADE 3
Uneven Bars

                          DESCRIPTION                                VALUE                      EXECUTION FAULTS                              PENALTIES
Mount - Float upstart (legs together or straddled)                            Failure to complete upstart                                       1.00 (fall) + VM
                                                                      0.50
                                                                              Element penalties                                                 As CoP
Squat or stoop on                                                             Squat on one foot before the other                                 0.30
                                                                      0.50
(NO height of cast deduction into element)                                    Sole circle performed                                              VM
Jump to catch HB                                                              Failure to jump to HB (includes following a fall)             Non-attempt
(NO composition deduction for jump to HB)                             0.50    Failure to catch the HB                                          1.00 (fall) + VM
                                                                              Lack of control in jump to HB                            0.10    0.30
Long upstart                                                                  Failure to complete upstart                                        1.00 (fall) + VM
                                                                      0.50
                                                                              Element penalties                                                 As CoP
Cast to handstand                                                     0.50    Cast penalties                                                  See diagram
Giant circle backwards to handstand (legs together or straddled on            Failure to complete circle (within 10°)                            1.00 (fall) + VM
                                                                      0.50
downswing)                                                                    Slight arch in last ¼ of giant circle (body alignment)   0.10
Giant circle backwards to handstand (legs together or straddled on            Excessive arch in last ¼ of giant circle                           0.30
                                                                      0.50
downswing)
                                                                              Failure of feet to touch bar                                       VM
                 Straddle / stoop / step on and undershoot                    Element penalties including cast penalties                        As CoP
Dismount -                                                                    Straddle / stoop / step on begun too early               0.10
                                                                      0.50
Choice of
                                                                              Distinct tuck or pike in backaway                                  VM
                Straight backaway
                                                                              Element penalties                                                 As CoP

                                                               Cast to handstand penalties
Page 32



                                                            BARS – NATIONAL GRADE 2
Uneven Bars

                          DESCRIPTION                                VALUE                     EXECUTION FAULTS                              PENALTIES
Mount - Float upstart (legs together or straddled)                           Failure to complete upstart                                       1.00 (fall) + VM
                                                                      0.50
                                                                             Element penalties                                                As CoP
Cast to handstand                                                     0.50   Cast penalties                                                 See diagram
Close bar circle to 45° or above (element may be completed to                Close bar circle penalties                                     See diagram
                                                                      0.50
handstand but upstart [below] must be performed after)                       Back hip circle (instead of clear circle)                          VM
Upstart (legs together or straddled)                                         Failure to complete upstart                                       1.00 (fall) + VM
                                                                      0.50
                                                                             Element penalties                                                As CoP
Squat or stoop on                                                            Squat on one foot before the other                                 0.30
                                                                      0.50
(NO height of cast deduction into element)                                   Sole circle performed                                              VM
Jump to catch HB                                                             Failure to jump to HB (includes following a fall)              Non-attempt
(NO composition deduction for jump to HB)                             0.50   Failure to catch the HB                                           1.00 (fall) + VM
                                                                             Lack of control in jump to HB                             0.10    0.30
Long upstart                                                                 Failure to complete upstart                                       1.00 (fall) + VM
                                                                      0.50
                                                                             Element penalties                                                As CoP
Cast to handstand                                                     0.50   Cast penalties                                                 See diagram
Giant circle backwards to handstand (legs together or straddled on           Failure to complete circle (within 10°)                           1.00 (fall) + VM
                                                                      0.50
downswing)                                                                   Slight arch in last ¼ of giant circle (body alignment)    0.10
Giant circle backwards to handstand (legs together or straddled on           Excessive arch in last ¼ of giant circle                           0.30
                                                                      0.50
downswing)
Dismount – any 'A' or 'B' coded dismount                                     Dismount higher value than 'B'                             VM (+ CoP penalties)
                                                                      0.50
                                                                             Element penalties including cast penalties                       As CoP

          Cast to handstand penalties                                                              Close bar circle to 45° penalties
Page 33



                                                               BARS – NATIONAL GRADE 1
Uneven Bars
                           DESCRIPTION                               VALUE                     EXECUTION FAULTS                              PENALTIES
Mount - Float upstart (legs together or straddled)                           Failure to complete upstart                                        1.00 (fall) + VM
                                                                      0.50
                                                                             Element penalties                                                As CoP
Cast to handstand                                                     0.50   Cast penalties                                                 See diagram
1st Close bar circle to handstand                                            Close bar circle penalties                                     See diagram
                                                                      0.50
                                                                             Failure to complete circle (within 10°)                            1.00 (fall) + VM
Squat / stoop / step on and sole circle                                      Squat / stoop / step on and no sole circle (i.e. jump          Non-attempt
                                                                             straight to HB)
                                                                      0.50   Going round twice                                                              0.50
(If performed from an upstart – Cast penalties will be applied as            Going round more than twice                                     1.00 (count as fall)
CoP)                                                                         Bent leg penalties                                                As CoP
Jump to catch HB                                                             Failure to jump to HB (includes following a fall)              Non-attempt
(NO composition deduction for jump to HB)                             0.50   Failure to catch the HB                                            1.00 (fall) + VM
                                                                             Lack of control in jump to HB                            0.10     0.30
Long upstart                                                                 Failure to complete upstart                                        1.00 (fall) + VM
                                                                      0.50
                                                                             Element penalties                                                 As CoP
Cast to handstand                                                     0.50   Cast penalties                                                 See diagram
2nd Close bar circle to handstand                                            Close bar circle penalties                                     See diagram
                                                                      1.00   Failure to complete circle (within 10°)                            1.00 (fall) + VM
                                                                             Same close bar circle performed as 1st                   VM 1.00 (+CoP penalties)
Giant circle backwards to handstand (legs together or straddled on           Failure to complete circle (within 10°)                            1.00 (fall) + VM
downswing) – THIS GIANT CIRCLE MAY BE PERFORMED BEFORE OR             0.50   Slight arch in last ¼ of giant circle (body alignment)   0.10
AFTER THE CLOSE BAR CIRCLE                                                   Excessive arch in last ¼ of giant circle                           0.30
Giant circle backwards to handstand (legs together or straddled on
                                                                      0.50
downswing)
Dismount – any 'A' or 'B' coded dismount                                     Dismount higher value than 'B'                             VM (+ CoP penalties)
                                                                      0.50
                                                                             Element penalties including cast penalties                       As CoP
Cast to handstand penalties                                                                    Close bar circle to handstand penalties
Page 35

                                         BEAM – CLUB, REGIONAL & NATIONAL GRADES
ALL Grades: - D Score 4.00 + E Score 10.00

BEAM HEIGHT for all grades: 125cm
Club Grade 6 – must have safety mattresses of uniform thickness (20cm or 30cm) under the complete length of the beam on top of
the standard matting

LENGTH of EXERCISE
1 minute 30 seconds maximum

SET ELEMENTS within a voluntary exercise
Elements may be performed in any order except in series which must be in stated order

ADDITIONAL ELEMENTS
May be performed but will incur execution penalties as FIG CoP

SPINS
All spins may be performed in either direction i.e. forwards or backwards

NON ATTEMPT of an element – refer to Page 5
Deduction 2.00 (taken as a NEUTRAL PENALTY) + Value of Move [VM] (taken from the D SCORE)

INCOMPLETE / FAILED ATTEMPT of an element
The VM penalty is taken from the D SCORE; however elements may be repeated in order to achieve VM (as FIG CoP). If the element is
then completed successfully, the gymnast will incur execution penalties for all attempts, which may include fall penalties, but will not
lose VM penalty.

SERIES BREAKS – refer to Page 4
Deduction 0.50 (taken as a NEUTRAL PENALTY) by the D Panel

NO HOLD – refer to Page 4
VM (0.50) taken from D Score
Page 36

                                                                 BEAM – CLUB GRADE 6
                             DESCRIPTION                                  VALUE                   EXECUTION FAULTS                              PENALTIES
Mount (from standing on crash mat – i.e. no springboard)                           Bent arms in front support (after mounting)           0.10
Jump to front support – lift one leg over beam to cross sit                0.50    Brushing foot on beam lifting leg over beam           0.10
                                                                                   Hitting foot / leg on beam lifting leg over beam               0.30
Place hands on beam and press to straddle ½ level HOLD for 2 seconds               Not held for 2 seconds                                         VM
Gymnast may sit down at this point if required                                     Feet held below horizontal                            0.10
                                                                           0.50
                                                                                   Feet held lower than level of beam                             0.30
                                                                                   Head not lifted                                       0.10
Place hands on beam and swing legs backwards to squat feet onto                    Failure of feet to land on beam                                 VM
beam (may be performed to soles of feet or top of feet without penalty)
                                                                           0.50
Gymnast may split the 3 mount elements in order to perform the
compositional requirement of the 'low combination'
Stretched jump from two feet to land on two feet                           0.50    Element penalties                                            As CoP
Relevé and ½ turn on two feet                                              0.50    Turn not completed                                             VM
Caterpillar (from pike stand [show position] and with feet remaining in            Dish shape not held for 2 seconds                              VM
place, walk hands out to open shoulder front support (dished shape) -              Dish shape not low enough                                  see diagram
HOLD for 2 seconds. With hands remaining in place - walk feet back in              Bent legs at any stage                                0.10    0.30     0.50
                                                                           0.50
to pike stand – show position). Keep legs straight throughout.                     Pike position not shown at beginning of element       0.10
                                                                                   Pike position not shown at end of element             0.10
                                                                                   Lack of fluency / pace in element (taking too long)   0.10    0.30
Balance stand (arabesque) on one flat foot with free leg held behind               Not held for 2 seconds                                         VM
(minimum 90°) straight legs throughout. HOLD for 2 seconds                         Back leg held between 45 - 90°                        0.10
                                                                           0.50
                                                                                   Back leg held at 45°                                           0.30
                                                                                   Back leg held below 45°                                        VM
Dismount -                                                                         Take off from one foot                                         VM
From centre of beam, run and hurdle step to take off from two feet into            Insufficient height in jump                           0.10    0.30
stretched jump to dismount                                                 0.50    Body alignment in jump                                0.10
                                                                                   Not starting from the centre of beam                  0.10
                                                                                   Not running along beam                                0.10

                                                      Diagram - Club Grade 6 – Caterpillar penalties
Page 37

                                                                  BEAM – CLUB GRADE 5
                             DESCRIPTION                                   VALUE                    EXECUTION FAULTS                              PENALTIES
Mount - jump to squat on with hand support at side of beam                         Failure of feet to land on beam                                  VM
                                                                            0.50
                                                                                   Squat on with one foot only or one before the other              0.30
Sit on beam and press (lifting legs) to 90° pike HOLD for 2 seconds                Not held for 2 seconds                                           VM
                                                                            0.50   Feet held below horizontal but above level of beam      0.10
                                                                                   Feet held below level of beam                                    0.30
Split jump                                                                         Element penalties                                               As CoP
                                                                            0.50
                                                                                   Landing on one foot                                              0.30
½ spin on one foot                                                          0.50   Turn not completed                                               VM
Lift one leg to horizontal and deep squat down on opposite foot then               Failure to achieve deep squat on either leg                       VM
stand up with free leg remaining at horizontal throughout. Step forward            Missing one leg squat (or repeating on same leg)                  VM
and repeat on other leg                                                            Free leg falling below horizontal (between 90° - 45°)   0.10
                                                                            0.50   Free leg falling below 45°                                       0.30
                                                                                   Placing free foot on beam during squat or standing up            0.30
                                                                                   Lack of fluency / pace in element (taking too long)     0.10      0.30
Dance series -                                                                     Element penalties                                               As CoP
                             stretched jump                                 0.50   Series break (elements not connected)                                  0.50
                                                                                   Elements performed in incorrect order                          0.30
                               tuck jump
                                                                                   Element missing (includes following a fall)              Non-attempt of 2nd
                                                                            0.50
                                                                                                                                                element
Kick towards handstand with split legs – finish in brief lunge with arms           Split penalties                                         0.10     0.30
by ears (may take arms out after this position shown)                              Arms not by ears in lunge                               0.10
                                                                            0.50
                                                                                   No lunge shown                                          0.10
Handstand position is not required to be fully reached or held
Dismount - round-off from end of beam (placing hands on beam and                   Legs not joining in flight phase                        0.10
                                                                            0.50
feet on floor)                                                                     Lack of flight                                          0.10      0.30
Page 38



                                                              BEAM – REGIONAL GRADE 4


                             DESCRIPTION                                  VALUE                 EXECUTION FAULTS                              PENALTIES
Mount - jump to clear straddle support (legs at horizontal or above) at           Not held for 2 seconds                                         VM
side of beam and HOLD for 2 seconds                                               Feet held below horizontal but above level of beam   0.10
                                                                           0.50   Feet held below level of beam                                 0.30
                                                                                  Brushing foot / feet on beam during straddle over    0.10
                                                                                  Hitting foot / feet on beam during straddle over              0.30
Sissone                                                                           Element penalties                                            As CoP
                                                                           0.50
                                                                                  Landing on two feet                                           VM
Handstand (along beam) – optional leg position. SHOW handstand                    Handstand position not shown                                  0.30
                                                                           0.50
                                                                                  Element penalties                                            As CoP
Dance series -                                                                    Element penalties                                            As CoP
                               tuck jump                                   0.50   Series break (elements not connected)                                  0.50
                                                                                  Elements performed in incorrect order                        0.30
                             wolf (W) jump
                                                                           0.50   Element missing (includes following a fall)            Non-attempt of 2nd
                                                                                                                                             element
Free forward roll to stand                                                        Element penalties                                           As CoP
                                                                           0.50
                                                                                  Hands touching beam (forward roll)                            VM
Full spin on one foot                                                             Element penalties                                           As CoP
                                                                           0.50
                                                                                  Turn not completed                                            VM
Dismount - tucked front salto from two feet – may be from run / step to           Element penalties                                           As CoP
2 feet/ standing on end - but must be from two feet                        0.50   Take off from one foot                                        VM
                                                                                  Salto not tucked                                              VM
Page 39




                                                             BEAM – REGIONAL GRADE 3


                            DESCRIPTION                                VALUE                 EXECUTION FAULTS                       PENALTIES
Mount – jump to Japana (no straddle over first). Take hands off beam           Not held for 2 seconds with hands off beam              VM
                                                                        0.50
and HOLD for 2 seconds                                                         Lack of flexibility                           0.10     0.30
Split leap                                                              0.50   Element penalties                                     As CoP
Cartwheel ¼ turn inwards (may connect to dismount)                             Element penalties                                     As CoP
                                                                        0.50
                                                                               No ¼ turn inwards                                      0.30
Full spin on one foot                                                          Element penalties                                     As CoP
                                                                        0.50
                                                                               Turn not completed                                      VM
Dance series –                                                                 Element penalties                                     As CoP
                                                                        0.50   Landing split jump on one foot                         0.30
                              split jump                                       Series break (elements not connected)                            0.50
                            wolf (W) jump                                      Elements performed in incorrect order                 0.30
                                                                        0.50   Element missing (includes following a fall)     Non-attempt of 2nd
                                                                                                                                   element
Handstand (along beam) – optional leg position. HOLD for 2 seconds             Handstand position not held for 2 seconds              VM
                                                                        0.50
                                                                               Element penalties                                     As CoP
Dismount – tucked back salto (may be connected to cartwheel ¼ inward           Element penalties                                     As CoP
                                                                        0.50
turn)                                                                          Salto not tucked                                       VM
Page 40




                                                             BEAM – REGIONAL GRADE 2


                            DESCRIPTION                                    VALUE                   EXECUTION FAULTS                   PENALTIES
Mount - any 'A' coded mount                                                         Element penalties                                    As CoP
                                                                            0.50
                                                                                    Mount higher value than 'A'                   VM (+ CoP penalties)
Dance series:                                                                       Element penalties                                    As CoP
                                split leap                                  0.50    Series break (elements not connected)                          0.50
                              wolf (W) jump                                         Elements performed in incorrect order                 0.30
                                                                                    Element missing (includes following a fall)   Non-attempt of 2nd
                                                                            0.50
                                                                                                                                        element
Choice of -                           backward walkover                             Element penalties                                   As CoP
                                                                            0.50
                                      backward roll                                 Backward roll landing on knee(s)                     0.30
Full spin on one foot                                                               Element penalties                                   As CoP
                                                                            0.50
                                                                                    Turn not completed                                   VM
Stretched jump with ½ turn (optional:- side-side or cross-cross beam)               Element penalties                                   As CoP
                                                                            0.50
                                                                                    Turn not completed                                   VM
Mixed series -                             choice of –                              Element penalties                                   As CoP
                                       cartwheel sissone                   0.50 +   Series break (elements not connected)                         0.50
                                               OR                           0.50    Element missing (includes following a fall)   Non-attempt of 2nd
                                       sissone cartwheel                                                                              element

Dismount - piked front salto from two feet – may be from run / step to 2            Element penalties                                   As CoP
feet/ standing on end - but must be from two feet                           0.50    Take off from one foot                               VM
                                                                                    Salto not piked                                      VM
Page 41




                                                             BEAM – REGIONAL GRADE 1


                           DESCRIPTION                               VALUE                  EXECUTION FAULTS                            PENALTIES
Mount - any coded mount                                               0.50   Element penalties                                             As CoP
Dance series: MAY BE PERFORMED IN ANY ORDER                                  Element penalties                                             As CoP
                                                                      0.50   Series break (elements not connected)                                    0.50
                        change leg split leap                                Element missing (includes following a fall)             Non-attempt of 2nd
                  any 'A' or 'B' coded leap/jump/hop                  0.50                                                                element
                                                                             Leap/jump/hop higher value than 'B'                    VM (+ CoP penalties)
'B' (minimum) coded flight element (not mount or dismount)            0.50   Element penalties                                             As CoP
Full spin on one foot                                                        Element penalties                                             As CoP
                                                                      0.50
                                                                             Turn not completed                                              VM
'B' (minimum) coded jump or leap with ½ turn (not mount)                     Element penalties                                             As CoP
                                                                      0.50
Must NOT be part of dance series                                             Turn not completed                                              VM
                                                                             Position not shown                                             0.30
Cartwheel to side handstand and SHOW position with legs together.
                                                                      0.50   Feet apart                                           0.10
Optional exit
                                                                             Legs apart                                                     0.30
Dismount –                                                                   Element penalties                                             As CoP
                                                                      0.50   Salto not tucked                                                VM
                        cartwheel connected to                               Series break (elements not connected)                                    0.50
                                                                             Salto missing (includes following a fall)             Non-attempt of salto
                         tucked back salto
                                                                             If fall occurs between elements and 1st element is                  1.00 (fall)
                                                                      0.50   repeated in order to compete dismount series
                                                                             If fall occurs between elements and just salto       1.00 (fall) + 0.50 (series
                                                                             competed                                                      break)
Page 42



                                                             BEAM – NATIONAL GRADE 4


                            DESCRIPTION                                   VALUE                 EXECUTION FAULTS                              PENALTIES
Mount – jump to clear straddle support and HOLD for 2 seconds                     Not held for 2 seconds                                         VM
                                                                                  Feet held below horizontal but above level of beam   0.10
                                                                           0.50   Feet held below level of beam                                 0.30
                                                                                  Brushing foot / feet on beam during straddle over    0.10
                                                                                  Hitting foot / feet on beam during straddle over              0.30
Lift to Japana, take hands off beam and HOLD for 2 seconds                        Japana not held for 2 seconds with hands off beam              VM
                                                                           0.50
                                                                                  Lack of flexibility in Japana                        0.10     0.30
Dance series:                                                                     Element penalties                                            As CoP
                              split jump                                   0.50   Series break (elements not connected)                                  0.50
                                                                                  Elements performed in incorrect order                        0.30
                                sissone                                           Element missing (includes following a fall)            Non-attempt of 2nd
                                                                           0.50
                                                                                                                                             element
Backward walkover                                                          0.50   Element penalties                                           As CoP
Stretched jump with ½ turn (optional:- side-side or cross-cross beam)             Element penalties                                           As CoP
                                                                           0.50
                                                                                  Turn not completed                                            VM
Cartwheel ¼ turn inwards                                                          Element penalties                                           As CoP
                                                                           0.50
                                                                                  No ¼ turn inwards                                            0.30
Full spin on one foot                                                             Element penalties                                           As CoP
                                                                           0.50
                                                                                  Turn not completed                                            VM
Dismount - tucked front salto from two feet – may be from run / step to           Element penalties                                           As CoP
2 feet/ standing on end - but must be from two feet                        0.50   Take off from one foot                                        VM
                                                                                  Salto not tucked                                              VM
Page 43



                                                              BEAM – NATIONAL GRADE 3


                             DESCRIPTION                                VALUE                  EXECUTION FAULTS                             PENALTIES
Mount – choice of:                                                              Not held for 2 seconds                                         VM
1. Stand with back to beam and jump to immediate pike hold (90° hip      0.50   Sitting down before pike hold in option 1                      0.30
angle). HOLD for 2 seconds                                                      Legs apart in pike hold                              0.10
                                                                                Legs bent in pike hold                               0.10      0.30       0.50
2. Squat through to pike hold (90° hip angle). HOLD for 2 seconds        0.50   Legs held below horizontal                           0.10      0.30
                                                                                Feet flexed in squat through                         0.10
3. Squat through to brief sit on beam/rear support. Lift to show pike           Feet brushing / hitting beam during squat through    0.10      0.30
hold (90° hip angle). HOLD for 2 seconds                                 0.50

Dance series:      MAY BE PERFORMED IN ANY ORDER                                Element penalties                                             As CoP
                                                                         0.50
                                                                                Series break (elements not connected)                                  0.50
                                split leap                                      Element missing (includes following a fall)            Non-attempt of 2nd
                                                                         0.50                                                              element
                                 sissone
Round off                                                                0.50   Element penalties                                             As CoP
Straddle jump                                                            0.50   Element penalties                                             As CoP
Forward walkover                                                         0.50   Element penalties                                             As CoP
Full spin on one foot                                                           Element penalties                                             As CoP
                                                                         0.50
                                                                                Turn not completed                                             VM
Flic to one foot                                                         0.50   Element penalties                                             As CoP
Dismount –                                                                      Element penalties                                             As CoP
                                                                                Salto not tucked                                               VM
                          cartwheel connected to                         0.50   Series break (elements not connected)                                  0.50
                                                                                Salto missing (includes following a fall)             Non-attempt of salto
                           tucked back salto
                                                                                If fall occurs between elements and 1st element is               1.00 (fall)
                                                                                repeated in order to compete dismount series
                                                                         0.50   If fall occurs between elements and just salto       1.00 (fall) + 0.50 (series
                                                                                competed                                                      break)
Page 44



                                                                  BEAM – NATIONAL GRADE 2


                              DESCRIPTION                                 VALUE                  EXECUTION FAULTS                            PENALTIES
Mount - any 'A' coded mount                                                       Element penalties                                            As CoP
                                                                           0.50
                                                                                  Mount higher value than 'A'                           VM (+ CoP penalties)
Dance series:      MAY BE PERFORMED IN ANY ORDER                                  Element penalties                                            As CoP
                                                                           0.50   Series break (elements not connected)                                  0.50
                          split leap connected to                                 Element missing (includes following a fall)           Non-attempt of 2nd
                     any 'A' or 'B' coded leap/jump/hop                                                                                       element
                                                                           0.50   Leap/jump/hop higher value than 'B'                   VM (+ CoP penalties)

Flic to two feet                                                                  Element penalties                                             As CoP
                                                                           0.50
                                                                                  Flic to one foot                                               VM
Full spin on one foot                                                             Element penalties                                             As CoP
                                                                           0.50
                                                                                  Turn not completed                                             VM
Acro series:                                                                      Element penalties                                             As CoP
                             forward walkover                              0.50   Series break (elements not connected)                                  0.50
                                 cartwheel                                        Element missing (includes following a fall)            Non-attempt of 2nd
                                                                                                                                             element
     (if gymnast is on wrong leg – free leg must be swung through)         0.50

Change leg split leap                                                      0.50   Element penalties                                           As CoP
Dismount –                                                                        Element penalties                                           As CoP
                                                                                  None or 'A' element performed before salto                Non-attempt
                                                                           0.50
                                                                                  Series break (elements not connected)                                  0.50
     'B' coded flight element (not flic to 2 feet) connected to                   Salto dismount missing (includes following a fall)    Non-attempt of salto
                                                                                  Salto higher value than 'B'                           VM (+ CoP penalties)
                         'A' or 'B' coded salto
                                                                                  If fall occurs between elements and 1st element is                1.00 (fall)
                                                                           0.50   repeated in order to compete dismount series
                                                                                  If fall occurs between elements and just salto       1.00 (fall) + 0.50 (series
                                                                                  competed                                                      break)
Page 45

                                                          BEAM – NATIONAL GRADE 1


                                DESCRIPTION                            VALUE                  EXECUTION FAULTS                      PENALTIES
Mount - any 'B' (minimum) coded mount (Russian lever mount included)           Element penalties                                     As CoP
                                                                        0.50
                                                                               Mount not a 'B' (minimum) element              VM (+ CoP penalties)
Dance series:   MAY BE PERFORMED IN ANY ORDER                                  Element penalties                                     As CoP
                                                                        0.50   Series break (elements not connected)                           0.50
                   change leg split leap connected to                          Element missing (includes following a fall)    Non-attempt of 2nd
                   any 'A' or 'B' coded leap/jump/hop                   0.50                                                        element
                                                                               Leap/jump/hop higher value than 'B'            VM (+ CoP penalties)
Series:                                                                        Split penalties (handstand)                   0.10     0.30
                        split handstand (show position)                 0.50   Position not shown                                     0.30
                                                                               Element penalties                                     As CoP
                            flic to one foot
                                                                               Series break (elements not connected)                           0.50
                   (may connect to tucked back salto)                   0.50   Element missing (includes following a fall)     Non-attempt of 2nd
                                                                                                                                   element
Full spin on one foot                                                          Element penalties                                    As CoP
                                                                        0.50
                                                                               Turn not completed                                     VM
Choice of -                         free cartwheel                             Element penalties                                    As CoP
                                    free walkover
                                                                        0.50
                                    tucked back salto
                                    tucked side salto
'B' (minimum) coded jump or leap with minimum ½ turn (not mount)               Element penalties                                    As CoP
                                                                        0.50
Must NOT be part of dance series                                               Turn not completed                                     VM
Dismount – any 'B' (minimum) coded dismount (may be preceded by                Element penalties                                    As CoP
                                                                        0.50
another element)                                                               Dismount not a 'B' (minimum) element           VM (+ CoP penalties)
Page 47

                                        FLOOR – CLUB, REGIONAL & NATIONAL GRADES
ALL Grades: - D Score 4.00 + E Score 10.00

LENGTH of EXERCISE
1 minute 30 seconds maximum

ELEMENTS within an exercise
Elements may be performed in any order except in series which must be in stated order

ACRO LINES / ACRO ELEMENTS / TUMBLES within an exercise
   ➢ May be performed in optional order but elements within the series must be performed in the order stated in the text
   ➢ Saltos performed 'on their own' may be performed as the last tumble or within the exercise
   ➢ Acro elements may be performed after the last acro line or tumble
   ➢ Acro lines / tumbles with saltos – landings from saltos should aim to be controlled and still i.e. jumps / leaps / dance elements
      should not be performed out of the salto. Handsprings and flics to 2 feet may go into a controlled rebound or dance

ADDITIONAL ELEMENTS
May be performed but will incur execution penalties as FIG CoP

SPINS
All spins may be performed in either direction i.e. forwards or backwards

NON ATTEMPT of an element – refer to Page 5
Deduction 2.00 (taken as a NEUTRAL PENALTY) + Value of Move [VM] (taken from the D SCORE)

INCOMPLETE / FAILED ATTEMPT of an element
   ➢ VM penalty is taken from the D SCORE
   ➢ Elements may be repeated in order to achieve VM (as FIG CoP)
   ➢ If the element is repeated and then completed successfully, the gymnast will incur execution penalties for all attempts, which
     may include fall penalties, but will not lose VM penalty.

SERIES BREAKS – refer to Page 4
Deduction 0.50 (taken as a NEUTRAL PENALTY) by the D Panel
Page 48

                                                                   FLOOR – CLUB GRADE 6

                             DESCRIPTION                                  VALUE                  EXECUTION FAULTS                               PENALTIES
Handstand into bridge and SHOW position                                           Legs not joining in handstand                          0.10
                                                                                  Rebound on floor on landing in bridge                  0.10
                                                                           0.50   Landing with feet apart                                0.10
                                                                                  Knees bending on landing (landing in crab position)    0.10     0.30      0.50
                                                                                  Bridge position not shown                                       0.30
                                                                                  Failure in kick over to stand                                        1.00 (fall)
Lift one leg and kick over to stand                                        0.50   Lack of split                                          0.10     0.30
                                                                                  Bent legs                                              0.10     0.30     0.50
Dance passage –                                                                   Missing chasse                                                  0.30
                                                                           0.50
                   chasse step forwards into cat leap                             Element penalties                                              As CoP
chasse step forwards into assemble jump (jump from one foot onto two              Missing chasse                                                  0.30
   feet swinging free leg forwards to join both legs together in air)             Feet not joining in assemble jump                      0.10
                                                                           0.50   Lack of height in stretched jump                       0.10     0.30
                        rebound into immediate                                    Jump not in straight position                          0.10     0.30
                            stretched jump                                        Jumps not rebounding                                            0.30
Handstand forward roll with straight arms to stand with feet together             Body alignment in handstand                            0.10
                                                                           0.50
                                                                                  Bent arms in roll                                      0.10     0.30      0.50
Acro line -                                                                0.50   Cartwheel not side to side                                      0.30
                    cartwheel from side to side into                       0.50   No ¼ turn inwards                                               0.30
              cartwheel from side with ¼ turn inwards into                        Bent legs at any point                                 0.10     0.30      0.50
piked backward roll with straight arms and legs together to pike stand            Bent arms in roll                                      0.10     0.30      0.50
                                                                           0.50
                                                                                  Series break for definite stop in series                                  0.50
                                                                                  Rhythm penalty for hesitation at any point in series   0.10
Split jump                                                                 0.50   Element penalties                                              As CoP
Forward roll to sit in straddle, SHOW position                             0.50   Straddle position not shown                                     0.30
¼ turn to sit in splits (may use hands without penalty) and SHOW                  Splits not shown                                                0.30
position                                                                   0.50
                                                                                  Lack of flexibility in splits                          0.10     0.30
Page 49

                                                                 FLOOR – CLUB GRADE 5

                              DESCRIPTION                                  VALUE                 EXECUTION FAULTS                        PENALTIES
Starting with arms behind body, swing arms downwards and forwards                  Arms not swinging from behind                  0.30
into Handstand immediate rebound bounce forwards onto hands into                   Lack of flight in rebound                      0.10      0.30
handstand forward roll with straight arms and straight legs (may use               No rebound                                     VM
hands at sides of legs to aid stand) - to finish with hands in front of            Bent arms in handstand forward roll            0.10      0.30     0.50
                                                                          0.50
thighs in dished stand. SHOW position                                              Standing up from handstand forward roll with   0.30
                                                                                   tucked legs
                                                                                   Not showing dished stand position at end       0.10
                                                                                   Body alignment in handstand                    0.10
Dance series -                                                                     Element penalties                              As CoP
                                                                          0.50
split jump
(rebound) immediate                                                                Lack of height                                 0.10        0.30
                                                                                   Lack of split                                  0.10        0.30
star jump                                                                 0.50     Pike in hips                                   0.10        0.30
                                                                                   Jumps not rebounding                           0.30
                                                                                   Elements performed in incorrect order          0.30
Tic-toc                                                                            Lack of split                                  0.10        0.30
                                                                          0.50     Bent legs                                      0.10        0.30   0.50
                                                                                   Failure in kick / lift back over to stand      1.00 (fall)
Full spin                                                                          Element penalties                              As CoP
                                                                          0.50
                                                                                   Turn not completed                             VM
Tumble - from 2 feet together - jump into                                          Element penalties                              As CoP
                                                                                   Round off from run or not from 2 footed jump   0.30
                                                                          0.50
                 round off immediate stretched jump into                           Lack of height in stretched jump               0.10        0.30
                                                                                   Jump not in straight position                  0.10        0.30
piked backward roll with straight arms and legs together to front                  Bent legs at any point                         0.10        0.30   0.50
                                                                          0.50
support                                                                            Bent arms in roll                              0.10        0.30   0.50
                                                                                   Splits not shown                               0.30
                                                                          0.50     Lack of flexibility in splits                  0.10        0.30
  swing one leg round to sit in (forwards) splits and SHOW position
Chasse step forwards into split leap                                               Missing chasse                                 0.30
                                                                          0.50
                                                                                   Element penalties                              As CoP
Page 50

                                                            FLOOR – REGIONAL GRADE 4


                            DESCRIPTION                                    VALUE                  EXECUTION FAULTS                          PENALTIES
Tumble - from 2 feet together – jump into                                          Round off from run or not from 2 footed jump               0.30
                               round off                                    0.50   Element penalties                                         As CoP
                                                                                   Series break                                                         0.50
                            flic to two feet                                       Element penalties                                         As CoP
                                                                            0.50
                                                                                   Flic to one foot (split leg flic)                           VM
Full spin                                                                          Element penalties                                         As CoP
                                                                            0.50
                                                                                   Turn not completed                                          VM
From straight legs entry - backward roll to handstand with straight arms           Bent legs going into backward roll / handstand    0.10     0.30      0.50
                                                                            0.50   Bent arms in roll                                 0.10     0.30      0.50
                                                                                   Body alignment in handstand                       0.10
Dance passage -                                                                    Element penalties                                         As CoP
                                                                            0.50
                               split leap                                          Series break                                                         0.50
                               split leap                                   0.50

Backward walkover (to finish on feet)                                              Lack of split                                     0.10     0.30
                                                                            0.50
                                                                                   Bent legs                                         0.10     0.30      0.50
Straddle jump (must not be connected to another element)                           Element penalties                                         As CoP
                                                                            0.50   Straddle jump connected to another element e.g.            0.30
                                                                                   flic
Handspring to two feet                                                             Element penalties                                         As CoP
                                                                            0.50
                                                                                   Landing on one foot (handspring to one)                    0.30
Page 51

                                                              FLOOR – REGIONAL GRADE 3
                             DESCRIPTION                                 VALUE                  EXECUTION FAULTS                             PENALTIES
Tumble - from 2 feet together - jump into                                        Round off from run or not from 2 footed jump                  0.30
                                                                          0.50
                                                                                 Element penalties                                            As CoP
                                 round off                                       Series break                                                            0.50
                          3 flics (legs together)                         0.50
                                                                                 Missing flic within series                                     VM
Forward walkover                                                                 Lack of split                                        0.10     0.30
                                                                          0.50
                                                                                 Bent legs                                            0.10     0.30      0.50
Dance passage -                                                           0.50   Element penalties                                            As CoP
                              split leap (1st)
                                                                                 Element penalties                                            As CoP
              fouette hop (2nd) to land in brief arabesque                       Not landing with back leg lifted (brief arabesque)   0.10
                                                                          0.50
                                                                                 Elements performed in incorrect order                         0.30
                                                                                 Series break                                                            0.50
Tumble -                                                                         Element penalties                                            As CoP
                  tucked front salto to land on two feet                  0.50   Landing on one foot (front salto with walkout)                0.30
                                                                                 Salto not tucked                                              VM
Tumble -                                                                         Element penalties                                            As CoP
                                                                          0.50
                     handspring to one foot - run -                              Landing on two feet                                           0.30
                       handspring to two feet                                    Element penalties                                            As CoP
                                                                                 Landing on one foot (handspring to one)                       0.30
The 'run' must be 2 steps or more. It may / may not include a hurdle             Elements performed in incorrect order                         0.30
                                                                          0.50   Chasse / one step into handspring to 2                        0.30
step into the handspring to 2. The 'run' must not be a 'chasse' or one
step

Full spin                                                                        Element penalties                                            As CoP
                                                                          0.50
                                                                                 Turn not completed                                            VM
Page 52

                                                   FLOOR – REGIONAL GRADE 2

                             DESCRIPTION                    VALUE                 EXECUTION FAULTS   PENALTIES
Acro line -                                                  0.50   Element penalties                 As CoP
                                round off                           Series break                                 0.50
                                   flic                      0.50   Salto not tucked                    VM
                            tucked back salto                0.50
Free cartwheel                                               0.50   Element penalties                 As CoP
Dance passage – MAY BE PERFORMED IN ANY ORDER                0.50   Element penalties                 As CoP
                           change leg split leap
                                                                    Element penalties                 As CoP
                                                             0.50
                                split leap                          Series break                                 0.50
Mixed series -                                               0.50   Element penalties                 As CoP
                                round off                           Series break                                 0.50
                                                             0.50
                                  3 flics                           Missing flic                        VM
                              straddle jump                  0.50
Double spin                                                         Element penalties                 As CoP
                                                             0.50
                                                                    Turn not completed                 VM
Acro line -                                                  0.50   Element penalties                 As CoP
                          handspring to two feet                    Series break                                 0.50
                            tucked front salto               0.50   Salto not tucked                   VM
Wolf (W) jump full turn                                             Element penalties                 As CoP
                                                             0.50
                                                                    Turn not completed                 VM
Page 53

                                                                FLOOR – REGIONAL GRADE 1

                             DESCRIPTION                                 VALUE                   EXECUTION FAULTS        PENALTIES
Acro line -                                                               0.50   Element penalties                        As CoP
                         round off                                               Series break                                        0.50
                          3 flics                                         0.50   Missing flic within series                VM
                      tucked back salto                                   0.50   Salto not tucked                          VM
Choice of -                         free cartwheel                               Element penalties                        As CoP
                                    free walkover                         0.50
                                    side salto
Dance passage –                                                           0.50   Element penalties                        As CoP
                                                st
                        change leg split leap (1 )
                                                                                 Element penalties                        As CoP
                              tour jete (2nd)
                                                                          0.50   Elements performed in incorrect order     0.30
                                                                                 Series break                                        0.50
Acro line / tumble -                                                             Element penalties                        As CoP
                                                                          0.50
        straight front salto to two feet (optional handspring entry)             Salto tucked or piked                     VM
Double spin                                                                      Element penalties                        As CoP
                                                                          0.50
                                                                                 Turn not completed                        VM
Acro line -                                                               0.50   Element penalties                        As CoP
                        round off                                                Series break                                        0.50
                          flic                                            0.50   Salto tucked or piked                      VM
                    straight back salto
                                                                          0.50
Choice of -                           Straddle jump half turn                    Element penalties                        As CoP
                                                                          0.50
                                      Split jump half turn                       Turn not completed                        VM
Page 54

                                                            FLOOR – NATIONAL GRADE 4
                             DESCRIPTION                              VALUE                 EXECUTION FAULTS                          PENALTIES
Acro line -                                                            0.50   Element penalties                                        As CoP
                               round off                               0.50   Series break                                                        0.50
                                  flic                                        Salto not tucked                                           VM
                           tucked back salto                           0.50
From straight legs entry - backward roll to handstand with straight           Bent legs going into backward roll / handstand   0.10     0.30      0.50
arms                                                                   0.50   Bent arms in roll                                0.10     0.30      0.50
                                                                              Body alignment in handstand                      0.10
Dance passage –                                                        0.50   Element penalties                                        As CoP
                                              st
                                split leap (1 )
                                                                              Element penalties                                        As CoP
                                side leap (2nd)                        0.50   Elements performed in incorrect order                     0.30
                                                                              Series break                                                        0.50
Tumble -      from 2 feet together - jump into                                Round off from run or not from 2 footed jump              0.30
                                                                       0.50
                                                                              Element penalties                                        As CoP
                                  round off
                                                                              Series break                                                        0.50
                                    3 flics                            0.50
                                                                              Missing flic within series                                 VM
Full spin                                                                     Element penalties                                        As CoP
                                                                       0.50
                                                                              Turn not completed                                        VM
Tumble –                                                                      Element penalties                                        As CoP
                                                                       0.50   Landing on two feet                                       0.30
                   handspring to one foot immediate
                                                                              Series break                                                        0.50
                        handspring to two feet
                                                                              Element penalties                                        As CoP
                                                                       0.50
                                                                              Landing on one foot (handspring to one)                   0.30
Stretched jump with full turn                                                 Element penalties                                        As CoP
                                                                       0.50
                                                                              Turn not completed                                        VM