Wyndham Lakes Elementary
Page content transcription ( If your browser does not render page correctly, please read the page content below )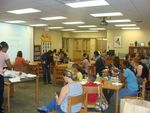 The Florida Department of Education's Highest Community Involvement Award

                               Presented to


     Wyndham Lakes Elementary


                              2011-2012

The School Board of
                   Orange County Public Schools
                            Salutes
                 Wyndham Lakes Elementary School
                  For Being a Five Star School



Our SELC Area
Superintendent
James Lawson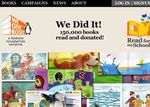 School board member Rick Roach congratulates our two
                            Read2Succeed Literacy Grant recipients, Kristin Childress
                            and Gladys Ayala.
Joe Manno entertains Rick
Roach at Wyndham Lakes
Elementary .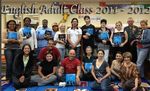 Dear Reader,

                                         I want to thank all of our staff, students, and families for working so hard to make the
                                         2011-2012 school year successful. Thanks to your efforts, we were able to provide a
                                         positive educational experience for our Wyndham Lakes Owls. In an era of constant
                                         change in education, you kept the focus on student instruction, and in helping our
                                         students to grow intellectually, emotionally, and socially.

                                         This year we continued many programs that had been popular and successful in the past
                                         (Fall Festival, Movie Night, FCAT Night, Math and Science Night, and Building Better
"The GENERAL" is always on duty!         Readers Night). Thanks to the generous support of our Partners in Education, we also
                                         added Mother's Day Cakes and rebuilt our gardens in back of our school. Through parent
                                         involvement, we celebrated a successful Staff Appreciation Week. In short, by
                                         combining all of our available resources, we continued to make Wyndham Lakes a place
                                         where students not only learn, but enjoy themselves doing so.

                                         As you look through this portfolio, you will see many of the programs mentioned above,
                                         as well as many others. I hope that it provides a true depiction of the environment we
                                         strive so diligently to establish here at Wyndham Lakes.

                                         I invite you to come by and visit us anytime, so you may see our Owls in action!

       Shreffler and WLE 's 1st Modern
       Woodsman Speech Finalists




                                                                        Principal
   Marika Irizarry Assistant Principal                            Robert "Bob" Shreffler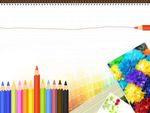 Kindergarten        1st Grade       2nd Grade




                                                   The best Administration and office staff in the SELC!



    3rd Grade          4th Grade      5th Grade




Special Area / ESE   Custodial Crew   Cafeteria       WLE Para- Professionals and Media Clerk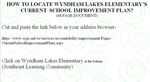 2011-2012 Teacher of the Year &
                          Support Person of the Year




    Teacher of the Year                                                        Support Person of the Year
 VANESSA RIVERA                                                                     ADA GARCIA

                              Meet our outstanding TOY and SPOY!!!!!!!!!
Our Staff recognizes the great classroom work that Ms. Rivera    Ms. Garcia is always willing to lend a helping hand. She is
performs in her Kindergarten class and as an instructor of the   involved with the 5th grade celebration planning, health attendant
adult ESOL classes.                                              and front office assistant.
Wyndham Lakes Elementary located in southeast Orange County at 14360 Wyndham Lakes
Boulevard. The school was developed to serve as a relief school for both Meadow Woods and
Oakshire Elementary Schools. Wyndham Lakes Elementary opened its doors in August 2006. Our
two story building was designed to house 727 students and to provide the latest technology to
our students and staff. This will be our fourth and possibly final year as a Title I school serving
kindergarten through fifth grade students. Currently there are approximately 61 % of our families
are enrolled in the free or reduced program. To date, our enrollment for the 2011-2012 school year
is 815 students in grades K-5. Our population is 68% Hispanic, 13% White, 13% Black, and 6%
other.
              Our school provides a caring and supportive teaching and learning environment with
a diversity of educational programs and opportunities for all children. Our school offers a variety
of ESOL programs that include K-3 Bilingual classrooms, K-5 Sheltered classrooms, and Basic
Instruction programs to our second language learners. We also provide services for students with
special needs that include speech and language impaired, specific learning disabilities and
educable mentally handicapped. This year we have a total of 62 instructional members on staff.
There are (8) fifth grade classes, (7) fourth grade classes, (9) third grade classes, (8) second grade
classes, (7) first grade classes, and (8) kindergarten classes. We also have (5) resource teachers,
(3) ESE teachers, and (7) special area teachers to cover P.E., Art, Music, Science, and Math.




                                     5TH GRADE CLASS OF 2012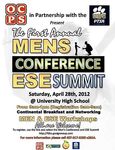 THESE STUDENTS
 REPRESENT OUR FIRST
 "NEST" OF OWLS THAT
  STARTED WHEN WE
  OPENED IN 2006 AS
KINDERGARTENERS AND
    WILL FINISH AS
  5TH GRADE OWLS IN
         2012.
Register to be a Partner in Education
 Each community/business/agency signs an annual, jointly developed plan of partnership activities.




Our newest and renewed Partners in Education
Creative Dance Academy                         Papa John's                           Marco's Pizza
Our Partners in Education
Community/business/agency maintains an ongoing relationship with the school.
School Improvement Plan
                                Receives Business Input
Community/business/agency is involved in the development and implementation of the School
Improvement Plan.




 Mr. Rackley and SAC members
 discuss new changes in FCAT
 scoring.




                                      Rodney Rackley, our PIE for SAC, offers his services by supporting our parents involved in
                                      our Adult English evening classes. He has participated as a guest speaker to guide them
                                      with information on the process of obtaining citizenship in the US. He has served as a
                                      dedicated SAC member for three years and wants them to understand the importance of
                                      parental involvement.
Business Partners
                                Donate Their Resources
                        Community/business/agency partnership supports teaching and learning through
                        the donation of human resources and goods/services or financial resources.




Papa John's Manager , Chris Harington takes time
out of his busy day to stop by and bring incentives for
our students!

Papa John's has also sponsored the food for many of
our events this year such as our PTA & SAC Meet and
Greet!




                                                                 Incentives for teachers and students!



                                                                                  Mr. Gio from World Karate teacher the students self
                                                                                  discipline during PE as a guest speaker.
Partnership Coordinator
                  School designates a community/business partnership coordinator.




Ifedola Bryant
Wyndham Lakes
CRT and PIE /ADDitions
Coordinator.
Partners in Education Orientation and Training
School provides opportunities for community/business partners to receive orientation and training.
Partners in Education Coordinator & School Staff Trained
    On Effective Use of Services by Business Partners




                 After staff receives PIE and Additions training each fall,
                 they receive a small token of appreciation in their
                 mailboxes for becoming a registered Additions volunteer.




                                   Ms. Bryant offers a breakout training session
                                   for new staff to be Additions and PIE trained.
Business Partner Recognition
 School provides recognition of community/business partners.




                           Publix store #1101 has been
                           one of our most generous
                           contributing partners this year
                           and was recognized by the
                           district as our Outstanding
                           2011-2012 PIE. Store manager,
                           Abe Gonzalez , has gone far
                           beyond the call of duty by
                           providing items for numerous
                           events and even serving as a
                           judge for the 5th grade oration
                           contest this spring.
                           We thank them for all they have
                           done!
W.L.E. Family Involvement


                                   What is PTA?
                       The PTA is a formal organization composed of parents,
              teachers and staff that is intended to facilitate parental
              participation in school. PTA is a thriving child advocacy
              organization. The goal of PTA is to support the school,
              encourage parent involvement, support teachers, and organize
              family events. The PTA provides parents and families with a
              powerful voice to speak on behalf of every child and the best
              tools to help their children be safe, healthy, and successful—in
              school and in life. The number one reason to join the Parent
              Teacher Association is to benefit your child. In doing so, you also
              help your school. Another advantage of joining PTA is to get
              connected. There's no better way to know what's happening at
              Wyndham Lakes Elementary.
Our Parent Organization




      This was our first PTA / SAC Recruitment Dinner.
We appreciate all of our parents for volunteering their time to learn
          about PTA and SAC and join as members!




                                                                            End of the Year Agenda
Education Opportunities Are Offered to Families




Wyndham Lakes Elementary provides 21st
Century Learning through Math and Science
to K-5 parents and students.
Education Opportunities Are Offered to Families
Events like Muffins for Moms and FCAT Night
allow parents and students to come to class
and expand their knowledge about the new
rigorous standards throughout grade levels.




                                              FCAT Parent / Student
                                              Information PowerPoint
Focus & Discussion Groups Are Offered to Families

Our guidance counselor,
Ms. Brooks makes sure
that WLE incorporates
several family nights and
daytime events throughout
the school year to our
parents and students. This
year we had several events
which include the Ned
Show which focuses on
positive attitudes, better
behavior and academic
achievement in school. We
have also had a Bully
Prevention and Red Ribbon
Drug Awareness Event.
Joint Parent and Student Training
THIRD GRADE
NEWS……
We hope everyone
had a wonderful
winter break. Now
that the holidays are
over, it is important
for students to get
right back to back to
their school work.
FCAT is only 3
months away. FCAT
Night is Tuesday
January 10th.Please
plan to attend; we
will be covering
important
information
regarding FCAT.
Please also have
your child access the
FCAT explorer
website at least
twice per week from
home. Also after
your child reads
every night please
ask them what the
main idea and
authors purpose of
the story was. Both
of these are
important FCAT
skills.



                                     FCAT Night 2012
Family Outreach Programs


                                Some of our parents, teachers
                                and staff participated in tutoring
This is
                                or classes offered by the RAFT
the first                       program at Cypress Creek.
Men's
Conferenc
e ESE
Summit
offered
througho
ut the
district to
our male
parents
to attend.
More than 60% of Our Families Participate in
      Families Involvement Activities
Communication Techniques With Families
                 by Teachers And School Staff




Principal Shreffler sets the example when he does his Wednesday Message
every week via School Messenger to our families. He then provides an open
group discussion quarterly during events such as FCAT Night, Curriculum
Night, Coffee with the Principal and Kindergarten Orientation.




All teachers use email for one on
one parent communications!
Welcome Signage
            Ms. Janet Rivera keeps the front office of Wyndham Lakes Elementary running smoothly and parent happy!
                                           She knows every student and parent at WLE.


Parent Resources


                                                                                                           Smiling Administrators




                                                                                                    5 STAR Conference Room
      Front office waiting area
School Provides Parents Policies and
                        Best Practice Information




Families are provided with the most
current information regarding school
policies and practices by reviewing
the front of their child's agenda.
Wyndham Lakes Elementary School
also keeps our parents updated
through information posted on our
school's website or referring them to
the most updated district information
on the OCPS Parent Webpage.
"School volunteers are extra-special people who are committed to
making schools the best they can be. They offer special attention and
caring that can inspire students to reach for and realize their dreams."
NEW….2012 GOLDEN SCHOOL AWARD!




                                                            2011 AWARD




            Wyndham Lakes Elementary has received the Golden School
            Award for each of the 6 years since opening in 2006.
A minimum of 80% of the school staff have participated in school-based volunteer training during the school year.




                                                                                                                Our teachers going
                                                                                                                beyond the duty
                                                                                                                day to prepare for
                                                                                                                our K-2 Building
                                                                                                                Better Reader's
                                                                                                                Night!
School volunteer coordinator has been designated to provide leadership for the school volunteer
program through recruitment, placement, training, and supervision of participants.




                                                 Ifedola Bryant
                                                 Curriculum Resource Teacher
                                                 PIE & ADDitions Coordinator
                                                 Wyndham Lakes Elementary School-
                                                 "Where continuous improvement matters!"
                                                 ifedola.bryant@ocps.net
                                                 407-251-2347 Ext. 2263
                                                 407-251-2376 Fax




                                                   Managing the volunteering system for the safety of our students
                                                   and staff during events.
Total number of hours in volunteer service equals twice the number of students enrolled in the school.




   We made our goal
   for 2011-2012!!!!!
Luzeana
Alfonzo-Reyes
is our volunteer
of the year for
2011-2012.
She is a UCF
intern with Mrs.
Wilbur's 5th
grade class
and has been
ADDitions
trained to help
us earn our
GOLDEN
SCHOOL
award for using
the volunteer
management
system.
School provides recognition of volunteers.
Our school is going Green! ALL students in K-5 recycle in their classrooms. On Fridays the
   WLE Recycling Rangers collect the recyclables throughout the school. Our Science
  coach, Patti Knapp, coordinates this program to help students learn to help in keeping
 the earth green and teach students the concepts of reducing, reusing, and recycling.
These students, along with their 1st grade reading buddy classrooms, also participated in
   planning and execution of creating our new school garden located in the back of the
 school. Their idea was to help younger school children understand why it was important
to serve as examples by engaging in eco-friendly projects. The Recycle Rangers planned
 the design of the garden, prepared the layout, wrote numerous donation request letters
          to Home Depot in order for the sponsored classes to build the gardens.
                                                                                              A portrait of our school mascot, can be view in
                                                                                             our school lobby as one of our recyclable pieces
                                                                                                of artwork made by our 5th grade rangers.
For our annual food drive this year, Ms. McNelis and our PE department coordinated and collected one non –
perishable food items from each K-5 student. We feed were able to prepare boxes for our families in need, as
well as, donate 175 lbs. of food to our local food pantry during the holiday season! K-5 students also participated
in Pasta for Pennies Leukemia & Lymphoma Society School and Youth Program to raise money to find a cure!
D
                                                                                                         A
                                                                                                         R
                                                                                                         E
                                                      Student of the
                                                      Month

                                                      Writer of the Month

                                                      Citizen of the Month

                                                      Perfect Attendance

                                                      Art, Music, or PE
                                                      Award of the Month

                                                      Principal's Honor
                                                      Roll Award                                         2
                                                      A/B Honor Roll
                                                                                                         0
                                                                                                         1
                                                                                                         2
Our WLE Owls participate in numerous professional learning communities on campus. Some of these          WE MISS YOU OFFICER FRED!
groups include book studies of clubs, DARE, and recognition groups for academics or behavior.
Students make a choice to participate in these outstanding areas which is a great contribution to the
improvement of their academics and shows ownership in taking part to contribute towards learning
gains of our school! All groups have their picture takes for recognition each month to represent their
grade levels. We are proud to showcase the initiative for great learning at Wyndham Lakes Elementary!
Students in
grades 1st – 5th
grades read
and donated
books in the
WE GIVE
BOOKS
program
earning our
school 221 free
books for our
school!
Wyndham Lakes Music Club has over ninety five students
involved. Ms. Depaola helps showcase our greatest talents by
taking a group of 30 chorus members to volunteer their
musical voices to the elderly at Springhill Living Assistance
Community in May. In addition, our other musical groups
perform on campus for our parents.
WLE's 1st Modern Woodsman
                                                                  Oration Contest Winner!
                                                                        Emily Xiques




This was the first year that all 177 of our 5th grade students
wrote speeches on volunteering and participated in the
Modern Woodsman Speech Oration Contest at our school.
We had community partners judge our competition in which
three became finalists. We are proud of all of our 5th graders
for recognizing the importance of community service.
2011-2012 SAC
Sign In Sheets and
Data Form
Since our teachers use technology to communicate with our parents via email, a message like the one provided
below was sent out from SAC for teachers to spread the word on how to show our parents the current 2011-2012
School Improvement Plan. Some teachers walked parents through the process during parent training events.
To understand more about SAC, Parents receive SAC orientation training provided by the district PowerPoint.
In order to ensure Parental Involvement in 2011-2012 from the beginning of the school
year, SAC joined PTA in recruiting parents during the Meet the Teacher Event in August prior
to the start of the school year. SAC had students sign the Academic Scholars Pledge and
parents sign up to become involved in either SAC or PTA. The project was called the PTA
SAC Parent Round Up. From this idea we were able to get 20 new parents signed up,
seventeen of which attended the Meet and Greet Dinner.

For 2012-2013, our SAC New Idea will involve SAC helping to purchase and implement the
use of iPads for instruction and training to be used by our teachers, students and parents.
Student Survey




               Parent Survey
Staff Survey
This year our teachers and our SAC members were trained on the requirements for our Parental Involvement Plan through Title I.




                                                                                     This is the first year SAT-10 was purchased by
                                                                                     SAC. Second grade student data results were
                                                                                     shared with staff and SAC members.
AT WYNDHAM
LAKES
ELEMENTARY
SCHOOL ….
EVERYONE
CAN
LEARN!!!!!!!
Contact us to participate in our
              community involvement programs




                  Wyndham Lakes Elementary School-
                   "Expect Success! Nothing Less!"
                      www.wyndhamlakes.ocps.net
                            407-251-2347
Art Template Provided By
                          407-251-2376 Fax
           www.animationfactory.com

                          Five Star Template Created by Ifedola Bryant and Stacy Figueroa.