Principal's Report - Truganina P-9 College
Page content transcription
If your browser does not render page correctly, please read the page content below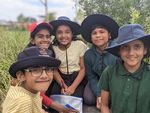 Truganina College
55 Clearwood Drive
Truganina VIC 3029
                                     Truganina
03 9368 9800
www.truganinap9.vic.edu.au             Times
                Newsletter 3 ~ Wednesday 3rd March 2021

                        Principal's Report
I must begin with commending our Truganina College learning community in their response to the
Governments 'circuit breaker', ensuring continuity of learning. I'm proud of our adaptive leaders and
staff, who without hesitation focused on ensuring families were set up for success.

In returning, our Lead Engagement team have rigorously monitored and celebrated the prompt return of
all of our students. On Friday 26th February we celebrated our students' engagement with House
Colours Day. Both families and staff created a sea of blue (Thurston), red (Namatjira), yellow (Unaipon)
and green (Freeman). Students looked happy and healthy throughout the day, led by their teachers
sports activities to compliment the House Colours Day.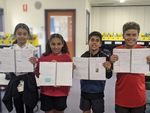 Principal's Report Continued...
On Monday 22nd February, we held our first School Council meeting for 2021. Our Principal team spoke
well, summarising the great work our Lead Teams are driving to support our students academic and
social growth. We also approved opportunities for camps and excursions our staff are organising
throughout the year including Year 8 Rubicon Camp and the Year 6 swimming program. I would like to
take this opportunity to thank outgoing parent of Ansh Parmar 2E, Poojar, for your dedicated services to
our community with your voice and actions on our Truganina College School Council.

Acting Director of Teaching and Learning Lisa Foster and myself are very impressed with our students,
families and teachers' effort to ensure our students' reading growth. We have been walking through
classrooms with a focus on students understanding the feedback in their planners. We are looking
forward to viewing how each class across the College tracks their progress toward 300 nights of
reading this year and how you celebrate the milestones along the way.

I look forward to seeing you all on yard duty and hearing how you have continued to support your child's
learning this year. Please ensure you contact our friendly office staff if you have not been receiving
Compass notifications this year to ensure you are up to date with our latest news.

Regards,

Christopher Pugh
Acting Principal
                                                2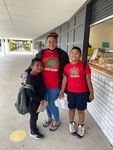 School Success Starts with Attendance!
There is no safe number of days for missing school. Each day that your child misses, puts them behind,
and can affect their educational outcomes.
If your child is sick or absent, you are required to
notify the school as soon as possible on the day
of absence using one of the following methods:
1.      Log in to Compass and log the absence
        directly using the Parent Portal.
2.      Telephone the school office and let the
        staff know your child's name, class, date of
        absences and reason.
3.      Email the school and provide the staff with your child's name, class, date of absences and reason.
                                            Attendance Data as at end of Week 5, Term 1
                    Average days absent per student F-9                         0.98 days                 2021 Target:
            Average days absent per student: Foundation – Year 6                0.96 days     Less than 15 days absent per student
              Average days absent per student: Year 7 – Year 9                  1.08 days              Foundation - Year 9

                                                           Early Years F-4
Foundation           0.87        Year 1       1.04         Year 2        1.11        Year 3      1.06        Year 4       0.84
      00A            0.57         1A          0.86           2A          1.47         3A         1.05          4A         0.61
      00B            0.38         1B          0.60           2B          0.95          3B        1.00          4B         1.55
      00C            1.10          1C         1.00           2C          1.30          3C        0.59          4C         0.45
      00D            1.32         1D          1.00           2D          1.42         3D         0.64          4D         0.88
      00E            0.81          1E         0.52           2E          0.70          3E        0.68          4E         0.86
      00F            1.00          1F         1.40           2F          0.95          3F        1.90          4F         0.86
      00G            1.45         1G          1.09           2G          0.75         3G         1.39          4G         0.86
      00H            0.81         1H          1.04           2H          1.67         3H         0.71          4H         1.23
      00I            0.52         1I          1.10           2I          1.05         3I         1.82          4I         0.70
      00J            0.90          1J         0.94           2J          1.50          3J        1.14          4J         0.45
                                   1K         0.89           2K          0.81          3K        1.09
                                   1L         1.00           2L          0.72          3L        0.71
                                  1M          1.50
                                  1N          1.60
                                                          Middle Years 5-9
     Year 5          0.81        Year 6       0.90         Year 7        0.97        Year 8      1.12        Year 9       1.17
      5A             0.92         6A          0.61           7A          1.00         8A         0.80          9A         0.81
      5B             0.64         6B          0.87           7B          0.86          8B        1.19          9B         1.29
      5C             0.46          6C         1.25           7C          1.20          8C        0.84          9C         1.19
      5D             0.63         6D          0.35           7D          0.90         8D         0.89          9D         0.86
      5E             1.04          6E         2.05           7E          0.88          8E        2.53          9E         1.25
      5F             1.28          6F         0.45           7F          0.68          8F        1.00          9F         1.67
      5G             0.92         6G          0.95           7G          1.26         8G         0.71
      5H             0.64         6H          0.67           7H          1.05

                                                                     3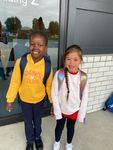 2021 Truganina College
                  Events Calendar
        Date                              Event

 Thursday 4th March                   School Photos

 Thursday 4th March                 Year 7 Volleyball
                               Selected students in Year 7

 Thursday 4th March          Year 4 Team Building Incursion
                             Students in Year 4B, 4C, 4D, 4E

  Friday 5th March           Year 4 Team Building Incursion
                            Students in Year 4F, 4G, 4H, 4I, 4J

 Monday 8th March                     Public Holiday
                                        No School
 Tuesday 9th March          Year 9 Sports & Recreation Body
                                   Balance Incursion
                                    Year 9 students
Wednesday 17th March        Naplan Information Sessions via
                                 WebEx 3.30-4.30pm
                              Students in Years 3, 5, 7, & 9

Monday 22nd March                Foundation Celebrating
                                   Cultures Incursion
                                 Students in Foundation

Monday 22nd March                    Year 6 Gala Day
                                    Students in Year 6
Monday 22nd March                School Council meeting

 Monday 29th March             Year 6 Swimming Program
 - Thursday 1st April               Students in Year 6
  Thursday 1st April                Last day of Term 1
                                School finishes at 2.30pm

  Monday 19th April                First day of Term 2
                                 School starts at 8.35am

  Tuesday 11th May          NAPLAN for Years 3, 5 , 7 and 9

Wednesday 12th May          NAPLAN for Years 3, 5 , 7 and 9

                        4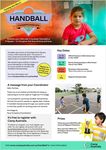 2021 Truganina College
                                 Events Calendar Continued...
                              Date                                Event

                        Thursday 13th May            NAPLAN for Years 3, 5 , 7 and 9

                       Thursday 27th May                  2021 Curriculum Day
                                                     As approved by School Council

                         Friday 28th May                  2021 Curriculum Day
                                                     As approved by School Council

                      Monday 23rd August                  2021 Curriculum Day
                                                     As approved by School Council

    Enrolments for 2021 and 2022
2021 Enrolments for Foundation to Year 9 are now open.

2022 Enrolments for Foundation to Year 9 will be open from Monday 3rd May.

For more information, please contact the Administration Office on 9368 9800, email our Enrolments
Manager on enrolments@truganinap9.vi.c.edu.au or visit our web site on
www.truganinp9.vic.edu.au/enrolment

       School Council Elections 2021
School Council elections closed on Monday 1st March at 4pm.

Declaration of Poll for 1 position was announced on Tuesday 2nd March. The successful candidate is
Dhara Dhabi. Congratulations to Dhara.

The first School Council meeting will take place Monday 22nd March 2021.

                                                     5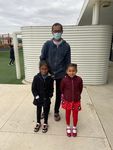 2021 School Photos
Annual school photos will be taken at Truganina College by Arthur Reed Photos on 24th
February & 4th March 2021.

There is no need to return any forms or money to school.

Unique image codes will be issued to all students on/after photo day so families can
register online to view images when they become available in the webshop.

Registration is simple, just follow the 3 simple steps on your child's personalised flyer
once you receive it and remember to add the codes for all your children attending this
school.

Even if you registered last year, it's important that you do again this year using your child's
2021 image code to link their images for the current year with your contact details.

When images are ready to view and in the webshop, all parents who have registered will
be notified by SMS and email.

Once registered, please wait for notification that 2021 images are online to view before
making your purchase.

                                            6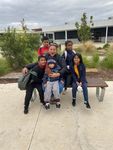 Camps, Sports, Excursions Fund
              (CSEF)
The Camps, Sports and Excursions Fund helps eligible families to cover the costs of school trips,
camps and sporting activities.

If you have a valid means-tested concession card, such as a Veterans Affairs Gold Card,
Centrelink Health Care Card or Pensioner Concession Card, or are a temporary foster parent,
you may be eligible. There is also a special consideration category for asylum seeker and
refugee families.

Payment amounts this year are $125 for eligible primary school students and $225 for eligible
secondary school students. Payments are made direct to the school to use towards expenses
relating to camps, excursions and sporting activities for the benefit of your child.

                             The annual CSEF amount per student is:
                                    $125 for primary school students.
                                    $225 for secondary school students.

If you applied for CSEF through our school last year, you do not need to complete an application
form this year, unless there has been a change in your family circumstances.

                                           How to apply
If you would like to apply for the first time, please contact the school office on 03 9368 9800 and
ask for an application form.

You can also download the form, and find out more about the program and eligibility, on the
Department of Education and Training's Camps, Sports and Excursions Fund web page.

Check with the school office if you are unsure, and please return completed forms to the school
office as soon as possible.

                                        More information
Every Victorian child should have access to the world of learning opportunities that exist beyond
the classroom. The Camps, Sports and Excursions Fund helps ensure that no student will miss
out on the opportunity to join their classmates for important, educational and fun activities. It is
part of making Victoria the Education State and the Government's commitment to breaking the
link between a student's background and their outcomes.

Clare Najdovski
Finance Manager
                                              8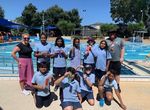 NAPLAN Update
NAPLAN is an annual assessment for all students in Years 3, 5, 7 and 9. It tests the types of skills that are
essential for every child to progress through school and life. The assessments are undertaken every year
in May. In 2021, students at Truganina College will undertake NAPLAN assessments on paper tests.

NAPLAN is made up of tests in the four areas (or 'domains') of:
   Reading
   Writing
   Language Conventions (spelling, grammar & punctuation)
   Numeracy

NAPLAN assesses literacy and numeracy skills that students are already learning through the school
curriculum. Teachers will ensure that students are familiar with the test formats and will provide
appropriate support and guidance. If you have any questions about your child's preparation for NAPLAN,
you are encouraged to make a time to speak with their teacher.

NAPLAN tests are constructed to give students an opportunity to demonstrate skills they have learned
over time through the school curriculum, and NAPLAN test days should be treated as just another routine
event on the school calendar. The best way you can help your child prepare for NAPLAN is to reassure
them that NAPLAN tests are just one part of their school program, and to urge them to simply do the best
they can on the day.

We are very excited to see what the students are going to show us with their learning through these
assessments.

NAPLAN Paper Tests
Tuesday 11th May – Thursday 13th May 2021

 Courtney Hodgson
 Leading Teacher—Student Success Coordinator
                                                  10
Library News
The Truganina College Community Library is now open!

The library team has been very happy to welcome students in Years 5 through to 9 to visit the library.

Students in Years 1 to 4 will commence their visits from the end of this term.

The library is currently open for students to visit during school hours, with their class. Recess and
lunchtime opening will be considered later in 2021.

Important note:
    Students have the opportunity to borrow 1 book at a time.
    Loans are for 2 weeks.
    Children do not need a library card to borrow a book during their class visit.

Please assist your child to keep their library book in a safe place at home and remember to bring it back
to school before their next library visit.

Happy reading!

Ms Jane Burrows
Library Manager

                                                         11
My name is Johanna and I am running SCHOLASTIC BOOK CLUB for Truganina College P-9. This year we will be running a
CASHLESS Book club using the LOOP platform.

The Book Club LOOP platform for parents allows you to order for your child and pay by credit card online through the LOOP
website www.scholastic.com.au/loop. Your child's books will then be delivered to their classroom.

Please note: Cash orders will not be accepted at the school.

Each term, students in Foundation – Year 6 will receive a printed Book Club catalogue to take home. You can also look at the cata-
logue online. Spare catalogues will be available in the Library for Year 7 – 9 students.

You must submit your order before the due date on the catalogue. Orders will take 3-4 weeks to be delivered to your child's
classroom.

How to Order

1.     Go to the scholastic website www.scholastic.com.au/loop or download the Book Club LOOP
       (Scholastic) App on the App Store (Apple) or Google Play (Android).
2.     Log in or Create an account if you are new to scholastic (follow the Wizard to set up your profile).
3.     Click the ORDER tab and select our school name Truganina P-9 College and your child's class.
4.     Add your child's first name and surname (so the school knows who the book is for).
5.     Select the Catalogue Brochure Issue (Issue 1)
6.     Enter the Book number (Book #) shown on the Book club catalogue and the quantity (Qty) you
       would like to order. When you press Enter, the information of the book will appear on the screen.
7.     When you have completed adding the books you want to order, click Continue.
8.     A summary of your order will appear with the total cost of your order.
9.     You can now choose a method of Payment – VISA or Mastercard. Continue to follow the steps to
       complete your order.

If you have any queries about Book Club please do not hesitate to contact me in the library on 9368
9800.

Kind Regards
Johanna Stellini
Book Club Coordinator

                                                               12
Community Engagement In
                 Learning
Date: 17/03/2021 - Time: 3:30 pm – 4:30 pm -               Venue: Truganina College and WebEx

Thank you for your interest in the NAPLAN Information Session: An Opportunity to Participate in Your
Child's Learning.

More information on this will be given via Compass to all families closer to the date.

If you have any questions, please call 9368 9800

Xavier O'Halloran
Year 7 English PLC Leader – Community Engagement Team

                                 2021 Timetable
                 TIMETABLE A                            TIMETABLE B                          TIMETABLE C
    Year                                                                     Year lev-
                 Years 1,7,8,9        Year levels        Years 2,3,4                          Years F,5,6
  levels                                                                       els

 Reading          8:35 – 9:00          Reading           8:35 – 9:00         Reading          8:35 – 9:00

 Session 1       9:00 – 10:00         Session 1         9:00 – 10:00         Session 1        9:00 – 10:30

  Recess     1st half 10:00 – 10:15                                           Recess     1st half 10:30 – 10:45
                                      Session 2         10:00 – 11:00
   block     2nd half 10:00 - 10:30                                                      2nd half 10:45 - 11:00
                                       Recess       1st half 11:00 – 11:15
 Session 2       10:30 – 11:30                                               Session 2       11:00 – 12:00
                                                    2nd half 11:00 - 11:30

 Session 3        11:30- 12:30        Session 3         11:30- 12:30         Session 3        12:00 – 1:00

  Lunch      1st half 12:30 – 12:45                                                        1st half 1:00 – 1:15
                                      Session 4         12:30 – 1:30          Lunch
             2nd half 12:45 – 1:00                                                        2nd half 1:15 – 1:30
                                                     1st half 1:30 – 1:45
 Session 4        1:00 – 2:00           Lunch                                Session 4        1:30 – 3:00
                                                    2nd half 1:45 – 2:00
                                                                               After
 Session 5        2:00 – 3:00         Session 5          2:00 – 3:00          school          3:00 – 3:15
                                                                             Yard Duty
   After                                 After
  school          3:00 – 3:15           school           3:00 – 3:15
 Yard Duty                            Yard Duty

                                                            13
H e a lt h y , Ha p p y & Res i l i e nt K id s
   Year 6 Swimming Competition
On Friday 19th of February some Year 6 students headed to the Werribee Outdoor Pool to
compete against other school in freestyle, backstroke, breaststroke and butterfly. A huge
congratulations to Sri Ananya, Dhruv B, Amariah, Jaiyana, Liam, Dhruv K, Maurya, Zoe
and Hiyabel for putting in their best efforts!

Jessie Patterson—Year 6 Teacher and
Jake Farrow—Physical Education Teacher
                                         14
H e a lt h y , Ha p p y & Res i l i e nt K id s
    Interschool Sports—Volleyball!!
On Thursday the 25th of February, our Year 8 students participated in the very first interschool sporting
event of 2021! Our girls were able to take away 2 wins of the day, coming in 3 rd overall.

This year's Year 8 Boys team continued their success from Year 7, following their victory in 2020, coming
1st overall in the Year 8 Boys District Volleyball. Each of the boys played a vital part in the team's success
throughout the day working collectively through each play! The boys will be moving on to the next stage!

Overall, the day was a great success, with all
students demonstrating our College Values of
resilience and respect and representing Truganina
College P9 in our brand new team uniforms.
It was great to see the big smiles on the student's
faces!
Well done to all involved!
Stay happy, active and resilient everyone!

Kelsey Lucas
Health and Physical Education and PLC Leader
                                                          15
Staff Profiles
                         Get to know Ann Williams -
                  School Receptionist/Administration Officer

What is your role at the College? At the College I am the school Receptionist
and I work in the front office.

What is your favourite colour? My favourite colour is blue.

What is your favourite number? My favourite number is 24 because my birthday
is on the 24th.

What is your favourite book and why? My favourite book is James and the Giant
Peach by Roald Dahl. He has been my favourite author since I was at school.

What is your favourite food? My favourite food is Kiwiberries.

What so you like most about teaching and learning? I like that no matter how much I have learned, there
is always something new to be discovered.

                           Get to know Tejal Gyani –
                          Year 1 Classroom Teacher
What is your role at the College? My role at the College is Year 1 Classroom
Teacher.

What is your favourite colour? My favourite colour is orange because it is
spiritual.

What is your favourite number and why? My favourite number is 22 because
it is my birth date.

What is your favourite book and why? My favourite book is The Secret. It is
based on the power of attraction and I really believe in it.

What is your favourite food? I am an Indian food lover and specifically Chhole bhature—chickpea curry
and fried flat bread.

What do you like most about teaching and learning? I love spending time with young kids and I love
seeing them grow as individuals. The thing I like most about teaching is my students. I love interacting
with them and learning with them.

                                                  16
Mental Health Practitioner!!
Truganina College is excited to be part of the Mental Health Practitioners Initiative from
the Victorian Government. This initiative supports our school to recruit a qualified Mental
Health Practitioner. We would like to introduce you to our Mental Health Practitioner,
Rishta.

Hello, I'm Rishta, the Mental Health Practitioner at Truganina College. I am excited to
make a positive contribution to supporting student wellbeing at the college. Many young
people face mental health and wellbeing challenges, with one in seven students aged
four to 17 experiencing a mental health condition. In my role at the college, I will be
providing early intervention services and counselling, facilitating wellbeing groups and
co-ordinating support services for students within the college and the community.

Students may see me in the yard during their break times, running activities and
promoting positive mental health and wellbeing. Come and say Hi!

Rishta Kumar
Mental Health Practitioner
Truganina P-9 College
                                                17
Canteen Ordering Instructions

             18
School Crossing
When using our School Crossing, please ensure that you wait behind the yellow lines until
the School Crossing Supervisor has put this red Stop sign up, has blown his whistle and
indicated that it is safe to cross the crossing.

    Victorian School of Languages
This year our College is both fortunate and proud to host students who are attending
Punjabi and Tamil classes, conducted by the Victorian School of Languages (VSL). Classes
will be commencing on February the 6th and will be conducted on Saturday mornings at
Truganina College. If you would like to enrol your child/children please see the VSL web-
site (https://www.vsl.vic.edu.au/enrol/). Truganina College looks forward to hosting VSL
once again in 2021.
Jaimie Vernon
Year 3 Classroom Teacher
VSL Supervisor

                              Bike Locks
It is advised that an all students lock their bikes with
their own locks if they are leaving their bikes in the
school bike shed. The school shed is not always
locked, so this will ensure that they are safe and will
still be there at the end of the day.

                                                19
Last Day of Term
The last day of Term 1 is Thursday 1st April 2021. School
finishes at 2.30pm on this day.

                       School Canteen
      The canteen is open for Online Lunch Orders and over the counter snacks.

                      Online lunch orders must be in by 9am.

                       Your assistance is greatly appreciated.

                         Soundgarage
                      (Instrumental Music)
             Soundgarage is now being held every Wednesday

                         Please forward any enquiries to
                         Maddie Owen on 0401 844 522

                                       20
2021 School Privacy Policy
Our school collects, uses, discloses and stores student and parent personal information for standard
school functions or where permitted by law, as stated in the Schools' Privacy Policy .
Please take time to remind yourself of the school's collection statement, found on our website
[https://truganinap9.vic.edu.au/overview/ ].
For more information about privacy, see: Schools' Privacy Policy — information for parents.     This
information also available in nine community languages:
   Amharic
   Arabic
   Dari
   Mandarin
   Somali
   Sudanese
   Turkish
   Urdu
   Vietnamese.

               Congratulations Word
                Challenge winners!
          Congratulations to the following students who were the prize winners for the last
       newsletter's Word Challenge and made an impressive amount of words with 'ar' in them:
                                       Sana Gupta from 00D
                                        Jillian Reyes from 1G
                                       Hrishita Patel from 5H
                                   Well done to all of our winners!

                                                    22
I have read my newsletter 

     Student Name _________________________
    Teacher Name _________________________
    Parent Name ___________________________

                   CHALLENGE!!
 How many words can you make that have 'qu' in
                   them?

            q u
   3 WINNERS WILL BE ANNOUNCED THIS ROUND!
              PRIZES! PRIZES! PRIZES!!!!

Return your slip to your teacher with as many words
 written, with 'qu in them for your chance to win a
                         prize!!

  Slips must be returned by Thursday 11th March.
      Winners announced Friday 12th March.
                     Go For It!
                             23