2020 Houston Complete Streets and Transportation Report
Page content transcription
If your browser does not render page correctly, please read the page content below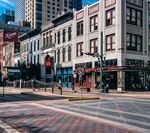 The 2020 Houston Complete Streets and Transportation Plan Annual Report documents the past
year's accomplishments by the City of Houston and our partners in implementing Executive Order 1-15:
Complete Streets.

The Planning and Development Department (PD) developed this report in close collaboration with
Houston Public Works (HPW), Houston Parks and Recreation Department (HPARD), Houston Parks
Board (HPB), Houston-Galveston Area Council (H-GAC), Metropolitan Transit Authority of Harris County
(METRO), Harris County Precinct 1, Harris County Precinct 2, and other departments and agencies that
play a role in furthering the goal of Houston Complete Streets. The accomplishments in this report
reflect the combined efforts of all these parties and the support of the community.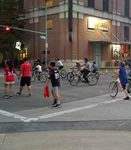 TABLE OF CONTENTS

03             05            06
FROM THE       OUR VISION    ACCOMPLISHMENT
DIRECTOR                     HIGHLIGHTS

10             26            30
APPENDIX A:    APPENDIX B:   APPENDIX C:
YEAR IN FULL   COMPLETE      PERFORMANCE
               COMMUNITIES   INDICATORS

                                    Houston Complete Streets Annual Report   1
Source: Mark Taylor Cunningham / Shutterstock.com/ Main Street

2   HOUSTON COMPLETE STREETS ANNUAL REPORT
FROM THE DIRECTOR

The Planning and Development Department has
made significant progress over the past year to
strengthen the City's commitment to improve
mobility for all road users, make programs and
processes more transparent, and leverage resources
for maximum impact. Most notable are these:
                                              Vision Zero Action Plan was released in November with implementation of the
                                              plan starting the very next day. Vision Zero Houston is Houston's commitment to
                                              end traffic deaths and serious injuries by 2030. Vision Zero prioritizes safety and
                                              multimodal accessibility for people of all ages and all abilities. Houston's Vision
                                              Zero Action Plan is based on data analytics, community input, and international
                                              best practices.

                                              North Houston Highway Improvement Project (NHHIP): The Planning and
                                              Development Department (PD) continued to build community consensus around
                                              Texas Department of Transportation's (TxDOT) planned reconstruction of I-45.
                                              The year began by engaging the public on a series of alternative design proposals
                                              developed in response to community concerns; feedback was gathered over
                                              three public meetings and an online survey. With this feedback and the guidance
                                              of the Facilitation Group, the Department drafted Mayor Sylvester Turner's letter
                                              of requests for the project to the Texas Transportation Commission, submitted
                                              in May. Since then, the Department has collaborated with TxDOT, METRO, Harris
Margaret Wallace Brown, AICP, CNU-A           County, and the H-GAC Transportation Policy Council on a framework for how these
Department Director                           requests will be incorporated in the project's design. Concurrently, PD advocated
                                              for Houstonians in the project's federal environmental review process. After TxDOT
released their Final Environmental Impact Statement (FEIS), PD held three virtual public meetings and developed robust user
guides to help the public better understand the document and the process. PD also developed Mayor Turner's FEIS response on
behalf of the City of Houston.

Bike Network Expansion with the support of our partners, Harris County Precinct 1, HPW, HPB, HPARD, METRO and TxDOT,
the Build 50 Challenge projects are substantially complete, with the remaining projects in design or construction. This fast-paced
implementation of high-comfort bicycle facilities has made it safer to bike throughout the city and help make Houston a more
multimodal city.

No Parking in the Bike Lane Ordinance was approved by City Council to improve cyclist safety. This ordinance prohibits on-
street parking of motor vehicles where striping and physical barriers designate the street space for the exclusive use of bicycles.
This ordinance will ensure that cyclists don't have to swerve into the path of moving vehicles to avoid vehicles parked in designated
bike lanes.

                                                                                                        Houston Complete Streets Annual Report   3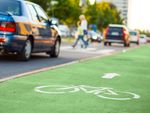 FROM THE DIRECTOR

                                                Houston BCycle now operates 123 stations with 800 bicycles. In 2020, Houston BCycle
                                                added 13 stations and 535 bikes to its fleet, including 100 electric bikes. Electric bikes
                                                are not only fun and engaging, but are equipped with pedal-assist, which means they
                                                use a small electric motor to make cycling easier, and reduces strain on the body.

                                                Walkable Places and Transit-Oriented Development
                                                Ordinance was passed by City Council to encourage more walkable development. The
                                                ordinance enhances the pedestrian experience throughout Houston's neighborhoods
                                                by creating customizable pedestrian-friendly rules to guide new development and rede-
                                                velopment on private properties.

                                                Chief Transportation Planner: Planning and Development hired David Fields as the
                                                first Chief Transportation Planner for the City of Houston. This staff position plays a
                                                crucial role in Houston's paradigm shift from single-occupancy vehicles to multimodal
                                                options such as walking, biking, and riding transit, with the highest priority of safe travel
                                                for all. The Chief Transportation Planner provides strategic leadership for the City's
                                                systems-level transportation planning efforts and connects equitable transportation
    David Fields, AICP                          with land use to improve quality of life and maximize economic development for the
    Chief Transportation Planner                City and the region.

    COVID-19 Responses
    •M
      ore Space Program helps restaurants accommodate more customers while maintaining social distancing by appropriating
     unused parking space. The program allows any restaurant to convert 50% of their off-street parking spaces to serving space to
     keep customers socially distanced while the pandemic restrictions remain in place.

    • More Space: Main Street recognizes the unique features of businesses on Main Street in Downtown Houston by reallocating
      vehicle lane space as table space for restaurants and bars. Due to the multiple modes used on Main Street (walking, biking, public
      transit, and driving), design and implementation required extensive coordination with multiple partners.

    • Slow Streets provided more space for walking and biking by limiting selected streets to local vehicle traffic. The pilot streets were
      selected for their history of high-speed cut-through traffic. The selected streets could then be redirected out of the neighborhood
      and into neighborhood parks.

4   HOUSTON COMPLETE STREETS ANNUAL REPORT
OUR VISION

To create a safe, equitable transportation system that supports all communities and
modes, by planning for transportation with all users in mind.

                                                                   Houston Complete Streets Annual Report   5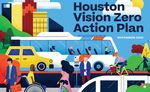 ACCOMPLISHMENT HIGHLIGHTS
    Highlights from the reporting period are listed below. More detailed descriptions are included in the Appendices.

    Design, Construction, and Implementation
                                                                        North Houston Highway Improvement Project:
                                                                        Continued the collaborative effort led by PD to engage the
                                                                        community by working closely with the Facilitation Group,
                                                                        HPW, Harris County, and other partners to include the
                                                                        community in project planning. Drafted Mayor Turner's letter
                                                                        to the Texas Transportation Commission, identifying the City's
                                                                        vision and priorities for the project. Collaborated with TxDOT,
                                                                        METRO, Harris County, and H-GAC on framework for project
                                                                        design, and advocated for the City in the project's federal
                                                                        environmental review process, including drafting the City's
                                                                        response to the FEIS. For more information:
                                                                        http://www.houstontx.gov/planning/nhhip.

                                                                        Houston Bike Plan: Added 13 miles of high-comfort
                                                                        bicycle lanes, with nearly 50 additional miles in design or
                                                                        in construction. This is a continuing partnership between
                                                                        PD, HPW, Harris County Precinct 1, BikeHouston, and other
                                                                        partners to complete the bicycle lanes started by the
                                                                        Build 50 Challenge.

                                                                        Bike Share Expansion: Expanded Houston BCyle facilities
                                                                        and fleet to 125 stations with over 1,000 bicycles, including
                                                                        the addition of 100 electric bikes. In addition to the City's
                                                                        contribution of over $50,000, Harris County Precinct 1 funded
                                                                        the 100 electric bikes. See map of current Houston BCycle
                                                                        system on page 9.

                                                                        Bike to Wherever Day: Partnered with BikeHouston
                                                                        and Houston BCycle to implement the first virtual Bike to
                                                                        Wherever Day. This continuing partnership is led by PD,
                                                                        supported by HPW, Harris County, BikeHouston, Houston
                                                                        BCycle, and the Mayor's Office of Special Events (MOSE).

                                                                        Pothole Tracker Website: This street rehabilitation data
                                                                        management initiative, led by HPW, identifies potholes that
                                                                        are 5' by 5' with severely deteriorated pavement.

6   HOUSTON COMPLETE STREETS ANNUAL REPORT
ACCOMPLISHMENT HIGHLIGHTS

Shepherd/Durham Major Investment Project: Redesign               Highway Safety Improvement Program (HSIP) Funding:
of Shepherd Drive and Durham Drive to accommodate all            Submitted 16 applications to TxDOT requesting nearly
modes and provide a safer street for all. This is a collabora-   $8 million for HSIP grant funds. This project was led by HPW
tive partnership led by the Memorial Heights Redevelopment       and supported by PD. Funding will be announced by TxDOT
Authority, with support from PD, HPW, and H-GAC.                 in fall of 2021.

Traffic Signal Retiming: Retimed traffic signals at 800 in-      Sidewalks: Constructed 50 miles of new/reconstructed
tersections to help minimize traffic delays while maintaining    sidewalks in fiscal year 2020, to help make Houston more
safety for all road users. HPW leads the implementation and      pedestrian friendly. HPW leads the implementation and is
is supported by PD's systems-level planning efforts.             supported by PD's systems-level planning efforts.

High Speed Rail (HSR): Continued to support Texas Central        More Space and More Space Main Street Initiatives:
Rail's efforts to advance high speed rail development between    Created and implemented the citywide program to allow
Houston and Dallas.                                              restaurants to convert 50% of their unused parking spaces
                                                                 and use the space to serve customers. PD then extended the
Infrastructure Design Manual (IDM): Revised IDM Chapter          concept to Main Street, where the City will close certain blocks
10 definitions to better align with the City's Major Thorough-   to vehicle traffic and allow restaurants and bars to serve cus-
fare and Freeway Plan (MTFP) and reinforced the rounda-          tomers in the roadway. PD led this effort in coordination with
bout section to encourage wider usage of roundabouts as a        Downtown District and METRO, with support from HPW, HFD,
method of traffic calming. Chapter 17 was also updated to        and other partners.
address the Walkable Places and Transit-Oriented Develop-
ment Ordinance, decrease repetition in the IDM, and make it      Slow Streets Pilot Project: Provided more space for walking
consistent with Chapter 10. HPW leads this effort as part of     and biking by limiting selected streets to local vehicle traffic.
their annual revision process and is supported by PD.            PD led this effort with support from HPW.

Location for Slow Streets Pilot Project

                                                                                                    Houston Complete Streets Annual Report   7
ACCOMPLISHMENT HIGHLIGHTS

    Policy                                                Planning and Advocacy
    Completed the Vision Zero Action Plan                 Updated the Houston Bike Plan Map

    Developed the No Parking in the Bike Lane             Represented the City of Houston as a stakeholder in
    ordinance approved by City Council                    H-GAC managed studies, including: Southeast Houston
                                                          Subregional Mobility Plan, Montrose Livable Center
    Approved Walkable Places and Transit-Oriented         Study, and Greenspoint Livable Center Study
    Development Ordinance
                                                          Coordinated funding for the Southwest Livable
    Facilitated the Bicycle Advisory Committee            Center Study

    Assessed City's parking standards in support of the   Conducted annual Major Thoroughfare and Freeway
    Livable Places Initiative                             Plan amendments

    Implemented several mobility-related Resilient        Revisited the approach to the Major Thoroughfare
    Houston strategies                                    and Freeway Plan

                                                          Partnered with Council Member Abbie Kamin to initiate
                                                          the first inter-neighborhood Montrose/Midtown
                                                          Connectivity Study

                                                          Coordinated the City's COVID-19 Rapid Response
                                                          Mobility Task Force

                                                          Partnered with METRO on BOOST Sidewalks Program

                                                          Supported METRO Bus Rapid Transit and ADA Funding

                                                          Hired Chief Transportation Officer

                                                          Supported Complete Communities

8   HOUSTON COMPLETE STREETS ANNUAL REPORT
ACCOMPLISHMENT HIGHLIGHTS

                     Houston's Bike Share System: Houston BCycle
                                              SCHRO EDER

                                                                                                                                                                                                                                                                                                     KU
                                                                                                                                CH

                                                                                                                                                                                                                                                                                                                                                                                                                                                                                                                                                                                                                                                                                       A
                                                                                                                                                                                                                                                                                                                                                                                                                                                                                                                                                                                                                                                                                    CIT

Houston
                                                                                                                                   AM

                                                                                                                                                                                                                                                                                                             YK
                                                                                                                                                                                                                                                                                                                                                                                                                                                                                                                                                                                                                                                                            SCO

                                                                                                                                                                                                                                                                                                                                                                                                                                                                                                                                                                                                                                                                                                                                                        WOODLAND HILLS
                                                                                                                                                                                                                                                                                                                                                                                                                                                                                                                                                                                                                                                               ATA

                                                                                                                                                                                                                                                                                                                     EN
                                                                                                                                          PI

                                                                                                                                                                                                                                                                                                                                               RANKIN

                                                                                                                                                                                                                                                                                                                                                                                                                                                                                                                                                                                                                                                                                                                                                                                                                                 ON
                                                                                                                                                 ON

                      GRANT                                              0                                                                                                                                                SPEAR S

                                                                                                                                                                                                                                                                                                                         DA
                                                                     6
                                                                                                                                                         BA MM EL NO

                                                                  19

                                                                                                                                                                                                                                                                                                                                                                                                                                                                                                                                                                                                                                                                                                                                                                                                                             H O U ST
                                                                                                                                                                                                                                                                                                                                                                         IM PE RI
                                                                                    CU

                                                                                                                                                   FO

                                                                                                                                                                                                                                                                                                                               HL
                                                            FM                                                                                                                                                                                                                                                                                                                                                                              SIMMANS
                                                                                                                               HO

                                                                  SH
                                                                                           TT

                                                                                                                                                        RE

                                                                                                                                                                                                                                                                                                                                                                                                                                                                                                                                                                  LE E
                                                                                                                                                                                                                                                                                                                                                                                                                                                                                                                                                                                                                                                                                                                                                                                                                                                                                                                        FOLEY

                                                                                                                                                                                                                                                                                                                                                                                                HARDY
                                                                                                                                LL

                                                                                                                                                              ST
                                                                                              EN

                                                                                                                                                                                                                                                                                     LA

                                              M IL L                                                                                                                                                                                                                                                                                                                                                                                        GREENS
                                                                                  24

                                                                                                                                                                                                                                                                                                                                                                                                                                                                                                                  JOHN F KENNE DY
                                                                                                                                   IST

                                                           S

                                                                                                                                                                                                                                                                                                                                                                                AL VA LL

                                                                                                                                                                                                                                                                                                                                                                                                                                                                                                                                                                                                                                                                                                                                                                                                                         LA K E
                                                                                                                                                                                                                                                                                 EL

                                                                                                                                                                                                                                                                                                            G RE EN

 OUSTON
                                                                                                                                                                                                             VE

                                                                                                                                                                                                                                                                                                                                                                                                                                                                                                                                                                                                                                                                            WILSO N
                                                                                            9
                                                                                                                                                                                                                                                                                                                                                              G R EE
                                                                                                                                         ER

                                                                                                                                                                                                                                                                                                                                                                                                                                                                                                                                         VICK ERY

                                                                                                                                                                                                                                                                                                                                                                                                                                                                                                                                                                                                            E
                                                                                                                                                                                                                                                                       GEARS
                                                                                                                                                                                                                   TE

                                                                                                                                                                                                                                                                                                                                                                                                                                                                                                                                                                                                        BL
                                                                                                                                                                     RT H HO US

                                                                                                                                                                                                                                                                                                                                                                                                                                                                                                                                                                                                                                                                                                                                                                                                                             Alexander Deussen Park
                                                                                                                                                                                                                       RA

                                                                                                        WEST GREENS

                                                                                                                                                                                                                                                                                                                                                                                                                                                                                                                                                                                                  M
                                                                                                                                                                                                                                                                                                                                                                 N SP O

                                                                                                                                                                                                                                                                                                                                                                                                                                                                                                                                                                                            HU
                                                                                                                                                                                                                                                                                                                                                                                         EY
                                                                                                                                                                                                                             NS

E STATIONS
                                                                                                                                                                                                                                                                                                                    S CR O

                                                                                                                                                                                                                                                                                                                                                                                                                                                                                                                                                                                                                                                                                                                                                                                                                               Boat Ramp/Parking

                                                                                                                                                                                                                                                                                                                                                                                                                                                                                                                                                                                     D
                                                                                                                                                                                                                                                                                                                                                                                                                           ALD INE BEN DER
                                                                                                                                                                                                                                      ME

                                                                                                                                                                                                                                                                                                                                                                                                                                                                                                                                                                                OL
                                                                                                                                                                                                                                                                                                                                                                  IN T
                                                                                                                                                                                                                                                                                                                                                                                                                                                                                                                                                                                                                                                                                                                                                                                                                                    Lot/Pavi*
                                                                                                                                                                                                                                             MO

                                                                                                                                                                                                                                                                                                                           SS
                                                                                                                                                                                TO N

                                                                                                                                                                                                                                                    RI

                                                                                                                                                                                                                                                                                                                         IN G
                                                                                                                                                                                                                                                          AL

                                                                        FALLBR OOK                                                                                                                                                                                                                                                                                                                                                                                                                                                                                                                                                                                                                                             Alexander Deussen Park
                                                                                                                                                                                                                                                                                                                                                                                                                                                                                                                                                                                                                                                                                                                                                                                                                                                                            !B

                                                                                                                                                                                                                                                                                                                                                                                                                                                                    ALDI NE WEST FIELD
                                                                                                                                                                                                                                                                                                                                                                                                                                 LUTHE
                                                                                                                                                                                                                                                                                                                                                                                                                                                                                                                                                                                                                                                                                                                                                Picnic
                                                                                                                                                                        TO
                                                                                                                                                                                                                                                                                                                                                                                                                                                                                                                                                                                                                                                                                                                                                                                                                                                                           !!
                                                                                                                                                                                                                                                                                                                                                                                                                                                                                                                                                                                                                                                                                                                                                                                                                                                                           BB
                                                                                                                                                                                                                                                                                                                                                                                               LILLJA

                                                                                                                                                                                   MB                                                                                                                                         WEST                                                                                                                                                                       LA UD ER
                                                                                                                                                                                          AL                                                                                                                                                                                                                                                                                                                                                                                                                                                                                                                                         Area/ Pavillion 12
                                                                                                                                                                                                L
                                                                                                                                                                                                                                                                                                                                                                                    ALDINE MAIL ROUTE                                                                                                                                                                                                       WINFI ELD                                                                                                                                                                                                                              Alexander
                                                                                                       FAIRBAN KS N HOUSTO N
                                                                              WIN DFE RN

                                                                                                                                                                                                                                                                                                                                                                                                                                                                                                                                        59
                                                                                                                                                                                                                                                                                                                                                                                                                                                                                                                                                                                                                                                                                                                                                                                                                                               Deussen Park Senior
                                                                                                                                                               HOU STON ROSS LYN

                                                                                                                                                                                                                                                                                                                                                                                 HELMS
                                                                                                                                                 BR EE N
                                                                                                                                                                                                                                                                                                                                                                                                                                                                                                                                                                                MOUN T HOUST ON                                                                                                                                                                                                                                                 Center/ Pavilion 1
                                                                                                                                                                                                                                                                                                            ST

                                                                                                                                                                                                                                                                                                                                                                                                                                                                                                                                US
                                                                                                                                                                                                                                                                                                                    UE

                                                                                                                                                                                                                                                                                                                                                                 GULF BANK                                                                                                                                                                                                                                                                                                                                                                                                                                      GARRE TT
                                                                                                                                                                                                                                                                                                                         BN
                                                                                                                                                                                                                                                                                                                                ER

                                                                                                                                                                                                                                                                                                                                                                                                                                                                                                          HOPPER
                                                                                                                                                                                                                                                                                                                                         AI

                                                                                                                                                                                                                                                                                                                                                                                                                                          HARD
                                                                                                                                                                                                                                                                 M

                                                                                                                                                                                                                                                                                                                                               RL
                                                                                                                                                                                                                                                                       ON

                                                                                                                                                                                                                                                                                                                                                       IN
                                                                                                                                                                                                                 ANT OIN E

                                                                                                                                                                                                                                                                         TG
                           SENATE

                                                                                                                                                                                                                                                                                                                                                             E

                                                                                                                                                                                                                                                                                                                                                                                                                                                 Y
                                                                                                                                                                                                                                                                               OM

                                                                                                                                                                                                                                                                                                                                                                                                                                                                                                                 BENTL EY
                                                                                                                                                                                                                                         VICTO RY                                                                                                            K                                                                                                                                                                          LANGL EY

                                                                                                                                                                                                                                                                                                                                                                                                                                                                                                                                                                                                                                                                                                                      JOHN RALSTON
                                                                                                                                                                                                                                                                                                                                                                                                                AIRLIN E

                                                                                                                                                                                                                                                                                                                                         YO R
                                                                                                                                                                                                                                                                                      ER

                                                                                                                                                                                                                                                                                                                                                                                                                                                                                                                                                                  HOMESTE AD
                                                                                                                                                                                                                                                                        CARVER

                                                                                                                                                                                                                                                                                                                         TLE
                                                                                                                                                                                                                                                                                             Y

                                                                                                                                                                                                                                                                                                                                                                                                                                                                                                                                                                                                                                                                                                                                                      IN G
                                                                                                                                                                                                                                                                                                          L IT                                                                                                                                                                                                                                                                                                                                             MADERA

                                                                                                                                                                                                                                                                                                                                                                                                                                                                                                                                                                                                                                                                                                                                                                                                                                                              MI
                                                                                                                                                                                                                                                                                                                                                                                                                                                                          PARKER

                                                                                                                                                                                                                                                                                                                                                                                                                                                                                                                                                                                                                                                                                                                                                  CEK

                                                                                                                                                                                                                                                                                                                                                                                                                                                                                                                                                                                                                                                                                                                                                                                                                                                                  LL
                                                                                                                                                                                                                                                                                                                   WHEATLEY

                                                                                                                                                                                                                                                                                                                                                                                                                                                                                                                                                                                                                                                                                                                                                                                                                                                                                                    MILLE R ROAD NO 2
                                                                                                                                                                                                                                                                                                                                                                                                                                                                                                                                                                                                                                                            MESA
                                                                                                                                                                                                                                                                                                                                                                                                                                                                                                                                    CH

                                                                                                                                                                                                                                                                                                                                                                                                                                                                                                                                                                                                                                                                                                                                                                                                                                                                     ER
                                                                                                                                                                                                                                                                               CEBRA ROS SLY

                                                                                                                                                                                                                                                                                                                                                                                                                                                                                                                                H IR S

                                                                                                                                                                                                                                                                                                                                                                                                                                                                                                                                                                                                                                                                                                                                                                                                                                                                          RO
                                                                                                                                                                                                                                                                                                                                                                                                                                                                               L
                                                                                                                                                    US                                                                                                                                                                                                                                                                                           TI DW EL
                                                                                                                                                                                                                                                                                                                                                                                                                                                                                                                                                                                                                                                                                                                                                                                                                                                              90

                                                                                                                                                                                                                                                                                                                                                                                                                                                                                                                                                                                                                                                                                                                                                                                                                                                                              AD
                                              TANNER
                                                                                                                                                                                                                                                                                                                                                                                                                                                                                                                                                                                                                                                                                                                                      GREEN RIVER
                                                                                                                                                                   29                                                                                                                                                                                                                                                                                                                                                                                                                                                                                                                                                                                                                                                                    US
                                                                                                                                                                                                                                                                                                                                                                                                                                                                                                                      LAURA KOPPE

                                                                                                                                                                                                                                                                                                                                                                                                                                                                                                                                                                                                                                                                                                                                                                                                                                                                                   NO
                                                                                                                                      HE                                           0                      PINE MON T                                                                                                                                                                                                                                  BERRY

                                                                                                                                                                                                                                                                                                                                                                                                                                                                                                                                                                                                                                                                                                                                                                                                                                                                                        3
                                          BW 8

                                                                                                                                                                                                                                                                                                                                                                                                                                                                                                                                             WEAVER                                                                                                                                                                                                N       T
                                                                                                                                                                                                                                                                                                                                                                                                              IH

                                                                                                                                             MP                                                                                                                                                                                                                                                                                                                                                                                                                                                                                                 LEY
                                                                                                                                                                                                                                                                                                                                                                                                                                                                                                                                                                                                                                                                                                                                                MO
                            BRITTMO ORE

                                                                                                                                                   ST                                                                                                                                                                                                                                                                                                                                                                                                                                                                                                                                                                                      AU
                                                                                                                                                                                                                                          A

                                                                                                                                                                                                                                                          43RD                                                                                                                                                                            CROSST IMBERS                                                                                                                                                                                                                                                                       BE
                                                                                                                                                                                                                                                                                             N

                                                                                                                                                        EA
                                                                                                                                                                                                                                     WATO NG

                                                                      CLAY                                                                                   D
                                                                                                                                                                                                                                                                                                                                                                                                                       45
                                                                                                                                                                                                                                                                                                                                                                 SHEPH ERD

                                                                                                                                                                                                                                                                                                                                                                                                                                                                                                                                                                                                                                                                                                                                                                                                                                                                                                                                         SH EL DO
                                                                                                                                                                                                                                                                                                                                                                                                                                                                                                                                                                                                    KIRKPATRICK

                                                                                                                                                                                                                                                                                                                                                                                                                                                                                                                                                                                                                                                HOUST ON
                                                                                                                                                                                                                                                                                                                                                                                                                                                                                                                                               N
                                                                                                                                                                                                                                                                                                                                                                                                                                                                                                     BE NN ING TO

                                                                                                                                                                                                                                                                                                                                                                                                                                                                                                                                                                                                                                                                                                                                                                                                        PU RP LE SA
                                                                                                                                                                                                                                                                                                                                                                                                                                                              IRVINGT ON
                                                                                                           CAMPBE LL

                                                                                                                                                                                                                                                 MANG
                                                                                                                                                          LE

                                                                                                                                                                                                                                                                                                                                                                                                                                   FU

                                                                  KEMPWOOD
                                                                                                                                                                                                                                                                                                                                                                                                                                                                                                                                                                                                                     WAYSIDE
                                                                                                                                                        NG

                                                                                                                                                                                                                                                                                                                                                                                                                                       LT

                                                                                                                                                                                                                                                                            34TH
                                                                                                                                                                                                                                                                                                                                                                                                                                                                                                     JENSEN

                                                                                                                                                                                                                                                                                                                                                                                                                                                                                                                        KELLEY

                                                                                                                                                                                                                                                                                                                                                                                                                                                                                                                                                                                                                                                                                                                                                                                                                                                                                                                                              N
                                                                                                                                                    BI

                                                                                                                                                                                                                                                                                                                                                                                       YALE HEIGH

                                                                                                                                                                                                                                                                                                                                                                                                                                           ON

                                                                                                                                                                                                                                                                                                                                                                                                                                                                                                                                                                                                                                                                                                                                                                         LE
                                                                                                                                                                                                                                                      UM

                                                                                                                                                                                                                                                                                                                                                                                                                                                                                                                                                      LOCKW OOD

                                                                                                                                                                                                                                                                                                                                                                                                                                                                                                                                                                                                                                                                                                                                                                                                                               UVALDE
                                                                                                                                                                                                                                                                                                                                                                                                                                                                                                                                                                                                                                                                                                        OATES
ston BCycle                                                                                                                                                                                                                                                                                                                                                                                                                                                                                                                                                                                                                                                                                                                                              V IL
                                                                                                                                                                                                                                                                               T

                                                                                                                                                                                                                                                                                                                                                                                                                                                                                                                                                                                                                                                                                                                                                                                                                                                                                                               SCHRO EDER LE

                                                                                                                                                                                                                                                                                                                                                                                                                                                                                                                                                                                                                                                                                                                                                                                                                                                                                                                                                                                                                                                         CH
                                                                                                                                                                                                                                                                                     C                                                                                                                                                                                                                                                                                                                                                                                                                                                       L L IS

                                                                                                                                                                                                                                                                                                                                                                                                                                                                                                                                                                                                                                                                            City of Houston
                                                                                                                                                         HAMMERLY

                                                                                                                                                                                                                                                                                                                                                                                                                                                                                                                                                                                                                                                                                                                                                                                                                    GE
                                                                                                                                                                                                                                                                 MA                      JE                                                                                                                                                                                                                                                                                                                                                                                                                                          WA
                                                                                                                                                                                                                                             DACO

                                                                                                                                                                                                                                                                                                                                                                                                                                                                                                                                                                                                                                                                                                                                                                                                                                                                                                                                                                                                                                                           AM
                                                                                                                                                                                                                                                                                                                                                                                                                                                                                         ELYSI AN

                                                                                                                                                                                                                                                                                                 ST

                                                                                                                                                                                                                                                                                                                                                                                                                                                                                                                                                                                                                                                                                                                                                                                                                                                                                                                  DE LL DA
                                                                                                                                                                                                                                                                                                            ER                              20TH                                                                                                                                                             CAVALCA DE

                                                                                                                                                                                                                                                                                                                                                                                                                                                                                                                                                                                                                                                                                                                                                                                                                                                                                                                                                                                                                                                                     PI
                                                                                                                                                                                                                                                                                                                                                                                                              STUDEW OOD

ons - NEW                                                                                                                                        LON G POI NT
                                                                                                                                                                                                                                                                                                                                                                                                                                                                                                                                                                                                                                       IH

                                                                                                                                                                                                                                                                                                                                                                                                                                                                                                                                                                                                                                                                                                                                                                                                                                                                                                                                                                                                                                                                           ON
                                                                                                                                                                                                                                                                                                                                                                                                                                                                                                                                                                                               TY
                                                                                                                                                                                                                                                                           18TH
                                                                                                                                                                                                                                                                                                                                                                                                                           !
                                                                                                                                                                                                                                                                                                                                                                                                                           B              PATTO N                                                                                                                                    ER
                                                                                                                                                                                                                                                                                                                                                                                                                                                                                                                                                                                                                                                                                                                                                                                                                                                                                         GRANT                                                            60

                                                                                                                                                                                                                                                                                                                                                                                                                                                                                                                                                                                                                                                                                                                                                                                                                                                                                                                                                                                                                                                                                              BA MM EL NO
                                                                                                                    BL AL OC

                                                                                                                                                                                                                                                                                                                                                                                                                                                                                                                                                                                                                                                                                                                                                                                                                             WOODFOR EST                                                                                                          19

                                                                                                                                                                                                                                                                                                                                                                                                                                                                                                                                                                                                                                                                                                                                                                                                                                                                                                                                                                                        CU
                                                                                                                                                                                                                                                                                                                                                                                                                                                                                                                                                                               LIB

                                                                                                                                                                                                                                                                                                                                                                                                                                                                                                                                                                                                                                                                                                                                                                           AN D Y
                                                                                                                                                                                                                                                                                                                                                                 DURH AM

                                                                                                                                                                                                                                                                                                                                                                                                                                                                                                                                                                                                                                                                                                                                                                                                                                                                                                                                                                                                                                                                                  FO
                                                                                                                                                                                             WIRT

                                                                                                                                                                                                                                                                                                                                                                                                                                                                                                                                                                                                                                                                                                                                                                                                                                                                                                                                      FM

                                                                                                                                                                                                                                                                                                                                                                                                                                                                                                                                                                                                                                                                                                                                                    MAXEY
                                                                                                                                                                                                                                                                                                                                                                                                                                                                                                                                                                                                                                   Y

                                                                                                                                                                                                                                                                                                                                                                                                                                                                                                                                                                                                                                                                                                                                                                                                                                                                                                                                                                                                                                                     HO
                                                                                                                                                                                                                                                                                            !
                                                                                                                                                                                                                                                                                                                                                                                                  TS

                                                                                                                                                                                                                                                                                                                                                                                                                                                                                                                                                                                                                                                                                                                                                                                                                                                                                                                                                      SH
                                                                                                                                                                                                                                                                                                                                                                                                                                                                                                                                                                                                                                                61
                                                                                                                                                                                                                                 SILBER

                                                                                                                                                             Quitman  B

                                                                                                                                                                                                                                                                                                                                                                                                                                                                                                                                                                                                                                                                                                                                                                                                                                                                                                                                                                                                       TT

                                                                                                                                                                                                                                                                                                                                                                                                                                                                                                                                                                                                                                                                                                                                                                                                                                                                                                                                                                                                                                                                                        RE
                                                                                                                                                                                                                                                                                                                                                                                                                                                                                                                                                                                                                           RT

                                                                                                                                                  WES TVIE W

                                                                                                                                                                                                                                                                                                                                                                                                                                                                                                                                                                                                                                                                                                                                                                                                                                        FREE PORT
                                                                                                                                                                                                                                                                                                                                                                                                                                                                                                                                                                                           SCHRO EDER

                                                                                                                                                                                                                                                                                                                                                                                                                                                                                                                                                                                                                                                                                                                                                                                                                                                              KU
                                                                                                                                                                                                                                                                                                                                                                                                                                                                                                                                                                                                                                                                             CH

                                                                                                                                                                                                                                                                                                                                                                                                                                                                                                                                                                                                                                                                                                                                                                                                                                                                                                                                                                                                                                                          LL
ston BCycle                                                                                                                                                                                                                                                                        !

                                                                                                                                                                                                                                                                                                                                                                                                                                                                                                                                                                                                                                                                                                                                                                                                                                                                                                                                                                                                                                                                                                   ST
                                                                                                                                                                                                                                                                                                                                              11T H

                                                                                                                                                                                                                                                                                                                                                                                                                                                                                                                                                                                                                                                                                                                                                                                                                                                                                                                                                                                                                     EN
                                                                                                                                                                                                                                                                                                                                                                                                                                                                                                                                                                                                                     CA

                                                                                                                                                                                                                                                                               City   of  Houston
                                                                                                                                                                                                                                                                                                                                                                                                                                                                                                                                                                                                                                                     0

                                                                                                                                                   B                                                                                                                                                                                                                                                                                                                                                                                                                                                                                                                                                                                                                                                                                                                                                                    M IL L

                                                                                                                                                                                                                                                                                                                                                                                                                                                                                                                                                                                                                                                                                                                                                                         NORM
                                                                                                                                                             Near Northside METRORail                                                                                                                                                                                                                                                                                                                                                                                                                                                                                                                                                                                                                                                                                                                                                                                          24
                                                                                                                                                                                                                                                                                                                                                                                                                                                                                                                                                                                                                                                                                  AM

                                                                                                                                                                                                                                                                                                                                                                                                                                                                                                                                                                                                                                                                                                                                                                                                                                                                   YK

                                                                                                                                                                                                                                                                                                                                                                                                                                                                                                                                                                                                                                                                                                                                                                                                                                                                                                                                                                                                                                                           IST
                                                                                                                                                                                                                                                                                                                                                                                                                                                                                                                                                                                                                                                                                                                                                                                                                                                                                                                                   S
                                                                                                                               K

                                                                                                                                                                                                                                                                                                                                                                                                                                                                                                                                                                                                               MC

                                                                                                                                                                                                                                                                                                                                                                                                                                                                                                                                                                                                                                                N
                                                                                                 BU NK ER HIL

                                                                                                                                                                                                                                                                                                                                                                                                                                                                                                                                                                                                                                                                                                                                                                                                                                                                                                                                                                  Source: City of Houston information from Houston BCycle
                                                                                                                                                                                                                                                                                                                                                                                                                                                                                                                                                                                                                                                                                  NEW HOUSTON
                                                                                                                                                                                                                                                                                                                                                                                                                                                                                                                                                                                                                                           OR

                                                                                                                                                                                                                                                                                                                                                                                                                                                                                                                                                                                                                                                                                                                                                                                                                                                                                                                                                                                                                                                                                                                                                        V
                                                                                                                                                                                                                                                                                                                                                                                                                                                                                                                                                                                                                                                                                                                                                                                                                                                                                                                                                                                                             9

                                                                                                                                                                                                                                                                                                                                                                                                                                                                                                                                                                                                                                                                                                                                                                                                                                                                       EN
                                                                                                                                                                                                                                                                                                                                                                                                                                                                                                                                                                                                                                                                                           PI

                                                                                                                                                                                                                                                                                                                                                                                                                                                                                                                                                                                                                                                                                                                                                                                                                                                                                         RANKIN

                                                                                                                                                                                                                                                                                                                                                                                                                                                                                                                                                                                                                                                                                                                                                                                                                                                                                                                                                                                                                                                                   ER
                                                                                                                    K AT
                                                                                                                                            B B B                  B B LORRAINE                    Fifth    Ward                                                                ! ! !! !!!
                                                                                                                                                                                                                                                                                                                                                                                                                                                                                                                                                                                                                                                                                                 ON

                                                                                                                                                                                                                                                                                                                                                                                                                                                                                                                                                                                                                                                                                                                                                                                  SPEAR S
ons - Existing
                                                                                                                          Y                                                                            GRANT                   60                                 IH 10
                                                                                                                                                                                                                                                                                                                                                                                                                                                                                                                                                                                                                                     LLH

                                                                                                                                                                                                                                                                                                                                                                                                                                                                                                                                                                                                                                                                                                                                                                                                                                                                           DA

                                                                                                                                                                                                                                                                                                                                                                                                                                                                                                                                                                                                                                                                                                                                                                                                                                                                                                                                                                                                                                                                                                          RT H HO JOHN
                                                                                                                                                                                                                                                                                                                                                                                                                                                                                                                                                                                                                                                                                                            BA MM EL NO HOLL AND
                                                                                                                                                                                                                                                                                                       W

                                                                                                                                                                                                                            19
                                                                                                                                                                                                                                                                                                        !

                                                                                                                                                                                                                                                                                                                                                                                                                                                                                                                                                                                                                                                                                                                                                                                                                                                                                                                    IM PE RI
                                                                                                                                                         B                               NS
                                                                                    !                                                                                B                                                                                                                                                                                                                                                                                                                                                                                                                                                                                                                                                                                                                                                                                                                                                                                                                                                               WEST GREENS
                                                                                                                                                                                                                                                                                                                                                                                                                                                                                                                                                                                                                                                CU

                                                                                             MEMO RIAL
                                                                                                                                                                                            B CRC
                                                                                                                                                                                                                                                                                                                                                                                                                                                                                                                                                                                                                                                                                                        FO

                                                            B
                                                       !
                                                                                                                                                                                                                                                                                                              ES

                                                                                                                                                                                                                                                                                                                                                                                                                                                                                                                                                                                                                                                                                                                                                                                                                                                                                   HL
                                                 B                                                                                                                                  LY O                               FM                                                                                                                                                                                                                                                                                                                                                                                                                                                                                                                                                                                                                                                                                                                                                                                                            SIMMANS
                                                                                                                                                                                                                                                                                                                                                                                                                                                                                                                                                                                                                               GE
                                                                                                                               ECHO

                                                                                                                                                                                                                                                                                                                                                                                                                                                                                                                                                                                                                                                                            HO

                                                                       BEINHORN
                                                                                                                                                                                                                            SH
                                                                                                                                                                                                                                                                                                                                                                                                                                                                                                                                                                                                                                                                                  BCYCLE STATIONS
                                                                                                                                                                                                                                                                                                                         TC

                                                                                                                                                                                                                                                                                                                                                                                                                                                                                                                                                                                                                                                TT

                                                                                                                                                                                                                                                                                                                                                                                                                                                                                                                                                                                                                                                                              MERCUERY

                                                                                                                                                                                                                                                                                                                                                                                                                                                                                                                                                                                                                                                                                                                RE

                                                                                                                                                                                                                                                MA RK ET
                                                                                                                                                                          B     B                                                                                                               !
                                                                                                                                                                                                                                                                                                !!

                                                                                                                                                                                                                                                                                                                                                                                                                                                                                                                                                                                                                                                                                                                                                                                                                                                                                                                                             HARDY
                                                                                                                                                                                                                                                                                                                            OT

                                                                                                                                                                                                                                                                                                                                                                                                                                                                                                                                                                                                                                                                               LL

                                                                                                                                                                                                   Lyons       & Waco
                                                                                                                                                                                                                                                                                                !
                                                                                                                                                                                                                                                                                                                                                                                                                                                                                                                                                                                                                                                                                                                   ST
                                                                                                                                                                                                                                                                                                                                                                                                                                                                                                                                                                                                                                                    EN

                                                                                                                                           WASH INGTO N

                                                                                                                                                                                                                                                                                                                                                                                                                                                                                                                                                                                                                                                                                                                                                                                                                                               LA
                                                                                                                                                                                                                M
                                                                                                                                                                                                                                                          SCHRO EDER

                                                                                                                                                                          BB                                                                                                                                                                                                                                                                                                                                                                                                                                                                                                                                                                                                                                                                                                                                                                                                                                                          GREENS
                                                                                                                                                                                                                                                                              ! ! !
                                                                                                                                                                                                                                                                                                                                                                                                                                                                                                                                     KU
                                                                                                                                                                                                                                                                                                                                                                                                                           SA

                                                                                                                                                                                                                  IL L S
                                                                                                                                                                                                                                                                                                                                                              CH

                                                                                                                                     B                                                                                                2                                                         !                                                                                                                                                                                                                                                                                                                                                                                                                                                                                                                                                                                                       A
                                                                                                                                                                                                                                                                                                                                    T

                                                                                                                                                                                                                                                                                                                                                                                                                                                                                                                                                                                                                                                                                                                                                                                                                                                                                                                                                                                                                                                                                                                  US TO NF KENNE DY
                                                                                                                                                                                                                                                                                                                                                                                                                                                                                                                                                                                                                                                                                  IST
                                                                                                              L

                                                                                                                                                                                                                                                                                                                                                                                                                                                                                                                                                                                                                                                                                                                                                                                                                                                                                                     CIT

                       City of Houston
                                                                                                                                                                          B                                                                                                                                                                                                                                                                                                                                                                                                                                                                                                                                                                                                                  IND

                                                                                                                                                                                                                                                                                                                                                                                                                                                                                                                                                                                                                                                                                                                                                                                                                                                                                                                        AL VA LL
Limits                                                                                                                                                     B
                                                                                                                                                                                                                                                                                                                                                                                                                            W

                                                                                                                                                                                                                                                                                                                                                                                                                                                                                                                                                                                                                                                                                                                                                                                                                                          EL
                                                                                                                                                                          B                                                             49                                                                                                                                                                                                                                                                                                                                                                                                                                                                                                                                                                                                                                              JA C
                                                                                                                                                                                                                                                                                                                                                                  AM

                                                                                                                                                                                                                                                                                                                                                                                                                                                                                                                                             YK

                                                                                                                                                                                                                                                                                                                                                                                                                                                                                                                                                                                                                                                                                                                                                                                                                                                                                             INSTC O
                                                                                                                                                                                                                                                                        ! ! ! NEW                                                                                                                                                                                                                                                                                                                                                                                                                                                                                                                        US

                                                                                                                                                                                                                                                                                                                                                                                                                                                                                                                                                                                                                                                                                                                                                                                                                                                                   G R EE
                                                                                                                                                                                                                                                                                  ! HOUSTON                                                                                                                                                                                                                                                                                                                                                                                                                                                                         V EFEDE RAL

                                                                                                                                                                                                                                                                                                                                                                                                                                                                                                                                                                                                                                                                                                                                                                                                                                                                                                                                                                                                                                   WOODLAND HILLS
                                                                                                                                   PINEY POINT

                                                                                                                                                    B
                                                                                                                                                                                                                                                                                                                                                                                                                               YE

                                                                                                                                                                                                                                                                                                                                                                                                                                                                                                                                                                                                                                                                                                                                                                                                                                                                                                  G R EE
                                                                                                                   B B
                                                                                                                                                                                                                                                                                                                                                             MONTR

                                                                                                                                                                                                                                                                                                                                                                                                                                                                                                                                                                                     LATHROP

                                                                                                                                                                                                                                                                                            !!!!! !!
                                                                                                                                                                                                                                                                                                                                                                                                                                                                                                                                                                                                                                                                                                                                                                                                                 T R GEARS
                                                                                                                                                                         BBB S B                                                                                                                                                                                                                                                                                                                                                                                                                                                                                                                                                                                                                                                                                                          ATA O P O R

                                                                                                                                                                                                                                                                                                                                                                                                                                                                                                                                                                                                                                                                                                                                                                                                                                                                                                                                                                                                                                                                                                                                             VICK ERY
                                                                                                                                                                                                                                                                                                                                                                                                                                                                                                                                                            KR ES S
                                                                                                                                                                                                                                                                                                                                                                                                                                                                                                                                              EN

                                                                                                                                                                                                                                                                                                                                                                                                                                                                                                                                                                                                                                                                                      R
                                                                                                                                                                                                                                                                                                                                                                         PI

                                                                                                Y
                                                                                                                                                                                                                                                                                        !!!!
                                                                                                                                                                                                                                                                                                                                                                                                                                      R

                                                                                                                                                B                                                     RANKIN
                                                                                                                                                                                                                                                                                                                                                                                                                                                                                                                                                                                                                                                                                                                                                                        TE
                                                                                                                                                                                                                                                                                                                                                                                                                                                                                                                                                                                                                                                                                                                                                                                                                    IAL

                                                                                                                                                                                                                                                                                                                                                                                                                                                                                                                                                                                                                                                                                                                                                                                                                                                                                                                                                                                                                                                                                                                ON
                                                                                              WA GRANT                              B                       B B BBSPEAR
                                                                                                                                                                                                                                                                                                                                                                                                                                                                                                                                                                                                                                                                                                                       RT H HO USJOHN F
                                                                                                                                                                                                                                                                                                                                                                                ON

                                                                                           OD                            60                                                        BB                                                                                                                                                                                                                                                                                                                                                                                                                                                                                                                                                                                                                                                                                                                    T
                                                                                                                                                                                                                                                                                                     !                                                                                                                                                                                                                                                                                                                                                                                                                                                                                                                                                                                                                                                      FALLBR OOK
                                                                                                                                                                                                                                                                                                                                                                                                                                                                                                                                                    DA

                                                                                                                                                                                                                                               WEST GREENS
                                                                                                                                                                                                                                                                                  !                                                                                                                                                                                                                                                                                                                                                                                                                                                                                        RA
                                                                                                                                                                                                                                                                                                                                                                                                                                                                                                                      RK
                                                                                                                                                                                                                                                                                                                                                                BA MM

                                                                                                                                                B
                                                                                                                                                                                                                                                                                                                                                                WAURGH
                                                                                                                                                                                                                                      SAGE

                                                                                                                      19
                                                                                                                                                             VOSS

                                                                                       WO

                                                                                                                                                                                                                                                                                                                                                                                                                                                                                                                                                                                                                                                                                                                                                                                                                                                                     NS CR

                                                                                                                                                                                                                                                                                                                                                                                                                                                                                                                                                                                                                                                                                                                                                                                                                                                                                                                                                                                                                                                                                                         H O U ST
                                                                                                                                            Y
                                                                                                                                                                     BBB
                                                                                                                                                                                                                                                                                                                                                                                                                                                                                                                                                                                      IM PE RI

                                                                                                                                                                                                                                                                                                                                                                                                                                                                                                                                                                                                                                                                                                                                                                                                                                                                                                      N SP O
                                                                                                                                                                                                                                                                                           !
                                                                                                                                                                                                                                                                                                                                                                                                                                                                                                                                                                                                                                                                             FIDEL ITY

                                                                                                                                                                                                                                                                                            !!
                                                                                                                                                                                                                                                                                                            CU

                                                                                                                                         RB

                                                                                                                                                                                                                                                                                                                                                                                                                                                                                                                                                                                                                                                                                                                                                                                                                                                                                                                                 EY
                                                                                                                                                                                                                                                                                                                                                                 FO

                                                                                                                                                                   B                                                                                                                                                                                                                                                                                                                                                                                                                                                                                                                                                                                                          NS
                                                                                                                                                                                                                                                                                 BCYCLE    STATIONS
                                                                                                                                                                                                                                                                                                                                                                                                                                                                                                                                                     HL

                                                                                                                                                                                                                                                                                               !!!
                                                                                                                                                                                                                                                                                                                                                                                                                                                                                                               YO

                                                                                                                 FM                    I                              B    B                                                                    SIMMANS
                                                                                                                                                                                                                                                                                                                                                                   HO

                                                                                                                                                               B B B                                                                                                                              !
                                                                                                                                                                                                                                                                                                                                                                   OSEEL NO RT

                                                                                                                      SH
                                                                                                                                                                                                                                                                                         !!!
                                                                                                                                                                                                                                                                                                                     TT

                                                                                                                                     K
                                                                                                                                                                          B B Dallas & St. Emanuel                                                                                       !
                                                                                                                                                                                                                                                                                                                                                                                                                                                                                                                                                                                                                                                                                                                                                                                 LE                                                                                                                                                                                                                                                                                                                           TO
                                                                                                                                                                                              FOU NTA IN VIE

                                                                                                                                                                                                                                                                                                                                                                                                                                                                                                                                                                                                                                                                                                                                                                                 M EE                                                                                                                                                                                                    ALD INE BEN DER
                                                                                                                                                                                                                                                                                                                                                                    ES

                                                                                                                                                                            B                                                                                                              !
                                                                                                                                                                                                                                                                                                                                                                                                                                                                                                                                                                                                                  HARDY

                                                                                                                                                                                                                                                                                                  !
                                                                                                                                                                                                                                                                                                                                                                      LL

                                                                                                 SAN FELIPM                                                                                                                                                                                                                                                                                                                                                                                                                                                                                                                                                                                                                                                                                                                                                                                                                                                                                                                                                                                                              MB
                                                                                                                                                                                                                                                                                                                          EN

                                                                                                                                                                B   B        B
                                                                                                                                                                                                                                                                                                                                                                                                                                                                                                                        LA

                                                                                                                                                                                                                                                                                                                                                                                                                                                                                                                                                                                                                                                                                                                                                                                                                                                                                                        IN T WILSO N
                                                                                                          E IL L                                                                                                                                GREENS

                                                                                                                                                                                                                                                                                                                                                                                                                                                                                                                                                                                                                                                                                                                                                                                                                                                                           O SS
                                                                                                                                                                 B                                                                                                                     !
                                                                                                                                                                                                                                                                                                                                                                       T

                                                                                                                             Dunlavy         &                                                                          NA
                                                                                                                                                                                                                                                                                         !
                                                                                                                                                                                                                                                                                                                                                                                                                                                                                                                                                                                                                                                                                                                                                                                    MO
                                                                                                                            24                            B   B B
                                                                                                                                                                                                                                                                                            !                                                                                                                                                                                                                                                                                                                                                                                                                                                                                                                                                                                                                                                                                                                                                                                                                                         AL
                                                                                                                                                                                                                                                                                                                                                                         IST

                                                                                                                 S
                                                                                                                                                                                                                                                                                                                                                                                                                                                                                                                                                                                            AL VA LL

                                                                                                                                                                                                                                                                                                                                                                                                                                                                                                                                                                                                                                                                                                                                                                                                                                                                                                                                                                                                                                                                                                   LA K E
                                                                                                                                                                                                                                                                                                                                                                                                                                                                                                                   EL

                                                                                                                                                                                                                           VI
                                                                                                                                                                                                                                                                                                                                                                                                                                                                                                                                                                                                                                                                                                                                  TO N KENNE DY

                                                                                                                                                                                                                                                                                                                                                                                                                                                                                                                                                                                                                                                                                                                                                                                                                                                                                                                                                                                                                                                                                                                                            L

                                                                                                                                                                                                                                                                                  !!! !!!!!
                                                                                                                                                                                                           CAN
                                              BRIAR FORES T
                                                                                                                                                                                                                                                                                                         !
                                                                                                                                                                                                                                                                                                                                                                                                                                                                                                                                         G R EE

                               NEW HOUSTON
                                                                                                                                                                          Austin
                                                                                                                                                                                                                                                                                                                                                                                                                                            VE

                                                                                                                                                       B
                                                                                                                                                                                                                                                                                                                                                                                                                                                                                                                                                                                                                                                                                                                                                                                                            RI
                                                                                                                               9
                                                                                                                                                                                                                                                                                                                                                                                                                                                                                                                                                                        G R EE

                                                                                                                                                             BB
                                                                                                                                                                                                                                                                                                                                                                                                                                                                                                                                                                                                  75 T H

                                                                                                                                                                                              B                               G

                                                                                                                                                                                                                                                                                                                                                                                                                                                                                                                                                                                                                                                                                                                                                                                                                                                                            IN G
                                                                                                                                                                                      P                         AL
                                                                                                                                                                                                                                                                                                                                                                             ER

                                                                                                                            Westheimer          B                                       OLK                                     AT             CL
                                                                                                                                                                                                                                                                                                                                                                                                                                                                                                                                                                                                                                                                                                                                                       VICK ERY

                                                                                                                                                                                                                                                                                                                                                                                                                                                                                                                                                                                                                                                                                                                                                                                                                                       E
                                                                                                                                                                                                                                                                                                                                                                                                                                                                                                                                                                                                                                                                                                                                                                                                                AL
                                                                                                                                                                                   GEARS
                                                                                                                                                                                                                                                                                                                                                                                                                                                  TE

                                                                                                                                                                                                                                            OOK I N T O
                                                                                                                                                                                                                                                                                                                                                                                                                                                                                                                                                                                                                                                                                                                                                                                                                                 BL
                                                                                                                                                                                                                                 FALLBR
                                                                                                                                                                                                                                   IO
                                                                                                                                                              BB B & Gray

                                                                                                                                                                                                                                                                                                                                                                                                                                                                                                                                                                                                                                                                                                                                                                                                                                                                                                                                                                                                                            FAIRBAN KS N HOUSTO N

                                                                                                                                                                                                                                                                                                                                                                                                                                                                                                                                                                                                                                                                                                                                                                                                                                                                                                                                                                                                                                                           ALDI NE WEST FIELD
                                                                                                                                   WEST GREENS B                                                                                                                                                                                                                                                                                                                                                                                                                                                                                                                                                                                                                                                                                                                                                                                                                                                                                                                                                       Alexande
                                                                                                                                                                                                                                                                                                                                                                                                                                                      RA

                                                                                                         ALABA MA                                                                                                                     N                 N                                                                                                                                                                                                                                                                                                                                                                                                                                                                                                                                                                     M
                                                                                                                                                                                      B B Telephone &                                                                                                   !

                                                                                                                                                                                                                                                                                                                                                                                                                                                                                                                                                                                                                                                                                                                                                                                                                                                                                                                                                                  WIN DFE RN
                                                                                                                                                                                                                                                                                                                                                                                                                                                                                                                                             NS CR

                                                                                                                                                                                                                                                                                                                                                                                                                                                                                                                                                                                                                                                                                                                                                                                                                                                                                                                                                                                                                             LUTHE
                                                                                                                                                                                                                                                                                             !
                                                                                                                                                                                                                                                                                                                                                                                H HO US TO

                                                                                                                                                                                                                                                                                     !
                                                                                                                                                                                                                                                                                                                                                                                                                                                                                                                                                                               N SP O

                                                                                                                                                                                                                                                                                                      !
                                                                                                                                                                                                                                                                                                                                                                                                                                                                                                                                                                                                                                                                                                                                                                                                                         HU

                                                                                                                                                                                                                                                                                                                                                                                                                                                                                                                                                                                                                                                                                                                                                                                                                                                                                                                                                                                                                                                                                                    HOU STON ROSS LYN
                                                                            WESTH EIMER                                Levy                             B BL           B
                                                                                                                                                                                                                                                                                                                                                                                                                                                                                                                                                                                                     EY
                                                                                                                                                                                                                                                                                                                                                                                                                                                            NS

                               BCYCLE STATIONS
                                                                                                                                                                                                                                                                                                                                                                   M

                                                                                                  HIDALGO                                                                                                                                                               TO
                                                                                                                                                                                                                                                                             !                                                                                                                                                                                                                                                                                                                                                                                                                                                                                                                                                                                                                                                                                                                                                                                            BR EE N

                                                                                                                                                                                                                                                                                                                                                                                                                                                                                                                                                                                                                                                                                                                                                                                                                                                                                                                                           LILLJA
                                                                                                                                                                                                                                                                                             ! !                                                                                                                                                                                                                                                                                                                                                                                                                                                                                                                                                                                                                                                                                                                                                                                                       LA UDBoat R
                                                                                                                                                                                                                                                                                                                                                              HA

                                                                                                                                  B                                    B                                                                                                                                                                                                                                                                                                                                                                                                                                                                                                                                                                                                                                                                                                       WEST
                                                                                                                                                                                                                                                                                                                                                                                                                                                                                                                                                                                                                                                                                                                                                                                                                   D

                                                                                                                                                              OD
                                                                                                                                                                                                             W

                                                                                                                                                                                                Eddington                               ALD                                MB                                                                                                                                                                                                                                                                                                                                                                                                                                                                                                                                                                                                                                                                                                                                                                                                                                ER
                                                                                                                                                                                                                                                                                                                                                                                                                                                                    ME

                                                                                       OND                                                                                        EL                                                        INE
                                                                                                                                                                                                                                                                                       !
                                                                                                                                                                                                                                                                                                                                                                                                                                                                                                                                                                                                                                                                                                                                                                                                                OL

                                                                               RIC HM                                                                                         B      GI N                                                          BEN DER
                                                                                                                                                                                                                                                                                                                                                         RN

                                                                                                                        Park                              B S GET
                                                                      BRIARPARK

                                                                                                                                                                                                                                                                              AL
                                                                                                                                                                                                                                                                                                                                                                                                                                                                                                                                                                                               !
                                                                                                                                                                                                                                                                                                                                                                                                                                                                                                                                                                                IN T
                                                                                                                                                                                                                                                                                                                                                                                                                                                                                                                                                   O SS

                                                                                                                                                                                                                   B        Mason Park
                                                                                                                                                                                                                                                                                      !!                                                                                                                                                                                                                                                                                                                                                                                                                                                                                                                                                                                                                                                                                                                                                                                                                         L
                                                                                                                                                                                                                                                                                                                                                                                                                                                                             MO

                                                                                                                                                          B OUT T
                                                                                                                                                                                                                                                                                                                                               FA

                                                                                                                                                                                      B                                                                                          L
                                                                                                                                                                                                                                                                                                     !
                                                                                                                                                                                                                                                                        NEWCAST LE

                                                                                                                                                         B
                                                                                                                                                                                                                                                                                              !!
                                                                                                                                                                                                                                        RICE

                                                                                                                                                             BIN H
                                                                                                                                                                    M O BB
                                                                                                                                                                                                                                                                                                                                                                                                                                                                                         RI

                                                                                                                                                                                                                                                                                                      ! !
                                                                                                                                                                                                                                                                                           WESLAYAN

                                                                         K        ST PAR K
                                                                                                                                                                                                                                                                                                !!! !!
                                                                                                                                                                                                                                                                                                                                                                                                                                                                                                                                                    IN G

                                                                                                                                                                           B     B     B                                      LA
                                                            WESTPAR
                                                                                                                                                          B            R E BB
                                                                                                                                                                                                                                  WN
                                                                               WE                                                                                Z                                                                      DA
                                                                                                                                                                                                                                                                                   ! ! !                                                                                                                                                                                                                                                                                                                                                                                                                                                                                                                                                                                                                                           MAIL ROUTE
                                                                                                                                                                                                                                                                                                                                                                                                                                                                                         AL
                                                                                                                                                                                                                                                                                                                                                                                           N

                                                                                                                                                    B     B                                                                                LE                                                                                                                                                                                                                                                                                                                                                                                                                                                                                                                                                                                                                                                                               ALDINEAlexander
                                                                                                                                                                                                                                                                                                                                                                                                                                                                                                                                                                                                                                                               L

                                                                                                                                                       B                                                                                                                                                                                                                                                                                                                                                                                                                                                                                                                                                                                                                                                                                                                                                                                                                                                                                           Deussen Park
                                                                                                                                                                                                                                                                                                                                                                                                                                                                                                                                                                                                                                                    FAIRBAN KS N HOUSTO N

                                                                                                                          FALLBR OOK                                                         B
                                                                                                                                                                                     B
                                                                                                                                                                                                                                                                               !  !! !
                                                                                                                                                                                                                                                                                                                                                                                                                                                                                                                                                                                                                                                            CE NT RA

                                                                                                                                      B         B B B
                                                                                                                                                                                                                                                                                                      !
                                                                                                                                                                                                                                                                                                                                                                                                                                                                                                                                                                                                                                       WIN DFE RN

                                                                                                                                                                                                                                                                              5
                                  WILCR EST

                                                                                                                                                                                                                                                                                                                                                                                                                                                                                                                                                                                                                                                                                                                                                                                                                                                                                                                                                                                                                                                                                                                                            59
                                                                                                                                                                                       B
                                                                                                                                                                                                                                                                                                                                                                                                                                                                                                                                                                                                                                                                                 ALDI NE WEST FIELD

                                                                                                                                                                                                                                                                            2
                                                                                                                                                                                                                                                                                                                                                                                                                                                                                                                                                                                                                                                                                                                       HOU STON ROSS LYN
                                                                                                                                                                                                                                                                                                                                                                                                                                                                                                                                                                                                            EV ER GR EE VE IL LE

                                                                                                  N FOURN ACE                                                                                                                                                            2
                                                                                                                                                                                                                                                                               !!!!
                                                                                                                                                                                                                                                                               !                                                                                                                                                                                                                                                                                                                                                                                                                                                                                                                                                                                                                                         HELMS
                                                                                                                                                                                                                                                                                                                                                                                                                                                                                                                                                                                                                                                      LUTHE

                                                                                          GULFTO                                       B   B      B                                              W
                                                                                                                                                                                                                                                                   S HLAUD ER
                                                                                                                                                                                                                                                                                                                                                                                                                                                                                                                                                                                                                                        BROA DWAY

                                                                                                                                                                                                                                                                                                                                                                                                                                                                                                                                                                                                                                                                                                                                                                                                                                                                                                                                                                                                                                                           Picnic
                                                                                                                                         B B B TO
                                                                                                                                                                                                                                                                    N
                                                                                                                                                                                                                                                                                   !
                                                                                                                                                                                                                                                                                                                                                                                                                                                                                                                                                                                                                                                                                                                                                                                                                                                               PRESTON

                                              HARWIN                                                                                                                                               H EEL                                                      BR EE
                                                                                                                                                                     MACG REGO R
                                                                                                                                                                                                                                                                                     !                !
                                                                                                                                                                                                                                                                                                                                                                                                                                                                                                                                                                                                                  LILLJA

                                                                                                                                                                                                                                                                                                                                                                                                                                                                                                                                                                                                                                                                                                                                                                                                                                                                   ST

                                                                                                                                                                                        B
                                                                                                                                                  BBB B M BBA                                            ER
                                                                                                                                                                                                                                                                                  !!

                                                                                                                                                                                                                                                                                                                                                                                                                                                                                                                                                                                                                                                                                                                                                                                                                                                                                                                                                                                                                                                                                                                                                            A
                                                         RK
                                               TO W N PA
                                                                                                                                                                                                   WEST
                                                                                                                                                                                                                                                                                        !

                                                                                                                                                                                                                                                                                                                                                                                                                                                                                                                                                                                                                                                                                                                                                                                                                                                                                                                                                                                                                                                                                                                                  US
                                                                                                                                                                                                                                                                                   !
                                                                                                                                                                                                                     CHIMN EY ROCK

                                                                                                                                                                                                                                                                                                                                                                                                                                                                                                                                                                                                                                                                                                                                                                                                                                                                                                           13TH
                                                                                                                                                                                                                                                                                                                                                                                                                                                                                                                                                                                                                                                                                                                                                                                                                                                                                                                                                                                                                                                Area/ Pavillion 12
                                                                                                                                                                                                                                                                                                                                                                                                                                                                                                                                                                                                                                                                                                                                                                                                                                                                                                 SEN ATE
                                                                                                                                                                                                                                                                                                                                                                                                                                                                                                                                                                                                                                                                                                                                                                                                                                                                       UE

                                                                                                                                                                                                                                                                                    !
                                                                                                                                                                                                                                                                                                                                                                                                                                                                                                                                                                                                GE

                                                                                                                                                      B
                                                                                                                                                                                                                                                                                                                                                                                                                                                                                                                                                                                                                                                                                                                                                                                                                                D
                                                                                                                                                                                                                                                                                                                                                                                                                                                                                                     N

                                                                                                        N. Braeswood &                         B B                                                                                                                               !!! !                                                                                                                                                                                                                                                                                                                                                                                                                                                                                                                                                                                                               GULF BANK
                                                                                           GES SNE R

                                                                                                                                                              LL
                                                                                                                                                                                                                                                                                                                                                                                                                                                                                                                                                                                                                                                                                                                                                                                                                             AN

599
                                                                                                                                                                                                                                                                                                                                                                                                                                                                                                                                                                                                                                                                                                                                                                                                                                                                            BN

                                                                                                                                                                             ISH
                                                                                                                                                                                                                                                                                                                                                                                                                                                                                               HOU
                                                                  CORPORATE

                                                                                        E
                                                                                                                                                            B OL D SPAN
                                                                                                                                                                                                                                                                                                                                                                                                                                                                                                                                                                                            ID

                                                                              BE LL AIR                                                             B                                                                                                                                                                                                                                                                                                                                                                                                                                                                                                                                                                                                                       HARRIS
                                                                                                                                                                                                                                                                                                                                                                                                                                                                                                                                                                                                                      RE

                                                                                                                                                B
                                                                                                                                                                                                     RENWIC K

                                                                                                                                                                                                  GS
                                                                                                                                                                                                                                                                                                                                                                                                                                                                                                                                                                                     DR

                                                                                                                                                                                                                                                                                                                                                                                                                                                                                                                                                                                                                                                                                                                                                                                                                                                                                   ER
                                                                                                                                                                                                                                                                                                                                                                                                                                                                                                                                                                                                                                                                                                                                                                                                                          GR

                                                                                                     Kirby METRO Bus
                                                                                                                                                                                                                                                                                                                                                                                                                                                                                                                                                                                                                                                                                                                                                U S RICHEY
                                                                                                                                                                                                                                                                                                                                                                                                                                                                                                                                                                                                                       N

                                                                                                                                                                                                                                                                                   !
                                                                                                                                                                                                                                                                                                                                                                                                                                                                                                                                                                                                                                                                                                                                                                                                                                                   SOUTH

                                                                                                                                                                                               IG
                                                                                                                                                    B               YELL                    GR                          ALDINE MAIL ROUTE        E                                                                                                                                                                                                                                                                                                                                                                                                                                                                                                                                                WINFI ELDRE
                                                                                                                                                                                                                                                                              ! ! !!                                                                                                                                                                                                                                                                                                                                                                                                                                                                                                                                    SAN AUGUSTINE
                                                                                                                                                                                                                                                                                                                                                                                                                                                                                            CAL

                                                                                                                                                                                                                                                                                                                                                                                                                                                                                                                                                                                OO
                                                                                                                                                                                                                                                                                                                                     FAIRBAN KS N HOUSTO N

                                                                                                                                                                                                                                              AC                                                                                                                                                                                                                                                                                                                                                                                                                                                                                                                                                                                                                                                                                                                                                                                                                                                       HOPPER
                                                                                                                                     B                                                                                                                                                                                                                                                                                                                                                                                                                                                                                                                                                                                                                                                                        D
                                                                                                                                                                                                                                                                                                                                                                                                                                                                                                                                                                                                                                                                                                                                                                                                                                                                                    AI

                                                                                                                                                                         OWS

                                                                                                                                                                                                                                                                                                                                                                                                                                                                                                                                                                                                                                                                                                                                                                                                                                                                                                                                                                                                                                     HARD
                                                                                                                                                                                                                                                                                                                                                                                                                                                                                                                                                                                                                                                                                                                                                                                                                         M
                                                                                                                                                                                                                                                                                                 WIN DFE RNSTELLA LINK

                                                                                                                                                                                                    LON
                                                                                                                                                B                                                                                                                                                                                                                                                                                                                                                                                                                                                                                                                                                                                                                                                               BL
                                                                                                                                                                                                                                                                                                                                                                                                                                                                                                                                                                                                                                                                                                                                                    59

                                                                                                                                                                                                                                           PL                                                                                                                                                                                                                                                                                                                                                                                                                                                                                                                                                                                                                                                                                                                                                                                                                                                                                         Deus
                                                                                                                                                                                                                                                                                                                                                                                                   HOU STON ROSS LYN

                                                                                                                                                                                                                                                                                                                                                                                                                                                                                                                                                                                                                                                                                                                                                                                                                                                                                        RL

                                                                                                                                                                             TON
                                                                                                                                                                                                                                                                                                                                                                                                                                                                                                                                                                                                                                                                                                                                                                                                                            ON
                                                                                                                                                                                                                                                                                                                                                                                                                                                                                                                                                                            W

                                                                                                                                                                                                        G        HELMS                                                                                                                                                                                                                                                                                                                                                                                                                                                                                                                                                                                             UF
                                                                                                                                               BR EE N B                         E
                                                                                                                                                                                                                                        RK
                                                                                                                                                                                                                                                            D                                                                                                                                                                                                                                                                                                                                                                                                                                                                                                                                                         F
                            BOO NE

                                                                                                                                                                                                                                                                                                                                                                                                                                                                                                                                                                                                                                                                                                                                                                                                                                                                                             IN
                                                                                                                                                                                                                                                                                                                                                                                                                                                                                                                                                                                                                                                                                                                                                                         ANT OIN E

                                                                                                                                                                                                                                                         AR
                                                                                                                                                                                                                                                                                                                                                                                                                                                                                                                                                                                                                                                                                                                                                                                                                                 TG

                                                                                                                                                      B                                                                                                                                                                                                                                                                                                                                                                                                                                                                                                                                                                                                                                         T HOUST ON
                                                                  BEECHNUT
                                                                                                                             B                                                                                                                                             !                                                                                                                                                                                                                                                                                                                                                                                                                                                                                                                                                                                                                                                                                                                                                                                                                                                           Cen
                                                                                                                                                                                                                                                                                                                                                                                                                                                                                                                                         ST

                                                                                                                                                                                                                                     PA                                                                                                                                                                                                                                                                                                                                                                                                                                                                                                                                                    MOUNPASADENA
                                                                                                                                                                                                                                                                                                                                                                                                                                                                                                                                                                      SEN ATE

                                                                                                                                                                                                                                                               ALL END ALE
                                                                                                                                                                                                                                                                                                                                                                                                                                                                                                                                                                                                                                                                                                                                                                                                                                                                                                 E

                                                                                                                                                                                                                                                       W

                                                                                                                                                                                                                                                                                                                                                                                                                                                                                                                                                                                                                                                                                                                                                                                                                                                                                                                                                                                                                                           Y
                                                                                                                                                                                                                                                                                                                                                                                                                                                                                                                                                                                                                                                                                                                                                                                                                                        OM

                                                                                                                                                                                                                                                                                                                                                                                                                                                                                                                                                                                                                                                                                                                                                                                                                                                                                                                                                                                                                                                                                                                BENTL EY
          3.25                                                                                                                                                                                                                                      HO
                                                                                                                                                                                                                                                                                                                                                                                                                                                                                                                                             U E CREST MONT

                                                                                                                                S. Braeswood                                                                                                                                                                                                                                                                                                                                                                                                                                                                                                                                                                                                                                           VICTO RY                         K                                                                                                                                                                                                                                                                                                                   LANG
                                                                                                                                                                                                                                                                                                                                                                                                                                                                                                                                                                                                                                                                                                                                                                                                                                                                                                                                                              AIRLIN E
                                                                                                                                                                                                              IE BANK                                                                                                                                                                                                                                                                                                                                                                                                                                                                                                                                                                                              YO R                                                                                                                                                                                                                                                             GARRE TT
                                                                                                                                                                                                                                                                                                                                                                                                                                                                                                                                                                                                                                                                                                                                                                                                                                                ER

                                                                            ET                                                                                                                              GULF
                                                                                                                                                                                                         D IX                                                                                                                                                                                                                                                                                                                                                                                                                                                                                                                                                                        PAUL INE                                                                                                                                                                                                                                                                                        US
                                                                                                                                                                                                                                                                                                                                                                                                                                                                                                                                                BN
                                                                                                                                                                                                                                                                                                                                                                                                                                                                                                                   MA RT IN

             Miles
                                                                                                                                                                                                                                                                                                                                                                                                                                                                                                                                                                                                                                                                                                                                                                                                                                CARVER

                                                                         NN                                                                                                                                                                                                QUEEN S                                                                                                                                                                                                                                                                                                                                                                                                                                                                                                                            TLE
                                                                                                                                                                                                                                                                                                                                                                                                                                                                                                                                                                                                                                                                                                                                                                                                                                                       Y

                                                                                                                                                                                                                                                                                                                                                                                                                                                                                                                                                                                                                                                                                                                                                                                                                             TANNER
                                                                                                                                & Linkmeadow
                                                                                                                                                                                                                                                                                                                                                                                                                                                                                                                                                   ER

                                                                       O                                                                                                                                                                                                                                                                                                                                                                                                                                                                                                                                                                                                                                                                                                                                 L IT
                                                                                                                                                                                                                                                                                                                                                                                                                   8
                                                                                                                                                    FONDR EN

                                                                     S
                                                                                                                                                                                                                                                                                                                                                                                                                                                                                                                                                                                                                                                                                                                                                                                                                                                                                                                                                                                                                                                                                                         29
                                                                                                                                                                                                                                                                                                                                                                                                                                                   SCOTT

                                                                 BIS                                                                                                                                                                               W IN K                                                                                                                                                                                                                                                                                                                                                                                                                                                                                                                                                                                                                                                                                                                                                                                          PARKER
                                                                                                                                                                                                                                                                                                                                                                                                                                                                                                                                                                                                                                                                                                                                                                                     SHAVE R
                                                                                                                                                                                                                                                                                                                                                                                                                                                                                                                                                                                                                     TE LE PH ON

                                                                                                                                                                                                                                                                      HOPPER
                                                                                                                                                                                                                                                                                                                                                                                                             SH 28
                                                                                                                                                                                       HILL CROF T

                                                                                                                                                                                                                                                          LE R
                                                                                                                                                                                                                                                                                                                                                                                                                                                                                                                                                      AI

                                                                                                                                                                                                                                                                                                                                                                                                                                                                                                                                                                                                                                                             HARD

                                                                                                                                METRO Bus                                                                                                                                                                                                                                                                                                                                                                                                                                                                                                                                                                                                                                                                                                                                                                                                                                                                                                                                                                               0
                                                                                                                                                                                                                                                                                                                                                                                                                                                                                                M

                                                                                                                                                                                                                                                                                                                                                                                                                                                                                                                                                                                                                                                                                                                                                      AL

                                                                                                               LL FO RT                                                                                                                                                                                                                                                                                                                                                                                                                                                                                                                                                                                                                                                                                                                                                                                                                                                                                                                                                                                                                              PIN
                                                                                                                                                                                                                                                                                                                                                                                                                                                                                                                                                         RL
                                                                                                                                                                                                                                                                                                                                                                                                                                                                                                     ON

                                                                         OD
                                                                                                                                                                                                                                                                                                                                                                                                                                                                                                                                                                                                                                                                                                                                                                                                                                                                      WHEATLEY

                                                                                                                                                                                                                                                                                                                                                                                                                                                                                                                                                                                                                                                                                                                                                                                                                                  SPENC ER                                                                                                                                                                                                        HE
                                                                                                                                                                                                                                                                                                                                                                                                                                                                                                                                                                                                                                                                                                                                                                                                                                                                                                               BW 8
                                                                                                                                                                                                                                                                                                                                                                                                                                                                                                                                                                                                                                                                                                                                                           LE

                                                                                                                                SW O                                                                                                                         BE
                                                                                                                                                                                                                                                                                                                                                                                                                                                                                                D

                                                                                                                                                                                                                                                                                                                                                                                                                                                                                                         LU TH

                                                                                                                                                                                                                                                                                                                                                                                                                                                                                                                                                                                                                                                                                                                                                                                                                                                                                                                                                                                                                                                                                                                                       CH
                                                                                                                                                                                                                                                                                                                                                                                                                                                                                                                                                            IN

                                                                                                           BRAE
                                                                                                                                                                                                                                                                                                                                                                                                                                                ANT OIN E

                                                                                                                                                                                                                                                                                                                                                                                                                                                                                                          TG

                                                                                                                                                                                                                                                                                                                                                                                                                                                                                                                                                                                                                                                                                                                                                                                                                                                                                                                                                                                                                                                     MP
                                                                                                                                                                                                                                                                                                                                                                                                                                                                                                                                                                                                                                                                                                                                                                 N
                                                                                                                                                                                                                                                                                                                                                                                                                                                                                             JU TL AN

                                                                                                                                                                                                                                                                                                                                                                                                                                                                                                                                                                                                                                                                                                                                                                                                                            CEBRA ROS
                                                                                                                                                                                                                                                                                                                                                                                                                                                                                                                                                                                                                                                                                                                                                                                                                         ST RAWB ER

                                                                                                                                                                                                                                                                                                                                                                                                                                                                                                                                                                                                                                                                                                                                                                                                                                                                                                 BRITTMO ORE
                                                                                                                                                                                                                                                                                                                                                                                FA NN IN
                                                                                                                                                                                                                                     SEN ATE

                                                                                                                                                                                                                                                                                                                                                                                                                                                                                                                                                               E

                                                                                                                                                                                                                                                                                                                                                                                                                                                                                                                                                                                                                                                                                                                                                                                                                                                                                                                                                                                                                                                        S
                                                                                                                                                                                                                                                                                                                                                                                                                                                                                                                                                                                                                                                                 Y
                                                                                                                                                                                                                                                                                                                                                                                                                                                                                                             OM

                                                                                                                                                                                                                                                                                                                                                                                                                                                                                                                                                                                                                                                                                                                                  BENTL EY

                                                                                                                                                                                                                                                                                                                                                                                                                                                                                                                                                                                                                                                                                                                                                                                                                                                                                                                                                                                                                                                                                                                                  H IR S
                                                                                                                                                                                                                                                                                                                                                                      ES
                                                                                                                                                                                                                                                                                                                                                                                                                                                                                                                                                                                                                                                                                                                                                                         GE

                                                                                                                                                                                                                    WILL OWB END                                                                                                                                                                                                                                                                                                                                                                                                                                                                                   E                                                                                                                          VISTA                                                                                                                                                                                                 L TEA
                                                                                                                                                                                                                                                                                                                                                    HOL
                                                                                                                                                                                                                                                                                                                                                        M                                                                                                  VICTO RY                                                                                             K                                                                                                                                        U   G                                        LANGL EY                                                                                                                                                                                                                                                                             TI DW EL
                                                                                                                                                                                                                                                                                                                                                                                                                                                                                                                                                                                                                                                                                                                                                                                                                                                                                                                                          JOHN RALSTON

                                                                                                                     CREE KBEN D
                                                                                                                                                                                                                                                                                                                                                                                                                                                                                                                                                                                                                          AIRLIN E

                                                                                                                                                                                                                                                                                                                                                                                                                                                                                                                                                           YO R                                                                                                                                                                                                                                                                                                                                                                                           CLAY
                                                                                                                                                                                                                                                                                                                                                                                                                                                                                                                EER

                                                                                                                                                                                                                                                                                                                                                                                                                                                                                                                                                                                                                                                                                                                                                                            NO

                                                                                                                                                                                                                                                                                                                                                                                                                                                                                                                                                                                           TANNER                                                                                        L S              LE                                                                                                                                                                                                                                                                                                                                              D
                                                                                                                                                                                                                                                                                                                                                                                                                                                                                                                  RY KI NG

                                                                                                                                                                                                                                                                                                                                                                                                                                                                                                                                                                                                                                                                                                                                                                                                           AD
                                                                                                                                                                                                                                                                                                                                                                                                                                                                                                                  CARVER

                                                                                                                                                                                                                                                                                                                                                                                                                                                                                                                                                TLE
                                                                                                                                                                                                                                                                                                                                                                                                                                                                                                                                                                                                                            E

                                                                                                                                                                                                                                                                                                                                                                                                                                                        REED
                                                                                                                                                                                                                                                                                                                                                                                                                                                                                                                                                                                                                                                                                                                                                                                                                                                                                                                                                                                                                     IN G

                                                                                                                                                                                                                                                                                                                                                                                                                                                                                                                                                                                                                                                                                                29
                                                                                                                                                                                                                                                                                                                                                                                                                                                                                                                                                                                                                                                                                                                                                                                  A

                                                                                                                                                                                                                                                                                                                                                                                                                                                                                                                                                                                                                                                                                                                                                                                                                                 BU

                                                                                                                                                                                                                                                                                                                                                                                                                                                                                                                                                                                                                                                                                                                                                                                                                                                                                                                                                     R

                                                                                                                                                                                                                                                                                                                                                                                                                                                                                                                                        L IT                                                                                                                                          CO                                                                                                                                                                                                                                                                                                                                                                                                                                LAURA KO
                                                                                                                                                                                                                                                                                                                                                                                                                                                                                                                                                                                                                                                                                                                                                                                                                                                                                                                                             CE N TE

                                                                                                                                                                                                                                                                                                                                                                                                                                                                                                                                                                                                                                                                                                                                                                                                                                                                                                                                                                                                                                      CAMPBE LL
                                                                                                                                                                                                                                                                                                                                                                                                                                                                                                                                                                                                                                                                                                                                                                                                   HOMESTE
                                                                                                                                                                                                                                                                                                                                ED WAY

                                                                                                                                                                                                                                                                                                                                                                                                                                                                                                                                                                                                                                                                                                                              FAIRM ONTMADERA
                                                                                                                                                                                                                                                                                                                                                                                                                                                                                                                                                                                                                                                                                                   0EBROOKPINE MON T

                                                                                                                                                                                                                                                                                                                                                                                                                                                                                                                                                                                                                                                                                                                                                                                                                                                                                                                                                                                                                                                                                                                                                 MI
                                                                                                                                                                                                                                                                                                                                                                                                                                                                                                                                                                                                                                                                                                                                                                                                                                                                                                                                                                                                                                                                                               LE
                                                                                                                                                                                                                                                                                                                                                                                                                                                                                                                                                                                                                                                                                                                                                                                                                                    RK

                                                                                                                                                                                                                                                                                                                                                                                                                                                                                                                                                                                                                                                                                  PARKER
                                                                                                                                                                                                                                                                                                                                                                                                                                                                                                                                                                  MYK

                                                                                                                                                                                                                                                                                                                                                                                                                                                                                                                                                                                                                                                                                                                                                                                                                                                                                                                                                                                                                                                    BERRY
                                                                                                                                                                                                                                                                                                                                                                                                                                                                                                                                                                                                                                                                                                                                                                                                                                                                                                                                                                                                                 CEK

                                                                                                                                                                                                                                                                                                                                                                                                                                                                                                                                                                                                                                                                                  HE                                                                                                                                                                                                                                                                  KEMPWOOD
                                                                                                                                                                                                                                                                                                                                                                                                                                                                                                                                                                                     BW 8

                                                                                                                                                                                                                                                                                                                                                                                                                                                                                                                                                                                                                                                                                                                                                                                                                                                                                                                                                                                                                                                                                         NG

                                                                                                                                                                                                                                                                                                                                                                                                                                                                                                                                                                                                                                                                                                                                                                                                                                                                                                                                                                                                                                                                                                                                                    LL
                                                                                                                                                                                                                                                                                                                                                                                EDA

                                                                                                                                                                                                                                                                                                                                                                                                                                                                                                                                                                                                                                                                                                                                                                                                                                                                                                                                                                                                                                                                                                                                                 WEA
                                                                                                                                                                                                                                                                                                                                                                                                                                                                                                                                                                                                                                                                                                                                                                                                                                       ESLY
                                                                                                                                                                                                                                                                                                                                                                                                                                                                                                                                                                                                                                                                                                                                                                                                                                       RY
                                                                                                                                                                                                                                                                                                                                                                                                                                                                                                                                             WHEATLEY

                                                                                                                                                                                                                                                                                                                                                                                                                                                                                                                                                                                                                                                                                                EDG
                                                                                                                                                                                                                                                                                                                                                                                                                                                                                                                                                                                                                                                                                                                                                                                                                                                                                                                                                             IH

                                                                                                                                                                                                                                                                       AIN                                                                                                                                                                                                          AIRPO RT                                                                                                                                                                                         MP
                                                                                                                                                                                                                                                                                                                                                                                                                                                                                                                                                                                                                                                                                                                                                                                                                                                                                        MESA
                                                                                                                                                                                                                                                                                                                                                                                                                                                                                                                                                                                                                                                                                                                                                   CH

                                                                                                                                                                                                                                                                                                                                                                                                                                                                                                                                                                                                                                                                                                                                                                                                                                                                                                                                                                                                                                                                                                                                                        E
                                                                                                                                                                                                                                                                                                                                                                                                                                                                                                                                                                                                                                                                                                                                                                                                                                                                                                                                                                                                                                                                                     BI
                                                                                                                                                                                                                                                                                                                                                                                                                                                                                                                                                                     A WA
                                                                                                                                                                                                                                                                                                                                                                                                                                                                                                                                                                       BRITTMO ORE

                                                                                                                                                                                                                                                                M                                                                                                                                                                                                                                                                                                                                                                                                                       ST                                CRENSHAW
                                                                                                                                                                                                                                                                                                                                                                                                                                                                                                                                                                                                                                                                                                                                                                                                     A
                                                                                                                                                                                                                                                                                                                                                                                                                                                                                                                           CEBRA ROS SLY

                                                                                                                                                                                                                                                                                                                                                                                                                                                                                                                                                                                                                                                                                                                     43RD
                                                                                                                                                                                                                                                                                                                  BU FFA LO SPE

                                                                                                                                                                                                                                                                                                                                                                         ALM

                                                                                                                                                                                                                                                                                                                                                                                                                                                                                                            SOU TH ACR ES                                                                                                                                                                                                                                                                                                                                                                                                                                                                                                           CROSS TIMBER S
                                                                                                                                                                                                                                                                                                                                                                                                                                                                                                                                                                                                                                                                                                      OD

                                                                                                                                                                                                                                                                                                                                                                                                                                                                                                                                                                                                                                                                                                                                                                                                                                                                                                                        S PA C
                                                                                                                                                                                                                                                                                                                                                                                                                                                                                                                                                                                                                                                                                                                                                                                                                                              N

                                                                                                                                                                                                                                                                                                                                                                                                                                                                                                                                                                                                                                                                                           EA
                                                                                                                                                                                                                                                                                                                                                                                                                                                                                                                                                                                                                                                                                                                                                                                             WATO NG

                                                                                                                                                                                                                                                                                                                                                                                                                                                                                                                                                                                                                                                                                                                        Houston       BCycle GENOA RED BLUFF
                                                                                                                                                                                                                                                                                                                                                                                                                                                                                                                                                                                                                                                                                                                                                H IR S

                                                                                                                                                                                                                                                                                                                                                                                                                                                                                                                                                                                                                                                                                                                                                                     GA
                                                                                                                                                                                                                                                                                                                                                                                                                                                                                                                                                                                                                                                                    MONROE

                                                                                                                                                                                                                                                                                                                                                                                                                                                                                                                                                                                                                             CLAY                                                EL L
                                                                                                                                                                                                                                                                                                                                                                                       US
                                                                                                                                                                                                                                                                                                                                                                                                                                                                                           CULL EN

                                                                                                                                                                                                                                                                                                                                                                                                                                                                                                                                                                                                                                                                                              D
                                                                                                                                                                                                                                                                                                                                                                                                                                                                                                                                                                                                                                                                                                                                                                                                                                                                                                                                                                                 45

                                                                                                                                                                                                                                                                                                                                                                                                                                                                                                                                                                                                                                                                                                                                                                                                                                                                                                                                                                                                                                                                                HAMMERLY
                                                                                                                                                                                                                                                                                                                                                                                                                                                                                                                                                                                                                                                                                                                                                                                                                                                                                                        SHEPH ERD

                                                                                                                                                                                                                                                                                                                                                                                                                                                                                                                                                                                                                                                                                                                                                                                                                                                                                                                                                                                                                                                                                                                                                 90
                                                                                                                                                                                                                                                                                                                                                                                                                                                                                                                                                                                                                                                                  TI DW

                                                                                                                                                                                                                                                                                                                                                                                                                                                                                                                                                                                                                                                                                 !
                                                                                                                                                                                                                                                                                                                                                                                                                                                                                                                                                                                                                                                                                                                                                                            LV
                                                                                                                                                                                                                                                                                                                                                                                                                                                                                                                                                                                                                                                                                             RW O
                      KIRKWO OD

                                                                                                                                                                                                                                                          TANNER                                                                                                                                                                                                                                                                                                                                                                                                                                                                                                                                                                                                                                                                                                                                                                                                                              N
                                                                                                                                                                                                                                                                                                                                                                                                                                                                                                                                                                                                                                                                                                                                                                                                                                                                                                                                                                                                                                                                                 BE NN ING TO
                                                                                                                                                                                                                                                                                                                                                                                                                                                                                                                                                                                                                                                                                 B
                                                                                                                                                                                                                                                                                                                                                                                                                                                                                                                                                  MARTIND ALE

                                                                                                                                                                                                                                                           ALLUM
                                                                                                                                                                                                                                               POST OAK

                                                                                                                                                                                                                                                                                                                                                                                                                                                                                                                                                                                                                                                                                                                                                                                ES

                                                                                                                                                                                                                                                                                                                                                                                                                                                                                                                                                                                                                                                                                                                                                                                                                                                                                                                                                                                                                              IRVINGT ON
                                                                                                                                                                                                                                                                                                                                                                                                                                                                                                                                                                                                                                                                                                                                                                                                                                                                                                                           E CE

                                                                                                                                                                                                                                                                                                                                                                                                                                                                                                                                                                                                                                                                                                                                                                                                                                                                                                                                                                                 GREEN RIVER
                                                                                                                                                                                                                                                                                                                                                                                                       29                                                                                                                                                                                                                                                                                                                                                                                                                                                                                                                                                                                                                                                                                                                  US
                                                                                                                                                                                                                                                                                                                                                                                                                                                                                                                                                                                                                                                              CAMPBE LL
                                                                                                                                                                                                                                                                                       HIRAM CLARK E
                                                                                                                                                                                            D

                                                                                                                                                                                                                                                                                                                                                                                                                                                                                                                                                                                                                                                                                                                          LAURA KOPPE
                                                  MURP HY

                                                                                                                                                                                                                                                                                                                                                                                                                                                                                                                                                                                                                                                                                                                                                                                               MANG
                                                                                                                                                                                                                                                                                                                                                                                                                                                                                                                                                                                                                                                                                                                                                                                       TO
                                                                                                                                                                                                                                                                                                                                                                                                                                                                                                                                                                                                                                                                                                                   LE

                                                                                                                                                                                                                                                                                                                                                                                                                                                                                                                                                                                                                                                                                                                        Stations
                                                                                                                                                                                                                                                                                                                                                                                                                                                                                                                                                                                                                                                                                                                              WEAVER - NEW34TH
                                                                                                                                                                                                                                                                                                                                                                                                                                                                                                                                                                                                                                                                                                                                                                                                                                                                                                                                                                                                                                                                          LON G POI NT
                                                                                                                                                                                                                                                                                                                                                                                                                                                                                                                                                                                                                                                                                                                                                                                                                                                                                                                                                                                                                              FU
                                                                                                                                                                                                                                                                                                                                                                                                                                                                                                                                                                                                                                                                                                   EA

                                                                                                                                                                                                                                                                                                                                                                                                                       0                 PINE MON T                                                                                                                                                                     KEMPWOOD
                                                                                                                                                                                                                                                                                                                                                                                                                                                                                                                                                                                                                                                                                                                                           KL EC KL
                                                                                                                                                                                    EN

                                                                                                                                                                                                                                                                                                                                                                                                                                                                                                                                                                                                                                                                                                            NG

                                                                                                                                                                                                                                                                                                                                                                                                                                                                                                                                                                                                                                                                                                                                                                                                N

                                                                                                                                                                                                                                                                                                                                                                                                                                                                                                                                                                                                                                                                        BERRY
                                                                                                                                                                                                                                                                                                                                                                                                                                                                                                                                                                                                                                                                                                                                                                                                                                                                                                                                                                                                                                  BL ALNO
                                                                                                                                                                                                                                                                                                                                                                                                                                                                                                                                                                                                                                                                                                                                                                                                                                                                                                                                N

                                                                                              CR                                                                                                                                                                                                                                                                    HE
                                                                                                                                                                                                                                                                                                                                                                                                                                                                                                                                                                                                                                                                                                                                                                                                                                                                                                                                                                                                                                   LT
                                                                                                                                                                                                                                                  BW 8

                                                                                                                                                                                                                                                                                                                                                                                                                                                                                                                                                                                                                                                                                                                                                                                                                                                                                                                                                                                                                                                                                                   JENSEN
                                                                                                                                                                                                                                                                                                                                                                                                                                                                                                                                                                                                                                                                                    BLACKH AWK C L

                                                                                                                                                                                                                                                                                                                                                                                                                                                                                                                                                                                                                                                                                                                                                                                                                                                                                                                                                                                                                                T                                                     KELLEY
                                                                                                                                                                                                                                                                                                                                                                                                                                                                                                                                                                                                                                                                                                                                                                                                                                                                                                                                                                                                                                                                                                                                        WIRT
                                                                                                                                                                                                                                                                                                                                                                                                                                                                                                                                                                                                                                                                                                                                                                                                                                                                                                                               TYALE
                                                                                                                                                                                                                                                                                                                                                                                                                                                                                                                                                                                                                                                                                                         BI

                                                                                                                                                                                                                                                                                                                                                                                                                                                                                                                                                                                                                                                                                                                                                                                                                                                                                                                                                                                                                             ON
                                                                                                                                                                                                                                                                                                                                                                                                                                                                                                                                                                                                                                   IH
                                                                     RD

                                                                                                    AV                                                                                                                                                                                                                                                                       MP                                                                                                                                                                                                                                                                                                                                                                   LEY
                                                                                                                                                                                                                                                                                                                                                                                                                                                                                                                                                                                                                                                                                                                                                                                                                                                                                                                                                                                                                                      O
                                                                                                                                                                                                                                                                                                                                                                                                                                                                                                                                                                                                                                                                                                                                                                                                                                                                                                                                ER
                                                                                                                                                                                                                                                                                                                                                                                                                                                                                                                                                                                                                                                                                                                                                                                                                UM

                                                                                                                                                                                                                                                                                                                                                                                                                                                                                                                                                                                                                                                                                                                                                                                                                                                                                                                                                                                                              M
                                                                                                                                                                                                                                     BRITTMO ORE
                                                                                                                                                                        B

                                                                                                             EN                                                                                                                                                        OREM                                                                                                         ST                                                                                                                                                                                                                                                                                                                                                                                                                                                                                                                                                                                                AU                                                                                   WES TVIE W
                                                                                                                                                                                                                                                                                                                                                                                                       Houston ALBCycle
                                                                                                                                                                                                                                                                                                                                                                                                                                                                                                                                                                                                                                                                                                                                                                                                                                        T
                                                                                                                                                                                                                                                                                                                                                                                                                                                                         A
                                                                  FO

                                  CA SH                                                                                                                                                                                                                                                                                                                                                                              43RD                                                                                                                                                                                                                                   CROSS TIMBER S HAMMERLY                                                                                                                                                           C                                                                                                                   BE
                                                                                                                                                                                                                                                                                                                                                                                                                                                                                                                                         N

                                                                                                                                                                                                                                                                                                                                                                                           EA
                                                                                                                                                                                                                                                                                                                                                                                                                                                                    WATO NG

                                                                                                                                                                                                                                                                                                                                                                                                                                                                                                                                                                                                                                                                                                                    Houston BCycle
                                                                              PI                                        S                                                                                                                                                                                                                                                                                                       A                                                                                                                                                                                                                                                                                                      MA
                                                                                                                                                                     RT

                                                                                                                                                                                                                                                                                                                                                                                                                                                                                                                                                                                                                                                                                                                                                                                                                                                                                                                                                                                                                                          CK

                                                                                                                                                                                                                                                                                                                                                                                                                         G EN O

                                                                                                                                                                                                                                                                                                                                                                  !
                                                                                                                                                                                                                                                                                                                                                                                                                                                                                                                                                                                                                                                                                                                                              JE
                                                                                                                                                                                                                                                                                                                                                                                                                                                                                                                                                                                                                                                                                                                                             EY

                                                                                                                                                                                                                                                                                      CLAY
                                                                                                                                                                                                                                                                                                                                                                                                                                      FURMAN
                                                                AF

                                                                                   KE                                                                                                                                                                                                                                                                                                           D                                                                                                                                                                                                                                                                                                                                 DACO
                                                                                                                                                                                                                                                                                                                                                                                                                                                                                                                                                                                                                                            45

                                                                                                                                                                                                                                                                                                                                                                                                                                                                                                                                                                                                                                                                                                                                                                                                                                                                                                                                                                                                                                                                                ELYSI
                                                                                                                                                                                                                                                                                                                                                                                                                                                                                                                                                                                                                                                                                                                          NT

                                                                                                                                                                                                                                                                                                                                                                        B
                                                                                                                                                                                                                                                                                                                                                                                                                                                                                                                                                                               SHEPH ERD

                                                                                                                                                                                                                                                                                                                                                                                                                  M ED A                                                                                                                                                                                                                                                                                                                         ST

                                                                                                                                                                                                                                                                                                                                                                                                                                                                                                                                                                                                                                                                                 !
                                                                                                                                                                                                                                                                                                                                                                                                                                                                                                                                                                                                                                                                                                                                                                                                                                KIRKPATRICK

                                                                                                                                                                                                                                                                                                                                                                                                                                                                                                                                                                                                                                                                                                                                                                                                                                                                             HOUST ON

                                                                                                                                                                                                                                                                                                                                                                                                                                                                                                                                                                                                                                                                                                                                                                                                                                                                                                                                                                                                                                           BU NK ER HIL

                                                                                                                                                                                                                                                                                                                                                                                                                                                                                                                                                                                                                                                                                         N
                                                              ST

                                                                                                                                                                                                                                                                                                                                                                                                                                  ALLISON                                                                                                                                                                                                                                   BE NN ING TO
                                                                                                                                                                                                                                                                                                                                                                                                                                                                                                                                                                                                                                                                                 B
                                                                                                                                                                                                                                                                                                                                                                                                                                                                                                                                                                                                                                                                                                                                                                                                                                                                                                                                     HEIGH TS OATES

                                                                                                                                                                                                                                                                                                                                                                                                                                                                                                                                                                                                                                                                                                                                                    ER                                                                                                                                  20TH                                                                                                                                                                                                                CAVALC ADE
                                                                                                                                                                                                                                                                                                                                                                                                                                                                                                                                                                                                                                                                                                                                                                                                                                                                                                                                                                                                                                                                                  PU RP
                                                                                                                                                                                                                                                                                                                                                                                                                                                                                                                                                                                                                                                                                                                     OI
                                                                                                                                                                                                                                                                                                                                                                                                                                                                                                                                                                                                                                                      IRVINGT ON

                                                                                                                                                                                                                                                                                                                                                                                                                                                                                                                                                                                                                                                                                                                                                                                                                                      E
                     DULLE S

                                                                                                                                                                                                                                                                                                                                                                                                                                                                                                                                                                                                                                                                                                                                                                                                                                                                                                                                                             STUDE WOOD
                                                                                                                                                                  FO

                                                                                                                                                                                                                                                                                                                                                                                                       Stations - NEW34TH
                                                    FM 1092

                                                                                                                                                                                                                                                                                                                                                                                                                                                                                                                                                                                                                                                                                                                                      BEAMER
                                                                                                                                                                                                                                                                                                                                         CAMPBE LL

                                                                                                                                                                                                                                                                                                                                                                                                                                                                                                                                                                                                                                                            FUQUA
                                                                                                                                                                                                                                                                                                                                                                                                                                                                                                                                                                                                                                                                     LON G POI NT
                                                                                                                                                                                                                                                                                                                                                                                                                                                                                                                                                                                                                                                                                                                                                                                                                               AL

                                                                                                                                                                                                                                                                                                                                                                                                                                               !
                                                                                                                                                                                                                                                                                                                                                                                                                                                                                   MANG

                                                                                                                                                                                                                                                                                                                                                                                                                                                                                                                                                                                                                                                                                                                 SP

                                                                                                                                                                                                                                                                                                                                                                                                                                                                                                                                                                                                                                                                                                                                          18TH
                                                                                                                                                                                                                                                                                                                                                                                                LE

                                                                                                   TE
                                                                                                                                                                                                                                                                                                                                                                                                                                                B
                                                                                                                                                                                                                                                                                                                                                                                                                                                                                                                                                                                                                                                                                                                    Stations    - Existing                                                                                                                                                                                                                                                                                          PATTO N
                                                                                                                                                                                                                                                                                                                                                                                                                                                                                                                                                                                                                                                      FU
                                                                                                                                                                                                                                                                                                                                                                                                                                                                                                                                                                                                                                                         BL AL O

                                                                                                                                                                                                                                                                                     KEMPWOOD
                                                                                                                                                                                                                                                                                                                                                                                                                                                                                                                                                                                                                                                                                                                                                                                                                                                                                                                                                                                                                                                                                      ANLE SA
                                                                                                                                                                                                                                                                                                                                                                                                                                                                                                                                                                                                                                                                                                                                                                                                                           SD

                                                                                                                                                                                                                                                                                                                                                                                                                                                                                                                                                                                                                                                                                                                                                                                                                                                WAYSIDE
                                                                                                                                                                                                                                                                                                                                                                                                                                                                                                                                                                                                                                                                                                                                                           SA
                                                                                                                                                                                                                                                                                                                                                                                                                                                                                                                                                                                                                                                                                                          NG

                                                                                                           XA
                                                                                                                                                                                                                                                                                                                                                                                           NG

                                                               US 90A
                                                                                                                                                                                                                                                                                                                                                                                                                                               !
                                                                                                                                                                                                                                                                                                                                                                                                                                                                                                                                                                                                                                                                                                                                                                                                                                                                                                        DURH AM
                                                                                                                                                                                                                                                                                                                                                                                                                                                                                                                                                                                                                                                                                                                                                    WIRT

                                                                                                                                                                                                                                                                                                                                                                                                                                                B
                                                                                                                                                                                                                                                                                                                                                                                                                                     !                                                                                                                                                                                                                                                                                                                                                                                                                                                                                                                                                                                                                                                                                                           MEM
                                                                                                                                                                                                                                                                                                                                                                                                                                                                                                                                                                                                                                                           LT

                                                                                                                                                                                                                                                                                                                                                                                                                                                                                                                                                                                                                                                                                                                                                                                                                    AR
                                                                                                                                                                                                                                                                                                                                                                                                                                                                                                                                                                                                                                                                                                                                                                   BO
                                                                                                                                                                                                                                                                                                                                                                                                                                                                                                                                                                                                                                                                                                                     JENSEN

                                                                                                                      S                                                                                                                                                                                                                                                                                                               B
                                                                                     H

                                                                                                                                                                                                                                                                                                                                                                                                                                                      !
                                                                                                                                                                                                                                                                                                                                                                                                                                                                                                                                                                                                                                                                                                        KI

                                                                                                                                                                                                                                                                                                                                                                                                                                                                                                                                                                                                                                                                                                                         KELLEY
                                                                                                                                                                                                                                                                                                                                                                                                                                                                                                                                                                                                                                                                                                                                                                                                                                                                                                                                                                                                                                                     ECHO
                                                                                                                                                                                                                                                                                                                                                                                       BI

                                                                                                                                                                                                                                                                                                                                                                                                                                                                                                                                                                                                                                                                                                                                                                                         SILBER

                                                                                                                                                                                                                                                                                                                                                                                                                                                QuitmanB                                                                                                                                                                                                                                                                                                                                                                                                                                                                                                                                                                                                           BEINHORN
                                                                                  5T

                                                                                                                                                                                                                                                                                                                                                                                                                                                                                                                                                                                                        YALE HEIGH

                                                                                                                                                                                                                                                                                                                                                                                                                                                                                                                                                                                                                                                                                                                   TVIE W
                                                                                                                                                                                                                                                                                                                                                                                                                                                                                                                                                                                                                                                                                                                                                                                                                SC
                                                                                                                                                                                                                                                                                                                                                                                                                                                                                                                                                                                                                                                              ON

                                                                                                                                                                                                                                                                                                                                                                                                                                                                                                                                                                                                                                                                                                                                                                                                                                                                                                                                                                                                                                                    LE
                                                                                                                                                                                                                                                                                                                                                                                                                                                                                         UM

                                                                                                                                                                                                                                                                                                                                                                                                                                                                                                                                                                                                                                                                                                      WES
                                                                                                                                                                                                                                                                                                                                                                                                                                                                                                                                                                                                                                                                                                                                                                            LOCKW OOD

                                                                                                                                                                                                                                                                                                                                                                                                                                                                                                                                                                                                                                                                                                                                                                                                                                                                                                                                                                                                                                                                                                              UVALDE

                                                               Houston BCycle                                                                                                                                                                                                                                           Houston BCycle                                                                                               !B                                                                         T                                                                                                                                                                                                                                                                                                                                                                       11T H                                                                                                                                       V IL
                                                                                                                                                                                                                                                                                                                                                                                                                                                                                                                                                                                                                                                                 CK

                                                                                                                                                                                                                                                                                                                                                                                               HAMMERLY                                         Near Northside METROR                                                 C                                                                                                                                                                                                                                                                                                                                                                                                                                                                                    L L IS
                                                                                                                                                                                                                                                                                                                                                                                                                                                                                                                                                                                                                                                                                                                                                                                                                                                                                                                                                                                                                                                                                              GE

                                                                                                                                                                                                                                                                                                                                                                                                                                                                                                     A

                                                                                                                                                                                                                                                                                                                                                                  !
                                                                                                                                                                                                                                                                                                                                                                                                                                                                                                                                                                                                                                                                                                                                                                                                                                                                                                                                                                                                                                                        L

                               !
                                                                                                                                                                                                                                                                                                                                                                                                                                                                                   M                                         JE
                                                                                                                                                                                                                                                                                                                                                                                           City   Limits                                                                                                                                                                                                                                                                                                                                                                                                                                                                                                                                                                      WA
                                                                                                                                                                                                                                                                                                                                                                                                                                                                                                                                                                                                                                                                  BU NK ER HIL

                                                                                                                                                                                                                                                                                                                                                                                                                                                                              DACO
                                                                                                                                                                                                                                                                                                                                                                                                                                                                                                                                                                                                                                                                                                      ELYSI AN

                               B                                                                                                                                                                                                                                                                                                                                  B
                                                                                                                                                                                                                                                                                                                                                                                                                                                                                                                                    ST
                                                                                                                                                                                                                                                                                                                                                                                                                                                                                                                                                                                                                                                                                                                                                                                                                                                                                                                                                                                                                                                           PINEY POINT

                                                               Houston BCycle Stations - NEW                                                                                                                                                                                                                            Houston BCycle Stations                                              City Limits                        !B ! B B
                                                                                                                                                                                                                                                                                                                                                                                                                                          !!       !B B
                                                                                                                                                                                                                                                                                                                                                                                                                                                       !
                                                                                                                                                                                                                                                                                                                                                                                                                                                                                                                                         ER                  20TH                                                                                                                                                            CAVALC ADE                                                                                               K AT
                                                                                                                                                                                                                                                                                                                        Stations - Existing
                                                                                                                                                                                                                                                                                                                                                                                                                                                                                                                                                                                                                                   STUDE WOOD

                                                               Stations - NEW
                                                                                                                                                                                                                                                                                                                                                                                                                                                                                                                                                                                                                                                                                                                                                                                                                                                   Y                                                                                                                                                                                                                                   Y
                                                                                                                                                                                                                                                                                                                                                                                LON G POI NT                                                                                                                                                                                                                                                                                                                                                                                                                                                                                                                                                                                                                                                                       LORRAINE S        WA
                                                                                                                                                                                                                                                                                                                                                                                                                                                                                                                                                                                                                                                                                                                                                                                                                                                               IWH

                                                                                                                                                                                                                                                                                                                                                                                                                                                                                                                                                                                                                                                                                                                                                                                                                           TY
                                                                                                                                                                                                                                                                                                                                                                      !B                                                                     B       !B
                                                                                                                                                                                                                                                                                                                                                                                                                                                                        !
                                                                                                                                                                                                                                                                                                                                                                                                                                                                                                            18TH                                                                                                                                            PATTO N                                                                                                                                                ER                                                                                                                                                                                                                                                             O D ES
                                                                                                                                                                                                                                                                                                                                                  BL AL O

                                                                                                                                                                                                                                                                                                                                                                                                                                                                                                                                                                                                                                                                                                                                                          MEMO RIAL
                                                                                                                                                                                                                                                                                                                                                            !          B                                                                                                 B                                                                                                                                                                                                                                                                                                                                                                                                                                                                                                                                                                                                   N
                                                                                                                                                                                                                                                                                                                                                                                                                                                                                                                                                                                                                                                                                                                                                                                                                                                                                                                                                                                                                                                                           WOODFOR
                                                                                                                                                                                                                                                                                                                                                                                                                                                                                                                                                                                                                                                                                                                                                                                                                                                                 ES

                                                                                                                                                                                                                                                                                                                                                                                                                                                                                                                                                                                                                                                                                                                                                                                                                                                                                                                                                                                                                                                                         LY O W O
                                                                                                                                                                                                                                                                                                                                                                                                                                                                                                                                                                                                                                                                                                                                                                                                                                                                                                                                                                                                                                                                                                   VOSS

                                                                                                                                                                                                                                                                                                                                                            B                                                                                                                                                                                                                                                                                                                                                                                                                                             LIB
                                                                                                                                                                                                                                                                                                                                                                                                                                                                                                                                                                                                                                                                                                                                                                                                                                                                                                                                                                                                                                                     A N DY
                                                                                                                                                                                                                                                                                                                                                                                                                                                                                                                                                                               DURH AM

                                                                                                                                                                                                                                                                                                                                                                                                                                                                                                                                                                                                                                                                            ECHO
                                                                                                                                                                                                                                                                                                                                                                                                                            WIRT

                                                                                                                                                                                                                                                                                                                                                                                                                                                                                                                                                                                                                                                                                         BEINHORN
                                                                                                                                                                                                                                                                                                                                                                                                                                                                                                                                                                                                                                                                                                                                                                                                                                                                         TC

                                                                                                                                                                                                                                                                                                                                                                                                                                                                                                                                                                                                                                                                                                                                                                                                                                                                                                                                                                                                        MAXEY E R
                                                                                                                                                                                                                                                                                                                                                                                                                                                                                                                                                                                                                                                                                                                                                                                                                                                              Y

                                                                                                                                                                                                                                                                                                                                                                             !
                                                                                                                                                                                                                                                                                                                                                                                                                                                                                                                                                                                                                   TS

                                                                                                                                                                                                                                                                                                                                                                                                                                                                                                                                                                                                                                                                                                                                                                                                                                                                             6O1T

                                                                                                                                                                                                                                                                                                                                                                                                                                                         ! BB !
                                                                                                                                                                                                                                                                                                                                                                                                                                                                SILBER

                                                                                                                                                                                                                                                                                                                                                                       QuitmanB
                                                                                                                                                                                                                                                                                                                                                                                                                                                                                                                                                                                                                                                                                                                                                                                                                                                      RT

                                                                                                                                                                                                                                                                                                                                                                                    WES TVIE W                                                                   B
                                                                                                                                                                                                                                                                                                                                                                                                                                                                                                                                                                                                                                                                                                                                                                                                                                                                                                                                                                                                                                                                                                                          FREE PORT

                                                                                                                                                                                                                                                                                                                                                                                                                                                         !!
                                                                                                                                                                                                                                                                                                                                                                                                                                                                                                                                                                                                                                                                                                                                                                                                                                                                                                                                                                                                                                                                                                                                         FOU NTA IN VIE

                                                                                                                                                                                                                                                                                                                                                                                                                                                                                                                                                                                                                                                                                                                                                                                                                                                                                                        WASH INGTO N
                                                                                                                                                                                                                                                                                                                                                                                                                                                          B
                                                                                                                                                                                                                                                                                                                                                                                                                             !
                                                                                                                                                                                                                                                                                                                                                                                                                                                                                                                                                                                                                                                                                                                                                                                                                                                                                                                                                                                        SA

                                                               Houston BCycle                                                                                                                                                                                                                                                                               !                                                                 B
                                                                                                                                                                                                                                                                                                                                                                                                                                                         !                                                                                                      11T H
                                                                                                                                                                                                                                                                                                                                                                                                                                                                                                                                                                                                                                                                                                                                                                                                                                                CA

                                                                                                                                                                                                                                                                                                                                                                                                                                                                                                                                                                                                                                                                                                                                                                                                                                                                                 0T

                                                                                                                                                                                                                                                                                                                                                            B
                                                                                                                                                                                                                                                                                                                                                                                                                                             !
                                                                                                                                                                                                                                                                                                                                                         CK

                                                                                                                                                                                                                                                                                                                                                                                                                                                                                                                                                                                                                                                                               L

                                                                                                                                                                                                                                                                                                                                                                                                                                                          B
                                                                                                                                                                                                                                                                                                                       City Limits
                                                                                                                                                                                                                                                                                                                                                                                                                                                                                                                                                                                                                                                                                                                                                                                                                                                                                                                                                                                                                                                    NORM

                                                                                                                                                                                                                                                                                                                                                                       Near Northside METRORail                                               B
                                                                                                                                                                                                                                                                                                                                                                                                                                                                                                                                                                                                                                                                                                                                                                                                                                                                                                                                                                                                           W

                                                                                                                                                                                                                                                                                                                                                                                                                                                          B
                               !                                                                                                                                                                                                                                                                                                                                                                                !                   B!
                                                                                                                                                                                                                                                                                                                                                                                                                                                                                                                                                                                                                                                                                                                                                                                                                                          MC

                                                                                                                                                                                                                                                                                                                                                                                                                                                                                                                                                                                                                                                                                                                                                                                                                                                                         N
                                                                                                                                                                                                                                                                                                                              BU NK ER HIL

                                                                                                                                                                                                                                                                                                                                                                                                                                                                                                                                                                                                                                                                                  PINEY POINT

                                                                                                                                                                                                                                                                                                                                                                                                                                       B
                                                                                                                                                                                                                                                                                                                                                                                                                                                                                                                                                                                                                                                                                                                                                                                                                                                                                                                                                                                                             Y

                                                                                                                                                                                                                                                                                                                                                                                                                 B B
                                                                                                                                                                                                                                                                                                                                                                                                                                                                                                                                                                                                                                                                                                                                                                                                                                                                                                                                       MONTR OSE

                               B                                                                                                                                                                                                                                                                                                                                                                      Fifth Ward !                                       !
                                                                                                                                                                                                                                                                                                                                                                                                                                                                                                                                                                                                                                                                                                                                                                                                                                                                     OR

                                                                                                                                                                                                                                                                                                                                                       !B !               !                                                 !      !           B!
                                                                                                                                                                                                                                                                                                                                                                                                                                               !  B B! B!BBB B
                                                                                                                                                                                                                                                                                                                                                                                                                                                          ! !!                                                K AT                                                                                                                                                                                                                                                 AY                                                                                                                              BRIAR FORES T
                                                               Stations - Existing
                                                                                                                                                                                                                                                                                                                                                            B B
                                                                                                                                                                                                                                                                                                                                                                !!         B B
                                                                                                                                                                                                                                                                                                                                                                              !                                              B
                                                                                                                                                                                                                                                                                                                                                                                                                                    B IH 10         !             BB                                                         Y                                                                                                                                                           LORRAINE S O O D W
                                                                                                                                                                                                                                                                                                                                                                                                                                                                                                                                                                                                                                                                                                                                                                                                                                                                LLH

                                                                                                                                                                                                                                                                                                                                                                                                                                   !                              !
                                                                                                                                                                                                                                                                                                                                                                                                                                                                                                                                      W

                                                                                                                                                                                                                                                                                                                                                                                                                                                      B!
                                                                                                                                                                                                                                                                                                                                                                                                                                                                                                                                                                                                                                                                                                                                                                                                                                                                                                                                                                                                                                                                                                                        RK

                                                                                                                                                                                                                                                                                                                                                                                                                                                    B!
                                                                                                                                                                                                                                                                                                                                                                                                                                                                                                                                                                                                                                                                                                                                                                                                                                                                                                                                          WAU GH

                                                                                                                                                                                                                                                                                                                                                                            !                   !
                                                                                                                                                                                                                                                                                                                                                                                                                                                                                                                                                                                                                                                                                                                                                                                              SAGE
                                                                                                                                                                                                                                                                                                                                                                                                                                                                                                                                                                                                                                                                                                                     VOSS

                                                                                                                                                                                                                                                                                                                                                                   B                                                                                    BB                                                                                                                                                                                                                                                                                                                                                                                                                                      Y
                                                                                                                                                                                                                                                                   !                                      !
                                                                                                                                                                                                                                                                                                          B                                                                  B                   B CRC                             MEMO RIAL
                                                                                                                                                                                                                                                                                                                                                                                                                                                    !  B!
                                                                                                                                                                                                                                                                                                                                                                                                                                                                                                                                                                                                                                                                                                    NW
                                                                                                                                                                                                                                                                                                                                                                                                                                                                                                                                             ES

                                                                                                                                                                                                                                                                                                                                                                                                                                                                                                                                                                                                                                                                                                                                                                                                                                                                                             RB
                                                                                                                                                                                                                                                                                                                                                                                                                                                     B!
                                                                                                                                                                                                                                                                                                                                                                                                                                                                                                                                                                                                                                                                                               LY O
                                                                                                                                                                                                                                                                   B
                                                                                                                                                                                                                                                                                                                                                                                                                                                          !
                                                                                                                                                                                                                                                                                                                                                                                                                                                                                                                                                                                                                                                                                                                                                                                                                                                                                                                                                                                                                                                                                                              YO
                                                                                                                                                                                                                                                                                                                                                                                                                                                                                                                                                                                                                                                                                                                                                                                                                                                          GE
                                                                                                                                                                                                                                                                                                                                                             ECHO

                                                                                                                                                                                                                                                                                                                                                                        BEINHORN
                                                                                                                                                                                                                                                                                                                                                                                                                                                         !
                                                                                                                                                                                                                                                                                                                                                                                                                                                         BBB!                                                                                                                                                                                                                                                                                                                                                                                                                             K I RK ET                                                                                                                                                                              WESTH EIMER
                                                                                                                                                                                                                                                                                                                                                                                                                                                                                                                                               TC

                                                                                                                                                                                                                                                                                                                                                                                                                                                                                                                                                                                                                                                                                                                                                                                                                                                                                                                           MERCU RY

                                                                                                                                                                                                                                                                                                                                                                                                                                                !B!           B Dallas & St.                                                                                                                                                                                                                                                                                                                                                                                                             MA
                                                                                                                                                                                                                                                                                                                                                                                                                                                                                                                                                                                                                                                                                                                                                    FOU NTA IN VIE

                                                                                                                                                                                                                                                                                                                                                                                                                                                      B !
                                                                                                                                                                                                                                                                                                                                                                                 !BB !
                                                                                                                                                                                                                                                                                                                                                                                  B     B
                                                                                                                                                                                                                                                                                                                                                                                                                                                                                                                                                    OT

                                                                                                                                                                                                                                                                                                                                                                                 !
                                                                                                                                                                                                                                                                                                                                                                                 !                    Lyons  & Waco
                                                                                                                                                                                                                                                                                                                                                                                                                                                 !BB!        !
                                                                                                                                                                                                                                                                                                                                                                                                                                                             B                                                                                                                 WASH INGTO N
                                                                                                                                                                                                                                                                                                                                                                                                                                                                                                                                                                                                                                                                                                                                                                                                                                                                                                                                                                                                                                                                                                                                                        W

                                                                                                                                                                                                                                                                                                                                                                                                                                                     B                                                                                                                                                                                                                                                                                                                     SAN FELIP E
                                                                                                                                                                                                                                                                                                                                                    !                                                                                             !           B
                                                                                                                                                                                                                                                                                                                                                                                                                                                                                                                                                                                                                                                SA

                                                                                                                                                                                                                                                                                                                                                     B
                                                                                                                                                                                                                                                                                                                                                                                !                                       Dunlavy &            !
                                                                                                                                                                                                                                                                                                                                                                                                                                             B !
                                                                                                                                                                                                                                                                                                                                                                                                                                                   B ! Austin
                                                                                                                                                                                                                                                                                                                                                                                                                                                                                                                                                                                                                                                                                                                                                                                                                                                                                                                                                                                                                                                                                         RIC HM OND
                                                                                                                                                                                                                                                                                                                                                                                                                                                                                                                                                          T

                                                                                                                                                                                                                                                                                                                                                                    !
                                                                                                                                                                                                                                                                                                                                           L

                                                                                                                                                                                                                                                                                                                                                                                  B                                                              B                                                                                                                                                                                                                                                                                                                                                                                                                                                                                                                                                                                                                 IND
                                                                                                                                                                                                                                                                                                                                                                                                                                                                                                                                                                                                                                                                                                                                                                                                                                                                                                                                                          BRIARPARK

                                                               City Limits                                                                                                                                                                                                                                                                                           B
                                                                                                                                                                                                                                                                                                                                                                                                                                                                                                                                                                                                                                                W

                                                                                                                                                                                                                                                                                                                                                                                  B
                                                                                                                                                                                                                                                                                                                                        !                  B!                                                         Westheimer B !
                                                                                                                                                                                                                                                                                                                                                                                                                                                                                                                                                                                                                                                                                                                                                                                                                                                                                                                                                                                                                                                                                 US
                                                                                                                                                                                                                                                                                                                                                                                                                                                B!                       !
                                                                                                                                                                                                                                                                                                                                                                  PINEY POINT

                                                                                                                                                                                                                                                                                                                                                             B                                                                                                                                                                                                                             BRIAR FORES T
                                                                                                                                                                                                                                                                                                                                                                                                                                                                                                                                                                                                                                                    YE

                                                                                                                                                                                                                                                                                                                                         B B                                                                                              B
                                                                                                                                                                                                                                                                                                                                                                                                                                               !
                                                                                                                                                                                                                                                                                                                                                                                                                                                                                                                                                                                                             MONTR OSE

                                                                                                                                                                                                                                                                                                                                                                                                                                                                                                                                                                                                                                                                                                                                                                                                                   LATHROP

                                                                                                                                                                                                                                                                                                                                            ! !                               B!!                                                  !                                      B                                                                                                                                                                                                                                                                                                                                                                                                                                                                                                                                                                                                              TR POL
                                                                                                                                                                                                                                                                                                                                                                                                                                                                                                                                                                                                                                                                                                                                                                                                                                                                                                                                                                                                                                               FEDE RAL

                                                                                                                                                                                                                                                                                                                                                           !                     BB B
                                                                                                                                                                                                                                                                                                                                                                                                                                                                                                                                                                                                                                                                                                                                                                                     KR ES S

                                                                                                                                                                                                                                                                                                                                                                                B
                                                                                                                                                                                                                                                                                                                                                                      B! B B!     !                                                       AY
                                                                                                                                                                                                                                                                                                                                                                                                                                                                                                                                                                                                                                                           R

                                                                                                                                                                                                                                                                                                                                                                                                                                                                                                                                                                                                                                                                                                                                                                                                                                                                                                                                                                                                                                                                                           I A L PAKRK
                                                                                                                                                                                                                                                                                                                                                    B                !                 !!                                                       !        A  R K
                                                                                                                                                                                                                                                                                                                                                                                                                                                                                                                                                                                                                                                                                                                                                                                                                                                                                                                                                            HOLL AND

                                                                                                                                                                                                                                                                                                                                                           !               ! B!
                                                                                                                                                                                                                                                                                                                                                                                         BB
                                                                                                                                                                                                                                                                                                                                                                                         !COHGIS                          O    DW
                                                                                                                                                                                                                                                                                                                                                                                                                                      !!
                                                                                                                                                                                                                                                                                                                                                                                                                                       B       W!! B
                                                                                                                                                                                                                                                                                                                                                                                                                                                 BES
                                                                                                                                                                                                                                                                                                                                                                                                                                                  B  TP
                                                                                                                                                                                                                                                                                                                                                                                                                                                     B    &   Gray
                                                                                                                                                                                                                                                                                                                                                                                                                                                                     B !
                                                                                                                                                                                                                                                                                                                                                                                                                                                                                                                                                                                                                                                                                                                                                                                                                                                                                                                                                                                                                                                                                         WE ST
                                                                                                                                                                                                                                                                                                                                                                                                                                                                                                                                                                                                                                                                                                                                       RK

                                                                                                                                                                                                                                                                                                                                                                           B!
                                                                                                                                                                                                                                                                                                                                                           B
                                                                                                                                                                                                                                                                                                                                                                                                                                                                                                                                                                                                                WAU GH

                                                                                                                                                                                                                                                                                                                                                                                                                                                                                                                                                                                                                                                                                                                                                                                    ALABA MA
                                                                                                                                                                                                                                                                                                                                                                                                                                                                     SAGE
                                                                                                                                                                                                                                                                                                                                                                                                  VOSS

                                                                                                                                                                                                                                                                                                                                                                               BSource:                                WO                                               B T                                                                                                 BY
                                                                                                                                                                                                                                                                                                                                                                           !                                                                           !
                                                                                                                                                                                                                                                                                                                                                                                                                                                                                                                                                                                                                                                                                                                                                                                                                                                                                                     WILCR EST
                                                                                                                                                                                                                                                                                                                                                                                                                                                                                                                                                                                                                                                                                                                                                                                                                                                                                                     FIDEL ITY

                                                                                                                                                                                                                                                                                                                                                                             !B!BBB
                                                                                                                                                                                                                                                                                                                                                                                 !                                  Levy                   B                        !                                                                                                                                                                                                                                   WESTH EIMER
                                                                                                                                                                                                                                                                                                                                                                                                                                                                                                                                                                                                                                                                                                                               YO

                                                                                                                                                                                                                                                                                                                                                                                                                                                                                                                                                                                                                                                                                                                                                                                                                                                                                                            M

                                                                                                                                                                                                                                                                                                                                                                                                                                                                                                                                                                        R                                                                                                                                                                                                    HIDALGO

                                                                                                                                                                                                                                                                                                                                                                         BB!
                                                                                                                                                                                                                                                                                                                                                                                !    !                              Park !                             ! !                                                                                                         KI                                                                                                                                                                                                                                                                                                                                           BL                                                                                                                                                                                                               GULFT O
                                                                                                                                                                                                                                                                                                                                                                                                                                                                                                                                                                                                                                                                                                                                                                                                                                                                                                   HA

                                                                                                                                                                                                                                                                                                                                                                       !    B    B   B                                     B                            B                                                                                                                                                                                                                                                                                                                                                                                                                                         HARWIN
                                                                                                                                                                                                                                                                                                                                                                                                                             FOU NTA IN VIE

                                                                                                                                                                                                                                                                                                                                                                        B                                                                                                                                                                                                                                                                                                                                                                                                                                                                                                                                          OD
                                                                                                                                                                                                                                                                                                                                                                                                                                                                                                                                                                                                                                                                                                                                                                   W

                                                                                                                                                                                                                                                                                                                                                                                                                                                                           E
                                                                                                                                                                                                                                                                                                                                                                        !  !B Date:!BB Feb
                                                                                                                                                                                                                                                                                                                                                                                        Dallas
                                                                                                                                                                                                                                                                                                                                                                                             2021& St. Emanuel
                                                                                                                                                                                                                                                                                                                                                                                                                                             !                 B                                                                                                                                                                                                                                                 RIC HM OND                                                                                                                                                                                                                                                                                                                                                                 EL GI N
                                                                                                                                                                                                                                                                                                                                                                                                                                                                                                                                                                                                                                                                                                                                                                                                                                                                                             RN

                                                                                                                                                                                                                                                                                                                                                                                                                                             B    SAN FELIP E                                                                                                                                                                                                                                                                                                                                                                                                                                                RK        G
                                                                                                                                                                                                                                                                                                                                                                         !                                                                                                                                                                                                                                                                                                                                                                                                                                                                                                                         TO W N PA
                                                                                                                                                                                                                                                                                                                                                                                                                                                                                                                                                                                                                              BRIARPARK

                                                                                                                                                                                                                                                                                                                                                Dunlavy &          !B ! B
                                                                                                                                                                                                                                                                                                                                                                         B !Reference:                                                      B!
                                                                                                                                                                                                                                                                                                                                                                                                                                             B
                                                                                                                                                                                                                                                                                                                                                                                                                                                                                                                                                                                                                                                                                                                                                                                                                                        NA                                                                       SO ETT
                                                                                                                                                                                                                                                                                                                                                                                                                                                                                                                                                                                                                                                                                                                                                                                                                                                                                        FA

                                                                                                                                                                                                                                                                                                                                                                             B Austin                                                      !                       !B
                                                                                                                                                                                                                                                                                                                                                                                                                                                                                                                                                                                                                                                                                                                                                                                                                                  75 TTLE

                                                                                                                                                                                                                                                                                                                                                                                                                                                                                                                                                                                                                                                                                                                                                                                                                                               VI
                                                                                                                                                                                                                                                                                                                                                                                                                                                                                                                                                                                                                                                                                                                                                                                                                                                                                                                                                                                                       GES SNE R

                                                                                                                                                                                                                                                                                                                                                                                                                                                                                                                                                                                                                                                                                                                                                                                                                                                                                                                 B I NU T H
                                                                                                                                                                                                                                                                                                                                              Westheimer B !
                                                                                                                                                                                                                                                                                                                                                                                                                                                                                                                                                                                                                                                                                                                                                                                                       CAN
                                                                                                                                                                                                                                                          BRIAR FORES T
                                                                                                                                                                                                                                                                                                                                                                       B!                         !                                                     !
                                                                                                                                                                                                                                                                                                                                                                                                                                                                                                                                                                                                                                                                                                                                                                                                RICE

                                                                                                                                                                                                                                                                                                                                                                B
                                                                                                                                                                                                                                                                                                                                                                      !                       PJ21599
                                                                                                                                                                                                                                                                                                                                                                                                                                                                                                                                                                                                                                                                                                                                                                                                                                                                                                                                                      CORPORATE

                                                                                                                                                                                                                                                                                                                                                                                                                                                                                                                                                                                                                                                                                                                                                                                                                                                                                                                                                                                                                                                                                                   LL AIR E
                                                                                                                                                                                                                                                                                                                                                           !!B B W!!                                                                                     !
                                                                                                                                                                                                                                                                                                                                                                                                                                                                                                                                                                                                                                                                                                                                                                                                                                       H

                                                                                                                                                                                                                                                                                                                                                                                                   B                                                     B
                                                                                                                                                                                                                                                                                                                                                                                                                                                                    !                                                                                                                                                                                                                                                                                                                                                                                GA
                                                                                                                                                                                                                                                                                                                                                                                                                                                                                                                                                                                                                                                                                                                                                                                                                                                      WESLAYAN

                                                                                                                                                                                                                                                                                                                                                                            TPAR     K                                                                    !!
                                                                                                                                                                                                                                                                                                                                                                                                                                                          B B! !!    B                                                                                                                                                                                                                                          P L RK
                                                                                                                                                                                                                                                                                                                                                                                                                                                                                                                                                                                                                                                                                                             WE STOPA
                                                                                                                                                                                                                                                                                                                                                                                                                                                                                                                                                                                                                                                                                                                                                                                                                    AL                                                                   CL
                                                                                                                                                                                                                                                                                                                                                                                                                                                                                                                                                                                                                                                                                                                                                                                                                                                                                                                                                                                                                                                                                                                                                 RENWIC K

                                                                                                                                                                                                                                                                                                                                                                                                                                             B                B  B                                                                                                                                                                                                                                                                                                                                                                                                                                                    Z MO                                                                                                                                                             BE
                                                                                                                                                                                                                                                                                                                                                                                                                                    B!    B!
                                                                                                                                                                                                                                                                                                                                                                                                                                                                                                                                                                                                                                                                                                                    K
                                                                                                                                                                                                                                                                                                                                                                                                                                       B!
                                                                                                                                                                                                                                                                                                                                                                                                                                                                    ! !
                                                                                                                                                                                                                                                                                                                                                                                                                                             B                                                                                                                                                                                                                                                                                                                                                                                                                TI                            INT
                                                                                                                                                                                                                                                                                                                                                                        BES
                                                                                                                                                                                                                                                                                                                                                                                                                                                                                                                                                                                                                                                                                                                                                                                                                              NEWCAS

                                                                                                                                                                                                                                                                                                                                                                                                                                                             B           B
                                                                                                                                                                                                                                                                                                               Source: COHGIS
                                                                                                                                                                                                                                                                                                                                                                !B !!
                                                                                                                                                                                                                                                                                                                                                                         B B & Gray                                           !B   !    B !
                                                                                                                                                                                                                                                                                                                                                                                                                                                                    BB                                                                                                                                                                                                                                                                                                                                                                                             ON                           ON                          RE
                                                                                                                                                                                                                                                                                                                                                                                                                                                                                                                                                                            WILCR EST

                                                                                                                                                                                                                                                                                                                                                                                            B !                                      B!
                                                                                                                                                                                                                                                                                                                                                                                                B Telephone &                               B              ALABA MA                                                                                                                                                                                                                                                                                                                      FOURN ACE
                                                                                                                                                                                                                                                                                                                                            Levy                              !B           !
                                                                                                                                                                                                                                                                                                                                                                                    WESTH EIMER
                                                                                                                                                                                                                                                                                                                                                                                                                              !!!
                                                                                                                                                                                                                                                                                                                                                                                                                               BBB!B!
                                                                                                                                                                                                                                                                                                                                                                                                                                     BB!
                                                                                                                                                                                                                                                                                                                                                                                                                                                                                                                                                                                                                                                                                                                                              GULFT ON                                                                                                                                                                                                                                                                                                                                                                                                  W
                                                                                                                                                                                                                                                                                                                                                                                                                                                                                                                                                                                 M

                                                                                                                                                                                                                                                                                                                                                                                                                                        B           HIDALGO                                                                                                                             HARWIN
                                                                                                                                                                                                                                                                                                                                            Park !
                                                                                                                                                                                                                                                                                                                                                                                                                                                                                                                                                                                                     B                                                                                                                                                                                                                                                                                                                                                                                                                                 MACG REGO R
                                                                                                                                                                                                                                                                                                                                                                                                                                         !                           !
                                                                                                                                                                                                                                                                                                                                                                                                                                                                                                                                                                         HA

                                                                                                                                                                                                                                                                                                               Date: Feb 2021                     B                            B
                                                                                                                                                                                                                                                                                                                                                                                                                                    !     B B                         B                                                                                                                            RK L O D
                                                                                                                                                                                                                                                                                                                                                                                                                                                                                                                                                                                                                                                                                                                                                                                                                                                                                                 BOO NE

                                                                                                                                                                                                                                                                                                                                                                                                                                              !
                                                                                                                                                                                                                                                                                                                                                                                                                                            W

                                                                                                                                                                                                                                                                                                                                                                                                    Eddington                                                                                                                                                                            TO W N PA
                                                                                                                                                                                                                                                                                                                                                                   !B                ! 0!                                             !                                                                                                                                                                                                                                                                          EL GI N
                                                                                                                                                                                                                                                                                                                                                                                                                                                                                                                                                                                                                                                                                                                                                                             CHIMN EY ROCK

                                                                                                                                                                                                                                                                                                                                                                                      B       RIC HM OND                               B                                                                                                                                                                                                                                                                                                                                                                                                                                                                                                                                                                                                   BEECHNUT
                                                                                                                                                                                                                                                                                                                                                                                                                                                                                                                                                                   RN

                                                                                                                                                                                                                                                                                                                                                                                                                                                                                                                                                                                                             G
                                                                                                                                                                                                                                                                                                                                                                                                                                       B!
                                                                                                                                                                                                                                                                                      BRIARPARK

                                                                                                                                                                                                                                                                                                                                                                                 I                              !3.25Mason&Park B !      B                                                                                                                                                             SO ETT
                                                                                                                                                                                                                                                                                                                                                                                                                                                                                                                                                                                                                                                                                                                                                                                                                                                                                                                                                                                                                                                                                              N

                                                                                                                                                                                                                                                                                                                                                                  B!                                            B
                                                                                                                                                                                                                                                                                                                                                                                                            N. Braeswood
                                                                                                                                                                                                                                                                                                                                                                                                                                  !!
                                                                                                                                                                                                                                                                                                                                                                                                                                                                                                                                                                                                                                                GES SNE R
                                                                                                                                                                                                                                                                                                                                                                                                                                                                                                                                                                FA

                                                                                                                                                                                                                                                                                                               Reference: PJ21599                                                                                                   B!
                                                                                                                                                                                                                                                                                                                                                                                                                                                                                                                                                                                                                                                                                                                                                                                                                                                                                                                                                                                                                                                  ISH
                                                                                                                                                                                                                                                                                                                                                                 !
                                                                                                                                                                                                                                                                                                                                                                                                                                                                                                                                                                                                                                                                                                                                                                                                                                                                                                                                                                                                                                                                                         HOU

                                                                                                                                                                                                                                                                                                                                                                                           B
                                                                                                                                                                                                                                                                                                                                                                                                                                               !
                                                                                                                                                                                                                                                                                                                                                                                                                                                                                                                                                                                                                        CORPORATE
                                                                                                                                                                                                                                                                                                                                                                                                                                                                                                         NEWCAS TLE

                                                                                                                                                                                                                                                                                                                                                                                                                                                                                                                                                                                                                                                                                                                     E                                                                                                                                                                                                                                                                                                                OL D SPAN E T
                                                                                                                                                                                                                                                                                                                                                                                                                                       B        B                                                                                                                                                      B I NU T H                                                                                          BE LL AIR
                                                                                                                                                                                                                                                                                                                                                                               !                                                                        9
                                                                                                                                                                                                                                                                                                                                                                                                                                                                                                                                                                                                                                                                                                                                                          RENWIC K
                                                                                                                                                                                                                                                                                                                                                                                                                                                                       RICE

                                                                                                                                                                                                                                                                                                                                                                                !
                                                                                                                                                                                                                                                                                                                                                                                BB      B!                          MilesBus
                                                                                                                                                                                                                                                                                                                                                                                                                                                                                                                                WESLAYAN

                                                                                                                                                                                                                                                                                                          WESTPAR
                                                                                                                                                                                                                                                                                                                  K
                                                                                                                                                                                                                                                                                                                                                           B!B! B ! B
                                                                                                                                                                                                                                                                                                                                                                    B            ! !BB !
                                                                                                                                                                                                                                                                                                                                                                                   B!
                                                                                                                                                                                                                                                                                                                                                                                          !
                                                                                                                                                                                                                                                                                                                                                                                            B WE ST PA RK
                                                                                                                                                                                                                                                                                                                                                                                                 !       Kirby METRO
                                                                                                                                                                                                                                                                                                                                                                                                  B Houston Complete Streets    Annual!BReport                                                                                                                                                              Z MO                                                                                                                                                                                                                                      LAWN DA LE
                                                                                                                                                                                                                                                                                                                                                                                                                                                                                                                                                                                                                                                                                                                                                                                                                                                                                                                                                                                                                                      YELL SON
                                                                                                                                                                                                                                                                                                                                                                                                                                                                                                                                                                                                                                                                                                                                                                                                                                                                                                                                                                                                                                                   N
                                                                                                                                                                                                                                                                                                                                                                                                                                                                                                                                                                                                                                                                                                                                                                                                                                                                                                                                                                                                                                                                                                                                        GRI
                                                                                                                                                                                                                                                                                                                                                                                                                                                                                                                                                                                                                                                                                                                                                                                                                                                                                                                                                                                                                                                                                                                                                    GG
                                                                                                                                                                                                                                                                                                                                                                                                                                                                                                                                                                                                                                                                                                                                                                                                                                                                                             L

                                                                                                                                                                                                                                                                                                                                                                                                                                                                                                                                                                                                                                                                                                                                                                                                                                                                                                                                                                                                                                                                                    CAL

                                                                                                                                                                                                                                                                                                                                                     !     !                               BB
                                                                                                                                                                                                                                                                                                                                                                                                                              !
                                                                                                                                                                                                                                                                                                                                                                                                                                                                                                                                                                                                                                                                                                                                                                                                                                                                                                                                                                                                                                                                                       FONDR EN

                                                                                                                                                                                                                                                                                                                                                                                                                                                                                                                                                                                                                  R
                                                                                                                                                                                                                                                                                                                                                                                                                              B
                                                                                                                                                                                                                                                                                                                                                                                                                                                                                                                                                                                                                                                                                                                                                                                                                                                                                        CE NT RA

                                                                                                                                                                                                                                                                                                                                                      B
                        Source: COHGIS                                                                                                                                                                                                                                                                                                                           !                         !                                       !              5                                                                                                                                                                                                                          E                                                                                                                                                                                                                                                                                                                                                             I SW S T
                                                                                                                                                                                                                                                                                                                                                                                                                                                                                                                                                                                                                                                                                                                                                                                                                                                                                                                                                                                                                                          BO
                                                                                                                                                                                                                                          WILCR EST

                                                                                                                                                                                                                                                                                                                                                                                                                                    B
                                                                                                                                                                                                                                                                                                                                                            B!
                                                                                                                                                                                                                                                                                                                                                                  B
                                                                                                                                                                                                                                                                                                                                                                                                                                          BH 2 2
                                                                                                                                                                                                                                                                                                                                                                                                                                                                                                                                                                                                                                                                                                                                                                                                                                       EV ER GR EE VE IL LE

                                                                                                                                                                                                                                                                                                                                                              B
                                                                                                                                                                                                                                                                                                                                                                                                                                                                                                                                                                                                                                                                                                                                                                                                                                                                                                                                                                                                                                                                                                                    HILL CROF T

                                                                                                                                                                                                                                                                                                                                                                                                                                                                FOURN ACE
                                                                                                                                                                                                                                                                                                                                                     ! !
                                                                                                                                                                                                                                                                                                                                                      BBB!B!                                                               GULFT ON
                                                                                                                                                                                                                                                                                                                                                                                                                                         !                                                                                                                                                                                                                                                                                                                           WH                                                                                                                                                                                                                                                                             ONE
                                                                                                                                                                                                                                                                                                                                                                                                                                                                                                                                                                                                                                                                                                                                                                                                                                                              BROA DWAY

                                                                                                                                                                                                                                                                                                                                                      !      !
                                                                                                                                                                                                                                                                                                                                                                                                                                                                                                                                                                                                                                                                                                                                                                                                                                                                                                                                                                                                                                                                                                                                                  PRESTON

                                                                                                                                                                                                                                                          HARWIN                                                                                              B                                                                          S
                                                                                                                                                                                                                                                                                                                                                                                                                                        !                                                                                                                                                                                                                                                                                                                                        EEL
                                                                                                                                                                                                                                                                                                                                                                                                                                                                                                                                                                      BOO NE

                                                                                                                                                                                                                                                                                                                                                                                                                                                                                                                                                                                                                                                                                                                                                                                                                                                                                                                                                                                                                                                    D
                        Date: Feb 2021                                                                                                                                                                                                                     TO W N PA
                                                                                                                                                                                                                                                                     RK
                                                                                                                                                                                                                                                                                                                                                           !B!
                                                                                                                                                                                                                                                                                                                                                            B  !B
                                                                                                                                                                                                                                                                                                                                                             BB !                           !B
                                                                                                                                                                                                                                                                                                                                                                                                                       !S. Braeswood
                                                                                                                                                                                                                                                                                                                                                                                                                        B                B                                                                                                                                                                                                                          MACG REGO R
                                                                                                                                                                                                                                                                                                                                                                                                                                                                                                                                                                                                                                                                      BEECHNUT                                                                                                                  ER
                                                                                                                                                                                                                                                                                                                                                                                                                                                                                                                                                                                                                                                                                                                                                                                                                                                                                                                                                                                                                                      BRAE
                                                                                                                                                                                                                                                                                                                                                                                                                                                                                                                                                                                                                                                                                                                                                                                                                                                                                                                                                                                                                                           SW  O  O

                                                                                                                                                                                                                                                                                                                I 0
                                                                                                                                                                                                                                                                                                                                                                      B
                                                                                                                                                                                                                                                                                                                                                                                                                                                    CHIMN EY ROCK

                                                                                                                                                                                                                                                                                                                                         3.25
                                                                                                                                                                                                                                                                                                                                                          B !B! !
                                                                                                                                                                                                                                                                                                                                                                                                                                                                                                                                                                                                                                                                                                                                                                                                                            GE

                                                                                                                                                                                                                                                                                                                                                                                                                                                                                                                                                                                                                                                                                                                                                                                                                                                                                                                                                                                                                                                                                                               D
                                                                                                                                                                                                                                                                                                                                                                                                                                                                                                                                                                                                                                                                                                                 N

                                                                                                                                                                                                                                                                                                                                    N. Braeswood  &          B
                                                                                                                                                                                                                                                                                                                                                         !
                                                                                                                                                                                                                                                                                                                     GES SNE R

                                                                                                                                                                                                                                                                                                                                                                                                                                                                                                                                                                                                                                                                               ISHT
                                                                                                                                                                                                                                                                                                                                                                                                                                                                                                                                                                                                                                                                                                                                                                                                                                                                                                                                                                                                                                                                                                         AN

                        Reference: PJ21599                                                                                                                                                                                                                                                                                                                 B!
                                                                                                                                                                                                                                                                                                                                                                                                                                                                                                                                                                                                                                                                                                            HOU
                                                                                                                                                                                                                                                                                 CORPORATE

                                                                                                                                                                                                                                                                                                                                                                                                                       E                                                                                                                                                                                                                                      OL D SPANN N E
                                                                                                                                                                                                                                                                                                                                                                                                                                                                                                                                                                                                                                                                                                                                                                                                                                                                                                                                                                                                                                                                                                                           MA RT IN

                                                                                                                                                                                                                                                                                                                                            Miles
                                                                                                                                                                                                                                                                                                                                                                                                                                                                                                                                                                                                                                                                                                                                                                                                                         ID

                                                                                                                                                                                                                                                                                                                                                                                                                                                                                                                                                                                                                                                                                                                                                                                                                                                                                                                                                                                                                                          HARRIS
                                                                                                                                                                                                                                                                                                                                                           !          B                    BE LL AIR                                                                                                                                                                                                                                                                                                                                                                                                                                                                                                                                                                                                                                   CREE KBEN D
                                                                                                                                                                                                                                                                                                                                                                                                                                                                                                                                                                                                                                                                                                                                                                                                                                                 RE
                                                                                                                                                                                                                                                                                                                                                                                                                                   RENWIC K

                                                                                                                                                                                                                                                                                                                                                                                                                                                                                                                                                                                                                                                                                                                                                                           S
                                                                                                                                                                                                                                                                                                                                                                                                                                                                                                                                                                                                                                                                                                                                                                                                                                                                                                                                                                                                                                                                                                                                                 CREST MONT

                                                                                                                                                                                                                                                                                                                                                                                                                          & Linkmeadow                                                                                                                                                                                                                                                                                                                          GG
                                                                                                                                                                                                                                                                                                                                                                                                                                                                                                                                                                                                                                                                                                                                                                                                                   DR

                                                                                                                                                                                                                                                                                                                                                                                                                                                                                                                                                                                                                                                                                                                                                                                                                                                                                                                                                                                                                                                                                                   GR
                                                                                                                                                                                                                                                                                                                                                                                                                                                                                                                                                                                                                                                                                                                                                                                                                                                                     STELLA LINK

                                                                                                                                                                                                                                                                                                                                  Kirby METRO Bus                                                                                                                                                                                                                                                                                                                            O
                                                                                                                                                                                                                                                                                                                                                                                                                                                                                                                                                                                                                                                                                                                                                                                                                                                                                                                                                                                                                                   RICHEY
                                                                                                                                                                                                                                                                                                                                                                                                                                                                                                                                                                                                                                                                                                                                                                                                                                                  N

                                                                                                                                                                                                                                                                                                                                                             !
                                                                                                                                                                                                                                                                                                                                                                                                                                                                                                                                                                                                                                                                                                                                                                                                                                                                                                                                                                  8

                                                                                                                                                                                                                                                                                                                                                                                                                                                                                                                                                                                                                                                                                                                                                                                                                                                                                                                                                                                                                                                                                                                                      SOUTH

                                                                                                                                                                                                                                                                                                                                                                                                                                                                                                                                                                                                                                                                                                                                                    GRI
                                                                                                                                                                                                                                                                                                                                                                                                                                                                                                                                                                                                                                                                                                           FONDR EN

                                                                                                                                                                                                                                                                                                                                                             B                                                                                                                                                                                                                                                                                                Y E L LB I S S
                                                                                                                                                                                                                                                                                                                                                                                                                                                                                                                                                                                                                                                                                                                                                                                                                                                                                                                                                                                                                                   SCOTT

                                                                                                                                                                                                                                                                                                                                                                                                                                                                                                                                                                                                                                                                                                                                                                                                                                                                                             E                                                                                                                                                                                                                                                         RE
                                                                                                                                                                                                                                                                                                                                                    ! !B !B!B
                                                                                                                                                                                                                                                                                                                                                                                                                                                                                                                                                                                                                                                                                                         CAL

                                                                                                                                                                                                                                                                                                                                                                                                                                                                                                                                                                                                                                                                                                                                                                                                                OO

                                                                                                                                                                                                                                                                                                                                                     B                                                                                                                                                                                                                                                                                                                                                                                                                                                                                                                                  AC
                                                                                                                                                                                                                                                                                                                                                                                                                                                                                                                                                                                                                                                                                                                                                                                                                                                                                                                                                            SH 28
                                                                                                                                                                                                                                                                                                                                                                                                                                                                                                                                                                                                                                                                                                                                     HILL CROF T

                                                                                                                                                                                                                                                                                                                                                                                                                                                                                                                                                                                                                                                                      OWS                                                                                                    LON
                                                                                                                                                                                                                                                                                                                                                                                                                          METRO Bus                                                                                                                                                                                                                                            T ODN                                                                                                                                                                                               PL
                                                                                                                                                                                                                                                                                                                                                                                                                                                                                                                                                                                                                                                                                                                                                                                                          W

                                                                                                                                                                                                                                                                                                                                                                                                                                                                                                                                                                                                                                                                                                                                                                                             G                                                RT
                                                                                                                                                                                                                                                                                                                                                                                                                                                                                                                                                                                                                                                                       SWOO E                                                                                                                                      BE LL FO                                                                          D
                                                                                                                                                                                                                                                                                                                                                                                                                                                                                                                                                                                                                                                                                                                                                                                                                                                                          RK
                                                                                                                                                                                                                                                                                                                                                                                                                                                                                                                                                                                                                                                                                                                                                                                                                                                                                                                                                                                                                                                                                          D
                                                                                                                                                                                                                                     BOO NE

                                                                                                                                                                                                                                                                                                                                                                                                                                                                                                                                                                                                                                                                                                                                                                                                                                                                                                                                                                                                                                                                                                                                    LU TH ER

                                                                                                                                                                                                                                                                                                                                               !S. Braeswood  BEECHNUT                                                                                                                                                                                                                                                                                        BRAE                                                                                                                                                                                                                                AR
                                                                                                                                                                                                                                                                                                                                                                                                                                                                                                                                                                                                                                                                                                                                                                                                                                                                                                                                                                                                                                                                                      JU TL AN

                                                                                                                                                                                                                                                                                                                                                B                                                                                                                                                                                                                                                                                                                                                                                                                                                                                                                    PA                         W S ALL END ALE                                                                                                                                                                                             PASADENA
                                                                                                                                                                                                                                                                                                                                                                                                                                                                                                                                                                                                                                                                                                                                                                                                                                                                                                                        AN NI N

                                                              0                                                                                          3.25                                                                                                                                                                                                                                                                                                                                                                                                                                                                                                                                                                                                               WIL LOW BEN D                                                                                                   H OM E
                                                                                                                                                                                                                                                                                                                                                                                 NE
                                                                                                                                                                                                                                                                                                                                                                                       T                                                                                                                                                                                                                                                                             CREE KBEN D                                                                                                 D IX IE                                                                                                  HOL                                                                                                                                                              PAUL INE
                                                                                                                                                                                                                                                                                                                                                                                                                                                                                                                                                                                                                                                                                                                                              MA R

                                                                                                                                                            Miles                                                                                                                                                                                                                                                                                                                                                                                                                                                                                                                                                                                                                                                                                                                                                                                                                                                                           S
                                                                                                                                                                                                                                                                                                                                                                                                                                                                                                                                                                                                                                                                                                                                                           CR

                                                                                                                                                                                                                                                                                                                                                                                                                                                                                                                                                                                                                                                                                                                                                                                                                                                                                         KI
                                                                                                                                                                                                                                                                                                                                                                                                                                                                                                                                    ST
                                                                                                                                                                                                                                                                                                                                                                                           F

                                                                                                                                                                                                                                                                                                                                                                                                                                                                                                                                                                                                                                                                                                                                                                                                                                                                                                                                                                                                                                                                                                                                             K
APPENDIX A: YEAR IN FULL
     The following actions were accomplished within the reporting period. Each action individually contributes
     to the collective standards that guide and direct the Complete Streets initiative.

     Vision Zero Houston: Vision Zero is Houston's commitment              who are mostly minority, experiencing poverty, lacking
     to eliminate traffic deaths and serious injuries by 2030, while       access to transportation, and living with older adults, young
     ensuring safe, healthy, and equitable mobility for all. On            children or persons with a disability.
     December 16, 2020, Mayor Turner unveiled the city's new             • One-third of traffic deaths involve a pedestrian even though
     Vision Zero Action Plan. The City's Vision Zero Implementation        less than 2% of residents walk to work.
     Group, led by PD, immediately put the plan into action.
                                                                         To open the dialogue about Vision Zero in the community,
     More than 200 people die and nearly 1,000 people are                the city's team of transportation planners hosted virtual open
     seriously injured in crashes on Houston roadways every year.        houses and socially-distanced outreach at transit centers, and
     That means someone in Houston dies in a crash every other           launched an interactive community engagement platform
     day and three people experience life-altering injuries each day.    over the course of the summer and fall 2020. Nearly 1,500
                                                                         Houstonians used our interactive map to drop a pin on
     Based on five years of crash data, the VZAP focuses safety          streets and intersections where they have a traffic safety
     improvements on streets that have the highest density of            concern. The plan identifies 50 actions, with 13 priority
     traffic deaths and serious injuries, known as the High Injury       actions that will be the first for implementation. Priority
     Network, and in communities that are more vulnerable to             actions include redesigning 10 high injury traffic locations and
     both natural and man-made crises. Research shows that:              implementing construction within the following fiscal year. We
     • Nearly 60% of traffic deaths and serious injuries occur on       also plan to construct at least 50 miles of sidewalks and 25
       only 6% of our streets.                                           miles of high-comfort bicycle facilities each year.
     • Of those 6% of streets, 52% are in vulnerable communities

10   HOUSTON COMPLETE STREETS ANNUAL REPORT
APPENDIX A: YEAR IN FULL

Houston Bike Plan (HBP): The Houston Bike Plan began as a
12-month planning effort to help make Houston a safer, more bike-
friendly city. The plan was formally adopted by City Council in March of
2017 and memorialized in Chapter 33 of the City Code of Ordinances.
The HBP is a collaborative effort led by PD, HPW, Harris County,
Houston Parks Board, and METRO to help improve safety, accessibility,
ridership, and maintenance of bicycle facilities. The HBP includes an
updated Houston Bike Plan map that lists almost 1,800 miles of high-
comfort bikeways that are existing, planned, programmed, or proposed
for the City of Houston. The City of Houston and its partners completed
about 13 miles of high-comfort bicycle facilities in 2020, with another
47 miles in design and construction. For more information, please visit
https://houstonbikeplan.org.

Bike Share Expansion: Houston BCycle is the City's bike share
program that fosters mobility, health, and recreation, by providing
on-demand bicycle stations throughout multiple neighborhoods. PD
and the city's bike share operator, Houston Bike Share, continued
to implement a $3.7 million grant to purchase and install 71 bike
                                                                             Austin Street bike lane
stations, 568 bicycles, and 2 transport vehicles secured through
H-GAC's 2015 Transportation Improvement Program (TIP). Houston
BCycle now maintains more than 1,000 bicycles, including 100 electric
bikes and 125 stations. Thirteen new stations were installed this
year: one at Austin and Gray, Westheimer and Dunlavy, Quitman and
Main, Telephone & Eddington, Mason Park, Dallas & St. Emanuel, N.
Braeswood and Kirby, S. Braeswood and Linkmeadow, Levy Park, Lyons
and Waco, and three stations at Alexander Deussen Park. The Houston
BCycle program is operated by Houston Bike Share and supported via
the partnership between PD, HPW, and Harris County.

City-County Bikeway Partnership: Mayor Sylvester Turner and Harris
                                                                                           125 BIKE STATIONS
County Precinct 1 Commissioner Rodney Ellis established a City-County
partnership to connect neighborhoods with destinations and improve
bicycle safety through rapid implementation of the Houston Bike Plan.
PD, supported by HPW, is leading the effort to identify neighborhood
networks, determine feasibility of selected routes, and continue the
active construction of high-comfort bike lanes in the City's right-of-way.

Bike to Work/Wherever Day: Bike to Work Day is a national event that                     100 ELECTRIC BIKES
traditionally occurs on the third Friday in May. The event encourages
people to bike to work en masse and raises awareness of cyclists
throughout the wider community. This year, PD held Bike to Wherever
Day, as the pandemic was the catalyst for most workers working from
home instead of commuting to the office.

Bicycle Advisory Committee (BAC): The BAC advises and makes
recommendations to the Planning Commission and the Planning
                                                                                                 1,000+ BIKES
Director on bicycling issues in Houston. These recommendations
include, but are not limited to, amendments to the Bike Plan, bicycle

                                                                                                           Houston Complete Streets Annual Report   11
APPENDIX A: YEAR IN FULL

     safety and education strategies for funding projects,
     and promoting public participation in bicycling. The
     BAC, facilitated by PD, has formed two subcommittees:
     Infrastructure and Education. These subcommittees meet in
     alternating months and assist the BAC with recommendations
     for bicycle related concerns. For more information on the
     BAC, please visit https://houstonbikeplan.org.

     No Parking in the Bike Lane: City Council approved the
     No Parking in the Bike Lane Ordinance to prohibit on-street
     parking of motor vehicles where striping and physical barriers
     designate the street space for the exclusive use of bicycles.
     The ordinance will ensure that cyclists don't have to swerve
     into the path of moving vehicles to avoid vehicles parked in
     designated bike lanes. Once the ordinance went into effect,
     Park Houston issued warnings and educational flyers for
     the first 90 days. Offenders will now receive a $100 fine on
     the first offense, but will have the option to take an online
     Bicycle Friendly Driver Training Class in lieu of the fine. City
     Council's approval of the No Parking in the Bicycle Lane
     Ordinance supports the Houston Bike Plan, protects the City's
     investment in the bikeway infrastructure, and supports the
     City's Vision Zero goal to eliminate traffic deaths and serious
     injuries by 2030. Details about the administration of the
     ordinance can be found here: http://www.houstontx.gov/
     parking/bike-lanes.html.

     North Houston Highway Improvement Project (NHHIP):
     The NHHIP is a TxDOT-planned reconstruction of I-45
     and adjacent freeways from Beltway 8 to Downtown. This
     potentially transformative project will help chart a new
     course for transportation in the region, as it is the largest
     infrastructure project of this generation.
     • Bridge Design: PD and HPW coordinated with TxDOT on
       the design of bridges and underpasses in the proposed
       NHHIP Segment 3 to ensure safe, comfortable space for all
       road users. As a result, each bridge will have a minimum 17'
       pedestrian realm on each side of the bridge where bike lanes
       are planned and a minimum 12' pedestrian realm on each
       side where there are no bike lanes. This design will serve as
       a template for bridges on Segments 1 and 2 of the project,
       as well as reconstruction of other bridges in the future.
     • PD Community Engagement: PD led community
        engagement supported by HPW, Harris County, and other           Source: TxDOT

        partners. The engagement consisted of five Facilitation
        Group meetings with stakeholders and subject-matter
        experts, three public outreach meetings on TxDOT's FEIS,
        three public engagement meetings on alternative designs,
        and an online survey. PD also prepared a letter to the Texas
        Transportation Commissioner and the City's response to
        the FEIS. For more information, please visit http://www.
        houstontx.gov/planning/nhhip.

12   HOUSTON COMPLETE STREETS ANNUAL REPORT
APPENDIX A: YEAR IN FULL

Citizen-reported potholes filled by next business day (from 311 reports).

          98%                       96%                          100%                              99.8%                                 100%

         2016                      2017                          2018                              2019                                   2020
                                                                                                                       Source: https://houstonpotholes.org/

Pothole Tracking Website: HPW began leading the pothole
initiative in 2016 and has been progressively expanding the
                                                                        Proactively filled pothole work
program. Accordingly, the City has broadened its definition             orders and citizen-reported
of a pothole from 4 square feet or smaller, to 5 feet across
or up to 25 square feet. The creation of the Houston
                                                                        pothole cases (from 311 reports).
Potholes website by HPW aids with tracking and logging the
information reported by our citizens to help make our streets           100000
safer. More information can be found on the website at www.
houstonpotholes.org.
                                                                          80000
Shepherd and Durham Major Investment Project: The
City partnered with Memorial Heights Redevelopment
Authority on the Shepherd and Durham Major Investment
                                                                          60000
Project. Once the reconfiguration is completed, Shepherd
and Durham Drives will include three vehicle travel lanes,
protected bike lanes, and improved pedestrian facilities. This
                                                                          40000
new design will help reduce crash rates and facilitate better
crossing movements for all road users.

                                                                          20000

                                                                                0
                                                                                      2016            2017             2018        2019           2020

                                                                                         Potholes Proactively Filled       Potholes Filled From Reports to 311

                                                                        Source: https://houstonpotholes.org/

                                                                                                                        Houston Complete Streets Annual Report   13
APPENDIX A: YEAR IN FULL

     Traffic Signal Retiming: Traffic signal retiming is a cost-
     effective way to improve traffic flow and roadway safety. The
     City operates and maintains 2,499 signals; approximately 800
     signals were retimed in 2020. Led by HPW, this effort helps to
     improve the City's traffic signal performance by maintaining
     the progression and coordination of corridors. This concerted
     effort helps to reduce travel delays, decrease crash rates, and
     decrease air pollution from vehicle emissions.

     Update to the Infrastructure Design Manual (IDM),
     Chapters 10 and 17: The City of Houston's IDM Chapter 10
     was updated with revised definitions to better align with the
     City's Major Thoroughfare and Freeway Plan (MTFP). The
     Chapter 10 updates also included a reduction in lane widths
     to a 10ft standard within Loop 610 (optional outside of Loop      Fulton Street at Deerfield Street
     610). This small, but significant modification will encourage
     safer vehicle travel. Other Chapter 10 updates included
     lowering the corner radius of residential streets to 15ft. This
     lower corner radius design will encourage slower vehicle
                                                                                       HOUSTON TRAFFIC SIGNALS

                                                                                       2,499
     speeds and help reduce pedestrian crossing distances.
     Chapter 10's new design criteria also included wider usage
     of roundabouts as a traffic device to further encourage
     traffic calming on the City's right of way. Chapter 17 of the
     IDM was revised to better meet the requirements of the
     newly implemented Walkable Places and Transit-Oriented
                                                                                      TRAFFIC SIGNALS RETIMED IN 2020

                                                                                       800
     Development Ordinance. As a result, Chapter 17 has new
     information on pedestrian design requirements to help build
     better communities.

                                                                                       PORTION OF SIGNALS RETIMED IN 2020

                                                                                       32%

14   HOUSTON COMPLETE STREETS ANNUAL REPORT
APPENDIX A: YEAR IN FULL

Highway Safety Improvement Program (HSIP): The HSIP
provides funding for construction and operational safety
improvements for locations on and off the state highway
system. HSIP is administered by the Texas Department of
Transportation (TxDOT), Unified Transportation Program
(UTP). The HSIP grant funds are federally funded, and
program funds are eligible to cover 90% of project
construction costs. The remaining 10% of project construction
costs are covered by state or local participation. HPW led the
effort by requesting approximately $8 million in HSIP funding
for 16 sites, four of which were in Complete Communities,                                                           DASHWOOD DR
a project led by PD's Community and Regional Planning
Division. TxDOT will announce the projects that have been
selected to receive HSIP funds in the fall of 2021.

Sidewalks: The sidewalk program, led by HPW, is a
collaboration of multiple partners, including PD and the          Proposed traffic signals at Dashwood Drive

Mayor's Office for People with Disabilities (MOPD). This
program improves pedestrian safety by adding new
sidewalks and ramps along streets leading to schools and
along major thoroughfares. The Planning and Development                        PROPOSED TRAFFIC SIGNAL AT DASHWOOD DRIVE
Department reviews sidewalk widths and applications for
sidewalk modifications within the city limits of Houston. For
more information on this program, please visit https://www.
publicworks.houstontx.gov/sidewalk-program.

High Speed Rail (HSR): The Houston-Dallas high-speed rail
line, scheduled to open in 2026, will be built by Texas Central
and is projected to attract about 6 million riders annually by
2029. For more information on HSR, please visit https://www.
hsrail.org/texas.

                                                                  Main and Preston, downtown (Source: www.visithoustontexas.com)

                                                                                                               Houston Complete Streets Annual Report   15
APPENDIX A: YEAR IN FULL

     Walkable Places and Transit-Oriented Development
     Ordinance: The Walkable Places Ordinance promotes higher
     density mixed-use development by creating more vibrant,
     walkable streets. The ordinance encourages the designation
     of walkable places in appropriate areas in the City and
     allows property owners to initiate amendments to the plan.
     Additionally, the ordinance amends the existing Transit-
     Oriented Development (TOD) rules, provides a more walkable
     environment for streets near transit stations, and encourages
     greater and better use of transit. PD partnered with HPW and
     provided research that enabled City Council to unanimously
     approve the ordinance. Information on the Walkable
     Places and TOD Ordinance can be found here: http://www.
     houstontx.gov/planning/wp-committee.html.

     Livable Places and Parking Standards Analysis: The Livable
     Places Initiative continues PD's effort to update portions of
     Houston's development codes to create more opportunities
     for walkability, affordability, and equity. The Livable Places
     initiative follows the Walkable Places and Transit-Oriented
     Development Ordinance Committee's work. The Action
     Committee focuses on rules that encourage the development
     and preservation of affordable, quality housing for all. It
     also focuses on creating opportunities for increased infill
     development that will strengthen Houston's core, encourage
     use of multimodal transportation options, improve safety,
     and preserve great neighborhoods. For more information
     on Livable Places, visit http://www.houstontx.gov/planning/
     livableplaces.html.

16   HOUSTON COMPLETE STREETS ANNUAL REPORT
APPENDIX A: YEAR IN FULL

Resilient Houston: Resilient Houston is a framework for
collective action strategies led by the Mayor's Office. It is a
strategy that links Houston's existing efforts with new efforts
to help protect the City against future disasters. The Resilient
Houston plan proactively provides strategies that address
chronic stressors that make recovery from emergency impacts

                                                                                                                                             Source: Trong Nguyen / Shutterstock.com
extremely challenging. This plan will help to strengthen the
capabilities of neighborhoods, communities, and the region
to not only withstand, but also to quickly recover from acute
physical and socio-economic stressors that unexpectedly impact
the Houston area. PD's actions that support Resilient Houston
include:
• Drafting Vision Zero Action Plan
• Expanding Houston BCycle Bike Share Program
• Adding bike lanes to the City's infrastructure
• Establishing Livable Places Action Committee
• Approving the Walkable Places and TOD Ordinance
                                                                   For more information on Resilient Houston and its strategies,
• Implementing sidewalk construction in Complete
                                                                   please visit http://www.houstontx.gov/mayor/chief-resilience-
  Communities areas
                                                                   officer.html.
•Utilizing an AARP Grant for tactical urbanism in the
  Gulfton area
• Supporting H-GAC funding for Shepherd and Durham
  Drives reconstruction

                                                                                                    Houston Complete Streets Annual Report                                             17
APPENDIX A: YEAR IN FULL

     Livable Center Studies: H-GAC's Livable Centers Program
     helps local communities create walkable, mixed-use areas
     called livable centers. Livable centers, with a mixture of
     dense residential and employment land uses, support more
     trips by foot, bicycle, transit, or carpool. PD and HPW staff
     represent the City in studies led by H-GAC and other non-City
     entities. These studies help to identify future land use and
     infrastructure investments.
     • The North Houston/Greenspoint Livable Centers Planning
       Study was completed in March. The study focused on the
       area bounded by East Hardy Road to the east, Rankin Road
       to the north, Interstate 45 to the west, and Beltway 8 the
       south. The study area included Greenspoint Mall and multi-
       family neighborhoods along Greens Road and Imperial
       Valley Drive. The focus of the study was to help foster
       multimodal access, connectivity, and a mix of land uses that
       would provide diversity in housing options and a sense of
       place. The results included new context-sensitive design       North Houston District/ Greenspoint Livable Centers Study Area

       standards for the Greenspoint community (now designated
       as the North Houston District).
     • The Montrose Livable Center Planning Study began late
       in 2020 and is ongoing. The study area is southwest of
       downtown and is bound by West Dallas Street to the north,
       Spur 527 to the east, Interstate Highway 69/US 59 to the
       south, and South Shepherd Drive to the west. The study is
       community driven and focuses on improving pedestrian
       and bike infrastructure, greenspace amenities, housing and
       economic development, access to transit, connectivity, and
       enhancing mobility in the area.

18   HOUSTON COMPLETE STREETS ANNUAL REPORT
APPENDIX A: YEAR IN FULL

• Southwest Livable Centers Planning Study is scheduled to begin in April of 2021. The project study area is located south of Loop
  610, bordered on the north by Main Street, to the south by McHard Road, to the east by Almeda Road and the west by Fondren
  Road. The planning study will focus on opportunities for development and redevelopment, strengthening accessibility to transit,
  and improving pedestrian and bicycle safety. PD led the coordination with the support of HPW and Houston Vice Mayor Pro Tem,
  Martha Castex-Tatum, District K's Council Member, to establish funding prior to the implementation of the study. Currently, PD is
  working closely with HPW, H-GAC, and Council District K to determine the scope of the project.

                             Harris County

                                                                              Sources: Esri, HERE, Garmin, FAO, NOAA, USGS, © OpenStreetMap

                                       Fort Bend County                                               contributors, and the GIS User Community

               Southwest Livable Center Study
                    Study Boundary
                    Single-Family Residential
                                                Park & Open Spaces
                                                Transportation & Utility
                                                Undeveloped
                                                                                                     ±       0          0.5            1
                                                                                                                                        Miles
                                                                                                   This map is made available for reference purposes
                                                                                                   only and should not be substituted for a survey
                    Multi-Family Residential                                                       product. The City of Houston will not accept
                    Commercial                  Agriculture Production                             liability of any kind in conjunction with its use.
                    Office                      Unknown
                    Public & Institutional      County Boundary
                    Industrial                                             Source: ESRI, COHGIS
                                                                           Date: February 2021

                                                                                                                            Houston Complete Streets Annual Report   19
APPENDIX A: YEAR IN FULL

     Sub-regional Mobility Studies: Sub-regional Mobility Studies    portion of Harris County serves a growing amount of
     are led by H-GAC, and help to achieve locally conceived         commuter, residential, and industrial traffic. This study will
     transportation goals through long-range planning and definite   identify and propose solutions to address safety, multimodal
     implementation strategies. The purpose of a sub-regional        transportation needs in the subregion, and help to facilitate
     mobility study is to identify recommendations to improve        the flow of truck traffic while providing mobility solutions
     mobility, safety, and access to jobs, homes, and services.      for residents. Representatives from PD and HPW will serve
     		                                                              as stakeholders to help integrate future goals for mobility,
     The Southeast Harris County Sub-regional Study began in         safety, and economic opportunity.
     November and is currently in progress. The southeastern

     Southeast Harris County Subregional Study Area   Study Area

20   HOUSTON COMPLETE STREETS ANNUAL REPORT
APPENDIX A: YEAR IN FULL

Major Thoroughfare and Freeway Plan (MTFP): The                                                         Southeast Mobility Plan and 56 for the Downtown/Midtown
MTFP is an integral tool in providing access and mobility for                                           area. Four amendments were withdrawn by applicants from
Houstonians. It provides a visual map to Houston's existing                                             the private sector. On September 30, 2020, the Planning
and proposed road network, guiding development in the City                                              Commission approved 115 MTFP amendments.
and its extra-territorial jurisdictions. PD leads and administers
the annual public review process for amending the MTFP,                                                 Revisit the Major Thoroughfare and Freeway Plan (MTFP):
which includes multiple opportunities for soliciting and                                                Staff from PD, HPW, Legal, and the Mayor's Office assessed
incorporating public comments. This annual collaborative                                                the current MTFP amendment process in reaching the City's
effort is supported by HPW, Harris County, Harris County                                                goals for mobility. Recommendations include clarifying the
Flood Control District, METRO, and other partners. In 2020,                                             MTFP through a clear vision statement, clarifying the different
PD processed 119 proposed amendments to the plan, as                                                    roles of the MTFP for developed areas (network preservation)
submitted by both private and public-sector applicants.                                                 and undeveloped areas (network creation), and identifying
Eleven amendments were submitted by private sector                                                      considerations for evaluation of amendments. Revisiting the
applicants, four by public sector applicants, including one                                             MTFP is an ongoing process that will take time to implement,
from Harris County, one from Waller County, and two from                                                but will serve as a forward-thinking guide for planning and
the City of Houston. The City of Houston grouped their                                                  developing the City's mobility infrastructure.
amendments together, including 48 amendments from the                                                    

City of Houston                                                                                                                       E: Delete Russell Drive and

Major Thoroughfare and
                                                                       2020 MTFP Amendment Request
                                                                                               designate minor collectors.

Freeway Plan
2020
                                                                                             A: Realign Graceview Drive

                                                 B2: Reclassify Kermier Road to
Classification                                   MJ-2-100 and add Minor Collector
            Freeway/Tollyway

            TBW Freeway/Tollway

            Proposed Freeway/Tollway
                                                                                                                          H: Realign Valley Ranch Bend
            Major Thoroughfare
                                                                                                                          Drive and Reclassify to MJ-2-60
            TBW Major Thoroughfare

            Proposed Major Thoroughfare

            Major Collector                    D: Realign Mound Road
            TBW Major Collector

            Proposed Major Collector

            Transit Corridor Street

            TBW Transit Corridor Street

            Proposed Transit Corridor Street                                                                                                                               F: Realign Street A along Hurta
                                                                                                                                                                           Road
            Minor Collector                                                    I-2: Add Downtown-Midtown
                                                                               Report Recommendations
            TBW Minor Collector

            Proposed Minor Collector

            City of Houston ETJ

 Source: COHGIS
 Date: September 2020
 Reference: 2020 MTFP
                                                                                                                                                                             I-1: Add Southeast Mobility
                                                                                                                                                                             Plan recommendations

                                                                                                                                                     G: Realign South Wayside Drive

                                      I

                                                                                                                                                                    Houston Complete Streets Annual Report   21
APPENDIX A: YEAR IN FULL

                                                                                                                                     Source: Kelci Wallace /https://www.unation.com/stuff-to-do/best-of-midtown-houston/
     Montrose/Midtown Connectivity: District C Council Member Abbie Kamin initiated a planning process to make traveling
     between Montrose and Midtown safer, easier, and more comfortable. PD facilitated a series of civic meetings and charrettes to
     develop potential improvements at 11 locations between the two neighborhoods, with six sites recommended for near-term
     improvements. This project will be used as the model for quick plan/build projects throughout the city.

22   HOUSTON COMPLETE STREETS ANNUAL REPORT
APPENDIX A: YEAR IN FULL

      COVID-19 Response

Rapid Response Mobility Task Force: At the onset of the                                                              More Space Initiatives: The More Space initiative allows
pandemic, PD organized the City's multiple efforts to connect                                                        any restaurant to convert up to 50% of its off-street parking
all people with needed services, especially supporting seniors,                                                      spaces to serve customers. The expanded outdoor dining
those without access to a private vehicle, people who are                                                            space is designed to enhance operations for restaurants and
homeless, and people with disabilities. The result was a                                                             allow Houstonians to patronize businesses while following
clear definition of services and eligible partners, as well as                                                       strict health and safety guidelines in accordance with
reduction of duplication of services and confusion of options                                                        COVID-19 safe distancing requirements. For information on
for the public.                                                                                                      the More Space Initiative, visit http://houstontx. gov/planning/
                                                                                                                     MoreSpace.html.

                                                                                                                     More Space: Main Street provided a tailored program for
                                                                                                                     restaurants and bars along Main Street with no dedicated
                                                                                                                     on-site parking. PD developed block-by-block designs to
                                                                                                                     close portions of Main Street to vehicle traffic and rededicate
                                                                                                                     that roadway space for businesses to serve customers. For
                                                                                                                     information on the More Space: Main Street program, visit
                                                                                 Courtesy of Phoenix on Westheimer

                                                                                                                     http://www.houstontx.gov/planning/MoreSpace-MainStreet.html.

The Phoenix on Westheimer was the first restaurant to expand dining space into
their parking lot as part of the More Space program.

                                                                                                                                                       Houston Complete Streets Annual Report   23
APPENDIX A: YEAR IN FULL

     Slow Streets Pilot Project: The Slow Streets pilot project        METRO Support and Coordination: METRO's BOOST targets
     was an effort to show that streets with lower vehicle volumes     17 high-ridership bus routes for enhancements, including
     and lower vehicle speeds will encourage more people to walk       but not limited to, new digital signage, bus shelters, bike
     and bike, especially connecting to neighborhood parks. The        racks, benches, better sidewalks and trail access. PD and
     Eastwood neighborhood was chosen as the first Slow Streets        HPW collaborated with METRO to help identify the routes
     pilot project based on community support and input from           and the appropriate treatments to improve those services.
     District I Council Member Robert Gallegos. This neighborhood      The 54-Scott and 56-Airline/Montrose bus routes were the
     has a history of higher vehicle speeds on smaller streets, and    first selected corridors to receive the BOOST improvements.
     a street grid providing drivers with alternate routing choices.   Construction for the 56-Airline/Montrose and design for the
     Lessons learned from this pilot project are being used to         54-Scott are each scheduled to start in 2021.
     develop a citywide program.
                                                                       METRO Bus Rapid Transit (BRT), is an expedited bus-based
                                                                       transit system that delivers fast, comfortable, and cost-
                                                                       effective services. PD and HPW partnered with METRO on
                                                                       the first BRT project in the City of Houston's right of way. The
                                                                       METRORapid Silver Line opened in August with dedicated bus
                                                                       lanes along Post Oak Boulevard connecting Uptown Houston
                                                                       to two major transit centers. The BRT stations will serve as
                                                                       pedestrian refuges providing a safer street design.

                                                                       METRO applied for Universal Accessibility Project (UAP)
                                                                       funding to help bring all bus stops to current Americans
                                                                       with Disabilities Act (ADA) funding standards. Universal

     Source: https://www.ridemetro.org/pages/

24   HOUSTON COMPLETE STREETS ANNUAL REPORT
APPENDIX A: YEAR IN FULL

Source: https://www.ridemetro.org/pages/

Accessibility is the guiding principal that METRO utilizes
to enhance the usability of its transit system for all persons,
to the greatest extent possible. In early 2020, H-GAC's
Transportation Policy Council approved $30 million for the
UAP via H-GAC's Transportation Improvement Program.
Through the UAP funding, METRO will make bus stops
ADA compliant by adding or replacing sidewalks, adding
new ramps, and extending the new ramps to the nearest
intersection.

PD and HPW are working closely with METRO to ensure
continued City coordination as project development and
implementation progresses. METRO is in the process of
reviewing projects and strategies within their five-year
Capital Improvement Program.                                      Source: https://www.ridemetro.org/pages/

                                                                  Source: Conchi Martinez / Shutterstock.com

                                                                                                               Houston Complete Streets Annual Report   25
APPENDIX B: SUPPORT FOR
     COMPLETE COMMUNITIES
      Complete Communities is Mayor Turner's initiative to create a more equitable and prosperous city so that all of Houston's resi-
      dents and business owners can have access to quality services and amenities. Complete Communities is a collaborative effort
      involving residents, community stakeholders, and all City of Houston departments. PD's Community and Regional planners
      completed action plans for 10 designated communities, and continue public engagement efforts.
      The action plans include actions that address mobility and accessibility improvements.

     Acres Home                                                          Gulfton
     • PD and HPW are studying a potential road diet for West            • HPW applied for TxDOT HSIP grant funds for several
       Little York Road from White Oak Bayou to Banjo Street, to be        locations in the area, including Gulfton Street at Royalton
       funded through the CIP. HPW applied for TxDOT HSIP grant            Street, Renwick Drive at Dashwood Drive, and Hillcroft
       funds for West Little York Road from TC Jester Boulevard            Street at Dashwood Drive. The notifications of receipt of
       to Wheatley Street. The notifications of receipt of the federal     the federal funds will be released in the fall of 2021. If the
       funds will be released in the fall of 2021. If the HSIP funds       HSIP funding is approved, the funding for Gulfton Street
       are approved, the funds will be used to implement a                 at Royalton Street and Hillcroft Street at Dashwood Drive
       road diet, converting the street from four lanes to three           would be used to upgrade traffic signals and add curb
       vehicle lanes.                                                      ramps, crosswalks, pavement markings, and signage.
                                                                           A roundabout would be added at Renwick Drive and
     Alief-Westwood                                                        Dashwood Drive.
     • HPW applied for TxDOT Program HSIP grant funds for                • The City is evaluating proposals for a sidewalk master plan
       Maplecrest Drive at Beechnut Street. The notifications of           in Gulfton, which will provide a citywide toolkit for resilient
       receipt of the federal funds will be released in the fall of        sidewalks. The Mayor's Office of Recovery and HPW will
       2021. If the HSIP funds are approved, the funds will be used        serve as the project managers for this effort. The sidewalk
       to improve crosswalks and curb ramps, add signage and               master plan is currently in the planning phase.
       pavement markings, and upgrade traffic signals.                   • PD, with the support of HPW, held a successful tactical
                                                                           urbanism project (pop-up bicycle lane) to determine the
     Fort Bend Houston                                                     feasibility of adding a bicycle lane on Westward Street,
     • West Fuqua Street and Chimney Rock Road is in the 60%               between Gulfton Street and Prestwood Drive. The event
       design phase of a CIP corridor reconstruction project, led          was well attended, and PD received positive input from
       by HPW. This project will include design and construction           the community.
       for concrete paving with storm drainage, curbs, sidewalks,        • The City partnered with Connect Communities and
       driveways, street lighting, and necessary underground               Together for Safer Roads to identify safety improvements
       utilities. The anticipated construction date is spring 2022.        at the intersection of Hillcroft Street and High Star Drive.

     Gulfton pop-up bike lane demonstration on Oct. 31, 2020.

26   HOUSTON COMPLETE STREETS ANNUAL REPORT