Chief Information Officer and Director of the Information Technology Department
Page content transcription
If your browser does not render page correctly, please read the page content below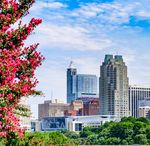 Raleigh, North Carolina, is seeking candidates to serve as the

Chief Information Officer and Director of
the Information Technology Department
The new Director will provide technology vision and leadership in
the development and implementation of City-wide information
        technology programs and projects, including the
                  City's Smart City Strategy.
CITY PROFILE
   During the past 30 years, growth in Raleigh, and the
 surrounding Research Triangle Region, has consistently
   and significantly outpaced the nation. Fueled by an
impressive mix of education, ingenuity and collaboration,
North Carolina's capital city has become an internationally
     recognized leader in life science and technology
innovation. It also happens to be a really nice place to live.

           (source: Raleigh Office of Economic Development)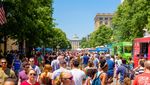 The Raleigh Community
The City of Raleigh, founded in 1792, is the second largest city in North
Carolina and is situated in the heart of North Carolina's Piedmont region,
which is centered between the sandy Atlantic beaches and the Great
Smoky Mountains. The City is both the county seat of Wake County and
the capital of North Carolina. Raleigh covers an area of more than 146
square miles, has a planning jurisdiction of 181 square miles, and is home to
a growing and diverse population. Together with Chapel Hill and Durham,
Raleigh forms the Research Triangle Park, which was founded in 1959. The
Raleigh-Cary metropolitan area, which encompasses Raleigh, also includes
Wake, Franklin, and Johnston counties with a population of 1.24 million.

The City of Raleigh has been listed as one   quality of life for its residents. In the 2018
of the fastest growing cities for many       City-wide Citizen Satisfaction Survey, 89
years — the City's current estimated         percent of respondents were satisfied with
population is nearly 470,000 people (U.S.    Raleigh as a place to live, 37 percent higher
Census estimate), up from 291,141 in the     than the national average.
2000 Census. Raleigh is known for its high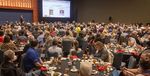 Below are some recent national recognitions for the City:

• Ranks second in Quality of Life Index for 2020
   - Numbeo, January 2020

• One of The Best Places to Raise a Family on a Budget
   - The Motley Fool, 2020

• Ranks as Third Best City for Millennials to Relocate
   - INDYWeek, January 2020

• Ranks among Top 10 Best Cities to Work from Home
   - smartasset, 2020

• Among 'most livable' up-and-coming markets for tech jobs
   - Zillow, January 2020

• Ranks as fourth fastest city for Internet speeds in the U.S.
   - WRAL Tech Wire, December 2019

A 2019 Forbes study found that Raleigh is now one of the fastest growing metropolitan cities in
the United States with an annual growth rate of about 3.4 percent, or an increase of 47 percent
from 2000-2012. It is predicted that Raleigh will remain the fastest growing metro area
through 2025.
Department Profile
The City of Raleigh Information Technology Department provides technology services
and information systems that deliver business value to the City and the greater Raleigh
community. As the demand for technology evolves, the IT organization must provide
services to align IT investments with City-wide goals. The IT Department extends beyond
the traditional operational model with its focus on civic engagement, information
transparency and the promotion of constituent-facing programs to support a highly
technological region.

The IT Department continues to innovate and adapt as our user needs, external challenges,
and opportunities constantly evolve.

Our internal users are more sophisticated than ever and require the most cutting-edge
and reliable tools that we can provide. In tandem, the external environment presents
challenges to every organization as cybercriminals adapt their methods. We are especially
at-risk due to the information that we need to manage and protect. Opportunities in fiber
networks, the Internet of Things and in brand-new technologies abound.

In some areas, such as Geographic Information Systems (GIS), application development
and open data, the City of Raleigh has a reputation as a leader. We are building on these
strengths with new programs such as Enterprise Data Management and visualization. In
other areas, we are continuing to build on the foundation that we've carefully laid over
the past year to improve our hardware and software programs, retire and replace older
systems, streamline and evolve our business processes and procedures, and continue to
build an industry-leading cybersecurity program.

Important to our efforts is a continued and revitalized commitment to exceptional
customer service. The City of Raleigh is on its way to eliminating paper-based processes,
which helps us provide better and more cost-effective service to each other and to the
residents we serve. Our successes with migrating to the Office 365 environment and
the automation of human resources processes prove this. Our partnerships with the
development and code enforcement communities for a new planning and enforcement
tool, along with other entities, inspire us for remarkable things in the future.

Our vision as a department continues to be working toward becoming not only a world-
class government IT department but becoming simply a world-class IT department.

Our Vision:
To successfully integrate people, process and technology by fostering partnerships and
consistently delivering solutions that serve as the foundation of City operations for our
residents and employees. We partner with other governments, higher education and
the business community to become a leader in the digital transformation of the local
economy.
Our Mission:
Partnering with our customers to deliver services they value.

Some of our key GUIDING & GOVERNING DOCUMENTS:

•   City of Raleigh Strategic Plan

•   Project Management Institute's Project Management Body of Knowledge (PMBOK)

•   Information Technology Infrastructure Library (ITIL®) v3 Information Technology
    Service Management Library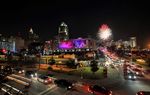 The Information Technology Department           management and legal and regulatory
employs about 90 full-time employees, and       requirements. It also reports meaningful data
contracts for additional staffing resources     points to senior management
as needed among the following Divisions:
                                                IT Business Relationship Management —
Enterprise Project Management                   the IT Business Relationship Management
                                                (BRM) Division is tasked with creating
and IT Strategy —
                                                and maintaining the strategic partnership
the Enterprise Project Management and
                                                between the individual departments and
IT Strategy Division team works across
                                                Information Technology. This team serves as
the enterprise to deliver projects focused
                                                the primary contact and internal consultant
on technology services. The ERP Center of
                                                for business stakeholders and assists
Excellence Division supports the City's ERP
                                                with maintaining a high level of business
applications and the planning of additional
                                                satisfaction for the systems and services
functionality and modules. ERP team
                                                we provide. The BRM Division is comprised
members focus on the strategic direction of
                                                of staff who support business relationship
the various technologies that support the
                                                management, business analysis, quality
finance, human resources, payroll, training
and budget business functions. This division    assurance, and communications.
is also responsible for IT strategy lifecycle   Enterprise Operations and Infrastructure —
management to ensure alignment with the
                                                the Enterprise Operations and Infrastructure
ever-changing business landscape.
                                                Division is comprised of teams of staff that
                                                support customer service and hardware
Enterprise Security and Compliance —
the Enterprise Security and Compliance          deployment, process technology requests,
Division provides on-going risk mitigation,     and support voice and conferencing services.
minimizes the threat landscape, enhances        These teams also operate servers and systems
compliance requirements and streamlines         around the clock, perform monthly updates
business processes within the City. The         on more than 100 environments and plan for
Division maintains the City's security
                                                periodic hardware changes.
policies, threat and vulnerability
assessments, incident and vulnerability
Enterprise Applications and Data –              •   Establish consistent, clear, and
the Enterprise Applications and Data                forward-looking project intake methods
Division supports many of the City's                to support the City's investment in
major enterprise application platforms              enterprise technology services.
and data repositories. The team works in
                                                •   Evaluate the City's current IT project
partnership with City business areas and
                                                    management tool, templates, and
within governance structures to help plan
                                                    related toolkit items to make sure its
and guide the software and technology
                                                    roadmap and functionality meet the
components needed for a growing,
                                                    City's requirements.
nimble City
                                                •   Continue to effectively oversee and
IT Finance, Contracts and Resource
                                                    govern the Technology Capital projects
Management —
                                                    fund.
the IT Finance, Contracts and Resource
Management Division oversees the                •   Implement Security Information Event
Department budget and contracts,                    Management (SIEM).
and participates in the leadership and          •   Enhance network access control.
direction of the organization through
                                                •   Implement IT initiatives to drive
planning, implementing and managing
                                                    business results.
financial and administrative activities
that ensure the financial stability of the IT   •   Improve the management of network
Department.                                         connectivity throughout the City to
                                                    ensure there is a consistent process for
For FY20 the Information Technology
                                                    determining which City facilities receive
Department has a total operating budget
                                                    which type of service while ensuring
of $22.5 M. Some of the current major
                                                    the budget for these services can be well
initiatives of the Information Technology
                                                    planned out.
Department include:
                                                •   Improve City-wide audio-visual support
•   Continue to expand the Department's
                                                    by offering equipment and room
    cyber security program to protect
                                                    standardization, enhanced training
    the confidentiality, integrity, and
                                                    and documentation, and ensuring that
    availability of the City's technology
                                                    equipment is updated or replaced as
    services.
                                                    required.
•   Partner with City Departments to
                                                •   Work with business partners and
    identify opportunities for business
                                                    stakeholders to increase the automation
    process automation and centralization.
                                                    and digitization of the City's main work
•   Identify and implement a                        processes to streamline efficiency,
    comprehensive IT policy framework               reduce manual errors, and leverage data
    that addresses the infrastructure,              repositories.
    security, and application, and other
    IT-related responsibilities of the City.
•   Provide tools and services that enhance the way City staff perform their jobs and
    provide services to customers through the expanded and efficient use of technology.

•   Work to develop an improved computer equipment and infrastructure lease
    management program.

•   Provide the timely review and guidance to departments on enterprise-wide
    technology contracts.
Candidate Profile
Reporting to the City Manager or designee, the Chief Information Officer will work
closely with the three Assistant City Managers and other members of the Executive
Management team in the development and implementation of the City-Wide Strategic
Plan. It will be important that candidates can demonstrate experience in identifying,
planning and deploying complex, organization-wide technology initiatives and in
developing proactive, collaborative, responsive and predictable IT governance systems.
The City is looking for an exceptional leader with at least 10 years of progressively
responsible experience in the management and support of information systems and
technology with at least five years in a key leadership role in the IT field. Preference will
be given to candidates who have served as a Chief Information Officer or IT Director in
municipal or private sector settings with diverse operations.

Qualified candidates will clearly exemplify the City's organizational values of
responsiveness, integrity, respect, collaboration, honesty, diversity, stewardship, and
initiative. Advanced skills in project management, planning, and formulating strategies
and policies in response to emergent technological opportunities and challenges will
be essential.

Compensation and Benefits
The City of Raleigh plans to offer a competitive salary commensurate with the success-
ful candidate's qualifications and experience. When you join the City of Raleigh's work
family, your benefits are an important part of your "total rewards." The City provides
a comprehensive benefits package as part of the total rewards program to support em-
ployees through important events in their life, to enhance their life outside work, and to
help them plan and prepare for the future. The City also participates in the North Caroli-
na Local Governmental Employees' Retirement System (NCLGERS).

Application and Selection Process
Qualified candidates should complete a profile and submit their application, resume
and cover letter online by visiting our website at www.governmentjobs.com/careers/
raleighnc. This position will remain open until filled; however, interested applicants are
strongly encouraged to apply no later than March 31, 2020. Following this date, applica-
tions will be screened against criteria outlined in this brochure. On-site interviews with
the City of Raleigh will be offered to those candidates named as finalists, with reference
checks, background checks and academic verifications conducted after receiving candi-
dates' consent. A pre-employment screening to include controlled substance tests will
be conducted by the City.

For more information, please contact Susan Steed, Assistant Director for Talent
Management and Organizational Development, susan.steed@raleighnc.gov.
222 Hargett St - Raleigh, NC 27601
For more information about Raleigh, please visit:
Raleighnc.gov | Raleigh4u.com | Visitraleigh.com