CREATIVE IRELAND 2017 PROGRAMME - Your County-By-County Guide
If your browser does not support JavaScript, please read the page content below:
CREATIVE IRELAND 2017 PROGRAMME - Your County-By-County Guide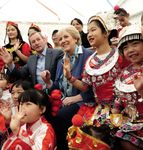 CREATIVE IRELAND 2017 PROGRAMME Your County-By-County Guide To Getting Creative in 2017 Saturday 10 June 2017 | www.ireland.ie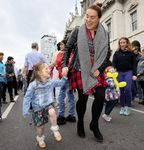 IT'S hard to believe there has never been a plan drawing together all of the artistic, creative and cultural offerings of every city and county in the country. In a country with such a rich and diverse array of heritage and history, which serves to inspire present and future generations, there is truly a wealth of talent out there. In this 'Creative Ireland 2017 Programme' supplement today, you get a taste of how to get creative in your area.
What is unique about it is this not a top-down approach, with instructions being issued from on high. What you are getting back in your areas is what has been put in at a local level. The county and city plans are really a reflection of the effort of communities who want to make their mark on the creative landscape.
Cruinniú na Cásca at Easter weekend was a teaser of what is to come over the coming years. Again, for the first time, every part of the country put on events, which drew hundreds of thousands of people. It showed the appetite for engagement in creativity from those of all ages. Creative Ireland has received the backing at highest political level. Arts Minister Heather Humphreys has been the driving force and has consistently received support from outgoing Taoiseach Enda Kenny. And incoming Taoiseach Leo Varadkar has doubled down, so the speak, with a promise to increase funding for the arts and also specifically committing to the implementation of Creative Ireland.
And this is just the start of the Irish Independent support of this unique initiative. Over the summer, we cover events, big and small, up and down the country to show this really is a creative Ireland. A country with a wealth of creative heritage FIONNÁN SHEAHAN EDITOR, IRISH INDEPENDENT 'This is just the beginning. We can work together to put culture at the heart of our lives' I WANT to start by saying a massive 'Míle Buíochas' to the thousands of people from all over Ireland who came to our 36 public workshops for Creative Ireland over the last few months. We had hugely engaging and passionate debates in every county about culture, citizenship, our identity, and the result has been that every local authority has now published its first 'culture and creativity' plan based on these discussions.
This has been a very positive, enriching and constructive exercise in citizen engagement and democracy.
Creative Ireland is a culture-based programme designed to promote individual, community and national wellbeing. It's an invitation to everyone to get involved, or more involved, in our cultural life. Its core proposition is that participation in cultural activity drives personal and collective creativity, with significant implications for individual and societal wellbeing and achievement. In other words, engaging in cultural activities is good for you. So what does all this mean for you? Well, it means that if you are a parent, we want to make sure that your child, and every child, has access to tuition or participation in art, music, drama or coding over the next five years.
We also want to ensure that the arts are much more embedded in education generally, because research shows that children who engage in cultural activity are happier, they do better in school and they have less anxiety. We also want to put culture at the very heart of communities nationwide. Culture Teams have already been appointed in every local authority nationwide. These teams bring together key staff from across the local authorities who will be working together to drive culture and creativity in every county. Just consider the many festivals which will be taking place around the country this summer; from the Listowel Writers' Week to the Kilkenny Arts Festival and Fleadh Cheoil na hEireann.
They are all wonderful expressions of our culture and creativity, and we want to encourage everyone to get more involved.
Through Creative Ireland, the Government is stating very clearly, that we value culture and creativity, and we want to prioritise the cultural life of the nation as our economy continues to strengthen. I view culture as a unifying force, as a way of celebrating diversity and inclusion and enriching our wellbeing. There are five pillars in the Creative Ireland Programme. Pillar 1 is about enabling the creative potential of every child and young person; making it easier for children to access arts and creativity both inside and outside school, as a key part of their development.
Pillar 2 is about enabling creativity in every community; ensuring that creativity is encouraged and resourced from the bottom up.
I want to empower communities — rural and urban — to maximise their creative strengths, and boost their sense of community pride and wellbeing. Pillar 3 is about investing in our creative and cultural infrastructure, making our National Cultural Institutions fit for the 21st century. That means, if the public finances allow and the economy continues to grow, we want to invest more in institutions like our National Library and the National Museum, which are such an essential part of our national infrastructure.
Pillar 4 is about our creative industries, with the initial focus on making Ireland a Centre of Excellence in global Media Production for film, TV drama and animation. We have big ambitions for the film sector. We've all been incredibly proud in recent years to see films like Brooklyn and 2 | CREATIVE IRELAND PROGRAMME YOUR COUNTY-BY-COUNTY GUIDE TO GETTING CREATIVE IN 2017 Irish Independent | Saturday 10 June 2017 We want to prioritise the cultural life of the nation as our economy continues to strengthen, writes Heather Humphreys CREATIVE IRELAND INTRODUCTION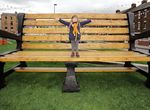 Contents 4 PILLARS OF STRENGTH The Pillars on which the Creative Ireland programme is built 5 CULTURAL INSTITUTIONS How Creative Ireland will be celebrated throughout country WHAT'S ON IN YOUR AREA? Published by Independent Newspapers, 27–32 Talbot Street, Dublin 1, Ireland Editors: Fionnán Sheahan and Gerard Siggins Design & Production: Joe Coyle Media & Design and the INM Magazine Hub Printed by: Boylan Print Group CREATIVE IRELAND 2017 PROGRAMME Your County-By-County Guide To Getting Creative in 2017 Saturday 10 June 2017 | www.independent.ie AND IN PARTNERSHIP WITH 8 DUBLINCITY 10 FINGAL 12 SOUTH DUBLINCOUNTY 14 DÚN LAOGHAIRE- RATHDOWN 16 LOUTH 18 MEATH 20 WESTMEATH 22 LONGFORD 24 OFFALY 26 LAOIS 28 KILDARE 30 WICKLOW 32 CARLOW 34 KILKENNY 38 WEXFORD 40 CORKCITY 42 CORK COUNTY 44 KERRY 46 LIMERICK 48 CLARE 50 TIPPERARY 52 WATERFORD 54 GALWAYCITY 56 GALWAY COUNTY 58 MAYO 60 ROSCOMMON 62 LEITRIM 64 SLIGO 66 MONAGHAN 68 CAVAN 70 DONEGAL 36 A FEAST OF CREATIVITY Just some of the Irish festivals supported by Creative Ireland Saturday 10 June 2017 | Irish Independent YOUR COUNTY-BY-COUNTY GUIDE TO GETTING CREATIVE IN 2017 CREATIVE IRELAND PROGRAMME | 3 Room and actors like Saoirse Ronan and Colin Farrell do so well on the international stage, not to mention our fantastic animation sector.
We want to grow the domestic film sector here and attract more big blockbusters, like Star Wars, to film in Ireland.
Pillar 5 is about unifying our global reputation around the richness of our arts, culture, language and heritage. We'll be reaching out to our Diaspora and presenting a message to the world that Ireland is a creative and dynamic nation, in which to live, work and invest. We are well advanced with work programmes on all five pillars and I am happy to say that Creative Ireland is already embedded in our national policy agenda. Artists are central to Creative Ireland. It is through the work of artists that our eyes are opened and the potential for the creativity of every person becomes apparent.
Through Creative Ireland we will see direct benefits to artists, direct engagement and collaboration with artists, more artistic output and greater audiences for the work of artists. That is fundamental to the Programme. A huge amount of work has already been done by Creative Ireland. But in truth this is just the beginning. I believe that this is an important moment for Ireland, a moment when we can work together to put culture at the heart of our lives, and make creativity our defining characteristic. Creative Ireland is already embedded in our national policy agenda '' An Taoiseach Enda Kenny and Minister for Arts, Heritage, Regional, Rural and Gaeltacht Affairs Heather Humphreys meet children from the Chinese Children's Dance Academy during Cruinniú na Cásca To see your full city/county plan, log on to Ireland.ie
Creativity built on solid Pillars LAST year, a landmark study by the Arts Council and the ESRI showed that Irish children who participate in artistic and cultural activities cope better with schoolwork, are happier and have less socio-emotional difficulties. The first pillar of Creative Ireland is based on the principle that getting involved in the arts is good for our young people. The big ambition is to ensure that every child can access tuition and participation in art, music, drama or coding by 2022. To achieve this, we will publish a Creative Schools plan later this year. The plan will include a substantial programme of engagement with the formal and informal education system.
We also want to resource and fast-track implementation of the Arts in Education Charter, which has already been delivering great results for schools and students since 2012. A number of Departments will be involved in delivering better arts provision for our children, including the Department of Education and Skills, the Department of Children and Youth Affairs and the Department of Arts, Heritage, Regional, Rural and Gaeltacht Affairs as well as the Arts Council and the Creative Ireland team. There has also been extensive consultation and engagement with the arts in education sector, both formal and informal.
While much of this work is about the arts in education, it includes other avenues to creativity such as forms of creative play and other activities that encourage young people's self-expression and that support mental and physical wellbeing. The education plan will also recognise the non-formal and non-mainstream initiatives in arts education and creativity across Ireland. New and existing initiatives in the arts and coding will be included. Creative Ireland's five key Pillars set out how the programme will be rolled out throughout Ireland 4 | CREATIVE IRELAND PROGRAMME YOUR COUNTY-BY-COUNTY GUIDE TO GETTING CREATIVE IN 2017 Irish Independent | Saturday 10 June 2017 CREATIVE IRELAND PILLARS PILLAR 4, which focuses on promoting Ireland as a centre of excellence in creative and media production, is also well underway.
On May 5 this year, what was the most comprehensive ever gathering of all the major players in the Creative Media sector was convened by Creative Ireland at the Royal Hospital Kilmainham to talk about the future of the wider industry, but in particular film, TV, drama and animation. The outcome of that meeting, and a major study of the sector by internationally renowned consultants, Olsberg SPI, will inform an ambitious plan for the sector to be published in October. We want to double the size of our TV, film and animation sector within the next decade. That means not just growing the domestic sector here and produce more top quality, home- grown Irish TV shows and films, it also means attracting more international productions to Ireland.
PILLAR 5 Unifying Our Global Reputation THE new portal website for Ireland — ireland.ie — is the most obvious manifestation of Pillar 5. Launched by the Taoiseach in Washington DC on St Patrick's Day, it does something never attempted before: it sets out a single overarching message about Ireland — a message that Ireland is first and foremost a great place to live, a place where arts, heritage and culture are what define us and shape us. This makes Ireland a great place to visit, invest in and to study. A new video "This is Ireland" was also launched on St Patricks Day, produced by the Creative Ireland team, highlighting the unique culture and creative spirit of Ireland, it has been viewed/liked/shared over two million times since launch.
PILLAR 4 Ireland as a Centre of Excellence in Media Production PILLAR 1 Enabling the Creative Potential of Every Child and Young Person The empowerment of local authorities to lead the engagement of citizens with our arts and culture is essential. Beginning in 2018, Creative Ireland will establish and support an annual County of Culture award, allowing each county to showcase its cultural creativity over a 12-month period. PILLAR 2 Enabling Creativity in Every Community High quality infrastructure is critical for a vibrant arts and culture sector and investment in this underpins social cohesion and supports strong and sustainable economic growth.
Creative Ireland will help facilitate consideration of infrastructure priorities on an integrated phased basis. PILLAR 3 Investing in our Creative and Cultural Infrastructure Three-year-old Amelia Russell from Cabra pictured dancing with her mum Karina, at the Céilí Mór during Cruinniú na Cásca at The Custom House in Dublin Skellig Michael, off the coast of Kerry, where scenes from Star Wars: The Force Awakens was filmed
Saturday 10 June 2017 | Irish Independent YOUR COUNTY-BY-COUNTY GUIDE TO GETTING CREATIVE IN 2017 CREATIVE IRELAND PROGRAMME | 5 Culture vultures Institutions reveal creative ideas for years ahead to Celine Naughton Seven-year-old Laura Fox gets her face painted at St Stephen's Green in Dublin during Cruinniú na Cásca. Right: Heritage Week fun THE Creative Schools Pro- gramme is an ambitious plan that's set to place arts at the heart of every school in Ireland by 2020. The result of a collaboration between the Arts Council and the Department of Education under the Creative Ireland, the pioneer- ing programme aims to change the way subjects are taught and learned.
It is, according to Arts Council director Orlaith McBride, "a generation-changer". The programme will develop arts and creativity in schools. "It's a transformative plan to unlock the creative potential in all children. It means that no matter where you live, your child will be educated in an arts-rich school, where he or she will receive the highest quality of artistic experience throughout school life," Ms McBride says. "Every small town in rural Ireland has an artistic, creative community. We propose harness- ing that by creating synergies: artists will come into schools and children will go out and experience music, dance, visual arts, heritage and other creative pursuits.
Schools will become confident in embedding arts in all of school life and in children's development.
"Studies prove that the earlier children become engaged with the arts, the better their understand- ing of the world and their place in it. They carry that with them into adult life, making them more rounded, empathetic human be- ings. This is not about producing more artists, it's about making us more creative as a people. The generation who grow up in these arts-rich schools will understand the world in a different way." Also under Creative Ireland, the Arts Council is working closely with local authorities on what they call a Creative Place Programme.
"We're supporting local au- thorities to maximise the poten- tial of the creativity within their communities and make people proud of where they live.
We can't underestimate the legacy of the 2016 centenary projects. One that we began last year was 'Making Great Art Work – Open Call,' which invited artists to con- tact us with ambitious projects, and we funded nine. This makes it possible for artists to come up with big ideas. Among the successful projects funded last year and being real- ised this year are: Q 'Where We Live', presented by ThisIsPopBaby, and performed during the Dublin Theatre Fes- tival 2017, which are five plays on the theme of home and home- lessness, created by leading Irish playwrights and a cross-section of host communities in Dublin; Q 'Latitude' by Marie Barrett, a film and temporary sculptural forms about identity within an era of shifting borders, which will be presented at Malin Head, Co.
Donegal and cross-border areas; Q 'The Visible' by Gerard Byrne and Sven Anderson, which is a video installation looking at the concept of 'the visible' through international financial move- ments, marginalised people, dis- appearing nature and emerging science.
Q 'Crash Ensemble 20x20', which is 20 new works by 20 Irish and international composers, per- formed in ten locations. THE ARTS COUNCIL THE HERITAGE COUNCIL AT a time when children spend less time outdoors, the Heritage Council has made it its business to get them climb- ing trees. For National Heritage Week, the highlight of the council's calendar, the theme this year is nature. Running from August 19 to 27, the focus is very much on tearing kids away from their screens and out into the fields "People usually associate her- itage with castles and buildings, but this is about celebrating our natural heritage, who we are, where we've come from and what we find special about the world we live in," says Niamh Donnellan, Heritage Week Pro- ject Manager.
"There's a great mix of profes- sional bodies and local communi- ty groups who have come up with amazing ideas. Already we're on target for 2,000 events to take place across Ireland, which is an unprecedented number. "Wild Child Day on August 23rd is centred around getting children outdoors, climbing trees, building bug hotels, getting wet and muddy, and having fun. It's worrying how little children get out and about today, because the focus on Health and Safety removes kids from nature." The Heritage Council's report on Children and the Outdoors shows that 20pc of 7 to 11-year- olds have never been in the sea, and 40pc have never climbed a tree.
"Heritage Week is a great ex- cuse for families to get out and about and have fun," Ms Donnel- lan says. "The Tidy Towns net- work is pitching in with clean-up days, there are pollinator plans to encourage bees and butterflies, and we'll be taking a close look at our rivers, landscapes, caves and marine life. We'll examine the relationship between history and nature, how people have used the land over the years. "Creative Ireland has provid- ed a great link between heritage officers and arts officers through- out the country. It's lovely to see that cross-over and how it's building a new network that enriches the country as a whole and helps people to engage with their heritage through new and creative ways." To see your full city/county plan, log on to Ireland.ie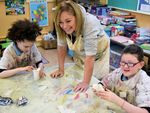 THE countdown is on, with the long-awaited reopening of the National Gallery of Ireland now less than a week away. After a six-year, €30 million-plus re- vamp, the gallery finally opens its doors to the public next Thurs- day June 15th with a major inter- national exhibition, Vermeer and the Masters of Genre Painting. "It is a project many years in the planning," says Director Sean Rainbird. "Conceived by the National Gallery of Ireland and curated by NGI's Head of Collections and Research, Dr Adriaan Waiboer, the exhibition is a collaboration between the National Gallery of Ireland, Na- tional Gallery of Art, Washington and The Louvre in Paris." A must-see for anyone en- chanted by the Delft genius Johannes Vermeer and the Dutch Golden Age between 1650 and 1675, there may be queues around the block to view the 60 paintings on display including NGI's Vermeer, Lady Writing a Letter with Her Maid, c.
1670, widely regarded as one of the art- ist's finest works; Woman with a Pearl Necklace,1663-4, lent by the Staatliche Museen zu Berlin; and The Astronomer, 1668, from the Musée du Louvre, Paris. Works by contemporaries of Vermeer will also feature.
It's an exciting exhibition for art lovers, but after such a long wait, nothing less would do. Unforeseen structural problems delayed the planned reopening last year that was hoped to tie in with the 1916 centenary com- memorations, but now, in the same year that launched Creative Ireland, we have our National Gallery back. "We have reached a milestone and are very excited to see the doors of the historic wings re- open on June 15th," says Rain- bird. "We are acutely aware that our visitors have been missing the wonderful breadth of the collection during the period of closure, and they have been incredibly patient with us.
From June 15th, our new presentation of the permanent collection can now be enjoyed in the beautifully restored spaces of the historic Dargan and Milltown wings on Merrion Square, together with an exciting line-up of exhibitions and events.
"Currently we have an exhi- bition on Margaret Clarke: An Independent Spirit (until 20 Au- gust), showcasing the work of an accomplished artist. Following the Vermeer exhibition, the gal- lery will present exhibitions on Käthe Kollwitz, Frederic William Burton, and a display on The War Landscapes of William Orpen. "We hope that the improve- ments will give an enhanced visitor experience, with clearer orientation and easier navigation about the galleries. Our visitors will be able to engage more smoothly with the collections and public programming, both onsite and digitally." 6 | CREATIVE IRELAND PROGRAMME YOUR COUNTY-BY-COUNTY GUIDE TO GETTING CREATIVE IN 2017 Irish Independent | Saturday 10 June 2017 THE National Concernt Hall is breaking new ground with its programme over the next year.
The performances include a whole range of contemporary artists and classical programmes, exploring the boundaries of music and bringing in new perspectives.
In this initiative, the National Concert Hall is endeavouring to draw in a range of different audiences. An example of this approach came last month, when one of the seminal artists and musicians of our time, Laurie Anderson, took up a unique three- day residency to create and debut three new performances. Also coming up is a significant residency by one of the country's leading traditional musicians, fiddler Martin Hayes The music in education programme will also heavily involve the concert hall, which will help to bring on a whole new generation of musicians and a love of performance art.
NATIONAL CONCERT HALL NATIONAL CULTURAL INSTITUTIONS THE NATIONAL GALLERY Minister for Arts Heather Humphries and An Taoiseach Enda Kenny arrive at the launch of the Creative Ireland Programme 2017-2022 in The National Gallery WITH an already active programme of tours and workshops for primary and sec- ondary schools, the Irish Muse- um of Modern Art is constantly looking at new ways of nurturing children's creative talents.
This year the bold brush strokes and unique style of one of the 20th Century's most famous portrait artists has given them the mate- rial to do just that.
The Freud Project, a collection of 50 works by the great realist painter Lucian Freud, was se- cured by the museum last year on a five-year loan. This year it will be the inspiration for a new programme for children. "Freud took an extremely long time to paint his portraits, often asking subjects to sit for hundreds of hours," says Sarah Glennie, Director of IMMA. "I have no doubt that children will be greatly inspired by the collection when we launch a new programme in portraiture for them this autumn. "We have a fantastic team here, who encourage children to really think about how they feel about art, and express them- selves in creative ways.
It's not about putting them in front of a pen and paper. We'll be en- couraging children to come and make their own creative work, in poetry, film, sound and drawing. It helps them to express how they see their place in the world. It's creative learning." "Creative Ireland strengthens what we do," says Ms Glennie. "Right now it's at an early stage of finding out about the potential in the country and what's needed to make great things happen. But it will develop. The pillar called 'Investing in our Creative and Cultural Infrastructure' is im- portant for institutions such as ours. It gives us an opportunity to plan beyond the next budget cycle and think long-term.
"The art at IMMA is a national collection and we're looking at ways to make it accessible to all citizens. We're building a new website which will create a digi- tal access not only to images, but to our talks and other projects too. That won't happen in the next year, but Creative Ireland allows us to think about it as a long-term plan." Ms Glennie also hopes today's budding artists will find ways of making a living from their chosen profession.
"Artists in Ireland struggle so hard to make ends meet, many are forced to go elsewhere, and that's a great loss to this country," she says. To stem the loss of talent, the museum launched its IMMA 1000 campaign, asking business people to donate to invest in Irish artists. IMMA also announced four new artist residencies, three new purchases for the national collection, and ongoing support of artists to present new work. IMMA A woman looks at part of The Freud Project, a collection of 50 works by Lucian Freud, at IMMA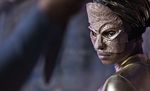 Saturday 10 June 2017 | Irish Independent YOUR COUNTY-BY-COUNTY GUIDE TO GETTING CREATIVE IN 2017 CREATIVE IRELAND PROGRAMME | 7 THE Chester Beatty Library is turning Japanese this summer with its temporary exhibition of Japanese prints inspiring workshops in kimono- making, origami, Sumi-e black ink painting and other exotic arts and crafts.
Other cultures are also celebrated in creative ways. On June 29th its Creative Teens Film Lab invites young people to come along for pizza and a screening of Sing Street, a film about a boy growing up in Dublin in the 1980s, and throughout the season you can drop in for Qi Gong Chinese meditation at the rooftop garden, or join an interactive tour for people with dementia and their loved ones.
"We're the only national institution with a global artistic heritage," says Director Fionnuala Croke. "Inter-cultural dialogue and learning is part of our ethos, we reach out to as many people as possible, and that includes the newest members of the Irish community." CHESTER BEATTY LIBRARY WITH Dublin-based Ele- ment Pictures picking up the Best Screenplay gong for The Killing of a Sacred Deer at this year's Cannes Film Festival, it seems Irish film is riding high on a global scale like never before. It comes after one of the most successful years in the industry. An unprecedented nine nom- inations for Irish films at the 2016 Oscars led to two awards, including Best Actress for Brie Larson in Lenny Abrahamson's Room, and Best Short Film for Stutterer by Benjamin Cleary.
Is it possible to top such a perfect patch?
"It's very unusual to have so many major nominations and awards for Irish film in one year, but momentum is gathering about creativity in Irish film, TV drama, animation, computer games — everything to do with audio visual production," says James Hickey, CEO of the Irish Film Board (IFB). "The Creative Ireland ini- tiative has been going for five months and already one of its greatest successes is in raising consciousness of the importance of creativity in everything we do. "It also helps to promote Irish films abroad. We screened and sold a lot of films at the Cannes festival, including an exciting line-up of projects coming down the track." The following are some new Irish-made films to watch out for: Q Handsome Devil, directed by John Butler.
Starring Amy Huberman and Ardal O'Hanlon, this is the coming-of-age story of two boys who share a room at a rugby-obsessed boarding school. Q Delinquent Season, directed by Mark Rowe. Marital bliss is not all it seems when the cracks appear. Stars Cillian Murphy. Q It's Not Yet Dark, directed by Frankie Fenton. A poignant tale based on the real-life story of film-maker Simon Fitzmaurice's experience of motor neuron disease.
Q The Young Offenders, a debut feature from director Peter Foot. Two Cork inner-city teenagers embark on a road trip on stolen bikes in the hopes of finding an unrecovered bale of cocaine. Q The Breadwinner, an animated film by Cartoon Saloon, directed by Nora Twomey and executive produced by Mimi Polk Gitlin and Angelina Jolie. Q Maze, directed by Stephen Burke. Inspired by the true events of the infamous 1983 pris- on breakout of 38 IRA prisoners from HMP Maze high security prison, which was to become the biggest prison escape in Europe since World War II. It stars Tom Vaughan-Lawlor, better known as Love/Hate's Nidge.
THE IRISH FILM BOARD NEXT week the National Library of Ireland opens a one-week exhibition of personal letters between two giants of Irish literature, WB Yeats and James Joyce. Acquired by the library from the Yeats family with €500,000 government funding, the correspondence goes on public display in a week that commemorates both Yeats's birthday (June 13) and Blooms- day (June 16).
"The letters show the friend- ship and loyalty between the two writers over a period of 24 years," says National Library Director Dr Sandra Collins. "In one, Joyce writes, 'It's been two decades since you have held out to me your helping hand.' We can't have them on display for long, because they'd be damaged by light and heat, but for us, this was an important acquisition which enhances the largest collection of Yeats material in the world, and we're thrilled to show it to the public." It's one of the highlights of Literature Month at the library. Other free events include a one-woman play about Joyce's wife in her twilight years on June 14 at 7pm, and on Blooms- day, there's Joyce at the Opera, a lunchtime concert of Italian music and culture.
A large painting of the eyes of Irish writers donated by Danish painter Claus Havemann will be unveiled this month; visitors can have fun identifying whose eyes belong to which writer. "Another Creative Ire- land project we're very excit- ed about is the opening of a Seamus Heaney exhibition to be launched when the new Cultural Heritage Centre in the Bank of Ireland, College Green is built," says Dr Collins. "It's expected to be completed in early summer next year, and this will be the first exhibition to open in this space. It will be a celebration of the poet's life, his works, and the effect he had on Irish culture.
"Currently we have an exhi- bition of Hot Press magazine covers in the National Photo- graphic Archive in Meeting House Square in Temple Bar. It's a celebration of social com- mentary and pop culture over the last 40 years, with signed blown-up covers, and one wall devoted to artists who have died. "People have preconceptions of the National Library as being all about books, but it's much more. We keep copies of all periodicals, newspapers and magazines of all kinds, we put on talks, plays, musical and other events, and everything we do is free. Occasionally, a singer or performer may charge a small fee, but this is a national cultural institution, and we're paid through public funding, so everybody can have access to our collections." The library has also part- nered with UCD in turning New- man House into Ulysses Centre, to house its Joyce collection.
THE NATIONAL LIBRARY THE ABBEY THEATRE ONLY eight months into the job, the Abbey Theatre's co-directors Graham McLaren and Neil Murray have brought a new energy to the national theatre. Productions for the year have more than doubled from 14 shows last year to 35 in 2017. Their modus operandi is to put on a lot more shows for shorter runs, a dynamic that ensures the theatre is busier than ever for actors, staff and audience alike.
Add the launch of Creative Ireland to the mix, and the stage looks set not just for a breath of fresh air to blow through the theatre, but a gale force wind to come and shake things up good and proper. Abbey Theatre director Neil Murray has met with the Creative Ireland team and says: "We're excited by the breadth of the initiative and the opportunities it will hold for the Abbey going forward." Given the important role of the national theatre in our collective history, the Abbey will continue to be a vital part of the development of the country's creativity and the Creative Ireland programme.
THE National Museum re- mains one of our most im- portant cultural institutions bringing an understanding of our past and our present to those of all ages from home and abroad. With record visitor numbers last year, the museum continues to develop exciting programmes onsite, as well as outreach and education initiatives. All four museum locations will have a role to play with the Creative Ireland programme: Q Archaeology, located in Kildare Street in Dublin; Q Decorative arts and history, located at Collins Barracks, Dublin; Q Country life, located at Turlough Park in Co Mayo; Q Natural History, located at Merrion Square in Dublin.
Arts minister Heather Humphreys, Dr Sandra Collins, Director of the National Library of Ireland and Caitríona Yeats, granddaughter of WB Yeats at a reception in the NLI to mark the acquisition of a significant number of Yeats manuscripts Moe Dunford and Nicholas Galitzine in Handsome Devil To see your full city/county plan, log on to Ireland.ie THE NATIONAL MUSEUM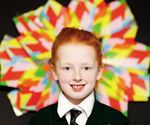 CREATIVE IRELAND DUBLIN CITY City where creativity has been valued since the rare old times D UBLIN has an enviable worldwide reputation for its creativity and culture. It hosts many of the country's largest festivals, as well as international, national and local events across the city, celebrating literary life, music and dance, visual arts, heritage and traditions. Dublin is a UNESCO City of Literature, an international designation in recognition of its cultural profile and global standing as a city of literary excellence.
According to Brendan Teeling, Creative Ireland co-ordinator for Dublin City Council, the new programme will help the various sections of the council to work together to bring even more events and programmes to the city and its suburbs.
"We aim to make it easier for Dubliners and visitors to get involved with culture, creativity, and heritage, placing culture at the heart of Dublin's identity and quality of life," he says. Dublin City believes that culture is also central to the capital's relationship with Ireland, Europe and the rest of the world. Its Creative Ireland programme aims to build on the success of the 1916 commemorations and place culture and creative communities at the centre of public policy. Its particular focus will be leading the engagement of citizens with arts and culture.
The council also feels that culture is central to human development, which is a view shared by Barbara Dawson, director of Dublin City Gallery the Hugh Lane. "Our cultural expression is one of our most human forms of expression, and supporting that is a very good idea," she says. "The Creative Ireland programme will heighten the awareness of the work already being carried out by the artistic community, art curators, directors and managers throughout the country. It will also support developing new projects and promises to encourage innovation and new thinking. It will focus on bringing greater awareness to what's happening in the city, and nurturing and encouraging new projects that will be accessed by the diverse communities in Dublin." Barbara feels that the programme's support in developing and nurturing creative arts will be a great help in enriching communities and providing greater access for people.
Her own gallery will host artist Anne Madden in conversation on June 29. Anne's exhibition, Colours of the Wind – Ariadne's Thread, is on view at the gallery 8 | CREATIVE IRELAND PROGRAMME YOUR COUNTY-BY-COUNTY GUIDE TO GETTING CREATIVE IN 2017 Irish Independent | Saturday 10 June 2017 The capital has a rich heritage which Creative Ireland can help you to explore fully, writes Andrea Smith We're trying to instil a love and passion for books in them '' from June 1 to September 10. Barbara is also excited about an exhibition in the autumn called Ocean after Nature, which forms part of the gallery's Artist as Witness programme.
It looks at the environmental changes that are happening to oceans throughout the world. Dublin City's Creative Ireland Team, led by City Librarian, Margaret Hayes, will foster and encourage creative activity through the plans for 2017. The UNESCO City of Literature Office has been running the Reader in Residence Programme successfully for a number of years. There are now three readers in residence, working with primary school children in the school environment and young people in non-school settings, such as youth clubs and community centres. Julianne Mooney is one of the readers who goes into DEIS (Delivering Equality of Opportunity) schools and introduces children and young people to a wide range of carefully chosen reading material.
She is delighted that the Reader in Residence programme has been highlighted in Dublin City's Creative Ireland programme. Teachers are often so busy following the curricula that they don't have time to introduce children to fun books that will capture their imagination, so she feels that the service is vital in fostering a lifelong love of reading in children.
She delivers a programme of planned activities to encourage the children to see reading as a fun and worthwhile activity. "We're trying to instil a love and passion for books in them," she explains. "Some children just The Nigerian Carnival production of William Butler Yeats' 'The Only Jealousy of Emer' (right), which was designed by Robert Ballagh and directed by Ray Yeates. The Cruinniú na Cásca festival saw plenty of fun for the youngest Dubliners. Far right: Niamh Murphy (5) from Clontarf enjoys the merry-go-round while (far right, below) Caroline Lima from Brazil tries her hand at some street art graffiti at Smithfield FRANK MCGRATH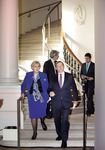 Saturday 10 June 2017 | Irish Independent YOUR COUNTY-BY-COUNTY GUIDE TO GETTING CREATIVE IN 2017 CREATIVE IRELAND PROGRAMME | 9 1The Irish Revolution 1916–1923. This three- part lecture series in June looks at the road to independence post-1916 Rising at various libraries in Dublin. www.dublincity.ie 2The Kite Festival. A day of fun on June 18 on North Bull Island, Clontarf, with music, kite- making workshops and a kite-flying competition. www.dublinkitefestival.ie 3Dublin Pride. Celebrations, spectacles and extravaganzas celebrating LGBTQ diversity from June 18 to 24. www.dublinpride.ie 4Dublin Theatre Festival.
Celebrating its 60th anniversary with 18 days of world-class theatre. Already announced are Dermot Bolger's adaptation of Ulysses and Seán McGinley and Seána Kerslake in Druid's version of Eugene McCabe's King of the Castle. www. dublintheatrefestival.com 5Summer Programme for Children. Free activities and fun events for children at their local library (Cabra Library pictured above) this July and August. www. dublincitypubliclibraries.ie 6Dublin Maker. Free, family-friendly showcase of invention, creativity and resourcefulness at Merrion Square on July 22.
www.dublinmaker.ie 7Rose Festival. Music, market stalls, a pop- up library, living history displays and falconry from July 15 to 16 at St Anne's Park. www.dublincity.ie 8Liberties Festival. Multi-cultural and arts programme that runs from July 17 to 22. www.libertiesfestival.ie 9Hotter Than July. Free festival of World Music at Smithfield Square on July 30. www.dublin.ie 10Opera in the Open. Free operatic performances every Thursday in August at the Dublin Civic Office's Amphitheatre. www.dublin.ie read at school and that's it, so we try to introduce new books, authors and genres to them." Julianne says that these programmes can be hugely important to a child's development.
She has encountered children who don't have books at home because everything is online these days, and they have a perception that books are "boring". "You could meet a child who says, 'I don't like reading,'" she says. "Seeing them so excited to get to the library at the end of the session is wonderful. If we can make that difference to children, it gets them excited about books and gives them access to other worlds through the pages. If you start reading books at a young age, you carry that love through life." The programme aims to help children and young people to engage both their critical thinking skills and their creative capacities to facilitate a deeper engagement with reading for pleasure.
The readers introduce them to the resources available to them in their local library by arranging tours of either Charleville Mall Library or the Central Library. The programme is delivered in partnership with home school community liaison teachers, schools, youth projects, and other community- based agencies.
Dublin's built and natural heritage helps to shape the city's character and is a unique Victoria Kuczynska (5) from Waterford pictured on a giant bench at Cruinniú na Cásca at Smithfield; right, Tori O'Connor (10), a pupil of St Mary Help of Christians School, at the opening of the Ludo exhibition in Cabra Library, commissioned by Dublin City Council's Children's Art in Libraries programme about the Children's Art in Libraries programme and the Early Years Arts Training and Residency programmes. She likes that they offer families and children and opportunity to experience the arts in their local neighbourhoods.
"Research has proven that engagement with the arts at an early age improves cognitive and social skills and communication," she says. "It also develops children's potential to go on and create for themselves. This develops over time, but if you don't focus on it early on in a child's development they can grow up lagging behind in terms of what they're able for. Without early engagement, it can close them down to the possibility of critical and creative thinking later on in life. They can be more inhibited around finding solutions to things and thinking laterally." Sinéad says that by pooling resources with other agencies, they can create a programme of training for early years educators that will have a long- term impact.
She likes that Creative Ireland encourages collaborative approaches in developing services for citizens, as she feels that gathering people together to tackle common problems and share resources is very beneficial. "I think it's a very positive way forward in terms of thinking," she concludes. cultural asset. Plans for this year include the opening of Tenement Museum Dublin at Henrietta Street in August, and it will be an important new addition to the cultural infrastructure and story of the city's past. Visitors will be able to delve into the rich social, cultural and architectural histories of this house, and explore recreated tenement homes from the early 1900s and the mid 20th Century.
Heritage officer, Charles Duggan, was in charge of the project, and he is excited about it as he feels there is a growing awakening around Ireland about our 20th Century social history. He and his team spoke to people who lived in tenements to document their experiences, which will form part of the new museum. "The oral history process has been a really fascinating way of documenting the life of people that generally wouldn't be written down or documented in history books," he says. Assistant arts officer, Sinéad Connolly, is passionate DUBLIN CITY HighLIGHTS To see your full city plan for Dublin, log on to Ireland.ie
CREATIVE IRELAND FINGAL Fast-growing Fingal values F INGAL may have one of the youngest and fastest growing populations in the country – the majority of its citizens are under 35 – but in among this new- found dynamism, there lies a brilliantly-rich heritage and history. "As a county council, we have more heritage and historical buildings than the OPW," notes Fingal County Council's special projects co-ordinator Eithne Mallin. "In Dublin 15 alone, there are 91 historical monuments. I don't think people in Fingal are aware that the council has such strong links to Irish heritage and culture.
"Fingal County Council has a substantial number of historic buildings and monuments in its ownership, like Malahide Castle, Newbridge House, Ardgillan Castle and Demesne, Bremore Castle and the recently restored Swords Castle.
The Council is hugely invested in the history and built heritage of the county and raising the profile and knowledge of these and other monuments in our care is very important to us." And Fingal is a rich and unique tapestry of landscapes too, from lively suburbs to gorgeous coastlines. "We have big urban towns, like Blanchardstown, that are effectively cities, but in other rural parts, we have farmers ploughing fields 45 minutes from O'Connell Bridge," says Rory Byrne, Fingal's county arts officer. "As far as The Naul or Oldtown, people speak Irish, and where once the qualified young artists of Fingal would have gone to Temple Bar, where there is no studio space, now they are staying closer to home.
"Fingal has a cultural tradition that links back to maritime/coastal heritage," adds Mallin. "In addition, we have links to traditional Irish music through our strong connections with Uilleann Piper, Séamus Ennis as is demonstrated by the strong creative and cultural programme of the Séamus Ennis Cultural Centre." Little wonder that Fingal County Council's programme endeavours to marry the old and the new; to get communities engaged with the arts and more involved with the area's bounty of history. And the programme runs the gamut, from sport and libraries to theatre and music.
Projects like Buried in Fingal – which encourages locals to explore any of Fingal's 33 burial grounds – and Digging For Swords, a community archaeology project, are among the Fingal programme's highlights. "We invite people to work with us and effectively become archaeologists for a few days," explains Gerry Clabby, Fingal County Council's heritage officer. "Modern heritage is about connecting people with places and help people build a real connection with places, like Swords, that have been there for 800 years," he says. "We have a very young population but it's a very old place, and we want to connect both and make people feel rooted there.
When people hear about heritage, they think it's all to do with the past, but it's about bringing the past into the present and reanimating old stories." Others, meanwhile, lean into the area's topography: Resort Revelations, for instance, invites artists and creatives spend week long periods at Lynder's Mobile Home Park in Portrane, gathering, processing and engaging with the local area and its people, as researchers and holiday makers.
"Whether the area is urban or coastal, there have been a lot of things in Fingal that artists are excited about visually, and many of them like to use Fingal as a dramatic backdrop to their projects," notes Caroline Cowley, public art co-ordinator for Final County Council. "The other great thing is that the people in Fingal are always so open and welcoming, that when it comes to any artist visiting the county, locals go over and above with their hospitality. It's a real draw for people." Yet with a wide swathe of citizens, not everyone living in Fingal is culturally on the same page.
"The challenge is that the arts and culture are deemed to be highbrow," notes Mallin.
"People think about the idea of going to the theatre and think, 'well, I don't do that'. Within Dublin 15 alone, we have towns like Castleknock and Mulhuddart, so the aim is to find (events and initiatives) that appeal to everyone." And with a fast-growing population comes another new wealth: that of different nationalities, cultures and histories. And, says, Mallin, there is room for everyone's voice.
"Integration has been a big issue in some areas, and this is our opportunity to work on that," she notes. "Our creative programme offers us the opportunity to do that, and we have so much to learn from other communities." "We have to capture the diversity of communities and to remind people of the amenities free and open to them. And when you're the fastest growing population in the country and continue to be, the onus is on us to foster that creativity in young people, as the future will be theirs." An open meeting earlier in the year saw council officials convene with both local artists and community members; the results are writ large over Fingal County Council's diverse programme.
"This session was recorded on the night and will be available on the Council website for all artists to watch and listen and submit ideas for inclusion in the programme," notes Mallin. It has a very young population but is a very old place and the County Council is determined to connect both, writes Tanya Sweeney The challenge is that the arts and culture are deemed to be highbrow '' 10 | CREATIVE IRELAND PROGRAMME YOUR COUNTY-BY-COUNTY GUIDE TO GETTING CREATIVE IN 2017 Irish Independent | Saturday 10 June 2017
1In Creative Conversation will take place throughout the year: Through the medium of film, these diverse conversations about creativity in Fingal will be recorded and shared over the five-year programme, and will build a digital repository of its developing, dynamic and unique creative culture.
2Space Invaders returns to Farmleigh in the Phoenix Park this year with a programme for kids up to five years. 3From June onwards, Songs For Our Children will create new, age- appropriate traditional songs for Fingal's youngest citizens, which will be performed at a premiere concert in the National Library of Ireland in December.
4The Flavours of Fingal is a three-day festival packed with events at Newbridge House & Farm on June 23, 24, 25 with Show Competitions, Vintage Vehicles, Food, Crafts, Music, Newbridge House, Petting Zoo, Workshops, Sheepdog Trials, and Horseback Jousting. 5Resort Residency invites artists, curators and academics to spend week long periods at Lynder's Mobile Home Park in Portrane, gathering, processing and engaging with the local area and its people, as researchers and holiday makers. The resident has an opportunity to present new work during the Bleeding Pig Festival in Portrane.
6The Hide Sculpture, at Balleally Landfill, is a large-scale permanent sculpture by Garrett Phelan.
A schedule of talks and events is scheduled at the Hide Sculpture, Balleally to celebrate the Birdwatching Season. 7Buried in Fingal (pictured) provides scans and indexes of all burial records for the 33 burial grounds in Fingal. Locals can learn about the historical details of each burial ground. 8During National Biodiversity Week a photographic exhibition showcasing Biodiversity in Fingal will be held in County Hall, Swords. The Atrium, County Hall, Swords, May 19-27. 9As part of the Fingal Fleadh reunion, 15 Traditional Irish music bands will play on Saturday September 16 and Sunday September 17 in Swords Castle and along the Main Street, Swords.
10The Sheeplawn Rubyfest (July 29) is a community celebration of the 40th anniversaries of the Sheepmoor and Fortlawn estates in Dublin 15, which will include community murals and celebrations aimed at new and older residents. its rich cultural heritage "The Fingal Creative Culture Team is currently assessing the feedback from this session to explore opportunities/synergies for collaboration between artists, business, community and third level." Artists sustaining a living remains an ongoing struggle, yet Fingal's Creative Ireland strategy hopes to build on the opportunities already in pace for creatives.
"What I would tell artists is that they have to identify whether their local authority has an arts service, and to remember that they have a responsibility in giving you a hand, whether that's monetary support or having a network of people that can provide support," says Cowley. "Once that conversation with the authority opens up, they will begin to identify you. The more artists communicate what their needs are, the more we can come up with options that they can avail of." And with Fingal's five- year strategy already on its sea legs, thanks to a barnstorming Cruinniu na Casca event at Swords Castle on Easter Sunday, Mallin hopes that enabling creativity in every child in every school in the area will be achieved by 2022.
"The creative culture team is working closely with Draíocht Theatre in Dublin 15 to capture the voice of young people with regards to the Arts and Culture in Fingal," reveals Mallin. "This will be the first time young people between the ages of 13 and 18 have been asked for their input into the Creative Culture Programme for Fingal and is a very exciting opportunity for us in the county.
"Our officers have already been to schools and libraries, and the latter in particular continue to provide a great service in terms of non-formal educational schemes. "Above all else, I'd like to ensure that every community member is asked about what they'd like to see, so that everyone can have their say and that all voices will be heard." O'Byrne adds that giving artists the opportunities to flourish on the local and national stages, and facilitating the creative wants and needs of locals, will result in an even richer cultural scene for Fingal. "If you think about it, if you take away what is cultural, what do you have left? Certainly no fun or laughter," he surmises.
"Creativity adds to the quality of everyone's life. We won't die without cinema, sport or history, but it will certainly make us all the poorer spiritually." Clockwise from left: Star of the Sea presented by Moonfish Theatre Company at Draiocht, Blanchardstown; Pearl O'Sullivan uses a swab during the conservation of Jan Wyck's painting, 'The Battle of the Boyne' at Malahide Castle; Russ Scott with Nina and Conor Sheahan at the Brian Boru celebrations in Swords Castle; and (below right) one of the Buried in Fingal digs, which encourages locals to explore Fingal's 33 burial grounds Saturday 10 June 2017 | Irish Independent YOUR COUNTY-BY-COUNTY GUIDE TO GETTING CREATIVE IN 2017 CREATIVE IRELAND PROGRAMME | 11 FINGAL HighLIGHTS To see your full county plan for Fingal, log on to Ireland.ie
CREATIVE IRELAND SOUTH DUBLIN COUNTY South Dublin rocks — and not just musically I NSPIRED by Oisín of Tír na nÓg who is said to have once carried a gigantic boulder through the Dublin Mountains, Ciarán Taylor came up with a novel idea for South Dublin County's Creative Ireland programme. His project, Rock to the Top, invites people to retrace the footsteps of the legendary hero in a series of walks and gatherings. Mere mortals are not expected to heave heavy rocks on their backs. However, a large boulder will be placed outside the Rua Red Arts Centre in Tallaght, and participants will break it up and carry pieces through the mountains to build a cairn at the top of Kippure.
"When I heard the call-out from Creative Ireland for radical projects, it occurred to me that the radical thing these days is to slow down," says Ciarán. "You can drive to Kippure in half an hour, but it's a stunning three-hour walking route from Tallaght up through Gleann na Smól and Bohernabreena. We won't always do the entire route, sometimes it will be in stages, and there will often be surprise performances on the way, with music, storytelling and poetry. Local farmers will explain how they farm the land here, we'll pick blackberries, taste local honey and have picnics on the mountain.
"In today's fast-paced world, I wanted to provide a way for people to connect with the landscape and each other. Rock to the Top is about observing the seasons, getting in tune with nature, meeting people and having conversations. But it also has a purpose – to get this rock up the mountain. "I expect it will take a year to transform the boulder at the foot of the mountain to a cairn at the top, mid-summer to mid-summer. We've pencilled in June 24 for the first walk." This is just one of many innovative ideas to have the backing of South Dublin County's Creative Ireland programme. Another is Work Songs, a musical portrait of the modern workplace in Dublin devised by singer Fiona Dowling and composer George Higgs.
"I sing with a choir from the Republic of Georgia, where folk songs are still very much alive," says Fiona. "Work and singing go hand in hand. I'm very touched by the idea of singing while performing tasks involving hard, physical labour. "People here are often on computers, which doesn't quite lend itself to making music, but I wondered what kind of songs we could weave into the modern working day in Ireland. "Having had our proposal accepted, George and I are now in the process of identifying five companies who will take part in the process, and we'd love to hear from any local businesses interested in doing so.
"In Georgia, half of a workforce will often sing in order to energise the other half. We'll be asking our workers, when do you need to be energised the most? George and I will then create songs around that, which will be performed by the workers themselves. The project will conclude with a concert representing all the businesses involved." Writer Nathan O'Donnell is reaching out to a younger audience with his Creative Ireland project, The Mill, inspired by the Clondalkin Paper Mills Action Group, which led a series of major strikes and occupations in 1982-83.
"I will be engaging with young people aged 16 to 24," he says. "It's a demographic that's disconnected from the idea of politics. There's an apathy there, and this is a way to open up the relevance of politics to young people's lives. "When the paper mills closed in Clondalkin, people compared it with the closure of the mining towns in the UK. At the time, Clondalkin was still a village, separate from the city, and this was a seismic event. People still talk of the sense of betrayal, the scale of the loss, and the impact it had on so many families in this one community.
"Locals then showed solidarity and supported the strikers.
There are protests in the air today too, people are becoming politically mobilised and that makes this project relevant and timely. It will continue throughout 2017 and culminate next year in a series of workshops for young people in writing, photography, field trips to print museums, and designing and printing their own posters." Today, Clondalkin is being promoted as a key heritage centre under the Creative Ireland umbrella. It boasts the largest population of Irish speakers in the county, many of whom gather regularly at a host of events in Áras Chrónáin, a cultural centre set on almost three acres in the heart of the village.
"We have a solid foundation of arts in the county, but the Creative Ireland programme puts an extra focus on community engagement," says Arts Officer Orla Scannell. "It's directly connected with the participation in last year's centenary commemorations. That really resonated with people, particularly in young and culturally diverse communities like ours. It demonstrated how the arts can reflect and even help to bring about social development and political change." Under the first pillar of Creative Ireland – Enabling the Creative Potential of Every Child – the council is introducing five awards of €2,000 each to promote drama, dance and Novel project urges people to retrace the steps of the heroic Oisín of Tír na nÓg, writes Celine Naughton People still talk of the sense of betrayal, the scale of the loss and the impact it had '' 12 | CREATIVE IRELAND PROGRAMME YOUR COUNTY-BY-COUNTY GUIDE TO GETTING CREATIVE IN 2017 Irish Independent | Saturday 10 June 2017
SOUTH DUBLIN COUNTY HighLIGHTS 1Ruaille Buaille Lucan Children's Music Festival, June 7-10. Music workshops, performances and outdoor events. 2Summer Star: Countywide children's reading adventure at local libraries. July & August 3The Mill: Magazine production workshops, political discussion and ield trips for 16 to 24-year- olds in Clondalkin. Email: themill.publicart@gmail. com 4Work Songs: A musical portrait of the modern workplace in South County Dublin's. Email: storyofiona@gmail.com 5Rock to the Top: A series of walks from Tallaght to the Dublin Mountains, often with surprise performances of music, song, poetry and storytelling.
Ongoing from June 24. Email: rocktothetopdublin mountains@gmail.com 6Clamour & Roar – A Citizens' Chorus: A mixed discipline, multi- generational, cross- community project which will culminate in an original theatre performance devised by theatre artist Veronica Coburn.
7The Round Tower Interpretive Centre: Opening in July, the new interpretive centre in Clondalkin Village, run by the Happy Pear, will host events and provide exhibition and gallery spaces, a dining area, café and public garden. 8The Tenderfoot Programme: Secondary school Transition Year students learn how to write, produce, design and act in a series of self- penned plays presented to a peer-to-peer audience in January. 9Red Line Book Festival: A fantastic annual celebration of literature with events for all ages, October 11-15 10Unwrapped Winter Festival: Outdoor spectacle with 300 children, young people and adults from South Dublin County's youth, schools and community arts groups.
December.
visual arts in primary and secondary schools, and a single award of €5,000 to support groups or collectives of young artists to develop their work. "It's all about supporting creative participation by the public, and it's going from strength to strength," says Orla. "One of the key areas we're focusing on is the development of Tallaght as a cultural and creative hub. We're fortunate to have exceptional talent and great amenities including the Civic Theatre, Rua Red Arts Centre, and Tallaght Community Arts, one of the longest established community arts organisations in the country." In keeping with the Creative Ireland ethos, Maolíosa Boyle, Director of Rua Red, is designing a new programme for the centre which she says will look at social and political issues that affect people and place.
"South Dublin County is currently made up of 120 different nationalities which makes it an incredibly rich and diverse county informed by many wonderful traditions and social backgrounds," she says. "Creative Ireland embraces this and celebrates the right of every single person in this county to participate in the cultural life of the nation. It values the wide breadth of vision, experience, skills, thinking and imagining that each individual holds. "Rua Red will utilise the wealth of cultural and social capital within the county and work in tandem with other arts organisations and venues in the area to create a living, vibrant centre of creativity that is both risk taking and challenging.
It's important, because the arts give us a better understanding of ourselves and the world that we live in.
"We're very excited about Creative Ireland and look forward to being involved over the next five years." Clockwise from above: the Rock to the Top project invites people of all ages to retrace the footsteps of the legendary hero Oisín of Tír na nÓg through the Dublin Mountains; the Clondalkin Round Tower Interpretive Centre will open in July; The Mill project aims to introduce a new generation to the history behind the Clondalkin Paper Mills strikes during the early 1980s; Singer Fiona Dowling; and drama students from Green Gables, Tallaght joined the Havoc dance company's 'Doors to Elsewhere' programme Saturday 10 June 2017 | Irish Independent YOUR COUNTY-BY-COUNTY GUIDE TO GETTING CREATIVE IN 2017 CREATIVE IRELAND PROGRAMME | 13 To see your full county plan for South Dublin, log on to Ireland.ie
CREATIVE IRELAND DÚN LAOGHAIRE-RATHDOWN D ÚN LAOGHAIRE- Rathdown is a broad church and the priority for those driving its Creative Ireland initiative is to make culture accessible to all – from those in the seaside village of Dalkey to newer areas like Ballyogan. The Creative Ireland open meeting at the LexIcon Library on Wednesday, April 26 was a "great success", according to Mairéad Owens, County Librarian, dlr LexIcon, with approximately 100 people in attendance. "There are a lot of writers and artists living in the area so there is a huge passion and interest in arts in the area," explains Owens.
"The appetite and interest on the night was from a very literate and informed audience. Michael O'Reilly did a facilitation piece and a lot of people warmed to that." Dún Laoghaire-Rathdown has a rich cultural tradition. Dalkey has become so synonymous with literary excellence that even its bookshops win international prizes: The Gutter Bookshop, which is on Railway Road, was named Independent Bookshop of the Year – UK & Ireland at the British Book Awards earlier this month.
Then there is the annual Dalkey Book Festival, which runs this year from June 15-18. To give a flavour of the village's literary credentials, the festival website notes Dalkey as "the birthplace of George Bernard Shaw, schoolhouse of James Joyce and playground to Samuel Beckett and Flann O'Brien". Past and current residents of Dún-Laoghaire Rathdown include Joseph O'Conor, Neil Jordan, Jim Sheridan, Sebastian Barry, Maeve Binchy and Ross O'Carroll-Kelly creator Paul Howard, who will be presenting his "Dalkey Orchive" at the Seafront Marquee on Sunday, June 18. Other guests at this year's festival include US politician Bernie Sanders.
As Owens remarks: "If you go down the road, you might bump into Anne Enright." With eponymous festivals and venues such as the Mill Theatre and dlr LexIcon, it is unsurprising that DLR has such a thriving artistic community. And Owens believes that the Creative Ireland strategy has the potential to "move down and out" into the wider community, to those who may not have the same access to culture in its broadest sense.
She says: "We're looking at cultural activity in the broader sense, the quality of life stuff. It's what we eat, it's what we do in our leisure time, it's what movies we go to see, as well as theatre, dance etc. We're trying to come at it from a broad way." And engaging with people from an early age. A key objective of Creative Ireland's Pillar 1 is that by 2022, every child in the country will have access to tuition and participation in art, music, drama and coding. DLR recognises the importance of lifelong learning and the positive impact that early intervention has to address education equality so with support from the Dún Laoghaire-Rathdown County Childcare Committee, the Arts Office "has developed commissions that allow artists, early years' children and educators time and space to research, develop and perform new artistic and interactive experiences for pre-school children".
The project will be based in one of the community childcare settings in Ballyogan, ensuring that pre-schoolers have access to quality arts activity. Owens continues: "The big thing now is to reach out to other groups in the area [DLR]; for example schools, Active Retirement groups and local history groups. That's the next piece. The county plan is drafted for 2017 so now it's a question of looking at the potential that Creative Ireland can help realise." As part of realising their objectives, Owens said a survey may be used to help further Great passion for arts shines through in DLR From pre-schoolers to retirement groups, everybody is catered for in exciting projects, writes Alison Martin Juggler John Phelan with sisters Erin and Ciara Ocks promoting events at the LexIcon Library 14 | CREATIVE IRELAND PROGRAMME YOUR COUNTY-BY-COUNTY GUIDE TO GETTING CREATIVE IN 2017 Irish Independent | Saturday 10 June 2017
gauge artistic engagement and identify areas for development. "This year is about starting the dialogue, starting the engagement. It's also about reaching out to the practitioners in the Mill Theatre and the Pavilion Theatre, and others. It's about getting people to come together under the one umbrella and I think that has huge potential," she says. To honour the ethos of Creative Ireland, dlr LexIcon is incorporating the strands of the programme in everything they do this year. Projects include a touring 'meet seat' installation organised by DLR's Architects Department. It will encourage people to sit down and have a chat as part of a thoughtful space programme.
There is also a summer party planned to encourage neighbours and communities to come together. Owens says: "Street Feast is happening on June 11 and it's where communities come together and have a meal or a kind of a picnic so it is expected in the county that there will be around 60 feasts. Some of the IADT photography students are going to capture it on the day." In addition, the LexIcon also hosts the Municipal Gallery. There will also be a heritage summer programme. And for families, there promises to be plenty of free family events, including a teddy bears' picnic in July.
In the midst of the programme, "there will also be a lot of developmental work about where we want to go in the next three to five years", says Owens.
1Early Years Arts Project, Ballyogan Community Childcare. The Arts Ofice has developed commissions that allow artists, children and educators to research, develop and perform new artistic and interactive experiences for pre- schoolers. 2UCD Festival's Poetry Programme, June 10. Poetry and music event at the UCD Festival, James Joyce Library, UCD. Headline poets, academics, students and children will perform their poetry in a two-hour event at the library named after UCD's most celebrated graduate. 3Family Day, June 24, dlr LexIcon. Family Day launches the Summer Stars reading programme, which encourages children to read over the summer holidays.
The day will run from 10.30am-4pm, with events also in Moran Park and will feature performances from Street Theatre Ireland; a Big Dig (archaeology project); yoga storytelling; art workshops, storytelling, and Lego workshops.
4Every Brilliant Thing, July 11-16, Pavilion Theatre, Dún Laoghaire. The Dublin Theatre Festival hit returns for eight performances. 5Dalkey Book Festival, June 15-18. The village comes alive with events featuring Colm Tóibín, Paul Howard, Billy Bragg, AN Wilson and Sebastian Barry, and many others. A highlight is always the late-night performance of Edgar Allan Poe. www.dalkeybookfestival.org 6When Beckett met Binchy, September, Dalkey Castle and Heritage Centre. A theatre performance exploring an interview that Maeve Binchy did with Samuel Beckett for The Irish Times in 1980 called "When Beckett met Binchy".
7Craft and Design Pop-up Shop, November/December. Dún Laoghaire-Rathdown's Local Enterprise Ofice will organise a temporary pop-up shop focusing on quality locally made craft and design products. 8Dún Laoghaire Harbour Bicentenary Literary Event, Pavilion Theatre, Dún Laoghaire. A literary evening featuring some of the many writers resident in the area.
9Making thoughtful spaces to bring people together. A temporary countywide installation. Dún Laoghaire-Rathdown's Architects Department will have a touring 'meet seat', creating a "physical and psychological engagement between young and old". 10Street Feast documentary photography exhibition, June 11. Communities across the county. Communities unite for street summer picnics. IADT photography students will document the parties, with the results featuring in an exhibition for Social Inclusion Week this autumn.
Corbin Langton, Emily Phipps and Cal Hughes who contributed to the 'Demons in Disguise' Graphic Novel Project Saturday 10 June 2017 | Irish Independent YOUR COUNTY-BY-COUNTY GUIDE TO GETTING CREATIVE IN 2017 CREATIVE IRELAND PROGRAMME | 15 To see your full county plan for Dun Laoghaire-Rathdown, log on to Ireland.ie One of the existing success stories of community engagement at dlr LexIcon is Fáilte Isteach, a meet-and- chat gathering of people from Europe, India and Asia and beyond, facilitated by volunteers.
Meanwhile, Susan Lynch, Senior Librarian: Reader Development and Outreach at Dún-Laoghaire-Rathdown County Council Libraries HQ, has been running a graphic novel project with the Southside Travellers Action Group (STAG). The idea came about following the success of the library's Demons in Disguise graphic novel project in 2015. Lynch explains: "We have many members of the Travelling community who use our services in dlr libraries, but we had never worked with them as a group on such a specific project. We were also inspired by the 'Days Long Gone' replica trailer project created as part of Traveller Pride Week that visited dlr LexIcon in 2016." Key to the success of the project was the engagement with the artists and the enthusiasm of the participants.
Lynch explains: "I engaged with local author and illustrator Alan Nolan, as we had worked with Alan on the Demons in Disguise graphic novel. He has great rapport with young people and always engages well them on creating. I asked Natascha Fischell to come on board as she has worked for many years with STAG. Natascha is an artist and facilitator and as the Travelling community know her and trust her from her years of work with them, I thought she would help to make them feel really at ease in our space." A group of ten girls, aged 10- 13, took part in the project over ten weeks, accompanied by two youth leaders from the STAG Children's and Young People's programme.
Lynch says: "The youth leaders and children came in weekly each Thursday evening and worked for two hours on creating a story and illustrating their story. The result is a 30- page graphic novel, which is colourful and fun and has been entirely created by the girls. It is called Prince: The Tail of Prince Charming and is about a dog that goes missing. The story includes Traveller Cant [language] as well as turns of phrase used by Travellers." The book will be launched on Thursday, May 25 at 6pm in dlr LexIcon Studio Theatre. Art classes during Culture Night at the Lexicon Library in Dún Laoghaire DÚN LAOGHAIRE- RATHDOWN HighLIGHTS
Wee county is bursting at I T may be the smallest county in the land, but there's no doubting the sheer scope, ambition and passion of Louth's cultural scene. Given the county motto – Lugh sáimh-ioldánach; Lugh, master of all arts – creativity is in the county's very DNA. And with a rich monastic and architectural heritage, arts practitioners in Louth have plenty of raw material with which to work. "We have in Louth a space where historically, Gaelic Ireland came up against The Pale, and that tension has led to a really strong tradition in storytelling, song and music," explains Brian Harten, Louth County Council's Arts officer.
"We have wonderful architecture, and a very vibrant traditional music scene, that might not be as well recognised as with other parts of the country." Yet with Drogheda now hosting the Fleadh Ceoil na hÉireann in 2018, all that looks set to change. And ambition is writ large across Louth's Creative Ireland strategy: not just to celebrate this tradition of music and song, but for the entire county to enjoy the fruits of a small but perfectly formed and cohesive culture scene. "We have two very large towns – two of the largest towns in Ireland within the smallest county – and this leads to certain rivalries, both in sport and culturally," notes Harten.
"It's a positive thing though, and the tensions that have developed show that a lot is going on culturally.
"Dundalk and the North, for instance, have a very strong tradition in fiddling – musicians like Zoe Conway and Gerry O'Connor, while on the south of the county, there is a really impressive singing tradition. In a way, we like to think of them less as competing as being complementary to each other." Colette Farrell, director at the Droichead Arts Centre, a member of Louth's culture team, notes that Louth's huge tradition of community theatre gives plenty of horsepower to the local arts scene. "For years, people have showcased their work at An Táin theatre in Dundalk and the Droichead here in Drogheda," she notes.
"It's a really vibrant tradition, and lots of amazing people from Darren Thornton (who wrote A Date For Mad Mary) to (actor) Colin O'Donoghue have been part of it." Part of Louth's Creative Ireland strategy is to invite all its citizens to be ioldánach – multitalented, versatile and accomplished. With an evergreen arts and cultural industry already flourishing, Louth's culture team hope to, in Harten's words, 'rebrand and repackage' the county as a cultural destination.
"Creative Ireland is as much about working on the projects and things are already here… stuff that perhaps hasn't been well funded in recent times for various reasons," notes Paul Hayes, director of An Táin arts centre in Dundalk. Certainly, the strategy runs the entire gamut, from conservation projects through to contemporary music. The plan, too, is for the community to actively engage with the county's cultural output; to get up close and personal with artists, writers, actors and creatives.
"What I would hope is for people outside of Louth to get an even stronger sense of the diversity happening within the county," says Harten.
Much of the county's five-year strategy is to engage people who might not normally be interested in the arts into the fold. With many believing that the arts and culture scene simply aren't for them, the onus is on arts practitioners to make music, theatre, literature and history exciting and inclusive. And local artists were brought into the mix as Louth County Council's culture team devised their CI strategy.
"We had a public meeting at an event in Dundalk in April, and it was clear that arts practitioners were interested in being consulted and interested in being listened to," notes Aoife Ruane, director of the Highlanes Gallery in Drogheda. "There's a sense of enthusiasm, optimism and a real belief in the connectedness of the arts community here." Even while celebrating Louth's rich heritage, there has been room for innovation; a collision of old and new. Let's Go Outside! will certainly breathe no end of fresh air into the Louth arts scene: heritage sites such as Mellifont Abbey; St Peter's Church of Ireland, Drogheda; and Beaulieu House With the hosting of the Fleadh Ceoil na hÉireann in 2018, Louth is set for major changes in the culture scene, writes Tanya Sweeney CREATIVE IRELAND LOUTH 16 | CREATIVE IRELAND PROGRAMME YOUR COUNTY-BY-COUNTY GUIDE TO GETTING CREATIVE IN 2017 Irish Independent | Saturday 10 June 2017
1Leanbh (June) at the Droichead Arts Centre will present an ambitious, high quality programme of theatre, music, literature, visual arts and other work, made specifically for younger ages and family groups. www.droichead.ie 2Shakespeare's classic play The Tempest will be performed and produced by 16 actors from the Rehab Care Resource Centre in Dundalk. Opening initially in An Táin Arts Centre, Dundalk, it will then tour to venues throughout Ireland. www.rehab.ie 3Four Thousand Holes is a performance of music by Louth Contemporary Music Society, with specially-commissioned video work by local artist Jackie Nickerson.
The work, about 32 minutes in length, is based on the final chord of The Beatles 'A Day in the Life'. The recording will take place in St Peter's Church of Ireland, Drogheda.
www.louthcms.org 4Medieval Head of Carlingford, Carlingford Building Conservation Project. This project consists of the appropriate consolidation and repair of a 500-year- old medieval head and wall in the medieval walled town. www.louthcoco.ie/ en/Services/Planning/ Conservation/ 6Bristle is an exhibition and programme of events and workshops at the Highlanes Gallery, Drogheda (July 8-September 23). The exhibition will include work, around the subject of hair, by historic and contemporary artists from home and abroad, including Dante Gabriel Rossetti, Matthew and Mary Darly, David Hockney, Bharti Parma, and Alice Maher.
highlanes.ie. 6Let's Go Outside! (June) sees artists from around Co Louth bringing their work outside their usual realms.
The series kicks off with Art in The Yard at Bridge Street Studios in Dundalk on Sunday June 11. www.bridgestreet studios.com. 7An Chúirt Chruitireachta, the Annual Harp Festival which takes place in An Grianán, Termonfeckin, will bring some events to Drogheda with a concert in Beaulieu House on Sunday 25 June and a series of lunchtime performances at The Tholsel, on Monday, June 26, Tuesday 27 and Thursday 29. www.cairdenacruite.com 8Creative Spark in Dundalk will celebrate St John's Eve, traditionally Bonfire Night, with a Ceramic Raku Firing and barbeque on Friday, June 23. www.creativespark.ie 9National Drawing Day on October 11 is a day of fun, free drawing activities, with Olga Danilova (Russia) joining in as Artist-in-Residence.
10The Craft Makers in Millmount Cultural Centre, Drogheda, will host a Midsummer's Artisan Market on Wednesday, June 21. www.millmount.net seams with artistic activity will provide the backdrop to several programme items. It will be a chance for people to enjoy art, music or crafts outside their usual gallery, theatre or studio settings.
"We're hoping to make contact with people in a meaningful way," says Harten. "Also, there are new cultures coming into the county all the time. Polish and Nigerian people have had a chance to live here for a while, and they can express themselves culturally and appreciate a bit more, and Creative Ireland will hopefully be a conduit for that." One big part of the community that the team hopes to reach out to is youngsters, and certainly a whole host of events an initiatives should help spark inspiration in young minds. Leanbh, for instance, is a huge arts festival for young people in Drogheda, that will present theatre, music, visual arts and literature to kids during the month of October.
Other initiatives, like Encore Production's facilitating for school workshops, will endeavour to bring cultural right into Louth's classrooms. "It's very much about providing access to arts and culture for everyone," "In a bid to make arts and culture more accessible, kids can sometimes get left behind," observes Harten. "We can't really describe kids as tomorrow's audience – they are today's audience." Yet as Hayes notes, once you engage with young audiences and have attendance figures, the opportunities for more work Finding affordable workplaces is becoming more of an issue '' and projects will often present themselves for artists.
"If this strategy goes well, it does mean that artist will be getting more jobs and opportunities… more bang for their buck," he notes. Louth artists who want to reach beyond the county and find fresh international audiences aren't left out of the action either. In fact, events like Adrian & Shane Do Barcelona have been invited to exhibit a collection of paintings and sculpture at the HELL Gallery in the Catalan capital this summer. "You can't have art without artists, and Adrian and Shane got a chance to show their work in Barcelona," says Harten. "We were able to put a small amount of funding into that project and to give them the support they need." Yet with property prices in Louth rising exponentially – not least in commuter towns such as Drogheda and Dundalk – artists are starting to feel the financial pinch.
It's something that Louth County Council is aware of, and keen to address.
"Making a living and finding affordable workspaces is definitely becoming more of an issue for creatives as property prices start to fly again," affirms Harten. "People are definitely looking for studios to work in and they don't need to be wonderful salubrious houses, but finding somewhere simple and affordable is a problem." Adds Farrell: "The key is certainly to give artists a place to work. Just last night I had a meeting with a local group of artists who had nowhere to work. Certainly, Droichead are hoping to facilitate meetings where we'd be looking at those kinds of issues." For those looking to get involved in Louth's evergreen cultural scene, Farrell advises artists and creatives to seek advice and open conversations with those in a position to help and offer guidance: "Whether you're in Dundalk or Ardee, it's about coming to your local arts centre, contacting your local arts officer, talking to people like us and opening up those lines of communication.
Sometimes it's important for artists to pick up the phone." LOUTH HighLIGHTS Saturday 10 June 2017 | Irish Independent YOUR COUNTY-BY-COUNTY GUIDE TO GETTING CREATIVE IN 2017 CREATIVE IRELAND PROGRAMME | 17 Clockwise from left: Visual artists Adrian+Shane and (above) two young musicians with Music Generation Louth; Family entertainment during Drogheda Arts Festival To see your full county plan for Louth, log on to Ireland.ie
CREATIVE IRELAND MEATH A community that's proud of its past and looking to the future N OT for nothing is Meath known as the Royal County, and its history, populated with warriors and high kings, shows that it is very much a county of firsts. The first traces of prehistoric men were left around Randlestown, near Navan, about 9,500 years ago. Ireland's first farmers worked on the soil of Rathkenny. Symbols associated with the Book of Kells and Newgrange have national and international currency, representing the rich heritage of Ireland's past. Tara has been an assembly point and sacred site central to Irish history, life and lore for many millennia.
And those who came to County Meath a few thousand years later left an indelible mark on the landscape: monolithic structures at Newgrange that remain the pride of the county to this day. This love of heritage, not surprisingly, underpins the values set out in Meath's Creative Ireland strategy. "Meath puts Ireland on the international stage, certainly in terms of history and heritage," notes Dr Loreto Guinan, County Council heritage officer. "Heritage is all about people and places, and where people are from. When people are proud of where they come from, a lot of that pride comes from knowing about the history of the place." Meath's creative community and denizens are fond of looking back over their illustrious history, but their Creative Ireland strategy shows a community moving forward, too.
"The main emphasis culturally is on the richness of our archaeology, and there has often been a great response by artists in interpreting that," says Ciaran Mangan, county co-ordinator for Meath. "It's a very well developed arts scene at community level and there's a strong network and tradition within the local authorities. In terms of culture and arts, there was also a lot of interdepartmental working, which has predated what has since happened in a lot of other authorities." With a culture team already in place in Meath and showing their dedication with barnstorming 1916 Centenary celebrations, the plan is to continue this work.
"Projects like Hinterland (formerly Hay Festival Kells) and Guth Gafa (Ireland's only independent documentary film festival) have already been embedded in the community, and now we are in the position of being able to provide further The love of heritage underpins the values set out in Meath's creative strategy, writes Tanya Sweeney support to them. There's an emphasis in our strategy of deepening the high quality of the arts," he says. "Most arts practitioners are looking to build on the very strong sense of identity that's already there." Among the feedback Meath County Council has received from artists and community members alike was that artists already enjoy a deep reach right into the community, thanks in part to banding together for the 1916 centenary celebrations.
"We want to put a shape on that, and what we're concentrating on for 2017 is deepening the reach within existing programmes, libraries and groups." And another centenary is rolling around this year in Meath: the centenary of the death of local poet, and national treasure, Francis Ledwidge. This year, Meath County Council will now be able to provide more than €100,000 in grant aid to the cultural sector in 2017, and part of this can be accessed by arts practitioners through the Francis Ledwidge Centenary Grant Scheme.
"We have a number of initiatives planned for this year in recognising the centenary of Francis Ledwidge's death – it's important in an Irish context as well as a Meath context," says Guinan. "We have a stage at his cottage (in Slane) in remembrance, and the celebrations will certainly expand beyond his birthplace in Slane." And a number of high- visibility cultural projects will also benefit from Culture Ireland involvement; projects that will not just allow artists to stretch their creative legs, but also to invite community participation and learning for youngsters.
Among them is the aforementioned Guth Gafa, which focuses on showcasing the latest award-winning International and Irish documentary films on thought- provoking subjects, and promoting the art of great story-telling, through film, to 18 | CREATIVE IRELAND PROGRAMME YOUR COUNTY-BY-COUNTY GUIDE TO GETTING CREATIVE IN 2017 Irish Independent | Saturday 10 June 2017
1Visual Art Projects – Solstice, The Otherworld Hall, (October 26-December 22), includes works by Seán Hillen, Seán Lynch, Lucy McKenna, Tadhg McSweeney, Doireann Ní Ghriogair and Nano Reid and is curated by Sabina MacMahon. 2Conversations on a Homecoming, Conversations across Time (November 17-18) is a new opera by Brian Irvine and John McIlduff, produced by Dumbworld in association with the Solstice Arts Centre. Among the ensemble will be actress Aoife Duffin, singers Emma Nash and Owen Webb, and performers from Summerhill Active Retirement Group. 3Mary Lavin season, dedicated to the local short story writer, will take place throughout 2017.
4'Altogether Now!' – Collectivism, Civic Engagement & Protest! is a series of 15 visual arts workshops taking place in Navan, Kells and Ashbourne. Artist Jillian Gott explores the art of protest and dissent culminating in an exhibition of participants' works at the Toradh Gallery, Ashbourne as part of the Bealtaine Festival Programme.
5A Right Royal Read – Children's Book Festival 2017 will see visits by more than 30 authors and storytellers to 12 branch libraries. The annual festival is the largest and longest- running cultural event for children in Meath and one of the largest in the country. More than 50 schools and over 5,000 children participate every October. 6Black Friary Community Heritage and Archaeology Project works in partnership with the Irish Archaeology Field School to deliver annual community outreach programme with over 20 events planned (www.iafs.ie). 7What To Bring When We Leave is a collaborative commission culminating in a unique live performance by Tom French (words) and Danny Diamond (fiddle/ electronics) at Solstice Arts Centre.
8Toradh Gallery Ashbourne Toradh on Tour programme will feature exhibition, talks and workshops in Kells Heritage Centre in June/July, and works by amongst others, Seán Hillen, David Lilburn, Dermot Bolger, Michael Coady, Alice Maher and Rita Duffy. 9'Folk' is a new fun, interactive and engaging theatre and music experience for young people aged 4-9 which will tour the county as part of the Arts Office Menagerie Mayhem and Pucas & Potions Children's Arts Festivals. 10Hinterland (formerly Hay Festival Kells) is a community-based organisation which has staged an annual book festival in Kells since 2013.
It attracts numerous authors and performers of international renown. The 2017 festival (22-25 June) will be programmed by Myles Dungan and curated by Lyndsey Cooke.
MEATH HighLIGHTS rural Irish communities. The festival returns this year to the magnificent and tranquil grounds of the 18th century Headfort House, a hidden gem close to the historic town of Kells in County Meath. Hinterland, meanwhile, is a community-based organisation which has staged an annual book festival in Kells since 2013. This year, leading lights as diverse as Ryan Tubridy, Stephen Frears, Sebastian Barry, Deirdre Purcell and Patricia Scanlan will descend on the town to delight literary fans. And the Solstice Arts centre in Navan, itself celebrating a milestone 10th anniversary this year, has plenty going on, too.
Among the centres highlights are an exhibition of work in The Otherworld Hall, showing the works of Seán Hillen, Seán Lynch, Lucy McKenna, Tadhg McSweeney and Doireann Ní Ghríogair.
The Solstice Arts Centre's director, Belinda Quirke, is particularly excited about the prospect of local artists and performers making a leap from the local stage to the national one, and beyond. "It's the one thing I find most satisfying," she enthuses. "We are such a young centre, and have our first performers coming through internationally, like Sarah Brady and Padraic Rowan making their names on the international stage. It's wonderful to see them go on to great success. It's great that the county can provide these opportunities for young artists to find their feet and develop their own skills." The Solstice also strives to engage younger members of the community, and Quirke has been first hand just how significant an experience that is youngsters.
"When young people come through the doors of Solstice and it's their first time in an arts centre, their very first time meeting a living artist is a very special moment for them," she says. "For some, it's like meeting a TV star." Yet for Creative Ireland's strategies to flourish in Meath, opening up conversations with both arts practitioners and communities is key. "Once that conversation starts, I think it's important that we're listening as much as giving," notes Quirke. "It's an ongoing conversation, too… it's not something that stands still. It's always fluid, and we are always trying to respond to people's needs.
That includes listening to artists and helping them develop, and helping people have encounters, and one-off moments, with a piece of art. It's always thrilling to see artists connecting so meaningfully with people living in the county and the county council have empowered that type of connection through arts and through great cultural themes.
"We'd like to create more conversations and then take action from there," she adds. "The local authority is very supportive of everything that we do – there's a great buzz at the meetings. In the end, you'd like artists to have a living wage, and that they can live in the country where they are from, but we'd also like to see them as being part of everyone's neighbourhood, and by extension, at the ground level roots of the fabric of society" Adds Guinan: "I suppose what I'd really like to see (by 2022) is a situation where Meath's culture gets the attention and is recognised for the value it gives to society.
By then, hopefully its value will be embedded and recognised as an important aspect of our daily lives." The main emphasis is on the richness of our archaeology '' Clockwise from left: Loreto secondary school in Navan's production of 'The Wizard of Oz'; Dermot Bolger reads from Francis Ledwidge, the Meath poet who died 100 years ago this year; the prominent sculpture 'The Bull of Navan' by Colm Grehan which sits in the Market Square. The Creative Ireland consultation evening in Solstice Arts Centre, Navan.
Saturday 10 June 2017 | Irish Independent YOUR COUNTY-BY-COUNTY GUIDE TO GETTING CREATIVE IN 2017 CREATIVE IRELAND PROGRAMME | 19 To see your full county plan for Meath, log on to Ireland.ie
1Teddy Bears' Picnic (inset). Led by Helium Arts, this is an interactive theatre experience that puts children at the centre of nurse/ patient role play. Children practise dramatic role play and art- making while becoming less fearful about their next trip to the doctor. October and November, in Athlone Institute of Technology (AIT). 2CREATIVILLAGE. Collinstown Action Group will lead a collaborative project bringing together the children of Collinstown and Fore National Schools, and students from Castlepollard Community College, to document their history via words and images, with a special focus on Lough Lene.
The project also calls on the historical knowledge and storytelling ability of older citizens of the area. July 2017 to July 2018. 3Arts Ability. The Dean Crowe Theatre will host this groundbreaking pilot project from September, in which special-needs children take part in drama and dance workshops with the assistance of experienced facilitators. 4Scéal. Dun na Sí Amenity and Heritage Park will further develop its Scéal exhibition, which tells the story of traditional Irish music, song and dance. 5Fore Tourism Initiative. The Pilgrim Trail and Tales group will develop a tourism project for Fore village, involving fun and creative events that celebrate the natural, built and cultural heritage of the local area.
Its 'Weekend of Wishful Thinking' on July 24 and 25 promises guided walks, hedge schools and activities to stimulate the imagination. 6Making Space Avant Garde. The Making Space Athlone Artist Collective will spearhead this project, which aims to cultivate community involvement in a wide range of unusual and experimental arts in Athlone. October 13 to 15, locations TBC.
7Art of Junk. Artist Rosemarie Langtry and the Dean Crowe Theatre will collaborate on Art of Junk, 10 weeks of workshops focused on creating art pieces from recycled materials, followed by an exhibition. From week commencing September 18. 8Pulse Summer Show. The Mullingar Town Band – whose mission statement has always been "to educate, elevate and entertain through the art of music" – will hold the Pulse Summer Show in the town on September 2. Colour, pageantry and banging tunes a guarantee! 9The Jungle Book. Mullingar Junior Stage School will stage the famous musical, with a cast made up purely of 10- to 12-year-olds.
24, 25, 26, August 31 and September 2, 3.
10Westmeath Visual Artist Network. An artist-led collective in the county will conduct a consultant- led investigation with the intention of initiating a Westmeath Visual Art Network to encourage county-wide cultural participation. CREATIVE IRELAND WESTMEATH Westmeath's inspiring lakes and limitless sky 'T HE lakes have always inspired people. There's something about the atmosphere, the light." Paula O'Dornan, Acting County Librarian for Westmeath, offers this as "only a personal opinion" but it's surely true — there must be a link between the unique geography of Westmeath and the legion of its artists who have given to the life of the nation and beyond.
Athlone-born writer John Broderick spoke of the "limitless sky" of the midlands, and Westmeath, with its flat pastures and swathes of bogland, is the nearest we have in Ireland to the epic openness of a Nebraska or Kansas. Then there are those lakes — the necklace of Ennell, Owel and Derravaragh, the latter the mythical home of the Children of Lir; and in the west, the lapping waters of giant Lough Ree, of which another Athlone man, Brendan Shine, sang 'Where the Three Counties Meet'.
The ground here — so far from the sea — hardens under stubborn frost in winter and often blurs in the gauze of mist that creeps in off the lakes in spring and autumn.
The haunting stone mansions and estates of the ascendancy that pepper the landscape have left their own artistic mark. Glasson, on Lough Ree, is said to have inspired Oliver Goldsmith's The Deserted Village; Levington Park has been home to writer JP Donleavy for over 40 years; while Tullynally Castle is the family seat of the Pakenhams, prolific scribes across generations.
But it's the towns that are the engines of creativity. Westmeath is distinctive in having, in Athlone and Mullingar, two very large and equal-sized towns; of the other counties only Louth is comparable. The twin urban centres are clusters for the county's arts infrastructure, and are leading its contribution to the Creative Ireland initiative. As elsewhere in the country, last year's Rising commemorations quickened the purpose of arts practitioners, organisations and ordinary people, generating momentum for Creative Ireland. O'Dornan remembers a conversation in a school last year about "the heroes of 1916, and also the other big figures of sports and culture of that era.
We asked, 'Who were the pop stars of that time?' And the biggest pop star of them all of course was Athlone's own John McCormack [the tenor], a true global megastar." Such grassroots involvement helped locals engage with Westmeath's cultural history, and also honed everyone's creative chops for the initiative ahead. "One of the stories that came out of the Rising commemorations that caught people's imagination was the tale of All Sorts, the horse that won the 1916 Irish Grand National. Because of the Rising [the British commandeered all mechanical modes of transport out of Fairyhouse], it had to walk home to Westmeath! That was a story that tapped into the strong tradition of horse- breeding and -training here." Westmeath people are passionate story tellers.
"What I love most about working in the library," says O'Dornan, "is Artistic clusters in the towns Mullingar and Athlone are leading the creative initiative, writes Gavin Corbett 20 | CREATIVE IRELAND PROGRAMME YOUR COUNTY-BY-COUNTY GUIDE TO GETTING CREATIVE IN 2017 Irish Independent | Saturday 10 June 2017 WESTMEATH HighLIGHTS
seeing communities coming together to preserve their history. Recently, we've had a history written about St Loman's Hospital in Mullingar, by the people who worked there, and that was as much about the people and their memories as it was about the institution itself." When it comes to the arts, it's the county's writers and musicians who command the most attention. In the first category, Patricia Gibney (whose debut crime novel The Missing Ones is soaring in the Amazon charts) and the late Josephine Hart and Dermot Healy and are names of global significance, while an up-and- coming author is Mullingar's Nicole Flattery, who recently won one of the world's great short story awards, the White Review Prize.
And in the field of music, the maestro McCormack, Foster and Allen, Joe Dolan, and Nialls Horan and Breslin have made the biggest noise. But a glance at the projects greenlit for Creative Ireland shows that there's much more to Westmeath culture than books and ballads. The visual arts is well represented with, for example, Artist Spaces, an event hosted by Shambles Art Studios in Athlone, in which the public will be invited to meet working artists, with the aim of promoting access to studios and exhibitions. A consultant- led investigation is also being launched into the setting up of a Westmeath Visual Artist Network, again with the purpose of encouraging wider public involvement with the visual arts.
Other projects will highlight and benefit the county's built heritage. Brotenstown and Ballinea ICA is to get funding for the production of a DVD on the history of its locale, with guild members receiving research and media-production training into the bargain. Meanwhile, Westmeath Archaeological and Historical Society will host a major archaeological conference on the material history of the county, with Ireland's top archaeologists taking part. Creative Ireland's focus on education is amply reflected in the county plan. In collaboration with the national Music Generation initiative — a music education service for young people — Westmeath and Offaly county councils will spearhead a project called Just Play, geared towards the establishment of a chamber orchestra; the project will also involve a week of music-playing activities by young people in both counties.
One of the most interesting projects taps into Westmeath's rich tradition of amateur dramatics. Gayle Tarmey, manager of Athlone's Dean Crowe Theatre — which recently hosted the RTÉ All Ireland Drama Festival, and which regularly showcases the talents of Athlone's many stage schools — says that "from a young age to adult level there is huge participation" in drama in Westmeath, second only in numbers, perhaps, to Gaelic Games. Her experience of this very active scene, combined with her involvement with disability services, gave her an idea for a potentially groundbreaking scheme. "When I looked at the core purpose of Creative Ireland, at the central pillars that form its agenda, it brought it home to me that there's a section of society that doesn't have full access to the great work I see in our very active arts community – not intentionally excluded, but maybe by default," says Tarmey.
"It's proven that the arts, and activities surrounding the arts, help to minimise the isolation that people with disabilities can feel." With the assistance of Creative Ireland, the Arts Ability pilot will promote collaboration between the Dean Crowe Theatre, members of the wider arts community, and disability-service providers. Workshops in theatre and dance will be offered to pupils of St Hilda's School in Athlone from September, culminating in a public performance weeks later. One of the things that most excites Tarmey about the scheme is its potential to be replicated for the benefit of other special-needs groups.
"It could work well for those on the autistic spectrum or for those with physical disabilities, as well as for the intellectually disabled," she says. As Tarmey stresses, it's vital that Arts Ability sets down firm roots for future development; that it isn't just a flash-in-the- pan project that expires once Creative Ireland's term passes in 2022. This is something that could be said for the arts in general in Westmeath — that Creative Ireland gives artists and educators the energy and infrastructure to thrive long into the future. The latent talent is certainly here, and with the right support, Westmeath should produce a Dermot Healy, an Eileen Coghlan or a Joe Dolan with every generation.
It could work well for those on the autistic spectrum '' Energy Plus dance troupe performs on Culture Night last year in Mullingar; Singfest 2017 is a Music Generation Offaly/ Westmeath choral project whose Gala Performance is in Athlone IT on June 10 Saturday 10 June 2017 | Irish Independent YOUR COUNTY-BY-COUNTY GUIDE TO GETTING CREATIVE IN 2017 CREATIVE IRELAND PROGRAMME | 21 To see your full county plan for Westmeath, log on to Ireland.ie
Science and art inspired by T IME was when most Irish youngsters routinely had to choose between art and science on entering secondary school, but today's generation can enjoy the best of both worlds, as Longford's Edgeworth Science Festival will demonstrate later this year. In a huge Exploration Dome on the town's main green, children can build their own Iron Man, discover the science behind Superman and Superwoman, and build and fly their own drones. The November event is being staged in tandem with the Midland Science Festival, and co-ordinator Matt Farrell says he couldn't think of a better location.
"She might be remembered today as a famous author, but in her day Maria Edgeworth also strongly advocated that women should be taught science, a radical idea in the early 1800s," he says. "Also, Kenneth Edgeworth was the first person to propose the existence of the Kuiper Belt on Pluto". The festival forms part of Longford's Creative Ireland programme this year, which offers an action-packed calendar of exciting events for all ages. "In the past, creativity has been traditionally associated with art and literature, but now we're looking at it from a broader perspective," says County Librarian Mary Reynolds.
"We're seeing creativity being brought into areas like history, the environment, science and technology, coding and so on. It's not confined to one particular genre, it's right across the board." Children are also well catered for in the inaugural Culture, Arts and Music (CAM) Festival organised by Longford Comhairle na nÓg, the youth organisation for 12 to 18-year- olds, on July 12.
"We want to showcase all the different nationalities and cultures in our community," says co-ordinator Avril Gilchriest. "We'll be celebrating ethnic diversity in dress, music, art, dance and cuisine. It will be a fun, family-friendly day with face-painting, art, music and street entertainment all on the theme of embracing individuality." Later in July sees the Cruthú (Creativity) Arts Festival (July 27-30). This year, funding from Creative Ireland has allowed organisers to expand the popular event to include new opportunities for local writers and young people.
"One of our new projects is called ReActors, for which local writers were invited to come up with a short, 2,000-word play to be performed at the festival," explains event organiser Shane Crossan.
"Four will be selected and given randomly to new directors, who will have one month to put them together. Two weeks before Cruthú, we'll stage the chosen plays in two great newly renovated library buildings that form part of an improved infrastructure in the arts in Longford. "We're also introducing Square Eyes, a project dedicated to the youth of the county. The square in Longford Town is a natural hub, and this will be the venue for a series of street art and music, creating a square within a square." He adds that the project will also give students in the School Completion Programme, designed for early school leavers, an opportunity to create furniture made out of cardboard.
Additionally, the border of the square will feature an eight-by-eight foot canvas where budding artists from secondary schools will create artworks and murals.
"In the centre of the square, the Longford School of Rock will provide a soundscape of young performers cutting their teeth on a stage. It's new and fresh, and adds to the value of Longford's regeneration through public art," he adds. Film will also be well represented by the Still Voices Short Film Festival in Ballymahon. Set up just three years ago by film-makers Ronan O'Toole and David Colohan as a small, one-day event to showcase the work of local talent, the event has already developed into a weekend-long occasion with a global audience of film-makers taking notice.
"This year we received 316 submissions from 50 countries," says Ronan.
"Our goal was just 50! We have six judges and we'll screen the top 100 over the three-day festival, which runs from August 18-20 this year. "Short films are perfect for young film-makers who are honing their craft. "David and I wanted to create a festival that would provide an opportunity for film-makers and film buffs to come along, share ideas and enjoy some of the finest work of up-and- coming Irish and international film-makers.
"Creative Ireland's funding allowed us to purchase equipment to screen 100 films in the local Bog Lane Theatre, which is a lovely setting but designed more for drama than cinema. Now, with this investment, it can offer both. We'll also use other venues in Ballymahon for other events. "Longford is an ideal location for a festival of this kind, as it's central to all parts of the country and therefore easy to get to. We're organising campsites so there will be cheap accommodation, making it accessible for all." One of the longest established events in the Longford calendar, the County Longford Show and Country Fair is now its 116th year.
Along with its usual mix of showing horses, ponies, cattle, sheep and other animals, and field entertainment for families and children, this year it's putting a major focus on getting Edgeworth Science Festival will show how children no longer have to choose between science and art, writes Celine Naughton Short films are perfect for budding young film-makers who are honing their craft '' CREATIVE IRELAND LONGFORD 22 | CREATIVE IRELAND PROGRAMME YOUR COUNTY-BY-COUNTY GUIDE TO GETTING CREATIVE IN 2017 Irish Independent | Saturday 10 June 2017
1Pushkin Creativity Day (June 14) or primary school teachers and pupils, Backstage Theatre, Longford, with special guest Sacha, Duchess of Abercorn, the trust's founder. 2County Longford Show and Country Fair (July 2): Horses, ponies, cattle, family fun and, for the first time this year, artisan foods, arts and crafts. 3CAM Fest, Longford town, July 12. Youth Culture, Arts and Music Festival organised by Longford Comhairle na nÓg, promoting awareness of the different cultures that live within Co. Longford. 4Thomas Ashe Commemoration, Newtowncashel, July 13. Exploration of Easter Rising leader Thomas Ashe's Longford connection on the centenary of his death.
5Cruthú Arts Festival (July 27-30): A diverse programme of events celebrating the arts, including Square Eyes, art and music by and for young people, and ReActors, short plays by local writers and directors. This is the fourth staging of the popular annual event. 6Still Voices Short Film Festival, Ballymahon, August 18-20. Aiming to become Ireland's premier short film festival, this is a must for film-makers and film buffs alike with over 100 films screened in a packed three-day schedule. 7Padraic Colum Literary Festival, Longford town, September 8-9. The inaugural Padraic Colum Festival celebrates one of Longford's most prolific writers, not least his writing for children.
8Edgeworth Science Festival, Edgeworthstown, November 17-18, featuring an Exploration Dome, interactive Reptile Zoo, iConnect (an Apple coding programme) and more. 9Aisling Children's Arts Festival, October 22-28, with workshops and theatre performances, at various locations throughout the county. 10Santa's Winter Wonderland Workshops at Ardagh Heritage and Creativity Centre, December 9, 10, 16 & 17. remarkable Longford family small traders to showcase their work. "We're setting up an artisan food village especially for local produce and arts and crafts," says Show Secretary Bernie White. "For just €15, they can take a stand – indoors or out, whatever suits – and promote their produce or work.
Whether they're small food producers, milliners, wood-turners, bakers or card makers, we want to support them and help get our county off the ground." According to Mary Reynolds, the extra funding provided by Creative Ireland has made an enormous difference to the quality and range of projects on offer.
"It's not huge, but it allows people to experiment and think a little more creatively than if it weren't there, and that has brought different strands together, with different groups collaborating on projects that mightn't happen if they were on their own," she says. The council is launching a What's On guide next month and for a county of its size, it boasts an impressive 105 events on the list. "One that's close to my heart is the Pushkin Creativity Day at the Backstage Theatre on June 14," says Mary. "Over 200 school pupils and teachers from across the country will attend this event that features workshops with artists and environmentalists." Among the guest speakers are writer John Quinn, poet Frank Galligan, and environmentalist Eamonn Brennan, who will take the children on nature walks, looking at the flora and fauna, and seeing the beauty of nature through storytelling and role- playing.
"It's designed to show the value of creativity in education and it also celebrates 30 years of the Pushkin Trust, a cross- community and cross-border organisation involving primary, secondary, Irish medium and special needs schools," says Mary. "The special guest will be Sacha, Duchess of Abercorn, the trust's founder, a direct descendant of the Russian poet, Alexander Pushkin. She was also a great friend of the late poet Séamus Heaney. "The trust is based on the principle that creativity can break down barriers and bring people together. Longford has a long history with Pushkin, whose main objective is to ensure that creativity is central to the education our children receive, inspiring and enabling them to fulfil their full potential.
I can think of no better perfect fit for the vision of Creative Ireland." THE ILLUMINATION OF ABBEYSHRULE As part of the Creative Ireland celebration Crinniú na Cásca, a Ceremony of Light was staged in the ruins of the 12th Century Cistercian Abbey in Abbeyshrule. The event, which began at dusk, saw performers and musicians with actors playing the monks (above). The climax of the evening was the lighting up of the ruins for the first time.
Saturday 10 June 2017 | Irish Independent YOUR COUNTY-BY-COUNTY GUIDE TO GETTING CREATIVE IN 2017 CREATIVE IRELAND PROGRAMME | 23 To see your full county plan for Longford, log on to Ireland.ie LONGFORD HighLIGHTS Christine Gaynor, Carmen Oltra, Shauna Hackett and Ciara Farrell who took part in the Scoil Mhuire photography project
Where art and culture are part of the landscape D RAWING strength from the mighty Shannon which skirts so powerfully along its western reaches, and from the momentum of the gently-inclining Slieve Bloom Mountains to the south of the county, Offaly has long been a centre of creative energy and resourcefulness.
Now the Faithful County is taking its place among the top flight in the Creative Ireland initiative. Covering just 2,000 sq km, Offaly certainly punches above its weight. After all, the 78,000 people who live there are working off a distinguished heritage in a number of areas. Visitors to the remains of the monastic settlement at Clonmacnoise cannot fail to be impressed by the workmanship, craft and sense of community that underpinned this tiny stronghold of early Christian faith. It's the same sense of purpose and drive that has underscored so much of Offaly's more recent history.
Away from the 6th century site, you'll find a strong culture of farming that goes hand in hand with King's County's rich social history. It manifests itself in the bustling towns, carefully- curated castles and demesnes, and the acres of rolling farm landscapes that speak of decades of graft and toil. But there's also a proud tradition of industry that stretches back to the 18th century, one that has left its legacy in the landscape in the form of the Grand Canal, the waterway by which this productive enclave of the Midlands traded with other parts of Ireland and Britain for so many years.
In more recent years, the county has become known for its pursuit of excellence in the arena of sporting greatness, from its never-ending supply of doughty hurlers to Clara man Shane Lowry who brought the skills he honed at Esker Hills golf club to the world stage by way of the US Open last year.
It's this wealth of experience across a broad range of experience that makes the local organisers of Creative Ireland so excited about getting the enterprise off the ground. After all, if Creative Ireland is about anything, it is about looking at creativity in all its forms – innovation in business, dedication and drive in sport, that undeniable spark of individual genius associated with the arts – and drawing these threads of human endeavour together in a bond that strengthens and revitalises everybody who is touched by it. Extending that theme by trying to involve as many people as possible, then, is part of the brief for the backers of Creative Ireland locally.
After all, in recent years, Offaly County Council turned to the men and women of Offaly, asking them to share a little- known aspect of their heritage. That evolved into a trio of innovative projects, including artist Amanda Rice's interactive piece based on the research of colour photography pioneer (and Bracknagh man) John Joly, the re-creation of scenes from the movies of silent-era Hollywood director Rex Ingram in Kinnitty (the town where he spent his childhood in the first decade of the 20th century), and a unique musical project which saw the Clara Musical Society's meeting house transformed for one night into a finely tuned musical instrument.
As exciting as those once-off projects were, what's even more invigorating are the ongoing projects that have made arts and culture a part of the landscape. Sometimes literally. For instance, standing sentry on the N52 bypass of Tullamore are the four Saints and Scholars metalwork sculptures. With the utmost economy, these 25ft stainless steel figures represent the world of learning and sanctity we associate with the history of Offaly. Derry sculptor Maurice Harron drew on the legacy of Clonmacnoise as his inspiration, he has previously said, and turned to the artwork of the Book of Durrow in designing these otherworldly guardians of the town.
Meanwhile, just a few miles away, at the Lough Boora Discovery Park visitors can see another exemplary instance of man's technical ingenuity married to a wonder of the natural world.
After centuries during which the land around here gave unstintingly of its most precious resource, peat fuel, these sprawling acres of bogland have become a different kind of resource, one that sustains the soul: a series of sculptures inspired by nature and the harvesting of turf. The rich darkness of the surrounding terrain together with the broad sweep of the open Offaly sky make the perfect canvas against which these man-made art works can be displayed. The most recent addition to the park is the Black Forest, an arrangement of partially- preserved trees dug from the peat by Bord na Móna workers back when this served as a working bog.
Given that new sculptures have been appearing on a regular basis at Lough Boora Discovery Park for well over a decade, it's fair to say that this is a long-running project that makes a significant contribution to the landscape here, where last year more than 100,000 people walked the local trails or biked the routes with their families.
Lough Boora highlights how we can work hand in hand with nature. Another Creative Ireland project for 2017 aims to give nature a helping hand. Council officials are currently assessing applications for an exciting initiative, the Pollinator Multidisciplinary Art Commission. The commission will complement Laois and Offaly County Councils' joint Pollinator Plan which aims to boost bee and insect populations by working with agriculture, education, business and other interests. The recipient of the The Faithful County punches way above its weight when it comes to creativity, writes Mary Galwey Lough Boora highlights how we can work hand in hand with nature '' CREATIVE IRELAND OFFALY 24 | CREATIVE IRELAND PROGRAMME YOUR COUNTY-BY-COUNTY GUIDE TO GETTING CREATIVE IN 2017 Irish Independent | Saturday 10 June 2017
1Birr Festival of Music and Voice, May 26-28, Birr. Enhancing the profile of classical music, this festival is a wonderful opportunity to acquaint yourself with rising stars and to see well-known performers such as baritone Bruno Caproni and concert pianist Julian Evans. visitoffaly.ie 2Jane Austen Festival, throughout July, various library venues. On the 200th anniversary of Jane Austen's death, a series of events, including weekly screenings of movies adapted from her novels, a lecture on her work and an Austen-themed afternoon tea. offaly.ie/libraries 3Fairy Door Tea Party, July 22, Lough Boora Discovery Park.
Every year the Irish Fairy Door Company throws a party for the fairy folk with boys and girls from across Ireland welcome to come along too. loughboora.com 4Castlepalooza, August 4-6, Charleville Castle, Tullamore. A favourite among music festival cognoscenti, this event combines an interesting band line-up — Wild Beasts, Waze & Odyssey, David Kitt — with a comedy stage (Deirdre O'Kane, Fred Cooke, Colm O'Regan) and other cultural highlights all set in a wooded wonderland.
5Birr Vintage Week and Arts Festival, August 4-11, Birr. With a proud heritage in science and innovation, the cars and transport of the past forms the basis of this celebration of the arts and culture in the town. birrvintageweek.com 6National Heritage Week, August 19-27, county-wide. A celebration of heritage in all its forms takes place in a series of venues across Offaly. Perpetually popular is the Open Day at Charleville Castle, a listed building often hailed as the masterpiece of renowned 19th century architect Francis Johnston. heritageweek.ie 7National Ploughing Championships, September 19-21, Screggan, Tullamore.
This celebration of contemporary life in rural Ireland has become an all-embracing phenomenon in recent years, and returns for a third year running to Screggan, near Tullamore. www.npa.ie/ 8Culture Night, September 22, county-wide. The ever expanding annual event that aims to liberate culture and arts from museums and galleries, and set it free in the community at large. culturenight.ie 9Offline Film Festival, October 11-15, Birr. A boutique film festival in which not only will you get to see a host of movies but you may find yourself pressed into service as an extra in one of the pop-up projects taking place over these few days.
www.offlinefilmfestival.com 10Hullabaloo, November 1-4, Birr, Clara, Edenderry. Timed to coincide with the Halloween mid-term break, this children's arts festival aims to make this special time of year just a little bit more magical with a programme of music, art, culture… and fun. visitoffaly.ie Pollinator Multidisciplinary Art Commission will highlight the promotion nationally and work to highlight the vital role pollinating insects and bees play in underpinning much of life as we know it. It's just another example of how creativity in one field of human endeavour – art – is being used to improve conditions in a realm that we depend heavily on: the natural world around us.
It's that kind of 'thinking outside the box' that we are constantly being told we should foster in ourselves. So where better to turn than the 'STEAM' initiative in the Offaly library network. Representing the interests of culture, history, science, technology, art and mathematics, the all-encompassing nature of 'STEAM' has been formulated with the intention of eroding the unnecessary and sometimes unhelpful barriers between intellectual fields. What that actually translates into is an exciting programme of events in the county's eight libraries, ranging from a Jane Austen festival in Tullamore and Edenderry libraries in July to the launch of a dedicated space celebrating the heritage of the Leinster Regiment in Birr Library in August.
Lovers of history and culture will also be looking forward to the publication of a book 'Flights Of Fancy' by Offaly County Council architect Rachel McKenna. She has drawn on her background to produce this exploration of local demesnes that feature those most intriguing of engineering feats, the architectural follies beloved of so many owners of big houses in previous centuries. What is clear is that the local vision of how creativity can enhance the daily lives of people in all walks of life is no idle flight of fancy. And with Creative Ireland committed to implementing its vision of communities working with business and local government over the next five years, getting involved this summer will certainly be no folly.
Lough Boora Discovery Park is where art meets nature in a series of sculptures, including this, 60 Degrees by Kevin O'Dwyer, using old railway tracks and sleepers Saturday 10 June 2017 | Irish Independent YOUR COUNTY-BY-COUNTY GUIDE TO GETTING CREATIVE IN 2017 CREATIVE IRELAND PROGRAMME | 25 To see your full county plan for Offaly, log on to Ireland.ie OFFALY HighLIGHTS Above: Leanne Hennessy and Jane Hennessy at Castlepalooza in Tullamore
Cultural initiative sparks an C ULTURE and the arts have proved increasingly relevant to the civic life of Laois and are acknowledged as among the county's most significant assets. It is home to two of the country's biggest annual events – the National Ploughing Championships and Electric Picnic – and has notable heritage attractions, such as Emo Court and the Rock of Dunamaise. Arts Officer with Laois County Council, Muireann Ní Chonaill, is county co-ordinator of the Creative Ireland programme. She says that valuable new artistic initiatives have been created in the county in recent years, such as the opening of the Laois Arthouse in Stradbally in 2011 and music initiatives with the Laois School of Music.
The other major cultural initiative is Music Generation Laois. "Within our resources, we have over 3,000 children attending weekly music classes," says its co-ordinator, Rosa Flannery. "We hope that through Creative Ireland, we will get the opportunity to expand and get more young people involved. Specifically, one of the key goals of Creative Ireland is to have arts-rich schools, and we want to have music-rich schools. We are particularly focusing on the DEIS (Delivering Equality of Opportunity in Schools) schools in Laois, which are disadvantaged schools." "The idea is that every child will have the opportunity to be part of a weekly Music Generation Laois programme.
I can only imagine the kind of benefits this would bring to a community, particularly where disadvantaged children are getting the opportunity to sing or learn a musical instrument." Music Network Laois has had unexpected success with its harp programme, because the harp is such a rare instrument that most people don't have access to it. Rosa has found that children really love to play it through their school programmes. As part of Creative Ireland, a composer will be commissioned to create a suite of music for a harp orchestra. This new work will be premiered as part of Tionól: Harps & Pipes in November 2017 in Laois, and will bring over 50 young harpists together to perform as an ensemble.
"It's really exciting," Rosa says. "I feel very positively about Creative Ireland, as it can only enhance or add value to what we are doing." Children's events and activities will continue to be a focus for Creative Ireland programme support, and access to free events, classes, talks and coding workshops will be provided. Children are also at the heart of broadcaster Ann Marie Kelly's latest project. The Midlands 103 breakfast presenter has received funding through Creative Ireland to make a documentary called Waking Portlaoise. She has engaged writer, Pat Boran, to share his knowledge of Portlaoise's history with young children from the town and from different nationalities, as many of them have no idea of its past.
"Portlaoise is in transition because the old schools are closing down, nuns are leaving, businesses are closing and the town centre has a big question mark over it," she explains. "Pat will pass on his knowledge of the underground tunnels and forts to the children, and they will do their own trail during Heritage Week and pass on the knowledge they have acquired to the people of Portlaoise. The children are so excited, and I like the fact the knowledge and stories are going to be passed on." Supporting artists across all disciplines in Laois comes through bursaries, providing opportunities to create work through commissions, curated programmes and the Per Cent for Art scheme.
Award-winning poet, Ann Egan, says that being involved in Creative Ireland is marvellous because it helps highlight the talents that individual people have. "I write poetry and it can be very hard to speak about your own work," she says. "It's wonderful when something like Creative Ireland gives you a platform for your talent." Ann has written four books of poetry, and was Laois writer-in-residence in 2012. She works closely with Muireann Ní Chonaill to offer readings, workshops and creative writing residencies. "It's really great to have the support of Creative Ireland and the arts officers, and it offers a great way forward for artists," she says.
"Poets usually work alone to a great extent, and it would really interfere with your writing if you had a role other than that. I would find it really hard to put my own work out there, so it's great to have an organisation behind me that will help to do it." As part of Laois's Creative Ireland programme, a grant scheme will provide financial support to local and community groups, artistic and creative practitioners, event organisers and those involved in creative activities and projects, to encourage cultural participation throughout Laois.
Emma O'Grady is from Mountrath, and is an actor, production manager and lighting technician. She recently performed her first solo theatre project, What Good is Looking Well When You're Rotten on the Inside, at the 2017 Galway Theatre Festival and the Mermaid Arts Centre in Bray. They both supported the staging of the play along with the Arts Council and Áras Éanna (Inis Oírr). It received great critical acclaim, and Emma Harp programme proves a huge success with children as they get ready to showcase at Tionól in November, writes Andrea Smith Within our resources we have over 3,000 children attending weekly music classes '' Clockwise from above: Nick Miller works on a watercolour painting of poet Pat Boran; Music Generation Laois Harp Ensemble led by Catríona McKay and Siobhan Buckley at the Music Generation Laois, New Works Series in the Portlaoise Heritage Hotel; Lisa Fingleton with her class at the National Drawing Day Art Workshop at Laois Arthouse in Stradbally.
CREATIVE IRELAND LAOIS 26 | CREATIVE IRELAND PROGRAMME YOUR COUNTY-BY-COUNTY GUIDE TO GETTING CREATIVE IN 2017 Irish Independent | Saturday 10 June 2017
1The Old Fort Quarter Festival. Drawing its title and theme from the fascinating history of the original 'Fort of Maryborough', it offers a weekend of free family fun and live music in Portlaoise from June 23 to 25. www.laoistourism.ie 2Painting and Drawing in Light, Mood and Movement. Summer art programme for adults directed by painter John Keating. It takes place from June 7 to 9, at Laois Arthouse. www.laois.ie 3Music Generation Laois Trad Summer School. Includes workshops and performances, the premiere of a new suite of music for Trad Orchestra by Ryan Molloy, and an outdoor concert with Beoga.
It runs from July 21 to 23. www.musicgenerationlaois.ie 4Tionól: Harps & Pipes. This weekend of workshops and performances will include a premiere of a brand new suite of music for harp orchestra. It takes place from November 3 to 5. www.musicgenerationlaois.ie 5Summer Arts Programme. There are workshops in music, arts and crafts, pottery and drama in Portlaoise, Stradbally, Rathdowney and Mountmellick. www.laois.ie 6Spoken Word Residency. This residency will run over the summer and the target group is young people aged 12 to 20 years. www.laois.ie 7Leaves Literary Festival. The annual festival takes place in November, and celebrates the diverse talent in the county's literary, film and music scene.
www.laois.ie 8Animation Project. The Dunamaise Arts centre will host an animation festival for children and young people during the Hallowe'en break. An exhibition of illustrations for graphic novels and other key works will be on view for the month of October. www. dunamaise.ie 9Mindfield@Electric Picnic. At Stradbally Hall you'll find an oasis of literary readings, political debate, poetry, science experiments, inspiring talks, news quizzes, public conversations and more. September 1-3 www. electricpicnic.ie/stage/ mindfield 1030 Years, Artists, Places. This exhibition concludes its 18-month national tour in the Dunamaise Arts Centre, Portlaoise.
It runs from June 10 to July 15. www.dunamaise.ie air of electric excitement has now received funding from Laois County Council towards staging the show in Dublin in September, which she's delighted about. She has also applied for funding to tour the play, and believes that the Creative Ireland programme will enhance the quality of Irish productions.
"There is absolutely a need for more investment in the arts in order for things to have a life and be the best they can be," she points out. "I work in production and do tech stuff as well, so for the first time, I didn't have to do everything myself, which was amazing. I could employ a fantastic team of people to work with and make the play as good as possible. Without the support, it wouldn't have been as successful and wouldn't have achieved all I wanted it to achieve, so it was just amazing." Michelle de Forge is director of the Dunamaise Arts Centre, which is at the heart of the arts in Laois.
She says that the theatre is delighted that the Creative Ireland programme gives them the potential to develop particular projects, and to have artists that they can employ and support to do creative work. This year, Dunamaise and the Laois Arthouse will co-host Animate Laois, a fun, educational animation programme. This will conclude with a celebratory screening for the young participants.
"One of the areas that we would like to focus on and develop is around the area of animation and illustration, so this is a really nice opportunity to develop it," Michelle says. "We had a celebration on Easter Monday, during which a short piece of animation was worked on by a very talented artist based in the Midlands and a local primary school class. "In that small-scale project, they produced a really lovely piece of work together, and it just sparked the idea that something like this would really work." Muireann says that Creative Ireland has generated an air of excitement. "It should help in giving confidence and voice to the creative people as they respond through their projects and resounding benefits to the community as they enjoy the outcomes of those creations," she says.
"It will harness much of what is already being done and give us courage to embark on more ambitious projects over the next number of years." Anneleen Lenearts and Dionysis Grammenos play during the Laois Leaves Festival. Saturday 10 June 2017 | Irish Independent YOUR COUNTY-BY-COUNTY GUIDE TO GETTING CREATIVE IN 2017 CREATIVE IRELAND PROGRAMME | 27 To see your full county plan for Laois, log on to Ireland.ie LAOIS HighLIGHTS
CREATIVE IRELAND KILDARE W ITH census figures showing that over 28pc of Kildare's population is younger than 19 years of age, it is no wonder the county's Creative Ireland team has opted to put a strong emphasis on youth and family engagement in their plans for 2017.
As team leader Marian Higgins explains, "Kildare has one of the youngest populations and it's growing very fast, so we have quite a concentration on youth involvement. "If you're managing to attract children then by default you're going to have the parents… and you could be getting the grandparents too." And with a young demographic being a key target, their programme for the year includes a number of family-friendly events. The Young Kildare Readers Festival takes place from June 10-24 with the two-week programme set to feature authors Shane Hegarty, Gillian Perdue and Dave Rudden, while the Kildare Library Service Annual Culture and Creative programme calendar of events sees the STEAM programme for children — covering science, technology, engineering, arts and maths — continue later in the year.
The 'Summer Stars' initiative will also encourage families to explore their local library, while the now annual Play Day will once again take place in September after the event's past success in attracting crowds of up to 5,000. Another highlight, the Kildare Town Medieval Festival enters its third year on August 20 and is "getting bigger and bigger year on year," according to Higgins. Tom McCutcheon oversees the medieval festival, which will be based on a Viking theme after the town's St Brigid's Cathedral grounds was recently used as a setting for the Irish- Canadian TV series, 'Vikings'.
"It's to highlight the rich heritage of one of the oldest towns in the country, Kildare Town," explains McCutcheon. "We want people to connect better with it and we want to help people connect with the heritage in a family-friendly and fun way.
"We do walking tours, we'll have a small dig and we have a re-enactment in a small Viking village in the children's park. "This is an area where the horse is very important and many people have never seen a farrier at work, so we'll have the Irish School of Farriery who we brought in last year and that was really a popular attraction. "We'll have a harpist and a calligraphy workshop, while the round tower is the tallest one you can climb in Ireland. "It is the monastic site of St Brigid — lots of people know about it around the world, but sometimes people forget about it in their own country.
You can become complacent and think of it as 'just a cathedral', but it is a special one and the festival helps to highlight that. "Last year we had a lot of tourists as well, people from Italy and France, and they sent us some lovely emails at the end of it. It shows the real heritage of the town." Kildare's CI team also hope to utilise the county's natural beauty and unheralded scenic locations in many of the events they have planned.
"We've wonderful heritage here and natural heritage in our county… so that's what we try to pull into our programme," says Higgins. "Kildare isn't a county that's really known for its natural heritage — we don't have any mountain range or anything like that — but we have wonderful canals and wonderful open spaces, places like the Curragh. "There really is quite a unique beauty in our county. We have fabulous old ruins and cathedrals… We're very much trying to look at our natural landscape and trying to incorporate that. Essentially it's our heritage that can inspire us and that's the route we're taking." The Curragh features as key location for the Inaugural Kildare Military Conference on June 9-11, which will involve local history groups, seminars on a variety of topics and a site visit to an ancient Rath of Mullaghmast.
The reputed scene of a 1577 massacre, the Mullaghmast event will feature a talk from archaeologist Noel Dunne and a dramatic performance by the Griese Youth Theatre entitled 'A Game of Thrones' in a nod to the gruesome similarities between the legendary tale and the popular TV show. Mario Corrigan, an executive librarian with a focus on local studies and member of Kildare's CI team, explains: "It's a good programme, but rather than looking at it as a standard military conference, it's a mix of different aspects — showing movies, bringing ex-personnel along, involving the youth theatre, military displays and trying to get a family- With over 28pc of the population under the age of 19, youth is set to have its fling, writes Ciarán Gallagher Family-friendly events will be to the fore in Kildare festival Left: An exhibition by Karen Hickey at Celbridge Library Above: A farrier hammers a horseshoe into shape at the Medieval Festival 28 | CREATIVE IRELAND PROGRAMME YOUR COUNTY-BY-COUNTY GUIDE TO GETTING CREATIVE IN 2017 Irish Independent | Saturday 10 June 2017
1Kildare Town Medieval Festival (August 20). Community festival promoting the town's Viking heritage, including attractions such as a calligraphy workshop, walking tours, a 'Viking village' for all ages. 2Inaugural Kildare Military Conference (Newbridge/Mullaghmast/ the Curragh, June 9-11). Historical seminars on a variety of military-related topics looking at Kildare's association and local connections to the military, film clips and a panel discussion on Ireland's peacekeepers followed by a site visit to an ancient Rath for "Massacre at Mullaghmast; A Game of Thrones", featuring a Griese Youth Theatre performance.
3Kildare Walking Festival (Various destinations, June-July). A number of walks lasting between 4km and 6km, including Carton House parklands, Monasterevin Town, the Curragh plains, Kildoon Wood, Straffan House parklands, Kilkea and Lyons before the longer six-stage Grand Canal Challenge from Hazelhatch, Celbridge to Athy, which takes place over two weeks.
4June Fest (Newbridge, June 1-23). Sixty events held over the course of three weeks in Newbridge, including music, visual art, theatre, cinema, literature, sport, comedy and dance. 5Play Day (Aras Chill Dara, Naas, September 23). A range of activities for children and families. 6Young Kildare Readers Festival (Kildare community libraries, June 10-24). A two-week programme with popular authors Shane Hegarty, Gillian Perdue and Dave Rudden. 7Kildare Readers Festival (TBC, October 13-15). "A must-attend event for book lovers and writers".
8Kildare Heritage Week (Various locations, August 19-27).
A national initiative, numerous events take place in Kildare, including talks on the GAA in Clane, Irish Volunteer Thomas Ashe and the Curragh Local History Group's Museum Open Day. 9Midsummer Arts Festival (Naas/Sallins June 23-24). A range of events with the likes of children's TV favourite Bosco, a giant planetarium, art workshops and more for children and families, plus climbing walls, a barge trip from Sallins and Declan O'Rourke concert. 10Summer Stars programme (Kildare community libraries, various dates). An opportunity for families to explore events and facilities available at local libraries, including story-time sessions and children's activities, encouraging children to enjoy reading in summer.
orientated event by trying to promote the history and heritage in a different way. "Mostly these type of events usually focus on a [particular] battle, but we'll be looking at a variety of different events — Irishmen serving in Vietnam, the Luftwaffe pilots that we're imprisoned on the Curragh and the 1798 rebels." Another event to capitalise on the natural landscape to highlight the county's history and heritage will be the Kildare Walking Festival (July 9-30) – part of the 'Get Kildare Walking Programme'.
A number of guided walks at scenic and historical locations are planned, with the majority of outings lasting between 4-6km over settings such as Carton House parklands, Monasterevin Town and the Curragh plains. Later, the six- stage Grand Canal Challenge offers a more testing challenge. CI team member Syl Merrins, who is also a co-ordinator for Kildare Sports Partnership, has been involved in the planning and the former Kildare GAA chairman is eager to see the county embrace its rich sporting tradition at all levels. "There's a definite focus on that… our remit is to get everyone involved in physical activity from the smallest to the oldest," says Merrins.
"Stuff like this involves family, parents and children and older people." Down the line, plans are being made for a celebratory re- Creativity is the catchword in Kildare, from inspiring art for tots to filmmaking for teenagers.
and Wallis Bird. Promoting burgeoning musical talent is another aim for Kildare's CI team, with the Platform4 Audio studio in Leixlip library acting as a hub for young emerging talent. "We've had training there for young musicians," explains Higgins. "And we have a group of young filmmakers working out of it. It's a fantastic resource and we're using it for training of both musicians and young filmmakers. They've been doing very well." The Council also support the Midsummer Arts Festival (June 23-24) in Naas and Sallins, which features "a diverse range of cultural and artistic events" as part of the two-day event.
Looking further ahead, a five-year Cultural Strategy for Kildare includes an arts and heritage symposium in July on the Walled Town of Athy, which will see various artists "interpret the town heritage through various media". As for promoting the Irish language, Higgins suggested that the presence of the Council's Irish Language Office Denis McDermott on the CI team will help to drive a "strong interest" in the county. "It's great that we'll have his expertise and we'll have a number of Irish language events," she said. "Even in our play days we'll have events that are as Gaeilge as well, so we're just trying to incorporate it little by little." enactment of Kildare's 1919 All- Ireland football final win on the centenary of the achievement, while a mid-summer race meeting at the popular June Fest is an example of sporting entertainment in a county famed for its horse-racing.
June Fest got underway last weekend and Higgins insists there is "something for everybody" over the course of the three-week festival, which features a variety of visual art, theatre, cinema, literature, sport, comedy and dance in addition to other notable musical acts such as Mundy Saturday 10 June 2017 | Irish Independent YOUR COUNTY-BY-COUNTY GUIDE TO GETTING CREATIVE IN 2017 CREATIVE IRELAND PROGRAMME | 29 To see your full county plan for Kildare, log on to Ireland.ie KILDARE HighLIGHTS
Creative juices can flow in Wicklow T HE Garden of Ireland isn't just a topographical wonder – it's also a lush hotbed of creative and cultural energy. Between the famed Ardmore and Ashford film studios, it's also the epicentre of so- called 'Paddywood'. A host of celebrities and creative giants, among them actor Daniel Day- Lewis, director John Boorman, comedian Dara Ó Bríain and musician Hozier have all at some point called Wicklow 'home'. It's a county in which the arts have long been nurtured and cherished. Locally-run concerts, literature events and arts festivals are scattered across the year, and the county's two arts centres, the Mermaid Arts Centre in Bray and the Courthouse Arts Centre in Tinahely, have engaging with the entire community at the heart of all that they do.
And this is a tradition that looks set to continue thanks in part to the Creative Ireland initiative. "Wicklow's topography includes beautiful mountains, seascapes, wetlands and heritage attractions dating back to ancient times," reveals Jenny Sherwin, Arts Officer for Wicklow County Council. 'Given its proximity to Dublin, our creatives have benefited from having the wider cultural knowledge coming out of Dublin, and because of where we are, a huge number of creatives and musicians – including a large proportion of the National Symphony Orchestra – live here. "We have created strong foundations in the area of cultural provision.
It acknowledges that cultural service provision is critical to the work of the local authority in areas such as architecture, tourism, urban and rural planning, the public realm, social, community and economic development. It has a dedicated Department of Community Cultural and Social Development to advance these measures." According to George Jacob, director of the Bray Jazz Festival, many of Wicklow's creative and cultural industries worked well together on last year's 1916 centenary celebrations and, earlier in the year, a successful Cruinniú na Cásca celebration over Easter weekend.
"The strategy will likely build on what was achieved in 2016, and we're well positioned to do that," he says. "There is an opportunity for Easter weekend, or Easter Monday to become a focal point for artistic expression in the county. That fact that Cruinniú na Cásca was held, among other places, at Kilruddery and Russborough House, taps nicely into the heritage side of things. I'm sure that is what is hoped will be achieved nationally, and if Wicklow can be part of the movement to achieve that, that would be a great result." Adds Jenny Sherwin: "In terms of Wicklow County Council's plans, it's about joining programmes together, making them stronger and adding something them that isn't already there, with an eye to sustainability." Wicklow's new county plan, in keeping with the pillars outlined in the overall Creative Ireland manifesto, is to strengthen opportunities for artists and creatives, and to engage 1A discussion panel will be formed including artists and curators to inform a strategic programme for children and young people for the duration of the Creative Wicklow Strategy 2017- 2021.
It is anticipated that this will include classroom-based, festival, participatory and audience- based measures.
2A Literature Curator will be appointed to work with Wicklow Library Services Outreach Officer, and will animate participation and engagement in reading, writing, and storytelling of all genres and for all age ranges. 3The Heritage and Arts Office will collaborate to initiate a pilot approach to creating participatory artist-led heritage workshops and residencies. 4A community choral activation plan and development supports for the choral sector will be developed. 5The Bray Jazz festival, held over the May bank holiday, will extend its access to performances and the presentation of distinctive ensembles and individuals.
brayjazz.com 6Wicklow Local Enterprise Office will lead and deliver the South- Eastern Corridor Creative Industries programme which aims to resource and develop film industry practitioners in Wicklow and neighbouring counties. 7Music Generation Wicklow (pictured) is a music education service for children and young people that provides a range of opportunities throughout the county for music learning and participation.
Music Generation Wicklow will extend early years' music presentations and new youth engagement. musicgenerationwicklow.ie 8Shekina Sculpture Garden in Glenmalure will present the work of sculptor Fred Conlon with works on loan from the late artist's estate. Shekina Sculpture Garden houses a significant collection and will be open to the public for viewing between certain hours in the coming months. shekinasculpturegarden. com 9Calary Music Festival presents a range of classical music programmes. It specifically encourages and hosts emerging professional artists and features nationally-renowned classical performers.
This is a significant access programme in rural north Wicklow. In 2017, it will extend its range of performance opportunities to emerging musicians under 18.
10Wicklow County Arts Office will announce a new programme of contemporary art commissions soon. This will be the fourth series of commissioning undertaken by the Council since 2007, and will provide opportunities for temporary and permanent artistic works across all disciplines. The county is well positioned to build on what it already has achieved, writes Tanya Sweeney CREATIVE IRELAND WICKLOW WICKLOW HighLIGHTS 30 | CREATIVE IRELAND PROGRAMME YOUR COUNTY-BY-COUNTY GUIDE TO GETTING CREATIVE IN 2017 Irish Independent | Saturday 10 June 2017
youngsters further with the arts and local heritage.
The Eastern seaboard is already well served in that respect but there will be a particular emphasis on reaching out further to communities in west Wicklow. "We have a mountain right down the middle of the county, and it does make a difference access wise as you have to go all the way around it," notes Ann Catherine Nolan, manager of Music Generation Wicklow. "It definitely does cause a barrier; the east may have the bigger towns, but with this strategy, there is a deliberate focus on west Wicklow. The west is a little quieter and doesn't get as much publicity as the east, but there are some great groups and festivals out there.
We have some great programmes already running in Wicklow, and we're keen to keep them going." Jenny Sherwin echoes this sentiment: "We will be looking at marginalised communities in the rural and urban areas, and focusing on provision where there is none already. We want to provide as much impetus for young people to get involved in arts and culture in the early years. We'd love a situation where for the children of Wicklow, going to the theatre or picking up an instrument is seen as normal." Music Generation offers performance music education to children without the emphasis of state exams.
It's a beneficial programme not just for providing youngsters with self- esteem and a love of the arts, but also for offering local musicians an opportunity to make a sustainable living. And a music instrument rental scheme, run in conjunction with the local library service (pilot schemes are in operation in Arklow and Blessington) complements Music Generation's efforts. Local artist Eamon Sweeney notes that this idea of an integrated network would stand to benefit the county's creative sector.
"Wicklow has quite a scattered population, and working to develop an integrated communication network of people working in, and interested in, the creative sector in Wicklow is a goal," he says. "I think overall there are good opportunities for engagement with the arts in Wicklow through the work of the Arts Centres, Arts Office, Music Generation Wicklow and local practitioner-driven community activities," he adds. "As with everywhere, many local community initiatives rely on passionate individual volunteer activity – a large hole can be left in a community if a particular individual moves elsewhere or ceases their volunteer activities.
Of course, the modern age faces new challenges with drawing audiences to many cultural events – we already have a surfeit of entertainment opportunities within our homes and smartphones." Eamon also notes the many ways in which creatives and artists in the county can directly benefit from Creative Ireland's support: "(They can enjoy) greater communication within, and awareness of, the sector, more opportunities to engage creatively with young people, and supporting a sense of a creative community and activities that are central to our daily life – not an add-on or after-thought," he says. Many new and exciting developments make up much of Wicklow's activation plan for the coming year.
A Literature Curator will be appointed to work with Wicklow Library Services to promote engagement in reading, writing and storytelling for young and old alike, while heritage workshops and residencies will be led by artists and offered to schools. A Choral Activation Plan, striving to offer support for the choral sector is also in development.
And existing favourites will continue to promote creativity in the region, among them the Bray Jazz Festival, who will extend their access to performances and the presentation of distinctive ensembles and individuals. In a nod to Wicklow's heritage, Russborough House and Gardens and Kilruddery House and Gardens will continue to partner Wicklow County Council and other local and national stakeholders in the delivery of heritage and arts access programmes in 2017. And the thriving Wicklow film industry isn't left out of the action, either – the County Council, with its film commissioner Vibeke Delahunt at the helm, will continue to develop the film potential of the county as a film location and a film tourist hotspot.
"What would be great would be community arts groups coming together and having plenty of communication between groups so that everyone isn't off doing lots of separate things," notes Ann Catherine Nolan, referring to her hopes for the five-year strategy. "It would be great if everyone could band together to become bigger and better." A huge number of creatives and musicians call Wicklow their home '' Clockwise from top left: Junior infants take part in Music Generation's programme; Norwegian jazz musician Marius Neset performs at last year's Bray Jazz Festival; Hexagon, a Wicklow County Arts Office project about professional artists discovering, or rediscovering, printmaking Saturday 10 June 2017 | Irish Independent YOUR COUNTY-BY-COUNTY GUIDE TO GETTING CREATIVE IN 2017 CREATIVE IRELAND PROGRAMME | 31 To see your full county plan for Wicklow, log on to Ireland.ie
CREATIVE IRELAND CARLOW For a small county, Carlow N OT many people know what Carlovian means. The unlikely answer is that it's the rather exotic name given to people who come from Carlow. It may be small in size – the second smallest county in Ireland – but that has never stopped Carlow from having big ideas, which is no surprise when you know it was the royal capital of Ireland in the 14th century. Evidence of sophisticated human settlement, predating written Irish history, has been found in abundance, dating back thousands of years, with perhaps its most dramatic prehistoric site at Browneshill Dolmen, a megalithic portal tomb standing proud on the outskirts of Carlow Town.
Several early Christian settlements are still in evidence today around the county, including the famous St Mullin's monastery, believed to have been established around the 7th century.
The great naturalist Robert Lloyd Praeger, who walked the whole island of Ireland and wrote about it in his classic book, 'The Way That I Went', though the name Carlow might come from the Gaelic for Four Lakes, but he could find no trace of even one long-ago lake during his time recording the geology, flora and fauna of the county. Carlow shares borders with Wicklow, Wexford, Kilkenny, Laois, Offaly and Kildare so it is well placed to be a capital. On a clear day, from a spot on the northern shoulder of Mount Leinster, Lloyd Praeger says that you can get a wider view than anywhere else in the whole of Ireland.
One of its chief natural beauties is the Barrow River, which rises in the Sliabh Blooms and flows gracefully through Bagenalstown, Borris, Graiguenamanagh, Carlow and New Ross, where it joins its sister River Nore and flows into the sea.
Carlow was also an Irish stronghold for agriculture in the early 1800s but the population was cut in half by the famines of the 1840s. The more recent closure of the sugar beet factories, which sustained many farmers and factory workers from the 1920s, saw a further decline in its fortunes. In the last decade or so there has been a sort of renaissance in Carlow and the arts in particular have flourished. Carlow has a nationally recognised and progressive arts infrastructure including VISUAL, an iconic and world class multi-disciplinary arts centre, theatre and gallery situated on a verdant site donated by Carlow College, the former St Patrick's seminary, in the heart of Carlow Town.
There is also a phenomenal county museum, a rich heritage tradition, a pioneering library service and significant historical buildings as well as ancient archaeological sites. "The Youth Pilot Project is our key thing in the Carlow creative plan," explains coordinator, Sinéad Dowling. "Over the next three years it will produce a pilot model for integrating arts provision for children and young people. This has been decided as a result of a recent and rigorous consultation process involving 22 relevant stakeholders." Sile Penkert is the leader of Carlow Youth Theatre. "We are delighted by the very strong membership of young people, aged 14 to 19.
And delighted that they have been placed at the centre of policy. It's great that young critical thinkers and artists are voicing their opinions on quality arts provision, driven by their own interests and needs." Carlow Arts Festival is the first big cultural event of summer 2017 and Jo Mangan is its CEO. "We have hand-picked world festival premières, award- winning shows, immersive visual arts projects, the best possible gigs for the O'Hara Pavilion and a host of free events," she says. Our HQ are in the beautiful Carlow College, St Patrick's, where you can immerse yourself in artistic adventures over the week-long festival.
"I believe a crucial part of our job is ensuring that the arts are accessible to all and not just to the chosen few," says Jo. "I am passionate about broadening access to the arts because of their transformative power. This year's programme is built with that passion at its core and will show the power the arts have to unite us and show us another dimension to living." Ann Mulrooney is CEO of VISUAL, a designated national centre for the arts. "For me, the most important aspect of Creative Ireland is that it makes visible just how deeply culture and creativity permeate every aspect of our lives; from how we plan our towns and cities, to how we foster innovation, to how we express and understand our histories and cultural identities.
The arts are often thought of as 'something for other people', but this belongs to us all. Understanding the value of creativity and culture and creating the conditions to truly foster that, has the potential to transform our society.
"I'm thinking specifically of the Town Narrative project, where storytelling (the most democratic of art forms!) and creative methodologies will be used to help shape future urban planning decisions. I believe it underlines how art and culture can play a central role in shaping our world." Youth Pilot Project set to produce model for integrating arts provision for young people over the next three years, writes Helen Rock I believe a crucial part of our job is making sure that the arts are accessible to all '' Clockwise from left: The gala concert; teaching choral singing in Drumphea NS, Carlow; VISUAL Carlow town narrative research.
32 | CREATIVE IRELAND PROGRAMME YOUR COUNTY-BY-COUNTY GUIDE TO GETTING CREATIVE IN 2017 Irish Independent | Saturday 10 June 2017
1Carlow Arts Festival, June 7-13. Highlights include free but ticketed performances from Crash Ensemble (Duckett's Grove, June 13) and 'Einstein on the Beach', film of Philip Glass's groundbreaking opera (June 10-12). 2On the water: Guided canoe tours on the Barrow river at Borris until October; Graiguenamanagh and Tinnahinch Regatta & Rowing Festival, River Barrow (August 6-7); Carlow Regatta, Rowing Club, Barrow Track (June 3-4). One of the oldest rowing festivals in the country, now in its 158th year.
3Borris House festival of Writing and Ideas, June 9-11. Also at Borris, in the gate lodge, The Store (June-Dec): exhibition and sale of local arts and crafts.
4VISUAL Carlow presents Art Works (June 7– Sept 3); IFI Local Films for Local People (June 9); 'This Thumping Heart': Dancehall Project with Emma Martin (June 8); African Festival (Sept 9); 'The Mental', a new play in the Barrow Trilogy by John McKenna (Sept 22); and Striking Productions' 'A Christmas Carol' (Dec).
5The County Museum presents 'Walk with Willibrord' from St Laserian's Cathedral to Carlow Cathedral (June 24). 6Blackstairs Vintage Club Rally, Myshall Village (July 2). Steam engines, oil engines, tractors and cars & Carlow Vintage & Classic Motor Club Vintage Car Display, O'Brien Road (August 13). 7Bagenalstown Summer Festival. Dancing on the square and performance by Michael English (July 14-16). 8Garden Festival (July 21-30). Workshops and tours of gardens and garden centres throughout the county. Huntington Castle and Gardens open as part of the festival, and during Heritage Week, Hallowe'en & Christmas.
9Chapterhouse Theatre Presents: 'Pride' (for Jane Austen's bicentenary) at The Lawns, Lisnavagh House, Rathvilly (July 13) and Off the Ground Theatre present 'Around the World in 80 Days' (16 August).
10Town of Books Festival, Tinnahinch and Graiguenamanagh (August 25). More than 30 sellers of antiquarian, secondhand and new books, busking competitions, heritage walks and authors' talks. 'Einstein on the Beach', a film of Philip Glass's opera will play as part of the Carlow Arts Festival in June. has some very big ideas There is a notably large number of events in the Carlow Creative calendar for 2017. This is due in no small part to the inclusive attitude of the Creative Carlow team, which received 96 requests for funding and lo and behold, granted them all.
A weekend of dialogue and discourse with international historians, novelists, journalists, film-makers, poets, theatre directors, war correspondents, biographers, artists and political commentators scheduled to take place at Borris House in the centre of the town of the same name.
It is a beautiful place with wide views all around the county, set on about 600 plus acres. The owners are Andrew and Tina Kavanagh and they and their children have turned it into a semi-commercial venue to pay for the upkeep of the large gothicised house, the last ancestreal home of the Kings of Leinster, the MacMurrough Kavanaghs, whose motto over the door reads Suíchain agus Fairsinge (Peace and Plenty). This is a place worth visiting, with lots of good art on the walls and a private chapel with murals painted by the late Barrie Cooke, a great friend of the family.
Look out too for the Heritage Trail at Tinryland, a picturesque and deeply historic village 5.5km from Carlow Town. It has a known history dating at least from the Neolithic period (3700-3400BCE) since the discovery of a burial ground in the 1940s and was an early seat of the Leinster kings as well as the ancestral home of, believe it or not, Walt Disney. Other heritage events include night bat walks, wildlife tours, built heritage, fairs, recitals and historical re-enactments. Tullow Agricultural is one of the most established in the country and is immensely popular non-farming as well as farming folk.
It features food and craft halls, trade stands, competitions for horses, ponies, cattle and sheep and much more. A great day out in the fresh air. Last, but not least, Carlow has many good gardens to visit and you can check them out at Carlow Garden Festival, which is scheduled for July 21-30. Saturday 10 June 2017 | Irish Independent YOUR COUNTY-BY-COUNTY GUIDE TO GETTING CREATIVE IN 2017 CREATIVE IRELAND PROGRAMME | 33 CARLOW HighLIGHTS To see your full county plan for Carlow, log on to Ireland.ie
A T a time when three out of every four items of clothing ends up in landfill or being incinerated, Kilkenny is launching a fashion revolution aimed at cutting down on waste in the global clothing industry.
Part of this year's Creative Ireland programme and the brainchild of theatre maker Ita Morrissey, Consuming Project is a hands-on series of workshops and talks that takes an undercover look at the way we wear. "It's about our relationship with fashion, being conscious about where clothes are made and what happens to them when we're finished with them," says Ita.
According to Greenpeace, 80 billion items of clothing are produced globally each year, 75pc of which is disposed of in environmentally unfriendly ways. It's this massive scale of waste that inspired Ita to set up the project in conjunction with Open Circle, a community arts collective for women in Kilkenny. "We're not the fashion police," she says. "Fashion is about self-expression and fun, and we're not trying to take away from that. What we're doing is exploring in a creative way the environmental and human impact of clothes production, so that people can become more conscious about their choices." She is collaborating with textile artist Dee Hart, who teaches participants how to create something new from old garments that hold special memories.
"For instance, when my mother died, I found an old cardigan of hers with coffee stains down the front. I made a cushion out of it, with the stains intact, because they remind me of her laughter. Sometimes it's good to celebrate the wear and tear of fabric rather than trying to hide it. "By using clothes with traces of the original wearer to make soft toys, cushions or other things, we can combine old and new memories. In our workshops we educate and empower people to make ethical choices, while at the same time having good craic, drinking tea and learning a new skill." The project will culminate in a theatrical performance called Consuming Project: Buy Me at the end of June.
"The costume set has zero waste," says Ita Morrissey. "We got lots of jeans and white shirts from a recycling centre, and a local company dry-cleaned them. These will be both worn by the cast and used to make items for the set, which will then be incorporated into the performance. "It's a super fun way of getting people from diverse backgrounds to collaborate on something creative, and deepen our understanding of each other and build relationships in the process." Consuming Project is just one of many initiatives that are set to transform Kilkenny into a county of culture cats this year thanks to Creative Ireland's support in furthering processes dear to local hearts.
Meitheal na bPáirceanna, or the Kilkenny Field Name Recording Project, is a collaboration between artist Alan Counihan, the council's Heritage Office, and over 80 local volunteers.
"To date, 190 townlands have been documented, but there are hundreds more to do," says Heritage Officer Dearbhala Ledwidge. "We wouldn't be able to do it without the people in the community. They're the ones who tramp the fields, knock on doors and record the local history attached to the fields. Many volunteers have spoken eloquently about what it means to them." They include Nora Brennan who says, "One trip up the narrow road was enough to transport me back to the web of my childhood, a time when the windows of my world didn't extend beyond the two-teacher school at the Holy Stone, the little church by Clodiagh stream and the lanes and fields of our farm.
The townland of Ballygub New, and more particularly Ballygub Old, has been home to my family since Famine times. "I was reminded of the ancestors, those who created the fields and toiled the land, those who eked out a living during the famine years and all who gathered at the Mass Rock to pray. It brought into focus too my own love of the place, how the land shaped and nourished me; not just physically, as we grew most of our food produce, but emotionally and spiritually too." Rejoicing in such descriptive names as Donkey's Sod, Untidy Spot, Well of the Snails, Cess Pit, Field of the Poor Turf, and Garden of the Secrets, many of the fields come with associated stories that combine to create a rich local history which will now be preserved for generations to come.
Future generations are also being encouraged to develop their own literary potential in creative enterprises designed for budding young writers throughout the county. Bookville, a new festival launching in October, is a celebration of books and art for children up to 12 years of age. "We see a need for a festival of this kind, because children's reading has increased," says County Librarian Josephine Coyne. "We have 13,000 library members across the county, and 46pc of them are children. That's more than doubled in the last 20 years, and I have no doubt why: the Harry Potter phenomenon got children reading again." And while their interest is piqued, Bookville aims to capitalise on that with a week- The county is adding to its rich cultural heritage with several new initiatives, writes Celine Naughton In our workshops we educate and empower people to make ethical choices '' Curious State pictured performing 'Morbid and Sons' — an interactive, macabre experience about death and the afterlife — during the Kilkenny Arts Festival CREATIVE IRELAND KILKENNY Kilkenny looking to the past as well as the future 34 | CREATIVE IRELAND PROGRAMME YOUR COUNTY-BY-COUNTY GUIDE TO GETTING CREATIVE IN 2017 Irish Independent | Saturday 10 June 2017
KILKENNY HighLIGHTS 1Kilkenny Cultural Strategies: Have your say on future creative programmes at public consultation meetings: June 14, 6.30-8.30pm at Ferrybank; June 21, 12.30–8.30pm, Kilkenny City; June 21, 6.30-8.30pm, Castlecomer. 2Rhyme Rag: Developing a "Young Ensemble" of writers to strengthen the future of the online poetry publication for young people. Countywide, June-July. 3Fairytale Festival: A family fun day out with BEAT FM to be held in Shankill Castle, Paulstown, Sunday 24 July. beat102103. com/tag/ fairytale- festival/ 4Consuming Project: Community arts project exploring our relationship with fashion and what clothing means to us.
Ongoing workshops, and a theatrical performance Buy Me, at MacDonagh Junction. June 29-July 1. 5Bookville: Inaugural county-wide children's and family festival focusing on reading, writing, story- telling, comedy, illustration and the visual arts, using the county library network and Kilkenny Arts Office. October 11–15. 6Kilkenny Field Names Project: Supporting and training local communities to record and map field names. Ongoing. 7MacDonagh Famine Experience: Community arts project to raise awareness of the human stories at Kilkenny Workhouse at MacDonagh Junction Shopping Centre. Ongoing. 8Medieval Mile Museum: Located in St Mary's Church and Graveyard where the county's gentry were buried, this is considered one of the most important Renaissance tombs in Europe.
Ongoing. 9Kilkenny Arts Festival: Among this year's highlights are Stephen Rea in Oscar Wilde's De Profundis; an extensive programme of works by Schubert and concerts commemorating Handel's visits to Ireland. August 11- 20. www.kilkennyarts.ie 10Author visits: As part of the Bookville festival, writers such as Judy Curtin and Alan Nolan will be reading from their work.
long schedule of activities and events including animation, storytelling, illustration, bilingual workshops, comedy with RTÉ star Reuben, and readings by local authors such as Judy Curtin, Alan Nolan, Dolores Keaveney and Tom McCaughren. Artist Mick Minogue will lead hands-on art workshops and the children can take pride in seeing their work on public display at an exhibition in the city. "We want to make sure that all children have equal opportunities of access to arts and literature," says Josephine. "The younger you can get children reading and accessing the arts, the more it enriches their lives as adults.
It makes them more open to seeing the bigger picture, talking about things and having a rounded approach.
"This is just the start. In the first year of anything, you're building. Creative Ireland may be a learning curve for all of us, but we will use it to future-proof and develop the programme over the next five years, and create a lasting legacy." It's not only the under-12s who are being encouraged to get lyrical. Kilkenny's Rhyme Rag is an online outlet for poets aged 12 to 21 to develop their skills and have their work published. This year it's being rolled out to reach a wider audience.
"Up to now, the main channel to Rhyme Rag was through schools," says Ruth McCann, Arts Office Administrator.
"That was great for those teachers who really engaged with it, but the focus excluded some schools. Now we've introduced a Rhyme Rag Ensemble with the youth organisation Ossory Youth, who provide a premises and facilitate workshops for 14 to 17-year-olds. "One issue in rural Ireland is transport for children. I hope we may get funding from Creative Ireland in the coming years to expand the programme and bring it to smaller towns and communities throughout the county." There are plans county-wide to build on the Creative Ireland initiative in the coming years. "Creative Ireland strategies will be embedded within our plans and policies across the board, with Heritage, Arts and Libraries all working together in a combined cultural strategy for a five-year plan," says Heritage Officer Dearbhala Ledwidge.
"Kilkenny is synonymous with arts and culture. It's home to the Heritage Council, and the Design and Crafts Council. The Cartoon Saloon has just announced 140 new jobs here, which shows that our cultural heritage is not just for tourists, it underpins our very economy and is an intrinsic part of our identity and our sense of pride." From far left: Actor Aoibhinn Murphy at the Consuming Project; Ita Morrissey; and Noa Brennan (above) Saturday 10 June 2017 | Irish Independent YOUR COUNTY-BY-COUNTY GUIDE TO GETTING CREATIVE IN 2017 CREATIVE IRELAND PROGRAMME | 35 To see your full county plan for Kilkenny, log on to Ireland.ie
A festival of creativity The Creative Ireland Programme will take to the road to debate, discuss and share ideas about the value and importance of culture and creativity at some of Ireland's best festivals over the next few months. Join us for this special programme of talks, discussion and special events in Cork, Dublin, Galway, Kilkenny and Laois CREATIVE IRELAND FESTIVALS Sounds from a Safe Harbour 14 - 17 September, 2017 soundsfromasafeharbour.com First Thought Talks @ Galway International Arts Festival 17 - 30 July, 2017 www.giaf.ie/events/archive/category/ irst-thought-talks Baboró 16 - 22 October, 2017 www.baboro.ie
Kilkenny Arts Festival 11 - 20 August, 2017 www.kilkennyarts.ie Dublin Theatre Festival 28 September - 15 October, 2017 www.dublintheatrefestival.com Oireachtas na Gaeilge 1 - 5 November, 2017 www.antoireachtas.ie Mindield@ Electric Picnic 1 - 3 September, 2017 www.electricpicnic.ie/stage/ mindield Dalkey Book Festival 15 - 18 June, 2017 www.dalkeybookfestival.org
I T'S opera festival prides itself on finding hidden gems and sharing them with an international audience; something which is reflected in the cultural landscape of Wexford itself. With literary exports including Eoin Colfer and John Banville, venues such as the National Opera House and Wexford Arts Centre, a Fringe Festival and its own annual comedy festival, Jest Fest, Wexfordians have plenty to laugh about.
But what about the serious business of developing creativity? Eileen Morrissey, County Librarian and Wexford Creative Ireland coordinator, said that the Creative Ireland open meeting was a great success, drawing one of the largest attendances in the country to the Wexford County Council headquarters in Carricklawn. She says: "There was a broad range of people there who we are engaging with and we are now building on that and existing schemes." One such success story is the Living Arts Project which sees artists go into four primary schools per year to introduce children to art-making over 15 weeks.
Creative Ireland funding is allowing the programme, run by the Council with Wexford Arts Centre, to go into secondary DEIS schools as part of a pilot programme. In addition, professional development for artists and teachers involved in the programme will include workshops by experts on VTS (visual thinking strategies for children). Catherine Bowe, visual arts coordinator with Wexford Arts Centre, says: "Creative Ireland is offering a highly valuable opportunity to further the provision of arts education in schools. It is exceptionally important that visual arts education is introduced to children at a young age and that it is integrated fully into the school curriculum.
"The critical period for language development is before the age of ten years, after which language acquisition becomes more difficult. In these early years when the foundations of intellectual and emotional development are at this critical stage, the acquisition of artistic skills depends on the development of basic psychological processes such as perception, creative thinking and reflection. "Visual arts education allows the internalisation of habits such as observation, innovation and thinking to be transferred to other fields of knowledge, and therefore the development of visual art language and skills is a crucial development tool." Caoimhe Dunn is one of the participants on the Living Arts Project to date and believes that artistic engagement, as per the CI commitment, is crucial.
She says: "It's about getting the young people to think creatively; it's like learning a new language. If you want kids to be involved in art when they get older, then they need to experience it when they're younger. It's creative education and is about culturally educating people. "It's very reassuring as an artist to be able to engage in a project that's so long-term and that you know is regularly going to pay you for a few weeks. It's really nice to be involved in something that has a long-term plan, that isn't just a one-off and has long-term thinking." The project's long-term strategy also allows the artist to see the workshop participants develop throughout the process, making the time rewarding for the artist and children taking part.
The long-term strategy of Creative Ireland and the Living Arts Project gives children the opportunity to apply skills they learn, as well as encouraging further exploration. Dunn explains: "I got to see the children learn skills and then apply them later on, which is something I don't always get to do in a workshop; often we have to produce something rapidly. "It is lovely with the Living Arts Project to see them use the skills they have learned and the language they've learned to approach and discuss things as they got to the end of the project.
"It's a great opportunity to get into schools for that length of time and see the skills they do have.
It was also nice to engage with people and talk with teachers about my practice." By affording the artist the opportunity to get away from "working away on their own somewhere", the scheme fosters a relationship between the artist and the community at large. The young people also hold a mirror up to the artist's work by asking questions; prompting the practitioner to look at their work in a different way, which is useful for their own professional development.
Dunn says: "It does make you question why you are doing things a certain way. I love how inventive they become and some aspects of the project started one way and then the kids just completely took control of where they wanted it to go and things I wasn't expecting to happen turned into amazing ideas and it was just their creativity and them learning how to explore something and then pushing me, which was really cool." The scheme is also a fertile ground for nurturing artists to explore work outside the county. Dunn has also been taking part in the Belltable: Connect Theatre Makers 2017 project in Limerick, which is showcasing its work on June 30.
When it comes to artistic inspiration, Wexford is not Living Arts Project brings arts education into primary schools in an effort to get children thinking creatively, writes Alison Martin It's a great opportunity to get into schools for that length of time and see the skills they do have '' CREATIVE IRELAND WEXFORD Reaching into its rich past 38 | CREATIVE IRELAND PROGRAMME YOUR COUNTY-BY-COUNTY GUIDE TO GETTING CREATIVE IN 2017 Irish Independent | Saturday 10 June 2017
1Creative Ireland Grant Scheme 2017, Countywide. The key objective of the scheme is to provide support to local communities so that they can organise creative activities and projects that will encourage cultural participation.
2Living Arts – Art in Schools, participants to be announced. A team of artists provide children with understanding and experience of contemporary art-making in four primary schools per year over 15 weeks. An extension of the existing scheme will facilitate a pilot programme in a second-level DEIS school, targeting young people at risk of early school leaving. 3Film Wexford. A new website aimed at attracting film location companies into County Wexford will be developed this year. Work on the new Film Wexford website will begin in October, with a view to launching the site in early 2018.
4Professional development for artists. In partnership with Visual Artists Ireland and Wexford Local Enterprise Office, a series of workshops on 'Marketing and Presenting Yourself as an Artist' and 'Selling Your Art' will be held late this year. 5Graves & Co, New Ross. Cataloging and preparing the digitisation of a collection of original documents relating to the Graves & Co shipping company in New Ross. 6Norman Way (pictured), Our Lady's Island to Kilmore Quay. A trail of ten sites that showcase Wexford's Norman past. Events will include lecture and discussion evenings, a Norman Heritage School pack, and a heritage cycling tour.
7Normanway.com. Launch of website to celebrate Wexford's Norman history. 8Wexford Festival Opera and Fringe Festival. The annual festival has been staged in the town since 1951. This year's festival takes place from October 19 to November 5 and includes the Dr Tom Walsh lecture given this year by Fiona Shaw. 93D design, 3D printing and coding workshops, Wexford County Library. Exploiting the new 3D Creative Maker space in Wexford County Library, a series of workshops on design and creation using freely available software and the 3D printer will be provided for young people and adults free of charge.
Coding and robotic workshops will also introduce children to the fascinating world of technology.
10Culture Night. Culture Night in September will see a host of events around the county – and all free to all! found wanting. A breathtaking landscape, seen in locations like The Hook and beaches like Curracloe, as well as access to Rosslare Europort, means that Wexford is a prime location for TV and film: the film Saving Private Ryan (starring Tom Hanks) was shot there, as was RTÉ's Clean Break (written by playwright Billy Roche). There are now plans, according to CI coordinator Eileen Morrissey, to develop a website that will attract more film location companies into the county. It is hoped that the site will be ready for launch in 2018.
To continue the cinematic link, it could be said that Wexford is going back to the future for its Creative Ireland plan; delving into the county's past with the launch of the Norman Way and looking forward then with workshops on 3D printing and robotics. Among the highlights is the development of the Norman Way heritage and cycling trail, which is being launched in May at Our Lady's Island. The series of ten sites spanning 22 kilometres encourages visitors to "travel off the beaten track to retrace the steps of their ancestors", according to Morrissey, at medieval sites at Our Lady's Island, Tomhaggard, Kilmore Quay, Bannow, Tintern, New Ross, Fethard and Hookhead.
At each stop, there will be interpretive panels, seats and bike racks. Meanwhile, a new website, thenormanway. com, will guide visitors to the landmarks and resting points along the way, as well as places to eat.
Creative Ireland will also afford the opportunity to honour Wexford's emigrant population. Graves & Co was one of the main shipping companies that brought emigrants from New Ross and Wexford to Savannah, Georgia, from the 1840s-1860s. Some 2,500 letters from 1855-75 document the families forced to leave and that collection will now be prepared for digitisation. Giving communities the tools to engage with the digital world is also central to the CI work at Wexford Library. The new 3D Creative Maker space in the library will host a series of workshops on design and creation using freely available software.
Coding and robotic workshops will also be provided for children, while children and adults will be given access to the 3D printer free of charge; adding another dimension to an already bustling Creative Ireland plan. Clockwise from left: the 'The Children of Lir' swans who performed at the National Opera House in Wexford earlier this year; writer Colm Toibin; the Living Arts Project, which is 'about getting young people to think creatively'; artists in action at Our Lady of Fatima school in Wexford; an arts session at Craanford National School in Gorey PHOTO:BRIAN MCDONALD WEXFORD HighLIGHTS for creative inspiration Saturday 10 June 2017 | Irish Independent YOUR COUNTY-BY-COUNTY GUIDE TO GETTING CREATIVE IN 2017 CREATIVE IRELAND PROGRAMME | 39 To see your full county plan for Wexford, log on to Ireland.ie
CREATIVE IRELAND CORK CITY C ORK – the European City of Culture for 2005 is where creative energy flows and the world's artistic influences merge. The title of 'the Rebel City' goes back to the 15th century War of the Roses. It has always walked to a different beat, maintained its own character and nurtured its unique culture. Rebellious? Perhaps. Creative? Undoubtedly. In the field of arts, music, literature and expression Cork leads without looking back. It doesn't seek approval or comparison but has an innate confidence in its own ability. Any city which produces the likes of Rory Gallagher, writer Frank O'Connor, playwright and poet Patrick Galvin, comedian Niall Tóibín and actress Fiona Shaw clearly has more than just the wonderful River Lee flowing through its heart.
Of course, the witty linguists of this city don't require a spotlight or a worldwide stage on which to perform. They tread the boards daily along Grand Parade and elsewhere throughout Cork's urban centre, the famous lilting Cork accent floating along by the banks of its own lovely Lee. Its artistic past is rich but so, too, is its current. Intimate music venues cohabitate alongside old pubs and coffee houses – this is a home for the arts. But as with any cultural hub resources are needed to protect the creative pillars of a city. Cork City Council is continually coming up with new ways to promote cultural events and participation across Munster's capital.
And as it brings together the 2017 Creative Ireland plan for the city it aims to build on the impressive work carried out here each year. "A large point of focus for us as we look at the Creative Ireland initiative is social inclusion. We brought together our Cork City Culture team and have been working on initiatives and plans which will involve people across the community from the youngest to the older citizens of the city," explains Jean Brennan, Cork City's Creative Ireland coordinator.
She continues: "Cork City Council has consistently invested in and supported culture. We provide a wide range of cultural services to create a sector that is relevant to the city and the region. Cultural sustainability and vibrancy is an important component of social and economic sustainability, but more importantly, it also drives innovation. We understand that experiencing culture, in its many facets, can help improve the quality of life of our citizens, as young people, and through their lifetime, contributing to the wellbeing of individuals, Musical initiatives have life-changing potential for some of Cork City's children, writes Graham Clifford To see young people performing without fear is really quite incredible '' communities and the city." For the children and young people of Knocknaheeney, a working-class suburb to the north of Cork City, the creative arts, and music more specifically, is contributing to a greater sense of self-esteem for participants.
Music Generation, Ireland's National Music Education Programme, has literally changed the lives of young people in the area. Its positive impact has been far-reaching. Musicians, singers and songwriters work with the children to deliver a high- quality performance music education in the locality. All musical genres from jazz to rap music are embraced. The programme includes song- writing, singing and encourages creative expression. "This is very much a collaborative effort in Cork City involving many groups and agencies and we've been running the project since 2011 when the band U2 and the Ireland Fund actually gifted a €7m philanthropic donation to music education in Ireland.
Across the city at different schools and youth centres we make sure children, especially in disadvantaged areas, have access to an education in music and the uptake has been immense," explains Maeve Dineen, the Co-Chairperson of the Music Education Partnership for Cork City Council.
She says that over the last three years upwards of 2,000 children across the city have been excelling in music studies. "It's a major project and also involves so much Musical initiatives have life-changing potential for Sweet sounds putting the cultural spotlight on Cork City 40 | CREATIVE IRELAND PROGRAMME YOUR COUNTY-BY-COUNTY GUIDE TO GETTING CREATIVE IN 2017 Irish Independent | Saturday 10 June 2017
CORK CITY HighLIGHTS 1STEAM workshops. Creativity comes in many forms. As part of the Creative Ireland programme there are plans to extend the STEAM engineering workshop programme to schools in the Togher Learning Neighbourhoods and to include science and maths within the initiative.
2RAP Music. RAP music programme to be extended within an environmental themed initiative to two further schools. 3Park Fun Days. Plans are afoot to fund cultural participation workshops and presentations with activities specifically targeted at children and families. 4The Music Generation Hub. A hub will be established as part of the Music Generation programme in Knocknaheeny offering young students access to Music Education after school hours.
5Summer in the Park. The hugely popular Summer in the Park programme will be extended to include music and cultural genres not currently represented. 6Fleischmann in the Glen. A free classical concert by Cork Fleischmann Symphony Orchestra in Glen River Park, on the northside of Cork City, which was where the celebrated Professor of music at UCC Aloys Fleischmann lived. This unique event will involve the local community who live near and use the park. 7Learning Neighbourhoods. The project will develop a specific arts-based initiative for Togher and Mayfield for 2017.
8Writers. A contemporary Cork writer will feature in the 'One City One Book' reading initiative.
9Peann agus Pár. Support of the Peann agus Pár Irish language creative writing workshops. 10Sounds from a Safe Harbour. The celebrated Ohio band The National kick off their world tour with a gig at the Cork Opera House. Also slated to appear are the Crash Ensemble. September 14-17 soundsfromasafeharbour.com voluntary work by teachers and community workers. The impact on children has been immense. To see young people performing without fear in front of their peers and communities is really quite incredible," she explains.
And now, as part of Cork City's Creative Ireland Programme, it is hoped a hub can be developed and funded in Knocknaheeny to provide continued music education access to young locals who progress from primary to secondary schools. "Also, this hub will be something of an after-school centre for music studies. We want to make sure access continues for our young people even as they get older," explains Maeve. Indeed music, of all styles, forms a major backbone of this year's Creative Ireland Plan in Cork – fitting for a city which welcomes 40,000 music lovers to Leeside each year for its annual Jazz Festival on the October Bank Holiday Weekend.
Rap artist GMC (aka Garry McCarthy) is a Cork native who writes and produces his own work. He also works with students in schools across Cork helping them compose and record their own music. "In recent years, his work has included helping young people in the Farranree area of the city to create raps for an anti-litter environmental scheme there. Clearly that project had multiple From left: Julia Varian, Ellie Varian, Lainey O'Sullivan, Ellie Holton, Kierán Carey, Max Bernard, Adam Barnes, Cathal O'Brien-Regan, Luke Roche, Dale Walsh and Carey O'Callaghan with Lloyd Hogan, Roy McGovern and Garry McCarthy from Music Generation at a GMC Rap Workshop in Knocknaheeny as part of the Music Generation Cork Summer Sing Camps; Abbey Lynch O'Shea at Tradcamp RADCAMP Knocknaheeny with Creative Tradition; and children marvel at exhibits during Culture Night in Cork City.
Though Munich-born, Fleischmann held the position of professor of music at UCC from 1934 until 1980. A fluent speaker of Irish and a scholar of Irish folk music, he conducted the Cork Symphony and Radio Éireann Orchestras and composed over 55 works as well as also publishing some literary works. "This concert is a homage to the man and his work. It will be suitable for all ages and audiences, from those who might never have seen or heard a symphony orchestra before to those well-versed – all are encouraged to come along.
Keith Pascoe will conduct the Cork Fleischmann Symphony Orchestra with special guests Ger Wolfe and Sinéad Ní Mhurchú," explains Joe Kelly.
On a long summer's evening then the classical works of Fleischmann will drift over the terraced houses of north-east Cork. Through open windows and down chimneys, many young ears will hear the sound of strings and wind instruments for a first time. "Even if one child went away and decided to pick up a cello or a violin wouldn't that be wonderful," says Joe Kelly, adding: "That would really show how the Creative Ireland programme is having a direct impact on the lives of children today while remembering and honouring music and composers of the past." benefits for both the the local area and the young people themselves," explains Nuala Stewart, RAPID Coordinator at Cork City Council.
It's hoped additional support can be given to the Rap music programme within an environmental themed- initiative to two further schools in Cork under this year's Creative Ireland Plan. But perhaps one of the most novel events planned in the coming months is the 'Fleischmann in the Glen' free concert of classical music on June 21, as part of the Midsummer Festival. "This event will take place in the Glen, now a lovely public park, where the composer Aloys Fleischmann once lived and where he would have written some of his fantastic works. He was an amazing man, a composer, professor and conductor.
We will be bringing the Fleischmann Symphony Orchestra back to the home of this great Corkman," explains Joe Kelly from the St Luke's/the Good Room Music Venue.
Saturday 10 June 2017 | Irish Independent YOUR COUNTY-BY-COUNTY GUIDE TO GETTING CREATIVE IN 2017 CREATIVE IRELAND PROGRAMME | 41 To see your full city plan for Cork, log on to Ireland.ie
Rebel county glories in a vast diverse culture F ROM the islands off the west coast to the town of Youghal in the east, and Mitchelstown near the foothills of the Galty Mountains in the north, creativity flows through the Rebel County. The country's largest county, covering an area of 7,500 sq km, Cork's diversity and strong cultural tradition form an integral backdrop to the Irish identity.
Its history is a rich tapestry bringing together indigenous music, language and expression fused with influences from across the waves. Over the years towns such as picturesque Kinsale established trading links with French and Spanish merchants and that influence helped shape life in the southern port town. Travel to West Cork during the summer and you'll struggle to move for local festivals. It's a hot-bed of creativity and locals have become used to celebrating their culture.
From the Bandon Music Festival in June to Glengarriff's Jim Dowling Uilleann Pipe and Trad Music Festival and Bantry's West Cork Literary Festival, this corner of Ireland brings culture to life on its streets like no other. For Conor Nelligan, the Creative Ireland Cork co- ordinator and the Heritage Officer with Cork County Council, the opportunities and challenges are manifold. As he and the Cork County Culture team compile their Creative Ireland plan they're eager to emphasise community participation and empower local artists, musicians, playwrights and more besides to take ownership of this unique programme both now and in the years to come.
"We held a series of open meetings around the county in Bantry, Midleton and Mallow and the feedback we received from local communities everywhere was excellent. "During the 2016 centenary commemorations we had 200 individual groups putting together 500 events and many of them want to be involved again, which is wonderful to see. There's a real sense of local pride in Cork, in every village, town and parish and we want to tap into that for our Creative Ireland Programme," says Conor. In addition, members of the public were asked to submit proposals for the Creative Ireland plan by e-mail and dozens have already done so.
Conor says: "The Creative Ireland Programme in County Cork will see artists and communities take the lead on cultural projects and events, ranging from community arts engagement processes, commemorations of Irish history, musical performances, cultural walks and tours; to those that highlight the expansive culture of County Cork as a whole, including heritage and folklore." And already the Rebel County public have embraced one aspect of the new programme. "We had a brilliant reaction to our events held across the county during Easter as part of our Creative Ireland initiative Cruinniú na Cásca," explains Conor.
"Our theme was 'How Nature Inspires Creativity' so we had events such as an afternoon of 1Cork Summer Show, June 17 and 18. The Cork Summer Show will be held in Curraheen Showgrounds. It encompasses a creative mix of agriculture, food, music, crafts, animal husbandry and entertainment. corksummershow.com 2Bantry's Four Arts Festivals (between June 30 and September 10). The West Cork Chamber Music Festival is from June 30 to July 8. The West Cork Literary Festival (July 14-21) features local author and BBC star Graham Norton this year. From August 23- 27 the Masters of Tradition Festival will celebrate traditional music.
Details for all three festivals can be found at westcorkmusic.ie The Chief O'Neill Festival takes place in September, dedicated to the memory of Captain Francis O'Neill. chiefoneillfestival.com 3The West Cork History Festival (July 28-30). This inaugural Festival takes place in Rosebank, Skibbereen and will feature an eclectic mixture of local, national and international topics and speakers. westcorkhistoryfestival.org 4West Cork Fit-Up Festival (July 18 to August 13). This festival revives the tradition of professional theatre companies touring shows to small rural towns and villages. Visit fit- uptheatrefestival.com 5Mallow Arts Festival and Picnic at the Castle.
It's a packed few weeks in morth Cork with the Mallow Arts Festival running from July 26 and the Picnic event scheduled for August 13.
6National Heritage Week (August 19 to 27). In 2017, the theme for National Heritage Week is 'Nature' and events will take place across many of the Creative Ireland pillars. 7Cape Clear International Storytelling Festival (September 1-3). Now in its 23rd year this is one of the most renowned festivals in the world storytelling calendar. capeclearstorytelling.com 8Bantry Irish Film and Drama event (September). In Bantry House, with the involvement of Bantry and District Chamber, a wonderful evening of culture will take place, focusing on the local Bantry talent in film, drama and the Irish language.
9Culture Night (September 15). The Creative Ireland theme will be to the fore on Culture Night. culturenightcorkcounty.ie 10150th Commemoration of the Manchester Martyrs (November 23). On November 23, 1867, Cork Fenians William Allen (Bandon) and Michael O'Brien (Ballymacoda), together with Michael Larkin, were executed as one of the last public hangings ever carried out in Manchester. This event will involve community participation in both Bandon and Ballymacoda. Creativity is thriving in Cork and communtity participation is key, writes Graham Clifford Left: The youngest performer at the Mallow Castle Pipe Band Gathering.
Right and main photograph: Fun and games at Emmet Square in Clonakilty during Cruinniú na Cásca. CREATIVE IRELAND CORK COUNTY Traditional music players in Castletownroche during Cruinniú na Cásca. CORK COUNTY HighLIGHTS 42 | CREATIVE IRELAND PROGRAMME YOUR COUNTY-BY-COUNTY GUIDE TO GETTING CREATIVE IN 2017 Irish Independent | Saturday 10 June 2017
traditional Irish culture and ecclesial heritage at Bridgetown Abbey in Castletownroche, drumming workshops in Ballincollig, an open day at the Michael Collins museum in Clonakilty and Liam Ó Maonlaí played at the Sirius Arts Centre in Cobh." Well-attended events also took place in Fermoy, Mallow, Millstreet, Skibbereen and Youghal.
Included in the Creative Ireland plan for County Cork is the production of a high definition DVD capturing some of the magic moments of the day across the county. The idea is that the footage will be widely circulated and promoted, at home and abroad. In addition, associated material and documentation will be collated and a database or archive created.
A Creative Ireland County Cork grant scheme will be initiated whereby local communities working on a suitable project can apply for assistance and the Cork County Library Network will deliver a series of events, dramatisations and activities throughout the year as part of the Creative Ireland programme. For the first time too a database of cultural sites and organisations within Cork County will be established. "We're excited about this because Cork has 19,000 recorded monuments and over 3,000 protected structures," explains Conor Nelligan. There are also plans for pop- up shop initiatives where vacant or unused premises could be used for community, creative or cultural purposes.
This would include shopfront windows. The Cork County Culture team will host workshops for community groups on how to set up a pop- up shop and may be able to support local groups across the eight Municipal Districts of the county in participating in the initiative.
The pro-activity of local organisations, backed by the County Council and under the umbrella of the Creative Ireland Programme, means new and modified festivals and events are springing up across Cork in 2017. Amongst them is the Mallow Arts Festival, to be held in the north Cork town, on the banks of the river Blackwater, from July 26 to July 30. There'll be live music, street events and John Spillane will serenade the crowds in concert. "It's great to see this arts festival getting off the ground and we hope it'll attract people to the beautiful town of Mallow," says Ian McDonagh, the Arts Officer with Cork County Council.
And he explains that further events are planned for the town.
"Last year as part of a series we called 'the Living Space' we had a picnic outside Mallow Castle, which is no longer in private ownership. The grounds of the castle are stunning and we had a brass and reeds band playing and turned it into a real family day, where local artists could perform and children could relax and enjoy culture and arts in their home town. We're going to do that again this year on Sunday, August 13" says Ian. In the east of the county the Tóstal and tSean Thoir festival will take place in Youghal from June 9 to August 12.
Organiser Michéal de Buitleir says: "This will be the second year of the festival, having been launched by Youghal Comhaltas as part of Cork 2016 Centenary Celebrations.
This year we'll have a brand new format as part of the Cork County Clár Ildánach, which will present festival activities celebrating the very best in Irish music." He continues: "The festival will include top-quality live gigs, exclusive workshops and master classes, as well as an incredible jam-packed Trad Trail taking place across some of east Cork's finest venues, bars and restaurants. You know traditional music is consistently ranked among the top five overseas tourist attractions in Ireland and there is good reason to believe that east Cork's tourism basket can now benefit from such a scheme." From story-telling on Cape Clear in early September to an evening of film and drama in Bantry House and the inaugural West Cork History Festival in Skibbereen pencilled in for late July, the county will yet again show the world why culture and creativity thrives in the south.
And it's embracing the multi-diversity found across Cork too as a couple of new and emerging festivals, organised by migrant communities in Mallow and Millstreet, will also be supported under the County Council's arts grant scheme. Because, as they'll tell you in these parts, culture and identity isn't static. It develops and grows, positively influenced by experience and the hand of friendship. No wonder Cork will be hopping to the beat of an array of different drums in the weeks, months and years ahead. Festival activities celebrate the very best in Irish music '' Saturday 10 June 2017 | Irish Independent YOUR COUNTY-BY-COUNTY GUIDE TO GETTING CREATIVE IN 2017 CREATIVE IRELAND PROGRAMME | 43 To see your full county plan for Cork, log on to Ireland.ie
Creativity built on Kerry's C AN a landscape shape an identity? If so then the secret to Kerry's endless reservoirs of creativity might finally be revealed. From Daniel O'Connell to John B Keane, Peig Sayers to Con Houlihan and Tom Crean to Sigerson Clifford this rural kingdom, shielded by mountain ranges and exposed to the Atlantic elements dances with the rolling waves. Its poets, writers, musicians and artists are guided by something of a Kerry way. If there's a quiet confidence it's been earned down through the ages.
Even on the football field the likes of Mick O'Connell, Maurice Fitzgerald and more recently Colm Cooper turned a simple sport into a glorious art form.
Every jink and leap was like a splash of paint on the canvas. "It's impossible to summarise the creativity to be found in this county, both now and in centuries past," explains Kate Kennelly, the coordinator of the county's Creative Ireland Programme. She continues: "It's a creativity built on ancient tradition and living culture. The rhythm of the place is unique and it's attracted artists and creative people for centuries. It breathes possibility and innovation." The challenge facing Kate and her colleagues on the Creative Ireland Programme team was encapsulating so many varied and equally impressive elements into its plan for 2017.
"We wanted to focus on that emotional connection between the county's culture and her people. Over the centuries the county's profile has ebbed and changed. We've had influences from both within and from visitors. We've welcomed both equally. We wanted to expose the soul of Kerry and to engage people in our unique culture. "We've much to be proud of and the Creative Ireland Programme offers us an opportunity to really focus on that," says Kate. The county's plan centres on expanding existing quality programmes that have creativity at their core. The impact of this expansion, in terms of citizen engagement, has been the driving factor to decide where resources are to be distributed.
For the internationally- renowned baritone Gavan Ring it offers a chance to bring choral music to his own corner of south Kerry and specifically to the town of Cahersiveen and its surrounding parishes and villages.
A Kerry Music Education Partnership initiative run by Creative Kerry will see professional artists, such as Gavan, delivering workshops and putting together performances in public spaces. Gavan Ring's choral project will see 25 young men and women, ranging in age from six to 18, attend a two-week intensive choral masterclass being held in the Cahersiveen Community Resource Centre. And on August 6, the choir will give a special performance in the Daniel O'Connell Memorial Church in Cahersiveen. "There's amazing singing talent in the south Kerry area," explains Gavan.
"When I sat down with the Creative Kerry team we noted there was a niche in the area that needed filling.
Generally choral music doesn't have a huge presence here so we wanted to address that and I'm so delighted to be working on this exciting project. The choir will be doing some pieces by composers such as Gabriel Fauré, Mozart and Puccini. It'll be testing for them but I know they're well able for the challenge." And during the Cahersiveen Festival of Music and the Arts (from August 3- 5) the choir plan to surprise locals and visitors with a flash mob performance. "These kinds of things aren't done very regularly in rural Ireland so this is a wonderful opportunity and hopefully it's something we can extend in time," says Gavan.
He adds: "It's about finding an outlet for all that rich, untapped talent.
Music is a huge part of life in south Kerry and traditional music is an amazing portal into other art forms and types of music. There's wonderful enthusiasm for this project locally and we're looking forward to showing Cahersiveen what we can do." In the north-east of the county, Creative Ireland funding will allow Kerry County Council to provide additional support to the Sliabh Luachra Music Trail. The area, of course, is synonymous with Irish traditional music and dance, with poetry, writing and story- telling. It is a kingdom within the Kingdom which spills over the county bounds into both Cork and Limerick too.
County bounds can't tame its creative flow.
"We run events during the year which simply wouldn't be possible without the Sliabh Luachra Music Trail," explains Patrick Teahen in Castleisland. He continues: "From April to September we hold our 'Handed-down series' where we arrange lecture and music evenings in venues such as at the Scartaglin Heritage Centre. We bring in speakers to talk about the history, music, traditions and people of the area. For youngsters it's very important as it keeps the local Sliabh Luchra culture, traditions and music alive. Of a night we get between 130 and 220 people at the once-a-month evenings and they act as fund-raisers for our World Fiddle Day which we hold every year in May.
Without the Sliabh Luachra Music Trail we wouldn't be able to hire out the venues, it would be harder to stage events and attract performers. That's why we're so delighted with the increased support under Kerry's Creative Ireland plan." Another beneficiary of the Programme will be the Catherine Young dancers. The 'Dancer in Residence' Citizen engagement, founded on a strong creative legacy, is at the heart of the county's cultural vision, writes Graham Clifford It's a creativity built on ancient tradition and living culture; the rhythm of Kerry is unique '' CREATIVE IRELAND KERRY 44 | CREATIVE IRELAND PROGRAMME YOUR COUNTY-BY-COUNTY GUIDE TO GETTING CREATIVE IN 2017 Irish Independent | Saturday 10 June 2017
living culture 1Choral Singing for Children of South Kerry. Gavan Ring's choral project with children in Cahersiveen is being extended as a direct result of the Creative Ireland Programme funding to include children in the greater Iveragh Peninsula. 2Dancer in Residence — Welcoming the Stranger. This project demonstrates the quality of multicultural aspects in Kerry via music, song and dance. Creative Kerry will extend this project to increase the engagement of all communities. 3Film Kerry. Partnership project to proactively promote Kerry as a location for film. Co-funding of a Film Officer in partnership with Kerry Education Services and Training Board.
4Sliabh Luachra Music Trail (SLMT) A Journey into Culture. Creative Ireland will provide additional support to the Sliabh Luachra Music Trail for venues, events and festivals directly to performers, specifically for family friendly content and audience development. In addition, there are plans to fund a film documentary on Sliabh Luchra. 5Heritage Hunters, Kerry County Museum. This on-going, multi-disciplinary outreach project is aimed at secondary schools in Kerry giving students the skills to creatively explore the past and to engage with their heritage in a unique way.
6Cultural Archive.
This archive will enable communities to document key cultural history in their areas that reflect both ancient traditions and living culture. 7Oireachtas na Gaeilge. This year's Oireachtas na Samhna will be held in Killarney. The annual celebration of Irish culture features music, dance, poetry and competitions. November 1-5. www.antoireachtas.ie. 8School Art. Artists in Schools bursaries provide funding for projects in primary and post-primary schools in County Kerry. The purpose of the scheme is to enable students and teaching staff to work collaboratively with a professional artist on a creative project.
9Library Lectures. A Climate Change workshop with Enda O'Reilly will take place on June 1 at Listowel Library. Summer Reading Challenge, July 1-August 31 in all libraries. Storytelling with Roisín Meaney, July 22, at Tralee Library. The Children's Book Festival, 22 October-November 4, in all libraries. 10The Killaclohane Post-Primary Schools Project. This multi-disciplinary outreach project is aimed at secondary schools in Kerry giving students the skills to creatively explore the past and to engage with their heritage. The project is based on Killaclohane portal tomb, Kerry's oldest man-made structure.
with Kerry County Council, Catherine Young was behind last year's renowned work Welcoming the Stranger, which celebrated Kerry's diversity and multi-cultural make-up today. A project which brought together dance, music and song it included a team of around 50 dancers, with roughly half of those from Kerry and half from overseas – including refugees and asylum seekers based in Kerry who come from Syria, Iraq, Palestine and across Africa. "In so many ways music and dance transcend division and difference," explains Catherine. "It has the power to unite and so our Welcoming the Stranger project, which we recently brought to Palestine, generated a wonderful reception in Kerry and beyond.
Each dancer brought their own style and culture to the project. Audiences in the county understood it, they felt it and it showed that bringing different creative strands together can generate such a positive impact. Projects such as this enhance self- confidence, happiness and allows creative expression and become part of the fabric of our social lives." When the troupe performed in the Siamsa Tíre National Folk Theatre in Tralee for Culture Night last year they received a standing ovation from the 350-strong audience. Creative Kerry plan to extend the Welcoming the Stranger project to increase the engagement of new and established communities in the county with dance.
The entire programme reaches into communities across the county with plans to enhance and support creative discovery. It aims to support existing performers and re- awaken the inner artist, and from west to east Kerry, from the youngest to the oldest, from the mountains to the sea. Also, Kerry will be proactively promoted as a filming location for film as a Creative Ireland initiative. And there are proposals to co-fund a Film Officer in partnership with Kerry Education Services and Training Board and other partners.
"Creativity is integral to who we are in Kerry. It defines us. It's said 'where culture goes commerce follows' and we believe that too," says Kerry's Creative Ireland Programme co- ordinator Kate Kennelly.
She adds: "Inevitably the moth is attracted to the flame and that can help with the sharing of cultures, influences and experiences. This has always been the way in Kerry. And local participation is key. We will also continue our work of bringing arts into the classroom with composers, musicians and artists visiting schools. We're excited and the people of Kerry are too." Clockwise from left: A performance of Welcoming The Stranger near Banna Strand; Internationally- renowned baritone Gavan Ring will have the chance to bring choral music to his own corner of south Kerry and specifically to the town of Cahersiveen; and Creative Ireland funding will allow Kerry County Council to provide additional support to the Sliabh Luachra Music Trail Saturday 10 June 2017 | Irish Independent YOUR COUNTY-BY-COUNTY GUIDE TO GETTING CREATIVE IN 2017 CREATIVE IRELAND PROGRAMME | 45 To see your full county plan for Kerry, log on to Ireland.ie All Washed Up' filming on Ballybunion beach KERRY HighLIGHTS
'L IMERICK is a modern city built around and on top of a medieval core. The medieval city, however obscured by centuries of change, still survives in buildings, place names and street patterns that have endured for at least 800 years in some places," wrote UCD historian Eamon O'Flaherty in his Thomas Davis essay, Three Towns: Limerick since 1961, (Mercier Press, 1995). The 'three towns' are the medieval Englishtown and Irishtown, with their winding narrow streets and the later addition of Newtown, or Newtown Pery, the elegant Georgian town, with its wide streets laid out in a planned grid.
The wonder is how well they all continue to co-exist cheek by jowl in this busy, compact city, where men still have their shirts tailor-made, convent girls float along in demure school uniforms that come down to their ankles and King John's Castle, with the wide River Shannon rushing past its buttressed walls, lends this jewel of a city a majesty quite unlike anywhere else in Ireland.
Limerick county is rich in lovely towns and countryside, in ancient abbeys, castles, in music, linens and lace. There are mixed communities, notably around Rathkeale, where settled Travellers live comfortably alongside descendants of the Protestant Palatines, who established themselves there after fleeing religious persecution from the French, in 1709. The geography of Limerick is mostly flat, a fertile limestone plain ringed by several dramatic mountain ranges. Modern Limerick city and county has invested well in its community in recent years and is now perceived at home and abroad as a hotspot of cultural and artistic endeavour, a progressive and dynamic force on the western seaboard.
Local communities and creative practitioners are key to its Creative Ireland plan and will be asked to contribute to its further development. Sheila Deegan, the Limerick co-ordinator, says they are relaunching the Limerick.ie website, visited by over 800,000 people each year and are giving Creative Limerick its own page.
"We are social," says Sheila, "and are also communicating on Twitter, Facebook and e-newsletter platforms. A series of cultural agora (from the Greek, meaning a public space to gather), will promote conversations around the Creative project itself. We will invite new projects through open calls and provide relevant professional development opportunities." The Limerick plan is fully bilingual, well advanced and remarkably inclusive. The first step was taken with Criunniú na Cásca, where existing guided walking tours of Limerick's urban and rural heritage were delivered to over a thousand citizens, promoted under Luimneach ag Siúl.
Financial grants will be administered through an open call and through recommendations received under the Arts Act (GUA) panel. "We will also provide increased financial support for established creative organisations with a proven track record of excellence. In addition, we will provide professional development opportunities in the further stages of the five-year Creative Ireland programme," adds Sheila. The following sections of Limerick City and County Council (LCCC) were invited The city and county are cultural hotspots, with exciting new projects planned, writes Helen Rock CREATIVE IRELAND LIMERICK Limerick's rich history inspires its modern-day creative vision 46 | CREATIVE IRELAND PROGRAMME YOUR COUNTY-BY-COUNTY GUIDE TO GETTING CREATIVE IN 2017 Irish Independent | Saturday 10 June 2017 The 'Lifting the Siege' event in Limerick was part of the city's bid to become the 2020 European Capital of Culture
1A symposium on the great Irish painters Jack B Yeats and Paul Henry will be held in The Hunt Museum, Limerick city, on September 29. This event is open to all. huntmuseum. com 2The medieval town of Kilmallock is the atmospheric backdrop to the SoulScapes Festival Series in November, the month of All Souls and All Saints. 3The 44th World Conference of the Irish World Academy of Music & Dance will be held in Limerick city, hosted by the University of Limerick. July 13-19. 4Town Prototypes Project in Adare and Kilmallock districts, starting in September. Heritage and residents' groups, Tidy Towns, schools and Mens' Sheds will work with the School of Architecture at UL on a community design process for both towns, to include landscaping and slowing down traffic to encourage pedestrians and cyclists to visit.
5Monthly readings in Rathkeale Arts Centre, running from this September to March 2018. The season begins on Culture Night with a reading by poet Rita Ann Higgins. 6Culture Night on September 22, will showcase the rich culture of Limerick city and county. From 5pm to 11pm the venues around Limerick will buzz with dozens of events which are free to all. 7FaileEile Limerick — Music Generation: Limerick city, November 17-26. Performed entirely by children and young people in beautiful buildings all around the Georgian part of the historic city.
8The School of Spectacle: Limerick city and various locations around Europe.
Ongoing. A Creative Europe-funded project on democratising outdoor arts spectacles, with artists from Cyprus, Bulgaria, Lithuania and Greece. 9Open House Limerick will showcase the power of architecture in city and county. Runs from October 6-8. openhouselimerick.ie 10Songs for Our Children, Limerick and Dublin cities, 2017-2018. Nine traditional singers, including Sandra Joyce from Limerick, will premiere their newly composed songs for children in the National Library (Dec) and Sandra will give a workshop for young people in Limerick in early 2018. to put forward their projects: Archives, Archaeology, Arts Office, Environment, Heritage, Innovate Limerick, Library Services, Limerick City Gallery of Art, Museum, Social Development, Planning, Public Interest and Economic Development and Tourism.
At a later stage, a pilot programme, a Creative Ideas Incubator, will be rolled out by the Arts Office, to provide a support structure for well-informed projects, with a view to addressing gaps identified in existing services. This year, LCCC will further support existing and new projects in diverse communities The visual art scene is alive and well; Limerick City Gallery plays a big part '' Above: Mike Fitzpatrick, Sean Lynch Artis and Woodrow Kernohan at the Limerick City Gallery of Art for the official opening of the Irish tour of 'Ireland at Venice — Adventure: Capital' by artist Sean Lynch Left: An archealogist on a treasure hunt 'dig' at Ye Olde Medieval Family Fun day in the Hunt Museum during Heritage Week and geographic locations, covering a wide range of art forms, to give people greater access to cultural activities.
The Artists in Schools programme will be enhanced by the new funding, as will The Mary Immaculate College (MIC) Children's Choir and Africa Day (May 22-28), while Limerick Museum is reaching out to a broader swathe of citizens through the Limerick Travelling Pop-Up Museum, which will visit various places for a few hours on a given day. People can bring along their own objects and the museum staff will help make museum labels describing the origin of the object and what it means to its owner.
Limerick Archives and MIC will also begin a major oral history project to capture and index the memories of Shannon fishermen and other linked trades. Fishing, reed cutting and net-making were once major industries for people living along the river from Parteen to Foynes. Their traditional way of life is now practised by a much smaller group of people. A digital sound archive is a first step in the preservation of their story and a short film and series of photographs are planned to document this vulnerable but very valuable part of Limerick's relationship with Ireland's largest river. The visual art scene is very much alive and well and Limerick City Gallery plays a big part in this.
It is running a pilot project to digitise its fascinating permanent collection in advance of the 80th anniversary of its inaugural exhibition. The Artist in Schools scheme is facilitated by Mary Conroy, in conjunction the Arts Office: "The project developed over four weeks from a simple personal response to an everyday experience to a large- scale conceptual sculpture," she explains. "Each school produced a unique work as a result. The enthusiasm and response to the project by both children and teachers was remarkable. We are looking forward to showcasing the work during the Open House Limerick Festival this October." Hospital is a town in east Co Limerick with its own arts and culture festival attracting writers, poets, performers, skilled craft workers and audiences, many of whom, prior to the benefits bestowed by Creative Ireland, "had not even heard of Hospital," says festival Secretary Michael O'Sullivan.
"It has helped put our village and region on the map and created memories that our children can recall in the years to come. I hope that other communities also get the opportunity to recognise the value of all arts within their locality. "Having worked with festivals over the last 20 years I could see the unbelievable benefits to tourism and rural growth it has brought, not least in attracting some of the Limerick diaspora homeward. Communities and schools are reaching out to each other and working together." There is no shortage of music events in Limerick. The 23rd consecutive Fleadh by the Feale has just been and gone.
A feast of traditional music, dance and storytelling based in Abbeyfeale, the Fleadh is part of the Sliabh Luachra Music Trail, itself a joint initiative of the arts offices of Cork and Kerry county councils and LCCC that promotes and preserves the region's splendid music, dance and storytelling heritage. Fleadh by the Feale also has a unique bone playing competition that attracts players from the USA, Canada and Europe.
Another is the West Limerick Singing Club, formed in 2002 in Abbeyfeale, an area with deeply rooted traditions. The club holds monthly sessions with local and visiting singers and supports singing and storytelling in both Irish and English. Its annual traditional singing weekend in honour of Garry McMahon is aided by Creative Ireland. FaileEile is a music festival performed entirely by children and young people and will take place in a number of iconic buildings in what has become known as the Georgian Quarter of Limerick. Open House Limerick will showcase the power of architecture in city and county LIMERICK HighLIGHTS Saturday 10 June 2017 | Irish Independent YOUR COUNTY-BY-COUNTY GUIDE TO GETTING CREATIVE IN 2017 CREATIVE IRELAND PROGRAMME | 47 To see your full city and county plan for Limerick, log on to Ireland.ie
T HE Banner County is no stranger to the odd party. Home to just shy of 120,000 people, Clare hosts more than 150 festivals and cultural events per year, drawing almost one million domestic and overseas visitors annually – in 2016 Clare promoted itself as 'County of Culture'. Trad music is by and large the soundtrack to these lively celebrations in places such as Doolin, Feakle, Ennis and Miltown Malbay, which serve as a testament to how the people of Clare are proud to show off the county's artistic endeavours and its unique, world-renowned landscape made famous by the Burren and the Cliffs of Moher.
"We're on the periphery of the west coast of Ireland," says Donal Carey, the manager of Clarecastle Regatta in the town just south of Ennis, which gave its name to the county. "We're a long way from Dublin. So, if we don't celebrate ourselves, who else is going to celebrate us?" "I would be confident that all of these festivals, they're self- sufficient and the locals come out and support them. I suppose because of our distance from the population centres, such as Dublin, we have our own festivals because we can support our own and we like to celebrate ourselves." "I'm not sure what's different about us, but I do know, last Saturday, I walked Mullaghmore and half the Burren and when you stand at the top of that hill and look down at the landscape that's in front of you, what's on our doorstep, why wouldn't we celebrate what's good about Clare.
It's an absolutely fantastic county." Donal explains that as Clarecastle port used to serve as the main artery for imports and exports to and from the county, a regatta used to take place there every year from the 1940s to the '60s, as a means to celebrate life and work on the harbour. But it then died away as improved roads and modern means of transport made the harbour less relevant. Apart for two regattas in the mid- 1980s, the annual event wasn't properly revived until 2009. "We had a committee meeting about fundraising in Clarecastle GAA. It was 2009, the recession was in full flow and a lot of new people had moved to Clarecastle.
So, to try and bring the old and new together, it was suggested we have a regatta day." It has been held every year since, and this year is on Saturday, June 24. Donal hopes that, with more initiatives such as Creative Ireland, the regatta will go from strength to strength.
All manner of events take place on the day including boat races, currach races, children's races (on land), zorbing, raft and duck races, live music, the long poc and one of the most- loved events, the greasy pole – the latter which, according to Donal, was requested by many elderly people when the regatta was revived in 2009. Donal says: "The GAA were the primary proposers of the event, at the same time, the GAA were trying to invite new people into the village and, without it being dominated by the GAA, we've involved as many organisations as we can.' "We'd like to make it go from being a one-day event to a two-day event.
This will lead to people spending nights in hotels and add to the local economy. But, more than that, we're trying to give a sense to people about the people in the community. If you can meet your neighbour at a little festival and you get each other involved in other things, I think this is better for the future of our community and the future of our children." Recalling traditions of old is something that's also behind some of the projects that will take place in the Courtyard Gallery in Ennistymon, Co Clare, a former Georgian Courthouse developed into artist studios in 1997. During Heritage Week (August 21-27), the gallery will host an exhibition from photographer Joseph Arthur who worked in west Clare, Ennistymon, Milton Malbay and who founded the Arthur family photography business in the area in the 1890s.
He served as the area's main photographer for the next 60 years.
A call-out has been put out to local residents for their own 'Arthur photographs' – taken on glass plate negatives and film – to be included in the Captured In Time exhibition, while it is hoped members of the Arthur family, most of whom currently live in the UK, will attend. In addition, Anne Mullen, of the Courtyard Gallery, says there will be a demonstration of archival photographic techniques, as a way of showing how photographic techniques have changed since Arthur's day. And while Captured In Time might attract an older audience, the film-making/ performance art event Youth Shack Tableaux likely to be a big hit with the teenagers of north Clare and those who attend the youth club, called the Youth Shack, at the North West Clare Family Resource Centre.
Working with the head of Clare Youth Drama, Eleanor Feely, an actor and dramatist who formerly starred in Remington Steele, Fair City and Glenroe, visual artist Terence Erraught and James Kavanagh, who runs a film club at the resource centre, a core group of teenagers will take direction from them and come up with their own creation. Anne explains: "It's going to be a work that will take form through the process. But the idea is that Eleanor brings her drama experience, Terence, his performance experience and technical smarts, and James his technical ability to work with the film club." "The Youth Shack serves a really diverse community.
Traveller kids go there, farmer Clare's spectacular scenery forms the backdrop to a lively cultural programme, writes Olga Cronin We're trying to be as visionary as possible and work with the community directly '' CREATIVE IRELAND CLARE Nature's creativity carved out the county itself 48 | CREATIVE IRELAND PROGRAMME YOUR COUNTY-BY-COUNTY GUIDE TO GETTING CREATIVE IN 2017 Irish Independent | Saturday 10 June 2017
1International Jazz Festival, Doonbeg. Jazz bands from the Netherlands, Scotland and all over Ireland will be performing each night of the June Bank Holiday in the village of Doonbeg (June 2-5). 2Sparks Film Festival. Animation and film workshops to encourage creative expression through digital media. Open to all children but the focus will be on those aged 6 to 18. At Scariff Library, east Clare, in October/November. 3Ceol na nÓg. Local musicians to give workshops to children with particular focus on North Clare-style of music. At Michael Cusack Centre, Carron, Co Clare, June. 4Community mural on wall of Tulla Old Boys' School.
Local scouts between the ages of 12 to 18 will paint the building with the help of scout leaders. At Tulla Old Boys' School, in September.
5Furniture up-cycling and woodwork/craft workshops and a Humble Jumble pop-up shop. Participants will include those on local Community Employment schemes, Men's Shed groups and the general public. In Tulla and Quin, June. 6Homeless Gallery. This is a pop-up homeless art gallery – so called as it doesn't have an address - in its third year. It enables everyone to showcase their work, both amateurs and professionals. There is no curatorship and no entry requirements. In Ennis, October. 7Inisowiacy — Polish Folk Dance Group.
Workshops showcasing the culture and traditions of the Polish Harvest Festival.
In Ennis, September. 8Shannon Wetlands Restoration group – walk and talk. This is an opportunity for the local community, cultural groups, residents and visitors to learn about wetland habitats and the Wetland Restoration Project in Shannon. August. 9Dulick group in collaboration with Full Fathom Theatre Ensemble. This theatre performance will have a particular focus on disability groups including managers, parents, guardians and friends. In Ennis, October/November. 10Feile Latino/Los Paddys de las Pampas.
Following the forging of links between traditional musicians, artists and dancers of North Clare and Buenos Aires in Argentina, this festival is in its fifth year and will appeal to those with an interest in Latino and French culture and those from a Spanish, Brazilian and Portuguese background. In Ennistymon, June 24. children go there. It's a great mix. Travellers would not be as isolated as people might perceive them to be within this community. "Youth Shack is amazing. They play games, they do a Junior Masterchef, they have a football club, a film club, there's a kitchen, they hang out and talk and play games.
It's a fantastic facility." Anne hopes this "inaugural experiment" will develop with time, saying: "Creative Ireland has been really good about giving small grants to get us started.
"For a county that's stuffed full of artists and all sorts, there's very little in the way of visibility here in Clare. There are independent galleries and there are plans underway to build a proper county, municipal contemporary art gallery but that's down the line a bit. So, in the meantime, we're trying to be as visionary as possible and work with the community directly and beyond to bringing alive a lot of these ideas and provide spaces for artists to work as well." The Ailwee Caves, in the heart of the Burren, is where visual artist Alan-James Burns will breathe life into the ancient landscape of Clare with his multi-channel audio installation – a project which has been gaining a lot of interest over the past year.
With writer Sue Rainsford and sound editor Ian Dunphy, Alan-James first hosted the installation Entirely Hollow Aside From The Dark in the Smuggler's Cave in Portrane, Co Dublin, in September last year and, this summer, his project will be brought to six caves across the country, the locations and dates of which have yet to be finalised. Essentially, when the audience enter into a dark cave, they will hear the stream of consciousness of a female character – a stream which will be delivered by between 19 and 32 speakers He says: "I'm really interested in how the human mind works and the content of processes of the mind.
I feel we talk a lot about what we think and rarely about how we think." "We're inside our heads 24/7. As a person and artist, I constantly think to myself and I always wondered what it might be like to be inside the mind of someone else. I feel like, with new technologies, we have the ability to try and answer that question like never before." And why a cave? "The cave is a living thing, it breathes. It's something that has developed thousands of years, they're ancient structures and natural auditoriums," Alan-James explains. "What I wanted to do was try and create an assumed consciousness and where best to put that assumed consciousness, that you might walk into and journey into, but inside a living thing which, for me, is a cave." Breathing life into a 320 million-year-old cave? Now, that is creative.
Clockwise from above: Aoife Buckley from Doora, Co Clare dancing on O'Connell Street during last year's Fleadh in Ennis; renouned traditional musician Martin Hayes giving a class at the Willie Clancy Summer School, Milltown Malbay, Co Clare; and a juggler at the launch of 'Clare — County of Culture 2016' CLARE HighLIGHTS Saturday 10 June 2017 | Irish Independent YOUR COUNTY-BY-COUNTY GUIDE TO GETTING CREATIVE IN 2017 CREATIVE IRELAND PROGRAMME | 49 To see your full county plan for Clare, log on to Ireland.ie
Rising centenary sparked upsurge in local creativity T HOSE involved in steering the Creative Ireland projects in Tipperary over the next few years all agree on one thing: the events held last year to mark the 1916 centenary proved there is a genuine interest among people across the county to get involved in community-led projects.
Tipperary County Council's Heritage Oficer Róisín O'Grady says: "There's a huge appetite out there, from communities, to be involved, to participate and to collaborate on different projects, intermingling though heritage and arts. We saw, with the 1916 centenary events, that people came out in force. "They put on productions, they did drama, they had music, concerts, dance, all that kind of thing, as well as the traditional events. I think there is definitely a move towards a lot of active communities and I think they're very keen to participate in programmes and something like Creative Ireland gives them a free rein because the concept of creativity is very broad.
"So they can explore different avenues of culture such as music, art, drama, but they can also use heritage as their inspiration, like a lot of artists would do." Curator/Manager of Tipperary County Museum in Clonmel – which is one of only 13 local authority museums in Ireland and has approximately 30,000 artefacts within its collection – Marie McMahon says: "There is a shift in people wanting to know more about their heritage and where they stand in society. The 1916 centenary events were a huge success in that people came out and wanted to discuss their ancestors, where they came from and who they were." Tipperary County Librarian Damien Dullaghan says: "I think the 1916 centenary tapped into the community spirit of Ireland.
I think that it showed that there was an appetite for community-based events and for communities to come together. The sheer volume of people who took part in the events last year shows this." Looking at the past, while keeping an eye on the present, appears to be a theme among some of the events marked for the Creative Ireland programme in Tipperary this year, showing, perhaps, the more things change, the more they stay the same.
From July 3 to April 27, 2018, the Tipperary County Museum, in Clonmel, will run an exhibition called A Message In Time which will involve the museum collaborating with An Post, Clonmel Junction Festival, graffiti and graphic artist James Earley; knitted textiles designer Katie Hanlan; visual and textile artists Kari Cahill and Hazel McCague, of visual arts organisation Lay of the Land; digital animation students from Limerick Institute of Technology (LIT); and architecture students from Waterford Institute of Technology (WIT).
Marie explains: "This exhibition will be looking at our postcard collection and at how we've evolved, how the art of writing has evolved, all the way from Ogham writing to Snapchat and Twitter, and everything in between." "Within a postcard, there was a limit to what you could fit in.
Nowhere did it state that you could only fit in a certain number of characters – like Twitter allows 140 characters – but Twitter acts on the same kind of principle, it's just the notes are not handwritten and not posted. It's done electronically and it's just the application is slightly different, and it's for a different generation." "We're linking with LIT for the digital animations and creative multi-media where we'll have visitor interactions with postcards. They're going to create different types of narratives based on what we have in the collection, based on the post office and the notion of writing letters and messages.
"And with WIT, in Waterford, we're looking at doing an architectural town survey for one or two towns in Tipperary." Memorabilia and old handcarts and tricycle postal carts from the General Post Office in Dublin will be brought down to the county museum while the museum will also take a look at the work of William Despard Hemphill, a Clonmel stereoscopic photographer from the 19th century.
"He created stereoscopic images and he had this looking glass that basically created a 3D image and it's the same shape as the Google Cardboard virtual reality headsets that you put your phone into," says Marie. "You're talking about 150 years later but they basically work off the same principle, it's just the application is slightly different." In addition, graffiti artist James Earley – whose family ran Earley Studios, a firm specialising in stained-glass artworks in Dublin for more than 100 years from 1864 to 1975 – will reveal a permanent large-scale art piece on the wall of Channon blacksmiths on Saturday, July 8.
His artwork will take inspiration from a postcard and 1Clonmel Junction Festival, July 3–9. The Junction Festival, which has a 'black sheep' theme this year, will present live music, theatre, street performance, comedy, visual and art and a series of concerts in the Mitchelstown Cave. Visit junctionfestival.com 2Cruinniú na Cásca, April 2, 2018. Tipperary's first Cruinniú, on Easter Monday, this year, was hugely successful, particularly with the involvement of Fidget Feet, the internationally renowned aerial dance theatre company. Next year it promises not to disappoint and will be rotated around the municipal districts of the county during the lifetime of the Creative Ireland programme.
3Festival Cluain Meala, August 5–13. Clonmel will be awash with bike races, gigs, busking, a medieval inn trail and a family fun day. This is the collaboration of three major festivals in the town, The Medieval Wall Towns Day, The Suir Valley Three Day Cycling Festival and the Clonmel Busking Festival. Visit the Festival Cluain Meala page on Facebook.
4Terryglass Arts Festival, August 16–20. This festival on the northern shores of Lough Derg is a multi-disciplinary arts festival and offers a wide variety of arts events, performances and visual arts experiences. Visit terryglassartsfestival.ie 5Culture Night, September 22. Culture night is an annual all-island public event that celebrates culture, creativity and the arts with venues, museums, studios, galleries and historic properties extending their opening hours and hosting events or workshops. Visit culturenight.ie 6Cashel Arts Festival, September 21–24. This four-day festival includes music, dance, visual arts, film, theatre, workshops, literature and family events.
Visit cashelartsfest.com 7National Famine Commemoration, Ballingarry, September 30. A state ceremony and local cultural programme will be held in the Famine Warhouse 1848, the OPW national heritage site in Ballingarry. This is the first time the commemoration will be held in Ballingarry. 8Dromineer Literary Festival, October 5–8. A dynamic literary festival with exhibitions, workshops and events and competitions for new writing.
9Scrooged, Nenagh, December. The Nenagh Arts Centre is producing Scrooged, an adapted version of Charles Dickens' novel A Christmas Carol. 10Tipperary libraries. This year-long programme includes programmes for pre- schools, the annual Children's Book Festival in October, drama workshops, creative writing workshops (for five- to eight-year-olds), music, art, Lego (nine- to 12-year-olds) workshops. There will also be media production workshops for graphic novel illustrations. Visit tipperarycoco.ie Heritage plays a strong role in Tipperary's Creative Ireland programme this year, writes Olga Cronin CREATIVE IRELAND TIPPERARY Last year's Cruinniú na Cásca, featuring Fidget Feet (pictured), was a great success TIPPERARY HighLIGHTS 50 | CREATIVE IRELAND PROGRAMME YOUR COUNTY-BY-COUNTY GUIDE TO GETTING CREATIVE IN 2017 Irish Independent | Saturday 10 June 2017
an image of the rose window in Old St Mary's Church in Clonmel. In Tipperary County Museum, Katie Hanlan, who worked for 10 years as a senior knitwear designer for John Rocha, will base a large 2m-by-1.6m textile work in its temporary gallery, inspired by an old postcard of Gladstone Street in Clonmel, while Kari Cahill and Hazel McCague will create a work in connection with the local community and hold workshops. Another Creative Ireland event to coincide with the 17-year-old Junction Festival in Clonmel will see giant balloon installations – with balloons measuring anywhere between 11 and 32 inches – placed throughout the town of Clonmel by local artist Joanne Condon.
Of the installations, titled Balloon Herd, Rebecca Roche, manager of Junction Festival, says: "We wanted to animate the town in big, large-scale, pots of colour, that would bring a smile to everyone's face." As the theme of the Junction Festival this year is celebrating 'the black sheep' – which followed the festival's artistic director Mary Hickson having a conversation with a local sheep farmer who just recently had his first black sheep born on his farm – each installation will contain one black balloon.
"The point is to celebrate being different and being the black sheep. Lot of artists would call themselves a 'black sheep'. So when we were programming the festival, we went after different artists and performers that maybe were outside the box." As for Tipperary County Library, Damien Dullaghan says it will be using the Creative Ireland funding to build on its already strong relationship with the people of Tipperary through its 12 branch libraries, e-services and school library van. Utilising the fact the library network sees more than 400,000 visits a year and has a successful online library service, Damien says: "We want to focus on three areas: literacy, literature and the arts.
"We'd like to do creative writing workshops for adults and we're very interested in doing art and literacy workshops aimed at adults with intellectual disabilities. We'll also be holding creative and writing workshops for adults in our three big branches, in Nenagh, Thurles and Clonmel. "We'll also be doing Lego workshops and we'll do a programme for pre-schools as well – we'll do that during our Children's Book Festival in October. We also hope to do drama workshops and creative writing workshops for five- to eight-year-olds in our main branches." And while the county museum will be exploring the changes in how we write, Damien says technology may have shifted how we read but the love of reading remains.
Damien says: "We have embraced the digital movement. There's a national e-lending book service now. If you're a member of your local library, you can borrow books online, through borrowbooks.ie, which is an online, free-access programme." He recalls recent statistics from the Publishers Association in the UK which showed sales of printed books in the UK rose by 8pc last year – the highest level since 2012 – while children's book sales increased 16pc to £365 million.
"Last year printed children's books outsold adult books and ebooks in the UK. So children's books have never been going better. We reach 150 schools through our school mobile van which goes three times a year to 150 schools. We're finding we've never been busier." Old postcards of streets in Clonmel are now inspiring textile works in the County Museum '' Clockwise from left: Elfs and fairies Sianna Bruce, Máire Dee, Catherine Ryan and Emma Poole at Cruinniú na Cásca in Templemore Town Park; coin minting at 'Treasures of Carrick on Suir' exhibition at Tipperary County Museum; an old handcart from the GPO in Dublin is on loan at the Tipperary County Museum Saturday 10 June 2017 | Irish Independent YOUR COUNTY-BY-COUNTY GUIDE TO GETTING CREATIVE IN 2017 CREATIVE IRELAND PROGRAMME | 51 To see your full county plan for Tipperary, log on to Ireland.ie
T HOSE who have recently traversed Waterford's spectacular new Greenway – a 46km off-road cycling and walking trail along an old railway line – may have noticed a series of intriguing signs inviting them to 'Stop, Look and Listen'. The signs – 20 in total – direct passers-by to Facebook links where they can watch site- specific video content of local Waterford singers performing songs that have a historical association to noteworthy points along the trail. Karan Casey sings 'Sliabh Geal gCua' – a song written by Pádraig Ó Mileadha of West Waterford while he was living in Wales and missing his homeland.
Liam Clancy sings 'Ballyvoile', which remembers local volunteer Jack Cummins who was killed during an ambush in the War of Independence.
The initiative will be further developed by Waterford's Creative Ireland plan, and funding will help expand the project to include oral history recordings with communities along the Greenway and the creation of a Townlands Project. "It's very much about promoting the sensory experience – seeing the sights, smelling the smells and hearing the sounds," says Waterford City and County Council Heritage Officer, Bernadette Guest. "We have signage in the carparks that highlights the heritage features [of the Greenway]. So we had the tangible heritage but we wanted to look at the intangible heritage too," she adds.
"Artist Michael Fortune, who recorded the project, came to it with new eyes and he has those skills of going out and engaging with people. The songs reflect the local landscape and give more meaning to the route as you're travelling along it." Waterford's Creative Ireland programme incorporates both fresh concepts and some of the ideas generated in the run up to the bid for the European Capital of Culture 2020. The initiatives and events explore the history and heritage of the county, but with a creative and contemporary twist.
Take, for example, the collaboration between musician Liam Ó Maonlaí and glass artist Róisín de Buitléar, which celebrates Waterford's glassmaking heritage by exploring the sonic qualities of glass.
"There are two things going on here: the oral history and the contemporary element of using glass and sound together," says Creative Ireland Coordinator for Waterford City and County Council, Jane Cantwell. "It's unique to Waterford and very interesting as well." Like 'Stop, Look and Listen', this project will also incorporate an oral history aspect. "We worked with Róisín before and she was very anxious to get some oral history of glassmaking recorded," explains Jane. "She started some of that process and now we're trying to build on it.
"Glassmaking is a significant creative industry in Waterford," she continues, "and there are people who have been working in the industry for the last 50 years who are not going to be here in 20 years' time, so we want to capture their story." Máire Seó Breathnach, Irish Officer with Waterford City and County Council, agrees. She says certain aspects of Irish culture have stayed strong in the county – Irish music in particular – but she welcomes the Creative Ireland projects that are "geared towards continuing on these traditions to the younger generation". Dinnseanchas na nDéise is one such project.
As part of the Creative Ireland initiative, a folklorist and community artist will visit four schools and curate a field-names and place-names project, which the pupils will then present in an artistic medium.
"Years ago the farmers would have names for every field – but these local place-names might be in danger of being lost from generation to generation," she explains. "This is a pilot project that a county artist and I were running prior to Creative Ireland. We go to local schools – particularly rural schools – and we talk to them about place-names and the importance of them. "Then we get the kids to go out and research and talk to older people who might remember the local names. It helps them generate a sense of place and belonging and a connection with their area." The project, says Máire, has the added benefit of making some children feel more at home.
"In more urban areas like Tramore we have a lot of children who might have moved into the area, and a lot of foreign national children, so it was a great way of teaching them about the area in which they are living." The Creative Ireland team for Waterford held a workshop for the public in April. Over 80 people attended, one of which was playwright Jim Nolan. "The sense I got from the meeting is that there is an intent in this programme to reach out to the entire country, and to do that through the local authorities makes a great deal of sense," he says.
"There is a native cynicism in a lot of people in my game about the administration of the arts, but cynicism doesn't bring you anywhere so it's really important that people like me remain open to whatever initiatives are coming our way in respect of the arts." The county's initiatives and events explore its heritage and history but with a contemporary and creative twist, writes Katie Byrne Local place- names might be in danger of being lost from generation to generation '' CREATIVE IRELAND WATERFORD Waterford's new Greenway (above) is marked by a series of intriguing signs; Spraoi's parade (below and right) attracts more than 30,000 visitors each year Fresh ideas: Waterford's 52 | CREATIVE IRELAND PROGRAMME YOUR COUNTY-BY-COUNTY GUIDE TO GETTING CREATIVE IN 2017 Irish Independent | Saturday 10 June 2017
1Stop, Look & Listen on the Greenway. This initiative continues the heritage programme of the recording of traditional songs along the 45km track of old railway line. The Creative Ireland element will allow stories of people who live and work along the track to be captured and shared. 2The Story Of Glass. Includes the recording of an oral history of glassmaking in Waterford, and the incorporation of design and artistic elements through talks by glass artists, exhibitions and the creative use of glass in performance arts. 3Placenames Project (Dinnseanchas na nDéise). A folklorist and community artist will visit four schools in Waterford and curate a school's field- names and place-names project, which the students will then present in an artistic medium.
4Bring Your Own Chair. In collaboration with neighbouring counties, Creative Waterford will bring together visual art, architecture and dance as a choreographed performance in 12 acts, across 12 rural locations. 5Behind Closed Doors. This programme will give the public an opportunity to visit interesting properties in Waterford City and County and, in particular, those properties that are not usually open to the public. 6Reader in Residence Programme. The Reader in Residence pilot programme will engage an author to travel to libraries and their communities around Waterford, promoting reading and literacy.
7Beelines Pollinator Plan. In support of the delivery of the All- Ireland Pollinator Plan in Waterford, a community artist will work alongside these networks to raise awareness on the importance of pollinators and initiate practical projects to improve habitat and food sources for pollinators. 8Imagine Arts Festival (incorporating the Waterford Writers' Weekend & the John Dwyer Trad Weekend). The festival showcases all forms of the arts, from film and theatre, to music and dance. 9Summer in the City & Artbeat. The summer-long programme hosts performances from established and emerging bands in the shade of the ruins of Greyfriars Abbey.
10Spraoi International Street Arts Festival. The celebrated Spraoi International Street Arts Festival is held in Waterford every August bank holiday weekend. Like many of those in attendance, Jim was particularly impressed with the Creative Ireland pillar that prioritises the creative potential of the child, and he believes it plants the seed for future generations to flourish. TV Honan is of the same opinion. As the director of Spraoi International Street Arts Festival, he has seen, first hand, the advantages of offering creative outlets to young people in Waterford. "There has always been a percussion or drumming element to Spraoi," he says, "and of the young people who started in the junior percussion group at 14 years of age, quite a few of them have gone on to either study music or go into the broader creative areas." The first year of the Creative Ireland initiative dovetails with the 25th anniversary of Spraoi and, once again, they'll be showcasing the best of both homegrown and international talent, with a parade that attracts roughly 30,000 people each year.
"Waterford is now seen internationally as one of the festivals on the circuit specifically for street arts and spectacle," says Honan. "This year we have companies from the UK, Spain, France, Italy, the Netherlands, Hungary and Canada performing alongside local companies. "Right at the beginning we decided that we didn't want to be a festival that bought acts off-the-shelf. We wanted to create work of our own as well so that a generation of Waterford natives could learn the skills of street art and spectacle." It's an ethos that resonates with Waterford's Creative Ireland plan. Education is one of their groundstones, as is diversity.
The team has devised a programme that speaks to people from every school of creativity, as well as those who might not consider themselves to be creative.
"Creativity is not just about the arts in its formal sense," says Jane. "It's also in the person designing a new computer program; the student making a cover for their school project; the gardener who's putting a little seed in a pot to make it grow. Hopefully this will open people's eyes and help them see that the things we might not identify as creative actually are." The 'Strongbow and Aoife' chairs in Waterford WATERFORD HighLIGHTS creativity is booming Saturday 10 June 2017 | Irish Independent YOUR COUNTY-BY-COUNTY GUIDE TO GETTING CREATIVE IN 2017 CREATIVE IRELAND PROGRAMME | 53 To see your full city and county plan for Waterford, log on to Ireland.ie
CREATIVE IRELAND GALWAY CITY W ITH its successful bid for European Capital of Culture and its status as Unesco City of Film, Galway has got the international nod for its thriving creative landscape. The likes of Druid, Branar and Macnas have already brought the city's theatrical endeavours to the world stage, as have touring productions of the Galway International Arts Festival (July 17-30). Now it's time to turn the spotlight on Galway and its people; a city with access to state-of-the-art broadcast facilities (TG4), the Huston Film School, a Film Fleadh, an acclaimed university, a rich physical landscape, a tradition steeped in the Irish language, and one of the world's most vibrant horseracing festivals.
And in the coming months, the Creative Ireland team in Galway, led by Gary McMahon, will be highlighting the extensive range of projects, events, shows, products, exhibitions and "downright fun" that happens in Galway. As part of its European bid, Galway had to have a cultural strategy in place and had conducted public consultations, so its approach to Creative Ireland is about building on the foundations of that plan, titled Everybody Matters. McMahon explains: "There is a very strong conversation ongoing in the city in relation to creativity. We had been to that well [of local venues, artists and communities] to find out where they wanted to go in the future.
Our cultural strategy is putting culture right at the heart of community development in the city. We're not just talking about cultural arts development; there is a strong connection between culture and local sustainable development, and the link between culture and creative industries." So, for example, as part of its contribution to establish Ireland as a "centre of excellence for media production", Galway City Council and Galway County Council will be working closely with Galway Film Centre this year on a range of developmental and educational projects, including progressing the West Regional Audio Visual Production (WRAP) Fund.
During the Galway International Arts Festival, there will be a pop-up shop held at a central location to showcase work by local artists and designers, including participants of the 2016 and 2017 Building Craft and Design Enterprises programme. There will also be a focus on culture as being integral to quality of life, as well as an acknowledgement of Galway's cultural past as a haven for artists including WB Yeats, Lady Augusta Gregory and Charles Lamb, and as a film location for films such as The Galway's strategy puts creativity right at the heart of community development, writes Alison Martin Quiet Man and The Informer, says McMahon.
The CI team will also be exploring culture in its broader sense, aside from arts, music and film festivals. McMahon explains: "We're talking about pastimes, sport, local traditions, the Galway Races, walking the Prom; it's about taking all that in." One such project is the Galway Heritage Garden Project. With Galway awarded the European Green Leaf in 2017, and Region of Gastronomy in 2018, the city hopes to further develop its name as a 'green ambassador' by encouraging people to grow their own produce.
CI also hopes to sow its own seeds when it comes to young people; a sentiment echoed among the attendance at the Creative Ireland open meeting at the Mick Lally Theatre on April 6.
McMahon says: "We need to start getting into the local communities and encouraging young people. Legacy is very important and Pillar One of the Creative Ireland plan taps right into that." With that in mind, the Mol an Óige project will roll out projects in three areas across the city. In Doughiska, there will be a free theatre camp led by drama practitioner Catherine Simon; the Claddagh National School will host a book festival in autumn dedicated to children and in Westside, Branar Téatar do Pháistí will be working with local children.
There are three parts to what Branar is doing, according to its founder, Marc Mac Lochlainn. Firstly, they will present a performance for five- to eight- year-olds in schools across the A city steeped in culture, festivals and the arts Pastimes, sport, local traditions, the Galway Races, walking the Prom; it's about taking all that in '' 54 | CREATIVE IRELAND PROGRAMME YOUR COUNTY-BY-COUNTY GUIDE TO GETTING CREATIVE IN 2017 Irish Independent | Saturday 10 June 2017
city. The story of Na Sióga agus an Greasaí will be told with live music, puppetry, physical theatre and as Gaeilge, in English and Polish.
Secondly, they will bring their early-years' show The Shape of Things (a co-production with Starcatchers of Scotland), for children aged six months to two years, to community crèche groups on the Westside of the city and to Westside Library, where they will also be doing puppetry workshops. In the meantime, they are also having the world premiere of How To Catch A Star at GIAF. Mac Lochlainn says: "One of the things that I like about Pillar One of the Creative Ireland programme, 'Enabling the Creative Potential of Every Child', is that it highlights the child as an artist and that every child is a creative being.
This is important because if you recognise this fact, it informs government policy, both national and local; it informs curricular decision and arts policy, which should lead to creating opportunities for all children to have access to artistic experiences." With that in mind, Branar approaches all its projects with the same set of questions: "Who is this project for? What age are they? And how can we help them create something or become collaborators with us on the project? How can we bring a bit of magic to the project?" says Mac Lochlainn.
By going into the communities, Branar offers children access to live performance in an era where traditional artforms are often competing against digital offerings. However, Mac Lochlainn says: "Our job, as I see it, is to share the magical experience of a live performance with this generation of children who have unprecedented access to digital, video and virtual media. I want our shows to be for them what the magic of a story told by candlelight in a power cut was for us... It's fantastic that we can work in schools and in venues as not all children will get along to see a show in a venue, but they all will go to school...
if the Creative Ireland programme is allowed to succeed, this will be the beginning of a bright and From far left: Street Performer Fire on the streets of the city; Spanish Arch: Galway dancer Stephanie Dufresne (who features on the cover of the Festival programme) jumps for joy at the announcement of the programme for the 40th Galway International Arts Festival. PHOTO:ANDREW DOWNES, XPOSURE; Branar's Na Sióga agus an Gréasaí. PHOTO: ANITA MURPHY Right: Druid's Garry Hynes 1Mol an Óige theatre camp, Doughiska.
Theatre camp programmed and led by youth theatre specialist Catherine Simon. 2Branar Téatar do Pháistí, Westside. Under the Mol an Óige initiative, Irish language and puppet company Branar Téatar do Pháistí will draw on its experience in creating high-quality work that is not language dependent and captivates audiences of all ages and cultures. 3Book Festival, Claddagh National School. The school will host a "galaxy of children's authors" and workshops for children as part of the Mol an Óige initiative. 4Pop-up shop for Galway craft makers and designers, central location, to be confirmed. The Local Enterprise Office in Galway will work with designers, design artists and craft-makers to run a pop-up shop that will showcase their work during the Galway International Arts Festival.
5First Thought Talks @ Galway International Arts Festival. Provides a platform where a broad range of ideas and topics under the theme of 'the power of' are explored, such as words, vinyl, borders and superheroes. Contributors include Colm Tóibín, Emma Rice and Maureen Gaffney. July 17-30. www.giaf.ie/events/ archive/category/first- thought-talks 6Irish Language Tour of Galway, Galway City Museum, An Taibhdhearc and more. Galway City Museum and Galway's National Irish language theatre, An Taibhdhearc, will be among the stops on an Irish language tour. 7Funding and Business Engagement Workshops for Cultural Producers.
Three days of workshops, training, and mentoring in association with Galway 2020. The first will take place in June and will involve a facilitated one-day workshop to bring the business and culture sectors together to examine new engagement models. 8Babóró. This international festival aims to inspire children through the arts, including dance, music, painting, reading and writing. Laureate na nOg PJ Lynch make an appearance in the 'something for Grown-Ups' programme. October 16- 22. www.baboro.ie. 9Picture Palace Art House Cinema, Lower Merchants Road. The state-of-the-art cinema, located within a stone's throw of Spanish Arch, is due for completion later on this year.
10Town Hall Theatre refurbishment, In addition to the City Museum, Town Hall Theatre will undergo significant refurbishment and enhancement works following successful applications under the Creative Ireland/ DAHRRGA Capital Grants Scheme. GALWAY CITY HighLIGHTS Saturday 10 June 2017 | Irish Independent YOUR COUNTY-BY-COUNTY GUIDE TO GETTING CREATIVE IN 2017 CREATIVE IRELAND PROGRAMME | 55 To see your full city plan for Galway, log on to Ireland.ie creative future for the children of Ireland." Branar reflects the bilingual nature of Galway's cultural scene, which will be celebrated in an Irish language tour of the city.
Galway City Museum and the An Taibhdhearc theatre have already been identified as pit- stops in the first instance, with other potential sites including Katie's Cottage at the Claddagh; Áras na nGael in Dominick Street; Ó Máille's Shop on High Street; Tigh Neachtain on Cross Street; NUIG; and Town Hall Theatre.
At Galway City Museum, visitors will get an insight into the literary history of Irish through the character of Pádraic Ó Conaire, accompanied by a new panel in the exhibition space for the tour. And at An Taibhdhearc, the theatre will showcase the dramatic history and culture of the language. This will be done through a newly designed panel of information about the history of the theatre and its contribution to the Irish language culture, as well as a short film featuring archive photos of Galway, An Taibhdhearc and its company members over the years. It is a tour that also hopes to point visitors to Inis Mór and other areas of note within the county, as part of a Creative Ireland plan that is ever looking outward.
G ALWAY is a beautiful county, from the grey stone buildings of its capital on out to the Aran Islands, then back in again to Connemara, a place of sea, mountain, sky and music, where nature is not yet on the run and Irish is spoken naturally – and quite beautifully – by the good- natured and courtly people of the Gaeltacht areas as they go about their modern lives. An important new development for Rosmuc in South Connemara, where the beating heart of the Gaelic world can still be heard, is the new Padraig Pearse cultural centre, Ionad Cultúrtha an Phiarsaigh. The Taoiseach, Enda Kenny, who opened it last November, told the assembled audience: "The language and culture of this area greatly impressed Pearse when he first came here in 1903 to examine students on behalf of Conradh na Gaeilge.
They made such an impression on him that he decided to spend his holidays each summer, from 1909 to 1915, here at Pearse's Cottage." All quarters of Galway county have their own particular beauty, from the ancient wooded landscapes inland, to the pretty old towns and houses, isolated hill farms, bogs that have been carefully curated by farmers over millennia and many ancient pagan and monastic sites. It also boasts many well-kept traditional thatched houses and a large stock of white and pale grey Connemara ponies standing gracefully in the fields. There is a rich tradition of celebration in Galway.
Dubbed Festival City by many visitors, the county has long been a magnet for writers, painters, sculptors, film makers, musicians, marine scientists and nature lovers. The people of Galway have a reputation for knowing how to enjoy themselves and the list of festivals held is long, and growing.
Recently, Galway bagged the coveted European Capital of Culture title for 2020 and now the whole county has been awarded the designation of European Region of Gastronomy for 2018. Already renowned for its fresh fish and seafood, for its beef grazed on the salt seashore and its wild mountain lamb, this award is seen as a golden chance for Galway to build on its existing strengths and bring together the food, agriculture, marine, arts, creativity and tourism industries for the benefit of the whole region. The Creative Ireland funding is allowing them to do just that, with its main focus on food heritage, followed by architecture, literature and the new Cruinniú na Cásca, held over Easter in six locations in the mediaeval town of Athenry.
Coordinated by Marian Donohue, more than 7,000 people attended and by all accounts, it was big success. Marie Mannion, who is working on mapping Galway's gastronomic heritage, explains how when they asked people from all over the county to contribute any material they had concerning food, including recipes, stories, growing, cooking methods, drinks, buying, bartering and fishing for it, "The response was staggering," she says. "There was great interest in the project. The amount of stories and material coming in is colossal, and it keeps growing. It's extraordinary how long people's memories go back.
This collection is fascinating and is now really big, as big as the Folklore Commission's survey in the 1930s." Among the material collected so far, is a list of recipes from the Great Famine, which are fascinating, and a famine pot. A soup was made in these big iron cauldrons and distributed to the hungry and the dispossessed, most often by well-meaning Protestant missionaries trying to get people "saved" from Catholicism, hence the terms "they took the soup" and "soupers", applied to those who changed religion – or pretended to – rather than starve. "There are interesting shopping lists from the accounts kept by a shop in Killerin, showing in detail what people bought for every day and for special events.
We even got ration books dating from the food shortages during Ireland's Emergency, declared by De Valera during the second world war (1939-1945)." Marie Mannion says they made "a big investment of Creative Ireland money on making a digital interactive county map that anybody can access online, by clicking on a story or recipe to pinpoint the places in which they were collected. We are creating a digital heritage, a one-stop shop where people can upload the whole history of gastronomy in Galway. It's fascinating and ongoing." Topics include local foods, self-sufficiency, growing potatoes in ridges using seaweed and or animal manure, fairs and markets, killing and curing a pig, making black pudding, food for special occasions, setting the table, wild foods, folklore and cures, co-operatives, famine, food from Famed for the quality of its produce, the county is focusing on its food heritage, writes Helen Rock We are creating a digital heritage where people can upload the whole history of gastronomy in Galway '' CREATIVE IRELAND GALWAY COUNTY Just a taste and you'll realise why County Galway is something special 56 | CREATIVE IRELAND PROGRAMME YOUR COUNTY-BY-COUNTY GUIDE TO GETTING CREATIVE IN 2017 Irish Independent | Saturday 10 June 2017
1Architecture on the Edge (AE) in October. A guest at this year's festival is Richard Murphy, OBE, whose Edinburgh house won the RIBA/ Grand Designs House of the Year in 2016. His work on Killeenaran in Galway will feature. 2The AE festival invites everyone to explore the built fabric of Galway's town and county. Free guided tours of the former Convent of Mercy in Ballinasloe, now conserved and incorporated into the library, can be taken. 3Make sure to visit the well-kept thatched house at Cloosh, Kinvara. 4Take a guided tour of Ballinderry Park, a five- star B&B in Ballinasloe, "an example of a middle-sized house conserved, using carefully chosen materials and colours." 5View the stunning panorama of Galway Bay from the roof of Oranmore Castle (pictured above).
6At Woodville Walled Garden, there are expert guided tours of the restored kitchen garden and dovecote every day, from April-September. 7Galway's Gastronomic Heritage project will have a big gathering during the year. Until that is given a time and date, check out the interactive website, where you can access lots of food related items, such as a lovely description of fair days in Killimore; a wonderfully clear recipe for making black puddings and sowen, (a "very nice" sweet cake that uses chopped sugar beet instead of fruit and sugar) and perfectly detailed instructions, in Irish, on when and how to grow potatoes using seaweed or manure.
http://bit.ly/2rOflpP 8Literature on the Move – Galway's Big Read will focus on the life and works of Pádraic Ó Conaire (Mo Asal Beag Dubh). Events are still being scheduled. 9Culture Night is on Friday September 22, and there will be many interesting events around the county – and free to all. Details of the programme will be available in the coming weeks.
10Check out the bilingual brochure for details of events. It will soon be available in libraries and villages and will also be listed on local radio and in print media. the big house and the small house, the coming of electricity and running water and the Schools Folklore collection. Another foodie highlight will be a new cookery book, 101 Great Galway Recipes, to be published next year in Irish, English and Dutch, to mark the European gastronomy award. A second schools' project asks children to collect and submit recipes and stories about food in their local area, as was done in the 1938 Schools Folklore Project, which yielded a rich collection of local cures and stories going back to Famine times and beyond.
"We'll be arranging podcasts and making films of people and what food they grow and how they grow it. We'll also be mapping the biodiversity of food and the whole history of fishing. We are planning one big public event this year (date and venue to be confirmed) and our aim is to involve everybody and every community," says Marie. Another pillar of the Creative Ireland plan is Architecture on the Edge (AE), listed for the weekend of October 6–8. This festival invites everyone to explore the built fabric of Galway's town and county. Buildings of outstanding merit, not usually accessible to the public, will open for guided tours.
A series of talks, workshops and exhibitions will be held in interesting buildings throughout the county. All events are completely free of charge.
Literature on the Move – Galway's Great Read, hopes to encourage "more people back into reading for pleasure," according to librarian Jo Vahey. It will commemorate an historical event through readings, poetry, exhibitions, talks and reminiscences of life in Galway and Ireland during the chosen period. This year, the life and works of Pádraic Ó Conaire (probably best known for Mo Asal Beag Dubh or My Little Black Donkey) will be under the spotlight. It is planned to bring the Rosmuc native's short stories to selected primary schools for 'modernising', as was done with the 1916 Proclamation last year.
Other projects under the literature and education portal are not yet finalised and no dates have been set, but it is intended to invite poets and writers to visit towns and villages to work with local drama groups, and the library service will be inviting speakers "from all walks of life" to take part in evenings offered in both Irish and English.
Galway County Council also aspires to making Galway a hub for film and media industries. The county is already home to a large audio-visual sector and works very closely with the Film Centre on establishing a regional fund for film, on Screenwest.ie (a portal for on- location support) and on its UNESCO film status. A bilingual brochure of events will soon be available in libraries and villages and will also be listed on local radio and in print media. Clockwise from left: Tess and William Kavanagh at the launch of the Clifden Arts Festival. PHOTO: ANDREW DOWNES, XPOSURE A promotional photograph for Clifden Arts Festival; woodcarving by Sam Beardon; Galway Cruinniú na Cásca 1916 celebrations: Gliondar Arts Gramophone; Alice Davis Joyce from Recess in Connemara at The Galway International Arts Festival.
PHOTOS: HANY MARZOUK AND ANDREW DOWNES CO GALWAY HighLIGHTS Saturday 10 June 2017 | Irish Independent YOUR COUNTY-BY-COUNTY GUIDE TO GETTING CREATIVE IN 2017 CREATIVE IRELAND PROGRAMME | 57 To see your full county plan for Galway, log on to Ireland.ie
Mayo's creativity is shaped by its unique geography M ayo people are known around the world for their solidarity and county pride, a pride of place as strong as the wild Atlantic waves that batter its spectacular jagged coastline from Killala to Clew Bay and Killary Harbour in Connemara. They have a justly famous global support network of Mayo Associations for the county's diaspora, formerly known as the Mayo Men's Association, founded in Dublin in 1905 by Major John MacBride and Edward Lavelle, among others.
"Mayo's rich and vibrant culture is rooted in its Gaelic and Celtic origins, but it is open to diverse traditions and the creative challenges of today," says County Librarian Austin Vaughan, co-ordinator of the Creative Ireland programme for the county.
"This initiative is very much in line with the Council's existing work in promoting heritage, libraries, arts and creativity in general; it allows us align our practice to national policy." Mayo's library service already has a visionary and ground- breaking musical instrument bank in operation, from which every child can borrow, no matter where they live in the county. There's an impressive infrastructure of 17 libraries, 20 museums (not least the National Museum of Country Life at Turlough, Castlebar) and 10 arts venues, including artists' studios and residencies. The aim is to reach all the people of Mayo, including the newest community of Syrian refugees who have settled there.
The wealth and diversity of the natural, built and cultural heritage of Mayo forms its unique character and identity. There is no shortage of examples, from a maritime history haunted by the ghost of Granuaile, to the vast tracts of bog, ancient Céide Fields and immense land- and seascapes that have inspired artists, writers and musicians, from Raifteirí the blind poet, to George Moore and contemporary writers Mike McCormack, Sally Rooney and Eimear McBride. Mayo can even claim Riverdance, born out of the Mayo 5000 celebrations. Mayo is not only shaped by its geography, history and memories of too many tragic and difficult times but also by the hope of something new and better.
It has been moulded by its diaspora, and by its experience of departure and return and the exchange between the two. Throughout its long history figures such as Granuaile, Admiral 1Mulranny Stone Wall Festival, held this year on May 14-16, will be enlarged to become a festival that celebrates the traditional skills of Mayo. 2Foxford Walking Festival: Where the famous woollen blankets come from.Takes place over the June bank holiday weekend.
3Harvest Festival 2017: A brand new country music festival to take place in Westport on August 26. The Aiken Promotions event features over 40 acts including Logan Brill, Nathan Carter (pictured), Charley Pride, Kip Moore and Miranda Lambert. 4Land of Saints & Scholars – A Folklore Audit of Mayo. A project to examine how they will tell their story. 5Mayo Day: A celebration of 'Mayo-ness' in Mayo communities throughout the world. A unique festival that is global and also local. Now in its third year and growing phenomenally. 6The Wild Atlantic Words Festival, Castlebar. A new book festival to celebrate the world of literature in the off-season period in a town that is not a traditional tourist destination.
Scheduled to appear are Diarmuid de Faoite, Seán O'Rourke and former Taoiseach Enda Kenny. 7Digitise the Jackie Clarke Collection: A project that will digitise Ireland's largest collection of Irish history material outside Dublin. The 100,000 items were gathered by Clarke, a Ballina businessman who died in 2000. His collection is on free public display in the town.
8Mayo Manchester Tradfest: A celebration of traditional and contemporary Irish music, song and dance featuring performers from Manchester and Mayo. An excellent example of a festival that embraces the county's diaspora. 9Mayo Dark Sky at Ballcroy: A celebration of the '360 degree experience' offered by Ballycroy's stunning, unspoilt landscape on the edge of Europe's wild Atlantic coastline. 10The Rolling Sun Book Festival: Billed as a quirky festival of writing that attracts big names to Westport in November.
A diverse cultural heritage contributes greatly to Mayo's unique character, writes Helen Rock CREATIVE IRELAND MAYO MAYO HighLIGHTS 58 | CREATIVE IRELAND PROGRAMME YOUR COUNTY-BY-COUNTY GUIDE TO GETTING CREATIVE IN 2017 Irish Independent | Saturday 10 June 2017
William Brown (founder of the Argentine Navy), Michael Davitt and Mary Robinson have emerged to create the nation's story. Its landscape has inspired Jack B Yeats, Graham Greene, Heinrich Böll, John Ford and Michael Viney, among others. Religion has been an enormous influence on the culture of Mayo and even in these more secular times crowds still throng to Knock shrine, pilgrims (and athletes) daily climb Croagh Patrick and visitors flock to Ballintubber Abbey. The county boasts a rich stained glass heritage – fine examples of work by Harry Clarke and Wilhelmina Geedes can be found in churches all around.
An teanga, the Irish language, is still central to cultural identity. Until the late 19th century it was the spoken language of the great majority. Today about 10pc of the people still live in the Gaeltacht and speak the language every day. There is a strong tradition too of folklore and storytelling, part of an oral tradition going back to the battle of Moytura (between the Fir Bolgs and the Tuatha Dé Danann). The story of the Children of Lir, who were turned into swans and spent their last 300 years in Erris, before flying off to Inishglóra, where they are said to be buried. A local festival is now held there every year in their name.
Then there is Mayo Day, a unique initiative in Ireland, now in its third year, which has drawn a magnificent response and captured imaginations at home and abroad. An ongoing aim of Mayo Day is to promote the county internationally, as a positive location for business and tourism and to enhance the Mayo's image as a progressive, 'will do' place and the heartbeat of the Wild Atlantic Way. For maximum impact, they have used television, the internet and social media, with great success. Anne McCarthy is the Arts Officer for Mayo County Council. "Creative Ireland will provide additional resources towards the recognition and celebration of our vibrant cultural sector in Mayo," she says.
"We intend to offer supports for inspirational engagement, benefitting artists, local communities and the wider public. We look forward to delivering our vision for a truly creative and inclusive society, working alongside the Creative Ireland programme." Seán Walsh is the quietly- dynamic Director of Ballina Arts Centre, a thriving0 and popular place with its own theatre. It is housed in a roomy, restored and repurposed old mill on the swift-running River Moy, where anglers still fish for wild salmon. He says that "Creative Ireland is important for a project such as Ballina Arts Centre for a number of reasons.
First, it puts arts and culture on the governmental radar, and that is hugely important. "If the economy is recovering, we need arts and culture to be well placed in order to benefit from a funding perspective. If Creative Ireland is going to be as big as it has been announced, then that certainly helps. Secondly, it keeps the arts in the public eye. It is imperative that the successful role the arts played in the 1916 centenary celebrations be recognised and built upon.
"And, thirdly, one great legacy of the Celtic Tiger years is the excellent nationwide cultural infrastructure which now exists. Creative Ireland could be part of a coalescent strategic approach to maintaining and growing the arts sector, and allowing it realise the potential that it has. "We need all of the relevant agencies – Department of Arts, Arts Council, local authorities and so on – working together toward that goal. That, for me, would be the great achievement Creative Ireland could, and should, aim for." The Irish language is still central to Mayo's cultural identity '' Opposite page: Oisin O'Reilly from Ballyvary with Andrew Kavanagh and Nicole Fleck at the Mayo Day 1916 Commemoration in Castlebar Main picture: Mayo Bee Creative Cruinniú na Cásca event at the Jackie Clarke Collection Ballina with artist Aidan Crotty Saturday 10 June 2017 | Irish Independent YOUR COUNTY-BY-COUNTY GUIDE TO GETTING CREATIVE IN 2017 CREATIVE IRELAND PROGRAMME | 59 To see your full county plan for Mayo, log on to Ireland.ie
N ESTLED close to Ireland's heart, Roscommon is justly proud of its rolling landscapes and literary heritage. But there's something exciting in the air, something as crisp and perfect as the views from Arigna, and as powerful as the mighty River Shannon that sweeps along its eastern boundary. And that's the dynamism behind bringing Creative Ireland's mission statement to bear in this jewel in the crown of Connacht. The county that, according to legend, was once home to Queen Maeve, and, according to incontrovertible fact, produced generation after generation of writers and artists is set on a course of drawing on those strengths and marrying them with the county's other great traditions, in sport, history, agriculture and, of course, community.
Having thrown the invitation open to groups and interests across the county, the Creative Ireland team is putting together a long-term plan that could well reconfigure the manner in which ideas are formulated, fostered and put into action. As the team declares in its mission statement, 'we truly believe that creativity in all its forms is treasured in Roscommon'. It's in that spirit of being open to ideas that Creative Ireland will soon seek proposals on projects and activities that encourage creativity and cultural participation locally, with funding administered by Roscommon County Council.
In some ways, the model at work here, seeking an intersection of interests, an interplay of strengths is the cross-pollination of ideas. So, it's appropriate that one of the projects getting underway this year is 'Let's Get Buzzing'. Falling under the phenomenally successful Tidy Towns banner, this initiative encourages villages and towns to plan their roadside planting and flowerbeds in a way that fosters the local bee population. It has been estimated that bees and other insects that pollinate plants undertake vital work that is worth about €35m per year to the Irish agriculture sector. As part of the All Ireland Pollinator Plan, 'Let's Get Buzzing' will commission a heritage expert to work with community groups to implement, on a local level, innovative measures that will hopefully yield a sweet dividend in the years ahead.
As with so many long-term innovations, success depends on capturing the imaginations of young minds. Nowhere is this more evident than in the CoderDojo movement which has swept across Ireland. Creative Ireland is extending the CoderDojo initiative to Roscommon, in which pre- teen children are encouraged to develop skills in coding, developing, as they learn, into rigorously logical thinkers who will be equipped with the skills to survive and thrive in tomorrow's world. And it's children's inquisitive, all-embracing qualities that Creative Ireland is keen to cultivate. Accordingly, October's Lollypops Children's Festival is a month-long programme of events that will enable, encourage and support increased participation in the arts.
It probably helps that Roscommon Arts Centre has a healthy tradition of hosting events that are child friendly, including the quirky play, The Magic Bookshop, which was staged there last summer. Of course, those young people are standing on the shoulders of the generations that went before them. In few places does the significance of our history feel more relevant than in Roscommon. Last year, it was natural that the events of 1916 would take centre stage, as evidenced by the Roscommon Youth Theatre Company's staging of a work by Boyle playwright and actor Catherine Sheridan. Her play, If I Was In The GPO We Would Have Won, looked at the Rising placing a narrative perspective on one our nationalist cultural touch stones.
But Roscommon's historical roots go back considerably further than that. Just look to the incredibly rich archaeological wonders at Rathcroghan, near Tulsk. Beneath the expansive landscape is a network of caves and mounds over six square kilometres. Archaeologists have determined that the site must have been a bustling centre of human endeavour in centuries gone by, with evidence that people were shaping the land and building on it as long ago as the Neolithic Age (before 2500BC), and that it continued to be a site of cultural significance until the Iron Age and the early medieval period. At one stage, experts believe, Rathcroghan Mound, which is just one of more than 200 archaeological features here, would have been topped by wooden ramparts and ceremonial henges.
Tribal leaders of the O'Connor clan of Connacht were crowned here, and there is little doubt that Rathcroghan served as a focal point for social life in pre- Christian Ireland. Even more intriguing is the mythology that surrounds this beautiful part of north Roscommon, that the mighty Queen Maeve had her residence here and that it was from Rathcroghan that she sent her powerful armies to Ulster to wage war over the potent Brown Bull of Cooley, triggering the Táin Bó Cuailnge whose cultural impact is evident even today. That epic saga is being given new life: just last month, Rathcroghan hosted the launch of Táin March Festival 2017, which re-traced the footsteps of Queen Maeve's troops as they marched northwards to the Cooley Peninsula.
On Friday, Capturing the imagination of its young people is the important key to Roscommon's future cultural successes, writes Mary Galwey In few places does the signiicance of our history feel more relevant than in Roscommon '' CREATIVE IRELAND ROSCOMMON Jewel in Connacht's crown 60 | CREATIVE IRELAND PROGRAMME YOUR COUNTY-BY-COUNTY GUIDE TO GETTING CREATIVE IN 2017 Irish Independent | Saturday 10 June 2017
1All Ireland and All Nations Sheep Shearing Championships, June 2-4, Kiltoom. It's time for our woolly friends' annual haircut, and the experts will showcase their skills on the bank holiday weekend. Nathan Carter is due to perform on Friday night. 2Bookworms children's literary festival, June 7-10, various locations in Roscommon town. A celebration of the written word for the younger readers, the programme includes theatre, storytime sessions and even a book clinic. roscommonartscentre.ie 3Percy French Festival, July 5-7, Castlecoote House. This summer school, which has been running since 2009, has a line-up that includes journalists Sam Smyth and Dearbhail McDonald, as well as music.
percyfrench.ie 4Douglas Hyde Conference, July 13-15, Ballaghaderreen. This year's conference will focus entirely on creativity. Among the contributors will be Honor Ó Brolcháin, who will speak about the 1917 election to parliament of her great-uncle, North Roscommon MP George Noble Plunkett. 5Boyle Arts Festival, July 20-30, various venues, Boyle. The north Roscommon town will rock to the music of Brian Kennedy, Eddi Reader and Declan O'Rourke, while Mary McEvoy (inset above) and Jon Kenny will bring their production of John B Keane's The Successful TD to St Joseph's Hall. boylearts.com 6O'Carolan Harp Festival, August 4-7, Keadue.
Celebrating the 18th century harper Turlough O'Carolan, the festival attracts traditional music makers to the village for concerts, céilidh and classes. ocarolanharpfestival.ie 7Outdoor performance of Wind in the Willows, August 6, Strokestown House Park. Kenneth Grahame's classic children's tale gets an airing — literally — in this outdoors performance by Chapterhouse. strokestownpark.ie 8The Secret Village Festival, August 11-12, Ballaghaderreen.
Dubbed 'Electric Picnic for Westies', this small- scale festival offers all the best elements of a big-name festival — good music, craic, culture — but with none of the traffic jams or queues for the portaloos. 9Heritage Week, August 19-27, countywide. A full week of events highlighting and celebrating our heritage, including talks, classes and open days. heritageweek.ie 10Strokestown Symposium, late September, Strokestown House Park. Organised by Roscommon County Library with the Irish Heritage Trust, the theme is Women in Literature and writer Marita Conlon- McKenna is scheduled to speak.
May 19, local children, dressed as the brave youths of Irish mythology, followed 'Queen Maeve' across fields in a motley crew of young historians and future keepers of the cultural flame.
In many ways, the exercise reflected some of the aims of Creative Ireland: encouraging creativity and cultural participation, drawing on mythology to illustrate our history, cheerfully borrowing from the past to create young citizens who will have a fuller understanding of their own world. Just a few miles away, and just a few days later on May 27, the Famine Emigrant Walk from Strokestown Park House got under way, covering very different cultural terrain, albeit in the same spirit of trying to bring human depth to historical facts. The march, to Dublin, commemorates the almost 1,500 men, women and children who were forced to leave the Mahon estate in 1847 for new lives in Canada, bringing home the sheer scale of the human loss and the long-lasting devastation wrought by the Famine.
Someone who would have been aware of the local history is songwriter Percy French who was born in Cloonyquin, near Tulsk, a handful of years after the Famine. A trained engineer, he juggled writing humorous songs such as 'Are You Right There Michael?' and 'Phil The Fluther's Ball' with his duties as Inspector of Drains in Cavan. He would no doubt be amused that he now lends his name to a July summer school, noted for the excellence of its contributors and the wide-ranging experience of its speakers. The same descriptions could be applied to the Douglas Hyde Conference which takes place in Ballaghaderreen.
This year, conference delegates will mull over a programme that focuses, appropriately enough, on creativity and culture, aspects of a maturing nation that the poet-turned-statesman would approve of.
Ultimately, with bountiful reserves of creative energy and drive and ambition, the county of Dr Hyde's birth represents the very best of what Ireland has to offer. As acting county librarian Mary Butler observes, the Creative Ireland project allows dynamic groups and individuals with a creative bent to engage in joined- up thinking, rather than in isolation. With that kind of synergy at work, heaven only knows what the people of Roscommon are capable of… Clockwise from left: Roscommon County Youth Theatre members play out 'Animal Farm', Orwell's mordant fable of a revolution betrayed; Roscommon County Youth Theatre's production of Catherine Sheridan's 'If I Was in The GPO we Would Have Won'; The Magic Bookshop PHOTO: CONOR McCABE PHOTOGRAPHY ROSCOMMON HighLIGHTS where culture is cherished Saturday 10 June 2017 | Irish Independent YOUR COUNTY-BY-COUNTY GUIDE TO GETTING CREATIVE IN 2017 CREATIVE IRELAND PROGRAMME | 61 To see your full county plan for Roscommon, log on to Ireland.ie
I T is impossible to think of the culture of Co Leitrim without contemplating the legacy of John McGahern. The writer, who died in 2006, left an extraordinary imprint in his novels, short stories and memoir, and his beloved Leitrim loomed large in all his work. For playwright, poet and RTÉ broadcaster Vincent Woods — also a native of Leitrim — McGahern's oeuvre helped him find his way into a creative world. "His novels and stories had a huge impact on me," he says, "not least because I grew up in the same county and recognised the world he was describing and because the dialogue he wrote really captures the richness of the language of the people here." Woods never met McGahern — "I admired him from afar" — and has regrets that he didn't send him a copy of one of his poetry collections before he died.
But he has ensured that the great author's relationship with Leitrim is not forgotten thanks to, first, an annual John McGahern seminar and, now, a literary festival in which his memory takes centre stage. The Iron Mountain Literature Festival is named after Slieve Anierin (from the Irish Sliabh an Iarainn, meaning 'mountain of the iron') and it's something of a labour of love for its co- founder and director. "We had [Brokeback Mountain author] Annie Proulx last year and were really delighted she accepted. She had something else on that weekend, but really liked the sound of what we were trying to do with the festival." Iron Mountain returns this year and Woods hopes that besides celebrating some of the world's great writers, it will also shine a light on the fine artistic tradition of Leitrim too.
"There's a lot to be proud of here: from poets and songwriters to the Leitrim Sculpture Centre, one of the finest of its kind in the country. "It is a county that has long attracted artists of all persuasions," he adds. "There's extraordinary natural beauty here. When I go away, I think about it and wonder if I'm exaggerating how stunning it is, but when I return I'm captivated once again. But it's also a really affordable place in which to live, a world away from the house prices or escalating rents of Dublin, so it's possible to follow your artistic vision and be able to live here." It's a sentiment shared by Philip Delamere, the arts officer at Leitrim County Council.
"Artists have been attracted to this county for many years. Not only is the cost of living cheaper than almost anywhere else in Ireland, but they can find the sort of solitude here that they might crave to do the best work they can." Delamere points out that there likely to be more artists — or "people involved in the arts" — in Leitrim than in any other county in Ireland. "A 2009 report looking at the creative sector compiled by the Western Development Commission (WDC) found that 4.4pc of the working population of Leitrim was employed in the creative sector — the highest percentage in the WDC region, and one of the highest in the country.
"This statistic means that a lot of music is recorded in the county, visual art and craft made, and books written. But perhaps more importantly, the work of these people reaches into every community across the county. While some of the richness of this sector has grown over the last 20 or 30 years, much more has been built on, and forms part of, a wider heritage that comes from the landscape and its people stretching back for generations." Delamere believes the arts connect with a lot of people, something that can be gleaned by "the way communities get behind cultural festivals and events in Leitrim".
And he suspects there will be similar engagement over the next five years as the county's Creative Ireland programme is rolled out. Right now, there is a call-out "inviting community groups, organisations, venues, artists, writers, archaeologists and all those involved in the culture and creative sectors to come together to develop high-quality projects and programmes that will have a meaningful impact on those involved." For professional Irish dancer Edwina Guckian, the Creative Ireland initiative offers Leitrim There are proportionally more people working in the arts in Leitrim than in any other county, writes John Meagher People not familiar with Leitrim might be surprised at just how artistic it is '' Archaeologist Sam Moore leads a field trip during the Iron Mountain Literature Festival.
CREATIVE IRELAND LEITRIM McGahern looms large in Portraits from the Brian Farrell/Mohill Photography Club project 62 | CREATIVE IRELAND PROGRAMME YOUR COUNTY-BY-COUNTY GUIDE TO GETTING CREATIVE IN 2017 Irish Independent | Saturday 10 June 2017
1The Last Wilderness, Carrick-on-Shannon, June 2–August 16. Exhibited at Leitrim's principal arts space, The Dock, this work from Galway-based Cecilia Danell "investigates the correlation between landscape, staged realities and the theatre". 2Carrick Carnival Family Fun Art Workshop, Carrick-on- Shannon, June 3.
Family-focused, art-centred fun for children aged five and over and their parents/guardians. 3Cowboys and Heroes, Ballinamore, June 2–5. Country music and Americana festival featuring local and international musicians. Activities range from an American car show to line dancing. 4Carrick Water Music Festival, Carrick-on-Shannon, July 12–16. The 13th instalment of the annual music and arts festival; this year's attractions include acclaimed singer-songwriter Lisa Hannigan.
5Joe Mooney Summer School, Drumshanbo, July 15–22. A week of traditional Irish music and dancing. There will be classes and workshops as well as recitals, céilithe, lectures, and open-air music events. 6Instrument Building Workshop, Carrick- on-Shannon, July 17–21. Taking place at The Dock, this hands-on workshop is courtesy of sound artist Ed Devane. 7Wild Words, Carrick-on- Shannon, August 11–13. Children's books festival featuring well- known writers. Organisers are seeking submissions. 8Ballinamore Free Fringe Festival, Ballinamore, August 19–21. As its name suggests, this festival is all about putting on no-charge performances from across the artistic spectrum.
9Green Door Festival, various locations, September 29–October 1. A celebration of out- standing rural architecture and design, with homes and buildings of architectural importance open to the public. 10Iron Mountain Literature Festival, Carrick-on-Shannon, October 6–7. A celebration of local and international writers and talks on the legacy of Co Leitrim's local literary giant, the late John McGahern (inset above). a golden opportunity to showcase just how vibrant its artistic community is. "Already, there is some fantastic work being done right across the arts," she says, "and I think people who are not familiar with Leitrim might be surprised at just how artistic it is." Guckian has had a love of Irish dancing from an early age and for several years combined this passion with a job as a primary school teacher.
Two years ago, she decided she was no longer able to combine the two and it was goodbye to the classroom. "A lot of people thought I was mad to leave a permanent job like that, but it's something I would really have regretted had I not done it," she says.
While Riverdance helped popularise Irish dancing — or a modernised interpretation of it — Guckian's obsession is for a more traditional form. Sean nós dancing commemorates a style that was first popularised hundreds of years ago. "It's about celebrating local styles of dancing that were passed down through the generations," she says, "so that type of dancing here in Leitrim would be very different from the sean nós dancing you'd find in Co Clare, for instance." Much of Guckian's work is helping children to master the finer points of this traditional art — and art, she says, it most certainly is.
"It's a hugely important part of Irish heritage," she says, "and it deserves to be cherished as much as our traditional songs, or our great literature." Guckian — who is founder of the Leitrim Dance Project — believes it is vital that culture is rooted in community. "I think it should engage with people, particularly local people. It's what makes the arts vibrant." Brian Farrell agrees. The award-winning photographer was commissioned by Leitrim County Council to assist Mohill Photography Club in their quest to document life in the small town. On March 31 last, club members set up a makeshift studio and encouraged locals to be photographed.
More than 200 were captured. "It's a project that really engaged the community," Farrell says, "and it will have a lasting impact.
"In years to come, others can look back and see how people from every walk of life in Mohill looked in 2017. It'll be fascinating to look at the style of dress, but it's more than that — the project captures something of the personality of the townspeople." The 'Portrait of a Small Town' project happened just weeks after a controversial 'Mohill town is dying' front- page headline in the Leitrim Observer. The paper had reported the concerns of local councillor Enda Stenson, but Brian Farrell believes it hurt many of the townspeople. "It sort of galvanised them to come out and be photographed and to show that there were people working hard to make a difference." The photos will be exhibited throughout the town in August.
"Portraits will be hung in shop windows," he says, "so it will have every chance of connecting with the people there." Philip Delamere points out that the budget for 'Portrait of a Small Town' was provided by the county's Artist in the Community programme, but says "it's emblematic of the type of project we are encountering under our Creative Ireland open call." LEITRIM HighLIGHTS vibrant legacy to Leitrim Storyteller Niall de Burca entertains children during the Wild Words Children's Book Festival in Carrick-on- Shannon.
Sean nos dancer Edwina Guckian during the Leitrim Equation production. Saturday 10 June 2017 | Irish Independent YOUR COUNTY-BY-COUNTY GUIDE TO GETTING CREATIVE IN 2017 CREATIVE IRELAND PROGRAMME | 63 To see your full county plan for Leitrim, log on to Ireland.ie
CREATIVE IRELAND SLIGO Entrepreneurship and sustainable arts in culture hotspot R ENOWNED as the culture capital of the north-west, Sligo certainly hasn't been lacking in terms of creative events over the last number of years. Rather, Ben Bulben has been the backdrop to a broad range of festivals and activities which attract locals, as well as tourists, on an annual basis.
But that doesn't mean that Sligo won't gain anything from the Creative Ireland programme; instead, it now has the potential to make the arts a sustainable venture into the future. "Part of Creative Ireland's objective is to provide a better standard of living and to make artists more sustainable in their own right," says Dorothy Clarke, head of Sligo's Culture team. "We know the role that the arts play in the county in terms of tourism and economic development, and it's for the pride of communities, and what they do, too. And increasingly, we understand the link to wellbeing and mental health as well.
It gives people an outlet, and it's accessible to all." According to Dorothy there is a particularly high number of creative entrepreneurs in Sligo. Craftspeople who work in pottery, ceramics, woodturning, and smithing can find inspiration for their creations and potentially a customer base in the county. It is hoped that Creative Ireland will help to support these creative entrepreneurs to achieve sustainable and profitable employment, while benefiting their communities.
"In the 2000s we had the second highest number of people employed in the creative sector in the north-west," she says. "And we still have a high propensity of people employed in the creative sector running small businesses. We want to get more of them to come here, but we also want the businesses to be more sustainable. We want to give them better opportunities." The local economy already benefits from tourism, but it is hoped that additional events and activities will attract visitors to spend on the arts too. "We're involved in the Wild Atlantic Way to a great extent," says Clarke. "And they'll come for the scenery but they will stop off in Sligo, and when we get them here, they want to experience what Sligo has to offer.
I think that when we have a full programme of activities around the county, it can only help that." Sligo's scenery and physical heritage plays its own role in encouraging creativity among its residents. Ben Bulben, Knocknarea and Queen Maeve's grave, dolmens and megalithic tombs can all be found in the folklore of the area, as well as in some of its more modern artistic endeavours; most notably WB Yeats' poetry and his brother Jack B Yeats' paintings. But one of Sligo's lasting creative legacies has been its traditional music. The tradition is such that when Music Generation, the national music education programme, began work in Sligo, they found that they had little to add to the traditional scene there.
"We don't have traditional programmes per se, but we bring in additional layers, such as we might do masterclasses or bring them to events or workshops," says Rhona McGrath, coordinator of Music Generation Sligo. "Traditional Sligo would be really strong, with some great Comhaltas branches." "Our cultural attributes or characteristics now would be based on traditional music. One of those elements would be the different types of fiddle playing from Killoran, to Goirtin, to Coleman, and more. All of those have a traditional type of air and are well renowned," says Dorothy Clarke. "They would have influenced the development of the Comhaltas groups that are here, all types of trad music.
Down in Co Clare they're world renowned, but Sligo has equally as rich a tradition." As well as benefiting tourism and sustainability in the arts, the programme is also allowing creative teams to experiment with their programming. Music Generation, which already works in 45 primary schools in Sligo each year, as well as providing instrumentation tuition for secondary schools Sligo has the potential to make the arts a sustainable venture into the future, writes Gráinne Loughran '' One of Sligo's lasting legacies has been its traditional music The towering figure of WB Yeats looms over Sligo while his statue stands in Stephen Street 64 | CREATIVE IRELAND PROGRAMME YOUR COUNTY-BY-COUNTY GUIDE TO GETTING CREATIVE IN 2017 Irish Independent | Saturday 10 June 2017
1The Book Clinic (June 28-29). Sligo Library Service will host a book clinic in its full-time libraries and the mobile library. A 'Book Doctor' will consult with young readers to ascertain their interests before writing up a 'prescription' the child can take to their local library. 2Fiche Bliain ag Fás (July 23). Banada Community celebrates 20 years of community development and delivery of services with a day of music and poetry. 3Cairde Festival: Street Fest (July 15). Visit Stephen Street Car Park for a celebration of circus and street theatre featuring Ouch Entertainment's unicycling show Yodel, Sligo-based Samboeire Samba band, circus skills workshops, and arts and crafts.
4Exhibition on the life and work of WG Woodmartin (September– November). To mark the centenary of the death of the renowned archaeologist and historian, Sligo Museum and IT Sligo will curate a travelling exhibition based on his life and work. 5Music Literacy (September– November). Music Generation and Sligo County Council Libraries will commence a weekly class for children aged 9+ and an accompanying adult to develop participants' understanding of music literacy. 6Creative Landscape Film. Sligo Local Enterprise Ofice will produce a short ilm piece celebrating and promoting Sligo's unique place in the Irish creative landscape, to be launched in autumn.
7Armada Conference: Grange and Armada Development Association (September 22-24). The Armada International Conference 2017 — A Gathering Storm will bring together specialists and scholars working on Armada studies. Creative Ireland will sponsor a speaker at the conference at the Clayton Hotel.
8Cairde Festival (July 9-15). Venues all over Sligo will host theatre by Kallo Collective, music by Irish- Persian ensemble Nava, guitar duo Redmond O'Toole and John Walsh, acclaimed actor Pat Kinevane, a family concert with Kíla and much more. 9Creative Industries Marketing 'Tune- Up' Events (September – October). Sligo Local Enterprise Ofice will offer marketing 'tune-up' events for the creative sector, encompassing business website review clinics and social media clinics, working one-to-one.
10A daylong celebration in Sligo's Peace Park featuring aerial performances by The Barren Carousel (pictured inset) and Acro Aer Sligo, street performance by Cillian Rogers, music performances, grafiti workshops, and local arts and craft stalls.
and pre-instrumental classes for young children, is branching out even further because of the funding. "We can all be a bit more creative in our thinking and programming knowing things are going to be supported for the next five years," says Rhona McGrath. "The music literacy programme was something we had in our plan for quite a while but we just didn't have the engine to drive it, and that's what's happened now through Creative Ireland." Music Generation's music literacy programme will link in with the library service to attract families to learn how to read and write music. "If we can introduce children and young people to reading music they can take it away with them for life, or maybe use it to take up an instrument if they haven't already done so," she says.
Sligo has a good baseline to work from in terms of the programming of events. After running a full calendar of WB Yeats events in 2015 in order to celebrate his 150th birthday, 2017 is set to continue the streak of busy years for the county's cultural organisers. On top of Sligo's already packed schedule of cultural events, Creative Ireland will support an additional number of activities over the course of the year. These will include a Book Clinic for young readers, who will get an individualised "book prescription" from a book doctor in their local library, the Cairde Sligo Arts festival and Fiche Bliain ag Fás, a day of music and poetry in Banada.
Director of the Cairde Sligo Arts Festival, Tara McGowan, says there are real parallels between the aims of Creative Ireland and those of Cairde Sligo Arts Festival. "Both organisations place collaboration at the very heart of what they do. For Cairde, collaboration in particular between artists and communities is a focal point, as is the promotion of the arts as a central and valued feature of people's everyday lives," she says.
The festival, which celebrates diversity and inclusion, will host 40 events in Sligo town and around the county. Tara says that Creative Ireland will help the festival to further develop its programme in terms of engaging artists. "The introduction of Creative Ireland with its ambitious five-year programme is most welcome and timely. We're delighted to be a part of this and look forward to being a part of a Music Generation Sligo (left) works in 45 primary schools; The Cairde Sligo Arts Festival (right) takes place in venues all around the county in July national programme of events," she says.
"For us this will mean engaging more artists and more communities in a positive and inclusive celebration of the arts." Although its cultural and creative output might be higher than average, Sligo is still a relatively small county. "We've a small local authority and we're on the periphery whether we like it or not," says Dorothy Clarke. "Whatever investment the government give, it will be repaid – it will pay off. We have a good baseline on which to start, we feel comfortable that we can deliver. This is to be welcomed." SLIGO HighLIGHTS Saturday 10 June 2017 | Irish Independent YOUR COUNTY-BY-COUNTY GUIDE TO GETTING CREATIVE IN 2017 CREATIVE IRELAND PROGRAMME | 65 To see your full county plan for Sligo, log on to Ireland.ie
T HE border county of Monaghan has been enjoying its own cultural renaissance over the last number of years. Although it is famed as the home county of poet Patrick Kavanagh, recent networking projects such as the Monaghan Arts Network have brought its contemporary artistic community into the limelight – an effort which has brought new life onto the creative scene. Now as Monaghan's artists are brought front and centre, Creative Ireland has come at an ideal time to include local artists, musicians, craftworkers and writers in the programming for the coming years. "The networks have unearthed people from under the soil and grey stones of Monaghan," says Creative Ireland county coordinator, Deirdriú McQuaid.
"In every corner of this county there are people in their garages and sheds who are crafting and making things. We have a county full of people that have been painting, writing, composing and making every type of art and craft you can think of, not realising the talent they have, and that they can share that talent with the wider community.
"Now that we have the Creative Ireland programme, we already have a database of people so we will be able to put on a more diverse range of activities and events for the community, and it's great to have our local people on board," she says. Monaghan has a longstanding culture of traditional music, drama and crafts, and it has produced more than its fair share of creative talent; comedians Ardal O'Hanlon and Oliver Callan, actors Charlene McKenna and Aoibhinn McGinnity, and country singer 'Big Tom' McBride are among the many stars from the county. It is also home to annual festivals such as the Clones Film Festival, the Harvest Time Blues Festival and the Annual Patrick Kavanagh Weekend.
McQuaid believes that Monaghan's location has encouraged the creative spark among its residents.
"Being a border county, Monaghan has felt like a bit of a no man's land," she says. "That's where the creativity has come from." The Creative Ireland programme for Monaghan includes a broad range of events, ranging from the international to the extremely local. Monaghan artist Siobhán MacDonald will be working throughout the year on a commission on the Black Pigs Dyke, a local earthwork, as well as exhibiting her work, Crystalline, an inquiry into the Arctic Circle created with the assistance of scientists at University College Dublin and the European Space Agency. Local musician Thomas Johnston will coordinate the Tradoodle Traditional Arts Festival for Young Audiences, which will focus on traditional song, dance, music and storytelling.
But the programme also looks out to the world for international influences, with Italian theatre group Teatro due Mondi from Faenza set to visit the area in August, bringing a carnivalesque spirit to the area on their way. "You can see the likes of that in Dublin or Cork or Galway, but in the little old county of Monaghan you don't often see things like that taking place," Deirdriú McQuaid laughs. The international and local threads come together in the highly-anticipated visit of Danish artist Krass Clement, who will return to the village of Drum in August, 26 years on from his last visit.
Photos he took in Anderson's pub in Drum village, where he chatted to the locals, formed part of his renowned book, Drum et Sted I Irland. Trish Lambe, curator of the Gallery of Photography of Ireland, is working on the events around Clement's visit, and hopes that this integration of the international and the local will show Drum in a new light.
"Drum et Sted I Irland is considered to be one of the best photographic books to come out of Ireland," she says. "We want to turn the former Anderson's pub into a pop-up arts centre where we will display his work, so that the creative energy becomes something that physically manifests itself." While the events scheduled include a talk by Krass Clement and showings of his short films, Trish says that they hope to create a much greater connection between the artistry and the community.
"We want to build in with that how people in Drum see themselves," she says. "We'll be looking at the extremes of this village along the border with a past, present and future perspective, building connections between the artists in the community, building their own responses to this work, and to really make a contemporary record of Drum." Meanwhile, the programme is also giving local artists the chance to take on the challenge to recapture the spirit Monaghan's culture for young people.
Thomas Johnston is coordinating the Tradoodle Traditional Arts Festival for Young Audiences, which will take place in October. Nine events are currently scheduled to take place over the course of the festival, which he hopes will help to engage a younger audience in the rich cultural traditions of the county. Now based in Dublin, the Monaghan native is looking forward to bringing his work A slew of new projects will help bring Monaghan's diverse creative talents to a wider community, writes Gráinne Loughran '' CREATIVE IRELAND MONAGHAN In every corner of this county there are people in their garages who are crafting things Hidden creativity sets the 66 | CREATIVE IRELAND PROGRAMME YOUR COUNTY-BY-COUNTY GUIDE TO GETTING CREATIVE IN 2017 Irish Independent | Saturday 10 June 2017
1DRUM et Sted I Irland (August). In October, renowned Danish artist Krass Clement will return to Monaghan after 26 years to present an exhibition of his work, and a talk on the legacy of his book, DRUM et Sted I Irland. 2Tradoodle Tradi- tional Arts Festival for Young Audiences (October 24-28). A traditional arts festival for school and family audiences. Traditional music, song, dance, and storytelling will take place in venues across the county. 3Clones Film Festival and Krass Clement (August). Krass Clement's short films will also be screened in association with the Clones Film Festival. The people from Drum will be specially invited to attend to view Clement's early work.
4Crystalline: An Exhibition by Siobhán MacDonald at the Market House (September- November). Crystalline, the result of Siobhán MacDonald's enquiry on the Arctic Circle and human impact on the planet, investigates the interdisciplinary exchange between art and science. 5Carosello (August). Independent Italian theatre company Teatro Due Mondi will showcase Carosello, a street theatre performance which tells a contemporary fairytale about tolerance.
6Fiesta (August). Fiesta, also performed by Teatro Due Mondi, is a street parade with the best ingredients of Italian street theatre culture: stilts, masks, rhythm and traditional singing. 7Culture Night: Japanese Themed Evening at The County Museum (September 22). Marking the 60th anniversary of diplomatic relations between Ireland and Japan, the museum will present martial arts and drumming demonstrations, as well as workshops on Japanese traditional clothing and origami. 8Culture Night: Hello Delia Murphy at The County Library (September 22). Iconic ballad singer Delia Murphy (inset above) will be celebrated in this one-woman show performed by Delia's niece, Carmen Cullen.
The show will include performances of her most famous works, as well as a dramatised reading.
9Cavan Monaghan Science Festival (November 12–19). This week-long programme of activities in science, technology, engineering, arts and maths will comprise a wide range of workshops and demonstrations, including coding, using art to learn about science, and exploring biodiversity. 10The Black Pig's Dyke: An Artist Impression project. Monaghan artist Siobhán MacDonald will engage with the earthworks of the Black Pig's Dyke and its archaeology, folklore and natural setting, to create a commissioned work.
to a home audience. "I've been keen for years now to get back home and work on the ground to set something meaningful up and to work with local partners in the county to bring people together.
I think there's a real power in that," he says. "I don't think there'll be a dull moment between now and then." He adds that although there are rich cultural traditions throughout the county, artists have been working quietly rather than speaking out about their work and talent. "There are really rich musical and cultural traditions that have been a little bit lost until now. The Donegal music tradition is really vibrant and has a real identity. There's something similar in Monaghan, but we haven't really grasped it and said, 'this is who we are, this is what we can be'. There are real hidden pockets of music and now is the time to look at those," he says.
He adds that as this year will only be the first of a five- year programme, he hopes that it will grow even bigger as it continues. "I'd love if the festival could develop. This year I think will be spent trying to get something strong, and getting it up on its feet, but going forward I'd love to see the programme as a way to get people from different artistic backgrounds into the one room and see what can happen," he says. Deirdriú McQuaid says that it doesn't take large resources to fund creative output in Monaghan, but that it has been difficult in the past to secure funding. She hopes that as well as aiding in the creation of new events and projects, the Creative Ireland programme can bring new prosperity to those already taking place throughout the county.
"With the 1916 commemorations it was the first time that the cultural section of the county council came to the forefront," she says. "It's a hard gig here, competing for a budget and resources, against things like fixing the roads and water, things that have to be done. Last year put us to the forefront and I think people didn't realise what the cultural section does, and what it can actually do." "It's not that we need huge resources – we don't need even the same resources as you would to build just a kilometre of road – it takes very little resources in order to bring something to the community.
Creative Ireland will help to develop that." Our Lady's Secondary School choir and the Cantumus Chamber Choir, with pianist/ composer Michael Gallen (right), performing at the special concert commemorating 1916 in the Íontas Theatre MONAGHAN HighLIGHTS stage for years to come Saturday 10 June 2017 | Irish Independent YOUR COUNTY-BY-COUNTY GUIDE TO GETTING CREATIVE IN 2017 CREATIVE IRELAND PROGRAMME | 67 To see your full county plan for Monaghan, log on to Ireland.ie
T HE Cavan Burren, close to the village of Blacklion, is a remarkable part of the country. In its distinguished landscape, layers of history are built on top of each other. There are 19th century buildings and megalithic tombs and 350 million-year-old fossils trapped in stone. It's a story of Ireland in microcosm and it's a part of Co Cavan that Noel Monaghan loves to walk through, in silent contemplation. A much- admired poet, author of six collections, he is drawn to the striking landscape of his adopted county, and especially to its many drumlins. "They were formed in the Ice Age so when you look out at them you feel a connection with the past," he says.
"The landscape here is very inspiring and it helps shape who were are." It has informed several of his poems, including 'Drumlins' and 'Cuilcagh'. The latter was named after the mountain that shares a border with Cavan and Fermanagh. And that landscape continues to inspire and will feature in his forthcoming collection, Chalk Dust. "But it's more than just landscape," he says. "This natural beauty encourages us to ask the bigger questions — the 'Who we are?' and 'Why we're here?' — and to leave that very modern ego some of us may have at the door." Monaghan believes we would all benefit from that connection with our local landscape and he will be hosting a workshop in Cootehill later this summer about how that appreciation can fire our creativity and perhaps inspire poetry, songs, literature or any manifestation of the visible arts.
It will be a hands-on audience with a veteran poet that is part of Cavan's Creative Ireland proposition this year — and it's one of several initiatives that bring local artists and their communities closer together. One of the more compelling is Scéalta Dár Talamh (Stories of our Land). Developed by the artist Jackie O'Neill it will look at the heritage of her home village, Ballyhaise, exploring how it has evolved over the centuries and examining how the Plantation of Ulster in the early 17th century helped to change the area forever. "University College Dublin gathered testimonials of local school children 80 years ago," she says, "so I'm drawing on that and also on their experiences of today's school-goers, who will also be involved.
We're encouraging them to look around and view their locality with new eyes, to really try to 'see' where they're from, to discover that connection with place and time." O'Neill, who specialises in textile art, has lived abroad — including a three-year stint in London — but has always been drawn to Cavan. "I'm inspired by local folklore, the natural environment, plants," she says. "I wanted to explore my roots in Ballyhaise and I brought the idea to the attention of Cavan County Council. It was commissioned shortly after Creative Ireland was launched. A multidisciplinary project, the fruits of which will be exhibited at Ballyhaise Agricultural College in August, it will also feature the input of historian Dr Ciarán Parker and specially commissioned pieces from woodworker, Joe Donnelly.
O'Neill has also sought a specially written song from her sister, the acclaimed singer- songwriter Lisa O'Neill. She is known for her raw, confessional songs sung in her strong Cavan accent — not for her the temptation to make her vocals more homogenous — and she says she is fired up by the homegrown challenge.
"Our background, where we hail from, is our language," she says, adding that her Cavan roots are likely to have informed songs on her three albums. "Jackie will be doing the research and coming to me with ideas and I'll try to use that to write a song that fits with the theme of the project." She says she finds the limitations or parameters of a commission such as this to be inspiring. "It's good to have restrictions," she says. "It boosts creativity." Although, she is resident in Dublin now, Cavan remains home. "There's a tendency to think that art is made in the big urban areas, but art and artists are all around us and you can be inspired by everything and anything if you open your eyes." It is a sentiment echoed by Cavan County Librarian Tom Sullivan, who is the Creative Ireland project coordinator for Cavan.
"There's a very rich tradition for the arts in this county," he says, "and Cavan has produced really fine playwrights, writers and poets like Tom McIntyre, Michael Harding [who was born and raised in Cavan, but has lived in Leitrim for years] and Noel Monaghan.
"And we've had Shane Connaughton return with a new novel recently [Married Quarters, a sequel-of-sorts to his celebrated semi- autobiographical 1989 book, A Border Station]. "There are new generations of musicians too, including the Strypes, who are helping to put Cavan on the map both here and abroad." The Cavan quartet attracted international fame while still in their teens and have released three albums to date. More recently, guitarist Josh McClorey has been getting rave reviews this month for his Cavan creatives are being heavily inluenced by the beauty of their home county, writes John Meagher We're encouraging school-goers to view their locality with new eyes '' CREATIVE IRELAND CAVAN Ice age beauty inspires artists and writers 68 | CREATIVE IRELAND PROGRAMME YOUR COUNTY-BY-COUNTY GUIDE TO GETTING CREATIVE IN 2017 Irish Independent | Saturday 10 June 2017
1Open Door Sessions, Fox's Bar, Bailieborough, monthly — a new music and arts open night that seeks to unearth new talent in the east Cavan area. See @OpDoorSessons on Twitter for the date of the next night. 2The Determinator, Town Hall, Cavan town, June 17 — John McManus's new play is set in west Cavan and stars local actor Aaron Monaghan, who has starred in Love/Hate and The Tudors. 3Pop-up Gaeltacht, Castle Saunderson, June 27 and 28 — the HQ of the International Scout Centre hosts an Irish- speaking weekend which aims to showcase the mixed fortunes of Gaeilge in the county over the years.
4Drama & Dance Workshops, Ramor Theatre, Virgina, July 10- 14 — five days of tuition for budding actors and dancers, and aimed at children aged seven to 12. 5Scéalta Dár Talamh, Ballyhaise Agricultural College, August 19 — translated as 'Stories from the Land', this multidisciplinary exhibition from textile artist Jackie O'Neill, her singer- songwriter sister Lisa and others looks at the history and culture of her native Ballyhaise.
6Poetry Workshop, Cootehill Library, September 21 — featuring local poet Noel Monaghan, this workshop will focus on Cavan's unique landscape and how it can be harnessed in great verse. 7Culture Night 2017, various locations, September 22 — some of Co Cavan's most celebrated and architecturally renewed buildings open their doors to the public. 8Ed Reavy Trad Music Fest, Cavan Crystal Hotel, Cavan, October 13 to 15 — a traditional music festival named after the late Cootehill- born, Irish-American musician (pictured), showcases the best of music and song. 9Fenian Movement Exhibition, Johnston Central Library, Cavan Town, November — to mark the 150th anniversary of the 1867 Fenian Rising, this exhibition will examine the origins of the Fenians — and their legacy.
10Ancient & Wild, Marble Arch Caves Global Geopark, December — local artists have been invited to demonstrate what Cavan's distinct landscape means to them and their work will be on show during the final month of 2017. contribution to the new Paul Weller album. "Creative Ireland funding," Tom adds, "is helping to give Cavan artists an opportunity to create new work that will connect with audiences today and hopefully leave a lasting legacy." That's also the aspiration of local playwright John McManus, whose specially commissioned play, The Determinator, will be performed later this summer. "Cavan is a character in all my plays," he says.
"So many writers are drawn to their locale, and that's no different for me. This new one is set in Dowra, which is in the very west of Cavan, close to the Leitrim border. It's about this guy, about 30, who had been a success but has now found that life has run away from him a bit.
"He's looking around and seeing that some of his friends have moved on and the catalyst for him to be determined to get his life back together — hence the title — is the fact that an ex-girlfriend is about to get married. "He wants to try to win her back although, I don't think I'm spoiling the plot too much by saying he doesn't succeed. It's more about that journey of discovery." John McManus's play is set in contemporary rural Ireland, a place that has not felt the economic turnaround in the way Dublin, for instance, has. "Everywhere seemed to be lifted by the Celtic Tiger and there were so many construction jobs out there," the dramatist says.
"But it's different now. That boom doesn't seem to have reached places like west Cavan." When he was approached by Cavan County Council to write The Determinator, he envisioned it as a one-man play. "I immediately thought Aaron Monaghan [Love/Hate, The Vikings] would be perfect for the part," he says. "He's a Cavan lad like me and he would really 'get' the central character. And he's a great actor too." Meanwhile Noel Monaghan believes Creative Ireland can help grown an interest in the arts throughout the country. "Anything that stimulates peoples' interests in writing and visual art and song is a good thing.
And this feels like a great thing." Left: 'The Big, Hairy, Audacious New Year's Eve Masquerade Ball' which was held at the Townhall Arts Space in Cavan Town. PHOTO: LORRAINE TEEVAN Above: Artist Jackie O'Neill has been drawn back to Cavan; below, Noel Monaghan, poet of the drumlins CAVAN HighLIGHTS John McManus: 'Cavan is a character in all my plays' Saturday 10 June 2017 | Irish Independent YOUR COUNTY-BY-COUNTY GUIDE TO GETTING CREATIVE IN 2017 CREATIVE IRELAND PROGRAMME | 69 To see your full county plan for Cavan, log on to Ireland.ie
Where the traditional and D ONEGAL has always had a long and extensive involvement in contemporary visual arts and crafts, and is an attractive location for artists. It is home to a strong performing arts sector, especially in the areas of theatre, music and spectacle, both traditional and contemporary. The team engaged to lead the Creative Ireland strategy in Donegal will be coordinated by Eileen Burgess, the Donegal County Librarian. Its programme is broadly representative in terms of subject area and geographical spread, and it builds on Donegal's strengths. It includes major festivals and annual events while also supporting a number of once-off projects or activities.
Donegal's literary tradition goes back over 1,400 years to St Colmcille. Its writers over the intervening centuries include the Four Masters, William Allingham, Patrick MacGill, Seosamh Mac Grianna and Séamus Ó Grianna, and contemporary writers of national significance, including Frank McGuinness, Cathal Ó Searcaigh and Moya Cannon. Its culture and creativity is inspired by, and reflected in, the material heritage and cultural landscape of County Donegal. This helps to define the county's identity, sense of place and landscape character. Festivals and summer schools such as the Mícheál Ó Cleirigh Summer School, the Allingham Arts Festival, the MacGill Summer School, and the recently established Lughnasa International Friel Festival ensure the writers' names, legacy and influence lives on.
Donegal is home to a rich variety of annual festivals, themed events and cultural gatherings, which are immensely popular. Several have built up a national and international profile. The county also actively participates in a range of national events and continues to deliver a series of in-house initiated and managed festival events.
One of the events that is hugely important to the county is Wainfest, the art and books event dedicated to children. 'Wain' is the affectionate name for 'child' in Donegal, and according to Shaun Hannigan, director of the Regional Cultural Centre, the contribution of Creative Ireland is hugely valuable this year. The festival is in its 21st year and it hasn't previously had external support and was run on a relatively small budget. "The Creative Ireland support means that we are able to do a number of larger shows," says Shaun. "We've been able to expand into the weekend and run events for families, for example, as opposed to just running events for schools.
One of the big shows we're doing is a musical show called Tullyglen by Little John Nee and the Highly Strung Orchestra. It has been adapted for children, and there will be six performances over three days. Performances like this really open up the children's own creativity as well as entertaining and exciting them. It introduces them to art centres, and hopefully they will then continue that involvement throughout the rest of their lives." Shaun says that artists and arts officers often say that the inspiration for becoming involved in the arts came from seeing shows like Tullyglen when they were children.
He is also happy that the county now has funding to do things like CoderDojo, the computer programming clubs for children. "The Creative Ireland support has enabled us to do things that we've wanted to do for a while, but weren't able to do," he says. "Having the resources to provide these things has made an enormous difference to us." One of the events that will be supported through Creative Ireland in October is the 'Creative Habitats' workshops for children. Wildlife expert and TV personality, Éanna Ní Lámhna runs the workshops, which take children to bogs and seashores to examine flowers, wildlife, birds, stones and general items found in nature.
"I think being able to put on these workshops is wonderful," she says. "School is very structured in a way, so to be able to go on a creative workshop means that the children themselves get more involved. The ones who are interested are fierce interested, and you can get the others involved by getting them to see and do things hands on. Children now go around with ear phones stuck in their ears, and they don't even know that the male birds sing and the females don't. The outdoors is really very good for your mental health, and a lot of children thrive on it and they get familiar with nature instead of being afraid of it." Mental health is a theme of the Lived Lives exhibition, which will take place at An Gailearaí, Gaoth Dobhar from October 6 to 14.
It's a collaborative, art and science research project on youth suicide in Ireland, led by textile artist Dr Séamus McGuinness from GMIT/UCD and Kevin Malone, professor of psychiatry at UCD. They have collaborated with 104 Irish suicide- bereaved families and a wide international multi-disciplinary team from arts, health and academia. Each exhibition they put on is evolving and different, but contains common elements. There are textile artworks by Dr McGuinness, archives associated with the suicide- deceased, and a number of short films of the bereaved families. Another festival that has Donegal has a long history of artistic endeavours and getting children involved in the arts tops the agenda, writes Andrea Smith Children go around with earphones and they don't even know that male birds sing and females don't '' CREATIVE IRELAND DONEGAL 70 | CREATIVE IRELAND PROGRAMME YOUR COUNTY-BY-COUNTY GUIDE TO GETTING CREATIVE IN 2017 Irish Independent | Saturday 10 June 2017
the contemporary meet 1Wainfest. This annual, county-wide arts and book festival is dedicated to children and this year runs from October 7–14. wainfest.ie 2Carnival Parade, Ballyshannon. The hugely-anticipated night- time spectacle features input from local and visiting performers. It will take place on Saturday, October 7 from 7pm. donegalcoco.ie 3In Search of the Donegal Vernacular Cottage. The distinctive forms and features of the Donegal vernacular cottage are highlighted through photographs, illustrations and drawings in this exhibition at Donegal County Museum from June 7 to September 2.
donegalcoco.ie 4A Vanished World – the Landed Gentry of Donegal. This exhibition at Donegal County Museum explores the world of the landed gentry in Donegal in the decades before the foundation of the State. It runs from September 16 to December 31. donegalcoco.ie 5Earagail Arts Festival. The annual, high-profile platform for creativity in the county is now in its 29th year and takes place from July 3 to 23, throughout north and west Donegal.
eaf.ie 6Heritage Week. Events include family open days, guided walks, heritage site visits, exhibitions and traditional skills demonstrations. It runs from 19 to 27 August. heritageweek.ie 7Culture Night 2017. Culture Night has a diverse and free programme of outdoor and indoor performances, events and exhibitions. It takes place in Letterkenny and the Gaeltacht on September 22. culturenight.ie 8Donegal International Folk & Roots Weekend. This programme features talks, music sessions, busking and concerts in a variety of international folk and roots styles. It runs from July 12 to 16. regionalculturalcentre.com 9Summer Stars.
Families can explore events and facilities available in their local library, such as story time sessions and access to talking books and games. donegallibrary.ie 10Drop-In, Hands-On, Art Room. People of all ages will have the opportunity to experiment with a range of ideas and materials to produce their own artworks. regionalculturalcentre.com support from Creative Ireland is the Donegal Bay and Blue Stacks Festival. Mirroring the earlier established Earagail Arts Festival in the north of the county, the festival typically presents a programme of theatre, music, literary events, visual arts, spectacle and events for young people, in a host of towns, villages and rural communities.
The areas covered go from Ballybofey to Bundoran, Donegal to Cill Cartha, Gleann Cholm Cille to Glenties, and all points between.
This year's festival will take place from September 27 to October 8, and it will include a major new play, Shoot The Gear, telling the story of the fishing industry in Killybegs. Researched and written by Guy Le Jeune, the play is produced by the Festival and An Grianán Theatre. There will also be additional theatre performances by Donegal Drama Circle and the Balor Rep Theatre Company as well as music by Honor Heffernan, the Bluestack Chorale and the Donegal Voices Choir, under conductor Andrew Batchelor, who will perform Handel's highly popular Coronation Anthems.
This year, with the support of Creative Ireland, the festival will be able to present a special programme of theatre performances designed specifically for primary school children.
Some of the performances will take place within the school environment, while others will happen in small-scale community venues that children from a variety of local primary schools will be invited to visit and enjoy. Festival Director and Donegal County Council Arts Officer, Traolach Ó Fionnáin, is highly supportive of the Creative Ireland initiative, and is very excited about its potential to transform the cultural landscape of the country. "Funding from Creative Ireland will enable the Donegal Bay and Blue Stacks Festival to develop and deliver an exciting theatre-in-schools programme that will engage and entertain children throughout south and south west Donegal," he says.
"In a broader context, the Creative Ireland initiative can be an important support to the many small- to medium-sized, professional arts organisations working in community contexts throughout the country, who are essential to the delivery of Creative Ireland's public engagement with the arts agenda." Clockwise from left: an author talks to young readers during the inspiring Wainfest books festival in Donegal; wildlife TV presenter Éanna Ní Lamhna's Creative Habitats workshops bring children in touch with nature in October; musical group, The Henry Girls DONEGAL HighLIGHTS Saturday 10 June 2017 | Irish Independent YOUR COUNTY-BY-COUNTY GUIDE TO GETTING CREATIVE IN 2017 CREATIVE IRELAND PROGRAMME | 71 To see your full county plan for Donegal, log on to Ireland.ie
CREATIVE IRELAND 2017 PROGRAMME