Daimler Financial Services at a Glance Edition 2019
Page content transcription
If your browser does not render page correctly, please read the page content below
DAIMLER FINANCIAL SERVICES | CONTENT   2

Content

Profile                      3

Financial Services
» Leasing and financing       4
» Vehicle rentals             5
» Mercedes-Benz Van Rental    6
» Dealer financing            7
» Fleet management            8
» connect business            9
» Banking services           10
» Credit cards               11

Insurance services           12

Facts and figures            13

Facts and figures            14

Media Contacts               15
DAIMLER FINANCIAL SERVICES | PROFILE             3

Daimler Financial Services
We finance, insure and enable mobility!

Tailor-made financing and leasing offers accelerate our automotive business. One of the most important success factors is our attractive
and innovative range of vehicle financing and insurance services. Daimler Financial Services has been recording success figures for years.

We intend to continue our strategy of profitable growth consistently and at a rapid pace. Daimler Financial Services finances and leases every
second new vehicle of the Daimler Group worldwide - and its international portfolio continues to grow. Daimler Financial Services once again set
a new record in 2018 with a 10 percent increase in new leasing and financing contracts.

At the same time, Daimler Financial Services is systematically developing into an integrated mobility service provider. A historic step in
this direction is the joint venture with the BMW Group, which now connects more than 60 million customers worldwide by bundling the mobility
services of both companies. We are also working on expanding existing mobility segments and entering new ones in order to constantly expand our
customer base.

Our holistic mobility ecosystem enables a new type of mobility for private customers, companies, but also for entire cities and municipalities.
At the same time, we are creating the necessary key skills for business with automated and autonomous fleets - from our own resources and
in cooperation with partners. Our goal: We always want to offer our customers tailor-made solutions for every situation in life - we call this Mobility
at your fingertips.

As part of Project Future, we want to sustainably emphasize this claim by renaming Daimler Financial Services Daimler Mobility on July 24, 2019.
DAIMLER FINANCIAL SERVICES | LEASING AND FINANCING                   4

Leasing and financing

                        Using instead of owning: Leasing with the Mercedes-Benz Bank Group
                        enables real flexibility. With leasing, the customer pays for the use
                        of the vehicle – in manageable leasing installments. They can extend
                        their leasing with a wide range of additional services: from car in-
                        surance to selected insurance or service components. At the end of
                        the term, the vehicle is simply returned and can be switched to a new
                        model. In this way, the customer regularly benefits from technical
                        and optical innovations.

                        Financing is the new buying: With standard financing, the customer
                        traditionally pays in convenient monthly installments until his dream
                        car becomes his property when the last installment is paid. If he still
                        doesn't know today whether his Mercedes-Benz will still be the right
                        one in a few years' time, Plus3 financing is his choice. This gives the
                        customer three attractive options at the end of the term: he pays the
                        agreed final installment, takes out follow-up financing to pay the final
                        installment, or returns the vehicle to the Mercedes-Benz partner at
                        the contractually guaranteed residual value*.

                        Customers can also manage leasing and financing contracts online
                        via a Mercedes me account.

                        *The return option is based on an additional agreement to the Plus3 financing
                          contract, which is concluded directly between the customer and his dealer.
                          For this the agreed buy-back conditions apply.
DAIMLER FINANCIAL SERVICES | VEHICLE RENTALS            5

Vehicle rentals – Mercedes-Benz Rent

                                   Mercedes-Benz Rent is a premium car rental company with currently
                                   353 locations in Germany. All Daimler AG locations and participating
                                   Mercedes-Benz sales partners offer vehicles of the Mercedes-Benz
                                   brand for flexible daily, weekly and long-term rental. Mercedes-Benz
                                   Rent rounds off the range between classic leasing and financing as
                                   well as the SHARE NOW car sharing offer.

                                   Interested parties can reserve their dream Mercedes-Benz car online
                                   from a comprehensive model range: from the S-Class limousine for
                                   weddings, the T-models or convertibles for weekend trips to the
                                   comfortable V-Class for family holidays.
                                   Of course, the Mercedes-Benz Rent product also includes test drives
                                   so that those interested can test their dream car in everyday life
                                   before buying it, as well as the provision of a replacement vehicle in
                                   the event of repair or after an accident, so that our customers are
                                   mobile.

                                   Mercedes-Benz Rent offers a high degree of flexibility for rental
                                   customers thanks to transparent rental costs, fast provision and the
                                   premium customer service of the Mercedes-Benz partners.

                                   Mercedes-Benz Rent is offered abroad in the following countries:
                                   France, Switzerland, Sweden, Korea, Russia, and South Africa
DAIMLER FINANCIAL SERVICES | MERCEDES-BENZ VAN RENTAL               6

Mercedes-Benz Van Rental

                                                                             Extensive flexibility ensures optimal management of order peaks

                                                                             Daimler subsidiary MBVM launched an innovative and highly flexible
                                                                             rental service in July 2017: Mercedes-Benz Van Rental. Mercedes-Benz
                                                                             Van Rental is the first rental service that specializes exclusively in van
                                                                             rentals for periods ranging from 24 hours to 24 months.

                                                                             The company offers two rental rates that differ in terms of their flexi-
                                                                             bility and customization options: The Flex Rate is designed for short-
                                                                             term rentals. It offers customers maximum flexibility when it comes to
                                                                             exchanging the vehicle or returning it early if the van is not needed
                                                                             for as long as originally planned. A special weekend price also makes
                                                                             the Flex Rate attractive to private customers who want to rent a van
                                                                             for only a short period of time.
In volatile markets and times, speed and flexibility are essential factors
for the success of a business. The market for transport services in          The Fix Rate, on the other hand, offers longer-term rental periods of
particular – the so-called CEP sector (Courier, Express, and Parcel) –       three months or more with a high degree of customization regarding
is growing rapidly. Package and parcel volume has doubled since              the vans that are rented. More specifically, this rate offers individual
the turn of the century and is expected to grow further. Many parcel         sector solutions (e.g. refrigerated vans), customer decals, and many
delivery companies experience order peaks that are difficult to man-         other possibilities.
age with their existing vehicle fleets. Demand for flexible van rental
solutions is therefore on the rise. Mercedes-Benz Vans Mobility GmbH         Additional rental options will be gradually added to the portfolio in
is meeting this demand with its Mercedes-Benz Van Rental service.            the near future, thereby making it even more flexible. These add-on
                                                                             services will include, for example, insurance options that cover inter-
No standardized products: Instead, customized services from a                national trips, additional drivers, and one-way rentals.
single source

Mercedes-Benz Vans Mobility GmbH (MBVM), which is headquartered
in Berlin, was established within the framework of Mercedes-Benz
Vans' future-oriented strategic initiative adVANce. The company is
part of Daimler Financial Services AG. MBVM therefore not only pos-
sesses a high degree of van expertise; it's also a specialist for vehicle
rental services. MBVM has put together a fleet consisting of the
complete range of Mercedes-Benz Vans products, with an extensive
mix of both standard and sector-specific vehicles.

The company is thus addressing a broad range of commercial cus-
tomers in the heterogeneous van market – e.g. courier, express, and
parcel delivery companies, firms in the skilled trades, passenger
transport companies and vehicle hailing firms, various types of service
providers, and companies from the fast-growing grocery delivery
sector (eGrocery). At the same time, MBVM stands out from competi-
tors that mainly offer highly standardized vans for rent.
DAIMLER FINANCIAL SERVICES | DEALER FINANCING             7

Dealer financing

                   Managers of car dealerships have to keep a lot of things in mind. As
                   a partner who knows this business inside and out, Mercedes-Benz
                   Bank helps dealers respond to their customers' wishes quickly and
                   flexibly, while also achieving business success. To make this possible,
                   our dealer financing concept offers both inventory of vehicles and
                   real-estate financing, as well as loans for operating materials and
                   business expansion.
DAIMLER FINANCIAL SERVICES | FLEET MANAGEMENT              8

Fleet management

                   Innovative fleet management with Athlon

                   The importance of mobility and flexibility for corporate customers
                   continues to grow. More and more companies today are focusing on
                   their core business and leaving the efficient management of their
                   vehicle fleets to specialists. Athlon is one of the leading providers
                   of vehicle leasing and fleet management in Europe and is respon-
                   sible for more than 395,000 vehicles. For more than 100 years, the
                   company has been developing innovative and cost-efficient fleet
                   solutions for business customers and steering the new challenges of
                   its customers through integrated and sustainable fleet and mobility
                   solutions. Athlon is represented in over 20 countries in Europe and
                   North America. Athlon has been part of the Daimler Group since the
                   end of 2016.

                   A passion for customer satisfaction

                   Fleet managers feel supported by Athlon's innovative service
                   concept. On the one hand, this is due to the sustainable advice
                   that provides individual mobility solutions. On the other hand, there
                   is the sustainability that the company achieves economically and
                   ecologically. Above all, however, our customers appreciate the fact
                   that Athlon offers personal contacts for all aspects of fleet leasing
                   and management. From consulting and planning to finance leasing,
                   service leasing, financing, comprehensive fleet management, main-
                   tenance and return for cars and commercial vehicles.

                   Drive ahead instead of running along

                   We capture the idea of mobility holistically, meaning socially and eco-
                   nomically. We take environmental protection seriously and respond
                   with sustainable leasing concepts. We see the efficiency of your fleet
                   processes as a permanent challenge. With Athlonline, the network
                   for professionals, we offer optimal support. Wherever you want to go,
                   with our products and services you are always one step ahead.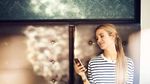 DAIMLER FINANCIAL SERVICES | CONNECT BUSINESS               9

connect business: fleet connectivity services

                                      Fleet management is nothing to be done incidentally, especially with
                                      larger fleets. Although the increasing digitalization in the fleet allows
                                      everyday work to become easier, controlling an entire vehicle fleet
                                      via Excel tables can nevertheless mean a lot of administrative work
                                      and a high risk of errors. We have recognized the relevance of digital
                                      solutions for the fleet market and therefore founded Mercedes-Benz
                                      Connectivity Services GmbH in spring 2016. As a subsidiary of
                                      Daimler Mobility, the GmbH seizes these changes as an opportunity
                                      for a new customer experience. As a corporate start-up, it develops
                                      and markets innovative connectivity and telematics products.

                                      Fleet and business customers can increase the efficiency and
                                      transparency of their fleet and save money with the digital solutions
                                      around the networked vehicle from "connect business" - regardless
                                      of the size of the fleet. Anytime, anywhere: Fleet managers manage
                                      their fleets in the web-based portal on the basis of real-time data
                                      and thus benefit in many areas. Relevant KPIs and reliable odometer
                                      values can be retrieved at the push of a button, and the electronic
                                      logbook provides comprehensive tax benefits for companies and
                                      employees. In addition, continuous condition monitoring can ensure
                                      a reliable condition for the vehicles and the fleet can be controlled
                                      proactively.

                                         Further information on "connect business" is available on the
                                         Internet
DAIMLER FINANCIAL SERVICES | BANKING SERVICES          10

Banking services

                   Security, transparency, and reliability are our top priorities when
                   we develop Mercedes-Benz Bank products. Customers in Germany
                   benefit from consistently fair terms for money market deposits and
                   time deposits. Deposits at Mercedes-Benz Bank are also protected
                   by a deposit insurance fund. Customer deposits at Mercedes-Benz
                   Bank are currently insured to a value of more than €482 million per
                   investor. Accounts can be opened quickly and easily in a paperless
                   electronic system. Contracts are completed online and the custo-
                   mer's identity is verified via video.
DAIMLER FINANCIAL SERVICES | CREDIT CARDS      11

Credit cards

               Customers around the globe can use the MercedesCard* in Gold
               or Silver to make payments conveniently. They also benefit from the
               travel, insurance, and vehicle services the cards offer, not to mention
               their attractive rewards programs. In addition, MercedesCard cus-
               tomers can take advantage of optional insurance packages for travel
               and shopping, for example. Emergency vehicle services offer quick
               assistance on the road to cardholders and authorized occupants of
               vehicles registered in the cardholder's name in the event of an acci-
               dent or breakdown.

               *MercedesCard credit cards are issued by our contractual partner,
                 Landesbank Baden-Württemberg/BW-Bank.
DAIMLER FINANCIAL SERVICES | INSURANCE SERVICES          12

Insurance services

                                                                           The divisions of Daimler Insurance Services:

                                                                           • Global Automotive Insurance (GAI)
                                                                              GAI provides tailor-made insurance solutions for end customers and
                                                                              dealers such as car insurance, warranty extension, GAP, purchase
                                                                              price protection or residual debt insurance for vehicle segments in
                                                                              the Daimler Group.

                                                                           • Corporate Insurance and Daimler ReBrokers
                                                                              As in-house brokers for Daimler AG, the two divisions procure
                                                                              insurance cover for the Group's global insurance programs from
                                                                              primary insurers and reinsurers. The aim is to protect the Group
                                                                              against material damage to property, plant and equipment and any
                                                                              resulting loss of earnings, as well as against third-party liability
Daimler Insurance Services' global offering combines various services         claims.
such as: motor vehicle insurance, leasing and financing installments,
fleet insurance, complete car dealership insurance for end customers       • Mercedes-Benz Versicherung AG
and the retail trade. Mercedes-Benz Versicherung AG has successfully          Mercedes-Benz Versicherung AG is the first Group-owned insurance
established itself as a guarantee insurer in Germany since its launch in      company in Germany to insure passenger cars and vans against
2016 and already has more than 350,000 contracts in its portfolio. The        warranty promises made by Mercedes Benz and smart dealers in
motor vehicle insurance solutions we have developed with the insuran-         Germany and abroad as well as the mobility promise made by Daim-
ce industry provide comprehensive protection for Daimler customers            ler AG. MBV operates the insurance types "repair cost insurance of
in over 40 markets.                                                           motor vehicles" as well as "guarantee insurance of motor vehicles"
                                                                              of the insurance classes "technical insurance" and "other property
In Germany, known under the name "InScore", telematics-based                  damage insurance" within the scope of its permission.
car insurance enables customers to reduce their insurance premiums
by adopting a responsible driving style. Via the Mercedes me portal,       • Daimler Reinsurance
the so-called Driver Score can be viewed immediately after the end of         The aim of Daimler Reinsurance is to guarantee the insured client
the journey. Telematics-based insurance solutions were successfully           that the insurer can meet his (financial) needs at any time by having
introduced in France, Belgium and Germany in 2017 followed by the             the company's own reinsurance participate in the insurance cover
Netherlands and Great Britain in 2018.                                        arranged.

In addition, the new short-term insurance "CoverOn" was launched           • Daimler Pension Plans and Insurance Service
in Germany in February 2019. This digital insurance solution allows to        For more than 15 years, Daimler VVD has been providing individual
insure additional drivers flexibly for a limited period of time.              insurance solutions for employees of the Daimler Group and its
                                                                              subsidiaries.
In the course of 2018, around 2.3 million cross-product insurance
policies were concluded – a growth of 8 percent over the previous
year.
DAIMLER FINANCIAL SERVICES | MOBILITY SERVICES         13

Mobility Services

                    With our services around autonomous mobility, our digital payment
                    service "Mercedes pay" and the Urban Mobility Team, we are pioneers
                    in the field of innovative mobility. Our digital concepts support the de-
                    velopment of flexible and environmentally friendly mobility solutions.

                    The cooperation and portfolio management at controls investments in
                    companies such as Blacklane, Bolt, Flixmobility, Turo, VIA and the new
                    Mobility joint ventures between Daimler AG and the BMW Group.

                    With these, the mobility services car2go, mytaxi and moovel were
                    combined with the services of the BMW Group. The network com-
                    prises the joint ventures SHARE NOW (car sharing), REACH NOW
                    (multimodal), FREE NOW (ride-hailing), CHARGE NOW (charging) and
                    PARK NOW (parking). This ensures that urban mobility is implemented
                    sustainably and consistently for the benefit of customers.
DAIMLER FINANCIAL SERVICES | FACTS AND FIGURES   14

Facts and figures

                                                           2018          2017
Revenue1                                                  26,268        24,530
EBIT1                                                      1,384         1,970
Return on equity (in %)                                      11.1          17.7
New business1                                             71,927        70,721
Contract volume (Dec. 31)1                               154,072       139,907
Investment in property, plant and equipment1                  64            43
Employees (Dec. 31)                                       14,070        13,012
1
    Amounts in millions of €

Contract volume by market1
                                                               2018       2017
Europe                                                         64.2       59.7
Americas                                                        56.1      50.7
AAP                                                            18.3        17.2
China                                                          15.4       12.2
in millions of € | 1Excluding Athlon Car Lease International
DAIMLER FINANCIAL SERVICES | MEDIA CONTACTS              15

Media Contacts of Daimler Financial Services

       James Ryan
       Director Corporate Communications and                  Harald Bertsch
       Marketing Daimler Financial Services                   Head of Communications Mercedes-Benz Bank and Region Europe
       Phone: +49 (0)711 2574-4050                            Phone: +49 (0)711 2574-4010
       james.j.ryan@daimler.com                               harald.bertsch@daimler.com

       Florian Otto                                           Holger Kirsch
       Head of Global Communications, Corporate and Finance   Spokesperson Mercedes-Benz Bank, Financing and Leasing
       Phone: +49 (0)711 2574-5868                            Phone: +49 (0)711 2574 4039
       florian.otto@daimler.com                               holger.kirsch@daimler.com

       Katharina Asbrock                                      Andrea Wlcek
       Spokesperson Innovation and Start-ups                  Spokesperson Human Resources and Insurance
       Phone: +49 (0)711 2574 4421                            Phone: +49 (0)711 25744439
       katharina.asbrock@daimler.com                          andrea.wlcek@daimler.com

                                                              Melinda Mernovage
       Mary Beth Halprin                                      Spokesperson Mercedes-Benz
       Spokesperson Mercedes-Benz Financial Services US       Financial Services Africa & Asia Pacific
       Phone: +1 248 991-6600                                 Phone: +65 6849 5632
       marybeth.halprin@daimler.com                           melinda.mernovage@daimler.com

       Bettina Nickel
       Spokesperson Athlon
       Phone: +31 6 25770106
       bettina.nickel@athlon.com