Floor - trends Visualizer Tools
If your browser does not support JavaScript, please read the page content below:
Floor - trends Visualizer Tools
February floor trends
Visualizer Tools
Top-Notch Transitions
5 Ways to Win at Retail November 2017 floortrendsmag.com The Authority on Residential and Commercial Flooring
because your floor should be inviting. Waterproof 100% Kidproof Petproof Let's face it, comfort is key. COREtec® flooring is beautiful, durable and remarkably comfortable. Our patented composite construction and attached cork backing makes this a floor you'll want to spend time on. find out more at usfloorsllc.com FLOORS ¨
performance + STYLE pEpLE, puG, AD pET AppoVED FFOTLESSL STYLISH ec h b y Waterproof Odor Proof Easy to Clean Scratch Resistant Lays Flat, Stays Flat Have it all by contacting your local Mohawk representative today.
MohawkFlooring.com/Solidtech | 1-877-ASK-MOHAWK (275-6642) S
FLOOR TRENDS (formerly National Floor Trends) Volume 19, Issue 11 (ISSN: Print 2168-0051 and Digital 2168-006X) is published 12 times annually, monthly, by BNP Media II, L.L.C., 2401 W. Big Beaver Rd., Suite 700, Troy, MI 48084-3333. Telephone: (248) 362-3700, Fax: (248) 362-0317. No charge for subscriptions to qualified individuals. Annual rate for subscriptions to nonqualified individuals in the U.S.A.: $135.00 USD. Annual rate for subscriptions to nonqualified individuals in Canada: $172.00 USD (includes GST & postage); all other countries: $190.00 (int'l mail) payable in U.S. funds. Printed in the U.S.A.
Copyright 2017, by BNP Media II, L.L.C. All rights reserved. The contents of this publication may not be reproduced in whole or in part without the consent of the publisher. The publisher is not responsible for product claims and representations. Periodicals Postage Paid at Troy, MI and at additional mailing offices. For SINGLE COPY SALES OR BACK ISSUES ONLY: contact Ann Kalb at (248) 244-6499 or KalbR@bnpmedia.com. POSTMASTER: Send address changes to: FLOOR TRENDS, P.O. Box 2145, Skokie, IL 60076. Canada Post: Publications Mail Agreement #40612608. GST account: 131263923. Send returns (Canada) to IMEX Global Solutions, P.O.
Box 25542, London, ON, N6C 6B2. Change of address: Send old address label along with new address to FLOOR TRENDS, P.O. Box 2145, Skokie, IL 60076. For subscription information or service, please contact Customer Service at: Phone: (800) 952-6643 Fax: (847) 763-9538. 5 Ways to Win at Retail By Sunil Taneja Top-Notch Transitions By Tanja Kern Design Made Easy with Visualizer Tools By Danielle Clair Simpson Reimagining Wood with Jamie Beckwith By Danielle Clair Simpso Industry Q&A: Cynthia Hubbell, Mohawk Group By Tanja Kern On the Cover: Relaxing patterns and tones define Mohawk Group's Serenity Collection of home and commercial carpet tile.
See more from Mohawk on page 40.
Buddy Wisdom: Attitude is Your Success to Selling
Trending Transitions november 2017 + vol. 19, no. 11 6 . . Editorial 10 . . Let's TalkFloor 14 . . News 18 . . New Products 44 . . Contractor's Corner 48 . . Message to Marketers 50 . . Ad Index Features Columns + Departments Digital Exclusives 30 36 40 24 20 24 20 36 30 Contents 4 November 2017 + floortrendsmag.com
Carpet | Resilient | Hardwood | Tile & Stone | Laminate | shawfloors.com Consumer Insight #1 EVERYONE IS BECOMING A DESIGNER Consumers today are finding interior design inspiration everywhere and are constantly exposed to the latest style trends through social media channels like Pinterest and Houzz.
TRUACCENTS TruAccents is a collection of breathtaking carpet styles featuring bold patterns, loops, accents and tonals paired together with hard surface visuals on a single display, making the design process easy. Consumers can choose from an extensive variety of today's most popular styles in a range of price points to curate their own signature look.
Shaw Solution TRU ACCENTS ¥ Pure Envy Cosmos Source: 2016 Floor Buying, Sizing & Qualitative Research Study, independently conducted and proprietary.
BY TANJA KERN
CHIEF EDITOR V irtual reality (VR) or augmented reality (AR) seem like magic. The technology that was once mysterious and novel has emerged from computer labs and research facilities to become part of everyday life. While VR places you in a virtual world, AR places virtual objects onto the real world and lets you interact with them. You may have downloaded a few apps onto your smartphone that use the technology, most notably Snapchat, which pioneered AR in the social media space with its popular puppy, deer and flower crown selfie filters, which it calls lenses. Earlier this year the company introduced a set of rear-camera lenses that place virtual objects, like Bitmoji avatars, in the real world using the app's camera.
But VR and AR aren't all fun and games; they are remarkable tools for the flooring space. Not only are project specifiers and consumers able to visualize spaces and try out different materials, colors and textures, they can immerse themselves and get a feel for how the space changes with modifications to the flooring. That's priceless on many accounts. From the manufacturer's perspective, it is allowing them to create more room scenes and marketing tools without the time and expense of building live sets to photograph. For consumers and architecture and design specifiers, who are doing more research on their own before every stepping foot into a store or showroom, VR and AR technology are game changers.
A retailer or manufacturer can present a lot of options to clients in a short amount of time, giving them a sense of ownership. It also allows the retailer or manufacturer the chance to connect with their client on another level; they are providing tools that the client can't get anywhere else, and they will learn to rely on them to help their decision making. Home furnishings retailer Ikea has been experimenting with how virtual reality experiences will help their customers make more informed choices. In September, the retailer introduced Ikea Place, an AR app that lets consumers experience, experiment and share popping Ikea products into any space.
Everything is 3D and true to scale so you can see if it'll fit.
"Augmented reality and virtual reality will be a total game changer for retail in the same way as the internet. Only this time, much faster," said Michael Valdsgaard, leader digital transformation at Inter Ikea Systems. In this month's issue, Managing Editor Danielle Clair Simpson explores the AR and VR technologies being explored in the flooring space. It's a new reality, and we have a front-row seat. ft CREATING a New Reality BNP Media Helps People Succeed in Business with Superior Information floor trends EDITOR'S LETTER For subscription information or service, please contact Customer Service at: Phone: 800-952-6643 Fax: 847-763-9538 Email: floortrends@omeda.com Corporate Office: 2401 West Big Beaver Road, Suite 700 Troy, MI 48084 Phone : (248) 362-3700, Fax: (248) 362-0317 Group Publisher: David Madonia MadoniaD@bnpmedia.com Associate Publisher N.E. & Mid-Atlantic: Keith Parry (973) 248-6097
ParryK@bnpmedia.com Advertising Manager: Western Janelle Minghine (734) 340-5211
MinghineJ@bnpmedia.com Advertising Manager: Southeastern Santiago Montero (917) 482-3800
MonteroSantiago@gmail.com Group Editorial Director: Tanja Kern KernT@bnpmedia.com Senior Editor: Michael Chmielecki ChmieleckiM@bnpmedia.com Managing Editor: Danielle Clair Simpson ClairD@bnpmedia.com Group Digital Editor: Morgan Laidlaw LaidlawM@bnpmedia.com Editorial Director, TalkFloor: Dave Foster DaveFoster@talkfloor.com Senior Art Director: Rick Arvidson ArvidsonR@bnpmedia.com Production Manager: Jennifer Allen-Wise Allen-WiseJ@bnpmedia.com Marketing & Trade Show Manager: Valsa Terron-Khan Terron-KhanV@bnpmedia.com Corporate Reprint Manager: Jill DeVries (248) 244-1726
DevriesJ@bnpmedia.com List Rental Sr. Account Manager: Kevin Collopy (402) 836-6265
Toll Free: (800) 223-2194 x684 Kevin.Collopy@infogroup.com Sr. Account Manager: Michael Constantino (402) 836-6266 Michael.Constantino@infogroup.com Online Development Director: Nikki Smith Directory Development Manager: Erin Mygal Audience Marketing Coordinator: Emily Clemens Corp. Integrated Media Manager: Megan Neel Audience Audit Manager: Anna C. Silvestri Single Copy Sales: Ann Kalb kalbr@bnpmedia.com Corporate Directors Publishing: John R. Schrei Corporate Strategy: Rita M. Foumia Creative: Michael T. Powell Events: Scott Wolters Finance: Lisa L. Paulus Information Technology: Scott Krywko Human Resources: Marlene J. Witthoft Production: Vincent M. Miconi Clear Seas Research: Beth A. Surowiec 6 November 2017 + floortrendsmag.com
Afraid your tiles will crack under pressure? The flexible, easy-to-install HeatMatrix provides the ultimate protection.
Multiple WarmWire® spacing options
Works with modified thinset
Minimal rollback memory for faster installation
Isolates tile from subfloor movement
Vapor management system allows evaporation of water from below membrane Learn more & watch the video at SunTouch.com/HeatMatrix We've Got You Covered HeatMatrix™ NonWoven Fleece Layer HeatMatrix™ Tile, Stone or Laminate Flooring Concrete or Plywood Substrate Polymer Modified Thin Set Mortar WarmWire® Heating Cable
THE ORIGINAL
TRIPLE PATENTED
UNPARALLELED THERE IS TRULY NO COMPARISON & THERE NEVER
ILL BE. LU LO proven performance of the one and only EnviroQuiet.®
Available in Ċ versions: Standard, Premium, Commercial and Non-acclimating.
Holds Ɨ US patents (îƆĊljîƗĊ & 88ŀƑîălj) and ŏ Canadian patent (ƗîŀŀƁĊƗ)
Tƶo additional US patents pending.
Provides the highest STC rating in the industry, ƶith premium comfort underfoot.
The only LVT product to achieve an IIC rating of ƁĊ* using the ASTM test method ASTM EƗŏƁŀ. * Impact Insulation Class rating (IIC) is a sytem test based on the entire floor/ceiling assembly.

IIC ratings vary based on the floor/ceiling assembly. Please contact FloorFolio for technical data based on your floor/ceiling assembly. Exclusively at IIC RATING 74 VARY BASED ON FLOOR/CEILI
THE BEST JUST GOT BETTER Instant Install II FloorFolio is proud to introduce the newest version of EnviroQuiet® NO ACCLIMATION NEEDED! EnviroQuiet® II offers all the same great benefits of our original version without the delays incurred to acclimate the product to ideal job site conditions. EnviroQuiet® has always been the best and first choice to meet the challenging demands of sound requirements for your facility with our impressive STC and IIC ratings. EnviroQuiet® II goes one step further, offering a more reslient flooring solution with quicker installation. m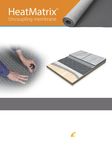 C anada Nufloors is a retail group with a unique structure and a group that has shifted gears over the past year or so to make sure all of its cylinders are firing at maximum efficiency.
The group has arranged itself in a way that is quite uncommon in this industry because it replaced its general manager with a board of directors that is made up of its retail members, placing them at the center of developing a direction and specific programs and managing the day-to-day business. We had the opportunity to sit down with Cynthia Dean, the group's director of accounting and member services, and learned more about this organization and its way of doing things. You can listen to this interview at floortrendsmag.com then click on podcasts. The following is excerpts from that interview.
TF: To make sure we are all on the same wavelength, tell us about Canada Nufloors group. Dean: The group celebrated its 10th anniversary the year before last. It's really a group of independent retailers that have come together. The really important element is that they keep their individuality with the Nufloors group taking responsibility for marketing, website development, branding and with a great deal of the decision making being left up to the membership. In fact, the organization is run by a board of directors, which is elected from its members. TF: Can we draw a distinction between Nufloor and what would normally be defined in this industry as a buying group?
Dean: We don't consider ourselves a buying group; instead we consider ourselves more of a marketing group. Our focus is really on creating marketing and branding as well as business development. We do some group buying but it's not our focus. TF: Tell us more about the structure of the Nufloor board of directors. Dean: We set up this system about two-and-a-half years ago when we decided to get away from having a general manager in favor of having the organization run by a board of directors. We have always had a board of directors but previously they worked with the general manager.
The board then decided to form subcommittees which are: the supplier committee, recruitment committee, branding/marketing committee, technology committee and finance committee, and staff works with board members.
We feel that members are the ones closest to the business and when someone comes up with an idea, it's discussed by everyone. The arrangement seems to be working very efficiently for all of the members and there are no plans to initiate any changes. Canada nufloors shifts into High Gear By Dave Foster Let's taLkFLoor A selling point for Nufloors is that retailers can maintain their independence while tapping into marketing and business support from fellow members.
10 November 2017 + floortrendsmag.com
TF: It also sounds very interesting operating without a general manager. Dean: It is, but again, what we have learned is that by having the board in place, because they are the actual store owners and really understand the business better than anyone else, their expertise is valued highly by the entre group. The concept has worked out really well. TF: Talk about recruitment of new members. Dean: Previously we were not extremely successful at recruiting new members. In setting up the recruitment committee we were able to discuss the advantages we are able to offer in terms of value to new members and we feel that we have a great package to demonstrate to prospective members the advantages of joining Nufloor.
The entire program has worked out very well. TF: One of the recent features that the group has launched is a new website. Tell us about that. Dean: The website has been up now for more than a year and we go through it periodically and revamp it. One of the great advantages with the site is that it is controlled to a large extent by the members, in that they can change their homepage and post special sales they are holding, we also provide special graphics to support those sales. Members also have the ability to update their specials as frequently as they desire. The specials pages are formatted so they can be search by category.
Many of our stores have been extremely successful with this feature. It provides a real call to action when consumers visit our site. TF: In this the digital age, I see a retailer's website as an extremely important element of the entire business.
Dean: Our retailers depend on the website realizing that customers start the shopping process online. We make sure that all members come up at least first or second on a Google search for their area. It's extremely important for us to manage search engine optimization. TF: What are the prime elements that you feel are absolutely necessities for an effective website? Dean: Customers are definitely looking for images and references and one of the factors we feel very strongly about now is making sure that reviews are included as well. This area has been a challenge for some of our stores; being CONCRETE MOISTURE TEST WOOD MOISTURE METER LINE floortrendsmag.com + November 2017 11
confident enough to ask a customer to put reviews online. We are aware that the first thing prospects do in the demographic we are aiming at is to get online, see who comes up in their search and then look for reviews because they want to gain a certain degree of confidence in the company will ultimately work with. Reviews have become an extremely important element for any website. TF: Technology is an absolute necessity to be successful today, but there are still many that are afraid of it and take some coaxing to embrace it. Dean: Technology changes so quickly that it's difficult for anyone to keep up with.
As a result, we have formed a special subcommittee called the Next Generation Group. Many members have brought this sons and daughters into the business with the plan to eventually take it over. This group helps us gain insight into the technologies and discovered and use as well as the ad messages they would respond to. The idea here is to setup a system that helps keep us abreast of the wants and needs of next generation of consumers and store owners.
TF: I visited the Nufloors site before we talked and one of the features I really liked was the Idea Gallery. Dean: People love this section of the site, and the Idea Gallery concept is a very popular approach that consumers take in making decisions about their project. They gather a number of ideas and then select one before they visit a store. There are also a number of places consumers can go to gather ideas such as Houzz that offer a wide variety of ideas. TF: What are your thoughts as to retailer's mindset about joining a group?
Dean: The bottom line is that if they see a benefit in joining the group they will join.
Many of the retailers we talked with felt very strongly about maintaining their independence and a prime reason they have not joined a group is that they value that independence. That has become a major Nufloors selling point in that they can maintain their independence but also can get support from a group, a group of likeminded people with whom they can discuss issues, they can also take advantage of a wide range of marketing materials and an extremely effective website. Nufloors is not a profit center; funds that are left over after all of the year's projects are completed goes back to the members.
TF: It appears that service is at the center of building a retail business. What are your thoughts on service? Dean: If you go online you will find that just about every retailer will say that they have great customer service. For us, however, it was identifying what exactly good service looks like. We ask the question, what makes for a beautiful experience for the customer and what are the small and large elements that make that experience a good one? One of the biggest points is just keeping in touch. Nothing annoys a customer more than having something promised and not delivered or not receiving a call that has been promised.
And even though we are focusing more and more on millennials, baby boomers are downsizing their homes and buying condos, which offers the potential of two projects. And for this demographic customer service is key. Retailers have to make sure they do what they say and what they intend to do. For us it's really identifying what constitutes good customer service and making sure that each of our members are able to deliver that great service. ft Let's taLkfLoor Editor's note: There is more to this conversation than space permits. Check out the entire interview by visiting www. TalkFloor.com and clicking on the Floor Radio tab.
We'd love to hear your feedback of this and other conversations you've watched or listened to on the site, as well as any people or companies you'd like to see interviewed. You can contact Dave Foster at davefoster@ talkfloor.com.
Nufloors is run by a board of directors that is made up of its retail members. 12 November 2017 + floortrendsmag.com
You help cover their floors. We help cover their financing needs. What are you working forward to? Every flooring retailer is different, but all share a common ambition: to succeed. And it starts by serving customers better. Synchrony Financial delivers payment solutions that help drive traffic, increase average transaction size, and build repeat business. Whatever you're working forward to, we can help make it happen. Engage with us at synchronybusiness.com/flooring or 1-855-433-3561.
Credit is extended by Synchrony Bank © 2016 Synchrony Financial
CCA Global Hosts 15th Annual Charity Golf Tournament AdAirsville, GA.Ñin its 15th year, the annual Alan Greenberg Charity Golf Tournament, hosted by CCA Global Partners, raised $160,000 in funds to support the Floor Covering industry Foundation's (FCiF) efforts to financially assist those who are, or have been, affiliated with the floor covering industry that have experienced a life-altering hardship, like catastrophic illness or a severe disability. Taking place at the scenic Barnsley Gardens resort in the foothills of the Blue ridge Mountains, members and supporters of the floor covering industry gathered for a friendly round of golf to benefit FCiF.
We feel fortunate to host this wonderful event," said Howard Brodsky, chairman and co-CeO of CCA Global Partners. "Having the opportunity to bring awareness to the admirable work of the FCiF, and raise money in the process, is something we truly cherish." each year, the event draws manufacturers, distributors, retailers, industry trade associations, and individuals from within the floor covering industry, along with supporters from related industries together. They contribute to the FCiF by participating in the tournament as well as through sponsorships and donations. "This event continues to be one of the largest contributors to the FCiF thanks to all our colleagues that participate" said rick Bennet, co-CeO of CCA Global Partners.
it's a powerful feeling when an industry is able to unite and offer support to a worthy cause." Call (855) 330-1183 or visit fcif.org to donate or apply for grants for families with catastrophic medical conditions. Julius Shaw, Jr., retired executive vice president, Shaw Industries, left; Howard Brodsky, Co-CEO of CCA Global; and Julian Saul, retired president of Shaw Industries, chat at the awards ceremony of the 15th Annual Alan Greenberg Memorial Golf tournament.
Third place team at the CCA Charity GolfTournament from left: Rick Bennet, co-CEO of CCA Global;Tim Donahue, residential division sales manager, Forbo Flooring Systems; Charlie Dilks, CPO at CCA Global, Piet Dossche, president USFloors/executive vice president, hard surface design at Shaw Industries; Dennis Darragh, general manager at Forbo Flooring Systems; and Howard Brodsk, co-CEO of CCA Global. FCIF was presented with a check for $160,000 that was raised at the 15th Annual CCA Global Alan Greenberg Memorial GolfTournament. Pictured from left:Tod Greenberg, vice president at CCA Global; Andrea Dobbins, executive director of FCIF; Charlie Dilks, CPO at CCA Global; and Howard Brodsky co-CEO of CCA Global.
First place team receiving congrats from the CCA's leadership team at the 15th Annual Alan Greenberg Memorial GolfTournament. From left: Rick Bennet, co-COE of CCA Global; Nash Nance, vice president at Nance Flooring; Mike Nance, principal at Nance Flooring, Charlie Dilks, CPO at CCA Global; Bus Culotta – Southeast regional manager at Leggett & Platt; Howard Brodsky, co-CEO at CCA Global; and Mike Cronin, director of national accounts at Leggett & Platt. Industry news 14 November 2017 + floortrendsmag.com
Milliken Makes 2017 America's Safest Companies List Spartanburg, S.C.—Milliken has landed a spot on EHS Today magazine's 2017 america's Safest Companies List.
Milliken, a three-time honoree, was one of 13 companies recognized for providing a safe working environment for thousands of employees. In addition, Milliken became the firstever company named to the america's Safest Companies Hall of Fame. america's Safest Companies, created in 2002, is a corporate award honoring the safest companies in the united States. Since 2002, more than 225 companies with clearly demonstrated commitment to employee safety and health, environment management, and risk control have been included on the list published by EHS Today.
among the various elements considered when creating the america's Safest Companies list, EHS Today looks for transformational environmental, health and safety leadership across the board. Companies on this list are recognized for their innovative solutions to safety challenges, significantly lower injury and illness rates than industry averages, comprehensive training programs, top-notch internal and external communications speaking to the value of safety, and a commitment to incident prevention.
For more, call (864) 503-2020 or visit milliken.com. Registration for Coverings 2018 Now Open atLanta—registration for Coverings, taking place in atlanta May 8-11, is now open.
Coverings provides a stage for the most innovative tile and stone products from around the world and delivers critical information about the industry's latest trends through the show's annual CEu-accredited conference program—all free of charge. "Coverings aims to not only highlight the inherent value of tile and stone materials—their adaptability, durability, low environmental impact and beauty—but also foster connections between industry professionals, to grow businesses and build lasting professional relationships," said alena Capra, Coverings industry ambassador. "We're thrilled to make our return to atlanta in May and to engage with the vibrant community of industry professionals that comprise this market." taking place in atlanta for the first time in five years, the 2018 show will feature 1,100 exhibitors representing more than 40 countries and take over 450,000 square feet of exhibition space at the georgia World Congress Center.
according to show organizers, programming for Coverings will offer sessions for every category of tile and stone professionals featuring more than 60 CEus for attendees.
For more, call (571) 313-5801 or visit coverings.com. NALFA Celebrates Milestone with Website Relaunch nEW York—In celebration of its 20th anniversary, the north american Laminate Flooring association (naLFa) has relaunched its website. the updated website features a brand new look and feel with updated content and improved mobile access. It is designed to enhance the experience of consumers, trade professionals, and industry members. "We are excited about the redesign of our website," said naLFa president Dan natkin. "We have worked hard to make the website user friendly for consumers who are researching their floor options, while continuing to be the voice for the laminate flooring industry.We are proud of the final product." "We have worked hard to make the website user friendly for consumers who are researching their floor options, while continuing to be the voice for the laminate flooring industry.
We are proud of the final product." For more, call (202) 785-9500 or visit nalfa.com.
floortrendsmag.com + november 2017 15 www.hpsubfloors.com HPS North America, Inc. is a TMT America Company Toll Free: 855.391.2649 MULTI-FAMILY SUBFLOOR ISSUES? RESOLVED. Synthetic Gypsum Rapid Drying, Smoothing and Patching Compound Pumpable Synthetic Gypsum Self-Leveling Compound Pumpable Synthetic Gypsum Fiber Reinforced Self-Leveling Compound
Shaw's Hutchison Receives Faces of Manufacturing Award Architect Christopher Grubb Launches Educational Series H.J. Martin Wins Environmental Achievement Award Dalton—Shaw's Marten Hutchison is a recipient of the Georgia Manufacturing Extension Partnership (GaMEP) 2017 Faces of Manufacturing award.
Hutchison, lead innovation manager at Shaw, is one of four Georgians recognized for their respective contributions and commitment to the manufacturing industry, which is a key driver of the state economy.
Since joining Shaw in 1993, Hutchison has held numerous positions, including one where he led a team to build one of the largest plastic bottle recycling facilities in north america. a graduate of the Georgia Institute of technology with a degree in mechanical engineering, Hutchison has focused on equipment and technology to improve processes and incorporate automation into Shaw's plants. "It's a great honor to be recognized as a Face of Manufacturing in Georgia," Hutchison said. "I'm proud of how Shaw's approach to manufacturing has become increasingly innovative." GaMEP is a federally funded economic development program of the Georgia Institute of technology's Enterprise Innovation Institute.
It works with manufacturers across the state to help them remain viable and economically competitive. In addition to his Shaw duties, Hutchison is a FIRSt Robotics team coach at northwest Georgia College & Career academy, where he helps students conceptualize, prototype, design, build and program robots for competition. the team recently was awarded one of four Rookie Inspiration awards at the world competition.
We are very proud of Marten and grateful to him for his dedication to educating students in the StEM disciplines and exciting them about manufacturing, as they are the future of our industry," said David Morgan, Shaw's executive vice president of operations. For more, call (800) 441-7429or visit shawinc.com. BEvERly HIllS, CalIF.—Christopher Grubb, president and founder of archInteriors Design Group, recently recorded a series of educational courses for Construct-Ed, the on-demand website site that provides online learning. Grubb drew upon his 25-plus years of experience designing to produce courses that will help others understand the concept of, and create with a focus on, luxury.
I have been invited by several design schools to serve as an instructor, but sadly my schedule doesn't allow it," said Grubb. "I find it very fulfilling to share my knowledge via courses that my peers can access any time online. the Construct-Ed courses are an enjoyable way for me to give back to the design community." Courses that Grubb produced for Construct-Ed include "How Contractors Can Work With Designers to Create luxury Bathrooms" and "Materials that Enhance Remodeling Projects & Give Clients an Unforgettable Experience." Both of these are topics that Grubb has recently presented to live audiences at trade shows and other industry-related events.
Change to: For more, call (310) 652- 7600 or visit archinteriors.com. GREEn Bay, WIS.—H.J. Martin is the recipient of Starnet's 2017 Gold Starnet Environmental achievement award. "We applaud the management of H.J. Martin and Son for taking the initiative, and for continuing to focus on, sustainability," said Fred Williamson, executive vice president for Starnet. "thank you for raising awareness, both inside and outside of the flooring community, and for being a strong leader in environmental stewardship." among the environmentally friendly initiatives undertaken by H.J. Martin and Son are the installation of lED lights on the sales floor of the company's two showrooms, offices and warehouse, reducing electricity use to one-sixth of its prior amount; the use of eco-friendly products for installations whenever possible; the implementation of electronic time-card and payroll systems; the conversion of all accounting reports and postings to a PDF format to reduce paper use; separation of cardboard and wood waste from normal on-site trash for proper recycling and disposal; purchase of a new server and storage equipment to reduce electricity use by one-half, along with decreasing cooling needs; participation in a local program to recycle used cell phones and company promotion of carbon-footprint reduction through car-pooling and bicycling to work.
H.J. Martin and Son appreciates the partnership with Starnet as it makes us a better company," said David Martin of H.J. Martin and Son. "We look to Starnet to gain best practices from commercial contractors across the country and to implement them in our business. this award is a credit to our team and customers who are environmentally conscious." For more, call (920) 494-3461 or visit hjmartin.com. Marten Hutchison, left, lead innovation manager at Shaw Industries, and John Zegers, GaMEP at GeorgiaTech northwest Georgia region manager. Hutchison is a recipient of the 2017 GaMEP Faces of Manufacturing Award.
Starnet's Fred Williamson, left, congratulates Rachel Weber, center, and Gary VandenLangenberg, right, of the H.J. Martin and Son commercial flooring team on the company's 2017 Gold Starnet Environmental Achievement Award. Industry news 16 november 2017 + floortrendsmag.com
Dallas—Feizy has partnered with online solutions leader, MicroD, on a new digital merchandising program for dealers. The Feizy Catalog Program is a merchandising tool that gives dealers the ability to showcase all Feizy catalog items online without increasing in-store inventory. Dealers that join the program will have access to a dedicated brand landing page to highlight Feizy products and tell their craftsmanship story. Using the "accessorize" feature, online shoppers can then select a Feizy rug and virtually place it beneath a furniture piece to visualize and coordinate with their other items before purchasing.
By integrating the Feizy catalog with the OmniVue platform, MicroD provides consumers and retailers with a fully responsive website that is optimized and easy to navigate on all devices. Users experience consistent catalog data, beautiful images, interactive room planning and visualization tools and expert development to maximize for search engine results. With the launch of its 3D elements, MicroD continues to push the shopping experiences into the virtual realm through 3D room planning, 360-degree product views, product configuration, augmented reality and virtual reality.
For more, call (214) 747-6000 call or visit feizy.com.
lanCasTer, Pa.—ecore has updated its athletic, commercial and corporate websites to include optimized functionality and fresh designs, in order to elevate the company's online brand presence and experience. "Our updated websites feature additional content, visuals and resources housed in sleek, easy-to-navigate formats that allow our customers to find the specific products they need by market, application area or flooring type," said Bo Barber, ecore's vice president of sales and marketing. "The websites are cohesive with our latest branding and provide customized content on product detail pages depending on how the user navigated to that page, allowing us to speak more directly to our customers." each updated site has its own designated landing page with content and information that specifically addresses the unique needs and preferences of each brand.
The athletic site is designed to target athletic and fitness customers, while the commercial website is focused on architects and designers serving the healthcare, hospitality, corporate, education, multifamily, public buildings, retail and senior care markets. The corporate website provides information about the company as a whole, ecore's history, as well as links to its heritage brands, in addition to the athletic and commercial websites.
For more, call (800) 322-1923 or visit ecoreathletic.com, ecorecommercialflooring.com and ecoreintl.com. Feizy Introduces Visualizer Design Tool Ecore Strengthens Web Presence with Updated Websites floortrendsmag.com + november 2017 17
Florida Tile Unveils Edge The Edge collection, new from Florida Tile, fuses the look of stone and cement into a resistant product able to tolerate the most demanding applications. Contemporary in concept, Edge is produced using proprietary Dual Tech technology to obtain extremely durable through body porcelain floor and wall tile.
floridatile.com Nourison Partners with Designer Christopher Guy Harrison The Christopher Guy Area Rug Collection by Nourison features 38 handmade area rugs woven with fibers such as New Zealand wool, silk and mohair. Each rug is created with designer Christopher Guy Harrison's signature look, which fuses classic and contemporary elements to create a work of art. nourison.com Anderson Introduces American Driftwood Inspired by the beaches of North America, American Driftwood from Anderson is crafted from upcycled materials for an enlightened design. American Driftwood blends centuries-old liming techniques with modern-day seaside charm to create an aesthetic that is both serene and savvy.
andersonfloors.com Drayton by Milliken Celebrates the History of Textiles Milliken's new Drayton rug collection takes its inspiration and name from the successful revitalization of Drayton Mills in South Carolina, a former Milliken textile plant. The collection includes 10 rugs, each featuring distinctive traditional textile patterns found in cultures around the world—from intricate Persian and ornate English themes, to geometric African mud cloth motifs.
millikenfloors.com PRODUCTS 18 November 2017 + floortrendsmag.com
Island Stone Expands Level Pebble Island Stone has expanded its Level Pebble collection with Birds Egg Blend and Malu Grey. A mix of beige, green and speckled stones, Birds Egg Blend perfectly suits the growing interest in the smooth surface of sliced pebbles. Featuring distinct veining, Malu Grey is light in color and pairs well with similar colored concrete and ceramic surfaces. islandstone.com Ege Seramik Channels the Contemporary Feel of Tribeca Ege Seramik has created a cutting-edge contemporary wood-look using modern inkjet technology with its latest introduction of the Tribeca collection.
This pressed glazed porcelain tile is paired with a modern color palette of grey or beige with gentle variation. Tribeca lends the beauty of natural wood, strength of porcelain and durability of a Turkish product to interiors. egeseramik.com J+J Flooring's Put a Cork in It Adds Personality to Interiors J+J Flooring Group's latest Kinetex product introduction is Put a Cork in It, a distinctive carpet tile featuring multi-tonal cork-like flecks that create a clever and quirky pattern. This eclectic new tile will infuse character and personality into any space through 16 colorways.
jjflooringgroup.com Lexmark Hospitality Launches Desert Rain by Stacy Garcia Desert Rain guestroom carpet by Stacy Garcia for Lexmark + Hospitality is inspired by infinite and intricate formations in the desert. Taking cues from sedimentary rock forms and arid lands, the product line's palette consists of soft sumptuous shades of beige complemented with blue green and cool greys. lexmarkcarpet.com floortrendsmag.com + November 2017 19
L ess than a decade old, SP Floors & Design Center in McMurray, Pa., has grown into one of the premiere dealers in the Pittsburgh region.
Thanks to a great location in a growing neighborhood and a smart business plan, store owner Stacey Pape said company sales are expected to exceed $5 million in its eighth year. Part of CarpetsPlus, Pape was tapped by the buying group to showcase her store's capabilities to other members, and the store was named CarpetsPlus ColorTile's Retailer of the Year in 2016. Here are some of her insights to success. 1. CREATE A MEMORABLE SHOPPING EXPERIENCE Showroom design is at the forefront of Pape's retail strategy. "The selection center is the cornerstone of how we are trying to change what a typical flooring store is," she said.
We have our showroom set up to think outside the box. It is a fun interactive buying experience that relates to people's creativity." When they walk in, customers are immersed into an eclectic designer area with a rustic industrial, yet transitional feel. The store features brick walls, pipes for shelves, barn wood doors, and showcases different flooring in non-traditional applications such as on the wall and as countertops. "Customers come in and are intrigued because they never really thought of that," Pape said.
2. PLAN AHEAD Innovative showroom aside, Pape credits much of her success with the foresight to set initiatives early, which includes everything from hiring and placing the right people in the right roles to ensuring a succession plan is in place. When CarpetsPlus held a summit for its buying group members at Pape's store last fall, they covered best practices in addition to the many issues people in the flooring business deal with: succession, partnerships and other things where a lot can go wrong. "It's important to make sure your structure is defined and everybody who is a key player has a role and knows what their role is with succession planning in mind," Pape said.
She knows firsthand how badly a lack of planning can affect a business. Having grown up in the industry with her father at the helm of a different retail flooring enterprise, a lack of succession planning BY SUNIL TANEJA RETAIL INSIGHT Owner Stacey Pape's Miniature Goldendoodle, Aspen, is a welcome face in the showroom and community. RETAIL INSIGHT 5 Ways to Win at Retail 20 November 2017 + floortrendsmag.com
was integral to her decision to branch out on her own in 2009. "You need to empower employees to do well and to make mistakes," she explained. "They know their expectations, and know if they work hard, it will be rewarded. Done right, the [business planning] lets you work on your business and not spend too much time working in it." Pape says an early lesson is probably among the most significant elements in achieving long term goals. "The financial part is important," she explained. "My father told me: 'Own your property, don't rent.' A lot of people get in over their heads and get big too fast.
No matter what happens in five years, if my building is paid off, I can rent it. Even if the retail environment changes, I can rent it [to another business]. It makes a big difference when you don't have that big nut. That security gives me the ability to move forward." 3. Keep learning Providing different avenues for her team to continue learning has proven instrumental. In addition to many of the industry standard training opportunities offered by vendors, trade shows, World Floor Covering Association (WFCA) and, of course, CarpetsPlus/ColorTile, Pape is constantly on the lookout for personal and business growth through studying books on business and its philosophy with a strong lean toward entrepreneurial approaches.
We are always learning and evolving, always growing," she noted. "I buy books for the entire staff and we talk about them and implement systems that apply. It's about serving customers and your employees, and how they treat the people you do business with. The approach has made a big difference with who we are and who I am as a leader/boss." Pape sees her role to be more of a mentor for her team whereby she can empower people to follow company policy, but make decisions that are right and not necessarily company policy. "It has helped us to be a better company and better Left: Continued learning is a top priority for the SP Floors team.
Below: SP Floors' showroom is set up to encourage customers to think outside the box.
floortrendsmag.com + November 2017 21
to customers," she said. "You have to find ways to make sure you're not just another flooring store that is going to go out of business. If you want people to come to your store, you have to give them a reason to come to your store." 4. Create a Community destination SP Floors has worked hard to engrain itself into the local landscape. Along with the usual sponsoring of local youth teams, Pape works with community groups and is skilled at employing social media venues to stay top of mind with customers who look to the online world for advice on products and businesses.
Customers don't go out to shop as much nowadays," she said. "Word of mouth is coming back because of the internet and people are figuring out where to shop before leaving their homes. Because of Yelp, Houzz and other sites, word of mouth carries a lot of weight again. It's unbelievable how much people share—asking for everything from pediatricians to flooring stores." SP Floors is also ingrained in the community with its mascot, Aspen, Pape's Mini Goldendoodle. In addition to attending community events, Aspen approaches customers and their children as soon as they enter the showroom providing an interactive experience.
Aspen is not only featured in the company's marquee and marketing material, she is always ready to sell and quick to help point out any pet smart offerings for interested clients. She has become so recognizable, in fact, that many customers come to the store just to visit Aspen. 5. attraCt and retain skilled installers Customers in place, Pape ensures her clients are completely satisfied by working with a select group of subcontracted installation teams she believes are the best in her market. To ensure customer happiness, her teams take photos of the installations upon completion and have customers rate the service and job.
To ensure a desire by the installation contractors to seek out work with her company first, she incents them with different recognition techniques, gift cards and premium rates. "We pay our subs really well and make sure they have what they need and their helpers are taken care of," she said. "Most of them have the ability to work other places but they tend to fill their schedule with us first." ft Right: Aspen is always ready to sell and quick to help point out any pet smart offerings for interested clients.
retail spotlight Years in business: 8 Sales: $5 million Product Mix: Commercial and Residential Carpet & Rugs, Hardwood, Ceramic, Cork, Vinyl/LVT, Stone Stocking: Rolls # of Locations: 1 Staff: 17 (4 sales associates) Installers: Subcontractors retail iNSiGHt (801) 563-0140 www.qfloors.com sales@qfloors.com Therearemultiplereasonswhywe'rethefastestgrowingflooring softwareintheindustry.Contactustodaytoseewhysomanycompanies arechoosingQFloors.Andwhysomanywhodo,seetheirownbusiness successincreasedramatically.
OUR CUSTOMER BASE IS EXPLODING. 22 November 2017 + floortrendsmag.com
TI-ProBoard® keeping families together.
TI-ProBoard® is a sustainable, durable and virtually maintenance-free underlayment for exterior deck porcelain tile installations. TI-ProBoard is a composite panel that is unaffected by expansion, contraction or exterior weather conditions. www.FinPan.com The STRENGTH behind the Beauty
By Tanja Kern Top-NoTch TraNsiTioNs
G ood flooring design incorporates seamless transitions between rooms and flooring materials. Specifiers and installers must collaborate well, and crews must work skillfully and meticulously to create smooth shifts from one type of flooring to the next. Floor Trends looks at some top projects that created beautiful transitions and the transition tools and techniques that made them happen. Holy TriniTy Greek orTHodox CHurCH Carmel, Ind. The Holy Trinity Greek Orthodox Church in Carmel, Ind., is a model of the creative beauty synonymous with the Greek Orthodox faith.
When the church decided to have the floors and some vertical spaces dressed in tile and stone, a challenge arose in the form of surface preparation. Innovation and determination, along with the expertise of CJK Design Group, Daltile, Armstrong Flooring, Tarkett/ Johnsonite and MAPEI were necessary in order to exceed expectations by completing the 12,500-sq.-ft. project under budget and ahead of schedule.
Eight years previously, the floors were finished in polished concrete, Left: When the church decided to have the floors and some vertical spaces dressed in tile and stone, a challenge arose in the form of surface preparation. floortrendsmag.com + November 2017 25
Top-NoTch TraNsiTioNs producing a non-porous sealed surface that did not offer the proper finish for the installation. Traditional shot-blasting could not be used because of the damaging effect it would have on the delicate icons and painted frescoes created with a centuriesold process using egg tempera paints.
Innovative technology produced a solution that circumvented tradition and provided a breathtaking foundation. Certified Floorcovering Services, a Starnet flooring contractor serving the greater Indianapolis area, was contracted to preserve the beauty that lines the walls and ceilings of the narthex, nave, sanctuary and ambulatory at Holy Trinity.
The project came with challenges, including substrate preparation; working in an occupied facility; maintaining a pristine, dust-free environment; and coordinating work with other trades. The Certified team used an innovative bonding agent to cover the polished concrete surface, eliminating the need to shot-blast which could have potentially damaged the church's painted treasures. Next, they tested and used a new self-leveling liquid skimcoat to patch and smooth all floor surfaces, reducing dust worries. They also used a liquid membrane for crack isolation on the concrete flooring.
Once the floors were prepared, installation crews worked meticulously, transitioning between various types of porcelain tiles and marble to produce a look that complemented the intricate icons and frescoes.
The crew hand cut many tiles to fit around existing structures in the church and tiled a number of vertical elevations in addition to the floor. They installed glass tile along the inner walls of the baptistery and interspersed the tile between fabricated marble pillar facades on its exterior. Epoxy mortars were spread over the top of traditional thinset to accommodate porous natural stone. In the narthex and nave, they set four mosaic medallions that continued the iconography from the walls to the floor. Left: Installation crews worked meticulously, transitioning between various types of porcelain tiles and marble to produce a look that complemented the intricate icons and frescoes.
Below: The Certified team used a bonding agent to cover the polished concrete surface, eliminating the need to shot-blast, which could have potentially damaged the church's painted treasures. 26 November 2017 + floortrendsmag.com