Fully Bespoke, Inside-Painted Baubles 2021 - CREATORS OF LUXURY INSIDE-PAINTED BAUBLES - Tom Martin London
Page content transcription
If your browser does not render page correctly, please read the page content below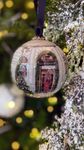 CONTACT

Tom Martin London Limited
Roots Hall
Victoria Avenue
Southend
SS2 6NQ

Email   hello@tommartinlondon.com
Phone   +44 (0) 1702 304120
Web     tommartinlondon.com

                                       WE WILL ALL REMEMBER
                  2020 WAS THE CHRISTMAS
           2021 WILL BE THE CHRISTMAS NO ONE WILL WANT TO FORGET

                                     — 2 —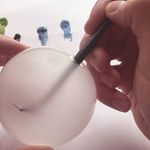 Hand-Made, Fully Bespoke
               Product FOR Retail OR GIFTING

  At Tom Martin London, we offer a truly unique service and production of fully
bespoke, hand-painted glass decorative baubles for use as gifts or retail products.

Each bauble is individually painted on the inside surface using the time-honoured Chinese
   craft of inside painting, whereby each glass keepsake is painted, from the inside in
      reverse, using small hooked paint brushes lowered into the top of the sphere.

We offer a complete design and production service, inducing the production of bespoke
                              presentation gift boxes.

          A truly unique work of art ready to sell, delivered under one roof.

                                        — 4 —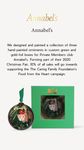 60%
           AVERAGE   RETAIL MARGIN

         16 days
     THE AVERAGE NUMBER OF   DAYS FOR
   CLIENTS TO SELL 100 BAUBLES ONLINE

               £35
                     RRP

         3rd May
LAST DATE OF ARTWORK APPROVAL FOR STANDARD
    UK DELIVERY FOR CHRISTMAS 2021

  Payment Plan
    SUBJECT TO YOUR ORDER QUANTITY AND
     ORDER DATE, WE CAN    TAILOR YOUR
            PAYMENT SCHEDULE.

                  — 5 —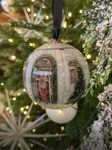 Harvey Nichols approached us to create a unique gift as part of their Christmas partnership with
  Belmond's The Cadogan Hotel. On the two-sided design, we painted the front of the Cadogan
Hotel with their doorman standing in their iconic red overcoat with the other side showing the front
of the Knightsbridge Harvey Nichols shop with Father Christmas leaving laden with branded bags.

     The bauble was placed in a custom PANTONE matched gift box with gold foil branding.

                               To discuss your bespoke options, please contact us at
                                                 —7 —
                              hello@tommartinlondon.com | T +44 (0)1702304120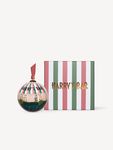 Our bespoke bauble for Claridge's hotel in Mayfair has been a best-selling product in both
  the hotel shop and the online store, selling out within a matter of weeks, year-on-year.

           A custom black and gold-foil box was designed and made in the UK.

                          To discuss your bespoke options, please contact us at
                                            — 8 —
                         hello@tommartinlondon.com | T +44 (0)1702304120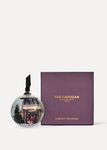 We designed and painted a collection of three hand-painted ornaments in a custom
  green gold-foil box for Private Members' club Annabel's. Forming part of their 2020
Christmas Fair, 10% off all sales went towards supporting The Caring Family Foundation's
                           Food from The Heart Campaign.

                                        — 9 —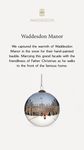 We worked with the home of Rugby as we painted their Chapel, Old Big School and
School House across their famous rugby pitches. At the front of the artwork (measuring
   only millimetres in height) we painted a rugby ball with the words 'Rugby School'.

                         To discuss your bespoke options, please contact us at
                                           — 10 —
                        hello@tommartinlondon.com | T +44 (0)1702304120
We've produced three bespoke baubles for Brentwood School as part of a
 two-year collection across both the Preparatory and Senior Schools. All
 baubles have sold out prior to the seasonal closure of the school shop.

                 To discuss your bespoke options, please contact us at

                                    — 11 |—T +44 (0)1702304120
                hello@tommartinlondon.com
The London Private members' club Harry's Bar is famed worldwide for both the beauty of its
décor and the quality of its food. We were approached to design and paint their Christmas
         bauble as part of a gifting opportunity to its members and private diners.

                       The bauble was placed in a bespoke gift box.

                           To discuss your bespoke options, please contact us at
                                             — 13 —
                          hello@tommartinlondon.com | T +44 (0)1702304120
Waddesdon Manor approached us with the brief to create a modern twist of the traditional
stately home decoration; promoting the creativity and highly art-influenced characters of both
     Baron Rothschild and of Waddesdon Manor in the 21st century. The design depicts
 Father Christmas walking towards the house, in anticipation of exploring the treasures within.

                                      "
"Tom Martin London created a bespoke Christmas bauble for Waddesdon Manor to be
sold via our retail shop and online shop. We were delighted with the outcome and they
   enhanced the Christmas experience at Waddesdon beautifully. We received many
comments about their uniqueness and beautiful presentation. We saw strong sales from
  these and would highly recommend working with Tom for future collaborations."

                 PAUL COTTRELL, HEAD OF RETAIL at WADDESDON MANOR

                                           — 14 —
HOW TO START

                                To discuss your bespoke journey, please contact us at
                                            hello@tommartinlondon.com

                                       Minimums apply: 100 baubles per design.

Frequently Asked Questions
What is the lead time?
Enquiries should be raised at least 4 months before the desired delivery month. If you have your artwork ready and
do not require our designs services, we kindly ask for a minimum of 3 months. For standard UK Christmas delivery,
we require artwork and samples to be approved by the beginning of May 2021 to ensure your production slot.

What is your MOQ?
We require a minimum order quantity of 100 hanging decorations per design. While there is no upper limit on
quantity, we do require a longer painting period for larger orders. We will, however, advise you on this to ensure your
order is completed in time.

Can you make custom presentation boxes?
We can! We use two suppliers (located in China or the UK) for our gift boxes depending on the quantity of baubles
required. If you do not require a bespoke box, baubles will be placed in the new Tom Martin London presentation
boxes (a design introduced in September 2020).

Who designs the bauble artwork?
We offer a full design service for your bauble(s). We discuss with you your expectations and your brand and will
create a selection of options. There is a one-off fee of £400 per artwork, the cost of which is spread across your
order. If you wish to provide us with an image or artwork ready-to-use, we will be able to sample this to ensure it's
transferable to a three-dimensional surface and possible to be painted using our inside-painting technique.

Do you sample the artwork before production?
Yes, we do sample the artwork before production in order to receive sign-off. There is a £50 fee per sample, but this
cost is redeemable against a final order.

What are your payment terms?
For an order under 400 decorations per year, we require a 50% deposit (excl. shipping) upon sign-off of the sample.
The receipt of this payment will secure your production slot.

For orders over 400 units or for multi-year contracts, we can either accept a 50% deposit and pro-rata payment
upon delivery or we can tailor your contract terms to spread the cost over a period.
                                                       — 15 —
The Process

                          Initial enquiry

                          Artwork discussion/client provides artwork

                          Presentation and selection of artwork options

                          Sampling

                          Sample approval

                          50% deposit required to secure production

3RD MAY 2021              Production begins
50% deposit received
& artwork approved
for standard delivery
in time for
Christmas 2021

                          Storage or Delivery

                          Final payment required

                                                — 16 —
TOMMARTINLONDON.COM

                                  Begin your own bespoke commission by contacting us at
                                   hello@tommartinlondon.com | T +44 (0)1702 304120

Tom Martin London® is a registered trademark of Tom Martin London Limited and its affiliates, in the U.K. and other countries. Tom Martin London designs are
copyrighted by Tom Martin London Limited. The Snowman and The Snowdog™ are trademarks of Snowman Enterprises Limited. 'The Snowman' By Raymond
Briggs. Licensed by Tom Martin London Limited for and on behalf of Snowman Enterprises Limited. All other logos (stylised logo) are registered trademarks of
                                                       their respective companies or organisations.

 This communication contains information which is confidential, which may be privileged, and which is for the exclusive use of the intended recipient(s). Please
note that any distribution, use or copying of any part of this document, including any design material, is strictly prohibited. Statements or opinions expressed in
                                                                          — 18 —
                   this communication are personal to the individual stated and do not necessarily represent the views of Tom Martin London.