General Rules and Specifications - DIRTcar Racing
If your browser does not support JavaScript, please read the page content below:
General Rules and Specifications - DIRTcar Racing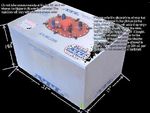 2018 Big Block Modifieds 358 Modifieds Sportsman Modifieds Pro Stock Super DIRTcar Series General Rules and Specifications 7575 West Winds Blvd. Concord, NC 28027 704-795-7223 www.dirtcar.com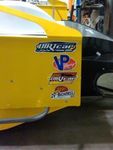 2018 DIRTcar Northeast General Rules and Specifications 2 Primary DIRTcar Northeast Contacts DIRTcar Northeast Director Jeff Hachmann jhachmann@dirtcar.com 315-283-3367 DIRTcar Northeast Director of Series and Sanctioning Mike Perrotte mperrotte@dirtcar.com 704-796-4566 DIRTcar Northeast Technical Director Mark Hitchcock nedirtcartech@dirtcar.com DIRTcar Northeast Points & Handicapping Gary Spaid aces2@frontiernet.net 585-734-5959 DIRTcar Northeast Series & Race Director John Nelson, jnelson@dirtcar.com 716-907-1905 DIRTcar Northeast Series & Race Director Doug Leonard, Doug.b.leonard@gmail.com DIRTcar Northeast Series & Race Director Denis Moquin, dmoquin@dirtcar.com 613-978-3475 DIRTcar Northeast Series & Race Director Dave Farney, dfarney10@gmail.com 315-708-4422 DIRTcar Northeast Series Manager Cory Reed, creed7171@gmail.com 315-374-1168 DIRTcar Northeast Marketing John Baumes, jbaumes@dirtcar.com 518-844-2678 World Racing Group Contacts: DIRTcar Events Director Jeff Hachmann jhachmann@dirtcar.com 315-283-3367 Tracey McDaniel, Membership Coordinator tmcdaniel@dirtcar.com 704-795-7223 Corrie Goss, Marketing Services cgoss@dirtcar.com 704-795-7223 Christina Cordova, Director of Communications ccordova@dirtcar.com 704-795-7223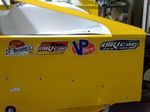 Table of Contents 1.0 Definition of Terms 1.1 World Racing Group Rules 2.0 Membership 2.1 Membership Eligibility 2.2 Conduct 2.3 Series Championship 2.4 Medical Exemption 2.5 Substance Abuse Policy/Explanation 3.0 Personal Safety Equipment 3.1 General 3.2 Seat Belts 3.3 Protective Clothing 3.4 Seats 3.5 Helmets 3.6 Other 4.0 Licenses 5.0 Racing Event Procedures 5.1 Pre-Race Inspections 5.2 Driver's Meetings 5.3 Legality 5.4 Restrictions 5.5 Pill Draw 5.6 Hot Laps 5.7 Qualifying/Time Trials/Heat Races/B-Mains 5.8 Starts 5.9 Restarts 5.10 Racing 5.11 Flag Rules 6.0 Scoring Procedures 7.0 Payoff and Pit Procedures 8.0 Provisional and Alternate Starting Positions 9.0 Racing Programs Special Event Shows 10.0 Points Breakdown 11.0 Penalties, Fine Schedules and Protests 11.1 Penalties and Fine Schedules 11.2 Protests 12.0 World Racing Group Appeal Commission 15.0 DIRTcar Northeast Super DIRTcar Series Vehicle Rules 16.0 15.A DIRTcar Big Block Modifieds 16.1 Engines 16.2 Fuel, Fuel Cells and Fuel Systems 16.3 Muffler and Sound Reduction Devices 16.4 Traction Control Devices 16.5 Chassis/Frame 16.6 Weight 16.7 Body 16.8 Suspension 16.9 Roll Cage 16.10 Wheels 16.11 Tires 16.12 Safety 16.13 Other 16.14 Series Decal and Patches 15.B DIRTcar 358 Modifieds 15.1 Engines 15.2 Fuel, Fuel Cells and Fuel Systems 15.3 Muffler and Sound Reduction Devices 15.4 Traction Control Devices 15.5 Chassis/Frame 15.6 Weight 15.7 Body 15.8 Suspension 15.9 Roll Cage 15.10 Wheels 15.11 Tires 15.12 Safety 15.13 Other 15.14 Series Decal and Patches 15.C DIRTcar Sportsman Modifieds 15.1 Engines 15.2 Fuel, Fuel Cells and Fuel Systems 15.3 Muffler and Sound Reduction Devices 15.4 Traction Control Devices 15.5 Chassis/Frame 15.6 Weight 15.7 Body 15.8 Suspension 15.9 Roll Cage 15.10 Wheels 15.11 Tires 15.12 Safety 15.13 Other 15.14 Series Decal and Patches 15.D DIRTcar Pro Stocks 15.1 Engines 15.2 Fuel, Fuel Cells and Fuel Systems 15.3 Muffler and Sound Reduction Devices 15.4 Traction Control Devices 15.5 Chassis/Frame 15.6 Weight 15.7 Body 15.8 Suspension 15.9 Roll Cage 15.10 Wheels 15.11 Tires 15.12 Safety 15.13 Other 15.14 Series Decal and Patches 15.E DIRTcar Stock Cars 15.1 Engines 15.2 Fuel, Fuel Cells and Fuel Systems 15.3 Muffler and Sound Reduction Devices 15.4 Traction Control Devices 15.5 Chassis/Frame 15.6 Weight 15.7 Body 15.8 Suspension 15.9 Roll Cage 15.10 Wheels 15.11 Tires 15.12 Safety 15.13 Other 15.14 Series Decal and Patches 17.0 Drawings
PREFACE A World Racing Group, event is a competitive racing event which is intended to be conducted and officiated in accordance with the rules herein. These rules provide the guideline for all events. The rulebook may be amended from time-to- time and special rules may be published and/or adjusted at any particular event with the participants receiving prior notification. By participating in these events, all participants agree to comply with these rules and regulations. The rules are not intended to express or imply the warranty of safety as a result of publication of, or compliance with the rules and regulations as stated herein.
The rules are intended to offer a guideline for the conduct and officiating of an event. The Series Supervisory Official shall be empowered to permit any reasonable and/or appropriate amendment from any of the specifications and/or procedures herein or impose any further restriction that in their opinion does not alter minimum acceptable requirements. Revisions to the rules are not intended to express or imply the warranty of safety shall not result from any such deviation or restriction of the specifications, rules and/or procedures. Any interpretation of, deviation from, these rules herein, are left to the discretion of the racing officials and their jurisdiction is final.
Any equipment changes, alterations to existing parts and/or performance enhancing changes to previously approved parts or equipment must be approved in writing prior to introduction into competition. Supervisory Officials reserve the right to immediately determine the legality and use of any equipment that has not received prior written approval for introduction into competition. It is ultimately the obligation of each participant to ensure their conduct and equipment complies with all of the applicable rules, as they may be amended from time-to-time. The rules are in no way a guarantee against injury and/or death to participants, spectators, officials and/or others.
PREFACE IN REGARD TO WEEKLY SANCTIONED RACING AND OFFICIATING: A DIRTcar weekly sanction and/or DIRTcar Sanctioned event does not provide for any direct or indirect supervisory authority by DIRTcar over the conduct of the events, the condition of the facility, or the interpolation or applicability of any track rules that differ from that of the DIRTcar Rule Book as set forth herein.
Section 1 – Definition of Terms The following terms, which appear periodically throughout this Rule Book, have the following meanings: "World Racing Group - WRG" – The trade name and registered mark of the World Racing Group.
"Rule Book" – The rules in this Rulebook, as they may be amended from time-to-time as provided in Sub-Section1.1. "Officials" – Persons employed by World Racing Group and appointed by World Racing Group to officiate as an employee or independent contractor at an event.
"DIRTcar Track Officials – Persons who are appointed by the sanctioning body or by sanctioned track to conduct the competition. Authority is dictated by the position and is limited to the scope of the duties as dictated by sanctioned track promoter and WRG supervisory official. "Supervisory Officials" – The officers, employees and/or agents of World Racing Group as designated. World Racing Group may designate additional 'Supervisory Officials' in a bulletin and/or verbally from time-to-time. "Member" – An individual who has been accepted by the World Racing Group as a Member pursuant to the rules and whose membership has not expired, been suspended, cancelled and/or terminated.
"Event" – A World Racing Group sanctioned event. The event includes the race and all ancillary activity leading up to and following the conclusion of the event, including registration/sign-in, inspection (pre-and post-race), practice, time trials and/or qualifying and/or participant meetings and it includes events affected by inclement weather and/or postponed dates related thereto. "Promoter" –The individual, partnership, corporation, joint venture and/or other legal entity that, in connection with the Event, is designated as the "Promoter" in the executed Sanction Agreement for the Event.
"Competitor" – A driver, car owner, crew member and/or any other person (other than a World Racing Group Official) who participates competitively in a World Racing Group sanctioned racing Event.
Whenever the words Competitor, driver, car owner, mechanic, team member and/or crew member are used unless the context indicates otherwise, the term used shall be interpreted to include any driver, car owner, crew member and/or other person assigned to or a member of the same racing team. "OEM" – Original Equipment Manufacturer.
"E.I.R.I." – Except in Rare Instances. Referencing an occasion or circumstance that may not be contemplated and may require an adjustment, addition or revision to the posted Specifications and Procedures. 1.1 – World Racing Group Rules A. Effective Date – The Rules are effective upon the date of publication by the World Racing Group for any division and/or event, regardless of when a Competitor receives actual notice. "Date of Publication" of the Rules or any amendments thereto is the earliest of distribution from World Racing Group headquarters and/or release to the press.
B. Amendment – The World Racing Group rules may only be amended by publication of an amendment in a bulletin pursuant to the authority of World Racing Group officials.
An amendment is effective upon the date of the publication, regardless when a competitor receives the actual bulletin. C. Applicability – World Racing Group issues various rulebooks, each of which includes in its title reference to a particular World Racing Group sanctioned series or type of event. The rules in each Rule Book are applicable to the Series and/or type of Event set in the title of that Rule Book.
D. Interpretation and Application – If there is a disagreement or dispute regarding the meaning or application of the rules, the interpretation and application of the Officials at the event will prevail. E. Finality of Interpretation and Application – The interpretation and application of the Rules by Officials at the event shall be final and non-appealable, except as provided in Section 12 of the rulebook herein. ALL MEMBERS, INCLUDING COMPETITORS AND OFFICIALS, EXPRESSLY AGREE THAT DETERMINATIONS BY WORLD RACING GROUP OFFICIALS AS THE APPLICATION AND INTERPRETATION OF THE RULES ARE NON LITIGABLE, AND THEY COVENANT THAT WILL NOT INITIATE OR MAINTAIN LITIGATION OF ANY KIND AGAINST THE WORLD RACING GROUP OR ANYONE ACTING ON BEHALF OF THE WORLD RACING GROUP, TO REVERSE OR MODIFY SUCH DETERMINATIONS OR TO RECOVER DAMAGES OR TO SEEK ANY OTHER KIND OF RELIEF AS A RESULT OF SUCH DETERMINATIONS, UNLESS THE OFFICIALS MADE SUCH DETERMINATIONS FOR NO PURPOSE OTHER THAN A BAD FAITH INTENT TO HARM OR CAUSE ECONOMIC LOSS TO THE MEMBER, COMPETITOR OR OFFICIAL.
IF THE MEMBER, COMPETITOR OR OFFICIAL INITIATES OR MAINTAINS LITIGATION IN VIOLATION OF THE COVENANT, THAT MEMBER, COMPETITOR OR OFFICAL AGREES TO REIMBURSE WORLD RACING GROUP FOR THE COSTS OF SUCH LITIGATION, INCLUDING ATTORNEY'S FEES. EACH MEMBER, COMPETITOR OR OFFICIAL FURTHER COVENANTS THAT IN ANY LITIGATION BROUGHT AGAINST WORLD RACING GROUP FOR ANY REASON, IF THE LITIGATION IS NOT DISMISSED PURSUANT TO THIS COVENANT THE MATTER WILL BE TRIED BEFORE A JUDGE OF COMPETENT JURISDICTION AND HEREBY WAIVES ANY RIGHT TO TRIAL BY JURY IN SUCH ACTION.
F. Principal Rule of Interpretation and Application – The rules are intended to ensure that sanctioned events are conducted in a manner that is as fair as possible for all competitors, consistent with prompt finality in competition results. On occasion, circumstances will be presented that are either unforeseen and/or otherwise extraordinary, in which strict WRG rules may not achieve this goal. In such rare circumstances, the Officials, as a practical matter, may make a determination regarding the conduct of an event, the eligibility of a Competitor or similar matters that are not contemplated by or are inconsistent with the