Guide to maintaining roadworthiness Commercial goods and passenger carrying vehicles (Revised 2018)
If your browser does not support JavaScript, please read the page content below:
Guide to maintaining roadworthiness Commercial goods and passenger carrying vehicles (Revised 2018)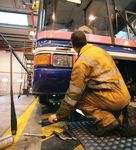 1 Guide to maintaining roadworthiness Commercial goods and passenger carrying vehicles (Revised 2018) Helping you stay safe on Britain's roads GUIDE

2 Guide to maintaining roadworthiness Commercial goods and passenger carrying vehicles (Revised 2018)


4 Contents Foreword by DVSA Chief Executive . . 6 Foreword by Traffic Commissioners Sarah Bell and Kevin Rooney . . 7 Section 1: Introduction . . 8 About this Guide . . 8 What does this Guide contain . . 9 Getting it right . . 9 Key points of a good maintenance system .
. 10 Section 2: Responsibilities for roadworthiness . . 12 Roadworthiness inspections . . 13 Section 3: Daily walkaround checks . . 14 A system of reporting and recording defects . . 15 Drivers' responsibilities . . 16 Traction services and third party trailers . . 17 Section 4: Regular safety inspections and first use inspection . . 19 Inspection scope and content . . 19 First use inspection . . 19 Safety inspection intervals . . 21 Case studies . . 24 Safety inspection report forms . . 25 Intermediate safety checks . . 26 Ad hoc safety inspection intervals . . 26 Electronic capture and storage of safety inspection data .
. 26 Safety Inspectors . . 29 Use of assistants . . 30 Authority to remove or re-instate a vehicle . . 30 Vehicle cleanliness . . 30 Duties of staff . . 30 Section 5: Safety inspection and repair facilities . . 31 Safety inspection facilities . . 31 Braking Performance Assessment . . 33 Contracted-out arrangements . . 38 Drawing up a contract . . 38 Contract limitations . . 38 Visiting agents . . 39 Roadside safety inspections . . 39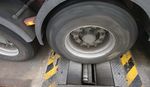 5 Planning a safety inspection programme . . 39 Section 6: Monitoring . . 40 Monitoring of drivers' daily checks . . 40 Annual test results . . 41 Operator Compliance Risk Score . . 42 British standards . . 43 Vehicle Safety Recalls . . 44 Annex 1: Enforcement of the operator licensing scheme . . 45 Annex 2: Where to get additional help . . 48 Technical support . . 48 Training . . 48 Saving fuel and protecting the environment . . 48 Fault finding . . 49 Publications . . 49 Annex 3A: Example of a driver's vehicle defect report (goods vehicles . . 50 Annex 3B: Example of a driver's vehicle defect report (passenger vehicles)..51 Annex 4A: Example of a safety inspection record (HGV .
. 52 Annex 4B: Example of a safety inspection record (PSV . . 55 Annex 5: Example of a maintenance agreement . . 58 Schedule . . 59 Annex 6: Specimen Maintenance Planner . 60 Annex 7: Useful addresses . 61

6 Foreword by DVSA Chief Executive Welcome to the latest edition of DVSA's Guide to Maintaining Roadworthiness. DVSA's vision is for safer drivers, safer vehicles and safer journeys for all. An important way in which we will achieve this is by helping you keep your vehicle safe to drive. Whether you operate a large fleet or just one vehicle, keeping your vehicles in a roadworthy condition is good for business, good for the environment and helps you stay safe on Britain's roads. This guide provides you with best-practice advice on the responsibilities that an operator or driver has to ensure the roadworthiness of their vehicles.
It also covers what you are legally required to do and gives information on where to seek additional help, including technical assistance or training.
To help raise vehicle standards, DVSA will make sure the required standards are clear and easy to understand, tests will keep up with new technology in vehicles, and testers and test centres who don't test to the right standards will be helped to improve. We will also provide accessible, up-to- date information about when a vehicle needs to be checked and fixed because of a safety recall. We have also introduced an 'Earned Recognition' scheme for operators with a strong track record of compliance and adherence to standards. Those qualifying for the scheme will see commercial and financial benefits as we leave them to go about their business unhindered.
This will enable us to direct our enforcement activities at the serially and seriously non-compliant. Qualification for this scheme is entirely based on merit, and so I encourage you to read through this guide, work to the principles it sets out and aim for 'Earned Recognition'. Gareth Llewellyn DVSA Chief Executive

7 Foreword by Traffic Commissioners Sarah Bell and Kevin Rooney As an operator, transport manager, driver or technician, you know just how quickly vehicle technology continues to progress. That's why it's vital for this essential guide to be regularly updated. We're pleased to have worked with DVSA and with those who operate and maintain commercial vehicles to produce the latest version of the Guide to Maintaining Roadworthiness. This ongoing collaborative working ensures that the information is informed, relevant and up-to-date. You will find references to new approaches such as electronic brake performance monitoring which can remove some of the challenges around roller brake testing of trailers.
On safety inspection intervals, this edition of the guide no longer features the graph of mileage vs inspection frequency. We strongly encourage you to take a proactive, evidence-based approach to setting inspection frequencies. You know your vehicles and your operations better than anyone. Six-weekly is a good starting point for many operators, but this should be regularly reviewed based on the results of inspections and the performance of your vehicles. Listening to operators, we learned that some of you felt that the graph was too rigid and didn't encourage basing intervals on the reality of operations.
We also acknowledge the development of technology in helping you with your operator licence responsibilities. Smartphone apps, for example, now assist with driver defect reporting. DVSA still finds that one-third to one-half of all prohibitable defects it finds at the roadside could have been prevented by the driver conducting an effective "walkaround" check. Undertaking an effective walkaround check, acting on what is found and recording that action is as much a part of a driver's duties as steering the vehicle down the road. Failure to do so puts both drivers' and operators' licences in jeopardy.
This edition of the guide will be launched alongside DVSA's Earned Recognition scheme. The scheme's introduction has led to the development of a range of new compliance management tools available to all operators and transport managers. Whether you seek accreditation or not, your operation could still benefit from using those tools. As before, nothing in this guide is mandatory but, by following it, you'll ensure that you meet the relevant conditions and undertakings on your licence. If your maintenance contractor recommends a different approach, it is for you to satisfy yourself that you will still meet the standards.
These are the commitments you made when you first applied for your licence. Sarah Bell Lead Traffic Commissioners - Enforcement Kevin Rooney

8 Section 1: Introduction About this Guide The Driver and Vehicle Standards Agency (DVSA) has produced this guide to explain the responsibilities and systems involved in maintaining vehicles in a roadworthy condition, regardless of operating conditions, fleet size or vehicle type. The procedures and systems explained in this guide are useful for operators, drivers and all those who are responsible for operating, maintaining or providing commercial goods and passenger carrying vehicles. The general principles apply equally to light goods and passenger vehicles below the operator licensing thresholds and for vehicles that are otherwise exempt.
Best practice It is not enough to rely on a maintenance system alone, because this cannot ensure that vehicles are roadworthy. To ensure best practice, you will need to combine good quality maintenance practices and skills with supervision and effective management of the system. New vehicle operators If you are a new operator, you will find practical advice on how to devise, install and monitor a system for ensuring roadworthiness. If you follow the advice given in this guide, you can make sure you are complying with the law and that your compliance can be monitored and controlled. Experienced vehicle operators If you are an established or experienced vehicle operator, you will be able to use this Guide as a benchmark to assess whether your systems are sufficiently comprehensive or should be reviewed and improved in order to maintain compliance.
This guidance applies to you whether you carry out your own maintenance, contract out maintenance or do a combination of both. DVSA do not specifically define a new or experienced vehicle operator because what constitutes an experienced operator could vary depending on the operator. However, we do make suggestions as to what could make an experienced operator:  If you have been trading under this license or a previous license for more than 3 years  If you have been trading under this license for more than 1 year, and you have been visited by a DVSA inspector and been approved as satisfactory  If your company has been trading under this license for a length of time such that you can prove that your roadworthiness process is effective and fully established  If you can demonstrate suitable evidence proving your experience when questioned by DVSA or the Traffic Commissioner.
This could be a combination of staff experience and skills, maintenance procedure experience and substantial defect reports/data Maintaining Compliance We recognise that there are different methods and systems from those that are described within this guide that can result in vehicles being maintained in a roadworthy condition. If you are an operator who wishes to adopt different systems, you must still satisfy Traffic Commissioners that the system you use is effective. Traffic Commissioners will only agree to variations that will not reduce the control necessary to ensure satisfactory maintenance.
The ultimate test will be whether a vehicle is, in fact, roadworthy.

9 What does this Guide contain? The procedures and systems described in this guide relate to responsibilities for roadworthiness, the different types of inspections, inspection intervals, data storage, inspection facilities, planner updates and essential reviews. This guide includes many references to written maintenance records; however using an electronic vehicle maintenance system can provide effective management of all relevant data including safety inspections, maintenance scheduling and driver defect reporting. Keep in mind that as a general principle computer records are acceptable, provided that they contain the essential information that can be made available for examination.
For further information, see section 4.
Other guidance It is also important to note that this guide is only concerned with systems of maintenance for roadworthiness. If you are looking for the maintenance of vehicles to achieve economy and reliability, we advise you to seek help from vehicle manufacturers, their agents or the relevant trade organisations. You can find more information on sources of further help and advice in Annex 2. Getting it right DVSA recognises that operators of heavy goods or passenger carrying vehicles will not get everything right all the time. However, we do want you to be vigilant and responsible. The penalties for and consequences of non-compliance to you the operator and/or driver – and to the general public – can range from the inconvenient to the very serious and, sometimes, to the catastrophic.
You and your staff may be fined or prosecuted, and your vehicles may be prohibited. At worst, you may cause serious injury or fatalities because of badly maintained vehicles. Key Information There must be a firm management commitment to review and improve maintenance systems where defects are found on vehicles or when the fleet size or the nature of the business is changing. As a licensed operator, you can also be assured that the maintenance systems described in this guide will be accepted by the traffic commissioners, provided that the resulting condition of your vehicles remain satisfactory.
If this is not the case, however, traffic commissioners reserve the right to require more stringent arrangements from you (e.g. shorter periods between inspections), and the competence of the persons who carry out safety checks may be challenged.

10 Key points of a good maintenance system Use these important key points as a guide to help you plan and set up a compliant and effective maintenance system for your vehicles. 1. A driver or responsible person must undertake a daily walkaround check, preferably immediately before a vehicle is used. 2. First-use inspections are essential for operators who lease, hire or borrow vehicles. These are especially important where vehicles and trailers have been off the road for some time. 3. Drivers must report promptly any defects or symptoms of defects that could adversely affect the safe operation of vehicles.
Reports must be recorded, and provision should be made to record details of any rectification work done.
4. Drivers' defect reports used to record any faults and rectification work must be kept for at least 15 months. 5. Operators must ensure that safety inspections are carried out at the stated frequency. 6. Safety inspections must include those items covered by the appropriate statutory annual test. 7. Safety inspections should be pre-planned, preferably using a time-based programme. 8. The system of safety inspections must be regularly monitored, especially in the early stages. 9. Any remedial work carried out as a result of safety inspections must be recorded. 10. The safety inspection record must include:  name of owner/operator  date of inspection  vehicle identity (registration mark/trailer number)  make and model  odometer (mileage recorder) reading, if appropriate  a list of all the inspection manual items to be inspected  details of any defects  name of inspector  full details of any repair work and who did it  A signed declaration that any defects have been repaired satisfactorily and the vehicle is now in a safe roadworthy condition 11.
On some types of vehicles and operations, intermediate safety checks may be necessary. 12. Records of safety inspections must be kept for at least 15 months for all vehicles, including Vehicle/s that have been removed from the operator licence.
13. Staff carrying out safety inspections must be competent to assess the significance of defects. Assistance must be available to support the safety inspection process. 14. There must be an internal system to ensure that unroadworthy vehicles are removed from service, with someone responsible to take vehicles off the road. 15. Operators who undertake their own safety inspections must have the correct tools and facilities for the size of the fleet and type of vehicle operated.
11 16. All operators should have access to a means of measuring brake efficiency and setting headlamp aim.
For vehicles showing signs of visible exhaust smoke, a diesel smoke meter should be used to ensure that the level of smoke emission is within the legal requirements. 17. Operators are responsible for the condition of vehicles and trailers that are inspected and/or maintained for them by agents, contractors or hire companies. 18. Operators who have contracted out their safety inspections must draw up a formal written contract with an inspection agency or garage, and this must be retained on file. Such operators should view inspection records and have a means of regularly monitoring the quality of work produced for them.
19. The dates when safety inspections are due must be the subject of forward-planning. A maintenance scheduling system, planner or wall chart should be used to identify inspection dates at least six months for manual systems or can be dynamic for electronic systems. 20. Any system of maintaining roadworthiness of vehicles should be effectively and continually monitored. 21. Any changes by licensed operators to arrangements for safety inspections must be updated on the vehicle operator licensing system (VOL).
22. Drivers must be adequately trained and given clear written instructions about their responsibilities.
12 Section 2: Responsibilities for roadworthiness This section gives best practice advice on the responsibilities that an operator or driver will have to undertake to ensure the roadworthiness of their vehicle. It covers what you are legally required to do, according to the law. As a user of vehicles, it is your responsibility to ensure that the vehicles you use are roadworthy. It is an offence to use an unroadworthy vehicle on the road. The term 'user' of a vehicle applies to the driver and the person paying the driver to act for them.
Legislation If you are an operator of heavy goods vehicles (HGVs) and public service vehicles (PSVs), you must meet the governing legislation that the Traffic Commissioners have outlined in their Statutory Guidance Document.
This is now in legislation, and so if you operate within the UK or outside of the UK, you should ensure vehicles are roadworthy. Hire, Loan or Lease Vehicles The vehicle itself may either belong to the user or be in their possession under any agreement for hire, hire purchase, loan or lease. The user of a towing vehicle is responsible for the roadworthiness of a trailer even if it does not belong to them. Foreign Trailers If foreign trailers are used then the user is responsible for the roadworthiness in terms of condition but also in terms of the technical design of the trailer.
Key Information Operators must comply with the declaration they give to the relevant traffic commissioner that they will ensure that their vehicles are operated in a fit and serviceable condition. If operators intend making any change to their maintenance arrangements they must update the details on the vehicle operator licensing system. Key Information Traffic commissioners require that all vehicles be maintained in a fit and serviceable condition when operated under an operator's licence. DVSA's examiners support traffic commissioners by providing assessments of the effectiveness of operator's systems in meeting this requirement.
We will, therefore, focus on the levels of compliance and standards of roadworthiness rather than how operators achieve the high standards expected. This provides operators with considerable freedom to tailor their systems to the needs of their business.