GUIDE - UNIVERSITY HOSPITAL OPENS NEW TRAUMA CENTER BOARD OF DIRECTORS - Mobile Area Chamber of Commerce
Page content transcription
If your browser does not render page correctly, please read the page content below
MOBILE AREA CHAMBER OF COMMERCE        FEBRUARY 2021

UNIVERSITY HOSPITAL                     Meet the
OPENS NEW                            BOARD OF
TRAUMA CENTER                       DIRECTORS

                                  2020 - A YEAR
                                     IN REVIEW

GUIDE
TO MOBILE
1 FEBRUARY 2021
Business internet
& phone bundles.
Real support.
At C Spire Business our IT experts equip your organization with
reliable high-speed internet and industry-leading VoIP phone
systems, backed by 24/7 local support. So you can focus on your
goals. We've got connectivity covered.

See how we can power your success today.

cspire.com/business

  2 FEBRUARY 2021                                                 ©2021 C Spire. All rights reserved.
THE REAL DEAL
The Future USS Mobile (LCS 26): Ready For Commissioning

              REMAINING MILESTONES
                ✓ Trials
                ❑               ❑ Commissioning (Summer 2021)
                ✓ Delivery
                ❑               ❑ Deployment

                   www.AustalJobs.com
           https://www.facebook.com/ussmobilecommissioning
                    https://ussmobilecommissioning.org
                                                                BUSINESS VIEW   3
IN THE ISSUE

                                                                                                  5    2020 Mobile Area Chamber Annual Report
MOBILE AREA CHAMBER OF COMMERCE                                                FEBRUARY 2021
                                                                                                  32   2021 Plan of Action

                                                                                                  37   Business Headlines in Mobile

                                                                                                  40   Chamber Charts New Strategic Direction

                                                                                            5
                                                                                                       for 2021-2023

                                                                                                  43   Small Business of the Month:
                                                                                                       Pittman Tractor Co.

                                                                                                  46   Partners for Growth Update

                                                                                                  49   Mobile Area Chamber Board of Directors

                                                                                                  55   Investor Focus: MAAS Aviation

                                                                                         37       57   Executive Profile: Corey Hanson,
                                                                                                       WALA FOX10 TV

                                                                                                  58 How to Get in the Business View

                                                                                                  60 Stimpson Named Chamber Director

5 ON THE COVER:                                                                                      of Economic Development

     Despite a pandemic, downtown Mobile 		                                                       61   Calendar
     continues to grow and be restored. Take a
     look back on 2020 by reading the Mobile                                            55        63 Member News
     Area Chamber's Annual Report, beginning
     on page 5. Photo by Charles Dodd.                                                            66 New Members

ABOUT THE MAGAZINE
                                                                          PUBLISHER'S NOTE:
                                                                          CHAMBER ROLLS NEXT
BUSINESS VIEW (USPS 952-700) is published
10 times a year, monthly, except for the June/July

                                                                          THREE-YEAR STRATEGIC PLAN
and December/January issues, by the Mobile Area
Chamber of Commerce.

451 Government St., Mobile, AL 36602                                      Bill Sisson, President & CEO, Mobile Area Chamber of Commerce
251.433.6951 • mobilechamber.com
                                                     Even with the year 2020 in our rear view     priorities and measurable goals to lead
POSTMASTER send address changes to
Attn: Finance Department BUSINESS VIEW
                                                     mirror, it's hard to imagine another year    the Chamber into the future.
Mobile Area Chamber of Commerce                      bringing more challenges and opportunities   The end product is one we can all be
P.O. Box 2187, Mobile, AL 36652-2187                 than last year did for the Mobile Area       proud of. The plan emphasizes how
or email info@mobilechamber.com ©2020                Chamber. It was for that reason our staff    much we've already accomplished, the
                                                     and board of directors quickly worked to     excellence that we continue to achieve
Publisher William B. Sisson
Executive Editor Leigh Perry-Herndon                 develop the Chamber's next three-year        and the opportunities we have to extend
Managing Editor Jennifer Jenkins                     strategic plan a year in advance. The        our services to the business community
Copy Editor Michelle Irvin                           overarching question during the process      and to enhance our impact over the next
                                                     was how will we continue to evolve and       three years. The details of the strategic
Additional Writers and Editors
Bob Chappelle, Mike Herndon, Ashley Horn,
                                                     how will we adapt?                           plan can be found in this issue. I think
Susan Rak-Blanchard and Carolyn Wilson               Co-chairs of the strategic planning          you'll agree these priorities are absolute-
Printing Services: Panaprint Inc.                    process were Board Chair Terry Harbin        ly critical and frankly necessary to the
Graphic Design: Wise Design Inc.
                                                     and Chair-elect Matt White. They and the     future success of our "five-star" chamber
                                                     entire board of directors worked hard        of commerce.
Advertising Account Executive:
René Eiland • 251.431.8635
                                                     during the fall, dividing into thought
reiland@mobilechamber.com                            teams designed to develop strategic
4 FEBRUARY 2021
FROM OUR 2020 BOARD CHAIR
                                                                   What else can I say other than 2020 was not what any of us
                                                                   expected?
                                                                   As we closed the Chamber's annual meeting last year, I challenged
                                                                   everyone in the audience to get more involved in the Chamber.
                                                                   Closing the meeting, we played an upbeat video with some of
                                                                   our volunteers talking about fun networking events to attend
                                                                   and committees to join. Who could have imagined only a
                                                                   month later Mobile – like the rest of the world – would come to
                                                                   a screeching halt?
                                                                   Even though the pandemic has devastated so many families
                                                                   and local businesses, there have been bright spots along the
                                                                   way. Some of the top takeaways from this year include:
                                                                   ▪ An immediate communications response to members and
                                                                     the public about COVID-19 resources ranging from federal
                                                                     grant and loan programs to securing sources to purchase
                                                                     PPEs (Personal Protective Equipment) and more.
                                                                   ▪ Announcing more than $942 million in capital investment
                                                                     here in Mobile.
                                                                   ▪ Rewriting the Chamber's long-range strategic plan to include
                                                                     an increased emphasis on diversity, equity and inclusion
                                                                     tactics to make the organization stronger; and
                                                                   ▪ Hosting Leaders Exchange in our own yard and highlighting
                                                                     Mobile-centric issues (housing, education, tourism and more).
                                                                   I'm a different person than I was just a year ago – we all are –
                                                                   and that's just one of the many reasons I'm honored to have
                                                                   been asked to stay on and serve the Chamber as board chair
                                                                   this coming year. Unprecedented, yes. But we can all agree the
                                                                   playbook is being rewritten, and we're all going to come out on
                                                                   the other side of this stronger.

                                                                   Terry H. Harbin
                                                                   2020 Chair, Board of Directors
                                                                   Mobile Area Chamber of Commerce
Photo by Chad Riley

      CONTENTS
      STRATEGIC PLAN 2019-2021..................7
      JOBS.....................................................8
      ADVOCACY........................................ 15
      VALUE................................................. 19
      EXCELLENCE....................................... 25
      EXECUTIVE COMMITTE....................... 31
                                                                                                                                       Photo by Chad Riley

      PLAN OF ACTION SUMMARY.............. 32
      CHAMBER STAFF.................................34

6 FEBRUARY 2021
STRATEGIC PLAN 2019-2021
                      The Mobile Area Chamber of Commerce has a strategic plan to guide its direction for years
                      2019-21. To develop it, the Chamber staff worked with members of the board of directors and
                      a consultant to discuss key issues and create benchmarks to measure the organization's
                      successes. Below is an overview of the strategy, vision and success indicators for each of our
                      four areas of focus – jobs, advocacy, value and excellence.

       JOBS                       VISION: By year-end 2021, the Mobile area will have steadily increased jobs,
                                  business and capital investments in our community. The Chamber will lead
                                  business engagement in more efficient workforce development initiatives.
   RETAIN, EXPAND AND             Success Indicators
   RECRUIT BUSINESSES,            1. Median income growth trends for the combined statistical area
  INVESTMENT AND JOBS             2. Primary jobs gained
                                  3. Average salary of jobs increased
    IN THE MOBILE AREA
                                  4. Total capital invested

                                  VISION: By year-end 2021, the Mobile will have a stronger, more diversified
ADVOCACY                          business climate. Chamber-led efforts will have secured a more business-friendly
                                  environment and needed infrastructure improvements, balancing sustainable
                                  growth and ongoing development. Chamber programs and events will have
CREATE AN ENVIRONMENT             encouraged diversity and fostered community growth.
THAT PROMOTES BUSINESS            Success Indicators
AND COMMUNITY GROWTH              1. Legislative accomplishments
                                  2. Progress in realizing the I-10 Mobile River Bridge
                                  3. Progress in economic recovery from the 2010 oil spill in the Gulf of Mexico

                                  VISION: By year-end 2021, the Chamber will be nationally recognized for
      VALUE                       consistently exceeding member expectations and delivering the value of
                                  membership.
                                  Success Indicators
 PROVIDE VALUE, SERVICES,
                                  1. Exceed 2,200 members and the national average in membership retention
   OPPORTUNITIES AND              2. Board of advisors engagement and growth
    RECOGNITION FOR               3. Member satisfaction
      OUR MEMBERS                 4. Increased usage of member rewards and benefits

                                  VISION: By year-end 2021, the Chamber will be recognized as one of the
EXCELLENCE                        nation's best through accreditation by the U.S. Chamber of Commerce. The
                                  Chamber will be an effective, credible and vital organization known for its high
                                  standards, ethical behavior and responsive service.
  OPERATE THE CHAMBER
                                  Success Indicators
    WITH EXCELLENCE,
                                  1. Five-star accreditation by the U.S. Chamber of Commerce
INNOVATION AND EFFICIENCY         2. Certification by the Chamber of Commerce Association of Alabama
                                  3. Healthy Chamber finances
                                  4. Membership growth and retention

                                                                                                        BUSINESS VIEW   7
JOBS

Airbus

                                                               Economic Development Activity
  COVID-19 Response
                                                               While 2020 brought significant challenges to the business
                                                               community, in dealing with the impact of COVID-19 pandemic,
  ▪ The Chamber's weekly conference call with area
                                                               economic development remained lively. The Chamber's
    manufacturing employers along with the University
                                                               economic development department responded to hundreds of
    of South Alabama (USA) led to an innovative practice
                                                               inquiries from site selectors and companies looking to locate or
    that brought relief to local healthcare workers.
                                                               expand, representing industries from aerospace to chemical to
  ▪ When a critical entrepreneur program was cancelled, the    distribution and transportation.
    Chamber worked with area organizations to create

                                                                                                               142
                                                               As the economic developer of record
    a replacement program.
                                                               for the City of Mobile and Mobile
  ▪ Local grant funds offered to bring relief to small         County, more than 140 public and                       PARTNERS
    businesses had input and oversight by the Chamber.         private companies and individuals
                                                                                                                   FOR GROWTH
  ▪ Chamber staff counseled more than 760 small business       financially support the Chamber's
                                                                                                                     INVESTORS
    owners and managers as they weighed options for            efforts. Partners for Growth
    Economic Injury Disaster Loans, Payroll Protection         investments make multi-year financial commitments. The
    Program loans and other measures to keep their             Chamber is making progress towards investment, job and salary
    companies viable in 2020.                                  goals, and is in year three of the current five year campaign.

  ▪ To match dislocated workers due to COVID-19 to available
                                                               Project Announcements
                                                                                                              10
    jobs, the Chamber held its first virtual hiring fair.
                                                               A number of company announcements
  See pages 28-30 for an in-depth look at how the Mobile       straddled 2019 and 2020 – meaning
  Area Chamber worked to support its members during the        much of the work was completed             PROJECT
  COVID-19 pandemic throughout 2020.                           in 2019, but final decisions and  ANNOUNCEMENTS
                                                               announcements came in 2020.           in 2020
8 FEBRUARY 2021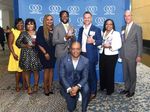 The Chamber reported 10 economic
                           development investment – eight
                           expansions by local companies and two
                                                                              699
                           new to the area. These projects were
                                                                           NEW JOBS
                           valued at $942 million and created 699 jobs.    CREATED
                                                                          by 2020 Projects

                           Airbus
                           Kicking off the year, Airbus announced it would build an additional
                           hanger to increase its A320 family of aircraft production and hire
                           an additional 275 employees. The project is valued at $40 million.

                           AM/NS Calvert
                           Once the $647 million expansion at
                           AM/NS Calvert is complete, the                 $942
                           company will produce slabs of steel
                           currently imported from Brazil. The            MILLION
                           project is expected to create nearly             CAPITAL
                           200 new jobs as the mill adds an electric      INVESTMENT
                           arc furnace. More than 500 construction         Announced
                           jobs will be generated during the
                                                                             in 2020
                           24-month construction period.                                          Berg Pipe

                           AutoMOBILE                                                            Berg Pipe
                           A new $60 million automobile roll-on/roll-off project is under        Updated industry standards for large-diameter steel pipe used to
                           construction at the Port of Mobile. When complete, it will            transport natural gas and oil helped spur a $15 million expansion
                           create a new U.S. gateway for shipping finished automobiles           at Berg Pipe. This is the first major expansion since the company
                           domestically and globally. AutoMOBILE International Terminal          began operations at the former International Paper site in 2009.
                           will operate the facility when completed in 2021.
Photo by LA Photographee

                             AM/NS Calvert

                                                                                                                                                 BUSINESS VIEW   9
SpillTech Makes Two Expansions
                                                                      Customer demand led Mobile-headquartered SpillTech
                                                                      Environmental to invest $4.8 million with plans to hire 15
                                                                      additional employees.
                                                                      Later in the year, SpillTech announced a second expansion,
                                                                      adding $4.98 million to its expenditures and eight additional
                                                                      jobs.
                                                                      The company manufactures and distributes standard and
                                                                      custom-sized high-performance absorbent products, including
                                                                      containment booms used in hazmat
                                                                      responses, and products to help
                                                                      customers maintain safe industrial
                                                                      workplace environments.

  Jones Welding Co.

Incoa Performance Minerals
A $110.85 million investment and plans to hire 74 employees
over the next five years will propel Incoa Performance                Threaded Fasteners
Minerals into the U.S. calcium carbonate market. The filler           The Mobile-headquartered company is expanding its fabrication,
product is added to a variety of products from antacids to paint.     assembly and packaging operations, investing $1.7 million with
The new company is co-locating at Millard Maritime.                   plans to hire 15 additional employees.
                                                                      Driving the company's latest expansion is the number of repairs
                                                                      caused by numerous storms and hurricanes along the Gulf Coast.
Jones Welding Co. (JWC)
Wanting to expand the volume and complexity of projects of the
family-owned business, JWC made an $8.5 million investment.
The company is creating 10 new jobs, and increased its footprint
by 17 acres with a nearby
location in Prichard.
Mobile-based JWC specializes         $57,837
in repair, engineering and           AVERAGE SALARY
processing of industrial             OF JOBS CREATED
equipment.                           by 2020 PROJECTS

Mobile Commerce Park
The Chamber presented a new purchase agreement for Mobile
Commerce Park to the Industrial Park Board. The board
approved the sale of five-plus acres to MIDAM Properties LLC.

Outokumpu Stainless USA
The Finland-based company made a $43 million investment to
increase its domestic market share of steel used in buildings,
infrastructure, automobiles, appliances, energy and heavy industry.
In addition, Outokumpu Stainless USA built an administrative
building, housing its business division headquarters for
the U.S, Mexico, Brazil and Argentina. The company's two
announcements added dozens of jobs to the Mobile facility.

                                                                      Threaded Fasteners announced a $1.7 million expansion to build a facility to
                                                                      house fabrication, assembling and packaging of large anchor bolts such as
                                                                      those pictured above.

10 FEBRUARY 2021
Port of Mobile

Impacting Investments                                               investment and the agreement will maintain, protect and
In addition to headlines made by new and existing companies,        expand U.S. domestic production of steel shipbuilding
there were a number of investments announced in 2020 that           capability and capacity through capital projects that will be
will enhance Mobile's competitive advantage when it comes to        executed over the next 24 months.
industrial recruitment. These included:
▪ In May, Airbus completed its 270,000-square-foot hangar
  constructed to produce the A220 family of aircraft, and
  months later, the company delivered the first U.S.-made
  A220. Mobile is the only city in the world outside of Mirabel
  (Quebec) Canada, where A220 aircraft are produced.
▪ The Alabama State Port Authority completed a 400-foot
  container dock extension at APM Terminals Mobile. The
  improvements are helping shorten service times for ships and
  provide room for additional cranes.
  Less than a year ago, the container terminal was recognized as
  one of the fastest-growing in the nation and one of the most
  improved terminals in North America by the Journal of Commerce.
▪ Further increasing its growing steel and aluminum shipbuilding
  portfolio, Austal USA made a significant waterfront purchase.
  The deal included a 20,000-ton Panamax-class floating dry
  dock, 100,000 square feet of covered repair facilities and
  15 acres of waterfront property along the Mobile River and
  Gulf of Mexico.
  Last summer, the U.S. Department of Defense released
  details on a $50 million agreement with the company,
  granted through the CARES Act (Coronavirus Aid, Relief
  and Economic Security). Austal is expected to match that
                                                                    Austal

                                                                                                                BUSINESS VIEW   11
Bishop State

▪ BendPak's announcement of a 100,000-square-foot 		                      ▪ Bishop State Community College broke ground on a $21
  distribution center in Theodore was quickly followed by 		                million Advanced Manufacturing Center that will train
  a report of another 70,000-square-foot warehouse.                         students, current employees and career-change candidates
                                                                            pursuing Mobile's high-wage, high-demand and high-tech jobs.
   Santa Paula, Calif.-based BendPak manufactures and sells
   automotive lifts used in car dealerships and parking                   ▪ The City of Mobile and State of Alabama announced a
   garages. The Mobile location will serve U.S. Gulf, Midwest,              historic land purchase made up of multiple parcels owned
   East Coast and Canadian markets via Mobile's five Class I 		             by the University of South Alabama Foundation. Commonly
   railroads.                                                               known as Brookley by the Bay, this approximately 300-acre
                                                                            swath of land sits along the western shore of Mobile Bay to
                                                                            the east of the Mobile Aeroplex at Brookley.
                                                                            Included are nearly 150 acres of waterfront property, plans
                                                                            to preserve 50 acres of ecologically sensitive wetlands
                                                                            and another 100 acres that will be dedicated to economic
                                                                            development.
                                                                          ▪ Flight Works Alabama opened to the general public.
                                                                            Spearheaded by Airbus and the State of Alabama, the
                                                                            exhibition and education center will play a key role in
                                                                            developing the area's future aerospace workforce.
                                                                          ▪ The Mobile Airport Authority put the finishing touches on
                                                                            its master plan and is now awaiting approval from the
                                                                            Federal Aviation Administration. The $403 million plan
                                                                            outlines the next 20 years of development with a focus
                                                                            on moving commercial air passenger service to the Mobile
                                                                            Downtown Airport (BFM) over the next two to five years.
        BendPak                                                             The plan calls for a $160 million passenger terminal with
BendPak manufactures and sells automotive lifts used in car dealerships     eight gates and a five-floor parking garage to be built on
and parking garages.                                                        land that's already part of the Mobile Aeroplex.

12 FEBRUARY 2021
▪ The U.S. Army Corps of Engineers issued a permit and 		           Talent Attraction
  received full federal and state funding to take the Mobile ship
                                                                    Development Counsellors International, a New York-based
  harbor to 50-foot draft and widen the channel by 100 feet.
                                                                    economic development marketing firm, completed its
  The project will maintain Mobile's appeal for import and
                                                                    recommended strategies for the next phase of the Chamber's
   export customers.
                                                                    talent attraction program.
                                                                    In 2020, the Chamber focused efforts on "Get to Know Mobile,"
Building International Engagement in 2020                           a virtual event designed to bring local college students
In 2019, the Chamber made international engagement a priority       face-to-face with employers. More than 70 students from
to attract foreign investment. While travel and trade shows         The University of Alabama and 23 Mobile area employers
took a different turn, several high-profile activities took place   participated in the inaugural event.
in spite of the COVID-19 pandemic, including engaging with the      Another initiative brought area employers interested in hiring
Netherlands Consulate General to discuss opportunities with         engineering students from the University of South Alabama to
Dutch companies interested in the Southeast; participating          campus and highlighted the value of internships.
in the annual Alabama-Germany Partnership event held in             In November, 35 veterans
Huntsville; and a conversation with the French-American
Chamber of the Gulf Coast, located in New Orleans, to discuss
potential partnerships and areas of collaboration.
                                                                    joined a virtual job fair with
                                                                    seven companies presenting                105
                                                                                                             NUMBER OF
                                                                    opportunities. Chamber-member
To further advance global trade in the region, the Chamber          employers included Airbus,              PARTICIPANTS
created a quarterly newsletter, TradeTalks, sharing information     AM/NS Calvert, Austal USA,                attending
on international                                                    Mobile County Personnel Board          Virtual Job Fairs
business news,                                                      and Rural Sourcing Inc. (RSI).              in 2020
events, education
topics and more.

   Flight Works Alabama

                                                                                                                 BUSINESS VIEW   13
Roadmap for Success
During the COVID-19 pandemic the
U.S. Small Business Development
Department announced Mobile
                                             762
                                        ENTREPRENEURS
qualified again to host its Emerging    Receiving Business
Leaders. As the stress of the            Counseling and
pandemic weighed heavily on            Advice by Chamber
government funding, the program            Staff in 2020
was canceled for 2020.
Recognizing that an executive-level, entrepreneurial training
program was needed more than ever, the Mobile Area Chamber
teamed up with the University of South Alabama, University of
Mobile and the Alabama Small Business Development Center to
develop "Roadmap for Success."
The four-month-program helped small businesses accelerate
revenues and adapt growth strategies to accommodate this
new economic reality. It was offered free, and 12 businesses         Roadmap for Success
participated.
                                                                    When Emerging Leaders was cancelled for 2020, the Mobile Area Chamber
                                                                    took steps to create a similar entrepreneur program to help small
Innovation Portal                                                   business owners level up. A total of 12 participated in the inaugural
                                                                    Roadmap for Success. Above, Rick Miller with Pro356 Consulting is leading
In December, Innovation Portal opened its 30,000-square-foot        a group discussion.
facility with Class-A office space, collaborative workspaces, and
classroom and event spaces.
In 2020, the organization launched an investment fund for
Mobile-based developing companies with high-growth
potential. The Portal Fund was created to attract and retain
startup founders in Mobile.

   InnovationPortal
  Innovation Portal

14 FEBRUARY 2021
ADVOCACY

Pictured left to right are female members of the state and local government featured in the Business View's women in busines edition including:
Bess Rich, Mobile City Council, District 6 ; Gina Gregory, Mobile City Council, District 7; Connie Hudson, Mobile County Commission, District 2; Merceria
Ludgood, Mobile County Commission, District 1; Rep. Adline Clarke, Alabama State House; Rep. Margie Wilcox, Alabama State House; Sen. Vivian Davis
Figures, Alabama State Senate and Rep. Barbara Drummond, Alabama State House.                                                     Photo by LA Photographee

   COVID-19 Response                                                           SPEAKING OUT FOR BUSINESS
                                                                               Decisions made in Montgomery and Washington D.C. impact
   ▪ The Chamber redirected its advocacy efforts to support                    Mobile area businesses, and this was never truer than in 2020.
     businesses affected by the COVID-19 pandemic.                             As the voice of business, the Mobile Area Chamber based its
                                                                               legislative priorities on member input. The year started off with
   ▪ Input from a series of member surveys gauged the
                                                                               a focus on creating jobs; advocating for fair trade; calling for
     pandemic's impact on the business community. The
                                                                               good stewardship of Rebuild

                                                                                                                                   856
     Chamber shared those results with local, state and
                                                                               Alabama, funded by gasoline and
     federal elected officials.
                                                                               diesel taxes; supporting adequate
   ▪ The Chamber's website, mobilechamber.com,                                 funding of education budgets;                     STATE
     Facebook, Twitter, LinkedIn and Instagram turned into                     promoting the Port of Mobile and        LEGISLATIVE BILLS
     critical communication channels to share resources                        removing racist language from
     and COVID-19-related updates.                                             Alabama's Constitution.                   MONITORED
   ▪ To continue connecting members to elected officials,                      As COVID-19 scaled into a worldwide pandemic and businesses
     the Chamber took a number of events virtual and                           began to operate under an executive order from Gov. Kay Ivey,
     expanded its Forum Alabama series.                                        the Chamber's advocacy efforts were directed to relief bills
                                                                               aimed at keeping businesses open and their workers employed.
   See pages 28 - 30 for an in-depth look at how the Mobile
   Area Chamber worked to support its members during the
   COVID-19 pandemic throughout 2020.

                                                                                                                                     BUSINESS VIEW     15
In May, the Chamber asked the Mobile County legislative delegation
to support a bill protecting companies and healthcare providers
from civil liability resulting from the contraction of COVID-19.
And in December, the Chamber urged Congress to stop the IRS
from enforcing a "surprise tax" on Paycheck Protection Program
funds, the very assistance meant to help them through the
pandemic.
Other priorities included continuing the Historic Tax Credit and
two economic development tax incentives, fighting tariffs on
airplane parts that would hurt Airbus' competitiveness, Hurricane
Sally recovery, Alabama's response to the U.S. Census and
encouraging people to vote in the 2020 primary, runoff and
general elections.                                                   ▪ A virtual platform allowed the Chamber to expand its usual
                                                                       Forum Alabama offerings from two a year to a series of
The community and governmental affairs department initiated
                                                                       six. Featured speakers included Lt. Gov. Will Ainsworth,
a weekly legislative update during the 2020 session. It was sent
                                                                       Rep. Bradley Byrne, Gov. Kay Ivey, Sen. Doug Jones, and
via email to the Chamber's Board of Directors, Partners for Growth
                                                                       two joint sessions – one with Senate Majority Leader Greg
Investors, Board of Advisors and Government Affairs Committee.
                                                                       Reed and Senate Minority Leader Bobby Singleton, and the
                                                                       other with State House Speaker Mac McCutcheon and House
Leadership Input                                                       Minority Leader Anthony Daniels.

                                                                                                              35
The Chamber's governing Board of Directors took a formal             ▪ The State of the City and
position on two ballot measures in the general election. The           County was also virtual.
first, Amendment 4, required the legislature to remove                 The popular event offered
racist wording from the state constitution, and the second was         Mobile County Commissioner            EVENTS
Mobile County's Pay-As-You-Go program to fund countywide               Merceria Ludgood and City
road and bridge improvement projects. Both passed.                     of Mobile Mayor Sandy
                                                                                                        CONNECTING
                                                                       Stimpson a platform to share   ELECTED OFFICIALS
                                                                       accomplishments and future       & THE BUSINESS
Connecting to Elected Officials                                        plans with the business           COMMUNITY
The priority of face time with elected officials didn't change in      community.
2020, even though traditional networking events went mostly
virtual, in keeping with state occupancy guidelines.

 State of the City & County

16 FEBRUARY 2021
Pork & Politics

▪ Prior to COVID-19, Pork & Politics drew 240 attendees to           Investing at Home
  mingle with candidates running for local, state and federal        With the economic hardships COVID-19 brought, the Chamber
  offices during the 2020 election cycle.                            held its three-day Leaders Exchange in Mobile, promoting
▪ To help legislators from across the state learn about Mobile       several local initiatives. Presentations included downtown
  and its role in the state's economy, the Chamber partnered         redevelopment; diversity, equity and inclusion; neighborhood
  with Coastal Alabama Partnership, Alabama State Port               revitalization; education; and talent attraction.
  Authority, Business Council of Alabama and Austal to bring
  legislators to Mobile to tour Austal and the Port of Mobile, and
  experience Mardi Gras – all prior to the COVID-19 pandemic.

  Leaders Exchange                                                                   Leaders Exchange

                                                                                                                  BUSINESS VIEW   17
Professional photographers were used to shoot various feature photos for each
                                                           issue of the Business View.

Business News and Features                                           Marketing & Media
Feedback on the Chamber's newly               Business View          The Chamber updated its long-standing branding campaign,
reformatted magazine, Business                                       Believe in Mobile. Belong to the Chamber. To reflect the
View, was strong and supportive.            CIRCULATION              challenges brought by 2020, Stronger Together, #believeinMobile,

                                        16,873
In 2020, the Chamber followed a                                      became the modified branding message, and was distributed
formal editorial calendar covering                                   via the Chamber's news outlets as well as through print media
shopping local, a year in review,                                    partnerships.
women in business, real estate, trade, the Chamber's Board of        The organization's seasonal "Shop Local" messages were
Advisors, small business, healthcare, education and volunteer/       deemed especially important, and were extended to show
professional development.                                            support for area restaurants and retailers.
                         The monthly publication is the

  6,589
                                                                     In addition to the Chamber's typical media strategy of pitching
                         anchor of the Chamber's business            business news, the organization and its leadership served as
                         news coverage, supported by the             subject matter experts to help audiences understand the
     Business            electronic Business View Weekly             resources available to area businesses and their employees,
   View Weekly           and five social media channels.             and well as the short- and long-term economic outlook.
  SUBSCRIBERS                Engagement on social media rose
                             dramatically when businesses were
operating under the"Safer At Home" order. New content,
frequent updates and video posts kept followers coming back
for news, information and member
features. By year end, Facebook
had 8,724 likes and 10,418 followers;
Twitter, 9,281 followers; LinkedIn, 5,991
                                         27,949
                                              Social Media
followers; Instagram, 2,194 followers;       FOLLOWERS
and YouTube, 65 subscribers.

18 FEBRUARY 2021
VALUE

2020 Board of Directors

                                                                                                      Photo by Jeff Tesney Photography

                                                            Starting off the Year
  COVID-19 Response                                         The Chamber's Annual Meeting continued to be the "can't miss"
                                                            event of the new year, drawing more than 900 business and
  ▪ The Chamber increased its technology infrastructure     community leaders. The meeting, held in February, highlights
    and adopted a virtual platform to bring members         recent accomplishments, introduces new leadership and
    face-to-face for networking and professional            presents the organization's action plan for the coming year.
    development.
  ▪ A series of conference calls featured area subject
                                                            Going Virtual
    matter experts offering Chamber members up-to-
                                                            Networking and professional development were even more
    date information on a variety of business topics.
                                                            important in 2020. The Chamber grabbed hold of technology,
  ▪ The Chamber continued to offer networking sessions,     and before long was able to add virtual events to its offerings.
    award ceremonies, workshops and webinars for            Membership 101 was a great example of virtual success, allowing
    attendees whether they met in-person or virtual.        participants to dodge bad weather and attend from around the
                                                            globe. The event walks new members through Chamber benefits
  See pages 28 -30 for an in-depth look at how the Mobile   and presents a birds-eye view of Chamber initiatives.
  Area Chamber worked to support its members during the     Growth Alliance Task Force, a Chamber group of minority-owned
  COVID-19 pandemic throughout 2020.                        small business managers and chief executive officers, and
                                                            Executive Roundtable, a monthly small business forum, also
                                                            went virtual. Topics for these included cybersecurity, human
                                                            resources tips for small businesses and nonprofit sustainability.

                                                                                                              BUSINESS VIEW       19
35
                                                                  In-Person
                                                                  Member Appreciation Day was the
                                                                  Chamber's last in-person event before
                                                                  Gov. Kay Ivey issued "Stay at Home" and         MEMBER
                                                                  "Safer at Home" orders. More than 200         NETWORKING
                                                                  people attended the annual soiree on             EVENTS
                                                                  the Chamber's front lawn.                      (In Person/Virtual)
                                                                  It wasn't until August that a large group
                                                                  got together again – socially distanced, of course. During the
                                                                  summer's Board of Advisors meeting, the Chamber celebrated
                                                                  its Small Business of the Year finalists and announced
                                                                  Calagaz Printing Co. as the winner.
                                                                  This advisory group is made up of 261 individuals, representing
                                                                  the Chamber's largest dues-paying members. The Board of
                                                                  Advisors typically meets three times a year with the organization's
                                                                  governing Board of Directors.
                                                                  In the fall, the Chamber's Eagle Awards drew 218 in-person
                                                                  attendees. The annual event recognizes the business success
                                                                  and community contributions of minority-owned companies.
                                                                  In between, traditional
 Virtual Military Appreciation                                    in-person networking
                                                                  events were more
In addition, Military Appreciation Day was also held virtually.   appreciated – Coffee
The annual Chamber event recognizes all branches of the           with the Chamber,
military and distinguished JROTC and ROTC cadets.                 Networking at Noon
In December, the State of the Economy went virtual. The           and the Chamber
event forecasts Mobile's and the national economy based on        Classic Golf Tournament –offering relief from virtual fatigue.
member survey-input and presentations from four industry          Business Expo, the Chamber's business-to-business trade show,
leaders. Highlighted 2020 sectors included healthcare,            was rescheduled to April 2021 due to COVID-19 crowd capacity
shipbuilding, small business and technology.                      guidelines.

  Member Appreciation Day

20 FEBRUARY 2021
Chairman's Reception

Professional Development

                                            42
While much of the Chamber's
programming centered around
topics critical to navigating the
COVID-19 pandemic, there were             SMALL
a number of sessions dedicated      BUSINESS-FOCUSED
to helping members grow their           Workshops and
business in good times and bad.           Seminars
A few of those included: Google's
Using Data to Drive Growth + Engage Customers Online
During the COVID-19 Crisis; "A Global Trade Outlook," featuring
a panel of national and local experts; "Employment Law During
a Pandemic, and "How to Manage Problem Employees and
Handle Difficult People."

Chamber Chase
Led by Melissa Cross of McAleer's Office Furniture, Chamber       Chamber Chase Chair Melissa Cross worked to make the 2020 campaign
Chase never skipped a beat. The annual resource development       fun and entertaining for the volunteers who participated.
campaign exceeded its goal, raising $1.51 million with the
help of 37 volunteers, representing 28 companies. The group
recruited 56 new members and 11 additional Board of Advisors.

                                                                                                                 BUSINESS VIEW   21
VA LUE

AWARD WINNERS

                                                                                        Photo by LA Photographee
  Calagaz Printing Co.

Small Business of the Year
Calagaz Printing Co. (above) was named the Mobile Area
Chamber's 2020 Small Business of the Year. Boutique public relations,
marketing and events agency JJPR and telecommunications
firm Wavefly Powered by JMF Solutions were honored as
finalists.
Nominated by the Chamber, JJPR earned the U.S. Chamber of
Commerce's Dream Big award and took the top spot in the
women-owned business achievement category.
Calagaz, also nominated by the Chamber, earned recognition
by the Chamber of Commerce Association of Alabama and
Business Council of Alabama as the gold award recipient in the
11-50 employee small business category.

Manufacturer of the Year
                                                                                         Photo by Chad Riley Photography

AM/NS Calvert's $647 million investment and 200 new jobs
was the year's largest economic development announcement,
and the company was named the Chamber's 2020 Manufacturer
of the Year. When the expansion is complete, the company will
locally produce steel slabs currently imported from Brazil.

                                                                        AM/NS Calvert

22 FEBRUARY 2021
Innovator of the Year
                                                                By diverting typical business operations to address a pressing
                                                                community need, Airbus earned the Chamber's Innovator of
                                                                the Year award. The company used its 3D printers to create
                                                                more than 500 face masks that could be sanitized and reused
                                                                and hundreds of tension-relief straps for local healthcare workers.

                                                                Eagle Awards
                                                                During its 23rd annual Eagle Awards, the Chamber celebrated
                                                                the advertising agency Blue Fish as its first Hispanic-owned
                                                                company to be honored; and Easy Heating and Cooling
                                                                service company. Paula's Hair Unlimited was given its
                                                                second Eagle Award, first winning in 2007.

                                                                Rev. Wesley A. James Minority Business
                                                                Advocate
Photo by Dawn Finch

                                                                The City of Mobile made a significant investment in new
                                                                programs, policies and procedures that led to hiring more
                                                                disadvantaged businesses and service-disabled veteran-owned
                        Airbus                                  companies. For this work, the Chamber named the City of Mobile
                                                                as its 2020 Rev. Wesley A. James Minority Business Advocate.
Photo by Willie Davis

                        Eagle Awards and Rev. Wesley A. James
                        Minority Business Advocate

                                                                                                                BUSINESS VIEW    23
Corporate Community Service Award                                   Ambassador of the Month
In 2019, Wilkins Miller employees gave 2,684 in-kind hours and      ▪ Michelle Ard, Seabulk Towing
1,100 service hours to area nonprofits, and supported 25            ▪ John Garrett, Edward Jones
community activities. These efforts, backed by a history of
                                                                    ▪ Colleen Harrison, Multifamily Management Inc.
giving, earned Wilkins Miller the Chamber's Corporate Community
Service Award, presented in 2020. The award is given in             ▪ Kirsten Loper, formerly with Calagaz Printing
conjunction with the Junior League of Mobile to companies           ▪ Sarah McAleer, McAleer's Office Furniture
based on the community efforts of its employees.
                                                                    ▪ Megan Murdock, Hampton Inn & Suites Providence Park
                                                                    ▪ Donna Turner, Southeast Toyota Finance
Gen. Gary Cooper Outstanding Service Award
The Chamber honored U.S. Army Lt. Col.
                                                                    Small Business of the Month Recipients
Louis J. Lartigue Sr. (Ret) with the 2020 Gen.
Gary J. Cooper Outstanding Service Award                            ▪ Coldsmith, Ryder and Associates
during its annual Military Appreciation Event.                      ▪ Dauphin Creek Realty and Associates
After his Vietnam infantry service, Lartigue                        ▪ Easy Heating and Cooling
served in staff positions with the Joint U.S.
                                                                    ▪ Fremin Ventures d/b/a FCS Facility Maintenance
Military Advisory Group in Thailand/Laos, the    Lartigue
U.S. Army Communications Command and                                ▪ Generational Insights
U.S. Army Europe and the Department of the Army Deputy
Chief of Staff for Logistics at the Pentagon.
                                                                    ▪ iCater Weddings & Events
                                                                    ▪ Mosquito Joe                                65
                                                                                                            EMPLOYEES
                                                                    ▪ Oyster Shell Strategy            Total Number of Employees
                    Ambassador of the Year
                                                                    ▪ Pro356 Consulting                  of the Small Businesses
                    Kirsten Loper, with Frios Gourment Pops, was                                               of the Month
                    the Chamber's 2020 Ambassador of the Year.      ▪ Shields Insurance Agency
                    Loper earned the award through her service at
                    Chamber events and reaching out to members.
     Loper

   Wilkins Miller

24 FEBRUARY 2021
EXCELLENCE

COVID-19 Response                                          Strategic Direction

▪ The Chamber increased programming to meet the
                                                           One way the Chamber works to achieve
                                                           excellence in its operations is to have a       54
  changing needs of members, adding several virtual        plan that guides its program of work.          YEARS
  webinars.                                                With the changing circumstances
▪ Pursued grant opportunities to help the Chamber          brought by the COVID-19 pandemic,
  fund additional services for its members, especially     the organization's Board of Directors
  small businesses.                                        and management team updated its           WITH FIVE STARS
                                                           long-range strategic plan one year
▪ Staff and the Chamber's Board of Directors updated       early. The board voted to approve the new plan in January 2021.
  the strategic plan to fit the new environment and
  enhanced the organization's commitment to
  diversity, equity and inclusion.
                                                           Diversity and Inclusion
                                                           Recognizing a commitment to diversity and inclusion is a journey
                                                           and not a destination, the Chamber added equity to its focus.
See pages 28 -30 for an in-depth look at how the Mobile
Area Chamber worked to support its members during the      In June, while the nation struggled with social justice, the
COVID-19 pandemic throughout 2020.                         Chamber's board adopted a new statement of Diversity, Equity
                                                           and Inclusion (DEI). Consisting of nine points, the document
                                                           outlines the Chamber's commitment that fosters and encourages
                                                           diversity, reflective of the makeup of the community.

                                                                                                          BUSINESS VIEW   25
Chamber staff donates to
                                                                                                      Ronald McDonald House

In addition, Chamber leadership                MACC                 Resource Funding
initiated conversations with local
CEOs to discuss how to intentionally      ESTABLISHED               The Chamber pursued a number of grants to stretch its

                                               1836
                                                                    resources to increase training for small businesses, update the
improve diversity and inclusion in
                                                                    Chamber's technology infrastructure

                                                                                                            92,916
the Mobile area and how it impacts
                                                                    and fund a grants development
the community; and became a national partner in the U.S.
                                                                    team. In total, the Mobile Area
Chamber of Commerce's Equality of Opportunity Initiative, joining
425 other chambers and trade organizations across the country.
                                                                    Chamber Foundation won                         PEOPLE
                                                                    $100,000 in funding from several
Staff participation in a full day of training focused on DEI,       organizations, including BBVA, the
                                                                                                              EMPLOYED BY
facilitated by Gia Wiggins of Morale Resource. Topics included                                                Chamber Member
                                                                    J.L. Bedsole Foundation and State of
ethics, effective communication and the path forward.                                                             Companies
                                                                    Alabama.

Membership                                                          Giving Back
The value of the Chamber's services
and the organization's response to
COVID-19 didn't go unrecognized.
                                              1,796
                                            Current Chamber
                                                                    Chamber staff continued its support of United Way of
                                                                    Southwest Alabama's Day of Caring. The staff wrote more
                                                                    than 50 letters for the Big Brothers Big Sisters of South
208 companies joined the Chamber
in 2020.
                                              MEMBERS               Alabama graduating seniors to offer words of wisdom and to
                                                                    say "Congratulations!"
To keep its pulse on how members were faring, the Chamber
                                                                    A Chamber team joined the City of Mobile's fall quarterly
contacted every member at the beginning of the pandemic,
                                                                    community service project to help clean-up Africatown; and at
developed a series of surveys to determine their greatest
                                                                    year end, the staff collected money to sponsor holiday meals at
needs, created a "Thank You for Choosing the Chamber" video
                                                                    Ronald McDonald House.
to send with renewal notices and began a series of videos
highlighting member companies that ran on social media.

26 FEBRUARY 2021
Bill Sisson, president and CEO, continued                       Financial Management

                                                                                                                6
to serve the Association of Chamber of
                                                                The Chamber staff manages
Commerce Executives (ACCE) and the U.S.
                                                                the finances of six boards. All
Chamber of Commerce Committee of 100.
                                                                are audited annually to ensure
                 Nancy Hewston, the                                                                    ORGANIZATIONS
                                                                adherence to accounting
                 Chamber's vice president                                                                  Managed by
                                                                standards. Those organizations,
                                                    Sisson                                                the Chamber
                 of community and                                in addition to the Chamber, are:
                 governmental affairs, was appointed to the     the Industrial Development
                 technical coordinating and citizens advisory   Authority of Mobile County, Industrial Development Board of the
                 committee of the Mobile Metropolitan           City of Mobile; Industrial Park Board of Mobile County; the Mobile
   Hewston       Planning Commission (MPO).                     Area Chamber of Commerce Foundation, a 501(c)3 organization;
                                                                and Innovation Portal.

                 Staff Accolades
                 Brooke McIngvale, the Chamber's events
                 manager, completed Mobile United's
                 Connect Mobile program for the area's young
                 professionals.
  McIngvale

                2020 REVENUE                                                    2020 EXPENSES
        31% Membership
               25% Events, Programs, Sponsorships
                    & Donations
                                                                22% Economic Development/Talent Attraction
                     22% Service Grants & Contracts
                                                                        20% Membership

                                  Partners for Growth                          13% Communications & Marketing
                            19% Economic
                                                                                     13% Administration
                                  Development Fund
                                                                                             11% Community & Governmental Affairs
                                                                                                    10% Finance & Operations

                                                                                                          6% Small Business
                                   2% Publications                                                             5% Innovation PortAL

                                            1% Other

                                                                                                               BUSINESS VIEW   27
THE CHAMBER'S COVID-19 RESPONSE
COVID-19 Forces Chamber Work to Change
In March, Alabama businesses began operating under "Stay
at Home" and "Safer at Home" orders from Gov. Kay Ivey. The
protocols changed as new information about the virus became
available.
Along with our members, the Chamber adapted to these
challenging times while ensuring the business community
had the resources needed to navigate through the massive
economic disruption caused by COVID-19.
Fundamental topics included the federal government's Payroll
Protection Program (PPP) and the Economic Injury Disaster
Loans (EIDL), and where to find Personal Protective Equipment
(PPE) for employees.
The phone, email and online channels were the primary tools
Chamber staff used to reach out to members.

By Phone

                                              36
The Chamber staff divided the
organization's membership list and
called every member to learn the
effects of the pandemic on their       CONFERENCE
companies, difficulties they were        CALLS
experiencing and how the Chamber's        focused on
team could best help them. Their         COVID-19 Crisis
responses helped guide the types          Information
of resources and information shared
with members.
The Chamber's staff counseled more than 700 entrepreneurs
and business owners to help them comply with frequently
changing rules and regulations by governmental relief programs.
The economic development team organized weekly calls with
the area's largest manufacturers and human resources staff to     For five weeks, various Chamber departments hosted a total
discuss best practices and help meet the ever-changing needs      of 36 free, 30-minute teleconference calls featuring community
of Mobile businesses and industries related to COVID-19. These    and business leaders who offered access to training, insight
sessions led to Airbus, AM/NS Calvert and Austal diverting        into completing federal loan and grant paperwork, and
normal business to produce masks and tension relief straps for    updates on employment services for workers.
area healthcare workers that could be sanitized and reused.

28 FEBRUARY 2021
Via Online Channels
                                                                     At the onset of the COVID-19
                                                                     health crisis, the Chamber's
                                                                     communications and
                                                                     marketing team quickly
                                                                     developed a new web portal
                                                                     at mobilechamber.com
                                                                     dedicated to related
                                                                     information, links and news
                                                                     that could be downloaded
                                                                     and/or shared. Five key
                                                                     sections included small
                                                                     business resources, news
                                                                     and events, working remotely
                                                                     – transforming to reopening
                                                                     your business, unemployment
                                                                     resources and supporting
                                                                     local businesses.
                                                                     A COVID-19 branding campaign
                                                                     – Stay Safe. Stay Local. Stay
By Email
                                                                     Connected. – identified all
During the height of the first wave, Chamber President and           print and online materials
CEO Bill Sisson sent out personal messages to members with           dealing with the pandemic.
links to federal toolkits and small business preparedness and
                                                                     Facebook, Twitter, LinkedIn and Instagram social media
recovery guides published by the U.S. Chamber. After Hurricane
                                                                     channels were the main communication platforms. The
Sally hit southwest Alabama, Sisson shared similar emails with
                                                                     Chamber used them seven days

                                                                                                        182,000
information on state and federal resources.
                                                                     a week, 12 hours a day at the
The Chamber used surveys to regularly check in with members,         height of the pandemic when
asking about day-to-day business operations, specific needs          the state was shut down, and
to safely reopen and future forecasts. Results of the surveys
                                                                                                         WEB PAGE VIEWS
                                                                     maintained that pace for seven
provided organizational direction and were shared with city,                                                     in 2020
                                                                     weeks.
county and state leaders.

"These are challenging times for all of us, but one thing
 is for certain – the Mobile Bay region knows something
 about resiliency. We have been through hurricanes,
 tornadoes, oil spills and economic downturns, and
 working together, we will navigate the Coronavirus
 as well. Your chamber is working hard to provide                    A new Facebook group – Stay Safe. Stay Local. – expanded the
                                                                     Chamber's "Shop Local" messaging and allowed members and
 information and resources to help your business with                non-members to post operating hours, delivery or curbside
 this fast-moving situation."                                        services, and more. Later, to maintain the traffic driven by the
                                                                     pandemic, the group transformed to Chamber Connections
     		                             – Bill Sisson, President & CEO
                               Mobile Area Chamber of Commerce       and is open to all area businesses. It grew to more than 1,400
               From an emailed message to members in March 2020      members in 2020.

                                                                                                                   BUSINESS VIEW   29
The International Business Division worked with The University
                                                                     of Alabama's International Trade Center to notify statewide clients
                                                                     about how to access the Mobile Chamber's online certificate of
                                                                     origin verification platform to assist with the closures of local
                                                                     chambers across the state. These documents signify products
                                                                     listed meet the necessary criteria to be considered as originating
                                                                     in the United States.

                                                                     And More
                                                                     The Mobile County Commission turned to the Chamber to
                                                                     help distribute its Small Business Relief Fund Program. More
                                                                     than 200 companies applied for funds. The county awarded
                                                                     $934,501 to 115 companies.
                                                                     The Chamber extended memberships past their original
                                                                     renewal dates based on financial hardships related to COVID-19
                                                                     until the end of 2020, unless they requested otherwise.
                                                                     Regularly scheduled professional development and networking
                                                                     groups went virtual and new sessions were added to continue
                                                                     to offer members relevant tips and tactics. Topics included
                                                                     managing employees working from home, cybersecurity and
A series of "show and tell" videos highlighting various businesses   creating and/or updating an online business profile.
was posted on Facebook and Instagram. These ranged from              The Chamber developed a statement outlining precautions
cooking demonstrations to do-it-yourself floral arrangements         the organization was taking for any in-person meetings, and
to spa and art gallery tours. The video series continues weekly      strived to offer as many virtual options as possible.
as a member benefit.
                                                                     Chamber staff served on a number of committees and task
The Chamber offered its first virtual job                            forces dedicated to addressing the challenges brought by
fair, drawing more than 70 people,                                   the pandemic, including U.S. Rep. Bradley Byrne's First
many dislocated due to COVID-19,                                     Congressional District Economic Recovery Task Force.
who were interested in 500-plus
jobs at four member businesses –                                     Community partnerships led to initiatives aimed at the general
Buffalo Rock, Ingalls Shipbuilding,                                  public and area companies, and continued as Ivey's latest
Pilot Catastrophe and Walmart                                        executive order extended the wearing of masks into 2021.
Distribution Center.                                                 Three of the most prominent were:
                                                                     ▪ The "Enjoy Mobile with Confidence" print campaign
                                                                       highlighting best practices local businesses are using to
                                                                       keep customers and employees safe, led by Visit Mobile;
                                                                     ▪ A video public service announcement encouraging people
                                                                       to wear face coverings, led by the Poarch Band of Creek
                                                                       Indians; and
                                                                     ▪ An electronic billboard campaign promoting the Chamber's
                                                                       web resources that yielded 72,000 impressions.

The Chamber looked for ways to further recognize
its members. These thank you messages ran in the
Chamber's Facebook and Instagram stories.
30 FEBRUARY 2021
EXECUTIVE COMMITTEE 2020

    Terry H. Harbin                       Glyn Agnew                Douglas L. Anderson             Jennie M. Campbell                      Melissa Cross
     BancorpSouth                           AT&T                      Burr & Forman LLP                The Stewart Lodges              McAleer's Office Furniture
      Board Chair                   Economic Development               Legal Counsel                     Small Business                     Membership
                                                                                                          Development

                    Chris Curry                    Daniel A. Dennis IV                    Monica Garsed                     Abe L. Harper Jr.
               Mobile Airport Authority            Roberts Brothers Inc.                     Spire                    Harper Technologies LLC
                  Military Affairs                     Past Chair                       Communications &              Workforce Development
                                               		                                          Marketing

                  Nate Patterson                       Craig Savage                     William B. Sisson                      Matt White
          A Culture of Excellence (ACE) LLC             Austal USA                  Mobile Area Chamber                 White-Spunner Realty
             Diversity, Equity & Inclusion           Community and                     of Commerce                         Incoming Chair/
                                                   Governmental Affairs               President/CEO                     Finance & Operations

                          ALSO SERVING ON THE 2020 BOARD OF DIRECTORS
Kevin Ball, Ball HealthCare Services Inc.              Valerie James, VisionSpot Consulting Group LLC        Maxey J. Roberts, University of South
                                                                                                             Alabama Foundation
Celia Mann Baehr, Mobile Symphony Inc.                 W. Bibb Lamar Jr., ServisFirst Bank
                                                                                                             Glenda R. Snodgrass, The Net Effect LLC
Brent Barkin, Shoe Station Inc.                        Kate C. Luce, Mississippi Export Railroad Co.
                                                                                                             Richard Stimpson, Leavell Investment
Philip G. Burton, Burton Property Group                Patrick Lynch, The Hiller Cos.
                                                                                                             Management Inc.
Allen Carroll, Wilkins Miller LLC                      Evan B. Maisel, Gulf Distributing Holdings LLC
                                                                                                             Vicki Studstill, Hargrove Engineers +
Joe Denton, Infirmary Health                           John V. Marymont, University of South Alabama         Constructors
W. Edward Dismukes Jr., Wilson Dismukes Inc.           Robert B. McGinley Jr., McDowell Knight               Reggie Sykes, Bishop State Community
                                                       Roedder & Sledge LLC                                  College
RaShawn Figures, Dortch, Figures & Sons Inc.
                                                       Leland Moore Jr., S & S Sprinkler Co. LLC             Mary Taylor, Better Day Consulting LLC
Thomas A. Hand, Volkert Inc.
                                                       Marcus Neto, Blue Fish                                Christian White, Regions Bank
Chris Harle, Harle Enterprises LLC
                                                       Paige B. Plash, Encore Rehabilitation Inc.            Grant Zarzour, Fuse Project
Jürgen G. Hellmich, iSAM North America Corp.
                                                                                                                                          BUSINESS VIEW       31
2021 PL AN OF ACTION SUMMARY

Each year, the Mobile Area Chamber staff writes its Plan of Action, a list of tactics to achieve
the goals of the Chamber's strategic plan. Below are each department's goals for 2021.

COMMUNICATIONS & MARKETING                                        Improve communication with the membership, elected officials
                                                                  and Chamber staff on key community issues.
Provide a constant, proactive and interactive communications      (Supports strategic goal: Advocacy)
program to Mobile Area Chamber members to encourage and
maintain an interest in the Chamber and support of our efforts.   Implement the Leaders Exchange with a focus on workable
(Supports strategic goal: Value)                                  solutions to regional and local issues.
                                                                  (Supports strategic goal: Advocacy)
Improve the Mobile Area Chamber's image in the minds of the
public and make them better aware of who we are and our           Encourage positive military and civilian relationships.
mission.                                                          (Supports strategic goal: Value)
(Supports strategic goal: Advocacy)

Promote the Chamber and the Mobile area via the Chamber's
websites, electronic publications and social media outlets.
                                                                  ECONOMIC DEVELOPMENT
(Supports strategic goal: Advocacy)                               Aggressively market the Mobile region for business locations
                                                                  and expansions based on community strengths and unique
Improve dialogue with media outlets and promote Chamber           strategic advantages, governed by community quality of life
activities and issues more heavily in the local market.           objectives. Support the five-year Partners for Growth goal of
(Supports strategic goal: Advocacy)                               creating an average of 800 new jobs per year.
                                                                  (Supports strategic goals: Jobs and Advocacy)
Assist the Economic Development Department with
implementing a national marketing campaign.                       Provide staff support and expertise to the Industrial
(Supports strategic goal: Advocacy)                               Development Board, the Industrial Development Authority
                                                                  and the Industrial Park Board.
                                                                  (Supports strategic goals: Jobs and Value)

COMMUNITY & GOVERNMENTAL AFFAIRS                                  Involve Chamber volunteer leadership, City of Mobile and
                                                                  Mobile County elected leadership, local agency allies and
Develop and obtain passage of the Chamber's Community
                                                                  Partners for Growth investors in current Plan of Action
Legislative Agenda.
                                                                  implementation, as well as long-term economic development
(Supports strategic goal: Advocacy)
                                                                  planning and funding. (Supports strategic goals: Jobs and Value)
Recognize and promote the importance of transportation
                                                                  Enhance Mobile's global competitiveness and advance
infrastructure to continuing business growth.
                                                                  the creation of quality jobs and economic growth through
(Supports strategic goal: Advocacy)
                                                                  international engagement.
Promote a local, business-friendly political and legislative      (Supports strategic goals: Jobs and Advocacy)
climate that encourages economic growth, is responsive
                                                                  Generate, collect, organize, provide and publish information
to business needs and supportive of business success.
                                                                  to support economic development activities that service the
(Supports strategic goal: Advocacy)
                                                                  needs of prospects, global consultants, existing industries
Convene key groups and organizations to identify and work         and members.
on vital community issues.                                        (Supports strategic goal: Value)
(Supports strategic goal: Advocacy)
                                                                  Improve Mobile's ability to respond to workforce needs.
                                                                  (Supports strategic goal: Jobs)
32 FEBRUARY 2021
FINANCE & OPERATIONS                                               SMALL BUSINESS DEVELOPMENT
Provide and maintain financial control and related services.       Market and provide technical assistance to area small
(Supports strategic goal: Excellence)                              businesses to help stimulate their development and foster
                                                                   job creation.
Develop and maintain all records, forms and reports relating       (Supports strategic goal: Jobs)
to human resource management.
(Supports strategic goal: Excellence)                              Support and educate businesses regarding the importance
                                                                   of diversity, equity and inclusion.
Coordinate maintenance of the Chamber building,                    (Supports strategic goal: Jobs)
grounds, fixtures and equipment.
(Supports strategic goal: Excellence)                              Provide business assistance to minority-owned businesses
                                                                   and encourage their participation in all Chamber activities.
Enhance Chamber and Chamber Foundation operations                  (Supports strategic goal: Jobs)
through improvement of processes and procedures.
(Supports strategic goal: Excellence)                              Coordinate task force activities of select programs, products
                                                                   and services benefiting small businesses.
Continue to enhance the Chamber's information technology assets.   (Supports strategic goal: Value)
(Supports strategic goal: Excellence)
                                                                   Create a system to share local funding sources with interested
                                                                   businesses.
MEMBERSHIP                                                         (Supports strategic goal: Value)

Exceed budgeted goals for dues and non-dues income to              Provide continuing education, training and business
support Chamber operations.                                        development opportunities for small businesses.
(Supports strategic goal: Value)                                   (Supports strategic goal: Value)

Provide innovative programs and services that our members          Serve as an advocate on issues of concern to
desire and value.                                                  the small business community.
(Supports strategic goal: Value)                                   (Supports strategic goal: Advocacy)

Ensure awesome customer service to improve member                  Facilitate assistance provided by other small business
retention and development.                                         resources in the Mobile/Baldwin area.
(Supports strategic goal: Value)                                   (Supports strategic goal: Advocacy)

                                                                                                                  BUSINESS VIEW    33