Mozart JONES Rachel Podger VIOLIN Christopher Glynn FORTEPIANO - Channel Classics
Page content transcription
If your browser does not render page correctly, please read the page content below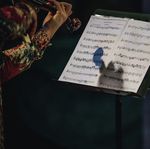 CHANNEL CLASSICS
  CCS SA 42721

    Rachel Podger         VIOLIN

    Christopher Glynn              FORTEPIANO

                      Mozart
                          JONES
    Violin Sonatas Fragment Completions
    WORLD PREMIERES
Rachel Podger

    "R     achel Podger, the unsurpassed British glory of the baroque violin," (The Times)
           has established herself as a leading interpreter of the Baroque and Classical.
    She was the first woman to be awarded the prestigious Royal Academy of Music/Kohn
    Foundation Bach Prize in October 2015, was the Gramophone Artist of the Year in 2018,
    Ambassador for rema's Early Music Day 2020, and is a Patron of the Continuo Founda-
    tion. A creative programmer, she is the founder and Artistic Director of Brecon Baroque
2   Festival and her ensemble Brecon Baroque.
        As a director and soloist, Rachel has enjoyed countless collaborations including
    Robert Levin, Jordi Savall, Masaaki Suzuki, Kristian Bezuidenhout, Tapiola Sinfonietta,
    voces8, Robert Hollingworth & I Fagiolini, European Union Baroque Orchestra,
    English Concert, Orchestra of the Age of Enlightenment, Academy of Ancient Music,
    Holland Baroque, Tafelmusik (Toronto), and within the usa the Berwick Academy, the
    Handel and Haydn Society, San Francisco Early Music, Oregon Bach Festival, and Phil-
    harmonia Baroque Orchestra.
        Rachel has won numerous awards including two Baroque Instrumental Gramophone
    Awards for La Stravaganza (2003) and Biber Rosary Sonatas (2016), the Diapason d'Or
    de l'année in the Baroque Ensemble category for her recording of the Vivaldi's La Cetra
    Concertos (2012), two bbc Music Magazine awards in the instrumental category for
    Guardian Angel (2014) and the concerto category for the complete Vivaldi L'Estro
    Armonico Concertos (2016).
        A dedicated educator, she holds the Micaela Comberti Chair for Baroque Violin
    (founded in 2008) at the Royal Academy of Music and the Jane Hodge Foundation Inter-
    national Chair in Baroque Violin at the Royal Welsh College of Music and Drama.
    Rachel has a relationship with The Juilliard School in New York where she visits regular-
    ly. Rachel Podger is managed worldwide by Percius. www.percius.co.uk
3

Rachel Podger and Christopher Glynn
Christopher Glynn

    C     hris is a Grammy award-winning pianist and accompanist, praised for his 'breath-
          taking sensitivity' (Gramophone), 'irrepressible energy, wit and finesse' (The Guard-
    ian), 'perfect fusion of voice and piano' (bbc Music Magazine) and as 'an inspired pro-
    grammer' (The Times). He is also Artistic Director of the Ryedale Festival (nominated
    in 2020 for a Royal Philharmonic Society Award), where he programmes around sixty
    events each year in beautiful and historic venues across North Yorkshire.
4      He has performed in recital with many leading artists, including Sir Thomas Allen,
    John Mark Ainsley, Benjamin Appl, Mary Bevan, Sophie Bevan, Julian Bliss, Claire
    Booth, Ian Bostridge, Adrian Brendel, Susan Bullock, Allan Clayton, Michael Collins,
    Dame Sarah Connolly, Lucy Crowe, Sophie Daneman, Joshua Ellicott, Bernarda Fink,
    Matthew Gee, Steven Isserlis, Anthony Rolfe Johnson, Christiane Karg, Jonas
    Kaufmann, Yvonne Kenny, Dame Felicity Lott, Christopher Maltman, James Newby,
    Mark Padmore, Ian Partridge, Rowan Pierce, Rachel Podger, Joan Rodgers, Kate Royal,
    Kathryn Rudge, Nicky Spence, Toby Spence, Bryn Terfel, Sir John Tomlinson, Robin
    Tritschler, Ailish Tynan, Adam Walker, Roderick Williams, Elizabeth Watts and many
    others. He has also performed chamber music with ensembles such as the Albion,
    Brodsky, Elias and Heath Quartets, and works regularly with choirs including The
    Sixteen.
       Chris grew up in Leicester and read music at New College, Oxford, before studying
    piano with John Streets in France and Malcolm Martineau at the Royal Academy of
    Music, where he now teaches. His many awards include the accompaniment prize in
    the 2001 Kathleen Ferrier competition, the 2003 Gerald Moore Award and the 2002
    Geoffrey Parsons Award. A regular artist at Wigmore Hall, Chris appears in major con-
    cert venues and festivals throughout the world, including at the bbc Proms, Carnegie
    Hall, Edinburgh, Aldeburgh, Cheltenham, Oxford Lieder and Leeds Lieder Festivals,
    Royal Opera House, Barbican, Southbank Centre, Concertgebouw, Vienna Konzert­
    haus and as far afield as Japan, China, Brazil, Russia and Sri Lanka. He has made many
    cd recordings and is regularly heard on bbc Radio 3.
An interest in bringing classical song to a wider audience recently led Chris to
commission Jeremy Sams to create new English translations of Schubert's song cycles.
These have been performed widely and recorded for Signum Records and future
projects will explore songs of Schumann and Wolf 's Italian Songbook.

Timothy Jones                                                                                5

T    imothy Jones is a musician, educator,
     writer and broadcaster. Since 2013 he
has been engaged in a project undertaking
detailed analyses of Mozart's late frag-
ments and making multiple completions
of some of them. So far this has led to over
80 new completions of some 30 fragments,
including the Requiem, concertos for
horn, oboe, and violin and piano, a sinfonia
concertante for violin, viola and cello,
string quintets, quartets and trios, clarinet
quintets, piano trios, violin sonatas and
keyboard music.
   In 2008 he joined the faculty of the Roy-
al Academy of Music in London where he
is currently the Deputy Principal and a
University of London Professor. He is
committed to public engagement and has been a speaker at many events at leading Lon-
don venues. He is a contributor to the Proms Plus talks and Opera on Three on bbc Radio 3.
In 2016 he made five programmes for the nhk television series First Class which
broadcasts lectures from the world's leading universities.
Completing Mozart's Fragments for Piano and Violin

    S   onatas for keyboard and violin run like a thread through Mozart's compositional life.
        His earliest pieces were published in Paris in 1764 when he was eight years old. His last
    was completed 24 years later, three years before his death in 1791. As a body of 32 works,
    they reveal how the concept of the 'accompanied sonata' was transformed in the late
    Eighteenth Century from keyboard music 'amplified' by a violin into a partnership of
    musical equals, capable of the greatest chamber music subtleties. Indeed, the violin
6   sonatas Mozart composed between 1778 and 1788 are arguably more varied, formally more
    experimental, and more striking in character than his piano sonatas of the same period.
    During the final decade he spent in Vienna (1781–91) when he was at the height of his
    powers, Mozart also left a number of unfinished works for keyboard and violin. Four of
    these fragments form the basis of the pieces in this programme.
        The completions recorded here have come out of a larger project to reassess the
    musical significance of Mozart's late instrumental fragments. Over 100 fragments of
    instrumental music survive from the last decade of Mozart's career. As our understanding
    of the chronology of these fragments has improved through the pioneering philological
    work of the late Alan Tyson and Ulrich Konrad, so it has been possible to explore in more
    detail how the unfinished music can add to our understanding of the finished pieces. As
    part of my analytical investigation, I've attempted to complete the fragments that interest
    me most in order to test out some critical hypotheses about Mozart's working methods
    and the evolution of his style.
        At the heart, I wanted to see what would happen if I tried to 'perform' the notation in
    the same way that it seems Mozart did – to write very fast and in a particular hierarchical
    way; if I paid detailed analytical attention to the immediate stylistic context of each
    fragment; and, noting that Mozart never repeats himself, if I applied the principle of
    stylistic models, not their letter. Of course, I have no idea how Mozart might have worked
    these fragments into finished pieces. So an important part of the project was to undertake
    multiple completions of each fragment, not so much to reflect Mozart's superfluity of
    invention as to recognise the 'openness' of the fragments, test contrasting hypotheses
about the material and then seeing where different assumptions might take the music
over the course of the entire movement. My completions inevitably disfigure Mozart's
music; but I have never had a problem hearing performers' own improvised or composed
cadenzas in Mozart's concertos, and my task here was just one step further. I hope these
sonata movements might be found diverting as a piece of criticism, if nothing else.
    As soon as he arrived in Vienna on 16 March 1781 Mozart had need to compose new
violin sonatas. In a letter to his father on 8 April he reported a concert at which three new
compositions were performed, including 'a sonata with violin accompaniment for myself,
which I composed last night between 11 and 12 – but, in order to get it finished, I only           7
wrote out the [violin] part for Brunetti and kept my own part in my head'. This last-
minute piece was not Mozart's first attempt to write a sonata for the occasion. There is a
65-bar fragment of a Sonata in B flat dated 24 March 1781. After a gentle opening theme
the music becomes extravagantly virtuosic, evidently to impress potential new Viennese
patrons. Why did Mozart not finish the movement? Perhaps he felt that the music lacked
decorum, or that the opening theme did not sit easily with the rest of the exposition.
    On the same day that he dated the fragment, Mozart wrote his father a long letter full
of court intrigue and boasting about his busy social life. It is tempting to speculate that the
fragment simply fell victim to the social whirl of the capital over the next fortnight: it was
not the sort of piece that could have been reheated at the eleventh hour. In the two
completions on this recording I have tried different approaches to impressing those
Viennese patrons. Completion 2 goes for broke with the virtuosity, busyness and clatter of
the fragment. The return of the gentle opening theme is pushed back to the middle of the
recapitulation, and a short reflective coda balances the movement's quiet opening.
Completion 3 pleads for the attention of those who might have liked more chiaroscuro in
their comedy. It calms the exposition's helter-skelter with a brief tragic scena at the start of
the development section; but the fragment's bravura cannot be suppressed for ever, and
the end of the development section attempts to emulate its youthful energy.
    One of Mozart's most formative experiences around this time was his encounter with
music by JS Bach and his sons at the home of Gottfried van Swieten on his regular Sunday
afternoon visits. Mozart's initial response was to imitate closely the style of JS Bach in
what were probably private exercises that have survived as fragments. One of the most
    engaging and peculiar of these is the so-called Fantasia for piano and violin in C minor
    (Fr 1782l). It gives the opening section of a slow movement in a highly declamatory,
    improvisatory style, full of chromatic clashes and obsessive gestures that would have been
    outré in Mozart's published music at that time. The extempore quality of the music, with
    its chain of expressively intense moments, responds to the style of sensibility associated
    with CPE Bach's music as much as to the keyboard fantasias by his father. Most bizarre is
    that a style associated with improvised solo performance is reimagined as a duo. CPE
8   Bach's sole Fantasia for keyboard and violin appeared four years later.
        The keyboard part of Mozart's 27-bar fragment is notated fully, but only in the last five
    bars did he add the violin line, largely in an accompanying role. The initial challenge in
    completing the fragment is to extrapolate the violin part forward to the start of the
    movement so that it complements the detailed keyboard writing without getting in its
    way. The second, greater challenge is to imagine where this piece might have gone next. I
    assume that Mozart would have continued to intensify the harmonic shocks, chromatic
    clashes, and melancholy tone of the first section. Every one of the twists and turns I have
    applied to the material can be found elsewhere in his music. The result doesn't sound
    anything like Mozart from the early 1780s, but then neither does the fragment itself.
        Having published six of his sonatas from the early 1780s as Op 2, Mozart completed
    just three markedly individual violin sonatas in the middle years of the decade. In April
    1784 he composed k. 454 in B flat for a public performance by Regina Strinasacchi, hence
    the work's bold theatricality, symphonic proportions and concerto-like display. k. 481 in E
    flat (December 1785) and k. 526 in A (August 1787) are connoisseurs' pieces, distinguished
    by opening movements with scintillating dialogue and strange, experimental slow
    movements. The A major Sonata fragment Fr 1784b dates from this period. Based on the
    paper type of the manuscript, Alan Tyson dated it to 1784. But Mozart used the same
    paper type for a few works in 1787. The manuscript's single leaf fits the bill for the 'missing'
    quadrant from the same large sheet of paper as three leaves in the holograph of the Horn
    Concerto k. 447, thought to date from 1787.
        This 34-bar fragment might therefore be contemporary with k. 454 – whose bold style
its opening shares – or with k. 526 – whose key, together with some textural and harmonic
subtleties, it shares. The end of the fragment strongly echoes a passage from the opening
movement of the Piano Concerto k. 503, which Mozart began in 1784 but finished in
December 1786. My completions take as their starting points those alternative dates. In
Completion 4 I have tried to evoke the extrovert style of k. 454 and the piano concertos
from 1784. In contrast, Completion 1 draws on the 'connoisseur' aspects of k. 526 and other
pieces from 1787, with a wider tonal range, more flexible phrase lengths, and a more
intimate conversational style.
     Mozart's last Violin Sonata, k. 547 completed on 10 July 1788, marks a new turn: he           9
called it 'A little piano Sonata – for beginners with a violin'. But his final word in the genre
is a fragment that Tyson dated to the end of 1789 or later: the same period as Mozart's final
chamber music projects the 'Prussian' Quartets and the last two String Quintets. This 31-
bar opening of a Sonata Allegro in G (Fr 1789f ) hints at the increasingly personal,
texturally transparent and somewhat pared down style of Mozart's last two years. After
the first eight bars the fragment consists of just the melodic line in the violin or piano,
with sparse hints of accompaniment figuration. It is remarkable how much Mozart
accomplishes with so little. Each gesture is so finely etched and economical that the music
engages a broad range of topics and styles: mechanical music box, Papageno-like naïve
comedy, impassioned aria, serene hymn, and concerto virtuosity. Yet its flow is unruffled
with a consistently even tone. My two completions take contrasting approaches to this
stylistic paradox. Completion 1 aims to continue the fluency of the opening. Taking my
cue from the 'beginners' sonatas k. 545 and k. 547, I have tried to keep the audible thread of
the musical argument as transparent as possible. Completion 2 takes a more dramatic
approach to the fragment's topical variety. Its second subject borrows from the concert
aria Ch'io mi scordi di te k. 505, because of the motivic similarity with the start of the
fragment; and its development section applies harmonic principles found in late works,
including the Piano Concerto k. 595 and the String Quartet k. 590. This fragment haunts
me. How dearly I wish Mozart had brought the G major Sonata to fruition.

                                                                               Timothy Jones
Vervollständigungen von Mozarts Fragmenten
für Klavier und Violine

S   onaten für Klavier und Violine ziehen sich wie ein roter Faden durch Mozarts gesam-
    tes Schaffen. Die frühesten wurden 1764 in Paris veröffentlicht, damals war er acht
Jahre alt. Die letzte Sonate vollendete er 24 Jahre später, drei Jahre vor seinem Tod 1791.
Die insgesamt 32 Werke zeigen, wie sich aus dem Konzept der begleiteten Klaviersonate
im späten 18. Jahrhundert eine zu den größten kammermusikalischen Feinheiten fähige
Partnerschaft musikalisch Ebenbürtiger entwickelte. Tatsächlich sind die Violinsonaten, 11
die Mozart zwischen 1778 und 1788 komponierte, wohl vielfältiger, formal experimenteller
und in ihrem Charakter prägnanter als seine Klaviersonaten aus derselben Zeit. In seinem
letzten Lebensjahrzehnt (1781-91), das Mozart auf dem Höhepunkt seines Könnens in
Wien verbrachte, hinterließ er auch eine Reihe unvollendeter Werke für Klavier und Vio-
line. Vier von ihnen bilden den Ausgangspunkt der vorliegenden Aufnahme.
    Meine Vervollständigungen sind aus einem größeren Projekt zur Neubewertung der
musikalischen Bedeutung von Mozarts späten Instrumentalfragmenten hervorgegangen.
Über 100 solcher Fragmente sind aus der letzten Dekade von Mozarts Schaffen erhalten
geblieben. Da sich unser Einblick in die Chronologie dieser Fragmente dank der bahn-
brechenden philologischen Studien von Alan Tyson und Ulrich Konrad wesentlich ver-
bessert hat, konnte eingehender erforscht werden, wie die unvollendete Musik zum Ver-
ständnis der vollendeten Werke beitragen kann. Im Rahmen meiner eigenen Analysen
habe ich versucht, die für mich persönlich interessantesten Fragmente zu vervollständi-
gen, um so einige Hypothesen zu Mozarts Arbeitsweise und der Entwicklung seines Stils
kritisch unter die Lupe nehmen zu können.
    Im Kern wollte ich wissen, was passieren würde, wenn ich die Notation so "aufführe",
wie Mozart es offenbar tat – flüchtig und in einer bestimmten Hierarchie skizziert; wenn
ich den unmittelbaren stilistischen Kontext jedes Fragments genau analysiere; wenn ich,
da sich Mozart nie wiederholt, das Prinzip seines Stils aufgreife, ohne wörtlich zu zitieren.
Natürlich habe ich keine Ahnung, wie Mozart seine Fragmente ausgearbeitet hätte.
Wichtig bei diesem Projekt war mir daher, jedes Fragment mehrfach zu vervollständigen
– nicht um Mozarts außerordentlichem Erfindungsreichtum nachzueifern, sondern um
   der "Offenheit" der Fragmente gerecht zu werden, um gegensätzliche Hypothesen über
   das Material zu prüfen und herauszufinden, wohin unterschiedliche Annahmen im Ver-
   lauf des gesamten Satzes führen könnten. Meine Ergänzungen verunstalten unweigerlich
   Mozarts Musik; auf der anderen Seite hatte ich nie ein Problem damit, wenn Interpreten
   eigene Kadenzen zu Mozarts Konzerten improvisierten oder komponierten, und meine
   Aufgabe ging hier ja lediglich einen Schritt weiter. Betrachten Sie die so entstandenen
   Sätze als das – hoffentlich unterhaltsame – Ergebnis meiner eigenen kritischen Ausein-
12 andersetzung mit dem Werk, mehr nicht.
       Unmittelbar nach seiner Ankunft in Wien am 16. März 1781 drängte es Mozart, neue
   Violinsonaten zu schreiben. In einem Brief an seinen Vater vom 8. April berichtete er von
   einem Konzert, bei dem drei neue Kompositionen aufgeführt wurden, darunter "eine So-
   nate mit Accompagnement einer Violine für mich, welche ich gestern Nacht zwischen 11
   Uhr bis 12 Uhr komponiert habe, – aber damit ich fertig geworden bin, nur die Accompa-
   gnement-Stimme [Violine] für Brunetti geschrieben habe, ich aber meine Partie im
   Kopf behalten habe". Dieses Last-Minute-Stück war nicht Mozarts erster Versuch, eine
   Sonate für einen konkreten Anlass zu schreiben. Erhalten geblieben ist auch ein 65-takti-
   ges Fragment einer Sonate in B-Dur vom 24. März 1781. Nach einem zarten Anfangs-
   thema wird die Musik extravagant und virtuos – offenbar, um potenzielle Wiener Mäze-
   ne zu beeindrucken. Warum beendete Mozart den Satz nicht? Vielleicht hatte er das
   Gefühl, dass es der Musik an Schicklichkeit mangelte oder das Anfangsthema nicht gut
   zum Rest der Exposition passte.
       Am Tag, an dem er das Fragment datierte, schrieb Mozart seinem Vater einen langen
   Brief, gespickt mit Ausführungen über Intrigen am Hof und Prahlereien über sein reges
   gesellschaftliches Leben. Es ist verlockend zu spekulieren, dass das Fragment in den
   nächsten vierzehn Tagen schlicht dem gesellschaftlichen Trubel der Hauptstadt zum
   Opfer fiel: Es war nicht die Art von Stück, das man auf die Schnelle zu Ende bringen
   konnte. In meinen beiden Ergänzungen habe ich verschiedene Ansätze ausprobiert, die
   die Wiener Mäzene hätten beeindrucken können. Ergänzung 2 setzt auf die Virtuosität,
   Geschäftigkeit und Turbulenz des Fragments. Die Rückkehr des zarten Anfangsthemas
verlegte ich auf die Mitte der Reprise, die kurze nachdenkliche Coda spannt den Bogen
zur ruhigen Eröffnung des Satzes. Ergänzung 3 soll denjenigen imponieren, die sich
mehr Chiaroscuro wünschen. Mit einer kurzen tragischen "Szene" zu Beginn der Durch-
führung beruhigt sich die Hektik der Exposition; doch die Bravour und jugendliche
Energie des Fragments lässt sich nicht unterdrücken und bricht sich am Ende der Durch-
führung wieder Bahn.
    Eines von Mozarts prägendsten Erlebnissen dieser Zeit war die Begegnung mit der
Musik Johann Sebastian Bachs und seiner Söhne im Haus Gottfried van Swietens bei
seinen regelmäßigen Besuchen am Sonntagnachmittag. Zunächst imitierte Mozart 13
Bachs Stil sehr sorgfältig in vermutlich privaten Übungen, die als Fragmente erhalten ge-
blieben sind. Eine der einnehmendsten und eigentümlichsten unter ihnen ist die soge-
nannte Fantasie für Klavier und Violine in c-Moll (Fr 1782l). Sie beginnt als langsamer Satz
in einem deklamatorischen, improvisatorischen Stil voller Chromatik und obsessiver
Gesten, die in Mozarts damals veröffentlichter Musik als überspannt aufgefallen wären.
Das Zeitlose, Improvisatorische und Expressive dieser Musik korrespondiert sowohl mit
dem empfindsamen Stil C.Ph.E. Bachs als auch mit den Cembalo-Fantasien seines Va-
ters. Besonders interessant ist, dass Mozart diesen mit improvisiertem Solospiel assozi-
ierten Stil als Duo neu erfindet; C.Ph.E. Bachs einzige Fantasie für Cembalo und Violine
erschien erst vier Jahre später.
    Der Klavierpart in Mozarts 27-taktigem Fragment ist ausgeschrieben, doch erst in
den letzten fünf Takten notierte er die Violinstimme, größtenteils in einer begleitenden
Rolle. Die erste Herausforderung bei der Vervollständigung des Fragments bestand dar-
in, den fehlenden Anfang der Violinstimme zu ergänzen, sodass sie den detaillierten Kla-
vierpart komplettiert, ohne ihm in die Quere zu kommen. Die zweite, größere Heraus-
forderung bestand darin, sich vorzustellen, wie dieses Stück weitergegangen sein könnte.
Ich vermute, dass Mozart die harmonischen Überraschungen, chromatischen Kollisio-
nen und den melancholischen Ton des Anfangs fortgeführt hätte. Jede einzelne von mir
hinzugefügte Wendung findet sich an anderer Stelle in seiner Musik. Das Ergebnis klingt
nicht im Geringsten nach dem Mozart der frühen 1780er Jahre – aber das Fragment selbst
tut dies auch nicht.
Nachdem er sechs seiner Sonaten aus den frühen 1780er Jahren als op. 2 veröffentlicht
   hatte, vollendete Mozart in der Mitte des Jahrzehnts drei einzeln stehende Violinsona-
   ten. Im April 1784 komponierte er kv 454 in B-Dur für einen öffentlichen Auftritt von
   Regina Strinasacchi – daher die kühne Theatralik, die symphonischen Proportionen und
   die glänzende Wirkung des Werkes. kv 481 in Es-Dur (Dezember 1785) und kv 526 in A-
   Dur (August 1787) sind Werke für Kenner, die sich durch Eröffnungssätze mit schillern-
   den Dialogen und merkwürdige, experimentelle langsame Sätze auszeichnen. Aus der-
   selben Zeit stammt das A-Dur-Sonatenfragment Fr 1784b. Aufgrund des Papiertyps
14 datierte Alan Tyson es auf 1784. Doch Mozart verwendete dieselbe Art Papier im Jahr
   1787, und das einzelne Blatt des Fragments entspricht dem "fehlenden" Quadranten des-
   selben Bogens Papier wie drei Seiten des Hornkonzerts kv 447, die vermutlich aus dem
   Jahr 1787 stammen.
       Das 34-taktige Fragment könnte daher zeitgleich mit kv 454 entstanden sein – dessen
   Eröffnung stilistisch ebenso kühn ist – oder mit kv 526, dessen Tonart sowie einige Fines-
   sen in der Textur und Harmonik übereinstimmen. Das Ende des Fragments erinnert an
   eine Passage aus dem Kopfsatz des Klavierkonzerts kv 503, das Mozart 1784 begann, aber
   erst im Dezember 1786 vollendete. Meine Ergänzungen nehmen diese alternativen Da-
   tierungen zum Ausgangspunkt. In Vervollständigung 4 habe ich versucht, den extrover-
   tierten Stil von kv 454 und der Klavierkonzerte von 1784 zu evozieren. Im Gegensatz dazu
   stützt sich Vervollständigung 1 auf die "Kenner"-Aspekte von kv 526 und anderer Werke
   aus dem Jahr 1787, mit größeren Tonumfang, flexibleren Phrasenlängen und einem inti-
   meren Gesprächsstil.
       Mozarts letzte Violinsonate kv 547, die er am 10. Juli 1788 vollendete, markiert einen
   weiteren Wendepunkt: Er nannte sie "Eine kleine Klaviersonate für Anfänger, mit einer
   Violin". Als Fragment ist jedoch noch ein weiteres Werk dieser Gattung erhalten geblie-
   ben. Tyson datierte es auf Ende 1789 oder später, also die Zeit, in die auch Mozarts letzte
   Kammermusikprojekte, die 'Preußischen Quartette' und die letzten beiden Streichquin-
   tette, fallen. Der 31-taktige Beginn eines Allegros in G-Dur (Fr 1789f ) lässt den zutiefst
   persönlichen, transparenten und gewissermaßen reduzierten Stil der letzten beiden Jahre
   Mozarts erkennen. Nach den ersten acht Takten besteht das Fragment nur noch aus einer
Melodielinie in der Geige oder im Klavier, mit spärlich angedeuteten Begleitfiguren. Es
ist bemerkenswert, wie viel Mozart mit so wenig erreicht. Jede Geste ist fein gesetzt und
sparsam, sodass die Musik ein breites Spektrum an Stilen in sich birgt – von Spieldose
über papagenoartig komödiantisch bis hin zu leidenschaftlicher Arie, heiterer Hymne
und konzertanter Virtuosität – und gleichzeitig in stetigem Fluss voranschreitet. Meine
beiden Ergänzungen greifen dieses stilistische Paradox auf unterschiedliche Weise auf.
Vollendung 1 knüpft an den Fluss der Einleitung an, wobei ich in Anlehnung an die "An-
fängersonaten" kv 545 und kv 547 versucht habe, die musikalische Auseinandersetzung so
transparent wie möglich zu gestalten. In Vollendung 2 führe ich die thematische Vielfalt 15
des Fragments auf dramatischere Weise fort. Das zweite Thema ist wegen der motivi-
schen Ähnlichkeit des Fragmentanfangs an die Konzertarie Ch'io mi scordi di te kv 505
angelehnt, die Durchführung orientiert sich an harmonischen Prinzipien, wie sie in
Spätwerken wie dem Klavierkonzert kv 595 und dem Streichquartett kv 590 zu finden
sind. Vor allem dieses letzte Fragment lässt mich nicht los. Wie sehr wünschte ich mir,
Mozart hätte die G-Dur-Sonate zur Vollendung gebracht …
                                                                          Timothy Jones
                                                            Übersetzung: Anne Habermann
Mozart - Fragments de musique pour piano et violon –
    Essais d'achèvement

    L   es sonates pour clavier et violon constituent une sorte de fil directeur tout au long de
        la carrière de compositeur de Mozart. Ses premières pièces ont vu le jour à Paris en
   1764. Il avait alors huit ans. Ses dernières ont été achevées 24 ans plus tard, trois ans avant
   son décès en 1791. Ce corpus de 32 œuvres montre comment s'est transformé le concept de
   la « sonate accompagnée » à la fin du dix-huitième siècle, allant de la musique pour clavier
16 amplifiée par un violon à un partenariat entre deux musiciens égaux, permettant les plus
   grandes subtilités sur le plan de la musique de chambre. Les sonates pour violon de
   Mozart, composées entre 1778 et 1788, sont sans doute plus variées, plus expérimentées sur
   le plan formel et plus saisissantes au niveau de leur caractère que ses sonates pour piano de
   la même période. Durant les dix dernières années qu'il a passées à Vienne (1781-1791), alors
   qu'il était au sommet de sa force créatrice, Mozart a également laissé inachevé un certain
   nombre d'œuvres pour clavier et violon. Quatre de ces fragments forment la base des
   pièces qui constituent le présent programme.
       Les pièces enregistrées ici font partie d'un projet de plus grande envergure se propo-
   sant de reconsidérer la signification musicale de fragments de musique instrumentale
   composés puis laissés inachevés par Mozart vers la fin de sa vie. Plus d'une centaine de ces
   fragments, datant de la dernière décennie de la carrière Mozart, ont été conservés. La
   compréhension de leur chronologie a pu être améliorée grâce au travail philologique no-
   vateur du défunt Alan Tyson et d'Ulrich Konrad. Aussi, il a été possible d'explorer plus en
   détail ce que cette musique inachevée pouvait apporter à notre compréhension des pièces
   achevées. Dans le cadre de mes recherches analytiques, j'ai essayé d'achever les fragments
   qui m'intéressaient le plus afin de tester certaines hypothèses essentielles sur les méthodes
   de travail de Mozart et l'évolution de son style.
       Un des points centraux de mes recherches était de voir ce qui se passerait, première-
   ment, si j'essayais « d'interpréter » la notation de la même manière que Mozart semble
   l'avoir fait – en écrivant très rapidement et d'une manière particulièrement hiérarchique – ;
   deuxièmement, si je portais une attention détaillée et analytique au contexte stylistique
immédiat de chaque fragment ; et troisièmement, ayant noté que Mozart ne se répétait
lui-même jamais, si j'appliquais le principe de modèles stylistiques, mais pas à la lettre. Je
n'ai bien sûr aucune idée de la manière dont Mozart a pu intégrer ces fragments à des
œuvres achevées. Ainsi, une partie importante du projet a été d'effectuer de multiples es-
sais d'achèvement pour chaque fragment, non pour refléter l'invention pléthorique de
Mozart mais pour reconnaître « l'ouverture » de ces fragments, tester des hypothèses
contraires sur le matériau, et considérer ensuite les différentes voies que pourrait prendre
la musique au cours du mouvement entier. Ces différentes versions, essais d'achèvements,
défigurent inévitablement la musique de Mozart ; mais je n'ai jamais eu de problème à 17
entendre des interprètes jouer ou improviser leurs propres cadences dans les concertos de
Mozart. Je fais ici juste un pas de plus et espère que ces mouvements de sonate pourront
être considérés, à défaut d'autre chose, comme de divertissants éléments d'analyse.
    Le 16 mars 1781, dès son arrivée à Vienne, Mozart a dû composer deux nouvelles so-
nates pour violon. Dans une lettre à son père, datée du 8 avril, évoquant un concert lors
duquel trois nouvelles compositions ont été jouées, il a mentionné « une sonate avec ac-
compagnement de violon pour moi-même, composée la nuit dernière entre 11h et minuit
– mais, pour pouvoir finir à temps, j'ai juste écrit en entier la partie [de violon] pour Bru-
netti et gardé ma propre partie en tête ». Cette pièce de dernière minute n'était pas le pre-
mier essai de sonate composée pour cette occasion. Il existe en effet un fragment de 65
mesure d'une sonate en si bémol majeur datée du 24 mars 1781. Dans ce fragment, après
l'exposition d'un thème d'ouverture délicat, la musique devient d'une virtuosité extrava-
gante, sans aucun doute pour impressionner de potentiels nouveaux employeurs à Vienne.
Pourquoi Mozart n'a-t-il pas terminé ce mouvement de sonate ? Peut-être a-t-il pensé
que la musique manquait de décorum, ou bien que le premier thème ne s'intégrait pas fa-
cilement au reste de l'exposition.
    Le jour où il a composé ce fragment, Mozart a également écrit à son père une longue
lettre lui rapportant de nombreuses intrigues de la cour et vantant son intense vie sociale.
Il est tentant d'imaginer que ce fragment, durant les deux semaines qui ont suivi, a été
victime du tourbillon impliqué par la vie sociale de son auteur dans la capitale : ce n'était
pas une sorte de pièce pouvant être remise sur le feu, le soir, à 11h. Dans les deux versions
enregistrées ici, j'ai tenté différentes approches, essayant de me projeter dans le désir d'im-
   pressionner de potentiels employeurs viennois. La version n°2 prend le parti de la virtuo-
   sité, de l'affairement et de cette sorte de cliquetis proposés par le fragment. Le retour du
   thème d'ouverture délicat est repoussé au milieu de la récapitulation, et une brève
   coda méditative rétablit l'équilibre avec le calme de l'ouverture. La version n°3 est destinée
   à ceux qui auraient aimé plus de clair-obscur dans leur comédie. Elle calme le pêle-mêle
   de l'exposition par une brève scène tragique au début du développement, mais la bravoure
   du fragment ne peut être complètement supprimée et la fin du développement tente de
18 retrouver cette énergie juvénile.
       L'une des expériences les plus formatrices de Mozart à cette époque a été sa rencontre
   de la musique de JS Bach et de ses fils au domicile de Gottfried van Swieten dans le cadre
   de ses régulières visites du dimanche après-midi. La réponse initiale de Mozart a été
   d'imiter étroitement le style de JS Bach dans des sortes d'exercices qu'il s'est imposé à lui-
   même. Ces exercices ont été transmis à la postérité sous forme de fragments. L'un de ces
   fragments les plus étranges et les plus intéressants est ce que l'on nomme la Fantaisie pour
   piano et violon en do mineur (Fr 17821). Elle fait entendre le début d'un mouvement lent,
   de style improvisé, très déclamatoire, riche en conflits chromatiques et en gestes obses-
   sionnels qui auraient été considérés comme outrés dans la musique de Mozart publiée à
   cette époque. Le caractère improvisé de la musique, avec son enchaînement de moments
   expressifs intenses, reflète un style de sensibilité associé à la musique de CPE Bach ainsi
   qu'aux fantaisies pour clavier de son père. Le plus bizarre est de voir comment un style
   associé à des improvisations solistes a pu être repensé dans le genre du duo. L'unique Fan-
   taisie pour clavier et violon de CPE Bach a vu le jour quatre ans plus tard.
       La partie de clavier de ce fragment de 27 mesures de Mozart est entièrement notée
   mais ce dernier n'a ajouté la ligne de violon que pour les cinq dernières mesures, plaçant le
   violon essentiellement dans un rôle d'accompagnement. Lors de l'achèvement de ce frag-
   ment, le premier défi a été d'extrapoler la partie de violon dès le début du mouvement de
   sorte qu'elle complète l'écriture détaillée du clavier sans l'entraver. Le deuxième et plus
   important défi a été d'imaginer comment cette pièce aurait pu se poursuivre. Je suppose
   que Mozart aurait continué d'intensifier les secousses harmoniques, les conflits chroma-
tiques et le ton mélancolique de la première section. Tous les tours et détours appliqués au
matériel peuvent être retrouvés quelque part dans sa musique. Le résultat ne sonne pas
comme une œuvre composée par Mozart dans les années 1780, mais le fragment lui-même
non plus.
     Après la publication de six de ses sonates du début des années 1780 comme opus 2,
Mozart n'a achevé que trois sonates très clairement composées pour le violon durant les
années du milieu de la même décade. La sonate k. 454 en si bémol majeur a ainsi été com-
posée en avril 1784 pour un concert public donné par Regina Strinasacchi - ce qui explique
sa vive théâtralité, ses proportions symphoniques et son allure concertante. Les sonates k. 19
481 en mi bémol majeur (décembre 1785) et k. 526 en la majeur (août 1787) sont en revanche
des pièces de connaisseurs. Elles se distinguent par leurs premiers mouvements qui offrent
un dialogue brillant et des mouvements lents étranges et expérimentaux. Le fragment de
sonate en la majeur Fr 1784b date de cette même période. L'étude des caractéristiques du
papier du manuscrit a permis à Alan Tyson de le dater de 1784. Or Mozart a utilisé le
même type de papier pour une œuvre datée de 1787. L'unique page du manuscrit sur la-
quelle se trouve le fragment de sonate mentionné correspond en effet au quatrième qua-
drant « manquant » de la grande feuille de papier utilisée pour trois pages du manuscrit
autographe du concerto pour cor k. 447, œuvre qui daterait de 1787.
     Ce fragment de 34 mesures devrait par conséquent être contemporain de la sonate k. 454,
dont le début partage le style audacieux, ou de la sonate k. 526, dont il partage la tonalité
ainsi que certaines subtilités relatives à l'harmonie et à la texture. La fin de ce fragment fait
fortement écho à un passage du premier mouvement du Concerto pour piano k. 503, auquel
Mozart a commencé à travailler en 1784 mais qu'il n'a terminé qu'en décembre 1786. Dans
mes tentatives d'achèvement, je suis donc parti de ces indices temporels. Dans la version n°4,
j'ai tenté d'évoquer le style extraverti de la sonate k. 454 et les concertos pour piano de 1784.
En revanche, la version n°1 fait plutôt référence aux aspects de la sonate k. 526, destinée aux
connaisseurs, ainsi qu'à d'autres pièces de 1787, caractérisées par un éventail tonal plus large,
des carrures de phrases plus flexibles et un style de discours plus intime.
     La dernière sonate pour violon, k. 547, achevée le 10 juillet 1788, marque un nouveau
tournant. Il l'a intitulée « Une petite sonate pour piano – pour débutants - avec un vio-
lon ». Toutefois, dans ce genre, son dernier mot consiste en un fragment daté par Tyson de
   la fin de 1789 ou plus tard, période durant laquelle Mozart travaillait à ses derniers projets
   de musique de chambre, ses Quatuors « prussiens » et ses deux derniers Quintettes à
   cordes. Ces 31 mesures d'un allegro de sonate en sol majeur (fr 1789f ) suggèrent le style
   des deux dernières années de Mozart, de plus en plus personnel, de texture transparente et
   quelque peu épuré. Après les huit premières mesures, le fragment consiste en une simple
   ligne mélodique au violon ou au piano, avec de rares suggestions d'accompagnement. Il
   est remarquable de voir ce que Mozart est parvenu à obtenir avec si peu de choses. Chaque
20 geste, aussi économe et finement gravé qu'il soit, met musicalement en marche un large
   éventail de sujets et de styles : boîtes à musique mécaniques, comédie naïve de style Pa-
   pageno, aria passionné, hymne sereine, virtuosité concertante. Cependant son cours reste
   imperturbable et son ton constamment uniforme. Mes deux versions présentent des ap-
   proches opposées de ce paradoxe stylistique. La version n°1 vise à perpétuer la fluidité du
   début. En m'inspirant des sonates pour « débutants » k. 545 et k. 547, j'ai essayé de mainte-
   nir le fil conducteur de l'argument musical aussi transparent que possible. La version n°2
   correspond à une approche plus dramatique de la variété du matériau thématique du frag-
   ment. Son second thème a été emprunté à l'air de concert Ch'io mi scordi di te k. 505 au vu
   de similarités thématiques que cet air présente avec le début du fragment. Son développe-
   ment utilise quant à lui les principes harmoniques trouvés dans des œuvres tardives de
   Mozart, notamment le Concerto pour piano k. 595 et le Quatuor à cordes k. 590. Ce
   fragment me hante. J'aurais énormément aimé que Mozart mène à bien la composition de
   cette Sonate en sol majeur.
                                                                                  Timothy Jones
                                                                      Traduction : Clémence Comte
Discography Rachel Podger
solo                                                                        with Arte dei Suonatori
ccs 12198      Bach: Sonatas & Partitas vol. 1                              ccs sa 19503 Vivaldi: La Stravaganza Op. 4
ccs 14498      Bach: Sonatas & Partitas vol. 2
ccs 18298      Telemann Fantasies for violin solo                           with Orchestra of the Age of Enlightenment
ccs sa 35513   Guardian Angel: works by Biber, Bach, Tartini,               ccs sa 29309 Mozart: Sinfonia Concertante (Pavlo
               Pisendel                                                                    Beznosiuk, viola)
                                                                                           Haydn: Violin Concertos 1 & 2

                                                                            with Brecon Baroque                                      21
                                                                            ccs sa 30910   J.S. Bach: Violin Concertos, vol. 1
                                                                            ccs sa 34113   J.S. Bach: Violin Concertos, vol. 2
                                                                            ccs sa 36515   Vivaldi: L'Estro Armonico Op. 3
                                                                            ccs sa 38316   Bach: Kunst der Fuge
                                                                            ccs sa 39217   Grandissima Gravita
ccs sa 41119 J.S. Bach - Cello Suites                                       ccs sa 40318   Vivaldi: Le Quattro Stagioni Op. 8
               "A breathtaking interpretation of Bach's Cello
                                                                            with Holland Baroque
               Suites. A spellbinding set that is arguably Podger's
                                                                            ccs sa 34412 Vivaldi: La Cetra Op. 9
               finest recorded achievement to date."
               bbc music magazine                                           with Trevor Pinnock
               [Recording of the Month, July 2019]                          ccs 14798    Bach: The Complete Sonatas for Violin and
               5/5 stars                                                                 Obbligato Harpsichord
                                                                            ccs sa 19002 J. Ph. Rameau: Pièces de Clavecin en
               "Solo artists impressed and smaller labels triumphed (...)                Concerts
               Violinist Podger makes Bach's suites sound as if they were
                                                                            with Gary Cooper
               written for her instrument, such is her buoyancy and
                                                                                           W.A. Mozart: Complete Sonatas for
               agility"
                                                                                           Keyboard and Violin
               the guardian
                                                                            ccs sa 21804   (vol. 1)
               Top 10 Best Classical CDs of the Year 2019!
                                                                            ccs sa 22805   (vol. 2)
                                                                            ccs sa 23606   (vol. 3)
with David Miller, Marcin Swiatkiewicz and
                                                                            ccs sa 24606   (vol. 4)
Jonathan Manson
                                                                            ccs sa 25608   (vol. 5)
ccs sa 37315 Biber: Rosary Sonatas
                                                                            ccs sa 26208   (vol. 6)
                                                                            ccs sa 28109   (vol. 7/8)
with Marcin Swiatkiewicz and Daniele Caminiti
ccs sa 36014 Perla Barocca                                                  Also available as complete set: box 6414
Colophon
    Production                                Technical information
    Channel Classics Records                  Digital converter
    Producer                                  Horus / Merging Technologies (dsd)
    Jonathan Freeman-Attwood                  Editing software
    Recording engineer                        Pyramix Workstation / Merging
    Simon Kiln                                Technologies
22 Editing, mastering
   Jared Sacks                                Mastering Room
    Cover design                              Speakers
    Ad van der Kouwe, Manifesta, Rotterdam    Grimm ls1
    Photography                               Cables
    Andrew Wilkinson                          Van den Hul*
    Liner notes                               *exclusive use of Van den Hul 3t cables
    Timothy Jones
    Translations                              This project is supported by the
    Anne Habermann, Clémence Comte            Royal Academy of Music, London
    Tuners
    Cesar Hernandez and Edmund Pickering
    Recording location
    St John's Upper Norwood, London
    Recording date                            www.channelclassics.com
    November 2020                             www.rachelpodger.com
    Instruments                               www.cglynn.com
    Violin: Pesarinius, 1739
    Fortepiano: the instrument is housed at   Rachel Podger and Brecon Baroque are managed
    the Royal Academy of Music, London,       worldwide by Percius
    and loaned by the Calleva Collection.     www.percius.co.uk
March 2021

Dear Sir / Madam,

Thank you for purchasing Rachel Podger / Christopher Glynn – Mozart / Jones –
Violin Sonatas Fragment Completions.
I hope you are enjoying the recording!

The complete catalogue of the 400+ recordings that I have made over the past
30 years with the Channel Family of Artists is available on our website. This
includes recordings with Iván Fischer, Budapest Festival Orchestra, Florilegium,
Rosanne Philippens, Amsterdam Sinfonietta, Ragazze Quartet and Ning Feng,
to name a few. You will also find Rachel Podger at www.channelclassics.com

                                                                        Best wishes,
                                                                         Jared Sacks
                             Founder, Producer, Engineer at Channel Classics Records

New to our website?
You will automatically receive a 25% discount code on the entire cart
upon creating your account. The discount is valid on the physical products
(CD / SACD) as well as Downloads in any format of your choice.
More Information: www.channelclassics.com/welcome
Rachel Podger                      VIOLIN

Christopher Glynn                             FORTEPIANO

                             Mozart
                                 JONES
Violin Sonatas Fragment Completions
WORLD PREMIERES

              World premiere recordings of six sonata-allegros and a fantasia
                    for violin and piano, completed by Timothy Jones.
          Sonata Allegro in A (kv Anh 48) | Sonata Allegro in G (kv Anh 47)
              Sonata Allegro in B flat k 372 | Fantasia in C minor k 396

1 Mozart Fragment of a Sonata                 5 Mozart Fragment of a Sonata
  in B flat for piano and violin Fr 1782c       in B flat for piano and violin
  Jones Completion 3                   6.49     Fr 1782c Jones Completion 2        7.14
2 Mozart Fragment of a Sonata                 6 Mozart Fragment of a Sonata
  in A for piano and violin Fr 1784b            in A for piano and violin Fr 1784b
  Jones Completion 4                   7.35     Jones Completion 1                 7.40
3 Mozart Fragment of a Sonata                 7 Mozart Fragment of a Sonata
  in G for piano and violin Fr 1789f            in G for piano and violin Fr 1789f
  Jones Completion 1                   7.22     Jones Completion 2                 8.39
4 Mozart Fragment of a Fantasia
  in C minor for piano and violin Fr 1782l    		                        Total Time 55.45
  Jones Completion 1                   9.32