The Giraffe Plasma Bank & the Butterfly Effect - AZA Ungulates
Page content transcription
If your browser does not render page correctly, please read the page content below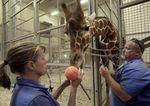 The Giraffe Plasma Bank
        & the Butterfly Effect

L Dadone, VMD, P Bapodra-Villaverde,
 BVetMed, DACZM, E Stringer, DVM,
DACZM, K Thomas, DVM, C Bradford,
   DVM, DACZM, M Barrie, DVM,
   C Rettenmund, DVM, DACZM,
    J Torres, DVM, S Carle, DVM,
     D Wilfong, CVT, & A Schilz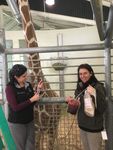 The Giraffe Plasma Bank
  was created because
 about ¼ of zoo giraffe
   mortalities may be
 associated w neonates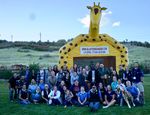 50 Yrs of Giraffe Mortality Data
                       Non-
                     infectious
 n = 1,310            Disease     Neonate
                        8%         26%
(1967-2017)
                 Restraint
                   12%

                                     Infectious
From Dadone &      Trauma             Disease
                    24%                25%
Klaphake, 2017
Causes of Newborn Giraffe Mortality
• Congenital abnormalities
  • Joint hyperextension
  • Umbilical hernia
    complications
  • White muscle disease
• Dystocia
• Failure of passive transfer
• Hand-rearing complications
• Maternal neglect
• Trauma                        • Hyperextended fetlocks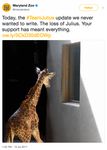 What is Failure of Passive Transfer?
• Newborn hoofstock need to
  absorb maternal antibodies
  & proteins from colostrum
  in their 1st day
  • Without this, calves may die
    from infections
  • Colostrum from other species
    (ie domestic cows) will not
    necessarily provide pathogen-
    specific immunity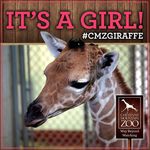 Plasma Transfusions
• Plasma transfusions can provide
  antibodies for calves that don't get
  sufficient colostrum

• Using trained blood-draw
  behaviors, CMZoo started banking
  giraffe plasma in preparation for
  our next giraffe calf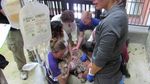 •CMZoo's calf "Rae"
 didn't need our
 banked plasma

•But this plasma was
 needed by another
 zoo w a newborn
 giraffe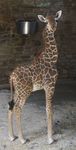 Denver Zoo
made headlines
   by saving
newborn giraffe
   "Dobby"

 - Medical care
included a plasma
transfusion from a
  CMZoo giraffe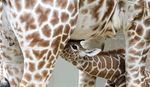 Based on this demonstrated need, we
started a national Giraffe Plasma Bank

  • Blood samples
   collected using
trained behaviors!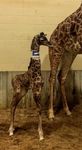 Giraffe Plasma Recipients, Year #1
Case #      Outcome        Sex   Date     Comments
  1           Lived        M     3/17
  2           Lived         F    4/17
  3           Died         M     5/17   Dislocated hip
  4           Died         M     6/17     Head tilt
  5           Lived        M     6/17   MRSA infection
  6           Lived         F    1/18
Total    4 lived, 2 died   4.2
Plasma transfusions
  also helped other
  hoofstock species
An okapi calf at Denver
 Zoo was saved w okapi
plasma donated from the
Columbus Zoo, Dec 2017
50 Yrs of Okapi Mortality Data

    n = 91       Trauma
 (1967-2017)      15%

                                 Neonate
                                  45%

From Dadone &    Infectious
Klaphake, 2017    Disease
                   30%
Training hoofstock for
     blood collections &
   sharing blood products
         saves lives

• Should zoos create plasma banks
    for okapi & other hoofstock
 species w high neonate mortality?
Increasing neonate survival will
help us maintain genetic diversity

 SSP Goal: >90% genetic diversity for
 10 generations
 Are we on track?
 •   Generic giraffe: Green (n = 425)
 •   Masai giraffe: Yellow (n = 120)
 •   Okapi: Yellow (n = 105)
 •   Malayan tapir: Red (n = 35)
 •   Red-flanked duiker: Red (n = 34)
Potential Additional Benefits
    of the Plasma Bank
Regular Access to Blood Could Help Us Make
     Medical Advancements for Giraffe
• Individual animal care &
  diagnosis
• Identify species-specific
  doses for pain meds,
  antibiotics, etc
• Develop new treatments
  (ie stem cell therapy)
Medical Advancement: Stem Cell Therapy

Lame giraffe 1 day before     Recheck 3 wks after hoof trim &
stem cell therapy (4/18/17)     stem cell therapy (5/10/17)
Media Opportunities

• The media loves stories
  about zoo babies,
  quality medical care &
  collaborations
Even when critical cases
 don't survive, these stories
raise awareness for the great
  work of our modern zoos

• Opportunity to message about Zoo's
  animal care & other programs

• AZA community benefits w
  examples of great animal care &
  attention to welfare
Raising Awareness for the Great
Work of Zoos Helps Counter Anti-
      Zoo Welfare Concerns
   •We can prevent some giraffe calf
   mortalities w plasma transfusions
Increased Collaborations Benefit Us All
                   • Sharing resources &
                     ideas helps us provide
                     better animal care

                   • These partnerships help
                     us build a community
                     to benefit giraffe in
                     zoos & in the wild
Conclusions
• Plasma transfusions can help prevent
  some giraffe calf mortalities

• Plasma banking could benefit
  breeding programs for multiple
  hoofstock species
• Trained medical behaviors are
  helping us advance zoo animal care
  • Should trained blood-draw behaviors be a
    standard of care for giraffe?
Resources
• Girafferesourcecentre.org
  • Giraffe plasma bank protocol

• ldadone@cmzoo.org
• Priya.Bapodra@
  columbuszoo.org
                                   •Annual Giraffe Care Workshop
                                   at Cheyenne Mountain Zoo
Please Join the Giraffe
    Plasma Bank!!

       Your logo
        HERE!