Vice Principal Student Recruitment - Appointment Brief - Saxton Bampfylde
Page content transcription
If your browser does not render page correctly, please read the page content below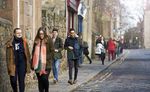 Welcome from the Principal & Vice-Chancellor

Dear candidate,

In looking forward to commencing my new position as Principal and Vice-Chancellor at the University of Aberdeen, I
am very pleased to present the details of an opportunity to join my Senior Management Team. I am delighted to have
been appointed as Principal and Vice-Chancellor and I am looking forward to building a strong leadership team to
support the delivery of ambitious goals for the University.

The position of Vice-Principal (Student Recruitment) is an important role in the Senior Management Team and you will
work alongside me, a Senior Vice-Principal and three other Vice-Principals to develop and implement the academic
strategy that will drive the University forward.

An ambitious leader with a strategic vision and excellent communication skills is required to join the senior team to
drive forward our strategy for growth in our student recruitment.

I am hugely enthusiastic about this key position and the benefits it will bring to our already world-leading University. I
hope that you will share this vision and wish to join us in this critical leadership role.

Professor George Boyne

Principal and Vice-Chancellor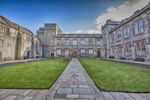 University of Aberdeen
Founded in 1495, Aberdeen is Scotland's third oldest university and the fifth oldest in the UK. Consistently ranked
amongst the world's top 200 universities and 28th in the Complete University Guide's 2019 rankings.

Aberdeen has a diverse and vibrant community of over 15,000 students, 2900 staff and an annual turnover of £222m.
It is well integrated into both the city of Aberdeen and its local region and is a stakeholder in the Aberdeen City
Regional Deal, along with the local Councils, Robert Gordon University (RGU), Scottish Enterprise and Opportunity
North East (ONE). The University plays a crucial role in shaping the educational, cultural and economic life of an
internationally important region of Scotland - and is committed to building further on its history and international
reputation for teaching and research excellence.

It is a broad-based, research-intensive university which puts students at the heart of everything it does. Outstanding
in a wide range of discipline areas, Aberdeen has also been credited in particular for its international reach and its
commercialisation of research ideas into spin-out companies.

In June 2015, the University launched its Strategic Plan 2015-20. Underpinned by the University's mission and values,
the Plan supports the commitment to providing an outstanding educational experience and enriching people's lives
through research, learning and sharing of knowledge. In all its activities, the University seeks opportunities to work in
collaboration and partnership with Universities and other organisations, locally, nationally and globally. The Plan can
be viewed online at:

https://www.abdn.ac.uk/about/strategy-and-governance/strategic-plan-20152020-735.php

Initial preparatory work to underpin the Strategic Plan 2020-25 has
begun and the Senior Vice-Principal will play a key role in shaping
the process and driving forward the development and delivery of
the University's future strategic ambitions. For further detail on the
University and scope of its activities, please see the Appendix at the
end of this document.

Student Numbers
                 Total       PGR        PGT       UG
 Number          15068       1517       2786      10765
 FTE             12924       948        1824      10152

Staff Numbers by Activity (full time equivalent basis)
 Academics                                             1,101

 Academic Services                                     249

 Administration and Central Services                   364

 Premises                                              194

 Residences, Catering and Conferences                  133

 Researchers                                           466

 Other                                                 114

 Total                                                 2,621
Vision, Mission and Values
Our Vision

   •   Open to all and dedicated to the pursuit of truth in the service of others.

Our Mission

   •   To enrich people's lives through research, teaching, learning and sharing of knowledge;

   •   To be one of the world's top seats of teaching and learning, providing a standout personalised student
       experience of the highest quality in an international context;

   •   To be one of the world's top research-intensive universities, working with partners and stakeholders to
       undertake rigorous, relevant, impactful and excellent research;

   •   To ensure that social, cultural and economic impact is at the heart of everything we do;

   •   To build an integrated, collaborative and sustainable physical and digital infrastructure to underpin
       the University's ambition;

   •   To be a progressive university where staff and students thrive within a culture of equality and diversity to
       enable them to achieve their aspirations.

Our Values

   •   Innovation and relevance in our education, research and engagement;

   •   Independence and responsibility of thought and action;

   •   Sustainable partnerships with all our stakeholders to drive a culture of inclusion and accessibility;

   •   Respect for all, both within and beyond the University;

   •   An empowered and ambitious University of Aberdeen community where all have an opportunity to
       thrive.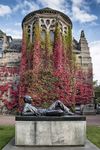 ORGANISATIONAL STRUCTURE
The mission, objectives and targets outlined in the Strategic Plan are approved and monitored through the
governance structure of the University Court and the Senatus Academicus (Senate).

University Structure
The mission, objectives and targets outlined in the Strategic Plan are approved and monitored through the governance
structure of the University Court and the Senatus Academicus (Senate).

The Court's principal role is to oversee the management of the revenue, property and other resources of the University.
It approves the mission and strategic vision of the University, and has a number of corporate and legal responsibilities.
Further information about the remit, composition and membership of the Court is available at:
http://www.abdn.ac.uk/staffnet/governance/court-information.php.

The Senate is responsible for academic matters within the University, in particular for regulating the teaching of the
University and academic standards, and the promotion of research. The Senate also approves all degrees to be
conferred by the University. The membership of Senate consists of ex officio members, academic members elected
from across the Schools and student representatives. Further information about the Senate is available at:
http://www.abdn.ac.uk/staffnet/governance/senate/index.php.

The General Council comprises all University graduates and certain academic staff and is empowered "to take into
consideration all questions affecting the well-being and prosperity of the University, and to make representations from
time to time on such questions to the University Court". Further information about the General Council is available at:
https://www.abdn.ac.uk/general-council/role-of-the-general-council/.

The University's Senior Management Team is led by the Principal, who is the chief academic and executive officer of
the University. The Principal is supported directly by the Senior Vice-Principal, 4 Vice-Principals, Secretary to the
University & Director of Operations, Director of Finance and Director of People.

The University's overall management structure is outlined below.

Academic Structure
The University's academic structure comprises 12 Schools, each of which operates within a framework of devolved
budgetary and planning responsibility:

    •   Business School;                                   •    School of Language, Literature, Music and Visual
    •   School of Biological Sciences;                          Culture;
    •   School of Divinity, History and Philosophy;        •    School of Law;
    •   School of Education;                               •    School of Medicine, Medical Sciences and Nutrition;
    •   School of Engineering;                             •    School of Natural and Computing Sciences;
    •   School of Geosciences;                             •    School of Psychology; and
                                                           •    School of Social Science.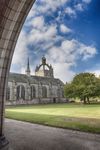 Professional Services Structure
The Academic areas are supported by the University's Professional Services, comprising the following Directorates:

    •   Digital & Information Services;                  •    People;
    •   Estates & Facilities;                            •    Planning;
    •   External Relations;                              •    Research & Innovation; and
    •   Finance;                                         •    Student & Academic Services.
    •   Marketing & Student Recruitment;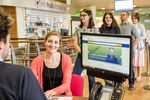 The Role
The Vice Principal (Student Recruitment) is one of four Vice Principals who will form part of the Senior
Management Team. The Senior Management Team comprises:

    •    Principal and Vice-Chancellor                                •   Vice-Principal (Research)

    •    Senior Vice-Principal                                        •   University Secretary

    •    Vice-Principal (Education)                                   •   Director of Finance

    •    Vice-Principal (Student Recruitment)                         •   Director of People

    •    Vice-Principal (International Partnerships)

Whilst each individual has a distinct portfolio with a primary focus, a strong team approach is required to ensure
the effective delivery of the University's strategic priorities.

Overview
The Vice Principal (Student Recruitment) will be accountable through the Principal to the University Court for
leading the development of the University's Student Recruitment Strategy, promoting the University's student
recruitment ambitions and ensuring the effective delivery of our strategic objectives in this area.

In addition, the Vice Principal (Student Recruitment) will be responsible for leading and championing student
recruitment, marketing and admissions to the University in accordance with the University's student
recruitment strategy and will provide strategic vision, motivation and leadership in promoting the University as
a destination of choice to all potential students.

The post-holder will ensure that the programmes offered by the University meet the needs and ambitions of
contemporary home and international students.

S/he will influence, maintain and develop effective student recruitment links with and represent the University
at the highest levels of Government, industry, charitable organisations, Higher Education and with alumni, both
within the UK and overseas.

Finally, the Vice-Principal (Student Recruitment) will work alongside the Vice-Principal (Education), Vice-Principal
(International Partnerships) and Vice-Principal (Research) ensuring that the Student Recruitment & Marketing
strategy aligns with the wider aims and goals of the University. S/he will work closely with the Director of
Marketing & Student Recruitment.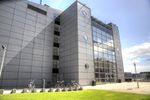 Primary Responsibilities
  •   Strategic oversight of all aspects of development and delivery of Home, Europe and international
      student recruitment strategy at undergraduate, postgraduate taught and postgraduate research
      level;

  •   Strategic oversight of all aspects of development and delivery of the institutional online student
      recruitment strategy;

  •   Development of national articulation partnerships;

  •   Development of key strategic foundation partnership(s);

  •   Development and maintenance of Agent relationships;

  •   Ensuring the co-ordination of the University's student recruitment ambitions with School strategic
      and operational planning processes;

  •   Raising the profile and benefits of student recruitment and marketing within Schools, working
      with them to identify opportunities and facilitating the development of mutually beneficial
      opportunities;

  •   Identifying and exploring opportunities for growth in student recruitment expanding the portfolio
      of programmes for local, RUK and overseas students;

  •   Alongside other members of the Senior Management Team, support the Principal in driving
      forward fundraising and development activity;

  •   Undertaking any other such duties as reasonably determined by the Principal.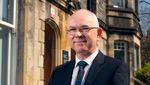 Person Specification
Qualifications/Experience
The successful candidate will bring the following experience:

    •   A proven track record of leading the development of a portfolio of successful degree
        programmes;

    •   A proven track record of success at a senior level in developing and implementing student
        recruitment and related marketing strategies;

    •   A proven track record of fostering and delivering a strong performance ethos, coupled with highly
        developed interpersonal and motivational skills

    •   A demonstrable knowledge of home, EU and international student recruitment markets;

    •   Ability to demonstrate an awareness and understanding of key issues and challenges facing the
        HE sector, particularly in relation to funding and fundraising matters;

    •   Experience of working in the HE sector.

Candidates will also demonstrate the following attributes:

    •   Well-developed leadership and management skills, with a proven track record in leading and
        motivating individuals and teams from a multi-disciplinary perspective;

    •   Demonstrable ability to develop strong working relationships with a broad range of colleagues
        and stakeholders;

    •   Effective decision-making skills and the confidence to delegate and empower colleagues, as well
        as sound judgement and problem solving skills;

    •   Excellent communication skills, including clarity of thought and the ability to listen;

    •   Flexible approach to work, including willingness to work outwith normal office hours and
        undertake significant international, European and domestic travel.
HOW TO APPLY
Saxton Bampfylde Ltd is acting as an employment agency advisor to the University of Aberdeen on this
appointment.

Candidates should apply for this role through our website at www.saxbam.com/jobs using code WVBQ.

Click on the 'apply' button and follow the instructions to upload a CV and cover letter outlining:
     •   your skills and experience (referencing the desirable criteria within the Person Specification); and
     •   your interest in and vision for the role.

The closing date for applications is noon on Friday 20 July 2018.

If you are unable to apply through the website, please email belinda.beck@saxbam.com quoting reference WVBQ.

The selection process will conclude with formal interviews taking place in on Monday 10 September.
Appendix
Global Outlook
As a global institution with an international outlook, the University has a clear commitment to the continued growth
of its international student population and the expansion of the University's student mobility opportunities. An
additional key strand of the University's Internationalisation Strategy is Transnational Education (TNE), including the
establishment of overseas campuses. The first overseas campus in Qatar was opened in September 2017 in
partnership with the Al-Faleh Group for Educational and Academic Services (AFG) and in the first year, 120 students
enrolled onto the business programmes. A number of opportunities have also been explored in Africa, and there is a
promising opportunity emerging for collaborative work with a partner in Sri Lanka on our MBChB medical programme.

The University also continues to enjoy strong links, including research partnerships, with other international
institutions through membership of the Aurora Network of European Universities and through partnership
agreements with Curtin University in Australia, and Wuhan University and South China Normal University in China.

The University's workforce is truly international, with over 70 different countries represented in our staff community
(223 outwith EU). We hold a UKVI Tier 2 licence that enables us to attract talent on a global scale and we currently
sponsor 80 staff through this route.

The University of Aberdeen has been very successful in building an international reputation in recent years and
particularly so in the European Union. With 17% of the University's overall workforce coming from EU countries
(excluding the UK) and 25% of our academic staff.

Our staff numbers from EU countries remain stable and we continue to attract applications from EU applicants for all
our vacancies demonstrating the strong position of the University as an employer.

Furthermore, the University has the highest proportion of EU students in Scotland at an institutional level and the
highest proportion of EU students at UG level.

People
The University enjoys a diverse and cosmopolitan community, which enriches the life and work of the University and
local region. The University is committed to continuing to attract and retain the best staff and students from around
the world and fosters a caring and diverse culture, which promotes and nurtures equality and diversity for all
members of its community.

The University's current staffing complement comprises c. 3,358 individuals: 1,417 academic, research and teaching
staff, supported by 1,941 members of staff in administrative, technical and other support roles. The University is
committed to the development of staff at all levels of the institution and providing an outstanding working
environment. In August 2015, Aberdeen became one of the first higher education institutions in Scotland to be
accredited as a Living Wage Employer.

The student population has grown significantly over recent years and now comprises 15,000 individuals (13,000FTE),
representing 120 nationalities.

The University works within the Athena SWAN Charter which promotes and recognises commitment to gender
equality and at an institutional level, holds a bronze award with plans in place to prepare for a silver award. Eleven
Academic Units, either Schools or Institutes, are also accredited with bronze awards.

The University is committed to promoting a culture of health, safety and wellbeing for staff and students and retained
its Healthy Working Lives Silver Accreditation in 2017. A number of initiatives have been introduced to support staff
in maintaining a healthy work-life balance across the institution, from a 'nine-day fortnight' scheme for Professional
Services staff, to free off-peak membership for all staff to the world-class Aberdeen Sports Village facility. The Mental
Health Strategy is underpinned by a number of initiatives including staff and student Health & Wellbeing Days,
implementation of a fair workload policy, health promotion activities and a confidential 24-hour employee assistance
programme.

The Employee Engagement Strategy and Action Plan provides the framework within which guidance and activities to
promote staff engagement takes place and an Employee Value Statement (A respective and inclusive community, built
on trust and integrity) was launched in June 2017.

The University seeks to provide all students with the potential to benefit from a University of Aberdeen degree,
irrespective of their background by intensifying its long-standing commitment to Widening Access for applicants from
areas of multiple deprivation in Scotland and those with caring responsibilities and/or disabilities. A dedicated
Widening Participation team is in place and a number of innovative activities have been introduced, including Summer
School bridging programmes, online Access programmes in English and Maths to support students entering
Secondary Education PGDE programmes, a very successful Gateway to Medicine programme and articulation
agreements with FE Colleges.

The University ensures that students are supported in all that they do through the provision of a comprehensive
Student Support service, which includes:

    •   an interfaith Chaplaincy;

    •   Counselling support; and

    •   Careers guidance.

The University also works in partnership with the Students' Association for the benefit of the student community.

Teaching and Learning
The University, in common with the other ancient universities in Scotland, offers a flexible degree structure which
promotes breadth as well as depth of learning. This approach enables the University to offer a wide range of provision
at both undergraduate and postgraduate level. The University was the first in Scotland to undertake a major holistic
reform of its curriculum and supporting structures and services. The first cohort of students taking this reformed
curriculum commenced in September 2010. The reformed curriculum is underpinned by a suite of Aberdeen Graduate
Attributes, which describe the aspirations that the University holds for its graduates.

Embedded within both the curriculum and co-curricular provision is a strong focus on employability, with a range of
initiatives to encourage students to self-assess and develop the attributes employers and others are seeking. Over
recent years, the University has invested heavily in its campus, has introduced a number of new student support
initiatives, including peer mentoring and personal tutor schemes, has undertaken work to enhance student feedback,
and has developed the use of technology in learning and teaching. In addition, a new academic year structure was
introduced in September 2014 in response to student feedback.

Alongside ensuring effective support for students, the University is equally committed to supporting its staff and in
2013 established the Centre for Academic Development to provide, under a single structure, coherent and integrated
support for the development of teaching, learning and research.

The University underwent the third cycle of Enhancement-led Institutional Review (ELIR) in 2013. The ELIR Panel's
overarching judgement concluded that 'The University of Aberdeen has effective arrangements for managing
academic standards and the student learning experience. These arrangements are likely to continue to be effective
in the future'. This is the most positive judgement that the Quality Assurance Agency can bestow and means the
University has robust arrangements in place for securing academic standards and for enhancing the quality of the
student experience.
Research
Aberdeen has an outstanding history of pioneering discoveries which have transformed thinking and practice in
medicine, science, arts and humanities over five centuries, with five Nobel Laureates associated with the University.
The University supports and promotes research excellence in all its many forms, bringing together excellent students,
staff, and external partners to identify and address key research questions.

The University has a strong track record of providing innovative and impactful research-led solutions to emergent
global and industrial challenges and has a long history of working effectively with industry to translate excellence in
research into commercial application and knowledge transfer activities. As outlined in the current Strategic Plan, the
University has ambitious plans for sustained growth in research income and from its current level of £60m per annum.

Research Excellence Framework (REF) results in 2014 returned strong results for the University. Overall 76% of
assessed research was judged as world-leading or internationally excellent. With respect to the impact of this
research, 85% was judged to be world-leading or internationally excellent.

In particular, notable successes in REF 2014 include:

    •   a ranking of first in Agriculture, Veterinary and Food Science (Soil and Environmental Science)
    •   high-ranking performances in English Language and Literature (2nd in UK) and Psychology, Psychiatry and
        Neuroscience (3rd in the UK)
    •   first in Scotland for Public Health, Health Services & Primary Care and Earth Systems & Environmental
        Sciences

The research excellence within health services research continues to be recognised and in November 2017, the
University was awarded the highest national honour for a UK university - the Queen's Anniversary Prize for Higher
and Further Education - in recognition of its world-leading research into health services over the last 40 years,
pioneering the combination of economic and clinical research in order to assess which medical treatments are
effective for use in the NHS. In addition to the two flagship health research units at the University which led the
Queens Prize – the Health Services Research Unit and the Health Economics Research Unit – the University holds
major research investments from the Wellcome Trust, an MRC Research Centre, the Leverhulme Trust, along with
Research Councils, the EU and other notable international research agencies. Our scholars from across the disciplines
are recipients of prestigious awards and fellowships recognising their outstanding academic contributions, including
for example; the Royal Society, Royal Society of Edinburgh, Academy of Medical Sciences and Academy of Social
sciences. .

Significant investment has been made in research facilities, with state-of-the-art medical and health infrastructure on
the Foresterhill Health Campus, including the new facility for the Rowett Research Institute for Nutrition and Health
and the award-winning Sir Duncan Rice Library in the heart of the Old Aberdeen Campus, housing the research
resource of Special Collections Centre on University historical archives.

As well as encouraging blue sky investigator-led research, the University seeks to capitalise upon its broad disciplinary
base to support interdisciplinary research to develop innovative solutions to global problems. For example we have a
long and deep track record of research excellence in interdisciplinary approaches to food and environmental security
which has won national and international awards for its research leaders. Working with our international research
partners and stakeholders, we are developing plans for substantial growth in interdisciplinary research activities.

In recent years, the University has also created 25 staff spin-out companies, many of them within the innovation and
incubator facilities across the campus. The portfolio of spin-out companies has achieved over £300m in investment
to support commercialization, adding to the economic development of the region and research partnerships.

The Aberdeen City Region Deal provides opportunities for the University's research, industry engagement and
commercialisation activities; notably in oil, gas and energy, food and drink, life sciences and digital innovation. The
University is a partner in the newly formed Oil and Gas Technology Centre (OGTC), leading in the development of a
new National Centre of Excellence in Decommissioning and Late Life, working in partnership with OGTC and industry
stakeholders to address the challenges of the industry with an interdisciplinary approach. The core approach of the
City Deal is working in partnership with stakeholders to maximise economic development for the region, where the
areas for innovation are well aligned to the University's key research, commercialisation and teaching strengths.

Finance
The University achieved a turnover of £222m in financial year 2016/17. Approximately one-third of income (£74.3m)
was received from the government for teaching and research and 27% (£61.0m) was generated by external research
funding. A further 24% (£53.2m) was earned from tuition fees of which £24.7m was from international students.

New financial reporting requirements under the new FRS102 regulations brings greater volatility to the reported
financial positions of all universities, and therefore the University's focus has turned increasingly to a number of key
indicators, including cash generation to support an assessment of financial performance. The underlying deficit for
the year to 31 July 2017 was reported as £2m, compared with a £0.3m surplus for the previous year, and a
commitment has been made to return to an underlying break-even position by the end of financial year 2019/20.

Further information on the University's financial position is available in the Annual Report and Financial Statement
2016/17 (https://www.abdn.ac.uk/staffnet/documents/finance-statements/Annual-Report-2017-web.pdf).

Capital Investment
The University is committed to continually improving its campus infrastructure through a programme of ongoing
capital investment, and has recently entered the planning phase for the next capital investment programme which
includes ambitious plans to establish a new science teaching hub.

This investment seeks to provide students and staff with the very best facilities to undertake research and learning
activities and to strengthen the University's external engagement. The University also has a recurrent capital fund to
enhance information technology, with £6.5m spent in 2016/17 on improvements to infrastructure and improved
technology.

The University's investment programme demonstrates its commitment to its many and varied stakeholders, and its
local roots. It also showcases the commitment to promoting sustainability, as evidenced by the ground-breaking
Rocking Horse Nursery, which was the first fully certified Passivhaus building in a Scottish university.

Philanthropy
Philanthropy and the support of generations of graduates, friends, companies and organisations have played an
important role in the growth of the University, since the first royal endowment in the year 1495. There is increasing
recognition that, in an era of declining government funding – and an ever more competitive higher education sector
– the future is challenging, and so we aim to build upon our existing strong reputation for attracting philanthropic
support through our belief in nurturing and sustaining long-term meaningful relationships.

As one of the UK's first higher education fundraising operations, the University of Aberdeen Development Trust is a
separate charity registered in Scotland and governed by an independent Board of Trustees, which was founded in
1982 with the sole purpose of attracting charitable donations to provide benefit to the University. As a mature
fundraising organisation, the Development Trust works closely across all income streams and major gifts,
corporations, trusts, foundations, legacies and regular and community giving in support of its goals. Its reach
extends globally and the University finds further support through the University of Aberdeen Foundation based in
the USA. This enables tax- effective giving through its 501 (C) 3 status.

The work of the Development Trust is underpinned by our Alumni Relations Programme of Engagement, which aims
to foster a lifelong bond with Aberdeen graduates by encouraging two-way engagement through a variety of
tailored national and international programmes and services. These include events, volunteering opportunities,
regular communications (e-zine, magazine, social media, etc.) and a range of benefits and discounts.

The Sixth Century Campaign closed in 2010 having raised £150million for a variety of transformational projects
across the University, including flagship projects the Sir Duncan Rice Library and the Suttie Centre for Teaching and
Learning in Healthcare. Since that date a further £90 million has been raised for a variety of initiatives across all
areas of the University. Initiatives have included research support, equipment, staff positions, scholarships and
student welfare, to name but a few.

Current fundraising activity is focused on 5 medical research areas:

    •    cancer
    •    women's health
    •    fungal diseases
    •    osteoarthritis
    •    medical education

Further exciting projects are in development and will be added to provide a diverse suite of support across the
University disciplines. The Development Trust has ambitions to launch a public fundraising campaign in the future
and will continue to work towards its preparation whilst this exciting period of fundraising gathers pace.

Further information about the work of the Development Trust, including priorities, projects and progress, is
available at: www.abdn.ac.uk/giving

Estates and Facilities
The University's Estate includes a range of historic, mid-20th Century and modern buildings used for many diverse
purposes and activities, each of which plays an important part in defining the University's character of the
University, reflecting its standards and ambitions for the future.

The Old Aberdeen campus is the historic heart of the University and combines buildings of significant historical
importance with state-of-the-art facilities for learning, research, and recreation. The Foresterhill campus, jointly
owned with NHS Grampian, is one of the largest health campuses in Europe and plays a significant role in
supporting the health needs of the community.

Significant investment has been made in the campus infrastructure, including the modernisation of existing and
development of new, cutting-edge facilities to ensure that staff and students are provided with high quality learning,
teaching, research and social spaces, including:

    •    the Olympic-standard sports facilities provided in the Aberdeen Sports Village
    •    the recently opened cutting-edge health teaching and research facilities of the Rowett Institute for Nutrition
         & Health and the Suttie Centre
    •    the refurbishment of the Hillhead Student Village and ambitious plans for a new Science Teaching Hub

Further information about the University campuses is available online at:

https://www.abdn.ac.uk/about/campus/

The current Estates Strategy is available online at:
http://www.abdn.ac.uk/estates/documents/Estates-Strategy-2013-23%20higher%20resolution.pdf

Digital & Information Services
Digital Transformation has been embedded across the University through a comprehensive programme which
includes the continuous implementation of new technologies, greater accessibility of information, simplified
business processes and enhanced training and development for staff and students.

In taking forward this ambitious programme, the University remains committed to retaining a vibrant on-campus
community of outstanding academics and students creating and using knowledge to make a difference to today's
world. The opportunities presented by digital technologies enables the University to enhance the way in which it
recruits, retains and supports students; in how, when and where it delivers learning; in how it conducts and
promotes its research and exchanges knowledge; in how it achieves prominence around the world; and in how it
operates. The ultimate aim of the Digital Transformation programme is to ensure that Aberdeen will be much more
connected, visible, differentiated and effective, through a comprehensive digital infrastructure used by highly skilled
staff and students.

The recently formed Digital & Information Services Directorate focusses on the delivery of a coherent digital
strategy, the provision of user-centred information services for students and staff, the provision of first-class
learning spaces and the optimal use of digital technologies. In line with the University's Digital Strategy, digital
technologies are being harnessed to transform and enhance learning and teaching, including the establishment of
new Digital-Enhanced Learning Spaces (DELS) to support active, collaborative and distributed learning

Further information about the services provided by the Digital & Information Services Directorate is available online
at :

https://www.abdn.ac.uk/it/

https://www.abdn.ac.uk/library/

Our Role in the Community
As one of the oldest institutions in Aberdeen and the North of Scotland, the University has long played a central part
in the life and success of the city and region. Today, while the University is international in outlook, it is as
committed as ever to supporting the economic, social and cultural life of the city and region that it is rooted in and
shaped by.

The University is an important driver of the region's economy, both in terms of providing a skilled workforce to drive
innovation and providing the research base and innovation from which new industries can flourish. The University
has developed excellent links with the business community and it is constantly striving to develop these for the
benefit of the wider community.

The University is equally passionate about its role as a cultural leader of the community. Over recent years, a rich
and diverse cultural engagement programme has been developed which puts the University at the very heart of the
cultural life of the city and region. Whilst there is much that the University gives to the community, the success of
the University itself depends on the support it receives from a wide spectrum of individuals and organisations,
locally, nationally and internationally. The external profile and positioning of the University in the community are key
elements in the achievement of its strategic objectives.

The University hosts a high quality events programme including large-scale and high profile public events such as
the annual May Festival, International Women's Day Conference and one of the largest community café discussions
programmes in the UK (Café Scientifique and Café Med). In addition, a number of events take place throughout the
year, including Director's Cut (promoting film and visual culture), British Science Week, European Researchers' Night,
Festival of Social Science and TechFest. Year-round events are also led by Special Collections & Museums, the Music
Department and Elphinstone Institute and an annual programme of services and commemoration events are held
in the historic King's College Chapel.

Beyond the immediate locality, the University is represented at presentations, conferences and training across the
world. In addition, the University proactively engages with its stakeholders. Engagement with policy-makers and
politicians is sought with the two geographically closest local authorities (Aberdeen City and Aberdeenshire
Councils), the Scottish Parliament and Government, the UK Parliament and Government and the European
Parliament and Commission.

The University regularly hosts Scottish and UK Parliament Committees. Recent visits include the Select Committee
on Scottish Affairs and also the Select Committee on Exiting the European Union. The University also sustains its
external profile by organising and participating in events at Holyrood and Westminster.

Further information about the University's programme of public engagement events is available online at:
https://www.abdn.ac.uk/staffnet/governance/public-engagement-1783.php