Welcome week schedule of events - #BehrendBound - Penn State Behrend
Page content transcription
If your browser does not render page correctly, please read the page content below
WELCOME TO PENN STATE BEHREND
                                         Dear New Student:

                                         Welcome! At Penn State Behrend, you'll
                                         find all of the opportunities of a major
                                         university and the support of a friendly
                                         student-centered college. Our faculty and
                                         staff are here to help you learn, grow, and
                                         succeed—both in and out of the classroom.

                                         Your education begins with Welcome
                                         Week activities, which will introduce you to
                                         campus and the many offices and services
                                         that exist for you. I encourage you to
                                         take full advantage of the opportunities
                                         that await you as a student, beginning
                                         with these events. The programs and
                                         activities described in this booklet have
                                         been developed to smooth your transition
                                         to Penn State Behrend and the larger
                                         University.

                                         Throughout the academic year, the college
                                         offers an array of co-curricular activities,
                                         including nationally known speakers, artists,
                                         and musicians; student organizations, and
                                         workshops that explore everything from
careers and human relations to leadership and fitness. I also hope you will join me in
rooting for our 24 varsity sports teams!

I am confident that you will find Penn State Behrend to be a very special place where
you'll have the resources and support to grow and develop. We believe in you and
your potential, and every one of us wants you to succeed. We all wish you the best of
luck in your collegiate career.

Sincerely,

Ralph M. Ford, Ph.D.
Chancellor

                                                                                                            1
2019 Behrend Welcome Week Staff
                                                    Welcome Week Directors
                                                    Angela Mattern and Ashley Sharpe

                                              Welcome Week Team Leaders
                                           Brooke Burdick                                      Megan Kirk
                                          Emma Culbertson                                   Alexis Kobusinski
                                           Hunter Frazier                                    Mary Macaraeg
                                             Hali Hartley                                    Nathan Phillips
                                           Abigail Heasley                                   Callie Schafer
                                          Madison Kennedy

                                                      Welcome Week Guides
           Samuel Andrew                                             Anna Gestiehr                                            Amanda Paul
           Darryl Bachrens                                          Mariano Guerra                                            Amber Prisco
            Laila Barrada                                         Jennifer Gustafson                                         Marcella Puglia
             Ethan Baxter                                         Mackenzie Hancock                                       Katherine Puzarowski
           Jordan Belfiore                                           Shannon Heyl                                          Emily Rademacher
          Christina Bennett                                           Mason Hicks                                              Nesha Rai
          Grace Blackford                                            Jessica Izenas                                         Dmytri Rakovan
             Olivia Boyer                                             Calvin Jiang                                          Samantha Reedy
           Zachary Brandl                                           Trevor Johnson                                            Alicia Rensel
            Elliott Brinkley                                          Derek Kuhn                                              Dylon Rogers
         Christopher Butler                                          Jasmine Lewis                                           Bailey Rollage
         Madison Cammuso                                               Charles Li                                          Frank Ruszkowski
           Mike Campese                                                Haotong Li                                         Christopher Sahovey
             Isaac Caretti                                           Dean Linkimer                                             Liam Scott
    Elizabeth Charrette-Romero                                         Abi Linski                                          Nicole Skokowski
           Amanda Corkill                                          Ashley MacDavitt                                            Jake Smith
          Kaylynn Costello                                          Ryan Malatesta                                           Ryan Stelitano
           Jacob Demaio                                             Sean Malatesta                                           Dru Stuebgen
         Benjamin DePrator                                           Karishma Mali                                            Elijah Tamez
         Michael Dobransky                                        Brandon Maslanka                                          Benjamin Uberti
             Taylor Eaton                                           Tess McAndrew                                             Alicia Velcko
            Destiny Eicher                                         Caleb McDowell                                             Emily Wargo
              Alexis Eller                                           Fouad Moabi                                             Morgan Wessel
            Daniel Francis                                          Kayla Momeyer                                           Brayden Wilson
           Joseph Francis                                             Matt Moser                                              Xinge Zhang
       Mackenzie Freyermuth                                            Alakh Naik
            Mark Gardner                                          Portia Nowosielski
           Jacob Gearhart                                             Bansari Patel

                                                      This publication is available in alternative media on request.

      Penn State is an equal opportunity, affirmative action employer, and is committed to providing employment opportunities to all qualified applicants without
         regard to race, color, religion, age, sex, sexual orientation, gender identity, national origin, disability or protected veteran status. U.Ed. EBO 20-116
2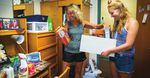 willkommen

                                                                                                                         CONTENTS
        bienvenido   selamat datang
                                                                                     namaste
     ahlan wa sahlan                                                            bienvenue
                        #WelcometoBehrend
   bem-vindo                                                                      Chào m ng b n
                                                                                 kuwakaribisha
                             aloha

WELCOME FROM CHANCELLOR FORD��������������������������������������������������������� 1

EVENTS
		 THURSDAY, AUGUST 22���������������������������������������������������������������������������� 6 - 8
		 FRIDAY, AUGUST 23�������������������������������������������������������������������������������� 9 - 15
		 SATURDAY, AUGUST 24������������������������������������������������������������������������ 16 - 18
		 SUNDAY, AUGUST 25���������������������������������������������������������������������������� 19 - 22
		 FIRST WEEK OF CLASSES�������������������������������������������������������������������� 23 - 28
		 SECOND WEEK OF CLASSES�������������������������������������������������������������� 29 - 31
		 FALL SEMESTER EVENTS��������������������������������������������������������������������� 32 - 34
		 SPRING SEMESTER EVENTS���������������������������������������������������������������������� 35

GENERAL RESOURCES
		 BEHREND BUCKET LIST����������������������������������������������������������������������������� 36
		 NOTES���������������������������������������������������������������������������������������������������������� 37
		 DINING ��������������������������������������������������������������������������������������������������� 38, 39
		 CAMPUS SERVICES������������������������������������������������������������������������������������� 40
		 ATHLETIC EVENTS��������������������������������������������������������������������������������������� 41
		 CAMPUS MAP��������������������������������������������������������������������������������� back cover
                                                                                                                              3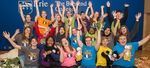 Download the Experience Behrend
     app from the Apple App Store or
            Google Play Store.
      Schedule is also available at behrend.psu.edu/welcomeweek.

4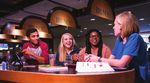 THURSDAY, AUGUST 22, 2019
                            Dining Hours
                                   Dobbins					Bruno's
                                   Breakfast       7:00 – 10:00 a.m.		             10:00 a.m. – 10:00 p.m.
                                   Lunch 		        11:00 a.m. – 2:00 p.m.
                                   Dinner 		       4:30 – 7:00 p.m.

                            8:00 a.m. – 5:00 p.m.
                            Check-in for All New Resident Students
                            Reed Union Building
                            New students living on campus are required to check in at the Reed Union Building lobby
                            with their Penn State student IDs for their room keys and Welcome Week schedule before
                            going to their assigned residence hall building.

                                   10:00 a.m. – 6:00 p.m.
                                   Tech Support
                            	Tables will be in the Almy, Lawrence, Niagara, Ohio, Porcupine, Tigress, and Trippe
                              hall lobbies. Students needing help can walk up and ask for network connection
                              support. Students not living in those buildings can call 814-217-4357, email
                              bditHELP@psu.edu, or submit an IT Support Ticket at behrend.psu.edu/ithelp

   6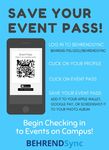 THURSDAY, AUGUST 22, 2019
8:00 a.m. – 8:00 p.m.
PNC Bank
Reed Union Building
PNC will be on campus to set up your free student checking account. They can also help you
with any servicing needs. Stop by to visit the PNC Team.
Sponsored by Student Leadership and Involvement and PNC Bank.

10:00 a.m. – 5:00 p.m.
Campus Tours
Reed Union Building
Lion Scouts will offer campus tours for students and their families. Tours will leave from the
Reed Back Lawn on the hour.
Sponsored by the Office of Admissions.

4:00 - 8:00 p.m.
Check-in for All New Commuter Students
Reed Union Building
New students who live off campus are required to check in at the Reed Union Building
lobby for their Welcome Week schedule. We have several sessions scheduled for commuter
students this evening to help support your transition and connection to the campus. Please
see separate commuter schedule for more details.

4:00 – 5:00 p.m.
Taste A Penn State Tradition!
Metzgar Center
Parents and families, let us welcome you to the
Behrend community with a taste of Penn State
tradition! Come and enjoy Berkey Creamery's
famous ice cream. Members of the Penn State
Behrend community will be on hand to answer any
questions students and families may have.
Sponsored by the Office of Admissions and Financial
Aid.

                                                                                                                 7
THURSDAY, AUGUST 22, 2019

                                                                                                   Mandatory Event
                            5:00 – 7:15 p.m.
                            Meet Your Neighbors *MANDATORY for New Resident Students
                            Assigned Residence Hall
                            All residents should be on their assigned floor at 4:45 p.m. Resident Assistants (RAs)
                            will escort students to dinner or to their floor/building meeting location. Residence Life
                            Coordinators and RAs will share information about upcoming events, campus resources,
                            and Penn State policies.

                            Hall 		 Building Dinner 		 Floor
                            Name 		Meeting			Meeting

                            Almy 		          6:00 p.m.        5:15 p.m.         6:30 p.m.
                            Lawrence         5:00 p.m.        6:15 p.m.         5:30 p.m.
                            Niagara          6:00 p.m.        5:00 p.m.         6:30 p.m.
                            Ohio 		          5:30 p.m.        6:00 p.m.         5:00 p.m.
                            Senat		          6:00 p.m.        5:15 p.m.         6:30 p.m.
                            Suites 		        6:15 p.m.        5:30 p.m.         n/a
                            Trippe 		        6:30 p.m.        5:45 p.m.         5:00 p.m.

                            7:30 – 10:00 p.m.
                            Nittany Night Out
                            Reed Union Building, Lawrence Hall, and Niagara Hall
                            All students are invited to attend Nittany Night Out! Several activities including escape
                            rooms, trivia, slow motion video booth, cell phone wallets, inflatables, and a glow-in-the-
                            dark roller rink will be held in the Reed Union Building and residence halls. All events are
                            free, and food will be provided at various locations!
                            Sponsored by Student Leadership and Involvement, Office of Residence Life, and the Student
                            Activity Fee (SAF).
   8
FRIDAY, AUGUST 23, 2019
         Dining Hours
		Dobbins					Bruno's
		             Breakfast      7:00 – 10:00 a.m.		           2:00 – 11:00 p.m.
		             Lunch 		       11:00 a.m. – 2:00 p.m.
		             Dinner 		      4:30 – 7:00 p.m.

8:00 a.m. – 5:00 p.m.
Move-In for Returning Students
Reed Union Building
All students living on campus should check in at the Housing and Food Services
table located in the Reed Union Building with their Penn State student ID for their
room keys before going to their assigned building.

       8:00 a.m. – 6:00 p.m.
       Tech Support
	Tech support is available at the Hammermill Service Desk from 8:00 a.m. – 6:00 p.m.
  Students needing assistance can come to the service desk, call 814-217-4357, email
  bditHELP@psu.edu, or submit an IT Support Ticket at behrend.psu.edu/ithelp.

                                                                                                       9
FRIDAY, AUGUST 23, 2019
                          8:00 – 10:00 a.m.
                          Open Registration
                          Located in school offices
                          Open registration is for students who do not already have their class schedule.
                          Black School of Business: 281 Burke Center

                          School of Engineering: 147 Burke Center

                          School of Humanities and Social Sciences: 170 Kochel Center

                          School of Science: 1 Prischak Building

                          DUS with Condition (DUSC) and non-degree adult learners: 215 Metzgar

                          Division of Undergraduate Studies (DUS), College of Agriculture, College of Health and Human
                            Development, College of Education, and NEW non-degree and freshman students who did
                            not register yet: 125 Reed

                          Nursing Program Students: 140 Otto Behrend Science

                                                                                            Mandatory Event
                          10:00 – 10:15 a.m.
                          We Are…Penn State Behrend! *MANDATORY for all incoming students
                          Junker Center
                          Behrend students welcome you to the vibrant and exciting campus community and
                          share with you our Penn State spirit and pride. This event offers a snapshot of what
                          it means to be a Penn State Behrend student.

                                                                                            Mandatory Event
                          10:15 – 11:00 a.m.
                          Academic Convocation *MANDATORY for all incoming students
                          Junker Center
                          This ceremony officially marks the beginning of your academic year with faculty
                          and staff processing in formal academic attire to welcome you to the academic
                          community. Fellow students will offer remarks and important information about
                          your role at Penn State Behrend.

   10
Mandatory Event

                                                                                                        FRIDAY, AUGUST 23, 2019
11:15 a.m. – 12:15 p.m. and
12:30 – 1:30 p.m.
Academic Integrity/College 101/Transfer Session
*MANDATORY for all incoming students

Assigned locations
Faculty from your academic department will present an interactive session on
becoming a successful Penn State Behrend student. Peer tutors from the Learning
Resource Center will share their experiences and expertise about what to expect
and how to prepare for your first exams and writing assignments. Transfer students
will meet with the Academic and Career Planning Center to learn about career
planning resources for them at Behrend.

11:15 a.m. – 12:15 p.m.
Engineering/Business                    Academic Integrity/College 		        Junker Center
Engineering/Business Transfers          Transfer Students Welcome 		         175 Burke
Science & Nursing                       Lunch				                            Dobbins Dining Hall
H&SS                                    Lunch				                            McGarvey Commons
(DUS) Undergraduate                     Lunch 				                           Bruno's Café

12:30 – 1:30 p.m.
DUS, H&SS, Science, Nursing             Academic Integrity/College 		        Junker Center
DUS, H&SS, Science, Nursing Transfers   Transfer Students Welcome 		         175 Burke
Engineering                             Lunch 				                           Bruno's/McGarvey Commons
Business                                Lunch 				                           Dobbins Dining Hall

                                                                                 Mandatory Event
1:45 – 2:45 p.m.
School Orientations/Transfer Orientation *MANDATORY for all incoming students
Assigned school locations
It is important for every new student to attend the meeting in their school of
enrollment. These meetings will provide an opportunity to meet faculty while
gaining important information for first-year students. Representatives from the
Learning Resource Center and Admissions will meet with all Transfer students to
ensure a successful transition to Behrend.
Black School of Business 			                                        180 Burke
School of Engineering 			                                           Junker Center
School of Humanities and Social Sciences 		                         Kochel Center, Lower Level
School of Science 			                                               101 Otto Behrend Science Building
Division of Undergraduate Studies (DUS): Exploratory Majors 		      117 Reed
College of Agriculture, College of Health & Human Development       114 Reed
Nursing Program 			                                                 114 Otto Behrend Science Building
Transfer Student Orientation Session 		                             Smith Chapel, Worship Space
                                                                                                                  11
FRIDAY, AUGUST 23, 2019   3:00 – 4:00 p.m.                                                           Mandatory Event
                          YOU Among Others/RESPECT Above All *MANDATORY for all incoming students
                          Junker Center
                          INCLUSION FUSION, the future of human kindness depends on you. An action-
                          packed diversity challenge. Help detective Mel Anin solve tomorrow's diversity
                          challenges today!
                          Sponsored by the Office of Educational Equity and Diversity Programs.

                          4:30 – 5:30 p.m.
                          Behrend Honors Program Student Meeting *MANDATORY for honors program students
                          McGarvey Commons, Reed Union Building
                          All incoming students who are enrolled in the Behrend Honors Program are required
                          to attend this information session. We will review the academic requirements of the
                          Behrend Honors Program and discuss opportunities for getting involved on campus.
                          Sponsored by the Behrend Honors Program.

                                                                           4:30 – 5:45 p.m.
                                                                           Library Tours
                                                                           John M. Lilley Library (first floor)
                                                                           Library faculty and staff will offer tours and
                                                                           a brief orientation of the Lilley Library. This
                                                                           session will provide an overview of library
                                                                           services and collections and lasts about 20
                                                                           minutes. Please meet at the Reference Desk.
                                                                           Sponsored by Lilley Library.

   12
FRIDAY, AUGUST 23, 2019
4:30 – 6:00 p.m.
EMTA (The "e" Learning Bus)
Reed Parking Lot
Board and experience the interactive learning bus to find out how the city bus system
in Erie works and how you can use it to connect to the Erie community and beyond.
Students ride FREE with their student ID.
Sponsored by Student Leadership and Involvement.

4:30 – 6:00 p.m.
Start with Service (On–campus) *Open attendance – stay as long as you want
Lobby, Reed Union Building
This drop-in event takes place on campus and involves a variety of hands-on service
projects that focus on helping different populations in Erie. Each project is led by one
of Behrend's student service clubs and organizations.
Sponsored by student service clubs/orgs and Civic and Community Engagement.

                                                                                                     13
FRIDAY, AUGUST 23, 2019
                          4:30 – 6:30 p.m.
                          Class Schedule Tours
                          Reed Breakwall, Reed Back Lawn
                          Lion Scouts will offer class schedule tours for new students. New students should
                          bring their class schedules. Tours take place every half hour. Meet on the Reed Back
                          Lawn.
                          Sponsored by the Office of Admissions.

                          7:00 – 8:30 p.m.
                          Diversity World Party
                          Reed Front Lawn, Reed Union Building (Rain site – Bruno's)
                          Join the Multi-Cultural Council (MCC) as they celebrate cultural diversity on campus
                          with YOU! Come make new friends, cool down with PSU's Berkey Creamery ice cream,
                          all while enjoying the tunes of a live Calypso band. Experience and learn about all the
                          arts and culture Penn State Behrend has to offer.
                          Sponsored by the Multi-Cultural Council (MCC) and the Student Activity Fee (SAF).

                                                                                      7:00 – 9:00 p.m.
                                                                                      Behrend Student VIP
                                                                                      Bookstore Event
                                                                                      Reed Union Building
                                                                                      (first floor)
                                                                                      Come check us out! There will be
                                                                                      prize giveaways and snacks PLUS
                                                                                      students receive 25% off one article
                                                                                      of Penn State apparel!
                                                                                      Sponsored by the Behrend Bookstore.

   14
FRIDAY, AUGUST 23, 2019
9:00 – 10:00 p.m.
Comedian Trey Maddox
117 Reed, Reed Union Building
Virginia Beach native Trey Maddox is one of the most promising new comics on the
rise playing to sold out shows all across the country. He has been heard on Sirius
XM radio, seen on Hulu, and has worked with some of the biggest comedians in
the industry right now, such Chris Delia, Tom Segura, Dick Gregory and many more.
Watch him before his new special hits streaming networks this fall!
Sponsored by the Lion Entertainment Board (LEB) and the Student Activity Fee (SAF).

10:00 p.m. – 1:00 a.m.
Behrend After Dark: College Blast-Off!
McGarvey Commons, Reed Union Building
The Lion Entertainment Board (LEB) brings the action to you every week! LEB creates
a variety of events that are sure to excite any audience, from bands to movies to
interactive attractions. Nearly every Friday they host their Behrend After Dark series.
Come see what they have in store for you with their first event of the semester: their
big College Blast-Off Party, always their biggest event of the year!
Sponsored by the Lion Entertainment Board (LEB) and the Student Activity Fee (SAF).

                                                                                                      15
SATURDAY, AUGUST 24, 2019
                            Dining Hours
                                   Dobbins					Bruno's
                                   Brunch          11:00 a.m. – 2:00 p.m.		      12:00 – 11:00 p.m.
                                   Dinner 		       4:30 – 7:00 p.m.

                            8:00 a.m. – 8:00 p.m.
                            Move-In for Returning Students
                            Reed Union Building
                            All students living on campus are required to check in at the Housing and Food
                            Services table located in the Reed Union Building with their Penn State student ID
                            for their room keys before going to their assigned building.

                                   10:00 a.m. – 4:00 p.m.
                                   Tech Support
                            	Tech support is available at the Hammermill Service Desk from 10:00 a.m. – 4:00
                              p.m. and will be providing in-room visits in the residence halls. Students needing
                              assistance can come to the service desk, call 814-217-4357, email bditHELP@psu.
                              edu, or submit an IT Support Ticket at behrend.psu.edu/ithelp

                            10:00 a.m. – 2:00 p.m.
                            Start with Service (Off-campus)
                            Meet for departure: Reed Union Building
                            This event offers a variety of fun off-campus service projects where you can
                            meet new people, get to know the surrounding communities, engage with local
                            nonprofits, and make an impact through volunteering. More information and RSVP
                            on BehrendSync. Transportation is provided.
                            Sponsored by Civic and Community Engagement.

   16
SATURDAY, AUGUST 24, 2019
11:00 a.m. – 2:30 p.m.
Ultimate Frisbee Tournament
Behrend Intramural Fields
Ultimate Frisbee is an exciting, non-contact team sport that mixes the best parts of
soccer, basketball, and football. Join the men of Triangle social fraternity and try your
hand at this simple-yet-demanding game.
Sponsored by Triangle Fraternity.

                                                                2:00 – 7:00 p.m.
                                                                "Sandblast" - Sand
                                                                Volleyball Tournament
                                                                Sand Volleyball Court -
                                                                East of Apartment Quad
                                                                (Rain Site – Erie Hall)
                                                                Bring your own team or be
                                                                placed on a team to compete
                                                                in the twenty-third annual Sand
                                                                Volleyball Tournament! Even if
                                                                you're not a player, come watch
                                                                and mingle with other students
                                                                while enjoying free food, drinks,
                                                                and music!
                                                                Sponsored by Sigma Tau Gamma and
                                                                BVZ Radio.

4:30 – 7:30 p.m.
ISO Summer Olympics
Behrend Fields
ISO Olympics is a sporting competition created to foster inclusion and community,
where every single person is accepted and welcomed, regardless of background. Join
a team and compete in athletic activities for prizes and fun.
Sponsored by the International Student Organization (ISO) and International Student Services.

                                                                                                               17
SATURDAY, AUGUST 24, 2019
                            7:00 – 10:00 p.m.
                            Pinterest Party
                            Lobby, Reed Union Building
                            Do you enjoy Pinterest? Do you enjoy crafts? This is the event for you! Enjoy meeting
                            and spending time with your peers while working on fun Pinterest projects! All types
                            of craft supplies will be available for you to make a personalized craft to display in
                            your new room or apartment!
                            Sponsored by the Panhellenic Council.

                                                                                7:00 – 11:00 p.m.
                                                                                Gaming Night
                                                                                McGarvey Commons, Gaming
                                                                                Lounge, 112, 113, and 114,
                                                                                Reed Union Building
                                                                                Come for the games, come for the
                                                                                people! There will be video games,
                                                                                controllers, and board games for
                                                                                everyone to use.
                                                                                Sponsored by the Behrend Gaming Club and
                                                                                the Lion Entertainment Board (LEB).

                            8:00 – 11:00 p.m.
                            Avengers: Endgame
                            117 Reed, Reed Union Building
                            Yes, we've got Endgame. Assemble your new
                            friends as you enjoy a super viewing of the recently
                            released, Avengers: Endgame! Light snacks
                            provided for less-than Hulk-sized appetites.
                            Sponsored by the Lion Entertainment Board (LEB) and the
                            Student Activity Fee (SAF).

   18
SUNDAY, AUGUST 25, 2019
        Dining Hours
		Dobbins					Bruno's
		Brunch     11:00 a.m. – 2:00 p.m.		 12:00 – 10:00 p.m.
		 Dinner 		 4:30 – 7:00 p.m.

8:00 a.m. – 8:00 p.m.
Move-In for Returning Students
Reed Union Building
All students living on campus are required to check in at the Housing and Food
Services table located in the Reed Union Building with their Penn State student ID
for their room keys before going to their assigned building.

        Noon – 4:00 p.m.
        Tech Support
	Tech support is available at the Hammermill Service Desk from 12:00 p.m. – 4:00
  p.m. and will be providing in-room visits in the residence halls. Students needing
  assistance can come to the service desk, call 814-217-4357, email bditHELP@psu.
  edu, or submit an IT Support Ticket at behrend.psu.edu/ithelp.

11:00 a.m. - 12:00 p.m.
Party on the Lawn
Reed Breakwall, Reed Back Lawn
Join Behrend Benefiting THON for their annual Party
on the Lawn. Corn hole, Can Jam, snacks, and more.
Plus you'll get to learn all about Behrend's favorite
philanthropy. Come learn why we say FTK!
Sponsored by Behrend Benefiting THON.

                                                                                                 19
SUNDAY, AUGUST 25, 2019   12:00 – 4:00 p.m.
                          Welcome Back Carnival
                          Reed Front Lawn (Rain Site: Reed Union Building)
                          Join the festivities and start making memories of your first week of college! There
                          will be many fun carnival attractions, petting zoo, photo booth, and giveaways!
                          Come hungry because there will be free food and drinks to enjoy while you listen to
                          music from BVZ Radio!
                          Sponsored by Panhellenic Council, Interfraternity Council (IFC), BVZ Radio, Lion Entertainment Board
                          (LEB), Behrend Benefitting THON, Cru, Lion Ambassadors, and Behrend Alumni Society.

                          12:00 – 4:00 p.m.
                          PNC Bank
                          Reed Union Building
                          PNC will be on campus to set up your free student checking account. They can also
                          help you with any servicing needs. Stop by to visit the PNC Team.
                          Sponsored by Student Leadership and Involvement and PNC Bank.

                          3:30 – 6:30 p.m.
                          Schreyer Honors College Scholars Meeting and Dinner
                          *MANDATORY for Honors program students

                          Dobbins Special Events Room
                          All incoming and returning scholars who are enrolled in the Schreyer Honors
                          College are required to attend this meeting and dinner. We will be reviewing and
                          discussing SHC requirements and you will have an opportunity to get to know your
                          fellow Scholars on campus. New Scholars please plan on attending from 3:30-6:30
                          p.m. and returning scholars please plan on attending from 4:30-6:30 p.m.
                          Sponsored by the Behrend Honors Program.

                          4:00 – 5:00 p.m.
                          Protestant Campus Ministry Worship Service
                          Smith Chapel Worship Area
                          The interdenominational services representing various Protestant traditions are held
                          weekly on Sunday evenings at 4:00 p.m. and students are encouraged to participate
                          as worship leaders and musicians. Each service is followed by refreshments and
                          fellowship.

   20
SUNDAY, AUGUST 25, 2019
5:00 – 7:00 p.m.
Campus Ministries Welcome Picnic
Smith Chapel Living Room
Join Protestant Campus Ministry and Catholic Campus Ministry for picnic food,
music, and lawn games at the Smith Chapel. We look forward to meeting you!
Sponsored by Protestant Campus Ministry and Catholic Campus Ministry.

5:30 – 6:30 p.m.
Worship Concert
Outside of Burke
Join Cru for an informal time of Christian worship featuring live music!
Sponsored by Cru.

5:30 – 7:30 p.m.
Behrend Bingo
Erie Hall
Gather around for the first
Midnight Bingo of the 2019-
2020 school year! Bingo is
free for all Behrend students
with your Penn State ID.
Extra cards are 50 cents, and
there will be FREE food at
intermission. Come and win
some awesome prizes like a
flat screen television or a tub of
cheeseballs!
Sponsored by Lion Ambassadors and
the Student Activity Fee (SAF).

                                                                                          21
SUNDAY, AUGUST 25, 2019
                          7:00 – 8:00 p.m.
                          Roman Catholic Mass
                          Smith Chapel Worship Area
                          Catholic Campus Ministry (CCM) and The Nittany Catholic student group are a fun
                          and welcoming group of people working to bring students closer to God and each
                          other through community, prayer, learning, and service. We hope you can join us for
                          Mass! Catholic Mass is held Sundays at 7:00 p.m. at the Smith Chapel throughout the
                          academic year.

                          7:00 – 10:00 p.m.
                          Target® Takeover
                          Meet outside the Reed Union Building
                          Shop for last-minute essentials for your room or apartment and don't forget to grab
                          anything needed for the first day of classes! A bus will be taking round trips from the
                          Reed Union Building to Target. Target gift cards will also be raffled off! (Last bus will
                          leave Behrend at 9:00 p.m.).
                          Sponsored by Student Leadership and Involvement.

   22
FIRST WEEK OF CLASSES 2019
MONDAY, AUGUST 26, 2019
PNC Bank
11:00 a.m. – 3:00 p.m. 114 Reed, Reed Union Building
PNC will be on campus to set up your free student checking account. They can also
help you with any servicing needs. Stop by to visit the PNC Team.
Sponsored by International Student Services and PNC Bank.

AT&T
1:00 – 3:00 p.m.
Tables outside of Bruno's,
Reed Union Building
AT&T will be on campus to help you
with any servicing needs. Stop by to
visit the AT&T Team.
Sponsored by International Student Services
and AT&T.

First-Year Business Meet and Greet
6:00 – 7:00 p.m. 236 Burke
Let the Black School of Business buy your dessert and entertain you while you hang
out with your business-major peers for a relaxed hour with no homework. We promise
you'll want to come back when we meet again!
Sponsored by Black School of Business and Business Ambassadors.

Intramurals 101
7:30 p.m. Junker Center Gymnasium
Come on over to the Junker Center and experience what goes on in the Intramural
and Recreation Program. Attendees will get a taste of some of the activities offered
while playing some extreme dodgeball. A lucky few will walk away with a FREE t-shirt!
Sponsored by Athletics.

                                                                                                    23
FIRST WEEK OF CLASSES 2019
                             Special Living Option (SLO) Meetings
                             * MANDATORY for Residential Students Living in an SLO

                             7:30 – 8:30 p.m. Various Campus Locations
                             All students who are enrolled in a SLO are required to attend their specific
                             information session. Residents will have the opportunity to meet others in your
                             assigned SLO who have similar interests, we will discuss upcoming SLO programs
                             and events, meet faculty, and discuss what to expect living in a SLO.

                             Special Living Option                        Building		               Location
                             Global Boarders                              Trippe Hall		            1st Floor Lobby
                             Tree House                                   Trippe Hall		            1st Floor Conference Room
                             Engineering House                            Niagara Hall		           Niagara Ground Floor Study Space
                             Upper-Class Engineering House                Almy Hall		              2nd Floor Lobby
                             Discover House                               Lawrence Hall		          Oliver's Game Lounge

                             TUESDAY, AUGUST 27
                             FastStart Mentor Collective Kick-Off *For FastStart participants
                             5:30 – 7:30 p.m. McGarvey Commons, Reed Union Building
                             FastStart FRIENDS Mentor Collective participants are invited to the first meet-and-
                             greet kick-off. Mentors and mentees will participate in social, educational, and
                             cultural activities during the kick-off.
                             Sponsored by Office of Educational Equity and Diversity Programs.

                                                                                     Volleyball
                                                                                     8:00 p.m. Junker Center Gymnasium
                                                                                     Show off your volleyball skills and win a
                                                                                     t-shirt – even some non-winners will receive
                                                                                     t-shirts.
                                                                                     Sponsored by Athletics.

   24
FIRST WEEK OF CLASSES 2019
Soccer
9:00 p.m. Soccer Field
Show off your soccer skills and win a t-shirt – even some non-winners will receive
t-shirts.
Sponsored by Athletics.

WEDNESDAY,
AUGUST 28
Club Showcase
11:00 a.m. – 3:00 p.m.
Reed Front Lawn (Rain site -
Reed Union Building)
Club Showcase is a time for
students to learn more about
the 120+ recognized clubs and
organizations on campus. Whether
you want to get involved now or
just see what Behrend has to offer, this is the event for you! Behrend's club members
will be on hand to showcase their organizations. Club Showcase provides an
opportunity to meet current members, ask questions, and find out about meetings
and upcoming events. This is the first step to becoming a future leader on campus!
Sponsored by Student Leadership and Involvement and the Student Activity Fee (SAF).

Adversity Walk
3:30 – 5:30 p.m.
Reed Front Lawn (Rain site – 117 Reed, Reed Union Building)
Connect with students in a way you never thought you would. Every participant will
leave with new perspective of what they know as privilege.
Sponsored by Association of Black Collegians.

                                                                                                    25
FIRST WEEK OF CLASSES 2019
                             S'mores Bonfire
                             Night with Gamma
                             Sigma Sigma
                             6:30 – 8:30 p.m.
                             Wilson Picnic Grove
                             Join the sisters of Gamma
                             Sigma Sigma in a S'mores
                             Bonfire night at the Wilson
                             Picnic Grove!
                             Sponsored by Gamma Sigma
                             Sigma National Service Sorority.

                             Football
                             9:00 p.m. Soccer Field
                             Show off your football skills and win a t-shirt – even some non-winners will receive
                             t-shirts.
                             Sponsored by Athletics.

                             THURSDAY, AUGUST 29
                                                                  Drumming Circle
                                                                  Noon – 1:00 p.m. Reed Breakwall,
                                                                  Reed Back Lawn (Rain Site –
                                                                  Reed Union Building)
                                                                  Join the Behrend community in a drumming
                                                                  circle! Group drumming alleviates stress,
                                                                  isolation, and alienation. It also creates a
                                                                  sense of community and a powerful shared
                                                                  experience. No experience needed! Drums
                                                                  and percussion instruments provided! Free
                                                                  popcorn too!
                                                                  Sponsored by the Personal Counseling Office.

   26
FIRST WEEK OF CLASSES 2019
Behrend Honors Student Association Welcome Banquet
6:00 – 8:00 p.m. McGarvey Commons, Reed Union Building
Join the Behrend Honors Student Association for their very first Welcome Banquet!
All are welcome, honors student or not! Dinner is free and a great opportunity to
get to know your peers at Behrend. BHSA is a new club on campus that is designed
to help you grow personally, academically, and in your community. Space (and food!)
is limited – RSVP on BehrendSync!
Sponsored by Behrend Honors Student Association.

Gimme (S')more
7:30 – 9:30 p.m.Wilson Picnic Grove
Join the Gender and Sexuality Equality Club for a classic night by the fire!
Roast some marshmallows and enjoy an evening filled with food, fun, and
newfound friends.
Sponsored by Gender and Sexuality Equality Club.

Basketball
8:00 p.m. Junker Center Gymnasium
Show off your basketball skills and win a t-shirt – even some non-winners will receive
t-shirts.
Sponsored by Athletics.

Ultimate Frisbee
9:00 p.m. Soccer
Field
Show off your Frisbee
skills and win a t-shirt –
even some non-winners
will receive t-shirts.
Sponsored by Athletics.

                                                                                                     27
FIRST WEEK OF CLASSES 2019
                             FRIDAY, AUGUST 30
                             Paint U!
                             8:00 – 10:00 p.m. Baseball Field
                             Feel the adrenaline rush when the paint starts flying and get lost in the music and
                             lights while you dance all night. Get loud and get messy with your new friends, and
                             you'll share an experience unlike any other. The paint washes off, but you'll never
                             forget the night you had at Paint U!
                             Sponsored by the Lion Entertainment Board (LEB) and the Student Activity Fee (SAF).

                             Behrend After Dark: Paint U! After Party
                             11:00 p.m. – 1:00 a.m. McGarvey Commons and Wintergarden Lobby,
                             Reed Union Building
                             Keep the fun going after PaintU! and head up to McGarvey Commons for Week 1's
                             Behrend After Dark. Featured this week is some groovy indoor bowling and tie dye!
                             Late night foods will be served, free of charge!
                             Sponsored by the Lion Entertainment Board (LEB) and the Student Activity Fee (SAF).

                             SATURDAY, AUGUST 31
                             Behrend Beach Day
                             10:00 a.m. – 3:00 p.m.
                             Meet for departure: Reed Union Building – McGarvey Commons
                             Come join us for a day at the beautiful Presque Isle beaches! We will provide lunch
                             and fun from 10 a.m. pick up to 3 p.m. departure. Hope to see you there!
                             Sponsored by the Black School of Business.

                             Glow-in-the-Dark Capture the Flag
                             7:00 – 8:30 p.m. Behrend Fields
                             See you at the Fields for some fun, competitive capture the flag where the goal is
                             to grab the other team's flag from their side and return it home safely. Teams will be
                             made onsite, so feel free to come alone or with some friends!
                             Sponsored by Cru.

   28
SECOND WEEK OF CLASSES 2019
SUNDAY, SEPTEMBER 1
Detective Pikachu
5:00 – 7:00 p.m. 117 Reed, Reed Union Building
Behrend, we choose you! Sit back and relax with the newly-released blockbuster
Detective Pikachu and get your fill of some free food that's sure to electrify your
Sunday!
Sponsored by the Lion Entertainment Board (LEB) and the Student Activity Fee (SAF).

                                                       MONDAY,
                                                       SEPTEMBER 2
                                                       Day-Glow Mini Golf
                                                       4:00 - 8:00 p.m. McGarvey
                                                       Commons, Reed Union Building
                                                       Hot summer Labor Day? No classes?
                                                       Join us for a cool day of indoor Mini
                                                       Golf in the Reed Union Building!
                                                       Prizes will be awarded!
                                                       Sponsored by Black School of Business.

TUESDAY, SEPTEMBER 3
Leadership Scholars Kick-Off Meeting *For Leadership Scholarship Recipients ONLY
7:30 – 9:00 p.m. McGarvey Commons, Reed Union Building
We will discover your leadership styles and traits and how your identities shape your
personal and professional goals. We will begin the program with goal-setting and a
preview of the opportunities to come as a Leadership Scholarship recipient this year.
Refreshments provided.

Sponsored by Student Leadership and Involvement and the Academic and Career Planning Center.

                                                                                                            29
SECOND WEEK OF CLASSES 2019
                              WEDNESDAY, SEPTEMBER 4
                              Student Leadership & Service Fair
                              11:00 a.m. – 2:00 p.m. Reed Back Lawn (Rain Site - Reed Union Building)
                              The Leadership and Service Fair is intentionally designed to promote on-campus
                              leadership opportunities as well as volunteer and civic engagement opportunities
                              to new and current students. In addition, the Leadership and Service Fair allows
                              the college's departments and programs as well as local non-profit community
                              organizations an opportunity to introduce themselves and their mission.
                              Sponsored by Student Leadership and Involvement and Civic Engagement Programs and Smith Chapel.

                              Cheerleading Try-Outs Day 1 – Competitive Team
                              5:15 – 8:00 p.m. Erie Hall
                              Competitive Cheerleading is a co-ed recreational club sport at Behrend that
                              participates in competitions at the local, regional, and national levels. Anyone
                              interested in trying out is encouraged to attend wearing comfortable clothing,
                              including cheer shoes/sneakers. The first two days of try-outs are teaching the
                              content you will perform on day three.
                              Sponsored by PSB Competitive Cheerleading.

                              Popcorn Bar
                              6:00 – 8:00 p.m.
                              113 Reed, Reed
                              Union Building
                              Come out and enjoy
                              a popcorn bar while
                              you get to know the
                              sisters of Gamma
                              Sigma Sigma!
                              Sponsored by Gamma
                              Sigma Sigma National
                              Service Sorority

   30
SECOND WEEK OF CLASSES 2019
THURSDAY, SEPTEMBER 5
Cheerleading Try-Outs Day 2 – Competitive Team
5:15 – 8:00 p.m. Erie Hall
Competitive Cheerleading is a co-ed recreational club sport at Behrend that
participates in competitions at the local, regional, and national levels. Anyone
interested in trying out is encouraged to attend wearing comfortable clothing,
including cheer shoes/sneakers. The first two days of try-outs are teaching the
content you will perform on day three.
Sponsored by PSB Competitive Cheerleading.

FRIDAY, SEPTEMBER 6
Cheerleading Try-Outs Day 3 –
Competitive Team
5:15 – 8:00 p.m. Erie Hall
Competitive Cheerleading is a co-ed
recreational club sport at Behrend that
participates in competitions at the local,
regional, and national levels. Anyone
interested in try-outs is encouraged to attend
wearing comfortable clothing, including cheer
shoes/sneakers. The first two days of try outs
are teaching the content you will perform on
day three.
Sponsored by PSB Competitive Cheerleading.

                                                                                               31
FALL SEMESTER EVENTS 2019   WEDNESDAY, SEPTEMBER 11
                            Lilley Late Night Open House
                            6:00 – 9:00 p.m. John M. Lilley Library
                            Join the Lilley Library staff for the first-ever "Lilley Late Night" Open House. Learn
                            about the great resources, services, and programs available at the library! Chat with
                            friendly library staff who can answer questions and show you around the building.
                            Sponsored by the Lilley Library.

                            WEDNESDAY, SEPTEMBER 11-13
                            Cheerleading Try-Outs Day 1, 2, and 3 – Game Day Team
                            5:15 – 8:00 p.m. Erie Hall
                            Cheer Squad is a co-ed recreational club whose members promote school spirit and
                            aim to promote spectator participation. Anyone interested in trying out is encouraged
                            to attend wearing comfortable clothing, including cheer shoes/sneakers. The first two
                            days of try-outs are teaching the content you will perform on day three.
                            Sponsored by Game Day Cheerleader Squad.

                            SATURDAY, SEPTEMBER 14
                            Cedar Point
                            Tickets go on sale on Tuesday, September 3, starting at 7:30 a.m. at the Reed Union
                            Building (RUB) Information Desk. Transportation is provided. Tickets are $30.00 each
                            and are non-refundable. Must have a Penn State ID.
                            Sponsored by Student Leadership and Involvement and the Student Activity Fee (SAF).

                            SATURDAY, SEPTEMBER 21
                            International Coastal Cleanup
                            9:00 a.m. – Noon Meet at Prischak – the corner entrance by the two
                            Science parking lots
                            This annual volunteer event is part of a worldwide program to clean and protect
                            our oceans and water sources. Participants join millions of volunteers across the
                            globe who love the environment and want to protect it. Transportation and supplies
                            provided. RSVP on BehrendSync.
   32                       Sponsored by Greener Behrend and Civic and Community Engagement.
SEPTEMBER 20 – 22

                                                                                                       FALL SEMESTER EVENTS 2019
Parents, Families & Alumni Weekend
Parents, Families & Alumni Weekend is one of the highlights of the fall semester
                                          at Penn State Behrend. A celebration
                                          for young and old alike, it offers plenty
                                          of things to do for students, alumni,
                                          parents, brothers and sisters, extended
                                          family — everyone! There is a lot to
                                          celebrate at Penn State Behrend: a
                                          beautiful campus, talented faculty who
                                          foster academic excellence, a wide
                                          variety of extracurricular activities, the
                                          opportunity to develop close, lasting
                                          friendships, and much more. Visit http://
                                          behrend.psu.edu/weekend for more
                                          details.
                                                     Sponsored by Student Leadership and
                                                     Involvement and the Student Activity Fee (SAF).

OCTOBER 4-5
LeaderQuest
LeaderQuest is a two-day event that brings together emerging student leaders from
the Penn State campuses in western Pennsylvania. The retreat's mission is to foster
a culture of new leaders and help aspiring student leaders develop their leadership
skills by recognizing personal values, leadership styles, and understanding the
importance of multicultural competency. Applications to attend this retreat are on
BehrendSync and are due Monday, September 9th.
Sponsored by Student Leadership and Involvement and the Student Activity Fee (SAF).

WEDNESDAY, OCTOBER 9
Annual Harambee Dinner
The entire campus community is invited to the 33rd Annual Harambee Dinner! Join
us Wednesday, October 9, 2019 at 5:30 p.m. in McGarvey Commons for an evening of
togetherness, leadership development, and live entertainment. Harambee is Swahili
for "Let's pull together" and originated in the country of Kenya as a slogan for national
unity. We use this event as a way of uniting our campus community and to celebrate
the rainbow of cultures and diversity represented among our students, faculty, and staff.
Sponsored by Multi-Cultural Council, the Office of Educational Equity and Diversity Programs and the
Student Activity Fee (SAF).                                                                                       33
FALL SEMESTER EVENTS 2019
                            THURSDAY, NOVEMBER 7
                            Thirteenth Annual Drag Show
                            7:00 – 9:00 p.m.
                            McGarvey Commons, Reed Union Building
                            Penn State Behrend's Thirteenth Annual Drag Show is an event that brings the
                            students and community together. The event is a drag show hosted by professional
                            drag queens with an opportunity for students and community members to
                            participate with an amateur show towards the end. Not only is this a night for
                            entertainment, but it is also an educational experience for many outside of the
                            LGBTQ+ community.
                            Sponsored by Gender and Sexuality Equality Club and the Student Activity Fee (SAF).

                            SATURDAY, NOVEMBER 16
                            All-U Day, Penn State vs. Indiana
                            What is All-U Day? It is an opportunity for students from all of the Penn State
                            campuses to experience a Penn State home football game and related activities.
                            Game and bus tickets will be sold at the Reed Union Building Information Desk
                            (located outside of Student Leadership and Involvement office) on Tuesday,
                            October 29 starting at 7:30 a.m. Tickets are non-refundable.
                            Sponsored by Student Leadership and Involvement and the Student Activity Fee (SAF).

                            WEDNESDAY, NOVEMBER 20
                            Dinner for Six
                            McGarvey Commons, Reed Union Building
                            This annual campus tradition celebrates community. The event includes dinner
                            and a keynote speaker and also marks the end of the campus-wide Thanksgiving
                            Food Drive.
                            Sponsored by Student Leadership and Involvement and Civic and Community Engagement.

   34
SPRING SEMESTER EVENTS 2020
FEBRUARY 8 - 9, 2020
Penn State Behrend Student Leadership Conference
Students who attend the 2019 Penn State Behrend Student Leadership Conference
will choose from more than twenty different leadership sessions focused on individual
and organizational leadership. Sessions offered will be useful for both emerging and
experienced leaders. Round-trip transportation to and from the conference location,
Friday night lodging at the Courtyard Erie Bayfront Hotel, three meals and
complimentary snacks, and entertainment are all provided. Cost is $20 per student.
Visit http://behrend.psu.edu/slc for more information.
Sponsored by Student Leadership and Involvement and the Student Activity Fee (SAF).

                                                      MARCH 7 - 14, 2020
                                                      Alternative Spring Break
                                                      Behrend's Alternative Spring Break is
                                                      a recurring week-long service trip that
                                                      offers students a complete immersion
                                                      into a non-local community with the
                                                      specific goal of making a positive,
                                                      lasting impact through service. Recent
                                                      trips have included Houston, San
                                                      Francisco, Columbia, SC, and Puerto
                                                      Rico. Applications are available during
                                                      the fall semester.
                                                      Sponsored by Civic and Community
                                                      Engagement, Reality Check, and the Student
                                                      Activity Fee (SAF).

                                                                                                               35
36
     GENERAL RESOURCES - BEHREND BUCKET LIST
GENERAL RESOURCES - NOTES

                            37
GENERAL RESOURCES - DINING
                             Preview our on campus dining options below with their hours of operation during the
                             academic year.

                             Dobbins
                             Dobbins Dining is your destination for a great meal! Enjoy breakfast, lunch, and dinner in
                             an all-you-care-to-eat food court. Located in Dobbins Hall, Dobbins Dining is close to the
                             residence areas and a convenient stop for on-campus students.

                             Monday - Friday

                             Breakfast	                                                                 7:00 - 10:00 a.m.
                             Lunch                                                                 11:00 a.m. - 2:00 p.m.
                             Dinner                                                                      4:30 - 7:00 p.m.

                             Saturday - Sunday

                             Brunch                                                                10:30 a.m. - 2:00 p.m.
                             Dinner                                                                      4:30 - 7:00 p.m.

                             Bruno's
                             Bruno's Café is a great place to grab a meal or snack! Enjoy breakfast, lunch, dinner, and
                             more — everything from delicious entrees to simple snacks to Starbucks® coffee. Bruno's is
                             conveniently located in the Reed Union Building and is open late.

                             Monday - Thursday	                                                    7:00 a.m. - 10:00 p.m.
                             Friday                                                                7:30 a.m. - 11:00 p.m.
                             Saturday                                                                 Noon - 11:00 p.m.
                             Sunday                                                                   Noon - 11:00 p.m.

                             Paw's
                             The best of three worlds: Starbucks® coffee drinks, Penn State Bakery pastries and treats,
                             and Penn State Berkey Creamery ice cream. All for your enjoyment at Paw's Coffee Shop.

                             Monday - Thursday	 7:00 a.m. - 10:00 p.m.
                             Friday              7:30 a.m. - 2:00 p.m.
                             SaturdayClosed
                             SundayClosed

   38
GENERAL RESOURCES - DINING
Clark Café
Clark Café is the hot spot on campus! Located in Burke, Clark Café features continental
breakfast fare during the morning and salads and sandwiches during lunchtime. Clark Café
proudly serves Starbucks® coffee as well as other enjoyable beverages.

Monday - Thursday	                                                     7:45 a.m. - 6:00 p.m.
Friday                                                                 7:45 a.m. - 3:00 p.m.

The Galley
The Galley, located in the Reed Union Building, offers convenience store items such as
bottled water, packaged snack foods, dairy products, and health and beauty supplies.

Monday - Thursday	                                                     9:00 a.m. - Midnight
Friday                                                                 9:00 a.m. - 8:00 p.m.
Saturday                                                                  Noon - 8:00 p.m.
Sunday                                                                    Noon - Midnight

                                                                                                            39
During the welcome weekend, several offices and departments will have extended hours to
GENERAL RESOURCES - CAMPUS SERVICES   offer services to students as they are transitioning to the campus. Please refer to the schedule
                                      below. All other offices and departments will open for regular business hours on Monday
                                      morning.

                                      THURSDAY, AUGUST 22
                                      Offices Open for Student Assistance:

                                      Behrend Bookstore			                                         Reed (1st floor)		 8:00 a.m. - 5:00 p.m.
                                      Parking Services			                                          Erie Hall          8:00 a.m. - 6:00 p.m.
                                      Reed Union Building Information Desk		                       Reed (1st floor)   8:00 a.m. - 8:00 p.m.

                                      FRIDAY, AUGUST 23
                                      Offices Open for Student Assistance:

                                      Behrend Bookstore			                                         Reed (1st floor)	              8:00 a.m. - 5:30 p.m.
                                      Mail Services			                                             Reed (1st floor)	             10:30 a.m. - 5:00 p.m.
                                      Network Support call 814-217-4357                            Hammermill	                    8:00 a.m. - 6:00 p.m.
                                      Reed Union Building Information Desk		                       Reed (1st floor)               8:00 a.m. - 8:00 p.m.

                                      SATURDAY, AUGUST 24
                                      Offices Open for Student Assistance:

                                      Behrend Bookstore			                                         Reed (1st floor)                  Noon - 3:00 p.m.
                                      Housing, Food Services & ID Office		                         Senat Hall (ground)            8:00 a.m. - 5:00 p.m.
                                      Mail Services			                                             Reed (1st floor)              10:30 a.m. - 2:00 p.m.
                                      Network Support call 814-217-4357                            Hammermill	                   10:00 a.m. - 4:00 p.m.
                                      Parking Services			                                          Erie Hall (1st floor)         10:00 a.m. - 4:00 p.m.
                                      Reed Union Building Information Desk		                       Reed (1st floor)                 Noon - 10:00 p.m.

                                      SUNDAY, AUGUST 25
                                      Offices Open for Student Assistance:

                                      Behrend Bookstore			                                         Reed (1st floor)                  Noon - 3:00 p.m.
                                      Housing, Food Services & ID Office		                         Senat Hall (ground)            8:00 a.m. - 5:00 p.m.
                                      Mail Services			                                             Reed (1st floor)              10:00 a.m. - 2:00 p.m.
                                      Network Support call 814-217-4357                            Hammermill	                       Noon - 4:00 p.m.
                                      Reed Union Building Information Desk		                       Reed (1st floor)                   4:00 - 10:00 p.m.
                                      "All resident students are able to receive U.S. Postal mail and package deliveries while living in University Housing
                                      through the mailroom, located on the first floor of the Reed Union Building. Please visit us at https://behrend.psu.
    40                                edu/general-services/mail-services to keep updated on all the new things happening in our mailroom!"
2019 Upcoming Home Athletic Events (Aug.-early Oct.)

Date                       Sport           Time      Opponent/Event         Location

August 30, 2019       Women's Soccer      5:00 PM       Nazareth            Turf Field
August 31, 2019        Men's Soccer       12:00 PM        Alfred            Turf Field
August 31, 2019       Women's Soccer      7:30 PM    Case West Res.         Turf Field
September 1, 2019      Men's Soccer       3:00 PM         TBD               Turf Field
September 6, 2019    Women's Volleyball   4:00 PM         TBD                 Junker
September 6, 2019     Women's Soccer      7:00 PM      Grove City           Turf Field
September 6, 2019     Women's Tennis      4:00 PM       LaRoche          Tennis Court
September 7, 2019    Women's Volleyball   10:00 AM        TBD                 Junker
September 7, 2019     Women's Tennis      1:00 PM    Pitt. Greensburg    Tennis Court
September 8, 2019     Women's Soccer      1:00 PM    Case West Res.         Turf Field
September 11, 2019    Women's Soccer      7:30 PM       Mt. Union           Turf Field
September 13, 2019    Women's Tennis      4:00 PM        Bethany         Tennis Court
September 13, 2019     Cross Country      5:30 PM         Invite           Beh.Field.
September 13, 2019     Men's Soccer       7:00 PM       Allegheny           Turf Field
September 13, 2019   Men's Water Polo     7:00 PM      Salem Inst.               Pool
September 14, 2019    Women's Tennis      1:00 PM       Medaille         Tennis Court
September 17, 2019     Men's Soccer       7:00 PM      Grove City           Turf Field
September 19, 2019   Women's Volleyball   7:00 PM       Allegheny             Junker
September 21, 2019    Women's Tennis      1:00 PM      Mt. Aloysius      Tennis Court
September 21, 2019     Men's Soccer       2:00 PM      Mt. Aloysius         Turf Field
September 21, 2019    Women's Soccer      4:30 PM      Mt. Aloysius         Turf Field
September 27, 2019    Women's Tennis      4:00 PM      Franciscan        Tennis Court
September 28, 2019   Women's Volleyball   10/4 PM     Fran./P.S. Alt          Junker
September 28, 2019    Women's Tennis      1:00 PM     Pitt. Bradford     Tennis Court
September 28, 2019    Women's Soccer      2:00 PM    Carneige Mellon        Turf Field
October 1, 2019        Men's Soccer       5:00 PM       D'Youville          Turf Field
October 1, 2019       Women's Soccer      7:30 PM       D'Youville          Turf Field
October 2, 2019         Men's Tennis      4:30 PM      Grove City        Tennis Court
October 7, 2019            Golf           12:00 PM    PSB Tourney       Lawrence Park
October 8, 2019      Women's Volleyball   7:00 PM        Hilbert              Junker
October 12, 2019       Men's Soccer       2:00 PM      P.S. Altoona         Turf Field
October 12, 2019      Women's Soccer      4:00 PM      P.S. Altoona         Turf Field
                                                                                         41
Advanced Manufacturing                           Logan Carriage House A1
                                                                                                                                                & Innovation Center G6                         Logan House A2
                                                                                                                                              Balmer House E5                                  Maintenance G4
                                                                                                                                              Benson Building E1                               Mehalso Observatory F1
                                                                                                                                              Bookstore E4                                     Metzgar Center D4
         Logan              Logan                                                                                                             Burke Center F5                                  Nick Building E1
       Carriage             House                                                                                                                 Black School of Business                     Observatory F1
         House                                                                                                                                    School of Engineering                        Otto Behrend Science Building E2
                                                                 For GPS directions to campus use:
                                                                                                                                              Carriage House E3                                    Otto Behrend Annex 1 & III
                                                                     5091 Station Road, Erie PA                                                   Carriage House Annex I & II                  Parking Deck F6
                                                                                                                                              Dobbins Dining Hall F4                           Prischak Building E1
A
                                                                                                                                              Erie Hall D3                                     Reed Union Building E3
      To Downtown Erie                                              430                                                                       Fasenmyer Building E1                            Roche Hall E1
                                                                                                                                              Federal House C7                                 Smith Chapel & Carillon E5
                                                                                                                                              Glenhill Farmhouse E2                            South Cottage F2
         290               Pedestrian                                                                                                         Hammermill Building F1                           Stairtower F3

                                                                                        ST
                              Bridge
                                                                                                                                              Jordan Building D5

                                                                                            A
                                                                                                                                                                                               Studio Theatre E2

                                                                                              T
                                                                                                                                              Junker Center E6

                                                                                              IO
B                                                        BA                                                                                                                                    Turnbull Hall E2
                                                              YF                                                                              Kochel Center E4

                                                                                                  N
                                                                   RO                                                                                                                          Wilson Picnic Grove D2
                                                                                                                                                  School of Humanities & Social Sci.

                                                                                                      R
                                                                        NT                                                                                                                     Witkowski Building E1

                                                                                                        D
      Behrend Fields                                                          CO                                                              Lilley Library D4
                                                                                   NN                                                                                                              School of Science
                                                                                        EC                                                    Lion Plaza E6                                    Zurn Building E1
                                                                                             TO
                                                                                                  R
                                                                                                                                                                                                                             To 90
                                                                                                                                                                              BAYFRONT CONNECTOR                       430

                                                                                                                    JOR DA N RD
C                                                                                                                                                                                                                      290
           Track & Field                                                Baseball Field
                                                Softball Field
                                                                                                                                   Jordan
                                                                                                                                    Road                                                       Federal
                                                                                                                                     Lot                    RD                                 House
                                                                                                                                                       N
                                                                                                                                                  IO
                                                                          Tennis Courts                                                      AT
                                                          Erie                                                                          ST
D
                                                          Lot                     DR                                                                                                  Junker
                                                                          L   EGE
                     Wilson Picnic                                 COL                                                                                                                  Lot                 Soccer &
                            Grove                                                      Lilley                                                                                                               Lacrosse
                                                                              Metzgar Library                                                                                                               Stadium
                                                       Erie                   Center                                                  Jordan Bldg
                                Wilson Lot
        Benson Lot                                                                                                           Balmer House
                                                                   Reed                                                                                                Junker
                                                                                                              JORDAN RD

                                       Turnbull              Lot             Kochel                                                    Lion Plaza
                     Nick Lot                                                                                                                                          Center
    Prischak Benson              Studio                                     Center
E         Roche      Nick       Theatre                          Bookstore                                                             Smith Chapel
                  Zurn Mary Behrend                     Reed                                                                           & Carillon
Witkowski                   Monument
                    Yahn                Glenhill        Union
Prischak Lot        Planetarium         Farmhouse                     Niagara
Fasenmyer          Otto Behrend                    Carriage
                       Science                     House                                                                          Burke
 Hammermill                          South                      Perry
    Mehalso Observatory            Cottage                                  Lawrence                                              Center
                                                 Senat
          Observatory             Annex I & II                      Dobbins                                                                                    Parking
F                                                                 Dining Hall                                      Burke                                       Deck
         Otto Annex I & III                    Stairtower                                                           Lot
                                                     Porcupine
                                                                                Tiffany Lot                                                 TECHN
                                                       Tigress                            Somers                                                                OLOGY DR
                                                                           Yarnall
                                                                                           Caledonia
                                                          Tiffany
                                                                                   Turner     Packet
                                                                     Elliott
                                                                         Scorpion                                                                                      Advanced Manufacturing
G                                                                            Champlin                 Ariel                                                            & Innovation Center
                                                Ohio             Almy
                                                                                   Maintenance
                                                  Trippe                     Almy Lot
                                     Ohio Lot

                                                                                                                                                                       5340 Fryling
                                                                                                                                                                                           FR

H                                                                                                                                                                         Road
                                                                                                                                                                                               YL
                                                                                                                                                                                               ING

                                                  Residence Halls                       Apartments
                                                                                                                                                                                                    RD

                                                  Almy Hall G3                          Ariel Hall G4
                                                  Lawrence Hall F4                      Caledonia Hall G4
                                                  Niagara Hall E4                       Champlin Hall G4                                                                     5300 Knowledge
                                                  Ohio Hall G3                          Elliott Hall G4                                                                         Parkway
                                                  Perry Hall F3                         Packet Hall G4
J
                                                  Porcupine Hall F3                     Scorpion Hall G4
                                                                                                                                                           JORDAN RD

                                                  Senat Hall F3                         Somers Hall F4                                                                       Knowledge                                 5451 Merwin
                                                  Tiffany Hall G3                       Turner Hall G4                                                                       Center                                       Lane
                                                                                                                                                                                                     Y

                                                                                                                                                                                                      A
                                                                                                                                                                                                            ME

                                                  Tigress Hall F3                       Yarnall Hall G4                                                                                        KW
                                                                                                                                                                                                             RW

                                                  Trippe Hall G3                                                                                                                    AR
                                                                                                                                                                                E P
                                                                                                                                                                       KNOWLEDG
                                                                                                                                                                                                                IN

                                                                                                                                                                              Early Learning
                                                                                                                                                                                                                  LN

                                                             Cartography by Purple Lizard Maps
                                                             ADV 18-11 Revised September 2017                                                                                        Center                                      90
           1                         2                   3                              4                                         5                                      6                     7                             8