111 PRINCES STREET EDINBURGH - PRIME RETAIL INVESTMENT - Cushman & Wakefield
Page content transcription
If your browser does not render page correctly, please read the page content below
INVESTMENT SUMMARY

    Edinburgh is Scotland's      Edinburgh has a      Strong occupier
        capital city and       catchment spend of       demand and
    Europe's fourth largest
       financial centre        £2.56BN                increasing prime
                                                         rental tone

                                     Let to
    100% Prime                                       Current income of
       retail opportunity
                              until January   2025   £528,000PA

      Absolute
     Ownership
                              Offers in excess of    5.25% NIY
       (Scottish equivalent
                              £9,470,000              after allowing for
                                                      purchaser's costs
       of English freehold)

2       Cushman & Wakefield                                111 Princes Street, Edinburgh
EDINBURGH
    IS SCOTLAND'S                                                486K
    CAPITAL CITY
    & THE SEAT OF                                     Population of 486,000,
                                                      predicted to grow to over
    SCOTLAND'S                                        600,000 people by 2033

    GOVERNMENT

                                4M
                                VISITORS
                                PER YEAR
                                Tourist expenditure
                                £334 per visitor

                                   PEOPPL
                                                       12M
     1.6M                                              PER YEAR

     Regional catchment
                                   SHOT                Princes Street had
                                                       the highest footfall
     of 1.6M people                                    in Edinburgh

4         Cushman & Wakefield                                   111 Princes Street, Edinburgh
51%                                                The 2nd most
                                                             tech savvy                    +4M
                                                             city in the UK
  51% of Edinburgh's population                              according to
  hold a degree or professional level                        Google eTown      UNESCO World Heritage Site
  qualification, providing a highly                          Awards            attracting over 4M visitors per year
  educated population

            Most visited tourist
            destination outside
                                        4
                                        UNIVERSITIES
            of London                   Make Edinburgh the most popular
                                        destination for overseas students
                                        wishing to study at UK universities,
                                        after London

                                                                                       37%
                                                                               37% more affluent achievers
                                                                               than the Scottish average

Cushman & Wakefield                                                            111 Princes Street, Edinburgh          5
EDINBURGH IS ONE
        OF THE STRONGEST
        RETAILING CENTRES IN
        THE UK, DOMINATING
        ITS CATCHMENT OF
                                                                         111
                                                                         PRINCES STREET
                                                                                                            Jenners

        1.6M PEOPLE
                                                                                                                                                  WAVERLEY
                                                                                                                                                  MALL

                                                                                                                                         Princes Street
                                                                                                                                         George Street
                                                                                                                                         Lothian Road
                                                                                                                                         Tram line
                                                                                                                                         Waverley Station

PRINCES STREET                                        GEORGE STREET                                         MULTREES WALK
Princes Street is the prime retailing thoroughfare,   George Street provides a unique blend of retail and   Anchored by Scotland's only Harvey Nichols
attracting an excellent blend of retailers.           leisure uses. In recent years the street has become   store, Multrees Walk is home to up-market
                                                      known for being home to a number of high quality      and luxury brands.
Major retailers present: House of Fraser,             retailers, along with trendy bars and restaurants.
Debenhams, Marks & Spencer, Next, H&M,                                                                      Major retailers present: Harvey Nichols,
Top Shop/Top Man, Primark                             Major retailers present: Jaeger, Anthropologie,       Louis Vuitton, Emporio Armani, Mulberry,
                                                      Hollister, Hobbs, The White Company, White Stuff,     Replay, Reiss, Tesla
Prime Zone A rates: £240 per sq ft                    Space NK, LK Bennett, Aspinal of London, Kuoni

                                                      Prime Zone A rates: £200 per sq ft

8             Cushman & Wakefield                                                                                           111 Princes Street, Edinburgh
EVOLVING                                               RENTAL GROWTH
CITY
As the catchment spend available is increasing,        In the last 12 months there has been a significant increase in activity on Princes Street with eight new
the city centre is evolving as a retail destination.   lettings in 2016. Footlocker and Ann Summers have relocated and upsized on the street. This increase in
A significant part of this evolution is the            demand for space on Princes Street has seen rental levels grow up to 20%, with further upward pressure.
£850 million redevelopment of the St James             There is a dearth of space available in Edinburgh city centre which has shifted the balance of power in
Centre. The new centre will deliver 1.7 million        favour of the landlord. We have also seen relatively low rent free periods being negotiated and in most cases
sq ft of retail, hotel, leisure and residential        straight ten year leases. A selection of recent transactions are noted below.
accommodation. The development is due to
complete post 2020.
                                                        PRINCES STREET           TENANT                  ZONE A RATE              COMMENT
The new St James Centre will heighten
                                                                                                                                  10 year lease, break option year 5
Edinburgh's appeal as a major UK retail                 10/15                    Foot Locker             £199
                                                                                                                                  New prime rental tone for this parade
destination.
                                                        42a                      Smiggle                 £248                     10 year lease

                                                        87                       Ann Summers             £247                     10 year lease
NEW ENTRANTS
                                                        89                       Burger King             £52 (GIA)                20 year lease, break option year 15

                                                        94                       Kiko                    £284                     10 year lease

                                                                                                                                  20 year lease
                                                        97a/98                   Chisholm Hunter         £174                     High global rent relative to ground
                                                                                                                                  floor footprint
                                                                                                                                  15 year lease
                                                        119                      H Samuel                £221
                                                                                                                                  New prime rental tone for this parade

                                                        119                      Card Factory            £160                     5 year lease

Cushman & Wakefield                                                                                                  111 Princes Street, Edinburgh                      9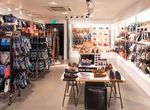 EWELLER
                                                                                S
                                                                              LE CREUSET

BADGER B CO

                                                                              PRETTY GREEN

                                                                 ETEAKET
                                                                                 MENSWEAR

                         UNDER OFFER

                                                                                             TACO MUZMA
                                                             PRINCES STREET

       SITUATION
        The subject block is 100% prime and accommodates some of the
        best brands on the street including Debenhams, Boots, Zara and
        Next. Recent additions to this pitch include Vodafone and Swiss
        watch brand Swatch.

        10           Cushman & Wakefield                                                                  111 Princes Street, Edinburgh
DESCRIPTION
An attractive Grade B Listed building arranged over ground and basement,
first and second levels. River Island trades from both ground and basement
levels. The subjects have been measured on a net internal basis in accordance
with the RICS Code of Measuring Practice (6th Edition) and approximate areas
are as follows:

          AREA                      SQ M                     SQ FT

       Ground floor                390.56                    4,204

        Basement                   377.46                     4,063

           First                    175.03                    1,884

         Second                     193.24                   2,080

        Total area                 1,133.79                  12,204

          ITZA                     233.56                     2,514

Cushman & Wakefield                                                             111 Princes Street, Edinburgh   11
TENANCY
The entire property is let to River Island until 26th January 2025, the lease was recently
extended. The rent is £528,000 per annum, reflecting a Zone A of £210 per sq ft. The rent
reviews are on 28th November 2017 and 28th November 2022.

TENANT COVENANT
River Island is one of the most recognised high street fashion brands in the United Kingdom,
with 248 stores in the UK and a further 76 in other global markets including, Europe, the
Middle East, Africa and South America.
River Island Clothing Co Limited (00636095) is rated by Experian as 'very low risk' with a
score of 98.

        DATE              TURNOVER (£s)        PRE-TAX PROFIT (£s)'S)     NET WORTH (£s)

     29/12/2012             739,700,000              93,300,000              268,700,000

     28/12/2013            809,500,000               86,100,000              242,700,000

      27/12/2014           890,400,000              145,800,000              279,600,000

12             Cushman & Wakefield                                                             111 Princes Street, Edinburgh
TENURE
The property is held Absolute Ownership (Scottish equivalent of English freehold).

EPC
The rating of the unit is E and the CO2 emissions are 67.27 kgCO2 per m2 per year.
A full EPC can be provided upon request.

VAT
The property has been elected for VAT and therefore VAT will be payable on the purchase
price. However, it is anticipated that the sale will be treated as a Transfer Of A Going
Concern (TOGC).

Cushman & Wakefield                                                                        111 Princes Street, Edinburgh   13
PROPOSAL
We are instructed to seek offers in excess of
£9,470,000 (Nine Million Four Hundred &
Seventy Thousand Pounds Sterling) subject to
contract and exclusive of VAT for the Absolute
Ownership. A purchase at this level would reflect
a net initial yield of 5.25% after allowing for
purchaser's costs of 6.20% based on Scotland's
Land and Buildings Transaction Tax (LBTT).

FOR VIEWINGS & ENQUIRIES:
Stephen Bibby                                                                Sam Waterworth
Tel: +44 (0) 131 222 4523                                                    Tel: +44 (0) 207 152 5149
Email: stephen.bibby@cushwake.com                                            Email: sam.waterworth@cushwake.com
Sarah Stewart                                                                Erin Mills
Tel: +44 (0) 131 222 4524                                                    Tel: +44 (0) 131 222 4564
Email: sarah.stewart@cushwake.com                                            Email: erin.mills@cushwake.com

MISREPRESENTATION ACT
Cushman and Wakefield LLP (and any joint agent appointed) on their own behalf and for vendors or lessors of this property, whose agents they are, give notice that: (i) These particulars are produced in good faith, but are
a general guide only and do not constitute any part of a contract and must not be relied upon as statements or representations of fact. (ii) No person in the employment of the agent(s) has any authority to make or give
representation or warranty whatever in relation to this property. (iii) the property is offered subject to contract and unless otherwise stated all rents and outgoings are stated exclusive of VAT (iv) Floor areas, measurements
or distances given are approximate (v) Nothing in these particulars should be deemed a statement that the property is in good condition, or that any services or facilities are in working order. (vi) Unless otherwise stated, no
investigations have been made regarding pollution, or potential land, air or water contamination. Interested parties are advised to carry out their own investigations as required. February 2017.