Mima 2017 Catalogue - Baby and Parents
→
If your browser does not support JavaScript, please read the page content below:
Mima 2017 Catalogue - Baby and Parents
→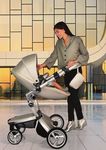 CREATING mima is all about creating positive experiences for baby and parents. The first magic incomprehensible words uttered, the first baby steps made without falling…..mima wants to be there!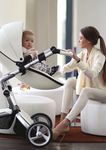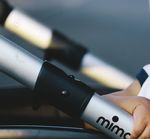 Baby FUNCTIONALITY - INNOVATION Fully integrated Toddler (facing parent) Chassis Seat with carrycot inside Canopy Rain cover Starter pack (seat pad with 5 point safety harness) You will receive: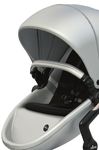 Toddler (forward facing) Characteristics: Leatherette fabric for easy wipe cleaning Adjustable handlebar Easy to fold and unfold Seat pad with a 5 point safety harness Reversible seat with a patented "carrycot inside" system Highly resistant removable wheels Three seat recline angles Two height settings to adjust the seat or carrycot Weight: 13.4 kg (29.50 lbs)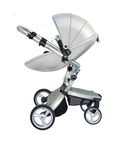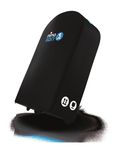 First, choose between 3 chassis colours: And lastly, choose a starter pack colour to create your winning combination. Second, choose a striking base colour: No longer bound by collection rules, it's now possible to choose your xari for a truly personalized mima experience… GET THE LOOK Rose gold Aluminium Black Black & White Camel Black Hot Magenta Cool Grey Argento Ruby Red Retro Blue Snow White Chocolate Stone White Black & White Black Autumn Stripes Sandy Beige
footmuff blanket starter pack parasol Black Camel Argento Cool Grey Snow White Chocolate Black Black & White Stone White Autumn Stripes Ruby Red Sandy Beige Hot Magenta Retro Blue Black Ruby Red Black & White Black Beige Furry Duck ACCESSORIES
trendy bag winter outfit cup holder mosquito net Black Black Camel Camel Argento Argento Cool Grey Cool Grey Snow White Snow White Chocolate Black Black Complete the look Get more from your product
XARI TRAVEL BAG This sturdy bag is designed to snugly fit your xari and protect it during your travels. It rolls smoothly, stands upright, and folds compactly when not in use. For families on the go Easy to use, pack, fold, and store Specially made to protect xari Includes 4 bags; 2 for the rear wheels, 2 for the front wheels 2 wheels and 2 handles for maximum maneuverability Self-standing base
Fashionable, lightweight and spacious bag ideal for transporting baby's items as well as the parent's. The versatile bag, which features a long shoulder strap as well as eye-catching handles, also includes a removable clutch for all your essentials. TOTE BAG Camel Snow White Black Practical and Fashionable
A leatherette clutch bag that easily attaches to the pushchair allowing parents to keep all their worldly treasures close at hand, without the need of carrying a larger, cumbersome bag. CLUTCH Argento Snow White Camel Black Get the glam Get the style
Let your little one feel fresh throughout summer with our specially designed seat pad that promotes comfort, breathability and air circulation during hot summer months. COOL SEAT Beige Cool for the summer Light-weight Durable 3D Ventilating mesh material
The kit contains 3 pieces… The first is a pillow in the shape of a butterfly, which is great for kids and big kids alike when travelling. The second is an adjustable, multi-use bandana and finally the bag to store all your little one's treasures when kids go out. TRAVEL KIT Butterfly Pillow Bandana Bag Make all the difference when travelling 100% polyester fleece Machine washable Soft and warm
Choose from a range of colours in elegant leatherette fabric Black Cool Grey Argento Camel Snow White Group 0+ Suitable from 0 to 13 kg (28 lbs) 5 point safety harness Includes the adapter kit Foldable canopy with UV protection Leatherette fabric Weight: 3.6 kg (7.9 lbs) Not available in UK and USA Characteristics:
3 in 1 Offering you a stylish and simple-to-use newborn lounger, high chair and junior chair solution…all in one! high chair (6-36 months) newborn lounger (0-6 months) junior chair (36 months to 45 kg/99 lbs)
Convert to junior chair: The high chair converts effortlessly into a junior chair, designed to accommodate children up to 45 kg/99 lbs Easy height adjustment. Press the button on the base of moon with your foot to easily adjust the seat height. Perfect for eating at the table with the family, even at the breakfast bar! Multi-angle seat recline system; from seated to a reclined position for newborns 5 point safety harness with adjustable shoulder cushions Aluminium chassis Light yet very stable Characteristics:
COLOUR LOVERS Six different cushion colours to match your home. Available colours: Snow White Black Silver Camel Fuchsia Aubergine
Baby headrest (sold separately) High chair Newborn lounger (6-36 months) (0-6 months) Booster seat (1) (sold separately) Adjustable footrest (sold separately) (1) Booster seat comes included with moon only in USA (2) Junior seat cushions available in the same colours as the seat pad Junior chair (36 months to 45 kg/99 lbs ) Junior cushion(2) (sold separately)
All your treasures with you
LUGGAGE WITH ADDED LUXURY oviis an oval shaped suitcase with an elegant design in keeping with the rest of the mima range. The EVA material covered in leatherette means that, just like xari, ovi is lightweight, sturdy and easy to clean. Transport all your child's little treasures with a touch of class, just like their parents.
Material: EVA covered in leatherette Telescopic and ergonomic handle with a rubber top Grid spacer zipper Two silent wheels for easy maneuverability Weight: 1.6 kg (3.5 lbs) Max. load: 10 kg (22 lbs) Dimensions: 46 x 32 x 22 cm (18.1" x 12.6" x 8.7") Max. handle height: 92 cm (36.2") Available in Snow White, Black and Camel Characteristics:
Please note that colours and contents may vary from those illustrated. With reservations for misprint and change of product range. Regarding mima accessories, please always check availability with your local retailer. ©Copyright 2017 mima International Ltd. All rights reserved.
www.mimakids.com info@mimakids.com