2023 Media Overview - Cowboy Lifestyle Magazine
Page content transcription
If your browser does not render page correctly, please read the page content below
The Cowboy Lifestyle Network was
created by people who live and love
the cowboy way of life. CLN's
purpose is to provide you with
the latest information and
stories about the world of rodeo,
horse competitions, Western life and
everything cowboy!

At Cowboy Lifestyle Magazine, we
believe in the integrity of the
cowboy lifestyle and the hard
working individuals who live and
love this exciting way of life. Our
goal is to deliver stories that

                                       About Us
exemplify the life they lead.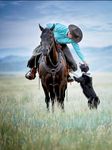 www.cowboylifestylenetwork.com

    WHO WE ARE                           HOW WE DO IT
❑ We are the storyteller of the          ❑ A 360-degree digital marketing
  rodeo world.                             platform that raises awareness,
                                           amplifies conversations and creates
❑ Cowboy Lifestyle Network is the          interest while driving partners'
  digital promotions leader in the         messaging and sales.
  rodeo and Western community.
                                         ❑ We create engaging and integrated
❑ We are rodeo because we live it;         content for our Western enthusiast
  attending 100-plus rodeos a year.        audience that allows brands to
                                           make organic connections.

                  The Platform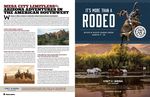 The Cowboy Lifestyle Magazine is the premier way to reach the Western lifestyle culture.
Our platform allows you to reach your audience via print and digital – and on any size screen.

     DIGITAL                                     PRINT
     We create conversations that drive          We create compelling content which
     awareness & sales.                          provides staying power for your brand.

     ❑ Audience of 2 MILLION                     ❑ Print readership of 80,000 per edition

     ❑ 5 MILLION reaches monthly                 ❑ Digital readership of 80,000 per edition

     ❑ 500K monthly engagements                  ❑ 160,000 impressions per edition

                              Our Reach
COMPOSITION      Full-color throughout
                                         TRIM SIZE        8 3/8" x 10 7/8"
                                         STOCK            8pt. Gloss Cover; 70# Gloss Text
                                         FREQUENCY        Published quarterly

                                                          The magazine consists of editorial and
                                                          photography that captures the Cowboy lifestyle
                                         CONTENT &
                                                          with a focus on Western and rodeo culture.
                                         DESIGN
                                                          Partners are provided the opportunity to blend
                                                          their story into our platform.

                                         READERSHIP PER
                                                          80,000 print per edition / 80,000 digital per
                                         EDITION
                                                          Each print edition of Cowboy Lifestyle magazine
                                                          will be distributed complementary in top Grocery
                                         PRINT            Stores and Drug Stores throughout Oklahoma,
                                         DISTRIBUTION     Texas, Colorado, Tennessee, Nevada, and
                                                          Arizona. (See Next Page in this media kit for our
                                                          distribution markets and retail distributors)
                                                          Each edition of Cowboy Lifestyle magazine will
Click here to view the digital edition   DIGITAL          be digitally distributed on the Cowboy Lifestyle
                                         DISTRIBUTION     Network website and to its social media
                                                          followers and subscribers.

                        The Magazine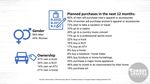 AFFILIATED -          SOCIAL MEDIA &       MAJOR MARKET
                   RODEO                   DIGITAL              RETAIL
                DISTRIBUTION            DISTRIBUTION        DISTRIBUTION*

     Four Editions Annually         Each Edition is distributed in    Major Retailer
     Spring                         these western markets             Distribution
     Summer                         Oklahoma (Tulsa, Oklahoma City)   Publix, Kroger,
     Fall                           Texas (Austin, Dallas, Houston,   Walgreens, HEB ,
     Winter*                        San Antonio)                      CVS, Albertsons,
                                    Colorado (Denver)                 Fiesta, Randall's,
     *Special edition distributed   Tennessee (Nashville)             Tom Thumb,
     at NFR events in Las Vegas
                                    Nevada (Las Vegas)                Foodtown,
                                    Arizona (Phoenix)                 Terrible's ,
                                                                      Reasor's Foods
Cowboy Lifestyle Magazine Provides the Permanence of Print and the Delivery of Digital

                              Distribution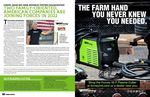 View channel

 A.E. Engine's Digital Creators Network presents Dusty Baker of Cross Timbers Bison. Each week Dusty
 posts two videos showing the trials and tribulations of raising a Bison herd from scratch. Viewers
 especially love the antics and adventures of the main stars - Big Joe, Dunbar, and Eleanor.
        #1 YouTube Snapshot
          • 175k+ subs
          • Produces 2 videos per week
          • 1.95 million views per month / 40 million lifetime views
          • Launched in Spring 2018
          • Produces 2 videos per week
         #2 What Dusty Can Do
         • Sharable & Actionable Native Content Opportunities
         • Custom Video Episodes
         • Native Video Segments
         • Product Placements

Learn more here: www.ae-engine.com/dusty-baker

Content Creator & Influencer Program
View channel

 A.E. Engine's Digital Creators Network presents Trevor Bales. Trevor is a 6th generational farmer,
 whose family began farming as homesteaders over 100 years ago in Buckeye, Arizona, in 1891. His
 farm grows, harvests, and stores feed for wholesale and retail customers to purchase.
        #1 YouTube Snapshot
          - 42k+ subs / almost 2.6 million views
          - Launched in May 2019
          - Produces 2-3 videos per week
          - Partnered with several major farming influencers,
              including Cole the Cornstar and Millenial Farmer.
         #2 What Trevor Can Do
           - Organic product use In Show
           - Spotlighted in Segments - check this out!
           - Reviews and Use Cases - utilizing the entire crew
         #3 What Trevor Wants
           - Long-term partners to grow with
           - Partners who fit his life and business

Learn more here: www.ae-engine.com/trevor-bales/

Content Creator & Influencer Program
Why Our Clients
    Work with Us
  Direct access to a large, but
       targeted audience
  Impactful and creative social
      media engagement
   Staying power of print and
   massive delivery of digital
    Your brand is part of the
  experience, not just an "ad"
 Massive reach and impressions
Authentic product placement and
           promotion
Learn more about A.E. Engine
                www.ae-engine.com

                Learn more about the
                Cowboy Lifestyle Network
                www.clngo.com

                For more information about the
                magazine
                www.cowboylifestylemag.com

Let's Partner Together