Accelerating Electric Mobility in Kerala
If your browser does not support JavaScript, please read the page content below:
ROAD MAP FOR ELECTRIC MOBILITY IN INDIA 2011
Approval of National Mission on Electric Mobility 2013
NEMMP (National Electric Mobility Mission Plan) 2020 unveiled 2015
FAME India (Faster Adoption and Manufacturing of (hybrid and) electric vehicles) directives launched 2018
FAME India: Phase 1 completed and Commenceme nt of Phase 2 2020
6 Million units of xEVs
2-2.5 million tonnes of fuel savings
KERALA EV POLICY VISION ' Embrace electric mobility as a tool to promote shared mobility and clean transportation and ensure environmental sustainability, pollution reduction, energy efficiency and conservation, and to create an ecosystem for manufacturing EV components in Kerala' 1.
Support the national commitment to reduce GHG emissions 2. Improving the air quality, especially in the cities 3. Promoting shared mobility and clean transportation 4. Balancing of peak and off-peak power demand for the electric utility 5. Operational efficiency and savings for the transport utility (KSRTC) as well as the transport sector 6. Strategic intent to boost hardware and software manufacturing in the State KEY POLICY DRIVERS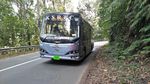 By 2022: 1 Million electric vehicles on the road By 2020: - 200,000 two wheelers - 50,000 three wheelers - 1000 goods carriers - 3000 buses, and - 100 ferry boats Kerala's EV Policy Targets
HIGHLIGHTS OF KERALA EV POLICY
Key focus on growing internal manufacturing ecosystem, thereby shift from import-dependent ecosystem to consumption-driven economy.
Attracting the vehicle owners to shift to shared mobility.
Time of the Day (ToD) tariff will be made applicable for all Public Charging Stations (PCS), Bulk Charging Stations (BCS) and all charging infrastructures having Connected Load / Contract Demand above a specific limit.
ToD tariff is expected to diversify consumption behaviors of the consumer as differential tariffs will be charged between the peak and off peak hours.
20 PCS/BCS each and 150 swapping outlets for 2/3 Wheelers shall be set up in the initial pilot districts in Thiruvananthapuram, Ernakulam and Kozhikode by KSEBL
In major cities, charging station to be made available in a grid of 3 kmx3 km. On Highways and Major Roads it is to be at every 25 km.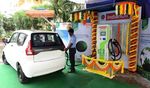 Seeks to lay down specific actions to implement the policy Moves from high level policy thinking to on ground implementation ROADMAP
Virtually no rural / urban divide
Narrow - Literally one highway connects entire state from North to South
Dominance of short travel distances even in large urban centers
Urban bus services largely by the private sector
Several high demand intercity bus routes exist KERALA'S UNIQUENESS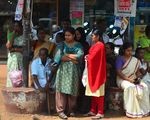 REGISTRATIONS VS TARGETS Type of vehicle Approx.
Annual registrations Target by 2020 Remarks 2 - wheelers 6,00,000 2,00,000 33% of new registrations have to be EV – which 33%? 3 - wheelers 23,000 50,000 Will need significant conversion of existing fleet Buses 6000 3000 50% of new registrations have to be electric buses Goods carriers 17,000 1000 Small share of new registrations have to be EV
CHALLENGES OF TRANSITIONING TO EV
Comfort with the existing system and resistance to change
Lack of public awareness
High capital costs
Inadequate experience of savings in operating costs
Limited driving range and high charging time
Inadequate re-energizing infrastructure
Impact of road gradient
Need for coordinated action by multiple agencies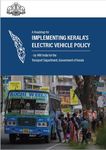 NEEDS A MULTIPRONGED & MULTIPHASED IMPLEMENTATION ROAD MAP PILOT PHASE SCALE UP PHASE SELF PROPELLED PHASE GOVT LED ACTION TO DEMONSTRATE FEASIBILITY GOVT INCENTIVES TO ENCOURAGE MARKET ACTION MARKET BASED ACTION 1 YEAR > 5 YEARS 1- 5 YEARS
ROADMAP
Pilot phase – KSRTC buses on pilot routes – Aggressive procurement of EVs for State Govt. use – Identify electric four wheeler fleets - CIAL taxis, Govt. fleets – Kochi metro Feeder vehicles go electric – Establish a nucleus of charging and swapping stations – Charging and swapping stations for pilot bus routes – Launch awareness campaign – Set up EV Mission – Set up EV promotion fund – Set up 'Directorate of Mobility' & 'State Mobility Fund'
ROADMAP
Scale up phase – Bouquet of incentives for market based action – Expand routes for eBuses – Promote electrification of all paratransit, 2-wheeler delivery vehicles and small freight vehicles
Self propelled phase – Withdraw bouquet of incentives and tighten regulations for only EV registration and operation
Evolve – Kerala electric mobility conference and expo
Two day event held in Kochi on 29-30 June 2019. 30 stalls 500 Visitors 10 Sessions 70+ Speakers 500+ Participants Electric bus Electric Scooters, E-3W, E-Cars, Wheelers, Autonomous Car, Indigenous Tech., Start ups, etc.
Initiatives – WRI India
Engaging with Not for Profit organisation, WRI India in preparation of a Roadmap for electric mobility in Kerala.
The initial cut of the document was presented to the Govt. during EVOLVE
INITIATIVES - KSEBL
Kerala State Electricity Board Ltd. is the nodal agency for charging infrastructure in the state
KSEB has floated EOI for 183 Electric Charging Stations
KSEB would be setting up charging centres at first in six corporation areas, namely Thiruvananthapuram, Kollam, Kochi, Thrissur, Kozhikode and Kannur
KSEB is undertaking a study of available for setting up charging stations
INITIATIVES - IOCL
Indian Oil Corporation Ltd. in collaboration with Power Grid Corporation India Ltd. Inaugurated Kerala's first electric charging station at Edapally, Kochi during EVOLVE.
IOCL is currently planning to set up 24 electric charging stations across Kerala in the first phase and 12 in the second phase
INITIATIVES - KAL
Kerala Automobiles Ltd. emerged the country's first state PSU to get the nod for commercial production of electric auto rickshaws from ARAI.
The zero emission vehicle with fibre body and a 2-kV motor can travel up to 100 km on single charging.
The battery takes four hours to be fully charged.
The e-auto, weighing 295 kg, can attain a speed of 55 km an hour and could be charged at home.
The running cost – 50 Paisa per km.
The vehicle will be priced around ₹2.50 lakh.
Initiatives – Public buses
KSRTC inducted E-bus after a trial in Nilakkal – Pampa route which is ecologically sensitive during the Sabarimala season after which they were deployed to connect Trivandrum, Kozhikode and Ernakulam
Post trial, ten 9m. Buses were procured on wet-lease for operation in Munnar, Sabarimala etc. on 15.09.2018, these buses are now plying between Thiruvananthapuram and Kochi
Kerala RTC has been sanctioned 250 e-buses under FAME II for intracity operations
Kochi Private Bus Operators approached the Govt. to form 'Kochi EBus Ltd.' with 26% stake from Govt.
INITIATIVES
Exchange of MoU between HESS and KAL  The MoU would make Kerala the first state in India to attract Swiss investment in electric bus manufacturing  A JV of HESS & KAL would be manufacturing electric buses for domestic consumption and export.
Exchange of MoU between Spotimyze Energy Pvt. Ltd and GoK  GoK and SEPL will work towards planning, design and implementation of Hydrogen Fuel Cell powered Electric Vehicle pilots in Kerala.
EESL leasing electric vehicles to MVD  Motor Vehicles Department, Government of Kerala will lease 14 electric cars from the Energy Efficiency Services Limited.
INITIATIVES
Setting up of CoE at TrEST Park by ANSYS and Entuple Technologies  The CoE will pave the way to improved Research and Development in the EMobility in Kerala.
Water Metro Ferry Fleet to be Electric with 23 ferry boats & order placed with Cochin Shipyard Limited.
Formulation of High Powered Committee for promotion of EV Eco-System
Ernakulam District Autorickshaw Drivers Co-Operative Society Ltd.
Discussions underway with GoK  Toshiba India for manufacturing of LTO Batteries.  ABB for manufacturing of various type of electric charging systems.  Siemens for manufacturing of EV propulsion components.  Special Economic Zone for Manufacturing of EV at Vizhinjam Seaport