Air Force 2014-2015 Influenza Immunization Program Guidance
Page content transcription ( If your browser does not render page correctly, please read the page content below )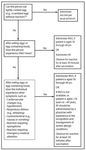 Air Force 2014-2015 Influenza Immunization Program Guidance

1. Purpose:

This message provides Air Force guidance for the influenza vaccination program. Request dissemination of this
message to all military treatment facility (MTF) commanders, immunization clinics, primary care clinics that
administer immunizations, public health offices, pharmacy services, medical logistics/supply sections, and
primary care managers.

2. Influenza:

   a. Influenza is a highly contagious disease which has the potential to significantly degrade operational
      readiness. The most effective strategy for prevention of influenza is annual vaccination.
   b. Annual influenza vaccination is mandatory for uniformed personnel, and should be obtained through the
      service member's assigned MTF. See para 11, Tricare Influenza Benefit.
   c. Annual influenza vaccination is also mandatory for civilian healthcare personnel who provide direct
      patient care in DoD military treatment facilities1,2. See para 10 for specific requirements.
   d. Annual influenza vaccination is recommended for all persons aged 6 months and older.
   e. The influenza virus strains used in this year's vaccine have not changed from last year.
         i. Annual vaccination is still required per para 10, and recommended for all beneficiaries.
        ii. 2013-2014 vaccine is expired and may not be used during 2014-2015.
   f. To permit time for production of protective antibody levels, influenza vaccination should begin as early
      in the season as is possible. Begin immunizing as soon as vaccine becomes available. Although mass
      immunization programs can be efficient, withholding immunizations until there is sufficient vaccine for
      such a campaign leads to delays in immunization and contributes to patient dissatisfaction and
      confusion.

3. Changes in influenza vaccine recommendations for season 2014-2015:

   a. The vaccine dosing regimen for children aged 6 months through 8 years has changed. The viral strains
      included in the 2014-2015 vaccine are identical to the strains in the 2013-2014 vaccine, so children in
      the following categories will require only one dose of flu vaccine this season:
         i. Children who received at least 1 dose of 2013-2014 seasonal influenza vaccine, OR
        ii. Children who have received at least 2 doses of seasonal influenza vaccine since July 1, 2010.
       iii. See Appendix 1 for the CDC-recommended dosing regimen.
   b. LAIV should be offered preferentially to children from 2 through 8 years of age, if vaccine supplies are
      adequate.
         i. Vaccination of children in this age group should not be deferred to wait until LAIV is available;
              vaccinate at the earliest opportunity.
        ii. If the child's parent declines LAIV, vaccinate with IIV.
       iii. Standard LAIV contraindications apply to children in this age group. Do not administer to
              children with allergy to flu vaccine or to egg, to children who are immunosuppressed or
              receiving chronic aspirin therapy, or to children with asthma or other chronic medical conditions
              that might predispose them to complications from influenza infection.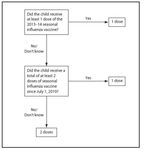 4. Seasonal influenza vaccines, 2014-2015:

   a. The virus strains used in this year's vaccines are the same virus strains that were used for the 2013-2014
      vaccine season. However, last year's influenza vaccine expired at the end of June 2014 and should not
      be used for this year's program. All influenza vaccine from the 2013-2014 influenza season should have
      been removed from inventory and destroyed by 1 July 2014.
   b. The 2014-2015 trivalent influenza vaccine is made from the following three viruses:
         i. A/California/7/2009 (H1N1) -like virus
        ii. A/Texas/50 (H3N2) –like virus
       iii. B/Massachusetts/2/2012-like virus
   c. The 2014-2015 quadrivalent vaccine also contains:
         i. B/Brisbane/60/2008-like (B/Victoria lineage) virus
   d. For a table of vaccine products ordered by the DoD for 2014-2015, see Appendix 2.
   e. The following vaccine products have been approved for use in the U.S. These products have not been
      ordered for use by the DoD in 2014-2015, but military beneficiaries may receive them from Tricare-
      approved civilian vaccine providers, if ordered by a credentialed clinician.
         i. FluZone High–Dose: designed for people over 65 years of age. It is not known whether higher-
              dose vaccine provides better protection against influenza in older adults than does standard-dose
              vaccine, and high-dose vaccine formulations have not been recommended over other available
              vaccine formulations.
        ii. FluZone Intradermal: designed for injection into skin instead of muscle, using a smaller needle
              than intramuscular injections. It is FDA approved for people aged 18-64 and seems to provide
              influenza protection similar to intramuscular vaccines. However, local reactions at the injection
              site are more common with intradermal vaccination than with intramuscular.
       iii. FluBlok – a trivalent recombinant influenza vaccine (RIV3) that is manufactured without using
              eggs. It has been recommended by ACIP for persons aged 18 to 49 years, including those who
              have egg allergy of any severity. See Appendix 3.

5. Defense Logistics Agency has projected the following shipment schedule for the DoD:

           Date (2013)           Injectable Vaccine (IIV)     Intranasal Vaccine (LAIV)
            31 Aug                         70%                           50%
             30 Sep                        30%                           30%
             31 Oct                                                      20%

      These dates represent shipment to the depot and are not indicative of vaccine delivered to the MTF.
      Delivery to the MTF is based on logistics allocation strategy.

6. Operational considerations:

   a. It is DoD policy that the recommendations of the Centers for Disease Control and Prevention (CDC) and
      its Advisory Committee for Immunization Practices (ACIP) shall generally be followed, consistent with
      requirements and guidance of the Food and Drug Administration (FDA) and consideration for the
      unique needs of military settings and exposure risks.3
      http://www.cdc.gov/mmwr/preview/mmwrhtml/mm6332a3.htm


                                                                                                               2
b. Vaccination of all military members should be completed within one month of receipt of sufficient
      vaccine supplies. The goal for vaccination coverage is >90% of all service members immunized by
      Dec 15, 2014.
   c. Aeromedical impact: No DNIF period is required after influenza immunization; however, access to
      medical care on the ground is recommended for a period of 4 hours for all personnel after immunization,
      unless operational needs dictate otherwise. 5.
   d. Prioritization Plans: In the event of a severe influenza epidemic, extreme vaccine shortage, or
      unforeseen distribution delays, target populations will be prioritized in accordance with Assistant
      Secretary of Defense, Health Affairs policy guidance. If necessary, specific prioritization instructions
      will be provided by AFMSA/SG3PM.
   e. Mass immunization clinic/shot lines: Pre-drawing vaccine is strongly discouraged; however, a limited
      amount of vaccine may be pre-drawn for a mass immunization clinic if the following procedures are
      followed:
        i. Only one (1) vaccine type may be administered at the clinic unless separate vaccine
             administration stations are set up for each vaccine type, to prevent medication errors.
       ii. Vaccine will not be drawn up in advance of arriving at the clinic site.
      iii. The type of vaccine, lot number, and date of filling must be labeled on each syringe.
      iv. Vaccine should be administered promptly, and must be kept within the manufacturer's
             specifications for temperature handling prior to administration.
       v.    Vaccine that is drawn up but not used during a mass immunization clinic must be discarded by
             the end of the duty day.
   f. Contraindications to influenza vaccine – see Appendix 4.

7. Documentation:

   a. All vaccinations will be documented in ASIMS, at the point of service (POS) if possible. If POS
      electronic documentation is not possible, ASIMS will be updated no later than the next duty day.
   b. All data requested in ASIMS will be provided (i.e., mfg, lot etc). Code 088 will only be used when you
      have no written specification on a vaccine such as mfg or lot number. Use of this code should be
      extremely rare.
   c. New immunization providers should use the following link for ASIMS access:
      https://asims.afms.mil/webapp/newaccount.aspx.

8. Vaccine Information Statement (VIS) and Vaccine Adverse Event Reporting System (VAERS):

   a. VIS and Patient Information: IAW U.S. Code 42, the current VIS on influenza vaccine, published by
      the CDC, shall be provided to any individual receiving a vaccine or, in the case of children, to the
      child's legal representative (i.e., parents or guardians). Additionally, reasonable effort to ensure the
      patient or legal representative understands the material presented is expected. The VIS for
      influenza are available at http://www.cdc.gov/vaccines/hcp/vis/current-vis.html
   b. VAERS Reporting: All vaccine-related adverse events must be reported through the Vaccine Adverse
      Event Reporting System. Additionally, health-care professionals should promptly report all clinically
      sig nificant adverse events after vaccination of children, even if the health care professional is not
      certain the vaccine caused the event. The VAERS form is available in ASIMS Web or at:
      http://vaers.hhs.gov/esub/index




                                                                                                            3
9. Vaccine cold chain maintenance:

a. All TempTales received in influenza vaccine shipments will be returned to DLA Troop Support Medical
    (DLA-TSM) as soon as possible after receipt. This applies both to the orange-labeled refrigerated
    TempTales that accompany injectable shipments, and to the blue frozen TempTales enclosed with FluMist
    shipments. The instructions provided with shipping containers should be completely filled out and returned
    with each TempTale. Use the POC information on the neon orange label on the shipping container to
    contact DLA-TSM if paperwork is not present in the container.
     i. No Alarm TempTales - The material is released for immediate use. Disposition is not needed from
          DLA-TSM, but the TempTale must be returned for audit purposes.
    ii. Alarmed TempTales - Facility will immediately suspend vaccine in refrigeration, return TempTale
          to DLA-TSM, and await disposition instructions.
   iii. Unstarted or malfunctioning TempTales - Facility will treat the shipment as Alarmed.
b. Facilities with the TempTale hardware and software should send TempTale data and information from the
    instruction sheet to DLA-TSM via email. Facilities without this capability will use the pre-paid/pre-
    addressed FedEx materials provided with shipping containers to physically return the TempTales to DLA-
    TSM. In all cases, if TempTales appear to be malfunctioning, they should be physically returned.
c. If influenza vaccine is not stored correctly within the temperature parameters of 2° - 8°C (36° - 46°F), the
    vaccine may lose potency. If temperature compromise is suspected POST-RECEIPT:
        i. Vaccine should be placed immediately in a working refrigerator and marked as "DO NOT USE".
       ii. Notify your MILVAX-VHCN Immunization Healthcare Specialist (IHS), and complete the
              Potentially Compromised Vaccine/Temperature Sensitive Medical Products (TSMP) response
              worksheet located on the MILVAX-VHCN website. The worksheet must be submitted online, to
              your IHS, and to your local medical logistics directorate.
      iii. Do not assume the vaccine is unusable, and do not discard potentially compromised vaccine until
              directed to do so by DLA-TSM and/or USAMMA/DOC. The worksheet and submission information
              can be accessed here:
              http://www.vaccines.mil/documents/1710_PotentiallyCompromisedVaccineTSMPWorksheet.pdf



10. Influenza Vaccination Requirements and Recommendations:

   a. AD and ARC members: Mandatory IAW AFI 48-110 IP.
   b. Civilian healthcare personnel (HCP): Required for all who provide direct patient care in DoD MTFs as
      a condition of employment, unless there is a documented medical or religious reason not to be
      immunized2. Healthcare workers who provide direct patient care can reasonably be interpreted to
      include any worker whose daily activities include contact with patients or involve work in common
      areas or clinic/hospital rooms where patients are likely to be present (e.g., clerical staff who
      interact with patients, food service personnel, and cleaning or janitorial staff).
   c. Recommendations for other beneficiaries:
          a. People aged ≥ 65 years: Achieve Healthy People 2020 target of 90%.
          b. High-risk adults with underlying chronic medical conditions aged 18 to 64 years: Achieve
              Healthy People 2020 target of 90%.
          c. Children aged 6 months to 18 years: Achieve Healthy People 2020 target of 80%.
          d. Healthy persons aged 18 to 64 years: Achieve Healthy People 2020 target of 80%.




                                                                                                             4
11. TRICARE Influenza Vaccine Benefit

   a. Active Duty Air Force and Air Reserve Component personnel on full-time military status located on an
      installation with an MTF will receive their vaccines through the MTF.
   b. Air Force service members who are not located on an installation with an MTF (and are considered to be
      geographically separated based on local determination) or those members in part-time military status
      (ARC members) should follow local or MAJCOM policy for receiving their vaccination.
   c. If influenza vaccine is received outside an MTF, commanders must ensure Airmen provide the record of
      vaccination to an MTF immunization clinic by COB of the next duty day for documentation in an
      approved immunization tracking system. This will ensure completed vaccinations are properly recorded
      in the Airman's medical record and reflected in his or her Individual Medical Readiness profile.
   d. All other beneficiaries are encouraged to receive their influenza immunization from their local MTF.
      However, to enhance vaccination coverage, TRICARE providers and network retail pharmacies are
      authorized to administer seasonal influenza vaccine at no cost to TRICARE beneficiaries.

12. Air Force Medical logistics (AFMLO) is responsible for ordering and distributing influenza vaccine
for AFMS activities.

   a. AFMLO will notify units of the quantities ordered and the document numbers being used. Additional
      quantities required must be coordinated with AMFOA/SG3SLC, DSN 343-4170 commercial 301-619-
      4170.
   b. Individual Mobilization Augmentees will be immunized by their supporting AD MTF and should be
      included in requirements for the MTF.
   c. As vaccine expires, it will be destroyed by the military treatment facility. Destruction documents are not
      required. Destroyed quantities should be entered in the Monthly Vaccine Inventory Module:
          https://medlog.us.af.mil/index.cfm?event=medlog.vacrepsys
   d. For questions or concerns please contact jan.mitchell@us.af.mil
      Phone (Comm): 301-619-4170; (DSN): 343-4170; Fax: 301-619-2557.

References:

   1. AFI 48-110 IP, Immunizations and Chemoprophylaxis for the Prevention of Infectious Diseases. 7 Oct
      2013
   2. HA Policy: 08-005. Policy for Mandatory Seasonal Influenza Immunization for Civilian Health Care
      Personnel Who Provide Direct Patient Care in Department of Defense Military Treatment Facilities. 4
      Apr 2008
   3. DoDD 6205.02E, Policy and Programs to Protect the Health of Service Members and Military
      Beneficiaries. September 2006.
   4. Prevention and Control of Influenza, Recommendations of the Advisory Committee on Immunization
      Practices (ACIP). Available at: http://www.cdc.gov/mmwr/preview/mmwrhtml/mm6332a3.htm
   5. Official Air Force Aerospace Medicine Approved Medications. 5 June 2014




                                                                                                               5
Appendix 1. Influenza vaccine dosing algorithm for children aged 6 months through 8 years — Advisory
Committee on Immunization Practices, United States, 2014–15 influenza season.




For simplicity, this algorithm takes into consideration only doses of seasonal influenza vaccine received since
July 1, 2010, to determine the number of doses needed for the 2014–15 season. As an alternative approach in
settings where vaccination history from before July 1, 2010, is available, if a child aged 6 months through 8
years is known to have received either 1) at least 1 dose of 2013–14 seasonal influenza vaccine, or 2) at least
two seasonal influenza vaccines during any previous season, and at least 1 dose of a 2009(H1N1)–containing
vaccine (i.e., seasonal vaccine since 2010–11 or the monovalent 2009[H1N1] vaccine), then the child needs
only 1 dose for 2014–15. Using this approach, children aged 6 months through 8 years need only 1 dose of
vaccine for 2014–15 if they have received any of the following: 1) at least 1 dose of 2013–14 seasonal influenza
vaccine; or 2) 2 or more doses of seasonal influenza vaccine since July 1, 2010; or 3) 2 or more doses of
seasonal influenza vaccine before July 1, 2010, and 1 or more doses of monovalent 2009(H1N1) vaccine; or 4)
1 or more doses of seasonal influenza vaccine before July 1, 2010, and 1 or more doses of seasonal influenza
vaccine since July 1, 2010. Children in this age group for whom one of these conditions is not met require 2
doses for 2014–15.
Doses should be administered at least 4 weeks apart.
http://www.cdc.gov/mmwr/preview/mmwrhtml/mm6332a3.htm




                                                                                                              6
Appendix 2: Influenza vaccines procured by DoD for 2014-2015




                   Name /
Age Category                       Formulation       NSN       CVX Code            Comments
                 Manufacturer

  6 months          FluZone      0.25mL             6505-01-     150
 through 35     (Sanofi-Pasteur) pre-filled syringe 627-2023
   months             IIV4



 ≥ 36 months       Flulaval      0.5mL              6505-01-     150
                    (GSK)        pre-filled syringe 627-9368
                     IIV4



 ≥ 36 months       Flulaval      5.0 mL            6505-01-      141
                    (GSK)        multi-dose vial   627-2699
                     IIV3


 ≥ 36 months       Flulaval      5.0 mL            6505-01-      158
                    (GSK)        multi-dose vial   627-9125
                     IIV4



  ≥4 years          Fluvirin     0.5mL              6505-01-     140
                   (Novartis)    pre-filled syringe 627-2406
                     IIV3
  ≥9 years          Afluria      0.5 mL            6505-01-      140      Latex-free
                 (bioCSL Inc)    pre-filled        627-2525
                     IIV3        syringes
   2 years        FluMist   0.2 mL pre-filled 6505-01-           149      Not for use during pregnancy
 through 49     (MedImmune) nasal sprayer     627-3515                    or in patients with chronic
    years          LAIV4                                                  medical conditions.

≥18 years and      Flucelvax    0.5mL pre-filled   6505-01-      153
    older          (Novartis)   syringe            627-2517
                     ccIIV3




                                                                                                     7
Package Inserts:
Flucelvax:
http://www.fda.gov/downloads/BiologicsBloodVaccines/Vaccines/ApprovedProducts/UCM329134.pdf


Afluria:
http://www.fda.gov/downloads/BiologicsBloodVaccines/Vaccines/ApprovedProducts/UCM263239.pdf


Flulaval:
http://www.fda.gov/downloads/BiologicsBloodVaccines/Vaccines/ApprovedProducts/UCM112904.pdf


Fluvirin
http://www.fda.gov/downloads/BiologicsBloodVaccines/Vaccines/ApprovedProducts/UCM123694.pdf


Fluzone
http://www.fda.gov/downloads/BiologicsBloodVaccines/Vaccines/ApprovedProducts/UCM305089.pdf


FluMist
http://www.fda.gov/downloads/BiologicsBloodVaccines/Vaccines/ApprovedProducts/UCM123743.pdf




                                                                                              8
Appendix 3. Recommendations regarding influenza vaccination of persons who report allergy to eggs —
Advisory Committee on Immunization Practices, United States, 2014–15 influenza season.




Abbreviations: IIV = inactivated influenza vaccine; RIV3 = recombinant influenza vaccine, trivalent.
* Persons with egg allergy might tolerate egg in baked products (e.g., bread or cake). Tolerance to egg-
containing foods does not exclude the possibility of egg allergy.
† For persons who have no known history of exposure to egg, but who are suspected of being egg-allergic on
the basis of previously performed allergy testing, consultation with a physician with expertise in the
management of allergic conditions should be obtained before vaccination. Alternatively, RIV3 may be
administered if the recipient is aged 18 through 49 years.

                                                                                                             9
Appendix 4: Contraindications to Influenza Vaccination4:

   a. Persons with an allergy to any component of influenza vaccine should not be vaccinated.
   b. People with a history of Guillain-Barre Syndrome should consult with a physician prior to receiving
      influenza vaccine.
   c. Persons with moderate-to-severe acute febrile illness should not be vaccinated with either IIV or LAIV
      until their symptoms have abated.
   d. Persons who report a history of egg allergy should be managed according to guidance in Appendix 3.
   e. Contraindications to receiving LAIV:
          a. Persons aged 49 years
          b. Those with contraindications listed in the package insert:
                    i. Children aged 2 through 17 years who are receiving aspirin or aspirin-containing
                       products
                   ii. Persons who have experienced severe allergic reactions to the vaccine or any of its
                       components, or to a previous dose of any influenza vaccine
          c. Pregnant women
          d. Immunosuppressed persons
          e. Persons with a history of egg allergy
          f. Children who have asthma or who have had a wheezing episode noted in the medical record
              within the past 12 months, or for whom parents report that a health care provider stated that they
              had wheezing or asthma within the last 12 months
          g. Persons who have taken influenza antiviral medications within the previous 48 hours.

      ****LAIV should not be administered by severely immunosuppressed personnel. However, LAIV can
      be administered by other high risk personnel, including people who are pregnant, older than 50, or who
      have underlying medical conditions such as asthma.***




                                                                                                              10