Are you burnt out and frustrated at work? Facts and Tips about Employee Burnout - National TASC
Page content transcription
If your browser does not render page correctly, please read the page content below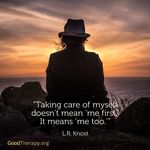 Presenters:
Letisha Lewis, MS
Forensic Specialist
Meridian Behavioral Healthcare

Erica Goldstein, BA
Forensic Liaison
Meridian Behavioral Healthcare
Learning Objectives

● Recognize burnout/compassion fatigue symptoms
● Learn coping strategies
● Develop skills to care for yourself
Who is Affected???

➔ You
➔ Your Clients
➔ The Department
➔ Friends and Family
What is Burnout?

A state of complete exhaustion physically, emotionally, and
mentally due to an extreme and long term struggle to reach a target.

 Burnout builds gradually, manifesting itself in symptoms such as
irritability, decreasing productivity, discouragement, exhaustion,
entrapment and resentment.
Causes of Burnout

● Inability to maintain balance between work/home/social life
● Trying to please everyone
● Feeling unvalued
● Conflicts with co-worker and/or management
Causes of Burnout (cont.)

● Inadequate training
● Not feeling as though clients are improving or unsuccessful completions
● Too many demands - High caseload, overload of documentation, agency
   policies, court, client instability
● Personal trauma
Stages of Burnout
Enthusiasm - Overly available and/or over identify with clients

Stagnation - Expectations shrink to normal proportions and personal
discontentment begins to surface

Frustration - Difficulties seem to multiply and individual becomes
bored, less tolerant, less sympathetic and copes by avoiding and
withdrawing

Apathy - Characterized by depression and listlessness
Signs of Burnout

● Fatigue
● Lack of motivation
● Lack of energy and enthusiasm
● Lack of patience with clients, coworkers, and superiors
Signs of Burnout (cont.)

● Cynicism and sarcasm
● Headaches, neck and back pain, high blood pressure
● Depression/Anxiety
● Irritability
We all have those days...

https://www.youtube.com/watch?v=E66Czdnz4bs
Take Care of Yourself

★ Don't be afraid to say "No"
★ Regular sleep/eat healthy
★ Exercise
★ Sometimes an outsider's perspective is helpful
★ Pay attention to and take care of your own physical and mental health
★ Take time each day to relax even if it is only for half an hour
★ Make time for friends, loved ones, and alone time
Take Care of "You" at the Office
➢ Time management
➢ Set priorities and limits
➢ Utilize the EAP
➢ Regular supervision sessions
➢ Ask questions
➢ Get involved
Did You Know???
Mother Teresa - Mandatory for her nuns to take 1 year off from
their duties every 4-5 years to allow them to heal from the effects
of their caregiving work.
Did You Know???
➔ Average employee spends 28% of their time dealing with
  interruptions followed by recovery time to get back on track
➔ Time spent per day being interrupted and refocusing - 2.1
  hours
➔ Manager - Interrupted on average every 8 minutes
➔ The cost of managing interruptions at work costs the US
  economy $588 billion per year
Food for Thought

★ Why does everyone have to work 9am - 5pm???
★ Office Morale
★ Team Building
★ Open door policy
★ Take your vacation time and do not work while on vacation!!!
What is Compassion Fatigue?
What is Compassion Fatigue? (cont.)

❖ Compassion fatigue is an emotional and physical burden created
  by the trauma of helping others in distress, which leads to a
  reduced capacity for empathy toward suffering in the future.
❖ "The cost of caring"
Careers Most Susceptible
❖ Mental health providers
❖ Social workers
❖ Medical professionals
❖ Legal professionals (corrections, probation, attorneys)
❖ Educators
❖ Outreach workers
❖ Anyone who cares about the individuals they are working with
Common Misconceptions

❖ I can "fix" the problem
❖ I will have enough resources to fix things
❖ If I care enough, everything will be okay
❖ People will appreciate everything I do
❖ I can do it alone
You Don't Have To Do Everything Alone
       "I" can become very lonely and difficult at times…
                       Utilize your team

https://www.youtube.com/watch?v=wuo13FrNX6g
Risk Factors

❖ Stress
❖ High caseload of trauma clients
❖ Over-identification with the survivors
❖ Personal trauma history
❖ Empathy
Signs and Symptoms

❖ Mental and physical fatigue
❖ Poor self-care
❖ Irritability
❖ Feeling ineffective or inadequate
❖ Feelings of isolation
Signs and Symptoms (cont.)

❖ Feeling burdened by the suffering of others
❖ Increased complaints from clients
❖ Depersonalizing clients
❖ Increased nightmares/insomnia
❖ Inability to get pleasure from previously enjoyable activities
Compassion Fatigue can lead to..

❖ Gradual desensitization to patient stories
❖ Increase in clinical errors
❖ Higher rates of depression and anxiety among the helpers
❖ Rising rates of stress leave
❖ Stress in the household/divorce
❖ Secretive self medication
Facts
❖ The highest percentage of workers that report experiencing some form of
   compassion fatigue are nurses at over 40%.
❖ 70% of therapists have experienced some form of secondary trauma that is
   directly related to their profession.
❖ Only 28% of people who are working in a helping career have received some

   form of specialized trauma training.

❖ 81% of the workers who suffer from compassion fatigue are women.
Compassion Fatigue vs Burnout
Cumulative with symptoms that are         Cumulative, usually over long period of
unique to each service provider           time

Life dissatisfaction                      Work dissatisfaction

Feel out of control                       Feel under pressure

Symptoms of post traumatic stress         Lack of motivation and/or energy
disorder

Remedy is treatment of self, similar to   Remedy is time away from work
trauma treatment                          (vacation, stress leave) to recharge or
                                          positive change in work environment
                                          (sometimes might mean a new job)
What can you do?
❖ Utilize your time off
❖ Self-awareness
❖ Set boundaries
❖ Contact your company's Employee Assistance Program (EAP)
❖ Adequate sleep, good nutrition, regular physical activity, and active
   relaxation
❖ TEAMWORK!
References
Anxiety and Depression. (2018). Retrieved February 02, 2018, from https://healingpointacupunctureclinic.com/stress-
release/depression-and-anxiety

Andreula, T. J. (2013, March 18). Burnout in Mental Health Professionals. Retrieved January 03, 2018, from
https://pro.psychcentral.com/burnout-in-mental-health-professionals/00771.html

Best Start Resource Centre. (2012). When Compassion Hurts. Retrieved February 14, 2018, from
https://www.beststart.org/resources/howto/pdf/Compassion_14MY01_Final.pdf

Compassion Fatigue. Retrieved from https://www.fadaa.org/archive/Annual.../Compassion_Fatigue_FADAA_FCCMH.ppt

Dealing with Stress in Disasters Building Psychological Resilience. (2015, March 31). Retrieved February 01, 2018, from
http://wwwapp1.bumc.bu.edu/lphi/publichealthtraining/onlinecourses/ep-stress/EP-Stress5.html

50 Best Mother Teresa Quotes With Images. (2018, January 19). Retrieved February 02, 2018, from http://quotesbae.com/50-best-
mother-teresa-quotes/

Figley Institute (2013, August). Basics of Compassion Fatigue. Retrieved February 13, 2018, from
http://www.figleyinstitute.com/documents/Workbook_AMEDD_SanAntonio_2012July20_RevAugust2013.pdf
References
Green, H. G. (n.d.). Overworked? Overwhelmed? Over It?. Retrieved from http://www.thehumanfactor.biz/

Having a job burnout. (2013, January 10). Retrieved April 12, 2018, from https://www.youtube.com/watch?v=E66Czdnz4bs

Jail. (n.d.). Retrieved February 02, 2018, from http://www.co.morrow.or.us/sheriff/page/jail

Joshi, S. (n.d.). What is Employee Burnout and explain its symptoms? Retrieved January 03, 2018, from
http://www.chrmglobal.com/Qanda/72/1/What-is-Employee-Burnout-and-explain-its-symptoms-.html

LoFrisco, B. (2014, October 12). Compassion Fatigue and Burnout. Retrieved February 01, 2018, from
https://www.mastersincounseling.org/compassion-fatigue-and-burnout.html

Mathieu, M.Ed., CCC, F. (Spring 2017). Running on Empty: Compassion Fatigue in Health Professionals. Retrieved January 3, 2018,
from http://www.compassionfatigue.org/pages/RunningOnEmpty.pdf

SAMHSA. (2104). Tips for Disaster Responders: UNDERSTANDING COMPASSION FATIGUE. Retrieved January 03, 2018, from
https://store.samhsa.gov/shin/content/SMA14-4869/SMA14-4869.pdf

Self-Care Is Not Optional: How Burnout Ended My Career at the Shelter. (2016, January 15). Retrieved February 14, 2018, from
https://notesfromadogwalker.com/2013/09/07/self-care-is-not-optional-how-burnout-ended-my-career-at-the-shelter/
References
Scheidegger, J. (2015, April 20). Burnout, compassion fatigue, depression-what's the difference? Retrieved February 01, 2018, from
http://veterinarynews.dvm360.com/burnout-compassion-fatigue-depression-what-s-difference

Steppes Coaching. (n.d.). Retrieved February 02, 2018, from http://www.steppescoaching.co.uk/personal-coaching.html

23 Unusual Compassion Fatigue Statistics. (2017, May 24). Retrieved February 14, 2018, from https://brandongaille.com/22-unusual-
compassion-fatigue-statistics/

Young Women: Stress Can Take a Dangerous Heart Toll. (2016, November 29). Retrieved February 02, 2018, from
https://www.seton.net/news/2016/08/24/young-women-take-heart-stress-can-take-a-dangerous-toll/