Building a great Rugby Club and community
Page content transcription ( If your browser does not render page correctly, please read the page content below )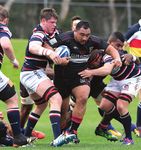 who are we?
  • One of the oldest Rugby Clubs in the world
  • Originally formed as Burwood, changing name to Western Suburbs in 1900
  • In 1995 the club again changed its name to West Harbour and adopted the Pirates nickname
  • The peak body responsible for the game of rugby union in Western Sydney
  • Our district starts at Petersham in the east to Auburn in the west - from the banks of the Parramatta River in the
    north to Campsie in the south
  • Over 200 registered senior players and approximately 200 junior players
  • A member union of the New South Wales Rugby Union
  • Participates in the premier NSW rugby competition, The Shute Shield. Operating its rugby program on a
    semi-professional level
  • Fosters and encourages the game of rugby union through development of juniors, colts and senior players
  • We have over 2,000 members that range from CEO's, company directors, professionals and small business
    owners to tradesmen

Foreword; The following is a strategic overview and forms the spine of a much
more detailed strategic plan 2018-2020.
Our Purpose
• Promote and develop the game of rugby firstly within
  our own local community and then Australian Rugby
• Provide a supportive, family, inclusive, professional
  and social environment for our players, coaches,
  supporters and sponsors and to create a positive
  impact within the community
• Strive for excellence on the field through our
  coaching, volunteering, involvement with juniors,
  schools and footprint in the community
• We want to provide better facilities and coaching of
  the highest standard to ensure that those playing
  and watching are proud to be a part of West Harbour
  Rugby Club, and to ensure greater community
  engagement and development

         Family, pride, diversity, inclusion and hard
                               work make us strong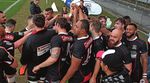 Our Values   West Harbour Rugby Union Football Club are committed
             to fulfilling and upholding the following values and
             standards:
             • Play for success
             • Play as one Club and foster team spirit across ALL
               teams
             • Aspire to be the very best rugby club we can and to
               help all players achieve their full potential
             • Foster an environment based on friendship, trust,
               transparency and respect
             • Create Ambassadors of the club and role models for
               the game of rugby
             • Promote commitment, family, discipline, inclusivity,
               diversity and hard work
             • Dedicated to giving back to the game, the Club and the
               community and to developing people, not just rugby
               players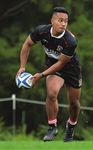 Our Strategic Pillars

              Club Player                                          Club Governance                                                  Rugby
              Development                                           and Operations                                                Operations


Key Result Areas                                       Key Result Areas                                            Key Result Areas
1. Strengthen the junior and senior playing pathway    1. Modernise club constitution                              1. Increased presence and representation at competition
2. Evolve player development programs                  2. Formalise director portfolios and duties                    management level
3. Develop player and coach high performance culture   3. Modernise business operations, agility, implementation   2. Streamline rugby operations role
4. Evolve the club's sports science program               and communication                                        3. Increase rugby professional staffing structures
5. Evolve player medical and wellbeing programs        4. Establish key business advisory panel                    4. Formalise rugby operational plan & calender
6. Establish a West Harbour Rugby Performance Centre   5. Increase club volunteers                                 5. Increase player social program responsibility
7. Increase coach development programs                 6. Modernise all club operations                            6. Increase and re-establish relationship with schools
8. Increase team management development programs       7. Club members code of conduct                                and other rugby clubs
9. Evolve player life and career skills development                                                                7. Modernise rugby communications
   programs
10. Develop strong player succession plans
11. Increase player ownership, responsibility and
                                                       The following strategic pillars and Key Performance Areas have been
    engagement
12. Develop annual playing, training and engagement
                                                       identified to achieve the Club's Vision and Purpose 2018 – 2020. The
    programs                                           pillars are intrinsically linked and critical to the long-term success of
                                                       the Club.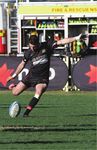 Financial
            Responsibility &                                        Facilities and                                             Community
             Sustainability                                        Infrastructure                                              Engagement


Key Result Areas;                                      Key Result Areas;                                         Key Result Areas;
1. Modernise business model                            1. Strengthen Council partnership                         1. Develop and action a modern communication plan
2. Modernise and increase club revenue streams         2. Increase physical assets and resources                 2. Enhance social media platforms and presence
3. Increase corporate partnerships, sponsorships and   3. Obtain a West Harbour Club House                       3. Move from seasonal operations to annual
   collateral                                          4. Obtain access to an all weather training field         4. Develop an efficient data and membership capture
4. Increase return on investment and clear servicing   5. Develop a West Harbour Performance Centre                 process
   requirements for sponsors and partners              6. Enhance St Luke's North Playing Facilities             5. Modernise and increase Game Day experience for
5. Streamline bookkeeping and account servicing        7. Enhance scoreboard and timing at St Luke's North and      families
6. Outsource key club services                            Concord playing arenas                                 6. Increase and modernise West Harbour Rugby Football
7. Register key programs with Australian Sports        8. Develop a University Partnership                          Club branding
   Foundation                                                                                                    7. Re-engage Olds Boys and diminish generational void
8. Establish a Friends of Rugby                                                                                  8. Increase community footprint
                                                                                                                 9. Develop sporting clubs partnerships and affiliations
                                                                                                                 10. Enhance and promote club diversity and culture
                                                                                                                 11. Define club involvement charity programs



                                                                                                                 Building better people,
                                                                                                                 not just rugby players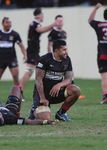 measures of success
• Develop the person first to create a better Club and
  better Rugby Players
• Our players are the best advertisement for our club
• Our members are the expression of our club
• Our club is only as good as the people in it
• Consistently competitive on the club championship
  table
• Increased retention of players, coaches, members,
  sponsors and supporters
• Increased year on year number of players being
  selected for higher representative teams
• Increased life success stories – people
  development
• Increased Year on Year Membership
• Increased Year on Year Sponsorship
• Engaged partners and sponsors
• Engaged local community
sponsorship packages
                            Tier    Tier     Tier
                              1      2        3
Catered Corporate Box

     Ground Signage

 Super Rugby Tickets
     (home Waratah Games)

     Apparel Signage
                 (custom)

         Social Media

                            $40,000 $20,000 $10,000
sponsorship opportunities

      Back Top Position 1-15
        $5000 per jersey
       Back top Position reserves
        $10000 for all reserves



      sleeve Position
      $30000 per side
      for all grades

     Back bottom Position 1-15
         $5000 per jersey
       Back bottom Position reserves
          $5000 for all reserves       Back Top Position
                                        $15000 per side
                                        for all grades
sponsorship opportunities
       Back Top Position
      $30000 all jerseys
      2nd, 3rd, 4th grade



          sleeve Position
          $30000 per side
          for all grades


    Back bottom Position
     $15000 all jerseys
     2nd, 3rd, 4th grade

                            Back Top Position
                             $15000 per side
                             for all grades
sponsorship opportunities

      Back Top Position 1-15
        $2000 per jersey
       Back top Position reserves
         $5000 for all reserves



      sleeve Position
      $30000 per side
      for all grades

     Back bottom Position 1-15
         $1000 per jersey
       Back bottom Position reserves
          $2500 for all reserves       Back Top Position
                                        $15000 per side
                                        for all grades
sponsorship opportunities
        Back Top Position
        $10000 all jerseys
         2nd & 3rd colts



           sleeve Position
           $30000 per side
           for all grades

    Back bottom Position
     $10000 all jerseys
       2nd & 3rd colts


                             Back Top Position
                              $15000 per side
                              for all grades
sponsorship opportunities
        Back Top Position
        $10000 all jerseys




           sleeve Position
           $30000 per side
            (includes 15's)

    Back bottom Position
     $10000 all jerseys



                              Back Top Position
                               $15000 per side
                               (includes 15's)
sponsorship opportunities
                 jersey sponsorship options                  all club
                                                             Shorts - left back leg                 $
first grade
                                                             Shorts - right back leg                $
Playing jersey, 1-15 - back top position         $
                                                             Playing jersey - left                  $
Playing jersey, 1-15 - back bottom position      $
                                                             Playing jersey - right                 $
Playing jersey, reserves - back top position     $
Playing jersey, reserves - back top position     $                               other sponsorship options
second, third & fourth grade                                 Rugby High Performance Centre
Playing jersey - back top position               $           Women's 15's program
Playing jersey - back bottom position            $           Women's and men's 7s Academy
first colts                                                  4 Grade and 3 Colts teams
Playing jersey, 1-15 - back top position         $           Field dressing and signage
Playing jersey, 1-15 - back top position         $           Off field apparel
Playing jersey, reserves - back top position     $           Advertising and media exposure
Playing jersey, reserves - back top position     $
second & third colts
Playing jersey - back top position               $
Playing jersey - back bottom position            $
sevens
Playing jersey - back top position               $
Playing jersey - back bottom position            $
social media exposure
- live website with newsletter
- digital membership database of over 2000 people
- gateway to many services we provide for players and members which drives traffic through the website

- the pirate press - our newsletter distributed to our 2000+ members
- Our newsletter is distributed weekly during the season and fortnightly during the off-season


- Almost 3000 'likes' on our facebook page, and growing by an average of over 60 likes per week
- consistently reaching over 40,000 people per week with our posts, photos and videos
- post engagements persistently reaching over 15,000 per week, with video views gaining 10,000+ views per week

- has gained over 300 more followers within the last 2 months
- almost 30,000 impressions each week, with most posts gaining between 1000 and 2500 impressions
- High rate of activity on our instagram page

- 17,000+ views on our youtube page
notable current players


Alan Ala'alatoa     scott sio        Alofa alofa        ben volavola       wayne ngaluafe     campese ma'afu
   brumbies         brumbies         harlequins         melb rebels            tonga           northampton
  wallabies         wallabies          samoa                 fiji          current pirate          fiji




 salesi ma'afu    jack debreczeni    cameron orr        harrison orr      taqele nayarovoro    tayler adams
  gloucester        melb rebels       gloucester      newcastle falcons     NSW waratahs    NSW country eagles
former wallaby                      australian 20's                           wallabies      New zealand 20's
west harbour
 in the media