Citadel, Susquehanna, and Soros buy Silvergate, and Bitcoin's Average Block Size hits All-Time-High
Page content transcription
If your browser does not render page correctly, please read the page content below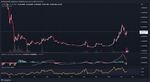 February 14, 2023
                                                        Crypto Daily

  Tickers in this report: BTC, ETH, FTM, LDO, SI

Citadel, Susquehanna, and Soros buy
Silvergate, and Bitcoin's Average Block
Size hits All-Time-High
THIS MESSAGE IS SENT SOLELY TO MEMBERS OF FS INSIGHT

                       Market Update

Crypto rallied following today's CPI report that showed that
inflation grew at a 6.4% annual rate, slightly higher than expected.
$BTC and $ETH rose 1.53% and 2.93%, respectively, while SPX
and NDQ were down 0.14% and up 0.23%. Interestingly, more
traditional finance giants have acquired shares of Silvergate ($SI).
Citadel Securities disclosed a 5.5% stake in the crypto-friendly
bank, Susquehanna Advisors Group disclosed a 7.5% stake, and
George Soros's fund also announced a smaller stake. Standouts
today in the crypto market include alternative layer 1, $FTM (up
14.65%), and liquid staking provider, $LDO (up 7.93%).

Orb Labs, a blockchain interoperability startup, raised $4.5 million
in a seed round led by the crypto arm of Bain Capital. Orb Labs
plans to use the funding to launch its products, expand its team,
and perform security audits. Blockchain interoperability refers to
products and services that utilize multiple blockchains' benefits
and users being able to bridge their assets between blockchains.
Interoperability is still in its nascent stages and is full of risks -
with billions of dollars lost in bridge hacks. Orb Labs plans to offer
a cheaper, faster, and more secure solution than existing
interoperability protocols. Orb Labs co-founder Richard Adjei
stated, "Our team is excited to power the next wave of blockchain
interoperability by providing gas-efficient, fast, and trust-minimized
messaging protocols."
Bitcoin's Ordinals Protocol continues to capture interest, causing
Bitcoin's average block size to hit an all-time high above 2.5
megabytes for the first time since Bitcoin's inception in 2009. This
is a significant increase from Bitcoin's average block size in the
past couple of years of 0.7 MB to 1.5 MB. Ordinals have been
dubbed "Bitcoin-based NFTs" and have resulted in miners making
over $600K processing Ordinal's transactions. The creator of
Ordinals, Casey Rodarmor, describes Ordinals as "digital
artifacts" on the network that can comprise of JPEG images,
PDFS, video, and audio files.

               Daily Technical Strategy

       Mark L. Newton, CMT
       Head of Technical Strategy

Following a 50% retracement of its January 2023 rally, $FTMUSD
looks to be turning back higher given Tuesday's rally back to
multi-day highs. This sharp rally from December 2022 lows
managed to gain more than 200% off the lows as volume
expanded. While momentum remains negatively sloped given the
minor pullback in recent weeks, Fantom's stabilization and
recovery attempt looks important following this test of a key level
near 0.42 over the past week. Overall, this looks to be a first step
after FTM lost more than 90% off its highs before bottoming last
June. The seven-month period of stabilization gave way to this
year's first big rally off the lows, and it's thought that prices should
continue to press higher into the month of April with initial
resistance at 0.65. Gains above that level should reach 0.87, then
1.00 without too much trouble. Support on pullbacks lies at $0.37
up to $0.40 which should hold on any further consolidation.
Daily Important Metrics

 Crypto Size                                      Sentiment

 Bullish signal is tied to the crypo market
 growing

 Market cap $1.01T+$6.8B (+0.68%)

 BTC Dominance        41.64% (-0.45%)

Stable coins
  Increase in crculating stablecoins is a
  Bullish signal

  In Circulation $68B (+0.00%)                              BMI : 76 (0.00%)
  In Exchanges $17B      (-0.41%)

BTC Metrics                                      Futures

A decrease in Bitcoin on exchanges is bullish,    A positive spread between Futures Prices

indicates investors are moving coins to cold      and Spot Prices is Bullish

storage                                           CME BTC Price $16,780 (2.33%)

# BTC in Exchanges 2.3M (-0.21%)                  Spot Basis        $30.26 (0.14%)

                                                  Volume            1.1M (85%)
Funding Rates                                     Open Interest 342,013 (0.23%)

 Positive funding rates indicate traders are
 Bullish
                                                 Options all exchanges
Aggregate    0.31 (0.33)                  Higher open interest change in a bull market
                                              is bullish for the sector
    Binance      0.27 (3.50)
                                              Volume 30,407 (362%)
    Bitfinex     3.02 (3.02)
                                              Open Interest 277,119 (3.86%)
    Bitmex       0.65 (0.50)

    ByBit        1.00 (0.83)                  Volume Put/Call Ratio 0.6039 (-39%)

    Deribit      -0.00 (0.07)                 Open Interest Put/Call        0.4297
                                              Ratio                         (1.89%)
    Huobi        1.00 (0.32)

    Kraken       0.65 (0.34)

    Mean         0.31 (0.33)

    OKex         -1.05 (-0.96)

All metrics as of February 14, 2023 1:22 PM

All Funding rates are on bps

                                 Crypto Prices

               Market       Last       Daily          Year to             Rel. to BTC
 Symbol
                Cap         Price     Change           Date                  YTD

     BTC       $427B      $22,145     ↑ 2.62%           ↑ 34%              ↑ 0.00%

     ETH       $190B       $1,551     ↑ 4.67%           ↑ 29%              ↓ -4.26%

     ADA        $13B      $0.3827     ↑ 9.44%           ↑ 55%               ↑ 21%

    DOGE        $11B      $0.0832     ↑ 3.20%           ↑ 19%               ↓ -15%

   MATIC        $11B        $1.24     ↑ 7.32%           ↑ 62%               ↑ 29%

     SOL       $8.2B       $21.91     ↑ 8.34%          ↑ 121%               ↑ 88%

     DOT       $7.2B       $6.22      ↑ 4.28%           ↑ 43%              ↑ 9.33%

     LINK      $3.4B        $6.77     ↑ 3.73%           ↑ 22%               ↓ -12%

    NEAR       $1.9B       $2.24      ↑ 5.50%           ↑ 76%               ↑ 42%

All prices as of February 14, 2023 1:22 PM
Exchange Traded Products (ETPs)

           Premium to       Last       Daily    Year to    Relative to BTC
 Symbol
              Nav           Price     Change     Date            YTD

  GBTC        ↓ -48%       $10.86     ↑ 4.52%   ↑ 31%          ↓ -2.67%

   BITW       ↓ -59%       $8.59      ↑ 4.63%   ↑ 60%           ↑ 26%

   ETHE       ↓ -53%        $7.25     ↑ 5.69%   ↑ 52%           ↑ 19%

   BTCC      ↑ 0.22%        $4.10     ↑ 2.24%   ↑ 35%          ↑ 1.64%

All prices as of February 14, 2023 3:30 PM

                                     News

 QUICK BITS

 Decrypt.co
 Ordinals Gain Momentum With 76,000 NFTs Minted
 to Bitcoin
 While the community remains divided, Ordinals has taken the Bitcoin
 ecosystem by storm.

 FUNDRAISING AND M&A

 The Block
 Credit Suisse leads $65 million Series B in digital
 asset firm Taurus
 Taurus SA, a Switzerland-based digital asset infrastructure company
 focused on servicing financial institutions in Europe, raised $65 million in
 a Series B fund...

 The Block
Former Jump Trading developers raise $19 million to
build Monad blockchain
Monad Labs, a Layer 1 blockchain project co-founded by former Jump
Trading developers, raised $19 million in funding led by Dragonfly Capital.
...

CoinDesk
Bain Capital Crypto Backs $4.5M Round for
Blockchain Interoperability Startup Orb Labs
Orb Labs emerges from stealth preparing to launch its first products.

HIRING

The Block
Magic Eden lays off 22, about 15% of staff in latest
workforce cuts
Magic Eden laid off 22 people as companies across the industry cut staff
amid tough times. The post Magic Eden lays off 22, about 15...

                OUR WORK | COMPANY | RESOURCES

             150 East 52nd St, 3rd Floor, New York, NY 10022

                            inquiry@fsinsight.com

                               Unsubscribe

                   ©2022 FS Insight. All Rights Reserved