CONCORD HIGH SCHOOL
If your browser does not support JavaScript, please read the page content below:
CONCORD HIGH SCHOOL
CONCORD HIGH SCHOOL YEAR 7 GIFTED & TALENTED PROGRAM 2019 APPLICATION PACKAGE Applications Open: Monday, 19 February 2018 Applications Close: 3pm Tuesday, 13 March 2018 Late Applications will NOT be accepted Information Evening . Thursday, 8 March 2018 at 5.30pm Test Date . Tuesday, 20 March 2018 Test Time . 8:45am - 12:30pm (please arrive promptly at 8:30am) Interviews . commencing 14 May 2018 Notification to Parents . week commencing 28 May 2018 Please detach and complete the application form inside p this package. Retain the information package for your future reference.
Personalising Education 3 Stanley Street, Concord NSW 2137 P: 02 9745 3777 F: 02 9744 2683 E: concord-h.school@det.nsw.edu.au W: www.concord-h.schools.nsw.edu.au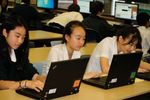 SCHOOL PROFILE Concord High School provides an enriched environment for gifted and academically talented students. Gifted students are grouped together and provided with stimulating intellectual challenges. A variety of opportunities are provided both in the classroom and through extra curricular activities. The Learning Centre provides a supportive place for independent research under the supervision of the specialist Teacher Librarian. Extensive networks provide state-of-the-art access to the internet and computer based learning that will embrace innovative and dynamic opportunities linking the classroom with real world experiences.
The school's ethos, "Personalising Education", supports the personal and academic development of students as they pursue their personal best through individual and group activities. For example, Year 9 and 10 students can choose to become journalists for the award winning student newspaper, "The News@Concord", which has a distribution of 15 000. In addition, other activities including those below are available:
Mathematics and Science challenges
Writing, listening and speaking competitions
Chess tournaments
Robotics Club
Visiting expert speakers
Inter-school debating
Knock-out sporting competitions
Duke of Edinburgh Awards Scheme
STEM project based learning
Dramatic performances
Forensic Science
Art Club
Homework Club
Before and After School Sport (BASS)
Literacy Club Provision is also made for the acceleration of students where appropriate.
CRITERIA FORTHEPLACEMENTOFSTUDENTS Applicants must satisfy the following criteria: 1. RESIDENCE
Students should reside in the Concord High School catchment area or an adjacent catchment area (for the SSC Balmain catchment students must reside in the Drummoyne Peninsula). Applications from students residing north of Parramatta River cannot be accepted.
Proof of residential address (electricity bill as a minimum requirement) will be required for your application to proceed.
Students must be Australian citizens or holders of an appropriate visa (birth certificate and, if necessary, further evidence of student citizenship is required at time of application).
Students from non-government primary schools may also apply. 2. ACADEMIC MERIT Students must compete academically with other candidates for entry to the Gifted and Talented Program. Academic merit is determined by:
Academic placement test conducted by Robert Allwell & Associates (all candidates)
Student School Report and NAPLAN results Second round
A portfolio of student work samples.
candidates only 2
ACADEMIC PLACEMENT TEST Robert Allwell and Associates conduct this secure test in English, Mathematics and General Ability. It is set at an advanced level of difficulty. SCHOOL PROGRESS REPORT The most recent Student School Report and Year 5 NAPLAN results provide a further set of evidence that establishes both student performance and application to learning. STUDENT PORTFOLIO AND CURRENT PHOTOGRAPH In addition to the above, the Student Learning Portfolio will present samples of work including:
A piece of creative writing
Documentation showing special talents, for example, artistic, technological, historical, music, sporting, etc.
Special awards which detail specific interests or abilities, eg.
academic competitions, cultural achievements and leadership acknowledgement. The portfolio will be kept by the school.
NOTE
Do not include originals
School reports, NAPLAN results and portfolios are NOT required at the time of the academic placement test. TEST INFORMATION The Concord High School Gifted and Talented Placement Test will be conducted at the school on Tuesday, 20 March 2018. 8.45am start (please arrive promptly at the school at 8.30am) 10.40am Recess 11.00am Second session 12.30pm Finish Applicants may use the school canteen. Students should wear their primary school uniform. ParentswillneedtonotifytheirPrimarySchoolthatthechildwillbeabsentthat morningandprovidethemwithanotefortheabsence.
The test is administered by a private company.
It is a secure test and papers are unavailable for scrutiny before or after the test session. In general, academic research does not indicate that coaching or practice will significantly improve the results of students on ability tests. Students are assessed in:
Reasoning and problem solving
Maths achievement and reasoning
Reading comprehension
Written expression Each test is about 40 minutes. Applicants should not expect to answer every question. 3
Cost for applicants is $60. This cost is incurred by the school hiring an independent assessor who will provide a written report on each student's results. The fee is non-refundable and must be paid prior to the test date. Please have correct money as change is not available. Applications will not be accepted without payment of the testing fee. No confirmation letter will be sent. Receipt of payment confirms your place for the test. Payments can be made by cash, cheque or EFT at the school. FIRST ROUND OFFERS Students who have demonstrated exceptional performance across the four core assessment areas of the academic placement test will be offered immediate placement in our program.
SECOND ROUND OFFERS Students who have demonstrated high standards in the academic placement test will be invited to interview where they will submit their portfolio and be asked questions pertaining to it. Reports will be sent to parents when the selection process is completed. Allstudentswishingtobeselectedmustbepresentonthetestingday.Ifastudentis unabletotakethetestonthestatedday, andthereasonsarevalidatedbysuch evidenceasaMedicalCertificate,he/shewillbeinvitedtotakethetestatalaterdate if the documents provided with the application are sufficiently supportive of his/her eligibility to take a placeintheclass.Thisdecisionwillbemadebythe Selection Committee.
ILLNESS/MISADVENTURE If some problem such as sickness or accident stops the student from takingthetestorfromdoinghis/herbest,youshouldadvisetheschool immediately. YoumustincludeaMedicalCertificateifthechildwassick. SELECTION COMMITTEE A Selection Committee for the school will meet to choose students using the "Criteria for Placement" listed on page 3. The selection Committee consists of at least two of the following: Principal, Deputy Principal, Gifted and Talented Coordinator, Year Adviser, a Head Teacher and/or parent representative.
ENQUIRIES Enquiries can be directed to the Principal, Deputy Principal or Gifted and Talented Coordinator of Concord High School at the address or numbers listed on the front cover.
Enquiries about courses or programs offered can be made to the school or by visiting the website listed on the front cover. 4
CONCORD HIGH SCHOOL YEAR 7 GIFTED & TALENTED PROGRAM APPLICATION FORM 2019 1. PleaseuseBLOCKlettersandablackorbluepentocompletethisform. Completed applicationformsshouldbereturnedtoConcordHighSchoolnolater than Tuesday, 13 March 2018. LATEAPPLICATIONS WILL NOT BE ACCEPTED 2. Applications will not be accepted without payment.  I have attached my most recent electricity bill as proof of residential address  I have attached my child's birth certificate and evidence of citizenship Student'sFamilyName Given Names DateofBirth / / Sex (M or F) Current school attended High School catchment area (if known _ _ Parent/Carer 1 Title Given Name Surname Relationship to Student (eg Mother) Home Address Postcode Home Phone Work Phone Mobile Fax Email Parent/Carer 2 Title Given Name Surname Relationship to Student (eg Mother) Home Address Postcode Home Phone Work Phone Mobile Fax Email 5 The information by applicants is being obtained for the purposes of determining It will be used by the school in the into selective classes and for Provision of this information is voluntary.
It will securely. If you do not provide any or all of this processing of your application may be delayed may personal details provided at any contacting the school.