ELITE SPORT .DEVELOPING MAXIMUM SPORTING PERFORMANCE ALONGSIDE ACADEMIC EXCELLENCE - DIT
Page content transcription
If your browser does not render page correctly, please read the page content below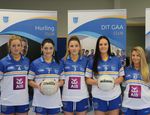 CONTENTS
2    Welcome Address

3    Past and Current DIT Elite Athletes

4    College of Arts & Tourism Sporting Highlights
                                                                                         9
5    Oliver Dingley Irish Olympic Diver
     Multimedia feature

5    Ellen Keane Irish Paralympian Bronze Medalist
     Multimedia feature

8

12
     College of Business Sporting Highlights

     College of Engineering & Built Environment Sporting Highlights              5    NC
                                                                                      13                         C
                                                                                        New Century Communications
13   Cormac Comerford Irish Alpine Skier

                                                                                      NC p
     Multimedia feature

14   Conn McDunphy Irish Professional Cyclist
                                                                                       New Century Publishing ltd.
16   College of Sciences & Health Sporting Highlights
                                                                                     Suite 9, Unit 8,
                                                                                     Blanchardstown Corporate Park,
19   DIT Sports Teams Sporting Highlights DIT GAA, Soccer,                           Blanchardstown,
     Rugby, Hockey, Waterpolo                                                        Dublin 15
                                                                                     Tel: +353 1 8855 222

                                                                                24
                                                                                     Fax: +353 1 8855 111
24   DIT Soccer                                                                      Email: info@newcenturypublishing.com
     DIT win the Rustlers Colleges Football Association of Ireland (CFAI) Cup
                                                                                      www.newcenturypublishing.com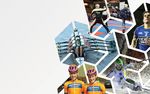 WELCOME
          WHAT better way to wrap up the second              Fitzgibbon Cup and Soccer's 'College and             and semesterised systems to their fullest,
          semester than to showcase the fantastic            Universities Football League', and outstanding       to balance the demands of their academic
          achievements of our Elite Athletes and DIT         wins in Inter-varsity Waterpolo, Hockey and          workload with the requirements of top-level
          Sports Teams, in this Annual Edition of the        Basketball – raises our profile and brings           sport.
          DIT Elite Sport digital magazine!                  huge pride to the Institute, inspiring the next       On behalf of the wider Sport and Recreation
                                                             generation of athletes.                              Service Team I would like to acknowledge and
           DIT has an enviable and proud track record
                                                              And it is not just about the sport and great        thank the tremendous talent and effort of the
          of success in Elite Sport and its Elite Sport                                                           DIT academic staff members in support of our
          initiatives are designed to strengthen that        performances, as equally important is the
                                                                                                                  DIT Elite Athletes achieving both sporting and
          reputation and support our aspiring elite          support and professionalism shown by
                                                                                                                  academic excellence.
          athletes to achieve recognition in their chosen    the superb DIT Sports Coaches and Team
                                                                                                                   And finally, I must mention the very
          sports at Olympic Games and Paralympics,           Managers and their back room squads as they
                                                                                                                  experienced team of service providers
          World Championships, World University              lead our elite-athletes and sports teams to          that provide a very comprehensive range
          Games and European Championships.                  their respective successes and achievements          of athlete-led support services to support
          Over the course of the last 12 months our          and bringing home silverware, medals, awards         our elite athletes to achieve excellence in
          elite athletes have set new national records,      and recognitions in the 2017-18 sporting year.       sport, including; physiotherapy and medical
          personal bests, achieved Podium Finishes,           Our success in sport is the sum of all the          assistance; nutritional and fitness monitoring;
          demonstrated inspiring sportsmanship and           parts and an integral part of this equation is the   sports psychology and strength and
          made many wonderful, memorable moments             belief, commitment and financial support of          conditioning, the latter taking place in our own
                                                             Senior Management in DIT to Elite Sport to help      High Performance Gym, under professional
          both on and off the field of play.                                                                      supervision.
                                                             create an environment that enables DIT Elite
           Team DIT's sporting highlights will be captured                                                         Looking forward to what will hopefully be
                                                             Athletes to realise their full potential. To date
          in this action packed interactive digital          28 academic mentors have been appointed              another successful summer of sport for TEAM
          magazine with video footage of some of our         to 'Champion' our Elite Athletes in their            DIT!
          elite athletes and DIT Sports Team's competing     respective School and College environments.          Yours in Sport
          at the highest levels in Sport. Our success over   At the moment there are currently more
          the years in high profile tournaments – such       than 150 elite athletes being afforded flexible      Niamh O'Callaghan
          as Gaelic Football's Sigerson Cup, Hurling's       learning options, utilising our modularised          DIT Sports Officer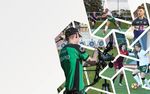 DIT has an enviable and proud track record of success in Elite
Sport and its Elite Sport initiatives are designed to strengthen
that reputation and support our aspiring and current elite
athletes to achieve recognition in their chosen sports at
Olympic Games and Paralympics, World Championships,
World University Games, European Championships and as
intercounty players in all codes of Gaelic Games.

Some of Ireland's Top Sporting Figures who have been supported or who
are currently being supported as elite athletes studying at DIT include:

IRISH PARALYMPIC BRONZE                           IRISH OLYMPIC BOXER
MEDALLIST                                         Darren O'Neill
Ellen Keane                                       DUBLIN SENIOR FOOTBALLER
IRISH OLYMPIC DIVER                               Kevin McManamon
Oliver Dingley                                    KILKENNY SENIOR CAMOGIE PLAYER
IRISH ALPINE SKIER                                Denise Gaule
Cormac Comerford                  TIPPERARY SENIOR HURLER
IRISH INTERNATIONAL HOCKEY PLAYER Kieran Bergin
Kate Lloyd                        MAYO SENIOR FOOTBALLER
IRISH RUGBY 7'S PLAYER                            Aidan O'Shea
Katie Heffernan                                   IRISH INTERNATIONAL HOCKEY PLAYER
IRISH INTERNATIONAL RUGBY PLAYER                  Lee Cole
Dave Kearney                                      DUBLIN SENIOR LADIES FOOTBALLER
IRISH INTERNATIONAL RUGBY PLAYER                  Sinéad Goldrick
Jordi Murphy
ATHLETICS, EUROPEAN
CHAMPION 400M
David Gillick
COLLEGE OF
ARTS & TOURISM
SUPPORTING 28 ELITE ATHLETES ACROSS
A WIDE RANGE OF SPORTS AS WELL AS A
WIDE RANGE OF ACADEMIC DISCIPLINES
Seven appointed academic mentors to 'Champion'
elite athletes in an academic environment

SCHOOL OF CULINARY ARTS & FOOD TECHNOLOGY
Frank Jacoby
James Sheridan

SCHOOL OF HOSPITALITY MANAGEMENT & TOURISM
Fiona Faulkner
Colin O'Connor
Zhen Yao

SCHOOL OF LANGUAGES, LAW AND SOCIAL SCIENCES
David Williams

SCHOOL OF MEDIA
Hugh McAtamney
COLLEGE OF                                                        SEPTEMBER 2014

                                                                                                        ARTS & TOURISM
Ollie Dingley IRISH OLYMPIC DIVER                                                              Ellen Keane IRISH PARALYMPIC BRONZE MEDALLIST
Ollie Dingley medals Gold and Silver in the                                                    Ellen Keane, sole Irish Participant   DIT ELITE Athlete and 3rd year Culinary
                                                                                                                                     Entrepreneurship student Ellen Keane is one of
British Championships and secures his place                                                    on the Sky Sports Scholarship         the most engaging sports stars we have in Ireland!
in the FINA Diving World Cup in China                                                          programme follows in the              Recently she has been selected as the sole Irish
                                                                                               footsteps of Katie Taylor             participant on the latest Sky Sports Scholarship
                                                                                                                                     Programme, following in the footsteps of Katie Taylor,
                                                                                                                                     one of the most iconic figures of Irish Sport.
                                                                                                                                       The programme runs for three years, bringing
                                                                                                                                     her up to 2020 when she will look to add another
                                                                                                                                     Paralympics Swimming Medal to the bronze she won
                                                                                                                                     in Rio 2016.
                                                                                                                                       Ellen is currently busy preparing for the 2018
                                                                                                                                     World Para Swimming European Championships
                                                                                                                                     which will be hosted in the National Aquatic Centre
                                                                                                                                     in the National Sports Campus in Dublin in August.
DIT ELITE Athlete and 1st year Film and Broadcasting student Oliver Dingley claimed                                                  She will compete in two World Series competitions
                                                                                                                                     travelling to Indianapolis in April and Sheffield in
Gold and Silver medals at the 2018 British Diving Championships held in Plymouth Life                                                June in preparation for the Europeans in August.
Centre in January.                                                                                                                   Over 500 athletes from 40 countries are expected
 Oliver took Gold in the Men's 3 Metre Dive with a score of 447.10 from 6 dives, setting a                                           to compete, home favourite and Rio 2016 bronze
new Irish record in the process. He also claimed a Silver medal in the Men's 1 Metre Dive                                            medallist Ellen Keane is super excited about the
                                                                                                                                     Home Europeans. "Gold is the goal any athlete has
with a score of 390.60 from his 6 dives.                                                                                             when they're competing," said the 22-year-old. "And
 The result means that Oliver has now qualified to represent Ireland at the FINA Diving                                              I have the opportunity to win it in front of a home
World Cup in Wuhan, China in June 2018.                                                                                              crowd. I'm going to take this opportunity and make
                                                                                                                                     the most out of it," she said.

                                                                                                                                                                                 f
 As Ireland's first Olympic diver in 68 years, Ollie exceeded all expectations at the 2016
                                                                                                                                       Further ahead, Keane dreams of more Paralympic
Olympic Games in Rio as he conjured a brilliant performance to finish eighth in the 3m                                               glory: "At Tokyo 2020 I want to be on the podium
springboard final, just two years after switching allegiances to Ireland through his Cork-                                           more than once," she said.
born grandmother.                                                                                                                      'Ellen Keane competed with the DIT Swim Team
 This magnificent performance on the global stage in Rio earned him a place on the World                                             who placed 3rd in the Annual Intervarsity Swimming
Series, a competition reserved for the top eight divers in the world, which saw him travel                                           Championships hosted by UCD.
to China, Russia and Canada in 2017. Since then his career as an Irish Elite Diver has gone                                            Sport for Business caught up with Ellen at Sky's
                                                                                                                                     offices in Dublin recently to ask what difference the
from strength to strength, seeing him secure a new Personal Best score at the recent                                                 scholarship programme
British Championships which has set the foundations to build on the road to the Diving World                                         would make and how she BONUS
Cup in China.                                                                                                                        went about securing it…

                                                                                                                                                                      f
COLLEGE OF                                                      SEPTEMBER 2014

                                                                                                           ARTS & TOURISM
                                                                                        Seán Waddilove DIT & IRISH INTERNATIONAL SAILOR
                                                                                        Seán sets his sights on qualifying for the Tokyo 2020 Olympics
                                                                                        SEÁN, a DIT Elite Athlete and first year International Business and Languages student has been
                                                                                        a member of Irish Sailing's Olympic Development Squad since 2016. A member of Howth Yacht
                                                                                        Club and Skerries Sailing Club he has set his sights on representing Ireland at the Tokyo 2020
                                                                                        Olympics. Seán has competed for Ireland at World and European Championships in the 420
                                                                                        class where he finished a very credible 20th at the World Championships before transitioning
                                                                                        into the 49er – Skiff Men, an Olympic class sailing event.
                                                                                         This year Seán will represent Ireland at the European Championships and U23 Junior World
                                                                                        Championships in France and hopefully achieve pre-qualification for the 2020 Olympics
                                                                                        at the World Championships in Denmark in August. Seán and his sailing partner are the only
                                                                                        members of the Irish Olympic Development Squad still eligible to compete at the U23 World
                                                                                        Championships.

Rachael Darragh IRISH INTERNATIONAL BADMINTON PLAYER
Rachel Darragh selected to represent Northern Ireland at
the 2018 Commonwealth Games
DIT ELITE Athlete and second year Leisure Management student Rachel Darragh has qualified
to represent Northern Ireland at the Commonwealth Games 2018 on the Gold Coast. The event
is taking place in April on the Gold Coast in Australia and undoubtedly the Commonwealth

                                                                                                                                                                                 f
Games for Rachel will be the pinnacle of her sporting career to date.
  As a result of Rachel's ranking points earned from competing in Singles and Doubles Events
in a number of International tournaments in 2017, she was nominated by Ulster Badminton
for the 2018 Commonwealth Games. Darragh, a niece of triple Olympian Chloe Magee, who is
often described as 'the poster girl for Irish badminton', reached the quarter-finals in the Ladies
Singles in Latvia, Lithiania and Slovakia, while she was a semi-finalist in the Welsh International
and reached the last 16 in the Ladies Doubles at the Scottish Grand Prix and Irish Open.
  She also recently competed in the European Team Championships in Russia with the Irish
Uber Cup Team.

                                                                                                                                                                       f
COLLEGE OF                                                         SEPTEMBER 2014

                                                                                                        ARTS & TOURISM
Alison Twomey DIT & DUBLIN SENIOR CAMOGIE PLAYER                                              Kate Lloyd DIT & IRISH INTERNATIONAL HOCKEY PLAYER
Ali Twomey Dublin Camogie and AIG poster girl leading the                                     Ireland Women have qualified for the World Cup for
next generation of Dublin camogie players                                                     the first time since 2002

                                                                                              DIT ELITE Athlete and postgraduate Event Management student, Kate Lloyd is a member
                                                                                              of the Irish Women's Senior Hockey Team, who qualified for the 2018 World Cup Finals in
DIT ELITE Athlete and final year Event Management student Ali Twomey has been a               London this summer. This is a fantastic achievement and the culmination of a successful
constant feature for the Dublin senior camogie team throughout their League and               summer with the Women's Team having qualified for only the 4th time in the 43 year
Championship campaign. 2017 is a year that won't be forgotten by Ali Twomey or Dublin         history of the World Cup in which Ireland have been involved in!
camogie for many years to come. One of the stories of the summer saw David Herity's

                                                                                                                                                                                 f
Dublin Camogie side beat the much-fancied Wexford to book their first semi-final spot           Kate, who has been capped 15 times for Ireland, will be immersed in the team's
in 27 years. Unfortunately for the Dublin Camógs they were beaten by the All-Ireland          preparation programme in the run up to the World Cup. This will involve not only the
Champions Kilkenny in the Semi-Final.                                                         careful balancing of her academic workload with a demanding full-time training schedule
                                                                                              but also playing in Single Nation Match Series against Scotland and Great Britain, the
  Not only did Ali star for Dublin but with DIT she was part of the 2017 victorious Purcell   reigning Olympic Gold medallists, and a tri-nations tournament in Spain with Belgium.
Cup Championship winning side and league team who were promoted to the Premier
Third Level Championship the Ashbourne Cup this year. The rise of Dublin Camogie                Qualifying for the World Cup has revitalised Irish Hockey and to be selected to represent
is definitely a positive for the College team and Ali enjoyed her college success with        Ireland and be in contention for such a prestigious competition will be the highpoint of
fellow Dublin and DIT players Fay McCarthy 3rd year Product Design student and Ellen          Kate's hockey career to date.
Mc Govern, 2nd year Nutraceuticals in Health and Nutrition student and Mechanical               Kate played for the DIT Women's Hockey Team who placed 4th in the Chilean Cup in the
Engineering student Orla Beagan .                                                             Annual Intervarsity Hockey Championships which DIT hosted at Three Rock Hockey Club.
                                                                                                                                                                       f

COLLEGE
OF BUSINESS
SUPPORTING 70 ELITE ATHLETES ACROSS
A WIDE RANGE OF SPORTS AS WELL AS A
WIDE RANGE OF ACADEMIC DISCIPLINES
Seven appointed academic mentors to 'Champion'
elite athletes in an academic environment

SCHOOL OF ACCOUNTING & FINANCE
Declan Doran
Helen O'Brien Gately

SCHOOL OF MANAGEMENT
Margaret Farrell

SCHOOL OF MARKETING
Laura Cuddihy
Anthony Buckley

SCHOOL OF RETAIL AND SERVICES MANAGEMENT
Bill Dwan

GRADUATE BUSINESS SCHOOL
Claire Mc Bride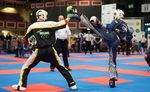 COLLEGE OF BUSINESS
Katie Heffernan IRISH WOMEN'S RUGBY 7'S PLAYER
2017 WAS an incredible year for Katie Heffernan, a second year Accounting & Finance
student and member of the Irish Women's Rugby Sevens team. The Irish team competed
in the HSBC Sevens World Series across the World (Dubai, Sydney, Las Vagas, Japan,
Canada and France) with 12 other countries and finished a magnificent 8th overall to
ensure qualification for the 2018 World Series.
 However the main highlight of the Irish Team was qualifying for the 2018 Rugby World
Cup, following a 2nd place finish in the European Sevens Tournament in Russia. It was
a great personal achievement for Katie to be part of the Team's journey to qualification
as she only first made her first World Series debut in Canada in May 2017 but has already
cemented herself as one of the key players involved in Ireland's World Series and the World
Cup campaign this year.

Patrick (Bonner) Maher DIT AND TIPP SENIOR HURLER
DIT ELITE HURLER and first year Business Management student Patrick Maher made
an immediate impact playing with the DIT Senior Hurlers this year. The former All-Star
Tipperary hurler who played in last year's All-Ireland Semi-Final defeat was influential in
helping DIT to the Division 1 League Semi Final.
 Leading the line from centre forward he helped DIT to victory over University Limerick
in the League quarter-final. DIT enjoyed a run to this year's Fitzgibbon Cup Semi-Finals
which was in part driven by the tireless work rate of this Tipperary forward. A constant
threat to opposition defences saw DIT defeat WIT and UCD before succumbing to DCU
in the Fitzgibbon Semi- Finals. Patrick has continued where he left off with the Tipperary
Senior squad and has heavily featured with Michael Ryan's side during this year's Division 1
National League Campaign.
COLLEGE OF BUSINESS

Joe Doyle DIT & TEAM IRELAND FOOTBALLER                                                        Conor Loftus DIT & MAYO SENIOR FOOTBALLER
DIT student Joe Doyle was presented with                                                       CONOR LOFTUS, a postgraduate student studying Strategic Management, has had
his first-ever International Football Cap                                                      an eventful year on the pitch to date. In 2016 he was influential from centre forward in
                                                                                               guiding Mayo to the 2016 U21 All-Ireland Title. That same year he came on as a sub in the
                                              DIT ELITE Athlete and second year Business       2016 All-Ireland Senior football final
                                              and Law student Joe Doyle received his           against Dublin. A spate of injuries
                                              first-ever International cap as a player         meant he didn't return for Mayo until
                                              with the Republic of Ireland Colleges and        mid-way through the National league
                                              Universities football team.                      in 2017 but his form in the League
                                                In 2015, following decades of competing        carried to the Championship.
                                              as national representative sides as Colleges
                                                                                                 At the tender age of 21 he helped
                                              and Universities individually, both affiliates
                                                                                               guide the Mayo Senior team through
                                              agreed, in conjunction with the FAI, upon
                                                                                               the qualifiers as they went on the
                                              forming a combined International team to
                                                                                               scenic route to the All-Ireland Final
                                              compete at international level.
                                                                                               in Croke Park. Mayo looked in trouble
                                                As a result of this new relationship and       in the qualifiers against Derry when
                                              its success in its first year, the FAI agreed    he came off the bench to score 1-1
                                              to award International Caps to all players       to force extra time and eventually
                                              that played for the side. The team played a      see Mayo over the line into the next
                                              number of high profile international fixtures    round. Conor then featured against
                                              in the 2016-2017 season and Joe was one of       Roscommon, Kerry and Dublin in the
                                              the 30 players who made an appearance for        final.
the Colleges and Universities side, including representing Ireland at the World University
                                                                                                 As a DIT GAA player he was involved
Games in Taiwan in August. The side contained a mixture of SSE Airtricity League players
                                                                                               in the College's Division 1 League
– Joe is a currently a striker with Cabinteely FC along with emerging talents from the
                                                                                               Campaign and the College's run to
likes of the Leinster and Munster Senior Leagues. Last Seaon Joe scored 10 goals in 27
                                                                                               the Sigerson Semi-Finals playing
appearancesfor the South Dublin club surpasses his personal record scored in a league
                                                                                               at centre forward. He has played in
season.
                                                                                               Mayo's Division 1 League Campaign
  On receiving his first-ever cap an extremely proud Joe said: "It was a massive honour to     taking on the free taking duties. If
represent Ireland and I'm delighted to receive a cap to mark it."                              he stays fit it promises to be a busy
  Joe Doyle played with the DIT Men's Premier Team who won the CFAI Cup!                       summer for Conor with Mayo in 2018.
COLLEGE OF BUSINESS
Sam Curtis DIT & IRISH                                                                     Conor Turner DIT WATERPOLO PLAYER
INTERNATIONAL CANOE SLALOM                                                                 & IRISH INTERNATIONAL ICE SWIMMER
Sam Curtis prepares for Olympic Qualification in 2019                                      The Irish Ice Swimmer who made history

                                                                                           DIT ELITE Swimmer and postgraduate Strategic Management student Conor Turner was
                                                                                           a member of the first team to successfully complete a marathon relay from the Isle of
                                                                                           Man to the Irish Coast last summer. The 59km crossing from the Isle of Man to Down was
                                                                                           his first attempt at channel swimming which took the team over 18 hours to complete
                                                                                           and make swimming history.
DIT ELITE Athlete and postgraduate Strategic Management student Sam Curtis is the
current Irish National Ranking Champion in Canoe Slalom having retained his titles in       Having been tapped up by the organisers, Infinity Channel Swimming, to take part,
both the Irish Senior and U23 categories.                                                  Conor instinctively said 'yes' straight away as he had already taken on the challenge of Ice
  Having narrowly missed out on qualifying for Rio in 2016, Sam will compete in the 2018   Swimming, having broken free of the formalised bureaucracy of the national swimming
ICF World Cup Series with the aim to increase his World Ranking and his eye on a Top 40    programme to become an International Ice Swimmer in 2016. Having already medalled
overall placing. In addition to the World Cup Series, Sam has set in his sights on semi-   at the World Ice Swimming Championship and Cup events, he has big dreams for the
final finishes in both the Senior Canoe Slalom European Championships in Prague in         sport as there is hope of the sport getting picked up for the Beijing Winter Olympics in
June and ICF Canoe Slalom World Cup Final race in Spain in September, building on a        2022, when he'll only still be 26 years of age. "The sport has potential to go far, and at the
15th place in the second round of the 2017 World Cup, and 14th in the second round of      rate it's growing Beijing is a real possibility," he says, "That's what I've always wanted to do
the U23 European Championships.                                                            with my swimming, represent Ireland."
  Sam represented DIT in the Conoeing Intervarsity Championships finishing 2nd              Conor was a member of the DIT Waterpolo team who
                                                                                           won the 2018 Intervarsity Waterpolo Championships!                    BONUS
  in the slalom event but retained his Irish Slalom title racing last week!
COLLEGE OF ENGINEERING
& BUILT ENVIRONMENT
SUPPORTING 43 ELITE ATHLETES ACROSS
A WIDE RANGE OF SPORTS AS WELL AS A
WIDE RANGE OF ACADEMIC DISCIPLINES
Seven appointed academic mentors to 'Champion'
elite athletes in an academic environment

SCHOOL OF ARCHITECTURE
Noel Brady
Eric Bates

SCHOOL OF CIVIL ENGINEERING
Garrett Keane
Henry Mullen

SCHOOL OF MECHANICAL & DESIGN ENGINEERING
William Bergin

SCHOOL OF SURVEYING & CONSTRUCTION MANAGEMENT
Lloyd Scott

SCHOOL OF TRANSPORT ENGINEERING,
ENVIRONMENT & PLANNING
Conor Norton
COLLEGE OF ENGINEERING
                                                                                                       & BUILT ENVIRONMENT
                                                                                        Conn McDunphy DIT & IRISH PROFESSIONAL CYCLIST
                                                                                        Conn McDunphy, reigning U23 National Individual Pursuit Champion has
                                                                                        signed for Holdsworth Campagnolo Pro Cycling Team!
                                                                                        2017 WAS very much a breakthrough season for Conn McDunphy, Irish professional cyclist
                                                                                        and 2nd year mechanical engineering cyclist. The three major highlights of his 2017 season
                                                                                        were winning silver at the U23 National Time Trial Championships, signing for professional team
                                                                                        Raleigh GAC and becoming U23 National Individual Pursuit Champion. He finished his racing
                                                                                        season on a high having won 5 races in total and achieving podium places in many others.
                                                                                         Conn who has now signed for another professional team Holdsworth Campagnolo pro
 TESTIMONIAL:                                                                           cycling, is the only rider on the team still in full-time third level education which has been made
 "All this is only possible because of the                                              possible through the support offered to him as a DIT Elite Athlete.
 academic support that I receive from                                                    Showing solid form in one of his first races of the season with a 16th place in the 168-kilometre
 DIT which allows me to combine my                                                      Omloop van het Waasland in Belgium, Conn hopes to continue with his winning form and
 strenuous training and competitive
                                                                                        secure selection for the National U23 Team and represent Team Ireland
 schedule and academic study together".                                                                                                                                   BONUS
                                                                                        at a major Championship.

Cormac Comerford DIT & IRISH ALPINE SKIER
AFTER A record season last year with a Top 50 in the World Championships in Slalom, podium finishes on the FIS
international circuit and continuous, consistent point scores throughout, Cormac's Olympic selection was looking
positive. To give himself the best chance of selection for the 2018 Winter Olympics in Pyeong Chang, South Korea
he would have to qualify in the top tier qualification, "A standard" (Top 500 in the World).
  Having only been able to afford to train with a professional team for one season before this Olympic year he knew
it was going to be difficult, but not impossible. However, despite finishing Top 30 in 90% of his races, lowering his
points and increasing his world rankings and being the only Olympic hopeful based/living in Ireland, he narrowly
missed out on selection. Ireland was only given a quota of 1 male alpine skier and Patrick McMillan, who competes in
the speed events, was selected to represent Team Ireland instead.
  Although bitterly disappointed at not making qualification of the 2018 Winter Olympics, Cormac has set his sights
on aiming for a Top 30 place at the World Championships and securing selection to represent Team Ireland and DIT
at the World University Games in Russia in 2019. Cormac is also working towards breaking into the Europa Cup and
World Cup circuits!
                                                                    BONUS 1                  BONUS 2
COLLEGE OF ENGINEERING
                                                                                                       & BUILT ENVIRONMENT
Sean Ryan INTERNATIONAL ELITE KICKBOXER                                                      Niall Beggan DIT AND IRISH INTERNATIONAL ROWER
                                                                                             DIT ELITE Athlete and second year Engineering student Niall Beggan was a member of
                                                                                             the Irish U23 Lightweight Men's rowing team who claimed a bronze medal at the World
                                                                                             U23 Rowing Championships in the Lightweight Quad event in Bulgaria.
                                                                                              Having set a new Irish record at the Cork City Regatta rowing the 2km race in a time of 5
                                                                                             minutes and 56 seconds, the team managed to break their Irish record by 8 seconds to
                                                                                             become the fastest an Irish quad has ever rowed internationally. Niall also raced in the
                                                                                             double at the Cork Regatta with his team-mate Andrew Goff (UCD) placing 2nd with a
                                                                                             new PB and finishing only 2.1 seconds behind Olympic silver medallist rowing 'legends'
                                                                                             Paul and Gary O'Donovan. The pair, in that very same race, beat Mark O'Donovan and
                                                                                             Shane O'Driscoll by a huge margin of 10.37 seconds, with the latter duo going on to win
                                                                                             the World Championships Men's Lightweight pairs title!
                                                                                              This season Niall is working hard towards gaining selection for the Irish U23 Team
                                                                                             again and achieve a podium place at the Worlds in Poland in July. Hopefully the Irish
                                                                                             Lightweight Quads can bring home a medal of a different colour this time and improve
                                                                                             on their magnificent bronze medal performance last year!         BONUS 1

DIT ELITE Athlete and first year Automation Engineering student Sean Ryan had the
biggest win of his career, winning the largest competition in kickboxing; the Irish Open
World Cup in 2017. Securing his place on the Irish Team for the 5th year in a row he
narrowly missed out on a podium place at the WAKO European Championships in
Macedonia but succeeded to win the 63kg and the Men's Overall Grand Championship
at the WOMAA World Championships.
  Starting off 2018 with a win in the New Year's Open, he recently won bronze at the Irish
Open World Cup Kickboxing Series. Sean is well on target to securing his place with the
Irish Team to fight at the WAKO European Championships in Slovenia after winning the
first round of the National Championships.
COLLEGE OF ENGINEERING
                                                                          & BUILT ENVIRONMENT
Ronan Shanahan DIT & KERRY SENIOR FOOTBALLER

RONAN SHANAHAN, a student studying Electrical Services Energy
Management, played a key part of the Kerry Senior Side that lifted the
Division 1 league Title in 2017. A real leader he captained the College
Team and was heavily influential in DIT's run in the Division 1 League
and subsequent run to the Sigerson Semi-Finals. He led from the back
line and picked up the marquee forward of every other opposition
team which led the Team to their best performance since winning
the Cup in 2013. An ever present part of the Kerry Senior Team in the
2018 National League, Ronan will be hoping to continue his form in the
Sigerson Cup and the Division 1 National League into the business end
of the Championship and the much anticipated Super 8's this summer.
COLLEGE OF
SCIENCES & HEALTH
SUPPORTING 24 ELITE ATHLETES ACROSS A WIDE
RANGE OF SPORTS AS WELL AS A WIDE RANGE
OF ACADEMIC DISCIPLINES
Six appointed academic mentors to 'Champion' elite athletes
in an academic environment

SCHOOL OF BIOLOGICAL SCIENCES
Fergus Ryan
Greg Byrne

SCHOOL OF CHEMICAL & PHARMACEUTICAL SCIENCES
John Treacy

SCHOOL OF COMPUTING
Paul Bourke

SCHOOL OF FOOD SCIENCE & ENVIRONMENTAL HEALTH
Denis O'Shea

SCHOOL OF PHYSICS
Robert Howard
COLLEGE OF
                                                                                                               SCIENCES & HEALTH
                                                                                                   Daniel Foley DIT AND IRISH INTERNATIONAL ARCHER
                                                                                                   DIT ELITE Archer and second year Computer Science student Daniel Foley competes nationally
                                                                                                   and internationally for Ireland as an elite junior compound archer. Having represented Ireland 4
                                                                                                   times in outdoor Championships both World and European level and 3 times on the indoor stage,
                                                                                                   he has numerous Irish titles including Senior Outdoor Champion and 11 Irish records to his name.
                                                                                                   Most recently in January 2018 he shot 3 Irish records at the Indoor World Cup beating his previous
                                                                                                   head to head record with a 147/150 score. Despite scoring the third highest score in the competition
                                                                                                   he was unfortunately defeated with a 148/150 score by the eventual competition winner.
                                                                                                     Daniel has set his sights on achieving Top 10 placings at both the European Youth Championships
                                                                                                   in Greece in June and at the World Field Championships in Italy in September. This will be his final
                                                                                                   year to compete and represent Ireland at an International level as a Junior Elite Archer before
                                                                                                   progressing to senior level.
                                                                                                     Represented DIT and Won Gold at the Intervarsity                             BONUS
                                                                                                     Championships this year

Kate Mooney DIT AND IRISH INTERNATIONAL FOOTBALLER
DIT ELITE Athlete and first year Biomedical and Molecular student Kate Mooney is a
member of Shelbourne Women's National League team who won the League, FAI Cup and
League Cup in 2016 and who hope to emulate this hat-trick again in 2018.
 Having represented Ireland internationally at U17 level and now at U19 level, Kate scored
in the qualifying round of UEFA Women's U19 European Championships against Latvia in
Holland which helped Ireland secure qualification and home advantage for the UEFA Elite
Round which will be hosted by Ireland in April. The Team will face stiff opposition and will
play Spain, Austria and Turkey in a bid to qualify for the final stages of the UEFA European
Championships in Switzerland. Kick-off times and venues are yet to be confirmed but
judging on Kate's current goal scoring form she will play a key role to help ensure that Ireland
qualify for the final stages of the competition.
2017/18 UEFA Women's Under-19 European Championships - Elite Round
April 2:   Republic of Ireland     v      Austria
April 5:   Spain                   v      Republic of Ireland
April 8:   Turkey                  v      Republic of Ireland
COLLEGE OF
                                                                                                         SCIENCES & HEALTH
                                                                                              Sally Campbell DIT AND IRISH U21 HOCKEY PLAYER
                                                                                             DIT ELITE Athlete and second year Human Nutrition and Dietetics student Sally Campbell
                                                                                             won the EY Irish Hockey League with UCD last year and helped DIT secure a place in the
                                                                                             2017 Intervarsity 'A' competition.
                                                                                              Sally is currently her team's top goal scorer in the EY Irish Hockey League having made
                                                                                             the decision to transfer to Trinity hockey club for the 2017-18 season. As a current Irish U21
                                                                                             player she will represent Ireland in a number of matches over the coming months Ireland
                                                                                             vs. USA over Easter, Ireland vs. England and Wales during June and a 6 Nations tournament
                                                                                             in Antwerp in July. Sally is hoping to play a prominent role with the Irish Team in these
                                                                                             games with the hope of being selected to play for the Irish Senior Women's panel for next
                                                                                             season's cycle.
                                                                                              Sally played for the DIT Women's Hockey Team who placed 4th in the Chilean Cup
                                                                                             in the Annual Intervarsity Hockey Championships which DIT hosted at Three Rock
                                                                                             Hockey Club

Andrew McGowan DIT AND DUBLIN SENIOR FOOTBALLER
DIT ELITE Gaelic Footballer and second year Computer Science student Andrew McGowan, made
his competitive debut in the 2018 Allianz National Gaelic Football League with All-Ireland Senior
Football Champions Dublin. Andy, a member of the DIT Fresher Football team last academic year,
was part of the Dublin U21 side which won the 2017 Leinster and All-Ireland Championship.
 Following a strong showing for his college DIT in the Division 1 Ryan Cup he received a call up to
the Dublin O'Byrne Cup squad. His performances for DIT in the Sigerson Cup saw this versatile
defender play a starring role in the colleges run to the Semi Finals. This didn't go unnoticed. In the
later stages of the National League game against Kerry, Andy came on at wing back, while he also
featured against Galway a week later.
 Breaking into a back line which contains multiple All-Ireland winners and All-Stars is no mean
achievement. Andy and Dublin are now looking forward to a Division One league final against
Galway. This will all build up to Leinster and All-Ireland championship over the summer where the
Dubs are seeking to retain their All-Ireland title and are going for a historic four in a row!
DIT SPORTS TEAMS
DIT GAA
DIT Drive to Sigerson finals

DIT LADIES FOOTBALL
DIT Ladies Football bow out of Lynch Cup in semi-final
stage

DIT HURLING
DIT Hurling enjoyed best competitive spell in 10 years

DIT SOCCER
DIT win the Rustlers Colleges Football Association
of Ireland (CFAI) Cup

DIT RUGBY
DIT Students selected to play for Irish
student representative Team

DIT WATERPOLO
DIT Waterpolo do the double in the
Annual Intervarsity Championships

DIT HOCKEY
DIT Hockey win Outdoor Mixed
Cup & Plate and Indoor Cup
DIT GAA
DIT Drive to Sigerson finals
The DIT Senior Football team progressed to the
Sigerson Cup Semi Finals this year. The Club's first
Sigerson game on the new pitch in Grangegorman was
christened with a victory against a strongly defensive IT
Carlow side. DIT were in the driving seat at half time but
IT Carlow clawed their way back to make it a two point
game. However Mayo Forward Conor Loftus struck for
goal mid-way through the second half and DIT never
looked back. DIT outscored their opponents by 0-6 to
0-1 down the stretch, as DIT and Westmeath's Shane
Dempsey lofted over a couple of excellent scores to
see his team home.
 This win was rewarded with a long coach ride to take
on IT Tralee in the quarter finals in Austin Stack Park. A
large home support gathered for what was dubbed the
biggest college game in Tralee in ten years. IT Tralee
had beaten a fancied Queen's team in Belfast in the
previous round. However a two-goal salvo before half-
time from DIT and Cavan's Enda Flanagan put DIT in a
commanding position. IT Tralee lost Kerry centre back
Gavin Crowley at half time which helped cement their
faith. DIT manager Billy O Loughlin afterwards was full
of praise for the lads work rate off the ball.
 Much to-ing and fro-ing on venues followed after the        row to tie up the game heading into the last quarter.      NUIG managed to weather the DIT storm in the closing
Semi Final. However St Loman's GAA pitch in Mullingar        Unfortunately a kick-out fell to NUIG sharpshooter         stages when two 45's were lofted into the square.
was settled on to host the Sigerson Semi Final against       Damien Comer who shipped the ball to Eoin Finnerty          It brought an end to an exciting year and a solid DIT
NUIG. NUIG started the contest brighter with their hard      for a goal against the run of play. DIT and Cavan's        team which developed and gives hope to try and go one
running game. DIT though reeled off four points in a         Caomhin O'Reilly was unlucky for a late penalty call and   step further next season.
DIT LADIES FOOTBALL
DIT Ladies Football bow out of
Lynch Cup in semi-final stage
DIT SENIOR Ladies Football team had a tough but
enjoyable year. There were large numbers all year with
circa thirty plus players at some training sessions which
is a credit to the effort the management team put in. DIT
School of Accounting & Finance lecturer Sean O'Reilly
manages the squad with Louise Leonard (St. Brigids
Roscommon) alongside High Performance Boxing Coach
and former GAA Games Promotion Manager, Geraldine
McTavish along with Denis Doolan from Rhode Offaly. The
team were very unfortunate with injuries with two of their
main players Dublin Seniors Amy Connolly and Emma
McDonagh, being ruled out all year with injury worries.
Despite this the squad picked up wins throughout the
League going out to eventual winners University Ulster
Jordanstown.
  The Lynch Cup was to prove the same. With a huge
defeat to a star studded UUJ team in the opening round,
this forced DIT through the backdoor. Victories over UCC
(2), CIT, UCD (2) set up a semi-final showdown with IT
Sligo. A series of missed chances in the first half proved
costly and IT Sligo came back from three points down to
close out the contest with two well taken goals. Despite
this there is cause for optimism for the future. Dublin
Senior Footballer Aoife Kane shone brightly throughout
the year, as did captain Emer Heaney from Longford and
Ciara McGuigan Dublin and Sarah Nulty Cavan.
DIT HURLING
DIT Hurling enjoyed best
competitive spell in 10 years
DIT SENIOR Hurling Team enjoyed its best run through
the League and Fitzgibbon Cup for ten years. The Team
reached the last four of the Division 1 Ryan Cup league
and also the semi-finals of the Fitzgibbon Cup largely
due to a rebuilding and strengthening of the panel that
was undertaken ahead of the season. Tipperary's Patrick
Bonner Maher and Justin Cahill, Dublin's Fiontán McGibb,
Westmeath duo Niall Mitchell and Niall O Brien came into
the squad. They supplemented the fresher's coming
through, Dublin U21's Johnny Mc Guirk, Conor Ryan, Luke
Kelly and Eoghan Dunne. A returning trio of injured players
who were missing for most of the previous year returned.
This included former Dublin U21's Sean Mc Clelland and           go our way and Carlow shaded the opening exchanges. It           Waterford IT 3-19 to 1-19. This set-up a quarter-final derby
Cian Hendricken together with Kilkenny Senior Liam               was compounded by the loss of team captain and full back         against UCD in Belfield. Again a slow start from DIT was
Blanchfield which bolstered the squad.                           Tommy Doyle through concussion early on and Carlow ran           followed by a much improved second half. Both teams
 Under the guidance of Derek Brennan, Paudie O Neill and         out six point winners.                                           traded scores and were level on numerous occasions.
Brendan McLoughlin, they recorded wins in the Division 1          The squad looked to improve on their League form for the        However a side-line cut from Conor Ryan that went over
League over GMIT, Maynooth and UCD before setting up             Fitzgibbon Cup. An opening round group clash pitched the         together with a Niall O'Brien free sealed the win for DIT
a group topping last game against DCU. Unfortunately the         team against UL. Due to bad weather the game was moved           0-19 to 0-17. This led the team to the Fitzgibbon Semi Final
team lost by two points in the end although had a late penalty   to UL's 3G pitch, while DIT were missing four of their regular   v DCU in Parnell Park. Unfortunately the team found it very
call turned down which could have changed the result. This       starters through injury. The element of surprise from the        hard to get to the pitch of the game. DIT stayed in touch
meant they were now second in the Group and a daunting           league was gone and UL, in a high scoring affair ran out         at half time, but in the opening quarter of the second
away quarter final in Limerick against a star studded UL.        comfortable winners by nine points 3-29 to 4-17. DIT then        half were overrun and DCU won comfortably 1-12 to 2-20.
DIT played some of their best hurling that night with Patrick    faced into essentially a knockout game against WIT. After a      Despite this disappointing end to the season it was a very
Maher and Niall O'Brien in sparkling form, DIT went on to        slow start being three points down at half time, DIT upped       memorable and enjoyable year for the Club and helped
win by six points. This brought DIT to Grangegorman for a        their intensity in second half. Goals from Liam Blanchfield      put DIT Senior Hurling back on
                                                                                                                                                                       BONUS
Division 1 League Semi Final v IT Carlow. This match didn't      and resolute defending from Luke Kelly saw DIT defeat            the college map.
DIT SOCCER
DIT win the Rustlers Colleges Football
Association of Ireland (CFAI) Cup
DIT MEN'S Soccer team re-claimed the Colleges Football Association of Ireland (CFAI)
Russlers Perpetual Cup for the first time since 2011 and for the 13th time in their history
with a 1-0 win against Athlone IT in Eamonn Deacy Park, Galway in March.
 Commenting on the news, Gavin Fleming, Manager of the DIT side said it was a well-
deserved win. "I am delighted for the lads; they are a great team that works well together
and have been an absolute pleasure to train all year."
 DIT: Lee Steacy, Adam Harney (Ryan Kavanagh 68'), Michael Lynch, Jake O'Connor,
Jamie Broderick, Adam Zayed, Rob Duggan (Gareth Craven 77'), Aaron Robinson, Joe
Doyle, Darragh Noone (Peter Walsh 89'), Jordi Ebanda (Evander Chatara 85')
RUSTLERS CFAI Man of the Match: Darragh Noone (DIT) who especially influenced
the game in the 2nd half.
 The A team are still a very young side comprising mainly of first and second year
students, who should be capable of going on and developing as a team over the next
few years. One of the new recruits never got to play for the team this year due to injury
but signed for Brighton in January and we wish him well. Joe Doyle represented DIT with
distinction as he played for Ireland at The World University Games in Tapei in August.
 The B and C teams went through a rebuilding phase this season as some players
moved up and some left the college.
 The B team reached the semi-final against NCI but were beaten 3 – 1 in highly
competitive game.
 The C team lost out in the quarter-finals of the Shield Competition to IADT Dun
Laoghaire.
 The DIT Futsal team won the regional heats in IT Blanchardstown and went on to win
the National Finals in Waterford IT for the first time. They are two games away from
representing Ireland in the European Futsal finals.
 Highlights of the Athlone IT v DIT CFAI Cup Final was featured on Eir Sport 6 times,
got 10,000 views on FAI Facebook and Website media and got coverage in most
National Newspapers and on Radio!
DIT MEN'S RUGBY TEAM
DIT MEN'S Rugby Team reached the final stages of Student Sport Ireland's Brendan Johnson Cup Division 1 competition
but unfortunately came up short in the semi-final stages to Carlow IT in a fiercely competitive game on home ground
at DIT Grangegorman Campus. However, as most of the DIT players will be back next year to play for the Team, it gives
hope to try and go one step further next season and bring the Cup home!

DIT STUDENTS SELECTED TO PLAY FOR IRISH STUDENT REPRESENTATIVE TEAM
Two of our elite rugby players, Fergal Cleary and James Bollard, were selected to represent DIT on the Irish Students
Rugby Team who produced a powerful performance to see off a hard-working Scotland Students side, winning 33-17 at
the University of Edinburgh. Congratulations to both players who play top Irish AIL Division level but especially to Fergal
Cleary who scored the final try of the game!
 There was a special feature on the Ireland Students on 'Against The Head' programme on RTÉ Two, including
footage from their five-try victory in Edinburgh. DIT Rugby Player Fergal Cleary's try is shown in the 2 minute clip
from the 36th minute mark to the 38 minute of the programme
                                                                                                                              BONUS 1   BONUS 2
DIT WATERPOLO                 DIT WATERPOLO did the double and were crowned
                              Intervarsity Champions after its men's and women's teams
                                                                                           Three DIT waterpolo players have also been selected to
                                                                                          represent the Irish Universities Women's Waterpolo Team
                              beat Queen's Belfast and Trinity respectively at their      who will travel to Edinburgh to play in the Waterpolo Celtic
DIT Waterpolo do the double   annual Intervarsities. DIT actually hosted the tournament   Nations Tournament in April. On behalf of the Sports team
in the Annual Intervarsity    in Trinity - the women won their match comprehensively      we would like to wish Niamh O'Meara, Hannah McMenamin
                              but the men only won by a goal in the dying seconds which   and Csenge Deak the very best of luck!
Championships                 made for a very nail-biting finish.
DIT HOCKEY

DIT Hockey win Outdoor Mixed
Cup & Plate and Indoor Cup
THE DIT HOCKEY CLUB has had a hugely successful competitive season to date fulfilling more
than 32 fixtures in Men's, Women's and Mixed Hockey Tournaments. The Club kicked off the
season hosting the prestigious Annual IUCHA Intervarsity Tournament in Three Rock Rovers with
the men's and women's teams placing 3rd and 4th respectively in the Premier Division of the
Competition. In the second half of the season the Club went on to win both the IUCHA Outdoor
Mixed Cup and Plate and Indoor Mixed Cup Competitions; the North Dublin Mixed Cup and placing
a very competitive 2nd in the Connaught Indoors.
 Five hockey players from DIT have also been chosen to represent the Irish Universities Men's and
Women's Hockey Team who will travel to Scotland to play the Scottish Universities Team in early
April. On behalf of the Sports team we would like to wish Jack Ryan, Herbert Fowler Hudson, Sally
Campbell, Alannah Carragher and Laura Hanlon the very best of luck!