Reefs at Risk - in the Caribbean
Page content transcription ( If your browser does not render page correctly, please read the page content below )
World
          Resources
          Institute


 World Resources Institute
      10 G Street, NE
Washington, DC 20002, USA



       www.wri.org




                             Reefs at Risk
                             in the Caribbean

                                            LAURETTA BURKE

                                            JONATHAN MAIDENS

CONTRIBUTING INSTITUTIONS

The Reefs at Risk in the Caribbean project was developed and implemented by the World Resources
Institute (WRI) in collaboration with many partner organizations.

Research Institutions and Universities                                                                                                                                                 REEFS AT RISK IN THE CARIBBEAN
■   Atlantic and Gulf Rapid Reef Assessment (AGRRA)                                                                                                                                    The Reefs at Risk in the Caribbean project was implemented by WRI in
■   Caribbean Coastal Marine Productivity Program (CARICOMP)                                                                                                                           collaboration with many partner organizations (see inside front cover).
■   Centre For Marine Sciences, the University of the West Indies at Mona, Jamaica (CMS-UWI)                                                                                           The project is a component of the International Coral Reef Action
■   Florida International University (FIU)                                                                                                                                             Network (ICRAN) and was implemented in close collaboration with the
■   Gulf and Caribbean Fisheries Institute (GCFI)




                                                                                                  PHOTO: WOLCOTT HENRY©
                                                                                                                                                                                       Caribbean Environment Programme. This report is a summary of a two-
■   National Center for Caribbean Coral Reef Research (NCORE)                                                                                                                          year effort. In addition to the report, all maps, model results, technical
■   University of Miami (UM)                                                                                                                                                           notes, and GIS data are available from the Reefs at Risk web site,
■   University of South Florida (USF)                                                                                                                                                  reefsatrisk.wri.org.
■   University of the West Indies (UWI)


Nongovernmental Organizations
■   Caribbean Conservation Association (CCA)                                                                              WORLD RESOURCES INSTITUTE
■   Corporación para el desarrollo sostenible del Archipiélago de San Andrés,                                             The World Resources Institute (WRI) is an environmental policy research institute that strives to create practical ways to protect the
    Providencia y Santa Catalina (CORALINA)
                                                                                                                          Earth and improve people's lives. Our mission is to move human society to live in ways that protect the Earth's environment for cur-
■   Environmental Defense
                                                                                                                          rent and future generations. In all of its policy research and work with partners, WRI tries to build bridges between ideas and action,
■   Fondation pour la Protection de la Biodiversité Marine (FoProBiM)
                                                                                                                          meshing the insights of scientific research, economic and institutional analyses, and practical experience with the need for open and
■   Island Resources Foundation (IRF)
                                                                                                                          participatory decision-making.
■   The Nature Conservancy (TNC)
■   Reef Environmental Education Foundation (REEF)                                                                        INTERNATIONAL CORAL REEF ACTION NETWORK (ICRAN)
■   Reef Check
                                                                                                                          ICRAN is a global partnership implementing a set of interlinked and complementary activities to enable the proliferation of good
■   World Wildlife Fund (WWF)
                                                                                                                          practices for coral reef management and conservation, which also undertakes the implementation of the International Coral Reef
                                                                                                                          Initiative's (ICRI) Framework for Action. The activities of ICRAN fall into three components, namely, management action, coral reef
Government Agencies and International Organizations
                                                                                                                          monitoring and assessment, and communication. In addition, the UNEP-Regional Seas Programmes, such as the Caribbean
■   Global Coral Reef Monitoring Network (GCRMN)
                                                                                                                          Environment Programme, play a leading role in practical action to protect and manage targeted coral reef ecosystems in a network of
■   International Coral Reef Action Network (ICRAN)
                                                                                                                          sites worldwide, and help to alleviate poverty in communities whose livelihoods depend on coral reefs. This work is combined with
■   United Nations Environment Programme - Caribbean Environment Programme (UNEP-CEP)
                                                                                                                          assessment and information components, such as the activities of WRI and other partners, to raise awareness, promote good practices,
■   United Nations Environment Programme - World Conservation Monitoring Centre (UNEP-WCMC)
                                                                                                                          and enhance effective management of people's actions and their impacts upon coral reefs.
■   U.S. National Aeronautics and Space Administration (NASA)
■   U.S. National Oceanographic and Atmospheric Administration (NOAA)                                                     THE CARIBBEAN ENVIRONMENT PROGRAMME
■   World Bank / GEF Mesoamerican Barrier Reef System (MBRS) Project
                                                                                                                          Established by the nations and territories of the Wider Caribbean Region in 1981, the Caribbean Environment Programme (CEP)
■   The World Fish Center
                                                                                                                          promotes cooperation for the protection of the marine and coastal environment. The CEP is an integral part of the Regional Seas
                                                                                                                          Programme of the UNEP, and is administered by its Regional Coordinating Unit (CAR/RCU) in Kingston, Jamaica. The legal frame-
Financial Support
                                                                                                                          work for the CEP, adopted in 1983, is provided by the Cartagena Convention. This Convention, the only region-wide environmental
■   The Curtis and Edith Munson Foundation
                                                                                                                          treaty for the Wider Caribbean, is a framework agreement setting out the political and legal foundations for environmental actions
■   The Henry Foundation
                                                                                                                          for the conservation and sustainable use of the Caribbean Sea, the Gulf of Mexico, and adjacent areas. These actions are directed by a
■   Netherlands Ministry of Foreign Affairs
                                                                                                                          series of operational protocols, addressing oil spills, protected areas and wildlife (SPAW Protocol), and land-based activities and
■   Swedish International Development Cooperation Agency (SIDA)
                                                                                                                          sources of marine pollution (LBS Protocol). The activities of the UNEP-CAR/RCU assist nations of the Wider Caribbean to under-
■   United Nations Foundation (UNF)
                                                                                                                          take sustainable development and environmentally sound practices. The CEP assists in the co-ordination of international initiatives in
■   U.S. Agency for International Development (USAID)
                                                                                                                          the region, such as the ICRI and the ICRAN and has established co-operation with global agreements such as the Convention on
                                                                                                                          Biological Diversity and Ramsar.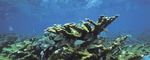 Reefs at Risk
in the Caribbean

       LAURETTA BURKE | JONATHAN MAIDENS




               Contributing Authors:
    Mark Spalding, Philip Kramer, Edmund Green,
   Suzie Greenhalgh, Hillary Nobles, Johnathan Kool




                         World
                         Resources
                         Institute

               WASHINGTON,         DC
Hyacinth Billings
                                                    Publications Director




                                                        Cover Photo
                                            French Anglefish by Wolcott Henry©



                                                  Inside Front Cover Photo
                                               Staghorn Coral by Toni Parras



                                                    Report Series Design
                                                   Lomangino Studio Inc.



                                           Layout of Reefs at Risk in the Caribbean
                                                        Maggie Powell



       No photograph in this report may be used in another work without written permission from the photographer.




        Each World Resources Institute report represents a timely, scholarly treatment of a subject of public concern.
   WRI takes responsibility for choosing the study topics and guaranteeing its authors and researchers freedom of inquiry.
        It also solicits and responds to the guidance of advisory panels and expert reviewers. Unless otherwise stated,
             however, all the interpretation and findings set forth in WRI publications are those of the authors.



                             Copyright © 2004 World Resources Institute. All rights reserved.



                                                   ISBN 1-56973-567-0
                                    Library of Congress Control Number: 2004113031
Printed in the United States of America on chlorine-free paper with recycled content of 50%, 30% of which is post-consumer.
Contents
FOREWORD . . . . . . . . . . . . . . . . . . . . . . . . . . . . . . . . . . . . . . . . . . . . . . . . . . . . . . . . . . . . . . . . . . . . . . . . . . . . . . . . . . . . .5

PREFACE . . . . . . . . . . . . . . . . . . . . . . . . . . . . . . . . . . . . . . . . . . . . . . . . . . . . . . . . . . . . . . . . . . . . . . . . . . . . . . . . . . . . . . .6

ACKNOWLEDGMENTS . . . . . . . . . . . . . . . . . . . . . . . . . . . . . . . . . . . . . . . . . . . . . . . . . . . . . . . . . . . . . . . . . . . . . . . . . . . . . .7

EXECUTIVE SUMMARY . . . . . . . . . . . . . . . . . . . . . . . . . . . . . . . . . . . . . . . . . . . . . . . . . . . . . . . . . . . . . . . . . . . . . . . . . . . . .9
  Purpose and Goal of Reefs at Risk in the Caribbean . . . . . . . . . . . . . . . . . . . . . . . . . . . . . . . . . . . . . . . . . . . . . .9
  Methods and Limitations . . . . . . . . . . . . . . . . . . . . . . . . . . . . . . . . . . . . . . . . . . . . . . . . . . . . . . . . . . . . . . . . . .10
  Key Findings . . . . . . . . . . . . . . . . . . . . . . . . . . . . . . . . . . . . . . . . . . . . . . . . . . . . . . . . . . . . . . . . . . . . . . . . . . .11
  Conclusions and Recommendations . . . . . . . . . . . . . . . . . . . . . . . . . . . . . . . . . . . . . . . . . . . . . . . . . . . . . . . . . .14

CHAPTER 1. INTRODUCTION . . . . . . . . . . . . . . . . . . . . . . . . . . . . . . . . . . . . . . . . . . . . . . . . . . . . . . . . . . . . . . . . . . . . . . . .17
  About the Project . . . . . . . . . . . . . . . . . . . . . . . . . . . . . . . . . . . . . . . . . . . . . . . . . . . . . . . . . . . . . . . . . . . . . . . .19

CHAPTER 2. PROJECT APPROACH AND METHODOLOGY . . . . . . . . . . . . . . . . . . . . . . . . . . . . . . . . . . . . . . . . . . . . . . . . . . . .21
  Threat Analysis Method . . . . . . . . . . . . . . . . . . . . . . . . . . . . . . . . . . . . . . . . . . . . . . . . . . . . . . . . . . . . . . . . . . .22
  Limitations of the Analysis . . . . . . . . . . . . . . . . . . . . . . . . . . . . . . . . . . . . . . . . . . . . . . . . . . . . . . . . . . . . . . . . .23

CHAPTER 3. THREATS TO REEFS . . . . . . . . . . . . . . . . . . . . . . . . . . . . . . . . . . . . . . . . . . . . . . . . . . . . . . . . . . . . . . . . . . . . .24
  Coastal Development . . . . . . . . . . . . . . . . . . . . . . . . . . . . . . . . . . . . . . . . . . . . . . . . . . . . . . . . . . . . . . . . . . . . .24
  Sedimentation and Pollution from Inland Sources . . . . . . . . . . . . . . . . . . . . . . . . . . . . . . . . . . . . . . . . . . . . . .27
  Marine-Based Sources of Threat . . . . . . . . . . . . . . . . . . . . . . . . . . . . . . . . . . . . . . . . . . . . . . . . . . . . . . . . . . . . .29
  Overfishing . . . . . . . . . . . . . . . . . . . . . . . . . . . . . . . . . . . . . . . . . . . . . . . . . . . . . . . . . . . . . . . . . . . . . . . . . . . .31
  Climate Change . . . . . . . . . . . . . . . . . . . . . . . . . . . . . . . . . . . . . . . . . . . . . . . . . . . . . . . . . . . . . . . . . . . . . . . . .33
  Disease . . . . . . . . . . . . . . . . . . . . . . . . . . . . . . . . . . . . . . . . . . . . . . . . . . . . . . . . . . . . . . . . . . . . . . . . . . . . . . . .36
  Integrating Threats: The Reefs at Risk Threat Index . . . . . . . . . . . . . . . . . . . . . . . . . . . . . . . . . . . . . . . . . . . . .40

CHAPTER 4. STATUS OF CARIBBEAN CORAL REEFS . . . . . . . . . . . . . . . . . . . . . . . . . . . . . . . . . . . . . . . . . . . . . . . . . . . . . . .41
  Bahamian . . . . . . . . . . . . . . . . . . . . . . . . . . . . . . . . . . . . . . . . . . . . . . . . . . . . . . . . . . . . . . . . . . . . . . . . . . . . . .42
  Greater Antilles . . . . . . . . . . . . . . . . . . . . . . . . . . . . . . . . . . . . . . . . . . . . . . . . . . . . . . . . . . . . . . . . . . . . . . . . .43
  Eastern Caribbean . . . . . . . . . . . . . . . . . . . . . . . . . . . . . . . . . . . . . . . . . . . . . . . . . . . . . . . . . . . . . . . . . . . . . . .45
  Southern Caribbean . . . . . . . . . . . . . . . . . . . . . . . . . . . . . . . . . . . . . . . . . . . . . . . . . . . . . . . . . . . . . . . . . . . . . .46
  Southwestern Caribbean . . . . . . . . . . . . . . . . . . . . . . . . . . . . . . . . . . . . . . . . . . . . . . . . . . . . . . . . . . . . . . . . . . .48
  Western Caribbean . . . . . . . . . . . . . . . . . . . . . . . . . . . . . . . . . . . . . . . . . . . . . . . . . . . . . . . . . . . . . . . . . . . . . . .49
  Gulf of Mexico . . . . . . . . . . . . . . . . . . . . . . . . . . . . . . . . . . . . . . . . . . . . . . . . . . . . . . . . . . . . . . . . . . . . . . . . . .49
  Florida . . . . . . . . . . . . . . . . . . . . . . . . . . . . . . . . . . . . . . . . . . . . . . . . . . . . . . . . . . . . . . . . . . . . . . . . . . . . . . . .50
  Bermuda . . . . . . . . . . . . . . . . . . . . . . . . . . . . . . . . . . . . . . . . . . . . . . . . . . . . . . . . . . . . . . . . . . . . . . . . . . . . . . .51

CHAPTER 5. ECONOMIC IMPLICATIONS OF CORAL REEF DEGRADATION . . . . . . . . . . . . . . . . . . . . . . . . . . . . . . . . . . . . . . .52
  Purpose and Methods for Valuing Coral Reef Resources . . . . . . . . . . . . . . . . . . . . . . . . . . . . . . . . . . . . . . . . . .52
  Fisheries . . . . . . . . . . . . . . . . . . . . . . . . . . . . . . . . . . . . . . . . . . . . . . . . . . . . . . . . . . . . . . . . . . . . . . . . . . . . . . .53
  Tourism and Recreation . . . . . . . . . . . . . . . . . . . . . . . . . . . . . . . . . . . . . . . . . . . . . . . . . . . . . . . . . . . . . . . . . . .54
  Shoreline Protection . . . . . . . . . . . . . . . . . . . . . . . . . . . . . . . . . . . . . . . . . . . . . . . . . . . . . . . . . . . . . . . . . . . . . .56
  Other Values . . . . . . . . . . . . . . . . . . . . . . . . . . . . . . . . . . . . . . . . . . . . . . . . . . . . . . . . . . . . . . . . . . . . . . . . . . .58
  Areas for Future Research and Analysis . . . . . . . . . . . . . . . . . . . . . . . . . . . . . . . . . . . . . . . . . . . . . . . . . . . . . . .59

CHAPTER 6. CONCLUSIONS AND RECOMMENDATIONS . . . . . . . . . . . . . . . . . . . . . . . . . . . . . . . . . . . . . . . . . . . . . . . . . . . . .60


                                                                                                                                                             REEFS AT RISK IN THE CARIBBEAN   3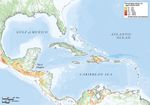 APPENDIX A. PHYSICAL, SOCIAL, AND ECONOMIC STATISTICS FOR THE CARIBBEAN REGION . . . . . . . . . . . . . . . . . . . . . . .65

APPENDIX B. DATA SOURCES USED IN THE REEFS AT RISK IN THE CARIBBEAN THREAT ANALYSIS . . . . . . . . . . . . . . . . . . .70

APPENDIX C. INFORMATION ACTIVITIES IN THE CARIBBEAN . . . . . . . . . . . . . . . . . . . . . . . . . . . . . . . . . . . . . . . . . . . . . . . .72

ACRONYMS AND GLOSSARY . . . . . . . . . . . . . . . . . . . . . . . . . . . . . . . . . . . . . . . . . . . . . . . . . . . . . . . . . . . . . . . . . . . . . . . .74

NOTES . . . . . . . . . . . . . . . . . . . . . . . . . . . . . . . . . . . . . . . . . . . . . . . . . . . . . . . . . . . . . . . . . . . . . . . . . . . . . . . . . . . . . . . .75

BOXES
Box 1.               Caribbean Coral Reefs . . . . . . . . . . . . . . . . . . . . . . . . . . . . . . . . . . . . . . . . . . . . . . . . . . . . . . . . . . . .19
Box 2.               Jamaica's Reefs: Back from the Brink? . . . . . . . . . . . . . . . . . . . . . . . . . . . . . . . . . . . . . . . . . . . . . . . .32
Box 3.               Marine Protected Areas . . . . . . . . . . . . . . . . . . . . . . . . . . . . . . . . . . . . . . . . . . . . . . . . . . . . . . . . . . .47

MAPS
Map 1.               The Caribbean Region . . . . . . . . . . . . . . . . . . . . . . . . . . . . . . . . . . . . . . . . . . . . . . . . . . . . . . . . . . .18
Map 2.               Reefs Threatened by Coastal Development . . . . . . . . . . . . . . . . . . . . . . . . . . . . . . . . . . . . . . . . . . . .25
Map 3.               Agricultural Lands by Slope Category . . . . . . . . . . . . . . . . . . . . . . . . . . . . . . . . . . . . . . . . . . . . . . . .27
Map 4.               Reefs Threatened by Sedimentation and Pollution from Inland Sources . . . . . . . . . . . . . . . . . . . . . .29
Map 5.               Reefs Threatened by Marine-Based Sources . . . . . . . . . . . . . . . . . . . . . . . . . . . . . . . . . . . . . . . . . . . .30
Map 6.               Reefs Threatened by Overfishing . . . . . . . . . . . . . . . . . . . . . . . . . . . . . . . . . . . . . . . . . . . . . . . . . . . .33
Map 7.               Coral Bleaching Observations . . . . . . . . . . . . . . . . . . . . . . . . . . . . . . . . . . . . . . . . . . . . . . . . . . . . . .35
Map 8.               Coral Disease Observations . . . . . . . . . . . . . . . . . . . . . . . . . . . . . . . . . . . . . . . . . . . . . . . . . . . . . . . .37
Map 9.               Integrated Threat - The Reefs at Risk Threat Index . . . . . . . . . . . . . . . . . . . . . . . . . . . . . . . . . . . . . .38
Map 10.              Caribbean Sub-Regions . . . . . . . . . . . . . . . . . . . . . . . . . . . . . . . . . . . . . . . . . . . . . . . . . . . . . . . . . . .41

FIGURES
Figure 1.            Number of Reported Bleaching Observations by Year . . . . . . . . . . . . . . . . . . . . . . . . . . . . . . . . . . . .34
Figure 2.            Reefs at Risk by Category of Threat . . . . . . . . . . . . . . . . . . . . . . . . . . . . . . . . . . . . . . . . . . . . . . . . .40
Figure 3.            Sub-Regions by Reefs at Risk Threat Index and Reef Area . . . . . . . . . . . . . . . . . . . . . . . . . . . . . . . .42

TABLES
Table 1.             Reefs at Risk Analysis Method . . . . . . . . . . . . . . . . . . . . . . . . . . . . . . . . . . . . . . . . . . . . . . . . . . . . . .22
Table 2.             Reefs Threatened by Human Activities . . . . . . . . . . . . . . . . . . . . . . . . . . . . . . . . . . . . . . . . . . . . . . .39
Table 3.             Estimated Economic Value of Fisheries Production in the Caribbean:
                       Healthy Reefs versus Reefs Degraded by 2015 . . . . . . . . . . . . . . . . . . . . . . . . . . . . . . . . . . . . . . . .54
Table 4.             Estimated Economic Value of Coral Reef-Related Tourism in the Caribbean . . . . . . . . . . . . . . . . . .56
Table 5.             Range of Estimated Economic Values of Shoreline Protection Services
                       Provided by Healthy Coral Reefs in the Caribbean in 2000 . . . . . . . . . . . . . . . . . . . . . . . . . . . . . .57
Table 6.             Summary of Estimated Values of Selected Goods and Services Derived from Coral Reefs in
                       the Caribbean (2000) and Estimated Potential Losses Due to Coral Reef Degradation
                       (by 2015 and 2050) . . . . . . . . . . . . . . . . . . . . . . . . . . . . . . . . . . . . . . . . . . . . . . . . . . . . . . . . . . . .58




4       REEFS AT RISK IN THE CARIBBEAN
Foreword


T         he Caribbean region is endowed with a wealth of coastal and marine resources, including a wonderful multitude of
          unique plants and animals. Most Caribbean countries depend on the sea for the goods and services it provides. Reef
          fisheries are a vital source of protein for millions of people in the region and a source of employment for hundreds
of thousands of full- and part-time fishers. Over 116 million people live within 100 km of the Caribbean coast and over 25
million tourists a year visit the Caribbean, almost all of whom spend the majority of their time in coastal areas. Tourism rev-
enue alone brings in over US$25 billion a year to the region.


There is growing concern, however, that the accelerating degradation and loss of these resources would result in significant
hardship for coastal populations, nations, and economies. This report identifies nearly two-thirds of the region's reefs to be
directly threatened by human activities, and estimates future economic losses from diminished coral reef fisheries, dive
tourism and shoreline protection services at between US$350 – US$870 million per year. Coral reefs are extremely important
to the economies of Caribbean countries today, and they are the capital stock for future economic and political security.


Ensuring the vitality of coral reefs and their ability to continue providing benefits to society and economies is critically
important, but there is much we do not know about these resources. Until now, a comprehensive assessment of Caribbean
coral reefs, including their location and threats, has never been undertaken. Reefs at Risk in the Caribbean seeks to analyze the
full range of threats to these unique ecosystems as well as to orient the region's policy-makers toward potential opportunities
for capturing greater benefit from their sustainable use.


Because coral reefs do not conform to national boundaries, protecting and restoring them can only be achieved through col-
laboration among nations and organizations. In fact, this report would not have been possible without the many partners,
organizations, and individuals in the region who came together with the sole purpose of making sure that this analysis was
accurate and represented the needs and priorities of the region. We deeply appreciate their support and that of those agencies
that kindly provided funds for this analysis.


Reefs at Risk in the Caribbean is an integral part of the work of the World Resources Institute, the International Coral Reef
Action Network (ICRAN), and the UNEP Caribbean Environment Programme (CEP) in the Wider Caribbean. We hope
that the report will serve as a valuable tool for governments and environmental organizations in the region to better under-
stand the growing threats affecting the marine environment of the Caribbean and to identify priorities and sites for immedi-
ate action.




          JONATHAN LASH                                 KRISTIAN TELEKI                             NELSON ANDRADE
                President                               Executive Director                           Coordinator
       World Resources Institute                     International Coral Reef                 UNEP Caribbean Environment
                                                         Action Network                              Programme



                                                                                                    REEFS AT RISK IN THE CARIBBEAN   5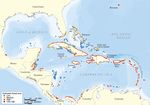 Preface


S        ince the age of seven, when my father threw me overboard, I have been observing coral reefs through a dive mask. I
         have marveled at the beauty, biological diversity, and productivity of coral reefs and have seen how important they
         are to the local people who depend on them for food, income, recreation, and spiritual enrichment. I have also seen
how human activity has undermined the health and vitality of reefs. The coral reefs I observed in the 1940s are totally differ-
ent today. Sadly, none has changed for the better.


When I think of coral reef ecology, the concepts of con-
nection and interdependence come to mind. Corals have
their symbiotic algal partners, while "cleaner fish" have
their clients. Landscape management relates directly to
sediment and nutrient delivery and to reef health, while
energy use and carbon dioxide emissions link to global
warming and coral bleaching. The historical over-har-
vesting of large animals has impaired reef vitality. Public




                                                                                                                                   PHOTO: WOLCOTT HENRY ©
awareness is essential for sustainable reef management.
These are just some of the examples that underscore the
vital connections in time and space that affect coral reefs.
The tragic decline in reef health is due to human insult,
and their restoration likewise depends on human action.


I am pleased to see that Reefs at Risk in the Caribbean addresses these connections and calls attention to the importance of
people in the equation of reef health and restoration. The involvement of multiple partner organizations ensures that this
report reflects the many facets of reef assessment and management, and will be widely used. Predictably, I totally concur with
the need for greater public awareness. It is my view that without public support, rational and sustainable management will
not occur. I am often told that our television shows were instrumental in inspiring many of our present ocean experts to pur-
sue a career in ocean sciences. Of course, awareness is not action. Reefs at Risk in the Caribbean clearly outlines the critical
steps required for building capacity and improving management. The focus on socioeconomic issues is crucial to ensuring
that future generations will continue to benefit from coral reefs.


Ultimately, our challenge is not to manage reefs: it is to manage ourselves. I applaud the World Resources Institute for its
admirable work to protect coral reefs, a priceless natural treasure.




JEAN-MICHEL COUSTEAU | Ocean Futures Society




6    REEFS AT RISK IN THE CARIBBEAN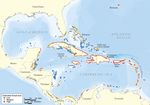 Acknowledgments
The Reefs at Risk in the Caribbean project would not have         Zone Management Institute), Julie Robinson (NASA), and
been possible without the encouragement and financial sup-        Kathleen Sullivan Seeley (UM) for satellite images and coral
port provided by the United Nations Foundation, the U.S.          reef maps; Bruce Potter (IRF) for sharing information
Agency for International Development, the United Nations          throughout the Caribbean community; Rich Iovanna (U.S.
Environment Programme - Caribbean Environment                     Environmental Protection Agency) for assisting with valida-
Programme, the U.S. National Oceanographic and                    tion of the threat model; Mahfuz Ahmed and Chiew Kieok
Atmospheric Administration, the Swedish International             Chong (World Fish), Suzanne Garrett (UM), Bob
Development Cooperation Agency, the Netherlands                   Leeworthy (NOAA), Suzie Greenhalgh and Siet Meijer
Ministry of Foreign Affairs, the Curtis and Edith Munson          (WRI), and Herman Cesar (Cesar Environmental
Foundation, the Henry Foundation, the World Bank / GEF            Economics Consulting) for data, ideas, guidance, and
Mesoamerican Barrier Reef System Project, the National            review of the economic valuation; Dulce Linton and George
Center for Caribbean Coral Reef Research, the Nature              Warner (UWI) for coral data and expert review; Clive
Conservancy, Environmental Defense, and the World Fish            Wilkinson (GCRMN) for providing links to the network;
Center. The Reefs at Risk project is part of the International    Uwe Deichmann (World Bank) for plume module imple-
Coral Reef Action Network, a collaboration developed to           mentation; Gregor Hodgson and Craig Shuman (Reef
reverse the decline of the world's coral reefs. (See inside       Check) for their data; Alessandra Vanzella-Khouri, Luc St-
back cover.)                                                      Pierre, Malden Miller, Nelson Andrade (UNEP-CEP), and
    The World Resources Institute gratefully acknowledges         Kristian Teleki and Alison Glass (ICRAN) for their guid-
the many partners and colleagues who contributed to this          ance and support; and Barbara Best, Laura Cornwell
project. (See inside front cover for full institutional names.)   (USAID), and Angel Braestrup (Munson Foundation) for
We thank Philip Kramer (TNC) and Robert Ginsburg                  their steadfast encouragement.
(AGRRA) for the provision of AGRRA data and guidance                  In addition to many of those already mentioned, the
with the threat analysis; Mark Spalding (University of            following people provided valuable input through participa-
Cambridge) for sharing his knowledge of Caribbean coral           tion in the Reefs at Risk threat analysis workshop (October
reefs; Hillary Nobles (IRF) for compiling information on          2002 in Miami): Oscar Alvarez (ICRAN-MAR Project),
coral reef condition; Serge Andréfouët (Institut de               Billy Causey (Florida Keys National Marine Sanctuary),
Recherche pour le Développement) and Christine                    Richard Curry (Biscayne National Park), Jaime Garzon-
Kranenburg (USF) for coral reef maps; Jennifer Gebelein           Ferreira (Instituto de Investigaciones Marinas y Costeras),
(FIU), Steve Rohmann and Aurelie Shapiro (NOAA) for               Hector Guzmann (Smithsonian Tropical Research
land cover classifications; Ed Green, Corinna Ravilious,          Institute), Milton Haughton (CARICOM Fisheries Unit),
Emily Corcoran, Michelle Taylor, and Ed McManus                   Noel Jacobs (MBRS), Michelle Libby (TNC), Brian
(UNEP-WCMC) for providing maps of coral reefs and                 Luckhurst (Bermuda Fisheries), Liana McManus (RSMAS),
marine protected areas; Al Strong, William Skirving, Scott        Peter Murray (OECS Natural Resources Management
Baron and Andrew Barton (NOAA) for information on                 Unit), Jamie Oliver (World Fish), Hazel Oxenford (UWI),
warming seas; Melanie McField (WWF) for reviewing the             Caroline Rogers (USGS), Luc St. Pierre (UNEP/CEP),
watershed model; Johnathan Kool (NCORE), Steven                   Elizabeth Taylor (CORALINA), and Ernesto Weil
Menard, and Janet Nackoney (WRI) for support on GIS;              (University of Puerto Rico).
John McManus, Cara Dickman, and NCORE staff,                          Many people provided input on the analysis of over-
Marilyn Brandt, Wade Cooper, and Aletta Yniguez for               fishing including: Richard Appledorn (University of Puerto
organizing the project workshop; Ian Gillett (Belize Coastal      Rico), Julio Baisre (Ministry of the Fishing Industry of


                                                                                                 REEFS AT RISK IN THE CARIBBEAN   7
Cuba), Daniel Matos-Caraballo (Fisheries Research               Andy Bruckner (NOAA); Marea Hatziolos (World Bank);
Laboratory, Puerto Rico DNER), Bob Glazer (Florida Fish         Daniel Prager (WRI); Marc Rammelare (National
& Wildlife Conservation Commission), Paul Hoetjes               Environment and Planning Agency, Jamaica); Mercedes
(Dept. of Public Health and Environment, Netherlands            Silva (Caribbean Tourism Organization); Toby Gardner
Antilles), Barbara Kojis (Division of Fish and Wildlife,        (University of East Anglia); Gillian Cambers (University of
USVI DPNR), Craig Lilyestrom (Marine Resources                  Puerto Rico); Steve Schill, Annette Huggins, and Tony
Division, Puerto Rico DNER), Ken Lindeman (ED), Robin           Chatwin (TNC); Douglas Beard and Dan Phillips (USGS);
Mahon (Independent), John Munro (World Fish), Richard           Dan Zimble (ESRI); Ken Kassem (Independent); Anita
Nemeth (University of the Virgin Islands), Christy              Daley (Independent); Tom Laughlin, Nancy Daves, and
Pattengill-Semmens (REEF), Juan Posada (Universidad             Elizabeth McLanahan (NOAA); and Dick Wilbur
Simón Bolívar), Lionel Reynal (Institut Français de             (Department of State).
Recherche pour l'Exploitation de la Mer), and Mike Smith            Many other staff at WRI contributed to this project
(Conservation International).                                   through publication, financial management, and outreach
    Invaluable assistance with data and review of informa-      assistance including Adlai Amor, Beth Bahs-Ahern,
tion on marine protected areas was provided by Carola           Hyacinth Billings, Peter Denton, Chris Elias, Paul Mackie,
Borja (Conservation International), Julia Brownlee              Greg Mock, Georgia Moyka, and Elsie Vélez-Whited.
(NOAA), Phillippe Bush (Dept. of Environment, Cayman            Special thanks to Camila Bonifaz for cheerful support
Islands), Reinaldo Estrada (Centro Nacional de Areas            throughout the project.
Protegidas, Cuba), Jose L. Gerhartz (UWI Center for                 The report was edited by Kathleen Lynch and Karen
Environment and Development), Mike Mascia (USEPA),              Holmes. Many thanks for the valuable proofreading by Jo
Jeannette Mateo (TNC), Kalli de Meyer (Coral Resource           Tunstall and Elizabeth Selig. The report was embellished
Management), and Kim Thurlow (TNC).                             through the layout by Maggie Powell and the beautiful pho-
    We would like to thank the following formal reviewers       tographs provided by Wolcott Henry, Toni Parras, Krishna
of the report who provided valuable comments on the man-        Desai, Mark Spalding, Andy Bruckner, and Ed Green.
uscript and maps: Jorge Cortés (Universidad de Costa Rica),
George Warner (UWI), Herman Cesar (Cesar Environmen-                                                                LB / JM
tal Economics Consulting), Georgina Bustamante
(Independent), Kristian Teleki (ICRAN), John McManus
(NCORE), and Philip Kramer (TNC). Internal reviewers
from WRI include Marta Miranda, Yumiko Kura, Suzie
Greenhalgh, Jonathan Pershing, Steve Cox, and AnnMarie
DeRose. Special thanks to Dan Tunstall and David Jhirad
for their many reviews of the draft and steady encourage-
ment, and to Gayle Coolidge for her skillful management of
the review process.
    The following people reviewed specific parts of the text,
                                                                                                                              PHOTO: WOLCOTT HENRY©




provided data or general support: Richard Murphy (Ocean
Futures Society); Bente Christensen (InterAmerican
Development Bank); Pedro Alcolado (Institute of
Oceanology, Cuba); Arthur Paterson, Roger Griffis, and




8    REEFS AT RISK IN THE CARIBBEAN
Executive Summary

C     oral reefs are an integral part of the Caribbean fabric,
      threading along thousands of kilometers of coastline.
Teeming with fish and invertebrate life, these ecosystems
                                                                   PURPOSE AND GOAL OF REEFS AT RISK IN THE CARIBBEAN
                                                                   The Reefs at Risk in the Caribbean project was launched to
                                                                   help protect and restore these valuable, threatened ecosys-
provide food for millions of people. Buffering shorelines,         tems by providing decision-makers and the public with
they protect the land from the worst ravages of storms.            information and tools to manage coastal habitats more
Coral reefs form the foundation of the thriving Caribbean          effectively. The project focuses on compiling, integrating,
tourism industry, the region's most important economic sec-        and disseminating critical information on these precious
tor. The reefs supply much of the sand for the region's beau-      resources for the entire Caribbean region. This information
tiful beaches and lure divers and snorkelers from far and          is intended both to raise awareness about the threats to and
wide to come and explore the reefs' colorful and mysterious        value of Caribbean reefs and to encourage greater protection
depths. The dazzling array of species living on coral reefs        and restoration efforts.
has also attracted the attention of the pharmaceutical indus-          Conducted by the World Resources Institute in cooper-
try as a potential source of new drugs and life-saving med-        ation with over 20 organizations working in the region, the
ical treatments.                                                   project represents a unique, region-wide look at the threats
    Unfortunately, these valuable ecosystems are degrading         facing Caribbean coral reefs. The collaborative process of
rapidly under the mounting pressure of many human activi-          data gathering and analysis has produced the first regionally
ties. Coastal development, land clearance, and intensive agri-     consistent, detailed mapping of these threats. The project
culture all contribute damaging sediment and pollution to          provides decision-makers and the public with important
coastal waters, while overfishing is changing the ecological       insights on links between human activities that stress and
balance of coral reef environments. In addition, rising sea        damage reef organisms and where degradation of reefs could
temperatures have prompted dramatic "coral bleaching"              be expected to occur, or may have already occurred. The
events in recent years, weakening and killing corals in many       maps created by the Reefs at Risk project will assist regional
areas. At the same time, poorly understood coral diseases have     and national organizations in setting priorities for conserva-
spread rapidly across the region, devastating some of the main     tion and natural resource management. The analytical tools
reef-building corals. Coral reef degradation and mortality will    and threat indicators will also allow managers to assess, for
significantly impact the region's economy through reduced          the first time, the source and scale of threats affecting those
habitat for fish and shellfish, diminished appeal for tourists,    many reef areas for which more detailed monitoring infor-
and a lessened capacity to protect the shoreline.                  mation is unavailable.
    Understanding the nature and extent of these threats
and their likely economic impacts on the future productiv-
ity of Caribbean coral reefs as sources of food, recreation,
employment, and biopharmaceuticals is of central impor-
tance to conservation and planning efforts. Numerous stud-
ies are underway to monitor and assess reef conditions at
particular locations in the Caribbean, but data gaps persist
and, for the majority of reefs, little information is available.
                                                                                                                                              PHOTO: TONI PARRAS




Many such efforts fail to combine ecosystem studies with
monitoring of socioeconomic and environmental condi-
tions, making it difficult to link changes in coral condition
to specific causes.
                                                                        Coral reefs — a dazzling array of life.


                                                                                                         REEFS AT RISK IN THE CARIBBEAN   9
METHODS AND LIMITATIONS                                            The four indicators were then combined into a sin-
     Reefs at Risk project collaborators worked to gather and       gle, integrated index of overall human pressure on
     compile data from many sources on Caribbean coral              Caribbean reefs. This integrated Reefs at Risk Threat
     reefs, their condition, the surrounding physical environ-      Index reflects the highest threat level (i.e., low, medium,
     ment, and the social and economic factors associated           or high) achieved by any of the four individual threats in
     with human pressure on reef ecosystems. These data were        a given 25-hectare reef unit. To capture the impact of
     consolidated within a geographic information system            cumulative threats in a single location, units in which
     (GIS) that includes information on coral reef locations,       three or four of the individual threats were rated as high
     pressures (i.e., pollution and other observed threats and      were categorized as very high in the integrated Reefs at
     physical impacts), changes in reef condition, and infor-       Risk Threat Index. Similarly, for units in which at least
     mation on management of reef resources.                        three threats were rated as medium, the integrated index
         Using these data, the project team developed region-       was rated as high.
     ally consistent indicators of coral reef condition and             The geographic data sets and threat indicators assem-
     threats in four broad categories representing the key          bled under this project have also been used in an eco-
     stresses to reefs in the Caribbean: coastal development        nomic valuation of some of the key goods and services
     (i.e., pressures from sewage discharge, urban runoff, con-     related to coral reefs (fisheries, tourism, and shoreline
     struction, and tourism development), watershed-based           protection) and the losses that are likely to result from
     sediment and pollution (i.e., pressures related to soil ero-   degradation across the Caribbean.
     sion and runoff of fertilizers and pesticides from farm-           The analysis carried out by the Reefs at Risk project
     lands), marine-based pollution and damage (i.e., pres-         relies on available data and predicted relationships but,
     sures from shipping and boating, including dumping of          like other analytical models, presents a simplified picture
     garbage, oil spills, discharge of ballast, and physical dam-   of human activities and complex natural processes. The
     age caused by groundings and anchors), and overfishing         model does not capture all pressures on coral reefs, owing
     (i.e., pressure from unsustainable levels of fishing). The     both to limitations of the model and inaccuracies in the
     reef area considered by this analysis totaled 26,000 square    geographic data sets used. In addition, two major, region-
     kilometers (sq km), which was divided into 25-hectare          wide threats to Caribbean coral reefs are not incorporated
     units (500 m on a side). For ease of interpretation, each      into the Reefs at Risk analysis: coral diseases and coral
     coral reef unit was rated at low, medium, or high threat       bleaching. Because of scientific uncertainty as well as lack
     for each of the four individual threat categories. In          of spatial detail in the relevant data sets, it is not cur-
     medium-threat areas, pressure on reefs is considered suffi-    rently possible to produce accurate models of the present
     ciently high to result in degradation within the next 5 to     and future distribution of threats from diseases and
     10 years. In high-threat areas, degradation is likely to       bleaching. Existing information, however, suggests that
     occur sooner and potentially be more severe. Substantial       the threats are widespread, potentially affecting coral reefs
     input from scientists across the region guided the selec-      across the region.
     tion of thresholds for categorizing a given threat level as
     low, medium, or high. These threat indicators were fur-
                                                                     Data sources used in the analysis are listed in
     ther calibrated against available data on observed impacts
                                                                     Appendix B. Details of the analysis method are
     on coral reefs.
                                                                     available online at
                                                                      http://reefsatrisk.wri.org


10      REEFS AT RISK IN THE CARIBBEAN
KEY FINDINGS                                                            years. Extensive tracts of reef in the Bahamas, Turks and
■   The Reefs at Risk Threat Index indicates that nearly                Caicos Islands, archipelagos off Colombia and Nicaragua,
    two-thirds of coral reefs in the Caribbean are threat-              and some reefs off Belize, Cuba, and Mexico were rated as
    ened by human activities. Integrating threat levels from            subject to low threats from human activities.
    all sources considered in this analysis (coastal develop-
    ment, watershed-based sediment and pollution, marine-           ■   An estimated one-third of Caribbean coral reefs are
    based threats, and overfishing), the Reefs at Risk Threat           threatened by coastal development. Our indicator of
    Index identified about one-tenth of Caribbean coral reefs           coastal development threat identified about one-third of
    at very high levels of threat, one-third at high threat, one-       the region's reefs as threatened by pressures associated
    fifth at medium threat, and one-third at low threat. Areas          with coastal development, including sewage discharge,
    with high threat levels include the Eastern Caribbean,              urban runoff, construction, and tourist development.
    most of the Southern Caribbean, Greater Antilles, Florida           Slightly over 15 percent were rated at high threat and a
    Keys, Yucatan, and the nearshore portions of the Western            similar percentage at medium threat. Coastal develop-
    and Southwestern Caribbean. In these areas, degradation             ment pressures were significant along the coastlines of
    of coral—including reduced live coral cover, increased              most of the Greater Antilles, Eastern Caribbean, the Bay
    algal cover, or reduced species diversity—has already               Islands in Honduras, along parts of the Florida Keys, the
    occurred or is likely to occur within the next 5 to 10              Yucatan, and the Southern Caribbean.



    REEFS THREATENED BY HUMAN ACTIVITIES — THE REEFS AT RISK THREAT INDEX




                                                                                                   REEFS AT RISK IN THE CARIBBEAN   11
REEF AREA BY SUB-REGION CLASSIFIED BY THE REEFS AT RISK THREAT INDEX

                                                                                           Bahamian

                                                                                    Greater Antilles

                                                                          Eastern Caribbean

                                                                         Southern Caribbean

                                                                     Southwestern Caribbean

                                                                          Western Caribbean

                                                                                     Gulf of Mexico

                                                                                             Florida                                                                                       Total reef area approx. 26,000 km2

                                                                                            Bermuda

                                                                                                                   0                   2,000                            4,000                  6,000                       8,000         10,000
                                                                                                                                                                                REEF AREA (sq km)

                                                                                                                                       VERY HIGH                           HIGH                     MEDIUM                         LOW




■    Sediment and pollution from inland sources threaten             ■   Overfishing threatens over 60 percent of Caribbean
     about one-third of Caribbean coral reefs. Analysis of               coral reefs. Fishing above sustainable levels affects coral
     more than 3,000 watersheds across the region identified             reefs by altering the ecological balance of the reef. The
     20 percent of coral reefs at high threat and about 15 per-          removal of herbivorous fish, which consume algae, facili-
     cent at medium threat from damage caused by increased               tates algal overgrowth of corals. Declines in coral cover
     sediment and pollution from agricultural lands and other            and increases in algal cover have been observed across the
     land modification. Erosion of agricultural soils, particu-          region. This analysis identified about one-third of
     larly on steep slopes, can produce sediments that block             Caribbean reefs at high threat from overfishing pressure
     light needed for photosynthesis and eventually smother              and about 30 percent at medium threat. The threat was
     coral reefs, while pollution from agricultural chemicals            rated as high on almost all narrow coastal shelves close to
     such as fertilizers and pesticides can impede coral growth          human population centers. Fishing pressure was lower in
     or kill coral. Areas with a large proportion of reefs threat-       the Bahamas, where the human population is small, and
     ened by watershed-based sediments and pollution were                in the Western and Southwestern Caribbean and Cuba,
     found off Jamaica, Hispaniola, Puerto Rico, the high                where many reefs are far from the mainland.
     islands of the Eastern Caribbean, Belize, Costa Rica, and
     Panama.

                                                                         REEFS AT RISK BY CATEGORY OF THREAT
■    Marine-based threats to coral reefs are widespread
     across the Caribbean. Our indicator of marine-based                            100

     damage and pollution identified about 15 percent of
                                                                                      80
     Caribbean reefs as threatened by discharge of wastewater
     from cruise ships, tankers and yachts, leaks or spills from
                                                                                      60
                                                                          PERCENT




     oil infrastructure, and damage from ship groundings and
     anchors. Threat was relatively high in many of the
                                                                                      40
                                                                                                                                               MARINE-BASED POLLUTION




     Eastern Caribbean islands, Bermuda, Puerto Rico,
                                                                                             COASTAL DEVELOPMENT




                                                                                                                                                                                                       INTEGRATED THREAT




     Jamaica, Panama, Aruba, and the Netherlands Antilles.                                                                                                                                                                               LOW
                                                                                                                       SEDIMENTATION




                                                                                      20
                                                                                                                                                                                 OVERFISHING




                                                                                                                                                                                                                                         MEDIUM
                                                                                                                                                                                                                                         HIGH

                                                                                       0                                                                                                                                                 VERY HIGH




12      REEFS AT RISK IN THE CARIBBEAN
interactions between disease, climatic change, and other
    MANAGEMENT EFFECTIVENESS OF MARINE PROTECTED
    AREAS (MPAs) AND PROTECTION OF CORAL REEFS                                         human-induced stresses may heighten the overall level of
                                                                                       threat described above.
           Management Effectiveness of Caribbean MPAs
                                                                                   ■   Ineffective management of protected areas further
                                                                                       threatens Caribbean coral reefs. With the growth of
                                          Inadequate 48%
                                                                                       tourism, fisheries, and other development in coral reef
                                                                                       areas, marine protected areas (MPAs) are an important
                      Partial 13%
                                                                                       tool for safeguarding coral reefs. At present, over 285
                      Good 6%                                                          MPAs have been declared across the Caribbean, but the
                                                                                       level of protection afforded by MPAs varies considerably.
                                    Unknown 33%                                        The Reefs at Risk Project found only 6 percent of MPAs
                                                                                       to be rated as effectively managed and 13 percent as hav-
                        Number of MPAs in the region is
                             approximately 285.
                                                                                       ing partially effective management. An estimated 20 per-
                                                                                       cent of coral reefs are located inside MPAs, but only 4
                                                                                       percent are located in MPAs rated as effectively man-
              Protection of the Caribbean's Coral Reefs                                aged. MPAs are but one tool available to reduce stress on
                                                                                       coastal resources, but are by no means a shelter from all
                                           Reefs in MPAs rated as good, 1%             threats. This analysis of MPAs as a management tool is
                                                   Reefs in MPAs rated                 an indicator of the inadequacy of current efforts to man-
          Reefs outside of                         as partially effective, 3%
               MPAs, 80%                                                               age coastal resources and protect coral reefs.
                                                  Reefs in MPAs rated as
                                                  inadequate, 9%

                                                  Reefs in MPAs under an unknown
                                                  level of management, 7%




                         Area of reefs in the region is
                         approximately 26,000 sq km.



■   Diseases and rising sea temperatures threaten to dam-
    age coral reefs across the Caribbean region. Although
    not quantitatively assessed in this project, diseases and
    warming sea surface temperatures present further, and
    growing, region-wide threats to Caribbean coral reefs.
    Diseases have caused profound changes in Caribbean
    coral reefs in the past 30 years, with very few areas
    unscathed by disease, even reefs far removed from
                                                                                                                                                                     PHOTO: WOLCOTT HENRY ©




    human influence. One of the region's major reef-building
    corals has already been devastated by disease. In addition,
    coral bleaching episodes—the most direct evidence of
    stress from global climate change on Caribbean marine
    biodiversity—are on the rise. The complex, synergistic                             The diver entry fee at Bonaire Marine Park helps to support one of the
                                                                                       best managed MPAs in the region.


                                                                                                                        REEFS AT RISK IN THE CARIBBEAN          13
■    The coastal communities and national economies of             CONCLUSIONS AND RECOMMENDATIONS
     the Caribbean region are poised to sustain substantial        The coral reefs of the Caribbean, a mainstay of the region's
     economic losses if current trends in coral reef degra-        economic and social health, are beset by a wide range of
     dation continue. Coral reefs provide valuable goods and       threats resulting from human activities. Degradation of
     services to support local and national economies, and         coral reefs damages not only the integrity of these impor-
     degradation of coral reefs can lead to significant eco-       tant ecosystems but also the health, safety, and livelihoods
     nomic losses, particularly in the coastal areas of develop-   of the human societies that depend on them. Although the
     ing countries, through loss of fishing livelihoods, malnu-    potential human and economic losses are great, actions to
     trition due to lack of protein, loss of tourism revenues,     reverse the threats to Caribbean coral reefs can often be
     and increased coastal erosion. Analyses carried out by the    undertaken at very low cost, with very high financial and
     Reefs at Risk project indicate that Caribbean coral reefs     societal returns, even in the short term.
     provide goods and services with an annual net economic             Actions are required across a range of scales—from
     value in 2000 estimated at between US$3.1 billion and         local to national and international. Such actions include the
     US$4.6 billion from fisheries, dive tourism, and shore-       establishment of better management practices to encourage
     line protection services.                                     sustainable fisheries, to protect reefs from direct damage,
                                                                   and to integrate the sometimes conflicting approaches to
     o Coral reef-associated fisheries in the Caribbean region     management in the watersheds and adjacent waters around
        provide net annual revenues valued at an estimated         coral reefs. Fundamental to supporting these actions is
        US$310 million. Degradation of the region's coral reefs    wider involvement of the public and stakeholders in the
        could reduce these net annual revenues by an estimated     management process, as well as an improved level of under-
        US$95 million to US$140 million per year by 2015.          standing of the importance of coral reefs. Better under-
                                                                   standing of the economic value of coastal ecosystems and of
     o Net benefits from dive tourism total an estimated           the linkages between human activities and changes in coral
        US$2.1 billion per year in 2000. Dive tourism is high-     reef condition will further support and underpin the neces-
        value tourism, with divers typically spending 60–80        sary changes in management and will strengthen political
        percent more than other tourists. By 2015, coral reef      and societal support for these changes.
        degradation could result in annual losses of US$100 mil-        To these ends, we recommend the following specific
        lion to US$300 million to the Caribbean tourism indus-     actions:
        try. Losses to particular areas within the Caribbean
        could be proportionately greater, as tourism shifts        Create the Will for Change
        away from areas where coral reefs have become              ■   Raise awareness of the importance, value, and
        degraded and toward areas of remaining intact reefs.           fragility of coral reefs through targeted education
                                                                       campaigns. Many residents and visitors to the
     o Coral reefs protect coastal shorelines by dissipating           Caribbean fail to realize and understand the connections
        wave and storm energy. The estimated value of shore-           between their own activities and the health of coral reefs.
        line protection services provided by Caribbean reefs is        Educators, universities, nongovernmental organizations
        between US$700 million and US$2.2 billion per year.            (NGOs), and others should help change behavior and
        Within the next 50 years, coral degradation and death          build political will for policy change by developing and
        could lead to losses totaling US$140 million to US$420         disseminating educational materials aimed at key audi-
        million annually.                                              ences, such as community groups, fishers, workers in the
                                                                       tourist industry, tourists, developers, politicians, and stu-
                                                                       dents.


14      REEFS AT RISK IN THE CARIBBEAN
■   Factor the economic value of coral reef goods and                              ment and community involvement, research, and moni-
                             services into development planning, policies, and                              toring. International NGOs and intergovernmental agen-
                             projects. Incorporating information on the economic                            cies should facilitate increased sharing of information and
                             value of the goods and services provided by coral reefs can                    expertise among countries, among government agencies,
                             help bolster arguments for strengthening and expanding                         and among scientists and management agencies.
                             reef protection and management programs. Researchers
                             should undertake additional, regionally consistent eco-                    ■   Facilitate stakeholder participation in decision-mak-
                             nomic valuation studies of Caribbean coral reefs, and                          ing about management and protection of coral reef
                             decision-makers should use the results of these studies to                     resources. The absence of community inclusion and
                             debate the true costs of development options and select                        participation has played a key role in the failure of many
                             development that minimizes damage to reef ecosystems.                          reef management efforts. National governments and
                                                                                                            resource managers need to apply collaborative and coop-
                                                                                                            erative approaches to coral reef management, making
                         Build Capacity for Change
                                                                                                            sure to involve all stakeholder groups.
                         ■   Develop local and national expertise for better man-
                             agement of coral reef ecosystems through training of
                                                                                                        ■   Create the systems of governance required for effec-
                             resource managers and decision-makers. Financial
                                                                                                            tive management of coral reefs. In many cases, the
                             resources, educational levels, and availability of training
                                                                                                            activities of different groups, agencies, or even interna-
                             vary widely across the region, and the small size of many
                                                                                                            tional bodies concerned with management of marine
                             countries undermines their ability to sustain full scien-
                                                                                                            resources overlap and even conflict. National govern-
                             tific and administrative capacities. National governments,
                                                                                                            ments can facilitate good governance of the coastal zone
                             international organizations, NGOs, and others should
                                                                                                            by carrying out national assessments of the institutional
                             support and implement expanded provision of training
                                                                                                            and legal framework for executing policy and updating
                             to coastal resource managers and decision-makers across
                                                                                                            institutional and legal frameworks where necessary.
                             the region.

                                                                                                        ■   Integrate socioeconomic and environmental monitor-
                                                                                                            ing to increase understanding of coastal habitats.
                                                                                                            Good management requires continued access to informa-
                                                                                                            tion about natural resources and how they change over
                                                                                                            time and in response to natural and human influences.
                                                                                                            The scientific community and resource managers should
PHOTO: KELVIN GUERRERO




                                                                                                            move toward monitoring programs that integrate
                                                                                                            human, physical, and ecological data.


                                                                                                        ■   Use the Reefs at Risk indicators and apply the analyt-
                             Sharing ideas, knowledge, and success stories is fundamental to develop-
                             ing management capacity.                                                       ical methodology at finer resolutions to support deci-
                                                                                                            sion-making on coral reef management. The analysis
                         ■   Encourage free flow and exchange of information and                            and tools developed under this project provide a valuable
                             experience about management and protection of coral                            and low-cost means of understanding potential pressures
                             reef resources. Across the Caribbean, there are examples                       on coral reefs. National, provincial, and local resource
                             of excellence in management, training programs, govern-                        agencies should contribute to the development of similar



                                                                                                                                       REEFS AT RISK IN THE CARIBBEAN    15
indicators at a finer scale to help increase confidence in    ■   Develop tourism sustainably to ensure long-term
     and support for wise management decisions.                        benefits. Tourism is vital to the Caribbean region, but
                                                                       unplanned, unrestricted development can severely dam-
                                                                       age coral reefs. Decision-makers should take steps to
Improve Management                                                     limit such damage, including education of tourists and
■    Develop sustainable fisheries through education,                  development of certification schemes, accreditation, and
     stakeholder involvement, and reduced intensity of                 awards for good environmental practices as incentives for
     fishing practices. Fishing is exceeding sustainable levels        environmentally sensible development.
     in most Caribbean countries. National governments
     should work with resource users and other stakeholder         ■   Implement good marine practices to restrict dumping
     groups to implement sustainable fishing policies and              of waste at sea and the clearing of ballast waters.
     practices. Licensing, incentives for sustainable practices,       Regional bodies, national governments, NGOs, and the
     and penalties for illegal fishing can help reduce the             private sector should work together to develop best prac-
     intensity of fishing practices. The establishment of "no          tices (for example, in the cruise industry). Ports, harbors,
     take areas" or "marine fishery reserves" can be adopted,          and marinas need to offer pump-out and waste treatment
     in part, as a strategy to replenish depleted fish stocks.         facilities for vessels of all sizes.
     Critical to the success of such reserves will be involving
     and educating stakeholders and providing alternative
     income generation.                                            International Action
                                                                   ■   Ratify and implement international agreements.
■    Apply holistic approaches to coastal zone manage-                 International agreements are an important tool for set-
     ment. Successful management of coral reef ecosystems              ting targets and achieving collective goals. National gov-
     entails dealing effectively with multiple influences and          ernments should not only sign but also implement
     threats, many of which can be traced to activities taking         important international agreements addressing the
     place at considerable distances from the reefs themselves.        threats evaluated in this study, including the Cartagena
     National governments need to provide incentives for               Convention (addressing land-based sources of pollution,
     agencies with disparate mandates and conflicting agendas          oil spills, and protected areas and wildlife), the United
     to share information and work together effectively.               Nations (UN) Convention on the Law of the Sea (on
                                                                       ocean governance), MARPOL (on marine pollution),
■    Expand Marine Protected Areas and improve their                   and the UN Framework Convention on Climate
     management effectiveness in safeguarding coral reef               Change.
     ecosystems. Marine Protected Areas (MPAs) are an
     important component of comprehensive coastal-area             ■   Promote international cooperation and exchange.
     management; however, only a small percentage of coral             Even in the absence of international legal instruments,
     reefs are located within designated MPAs and only a               regional collaboration on issues such as fisheries and
     small percentage of MPAs are rated as fully or partially          watershed management could greatly reduce some
     effective. National governments, donors, NGOs, and the            threats. International NGOs, intergovernmental agen-
     private sector need to support expansion of MPAs to               cies, and funding organizations can actively support
     cover additional coral reefs and to provide assistance to         cooperation and exchange to promote synergy and foster
     strengthen the management effectiveness of many exist-            partnerships to protect Caribbean coral reefs.
     ing MPAs.




16      REEFS AT RISK IN THE CARIBBEAN
Chapter 1.                         INTRODUCTION
PHOTO: KRISHNA DESAI




                       T    he Wider Caribbean (hereafter called the Caribbean)
                            is a large marine realm encompassing the Caribbean
                       Sea, the Gulf of Mexico, and part of the northwestern
                                                                                           Despite their value, coral reefs in the Caribbean are
                                                                                       under threat.3 Growing coastal populations and rising
                                                                                       tourist numbers exert increasing pressure. Land-based activi-
                       Atlantic Ocean extending out to the tiny island of              ties, including construction, deforestation, and poor agricul-
                       Bermuda. (See Map 1.) Richly endowed with biological            tural practices, are depositing an increasing load of sediment
                       treasures, it is also a region of tremendous cultural and       and nutrients in coastal waters, smothering some corals and
                       political diversity shaped by a vivid history. The wide         contributing to overgrowth by algae. Current levels of fish-
                       coastal shelves and warm tropical waters create ideal condi-    ing pressure are unsustainable in most areas and have
                       tions for the formation of an estimated 26,000 square kilo-     already led to species loss and the collapse and closure of
                                                      1
                       meters (sq km) of coral reefs. Separated from other coral       fisheries in some countries.4 Increasing pressures are under-
                       reefs, these have evolved in isolation, and remarkably few of   mining the resilience of reefs to threats from global climate
                       the many thousands of species in these waters are found         change.5 In addition, extensive areas of corals have suc-
                       anywhere else in the world.2                                    cumbed to diseases in recent years. The origins of these dis-
                           More than 116 million people live within 100 km of          eases remain poorly understood, but corals across the region
                       the Caribbean coast (see Appendix A, Table A3), and many        are susceptible.6
                       livelihoods depend strongly on the marine environment.              Understanding the effects of human activities on spe-
                       Coral reefs contribute significantly to nutrition and employ-   cific reefs, including the economic consequences of these
                       ment, particularly in rural areas and among island commu-       disturbances, is key to future conservation and planning
                       nities, where there may be few employment alternatives. The     efforts. Within the region numerous studies are underway
                       reefs are also a major draw for tourists to the region. Coral   to assess and monitor particular coral reefs (see Appendix C
                       reefs provide shoreline protection, notably during storms and   for details). In a few places, such as Jamaica and the Florida
                       hurricanes, and generate white sand for many beaches. The       Keys, changes in coral condition are well documented, but
                       biodiversity of coral reef ecosystems has enormous value as a   in most other places, the availability of detailed information
                       provider of potentially life-saving pharmaceuticals.            is limited, inhibiting effective management.



                                                                                                                     REEFS AT RISK IN THE CARIBBEAN   17
MAP 1. THE CARIBBEAN REGION




     The Caribbean region, as defined by this analysis, encompasses 35           of 6.5 percent per annum between 1990 and 2000.g (See Appendix A,
     countries and territories bordering the Gulf of Mexico and Caribbean        Table A4, for detailed economic statistics.)
         a
     Sea, including the oceanic island of Bermuda (see Map 1). Politically,
                                                                                 Notes:
     and socioeconomically, these countries are highly diverse, from the
                                                                                 a. Within the Caribbean region, there are 35 distinct political units, includ-
     world's richest nation to some of the poorest; from long-established
                                                                                    ing 24 sovereign nations (14 island nations and 10 continental), five
     democracies to totalitarian systems; and from industrialized countries         overseas territories of the United Kingdom, two overseas departments of
     with intensive agricultural systems to countries with little industry and      France, two self-governing units of the Netherlands, one territory of the
                                                                                    United States, and the U.S.-associated commonwealth of Puerto Rico.
     largely natural landscapes.                                                 b. Caribbean drainage area was calculated at WRI using watersheds devel-
        The nearly 7.8 million sq km of land that drains into the Caribbean b       oped from USGS HYDRO1K and NASA SRTM elevation data.
     stretches from the Upper Mississippi Basin in southern Canada to the        c. Population in Caribbean drainage areas was calculated at WRI using pop-
                                                                                    ulation data from the Center for International Earth Science Information
     Orinoco Basin of Colombia and Venezuela. The total population within           Network (CIESIN), Gridded Population of the World, Version 3 (Palisades,
     this drainage area was estimated at 290 million in 2000,c of whom              NY: CIESIN, Columbia University, 2003).
                                                                                 d. Caribbean coastline is based on World Vector Shoreline. For continental
     some 41 million people lived within 10 km of the coastline.d Average
                                                                                    countries, Pacific coastlines were excluded. Population data are from
     population density within this coastal strip increased by 14 percent           CIESIN (2003).
     between 1990 and 2000. (See Appendix A, Tables A2 and A3 for                e. See Appendix A, Table A4.
                                                                                 f. CTO (2002), p. 21.
     detailed physical and population statistics.)
                                                                                 g. Ibid, p. 21.
        Over the last three decades, tourism has surpassed fishing as the
     most important economic activity for many coastal localities. In 2000,      Map Sources:
     more than 40 million people visited the region (excluding the United        Maritime boundaries: Derived at WRI using data from the Global Maritime
                                                        e
     States), generating over US$25 billion in revenue. Between 1990 and         Boundaries Database (Veridian - MRJ Technology Solutions, 2002). Reef
                                                                                 locations: See Appendix B. Bathymetry: Developed at WRI from depth point
     2000, tourist (stay-over) arrivals grew at an average annual rate           data from the Danish Hydrologic Institute's (DHI) C-MAP data product,
     of 4.7 percent.f Cruise-based tourism grew even faster, at an average       interpolated at 1-km resolution.



18       REEFS AT RISK IN THE CARIBBEAN