UNIVEN 2016-2020 STRATEGIC PLAN - University of Venda
Page content transcription
If your browser does not render page correctly, please read the page content below
VISION
The University of Venda aspires to be at the centre of tertiary education for rural and
                     regional development in Southern Africa.

                                 MISSION
 The University of Venda, anchored on the pillars of excellence in teaching, learning,
research and community engagement, produces graduates imbued with knowledge,
     skills and qualifications which are locally relevant and globally competitive.

                                  VALUES
                             QUALITY AND EXCELLENCE
   Strive for the highest standards as benchmarked with and evaluated by peers.

                               ACCOUNTABILITY
 Commitment to good and responsible use of human, fiscal and physical resources
       entrusted to us to deliver on and be answerable to our mandate.

                                TRANSPARENCY
  Openness to public scrutiny of our actions, processes and use of our resources.

                                    INTEGRITY
   Consistently espousing and practising honesty, truth and freedom in all we do.

                                      RESPECT
                  Treating all stakeholders with civility and dignity.

                                    DIVERSITY
  Recognising that diversity and excellence are mutually inclusive and using this to
         enhance our teaching, scholarship and community engagement.

          SOCIAL RESPONSIBILITY AND COMMUNITY ENGAGEMENT
            Contributing to the best extent possible, to the intellectual,
           social and economic well-being of the communities we serve.

                                      UBUNTU
    Fostering a caring, mutually supporting environment and treating individuals
                   with respect and dignity in the spirit of Ubuntu.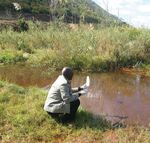 CONTENTS
    SETTING THE SCENE TO 2020                   STRATEGIC OBJECTIVE 5:       CRITICAL SUCCESS FACTOR 2:   CRITICAL SUCCESS FACTOR 6:
   VICE CHANCELLOR & PRINCIPAL                    Financial Sustainability            Institutional           Facilities Management
                                                                                     Planning and
                  2                                      24                        Quality Assurance                 42
   PUTTING MATTERS IN CONTEXT                    STRATEGIC OBJECTIVE 6:                37                         Appendix 1:
                                              Integrated People Management                                       SWOT analysis
                  4                                                          CRITICAL SUCCESS FACTOR 3:
                                                         26                            Library and
                                                                                  Information Services
                                                                                                                     44
       STRATEGIC OBJECTIVE 1:
           Conversion to a                      STRATEGIC OBJECTIVE 7:                                             Appendix 2:
       Comprehensive University                 Linkages, Partnerships and             38                      Internal imperatives
                                                    Internationalisation
                  8                                                          CRITICAL SUCCESS FACTOR 4:              45
                                                         29                        Student Academic
                                                                                     Administration
       STRATEGIC OBJECTIVE 2:                                                                                     Appendix 3:
      Quality Teaching and Learning             STRATEGIC OBJECTIVE 8:                                         Specific Legislation
                                                 Enhancing the Quality of              39                   applicable to University of
                15                                    Student Life
                                                                             CRITICAL SUCCESS FACTOR 5:
                                                                                                                  Venda entities

       STRATEGIC OBJECTIVE 3:                            31                            Integrated
                                                                                      Information
                                                                                                                     45
        Research and Innovation
                                              CRITICAL SUCCESS FACTOR 1:          and Communication                Appendix 4:
                20                               Strategic Communication
                                                       and Marketing
                                                                                      Technology               External imperatives
                                                                                                             (including reference to
       STRATEGIC OBJECTIVE 4:                                                          40                   key legislation) specific to
         Integrated Community                            36                                                     Higher Education,
                                                                                                              in chronological order
         Engagement Initiatives

                22                                                                                                   45

UNIVERSITY OF VENDA · STRATEGIC PLAN 2016 - 2020 · CREATING FUTURE LEADERS                                                                1

SETTING THE SCENE TO 2020
VICE CHANCELLOR & PRINCIPAL

                                                           In the past decade, Univen               Our competitiveness as a top South African university within our differentiated academic
                                                           has moved from the bottom                niche area will be measured against key global indicators that define a quality and
                                                           of the South African rank-               competitive higher education institution. These include quality of staff and students, quality
                                                           ings, in terms of research               of our undergraduate teaching and learning programmes, quality of our research and
                                                           outputs, to the middle of the            innovation outputs, community-engaged initiatives and pass rates. Appropriate and relevant
                                                           pack. We seek to be among                infrastructure in support of the academic project, strong leadership and management and
                                                           the top ten South African                well-established and functioning governance structures are as essential. Guided by the 2009
                                                           universities by 2030.                    – 2013 and thereafter the 2012 – 2016 strategic plans, Univen has experienced significant
                                                                                                    growth in the key indicators, illustrative of a vibrant, healthy and rapidly-growing university.
                                                          The University of Venda, which
                                                          was established in 1982, has              Among others, we have witnessed increased student pass rates to 84% and an exponential
                                                          made impressive gains in the past         growth in our research outputs to 0.6 per capita units in terms of peer-reviewed published
                                                          eight years, despite its history as a     articles. The graduation of postgraduate students up to doctoral level increased as did the
                                                          historically disadvantaged institution,   growth in quality academic and research-driven, reciprocal community-engaged activities
                                                          in cementing its position within          and projects. A massive injection of resources towards new infrastructure projects and
                                                          the South African higher education        refurbishment of buildings and growth of the information communications technology
                                                          sector. Building on our achievements      infrastructure and bandwidth of 10gbps in support of a modern-growing campus were also
                                                          of the past eight years, our vision       experienced. The introduction of student tablet personal computers in 2015 ushered in a new
                                                          is to become a top South African          era of an information communications technology driven, academic-programme delivery.
                                                          university as measured by the quality     Our student numbers have rapidly grown to the current enrolment figure of over 14 000 and
                                                          of our undergraduate teaching             are projected to grow to a planned total headcount of 16 000 by 2019. It is estimated that
                                                          and learning, relevant research           between 12% to 15% of these student enrolments will be postgraduate students. Despite the
                                                          and innovation with a high impact         tremendous growth in our student numbers and the envisaged introduction of new academic
                                                          value and in reciprocal community-        offerings in the very near future, there has been no concomitant growth in the academic
engaged initiatives that address critical areas of rural development and poverty alleviation.       staff component, which would impact on quality if not addressed. In the next five years we
This strategic plan provides the necessary framework and outlines the interventions, critical to    will focus on increasing the number of senior academics and established researchers, and
achieving this dream.                                                                               simultaneously enlarge the professoriate with entry-level positions. These will be drawn largely
The progress made is reflected in the stability on campus characterised by a responsible             from our internal efforts of 'growing the next generation of academics' project with Univen-
and mature student and union leadership, which has allowed a new institutional culture to           trained masters and PhD graduates. The benchmark is to achieve a 70% target of academics
blossom in support of the university's core business – its academic project. The fact that the      with PhDs by 2030 as envisioned in the National Development Plan.
university was relatively unscathed by the recent turmoil on other campuses attests to this.        In the context of the broader debate of a differentiated South African higher education
The future, therefore, presents exciting opportunities for the university to deliver high-level     system, including the mandate for Univen to transform into a comprehensive university,
professional and occupational skills, research and innovation required for the economic             we have reviewed our programme offerings in terms of relevance and viability, including
growth and development of our region and the nation.                                                responsiveness to national and provincial development and growth strategies. In light of this

2                                                                                                        UNIVERSITY OF VENDA · STRATEGIC PLAN 2016 - 2020 · CREATING FUTURE LEADERS
Univen will focus on the development and implementation of new academic offerings in the
fields of engineering such as mining, agricultural, water and construction technology; health
sciences such as optometry, dentistry and physiotherapy and in the new emerging area of                        Top South African University by 2030
disaster management.
The School of Agriculture will be elevated to a Centre of Excellence with a focus on food
security and commercialisation in support of both emerging and established farmers.
Building on our successes, greater effort will also be placed on linkages, partnerships and
internationalisation to contribute to the enrichment of the academic project. This should lead
to an increase in collaborative research outputs such as those undertaken by postdoctoral
students, visiting research fellows and special category academics. Such endeavors will be
in support of the shared vision with our partners, in mutually enriching and growing our
academic and social agenda.
An impressive number of infrastructure projects have been completed in the last eight years.
                                                                                                                                                        Leadership &
This directly impacts on the quality of lives of both our staff and students, bestowing on them     Sustainability                Quality
                                                                                                                                                        Governance
a greater sense of dignity in their work environment and positively enhancing our teaching,
learning, research and community-engagement activities. Additional infrastructure projects
are planned to further strengthen the academic project.
                                                                                                  UÊ Êˆ˜>˜Vˆ>Ê           UÊ Ê/i>V ˆ˜}Ê>˜`Ê         UÊÊÊ7i‡iÃÌ>LˆÃ i`Ê>˜`Ê
Transformation in the South African higher education landscape continues to be a vital project
                                                                                                      Sustainability           Learning                 Well-functioning
that will ensure competiveness and equity in the sector. Univen will vigorously monitor the                                                             Management and
                                                                                                  UÊ Ê iˆÛiÀÞʜvÊ         UÊÊÊ,iiÛ>˜ÌÊ>˜`Ê
implementation of its integrated transformation plan, with due care and emphasis being                                                                  Governance
                                                                                                     High Level                High Level
placed on gender equity in the professoriate and management. We will continue to pursue              Professional and          Research Impact
                                                                                                                                                        Structures of
prudent financial management strategies to ensure a sound financial footing for our university.                                                           Council
                                                                                                     Occupational Skills
                                                                                                                           UÊÊÊ,iVˆ«ÀœV>Ê
Quality and financial sustainability will be the major pillars on which Univen will continue to    UÊ Ê "«œÞ>LˆˆÌÞʜvÊ        Community –
                                                                                                                                                     UÊÊÊ/À>˜ÃvœÀ">̈œ˜
manage its business.                                                                                                                                     - Curriculum
                                                                                                     UNIVEN Graduates          Engaged Initiatives
                                                                                                                                                            Transformation
In the past decade, Univen has moved from the bottom of the South African rankings, in                                     UÊÊÊ-Ì>vvÊ>˜`Ê-ÌÕ`i˜Ìà        - People
terms of research outputs, to the middle of the pack. With a solid foundation now laid                                                                      Management
and an institutional culture that supports the flourishing of the academic project having                                                             UÊÊʈ˜Ž>}iÃ]Ê
been established, we seek to be among the top ten South African universities by 2030 by                                                                  Partnerships and
committing ourselves to the realisation of the targets set in our 2016 – 2020 strategic plan.                                                            Internationalisation

Professor Peter Mbati
Vice Chancellor & Principal
December 2015

UNIVERSITY OF VENDA · STRATEGIC PLAN 2016 - 2020 · CREATING FUTURE LEADERS                                                                                                       3
PUTTING MATTERS
IN CONTEXT

It is of critical importance that young scholars contextualise and approach                       There has been considerable progress made towards implementing government's mandate
their academic programmes at universities with the responsibility that will                       that Univen convert to a comprehensive university. Guided by the pillars of a responsive
be bestowed on them.                                                                              and transformed curriculum, a number of career-focused certificate, diploma and degree
                                                                                                  programmes have been introduced into our programme qualifications mix, including,
Univen has made significant progress in the past eight years in addressing the challenges that
                                                                                                  a Diploma in Freshwater Technology, Advanced Diploma in Sports Management, Post-
confronted it and in meeting the strategic objectives and associated targets that were set to
                                                                                                  graduate Diploma in Primary Health Care and District Health Management, Bachelor
strengthen the university's core business or academic project. These are teaching and learning,
                                                                                                  of Earth Sciences in Mine Surveying, BSc in Agriculture (Agribusiness Management),
research and community engagement. This is reflected in the progress made in a range of
                                                                                                  Bachelor of Science in Agricultural and Biosystems Engineering, Bachelor of Indigenous
measurable indicators of academic success, including -
                                                                                                  Knowledge System, Bachelor of Arts in Translation, Interpretation and Editing, and a PhD in
UÊ Ê-ÌÕ`i˜ÌÊÃÕVViÃÃÊÀ>ÌiÃÊ >Ûiʈ˜VÀi>Ãi`ÊvÀœ"ÊÇǯʈ˜ÊÓäänÊ̜Ên{¯Êˆ˜ÊÓä£{°                         Public Health and Nutrition.
UÊ   œV̜À>Ê}À>`Õ>ÌiÃÊ >Ûiʈ˜VÀi>Ãi`ÊvÀœ"ÊÓʈ˜ÊÓäänÊ̜ÊÓxʈ˜ÊÓä£{°                               After several years of engagement with the South Africa Institute of Chartered Accountants
UÊ /Ê iʘՓLiÀʜvÊ >̈œ˜>Ê,iÃi>ÀV ʜ՘`>̈œ˜‡À>Ìi`ÊÀiÃi>ÀV iÀÃÊ >Ãʈ˜VÀi>Ãi`ÊvÀœ"ʣʈ˜Ê         Bankseta has provided the much-needed resources in 2014 towards the training of chartered
   2008 to 18 in 2015.                                                                            accountants. A number of new professional-degree programmes in the area of engineering
                                                                                                  and allied health sciences are set for introduction within the next five years.
UÊ ,iÃi>ÀV ʜÕÌ«ÕÌÃÊ«iÀÊV>«ˆÌ>Ê >Ûiʈ˜VÀi>Ãi`ÊvÀœ"Êä°ää£ÇÊ՘ˆÌÃʈ˜ÊÓäänÊ̜Êä°ÈÊ՘ˆÌÃʈ˜ÊÓä£{°
                                                                                                  The strengthening of the academic project has been accompanied by a number of operational
UÊ Î{¯ÊœvÊ>V>`i"ˆVÊÃÌ>vvÊ >ÛiÊ>Ê*      Ê>ÃÊ>}>ˆ˜ÃÌÊÌ iʘ>̈œ˜>Ê>ÛiÀ>}iʜvÊÎÓ¯                    policies to contribute to the entrenching of a culture of excellence.
UÊ ,
   Ê iÃi>ÀV Ê>˜`Ê«œÃÌ}À>`Õ>ÌiÊÃÕ«iÀۈȜ˜ÊV>«>VˆÌÞʈÃÊLiˆ˜}ÊLՈÌÊÌ ÀœÕ} ÊÌ iÊ>««œˆ˜Ì"i˜ÌÊ
                                                                                                  These include -
   of special category professors - over 50 adjunct professors, 2 research professors and 5
   meritus professors have been appointed to date.                                                UÊ /Ê iÊ ˆ˜ÌÀœ`ÕV̈œ˜Ê œvÊ >Ê «iÀvœÀ">˜ViÊ ">˜>}i"i˜ÌÊ ÃÞÃÌi"Ê vœÀÊ >Ê ÃÌ>vvÊ ÜˆÌ Ê >Ê vœVÕÃÊ œ˜Ê
                                                                                                      development needs of individual staff members.
In addition, all the programmes on the university's programme qualification mix have been re-
accredited as part of the Council on Higher Education's revised higher education qualifications    UÊ Ê iÛiœ«"i˜ÌʜvÊ>ÊÃÌ>vvÊ>ÌÌÀ>V̈œ˜Ê>˜`ÊÀiÌi˜Ìˆœ˜ÊÃÌÀ>Ìi}ÞÊ̜Êi˜ÃÕÀiÊÌ >ÌÊÌ iÊ՘ˆÛiÀÈÌÞ½ÃÊ
framework process, which includes approval by the Department of Higher Education and                 remuneration framework is competitive with the rest of the sector. This resulted in a lower
Training and accreditation, where appropriate, by the relevant professional bodies.                  staff turnover than in the past.
The university has also implemented the recommendation of the Higher Education Quality            In addition, a number of important support initiatives and structures have been built
Committee of the Council on Higher Education, following the successful institutional audit of     around the academic project to ensure its success. This includes a massive investment
Univen in 2010, that the university "establish appropriate mechanisms and provide resources       in infrastructure of approximately R1,5 billion for new projects, including lecture halls,
to ensure that the assessment policies and procedures are applied consistently across the         student residences, laboratories, staff offices and refurbishment to the library. The
institution, and that sufficient examining capacity and adherence to procedures exist to           university has also invested considerably in modern information communications
guarantee that high success rates match actual student competencies". This has been done          technology architecture with bandwidth growing from a minimal 30 mbps in 2008 to
through the introduction of academic staff training in assessment, moderation, material           a current 10Gbps. This will enable the rolling out of e-learning over the next five years,
development and facilitation, which has ensured that the university's rules pertaining to         which began in 2015 with the purchase of tablet personal computers for all undergraduate
student progression and completion of study are strictly enforced.                                and postgraduate students up to masters level, while doctoral students were given

4                                                                                                      UNIVERSITY OF VENDA · STRATEGIC PLAN 2016 - 2020 · CREATING FUTURE LEADERS
laptops. It is expected that these investments will contribute to increased academic and   the positions of Deputy Vice Chancellor: Operations, Director Community Engagement,
research outputs in 2016 and beyond. Furthermore, to support the academic project,         Director Centre for Higher Education Teaching and Learning, Director Univen Income
a number of new senior and executive management positions were created, including          Generation Centre and Director International Relations.

                                                                     Senior Management Structure

                    Executive Assistant                                  Vice Chancellor and Principal

          Deputy Vice Chancellor                       Deputy Vice Chancellor                             University
                Academic                                    Operations                                    Registrar

         8 School Deans                                        Director: Finance                        Deputy Registrar                         Director: Legal Services
         s -ATHEMATICAL AND .ATURAL 3CIENCES
         s !GRICULTURE
         s %NVIRONMENTAL 3CIENCES                         Director: Human Resources                  Director: Student Affairs               Director: Institutional Planning
         s (EALTH 3CIENCES                                                                                                                       and Quality Assurance
         s (UMAN AND 3OCIAL 3CIENCES
         s -ANAGEMENT 3CIENCES                               Director: Information               Head: Committee Administration
         s ,AW                                            Communications Technology                                                          Director: International Relations
         s %DUCATION
                                                                                                   Head: Records and Archiving
                                                        Director: Facilities Management                                                         Director: Communication
         Director: Research and Innovation                                                                                                           and Marketing

                                                                Director: UIGC
         Director: Community Engagement                                                                                                          Director: Internal Audit

             Director: Library Services
                                                                                                                                                  Director: Office of the
                                                                                                                                                     Vice Chancellor
                   Director: CHETL

UNIVERSITY OF VENDA · STRATEGIC PLAN 2016 - 2020 · CREATING FUTURE LEADERS                                                                                                       5
PUTTING MATTERS
IN CONTEXT

Finally, as a public institution, the university is a custodian of assets that include land, buildings,                           Frugal management of financial resources is paramount in securing the long-term sustainability
equipment, tuition revenues, central and local government monies, private donations and                                           of the university. It is therefore necessary to take cognisance of the instability of the global
other resources entrusted to Council and management. This custodian role however, goes                                            economy and its impact on the national economy, including the effect on the cost of goods
beyond exercising due diligence, efficiency, and effectiveness in managing resources - it also                                     and services. The consequences of this for institutional funding must be factored into the
includes strategic planning, redeployment, and investment through the process of achieving                                        university's planning and budgeting processes to ensure that Univen continues to manage
its ideal size and shape in terms of national and institutional imperatives and goals. Resource                                   a healthy balance sheet. As a result of prudent financial management, the university is
optimisation means making decisions with a long-term, often multi-generational, perspective.                                      financially stable with a modest reserve to ensure its financial sustainability in the medium-to
                                                                                                                                         long-term. However, student financial aid remains a source of concern. Despite large
                                                                                                                                         increases in the student-financial aid, a substantial portion of academically-deserving
                      Univen Primacy of the Academic Project                                                                             students are unable to secure National Student Financial Aid Scheme funding. It will
                                                                                                                                         be necessary that an alternative or complementary vehicle to the scheme is pursued
                                                                                                                                         to ensure that students from disadvantaged socio-economic backgrounds can access
                                                                                                                                         higher education.
      National
                                                                 Registrar Division                                 Communities          The developments outlined and the focus on strengthening the university, in particular,
     Government                                                                                                                          the academic project, has the support of both staff and students. This is reflected
                                                                                                                                         in a relatively stable institutional environment, which is devoid of tensions between
                                                                                                Academic Division

                                                                                                                       Global
                                      Operations Division

      Provincial                                                                                                      Pressure           management, staff and students. There is better cohesion between the diverse groups
     Government                                                                                                                          that make up the Univen community, better team work and a greater sense and
                                                                    Academic                                                             appreciation of the appropriate work ethics, critical for effectively delivering on the
                                                                     Project                                          Alumni
       Legislative
                                                                                                                                         mandate of Univen in the context of the complexities of the higher education system.
      Imperitives                                                                                                                        It is against this background of the achievements of Univen in the past eight years,
                                                                                                                    Corporates
                                                                                                                                         including future challenges, that the 2016-2020 strategic plan has been developed.
        Labour                                                                                                                           A detailed SWOT analysis, the outcome of which is contained in appendix 1, also
                                                                   Other Support                                      Donors             informed the development of this strategic plan. It is also guided by both internal
       Industry                                                ,EGAL )NTERNATIONAL 2ELATIONS
                                                            )01! #OMMUNICATIONS AND -ARKETING                                            imperatives (new vision and mission and the statute of the University of Venda)
                                                                                                                                         and external imperatives such as various acts and pieces of legislation, reflected in
                                                                                                                                         appendices 2 to 4.
                                                                Vice Chancellor
                                                                                                                                         The strategic plan outlines, in a succinct manner, Univen's continued commitment to
                                                                      Council                                                            be a quality-driven, financially-sustainable, comprehensive university. The plan takes
                                                                                                                                         cognisance of the hallmarks of an outstanding academic institution, which include,
                                                                                                                                         quality of teaching and research, staff, governance and leadership, quality of students,
                                                                 DHET Minister                                                           financial management practices - and equally important, a supportive environment
                                                                                                                                         to achieve these goals. A visionary and realistic strategic plan, which emphasises the

6                                                                                                                                      UNIVERSITY OF VENDA · STRATEGIC PLAN 2016 - 2020 · CREATING FUTURE LEADERS
eminence of the academic project, with the focus on a student-centered approach is a key           the Centre for Higher Education Teaching and Learning and the Community Engagement
driver in achieving these goals.                                                                   directorates to address issues of employability of our graduates through a variety of
                                                                                                   interventions, such as, work-integrated learning, entrepreneurship training and the imparting
While excellence in the academic project remains a primary goal, relevant soft skills, work-
                                                                                                   of a variety of pertinent soft skills.
integrated learning, entrepreneurship and assertiveness, essential for the employability of our
graduates, will be introduced in the curriculum, in a phased-in approach. Building confidence       In tandem with the National Development Plan 2030, the Association of African Universities
in the minds of young impressionable undergraduate African scholars cannot be over-                Science, Technology and Innovation Strategy for Africa 2024 is decisive on the role that
emphasised as it lays a strong foundation for their future success. Agenda 2030 of the African     science and technology must play as multifunctional tools and enablers for achieving
Union sums this up very well "Africa is self-confident in its identity, heritage, culture and       continental development goals. The strategy should foster social transformation and
shared values and as a strong, united and influential partner on the global stage making its        economic competitiveness, through human capital development, innovation, value-addition,
contribution to peace, human progress, peaceful co-existence and welfare in short, a different     industrialisation and entrepreneurship.
and better Africa".
                                                                                                   On the wings of innovation, the Technology and Innovation Strategy for Africa 2024 places
It is thus of critical importance that our young scholars contextualise and approach their         science, technology and innovation at the epicenter for Africa's socio-economic development.
academic programmes at universities with the responsibility that will be bestowed on them –        It is against this background that Univen, a historically disadvantaged university which is in the
the inheritance of the African continent which must be managed in a sustainable manner by          process of shedding this baggage, will have to engage with the subject of differentiation and
competent and well-skilled graduates. South Africa is moving towards a knowledge-based             curriculum transformation.
economy and therefore the need for skilled, innovative and entrepreneurial graduates is
                                                                                                   The foundation laid in the past eight years, provides the basis for Univen to move to the next
important in securing the future of our country.
                                                                                                   level in its quest to become a leading regional university, a university of choice for both staff
That higher education can contribute to this envisaged development by producing graduates          and students.
who have the requisite skills, who can produce and adapt knowledge innovatively, and who
can address human and social development challenges, is unquestionable. Nonetheless,
unemployment of graduates is a phenomenon that many countries, including South Africa
have to contend with. According to the Association of African Universities, factors affecting
graduate employment and employability can be grouped into three categories.
UÊ Ê Ýœ}i˜œÕÃÊv>V̜ÀÃÊÀi>Ìi`Ê̜ÊÌ iÊ>LÜÀ«ÌˆÛiÊV>«>VˆÌÞʜvÊÌ iÊVœÕ˜ÌÀÞÊvœÀÊ}À>`Õ>ÌiÃ]ÊÜ ˆV Ê
   have an impact on the graduate employment.
UÊ Ê ˜`œ}i˜œÕÃÊv>V̜ÀÃÊ>ÃÜVˆ>Ìi`ÊÜˆÌ Ê>˜Êˆ˜Ã̈ÌṎœ˜½ÃÊivvœÀÌÃÊ̜Êi˜ÃÕÀiÊÌ iÊÜi‡«Ài«>Ài`˜iÃÃÊ
   of the graduates, which determine their employability.
UÊ Ê>V̜ÀÃʏˆ˜Žˆ˜}ÊÌ iÊiݜ}i˜œÕÃÊ>˜`Êi˜`œ}i˜œÕÃÊv>V̜ÀÃ]ʈ˜ÊœÌ iÀÊܜÀ`Ã]ʏˆ˜Žˆ˜}Êi"«œÞ"i˜ÌÊ
    and employability.
These factors should drive higher education institutions to ensure the quality and relevance of
their educational provision. In this regard, Univen will introduce programmes through both

UNIVERSITY OF VENDA · STRATEGIC PLAN 2016 - 2020 · CREATING FUTURE LEADERS                                                                                                                         7
STRATEGIC OBJECTIVE 1:
CONVERSION TO A COMPREHENSIVE UNIVERSITY

The mandate to convert into a comprehensive institution affords Univen a unique opportunity        diplomas, first and professional bachelor degrees, postgraduate diplomas, honours, masters
to reposition itself in the South African higher education landscape, by offering an array of      (both by coursework and research) and doctoral degrees. Schools are mandated to develop
programmes that have previously been the exclusive preserve of established, urban-based            the critical performance indicators of the academic project: teaching, learning, research and
universities. The current programme qualifications mix will be expanded to meet the national        community engagement.
and regional demand for graduate professionals in different fields of engineering, clinical
health sciences, management and accounting. The introduction of these new career-focused           The School of Agriculture
and professional programmes bodes in niche fields will ensure Univen's competitive advantage        The school,which has been elevated to a Centre of Excellence, offers programmes in
in the context of its vision as a rural and regional development university within the South       classifications of educational subject matter categories 1 and 10. These are in areas of
African higher education landscape.                                                                Agricultural Economics and Extension, Family Ecology and Consumer Sciences, Food Science
Expansion of the programme qualifications mix will occur within the size and                       and Technology. The school houses the Institute for Rural Development and a Land Bank Chair
shape parameters negotiated with the Department of Higher Education and Training and with          in Agricultural Economics. In addition, the school has an experimental farm on campus, which
close adherence to the 2019 ministerial targets set for enrolments, at different qualification      is used for experiential learning in animal and plant production programmes.
levels and in the different classification of educational subject matter categories, for
Univen. Substantial targeted investments in infrastructure and human resources will be             The School of Education
required, not only for the offering of new programmes, but also for meeting the often              The school offers programmes in classifications of educational subject matter category 7.
stringent criteria for their accreditation by the relevant professional bodies. The introduction   It trains teachers for the foundation and secondary phases and also upgrades the qualifications
of these programmes will be facilitated by developing collaborative arrangements and               of practicing teachers through postgraduate certificate programmes. In addition, the school
partnerships with established universities currently offering these or related programmes,         has a pre-school on campus which is used for experiential learning.
as well as linkages with relevant industries and government departments. Such linkages will
not only offer work placement and internship opportunities for students in career-focused          The School of Environmental Sciences
and professional programmes, as required for their successful accreditation, but will also be      The school offers programmes in classifications of educational subject matter categories
a means of establishing work-integrated learning as a component of academic programme              2 and 8. These are programmes in Environmental Sciences, Environmental Management,
offerings at Univen.                                                                               Earth Sciences, Hydrology, Water Resources and Mining and Environmental Geology.
The current configuration of academic schools and divisions has served Univen well. However,        The mining-related degrees will be offered through a programme in mining engineering,
an expanded programme of qualifications mix – and in particular the offering of engineering         while construction technology and additional engineering qualifications will be developed
and clinical health programmes – may require either the reconfiguration of existing schools or      over the next five years. In addition, the School has a GIS Resource Centre, an environ-
the establishment of specific new ones, as part of Univen's longer-term strategic intent.           mental advisory and assessment unit and an Institute of Semi-arid Environmental and
                                                                                                   Disaster Management.

ACADEMIC SCHOOLS AND DIVISIONS                                                                     The School of Health Sciences
The academic division consists of eight schools and four directorates. The schools offer a range   The school offers programmes in classifications of educational subject matter categories
of under- and postgraduate academic programmes in various classifications of educational            9 and 18. These programmes are in Nursing Science, Public Health, Nutrition, Psychology,
subject matter. These programmes lead to qualifications in undergraduate certificates,             Biokinetics and Recreation and Leisure Studies. The school's Centre for Biokinetics

8                                                                                                       UNIVERSITY OF VENDA · STRATEGIC PLAN 2016 - 2020 · CREATING FUTURE LEADERS
and Recreation and Sport Sciences are also used for experiential learning. The school will        Research and Innovation Directorate
develop and implement several new programmes in clinical practice and the allied health
                                                                                                  The advancement of research, both basic and applied, research and supervisory capacity
sciences over the next five years.
                                                                                                  development of academics, the management of the postgraduate enterprise and the
                                                                                                  administration of research grants are the priorities for this directorate. It builds a cadre
The School of Human and Social Sciences
                                                                                                  of research leaders, such as postdoctoral fellows, research and emeritus professors. The
The school offers programmes in classifications of educational subject matter categories 5,        directorate also develops and offers training programmes to assist staff and postgraduate
11, 17 and 20. These programmes are in Communication and Applied Language Studies,                students to publish in accredited national and international journals and to present their
Development Studies, English, International Relations, African Languages, Gender and Youth        research findings at conferences. The directorate is also responsible for the administration and
Studies and Social Work. The school also houses the Centre for Indigenous Studies, as well as     utilisation of the Department of Higher Education and Training's research development grant.
the MER Mathivha Centre for African Languages, Arts and Culture.
                                                                                                  Community Engagement Directorate
The School of Law                                                                                 Univen, through this directorate, seeks to ensure that a qualitative, symbiotic and reciprocal
The school offers programmes in classifications of educational subject matter category 12.         relationship exists between itself and its community stakeholders. Community engagement
These are in Criminal Justice and Law. In addition, the school has a Legal Aid Clinic on campus   at Univen thus entails goal-oriented, reciprocal, interactive collaboration and partnerships
which is used for experiential learning and practice, as well as for providing affordable legal   between the university and surrounding rural communities. This has resulted in sustainable-
services to the community. The Ishmael Mahomed Centre for Human and People's Rights is            community partnership projects that deliver tangible benefits to the communities we serve.
also housed in the school.                                                                        The directorate's responsibilities include the facilitation of on-site experiential and service-
                                                                                                  learning programmes.
The School of Management Sciences                                                                 Library Services Directorate
The school offers programmes in classifications of educational subject matter categories 4,
                                                                                                  The library develops and manages local and remote access to information and knowledge
6 and 19. These are in Accounting and Auditing, Business Information Systems, Business
                                                                                                  resources, offering a range of library and information services. Over the next five years
Management, Economics, Human Resources Management, Public Management, Tourism and
                                                                                                  the library will focus increasingly on the acquisition of relevant electronic and open access
Hospitality Management. The school houses the Business Career and Placement Centre and
                                                                                                  resources to support the core business.
the Oliver Tambo Institute of Government and Policy Studies.
                                                                                                  Centre for Higher Education Teaching and Learning (CHETL)
The School of Mathematical and Natural Sciences
                                                                                                  The centre initiates, coordinates and promotes academic support and development services
The School offers programmes in classifications of educational subject matter categories 6, 13,    which address the challenges facing academics and students in achieving expected outcomes
14 and 15 in Life Sciences, Physical Sciences, Mathematics and Statistics. The school houses      of teaching and learning at Univen. The full implementation of e-Learning using the
the unit for data management and manages the Vuwani Science Resource Centre in the village        Blackboard platform will be a major strategic focus of the centre over the next five years. Early
of Vuwani. The centre is a flagship community outreach project of Univen. The National             identification of students-at-risk, enhancing the first-year experience, and providing effective
Research Foundation/South Africa Research Chairs Initiative Chair in Biodiversity value and       career counseling have become new focus areas for the centre, while it will also drive Univen's
change in the Vhembe Biosphere is also housed in the school.                                      participation in the Council on Higher Education's national quality enhancement project.

UNIVERSITY OF VENDA · STRATEGIC PLAN 2016 - 2020 · CREATING FUTURE LEADERS                                                                                                                      9
STRATEGIC OBJECTIVE 1:
CONVERSION TO A COMPREHENSIVE UNIVERSITY

KEY PERFORMANCE AREA 1: ADHERENCE TO DEPARTMENT OF HIGHER EDUCATION AND TRAINING SIZE AND SHAPE DIRECTIVES
TO MEET 2019 MINISTERIAL ENROLMENT TARGETS
 KEY                                     TARGETS
 PERFORMANCE
 INDICATORS                              2016                      2017                      2018                      2019                      2020

 Enrolment headcount increases to        Total student headount    Total student headount    Total student headount    Total student headount    Total student headount
 15 592 from a 2015 baseline of 13 829   of 14 000                 of 14 500                 of 15 000                 of 15 592                 of 16 000

 Headcount enrolments in under-          2.5% of total headcount   3% of total headcount     3.5% of total headcount   4.1% of total headcount   5% of total headcount
 graduate diplomas and certificates       enrolled in under-        enrolled in under-        enrolled in under-        enrolled in under-        enrolled in under-
 increases to 5% from a 2015             graduate diplomas and     graduate diplomas and     graduate diplomas and     graduate diplomas and     graduate diplomas and
 baseline of 2.2%                        certificates               certificates               certificates               certificates               certificates

 Enrolments per classification of         39% SET and Health        41% SET and Health        43% SET and Health        45% SET and Health        45% SET and Health
 educational subject matter category
                                         16% Business and          17% Business and          18% Business and          19% Business and          19% Business and
 adjusted to meet 2019 ministerial
                                         Management                Management                Management                Management                Management
 targets from a 2015 baseline of
 37% SET and Health; 16% Business        19% Education             17% Education             16% Education             15% Education             15% Education
 and Management; 21% Education;
                                         25% Humanities            23% Humanities            21% Humanities            21% Humanities            21% Humanities
 26% Humanities and Law
                                         and Law                   and Law                   and Law                   and Law                   and Law

10                                                                                          UNIVERSITY OF VENDA · STRATEGIC PLAN 2016 - 2020 · CREATING FUTURE LEADERS
KEY PERFORMANCE AREA 2: A PROGRAMME QUALIFICATION MIX REFLECTIVE OF THE COMPREHENSIVE MANDATE
 KEY                                      TARGETS
 PERFORMANCE
 INDICATORS                               2016                      2017                     2018                     2019                          2020

 Introduction of professional             Mining engineering        Engineering Council of   First intake of          Second intake of 30           Third intake of
 qualifications in engineering             programme curriculation   South Africa endorse-    25 students              students                      40 students
 and related fields                        and co-hosting            ment and final
                                                                                                                      Engineering Council of
                                          arrangements with         Department of Higher
                                                                                                                      South Africa site visit for
                                          WITS finalised             Education and Training
                                                                                                                      pre-accreditation
                                                                    approval and Council
                                                                    on Higher Education
                                                                    accreditation obtained

                                          Water and Environmental   Engineering Council of   Final Department of      First intake of               Second intake of
                                          Engineering programme     South Africa endorse-    Higher Education and     25 students                   30 students
                                          curriculation, review,    ment and submission      Training approval
                                                                                                                                                    Engineering Council of
                                          Senate and Council        to Department of         and Council on
                                                                                                                                                    South Africa site visit for
                                          approval, and             Higher Education and     Higher Education
                                                                                                                                                    pre-accreditation
                                          external collaboration    Training for approval    accreditation obtained
                                          arrangements finalized     and to Council on
                                                                    Higher Education for
                                                                    accreditation

                                          Construction Technology   External collaboration   Final Department of      First intake of               Second intake of
                                          Engineering programme     arrangements finalised    Higher Education and     25 students                   30 students
                                          curriculation, review,                             Training approval
                                                                    Engineering Council of                                                          Engineering Council of
                                          Senate and Council                                 and Council on
                                                                    South Africa endorse-                                                           South Africa site visit for
                                          approval                                           Higher Education
                                                                    ment and submission                                                             pre-accreditation
                                                                                             accreditation obtained
                                                                    to Department of
                                                                    Higher Education and
                                                                    Training for approval
                                                                    and to Council on
                                                                    Higher Education for
                                                                    accreditation                                                                                continued...

UNIVERSITY OF VENDA · STRATEGIC PLAN 2016 - 2020 · CREATING FUTURE LEADERS                                                                                                        11
STRATEGIC OBJECTIVE 1:
CONVERSION TO A COMPREHENSIVE UNIVERSITY

 KEY                                    TARGETS
 PERFORMANCE
 INDICATORS                             2016                      2017                         2018                      2019                  2020

 New career-focused bachelor, diploma   Diploma in Agro-ecology   Department of Higher         First intake of           Second intake of      Third intake of
 and certificate programmes              and Diploma in Natural    Education and Training       40 students in            50 students in        60 students in
                                        Resource Management       approval and Council         each programme            each programme        each programme
                                        curriculation, review,    on Higher Education
                                                                                                                                               Engineering Council of
                                        Senate and Council        accreditation obtained
                                                                                                                                               South Africa site visit for
                                        approval
                                                                                                                                               pre-accreditation

                                        Diploma in Mine Safety,   Engineering Council of       Final Department of       First intake of       Second intake of
                                        Health and Environment    South Africa endorse-        Higher Education and      40 students           50 students
                                        conceptualisation and     ment and submission          Training approval and
                                                                                                                                               Engineering Council of
                                        curriculation             to Department of             Council on Higher
                                                                                                                                               South Africa site visit for
                                                                  Higher Education and         Education accreditation
                                                                                                                                               pre-accreditation
                                                                  Training for approval        obtained
                                                                  and to Council on
                                                                  Higher Education for
                                                                  accreditation

                                        Diploma in GIS and        Submission to Depart-        Final Department of       First intake of       Second intake of
                                        Remote Sensing            ment of Higher Education     Higher Education          40 students           50 students
                                        conceptualisation,        and Training for approval    and Training approval
                                        curriculation, review,    and to Council on            and Council on
                                        Senate and Council        Higher Education for         Higher Education
                                        approval                  accreditation                accreditation obtained

                                        Diploma in Travel         Final Department of          First intake of           Second intake of      Third intake of
                                        re-curriculation and      Higher Education and         20 students               20 students           20 students
                                        submitted for internal    Training approval of
                                        review and approval       resubmitted curriculum
                                                                  and Council on
                                                                  Higher Education
                                                                  accreditation obtained
                                                                                                                                                             continued...

12                                                                                            UNIVERSITY OF VENDA · STRATEGIC PLAN 2016 - 2020 · CREATING FUTURE LEADERS
KEY                                      TARGETS
 PERFORMANCE
 INDICATORS                               2016                         2017                        2018                        2019                       2020

  New career-focused bachelor, diploma    Obtain Department of         First intake of             Second intake of            Third intake of            Fourth intake of
  and certificate programmes               Higher Education and         50 students                 50 students                 75 students                100 students
                                          Training permission to
                                          add existing National                                    Diploma in Dental           Submission of curri-       First intake of
                                          Diploma in Information                                   Technology curriculated     culum for internal         40 students
                                          Communications                                           and benchmarked             review and approval
                                          Technology to                                                                        Submission of programme
                                          Univen's programme                                                                   for external review, ap-
                                          qualification mix                                                                     proval and accreditation
                                                                                                                               by DHET, CHE and SAQA
                                          Court Interpreting           Submission of the           Final Department of High-   First intake of            Second intake of
                                          Certificate submitted         certificate to Department    er Education and Training   50 students                80 students
                                          to Institutional Planning    of Higher Education and     approval and Council on
                                          and Quality Assurance        Training for approval and   Higher Education accredi-
                                                                       CHE accreditation           tation obtained
                                          Certificate of Communi-       Submission of the           Final Department of         First intake of            Second intake of 80
                                          cation in Business English   certificate to Department    Higher Education and        50 students                students
                                          submitted to Institutional   of Higher Education and     Training approval and
                                          Planning and Quality         Training for approval       CHE accreditation
                                          Assurance                    and Council on Higher       obtained
                                                                       Education accreditation

                                          Sign Language Certificate     Submission of the           Final Department of         First intake of            Second intake of
                                          submitted to Institutional   certificate to Department    Higher Education and        50 students                80 students
                                          Planning and Quality         of Higher Education and     Training approval and
                                          Assurance                    Training for approval       Council on Higher
                                                                       and Council on Higher       Education
                                                                       Education accreditation

                                          Bachelor of Disaster Risk    Submission to Department    Final Department of High-   First intake of            Second intake of
                                          Science curriculation,       of Higher Education and     er Education and Training   40 students                50 students
                                          review, Senate and           Training for approval and   approval and Council on
                                          Council approval             to Council on Higher Edu-   Higher Education accredi-
                                                                       cation for accreditation    tation obtained                                                      continued...

UNIVERSITY OF VENDA · STRATEGIC PLAN 2016 - 2020 · CREATING FUTURE LEADERS                                                                                                             13
STRATEGIC OBJECTIVE 1:
CONVERSION TO A COMPREHENSIVE UNIVERSITY

 KEY                                     TARGETS
 PERFORMANCE
 INDICATORS                              2016                      2017                           2018                      2019                       2020

 New career-focused bachelor, diploma    Bachelor of Heritage      Final Department of            First intake of           Second intake of           Third intake of
 and certificate programmes               Studies submitted to      Higher Education and           50 students               80 students                100 students
                                         Department of Higher      Training approval and
                                                                                                  Bachelor degree in        Submission of              First intake of
                                         Education and Training    Council on Higher
                                                                                                  Optometry curriculated    curriculum for internal    40 students
                                                                   Education accreditation
                                                                                                  and benchmarked           review and approval
                                                                   obtained
                                                                                                                            Submission of programme
                                                                                                                            for external review, ap-
                                                                                                                            proval and accreditation
                                                                                                                            (Department of Higher
                                                                                                                            Education and Train-
                                                                                                                            ing, Council on Higher
                                                                                                                            Education, South African
                                                                                                                            Qualifications Authority)

 Introduction of three allied-health     Consultations for         Submit curricula to            Recruitment of students   First intake of 40         Second intake of 40
 professional programmes in the School   curriculum development    internal structures for                                  students in each of the    students in each of the
                                                                                                  Entering of programme
 of Health Sciences:                     and collaboration         review and approval                                      three new programmes       three new programmes
                                                                                                  in the Univen programme
                                         with WITS
 Clinical Associate                                                Submit curricula to            qualifications mix
                                         Consultation with the     external structures
 Physiotherapy
                                         Health Professions
                                                                   Final Department of
 Radiography                             Council of South Africa
                                                                   Higher Education and
                                         (HPCSA)
                                                                   Training approval and
                                                                   Council on Higher Educa-
                                                                   tion / Health Professions
                                                                   Council of South Africa
                                                                   accreditation obtained
                                                                   Negotiations with
                                                                   Department of Health
                                                                   (DoH) Limpopo for
                                                                   joint appointment of
                                                                   practitioners for lecturing

14                                                                                               UNIVERSITY OF VENDA · STRATEGIC PLAN 2016 - 2020 · CREATING FUTURE LEADERS
STRATEGIC OBJECTIVE 2:
QUALITY TEACHING AND LEARNING

Univen is a largely undergraduate higher education institution with approximately 88% of its
                                                                                                     Table 1: Pass rates and number of graduates 2010 - 2014
student headcount enrolled in undergraduate certificate, diploma and degree programmes.
It is for this reason that teaching and learning has to be of exceptionally high quality, using                                 2010           2011          2012         2013         2014
appropriate teaching methodologies to impart the requisite skills, knowledge and attitudes to        Pass rate Graduates        80.09          82.62         84.05        82.84        84.71
ensure the employability of our graduates.
The quality of teaching and learning rests as much on the quality of the curriculum as on           Academics at Univen have consistently identified inadequate student support both in terms of
the quality of its delivery. The quality of the curriculum will be ensured through regular          teaching, assessment and career guidance, as well as in terms of students' personal, social and
benchmarking and periodic review, while alignment of all programmes with the higher                 psychological problems, as one of the reasons for low academic success. In response to these
education qualification sub-framework will confirm adherence to national standards.                 challenges, Univen has established a number of student and staff development programmes
Furthermore, it will be determined through student evaluation of modules and peer-evaluation        designed to enhance success in teaching and learning.
and performance management of academics. It will also be enhanced through the increased
utilisation of new teaching technologies. The full roll-out and optimal utilisation of the          A key strategic priority is improving first-year success, as research has proved conclusively
Blackboard e-Learning platform is a strategic imperative over the next five years.                   that success at first-year level is the best indicator of subsequent academic success. This
                                                                                                    will be affected through the development of appropriate interventions based on the early
All career-focused and professional programmes accredited by professional bodies
                                                                                                    identification of students-at-risk and of modules with poor-pass rates. One such intervention
require a formal work-integrated learning component, which contributes to enhancing
                                                                                                    is the formal induction of new students through the roll-out of a first-year experience
the quality and employability of our graduates. This will be facilitated by the
                                                                                                    programme. The utilisation of student tutors and tutorial classes are two additional strategic
appointment of a work-integrated learning coordinator who will be responsible for
                                                                                                    interventions which utilise the proven efficacy of peer-learning to enhance student success.
incorporating and formalising relevant programmes, including exploring the possibilities
of exposing all students to workplace and cooperative learning. In addition, to facilitate
employability, we will introduce compulsory non-credit bearing modules on soft skills for our
final year undergraduate students, as well as undertake regular three-yearly alumni surveys,
including collecting information on the employment status of our graduates, to influence
curriculum innovations.
The improvement of throughput, graduation and retention rates in higher education is
a national priority. From 2008, the university has put in place strategies to improve the success
rates of students, such as strictly adhering to the admission points scores recommended
by Higher Education South Africa - ensuring that only students who have a good average
pass are considered for admission. In addition, the introduction of academic staff training
in assessment, moderation, material development and facilitation has ensured that the
university's rules pertaining to student progression and completion of study are strictly
enforced. Schools are also increasingly making use of tutors for supplemental teaching. The
performance of students over the past five years shows an annual improvement in success
rates, confirming the positive impact of the initiatives undertaken.

UNIVERSITY OF VENDA · STRATEGIC PLAN 2016 - 2020 · CREATING FUTURE LEADERS                                                                                                                      15
STRATEGIC OBJECTIVE 2:
QUALITY TEACHING AND LEARNING

Institutional success in improving the quality of teaching and learning depends on collaboration      quality enhancement project, which was launched in 2014 with the aim of .improving student
between academic programmes and academic-support services that are already in place. This             success. The project goals are -
ensures a systematic campus-wide approach to increasing student-success rates. It is also             UÊ ˆ"«ÀœÛˆ˜}ÊÌ iʵÕ>ˆÌÞʜvÊ՘`iÀ}À>`Õ>ÌiÊi`ÕV>̈œ˜>Ê«ÀœÛˆÃˆœ˜
important to ensure that staff members possess the requisite skills to teach students who
                                                                                                      UÊ ˆ"«ÀœÛˆ˜}ÊÌ iʘՓLiÀʜvʵÕ>ˆÌÞÊ}À>`Õ>ÌiÃ
come to the university, academically under-prepared. In line with this the university established
                                                                                                      UÊ `
                                                                                                         Ê iÛiœ«ˆ˜}Ê>Ê ˆ} iÀÊi`ÕV>̈œ˜ÊÃÞÃÌi"ÊÌ >ÌʈÃʈ"«ÀœÛˆ˜}ÊVœ˜Ìˆ˜ÕœÕÏÞÊ>Ãʓi"LiÀÃʜvÊÌ iÊ
the Centre for Higher Education Teaching and Learning. This centre ensures the development
                                                                                                         higher education community collaborate to share good practices and solve shared problems.
of a holistic and coordinated approach to staff and student development programmes to
enhance success in teaching and learning. The centre coordinates the programmes, in close             Univen's emphasis on academic support and improving the teaching competences of
collaboration with the Organisational Development and Training Unit in the Human Resources            academics speaks directly to the tenets of the project objectives. The sharing of best practice
Department, Student Affairs and schools. Univen is also sharing best practices in teaching            envisaged in the project will therefore contribute to strengthening and augmenting our own
and learning with other universities in the country through the Council on Higher Education's         internal efforts.

KEY PERFORMANCE AREA 1: QUALITY OF THE CURRICULUM
  KEY                                               TARGETS
  PERFORMANCE
  INDICATORS                                        2016                          2017                       2018                         2019                         2020

  3-year cycle of programme                         5% of all programmes          25% of all programmes      50% of all programmes        75% of all programmes        100% of all programmes
  quality reviews                                   reviewed and quality          reviewed and quality       reviewed and quality         reviewed and quality         reviewed within the
                                                    recommendations               recommendations            recommendations              recommendations              past three years and
                                                    implemented                   implemented                implemented                  implemented                  quality recommendations
                                                                                                                                                                       implemented

  All programmes appropriately aligned              All category B program-       All category C             All category C               All programmes on
  to the higher education qualifications             mes aligned and               programmes reviewed        programmes aligned and       programme qualifications
  sub-framework                                     added to programme                                       added to programme           mix aligned to the higher
                                                    qualifications mix                                        qualifications mix            education qualifications
                                                                                                                                          sub-framework

  Work integrated and workplace                     Work integrated learning      Work integrated            Appropriate academic         Workplace learning
  learning                                          coordinator appointed         learning implemented       programmes identified         introduced into all
                                                    and ork integrated            in all career-focused      for implementation of        appropriate academic
                                                    learning formalised in all    programmes                 workplace learning           programmes
                                                    professional programmes

16                                                                                                         UNIVERSITY OF VENDA · STRATEGIC PLAN 2016 - 2020 · CREATING FUTURE LEADERS
KEY PERFORMANCE AREA 2: DELIVERY OF THE CURRICULUM
 KEY                                      TARGETS
 PERFORMANCE
 INDICATORS                               2016                      2017                     2018                      2019                    2020

 Curriculum delivery evaluated            Workshops with            All teaching staff       All teaching staff        Research project on     Review of the evaluation
 by students                              academics on the new      evaluated by students    evaluated by students     impact of student       of teaching based on
                                          online evaluation of      in at least one module   in at least two modules   evaluation on quality   impact results
                                          teaching and modules      they teach               they teach                of teaching

 Implementation of e-Learning             Centre of Higher          25% of academics         50% of academics          75% of academics        All academics have
                                          Education Training        trained in delivery      trained in delivery       trained in delivery     undergone formal
                                          and Learning designs      of e-learning            of e-learning             of e-learning           training in delivery
                                          training programme for                                                                               of e-learning
                                          academics in e-learning
                                          methodology and
                                          technology
                                          10% of all modules in     25% of all modules in    50% of all modules in     75% of all modules in   All modules in electronic
                                          electronic format and     electronic format and    electronic format and     electronic format and   format and uploaded
                                          uploaded onto the         uploaded onto the        uploaded onto the         uploaded onto the       onto the e-learning
                                          e-learning platform       e-learning platform      e-learning platform       e-learning platform     platform

UNIVERSITY OF VENDA · STRATEGIC PLAN 2016 - 2020 · CREATING FUTURE LEADERS                                                                                                 17