Wireless Audio - Radiant360 R7/R6 Portable - User Manual imagine the possibilities
Page content transcription
If your browser does not render page correctly, please read the page content below
WAM7500/WAM7501/WAM6500/WAM6501

Wireless Audio - Radiant360
            R7/R6 Portable
                                                  User Manual

 imagine the possibilities
 Thank you for purchasing this Samsung product.
 To receive more complete service,
 please register your product at
 www.samsung.com/register
Contents
Getting Started                                                     Using the Samsung
Accessories.................................... 4
                                                                    Multiroom App
Standby Mode................................ 4                      Switching the input source........... 22
Front Panel..................................... 5                  Playing Music............................... 23
Rear Panel - WAM6500/WAM6501... 6                                     Playing music files stored in your
                                                                      smart device......................................23

Connections                                                           Listening to streaming music..............26
                                                                      Listening to music from nearby
Preparing connection..................... 7                           Devices..............................................26
  Requirements.......................................7              Listening to Internet radio............. 27
  Installing the Samsung Multiroom
                                                                      Following a station.............................28
  App......................................................7
                                                                      Setting Presets...................................29
  Launching the Samsung Multiroom
  App......................................................7        Using the Settings menu............... 30
Connecting wirelessly..................... 8                          Add Speaker......................................30
  Connecting to your wireless network                                 Guide.................................................31
  automatically (Android/iOS)..................8
                                                                      Services.............................................31
  Connecting to your wireless network
                                                                      Device Settings..................................32
  manually (Android)..............................10
                                                                      Clock.................................................35
  Connecting to your wireless network
  manually (iOS)....................................12                Support..............................................36
Connecting to a HUB (Not                                              Information.........................................37
Included)...................................... 15
  Adding a HUB....................................18
Adding additional speaker(s)......... 19
Connecting to Bluetooth Devices... 20

                                                               44
                                                               2
Selecting One                                                   Regulatory Compliance
Speaker or Multiple                                             Statements................................... 50

Speakers                                                          Warning.............................................50
                                                                  FCC Statement: (for U.S.A)................50
Selecting a speaker to use............ 39
                                                                  IC Statement: (for Canada).................51
  Selecting another speaker for
  playback ...........................................39          Important Safety Instructions..............52

Grouping Multiple Speakers.......... 40                         Safety precautions........................ 53

Configuring the Surround Sound                                    Power Supply Precautions.................53
Mode............................................ 41               Installation Precautions.......................53
                                                                  Usage Precautions.............................54
Using miscellaneous                                               Cleaning Precautions.........................55
functions
                                                                Additional Information................... 55
Connecting with the TV                                            About the Network Connection..........55
SoundConnect function................ 43
                                                                  Compatible products..........................55
Playing Media Content Saved on
                                                                Copyright..................................... 55
a PC............................................. 44
  Wireless Audio - Multiroom for
  Desktop.............................................44

Appendix
Troubleshooting............................ 46
Open Source License Notice........ 48
Licences....................................... 48
Specifications............................... 49

                                                           44
                                                           3
Getting Started
AA Accessories
Confirm you have the supplied accessories shown below.
• WAM7500/WAM7501

                Quick Setup Guide
                 (AH68-02866A)

• WAM6500/WAM6501

         Power Adapter
                                           Quick Setup Guide
    (WAM6500 : BN44-00799C
                                            (AH68-02867A)
   / WAM6501 : BN44-00799D)

AA Standby Mode
    `` In Wi-Fi / Bluetooth / TV SoundConnect mode
    -- The product switches to Standby mode if there is no operation (music playing, button
       operation, app use) for 15 minutes.

         NOTES
         99 While playing music in the Wi-Fi, Bluetooth, or TV SoundConnect connection modes, the WAM
            speaker will not switch to Standby mode.
         99 The WAM6500 and WAM6501 models use battery power if the power adapter is disconnected and
            the Standby mode is activated.
            (You can minimize battery consumption by pressing the POWER button on the rear of the speaker
                                                                                  POWER   DC24V   SERVICE

            and turning the speaker off.)               POWER   DC24V   SERVICE

                                                   44
                                                   4
AA Front Panel

                                    q w

                                                                               Be careful not to insert your hand
                                                                               or finger into the tweeter opening
                                                                               on top of the product.

          < WAM7500/WAM7501 >                    < WAM6500/WAM6501 >
                                e r t

                         Touch this button to switch to TV SoundConnect or Bluetooth.
 1   Source button
                         Touch and hold this button for more than 5 seconds to re-search TV SoundConnect.

                         Touch this button to switch the speaker to Standby mode.
                         - Standby mode: This mode turns off the product's basic functions and maintains
 2   Standby button      Wi-Fi connections only.
                              If you touch and hold this button for 3 seconds, the speaker turns off.
                              (WAM7500, WAM7501 only)

                         Touch this button to play or pause playback.
 3   Play/Pause button
                         Pause does not work when the speaker is set to TV SoundConnect.

                         Controls the volume level.
                         Touch and hold the + button to increase the volume level. Touch and hold the
     Volume Control
 4   button
                         - button to decrease the volume level.
                         Touch and hold both the + and - buttons simultaneously for 5 seconds to reset the
                         product.

                                                  44
                                                  5
Displays speaker's battery status.
                            Battery LED indicator when power               Battery LED indicator when power
                            adapter is connected                           adapter is not connected
                            • Red LED : Charging                           • Green LED : 100% to 10% of charge
                            • LED OFF : Fully charged                         remaining
      Battery Status
                                                                           • Slow red blinking : 10~0% remaining
 5    (WAM6500, WAM6501     • Rapid red blinking : Not charging
                                                                           -- Slow red blinking indicates that the
      Only)
                                                                              battery requires charging. Connect the
                                                                              power adapter.
                                                                           -- The sound volume may decrease and
                                                                              the speaker may turn off automatically
                                                                              when the battery is low.

     NOTES
     99     + Add Speaker : Touch and hold both buttons simultaneously for 5 seconds to use the Add
        Speaker function.
     99 + Wi-Fi Setup : Touch and hold both buttons simultaneously for 5 seconds when connecting this
        speaker to your network using the Wi-Fi Setup method.
     -- For more details, follow the instructions in the app on your smart device.

AA Rear Panel - WAM6500/WAM6501

                                                           q       w        e
                                                           POWER   DC24V   SERVICE

                                 POWER   DC24V   SERVICE

                        < WAM6500/WAM6501 >

 1    POWER                To turn the product on or off, press and hold this button for more than 2 seconds.

                           The connection for the speaker's power adapter.
 2    DC 24V                   Charging stops if the volume level reaches 25 or more.
                               (The maximum volume level of this product is 30.)

 3    SERVICE              For service only. Lets service technicians update the firmware of the product.

                                                           44
                                                           6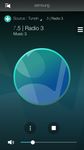 Connections
AA Preparing connection

                 Internet              Wireless Router                Samsung Link
❚❚ Requirements
             1    A Wireless Router and a Smart Device.
             2    The wireless router must be connected to the Internet.
             3    The smart device must be connected to the router via a Wi-Fi connection.

❚❚ Installing the Samsung Multiroom App
To use the WAM speaker, you must download and then install the Samsung Multiroom App on
your smart device. You can download the app from Google play or the App Store.
With the Samsung Multiroom App installed, you can play music stored in your smart device,
from connected devices and other content providers, and from Internet radio stations through
the WAM speaker.
                             Android                      ANDROID APP ON
                                                                           iOS
 Market search : Samsung Multiroom                  Market search : Samsung Multiroom
                 ANDROID APP ON

❚❚ Launching the Samsung Multiroom App
To launch the Samsung Multiroom app, press the Multiroom app icon on your smart device.

 Samsung
 Multiroom

                 NOTE
                 99 Please terminate the Samsung Multiroom App when audio products are not used because the battery of
                    your smart device can be consumed quickly if the app is working.

                                                                 44
                                                                 7
AA Connecting wirelessly
❚❚ Connecting to your wireless network automatically (Android/iOS)

                              Wireless Router

  1   Plug the speaker into an electrical outlet.
  2   On your smart device, select the Samsung Multiroom app.
  3   Run the Tutorial if you want, and then press Done.
  4   Press Connect Now.
      • Your smart device searches for devices available for pairing.

                                                44
                                                8
5   Once your smart device finds the WAM speaker, it attempts to connect it to your wireless
    network.
    If your network requires a password, the password prompt appears on the smart device's
    screen.
    Use the on-screen keyboard to enter the password.
    • Depending on your network environment, the speaker may not connect automatically.
        If this occurs, select Manual Setup, and then go to pages 10~15 for instructions.
       Click here.

6   Press Connect.
    • The network connection is completed.

     NOTES
     99 To connect the WAM speaker to a secure wireless network safely, you must enter a valid password.
        -- If you have network specific questions about connecting this product to your home or work wireless
            network, consult your service provider or the network administrator.
     99 If the WAM speaker fails to connect to your network or the network connection does not work normally,
        move the speaker closer to the HUB or router, and then try again.
     99 The distance between devices, obstructions, or interference from other wireless devices may impact
        communication between the WAM speaker and your network.
     99 This product may be found by some other Wi-Fi devices. However, they are not allowed to connect to it.
     99 Once the Wi-Fi connection is established initially, it is maintained unless the wireless router is replaced
        or its network settings are changed.

                                                      44
                                                      9
❚❚ Connecting to your wireless network manually (Android)
Depending on your network environment, the speaker(s) may not connect automatically. If this
occurs, you can set up the WAM speaker manually to connect to the network.
  1   If the WAM speaker fails to connect to your network automatically, select Manual in the
      Samsung Multiroom app.

  2   Touch and hold the        Play/Pause and Standby buttons on the speaker
      simultaneously for more than 5 seconds to initiate Wi-Fi Setup.
      • After initiating Wi-Fi Setup, you have two minutes to establish the Wi-Fi connection
        using your smart device.

                             Wireless Router

                                               444
                                               10
3   On your smart device, press Next.
    • Your smart device searches for devices available for pairing.

4   Once your smart device finds the WAM speaker, the speaker and the smart device
    connect. Then, your smart device attempts to connect the speaker to your network.
    If you need to enter your network password, the password prompt appears on the smart
    device's screen. Use the on-screen keyboard to enter the password, and then go to
    Step 5. If you do not need to enter a password, the speaker will complete the network
    connection automatically.
5   Press Connect.
    • The network connection is completed.

                          If you need to
                          connect to a
                          different wireless
                          network, press
                          Select Wi-Fi.

                                               444
                                               11
❚❚ Connecting to your wireless network manually (iOS)
  1   If the WAM speaker fails to connect to your network automatically, select Manual in the
      Samsung Multiroom app.

  2   Touch and hold the        Play/Pause and Standby buttons on the speaker
      simultaneously for more than 5 seconds to initiate Wi-Fi Setup.
      • After initiating Wi-Fi Setup, you have two minutes to establish the Wi-Fi connection
        using your smart device.

                            Wireless Router

                                              444
                                              12
3   On your smart device, press Next.
    • Your smart device searches for devices available for pairing.

4   Go to Settings ; Wi-Fi in iOS, and then select Samsung Wireless Audio.
5   To connect your smart device to the WAM speaker, use the keyboard that appears to
    enter your password.
    • The default password is 1234567890.
    • The speaker and the smart device connect to each other.

                                            444
                                            13
6   Go back to the Samsung Multiroom app.
7   Select Next.
8   From the wireless network list, select your network.
9   If your network requires a password, the password prompt appears on the smart device
    screen. Use the onscreen keyboard to enter the password.
    • Once you finish entering, press Done. The WAM speaker connects to the network.

10 Go to Settings ; Wi-Fi in iOS, and then select the network that the speaker is
   connected to.
   (The speaker and the smart device must be connected to the same wireless router.)
   • The smart device connects to the network.
11 When the WAM speaker is completely connected, press Next.

                                            444
                                            14
12 Go back to the Samsung Multiroom app.
     • All network connections are finished.

AA Connecting to a HUB (Not Included)
 • If the WAM speaker fails to connect to your network or its network connection operates
   abnormally, place the speaker closer to the HUB or your router and try again.
 • The WAM speaker is a wireless network device. Its communications with your network
   may be disrupted because of the distance between it and other devices on the network,
   obstructions, or interference from other wireless devices.

                                              HUB

                                                                            Plug In
                                        LAN         Plug In
                      Wireless Router

  1   Connect a LAN cable to the router and an ETHERNET SWITCH port on the back of the
      HUB.
       NOTE
       99 You can connect the LAN cable to any ETHERNET SWITCH port on the HUB.

                                                     444
                                                     15
2   Attach the HUB's power cord to the power port on the rear of the HUB, and then plug
    the power cord into an electrical outlet.
3   The power (     ) and the HUB (     ) indicators on the HUB's front turn on.
    When the pairing indicator (     ) on the HUB begins to flash, plug the speaker(s) into an
    outlet.
    The pairing indicator on the speaker starts to flash.
    If the HUB's pairing indicator does not flash, press the SPK ADD button on the rear of the
    HUB.
     NOTE
     99 If you are adding multiple WAM speakers, connect all the speakers to electrical outlets. If you are not
        connecting all the speakers, refer to pages 19~21. Click here.
4   Wait until the pairing indicator on the speaker stops flashing. If the speaker's LED
    indicator turns solid blue, pairing is complete. The speaker may also beep.
     NOTES
     99 Place each speaker at least 20 inches (50 cm) from the HUB when connecting them to the HUB.
     99 Your smart device cannot connect to WAM speakers or the HUB if there is no wireless router.
     99 To confirm you have a proper connection, check the pairing indicator on the front of the HUB.
        -- When you turn on the HUB for the first time, there is a 20 minute pairing period.
           The pairing indicator (       ) will blink for these 20 minutes or until pairing occurs. When you press
           the SPK ADD button to pair additional speakers, the pairing period is reduced to 10 minutes. The
           pairing indicator (     ) flashes for 10 minutes or until pairing occurs. Turn on the WAM speaker you
           want to pair with the HUB while the pairing indicator is flashing.
        -- If pairing mode is turned off, start pairing mode again by pressing the SPK ADD button on the rear of
           the HUB and restart the speaker, or press and hold the         Play/Pause and Standby buttons at
           the same time for more than 5 seconds.
     99 For a proper connection, connect the HUB to your router before turning on your WAM speaker.
        -- Connecting the speaker to the HUB may take a few minutes.
        -- There will be a brief sound when the connection is established.
5   Connect your smart device to your Wi-Fi network. (The HUB and the smart device must
    be connected to the same router.)

                                                    444
                                                    16
6   Download the Samsung Multiroom app from Google Play or the App Store.
7   On your smart device, select the Samsung Multiroom app. Setup starts.

8   If the automatic setup fails, run the App again and follow the instructions in the app guide
    on your device to connect your WAM speaker and the HUB.

                                             444
                                             17
❚❚ Adding a HUB
Your WAM speaker and a HUB may not pair successfully if your speaker and the HUB are too
far apart or are on different floors.
In such cases, you can link two HUBs together by setting the second HUB to Repeater mode.
The additional HUB amplifies the signal and lets you pair your speaker to the closest HUB.
    1     Set the HUB that is connected to the wireless router
          to Pairing mode by pressing its SPK ADD button for 1
          second.
    2     Plug in the new HUB you are using as an extender,
          and then press its SPK ADD button for 10 seconds.
    3     The newly added HUB's LED indicators turn off and
          on, and it switches to Repeater mode.                                                      Product

    4     Once the connection between the two HUBs has been
          established, the added HUB's (    ) indicator stops
          blinking.                                                                      Used as a
                                                                                          extender

           NOTES
           99 If your smart device is not connected to your wireless router
              with a Wi-Fi connection, your WAM speaker will not appear                      HUB

              on the Samsung Multiroom app.
           99 Place the HUB that is in Repeater mode in an appropriate
              location between the speaker and the HUB that is connected to the wireless router.
           99 You can set only one HUB to Repeater mode.

Relocating the product
When relocating your WAM speaker, refer to the below table.

           Wireless router     If you want to connect your WAM               If you want to connect your WAM
 HUB                         speaker to the current wireless router.       speaker to a different wireless router.

                                                                           Turn off the speaker, relocate it, then
                                                                           establish the new connection as described
       Without a HUB
                                                                           in the installation instructions on pages 8
                             Turn off the speaker, relocate it, and then   through 17. Click here.
                             turn it on.
                                                                           Connect a LAN cable between the HUB
        With a HUB                                                         and the new wireless router, turn on the
                                                                           HUB, and then turn on the speaker.

                                                         444
                                                         18
AA Adding additional speaker(s)
To add additional speaker(s) to a network that already has connected WAM speakers, use the
Add Speaker function.
  1   Run the Samsung Multiroom app on your smart device.
  2   Press     to view the list of all speakers.
  3   Press    .
  4   Connect the power cable of the speaker to be added to a wall outlet.
      • When you connect the power cable of the speaker to a wall outlet, the speaker boots
        up (which takes about 30 seconds), and then initiates Wi-Fi setup automatically.
      • After initiating Wi-Fi Setup, you have two minutes to establish the Wi-Fi connection
        using your smart device.
  5   Press Add Speaker.

  6   Your smart device searches for available devices. Once it finds the speaker, it attempts to
      connect it to your wireless network. If your network requires a password, the password
      prompt appears on the smart device screen. Use the on-screen keyboard to enter the
      password.
      • Depending on your network environment, the speaker(s) may not be automatically
        connected. In such cases, refer to pages 10~11 Click here. for Android, or pages
        12~15 Click here. for iOS devices to continue.

                                                    444
                                                    19
7       Your additional new speaker is added.

AA Connecting to Bluetooth Devices
You can connect the WAM speaker to a Bluetooth device and enjoy the music stored in the
device.
      1    Turn on the Bluetooth function of your smart device, and then select Search.
      2    Select [Samsung] R7 or [Samsung] R6.
           The Bluetooth connection between the smart device and the WAM speaker is made.
            NOTES
            99 A Bluetooth device may cause noise or malfunction, depending on usage, if:
               -- A part of your body is in contact with the receiving/transmitting system of the Bluetooth device or
                  the speaker.
               -- It is subject to electrical variation from obstructions caused by a wall, corner, or by office
                  partitioning.
               -- It is exposed to electrical interference from same frequency-band devices including medical
                  equipment, microwave ovens, and wireless LANs.
            99 Pair the speaker with the Bluetooth device while they are close together.
            99 The Bluetooth connection will be lost if the distance between the speaker and the Bluetooth device
               exceeds 32 feet (10 m). Even within range, the sound quality may be degraded by obstacles such as
               walls or doors.

                                                         444
                                                         20
99 This speaker may cause electric interference during its operation.
99 The speaker supports SBC data (44.1kHz, 48kHz).
99 The AVRCP feature is not supported.
99 Connect only to a Bluetooth device that supports the A2DP (AV) function.
99 You cannot connect to a Bluetooth device that supports only the HF (Hands Free) function.
99 Only one Bluetooth device can be paired at a time.
99 If you unplug the speaker, the Bluetooth connection is terminated. To re-establish the connection, plug
   the speaker into an outlet, and then reset the Bluetooth connection.

                                             444
                                             21
Using the Samsung Multiroom App
AA Switching the input source
You can change the input source (Music Services, Nearby Devices, or Other Music Sources) for
a selected speaker.
  1   Press Source.
  2   Select a source from the list of sources that appears.

                                              444
                                              22
AA Playing Music

❚❚ Playing music files stored in your smart device
  1   Press Source.
  2   Select Songs on Phone (files stored in the smart device).
      • If the source is already set to Songs on Phone, press .
  3   Select a category.
      • Songs : Lists all the music files by name.
      • Albums : Lists all the music files by album.
      • Artists : Lists all the music files by artist.
      • Genres : Lists all the music files by genre.
      • Folders : Lists all the music files by stored folder.
      • Playlists : Lists all the music files by playlist.
      • Favorites : Lists all the music files marked as favorites.
  4   After selecting a category, find and select your desired music.

                                                  444
                                                  23
`` Using the playback menu
1   Press    .
2   A popup menu appears. Select a function.
    • Shuffle : Randomly plays music files from the song queue.
    • Repeat : Repeatedly plays the current music file or all the music files in the song
      queue.
    • Add to Playlist : Adds the current song to a new or existing playlist.
    • Favorite : Adds the current song to your favorites list.
    • Equalizer : Lets you adjust how the speaker sounds by changing the loudness of the
      high, mid, and low frequency ranges.

                                             444
                                             24
`` Adjusting the Equalizer
You can select factory pre-sets or create your own settings by manually adjusting the
loudness of six frequency ranges.
1   Press     .
2   A pop-up menu appears. Select Equalizer.
3   To adjust the frequency ranges, drag the sliders up or down.
4   When done, press OK.

     NOTE
     99 The Equalizer is not available when speakers are grouped.

                                                  444
                                                  25
❚❚ Listening to streaming music
Listening to streaming music
  1    Press Source.
  2    From Music Services, select a service.

        NOTES
        99 Depending on your region or the manufacturer of your smart device, supported content services may
           differ.
        99 You cannot initiate a subscription to a service using your smart device.
           To use a for-pay service, first subscribe to the service through your computer.

❚❚ Listening to music from nearby Devices
You can listen to music stored on another device, such a PC, tablet, or smart phone, that is
connected to the same network.
  1    Press Source.
  2    From Nearby Devices, select a device.
  3    You can play music files stored in the device you selected through the WAM speaker.

                                                     444
                                                     26
AA Listening to Internet radio
 1   Press Source.
 2   Select TuneIn.
 3   Select a category.
     • Following : Shows the list of stations added to the preset list or marked by you as
       stations you are following. By default, 3 radio stations are displayed in the preset list.
     • Browse : Lists all supported Internet radio stations.
     • Search : Allows you to search for an Internet radio station using keypad input.

 4   Find and select a station.

                                               444
                                               27
❚❚ Following a station
You can add a station to the Following list.
  1    Select a station, and then press the Options button.
  2    A popup menu appears. Select +Following.
  3    Press Save.
       • The station you are currently listening to is added to the Following list.

                                                444
                                                28
❚❚ Setting Presets
You can add an Internet radio station you are following to the preset list or re-arrange the order
of the list.
  1    Press     to display a popup menu, and then select +Following in the menu.
  2    Press   , and then press Edit.

  3    Touch, hold, and then drag the desired station from Following to Presets.
  4    To finish editing, press Done.

                                                444
                                                29
AA Using the Settings menu
   1     Press   .

❚❚ Add Speaker
   `` Add Speaker
       You can connect multiple Samsung WAM wireless speakers to the app.

                                             444
                                             30
❚❚ Guide
   `` Tutorial
      Select the Tutorial to learn how to use the app.

❚❚ Services
Displays a list of available services.

         NOTES
         99 Depending on your region or smart device manufacturer, supported content services may differ.
         99 You cannot initiate a subscription to a service using your smart device.
            To use a for-pay service, first subscribe to the service through your computer.

                                                      444
                                                      31
❚❚ Device Settings
   `` Front LED
    • Off : Turns off the product's Front LED indicators.
    • On : Turns on the product's Front LED indicators.

  `` Sound Feedback
    • Off : Turns off Sound Feedback.
    • On : Turns on Sound Feedback.

                                             444
                                             32
`` Software Update
    Shows the product's current software version and lets you turn auto update on or off.
    • On : When on, automatically updates the software when new firmware is released.
    • Off : Turns off the auto update function.

         NOTES
         99 Auto update is available when your WAM speaker is connected to a network and the Software Auto
            Update function is set to On.
         99 We strongly recommend that you set Software Update for all your Samsung WAM products to On.
            Problems with networked functions (such as Group Play) may otherwise occur due to incompatibility
            issues when a variety of software versions is used on linked products.
         99 Software Auto Update will only update the speaker when the speaker is in Standby mode.
            To manually place the speaker in Standby mode:
            1) Set Software Auto Update to On.
            2) Touch the Standby button on the speaker.
Update Now
You can update your speaker's software manually using Update Now.
1    Press    .
2    Select Software Update.
3    Select Update Now.
4    Update Now searches for a current software update. If an update is available, it will
     download and install the update on your speaker. If you already have the most current
     software on you speaker, Update Now displays "Latest version already installed.".

                                                  444
                                                  33
`` Continuous Play
  When Continuous Play is on, music you are listening to on a mobile device through the
  Multiroom app will automatically play on your WAM speaker when you come within range
  of your router. For example, if you are listening to a song on your mobile device outside,
  and you have Continuous Play on, that song will automatically start playing on your WAM
  speaker when you go inside and get within range of the router.

`` Hub : Wireless Band
  You can change the wireless band of your HUB depending on the wireless communication
  environments at home.

                                           444
                                           34
❚❚ Clock
   `` Alarm (WAM7500, WAM7501 Only)
    Lets you set the Alarm.

  `` Sleep Timer
    Lets you set the Sleep Timer.

                                      444
                                      35
❚❚ Support
   `` Device ID
     Lets you check the Device ID.

  `` Contact Samsung
     Provides a link to the Samsung website.

                                               444
                                               36
`` Open Source Licenses
    Lets you view the Open Source Licenses.

❚❚ Information
   `` Samsung Multiroom
    Allows you to check the software version number of the speaker.

                                             444
                                             37
`` App Version
  Allows you to check the Samsung Multiroom app version.

                                       444
                                       38
Selecting One Speaker or Multiple Speakers
AA Selecting a speaker to use
You can select a speaker from among the connected speakers to play music through and select
the input source and music files to play.
  1    Press     to go to the list of all speakers.
  2    Select a speaker.
  3    If no input source is assigned to the selected speaker, the music files stored in the smart
       device are listed. Select the desired music file to play.
       • The selected speaker plays the music.

❚❚ Selecting another speaker for playback
Use this function to assign the currently playing input source to another speaker.
  1    From the playback screen, press       .
  2    Select a speaker.

                                                  444
                                                  39
AA Grouping Multiple Speakers
You can group multiple speakers into one group that plays the same music.
Grouping is available only when multiple speakers are connected to the same network.
  1   Press       to go to the list of all speakers.
  2   Press Group.
  3   Select other speakers to add to the group, and then press Done.

        NOTES
        99 Group playback is not available for Bluetooth and TV SoundConnect connections.
        99 A speaker can be added to one group only.

                                                     444
                                                     40
AA Configuring the Surround Sound Mode
You can configure multiple speakers for a surround sound effect.
  1   Press     to go to the list of all speakers.
  2   Press Surround.

  3   Press and hold a speaker icon, drag it to the desired place, and then select Next.

                                                       2

                                               1

                                                 444
                                                 41
4   Test the speakers, adjust their decibel level, and then press Done.

     NOTES
     99 The Surround Mode may be cancelled automatically if the network connection is unstable.
     99 When enabling the Surround Sound mode, we recommend that you set the same decibel levels for the
        speakers you assign to Front L and Front R.

                                                444
                                                42
Using miscellaneous functions
AA Connecting with the TV SoundConnect function
This section explains how to connect the speaker to Bluetooth compatible SAMSUNG TVs.

                                                 Connect
                               TV

   1   Plug the WAM speaker into an outlet, and then touch the               Source button on its front
       panel.
   2   Set Add New Device to On in the TV's TV SoundConnect menu. (Refer to the TV's
       user manual for details.)
   3   A message asking whether to proceed with Bluetooth pairing appears. Select Yes.
       The speaker is paired to the TV.
         NOTES
         99 Press and hold the Source button for more than 5 seconds to reset TV SoundConnect.
         99 Optimal pairing distance is 6.5 feet (2 m) or less.
         99 If you unplug the WAM speaker, the TV SoundConnect connection is terminated. To re-establish the
            connection, plug the speaker into an outlet, and then reset the TV SoundConnect connection.
         99 When the speaker is in Standby mode, the TV SoundConnect connection is not terminated.
         99 Only one WAM speaker can be connected to the TV via TV SoundConnect.
         99 Operational range of TV SoundConnect
            -- Recommended pairing range: up to 6.5 feet (2 m).
            -- Recommended operating range: up to 32 feet (10 m).
            -- The connection may be lost or sound may stutter if the distance between the TV and the product
                exceeds 32 feet (10 m).
         99 Before activating this function, be sure to activate the Samsung TV's SoundConnect or SoundShare
            mode.
         99 The SoundConnect feature is available on some Samsung TVs released since 2012. Check whether
            your TV supports the SoundShare or SoundConnect function.
            (For further details, refer to the TV's user's manual.)
         99 Instability in the network environment may cause connection to be lost or sound to stutter.

                                                    444
                                                    43
AA Playing Media Content Saved on a PC
❚❚ Wireless Audio - Multiroom for Desktop
To play iTunes music files and other shared PC music files through your WAM speaker, install the
Wireless Audio - Multiroom for Desktop program.
To download the Wireless Audio - Multiroom for Desktop program and install it, visit www.samsung.
com, and then select Owners & Support > Manuals & Downloads. Enter the name of your product
in the search field (WAM7500 or WAM6500), and then select the name from the drop down list. On
the screen that appears, select Manuals & Downloads. Under Downloads, select More.

        NOTES
        99 The PC containing the shared folders and your WAM speaker must be connected to the same wireless router.
        99 If the connected Windows PC or the Mac switches to display-off mode, power saving, or hibernation mode,
           the App will stop.
        99 If the firewall of the Windows computer is activated, the App may not work. If this occurs, deactivate the
           the Windows firewall and any other firewalls that are active.
        99 The *.pkg file is for Mac while *.msi is for Windows. Download the appropriate file for your computer and
           install it.
        99 Supported OS: Windows 7 or higher, Mac OS X 10.7 or later.

To use the Wireless Audio Multiroom for Desktop program after you have installed it, follow these
steps:
    1      Double click the program's icon on the PC's desktop.
    2      Select Next to set the shared folders.

                                                                                                    Wireless Audio
                                                                                                    - Multiroom for
                                                                                                    Desktop: Off, On

                                                                           You can set the app
                                                                           to allow or block an
                                                                         external device's access
                                                                                to your PC.

                                                         444
                                                         44
3      Select the content type and add the selected folder to the shared folders list.
       After sharing folders, make sure to press the Done button.

                     1
                      2

                                                            3

4      On your smart device, open the Samsung Multiroom app.
5      Select Source > Nearby Devices, and then select your PC. The shared PC folders and
       music files are displayed. (For further details, refer to page 26) Click here.

    NOTE
    99 After adding to or changing the contents of shared folders, make sure to press the button.
       If you don't press the button, the files shared by your computer may not displayed in the Samsung
       Multiroom app.

                                                   444
                                                   45
Appendix
AA Troubleshooting
Refer to the table below when this product does not function properly. If the problem you are
experiencing is not listed below or if the instructions below do not help, turn off the product,
disconnect the power cord, and contact Samsung Electronics at 1-800-SAMSUNG (1-800-726-
7864).

             Symptom                               Check                                  Remedy
 The unit will not turn on.         •• Is the power cord plugged into the •• Connect the power cord to the
                                       outlet?                               outlet.
 My HUB and WAM speaker won't       •• When the Hub is plugged in, do    •• Reset the HUB. (Refer to the HUB's
 pair.                                 the HUB's front indicators show      user manual for details.)
                                       it's operating properly?             Unplug the HUB and plug it in
                                    •• Is the LAN cable connected to        again. Check whether the pairing
                                       the wireless router and the HUB      indicator on the front of the HUB is
                                       properly?                            blinking or not.
                                    •• Make sure the product's front LED •• Reset the WAM speaker. (see page
                                       turns from red to blue.              5) Click here.
                                                                            Unplug the WAM speaker and plug
                                                                            it in again. Check whether the
                                                                            pairing indicator on the front of the
                                                                            WAM speaker is blinking or not.
 A function does not work when      •• Is there static electricity in the air? •• Disconnect the power plug and
 the button is pressed.                                                           connect it again.
 No sound.                          •• Is the volume set to minimum?        •• Connect the speaker correctly.
                                                                            •• Adjust the volume.
 The TV SoundConnect (TV pairing)   •• Does your TV support TV              •• TV SoundConnect is supported by
 failed.                               SoundConnect?                           some Samsung TVs released after
                                    •• Is your TV firmware the latest          2012. Check your TV to see if it
                                       version?                                supports TV SoundConnect.
                                    •• Does an error occur when             •• Confirm TV SoundConnect is set to
                                       connecting?                             On in your TV's menu.
                                                                            •• Update your TV with the latest
                                                                               firmware.
                                                                            •• Contact the Samsung Call Center.
                                                                            •• Touch and hold the Source
                                                                               button for more than 5 seconds
                                                                               to reset TV SoundConnect and
                                                                               connect a new TV.

                                                     444
                                                     46
Symptom                              Check                                Remedy
The HUB doesn't work properly.   •• Is the HUB plugged in?            •• Plug in the HUB.
                                 •• Is the LAN cable connected to     •• Connect the LAN cable to an
                                    the wireless router and the HUB      ETHERNET SWITCH port on
                                    properly?                            the back of the HUB and to your
                                 •• When the Hub is plugged in, do       wireless router.
                                    the HUB's front indicators show   •• Reset the HUB. (Refer to the HUB's
                                    it's operating properly?             user manual for details.)
                                                                      •• If you experience troubles with
                                                                         connecting the HUB and WAM
                                                                         speaker, try relocating the WAM
                                                                         speaker so that it is closer to the
                                                                         wireless router or HUB.
The WAM speaker doesn't work •• Is the product plugged in?            •• Plug in the product.
properly.                    •• Does the product's front LED          •• Check whether the Wi-Fi router
                                indicator remain red 5 minutes           you're using had been certified for
                                after turning on?                        Wi-Fi.
                                                                      •• Unplug the speaker, plug it back
                                                                         in, and then reconnect it to the
                                                                         router.
                                                                      •• Reset the WAM speaker. (see page
                                                                         5) Click here.
                                                                      •• If used with a HUB
                                                                         -- Make sure your smart device
                                                                             and the HUB are connected to
                                                                             the same Wi-Fi network.
                                                                         -- Make sure the HUB's indicator
                                                                             LED's show that it is working
                                                                             correctly. (See page 16, item 3.)
                                                                            Click here.
                                                                        -- If the problem persists, reset the
                                                                           HUB. (Refer to the HUB's user
                                                                           manual for details.)
                                                                        -- Unplug, then plug in the HUB.
                                                                           Then, unplug and plug in the
                                                                           WAM speaker.
                                                                        -- If you experience troubles with
                                                                           connecting the HUB and WAM
                                                                           speaker, try relocating the
                                                                           speaker so that it is closer to
                                                                           the wireless router or HUB.

                                                 444
                                                 47
Symptom                                  Check                                  Remedy
 I cannot group products.             •• Are the WAM speakers connected •• If the speakers are connected to
                                         to the network via Wi-Fi?         the network via Bluetooth or TV
                                                                           SoundConnect, you cannot use the
                                                                           group products function.
 The Multiroom app doesn't work •• Does an error occur when                  •• Make sure your smart device is
 properly.                         accessing the app?                           compatible with the app. (See
                                                                                page 55) Click here.
                                                                             •• Make sure the app is the latest
                                                                                version.
                                                                             •• Make sure your WAM speaker's
                                                                                front LED turns from red to blue.
                                                                             •• If used with a HUB
                                                                                -- Make sure the HUB and the
                                                                                    smart device are connected to
                                                                                    same router.
                                                                                -- Make sure the HUB's indicator
                                                                                    LED's show that it is working
                                                                                    correctly. (See page 16, item 3.)
                                                                                    Click here.
                                                                                -- If you experience troubles with
                                                                                   connecting the HUB and WAM
                                                                                   speaker, try relocating the
                                                                                   speaker so that it is closer to
                                                                                   the wireless router or HUB.

     NOTE
     99 If the problem persists, contact the Samsung Call Center for troubleshooting.

AA Open Source License Notice
• For further information on Open Sources used in this product, please visit the website: http://
  opensource.samsung.com

AA Licences
• The Spotify Software is subject to third party licenses found here :
  www.spotify.com/connect/third-party-licenses.
• For more information about Spotify Connect, please visit www.spotify.
  com/connect

                                                       444
                                                       48
AA Specifications
• WAM7500/WAM7501

                      Weight                               7.5 Ibs
                      Dimensions                           7.1 (W) X 7.1 (D) X 16.6 (H) inches
       General
                      Operating Temperature Range          +41°F to +95°F
                      Operating Humidity Range             10 % to 75 %
                      Wireless LAN                         Built-in
                                                           WEP (OPEN/SHARED)
      Network
                      Security                             WPA-PSK (TKIP/AES)
                                                           WPA2-PSK (TKIP/AES)

• WAM6500/WAM6501

                      Power Requirements                   DC24V        2.5A
                      Weight                               4.0 Ibs
       General        Dimensions                           6.2 (W) X 6.2 (D) X 9.1 (H) inches
                      Operating Temperature Range          +41°F to +95°F
                      Operating Humidity Range             10 % to 75 %
                      Wireless LAN                         Built-in
                                                           WEP (OPEN/SHARED)
      Network
                      Security                             WPA-PSK (TKIP/AES)
                                                           WPA2-PSK (TKIP/AES)

-- Network speeds equal to or below 10Mbps are not supported.
-- Design and specifications are subject to change without prior notice.
-- For power supply and power consumption information, refer to the label attached to the
   product.
-- See product bottom for important safety information.
-- Weight and dimensions are approximate.
-- Dispose unwanted electronics through an approved recycler.
   To find the nearest recycling location, go to our website: www.samsung.com/recyclingdirect
   or call, (877) 278 - 0799.
-- This user manual is based on the product using the Android or iOS operating system.
-- The Multiroom app screen is based on the Android operating system. The screen
   configuration may change after you upgrade the software version.
-- For further details on using the product, visit www.samsung.com.

                                                49
                                                444
AA Regulatory Compliance Statements

                                                  CAUTION
                                              RISK OF ELECTRIC SHOCK
                                                   DO NOT OPEN

 The lighting flash and arrowhead        CAUTION: TO REDUCE THE RISK OF    The explanation point within the
 within the triangle is a warning sign   ELECTRIC SHOCK, DO NOT REMOVE     triangle is a warning sign alerting
 alerting you to dangerous voltage       THE COVER (OR BACK). NO USER      you to important instructions
 inside the product.                     SERVICEABLE PARTS INSIDE. REFER   accompanying the product.
                                         SERVICING TO QUALIFIED SERVICE
                                         PERSONNEL.

❚❚ Warning
• This product contains chemicals known to the State of California to cause cancer and
  reproductive toxicity.
• To reduce the risk of fire or electric shock, do not expose this appliance to rain or moisture.
• Do not expose this apparatus to dripping or splashing.
  Do not put objects filled with liquids, such as vases on the apparatus.
• To turn this apparatus off completely, you must pull the power plug out of the wall socket.
  Consequently, the power plug must be easily and readily accessible at all times.

❚❚ FCC Statement: (for U.S.A)
Federal Communication Commission Interference Statement
This equipment has been tested and found to comply with the limits for a Class B digital
device, pursuant to Part 15 of the FCC Rules. These limits are designed to provide reasonable
protection against harmful interference in a residential installation. This equipment generates,
uses and can radiate radio frequency energy and, if not installed and used in accordance with
the instructions, may cause harmful interference to radio communications. However, there is
no guarantee that interference will not occur in a particular installation. If this equipment does
cause harmful interference to radio or television reception, which can be determined by turning
the equipment off and on, the user is encouraged to try to correct the interference by one of the
following measures:
• Reorienting or relocating the receiving antenna.
• Increasing the separation between the equipment and receiver.
• Connecting the equipment to an outlet that is on a different circuit than the radio or TV.
• Consulting the dealer or an experienced radio/TV technician for help.

                                                        444
                                                        50
FCC Caution: Any changes or modifications not expressly approved by the party responsible for
compliance could void the user's authority to operate this equipment.
This device complies with Part 15 of the FCC Rules. Operation is subject to the following two
conditions: (1) This device may not cause harmful interference, and (2) this device must accept
any interference received, including interference that may cause undesired operation.
For products available in the US and Canadian markets, only channels 1~11 are available. You
cannot select other channels.
This device and it's antennas must not be co-located or operated in conjunction with any other
antenna or transmitter except in accordance with FCC multi-transmitter product procedures.
This device operates in the 5.15~5.25GHz frequency range. It is restricted to indoor
environments only.
IMPORTANT NOTE
FCC Radiation Exposure Statement
This equipment complies with FCC radiation exposure limits set forth for an uncontrolled
environment. This equipment should be installed and operated so there is at least 8 inches (20cm)
between the radiator and your body.

❚❚ IC Statement: (for Canada)
CAN ICES-3 (B)/NMB-3(B)
This device complies with Industry Canada license-exempt RSS standard(s). Operation is
subject to the following two conditions: (1) this device may not cause interference, and (2) this
device must accept any interference, including interference that may cause undesired operation
of the device.
For products available in the US and Canadian markets, only channels 1~11 are available. You
cannot select other channels.
This device and it's antennas must not be co-located or operated in conjunction with any other
antenna or transmitter except in accordance with IC multi-transmitter product procedures.
This device may automatically discontinue transmission if there is no information to transmit,
or an operational failure. Note that this is not intended to prohibit the transmission of control or
signaling information or the use of repetitive codes where required by the technology.
To reduce potential for harmful interference to co-channel mobile satellite systems, this device
operates in the 5150-5250 MHz band, and is for indoor use only.

                                                 444
                                                 51
IMPORTANT NOTE:
IC Radiation Exposure Statement:
This equipment complies with IC RSS-102 radiation exposure limits set forth for an uncontrolled
environment. This equipment should be installed and operated so there is at least 8 inches (20cm)
between the radiator and your body.
❚❚ Important Safety Instructions
Read these operating instructions carefully before using the unit. Follow all the safety instructions
listed below.
Keep these operating instructions handy for future reference.
1   Read these instructions.
2   Keep these instructions.
3   Heed all warnings.
4   Follow all instructions.
5   Do not use this apparatus near water.
6   Clean only with a dry cloth.
7   Do not block any ventilation openings. Install in accordance with the manufacturer's
    instructions.
8   Do not install near any heat sources such as radiators, heat registers, stoves, or other
    apparatus (including AV receivers) that produce heat.
9   Do not defeat the safety purpose of the polarized or grounding-type plug. A polarized plug
    has two blades with one wider than the other. A grounding type plug has two blades and
    a third grounding prong. The wide blade or the third prong are provided for your safety. If
    the provided plug does not fit into your outlet, consult an electrician for replacement of the
    obsolete outlet.
10 Protect the power cord from being walked on or pinched particularly at plugs, convenience
   receptacles, and the point where it exits the apparatus.
11 Only use attachments/accessories specified by the manufacturer.
12 Use only with the cart, stand, tripod, bracket, or table specified by the
   manufacturer, or sold with the apparatus. When a cart is used, use caution
   when moving the cart/apparatus combination to avoid injury from tip-over.
13 Unplug this apparatus during lightning storms or when unused for long periods
   of time.
14 Refer all servicing to qualified service personnel. Servicing is required when the apparatus
   has been damaged in any way, such as when the power-supply cord or plug is damaged,
   liquid has been spilled or objects have fallen into the apparatus, the apparatus has been
   exposed to rain or moisture, does not operate normally, or has been dropped.

                                                 52
                                                 444
AA Safety precautions
❚❚ Power Supply Precautions
• Do not overload outlets or extension cords.
  -- This may result in abnormal heat or fire.
• Do not plug in or unplug the power cord with wet hands.
• Do not place the product near heating equipment.
• To clean the power plug blades, remove the plug from the wall outlet and wipe the blades with
  a dry cloth only.
• Do not bend the power cord or pull it forcefully.
• Do not put heavy objects on the power cord.
• Do not plug the power cord into a loose or damaged outlet.
• Fully insert the power cord's plug into the the wall outlet so that the plug is firmly attached to
  the outlet.
  -- If the connection is unstable, there is a risk of fire.
❚❚ Installation Precautions
• Do not install the product near equipment or objects that generate heat or produce fire
  (candles, mosquito coils, heaters, radiators, etc.). Do not install in direct sunlight.
• When moving the product, turn off the power and disconnect all cords (include the power
  cord) from the unit.
  -- A damaged cord may cause a fire and poses a risk of electric shock.
• Installing the product in environments with high heat or humidity, dust, or extreme cold, can
  lead to quality problems or cause the product to malfunction. Before you install the product
  in an environment that is outside the norm, please contact a Samsung service center for
  additional information.
• When placing the product on a shelf, cabinet, or desk, make sure the top panel faces
  upwards.
• Do not place the product on an unstable surface (e.g. a shaky shelf, a tilted desk, etc.).
  -- Dropping the product can cause it to malfunction and poses a risk of injury. Severe vibration or
     impact can also cause the product to malfunction and lead to a fire hazard.
• Install your product with enough space around it for ventilation.
  -- Leave at least 4 inches (10cm) at the rear of the product and more than 2 inches (5cm) on
     each side of the product.
• Keep the plastic packing materials out of reach of your children.
  -- Children playing with the plastic packing materials run the risk of suffication.

                                                 444
                                                 53
❚❚ Usage Precautions
• Using for an extended time at high volume may cause serious damage to your hearing.
  -- If you are exposed to sound louder than 85db for an extended time, you may adversely affect
      your hearing. The louder the sound is, the more seriously damaged your hearing may become.
      Note that an ordinary conversation is between 50 to 60 db and road noise is approximately 80
      db.
• This product contains dangerous high voltage. Do not attempt to disassemble, repair, or
  modify it yourself.
  -- Contact a Samsung service center when your product is in need of repair.
• Do not place any container that contains liquid on the product (e.g. a vase, beverages,
  cosmetics, chemicals, etc.). Do do not allow any metal objects (e.g. coins, hair clips, etc.) or
  flammable material (e.g. paper, matches, etc.) to enter the product (through the air vents, I/O
  ports, etc.).
  -- If any harmful material or liquid enters the product, turn off the product immediately, unplug
      the power cord, and then contact a Samsung service center.
• Do not drop the product. In case of a mechanical breakdown, disconnect the power cord and
  contact a Samsung service center.
  -- There is a risk of fire or electric shock.
• Do not hold or pull the product by the power cord or the signal cable.
  -- A damaged cable can cause the product to malfunction, cause a fire, and poses a risk of
      electric shock.
• Do not use or keep flammable materials near the product.
• If the product emits an abnormal sound or a burnt smell or smokes, unplug the power-cord
  immediately and contact a Samsung service center.
• If you smell gas, ventilate the room immediately. Do not touch the power plug of the product.
  Do not turn the product off or on.
• Do not strike or subject the product to a sudden shock. Do not pierce the product with a
  sharp object.
• This product can be moved and placed indoors.
• This product is not waterproof or dustproof.
• Be careful when moving the product to avoid dropping it and possibly damaging it.

                                                444
                                                54
❚❚ Cleaning Precautions
• Never use alcohol, solvents, waxes, benzene, thinners, air freshener, or lubricants to clean the
  product, or spray insecticide on the product.
  -- Using any of these materials can discolor the exterior coating or cause it to split or peel off,
     or remove the labelling on the product.
• To clean the product, unplug the power cord, and then wipe the product with a clean, dry,
  soft cloth (Microfiber, cotton).
  -- Avoid leaving dust on the product. Dust can scratch its the surface.

AA Additional Information
❚❚ About the Network Connection
• Depending on the wireless router used, some network operations may perform differently.
• For detailed information on networking with a wireless router or modem, refer to the router's
  or modem's documentation.
• Select one wireless channel that is not used currently. If the selected channel is used by
  another communication device nearby, radio interference may result in communication failure.
• In compliance with the newest Wi-Fi certification specifications, the HUB does not support
  WEP, TKIP, or TKIP-AES (WPA2 Mixed) security encryption in networks running in the 802.11n
  mode.
• By its nature, wireless LAN may experience radio interference depending on the environmental
  conditions (such as wireless router performance, distance, obstruction, interference with other
  wireless devices, etc.)
• WEP encryption does not work with WPS (PBC) / WPS (PIN).

❚❚ Compatible products
• Mobile : Android 2.3.3 (Gingerbread) or above, iOS (6.0) or above

     NOTES
     99 Some devices may not be compatible with the product.
     99 Note that older versions of compatible products may not be supported.

AA Copyright
© 2015 Samsung Electronics Co.,Ltd.
All rights reserved; No part or whole of this user's manual may be reproduced or copied without
the prior written permission of Samsung Electronics Co.,Ltd.

                                                     444
                                                     55
LIMITED WARRANTY TO ORIGINAL PURCHASER
This SAMSUNG brand product, as supplied and distributed by SAMSUNG and delivered new, in the original carton to the original
consumer purchaser, is warranted by SAMSUNG against manufacturing defects in materials and workmanship for a limited
warranty period of:
                                                 One (1) Year Parts and Labor*
                                         (*90 Days Parts and Labor for Commercial Use)

This limited warranty begins on the original date of purchase, and is valid only on products purchased and used in the United
States. To receive warranty service, the purchaser must contact SAMSUNG for problem determination and service procedures.
Warranty service can only be performed by a SAMSUNG authorized service center. The original dated bill of sale must be
presented upon request as proof of purchase to SAMSUNG or SAMSUNG's authorized service center. Transportation of the
product to and from the service center is the responsibility of the purchaser.

SAMSUNG will repair or replace this product, at our option and at no charge as stipulated herein, with new or reconditioned parts
or products if found to be defective during the limited warranty period specified above. All replaced parts and products become
the property of SAMSUNG and must be returned to SAMSUNG. Replacement parts and products assume the remaining original
warranty, or ninety (90) days, whichever is longer.

SAMSUNG's obligations with respect to software products distributed by SAMSUNG under the SAMSUNG brand name are set
forth in the applicable end user license agreement. Non-SAMSUNG hardware and software products, if provided, are on an "AS
IS" basis.
Non-SAMSUNG manufacturers, suppliers, publishers, and service providers may provide their own warranties.

This limited warranty covers manufacturing defects in materials and workmanship encountered in normal, and except to the
extent otherwise expressly provided for in this statement, noncommercial use of this product, and shall not apply to the following,
including, but not limited to: damage which occurs in shipment; delivery and installation; applications and uses for which this
product was not intended; altered product or serial numbers; cosmetic damage or exterior finish; accidents, abuse, neglect,
fire, water, lightning or other acts of nature; use of products, equipment, systems, utilities, services, parts, supplies, accessories,
applications, installations, repairs, external wiring or connectors not supplied and authorized by SAMSUNG, or which damage this
product or result in service problems; incorrect electrical line voltage, fluctuations and surges; customer adjustments and failure
to follow operating instructions, cleaning, maintenance and environmental instructions that are covered and prescribed in the
instruction book; product removal or reinstallation; reception problems and distortion related to noise, echo, interference or other
signal transmission and delivery problems. SAMSUNG does not warrant uninterrupted or error-free operation of the product.

THERE ARE NO EXPRESS WARRANTIES OTHER THAN THOSE LISTED AND DESCRIBED ABOVE, AND NO WARRANTIES
WHETHER EXPRESS OR IMPLIED, INCLUDING, BUT NOT LIMITED TO, ANY IMPLIED WARRANTIES OF MERCHANTABILITY
OR FITNESS FOR A PARTICULAR PURPOSE, SHALL APPLY AFTER THE EXPRESS WARRANTY PERIODS STATED
ABOVE, AND NO OTHER EXPRESS WARRANTY OR GUARANTY GIVEN BY ANY PERSON, FIRM OR CORPORATION WITH
RESPECT TO THIS PRODUCT SHALL BE BINDING ON SAMSUNG. SAMSUNG SHALL NOT BE LIABLE FOR LOSS OF
REVENUE OR PROFITS, FAILURE TO REALIZE SAVINGS OR OTHER BENEFITS, OR ANY OTHER SPECIAL, INCIDENTAL OR
CONSEQUENTIAL DAMAGES CAUSED BY THE USE, MISUSE OR INABILITY TO USE THIS PRODUCT, REGARDLESS OF
THE LEGAL THEORY ON WHICH THE CLAIM IS BASED, AND EVEN IF SAMSUNG HAS BEEN ADVISED OF THE POSSIBILITY
OF SUCH DAMAGES. NOR SHALL RECOVERY OF ANY KIND AGAINST SAMSUNG BE GREATER IN AMOUNT THAN THE
PURCHASE PRICE OF THE PRODUCT SOLD BY SAMSUNG AND CAUSING THE ALLEGED DAMAGE. WITHOUT LIMITING
THE FOREGOING, PURCHASER ASSUMES ALL RISK AND LIABILITY FOR LOSS, DAMAGE OR INJURY TO PURCHASER AND
PURCHASER'S PROPERTY AND TO OTHERS AND THEIR PROPERTY ARISING OUT OF THE USE, MISUSE OR INABILITY
TO USE THIS PRODUCT SOLD BY SAMSUNG NOT CAUSED DIRECTLY BY THE NEGLIGENCE OF SAMSUNG. THIS
LIMITED WARRANTY SHALL NOT EXTEND TO ANYONE OTHER THAN THE ORIGINAL PURCHASER OF THIS PRODUCT, IS
NONTRANSFERABLE AND STATES YOUR EXCLUSIVE REMEDY.

Some states do not allow limitations on how long an implied warranty lasts, or the exclusion or limitation of incidental or
consequential damages, so the above limitations or exclusions may not apply to you. This warranty gives you specific legal rights,
and you may also have other rights which vary from state to state.

To obtain warranty service, please contact SAMSUNG customer care center.

The benefits of this Limited Warranty extend only to the original purchaser of Samsung products from an authorized Samsung
reseller.
THIS LIMITED WARRANTY SHALL NOT APPLY TO ANY SAMSUNG PRODUCTS PURCHASED FROM UNAUTHORIZED
RESELLERS OR RETAILERS, EXCEPT IN STATES WHERE SUCH RESTRICTION MAY BE PROHIBITED.
For a list of Samsung authorized retailers, please go to: http://www.samsung.com/us/peaceofmind/authorized_resellers.html.