2019/20 2022/23 STRATEGIC PLAN - MASINDE MULIRO UNIVERSITY - Masinde Muliro University of Science ...
Page content transcription
If your browser does not render page correctly, please read the page content below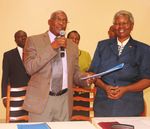 IRO UN
                   MUL      IV
                DE

                             ER
           IN
        MAS

                               SIT
                                  Y
        OF

                                   GY
                                 LO
           SC

            EN

                             O
                                 N
             I

                 CE
                      AND TECH

   MASINDE MULIRO
     UNIVERSITY
OF SCIENCE AND TECHNOLOGY

    STRATEGIC PLAN
  2019/20 - 2022/23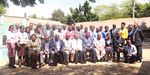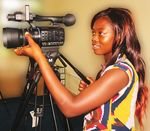 Published by:
     Masinde Muliro University of Science and Technology
                    P. O. Box 190 - 50100
                     Kakamega - Kenya

 © Masinde Muliro University of Science and Technology 2019

All rights reserved. No part of this publication may be reproduced
or utilized in any form or by any means, electronic or mechanical,
including photocopying and recording or by any information
storage and retrieval system, without prior written permission
                        from the publisher.

                    Published October, 2019

         Telephone: 0702 597 360/1 and 0733 120 020/2
                   Customer Care: 057 2505222
                    Email: info@mmust.ac.ke
                    Website: www.mmust.ac.ke
            Visit our website http//www.mmust.ac.ke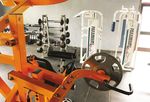 Philosophical Framework

                       Motto
               The University of Choice

                     Philosophy
  MMUST upholds the view that education, science
and technology are indispensable tools in harnessing
 resources of nature for sustainable development by
 creating an environment in which all individuals can
              realize their full potential.

                       Vision
   A Premier University in Science, Technology and
                     Innovation

                Mission Statement
To provide excellent university education, training and
research through integrating science, technology and
innovation into quality programmes to suit the needs
                 of a dynamic world.
MMUST: Strategic Plan 2019/20 – 2022/23

     The Chancellor

       Dr. Peter Wanyaga Muthoka
 EBS, MBS, FKIB, FKIM D.ML, MA(Ed), BA (Hons)
                   Chancellor
Masinde Muliro University of Science and Technology

                               MMUST: THE UNIVERSITY OF CHOICE   i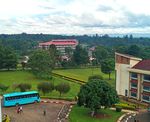 MMUST: Strategic Plan 2019/20 – 2022/23

                                           Dr. Jeremy Bundi
                                          Chairman of Council

                                           Foreword
T
        he importance of strategic planning cannot     development of the human and natural resources
        be overemphasized. The environment             in Kenya and beyond.
        within which universities operate is always    The revised Strategic Plan of MMUST captures
changing and continues to offer new opportunities      the vision of the Council, Management, staff and
and challenges. This means that a focused strategic    stakeholders in the growth and development of
direction is critical to enable a university succeed   the University over the next four years. This plan
in achieving its mandate in teaching, research         also builds on the successful implementation
and community service. In view of this, successful     of the previous strategic plans which recorded
performance of Masinde Muliro University of            key milestones including an increase in the
Science and Technology (MMUST) can only be             student enrolment, physical infrastructure and
judged through demonstrated realization of             the development and accreditation of new
its mandate. Globally, the plan is set against a       programmes. The plan is built on six (6) Key Result
backdrop of the Sustainable Development Goals          Areas which set the ground for the implementation
(SDGs). Regionally, it is shaped by a number of        framework       namely;    academic      excellence,
factors including the African Union (AU) reform        research innovation, extension services and
agenda which is primarily based on the AU              internationalization, consultancy services, financial
Agenda 2063, a blue print for the economic             growth sustainability, institutional capacity. This
development of the Continent. Nationally, it is in     Strategic Plan therefore, charts the path for the
line with Kenya's government development cycle,        University to transform into a world-class University
the Vision 2030 framework and the Big Four (4)         of choice that provides quality education, training,
Agenda, namely, Manufacturing, Food Security,          research and innovation for the socio-economic
Health and Affordable Housing. As the country          advancement of individuals and society at large.
makes progress towards the achievement of the          I wish to emphasize that the University Council is
above goals, MMUST has to make its contribution        committed to the implementation of this reviewed
through the provision of quality training, relevant    Strategic Plan in partnership with the Government
research, innovation and outreach programmes           Ministries, Agencies and other stakeholders in
as articulated in this strategic plan for the next     order to realize our Vision 'A Premier University in
four years. Collaboration with the industry and all    Science, Technology and Innovation'.
stakeholders will be given priority so that students
and staff can have an opportunity to contribute        Dr. Jeremy Bundi
to solutions that will result in accelerated           Chairperson, MMUST University Council

  ii     MMUST: THE UNIVERSITY OF CHOICE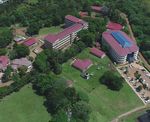 MMUST: Strategic Plan 2019/20 – 2022/23

         The Vice Chancellor

                                         Prof. Asenath Sigot
                                   The Ag. Vice Chancellor, MMUST

                                 Acknowledgements
The unveiling of the MMUST 2019/20-2022/23               technical insights in piecing together the 2019/20
Strategic Plan marks an important milestone in           - 2022/23 Strategic Plan. I thank Mr. Meshack
the growth and development of the University. This       Nyambane, Mr. Fredrick Onaya, Mr. Raymond
strategic plan is a culmination of tireless efforts of   Koech, Ms. Pamela Inzai, Ms. Brendah Kabindio
several stakeholders whom I sincerely appreciate.        and Ms. Flora Ogwang for their dedicated services
                                                         in providing the logistical, administrative and
I thank the MMUST Council, Senate and the                secretarial services. Finally, I commend Dr. Lucy
University Management Board for being the                Mandillah and Dr. Lydia Anyonje for the editorial
catalysts in initiating the process of writing this      services. I wish to thank Prof. Egara Kabaji, the
Strategic Plan. Without you, the impetus to review       immediate former DVC (PRI) for giving the technical
and develop the current strategic plan could             expertise to make the strategic plan better.
not have been hatched, rolled out and realized.
Specifically, I thank Prof. Charles Mutai (Ag. DVC,      To all members of Senate, MMUST staff, Unions,
PR&I) for leading the technical team; Dr. Patrick        and other stakeholders, thank you for your input
Ojera (Ag DVC, A&F) for facilitating the strategic       in the preparation of this strategic plan. We shall
plan writing process and Dr. Benadette Sabuni, the       all renew our energies as a University to walk the
Ag DVC (A &SA) for the constructive contribution         talk documented in the 2019/20-2022/23 Strategic
relating to the academic division.                       Plan. As a team, we wish to make our University a
                                                         truly preferred University of Choice.
Special appreciation goes to the Strategic Planning
Steering Committee; Mr. Antony Sang, Dr. Judah           Prof. Asenath Sigot
Ndiku, Dr. Robert Egessa, Dr. Samwel Waweru, Dr.         Ag. Vice Chancellor
Vitalis Ogema, Mr. Dishon Wanjere, Mr. Henry Wati,
Dr. Lucy Mandilla and Dr. Lydia Anyonje for the

                                                                  MMUST: THE UNIVERSITY OF CHOICE       iii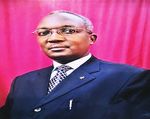 MMUST: Strategic Plan 2019/20 – 2022/23

                                     Table of Contents
                 1.1       Historical Background................................................................             01
                 1.2       University Management Structure Programmes....................                                    02
                 1.3       Academic Programmes...............................................................                03
Chapter          1.4       Student & Staff Profile................................................................           05
 One             1.5       The Scope of the Strategic Plan...................................................                05
                 1.6       Rationale of The MMUST Strategic Plan....................................                         05
                 1.7       Preparation of the Strategic Plan.................................................                06
                 1.8       Role of Masinde Muliro University of Science and
                           Technology in the realization of national and International
                           development agenda......................................................................          07

                 2.1       Philosophical Framework.............................................................              09
Chapter          2.2       Quality Policy Statement..............................................................            09
                 2.3       Core Values...................................................................................    09
 Two             2.4       Strategy Canvas.............................................................................      10
                 2.5       Functions of the University.........................................................              10

                 3.1       Introduction ..............................................................................       13
Chapter          3.2       Evaluation of Past Performance...............................................                     13
                 3.3       PESTEL Analysis.........................................................................          14
 Three           3.4       SWOT Analysis............................................................................         16
                 3.5       Stakeholders Analysis..................................................................           20
                 3.6       University Risk Registers.............................................................            21

                 Key Result Area & Implementation Framework..................................                                24
                 4.1   Introduction................................................................................          24
Chapter          4.2   Academic Excellence...................................................................                24
                 4.3   Reseach, Innovation, Extension and Internationalization......                                         29
 Four            4.4   Consultancy Services..................................................................                33
                 4.5   Student Services..........................................................................            36
                 4.6   Financial growth and Sustainability.........................................                          39
                 4.7   Institutional Capacity................................................................                43

Chapter          5.1
                 5.2
                           Introduction.................................................................................
                           Estimated cost of Implementing the Strategic Plan...................
                                                                                                                             53
                                                                                                                             53
 Five            5.3       Sources of Funds for implementing the strategic plan..............                                54

                 6.1       Introduction..................................................................................    55
                 6.2       Objectives of the M&E Framework..............................................                     55
Chapter          6.3       Responsibilities.............................................................................     55
  Six            6.4       Reporting......................................................................................   56
                 6.5       Strategic Planning........................................................................        57
                 6.6       Cascading the Plan......................................................................          57

 iv     MMUST: THE UNIVERSITY OF CHOICE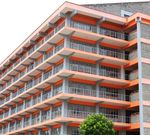 MMUST: Strategic Plan 2019/20 – 2022/23

                                 List of Tables
Table 1.1: Academic Programmes...........................................................             03
Table 2.0: Student's Profile.......................................................................   05
Table 2.1: Customer Value Proposition..................................................               10
Table 3.1: Graduation trend and completion rates................................                      14
Table 3.2: MMUST Strengths .................................................................          16
Table 3.3: MMUST Weaknesses..............................................................             17
Table 3.4: MMUST Opportunities..........................................................              18
Table 3.5: MMUST Threats......................................................................        19
Table 3.6: Stakeholder analysis ...............................................................       20
Table 3.7: Risk Management...................................................................         21
Table 4.1: Academic Excellence...............................................................         26
Table 4.2: Research, Innovation, Extension and Internationalization..                                 30
Table 4.3: Consultancy Services..............................................................         34
Table 4.4: Student Services......................................................................     37
Table 4.5: Financial Growth Sustainability.............................................               40
Table 4.6: Institutional Capacity.............................................................        45
Table 5.1: Cost of Implementing the Strategic Plan..............................                      53
Table 5.2: Funds for Implementing the Strategic Plan..........................                        54
Table 6.1: Monitoring and Evaluation roles...........................................                 56

                                                                           MMUST: THE UNIVERSITY OF CHOICE   v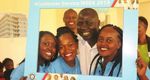 MMUST: Strategic Plan 2019/20 – 2022/23

                                        List of Plates
      Plate 1: Administration Block A............................................................            ix
      Plate 2: Council and Management Strategic Planning Workshop.......                                      x
      Plate 3: Customer Service.......................................................................       11
      Plate 4: Signing of 2019- 2020 performance contract...........................                         12
      Plate 5: MMUST Gym.............................................................................        23
      Plate 6: Communication Student at the University Media Lab............                                 25
      Plate 7: Practical Session in one of the Science Laboratories...............                           29
      Plate 8: Consultancy................................................................................   33
      Plate 9: MMUST Students.......................................................................         36
      Plate 10: New tuition block......................................................................      39
      Plate 11: MMUST RFC............................................................................        44
      Plate 12: Cost And Financing.................................................................          52
      Plate 13: MMUST 2018 Granduants.......................................................                 54

 vi         MMUST: THE UNIVERSITY OF CHOICE
MMUST: Strategic Plan 2019/20 – 2022/23

Abbreviations And Acronyms
BA		          –   Bachelor of Arts
BBM		         –   Bachelor of Business Management
BCOM		        –   Bachelor of Commerce
BEd		         –   Bachelor of Education
BSc		         –   Bachelor of Science
CBD		         –   Central Business District
CUE		         –   Commission for University Education
DIAL		        –   Directorate of International Collaborations and Academic Linkages
DRPS		        –   Directorate of Research and Post Graduate Support
DPS		         –   Directorate of Post Graduate Studies
DoS		         –   Dean of Students
DSIP		        -   Directorate of Strategic and Institutional Planning
DVC, (A&F)    –   Deputy Vice Chancellor, Administration and Finance
DVC, (A&SA)   –   Deputy Vice Chancellor, Academic and Students Affairs
DVC, (PR&I)   –   Deputy Vice Chancellor, Planning, Research and Innovation
ICT		         –   Information and Communications Technology
IGU		         –   Income Generating Unit
IMC		         –   Integrated Marketing Communication
KUCCPS:       –   Kenya Universities and Colleges Central Placement Services
LT 		         -   Long Term
MA		          –   Master of Arts
MBA		         –   Master of Business Administration
MMUST		       –   Masinde Muliro University of Science and Technology
Mmuste        –   MMUST Enterprise
MoU		         –   Memoranda of Understanding
MOU/MOA       –   Memorandum of Understanding / Agreement
MSc		         –   Master of Science
ODeL		        –   Directorate of Open, Distance and E-Leaning
PhD		         –   Doctor of Philosophy
PSSP		        –   Privately Sponsored Students Programme
SDMHA		       –   School for Disaster Management and Humanitarian Assistance
SAVET		       –   School of Agriculture and Veterinary
SASS		        -   School of Arts and Social Sciences
SEBE		        –   School of Engineering and Built Environment
SEDU		        -   School of Education
SOBE		        –   School of Business and Economics
SOLACE        –   School of Open Learning and Continuing Education
SONMAP        –   School of Nursing, Midwifery and Paramedic
SPHBST		      –   School of Public Health, Biomedical Sciences and Technology
SGC		         –   Student Governing Council
SWOT		        –   Strengths, Weaknesses, Opportunities, Threats
SPIIC		       –   Science Park, Innovation and Incubation Centre (SPIIC)
SSP		         -   Second Strategic Plan
TSP           -   Third Strategic Plan
TVET		        –   Technical Vocational Education and Training
UMB		         –   University Management Board
VC		          –   Vice Chancellor
WECO		        –   Western College of Arts and Applied Sciences
WUCST		       –   Western University College of Science and Technology

                                                       MMUST: THE UNIVERSITY OF CHOICE   vii
MMUST: Strategic Plan 2019/20 – 2022/23

                              Executive Summary

T
       he reviewed third Strategic Plan, 2019/20 –     This strategic plan therefore, aligns the University's
       2022/2023 represents a self-assessment by       planned activities with the international and
       Masinde Muliro University of Science and        national policies and objectives. It consists of six
Technology. It is essentially taking stock of where    chapters. Chapter one, gives the introduction,
we are now as we venture forward to meet our           the rationale and a brief of the steps taken in
goals. As a University, we believe in the pursuit of   coming up with the strategic plan. It traces the
excellence in teaching, research and innovation.       historical background relating to the growth
This strategic plan outlines the strategies to be      of MMUST from a Constituent College to a full-
implemented in the next four years to guide and        fledged University. It also traces the phenomenal
enable us achieve our mission and vision.              increase in the number of academic programmes
                                                       and staff establishment. Chapter Two outlines
The review was built on the successes made and         the underpinning philosophical framework as
also identified the challenges encountered in the      supported by the University Motto, Philosophy,
implementation of the first MMUST Strategic Plan       Vision and Mission. It also outlines the quality
2004/2005-2008/2009. In spite of the challenges,       statement and core values: customer experience,
the plan enabled the University realize rapid          accountability, collegiality, equity, excellence,
development including the achievement of fully-        innovativeness and professionalism and integrity.
fledged university status. It also builds on the
second Strategic Plan 2009/2010-2013/2014 ,inter       Chapter Three presents the situational analysis.
alia, achieved the growth in student enrolment,        In this chapter, the strategic plan presents
expansion of infrastructure, establishment of a        the environmental analysis of the Strengths,
number of partnerships and linkages in addition        Weaknesses, Opportunities and Threats (SWOT).
to the introduction of new academic programs.          The four-part SWOT analysis enabled the
The third MMUST Strategic Plan, 2015/16 -2019/20       assessment of the University's overall strategic
has also realized a number of achievements             position. The Key Result Areas and implementation
such as the completion and initiation of various       framework are presented in Chapter Four. The
physical infrastructure projects, increased number     identified Key Result areas include the six thematic
of market-driven academic programs, increased          areas which set the ground for the implementation
number of students, enhanced use of ICT, on-           framework. These revolve around academic
going efforts of transformation into a student-        excellence, research innovation, extension services
centered University; improved revenue collection       and internationalization, consultancy services,
attributed to zero fee balance policy and payment      financial growth sustainability, and institutional
of one billion debt owed to the Kenya revenue          capacity.
authority, and attainment of ISO 9001:2008
certification and transitioning to ISO 9001:2015.      Chapter Five of the strategic plan focuses on
                                                       costing and financing. The section presents the
Besides the achievements, there has been need          estimated cost to achieve each key result area and
to review the third Strategic Plan to embrace the      the sources of funds for its overall implementation.
changing demands of today's higher education           The projected budget requirement for the capital
learning environment. These changes include            development for the University during the
rationalizing the University structures, goals         implementation phase 2019/20– 2022/2023 is
and objectives as well as the international and        Kshs. 4,983.16 Billion. This will be funded through
national policies such as the Global Sustainable       Government capitation (development), income
Development Goals (SDGs). There has also been          from self-sponsored students, MMUST Enterprises
need to align the plan to the Government of            (Mmuste), Fundraising/Grants, Debt Finance,
Kenya's Big Four Agenda, Kenya government              Public Private Partnership and Public-Public
planning cycle and policy shifts by the Commission     Partnership.
for University Education (CUE).

 viii    MMUST: THE UNIVERSITY OF CHOICE
MMUST: Strategic Plan 2019/20 – 2022/23

   The final part, Chapter six, describes the monitoring and evaluation mechanisms. The task of monitoring
   and evaluation of the strategic plan will be vested in the Planning, Performance Contracting, and Quality
   Assurance and Evaluation committee. The team will ensure regular appraisal and evaluation of the
   strategic plan during its execution period. At the end of the Strategic Plan, a number of appendices give
   relevant details to support the issues discussed in various sections within the text.

Plate 1: Administration Block A
                                                                  MMUST: THE UNIVERSITY OF CHOICE        ix
Plate 2: Council and Management Strategic Planning Workshop
MMUST: Strategic Plan 2019/20 – 2022/23

                                           CHAPTER ONE

                                INTRODUCTION
1.1     Historical Background

Masinde Muliro University of Science and Technology (MMUST) was initially established as a University
College of Moi University in 2002 and was then known as the Western University College of Science
and Technology (WUCST). The University College was later elevated to University status through an Act
of Parliament on 30th December, 2006 (repealed in 2013) and renamed Masinde Muliro University of
Science and Technology (MMUST). The University is the successor of the defunct Western College of Arts
and Applied Sciences (WECO) whose assets and liabilities it inherited.

The University is located along the Kakamega-Webuye Road, one Kilometre from the Central Business
District (CBD) of Kakamega Town. The main campus stands on about 133-acre piece of land with an
Annex situated in the town centre. The University has a number of campuses spread in different parts of
the country in Nairobi, Bungoma, Webuye, Kakuma, Mumias, Kapsabet and Kisumu.

The transition into a University included recruitment of required human resources, renovation of existing
facilities, construction of additional basic facilities, repackaging of Diploma Programmes and introduction
of Degree Programmes. In addition to this, a master plan and the first edition of the Strategic Plan were
prepared covering the first development phase between 2004/2005- 2008/2009. A Second Strategic Plan
(SSP) 2009/2010–2013/2014 was prepared. The Third Strategic Plan (TSP) 2015/2016-2019/2020 reflected
and built upon the SSP (2009/2010– 2013/2014) which was extended to cover 2014/2015 financial year.

The SSP set out to increase student enrolment in Science and Technology courses and produce human
resource capacity with requisite technological and scientific skills. It targeted gender mainstreaming,
improvement of teaching through application of ICT and superior pedagogic principles, enhancement
of research and extension services in line with Vision 2030.

A number of achievements were realized during the plan period (2009/2010–2013/2014). They included
increased student enrolment, development of physical infrastructure, and establishment of linkages
with local and international partners and introduction of new programmes. However, the University
also experienced a number of challenges such as slow development of physical facilities, uncoordinated
expansion of campuses into low potential areas, and over reliance on outsourcing of teaching facilities,
poor financial management and declining productivity of staff, inadequate ICT infrastructure, poor health
services for both staff and students and inadequate funding of research activities.

The TSP enabled the University to achieve increased student enrolment, completion of physical facilities
such as Mechanical Engineering Department Complex (MED), Multi-Purpose Hall (MPH), Human Anatomy
Lab (HAL), and a five-storied Administration Block. There is also an on-going construction of a tuition
block and a comprehensive review of market driven programmes. One of most notable achievements
has been the accreditation of the Medicine and Engineering degrees by the relevant professional bodies.
However, other identified projects such as the construction of the Engineering Complex, the Dr. Atwoli
International Centre for Labour and Leadership Studies (DAICELLS), upgrading the university Health Unit
into a Health Center, improvement of the road network within the university and the construction of
additional hostel facilities among others have yet to be fully achieved. A reduction in the government
capitation despite increased student enrolment has constrained the achievement of some of the set
objectives.

This strategic Plan builds on the gains made in the previous plans and is reinforced by the changes in
the University operating environment that have refocused on international and national policies such
as the introduction of the SDGs and Kenya's Big Four Agenda. Out of the 17 SDGs, seven goals (Goal

                                                                MMUST: THE UNIVERSITY OF CHOICE        1
MMUST: Strategic Plan 2019/20 – 2022/23
2, 4, 5, 8, 13, 16 & 17) have a direct impact on education, health and socio- economic development of
which MMUST has a role to play. The Big Four Agenda emphasizes an improvement in food security
and nutrition, affordable housing, manufacturing and Universal health care for all. Innovation, capacity
building and research which MMUST is well known for, can contribute greatly towards the attainment of
the Big Four Agenda. Further, reforms in the Kenyan education sector that emphasize on a Competence-
Based Curriculum (CBC), policy shifts in higher education and the need to align the Strategic Plan to the
Kenyan government planning cycle, have necessitated the revision of the TSP.
   1.2 University Management Structure and Programmes
1.2       University Management Structure and Programmes
    1.2.1 University Management Structure
1.2.1     University Management Structure
    The Chancellor is the head of the University. The University is run by Council as the supreme organ with
Thethe
     Chancellor
         day- to- is  theactivities
                    day   head of the
                                    run University. The University
                                         by the Senate              is run by Management
                                                        and the University     Council as theBoard
                                                                                              supreme   organThe
                                                                                                     (UMB).    withVice
theChancellor
     day- to- day     activities run  by the  Senate  and  the  University  Management      Board  (UMB).
                  is the administrative and academic head of the University. He is supported by the Deputy The ViceVice
Chancellor   is the  administrative   and academic   head  of the University.  He is supported  by the Deputy
    Chancellors, Principals of Colleges, Deans of Schools, Directors of Institutes and Centers, Chairpersons/  Vice
Chancellors,    Principals of Colleges,
    Heads of Departments                  Deans ofofSchools,
                               and Coordinators      Centres Directors   of Institutes
                                                              and Campuses.             and Centers,
                                                                                The University        Chairpersons/
                                                                                                Management    structure
Heads   of Departments
    is actualized   throughand   Coordinators
                              various          of Centres
                                      boards and          and Campuses.
                                                  committees   as shown inThe   University
                                                                             figure  1.1. Management structure
is actualized through various boards and committees as shown in figure 1.1.
   Figure 1: University Management Organs

                                                        Chancellor

                                                       Council & its
                                                       Committees

                               UMB & Its                                       Senate & its
                               Committees                                      Committees

                                                    Directorates &
                                                    School Boards

                                                    Departmental
                                                      Boards

                                 Alumni                                    Students' Executive
                                Association                                     Council

Figure 1.1: University Management Organs
         TheThe
    1.2.1.1
1.2.1.1          Council
             Council
    The  Council  solicits
The Council solicits        for funds
                      for funds    andand    provides
                                         provides      facilities
                                                   facilities      required
                                                               required     for carrying
                                                                        for carrying  out out
                                                                                           the the
                                                                                                workwork   of the
                                                                                                       of the     University
                                                                                                               University
    in accordance with the Universities' Act. It also determines the method of recruitment, appointment and
in accordance with the Universities' Act. It also determines the method of recruitment, appointment and
    promotion of all staff of the University. Further, Council provides for the welfare of every person in the
promotion   of all staff of the University. Further, Council provides for the welfare of every person in the
    employment of the University, including former employees on pension or similar arrangements, spouses,
employment    of the University,
    widows/widowers                 including
                        and dependents          former
                                             of such    employees
                                                     persons.    Such on pensioninclude
                                                                      provision    or similar arrangements,
                                                                                           payment    of money,spouses,
                                                                                                                  pension or
widows/widowers
    other funds for and    dependents
                     the benefit   of such of persons
                                              such persons.    Such provision
                                                      in accordance            include
                                                                        with terms       payment
                                                                                    of service.   It of money,
                                                                                                     also        pension
                                                                                                           provides  controls
or other  funds  for  the   benefit   of  such  persons    in  accordance   with  terms   of service.
    and regulates the accounts, investments, property, and all the commercial or business affairs of theIt also provides
controls  and regulates
    University.            the accounts,
                 As a result,     Council investments,
                                              appoint Bankers,property, and allLawyers
                                                                    Auditors,    the commercial      or business
                                                                                          or any agents            affairs
                                                                                                              as may    deem
of the  University. As  a  result,
    necessary from time to time.    Council   appoint   Bankers,    Auditors, Lawyers   or  any  agents    as may  deem
necessary from time to time.
   1.2.1.2 The Senate
    The Senate
1.2.1.2         exercises full responsibility over the academic and administrative work of the University. It is
         The Senate
    in charge of academic
The Senate exercises         programmes and
                       full responsibility overensures quality of
                                                the academic   andtheadministrative
                                                                      programmes' work
                                                                                    content
                                                                                         of on
                                                                                            thebehalf of It is
                                                                                                University.
in charge of academic programmes and ensures quality of the programmes' content on behalf of Council.
It recommends to Council the establishment, abolition or harmonization of Colleges, Faculties, Schools,
Institutes, Departments, Centers and Parks from time to time as may deem necessary.

Senate also establishes or abolishes certificate, diploma, degree and other academic programmes
including their titles. Further, senate promotes co-operation and linkages with other institutions of

  2        MMUST: THE UNIVERSITY OF CHOICE
                                                               3
MMUST: Strategic Plan 2019/20 – 2022/23
higher learning and Industry and promotes the welfare of students and staff in the University. In its work,
senate is supported by the Deans' Committee and other Senate Committees.

1.2.1.3 The University Management Board
The University Management Board (UMB) is responsible for the implementation of University policies,
the day to day running of the University and co-ordination of the University strategic and development
plans. In addition, the UMB is tasked with the efficient management of the University's human, natural,
physical and financial resources. It also makes proposals to Council on policies that apply across the entire
University. The Management Board also considers and recommends for approval of budgets to Council
along with any other matters related to the management of the University.

1.2.1.4 Management of Academic Functions
The academic programmes are run under the leadership of the Vice Chancellor assisted by the Deputy Vice
Chancellor (A&SA), Principals, Deans, Chairpersons and Coordinators through their respective Colleges,
Schools, Centers, Institutes and Departments. These academic managers are appointed in accordance
with the University Charter and Statutes. They adopt mechanisms for carrying out internal academic
audits in order to ensure sound management of academic functions at the University.

1.2.1.5 Management of Administrative and Financial Functions
The administrative and financial functions are carried out by the Vice Chancellor assisted by the Deputy
Vice Chancellor Administration and Finance(A&F). The Deputy Vice Chancellor (A & F) is supported by
heads of divisions, colleges, schools, centers, institutes, departments and sections.

1.2.1.6 Management of Planning, Research and Innovation Functions
The planning, research and innovation functions are carried out by the Vice Chancellor assisted by the
Deputy Vice Chancellor Planning, Research & Innovation (PR&I). The Deputy Vice Chancellor (PR&I) is
supported by heads of divisions, colleges, schools, centers, institutes, departments and sections of the
University.

1.2.1.7 : Mangement of Academic programmes
Table 1.1: Academic Programmes
 S/N             PROGRAMME                                                        NUMBER
 1.              PhD                                                              49
 2.              Masters                                                          74
 3.              Post Graduate Diploma                                            5
 4.              Bachelors                                                        73
 5.              Diploma                                                          27
 6.              Certificate                                                      17
                                                                        Total 245
The University runs forty nine (49) PhD Programmes, seventy four (74) masters programmes, five (5)
post graduate diploma programmes, seventy three (73) undergraduate programmes, twenty seven (27)
diploma and seventeen (17) certificate programmes. These programmes are housed in various schools
namely; School of Education (SEDU), School of Arts and Social Sciences (SASS), School of Engineering
and Built Environment (SEBE), School of Natural Sciences (SONAS), School of Disaster Management
and Humanitarian Assistance (SDMHA), School of Agriculture, Veterinary Sciences and Technology
(SAVET), School of Public Health, Biomedical Sciences and Technology (SPHBS&T), School of Business
and Economics (SOBE), School of Medicine (SOM) and School of Nursing, Midwifery and Paramedical
Sciences (SONMAPS). The Schools have various departments that are in charge of specific academic
programmes.

MMUST has a number of Directorates that support the academic programmes Namely; Strategic and
Institutional Planning, PSSP Learning Centers & Campuses, ICT, International Relations & Academic

                                                                 MMUST: THE UNIVERSITY OF CHOICE         3
4
                                    GOVERNANCE & ADMINISTRATIVE STRUCTURE

                                                                                                                                                                                             Music.

                                                                                                        Chancellor
                                                                                                      Council Chair

MMUST: THE UNIVERSITY OF CHOICE
                                                                                                                                                                                                                                                                                                     MMUST: Strategic Plan 2019/20 – 2022/23

                                                                                                      Vice chancellor
                                                   DVC (Admin                                    DVC (PRI)                                                DVC (ASA)
                                                     & Fin)

                                                                                          other           Director                   Dean                  Deans &     Libraria     Reg
                                       Reg       Finance               Director
                                                                                         Directors         (Res)                  (Students)               Directors      n        (AA)
                                     (Admin)     Officer                 QA

                                                                                                                        Legal                  Director                  Dep.     Dep. Reg
                                     Dep. Reg                 Proc.        Coodinators   Chief Int.       Deputy                  Dep.Dean                   CoDs      Libraria
                                                 Dep. Fin.                                                                        (Students)    Sports                             (AA)
                                     (Admin)      Officer    Officer          QA         Auditor         Dir. (Res)     Officer                                           n

                                                                                                              Other Staff

                                  Figure 1.2: Governance and Administrative Structure
                                                                                                                                                                                             (ACU). (SOLACE), Institute of Technical Vocational Education and Training (TVET) and the Institute of
                                                                                                                                                                                             MMUST Enterprises, Open & Distance e-Learning, Science Park Innovation and Incubation Center (SPIIC),
                                                                                                                                                                                             Linkages, Quality Assurance, Performance Contracting, Corporate Communications and Marketing,

                                                                                                                                                                                             Directorate of Research and Post graduate Support (DRPS), Gender , Disability and Aids Control Unit

                                          Figure 2: Administrative structure of the University
MMUST: Strategic Plan 2019/20 – 2022/23
1.3     Student and Staff Profile
1.3.1 Student Profile
Currently, MMUST has a student enrollment of 19,714. The number comprises of 15,982 undergraduate
students, 404 graduate students enrolled in different programmes and 2,458 enrolled in the Diploma and
870 in certificate programmes. The breakdown in student enrollment is presented in the.

Table 2.0: Student's Profile
 Programme/Academic year              2015/16       2016/17       2017/18      202018/19      TOTAL
 Bachelors                            4214          4574          4140         3054           15982
 Post- Graduate                       168           94            78           64             404
 Dip. and Cert                                      699           1055         1574           3328
 TOTAL                                4382          5367          5273         4692           19714

1.3.2 Staff Profile
MMUST has a total of 331 teaching staff and 616 non-teaching staff distributed across various cadres. A
summary of the staff profile is presented in appendices.

1.4 The Scope of the Strategic Plan
This Reviewed Third Strategic Plan covers a four-year period beginning 2019/2020 to 2022/2023. During
the implementation period, the plan will be aligned to accommodate the Kenya's Big Four Agenda, the
Kenyan Government's planning cycle and reflect the current University structures.
The strategic plan is focused on the following Six (6) Key Result Areas:

         i.       Academic Excellence
         ii.      Research, Innovation, Extension Services and Internationalization
         iii.     Consultancy Services
         iv.      Student Services
         v.       Financial Growth Sustainability
         vi.      Institutional Capacity

1.5      Rationale for the MMUST Strategic Plan
The University has been guided by two previous strategic plans which enabled it to achieve growth in
the first ten years. Following the expiry of the second Strategic Plan 2009/2010 – 2013/2014, MMUST
embarked on developing the 2015/2016-2019/20 Strategic Plan to revitalize and refocus its operations in
light of the changes experienced in the local, national and global environment. The TSP has been revised
to the current 2019/2020-2022/2023 Strategic Plan. It is expected that this reviewed Strategic Plan will:
           i.    Assess the achievements and challenges in the current strategic plan
           ii.   Align the strategic plan to the government of Kenya's Big Four Agenda
           iii.  Align the Strategic plan to the Government of Kenya's planning cycle
           iv.   Update the contents of the current strategic plan to reflect the current University
                 structures and emerging issues.
           v.    Enhance the University's ability to solve problems and cope with changes in the
                 environment.
           vi.   Strategically identify alternative ways of generating income without compromising
                 academic standards.
           vii.  Give priority to rational funding allocation to avoid wastage and scramble for the limited
                 resources by allowing prioritization of expenditure through making strategic choices.
           viii. Act as a tool for building consensus and commitment through stakeholder engagement
                 in identifying priorities.
           ix.   Provide a framework for effective monitoring and evaluation of performance.

                                                                MMUST: THE UNIVERSITY OF CHOICE        5
MMUST: Strategic Plan 2019/20 – 2022/23

Preparation of the strategic plan

1.6     Preparation of the Strategic Plan
The revised Strategic Plan underwent the requisite processes of development and interrogation by the
relevant University organs before adoption. The development of this strategic plan was an all- inclusive
process which involved the participation of internal and external stakeholders whose input was solicited
through intensive and extensive discussions and consultations. The process was guided by a strategic
plan review committee consisting of competent and acknowledged practitioners from various sections
of the University. The committee facilitated the review process of the previous strategic plans and various
government policy documents. Specifically, the strategic plan was developed within the framework of
Kenya's Big Four Agenda, Kenya's government planning cycle, the Constitution of Kenya 2010, Vision 2030,
the global Sustainable Development Goals, MMUST Charter 2013, the Universities Act 2012, the draft
Sessional Paper No.1 2019, the Labour Laws of Kenya, Commission for University Education guidelines,
TVET guidelines and other statutory and regulatory guidelines.

The social pillar within Vision 2030 seeks to build a just and cohesive society with social equity in a
clean and secure environment. This will be realized through eight social sectors, namely, Education
and Training, Health, Water and Sanitation, the Environment, Housing and Urbanization, Gender, Youth
Sports and Culture, equity and poverty reduction. Of the sectors mentioned above, the University as an
educational institution, is focused on contributing towards increased transition rates from secondary
school to University. It also seeks to contribute to expansion of access to University education with an
emphasis on science and technology courses.

MMUST is among the 32 public universities contributing towards attainment of this sectoral goal. The
University is keen to deliver University education and training that is internationally competitive as
envisaged in the ten Medium Term Plan (2013–2017) of Vision 2030. MMUST seeks to expand access,
enhance equity, improve quality, ensure relevance and invest in human resource through institutionalizing
excellence and increasing the level of research funding. Further, the University is focused on formalizing
linkages with local and international institutions, the private sector and government in the areas of
curriculum development, collaborative research, staff exchange, capacity development and industrial
attachment.

As a University of Science and Technology, MMUST is focused on improving Technical Vocational
Education and Training (TVET). This will be done through undertaking training needs assessment in
collaboration with the production and service sector. Additionally, there will be training of lecturers in
technical education following a skills-oriented curriculum, providing an alternative path for accessing
higher education and training; mobilizing resources to develop the TVET institute and collaborating
with industry for relevant support, such as; attachments, research and capacity development. To keep
abreast with technological changes, the University shall mainstream ICT at all levels of operation and
address emerging and cross-cutting issues, including; Cancer, HIV and AIDS, drug and substance abuse,
environmental management and social disparities.

 6       MMUST: THE UNIVERSITY OF CHOICE
MMUST: Strategic Plan 2019/20 – 2022/23
1.7 Role of Masinde Muliro University of Science and Technology in the Realization of National and
    International Development Agenda

1.7.1 The Big Four Agenda
During this Strategic Plan period, the University shall develop proposals to help implement the
Government Big Four Agenda. The Big Four Agenda involves undertaking activities that promote Food
and Nutritional Security, Universal Healthcare, Affordable Housing and Manufacturing.

The University will contribute to food and nutritional security by coming up with a model farm,
development of green houses, offering agriculture extension services, training of agriculture specialists,
establishing a processing and production unit as well packaging capsule from Spirulina. Through the
School of Nursing and Midwifery, the University will roll out extension services to support Universal
healthcare. This will involve training community caregivers and a programme tackling the emerging
issues of teenage pregnancies. The University will also initiate cancer awareness and screening in the
western region and upgrade the current health unit to a health center status registered by NHIF to
cater for students and staff. In the plan period, in collaboration with Ball State University and County
Government of Kakamega will establish a sickle cell Centre.

On affordable housing, the School of Engineering will develop high quality low cost building materials.
Besides, the University proposes to establish a village on its 18-acre land at Lubao – Kakamega to provide
accommodation for students and staff. The University village will house a shopping mall, a school and
other basic amenities and infrastructure in collaboration with the government and other players in the
private sector.

Finally, on manufacturing, the TVET institute will train technicians and technologists to fill the skills gap
in the manufacturing sector. The institute will also establish a teaching factory which will be used for
training, attachments and for actual production of basic industrial products for domestic and export
market. In addition, the University through the Institute proposes to develop a computer assembly unit
to serve the University and education institutions in the region. The University shall establish a processing
and production unit for the production of branded detergents, honey, flour and water for the market.

1.7.2 Sustainable Development Goals
The MMUST strategic plan in highly informed by the global Sustainable Development Goals (SDGs).
The University is keen to contribute to their realization in this plan period. In particular, MMUST shall
take a leading role in the realization of SDGs and Global Citizenship Education through Education for
Sustainable Development (ESD). This will be realized through mainstreaming the SDGs in all the academic
programs. All the seventeen (17) goals shall be addressed, however, some of the goals which have a direct
impact on education, health and socio-economic development shall be given prominence in line with
the MMUST Vision and Mission. For instance, in regard to goal two, MMUST shall endeavor to promote
sustainable agricultural practices to promote food security. Through the school of Medicine and other
health related programmes, MMUST shall strive to promote, prevent, treat, educate and participate in
other health interventions to ensure universal health coverage in order to realize the third goal. Equally,
as an educational institution, MMUST shall contribute to goal four on provision of quality education and
subscribe to the Education 2030 Incheon Declaration. The declaration is meant to enhance inclusive,
equitable and quality education for lifelong learning by training competent teachers.

1.7.3 African Union Agenda 2063
The reviewed strategic plan is also informed by Agenda 2063 of the African Union. This agenda provides
that Africa will have well educated and skilled citizens underpinned by Science, Technology and
Innovation. It further stipulates that no child will miss school due to poverty or any form of discrimination
and that Africa's human capital will be fully developed through sustained investments based on universal
early childhood development and basic education and that sustained investments in higher education,
science, technology, research and innovation shall also be realized. Agenda 2063 proposes elimination of
gender disparities at all levels of education and access to post-graduate education shall be strengthened
to ensure world- class infrastructure for learning and research.

                                                                 MMUST: THE UNIVERSITY OF CHOICE         7
MMUST: Strategic Plan 2019/20 – 2022/23
1.7.4 Vision 2030

The third MMUST strategic plan also draws from the Country's development agenda provided for in
Kenya's Vision 2030. This is the Country's long-term development blueprint aimed at transforming Kenya
into "a newly-industrialized, middle income country providing high quality of life to all its citizens in
a clean and secure environment" (GoK, 2007). The realization of the vision is supported by the social,
economic and political pillars.

In the social pillar, the University will play a pivotal role in human capital development. As a university
of Science and Technology, MMUST shall contribute to strengthening human capital development in
science, technology and engineering by offering such courses. MMUST has also majored in teacher
education in technology education. MMUST has been recognized as a TVET institution and in line with
the Vision 2030, there is a firm commitment in this plan period to ensure that the TVET Institute is well
supported. Critical in the social pillar of Vision 2030 are the reforms in the education sector particularly the
shift to the Competency Based Curriculum (CBC). The MMUST reviewed strategic plan takes cognizance
of this and provides measures to ensure that teacher education is articulate in aiding the country realize
the aim and objectives of the CBC.

                                        Professionalism

                   Customer
                   Experience                                    Innovativeness

                                           Core
                 Integrity                Values                        Excellence

                             Collegiality
                                                      Accountability

  8       MMUST: THE UNIVERSITY OF CHOICE
MMUST: Strategic Plan 2019/20 – 2022/23

                                            CHAPTER TWO

                              STRATEGIC FOCUS
This Chapter presents the strategic focus of this Strategic Plan. Among other things, it details the Motto,
Philosophy, Vision, Mission statement, core values and University functions.

2.1    Philosophical Framework
2.1.1 Motto
The University of Choice

2.1.2 Philosophy
MMUST upholds the view that Education, Science and Technology are indispensable tools in harnessing
resources of nature for sustainable development by creating an environment in which all individuals can
realize their full potential.

2.1.3 Vision
A Premier University in Science, Technology and Innovation

2.1.4 Mission Statement
To provide excellent University education, training and research through integrating science, technology
and innovation into quality programmes to suit the needs of a dynamic world.

2.2      Quality Policy Statement
Masinde Muliro University of Science and Technology is committed to providing high quality education
that offers intellectual, social, cultural and economic benefits through quality teaching, training, research,
consultancy, extension and community service.

The University is dedicated to improved service delivery by encouraging professionalism, innovativeness,
teamwork and integrity to prepare scholars of high intellectual capacity relevant to societal needs. The
University realizes that customers' and stakeholders' needs and expectations continually change.

Therefore, it undertakes to continuously understand and stay ahead of the trends in this regard.
The University Management undertakes to realize this goal by identifying and mitigating its risks
and opportunities and periodically monitoring the institution's performance through customer and
industry surveys, annual performance contracts and implementation of an effective and efficient quality
management system based on ISO 9001:2015 standard, statutory/regulatory and customer requirements.

2.3    Core Values
2.3.1 Customer Experience
We shall Endeavour to ensure customer satisfaction.
We shall strive to offer superior services to meet and exceed the expectations of both internal and
external customers.

2.3.2 Accountability
We shall act transparently in performing our duties.
We shall take responsibility in all our decisions and actions

2.3.3 Collegiality
We shall uphold co-operation between academic peers and associates as a means of building interpersonal
trust during interaction Equity.

                                                                  MMUST: THE UNIVERSITY OF CHOICE         9
MMUST: Strategic Plan 2019/20 – 2022/23
2.3.4 Excellence
We shall encourage excellence in teaching, research, innovation and service to the public.

2.3.5 Professionalism
We shall conduct ourselves with dignity and diligence in discharging our duties. We shall observe
professional competence and objectivity in performing our duties

2.3.6 Innovativeness
We shall endeavor to create and utilize new ideas in teaching and research.
We shall seek to disseminate new knowledge and ideas in teaching and research.

2.3.7 Integrity
We shall endeavor to be consistent with right actions, values, methods, measures, principles, expectations
and outcomes.
We shall be committed to do the right thing for the right reason regardless of the circumstance

2.4     Strategy Canvas
The strategy canvas illustrates the emphasis of key critical elements which differentiate and position the
organization's strategy within industry. This is meant to create a cost-effective strategy for service delivery.
The University has identified five factors that create the difference: Utilization of ICT, quality teaching and
research, student centeredness, collaboration and partnering and modern equipment. Comparatively,
MMUST stands out as a University of choice among public and private Universities in Kenya owing to the
demonstrated growth pattern.

2.5 Customer Value Proposition (CVP)
The University is keen on being a world-class student-centered institution. Therefore, it is committed
to develop, retain and strengthen its relationship with students in the provision of services based on
customer analysis. Table 2.1 below gives the customer value proposition:

Table 2.1: Customer Value Proposition
 Attribute                            Image                                 Relationship
 Quality service                      Professional                          Courtesy
 Affordability                        Transparent                           Caring
 Timeliness                           Efficient                             Empathetic
 Expertise                            Consistent                            Trusting
 Safety                               Responsive                            Valued
 Privacy                                                                    Collaborative
 Reliable                                                                   Friendliness
 Accessible                                                                 Confidentiality

2.5     Functions of the University
The functions of the University as provided for in the MMUST Charter 2013 are:-
1. Provide directly, or in collaboration with other institutions of higher learning facilities for technological,
    professional and scientific education.
2. Advance knowledge and its practical application by research and other means.
3. Disseminate the outcomes of research by various means, and commercially exploit the results of such
    research.
4. Participate in technological innovation as well as in the discovery, transmission and enhancement
    of knowledge and stimulate the intellectual life in the economic, social, cultural, scientific and
    technological development.
5. Contribute to industrial and technological development of society in collaboration with industry and
    other organizations.
6. Make proposals for new programmes of study including those that culminate with degrees, diplomas
    and certificates.

 10       MMUST: THE UNIVERSITY OF CHOICE
MMUST: Strategic Plan 2019/20 – 2022/23
7. Make proposals for the establishment of constituent colleges, campus colleges, campuses, faculties,
    schools, directorates, institutes, departments, study and research centers, and other resource and
    administrative units as may be appropriate.
8. Inculcate a culture of innovation in technology, engineering, and science, amongst staff, students,
    and society.
9. Promote education in Science, Technology, Engineering and Mathematics within the institution and
    society.
10. Develop an institution of excellence in teaching, training, scholarship, entrepreneurship, research,
    consultancy, community service, among other educational services and products, with emphasis on
    technology and its development, impact and application to society.
11. Provide multi-level system of education and training that is relevant to the needs of the community
    covering a wide range of fields and levels with provision for recognition of prior learning and flexibility
    of transition between educational levels.
12. Provide for the development of technical and vocational education and training and related activities
    within the institution and the wider society.
13. Play a leading role in the development and expansion of opportunities for technological and
    vocational education and training.
14. Provide high quality educational, research, residential, commercial, cultural, social, recreational,
    sporting, and other facilities.
15. Facilitate student mobility between programmes of study at different technical training institutions,
    polytechnics, and universities.
16. Promote critical enquiry and creativity in education, training and research within the University.
17. Participate in commercial ventures and activities that promote the objectives of the University.
18. Foster the general welfare of staff and students.
19. Provide opportunities for development and further training for University staff.
20. Develop and provide educational, cultural, professional, technical and vocational services to the
    community and in particular the fostering of corporate social responsibility.
21. Provide programmes, products and services in ways that reflect the principles of equity and social
    justice.
22. Admit into the University candidates for degrees, diplomas, certificates or other awards of the
    University. Be open to all persons accepted as qualified by senate without discrimination against
    ethnic origin, sect, creed, social status or gender. No barrier based on any such distinction shall be
    imposed upon any person as a condition of one becoming, or continuing to be, a student or graduate
    of the University.
23. Conduct examinations for, and grant such academic awards as may be provided for in the statutes,
    and syndicate examinations for awards at other institutions as may be approved by senate.
24. Facilitate the development and provision of appropriate and accessible academic and other
    programmes.

                                                                  MMUST: THE UNIVERSITY OF CHOICE          11
               Plate 3: Customer Service
MMUST: Strategic Plan 2019/20 – 2022/23

Plate 4: Signing of 2019- 2020 performance contract.

 12     MMUST: THE UNIVERSITY OF CHOICE
MMUST: Strategic Plan 2019/20 – 2022/23

                                          CHAPTER THREE
                                        3.1 Introduction
                       SITUATIONAL ANALYSIS
This Chapter reviews the performance of Masinde Muliro University of science and Technology during
the period 2015/2016 to 2018/19 and presents the achievement made, challenges and lessons learnt.
It also analyses the University strength, weakness, opportunities and threats (SWOT) as well as Political,
Economic, Social, Technological, Legal and Ecological factors (PESTEL). These key factors shall influence
the future success of MMUST in achieving its mission and goals during the 2019/2020 to 2022/2023
plan period. The situational analysis aims at enhancing an understanding of the nature and structure
of the University as well as the environment within which it operates. In this regard, it is imperative that
the leadership of the University understands the environmental dynamics for it to effectively fulfill its
mandate.

3.2 Evaluation of Past Performance
The University has implemented three (3) strategic plans: Strategic Plan 2004/2005 – 2008/2009,
2009/2010–2013/2014 and the current 2015/2016-2019/2020 to various degrees of success. Key
achievements include the initiation of various physical infrastructure projects, increased number
of academic programmes, increased number of students, enhanced use of ICT, on-going efforts of
transforming the University into a student-centred University; improved revenue collection attributed to
zero fee balance policy, payment of close to one billion debts, and attainment of high quality standards.

The University critically examined the implementation of the previous strategic plans. It documented
the gains made while putting into account the internal and external operating environment. Lessons
learnt were also put into consideration including a way forward in reviewing and realigning the MMUST
2019/2020-2022/2023 strategic plan.

3.2.1 Physical Infrastructure
The University expanded its physical facilities during the period under review. To begin with, a six floor
administration block with 130 offices including a Huduma center is in place. In addition, Mechanical
Engineering Department (MED) Complex, Anatomy Laboratory for the School of Medicine and a wellness
and fitness center constructed through PPP have been completed. A number of incomplete projects
from the previous plan have equally been completed and equipped including a two thousand (2000)
capacity multi- purpose hall, a one thousand and fifty-four (1054) capacity women hostel (Hall 4) and
University entrance and security offices. Besides, other projects such as a five storey tuition block which
is 95% complete and the perimeter fence are under construction. However, there are other infrastructural
projects planned for the period of 2019/2020-2022/2023. These projects include an Engineering complex
for the School of Engineering estimated at a cost of Kshs. 800 Million, a 20 storey MMUST towers estimated
at a cost of Kshs.1 billion, The Atwoli Centre, a student center, a TVET institute, a health centre and the
renovation of Milimani guest houses.

3.2.2 Student Enrolment and Graduation Rate
Student enrolment and graduation rate improved significantly over the period 2015/2016 – 2018/2019
 in certificate, diploma and degree programmes. This was achieved through enhanced marketing,
establishment of new campuses and introduction of various modes of study such as the evening
classes, school based programmes and Open, Distance and e-Learning (ODeL). Growth in the graduate
programmes and short courses was not as significant as the undergraduate programmes.

3.2.3 Progress over the Past Eight Years
The University has made remarkable progress over the past eight years as outlined in Table 3.1. The table
detail the number of graduands for the last Eight (8) Graduations.

                                                                MMUST: THE UNIVERSITY OF CHOICE         13