An Introduction to All Saints Catholic College 2020 - 2021 - Information for Families
Page content transcription
If your browser does not render page correctly, please read the page content below
All Saints Catholic College
   Specialist in Humanities

An Introduction
  to All Saints
Catholic College
  2020 - 2021

Information for Families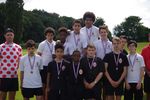 Introduction to All Saints
Welcome to All Saints Catholic College.

Dear Parent/Carer,

All Saints Catholic College enjoys a unique status as a faith community that exists
to meet the needs of those who seek Catholic education within Huddersfield and
the surrounding areas.

Our distinct Catholic status challenges us with the mission to help our students to
recognise Christ as the centre of our community. We aim to live the Gospel so
that our students learn to love and serve God, themselves and others. This is the
distinctiveness we celebrate and continue to develop in partnership with our
families, parishes, feeder schools, the Leeds Diocese and the wider community.

We have many plans for our students this year and I am confident that you will
support and encourage your child to seize every opportunity to get involved in all
our activities. Participation in these events will enhance their academic
development and lead to a broader, and very satisfying, educational experience.

We encourage and value the support of our parents/carers and are keen to work
in positive partnership with you. We would invite you to contact us without
hesitation if you have any concerns regarding your child's progress.

Ms K Colligan
Principal
Introduction to All Saints
BEHAVIOUR FOR LEARNING                        Students who refuse to attend the
                                              Reflection Room will be removed to
Behaviour for Learning (BfL) is an
                                              Inclusion.
integral part of our College ethos.
Behaviour for Learning is a behaviour         Students may be removed from class and
management system which encompasses           issued a Red Card for the following:
all aspects of student conduct throughout
                                               Refusing to engage in the learning activity
the College.
                                               Speaking to staff inappropriately/use of
At its heart is the philosophy that all         inappropriate language.
students and staff in our College are          Continuing with misbehaviour after a C3
important and valued individuals and            has been issued.
deserve to be treated with respect.
                                              BfL Around College
Students learn best when they are happy       An important aspect of BfL is that it
and confident, and the BfL system is in       extends throughout the College.
place to help achieve this; no one has the
right to interrupt the learning of others.    A C3 can be issued around College for the
                                              following:
BfL in the Classroom
                                              Uniform not worn correctly
BfL rewards and sanctions are linked to
                                              Running/Shouting/Pushing
behaviour targets. The behaviour targets
                                              Eating in an undesignated area
are displayed in all classrooms. Staff will
                                              Mobile phone use - 1 hour detention
remind student of these behaviour targets
at the start of each lesson.                  In addition to this a C3 is given for arriving
                                              late to school or if a student is more than 5
The behaviour targets are:
                                              minutes late to a lesson without a note.
You are to remain silent when anyone is
                                              A C3 is a 30 minute detention and a Red
 talking
                                              Card is a one hour detention, to be
You are to stay on task
                                              completed the following day.
You are not to touch another student or
 their belongings                             Rewards
You must speak and act in a respectful way   Praise is at the heart of the BfL system and
                                              it is made clear to students that we expect
Students will be given up to two verbal       the best of them.
warnings (C1 and C2) based on these
behaviour targets. On the third               Students are regularly issued achievement
misbehaviour students will be issued with a   points for their good attendance and
C3 detention.                                 behaviour.
Some aspects of student behaviour will        An example of rewards given to students
result in the student being issued a Red      this year include:
Card detention and will result in students    Points given for positive S2S reports
being sent to the Reflection Room.            Certificates in award assemblies
                                              Non uniform days
Introduction to All Saints
STEPS TO SUCCESS                               Beginning
Steps to Success (S2S) regularly               Students are beginning to grasp some of
reports on student attainment and              the main ideas and skills within the areas of
                                               study.
progress.
Steps to Success reports are distributed to    Emerging
students and parents/carers once a term,       Students have grasped some of the main
totalling three reports in an academic year.   ideas and skills within the areas of study,
One copy of the report will be sent home       others are starting to emerge.
via the Parent App and another copy will be
fixed into the student planner.                Developing
By providing regular information about         Students have grasped most of the main
student progress we aim to keep parents/       ideas and skills within the areas of study,
carers informed and encourage students to      others require development.
be responsible for their learning.
.
                                               Securing
Teachers will monitor performance against
                                               Students have a secure understanding of
targets and intervene to ensure that
                                               the main concepts and skills within the
students are given the support they
                                               areas of study, when applied to familiar
require.
                                               contexts.
In addition to the three Steps to Success
reports, Learning Tutors and Achievement       Mastering
Coordinators will complete a written report    Students have demonstrated a
for parents/carers at the end of the           comprehensive understanding of all
academic year.                                 concepts and skills within the areas of study
                                               and can apply this to new contexts.
STEPS TO SUCCESS
Assessment Data                                Students who achieve Developing at the
S2S reports will show a Target Grade for the   end of Key Stage 3 would generally be
end of Key Stage 3 (the end of Year 9) and     expected to achieve a grade 4 or above at
an Expected Grade, which the relevant          GCSE.
subject teacher feels your child will reach
by the end of Year 9 based on their current    S2S reports also report on your child's
progress.                                      attitude to learning in each subject, which is
                                               graded using the matrix on the following
                                               page.
Introduction to All Saints
STEPS TO SUCCESS
Attitude Matrix

                                                                      3: Improvement
                     1: Outstanding            2: Motivated                                   4: Unacceptable
                                                                           Needed

                 Enthusiastic           Positive             Passive                     Poor
                 Seeking 'next steps' Following 'next steps' Satisfied with              Behaviour or
                 Taking a major part in guidance from          achieving the                attendance
                  lessons e.g. leading a    teachers                minimum standard         concerns raised by
My Approach       starter or plenary       Playing an active role Occasionally asking      teacher
 to Learning     Good role model           in lessons              questions               Creating a
                 Can lead own             Asking relevant       Sometimes offering        negative learning
                                            questions               answers                  environment for
                  learning
                                                                                             other students
                 Giving support to        Volunteering          Not fully engaging in
                  others                    answers                 activities
                 Aspiring beyond target Aiming for target       Lacking focus on         Not engaging
                  level                     level                   target level             with target level
                 Working in class at the Working in class at    Working in class at      Working in class
                  required standard and     the required            the minimum              below the
The Quality of    beyond                    standard e.g. well-     standard e.g.            minimum standard
  My Work        Often producing           presented, detailed     rushed, lacks detail    Homework
                  homework which            and complete            or is incomplete         concern raised by
                  exceeds the target       Producing             Producing homework        teacher
                                            homework at the         below target grade
                                            target grade
                 Always on task           Generally on task     Sometimes off task       Frequently off task
                 Showing dedication       Showing               Easily losing            Difficulty in
  My Task        Completing work           perseverance            concentration            concentrating
 Completion                                Usually completing    Frequently not           Reluctance to
                                            work                    completing work          complete work

                 Consistently produces Meets homework           Meets homework           Misses homework
                  homework of a             deadlines               deadlines but due to     deadlines
                  standard above what                               lack of effort
                  is expected of them.     Consistently            occasionally does not   Consistently fails
 Homework
                                            produces work to        produce homework         to produce
                 Furthers knowledge by     target grade.           to the target grade.     homework to the
                  participating in                                                           target grade.
Introduction to All Saints
PARTNERSHIP WITH PARENTS/                      Information Evening
CARERS                                         All new parents/carers are invited to an
As Voluntary Aided (V.A.) school we are        Information Evening in October when you
                                               will have the opportunity to raise any
required to raise funds so that a 10%
                                               individual concerns. We will explain to you
contribution can be made toward the cost
of all capital projects.                       at this evening how we hope to develop all
                                               students' individual gifts and record their
As this must come from the community of        achievements.
parents/carers of students who attend the
college, we thank you for your continued       Parental Consultation Evening
support.                                       There will be a Consultation Evening when
For 2020-21, we are asking for a minimum       parents/carers are encouraged to come to
contribution of £5 per half term. This         college to discuss your child's progress. The
modest sum equates to £30.00 per student       Learning Tutors and Year 7 Achievement
for the year and would support investment      Coordinator will be available, as well as the
in the school building and resources.          teachers who take your child for individual
                                               subjects.
Items purchased to date include:
 Furniture throughout the new building        Appointments
 ICT/Sports/Music/Technology equipment        Parents/Carers may see the Achievement
 Outdoor Canopy for social times              Coordinator, BfL Team, Assistant Principal or
 Floodlights for the outdoor multi-use        Principal by appointment. A preliminary
   games area                                  conversation over the telephone to discuss
Items for consideration include:               the reason for the visit is always helpful.
 Additional outdoor shelters for poor         *Please note, it is essential that all
   weather conditions                          meetings have a prior appointment made
 Refurbishment of the caretakers houses       due to teaching commitments.
Donations of any sum would be gratefully
received and you may of course wish to
                                               STUDENT ATTENDANCE
give more. Donations can be made at any        All students are expected to attend on time
time via ParentPay or alternatively through    every day that college is open unless the
the school finance office but if you wish to   reason for the absence is unavoidable.
make a regular payment, we will assist you     All Saints has procedures in place to
in setting up a standing order.                support the regular, punctual attendance of
If you are a UK taxpayer, we can claim the     our students, and we will contact parents/
tax on your donation at no cost to yourself    carers if we have any attendance concerns.
through the Gift Aid programme which will      There is a direct relationship between a
automatically increase your set amount we      student's attendance and their academic
receive in school.                             success and regular attenders are more
Further information is available from the      successful in transferring between Primary,
School Finance Office.                         Secondary and Higher Education
Introduction to All Saints
We are often asked to provide references        During any extended absence, parents/
for colleges and future employers. Without      carers should contact college and we will
exception, all references ask for an outline    make every effort to ensure that
of a student's punctuality and attendance.      appropriate work is provided.
Parents/Carers have a legal responsibility      Authorised Absence
to ensure their child attends college           Requests for 'authorised absence' during
regularly and punctually. Parents/Carers        term time must be made in writing,
also have a legal responsibility to inform      addressed to the Principal, at least four
college promptly of the reason for their        weeks prior to the absence dates.
child's absence on each and every day of
                                                Requests for 'authorised absence' during
absence.
                                                term time are strongly discouraged and will
We do accept that there are valid reasons       only be supported by the college in
for absence in certain situations e.g. for      exceptional circumstances. Exceptional
compassionate grounds, difficult family         circumstances do not include family
circumstances or illness. If this is the case   holidays.
we are fully supportive of the parents/
                                                Students who go on holiday during term
carers and the student concerned.
                                                time will usually have their absence
Parents/Carers are asked to contact the         recorded as 'unauthorised'. Nationally, an
College before 8.30am if their child is to be   unauthorised absence is regarded as
absent from College. A text will be sent to     truancy.
parents/carers when we have not received
                                                Parents/Carers who take their children out
an explanation for their child's absence.
                                                of school during term time without the
The following have been offered by              Principal's authorisation will be issued with
students and parents/carers as reasons for      a penalty notice by the LA (currently a
absence but are not accepted:                   £60.00 fine) per child/per parent/carer.
Missed the bus - the majority of students      Medical and dental appointments should
make it into college every day, they just       be arranged outside of College time unless
leave in good time.                             it is an emergency, and evidence to support
Repeated illness without a doctors' note.      the absence must be brought into school
Slept in, alarm didn't go off.                 and given to the Attendance Officer.
Looking after younger siblings
Waiting for domestic services, deliveries      Medical Treatment
etc.                                            Qualified First Aiders are on site and will
In the event that a student arrives late to     give treatment or advice regarding injuries
college they must sign in with the              sustained in College and ensure that
Attendance Officer.                             specialist help is sought if necessary. We
                                                will contact parents/carers to take students
Failure to sign in is a serious safeguarding    home if we judge them unfit to be present
matter.                                         at school.
Introduction to All Saints
Medication                                        seriously, for every day that students do not
                                                  have a planner they will be given a C3
If your child needs to take medication
during the school day these should be             detention.
handed in to Student Services with a              Home – School Communication and the
Prescribed Medication and Care Plan               Parent App
Information Request form filled in by             At All Saints Catholic College, we use a
parents/carers (available on the college
                                                  paperless system for home-school
website). The medication should be in its         communication. With the growth in email,
original packaging, clearly showing the           smartphones, tablets and general home
prescription label with name and directions
                                                  computer use, we believe this is the
of use. For full details of the medical policy,
                                                  preferred method of communication for
please read the First Aid and Student             many parents/carers.
Welfare Policy on the college website.
                                                  We use SIMs InTouch to send messages
It is vital we have up to date contact details    between school and home. This is a secure
for such eventualities. Please ensure             electronic communication system using
college is notified as soon as possible if        email and text messages.
contact details change i.e. home telephone
number, mobile numbers, work contact              Using InTouch allows us to send private
telephone numbers and home address.               messages concerning individual pupils
                                                  directly to a named parent/carer (e.g. to
Student Planner                                   chase up absences from school via text
The Student Planner is the main vehicle to        message) as well as whole school messages
communicate all the good news and                 (e.g. information events and key dates as
affirmations of good conduct. We will also        well as newsletters and other notices).
communicate regularly through the Planner
if students infringe college rules or neglect     We also use the Parent App; this is a secure
their studies. The students whose parents/        app, accessible from a smartphone, tablet
carers read the Planner regularly learn to        or PC, anytime, anywhere. The information
value it and take pride in their                  that you receive through the Parent App
achievements. We encourage parents/               will help you stay up-to-date with your
carers to communicate routinely with              child's school life as well as support your
teaching staff using this medium and to sign      child's development and progress. You will
it weekly.                                        find the following in the Parent App:
A planner will be supplied at the beginning
of each academic year at no cost to               Important information such as attendance,
parents /carers. However it will cost £5.00       behaviour and achievement
to replace lost, damaged or graffitied            Access to assessment information and
planners.                                         reports
Students will be expected to carry this daily
and "forgotten" planners will be treated
Introduction to All Saints
School term, inset and key dates for your          Belts: Where a belt is worn it must be
diary                                                dark and discrete. Wide decorated
Access to update your contact details, so           fashion belts are not acceptable.
we always have the most up-to-date                  Shoes: Wear plain black school type
information in case of an emergency.                 shoes. Sensible shoes remain essential
If you have more than one child at school,          for the safety of students and slip on
you will have access to all of their                 'ballet style' or 'holiday' footwear is not
information from the same app.                       appropriate in College. Fashion shoes
We will send emails and text messages to             and boots are not acceptable.
the Priority 1 contact, which you have              Socks: Wear plain black socks.
supplied on the Student Details form.               Trainers: Trainers may be worn only in
When your child joins us in in September,            PE or Drama. Trainers should be put on
you will also receive an invitation to register      and removed in those subjects. Other
for the Parent App via email.                        than in PE and Drama, trainers are only
                                                     allowed for short term problems and only
                                                     when a doctor's note has been brought
STUDENT GUIDELINES
                                                     into College. Trainers or pumps are not
Uniform                                              acceptable footwear for College.
    Teachers have been asked to ensure that         School Bag: Carry a waterproof school
    students' uniforms are correct before            bag, suitable and large enough to carry
    students are released from tutor time or         college books, planner and equipment.
    lessons.                                         Small handbags are not appropriate.
   Blazer: Wear the grey college blazer with       Outdoor Clothing: Put coats, hats,
    badge at all times. The exception to this        scarves, gloves etc. into lockers or school
    rule is where a teacher gives permission         bags. These items will be confiscated if
    for students to remove the blazer in             seen worn in College as will other non
    lesson. The only lapel badges allowed            uniform items such as cardigans.
    are those awarded by the college.
   Jumper: A grey college jumper with the           Students may be sent home to change if
    college badge may be worn.                       they are not adhering to our dress code
   College Shirt: Wear a white college shirt        or to collect missing books, planner or
    fastened at the collar and tucked in.            equipment.
    Open neck blouses are not acceptable.
   Trousers: Wear black college tailored           Wear an outdoor coat of a sensible style.
    trousers. Black jean type or tight legged       Make-up, body piercings and extreme
    trousers or leggings are not acceptable.         hairstyles are unsuitable for College and
   Skirts: Skirts are no longer part of the All     are not permitted.
    Saints Catholic College uniform                 Make-up and Nail Varnish: Students are
   Tie: The clip on tie must be attached to         not to wear make-up or nail varnish in
    the buttoned section of the collar.              College. False nails and nail extensions
                                                     are also not permitted.
Introduction to All Saints
 Hair: Students' hair should be               Equipment List
  appropriate to a formal college setting      Everyday
  and should not be of an extreme nature,       College Planner
  i.e. too long, too short, bright coloured,    All relevant exercise books, text books
  multi-coloured or with a pattern or lines      and equipment for practical lessons e.g.
  cut into it or promote any allegiance to a     food ingredients
  product or organisation. Coloured             Two pens, black or blue
  flashes are not acceptable.                   Two pencils
 Jewellery: Students are not allowed to        30cm ruler
  wear earrings, rings or necklaces. They       Eraser
  may wear one bracelet as a religious          Pencil sharpener
  observance, a watch, a cross and chain        Scientific calculator
  which should be worn tucked under the         Reading book
  school shirt.
Environment                                    As directed by subject staff
 Food and sandwiches are only allowed in       Compass (metal)
  the dining areas. Use the bins provided.      Protractor (transparent)
  Pick up litter when asked. Chewing gum        Musical instruments if taking lessons
  is not allowed in college. If you see         PE kit
  anyone damaging any aspect of our             Coloured pencils
  environment you have a duty to inform a       French/Spanish pocket dictionary
  member of staff immediately.
Property, Valuables and Use of Lockers         Valuables
 Students should ensure they are               Valuables (including mobile phones and
  equipped for College and are                   electrical items) should be left at home.
  responsible for the condition and             Students may, in an emergency or
  security of College books. Don't leave         exceptional circumstances, be assured
  bags unattended unless it is in a locker.      that calls can be made from Student
 A charge of £10 is made for using a locker     Services.
  for the entire five years. Students can        If mobile phones are brought in with
  use lockers before College starts, at          students, they are not to be used in
  break, at lunchtime and after College.         College. If students are found to be using
  Students are not allowed to go to lockers      a mobile phone during the College day,
  between lessons. Lockers are for               the College policy is to confiscate the
  individual use. The school cannot be           student's phone. Additionally, College
  held responsible for any items lost or         can accept no responsibility for loss or
  stolen from the lockers.                       damage to valuables.
Introduction to All Saints
Safety                                         Lost Property - Disclaimer
 All Saints Catholic College takes our duty   The college does not accept responsibility
  of care for our students very seriously.     for property lost/stolen while in college or
 Car Travel: Parents/Carers are not           on college trips and visits. Students are
  permitted to enter the college driveway      responsible for the safety and security of
  unless they have an appointment in           their own possessions.
  college. There is a 5 mile an hour speed
  limit on the college site. The bus bays at   COLLEGE MEALS
  the front of the college must not be used
                                               College meals are served at a cost of £2.45
  by parents/carers.
                                               this coming year. We are working closely
 College Buses: Behave reasonably on the      with Kirklees Metropolitan Council in trying
  college buses. The college will take         to ensure eligible parents/carers take up
  action against students reported for         their entitlement to free meals.
  misbehaving while travelling to and from
  college and this may result in students
                                               ParentPay
  being banned from using college
  transport. For details of bus routes/bus     ParentPay is the school online payment
  passes please go to www.wymetro.com/         system that lets you make secure online
  schools.                                     payments by credit and debit card. You can
 Fire Drill: Follow instructions given by     also pay in cash at local PayPoint stores.
  staff and exit the buildings in silence.     Hundreds of thousands of parents use
  Once outside, students must line up in       ParentPay to pay schools online. It's used
  form groups in alphabetical order and        to make cashless payments in schools for
  stay silent until given permission to re-    dinner money and activities like trips, clubs
  turn inside.                                 and music lessons. Our school online
                                               payment system gives you a more
PE Kit                                         convenient and flexible way to pay school
Essential:                                     online and helps to keep your child safe. By
 Rugby/Hockey shirt                           making cashless payments you know that
 Black shorts                                 your money has reached the school safely.
 Black socks with college logo                You can view your account statement and
 Black polo-shirt with college logo           payment history, check when payments
 Football boots/hockey boots                  need to be made and set alerts to tell you
 Shin pads                                    when to pay school online.
 Trainers                                     All activation codes will be emailed home.
Optional:                                      Please activate your account by September
 Black tracksuit bottoms with college         8th 2020 at the latest. A ParentPay User
   logo                                        Guide is available on the College website.
 Black hooded top with college logo           Should you encounter any problems, please
                                               contact the College Finance Department.
Introduction to All Saints
Biometric Cashless System                       As Christians, we believe that we are all
                                                created in God's image. Every time we
The Biometric cashless system is used for
the payment of college meals, where no          meet someone else, we are meeting Christ
cash is taken at the point of sale. Parents/    in them. Mutual respect is essential in all of
                                                our relationships.
Carers top up individual accounts via
ParentPay, which can then be spent in the
same way as cash in the dining room for         Learning Support is an integral part of
                                                College life and is the College's attempt
meals, snacks and beverages.
                                                to meet the diverse needs of its students
Food/Beverages Available                        across the ability range. All students
A selection of food is served at breakfast      must, by law, have full access and
time in the main dining area from 8.15am        entitlement to the National Curriculum,
including toast, crumpets, cereals and hot      and through the work of the Pastoral
and cold drinks. Hot food and drinks are        Team, our aim is to:
also served at break time. A varied menu is      Foster a partnership with parents/carers.
available at lunchtime including hot meals       Continue to develop close links with all
and desserts, sandwiches, home baking,             Feeder Schools.
fresh fruit, yoghurts and cold beverages all     Strive for the earliest possible
complying with the current legislation for        identification of strengths and
healthy eating. The menus are altered             weaknesses.
every term to offer all students a variety of    Recognise that students may need extra
choices.                                          or special provision.
                                                 Provide the necessary provision through
LEARNING AND ADDITIONAL                            individual, group or class support.
NEEDS                                            Assist in the development of
All Saints Catholic College is primarily a         differentiated materials and resources
learning community. Staff and students are         matched to individual needs.
encouraged to learn by trying new                Provide opportunities for students to
initiatives, to learn from new experiences         discuss their concerns and anxieties.
and to turn mistakes into learning               Support students with English as an
opportunities. We are continually seeking          additional language, to ensure that all
ways of learning and responding to the             new students integrate fully into college
changes that are taking place around us.           life.
We believe it is important to try new            Provide mentoring for students to ensure
approaches and to reflect and evaluate on a        that every student reaches their true
regular basis. We aim to be a community            potential.
where learning takes place in an                 Offer programmes of support tailored to
atmosphere of openness and support.               suit individual needs through the College
                                                  Inclusion Centre.
Introduction to All Saints
HOMEWORK POLICY                                   teaching and learning experience by
                                                  ensuring, as far as possible, to:
At All Saints we will:
                                                   Provide a peaceful place to study - free
 Set homework on a regular basis.                  from any interruptions. If such a place is
 Set tasks which are suitable and                  not available in a busy home, parents/
  achievable.                                       carers might consider if it is possible to
 Relate homework tasks to work done in             use the local library. The Learning
  class.                                            Resource Centre in school is available
 Assess homework and give feedback and             until 4:00pm for any child wanting to
  encouragement.                                    complete homework at college.
How Long Should a Student Spend On                 Make it clear that you believe, as College
Homework?                                           does, that homework will help them
                                                    make better progress.
 Year 7 and 8: Usually 2 per night, 45-90
                                                   By encouraging and praising when they
  minutes in total.
                                                    have completed their homework, helping
 Year 9: On average 2 per night, 1-2 hours
                                                    them if asked and by reading comments
  per day.
                                                    written by teachers when work is
 Year 10 and 11: On average 2 per night,
                                                    marked.
  1.5-2.5 hours per day.
                                                   Expect your child to meet deadlines set
Students' Responsibility Regarding                  by staff and taking purposeful action to
Homework                                            ensure this happens.
Students are expected to record all                Help your child to organise their College
homework in their Planner, complete it              work around other responsibilities and
according to instructions and to give it in for     social activities.
marking on the date instructed. If there are
exceptional reasons why this is not possible      COLLECTIVE WORSHIP
they must bring in a note of explanation to       Collective Worship is central to the life of
the teacher the following lesson. Forgotten       our College. Our expectation is that
exercise books will be regarded as the            students will respond and participate with
homework not complete.                            respect and reverence.
                                                  CHARITIES
Detentions, which can be given after
College with 24 hours notice, will be issued      Raising money for charity is an important
if homework is not completed and                  part of our duty to our community. A
submitted on time.                                charity is nominated by the Year 7 Charity
                                                  Committee and termly fundraising events
Parent/Carer's Responsibility                     planned and delivered by the students.
Regarding Homework and Coursework                 This is an excellent opportunity for students
                                                  to be enthusiastically involved in the pursuit
Parents/Carers can best support their child
                                                  of helping others less fortunate than
and the College's drive to improve the
                                                  themselves.
Introduction to All Saints
Thanks from All Saints Catholic College

The Year 7 Team would like to acknowledge the work and support of all the staff
at the primary schools, and you as parents, who have prepared the students for
their transfer to All Saints Catholic College this September.

We have benefited from having regular contact with our feeder primary schools.
The Headteachers and staff have worked closely with us and communicated
student information. We would like to thank all involved for supporting and
engaging in our remote transition offer.

The circumstances around school closure are unprecedented. Support from all
has allowed us to ensure we have been able to liaise with schools, staff, families
and students. These partnerships are key to ensuring a successful transfer to All
Saints and schools and families working together.

We look forward to meeting with you over the coming months.

S Carragher                            L Pickles
Assistant Principal                    Year 7 Achievement Coordinator