BRBENCHMARKING ISBANE - A SNAPSHOT OF OUR GLOBAL PERFORMANCE
If your browser does not support JavaScript, please read the page content below:
BRBENCHMARKING ISBANE - A SNAPSHOT OF OUR GLOBAL PERFORMANCE
CONTENTS AUSTRALIA'S NEW WORLD CITY 4 A GROWING CITY 6 A CONNECTED CITY 9 AN INNOVATIVE CITY 10 A LIFESTYLE CITY 12 BRISBANE QUICK STATS 15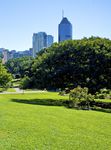 4 BRISBANE AUSTRALIA'S NEW WORLD CITY Australia is consistently ranked as one of the top countries in the world for quality of life: 1st Regional Well being–Organisation for Economic Co-operation and Development (OECD), 2017. 2nd Best country to be born in –The Economist, 2017.
3rd Better Life Index–OECD, 2017. The capital city of Queensland and the third largest city in Australia BENCHMARKING BRISBANE
Rest of Queensland 10%GSP GREATER BRISBANE 9% GRP Rest of Australia 81%GDP 5 16.6% of Brisbane's GRP generated by the resource sector 49% of Queensland's population resides in Brisbane 49% of Queensland's economic output produced in Brisbane Source: Queensland Resources Council, 2016-2017. Source: ABS, 2016. Source: Brisbane City Council, 2018. Source: ABS, 2017. 26.1% of Brisbane's residents born overseas Australia's Gross Domestic Product, 2017 Figure: Brisbane Gross Regional Product (GRP) estimate Source: Australian Bureau of Statistics (ABS), 2017. $161 BILLION GRP $67,032 GRP per capita 2.4 MILLION population 2.1% population growth rate from 2007-2017 2.5% GRP growth rate from 2007-2017 198,863 Greater Brisbane businesses Sources: ABS, 2017, Queensland Treasury, 2017, Brisbane City Council, 2018.
BENCHMARKING BRISBANE
6 BRISBANE METRO $944 MILLION high frequency public transport system Brisbane Metro is a high- frequency public transport system that will cut travel times, reduce Central Business District (CBD) bus congestion and improve services to the suburbs. BRISBANE A GROWING CITY $1.1 BILLION Gateway North upgrade BENCHMARKING BRISBANE $5.4 BILLION Cross River Rail Industry Briefing $110 MILLION Howard Smith Wharves development $650 MILLION Kingsford Smith Drive corridor upgrade Why have marine construction hours changed? As we move into the next stage of marine construction activity, more works will need to be undertaken at the same time.
To accommodate this increase in work activity, as well as challenges faced by both changing tides and weather conditions, construction hours will be extended. These extended hours will enable the construction team to plan and deliver their activities effectively and minimise ongoing impacts to residents. Why are some works required at night?
Weather conditions, particularly heat, can influence the quality of concrete when poured. To achieve the quality required for the structure, concrete pours may take place outside standard hours to take advantage of lower temperatures overnight. If out-of-hours concrete pours are required, impacted residents will be notified directly. During these pours, concrete will be delivered to pumps located at Cameron Rocks Reserve, Bretts Wharf and Kingsford Smith Drive. Steel pipes will transfer the concrete up to 600 metres to the new structure. How will noise be minimised and monitored? What can I expect?
• Construction equipment such as cranes, excavators, piling rigs, concrete trucks and pumps, concrete finishing equipment, welding equipment, small tools and lighting towers. Some works will also use barges on the river and tug boats. • Noise and lights associated with the use of construction equipment, such as excavators. • Most of the works will be conducted in the marine construction area from the Brisbane River to decrease traffic impacts on Kingsford Smith Drive. However, some works may require traffic control and lane closures.
• Concrete and material deliveries to Bretts Wharf and Cameron Rocks Reserve.
How do I find out more information and get regular updates? To keep up to date with the marine construction activities, including the location of out of hours activities, register for weekly update emails by contacting the Community Relations Team. $1 BILLION Brisbane Quarter precinct $8.4 BILLION Brisbane to Melbourne Inland Rail $5 BILLION Northshore Hamilton Riverside precinct $5 BILLION in annual economic benefit produced by Brisbane Airport Parallel Runway Project
7 QUEEN'S WHARF Queen's Wharf Brisbane will be a unique and vibrant new world city development that attracts visitors and investment, reconnects the activity of the Brisbane city centre to the river, preserves and celebrates Brisbane's heritage, and delivers high quality public spaces. $1.69 BILLION annual increase in tourism 1.39 MILLION additional tourists per annum $4 BILLION added to Gross State Product Source: Queen's Wharf Brisbane, 2018. Brisbane is ranked 1st in the Asia- Pacific Cities of the Future Foreign Direct Investment Strategy - Foreign Direct Investment Intelligence, 2017.
BENCHMARKING BRISBANE 63 TOWERS currently under construction 103 currently proposed tower developments Figure: New high-rise development in the Brisbane CBD, 2010 – 2018 with new buildings highlighted Source: Brisbane City Council, 2018.
population 2,360,241 2,903,000 2016 2031 20 population 2016 2031 2,360,241 2,903,000 employment 1,180,261 1,622,626 2016 2041 8 BRISBANE: AUSTRALIA'S RESOURCES HUB As the gateway to Queensland's mineral wealth, Brisbane is home to 7277 businesses directly supported by the resource sector. In 2016-2017 the resource sector contributed $25.8 billion to the greater Brisbane economy, accounting for more than 47% of the total contribution to Queensland. Source: Queensland Resources Council, 2017. Australia has experienced 27 years of consecutive economic growth. The Greater Brisbane economy consistently demonstrates an above average annual growth rate of 2.5%, which is ahead of the Queensland average.
232,327 Managerial and Professional jobs will be created between 2016 and 20412 f e o t u t i t s n l I a n o i t a m N o r s f t s a c e r o l f i c n u o y C t i e C n a b s i r B 2 , 7 1 , 2 e c i f f s O ' n a i c i t s i . t 9 a t t S n , 2 e h m c r n a r e e s v e o y R d G r t n s u a l d s n n e e d I n u Q 1 c a i : m ce o r n u o So c E Greater Brisbane Population1 Greater Brisbane Employment2 BENCHMARKING BRISBANE
9 Australia TradeCoast Industrial Precinct Australia TradeCoast is the country's fastest growing trade and industry region, located six kilometres from the CBD and made up of Brisbane Airport, The Port of Brisbane, and the surrounding industrial precincts. Source: Australia TradeCoast, 2012. . 2 1 , 2 e n a b s i r f B t o r o P : ce r u So 4% AVERAGE ANNUAL GROWTH in export volumes, 2006-2016 $50 BILLION annual international trade 450 commodities traded with 150 partners globally Source: Port of Brisbane, 2018. Brisbane Airport Two major terminals accommodating 32 airlines flying to 83 domestic and international destinations.
Passenger numbers forecast to more than double by 2034. Source: Brisbane Airport Corporation, 2017. Port of Brisbane Deep water access port supported by a strong regional freight network. 29% NORTH ASIA 30% EAST ASIA 8% SOUTH-EAST ASIA EXPORT VOLUMES BY DESTINATION Brisbane is the closest eastern seaboard capital city to Australia's three largest export markets.
BRISBANE A CONNECTED CITY BENCHMARKING BRISBANE 600 flights a day carrying more than 63,000 passengers 23 million passengers annually 1500 businesses 60,000 employees, growing to 110,000 by 2026 $9.4 BILLION VALUE to the Queensland economy 6.9% 6. t r ANNUAL GROWTH o p OF INTERNATIONAL r i . PASSENGERS e A 7 1 n a b 20 , s n i r io B t : a ce r o r p u r So o C
10 2THINKNOW Global top-60 city for innovation capabilities WORLD LEADER in Mining Technology, Research and Innovation Source: 2thinknow Innovation Agency, 2017. CASE STUDIES BRISBANE INNOVATION 1st Australian city to develop a digital strategy and innovation scorecard.
2nd city in the world to appoint a Chief Digital Officer to drive the city's digital transformation. Local strengths in Information Technology, biosciences, development and mining industries. Source: Brisbane Innovation Scorecard, 2012. 48% of all employing firms were innovation-active in 2015-2016. Source: Department of Industry, Innovation and Science, 2017.
As a nation, Australia ranks: Little Tokyo Two 600 businesses launched in the co-working spaces, making it one of the fastest growing co-working spaces in Australia. Source: Little Toyko Two, 2018. "The Capital innovation hub is home to 200 Brisbane start-ups helping to grow Brisbane's booming start-up community." - Brisbane Development, 2016. Professor Ian Frazer As of 2016, the life-saving Gardasil® and Cervarix™ cervical cancer vaccines developed at the University of Queensland are available in more than 130 countries, and more than 187 million doses of the HPV vaccines have been distributed worldwide.
Source: UQ, 2016. BENCHMARKING BRISBANE BRISBANE AN INNOVATIVE CITY
11 AUSTRALIA'S RESEARCH HUB Brisbane is home to a number of world-class universities including The University of Queensland, Queensland University of Technology and Griffith University. These institutions are a significant asset to Brisbane's knowledge economy and form the foundation of the city's research capabilities. THE UNIVERSITY OF QUEENSLAND A global top-50 university4 . • Awarded a maximum 5 star rating for research grants and research intensity4 • $1.7B total operating revenue4 • 52,328 students4 • 15,420 international students from more than 141 countries4 • 22 fields of research rated at or above world standard5 GRIFFITH UNIVERSITY Ranked in the top 3% of universities globally8 .
• 32nd in the 2018 QS World University Rankings8 • Top 50 Under 508 • 35th in the 2017 Times Higher Education Young University Rankings8 • 50,000 students8 Sources: 1 World Economic Forum (WEF), 2018, 2 Global Innovation Index, 2017, 3 Australian Bureau of Statistics, 2016, 4 University of Queensland, 2017, 5 Excellence in Research for Australia, 2017, 6 Queensland University of Technology, 2016, 7 Times Higher Education, 2017, 8 Griffith University, 2018. QUEENSLAND UNIVERSITY OF TECHNOLOGY A leading Australian university with a global reputation.
• 48,833 students6 • 86% of research rated at or above world standard7 • Top 25 young university rank7 10th Australia's international ranking for quality of Scientific Research1 174,000 tertiary students3 5th Tertiary Enrolment Rate1 61% of Brisbane's population aged 15+ hold a post-school qualification3 BENCHMARKING BRISBANE 9th Human capital and research2
BENCHMARKING BRISBANE 12 BRISBANE LIVEABILITY In 2017, Brisbane ranked: 4th Knowledge City Index - Property Council of Australia, 2017. 16th Global Liveability - The Economist, 2017. BRISBANE A LIFESTYLE CITY
BENCHMARKING BRISBANE 13 ASK THE LOCALS 8 thin 8% k Brisbane has a wide range of recreational facilities1 87 think B % risbane has safe communities1 86% recommend Brisbane as a place to live1 8 thin 5% k Brisbane is a good place to raise a family1 8 beli 4% eve Brisbane is a good place to live and work1 t 79% hink Brisbane has a healthy natural environment1 7 thin 8% k Brisbane is friendly and welcoming1 1s Brisba t ne has the best public transport network in Australia2 28 days of s 3unshine a year3 Sources: 1 Community Attitudes Survey, Brisbane City Council, 2016, 2 Arcadis, 2017, 3 Australian Bureau of Meteorology, 2012.
"We can offer our southern neighbours good jobs, affordable homes and an attractive (and enviable) lifestyle, we see droves of Australians pack up and move to the Sunshine State." - Deloitte, 2017.
BENCHMARKING BRISBANE 14 CULTURE AND ENTERTAINMENT "Booming Brisbane is an energetic town on the way up with an edgy arts scene, pumping nightlife and great coffee and restaurants." - Lonely Planet, 2016. Estimated $2 billion impact from the Commonwealth Games on the Queensland economy. Source: Qld Tourism, 2017. Queensland live performance revenue rose by 77% and attendance by 37%. Source: LPA, 2016. Host of the World Science Festival 2016-2018. Source: Qld Tourism, 2018. 26 MILLION annual visitors to Queen Street Mall, Brisbane's premier shopping precinct Source: Brisbane City Council, 2017.
1.17 MILLION visitors to the Queensland Art Gallery/Gallery of Modern Art complex in 2015/16 Source: QAGoMA, 2016. $180.3 MILLION live contemporary music revenue in Queensland Source: Ernst & Young, 2017. 80% think that Brisbane has a vibrant, rich culture and entertainment scene Source: Community Attitudes Survey, Brisbane City Council, 2016. 300,000 attendees at the 2016 and 2017 World Science Festival Source: World Science Festival, 2018. 2.19 MILLION tickets sold to live performances in Queensland in 2015 Source: Live Performance Australia, 2016.
15 BENCHMARKING AUSTRALIAN MAINLAND CAPITALS Brisbane Sydney Melbourne Adelaide Perth Year Population 2,408,223 5,131,326 4,850,740 1,333,927 2,043,138 2017 Population growth rate 2.1% 1.7% 2.4% 1.0% 2.3% 2007-2017 Net interstate migration 12,269 -34,991 27,678 -11,710 642 2011-2016 Net overseas migration 140,272 399,615 365,244 69,680 157,219 2011-2016 Total visitors1 7,759,544 13,808,480 11,992,232 3,208,295 4,849,472 2017 International visitors1 1,274,441 3,884,480 2,741,423 417,748 906,401 2017 Hotel occupancy2 73.0% 87.5% 85.2% 75.3% 79.9% 2017 Employment 1,213,588 2,624,084 2,084,620 649,079 1,045,430 2017 Employment growth rate 1.81% 2.04% 3.20% 1.74% 0.33% 2017 Participation rate 66.54% 66.43% 66.03% 66.11% 66.95% 2017 Unemployment rate 6.03% 4.64% 6.29% 6.63% 6.32% 2017 Average max3 26.6°C 21.8°C 19.7°C 21.8°C 24.7°C 2018 Average min3 16.4°C 13.8°C 9.3°C 12.0°C 12.8°C 2018 Days of rainfall3 82 100 80 87 74 2018 Days of sunshine3 283 265 285 278 291 2018 The Economist Intelligent Unit (EIU) Cost of Living rank 31st 14th 15th 35th 49th 2017 Mercer cost of living rank 71st 24th 46th 77th 50th 2017 International airport destinations4 32 54 35 9 18 2018 Domestic airport destinations4 52 49 31 13 41 2018 Number of foreign consulates5 47 91 77 43 58 2017 Source: All information sourced from the Australian Bureau of Statistics unless otherwise stated.
1 Tourism Research Australia, 2018. 2 Dransfield Hotel Futures Report, 2017. 3 Australian Bureau of Meteorology, 2013. 4 Respective airport websites, 2018. 5 Department of Foreign Affairs and Trading, 2018. BRISBANE QUICK STATS The following information relates to the metropolitan region for each capital city. These regions are broadly inclusive of the entire city economy and its residents, and encompass multiple local authorities.
BR BENCHM I A SB RKING ANE For more information visit brisbane.qld.gov.au or call Council on 3403 8888. Printed on recycled paper CA18-152973-07-3492 © Brisbane City Council 2018 Brisbane City Council GPO Box 1434 Brisbane Qld 4001 brisbane.qld.gov.au 3403 8888 /BrisbaneCityCouncil @brisbanecityqld /brisbanecitycouncil