Launching Rela-vis-c Jets - John F Hawley
If your browser does not support JavaScript, please read the page content below:
Launching Rela-vis-c Jets - John F Hawley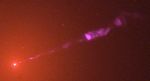 Jets in the 80's
VLA slowly realizing its capability
Ubiquity of jet phenomenon beginning to be recognized
Are jets evidence for supermassive black holes in AGN?
Radio galaxies at high redshiU – implica-ons for cosmology
"Sidedness" of jets?
Jet morphology and interac-on with environment
Hydrodynamic 2D cylindrical jet simula-ons
Collima-on mechanisms?
Thick tori – existence and stability?
Jet accelera-on: hydrodynamic, radia-on driven, magne-c fields? An imperfect recollec.on De Young, D.
S., Jets in Extragalac.c Radios Sources, Nature, 1984 De Young, D. S., Astrophysical Jets, Nature, 1991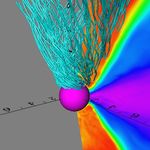 Astrophysical Jets Everywhere
Young stellar objects
X-­‐ray binaries – accre-ng NS or BH
Symbio-c stars – accre-ng WD
SupersoU X-­‐ray sources – accre-ng WD
AGN – accre-ng supermassive BH
Gamma ray burst systems The Ubiquity of Jets suggests that they result from general condi-ons. Gravity + Rota-on (disk and/or central star) + Magne-c fields Source of Energy: Accre-on or rota-on of central star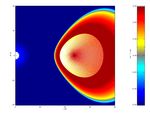 The Importance of Magnetic Fields Magnetic fields make the ionized gas in an accretion disk spiral inward. The magneto-rotational instability (MRI) is important in accretion disks because it converts stable orbits into unstable motion. Magnetic fields can create stresses inside the marginally stable orbit around a black hole, significantly increasing total efficiency. Magnetic fields can extract energy and angular momentum from spinning holes and drive jets.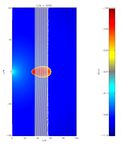 Jet Theory
Disk rotation + vertical field: Blandford-Payne type wind/jet
Black Hole rotation + vertical field: Blandford-Znajek Poynting flux jet
Idealized models and axisymmetric simulations with initial vertical fields have demonstrated efficacy of these mechanisms.
Under what circumstances will a large-scale poloidal field be present? Is such a field always required for jet formation? Can such a field be generated in the disk by a dynamo process, or is it brought in from outside?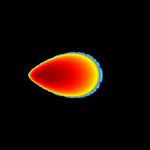 Global Simulations
Global problem difficult to resolve spatially: turbulent scales to parsecs
Wide range of timescales
Presently limited to simple equation of state
Dissipation, heating, thermodynamics too limited
Only simple radiative losses; no global radiative transfer
System scales with M; density set by assumed accretion rate
Several numerical codes in use by several groups
General Observations: Global Simulations with Initial Dipole Field
Accretion disk angular momentum distribution near Keplerian
Disk is MHD turbulent; internal stress due to the magnetorotational instability
No abrupt changes at marginally stable orbit
Large scale fluctuations and low-m spiral features
No stress edge; enhanced efficiency
Transfer of angular momentum from black hole to disk
Implications for the equilibrium spin of the black hole
Some studies of disk tilt/misalignment (e.g., Fragile et al.)
Simulation Results: Jets
Poynting flux dominated within funnel; only at funnel wall is there significant mass flux
Jet luminosity increases with hole spin – Poynting flux jet is powered by the black hole
Fraction of jet luminosity in Poynting flux increases with spin
Both pressure and Lorentz forces important for acceleration
Existence of funnel jet depends on establishing radial funnel field
Jet power depends on field strength, total flux
Lorentz factor Γ for jet depends on mass loading – this is not reliable in current simulations
Substantial Jet Energy Efficiency for Rapid Spin: Dipole Initial Field a/M -0.9 0.023 0.039 0.0 0.0003 0.057 0.5 0.0063 0.081 0.9 0.046 0.16 0.93 0.038 0.17 0.95 0.072 0.10 0.99 0.21 0.26 EM η NT η
Tchekhovskoy, McKinney & Narayan 2012
Origin of Large Scale Jet Field
Is net vertical flux required, or just large-scale poloidal field?
Can significant large-scale poloidal field be generated solely by the MRI within turbulent disks?
Can net field be advected inward by MRI turbulent disks? Balance magnetic diffusion/reconnection timescale against accretion timescale
How does the presence or absence of a jet relate to the overall state of the disk and its magnetic field?
Field Topology
Properties of magnetized black hole accretion disks seem to be remarkably insensitive to magnetic field topology: the only dependence is in terms of the magnetic field strength.
Appearance of disk should be independent of magnetic field topology
This is not true for the jet: – Jet formation requires a consistent sense of vertical field to brought down to the event horizon – This occurs readily for dipole, less so for quadrupole, not at all for toroidal initial field topologies – Reconnection events between funnel and disk field determine the variability of the jet
Origin of the poloidal Funnel Field From an initial dipole 2D Simulation – thick torus Color: Plasma Beta White field lines
Radial Advection of Net Vertical Field Can net field be brought in from large distances?
Movie: 3D simulation of vertical field model. Vector potential Aφ gradients indicate field line locations
Transport of Net Flux
Global processes can dominate over local processes
Within the turbulent disk (and in turbulent shearing box simulations) magnetic flux can "diffuse"
MRI turbulence ("alpha viscosity") in disk effective at transporting angular momentum and mass; rapid reconnection prevents effective transport of net flux
Reconnection can make net flux transport nonlocal
"Turbulent magnetic Prandtl number" description not particularly useful
Origin of Large Scale Jet Field: Key Questions
Is net vertical flux required, or just large-scale poloidal field? – In simulations, strong jets only form when dipole is brought down to the hole (consequence of initial conditions)
Can significant large-scale poloidal field be generated solely by the MRI within turbulent disks? – In simulations some coherent initial poloidal field has been required; there is evidence for a dynamo process in disks, but the effect is mainly to sustain MRI
How does the presence or absence of a jet relate to the overall state of the disk and its magnetic field? – Funnel field (and jet) strength are related to total pressure in nearhole disk; rough equipartition – Initial collimation provided by disk and corona pressure
Summary
The MRI leads to MHD turbulence that transports angular momentum, allowing disks to accrete – Stress determines the pressure, not the other way around. It is still uncertain what determines turbulent field strengths except that generally field energy is subthermal; field topology, net field, resistivity and Prandtl number... – "α Begone!" (Blaes 2007)
Poynting flux jet power comes from black hole spin – Under what circumstances does required axial field become established?
Can net field be transported inward? Disk transport seems inefficient but coronal mechanisms may be present – Large scale fields also seem to be required for jets that originate in disks