NEWS MARCH 2021 - U3A Site Builder
Page content transcription
If your browser does not render page correctly, please read the page content below
NEWS
                                    MARCH 2021

From the Chair
Looking Ahead
I was feeling very fluey at the recent Committee Meeting following my COVID jab, but it did
remind me that it was another step towards things beginning to open up. With that in mind we
discussed plans for events later in the year of which you'll find further information in this
newsletter.
Meanwhile, we continue to have our monthly Zoom meetings, we are in a great position to restart
interest groups as soon as we can meet safely, and you should by now have received the
February edition of the Third Age Matters magazine.
There's lots to look forward to.

Annual General Meeting (AGM)
The Committee reviewed our timetable and:
   •   given the COVID-driven changes that meant moving last year's AGM to September, and
   •   to avoid having our AGM in the middle of the subscription renewal period, and
   •   to give us the best chance of being able to hold some kind of physical meeting
It was unanimously agreed to hold this year's AGM in September 2021.
Dave Goldberg, Chair

From the Treasurer

 A reminder that subs will be due on 1st April 2021. We will finalise the rate at the March
Committee Meeting but are hopeful that it can remain at £15 per year, which was the pre-
lockdown figure.

We are incurring more costs during lockdown than before as we still pay for speakers and also for
our Zoom licence, but without the £1 per head income previously collected at the monthly
meetings. In addition, we have been able to subscribe every household to the Third Age Matters
magazine.

Fortunately, we have a surplus in the bank which we have dipped into for the last year. This year
the payment to the Third Age Trust is increasing to £4 per person, but we feel that we can still
manage without putting up our subs.

There will be details of how to pay in the next newsletter – but be prepared, we will not want any
cash!

Last Month's Meeting
Thanks to all those members who spoke last month. Very enjoyable! Maybe others now feel
inspired to give it a go. Please let Brenda Dandy know if you would like your moment in the
spotlight.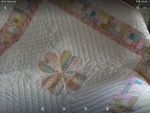 News                                           March 2021

FYI Gwynneth says that if you want more info on growing your own tomatoes then please contact
her on 01522 810477 or by email at bagnall48@hotmail.com
Also, we were asked to share some of Gloria's marvellous patchwork. Here's a taster.

Chaff, Cha & Chat
Let's use that Zoom licence!
                                                                           Chaff,
You are cordially invited to a pop-up, virtual, Zoom coffee                            Cha &
morning on Tuesday 2nd March. I shall be online from 10:30                       C
                                                                           A Zoom hat
until 12:00 for a get-together with idle banter and general                      Co ff   ee Mor
jollity.                                                                                      n   ing
                                                                     Tues 2 nd
                                                                                 March
Grab yourself a beverage, pull up a chair and join me at any                           fro   m 10:3
                                                                                                   0 am
time for some catch-up, socialising and diverse
entertainment.

Monthly Meetings
March Monthly Meeting

Wednesday 10th March at 10.15 a.m. Zoom in from 10.00 a.m.

Stephen Wells, sometime Butlin's Redcoat and member of the magic circle, will speak about 'The
Story of Butlin's Holiday Camps'. Discover the real 'Hi-Di-Hi' with great stories about stars, such
as Cliff Richard, Bob Monkhouse, Jimmy Tarbuck, Des O'Connor, Ringo Starr, Laurel and Hardy,
Max Miller, Les Dennis and many more.

The Zoom joining details will be emailed nearer the time. Give it a try!

Wellingore & District News                  March 2021                                          Page 2 of 4
News                                    March 2021

April Monthly Meeting
Rob Smith will present 'Churches, Castles and Cathedrals; A Lincolnshire Journey.' A fascinating
insight into Lincolnshire's many attractions.

May Monthly Meeting
Mary Smith will present 'Schoolgirl's War". A former headteacher tells the story of life in the south
of England during WW2, featuring the exquisite paintings of the art teacher whose work depicts
the drama of school life during WW2: disrupted schooling, doodlebugs, air-raids and underground
lessons in shelters.

June Monthly Meeting
Ian Gunn will present 'Here Comes the Failed Bank Manager'. When Ian was made redundant
from the bank, he became a prison governor. His talk describes his experiences in this very
different new role.

Future Events
Strawberry Tea! 12th June - save the date. The chances of holding the strawberry tea garden
party look more promising. As we are not sure how many people will be allowed, we still need
volunteers to provide venues. If you would like to offer your garden (we know lots of members
have lovely gardens, large or small) please do get in touch with Brenda Dandy. You will get
assistance with catering - all we need is the venue.

Hampton Court - 2022. After our wonderful December presentation by Sarah Slater we are
considering arranging a trip to meet her and experience the atmosphere and beauty of the palace
as well learning more from her wealth of knowledge. The cost of her services as guide will be
£100 for the group and further costs would be entry to the palace and travel. If you think you
would like to participate in this, probably next year, please could you reply to the covering email
(wellingore.newsletter@gmail.com) or contact a committee member.

Interest Group News
Groups continue to be on hold but we hope next month will bring better news. Get your walking
boots ready, the walking groups could be setting off on new ventures!

Wellingore & District News                 March 2021                                    Page 3 of 4
News                                        March 2021

From our Members…..
A Bobby Remembers
                          I'm looking forward to hearing all about being a Redcoat at the monthly
                          meeting, especially because of a tenuous connection I have with Butlins.
                          In 1974 I was a 'bluecoat' on duty and attended when the Princes
                          Ballroom at the Skegness camp burned down and I helped operate a
                          forward command post to co-ordinate the emergency services response.
                          The fire brigade established that gas burners had been left on in the
                          Chinese restaurant. However, much as we wanted to speak to them as
                          part of the ensuing investigation, the Chinese staff fled the scene and were
                          never seen or heard of again!
                     I am convinced that were it not for the prompt action of some of the
                     Redcoats in evacuating the building, lives may well have been lost. They
                     also ensured, of course, that the show could go on in the following days.
                     This link tells the story from a Redcoat's very hands-on perspective: http://
www.butlinsredcoats.com/74fire.html
Bob Garlant

First signs of Spring - Raindrops on a daffodil
by David Dunning

From Celia:
What I have learnt from lockdown – I am inherently a lazy person!

When lockdown began in March 2020 my arm was in a sling 24/7 having had shoulder surgery on
March 9th. That meant Dave had to do everything – cooking, cleaning, shopping, dressing me,
showering me, even doing my physio via FaceTime with the actual physiotherapist. It turns out I
was quite happy to let him do it!

I had no problem sitting around reading, watching TV, sitting in the garden whilst food, hot drinks
etc were delivered to me on a regular basis. In fact, he likes cleaning and shopping so much he's
still doing it. My excuse is my shoulder still doesn't allow full movement, so I can't actually clean
anything properly.

Celia Goldberg

If you have an old photo and a short anecdote you'd like to share then please send it in. We'd love to hear
from you. Ed.

Wellingore & District News                     March 2021                                       Page 4 of 4