Pretreatment, Pollution Prevention, and Stormwater Conference - 50th Annual
Page content transcription
If your browser does not render page correctly, please read the page content below
Beautiful Monterey Bay

                                           MESSAGE FROM THE CHAIR

P3S Conference Turns 50, What's Next?
Imagining the Future of Clean Water in Monterey
A Message from the P3S Committee Chair,                       It is up to us to develop, run,
                                                              and maintain the inspection
I am excited to invite you, your colleagues, friends,
                                                              programs, treatment plants,
and fellow water professionals to the 2023 Annual
                                                              public outreach campaigns,
Pretreatment, Pollution Prevention, and Stormwater
                                                              and spill mitigation programs
(P3S) Conference in beautiful Monterey!
                                                              to address these emerging
While attending the recent P3S conference in Long             pollutants and ensure
Beach, everyone I spoke to expressed happiness                environmental health.
with the ability to finally be able to meet in-person
                                                              While the list of new pollutants
again. Being newer to the field, I really appreciate the
                                                              may seem never ending, it is our endurance and
experiences that this conference offers. I had such a
                                                              unwavering commitment to clean water that drives
great time making new connections and listening to
                                                              us forward. The P3S community will rise to these
people describe ways in which we can continue to
                                                              challenges, and we will do it as a team.
facilitate an environment with clean water.
                                                              I encourage you to attend the 2023 P3S Conference
My time with CWEA and the P3S community has
                                                              in Monterey on January 30-February 1.
taught me that these collaborative discussions are
invaluable to maintaining our excellence as water             Your participation will facilitate your own
professionals.                                                advancement of knowledge and will allow others
                                                              the opportunity to learn from you. Your role
With professional excellence as our goal, we have
                                                              within the P3S community is an important one:
chosen our 2023 conference theme to be "The Next
                                                              you are someone who champions a cleaner water
50 Years: Imagining the Future of Clean Water."
                                                              environment.
In 2022, we celebrated the 50th anniversary of the
                                                              We look forward to seeing you in Monterey!
Clean Water Act. For 2023, I pose an important
question to all of you: What do you believe are the           Best Regards,
clean water challenges for the next 50 years?
                                                              WILLIAM EDWARDS
Whether it's addressing PFAS, microplastics,                  CWEA P3S Committee Chair
pyrethroids, antibiotics, or hormones, we are the             Environmental Compliance Inspector
leaders of California's P3S community.                        City of Vacaville

                                    Duotone cover image by Nguyen Dang, LACSD.
               © 2022 CWEA. Images used with permission and are protected by copyright of the photographer.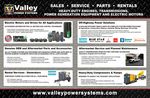 Conference Sponsors
                                                                            GOLD

Conference Committee
        CONFERENCE CHAIR                            SILVER SPONSOR                     BRONZE SPONSOR
         William Edwards
         City of Vacaville
_______________________________

        PROGRAM CO-LEADS

             Ed Oyama
    West Valley Sanitation District

        Shannon Simmers                         LOCAL SECTION SPONSOR
         City of Redlands
_______________________________
                                                          TEREY
      OPENING SESSION LEAD                               N

                                                                      BA
                                                    MO
         Beatriz Cornejo

                                                                        Y
Elsinore Valley Municipal Water District
 _______________________________
                                                       S
       SPECIAL EVENTS LEAD                                 EC         N
                                                                TIO
            Abigail Balf
       Sanitary District No.5
         of Marin County                                             LANYARD SPONSOR
_______________________________

          BROCHURE LEAD

           Lenai Hunter
Elsinore Valley Municipal Water District
 _______________________________
                                                            OPENING SESSION SPONSOR
       FACILITY OF THE YEAR
        AWARDS CO-LEADS

         Casey Fitzgerald
           City of San José

          Stephen Sealy
             LACSD
_______________________________                                 FOG WORKSHOP SPONSOR
    FOG WORKSHOP CO-LEADS

            Paul Prange
           City of San José

         Tracy Wyhlidko
           City of Redding

_______________________________                             BEACH CLEAN-UP SPONSOR
    CONFERENCE VOLUNTEERS

             John Boyd
                LACSD

        Michael Placencia
    Delta Diablo Sanitation District

           Jennifer Peet
          City of Livermore
                                           p3s23.cwea.org        3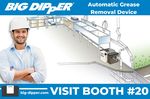 Monterey State Beach

Networking Events
"Shore Beats Working!"
Beach Clean-Up
Sunday, January 29 • 1:00-3:00 p.m.
Join your fellow environmental enthusiasts by actively
making a difference and participating in a beach clean-
up! Have the chance to mingle with familiar faces and new
ones prior to the core-conference festivities.
P3S is happy to call Monterey home of the 2023
conference, so let's give back to our adorable marine
friends by cleaning up Monterey State Beach, in front of
Monterey Tides Hotel. We will meet in the Seaside State
Beach Parking Lot (northeast of the hotel) and help make
the beach a wonderful destination for all walks of life!
Trash receptacles and trash pickers will be provided to
collect discarded refuge along the way.                                                         Photo by Salvador Ochoa

Free for all attendees. Each participant also receives a
keepsake stainless steel 50th anniversary P3S water         Networking with the Partners
bottle courtesy of our sponsor Sunbelt Rentals.
                                                            Embassy Suites Monterey Lobby
The beach cleanup is meeting at the parking area
south of the hotel.                                         Monday, January 30 • 4:40-6:30 p.m.
                                                            Enjoy complimentary hot appetizers and cold drinks at
                                                            this annual networking event. Have fun, talk with the
Warm Welcome                                                exhibitors, catch-up with friends and stick around for great
Embassy Suites Monterey Lobby                               door prizes.
Sunday, January 29 • 6:00-8:00 p.m.                         Pick-up drink tickets from one of CWEA's dedicated
                                                            exhibitors. Free for all attendees.
What better way to prepare for a three day
conference packed with amazing speakers, much
                                                                  Social Events Lead
needed training, and important information than
a warm welcome! Join old friends and new, while                   ABIGAIL BALF
                                                                  Treatment Plant Operator
discussing a very important "check-in" question!
                                                                  Sanitary District No.5 of Marin County
Shake off the travel gloom, and join us in the
Embassy Suites Lobby Bar. Food and drinks available
at cash bar. Free for all attendees.
                                         p3s23.cwea.org       4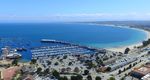 P3S SIGNATURE EVENT

            Salty Seal Brewpub
                  Tuesday, January 31 • 6:15 - 10:00 p.m.
                     $75 Members • $85 Non-members
   Includes dinner and drink tickets • 653 Cannery Row • (831) 920-2327
Please join us for a rockin' evening including networking, socializing, and indulging in
delicious food and libations while dancing under the stars at the Salty Seal Brewpub.
Sing along with the band, play some billiards, and catch up with friends by the fire pits
without the crowds in the heart of downtown Monterey. Wear layers as it
might be a chilly January evening! Dinner and drinks are provided, additional
options are available at the cash bar. Space limited, ticket required.
                                                                                 Live Band
                                                                              Private event
                                                                              only for P3S

                                                                            EVENT SPONSOR

                                                                                  TEREY
                                                                                 N
                                                                                              BA
                                                                            MO

                                                                                                Y

                                                                               S
                                                                                   EC         N
                                                                                        TIO
                           p3s23.cwea.org      5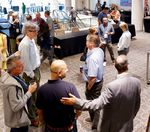 P3S Committee
                                                                                  leaders at
                                                                                  P3S22
                                                                                  (Salvador Ochoa)

P3S Committee   CHAIR
                William Edwards
                                          PAST CHAIR
                                          Theodore Higgins
                                                                    ORDER OF THE
                                                                    SILVER COVER
Leaders         City of Vacaville         City of Los Angeles,
                                          LA Sanitation
                                                                    Joe Lucia
                                                                    Retired
                VICE CHAIR                and Environment
                Edwin Alonzo                                        AWARDS CO-CHAIRS
                City of Fontana           GRANTS PROGRAM            Casey Fitzgerald
                                          Alina Constantinescu      City of San José
                SECRETARY                 Larry Walker Associates
                Michael Placencia                                   Stephen Sealy
                Delta Diablo Sanitation                             LACSD
                District

                      p3s23.cwea.org       6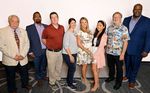 Opening General Session
Monday, January 30
8:30 - 11:30 a.m.

The popular P3S opening sessions
continue our tradition of short,
inspirational "TED" like talks, followed by
an in-depth back and forth between the
panelists and audience.
This year's speakers include:
•    Chelsea Hsin-Feng Tu
     Monterey Waterkeeper
•    Margaret Spring
     Monterey Bay Aquarium
•    Emily Hickock
     Monterey County District
     Attorneys Office
•    Bridget Hoover
     Monterey Bay National Marine
     Sanctuary
Win fantastic door prizes during
the fast-paced trivia game!

    Opening Session Lead
    BEATRIZ CORNEJO
    Community Affairs Specialist
    Elsinore Valley MWD

                                                                               P3S Past Chair John Boyd, photo by Salvador Ochoa.

Conference Lunches
               MONDAY                                       TUESDAY                                     WEDNESDAY

     FACILITY OF THE                               ORDER OF THE                                      P3S GRANT
      YEAR AWARDS                                  SILVER COVER                                      RECIPIENTS
        Casey Fitzgerald                                Joe Lucia                               Alina Constantinescu
       and Stephen Sealy                             Past P3S Chairs                                Grants Lead
       P3S Awards Leads                                                                            Past P3S Chairs
                                                  11:45 a.m. - 1:00 pm
         12:15 - 1:30 p.m.                                                                      11:45 a.m. - 1:00 p.m.
            Conference lunches are included in your registration. Please RSVP for lunches to help us avoid food waste.

                                          p3s23.cwea.org             7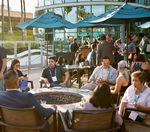 Opening Session Speaker Bios
           Emily Hickok is a Deputy District Attorney in the Monterey County District
           Attorney's Office, Consumer and Environmental Protection Unit, where she has
           served since 2010. Ms. Hickok received her J.D. from the University of San Diego
           School of Law and her B.A. in Criminology, Law, and Society from UC Irvine.

           Bridget Hoover, Water Quality Protection Program Coordinator for Monterey
           Bay National Marine Sanctuary, has worked for MBNMS since January 1999. As
           the Coordinator of the Water Quality Protection Program, she works with the
           agriculture industry and municipalities; reviews permits, emergency response and
           oversees volunteer water quality monitoring programs. She works collaboratively
           with our partners to implement innovative solutions to critical issues affecting
           water quality in MBNMS.

           Margaret Spring, the Chief Conservation and Science Officer for the Monterey
           Bay Aquarium, oversees the aquarium's many conservation and science programs
           that advance healthy oceans through policy, markets and research. These span
           its global initiatives to advance sustainable fisheries and aquaculture, including
           the Seafood Watch program, its work to advance US and California ocean
           conservation priorities, as well as its related research, including collaborations
           with the Aquarium's research and technology partner, the Monterey Bay
           Aquarium Research Institute (MBARI).

           Chelsea Hsing-Feng Tu is the Executive Director of Monterey Waterkeeper. Her
           vision at Monterey Waterkeeper is to ensure safe drinking water and coastal
           access for all communities. Previously, Chelsea worked as a senior attorney at
           the Center on Race, Poverty & the Environment. Chelsea also led climate justice
           advocacy at Public Advocates, and worked to protect freshwater resources, curb
           sprawl, and reduce toxins and pesticides at the Center for Biological Diversity.
           She received her law degree from the University of California, Berkeley.

         Win door prizes during the popular P3S23 Opening Session
DOOR
PRIZES   trivia contest. It's the 50th anniversary of the conference, how
         much do you know about CWEA's P3S Community?

                       p3s23.cwea.org       8
SOLD
OUT

    Technical Tour Monterey One Water
Monday, January 30th • 1:30-4:30 p.m.               As a region isolated from state and federal
The one water approach views all waters —           water projects, these used waters are critical
drinking, wastewater, stormwater, greywater,        in helping communities meet water demands
and more — as resources that must be                through water reuse.
sustainably managed. See how northern               The tour will feature the Plant's Advanced
Monterey County is using regional collaboration     Water Purification Facility – the first full-scale
and the one water approach to meet urban            potable reuse facility in northern California.
stormwater regulations, improve groundwater         Designed to treat 5 million gallons per day,
quality, and diversify drinking water supplies.     you'll learn more about the purification
                                                    technology and groundwater replenishment
Monterey One Water Regional Treatment Plant         process that helps support the local potable
Tour the innovative Monterey One Water              water supply.
Regional Treatment Plant which collects and
treats four types of source waters: (1) municipal   Participants should wear sturdy, closed-toe
wastewater; (2) drainage water from agricultural    shoes. Directions to the facility will be provided,
irrigation; (3) wash water from agricultural        please plan to carpool to the site.
packaging; and (4) urban stormwater runoff.
                                                    The tour is sold out.

                                                      Technical Tour Lead
                                                      SUSAN HIESTAND
                                                      P3S Past Chair
                                                      Silicon Valley Clean Water

                                p3s23.cwea.org       10
Technical Sessions
MONDAY
                                             OPENING GENERAL SESSION PART 1
                                          Chelsea Hsin-Feng Tu, Monterey Waterkeeper
8:30 - 10:00
                                          and Margaret Spring, Monterey Bay Aquarium
                                                    Sponsored by kando

10:00 - 10:15                                  COFFEE WITH THE EXHIBITORS

                                          OPENING GENERAL SESSION PART 2
                                 Emily Hickok, Monterey County District Attorney's Office
10:15 - 11:30
                               and Bridget Hoover, Monterey Bay National Marine Sanctuary
                                                    Sponsored by kando

 11:30 - 12:15                                     TIME WITH EXHIBITORS

 12:15 - 1:15                              LUNCH & FACILITY OF THE YEAR AWARDS

                                              CLEAN WATER ACT:
                 EXPLORING ENVIRONMENTAL                                       CONTROLLING PROMINENT
  TRACKS                                 THE ENVIRONMENT YESTERDAY,
                      INVESTIGATIONS                                          AND EMERGING POLLUTANTS
                                            TODAY and TOMORROW
                      Michael Placencia                 Jared Voskuhl              Joshua Balentine
    LEAD
                        Delta Diablo                        CASA                  Brown and Caldwell

                                                      Clean Water Act:
                  Industrial Investigation                                      Microplastics Removal
                                                   NPDES Permitting in the
                      Paula Hansen,                                              at Treatment Plant
 1:30 - 2:20                                           Decade Ahead
                     Michael Dunning                                                  Anne Sun
                                                       Jared Voskuhl
                          EBMUD                                                   Hazen and Sawyer
                                                           CASA

                                                                                 Developing Flexible
                   Investigation of Food           Harmful Algea Bloom in
                                                                               Local Limits: Current and
                        Manufacture                  San Francisco Bay
 2:30 - 3:20                                                                     Emerging Pollutants
                 David Joh and Tingting Wei           David Senn, PhD
                                                                                   Joshua Balentine
                          LACSD                      SF Estuary Institute
                                                                                 Brown and Caldwell

 3:20 - 3:50                               REFRESHMENTS WITH THE EXHIBITORS

                 Investigation War Stories           Ocean Acidification
                                                                                PFAS and Wastewater
                        Roundtable                      and Hypoxia
 3:50 - 4:40                                                                          Anne Sun
                  EBMUD, LACSD, EMWD,                  Jared Voskuhl
                                                                                  Hazen and Sawyer
                     and Delta Diablo                      CASA

                                                                                       ENTER TO
 4:40 - 6:30                                 NETWORKING WITH THE PARTNERS              WIN DOOR
                                                                                        PRIZES!

                                  p3s23.cwea.org          11
TUESDAY MORNING
                                                                                                                ALL
                                                                                                              MEMBERS
                                                 P3S BUSINESS MEETING & BREAKFAST                             WELCOME
   7:00 - 8:00
                                       Join the P3S Committee and brush up your leadership skills

                          EPA PRETREATMENT                   THE POWER OF EFFECTIVE         PRETREATMENT INSPECTOR
     TRACKS
                               TRAINING                          COMMUNICATION                 TOOL BELT TRAINING

                                                                    Lenai Hunter
                             Tracy Wyhlidko                     Elsinore Valley MWD                 Edwin Alonzo
      LEAD
                             City of Redding                     and Ariana Pizano,                City of Fontana
                                                                   City of Fontana

                     Introduction and Overview                The Curiosity Cure:
                         of EPA Pretreatment                 Human Dynamics and            Not Your Typical Inspection
                             Regulations                     Relationship Building
   8:30 - 9:20                                                                                     Jason Finn
                       Jim Polek, EPA Region 9                  Katie McCleary                       LACSD
                          and Chuck Durham,                  and Jennifer Edwards
                           PG Environmental                  How to Bridge the Gap

                                                          Listen to Your Listening:        Plastics Incident Response
                      Pretreatment Standards:
                                                          Become an Effective and          Tracking an Illicit Discharge
                      Categorical Regulations
                                                         Transparent Communicator           Michelle Pate, John Nurmi,
   9:30 - 10:20       Jim Polek, EPA Region 9
                                                               Katie McCleary                   and Michael Cook
                         and Chuck Durham,
                                                            and Jennifer Edwards              Sacramento Regional
                          PG Environmental                 How to Bridge the Gap            County Sanitation District
   10:20 - 10:50                                         COFFEE WITH EXHIBITORS

                      Pretreatment Standards:                     Bridge the Gap:               Solubility Rules!
                            Prohibitions                     Transform Relationships         Existing and Emerging
                          and Local Limits                     from Challenging to         Pretreatment Technologies
   10:50 - 11:40                                                   Collaborative
                      Jim Polek, EPA Region 9                                                   Michael Placencia
                                                                  Katie McCleary
                         and Chuck Durham,                                                         Delta Diablo
                                                               and Jennifer Edwards
                          PG Environmental                    How to Bridge the Gap

    11:45 - 1:00               LUNCH & ORDER OF THE SILVER COVER JOE LUCIA, P3S PAST CHAIR

    1:00 - 1:30                                   DESSERT & COFFEE WITH EXHIBITORS

Past P3S Chair Theodore Higgins asks a question at Opening                       Andy Woods (left); Andrew More (center rear);
Session. Photos by Salvador Ochoa                                                      and Marco Ramos, (right) from LACSD.

                                         p3s23.cwea.org             12
TUESDAY AFTERNOON
                         EPA PRETREATMENT                      THE POWER OF EFFECTIVE                    PRETREATMENT INSPECTOR
   TRACKS
                              TRAINING                             COMMUNICATION                            TOOL BELT TRAINING

                            Tracy Wyhlidko                                  Jennifer Peet                           Edwin Alonzo
    LEAD
                            City of Redding                               City of Livermore                        City of Fontana

                    Pretreatment Compliance                                                                 Hazardous Waste Spill
                                                               Communication and
                     Audits and Inspections                                                                 Response Safety and
                                                              De-Escalation (Part 1)
 1:30 - 2:20         Jim Polek, EPA Region 9                                                                    Identification
                                                                   John Wilson
                       and Chuck Durham,                                                                         Edwin Alonzo
                                                            CBL Training and Consulting
                        PG Environmental                                                                       City of Fontana

                     Industrial User Surveys
                                                               Communication and
                         and Permitting                                                                   Industrial Monitoring 101
                                                              De-Escalation (Part 2)
 2:30 - 3:20         Jim Polek, EPA Region 9                                                                     Tim Ridley
                                                                   John Wilson
                       and Chuck Durham,                                                                      City of Riverside
                                                            CBL Training and Consulting
                        PG Environmental
 3:20 - 3:50                                     NETWORKING BREAK WITH EXHIBITORS

                                                                                                       Compliance with Electronic
                    Industrial User Inspections                Communication and                         Reporting Regulations
                      Jim Polek, EPA Region 9                 De-Escalation (Part 3)                          (CROMERR)
 3:50 - 4:40
                        and Chuck Durham,                          John Wilson                                Nicole Sears
                         PG Environmental                   CBL Training and Consulting                   Sacramento Regional
                                                                                                        County Sanitation District

 6:15 - 10:00                                 SIGNATURE EVENT ~ SALTY SEAL BREWPUB

The Fully Redesigned GB-1000

                                                     5,495
                                                     pounds of grease
                                                    capacity at 100 GPM

                                                                 824
                                                              weight in pounds
                                                             assembled with cast
                                                                 iron covers

                                                    Indoor/Outdoor,
                                                      Above- and
                                                      Below-grade
                                                       installation

                                                                                                                                      BY

                                                                                                 Installed at Costco in
                                                                                              Independence, Missouri
 Schier offers nine Great Basin™ models from                                                                                Size your project with
                                                                                                                               Grease Monkey.
 10 to 1,5
         500 gallons.
                                                                                                                          GreaseMonkeySizing.com
 Contact our team in Shawnee, Kansas at 913-951-3300
 or support@schierproducts.com to help with your next project.
                                         p3s23.cwea.org                     13
WEDNESDAY MORNING

   8:00 - 8:30                                     CONTINENTAL BREAKFAST

     TRACKS           STORMWATER A TO Z                 ECI TEST PREP               FOG WORKSHOP
                                                                                       Paul Prange,
                       Alina Constantinescu            Shannon Simmers
      LEAD                                                                           City of San José
                   Larry Walker and Associates          City of Redlands
                                                                              Tracy Wyhlidko, City of Redding
                                                                                Sponsored by endura
                      Stormwater Trash
                      Reduction in the
                                                   Test Taking Strategies       How Do Various Grease
                     Bay Area: Progress
                                                     Dr. Ramzi Mamood            Interceptor Designs
                     Made Overt the Past
   8:30 - 9:20                                       and Dr. John Rowe             Actually Work?
                    Decade and Remaining
                                                  Office of Water Programs            Tony Cole
                    Challenges To Address
                                                          Sac State                    Endura
                    Over The Next Decade
                     Chris Sommers, EOA
                                                                                    LIVE OUTDOOR
                        Stormwater 101           Environmental Compliance          DEMONSTRATION
                      Dr. Ramzi Mamood            Inspector (ECI) Test Prep          How to Inspect
   9:30 - 10:20        and Brian Currier                 Grades 1 & 2             a Grease Interceptor
                   Office of Water Programs           Shannon Simmers         Juan Arreguin, Monterey One
                           Sac State                   City of Redlands          Water and Ken Loucks,
                                                                                 IW Consulting Service
  10:20 - 10:50                                  COFFEE WITH THE EXHIBITORS

                     Investigation of Illicit
                                                                              Collection System Sanitary
                           Discharger
                                                 ECI Test Prep Grades 1 & 2    Sewer Management Plan
                        with Wrong IGP
   10:50 - 11:40                                     Shannon Simmers              and FOG Reduction
                           Coverage
                                                      City of Redlands                Jim Fischer
                         George Munoz
                                                                                  Fischer Compliance
                        City of Riverside

                                               LUNCH & P3S GRANT RECIPIENTS
   11:45 - 1:00
                                            ALINA CONSTANTINESCU, GRANTS LEAD

Photos by Salvador Ochoa

                                      p3s23.cwea.org         14
WEDNESDAY AFTERNOON
  TRACKS            STORMWATER A TO Z                   ECI TEST PREP                                                  FOG WORKSHOP
                                                                                                               Paul Prange,
                      Alina Constantinescu             Shannon Simmers
   LEAD                                                                                                      City of San José;
                  Larry Walker and Associates           City of Redlands
                                                                                                      Tracy Wyhlidko, City of Redding
                                                                                                         Sponsored by endura
                                                                                                       Collection System Grease
                                                    ECI Test Prep Grade 3                              Issues and Elements of a
                   New Construction IGP
 1:10 - 2:00                                            George Munoz                                         FOG Program
                      Speaker t.b.d.
                                                      City of Redlands                                      Samuel Mcleod
                                                                                                          FOG BMP Software
                  Stormwater Inspections-
                                                                                                      Safety and Ergonomics for
                  Procedures for assessing
                                                    ECI Test Prep Grade 4                             Collection System Workers
                     BMP effectiveness
 2:10 - 3:00                                            Kent McIntosh                                      and Inspections
                        Colleen Hunt
                                                           Retired                                           Don Freeman
                        Stone Creek
                                                                                                              Occumetric
                  Environmental Consulting
                                                                                 "Something is Strange
                                                         ECI Test Prep            Here:" Things That Go
                        Inspections:
                                                Interactive Exam Practice Quiz  Wrong with Grease Traps
                    What to Know About
 3:10 - 4:00                                     Kent McIntosh, Ariana Pizano,       and Interceptors
                     Stormwater BMPs
                                                      Shannon Simmers,         Paul Prange, City of San Jose
                       Speaker t.b.d.
                                                      and George Munoz               Tracy Wyhlidko,
                                                                                      City of Redding

    4:00                                           CONFERENCE ADJOURNS

                                                                           Dashboard

 The All-In-One Compliance
                                                                           Backflow                     Stormwater                Pretreatment                FOG

 Solution for Water Utilities
                                                                            JAN     FEB   MAR   APR     JAN    FEB   MAR   APR     JAN      FEB   MAR   APR   JAN    FEB   MAR   APR

                                                                            Compliance                        Backflow            Inspections                       Backflow

 SwiftComply helps over 80 cities in California unite
 their compliance teams around one set of tools,                           Status
                                                                                                                                 Backflow

 data, and processes. SOC 2 Type II Certified.

       Industrial                    FOG                         Backflow                                                    Stormwater
     Pretreatment                 Management                    Prevention                                                  Management

       Built by compliance experts for compliance experts
               www.swiftcomply.com
                                 p3s23.cwea.orghello@swiftcomply.com
                                                     15
                                                                                                                                  619.304.6022
The spectacular Monterey Bay is blocks from the hotel and Carmel Beach, shown above, is only seven miles away (Adobe stock)

Conference Hotel
Embassy Suites Monterey Bay
 1441 Canyon Del Rey
 Seaside, CA 93955
 800-EMBASSY
UPDATE 1/12: The conference room block is now full.
We've compiled a list of nearby hotels.

  Need a room? View nearby hotels >

   Safety
    First

Health & Safety Updates
• We're monitoring national and local health
alerts, please stay tuned.
• According to the California Department
of Public Health, people who are at low
risk of severe illness should use personal
preferences for mask wearing. People at risk
for severe illness should consider wearing a
mask and take additional precautions.
• If you are not feeling well, please stay
home.                                                                                                  Photos by Embassy Suites
                                                                  16
Registration Instructions
Before you register yourself or a group of persons online,      SPEAKERS
please read all instructions and ensure you know which          Conference speakers can register online at a discounted
events and meals you or each person in your group will          rate and instructions will be emailed to them.
attend. You will need your online CWEA password for
all those you are registering. Discrepancies may result in      REGISTRATION PAYMENT
delays when you pick up your registration materials at the      Full payment may be made by credit card, purchase order,
conference.                                                     personal check or company/agency check. Credit card
                                                                payments are accepted using the enclosed registration
EARLY BIRD REGISTRATION                                         form or through CWEA's secure website (CWEA.org).
Register by Monday, January 9, 2023 to receive the              For check or money order payments, please make them
discounted conference registration rate. Mailed early bird      payable to "CWEA P3S23". Those who submit payments
registrations MUST be post-marked by Monday, January 9,         with an Early Bird Registration fee after Monday, January
2023 and accompanied with the appropriate payment to            9, 2023 will be billed for the difference. Registrations
be processed. Save time by registering online!                  received without full payment or purchase order will not
                                                                be processed. You must be registered for the conference
MEMBER-DISCOUNTED RATES                                         as an attendee to receive CWEA contact hours.
CWEA, WEF or CA-NV AWWA memberships qualifies
registrant for member- discounted rates, memberships            REFUND POLICY
will be verified. The additional cost of a non-member           Written cancellation notice is required and must be
registration rate will be applied toward a one-year CWEA        received by January 16, 2023. A 25% service fee shall be
membership, unless otherwise stated on registration form.       retained on all cancellations. No refunds will be given for
                                                                cancellations made after January 16, 2023. Please consider
ONLINE REGISTRATION                                             a substitution if you are unable to attend.
Group and individual online registrations can be processed
through CWEA's secure website CWEA.org. Event fees              SPONSOR AND EXHIBITOR OPPORTUNITIES
are driven by 'registrant type' selected during registration.   For more information about Sponsor and Exhibitor
Please select the appropriate registrant type based on          opportunities, please contact Nicole Agnone, Exhibit &
number of days you are planning to attend the conference.       Sponsorship Manager, exhibit@cwea.org,
If you have any questions during the online registration        510.382.7800 x115.
process, contact Member Services at
memberservices@cwea.org or 510-382-7800 x4.                     REGISTRATION QUESTIONS
                                                                Contact Member Services at memberservices@cwea.org
RETIRED MEMBERS                                                 or 510-382-7800 x4.
Retired Members are eligible for a special rate. CWEA
Bylaws state a retired member is any person both                SPEAKER QUESTIONS
retired from and not currently affiliated professionally or     Contact Melanie Guillen at mguillen@cwea.org.
technically with the water quality field. Retired members
can submit a registration form by mail, fax, or email.          DISCLAIMER
                                                                CWEA and our Board members and volunteers are not
ACADEMICS & REGULATORS REGISTRATION                             responsible for the actions of speakers or the content of
Full-time employees of academic institutions are eligible       their sessions. No endorsement is implied or given of any
for the Academics rate. Full-time employees of the State        persons or their philosophies, ideas or statements; nor
Water Board, Regional Water Boards, CalRecycle,                 of any products or processes; nor of any organizations
US EPA, or Department of Water Resources are eligible for       or companies who volunteer to serve as speakers at the
the Regulators rate. To receive this rate, please submit a      conference or exhibitors who purchase an exhibit booth.
registration form by mail, fax, or email.

STUDENT REGISTRATION
Full-time students are eligible for a complimentary
registration. A student registration includes lunches
and the Monday and Tuesday evening receptions. This
registration type is not available online since students
must provide verification of current enrollment (nine or
more units per semester). Students are asked to submit a
registration form by mail, fax, or email.

EVENTS & MEALS
Most events and lunches are included in the conference
registration fee, please RSVP to help us avoid food waste.
There is a fee to attend the Signature Event on Tuesday
evening. Guest/spouse tickets are also available.

                                         p3s23.cwea.org           17
PRETREATMENT, POLLUTION PREVENTION & STORMWATER CONFERENCE
JANUARY 30 - FEBRUARY 1, 2023

REGISTRATION FORM                                                                     Register online:
                                                                                      p3s23.cwea.org
(PLEASE PRINT OR TYPE)

First Name:_______________________________                  Last Name: _________________________________________

Agency/Company:_________________________                     Title: ______________________________________________

Address: _____________________________________________________________________________________

City: _________________________________State: ________________ Zip:________________________________

Phone Number:____________________________                   E-Mail: ____________________________________________

Emergency Contact:__________________________________ Emergency Phone: _________________________

¨ CWEA MEMBER ¨ WEF MEMBER                ¨ CA-NV AWWA MEMBER # ________________________________
(Must have current membership for member rates.)
¨ Special Services: Check here if you require special accommodations to fully participate. Please attach a written
description of your needs and return it to CWEA 30 days prior to the conference.

Tell us a bit about you. Please select one response for each question.
        1. WHAT IS YOUR CAREER STAGE?                                2. WHAT IS YOUR PRIMARY PRACTICE AREA?
    Student          Job Seeker                     Collection Systems  Electrical/Instrumentation
    Entry-level      Journey-level                  Engineering            Laboratory     Plant Maintenance
    Supervisor       Management                     Plant Operations       Pretreatment  Public Outreach
    Executive        Retiree         Other         Safety                 Stormwater     Utility Executive  Other
                                       3. WHAT TYPE OF ORGANIZATION DO YOU WORK FOR?
  Municipal – Large (400K+ customers)                Municipal – Medium (50K-400K customers)
  Municipal – Small (< 50K customers)                Non-municipal – Consulting Firm
  Non-municipal – Manufacturer or sales representative  Non-municipal – Regulator, State or Federal  Other

                                                                                              Early Bird        Regular Registration
Full Conference Rates                                                                       Deadline 1/9/23       Starting 1/10/23
Member                                                                                             $745                 $795
Non-Member (a year of CWEA membership is included as part of registration)                         $947                 $997
Retired Member                                                                                     $360                 $360
Academics                                                                                          $250                 $250
Full-Time Student (must provide proof of attendance w/min 9 units for college students)           No cost              No cost
Are you a speaker? Look for details on how to register in the speaker invitation email. Please don't use this form.

Two-Day Conference Attendance
Please choose your days of attendance (select any two days):  MONDAY  TUESDAY  WEDNESDAY
Member                                                                                   $525     $590
Non-Member                                                                               $727     $792
Full-Time Student (must provide proof of attendance w/min 9 units for college students)  No cost  No cost

One-Day Conference Attendance
Please choose your day of attendance (select one day):  MONDAY  TUESDAY                         WEDNESDAY
Member                                                                                             $360              $415
Non-Member                                                                                         $562              $617
Full-Time Student (must provide proof of attendance w/min 9 units for college students)           No cost            No cost

                                                                              Registration form continues on the next page...

                                            p3s23.cwea.org             16
PRETREATMENT, POLLUTION PREVENTION & STORMWATER CONFERENCE
JANUARY 30 - FEBRUARY 1, 2023

REGISTRATION FORM PAGE 2
              PLEASE RSVP FOR MEALS & EVENTS (included in your registration)
                      LUNCHES                                                        EVENTS & TOUR
                       MONDAY                                        ¨ Shore Beats Working Beach Clean-up
                                                                        sponsored by SunBelt Rentals (Sunday)
                       TUESDAY
                                                                      ¨ Ice Breaker Happy Hour (Sunday)
                       WEDNESDAY
                                                                          SOLD OUT One Water WRRF Tour (Monday)
  Dietary Restrictions:                                               ¨ Networking with the Partners (Monday)
  _____________________________________________                       ¨ P3S Committee Meeting & Breakfast
                                                                        (Tuesday)
                                                                      ¨ FOG Workshop sponsored by Endura
                                                                        (Wed; free with conference registration)
                         EVENT TICKETS AVAILABLE FOR PURCHASE
   Spouse/Guest Tickets                                            Tuesday Signature Event Reception
    ___ qty. Spouse/Guest Lunch Ticket                  $65           Member                               $75
                                                                                                                          Don't
    ___ qty. Networking with the Partners (Mon)         $65           Non-Member                           $85          miss the
    ___ qty. Signature Event (Tue)                      $75          Tickets Subtotal          $                        signature
                                                                     GRAND TOTAL               $                          event

PAYMENT INFORMATION                                                                     REGISTRATION OPTIONS:
                                                                                        1. Register online at events.cwea.org
                                                                                        2. Fax: 510.382.7810
                                                                                        3. Send registration form and payment to:
For payments by check or money order, make payable to: CWEA P3S23                          CWEA P3S23
                                                                                           7677 Oakport Street, Suite 1030
                                                                                           Oakland, CA 94621-1935
For payments by credit card, please print clearly.

Credit card: ¨ VISA ¨ MASTERCARD ¨ DISCOVER ¨ AMEX                     Signature: __________________________________

Credit card number:___________________________________ Expiration date:____________________________

Name of account holder:_______________________________ Billing zip code: ____________________________

Full payment or purchase order is required to process registrations. Please see the registration instructions for important
information about cancellation deadlines and substitutions.

 Registration Assistance
 MEMBER SERVICES
 510.382.7800 option 4
 or memberservices@cwea.org                                                                               p3s23.cwea.org