The Parties: A Guide for - Update: Wednesday, January 18th - Navigator Research
Page content transcription
If your browser does not render page correctly, please read the page content below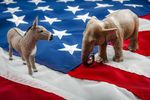 Update:
Wednesday, January 18th

The Parties: A Guide for
Advocates
  Nationwide surveys of registered voters; Each wave represents approximately 1,000 interviews taken over the prior three-five days.
  Latest wave conducted January 5-January 9, 2023. For more info, visit navigatorresearch.org
• Opinions of Biden's job performance overall and on the economy have
    improved slightly since November.

  • Democrats are more trusted on a range of issues including abortion, health
    care, and Social Security/Medicare, while Republicans retain narrow
    advantages on inflation and crime.

  • More Americans describe the Republican Party as "extreme" than the
    Democratic Party.

Nationwide surveys of registered voters; Each wave represents approximately 1,000 interviews taken over the prior three-five days.
Latest wave conducted January 5-January 9, 2023. For more info, visit navigatorresearch.org
Biden's Job Approval Overall and on the Economy Have Ticked
 Up Since Mid-November
 Biden's overall job approval rating (net -6 approve now, up from -11 in November) and his economic approval rating (net -13 now, up
 from -18) have both improved modestly by 5 points since mid-November.
 Do you approve or disapprove of the way Joe Biden is handling his job as                                               Do you approve or disapprove of the way Joe Biden is handling the
 president?                                                                                                             economy?
                                                               Net Approve                                                                                              Net Approve
              Approve         Not sure          Disapprove Jan. 9      Nov. 21                                          Approve       Not sure           Disapprove    Jan. 9   Nov. 21
          Overall      46                                                         52        -6           -11              42              3                      55     -13       -18

     Democrats         81                                                  3      16       +65          +59               75                              3      22     +53      +49
  Independents         24              10                                         66       -42           -41              19         8                           73     -54       -46
    Republicans        11                                                         88       -77           -85              10                                     89     -79       -88

             Black     72                                            4            24       +48          +48               66                          3          31     +35      +44
        Hispanic       48                             5                           47        +1          +10               46                  6                  48      -2       -2
            White      40                                                         59       -19           -26              37                                     62     -25       -32
             AAPI      55                                  6                      39       +16          +14               51                      7              42     +9        +7

Nationwide surveys of registered voters; Each wave represents approximately 1,000 interviews taken over the prior three-five days.
Latest wave conducted January 5-January 9, 2023. For more info, visit navigatorresearch.org
Biden and Democrats More Trusted on Range of Issues, Including
  Health Care and Ensuring the Government Runs Smoothly
  Biden and Democrats are more trusted by double digits on abortion (net +19), health care (+16), Social Security/Medicare (+17), and
  democracy (+14). They are also more trusted to "ensure the government runs smoothly" by 5 points.
  • Republicans hold slight advantages on crime (net +4 GOP, down from net +8 in October) and inflation (net +7, down from net +10).
  Below is a list of issues. Please indicate who you trust more to handle each one.
                                                                                                                                                        Net Biden and Democrats
                                                                Joe Biden and the           The Republican                                                                          Republicans
                                                                Democratic Party Don't know         Party                             Overall Nov. 21 Oct. 24 Dem   Ind   Rep     MAGA* Non-MAGA
                                                  Abortion        52                                    15                    33          +19   +16   +18    +72    +21   -42      -55     -19
                                              Health care         51                                    14                    35          +16   +15   +13    +78    +20   -55      -70     -38
                       Social Security and Medicare               51                                    15                    34          +17   +11   +11    +77    +17   -51      -68     -32
                                              Democracy           49                                  16                      35          +14   +12   +10    +81    +6    -60      -74     -45
        Ensuring the government runs smoothly                     43                               19                         38          +5    n/a   n/a    +70    -3    -69      -81     -57
                               Jobs and the economy               43                            12                            45          -2    -6     -2    +65    -11   -76      -81     -72
              Protecting your financial well-being                42                             17                           41          +1    n/a   n/a    +64    -3    -72      -83     -63
                  Economic stability in the country               41                           14                             45          -4    n/a   n/a    +62    -14   -78      -83     -73
                                  Getting things done             41                            17                            42          -1    n/a   n/a    +66    -3    -78      -90     -66
                                                      Crime       40                           16                             44          -4    -5     -8    +58    -17   -73      -80     -65
                                                   Inflation      39                          15                              46          -7    -10   -10    +58    -18   -79      -82     -76
*"MAGA Republicans"
Nationwide  surveys of registered
                        are those who
                                  voters;
                                      self-identify
                                          Each wave asrepresents
                                                       Republicans
                                                                 approximately
                                                                    and with the1,000
                                                                                  MAGA interviews
                                                                                         movement.taken over the prior three-five days.
Latest wave surveys
Nationwide  conducted
                    of registered
                        January 5-January
                                  voters; Each
                                           9, 2023.
                                               waveForrepresents
                                                         more info,
                                                                 approximately
                                                                    visit navigatorresearch.org
                                                                                 1,000 interviews taken over the prior three-five days.
Latest wave conducted January 5-January 9, 2023. For more info, visit navigatorresearch.org
House Minority Leader Jeffries Remains Largely Unknown,
 Though There's Been a Modest Increase in Name Recognition
 Jeffries' name recognition has increased from 33% in mid-November to 42% now, as opinions diverge along partisan lines: his net
 favorability has increased by 7 points among Democrats (from net +20 to net +27) and decreased by 9 points among Republicans
 (from net -18 to net -27).
 Please indicate how favorable or unfavorable you are to: Hakeem Jeffries.
                                                                                                                                                     Total Familiar     Net Favorable
                           Favorable                                                Don't know                                       Unfavorable   Jan. 9    Nov. 21   Jan. 9   Nov. 21
               Overall      22                                                              57                                               21     42          33      +1        +1

          Democrats         36                                                                              55                                9     45          37      +27      +20
      Independents          11                                                       70                                                      19     31          26      -8        -12
        Republicans         8                                            57                                                                  35     42          29      -27       -18

                 Black      38                                                                               52                              10     48          43      +28       +9
             Hispanic       18                                                         58                                                    24     42          35      -6        +1
                White       19                                                          58                                                   23     42          32      -4        -1
                  AAPI      27                                                                     59                                        14     41          22      +13       +8

Nationwide surveys of registered voters; Each wave represents approximately 1,000 interviews taken over the prior three-five days.
Latest wave conducted January 5-January 9, 2023. For more info, visit navigatorresearch.org
Nearly Three in Five Americans See Republicans as Extreme;
  Fewer Say the Same of the Democratic Party
  By a 23-point margin, Americans see the Republican Party as extreme, compared to a smaller 8-point margin for the Democratic Party.
  • There has been a 5-point increase in the share of independents who say the Democratic Party is extreme since September (from net
     +23 extreme to net +28), matched by a 5-point increase in the share who say the Republican Party is extreme (from +20 to +25).

  Would you describe the Democratic Party as…                                                                          Would you describe the Republican Party as…
                                                                                            Net Extreme                                                                Net Extreme
               Extreme                          Not sure              Not extreme        Jan. 9        Sept. 26          Extreme         Not sure Not extreme         Jan. 9   Sept. 26
       Overall 50                                        8                     42         +8             +13              57                    9          34         +23       +21

   Democrats        26               6                                           68       -42             -39             81                                 6   13   +68       +71
Independents        53                                           22              25       +28            +23              52                       21            27   +25       +20
 Republicans        77                                                   7       16       +61            +69              30         9                           61    -31       -36

          Black     42                           9                               49        -7             -14             65                            11       24   +41       +50
      Hispanic      47                               9                           44       +3              -10             63                        5            32   +31       +41
         White      53                                       8                   39       +14            +23              54                   9                 37   +17       +10
          AAPI      44                            11                             45        -1             +4              64                            11       25   +39       +39

Nationwide surveys of registered voters; Each wave represents approximately 1,000 interviews taken over the prior three-five days.
Latest wave conducted January 5-January 9, 2023. For more info, visit navigatorresearch.org
More Democrats Than Republicans See Their Own Party
 Looking Out for Them; Independents Say Neither Party Is
 By a 38-point margin, Democrats think their party is looking out for people like them "all" or "most of the time," while Republicans
 think their party is generally looking out for people like them by just a 21-point margin.
 Generally speaking, how often do you think the Democratic Party is                                                         Generally speaking, how often do you think the Republican Party is
 looking out for people like you?                                                                                           looking out for people like you?
                       All/Most of                                     Only some of                                         All/Most of                            Only some of
                       the time                Not sure              the time/Never           Net Most/All                  the time              Not sure       the time/Never   Net Most/All
          Overall       39                       4                                  57              -18                      31                5                           64         -33

      Democrats         68                                           2              30              +38                      9     5                                       86         -77
  Independents          21             13                                           66              -45                      19          13                                68         -49
    Republicans         11    4                                                     85              -74                      59                              3             38         +21

             Black      63                                       4                  33              +30                      23           7                                70         -47
         Hispanic       47                               3                          50               -3                      30               5                            65         -35
            White       34                   3                                      63              -29                      33                   4                        63         -30
             AAPI       40                           9                              51              -11                      27               10                           63         -36

Nationwide survey
            surveysofof1,000  registered
                        registered       voters
                                    voters; Eachconducted  January
                                                 wave represents   5-January 9, 2023.
                                                                 approximately  1,000 interviews taken over the prior three-five days.
For more
Latest   info,
       wave    visit navigatorresearch.org.
            conducted    January 5-January 9, 2023. For more info, visit navigatorresearch.org
About Navigator                                                                                                                           For Press inquiries contact:
In a world where the news cycle is the length of a tweet, our leaders often lack the real-time public-sentiment                           press@navigatorresearch.org
analysis to shape the best approaches to talking about the issues that matter the most. Navigator is designed to
act as a consistent, flexible, responsive tool to inform policy debates by conducting research and reliable
guidance to inform allies, elected leaders, and the press. Navigator is a project led by pollsters from Global                            To learn more about Navigator:
Strategy Group and GBAO along with an advisory committee, including: Jessica Floyd, The Hub Project;
Christina Reynolds, EMILY's List; Mike Podhorzer, AFL-CIO; Jesse Ferguson, progressive strategist; Navin Nayak,                           http://navigatorresearch.org
Center for American Progress Action Fund; Stephanie Valencia, EquisLabs; and Melanie Newman, Planned
Parenthood Action Fund.                                                                                                                   @NavigatorSurvey on Twitter

About the Study
Global Strategy Group conducted public opinion surveys among a sample of 1,000 registered voters from
January 5-January 9, 2023. 100 additional interviews were conducted among Hispanic voters. 74 additional
interviews were conducted among Asian American and Pacific Islander voters. 100 additional interviews were
conducted among African American voters. 101 additional interviews were conducted among independent
voters. The survey was conducted online, recruiting respondents from an opt-in online panel vendor.
     Nationwide surveys of registered voters; Each wave represents approximately 1,000 interviews taken over the prior three-five days.
Respondents
     Latest wave were  verified
                 conducted  Januaryagainst
                                    5-Januarya9,voter
                                                 2023. file andinfo,
                                                       For more  special    care was taken to ensure the demographic
                                                                     visit navigatorresearch.org
composition of our sample matched that of the national registered voter population across a variety of
demographic variables.