THE SA DIRECTORY ISSUE - Business Traveller Africa
Page content transcription
If your browser does not render page correctly, please read the page content below
Contents

                                      22   24                       30

                                      34   36                       38
                                                  COUNTRY PROFILES

                                                06 Johannesburg
                                                22 Pretoria
                                                24 Cape Town

                                      40   42   30 Durban
                                                34 Port Elizabeth
                                                36 East London
                                                38 Polokwane
                                                40 Nelspruit
                                                42 Kimberley

                                      44   46
                                                44 George
                                                46 Bloemfontein

Visit businesstravellerafrica.co.za                                 JANUARY2018 | 3
ED'S LETTER

                  U
                            nchartered business travel offers up a unique
                            set of challenges, and if you're embarking on
                                                                                   PUBLISHER
                            a trip for the first time, particularly if it's to a   Richard Lendrum
                  destination you've never visited, the smart approach
                  involves doing your research, gathering as much
                  information as possible, and ideally engaging those with         EDITOR
                  first-hand experience of the destination in question.            Dylan Rogers
                                                                                   dylan@thefuture.co.za
                     That's whether or not you're the actual traveller or the
                  booker/agent tasked with making this trip happen.
                     Fortunately, there is so much information now available       JOURNALIST
                  on the internet that one can gather a fair amount of             Kate Kennedy
                  intelligence, canvas reviews etc, to ensure you leave home
                  confident that you know what you're getting in to. But           DESIGN AND LAYOUT
                  that can take time – time that a lot of business travellers      Nadette Voogd
                  don't have.
                     That's why we believe this first ever South African
                                                                                   SUBSCRIPTIONS AND PRODUCTION
                  Directory Issue can be such a useful travel tool to those        Mabel Ramafoko
                  conducting business travel in this country, as we've done        mabel@thefuture.co.za
                  the research for you, canvassed a host of reviews, collated
                  a bunch of information, and consulted business travellers
                                                                                   SOUTH AFRICAN OFFICE
                  in the industry who have actually travelled to the cities in     Postal Address:
                  question.                                                        PO Box 1746, Saxonwold, 2132
                     In this inaugural SA Directory Issue, we've gone              Physical Address:
                  for 11 cities – the ones we believe are South Africa's           247 Jan Smuts Avenue, Randburg
                  main business travel destinations: Johannesburg, Cape            Telephone: +27 11 327 6107
                  Town, Durban, Pretoria, Bloemfontein, Port Elizabeth,
                  Polokwane, Nelspruit, George, East London and                    NIGERIAN OFFICE
                  Kimberley.                                                       3rd Floor, EuniBrown House195,
                     In this way we have focused on 11 cities we believe           Ikorodu Road, Palmgrove,Lagos, Nigeria
                                                                                   Tel: +234 1 740 3236
                  are the most important, high-profile and prominent               Mobile: +234 803 963 0155
                  business travel destinations in the country. Within that,
                  we've drilled down even further to focus on each city's
                  important business travel information.                           PUBLISHER – NORTH & WEST AFRICA
                     This is the information we believe a corporate traveller      Tope Ogbeni-Awe
                                                                                   tope.ogbeni-awe@topcommng.com
                  or booker might need to know, when embarking on a
                  business trip to these cities, including detail on the main
                  airport and the airport experience, the hotels available in      EDITORIAL ASSISTANT
                  the city, some recommended restaurants, and some useful          Mohammed Abdullahi
                  or interesting titbits that might make the experience a bit
                  fulfilling.
                     This, we believe, covers just about every base, although
                  we are constantly looking at ways of improving these
                  profiles, year on year.
                     All that's left is to wish you a fantastic 2018 and happy
                  travelling.                                                      Business Traveller Africa is published under licence
                                                                                   from Perry Publications Limited.
                                                                                   Warwick House, 25 Buckingham Palace Road,
                                                                                   London, SW1W 0PP.
                                                                                   Tel: +44 20 7821 2740
                                                                                   www.businesstraveller.com

                  Dylan Rogers
                  Editor
                  dylan@thefuture.co.za

                                                                                     Follow us on:

4 | JANUARY2018                                                                                                 Visit businesstravellerafrica.co.za
Where Africa's Leaders Meet
                                                          EMPERORS PALACE, JOHANNESBURG, SOUTH AFRICA

                                                                    THE GRAND PALM, GABORONE, BOTSWANA

                                                                              UMODZI PARK, LILONGWE, MALAWI

  Three World-Class Hotel and Convention Resorts
 Whether its a global conference, international summit or multi-lingual                RELAXING STAYS. EXCITING TIMES.
 symposium, Peermont proudly offers three exceptional convention resort
 choices with unrivalled facilities and service.
 Emperors Palace, situated next to O. R. Tambo International Airport in
 Johannesburg, South Africa; The Grand Palm Resort in Gaborone, Botswana
 and Umodzi Park in Lilongwe, Malawi. Catering for delegates from 8 to 3000
 in multiple, well-appointed venues with accompanying luxury accommodation,
 the finest quality cuisine, state-of the-art technical abilities, superior business     FOLLOW US

 services and a dedicated security detail. Choose Peermont, where quality is
                                                                                           www.peermont.com
 guaranteed and customised solutions are effortless.

        PEERMONT INTERNATIONAL SALES: Tel: +27 (0)11 928 1903 | E-mail: intsales@peermont.com
        PEERMONT CENTRAL RESERVATIONS: Tel: +27 (0)11 928 1928 | E-mail: intres@peermont.com

 EMPERORS PALACE in Johannesburg, GRACELAND in Secunda, UMFOLOZI in Empangeni, RIO in Klerksdorp,
KHORONI in Thohoyandou, FRONTIER INN in Bethlehem, MMABATHO PALMS in Mafikeng, THABA MOSHATE in
Burgersfort, UMODZI PARK, BICC and PRESIDENT WALMONT in Lilongwe, Malawi, THE GRAND PALM, GICC and
          THE MONDIOR HOTEL in Gaborone, and THE METCOURT HOTEL in Francistown, Botswana.
Johannesburg
Johannesburg is South Africa's main
business travel destination and the
economic powerhouse of both the country
and the African continent.

OVERVIEW
T he capita l of Sout h A f r ica's sma l lest
province, Gauteng, Johannesburg is where
it all happens for the countr y's business
travellers.
   Not only is it the largest city in South
A frica, but Johannesburg is also one of
the 50 largest urban areas in the world.
While Johannesburg is not one of South
Africa's three capital cities, it is the seat
of the Constitutional Court.
   Much of the financial activity takes place in
and around the Sandton district in the north
                                                    across a range of areas and there is still          of lounge investment, which was to include
of Johannesburg. Sandton features many of
                                                    a reliance on heav y industries including           a revamp of the airline's lounge at O.R.
the big banks and associated corporates,
                                                    steel and cement plants. Other industries           Tambo International in Johannesburg.
the Johannesburg Stock Exchange, a host
                                                    include banking, IT, real estate, transport,           In June, Signature Lux Hotels opened its
of hotels, restaurants and bars, a Gautrain
                                                    broadcast and print media, private health           first hotel in South Africa - and Africa - in
station, the huge Sandton City shopping
                                                    care, and a vibrant leisure and consumer            the heart of the Golden Mile in Sandton.
centre, and Nelson Mandela Square.
                                                    retail market.                                      The progressive hotel chain is targeting
   Much of Johannesburg's corporate business
                                                       The JSE is Africa's largest stock exchange       tec h-s av v y m i l len n i a l s a nd bu s i ne s s
has moved out of the CBD, which is located in
                                                    and it has moved out of the CBD. Due to             travellers with its four-star finishes and
the south, although some do still retain their
                                                    its commercial role, the cit y is the seat          quality connectivity, with social hubs for
offices, and there are pockets of rejuvenation
                                                    of the prov i ncia l gover n ment a nd the          enhanced networking opportunities.
taking place, such as in Newtown, where
                                                    site of a number of government branch                  Mov i ng to the T MC space where
City Lodge has opened a hotel.                      off ices, as well as consular off ices and          Johannesburg-headquartered Duma Travel
   Rosebank is one of the 'nodes' that is           other institutions.                                 announced its partnership w ith global
benefiting from a reduced interest in the                                                               travel management giant UNIGLOBE. The
CBD, and it is situated between town and            BUSINESS TRAVEL NEWS                                two parties are now working together to
Sandton. It also has a Gautrain station,            No surprise to hear that there was plenty           grow the UNIGLOBE brand in Africa, with
a large re-vamped shopping centre, and              of change on the Johannesburg business              Duma targeting small and medium-sized
quality hotels. Standard Bank moved one             travel scene in 2017.                               travel agencies throughout sub-Saharan
of its offices from the CBD to Rosebank.               In Febr uar y, Emirates' A 380 aircraf t         African. UNIGLOBE has more than 600
   That being said, Johannesburg, like many         returned to South African skies for the start       partners across 60 countries, and agencies
met ropolises, has more than one C BD,              of a scheduled service between Dubai and            that join gain access to a global brand,
including , but not limited to, Sandton,            Johannesburg. The city became Emirates'             business-boosting technologies, training
Rosebank and Roodepoort (West Rand) in              46th destination in its global network to           to international standards and a global
addition to the original CBD. Some tend             which it flies the double decker aircraft.          hotel programme with 38,000 properties
to include Benoni and Germiston as well.            The A380 offers a total of 516 seats in a           in 6,000 cities.
   M i n i ng w a s t he f o u nd at ion o f t he   three-class cabin config uration, with 14              On the hotel side of things, August saw
Witwatersrand's economy, but its importance         private suites in first class, 76 mini pods         the announcement that Birchwood Hotel
is g radually declining due to dw indling           with lie-flat seats in business class, and          & OR Tambo Conference Centre – in close
reserves, and service and manufacturing             426 seats in economy class.                         proximity to Johannesburg's O.R. Tambo
industries have become more significant to             Also beefing up its A380 offering was            International Airport – had unveiled its new
the city's economy. While gold mining no            Br it i sh A i r way s. M ay saw t he a i rl i ne   on-site restaurant. It is called Phomolong
longer takes place within the city limits,          announce that it would be adding 680 seats          and its decor is a modern take on traditional
most mining companies still have their              a week to Johannesburg by operating an              African design, including a rustic thatch
headquarters in Johannesburg.                       all-A380 service. Further to that, there was        roof with wooden decking, contemporary
   The city's manufacturing industries extend       an announcement regarding BA's programme            furniture and a modern open kitchen.

6 | JANUARY2018                                                                                                               Visit businesstravellerafrica.co.za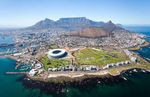 In September, Comair Limited announced
the launch of SLOW XS, a new lounge
at Lanseria International A irport to the
north-west of Johannesburg. SLOW XS is
the latest addition to the suite of existing
SLOW Lounge experiences across South
A frica. It opened at Lanseria's domestic
terminal and will be exclusively available
to qualifying kulula.com, FNB, RMB and
Comair Limited VIP guests. The SLOW XS
concept has been specifically designed to
address the discerning traveller's need for
dedicated transit spaces w ithin smaller
airport environments, such as Lanseria.
  It was a busy yea r for Lanser ia
International, with November seeing the
unveiling of a new control tower at the
airport. The new complex offers the capacity
required to meet increased passenger and
aircraft traffic demand. It accommodates       NEWTOWN CULTURAL PRECINCT
air traffic and navigation services, South     The redevelopment of the Newtown area in the Johannesburg CBD was
African weather ser vices and aerodrome        inevitable, and part of the reason why the city and heritage bodies decided
rescue and fire-fighting services.             to keep the façades of the old buildings and apportion new meaning to it
  T here was a lso plent y happen i ng at      was because part of the identity of the area was forged in the old buildings.
Johannesburg's other main airport, O.R.        It was known throughout its redevelopment as the Newtown Cultural
Tambo International. In October there was      Precinct and it was therefore important to stage old renovated buildings
the announcement that it had opened a new      as the setting of the new precinct. Demolishing the old structures and
passenger link for international passengers    replacing them with new buildings would not have achieved the same effect.
between Terminal A and the central terminal    Everyone played their part in the marketing, branding and the new identity
building, in order to ease congestion at the   of the precinct - the city, heritage bodies, heritage practitioners, and private
main security and emigration checkpoints.      companies. The old warehouse industrial buildings that once lay decaying in
Passengers chec k i ng i n at Ter m i na l A   Newtown are now synonymous with culture and flair.
will now be able to avoid joining queues

Visit businesstravellerafrica.co.za                                                                                 JANUARY2018 | 7
GAUTRAIN
  A part of the Gauteng Provincial Government's 'Blue IQ Project', Gautrain has made provision for a rapid rail link,
  running north to south, between Johannesburg and Pretoria, and west to east between Sandton and O.R. Tambo
  International Airport. The network consists of a number of underground stations, as well as above-ground stations.
  Stations on the north-south line include Johannesburg's Park Station (underground), Rosebank (underground),
  Sandton (underground), Malboro (above-ground and raised), Midrand, Pretoria Station and Hatfield. There is also a
  line from O.R. Tambo International Airport (above-ground and raised) travelling to Sandton via Rhodesfield (raised)
  and Marlboro. A 200-kilometre expansion is underway and will consist of three new lines and 18 new stations. The
  east-west line from the airport to Sandton opened in June 2010 in time for the FIFA World Cup, while the north–south
  line opened in August 2011, except for Park Station, which opened in 2012. The rail system was designed to alleviate
  traffic on the N1 freeway between Johannesburg and Pretoria, which records vehicle loads of up to 300,000 per week
  day. An extensive bus feeder system has also been implemented, which allows access to the main stations from the
  outer suburbs, but is limited to a five-kilometre radius, which neglects the rest of the suburbs. This is the first new
  major railway system that has been laid in South Africa since 1977.

8 | JANUARY2018                                                                                     Visit businesstravellerafrica.co.za
IF YOU WANT TO ACHIEVE,
BE OUR GUEST

Situated in the heart of Sandton, The Maslow is Sun International's 281-room
specialist business hotel. Packed with state-of-the-art technology, giving you a
glimpse into the future of the corporate world. The Maslow offers everything from
business to leisure with the tempting Lacuna Urban Bistro to the productive
Wayfarer business lounge, Wi-Fi and a rejuvenating spa.

Whether you're looking for an intimate meeting place for 4 or a grand affair for
420, The Maslow can accommodate it all with 11 tech-savvy meeting rooms and
a world-class conference centre.

THE MASLOW HOTEL
Corner Grayston Drive & Rivonia Road, Sandton, 2146
Central Reservations: +27 11 780 7770 Telephone: +27 10 226 4600
maslow@suninternational.com suninternational.com/maslow
ORTIA Sesfikile Arrivals Lounge

at Terminal A's securit y and emigration       road from Lanseria International Airport.                  to the city is quickest via the Gautrain, which
processing points.                             The group invested R3.2million ($233,000)                  is a modern rapid rail transport system that
  In the events space, the Gauteng province    in rebuilding the dance theatre after it was               links the airport with Pretoria, Sandton,
was announced as the successful bidder         destroyed in a runaway veld fire in 2016. The              Rosebank and the city centre.
to host South African Tourism's strategic      amphitheatre now offers a more enhanced                       For travellers coming through
busi ness events t rade show, Meet i ng s      cultural experience, with a capacity of 300.               i nter nat iona l a r r iva ls, just ma ke su re
Africa, for the next five years, following                                                                you keep right out of the exit doors and
a comprehensive bidd ing process. T he         AIRPORTS                                                   look for the Gautrain signs. Purchasing a
dec i sion mea nt t hat for t he nex t f ive   S o u t h A f r i c a h a s 10 i n t e r n a t i o n a l   card is straightforward and will cost you
years Meetings Africa will be hosted by        airports, the major one being O.R. Tambo                   approximately $1. Thereafter, it'll cost you
the Gauteng Tourism Authorit y and the         International in Johannesburg, which is                    in the reg ion of $10 for each leg to and
Johannesburg Convention Bureau at the          the main gateway to South A frica. This                    from Sandton, which is about 12 minutes
Sandton Convention Centre, annually in         state-of-the-art airport has the capacity                  away from the airport. For travellers coming
February.                                      to handle up to 28 million passengers                      through domestic arrivals, again, keep right
  I n November, a ha Hotels & Lodges           annually and provides connections to most                  out of the exit doors and follow the signs
unveiled its new offer ing at its Lesedi       regional airports from here. The airport is 22             for the Gautrain.
Cultural Village property, just down the       kilometres east of Johannesburg and access                    In terms of lounges, there are a number

10 | JANUARY2018                                                                                                              Visit businesstravellerafrica.co.za
HOTELS
                                                & LODGES

                           Book your stay at the
                         Best Hotel Group in Africa*
                     *as voted for at the 2017 World Tourism Forum Africa Summit
Western Cape                                        North West
aha Harbour Bridge Hotel & Suites                   Shepherd's Tree Game Lodge
aha De Zalze Lodge                                  aha Thakadu River Camp
aha Simon's Town Quayside Hotel                     Madikwe River Lodge
aha The Rex Hotel
                                                    Mpumalanga
Northern Cape                                       aha Bongani Mountain Lodge
aha Kathu Hotel                                     aha Casa Do Sol Hotel & Resort
                                                    aha Greenway Woods Resort
KwaZulu-Natal
                                                    Limpopo
aha Alpine Heath Resort
                                                    aha Makalali Private Game Lodge
aha Auberge Hollandaise Guest House
                                                    aha Sefapane Lodges & Safaris
aha Gateway Hotel
aha Imperial Hotel
                                                    Botswana
aha Riverside Hotel
                                                    Chobe Marina Lodge
aha Shakaland
                                                    Masa Square Hotel
aha The Square Boutique Hotel & Spa
aha Urban Park Hotel                                Zambia
aha The Waterfront Hotel & Spa                      aha The David Livingstone Safari Lodge & Spa

Free State                                          Zimbabwe
aha Bloemfontein Hotel                              The Elephant Camp
                                                    Imbabala Zambezi Safari Lodge
Gauteng
aha Kopanong Hotel & Conference Centre              Namibia
aha River Place Lodge                               aha Swakopmund Plaza Hotel
                                                    aha Atlantic Villa Boutique Guest House
North West
                                                    aha Beach Hotel Swakopmund
aha Lesedi
                                                    aha Eagle Tented Lodge
Ivory Tree Game Lodge
                                                    aha Epacha Game Lodge & Spa

BOOK NOW: +27 87 740 9292                                                              2017
                                                                                   best african
                                                                                                          2016
                                                                                                     south african

cro@aha.co.za | www.aha.co.za                                                      hotel group
                                                                                    africa tourism
                                                                                                      hotel group
                                                                                                     business traveller
                                                                                                       africa awards
                                                                                       awards
of airline-specific business class lounges
                                                                    at O.R . Ta mbo I nter nat iona l. It has a
                                                                    host of international departure lounges,
                                                                    in the form of the Virg in Atlantic, A ir
                                                                    France, British Airways, Bidvest Premier,
                                                                    SA A (Baobab and Cycad) and Emirates
                                                                    international lounges. SA A also has an
                                                                    arrivals lounge. ORTIA is also home to
                                                                    Menzies Aviation's Shongololo Lounge,
                                                                    which is used by a number of airlines.
                                                                       In terms of domestic lounges, SA A has
                                                                    one at ORT I A, whilst the air port also
                                                                    features lounges from Bidvest (two) and
                                                                    Menzies Aviation (Mashonza).
                                                                       The other lounges worth looking out
                                                                    for, particularly if you are a First National
                                                                    Bank customer (access v ia bank card –
                                                                    sometimes for a fee, depending on the
                                                                    state of your bank account and number
                                                                    of times you v isit in a month), are the
                                               Apartheid Museum
                                                                    SLOW lounges at ORTIA.
                                                                       Passengers also have access to the Bidvest
                                                                    Premier Lounges at ORT I A. Domest ic
                                                                    lounge entry costs $17 and international
                                                                    lounge entry costs $27. All lounges provide
                                                                    complimentar y light meals and snacks,
                                                                    beverages, newspapers and magazines,
                                                                    TV and wi-fi. Bidvest Premier also opened
                                                                    a new lounge at Lanseria International
                                                                    Airport in 2016.
                                                                       Speaking of Lanseria International, it is
                                                                    located to the north-west of Johannesburg,
                                                                    and has emerged as a popular choice for
                                                                    business travellers living in the north of
                                                                    Johannesburg, particularly as there are a
                                                                    good selection of flights to destinations
                                                                    such as Cape Town and Durban. Lanseria
                                                                    is also the focal point for South Africa's
                                                                    private aviation industry, and is home to
                                                                    the likes of ExecuJet, National A ir ways
                                                 Constitution Hil   Corporation, and Comair Flight Services.
                                                                       Other airports in the greater Johannesburg
                                                                    region include Rand Airport and Grand
                                                                    Central Airport. Rand Airport, located in
                                                                    Germiston, is a small airfield used mostly
                                                                    for private aircraft and is the home of
                                                                    South African Airways' first Boeing 747
                                                                    Classic, the Lebombo, which is now an
                                                                    aviation museum. Grand Central is located
                                                                    in Midrand and also caters to small, private
                                                                    aircraft.

                                                                    HOTELS
                                                                    As you would expect, Johannesburg has
                                                                    a host of international hotel brands, and
                                                                    a fair number of them clustered in the
                                                                    main business district of Sandton, which
                                                         Soweto     is approximately 20 minutes from the CBD
                                                                    and about half an hour from O.R. Tambo
                                                                    International Airport, depending on traffic.
  THINGS TO DO             5. Gold Reef City                           There's a five-star Hilton propert y in
                           6. Neighbourgoods Market                 Sandton, and the group also has hotels
  1.   Apartheid Museum    7.	SA Museum of Military History        in Durban (adjacent to the cit y 's main
  2.   Constitution Hill   8. Johannesburg Zoo                      convention centre) and Cape Town (smaller,
  3.   Soweto              9. Arts on Main                          with a boutique-type feel).
  4.   Maboneng Precinct   10. Botanical Gardens                       Also in Sandton are two Radisson Blu

12 | JANUARY2018                                                                      Visit businesstravellerafrica.co.za
37,000+
                                                          car rental locations
              $79 billion
     of travel spending
             processed

                                                                                 400+
                                                                                 airlines including
                      50+                                                        leading low cost
         types of                                                                carriers
airline ancillaries

                                                                     210+
                                               Search                airlines live with
                                                                     Rich Content and Branding
117+ million
 airline tickets
          issued                                                          68,000+
                                                                          travel agency locations

       650,000+
  hotel properties

                      Experience the power of the platform at travelport.com/platform

 Visit businesstravellerafrica.co.za                                                    JANUARY2018 | 13
MABONENG DISTRICT
  Like many cities around the world, there is an increasing focus on the rejuvenation of the inner city of Johannesburg.
  One of these initiatives is the Maboneng District located in the south-eastern side of the CBD. Originally a hub
  for art, it has expanded to include restaurants, entertainment venues and retail stores as well as accommodation
  and hotels. Maboneng calls itself 'a place of inspiration – a creative hub, a place to do business, a destination
  for visitors, and a safe, integrated community for residents. A beacon of strength in Africa's most economically
  prosperous city'.

14 | JANUARY2018                                                                                    Visit businesstravellerafrica.co.za
hotels, including the Radisson Blu Gautrain, which is
ideally positioned opposite the local Gautrain station.
The greater hotel building also has a SLOW business
lounge on the bottom floor, which can be accessed for
a fee. There's also a Park Inn by Radisson in Sandton,
so Carlson Rezidor has a significant presence in this
business-focused area of Johannesburg.
   A nother i nter nat iona l g roup w ith a presence i n
Johannesburg is Accor, through its midscale Mercure
brand. They have three properties, but none in Sandton.
Instead, the Bedfordview hotel to the east of the city
provides easy access to the airport, whilst the Midrand
hotel bridges the gap between Johannesburg and Pretoria,
and the Randburg property taps into the West Rand
market.
   Holiday Inn has four properties in Johannesburg – in
Rosebank, Rivonia Road (Sandton), at the airport, and
in Woodmead - whilst InterContinental, also part of
the IHG group, has the five-star Johannesburg Sandton
Towers and the five-star property at O.R. Tambo Airport.
Completing the IHG presence in Johannesburg is the
Crowne Plaza Johannesburg – The Rosebank, a corporate
travel-focused property that has built a good reputation
and sees a lot of repeat business.
   In terms of O.R. Tambo International Airport, the
general area around it is dotted with hotels across the
star range, whilst a short drive away is the Peermont
offering, in the form of the five-star D'Oreale Grande
at Emperors Palace, which is also home to the group's
four-star Mondior, three-star Metcourt and three-star
Metcourt Suites properties. The D'Oreale Grande is
exceptional, if you're looking for a five-star hotel in
close proximity to the airport.
   In the same Kempton Park area is arguably the country's
biggest conferencing offering, in the form of the Birchwood
Hotel & O.R. Tambo Conference Centre. Overall it has
665 rooms, but also some products specifically targeted at
the business traveller, with Silverbirch a more premium
offering and ValuStay an option for the more budget-

Visit businesstravellerafrica.co.za                           JANUARY2018 | 15
HOTELS
                                         Mercure Bedfordview – mercure.com
  10 2nd Avenue
                                         Mercure Midrand – mercure.com
  – houghtonestate.com
                                         Mercure Randburg – mercure.com
  12 Decades – urbanhiphotels.com
                                         Michelangelo Hotel –
  54 on Bath – tsogosun.com
                                         legacyhotels.co.za
  African Pride Melrose Arch –
                                         Michelangelo Towers –
  marriott.com
                                         legacyhotels.co.za
  aha Kopanong Hotel & Conference
                                         Misty Hills – mistyhills.co.za
  Centre – aha.co.za
                                         Monarch – monarchhotel.co.za
  aha River Place Lodge – aha.co.za
                                         Palazzo Montecasino –
  Birchwood – birchwoodhotel.co.za
                                         tsogosun.com
  Carnival City – suninternational.com
                                         Park Inn Sandton – parkinn.com
  City Lodge Bryanston – clhg.com
                                         Peermont D'oreale Grande –
  City Lodge Fourways – clhg.com
                                         peermont.com
  City Lodge JHB Barbara Rd –
                                         Peermont Metcourt Hotel –
  clhg.com
                                         peermont.com
  City Lodge Katherine Street –
                                         Peermont Metcourt Suites –
  clhg.com
                                         peermont.com
  City Lodge Morningside – clhg.com
                                         Peermont Mondior – peermont.com
  City Lodge Newtown – clhg.com
                                         Premier Midrand –
  City Lodge O.R. Tambo – clhg.com
                                         premierhotels.co.za
  City Lodge Waterfall City – clhg.com
                                         Premier O.R. Tambo –
  Clico – clico–boutique–hotel.co.za                                                                  Faircity Falstaff
                                         premierhotels.co.za
  Courtyard Eastgate – clhg.com
                                         Protea Balalaika – marriott.com
  Courtyard Rosebank – clhg.com
                                         Protea Fire & Ice! Melrose Arch –
  Courtyard Sandton – clhg.com
                                         marriott.com                        SunSquare Montecasino –
  Crowne Plaza – The Rosebank –
                                         Protea O.R. Tambo – marriott.com    tsogosun.com
  therosebank.co.za
                                         Protea Parktonian – marriott.com    SUN1 Alberton – tsogosun.com
  DAVINCI Hotel & Suites –
                                         Protea Roodepoort – marriott.com    SUN1 Benoni – tsogosun.com
  legacyhotels.co.za
                                         Protea Transit O.R. Tambo –         SUN1 Berea – tsogosun.com
  Faircity Falstaff – faircity.co.za
                                         marriott.com                        SUN1 Edenvale – tsogosun.com
  Faircity Quatermain – faircity.co.za
                                         Protea Wanderers – marriott.com     SUN1 Midrand – tsogosun.com
  Faircity Mapungubwe – faircity.co.za
                                         Radisson Blu Gautrain –             SUN1 O.R. Tambo – tsogosun.com
  Fairlawns – fairlawns–hotel.co.za
                                         radissonblu.com                     SUN1 Southgate –
  Four Seasons Westcliff –
                                         Radisson Blu Sandton –              tsogosun.com
  fourseasons.com
                                         radissonblu.com                     SUN1 Wynberg – tsogosun.com
  Garden Court Eastgate –
                                         Raphael Penthouse Suites –          Ten Bompas – tenbompas.com
  tsogosun.com
                                         legacyhotels.co.za                  The Capital Empire – thecapital.co.za
  Garden Court Milpark –
                                         Road Lodge Carnival City –          The Capital Moloko –
  tsogosun.com
                                         clhg.com                            thecapital.co.za
  Garden Court Morningside –
                                         Road Lodge Germiston Lake –         The Capital On Bath –
  tsogosun.com
                                         clhg.com                            thecapital.co.za
  Garden Court O.R. Tambo
                                         Road Lodge Isando – clhg.com        The Capital Villa – thecapital.co.za
  International – tsogosun.com
                                         Road Lodge JHB Airport – clhg.com   The Capital 20 West –
  Garden Court Sandton –
                                         Road Lodge Randburg – clhg.com      thecapital.co.za
  tsogosun.com
                                         Road Lodge Rivonia – clhg.com       The Devonshire – orionhotels.co.za
  Gold Reef City Theme Park –
                                         Road Lodge Southgate – clhg.com     The Hamilton – thehamilton.co.za
  tsogosun.com
                                         Sandton Sun – tsogosun.com          The Maslow – suninternational.com
  Hilton Sandton – hilton.com
                                         Southern Sun Gold Reef City –       The Nicol – urbanhiphotels.com
  Holiday Inn Johannesburg Airport –
                                         tsogosun.com                        The Parkwood – theparkwood.co.za
  holidayinn.com
                                         Southern Sun Hyde Park –            The Peech – thepeech.co.za
  Holiday Inn Rosebank –
                                         tsogosun.com                        The Residence – theresidence.co.za
  holidayinn.com
                                         Southern Sun Katherine Street –     The Saxon – saxon.co.za
  Holiday Inn Sandton – tsogosun.com
                                         tsogosun.com                        The Winston – thewinstonhotel.co.za
  Holiday Inn Express Woodmead –
                                         Southern Sun Montecasino –          Tintswalo at Waterfall –
  holidayinn.com
                                         tsogosun.com                        tintswalo.com
  Hotel Lamunu – lamunu.co.za
                                         Southern Sun O.R. Tambo –           Town Lodge JHB Airport – clhg.com
  Hyatt Regency –
                                         tsogosun.com                        Town Lodge Midrand – clhg.com
  johannesburg.regency.hyatt.com
                                         Southern Sun Silverstar –           Town Lodge Roodepoort – clhg.com
  Indaba Hotel – indabahotel.co.za
                                         tsogosun.com                        Town Lodge Sandton Grayston –
  InterContinental O.R. Tambo –
                                         Soweto Hotel – sowetohotel.co.za    clhg.com
  tsogosun.com
                                         Splice – urbanhiphotels.com         Westpoint Executive Suites –
  InterContinental Sandton Towers –
                                         StayEasy Eastgate –                 executivesuites.co.za
  tsogosun.com
                                         tsogosun.com

16 | JANUARY2018                                                                              Visit businesstravellerafrica.co.za
TEN RECOMMENDED                       Perron, Bryanston   The Grillhouse Rosebank

  RESTAURANTS
  Johannesburg has
  many high-quality
  restaurants, but
  below are just a few
  worth sampling:

  1. M arble Restaurant
      (Rosebank)
  2. Pigalle Melrose Arch
  3. T he Grillhouse
      Rosebank
                                      Wombles, Bryanston
  4. T he Local Grill
      (Parktown North)
  5. Wombles
      (Bryanston)
  6. D W Eleven - 13
      (Dunkeld West)
  7. C he Argentina Grill
      (Maboneng)
  8. Perron (Illovo)
  9. R oving Bantu
      Kitchen (Brixton)
  10. Baha Taco (Norwood)

                                                                                  ELLER AFR
                                                                               AV
                                                                                R

                                                                                WINNER

                                                                                           IC
                                                                        INESS T

                                                                                              A
                                                                                           AWARD
                                                                               Best Private
                                                                                Aviation
                                                                                Operator
                                                                            S
                                                                         BU

                                                                                                S
                                                                                    2017

Visit businesstravellerafrica.co.za                                   JANUARY2018 | 17
SANDTON CONVENTION CENTRE
  Johannesburg has a number of impressive conference         Sandton Convention Centre can host just about any
  and exhibition venues, including the likes of Birchwood    event, from exhibitions to conferences and more. Key
  Hotel & OR Tambo Conference Centre, Gallagher Estate,      to its success is its size and flexibility, with 22,000m² of
  Emperors Palace and Nasrec, but arguably the most          flexible event space, contemporary Afro-chic décor and
  comprehensive and centrally-located of the city's venues   technologically advanced facilities.
  is Sandton Convention Centre, which offers multi-             Venues range in size from an intimate 10-seat function
  use event spaces and venues in the financial hub of        room to the grand Pavilion which can comfortably cater
  Johannesburg.                                              for 4,500 cocktail guests. The Sandton Convention
     Conveniently located in the middle of Sandton and       Centre is spread over four main levels with multiple
  within easy reach of the Gautrain and O. R. Tambo          venues, offers ample secure parking and a highly skilled
  International Airport, the SCC is flanked by a number      and experienced team.
  of leading hotels, sophisticated shopping centres and
  entertainment complexes.

18 | JANUARY2018                                                                                    Visit businesstravellerafrica.co.za
YOUR GLOBAL
                                                                                                  PARTNER
                                                                                                 IN TRAVEL

                                                             Park Inn by Radisson Sandton

                                                                             Hyatt Regency

conscious business traveller. On top of that,   brand) and City Lodge are the groups with
there are a good selection of restaurants       a big presence, as has Legacy Hotels &
to choose from.                                 Resorts, which is strong in the Sandton area.
   Also out on the East Rand, but in close         Tsogo Sun has 27 properties in the greater
enough prox i m it y to Joha nnesbu rg , is     Johannesburg area, but that includes the two
aha Hotels & Lodges' Kopanong Hotel             InterContinentals already mentioned, the
& C on ference C ent re i n B enon i. It 's     Holiday Inn in Sandton, and the Crowne
beautifully maintained in a country estate,     Plaza in Rosebank, all of which the group
with comfortable accommodation, a great         owns.
food and beverage offering, and inviting           Tsogo Su n's Joha n nesbu rg por t fol io              CENTRALISED SERVICES
conference facilities.                          includes three properties in the Montecasino
   From a local brand point of v iew, it 's     entertainment complex to the north of
significant that Sun International now has a    Johannesburg, with the five-star Palazzo                  GLOBAL AGREEMENTS
'business hotel' presence in Johannesburg –     Hotel the flagship there. Then there's the
more specifically Sandton – with The Maslow     four hotels at the airport (InterContinental,             GLOBAL TECHNOLOGY
opening in early 2013. Sun International        Southern Sun, Garden Court and SUN1)
does, though, still have a strong presence      and seven in and a round the Sandton
in the gaming world, with Carnival City         node, including the five-star refurbished                 PAN AFRICAN DEALS
to the east of Johannesburg, the Morula         Sandton Sun, the five-star Southern Sun
Sun and Carousel to the north of Pretoria,
and its flagship Sun City property in the
                                                Hyde Park, the InterContinental adjacent
                                                to Sandton Convention Centre, and two
                                                                                                          GLOBAL BRAND
North-West Province, with adjacent Palace       Garden Court properties.
of the Lost City.                                  Tsogo Sun, though, will be happy that                  TRAINING
   Looking at the other big local brands,       it has a presence in Rosebank (10 minutes
Tsogo Sun Hotels, Protea Hotels (a Marriott     from Sandton), with the luxurious 54 on
                                                                                                Email enquiries@uniglobetravelssa.co.za
Visit businesstravellerafrica.co.za                                                             www.uniglobesubsaharanafrica.com
                                                                                                                JANUARY2018 | 19
Bath, which was previously The Grace. One
                                        of Tsogo Sun's budget brands, StayEasy, has
                                        just two properties in Gauteng, in Pretoria
                                        and Eastgate, whilst in the same category,
                                        2013 saw Tsogo Sun rebrand its Formula 1
                                        hotels as SUN1 hotels, of which there are
                                        a host of around the country.
                                           There are eight Protea Hotels properties
                                        in and around Johannesburg, including two
                                        at O.R. Tambo International Airport. But,
                                        perhaps the hotels to stand out among those
                                        are the two Melrose Arch properties, which
                                        are excellent options, should you be doing
                                        business in the area, Rosebank, Sandton or
                                        the CBD. The Melrose Arch Hotel – under
                                        the African Pride brand – claims it makes
                                        the best cappuccino in the city, whilst the
                                        Fire&Ice! propert y has a sister hotel in
                                        Menlyn, Pretoria.
                                           T he Cit y Lodge Hotel Group consists
                                        of one-star Road Lodges, two-star Town
                                        Lodges, three-star City Lodges and four-
                      Hilton Sandton    star Courtyard Hotels. The group has 54
                                        properties across South Africa, including the
                                        following in Johannesburg: three Courtyards,
                                        eight City Lodges, four Town Lodges and
                                        seven Road Lodges. So, 22 properties in the
                                        greater Johannesburg area for this group.
                                           Legacy Hotels & Resorts' footprint in the
                                        Sandton area includes quality properties
                                        in the form of the five-star Michelangelo,
                                        DAV INCI Hotel & Suites, Michelangelo
                                        Towers, and Raphael Penthouse Suites. These
                                        are suited to the premium business traveller
                                        who wants to be in the heart of Sandton,
                                        on the doorstep of the big shopping mall,
                                        Sandton City, or adjacent to the Sandton
                                        Convention Centre.
                                           One of the smaller South African groups
                                        – Premier Hotels & Resorts – has a couple of
                                        properties in Johannesburg, with one hotel
                                        situated at the airport and one in Midrand,
                            Fairlawns   giving them a good cross-section of business,
                                        without hav ing to compete with the big
                                        international brands in the Sandton node.
                                           From a boutique hotel perspective, two
                                        proper t ies sta nd out – t he Sa xon a nd
                                        Fairlawns – w ith both situated w ithin a
                                        few minutes' drive of Sandton City, either
                                        side of it. The Saxon is arguably the premier
                                        boutique hotel in Johannesburg and possibly
                                        South Africa, and is where the late Nelson
                                        Mandela wrote his memoirs.
                                           Just a short drive up the road, opposite
                                        the Johannesburg Zoo, is the Four Seasons
                                        Hotel The Westcliff Johannesburg, which
                                        boasts arguably the best view in the city
                                        f rom its elevated ter race. Four Seasons
                                        did significant work to the old Westcliff
                                        property before re-opening at the end of
                                        2014, with some stunning dining options
                                        now on offer, in the form of Flames, View,
                                        The Cellar Door, and the Westcliff Deli,
                                        which is a clever addition that even local
                                        residents can access. The hotel is situated
                   Holiday Inn Santon
                                        just 5-10 minutes from the Johannesburg

20 | JANUARY2018                                           Visit businesstravellerafrica.co.za
CBD and encourages its guest to explore this
side of the city, whilst also acting as a link
between the hotel property and the CBD.
   A notch down the star scale, Faircity has
three properties – all in the three and four-
star range, with one in the Johannesburg
CBD and t wo in Sandton – Falstaff and
Q uater ma i n. I nterest i ng t hat Fa i rc it y
has that C BD presence, as not many of
the other big g roups do, although there
is Hotel Lamunu – prev iously a Lonrho
Hotels property – in De Korte Street. Orion
Hotels has The Devonshire, which is well
situated in Braamfontein, should you want
access to the CBD.
   The Rosebank node, about 10 minutes'
drive from Sandton, has a good selection
of quality hotels, with the Hyatt Regency,
                                                                                                                  The Capital Empire
the Holiday Inn, City Lodge's Courtyard,
54 on Bath, Mantis Collection's Monarch
Hotel, Crowne Plaza Johannesburg – The
Rosebank, and the Clico Boutique Hotel,
which has a good reputation and has an
intimate conferencing offering.
   Also in the area are The Capital Hotel
Group, which consists of four Sandton-based
properties together with The Capital On Bath
in Rosebank. The group offers standard hotel
rooms, fully-furnished serviced apartments
and modern conference facilities across the
three, four and five-star segments.
   Lastly, should you find yourself looking
for a smaller boutique property in the areas
of Hyde Park, Craighall, or Parkhurst –
about 15 minutes' from Sandton – then
make sure you consider The Hamilton, The
Parkwood, Ten Bompas and The Peech Hotel,                                                                        Holiday Inn Sandton
which is a short drive away just behind the
Wanderers Club.
   If you're f ly ing in and out of Lanseria        DID YOU KNOW?
International Airport to the north-west of          That Johannesburg is one of the 'greenest' cities in the world? Parks and
Johannesburg, you may want to consider              gardens in the city are maintained by Johannesburg City Parks and Zoo.
Misty Hills Country Hotel in the Muldersdrift       City Parks is also responsible for planting the city's many green trees. It has
area. It has a 'country' feel to it and provides    been estimated that there are six million trees in the city, with the number
a welcome relief from city life, along with         growing every year – 1.2 million on pavements and sidewalks, and a further
play i ng host to t he fa mous C a r n ivore        4.8 million in private gardens. City Parks continues to invest in planting
Restaurant.                                         trees, particularly those previously disadvantaged areas of Johannesburg
                                                    which were not positive beneficiaries of Apartheid Johannesburg's urban
CONTACT                                             planning. Johannesburg Botanical Garden, located in the suburb of
www.joburgtourism.com ■                             Emmarentia, is a popular recreational park.

                                                                                                                         Powered by: TECHNOPRENEURS
                                                                                                                                         (PTY) LTD

                                      Remove the hassle of depending on wifi hotspots, purchasing local SIM cards,
                                                         or roaming bill shock when travelling!
                                        Flexiroam X is a revolutionary microchip that allows you to stay connected
                                                                    during your travels.
                                      Simply attach the Microchip on to your existing SIM and stay connected in over
                                                                120 countries worldwide!
                                                                  Download the application today!

                                                         For more information, visit us @ www.flexiroam.co.za
Visit businesstravellerafrica.co.za                                                                                    JANUARY2018 | 21
                                                                       Office : +27 12 669 3012
Pretoria
The administrative capital of South Africa,
Pretoria is home to the Union Buildings and
a host of government departments, making
it a small, but important business travel
destination.

OVERVIEW
K now n as the "Jaca ra nda Cit y " due to
its thousands of prett y purple jacaranda
trees, Pretoria is a city within the Tshwane
metropole and the Gauteng province.
Pretoria is a major commercial and important
industrial centre. Its main industries are
iron and steel works, copper casting, and
the manufacture of automobiles, railway
carriages and heav y machiner y.
   Politically, the last 18 months have been
an interesting time for Pretoria, following
the 2016 local government elections. In
those elections, the ruling ANC party lost
its major it y in the Tshwane met ropole,
with the Democratic Alliance winning a
pluralit y of 93 seats on the council, but
without a majorit y. The minorit y parties
then united with the DA to vote in mayoral
candidate Solly Msimanga as the first DA
mayor of Tshwane.

BUSINESS TRAVEL NEWS
A r g u a bl y t h e m o s t s i g n i f i c a nt n e w s
for P r e tor i a i n 2017 w a s t h at of Su n
International unveiling the first phase of
its multi-million dollar development, Time
Square, in Menly n. The complex, which
includes a casino, an 8,500-seat arena, a
hotel and a restaurant hub, opened to the
public on 1 Apr il. T he arena opened in
October and the Maslow Time Square hotel
is due to open in March, offering a 238-
room specialist business hotel with both
'standard' and premium accommodation.
In other hotel news, the four-star Kievits
K roon – a popu la r con ference venue –
was purchased by the Faircit y Hotels &
Apartments group.

GETTING THERE
Depending on where you need to get to, the
drive from Johannesburg is approximately
half an hour, although traffic on the highway
can result in delays.
                                                            PLACES OF INTEREST
  Otherwise, the Gautrain is a good option,
                                                            Pretoria National Botanical Garden   Menlyn Park
particularly if you are travelling from O.R.                The National Zoological Gardens      Voortrekker Monument
Tambo Inter nat iona l A ir por t. From the                 Church Square                        Hatfield Square
airport, change at Malboro – the second                     Union Buildings                      Freedom Park
stop – for travel to Pretoria's Hatfield and                Marabastad                           Pretoria Forts
Pretoria stations.

22 | JANUARY2018                                                                                                Visit businesstravellerafrica.co.za
The latter's Gautrain bus route travels
through the Pretoria CBD and stops close
                                                  INTERESTING FACT
                                                  Pretoria was the capital of the South African Republic, the principal battleground
to popular tourist attractions such as
                                                  for the First and Second Boer Wars. The latter brought both the Transvaal and
the State Librar y, Post Office Museum,
                                                  the Orange Free State republic under British rule and "Marching to Pretoria" was
Transpor t Museum, Cult ura l H istor y
                                                  one of the songs British soldiers sang as they marched from the Cape Colony.
Museum and Kruger House.
                                                  As the song's refrain puts it: "We are marching to Pretoria, Pretoria, Pretoria. We
  The Hatfield station is located within
                                                  are marching to Pretoria, Pretoria, hurrah." The opening line of John Lennon's
the Hatfield Business Node and within
                                                  Beatles' song I Am the Walrus, "I am he as you are he as you are me and we are
walking distance are the Hatfield Plaza
                                                  all together," some believe is based on the lyric "I'm with you and you're with me
Shopping Centre and Hatfield Square, a
                                                  and so we are all together" in "Marching to Pretoria." Lennon, however, denied
popular open plaza surrounded by clubs
                                                  this, insisting his lyrics came from "nothing."
and bars. The Hatfield station's Gautrain
bus route travels through Ly nnwood,
Arcadia, Waverly, Menlyn and Brooklyn.

AIRLINES & AIRPORTS
For scheduled air ser v ices, Pretoria is
ser ved by Johannesburg's O.R. Tambo
International (45 kilometres) and Lanseria
International (35 kilometres), whilst the
cit y 's Wonderboom A irport primarily
ser v ices light commercial and private
aircraft. However, for the past two years
A i rl i n k has been of fer i ng schedu led
flights from Wonderboom to Cape Town
                                                                                                        Protea Hotel Fire&Ice! Menlyn
International Airport. It has also opened
a business class lounge at Wonderboom
for business class customers and selected
Voyager members. Travellers can enjoy
complimentar y wi-fi and refreshments
in the Airlink Grey Sunbird Lounge and
the airline operates as many as four daily
flights between Pretoria and Cape Town
on some days, three on others, and daily
f lights on Saturdays and Sundays.

HOTELS
I nterest i ng ly, t he on ly i nter nat iona l
g roup w ith a presence i n Pretor ia is
Marriott, w ith a single Sheraton, one
A frican Pride, five Protea hotels, and                                                                 Protea Hotel Fire&Ice! Menlyn
the Fire&Ice! in Menlyn.
   Otherwise, it 's the local groups that
dominate, w ith Cit y Lodge offering a            HOTELS
Court yard (four-star) in A rcadia, Cit y         131 on Herbert Baker – 131.co.za          menlynhotel.com
Lodges (t h ree-sta r) i n H at f ield a nd       African Pride Irene – marriott.com        Morningstar Express –
Lynnwood, a Town Lodge (two-star) in              Burgers Park Hotel – sierrahotels.co.za   morningstarhotel.co.za
Menlo Park, and a Road Lodge (one-star)           Carousel – suninternational.com           Premier Hotel Pretoria –
in Centurion.                                     Centurion Lake – legacyhotels.co.za       premierhotels.co.za
   Tsogo Sun also has a decent spread             City Lodge Hatfield – clhg.com            Protea Capital – marriott.com
across the star range, in the form of the         City Lodge Lynwood – clhg.com             Protea Centurion – marriott.com
Southern Sun Pretoria, a Garden Court             Cornerstone – cornerstonelodge.co.za      Protea Fire&Ice! Menlyn –
in Hatf ield, a StayEasy, and a SU N1,            Court Classique – courtclassique.co.za    marriott.com
which is the group's budget brand.                Courtyard Arcadia – clhg.com              Protea Hatfield – marriott.com
   When Marriott's Fire&Ice! opened in            Faircity Grosvenor Gardens –              Protea Manor – marriott.com
Menlyn in 2015 it was the newest entrant          faircity.co.za                            Road Lodge Centurion – clhg.com
into the market, but it now has some              Faircity Junction Apartments –            Sheraton Pretoria – marriott.com
competition on its doorstep, following            faircity.co.za                            Southern Sun Pretoria –
the opening of The Capital Hotel Group's          Faircity Roodevallei – faircity.co.za     tsogosun.com
apartment hotel property at Time Square           Garden Court Hatfield –                   StayEasy Pretoria – tsogosun.com
and Sun International's Maslow property,          tsogosun.com                              SUN1 Pretoria - tsogosun.com
which is due to open in March.                    Holiday Inn Express – holidayinn.com      The Capital Menlyn Maine –
                                                  Illyria House – illyria.co.za             thecapital.co.za
CONTACT                                           Kievits Kroon – kievitskroon.co.za        The Manhattan – manhattanhotel.co.za
w w w.pretoria.co.za ■                            Lombardy – lombardy-hotel.co.za           Town Lodge Menlo Park –
                                                  Menlyn Boutique Hotel –                   clhg.com

Visit businesstravellerafrica.co.za                                                                                      JANUARY2018 | 23
Cape Town
Cape Town is one of the world's premier leisure
travel destinations, but is also an important South
African business travel and MICE destination.

OVERVIEW
T he 'Mother Cit y ' has the second-most
populous urban area in South Africa after
Johannesburg. As the seat of the Parliament
of South A frica, it is also the leg islative
capital of the country.
   Looking at Cape Town's major industries,
the agriculture and manufacturing sectors
have declined more recently, whilst finance,
business services, transport and logistics
have g row n, ref lec t i ng t he g row t h i n
specialised ser v ices sectors of the local
economy. Fishing, clothing and textiles,
wood product manufacturing, electronics,
furniture, hospitality, finance and business

  DID YOU KNOW?
  Table Mountain is one of the oldest mountains on earth, six times older than the Himalayas and five times older than the
  Rockies. It is a major tourist attraction, with many visitors using the cableway or choosing to hike to the top. The mountain
  forms part of the Table Mountain National Park.

24 | JANUARY2018                                                                                           Visit businesstravellerafrica.co.za
SunSquare Cape Town City Bowl

  HOTELS                                  Island Club – islandclubhotel.co.za      radissonblu.com
  26 Sunset Ave – 26sunsetavenue.com      Kensington Place –                       Radisson Blu Hotel Waterfront –
  African Pride 15 On Orange –            kensingtonplace.co.za                    radissonblu.com
  marriott.com                            Lady Hamilton – leisurehotels.co.za      Radisson Blu Le Vendome Hotel–
  aha Harbour Bridge Hotel & Suites       Last Word Constantia –                   radissonblu.com
  – aha.co.za                             preferredhotels.com                      Radisson RED Cape Town –
  Andros Boutique – bonhotels.com         Last Word Long Beach –                   radissonred.com
  Bantry Bay – bantrybaysuitehotel.com    preferredhotels.com                      Road Lodge CT Airport – clhg.com
  Best Western Cape Suites –              Lawhill – lawhillluxuryapartments.com    Road Lodge N1 City – clhg.com
  bestwesterncapesuiteshotel.co.za        Mandela Rhodes Place –                   Southern Sun Cape Sun –
  Blackheath Lodge –                      mandelarhodesplace.co.za                 tsogosun.com
  blackheathlodge.co.za                   Mount Nelson – mountnelson.co.za         Southern Sun Newlands – tsogosun.
  Cape Grace – capegrace.co.za            New Kings Hotel –                        com
  Cape Royale – preferredhotels.com       newkingshotel.co.za                      Southern Sun The Cullinan –
  Cape Town Lodge –                       One&Only – oneandonlyresorts.com         tsogosun.com
  capetownlodge.co.za                     Park Inn by Radisson Foreshore –         Southern Sun Waterfront –
  Cape Town Marriott Crystal Towers       parkinn.com                              tsogosun.com
  – marriott.com                          Park Inn by Radisson Newlands –          StayEasy Cape Town City Bowl –
  Century City Hotel – cchotel.co.za      parkinn.com                              tsogosun.com
  City Lodge GrandWest – clhg.com         Premier Hotel Cape Town –                StayEasy Century City – tsogosun.
  City Lodge Pinelands – clhg.com         premierhotels.co.za                      com
  City Lodge Waterfront – clhg.com        President Hotel – presidenthotel.co.za   Strand Tower – leisurehotels.co.za
  Derwent House – derwenthouse.co.za      Protea Breakwater Lodge –                SUN1 Foreshore – tsogosun.com
  Double Tree by Hilton –                 marriott.com                             SUN1 Milnerton – tsogosun.com
  doubletree3.hilton.com                  Protea Cape Castle – marriott.com        SunSquare Cape Town City Bowl –
  Fountains Hotel – leisurehotels.co.za   Protea Durbanville – bonhotels.com       tsogosun.com
  Garden Court Nelson Mandela –           Protea Fire&Ice! Cape Town –             SunSquare Cape Town Gardens –
  tsogosun.com                            marriott.com                             tsogosun.com
  GrandWest Casino –                      Protea Mowbray – marriott.com            Table Bay Hotel –
  suninternational.com                    Protea North Wharf – marriott.com        suninternational.com
  Hilton Cape Town City Centre –          Protea Sea Point – marriott.com          The Capital Mirage – thecapital.co.za
  hilton.com                              Protea Tyger Valley – marriott.com       The Hyde All-Suite Hotel –
  Holiday Inn Express – hiexpress.com     Protea Victoria Junction –               thehydehotel.com
  Homestead Villas – bonhotels.com        marriott.com                             The Westin – westincapetown.com
  Hotel Verde – hotelverde.com            Radisson Blu Hotel & Residence –         Town Lodge Bellville – clhg.com

Visit businesstravellerafrica.co.za                                                                          JANUARY2018 | 25
The cit y is also an important centre for
                                                                                                 the African IT industry, with the highest
                                                                                                 number of successful IT companies in Africa.

                                                                                                BUSINESS TRAVEL NEWS
                                                                                                Without a doubt, the biggest story of 2017
                                                                                                was the drought gripping the Western Cape.
                                                                                                Level five water restrictions were approved
                                                                                                in September, which banned the use of
                                                                                                municipal drinking-quality water for outside
                                                                                                and non-essential purposes.
                                                                                                   In an effort to meet these restrictions,
                                                                                                m a ny hotel s reduced w ater pre s s u re,
                                                                                                removed bath plugs and started recycling
                                                                                                grey water. Legacy Hotels & Resorts even
                                                                                                placed hou rg la ss shower t i mer s i n a l l
                                                                                                bathrooms of its Commodore and PortsWood
                                                                                                properties. Tsogo Sun installed aerators and
                                                                                                flow restrictors on all taps, as well as low
                                                                                                pressure shower heads in all bathrooms.
                                                                                                   D e s p it e t he d r o ug ht , C a p e To w n's
                                                                                                popu la r it y rema i ns on t he r ise, i f
                                                                                                t he i nc rea sed nu mber of f l ig ht s f rom
                                                                                                international destinations is any indication.
services are industries in which Cape Town's   renewal programme, with numerous new                British Airways upped its daily Boeing
economy has t he la rgest 'compa rat ive       buildings and renovations taking place 747-400 services to double-daily flights over
advantage'.                                    under the g u ida nce of the Cape Tow n the South African summer as well as added
  Cape Tow n has also recently enjoyed         Partnership.                                     three Boeing 777-ER flights from Gatwick.
a booming real estate and construction            T he mo s t no t a ble c o mp a n ie s w it h    Air France served Cape Town throughout
market, with many people buying summer         headquarters in Cape Town are Woolworths, the 2017 summer season from Paris-Charles
homes i n t he c it y or relocat i ng t here   P ic k n Pay, Fo s c h i n i Group, M W E B, de Gaulle with three weekly flights operated
permanently.                                   Mediclinic International, Naspers, Capitec, by a 208-seater Airbus A330 and a 312-seater
  The CBD is under an extensive urban          and Sanlam.                                      Boeing 777. It also added three more weekly

26 | JANUARY2018                                                                                                       Visit businesstravellerafrica.co.za
CTICC
  There's no doubt that the emergence of the Cape Town International Convention Centre has played a big role in changing
  the perception of Cape Town and what it has to offer in the business travel space.
     Since it opened in June 2003, CTICC has helped Cape Town position itself as Africa's top business events destination, in
  terms of the ICCA rankings.
     CTICC hosted 39 international conferences and 28 national conferences in its 2015/16 financial year, but has not rested on
  its laurels. The second half of 2017 saw the completion of CTICC's expansion project. CTICC East is 31,148m2 in extent and
  now offers 10,000m2 of multi-purpose exhibition and conference space, as well as 3,000m2 of formal and informal meeting
  space. Facilities in CTICC East include six exhibition halls, four meeting suites, five meeting pod rooms, two terrace rooms,
  a rooftop garden and a new coffee shop.

flights in April and October.
   TA AG A ngola A i rl i nes i nc rea sed its
Luanda-Cape Town service in October from
three flights a week to a daily operation.
   Eurowings made its debut in South Africa,
with the first flight touching down in Cape
Town in November. It offers a weekly return
flight to Germany. Austrian Airlines will
offer t wo weekly f lights from Vienna in
October 2018.
   D ome s t ic a l l y, A i rl i n k i nt ro duce d a
new route between Pietermaritzburg and
Cape Tow n, and it a lso won the bid to
operate flights to St Helena in July, which
it announced it would do from Cape Town
International Airport.
   Arguably, the three biggest hotel stories
of 2017 were the opening of the Silo Hotel,
the Radisson Red, and Tsogo Sun's dual-
brand property in the Cape Town City Bowl.
   Opening early in 2017, the Silo Hotel is
a luxury boutique hotel with just 28 rooms,

Visit businesstravellerafrica.co.za                                                                                JANUARY2018 | 27
Table Bay Hotel

                                                                                          several destinations in Africa, the Middle
                                                                                          East, and Europe.
                                                                                            The Middle East connections are provided
                                                                                          by Emirates and Qatar A ir ways, whilst
                                                                                          travellers can fly directly to Europe from
                                                                                          Cape Town via the likes of Air France, KLM,
                                                                                          Lufthansa, BA, and Turkish A irlines. If
                                                                                          you need to travel into the rest of Africa,
                                                                                          Ethiopian Airlines and Kenya Airways both
                                                                                          have flights into Cape Town.
                                                                                            Domestically, all the major players – both
                                                                                          full service and low-cost – fly into and out
                                                                                          of Cape Town.
                                                                                            I n t e r m s o f lo u n g e s , B id v e s t h a v e
                                                                                          Prem ier Lounges in both the domest ic
                                                                                          and international terminals. Entry to these
                                                                                          lounges will cost you R234 ($17) for the
                                                                                          domestic and R370 ($27) for the international
                                                                                          lounge. SAA has lounges in both terminals,
                                                                                          whilst there's a SLOW lounge in domestic
                                                                      Radisson Red departures and BA and Emirates lounges
                                                                                          in international departures.
                                                                                            In terms of car rental, all the major South
                                  built in the grain elevator portion of the African brands are represented, and these
                                  historic grain silo complex occupying six options are conveniently located a short
                                  floors above the Zeitz MOCA A (Museum walk from the arrivals terminal building.
                                  of Contemporary Art Africa).                              Cape Town International was extensively
                                     The other two properties opened in the expanded and renovated before the 2010
                                  second half of the year, with the Radisson World Cup a nd i n M ay 2015 A i r por t s
                                  Red the first of this brand on the African Company South Africa announced a further
                                  continent. The Tsogo Sun project resulted R7.7 bi l l ion ($565m) ex pa nsion for the
                                  in the opening of two economy hotels, the airport. The expansion includes upgrades of
                                  select service SunSquare Cape Town City the domestic and international terminals,
                                  Bowl with 202 bedrooms, and the StayEasy with the project set to start construction
                                  Cape Town City Bowl with 302 bedrooms. at the end of 2018 and be completed by
                                                                                          mid-2022.
                                  AIRPORT
                                  Cape Tow n International A irport is the HOTELS
                                  second-busiest a i r por t i n South A f r ica A s w it h a l l prom i nent busi ness t ravel
                                  a nd t h i rd-b u s ie s t i n A f r ic a . L o c ate d destinations, there are a host of hotels to
                                  approximately 20 kilometres from the CBD, choose from in Cape Town, regardless of
                                  the airport has flights to South Africa's main whether you're on a tight budget or can
                   Radisson Red   urban areas, along with direct f lights to afford to splash out.

28 | JANUARY2018                                                                                                  Visit businesstravellerafrica.co.za