www.tecnoinfissisrl.com - Tecno Infissi Palermo
Page content transcription
If your browser does not render page correctly, please read the page content below
L'esperienza dei "wallpaper" su
grande lastra Wide&Style ha permesso
ad ABK di sviluppare un rivoluzionario
progetto di rivestimenti che unisce
l'espressività di una palette composta
da ben dieci colori con pattern
decorativi che si sviluppano in parete
come tessuti o carte da parati.
In una dimensione ampia, ma facile da
gestire anche negli spazi più piccoli,
il formato 60x120 cm si integra
perfettamente con la produzione in
gres porcellanato di ABK.

The experience gained with Wide&Style
"wallpapers" has enabled ABK to
develop a revolutionary wall covering
collection that combines the aesthetic
appeal of a palette of ten colours with
decorative patterns that extend over the
wall like fabrics or wallpaper.
The 60x120 cm size, that is nonetheless
easy to handle even in the smallest of
spaces, integrates perfectly with ABK's
porcelain tile range.
Solid
    Colours
    Il colore è un elemento di fondamentale importanza nella costruzione di un ambiente, perché può addirittura
    influenzare il nostro stato d'animo trasmettendo sensazioni e messaggi ben precisi. L'ufficio stile ABK, confrontandosi
    con professionisti in grado di prevedere le evoluzioni del gusto e le tendenze future, ha studiato una gamma di dieci
    tinte unite in grado di soddisfare ogni esigenza progettuale e contenere tutti i principali trend in fatto di cromie.

    Colour is a key element in the design of any interior because it can influence our mood and convey precise
    sensations and messages. Working in close cooperation with trend forecasters, the ABK style department has
    developed a range of ten solid colours capable of meeting all design needs and catering for key colour trends.

        Paprika               Phard                Powder               Ginger

         Whale                 Sky                  Mint

         Snow                 Cloud               Alabaster

2                                                                                                                             3
Warm
            Colours

    Secondo la psicologia del colore, i toni caldi trasmettono
    vitalità, energia, dinamismo, sensazioni perlopiù positive,
    che spingono all'azione e al movimento.

    According to colour psychology, warm tones convey
    sensations of vitality, energy and dynamism, largely
    positive emotions that suggest action and movement.

4                                                                 5
Cold
             Colours

    Ai colori freddi vengono associate sensazioni di tranquillità,
    serenità, meditazione e freschezza. In alcuni casi agirebbero
    addirittura sulla percezione della temperatura in un
    ambiente riducendola.

    Cold colours are associated with sensations of tranquillity,
    calm, meditation and freshness. In some cases they may
    even lower the perceived temperature of a room.

6                                                                    7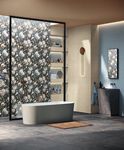 Neutral
            Colours

    I colori neutri, sono pacati, seri, composti ed eleganti,
    comunicano pulizia, purezza, serietà e forte senso pratico.

    Neutral colours are calm, sober, composed and elegant.
    They convey sensations of cleanliness, purity, simplicity,
    and a strong sense of practicality.

8                                                                 9
Solid                           Wall: Whale | Mint 60x120
                                     Floor: Play Labyrinth Sage 20x20

     Colours

     Wall: Whale 60x120
     Listello Colorful Ochre 5x120
     Floor: Blend Dots Grey 60x120

10                                                                      11
Wall: Phard | Mint 60x120
                       Eco Chic Naturale 20x120
                Floor: Eco Chic Naturale 20x120
                       LAB325 Base Ash 60x120
     BATH DESIGN - Washbasin: LAB325 Base Ash
               Washbasin top: Eco Chic Naturale

12                                                13
Wall: Phard 60x120
     Low wall: Blend Dots Taupe 60x120
     Floor: Blend Dots Taupe 60x120

                                                   Wall: Sky | Phard 60x120
                                         Floor: Blend Concrete Moon 60x120

14                                                                            15
Wall: Sky | Powder 60x120

                                 Wall: Powder 60x120

                                                       Wall: Powder |Ginger 60x120
                                                       Floor: Play Concrete Design A 20x20

16                                                                                           17
Wall: Powder | Phard | Paprika 60x120
     Floor: Eco Chic Avana 20x120
     BATH DESIGN - Washbasin: Chrome Black Soft

18                                                19
Wall: Ginger | Paprika 60x120        Wall: Paprika | Ghost Clay 60x120
     Floor: Play Drops Multiblack 20x20   Floor: Ghost Clay 60x60

20                                                                            21
Wall: Alabaster | Sensi Gems Taj Mahal rett. 60x120
                                                               Floor: Sensi Gems Taj Mahal rett. 60x120

     Wall: Paprika 60x120
     Sensi Gems Crystal Soft 120x278
     Floor: Sensi Gems Crystal rett. 60x120
     ABKSTONE - Washbasin top: Essence Avana 6 mm

22                                                                                                        23
Wall: Cloud | Sky | Whale 60x120
     Wall: Snow 60x120 | Sensi Up Marquinia Select Soft 120x278              Floor: Blend Concrete Grey 60x60
     Floor: Sensi Up Marquinia Select rett. 60x120 | Eco Chic Avana 20x120   BATH DESIGN - Washbasin and shower tray: Blend Concrete Grey

24                                                                                                                                          25
Decorative
            Mood

          È sufficiente una parete decorata per trasformare un
          interno in un giardino lussureggiante che dia serenità
          al corpo e alla mente. Foglie, fiori e atmosfere tropicali
          danno vita ad una gamma di rivestimenti decorativi a
          tema botanico, perfettamente in sintonia con le tendenze
          dettate dalla moda e dal design. Le suggestioni esotiche
          dei pattern Wide&Style Mini conducono l'immaginario in
          luoghi lontani, per riconnettersi con la natura anche tra le
          pareti di casa.                                                Berries   Roses

          A decorated wall can transform an interior into a lush
          garden that calms the body and mind. Leaves, flowers
          and tropical atmospheres serve as inspiration for a
          range of botanically themed decorative surfaces that fit
          in perfectly with the latest trends in fashion and design.
          The exotic atmospheres of the Wide&Style Mini patterns
          evoke the allure of faraway places, allowing one to
          reconnect with nature without leaving the home.

                                                                          Fern     Maui    Caribbean   Palm

Foliage              Romantic
Maui
     Wall: Maui | Ginger 60x120
     Floor: Crossroad Wood Tan 20x120

                                        Wall: Maui | Crossroad Chalk White 60x120
                                        Crossroad Brick White 7,5x30
                                        Floor: Eco Chic Naturale 20x120

28                                                                                  29
Wall: Maui | Phard | Whale 60x120
     Floor: Blend Concrete Ash 60x120

30                                       31
Caribbean

     Wall: Caribbean 60x120                Wall: Caribbean | Powder | Mint 60x120
     Floor: LAB325 Base Ash 60x120         Floor: Eco Chic Avana 20x170
     ABKSTONE - Top: Essence Avana 20 mm

32                                                                                  33
Wall: Caribbean 60x120 | Sensi Gems Iceberg Soft 120x278
     Matita Alluminio Rame Scuro 0,5x120
     Crossroad Brick Blue 7,5x30
     Floor: Eco Chic Brown 20x120

34                                                              35
Wall: Caribbean 60x120 | Sensi Gems Iceberg Soft 120x278
                         Matita Alluminio Rame Scuro 0,5x120

                       Wall: Caribbean | Cloud | Sky 60x120         Wall: Caribbean 60x120
                          Floor: Blend Concrete Grey 60x120          Interno 9 Rust 120x278
                 BATH DESIGN - Washbasin: Chrome White Lux      Floor: Interno 9 Rust 60x120

36                                                                                             37
Romantic
     Wall: Romantic 60x120
     Volumes: Sensi Gems Taj Mahal Soft

                                          Wall: Romantic | Alabaster | Sky 60x120
                                          Floor: Blend Concrete Iron 60x60
                                          BATH DESIGN - Washbasin: Blend Concrete Iron

38                                                                                       39
Wall: Romantic | Ginger 60x120
                                                        Floor: Atlantis Moon 60x60

     Wall: Romantic | Mint 60x120
     Floor: Eco Chic Avana 20x120
     BATH DESIGN - Washbasin: Chrome White Soft

                                                                                     Wall: Romantic | Paprika 60x120
                                                                                     Floor: Ghost Grey 60x120
                                                                                     BATH DESIGN - Washbasin: Ghost Grey

40                                                                                                                         41
Wall: Romantic | Whale | Cloud 60x120
     Floor: Eco Chic Almond 20x120

42                                           43
Palm
     Wall: Palm 60x120
     Floor: Eco Chic Avana 20x120

                                            Wall: Palm | Powder 60x120
                                    Floor: Crossroad Wood Grey 20x120

44                                                                       45
Wall: Palm | Whale | Sky 60x120
     Floor: Ghost Grey 60x120

46                                     47
Foliage
     Wall: Foliage 60x120
     Floor: OUT.20 Dolphin Clay 30x120 20 mm

                                               Wall: Foliage | Alabaster 60x120
                                               Floor: Crossroad Wood Amber 20x120

48                                                                                  49
Wall: Foliage 60x120                                               Wall: Foliage 60x120
     Floor: Blend Concrete Iron 60x120                       Matita Alluminio Verde 0,5x120
     BATH DESIGN - Washbasin: Sensi Up Invisible Pearl Lux          Atlantis Smoke 120x278

50                                                                                             51
Berries

     Wall: Berries 60x120
     ABKSTONE - Countertop: Native Red 20 mm

                                               Wall: Berries 60x120 | LAB325 Base Pepper 120x278
                                               Floor: Eco Chic Naturale 20x120
                                               ABKSTONE - Washbasin top: LAB325 Base Pepper 20 mm

52                                                                                                  53
Wall: Berries | Ginger 60x120
     Matita Alluminio Ardesia 0,5x120

     Wall: Berries | Snow 60x120
     Interno 9 Rust 120x278
     Floor: Interno 9 Rust 60x120
     BATH DESIGN - Washbasin: Chrome White Soft
     Washbasin top | Vanity top: Interno 9 Rust

54                                                55
Roses
     Wall: Roses 60x120
     Listello Colorful Cognac 5x120
     Floor: Ghost Clay 60x60

56                                    57
Wall: Roses | Snow 60x120
     Floor: Eco Chic Naturale 20x120

58                                     59
Wall: Fern | Ghost Clay 60x120
     Floor: Eco Chic Avana 20x120
     BATH DESIGN - Washbasin: Chrome White Soft
     Vanity top: Eco Chic Avana

     Fern

60                                                61
Wall: Fern 60x120
                                                        Floor: Blend Concrete Moon 60x120

     Wall: Fern | Powder | Blend Concrete Moon 60x120
     Floor: Blend Concrete Moon 60x120
     BATH DESIGN - Washbasin top: Blend Concrete Moon                                         Wall: Fern | Paprika 60x120
     Washbasin: Chrome Black Soft                                                           Floor: Eco Chic Almond 20x120

62                                                                                                                          63
Solid Colours                                               7 mm
                                                                                                                        PASTA BIANCA DA RIVESTIMENTO WHITE BODY WALL TILES

                                                                                                            CLASSIFICAZIONE SECONDO NORME UNI EN 14411 (ISO 13006) ALLEGATO L-Gruppo BIII
                                                                                                            CLASSIFICATION IN ACCORDANCE WITH UNI EN 14411 (ISO 13006) ANNEX L-GROUP BIII

60x120                             60x120                             60x120                                60x120
0008231   GINGER rett.   F 80,50   0008235   POWDER rett.   F 80,50   0008236   PHARD rett.       F 80,50   0008237   PAPRIKA rett.                                               F 80,50

60x120                             60x120                             60x120
0008232   MINT rett.     F 80,50   0008233   SKY rett.      F 80,50   0008234   WHALE rett.       F 80,50

60x120                             60x120                             60x120
0008228   SNOW rett.     F 80,50   0008229   CLOUD rett.    F 80,50   0008230   ALABASTER rett.   F 80,50

64                                                                                                                                                                                    65
Decorative Mood                                                7 mm
                                                                                                                                                             GRES PORCELLANATO PORCELAIN TILES

                                                                                                            CLASSIFICAZIONE SECONDO NORME UNI EN 14411 (ISO 13006) ALLEGATO G-Gruppo Bla GL
                                                                                                            CLASSIFICATION IN ACCORDANCE WITH UNI EN 14411 (ISO 13006) ANNEX G-GROUP Bla GL

60x120                             60x120                               60x120                                 60x120
0008434 MAUI rett.      F 106,90   0008435 CARIBBEAN rett.   F 106,90   0008436 ROMANTIC rett.   F 106,90      0008437 PALM rett.                                                                            F 106,90

60x120                             60x120
0008438 FOLIAGE rett.   F 106,90   0008441 BERRIES rett.     F 106,90

                                                                                                               LE LASTRE "DECORATIVE MOOD" SONO REALIZZATE IN GRES PORCELLANATO,
                                                                                                               QUINDI UTILIZZABILI ANCHE PER LA POSA A PAVIMENTO IN AMBITO RESIDENZIALE.
                                                                                                               "DECORATIVE MOOD" PORCELAIN SLABS ARE SUITABLE FOR FLOOR USE IN
                                                                                                               RESIDENTIAL AREAS.

                                                                                                               ARTICOLI CON RIPRESA GRAFICA TRA LE DIVERSE LASTRE CONTENUTA ENTRO UNA TOLLERANZA MASSIMA DI 3 MM.
                                                                                                               ITEMS WITH A GRAPHIC CLEARANCE AMONG THE DIFFERENT SLABS RANGING WITHIN 3 MM.

60x120                             60x120                               Wall: Mint 60x120
0008439 ROSES rett.     F 106,90   0008440 FERN rett.        F 106,90   Floor: Foliage 60x120

66                                                                                                                                                                                                                  67
Create your style
                                                                                                                                                                 MATITE ALLUMINIO - ALUMINIUM STRIPS

L'ufficio stile ABK ha selezionato per ognuno degli otto                              For each of the eight decorative graphic motifs, the ABK style             ARTICOLI REALIZZATI IN ALLUMINIO ANODIZZATO PER L'USO A PARETE, ADATTI A RACCORDARE PIASTRELLE DI DIVERSO SPESSORE (9/7/6 MM). AVVERTENZE PER LA POSA E LA PULIZIA A PAG. 72.
                                                                                                                                                                 ALUMINIUM STRIPS FOR USE BETWEEN WALL TILES OF DIFFERENT THICKNESSES (9/7/6 MM). INSTRUCTIONS FOR INSTALLATION AND CLEANING PAGE 72.
soggetti grafici decorativi molteplici abbinamenti cromatici                          department has selected multiple colour combinations with
con le tinte unite WIDE&STYLE MINI. Suggerimenti preziosi                             WIDE&STYLE MINI plain colours. These invaluable design
per uno stile ricercato e contemporaneo, in grado di rendere                          suggestions help to create a sophisticated, contemporary style
                                                                                                                                                                                                                                               MATITA ALLUMINIO WHITE
unico e suggestivo ogni spazio.                                                       for unique and appealing interiors.                                                                                                                      0000087               PZ 27,90

                                                                                                                                                                 MATITA ALLUMINIO 0,5x120               4                                                                                      MATITA ALLUMINIO 0,5x120              4
                                                                                                                                                                                                                                               MATITA ALLUMINIO TERRACOTTA
                                                                                                                                                                 Parte superiore arrotondata                                                                                                   Parte superiore piatta colorata in bagno galvanico
                                                                                                                                                                                                                                               0008530               PZ 27,90
                                                                                                                                                                 Rounded top                                                                                                                   Flat top colored in galvanic bath

                                                                                                                                                                             MATITA ALLUMINIO                                                  MATITA ALLUMINIO BLU                                        MATITA ALLUMINIO BRONZO
                                                                                                                                                                             0000086                        PZ 20,90                           0008532                    PZ 27,90                         0000557              PZ 34,90

                                                                                                                                                                                                                                               MATITA ALLUMINIO VERDE                                      MATITA ALLUMINIO RAME
                                                                                                                                                                 Parte superiore arrotondata e colorata con resine acriliche                   0008531               PZ 27,90                              0000556               PZ 34,90
                                                                                                                                                                 Rounded top colored with acrylic resins

                                                                                                                                                                             MATITA ALLUMINIO ORO                                              MATITA ALLUMINIO ARDESIA
                                                                                                                                                                             0008535              PZ 27,90                                     0008533               PZ 27,90

                                                                                                                                                                             MATITA ALLUMINIO RAME SCURO                                       MATITA ALLUMINIO BLACK
                                                                                                                                                                             0008534               PZ 27,90                                    0000088               PZ 27,90

                       Maui                              Caribbean                               Romantic                             Palm                                                                         1. Matita
                                                                                                                                                                                                        Alluminio Terracotta
                                                                                                                                                                                                                                                                        1. Matita
                                                                                                                                                                                                                                                                Alluminio Ardesia
                                                                                                                                                                                                                                                                                                                                       1. Matita
                                                                                                                                                                                                                                                                                                                                   Alluminio Oro
                                                                                                                                                                                                                       2. Maui                                         2. Berries                                                         2. Palm
                                                                                                                                                                                                                 3. Alabaster                                          3. Ginger                                                       3. Whale
 Paprika        Phard      Powder       Ginger   Paprika    Powder        Ginger       Paprika        Phard      Ginger          Whale            Sky

 Whale           Sky           Mint              Whale          Sky            Mint     Whale          Sky           Mint          Snow       Cloud                                        2                                                      2                                                            2

                                                                                                                                                                                                                   1                                                  1                                                               1

 Snow           Cloud     Alabaster              Snow          Cloud                    Snow          Cloud     Alabaster        Powder

                                                                                                                                                                                                                   3                                                  3                                                               3

                                                                                                                                                                                                                     1. Matita                                          1. Matita                                                       1. Matita
                                                                                                                                                                                                                 Alluminio Blu                                    Alluminio Verde                                           Alluminio Rame Scuro
                                                                                                                                                                                                                2. Caribbean                                           2. Foliage                                                    2. Romantic
                                                                                                                                                                                                     3. Blend Concrete Moon                                     3. Atlantis Smoke                                      3. Crossroad Wood White

                  Foliage                                  Berries                                Roses                                Fern                                                2        1                                             2        1                                                   2        1

         Mint                                         Paprika         Ginger                Paprika                         Paprika       Phard         Powder
                                                                                                                                                                                                                   3                                                  3                                                               3

        Snow           Cloud      Alabaster             Snow          Cloud                    Snow          Cloud          Snow      Alabaster

      Ginger

68                                                                                                                                                                                                                                                                                                                                                  69
SOLID COLOURS - TECHNICAL D ATA
                                                                                                                           PASTA BIANCA DA RIVESTIMENTO / WHITE BODY WALL TILES
DECORI DA RIVESTIMENTO - WALL DECORS                                                                               7 mm
                                                                                                                           CLASSIFICAZIONE SECONDO NORME UNI EN 14411 (ISO 13006) ALLEGATO L-Gruppo BIII
                                                                                                                           CLASSIFICATION IN ACCORDANCE WITH UNI EN 14411 (ISO 13006) ANNEX L-GROUP BIII

(SUPERFICIE LUCIDA - GLOSSY SURFACE)                                                                                       PROPRIETÀ FISICO - CHIMICHE                                      NORMA                        VALORE PRESCRITTO DALLE NORME                               VALORE ABK
                                                                                                                           PHYSICAL - CHEMICAL PROPERTIES                                   NORM                        VALUE PRESCRIBED FROM THE NORMS                               VALUE ABK

                                                                                                                                                                                                                                l ≤ 12 cm: ± 0,5%
                                                                                                                           LUNGH.E LARGH. DIMENSIONE MEDIA DI OGNI PIASTRELLA              UNI EN ISO                                                                                CONFORME
                                                                                                                           LENGTH AND WIDTH OF THE AVERAGE-SIZES TILES                      10545/2                                                                                  ACCORDING
LISTELLO COLORFUL COGNAC 5x120          4                                                                                                                                                                                       l > 12 cm: ± 0,3%
0000184                                                                   PZ 59,90
                                                                                                                           SPESSORE                                                        UNI EN ISO                                                                                CONFORME
                                                                                                                                                                                                                                      ± 10%
                                                                                                                           THICKNESS                                                        10545/2                                                                                  ACCORDING
ABBINAMENTI CONSIGLIATI - SUGGESTED MATCHING                                                                               RETTILINEARITÀ SPIGOLI                                          UNI EN ISO                                                                                CONFORME
                                                                                                                                                                                                                                     ± 0,3%
                                                                                                                           WARPAGES OF EDGES                                                10545/2                                                                                  ACCORDING
                                                                                                                           ORTOGONALITÀ                                                    UNI EN ISO                                                                                CONFORME
                                                                                                                                                                                                                                     ± 0,5%
                                                                                                                           WEDGING                                                          10545/2                                                                                  ACCORDING
                                                                                                                           PLANARITÀ                                                       UNI EN ISO                                + 0,5%                                          CONFORME
                                                                                                                           FLATNESS                                                         10545/2                                  - 0,3%                                          ACCORDING
 Powder      Ginger     Whale       Sky      Mint      Snow       Cloud       Alabaster                                    ASSORBIMENTO D'ACQUA                                            UNI EN ISO                                                                                CONFORME
                                                                                                                                                                                                                                      > 10%
                                                                                                                           WATER ABSORPTION                                                 10545/3                                                                                  ACCORDING
                                                                                                                           RESISTENZA ALLA FLESSIONE                                       UNI EN ISO                    per spessore ≥ 7,5 mm >15 N/mm2                             CONFORME
                                                                                                                           BENDING STRENGTH                                                 10545/4                      per spessore < 7,5 mm >12 N/mm2                             ACCORDING
                                                                                                                           FORZA DI ROTTURA                                                UNI EN ISO
                                                                                                                                                                                                                                        -                                                   -
                                                                                                                           BREAKING STRENGT                                                 10545/4
 Berries    Caribbean   Maui     Romantic   Roses       Fern                                                               RESISTENZA AGLI SBALZI TERMICI                                  UNI EN ISO                               RICHIESTA                                            RESISTE
                                                                                                                           THERMAL SHOCK RESISTANCE                                         10545/9                                 REQUIRED                                             RESISTS
                                                                                                                           RESISTENZA AL GELO                                              UNI EN ISO                               RICHIESTA
                                                                                                                                                                                                                                                                                            -
                                                                                                                           FROST RESISTANCE                                                10545/12                                 REQUIRED
                                                                                                                           RESISTENZA ALLE MACCHIE                                         UNI EN ISO                           CLASSE 3 MINIMO                                      CONFORME
                                                                                                                           RESISTANCE TO STAINING                                          10545/14                             CLASS 3 MINIMUM                                      ACCORDING
                                                                                                                           DILATAZIONE DELL'UMIDITÀ                                        UNI ENISO
                                                                                                                                                                                                                                        -                                                   -
                                                                                                                           MOISTURE EXPANSION                                              10545-10

                                                                                              1. Listello Colorful Sea
                                                                                                                           D ECORATIVE MOOD - TECHNICAL D ATA
                                                                                                           2. Caribbean
LISTELLO COLORFUL OCHRE 5x120       4
                                                                                                      3. Blend Dots Grey
                                                                                                                           GRES PORCELLANATO / PORCELAIN TILES
0000185                                                                   PZ 59,90
                                                                                                                           CLASSIFICAZIONE SECONDO NORME UNI EN 14411 (ISO 13006) ALLEGATO G-Gruppo Bla GL
                                                                                                                           CLASSIFICATION IN ACCORDANCE WITH UNI EN 14411 (ISO 13006) ANNEX G-GROUP Bla GL
ABBINAMENTI CONSIGLIATI - SUGGESTED MATCHING
                                                                                                                            PROPRIETÀ FISICO-CHIMICHE                                                     NORMA                        VALORE PRESCRITTO DALLE NORME                               VALORE ABK
                                                                                                                            PHYSICAL-CHEMICAL PROPERTIES                                                  NORM                        VALUE PRESCRIBED FROM THE NORMS                               VALUE ABK
                                                                                                                            LUNGHEZZA E LARGHEZZA DIMENSIONE MEDIA DI OGNI PIASTRELLA                   UNI EN ISO                                                                              CONFORME
                                                                                                                                                                                                                                                      ± 0,5%
                                                                                                                            LENGTH AND WIDTH OF THE AVERAGE-SIZES TILE                                   10545/2                                                                                ACCORDING
                                                                                          2
                                                                                                                           SPESSORE                                                                     UNI EN ISO                                                                              CONFORME
                                                                                                                                                                                                                                                       ± 5%
                                                                                                                           THICKNESS                                                                     10545/2                                                                                ACCORDING
 Paprika     Powder     Whale       Snow    Cloud                                                                          RETTILINEARITÀ SPIGOLI                                                       UNI EN ISO                                                                              CONFORME
                                                                                                                                                                                                                                                      ± 0,5%
                                                                                                                           WARPAGES OF EDGES                                                             10545/2                                                                                ACCORDING
                                                                                                                           ORTOGONALITÀ                                                                 UNI EN ISO                                                                              CONFORME
                                                                                                                                                                                                                                                      ± 0,6%
                                                                                                                           WEDGING                                                                       10545/2                                                                                ACCORDING
                                                                                                                           PLANARITÀ                                                                    UNI EN ISO                                                                              CONFORME
                                                                                                                                                                                                                                                      ± 0,5%
                                                                                          1                                FLATNESS                                                                      10545/2                                                                                ACCORDING
 Berries    Caribbean   Maui     Romantic   Foliage     Palm                                                               ASSORBIMENTO D'ACQUA                                                         UNI EN ISO                                                                              CONFORME
                                                                                                                                                                                                                                                     E ≤ 0,5%
                                                                                                                           WATER ABSORPTION                                                              10545/3                                                                                ACCORDING
                                                                                                                           RESISTENZA ALLA FLESSIONE                                                    UNI EN ISO                                                                              CONFORME
                                                                                                                                                                                                                                                    ≥ 35 N/mm2
                                                                                                                           BENDING STRENGTH                                                              10545/4                                                                                ACCORDING
                                                                                                                           FORZA DI ROTTURA                                                             UNI EN ISO                                                                              CONFORME
                                                                                                                                                                                                                                                     ≥ 1300 N
                                                                                                                           BREAKING STRENGTH                                                             10545/4                                                                                ACCORDING
                                                                                                                           RESISTENZA ALL'ABRASIONE SUPERFICIALE PER PIASTRELLE SMALTATE                UNI EN ISO        IN FUNZIONE DELLA DESTINAZIONE D'USO ACCORDING TO THE                 CONFORME
                                                                                                                           ABRASION RESISTANCE FOR GLAZED TILES                                          10545/7                          DESTINATION OF FINAL USE                              ACCORDING
                                                                                                                           RESISTENZA AGLI SBALZI TERMICI                                               UNI EN ISO                                  RICHIESTA                                        RESISTE
                                                                                                                           THERMAL SHOCK RESISTANCE                                                      10545/9                                    REQUIRED                                         RESISTS
                                                                                                                           RESISTENZA AL GELO                                                           UNI EN ISO                                  RICHIESTA                                     INGELIVO
                                                                                                                           FROST RESISTANCE                                                             10545/12                                    REQUIRED                                    FROST PROOF
                                                                                                                           RESISTENZA ALL'ATTACCO CHIMICO                                               UNI EN ISO                                                                              CONFORME
                                                                                                                                                                                                                                                     GB MIN.
                                                                                                                           CHEMICAL RESISTANCE                                                          10545/13                                                                                ACCORDING
LISTELLO COLORFUL SEA 5x120     4
                                                                                                                           RESISTENZA ALLE MACCHIE                                                      UNI EN ISO                                                                              CONFORME
0000186                                                                   PZ 59,90                                                                                                                                                            GL ≥ MINIMO CLASSE 3
                                                                                                                           RESISTANCE TO STAINING                                                       10545/14                                                                                ACCORDING

                                                                                                                                                                                                        B.C.R.A. C.A.       μ 0,19 SCIVOLOSITÀ PERICOLOSA - DANGEROUSLY SLIPPERY                     > 0,40
ABBINAMENTI CONSIGLIATI - SUGGESTED MATCHING                                                                                                                                                                              0,20 < μ < 0,39 SCIVOLOSITÀ ECCESSIVA - EXCESSIVELY SLIPPERY
                                                                                                                                                                                                                          0,40 < μ < 0,74 ATTRITO SODDISFACENTE - SATISFACTORY GRIP
                                                                                                                                                                                                        B.C.R.A. G.B.              μ 0,75 ATTRITO ECCELLENTE - EXCELLENT GRIP                        > 0,40

                                                                                                                                                                                                                                                                                                   > 0,60 DRY
                                                                                                                                                                                                        ASTM C 1028
                                                                                                                                                                                                                                              SLIP RESISTANT (> 0,60)
                                                                                                                           RESISTENZA ALLO SCIVOLAMENTO                                                   (S.C.O.F.)
                                                                                                                                                                                                                                                                                                   > 0,60 WET
                                                                                          3                                SLIP RESISTANCE
  Phard      Powder      Sky        Snow    Cloud     Alabaster
                                                                                                                                                                                                                             IN FUNZIONE DELL'AMBIENTE O DELLA ZONA DI LAVORO
                                                                                                                                                                                                         DIN 51130                                                                                    R10
                                                                                                                                                                                                                             BASING ON THE ENVIRONMENT OR THE WORKING AREA

                                                                                                                                                                                                         DIN 51097                                       -                                            A+B

                                                                                                                                                                                                          ANSI A
                                                                                                                                                                                                                                                        0,42                                         > 0,42
                                                                                                                                                                                                        137-1:2012
Caribbean                                                                                                                  LE LASTRE "DECORATIVE MOOD" SONO REALIZZATE IN GRES PORCELLANATO, QUINDI UTILIZZABILI ANCHE PER LA POSA A PAVIMENTO IN AMBITO RESIDENZIALE.
                                                                                                                           "DECORATIVE MOOD" PORCELAIN SLABS ARE SUITABLE FOR FLOOR USE IN RESIDENTIAL AREAS.

70                                                                                                                                                                                                                                                                                                              71
MATITE ALLUMINIO - ALUMINIUM STRIPS

AVVERTENZE PER LA POSA E LA PULIZIA
Articolo in Alluminio puro certificato e decorato con resine acriliche applicate manualmente o con bagno galvanico.
Lievi differenze di tono e/o finitura sono caratteristiche del prodotto realizzato a mano.
POSA: utilizzare colle poliuretaniche o epossidiche. Durante la posa è necessario limitare il più possibile il contatto tra la colla e la parte superficiale della matita. Eventualmente pulire prontamente
con acqua e spugna morbida l'eccesso di colla che va sulla parte in vista. Prestare attenzione durante la fase di stuccatura e pulire subito con acqua e spugna morbida.
PULIZIA: si consiglia l'uso di un panno morbido con acqua e sapone neutro, alcool o detergenti neutri per la casa (non acidi o basici).
NOTA: non utilizzare in nessun caso (posa, stuccatura e pulizia) prodotti abrasivi, acidi o basici, acetone, solventi e diluenti. Non applicare sulla parte decorata Scotch, nastri adesivi o simili.

IMPORTANT INFORMATION FOR INSTALLATION AND CLEANING.
Item made of certified pure aluminium and decorated by hand with acrylic resins or in galvanic bath.
Slight differences in colour and/or finish are typical of handmade products.
INSTALLATION: use polyurethane or epoxy glues. During installation, where possible avoid all contact between the glue and the surface of the aluminium strip. If necessary, immediately clean off
any excess glue from the visible surface using water and a soft sponge.
Take great care during grouting and clean immediately using water and a soft sponge.
CLEANING: we recommend using a soft cloth with water and neutral soap, alcohol or neutral household cleaners (do not use acidic or alkaline products).
NOTE: do not under any circumstances (installation, grouting or cleaning) use abrasive, acidic or alkaline products, acetone, solvents or thinners.
Do not apply adhesive tape or similar products to the decorated surface.

PAC K AG I N G
 F.to nominale                       F.to reale (mm)        Spessore      Tipologia imballo    Pz/Scat      Mq/Scatola       Kg/Scatola      Scatole/Imballo   Pz Totali    Mq Totali   Kg/Imballo   Kg Totali
 Nominal size                        Work size (mm)         Thickness     Type of packing      Pcs/Box      Sqm/Box          Kg/Box          Box/Packing       Pcs Total    Sqm Total   Kg/Packing   Kg Total

 60x120 / 24"x48" rett.
 SOLID COLOURS
                                     596x1194               7 mm          Pallet               2            1,44             19,50           40                80           57,60       20           800
 Rivestimento in pasta bianca
 White body wall tiles

 60x120 / 24"x48" rett.
 DECORATIVE MOOD
                                     596x1194               7 mm          Pallet               2            1,44             25,00           32                64           46,08       20           820
 Gres porcellanato
 Porcelain tiles

L'UNITÀ MINIMA DI VENDITA PER TUTTI GLI ARTICOLI È LA SCATOLA COMPLETA.
THE MINIMUM SALES QUANTITY FOR ALL ITEMS IS ONE FULL BOX.
I DATI RELATIVI AGLI IMBALLI SONO AGGIORNATI AL MOMENTO DELLA STAMPA DEL CATALOGO E PERTANTO POSSONO SUBIRE VARIAZIONI NEL CORSO DEL TEMPO.
DATA REFERRING TO PACKAGING HAVE BEEN UPDATE AT TIME OF PRINTING; THE ACTUAL DATA MAY BE SLIGHTLY DIFFERENT.

LE CARATTERISTICHE DI SUPERFICIE E LE TONALITÀ DEI PRODOTTI CERAMICI ILLUSTRATI IN QUESTO CATALOGO SONO DA RITENERSI PURAMENTE INDICATIVE.
OPTICAL FEATURES AND COLOR SHADES OF CERAMIC MATERIALS ILLUSTRATED IN THIS CATALOGUE ARE TO BE REGARDED AS MERE INDICATIONS.

                                                                                                                                                                                                      Thanks to:
                                                                                                                                                                      Grohe pag. 12/13 - 18/19 - 46/47 - 53
                                                                                                                                                                           Liu Jo Living Collection pag. 29 - 33

                                                                                                                                                                                                           20.11

                                                                                                                                                                                                         ABK
                                                                                                                                                                 Brand of ABK Group Industrie Ceramiche s.p.a.
                                                                                                                                                   via S.Lorenzo N.24/a - 41034 Finale Emilia - Modena Italy
                                                                                                                                                        tel. 0535 761311 - fax 0535 761320/92800/761351
                                                                                                                                                                                  www.abk.it - #abkemozioni