2021-22 Preliminary Budget - Anchorage School District - Educating All Students for Success in Life - BoardDocs
Page content transcription
If your browser does not render page correctly, please read the page content below
A message from the School Board
                                                 This past year has        goals emphasize early literacy and promote equity
                                                 pushed our community      across the District; a reflection of the community's
                                                 and school district       vision and values. The Board's legislative priorities and
                                                 to implement              budgetary guidance focus on prioritizing these new
                                                 changes at lightning      goals:
                                                 pace! Although the          • Reading Proficiency
                                                 pandemic has caused
                                                                             • Math Proficiency
                                                 unprecedented changes,
                                                 the Anchorage School        • Life, College, Career Ready.
                  Board and District Administration remain committed       We appreciate the support of the Anchorage
                  to providing a quality education to prepare our          community and our state legislators. ASD continues
                  42,000 students for success in life. The arrival of      to engage with state and local elected officials to
                  available vaccinations are making our community safe     keep them informed of the District's successes
                  again, and we look forward to fully reopened school      and challenges and to encourage their support for
                  buildings in the 2021– 22 school year. The staff and     education funding.
                  students are also excited that Eagle River Elementary    The success of our students helps build a better
                  and Gruening Middle School are on track to have          community.
                  their buildings completely repaired and renovated
                  prior to the first day of school.
                  Through an extensive public process, the Anchorage       Elisa Vakalis, President
                  School Board developed and adopted goals to inform
                  and shape the District's new strategic plan. These

                  A message from the Superintendent
                  The Anchorage School District is now in its fifth        budget meets numerous priorities across the District,
                  budgeting cycle under my tenure. The November            redirects resources to meet student needs, and takes
                  30, 2018 earthquake jolted our staff, students, and      advantage of the additional funding provided by the
                  buildings. The COVID-19 pandemic continues to            federal government. Equity within our system, closing
                  affect our entire community and the manner in which      learning gaps, and preparing students for success in
                  education is delivered. Through these circumstances,     life are on the front burner of the FY22 budget.
                  we have ultimately created new district systems that     I am honored to serve this community and incredibly
                  will allow us to be more nimble and prepared for the     proud of the entire ASD team as we faced new
                  future.                                                  challenges while aggressively focused on improving
                  State funding is expected to be relatively static for    educational outcomes for students – our State's most
                  the next school year, yet we are very fortunate that     valuable asset. As we plan for all school doors to be
                  the federal government is providing additional           open for the coming year, I am very excited the staff
                  Elementary and Secondary School Emergency Relief         and students at Eagle River Elementary and Gruening
                  (ESSER) funds. These funds will allow the District       Middle School will be returning to their newly
                  to focus all efforts on reopening our schools, helping   repaired and renovated buildings!
                  students recover from shortfalls experienced during      Sincerely,
                  the pandemic, and prepare them for a brighter future.
                  The FY22 budget is the first time, since I have been
                  ASD superintendent, in which we did not have             Deena M. Bishop, Ed.D.
                  significantly reduced staffing at our schools. The       Superintendent

ASD utilized recent and pre-pandemic photos in this publication.
2021-22 ASD Preliminary Budget Handbook

             Nearly
         42,000                          97                       more than                                       100+                        more than
    students—one of the 100          schools and                   130                                    languages are spoken               6,000
     largest school districts       other facilities      programs and schools                               by ASD families                 employees
          in the nation

Building the ideal student experience                                 Sustaining the Graduation Rate
Student learning, achievement, and lifelong success are the           ASD's upward trend in the graduation rate the last five
focus of the Anchorage School District. Within the District,          years is a testament to our students' hard work and
families have many academic choices to meet a variety of              dedication, our educators' unrelenting pledge to their
student needs. Equitable access and opportunity are keys to           students, and the community's staunch commitment
building a successful learning path for each student. ASD             to educating all children for success in life.
celebrates our differences and is committed to inclusion of all                                         90%
our community's languages, cultures, and perspectives.
                                                                                                        80%                                          84.1%
Transportation
                                                                               4-year graduation rate

                                                                                                                                 81.5%    80.7%               81.7%
                                                                                                                         79.7%
ASD partners with Reliant to transport students safely to and                                           70%
from school as well as activities.

ASD Transportation…                                                                                     60% 65.0%
 • Owns and operates 117 buses inside the
   Municipality of Anchorage                                                                            50%
                                                                                                              2006-07    2015-16 2016-17 2017-18 2018-19 2019-20
 • Transports approximately 24,000 students daily                                                                             School year
 • Runs more than 225 daily routes and in partnership
   with Reliant
                                                                      Student Achievement
 • Completes more that 5000 activity trips each year
                                                                      Across Groups                                               English Language
                                                                                                                                  Learners

 • Delivered more than 20,000 Chromebook computers
                                                                      of Interest                                                 Students with              15.1%
                                                                                                                                  Disablilities
 • Operated 13 food service routes, delivering about                  Over the past five years, from                              Economically
   3,200 meals daily                                                  2016 to 2020, ASD has made                                  Disadvantaged Students

                                                                      steady improvement in the
 • Assisted in distributing thousands of meals at 28 schools
                                                                      graduation rate for students across                                     5.9%
                                                                      several groups of interest.                                 3.6%

                                                                                                                                                                  | 1
2021-22 ASD Preliminary Budget Handbook

                                   Anchorage School District
         2021–26 Board Goals and Guardrails
                                                   Goals

            Reading                            Math                                Life, College,
            Proficiency                        Proficiency                         Career Ready
Beginning September 2020,             Beginning September 2020, the       Beginning with the Freshman
the percentage of third-grade         percentage of students in grades    Class in September 2020, the
students proficient in reading        3–9 proficient in mathematics on    percentage of high school
on the state summative test           the state summative assessment      students Life Ready and College
(currently PEAKS) will increase       (currently PEAKS) will increase     and/or Career Ready will
from 40% to 80% by May 2026.          from 40% to 55% by May 2026.        increase from Spring 2021 to
                                                                          Spring 2026.

                                                Guardrails
 Guardrails are based on the community's values and are aligned with the vision and goals. A guardrail is
 an operational action or class of actions, usually strategic not tactical, which the Superintendent may not
 use or allow in pursuit of the District's student outcome goals.
      • Superintendent will not leave student groups      • Superintendent will not allow unsatisfactory
        underrepresented in lottery/application-based       employee performance to go unidentified or
        programs.                                           unaddressed.
      • Superintendent will not operate without a         • Superintendent will not operate elementary
        diverse or culturally responsive workforce.         schools without mental health services.

2 |
2021-22 ASD Preliminary Budget Handbook

Inputs for FY 2022

                                              Inputs

                  • Resource and redesign additional supports (including summer programs),
                    focused on learning attainment to support reading achievement and "catch-up"
                    growth
                  • Implement Reach for Reading priority plans in grades K-5 with integrity within a
                    multi-tiered system of supports (MTSS)
   Reading        • Ensure evidence-based reading instruction is embedded in PreK-3 classrooms
                  • Provide professional development (PD) in evidence-based reading instruction

                  • Implement Ready Mathematics in grades K-8 within a multi-tiered system of
                    supports (MTSS)
                  • Provide PD on math content standards, standards of math practices, and new
                    instructional materials
     Math         • Provide enhanced coaching in math instruction and data-based decision
                    making (Funded by Title I and Title IIA)

                  •   Redesign courses to meet financial literacy requirement
                  •   Increase dual credit opportunities for high school students within CTE programs
                  •   Develop framework of CTE lessons grades 6-12
 Life, College,   •   Develop and implement PD for staff to increase career development instruction
 Career Ready     •   Develop outreach plan to families and students on pathway/career planning

                  •   Increase employee engagement to identify equity issues within the District
                  •   Revamp diversity recruitment to attract new talent
                  •   Implement benefits platform to meet diverse needs of employees
  Guardrails      •   Ensure equitable representation in gifted education
                  •   Expand Reset Zones and other behavioral and mental health supports

                                                                                                      | 3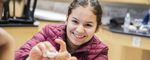 2021-22 ASD Preliminary Budget Handbook

                 State Foundation Formula and Local Taxes

FY 2021-22 Projected State/Local Revenue for ASD
      District adjusted ADM                                 75,065.78
      Base Student Allocation                                  $5,930

                                                                          {
      Basic need (BSA x ADM)                             $445,140,075
                                                                              $42,371,774,970 MOA Property Values
      Required local effort (property taxes)            $(112,285,204)                  x 2.65 Mills
      State Reduction for Federal Impact Aid Received       (7,168,320)          $112,285,204 Total Required Local Taxes
      State Foundation Revenue                             325,686,551
      State Quality Schools Grant                             1,201,052
      Total State Revenue                                $326,887,603

      Required Local Taxes                               $112,285,204
      Additional Allowable Taxes
      (23% of Basic Need + Quality Schools)               102,658,459
      Total Allowable Taxes                              $214,943,663

4 |
2021-22 ASD Preliminary Budget Handbook

                                              2021-22 General Fund Budget
                                                      $573 Million
General Fund Revenue

                                                                                                           Oil Revenue

                                                                                                                         State Funding = 58%

                                                                          Local Taxes 37% +      Federal Funding = 3%
                                                                          Other Revenue 2%

General Fund Budget by State Function
                    Community Services       $488,456
                   District Administration     $5,738,587
                                                                                                        District Support to Schools
                       Student Activities      $6,111,650                                               The functional costs, shown in the blue bars, directly
 District Administration Support Services        $10,077,486                                            enable our schools to operate. This equates to 97.2% of
 School Administration Support Services                 $19,320,709                                     the District's Operational Revenue.
           Support Services - Instruction               $19,665,914                                     District Admin Support Services include: Payroll,
                   School Administration                 $22,606,277                                    accounting, budget, warehouse, purchasing, HR, IT, etc.
    Special Support Services - Students                   $24,840,621
            Support Services - Students                     $28,530,133
   Operations and Maintenance of Plant                                             $81,867,955
         Special Education – Instruction                                                  $97,050,334
                              Instruction                                                                                                                   $249,132,136

FY 2021 – 22 General Fund Expenditures by Type

                                                                                                                                                 Contract

86.1% 5.1%
Salaries & Benefits                            Utilities/
                                                                                 4.5%
                                                                                Other Purchased
                                                                                                                3.3%
                                                                                                                 Supplies &
                                                                                                                                           1.0%
                                                                                                                                               Insurance &
                                             Building Rent                         Services                      Equipment                     Other Items
                                                                                                                                                                       | 5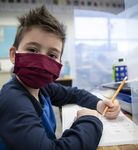 2021-22 ASD Preliminary Budget Handbook

               FY 2021–22 Preliminary Budget Highlights
General Fund Revenue
Anchorage Schools are primarily funded through the
                                                         FY 2021–22 General Fund Revenue
State of Alaska Foundation Funding Formula, which
                                                                 3.1%           1.0%
includes associated local property taxes. Additional
Federal revenues come from Federal Impact Aid and
reimbursements for Medicaid and JROTC instructors.
Other local revenues include interest earnings from the                                                     State of Alaska
                                                                                                            ($327,446,087)
municipal investment fund, user fees, facility rental,
and E-rate. E-rate is a program that reimburses some                                                        Local Taxes
                                                             38.0%                    57.9%                 ($214,943,663)
telecommunication costs. The state is not expected
                                                                                                            Federal Government
to significantly increase K-12 education funding                                                            ($17,280,508)
for next year, though several bills will be presented                                                       Other Revenue
during this year's legislative session to increase funds                                                    ($5,760,000)
in some areas. The District will receive $50.1 million in
Elementary and Secondary School Emergency Relief (ESSER
II) funds, which will be used during FY22 and FY23 to assist
in efforts to fully reopen schools and recover from impacts of the Covid-19 pandemic. Enrollment in
FY21 was significantly lower than projected, as many families moved their students out of the District
for home school or private school programs. FY22 enrollment is still projected to be lower than FY20, as
some students may not return from correspondence or private school programs. This lower enrollment,
compared to FY20, is expected to result in decreased state and local revenue.

Expenditures
District expenditures are apportioned for             FY 2021–22 General Fund Expenditures
personnel costs (86.1%), utilities/rent                             1.1%
                                                                                                       Instruction
                                                                                                       ($249,132,136)
                                                                               1.0%
(5.1%), purchased services (4.5%), supplies                  1.8%                                      Special Education Instruction
                                                          3.4%                    0.1%                 ($97,050,334)
& equipment (3.3%), and insurance/other                                                                Operations and Maintenance of Plant
                                                       3.5%                                            ($81,867,955)
items (1%). Eagle River Elementary School           4.0%                                               Support Services - Students
and Gruening Middle School will reopen their                                                           ($28,530,133)
                                                                                                       Special Support Services
doors for the FY22 school year, requiring some                                                         ($24,840,621)
                                                            4.4%
previously reduced staff to be added back at                                                           School Administration
                                                                                                       ($22,606,277)
those schools.                                             5.0%                                        Support Services - Instruction
                                                                                     44.1%             ($19,665,914)
                                                                                                       School Administration Support Services
                                                                                                       ($19,320,709)
                                                            14.5%
                                                                                                       District Administration Support Services
                                                                                                       ($10,077,486)
                                                                                                       Student Activities
                                                                                                       ($6,111,650)
                                                                       17.2%
                                                                                                       District Administration
                                                                                                       ($5,738,587)
                                                                                                       Community Services
                                                                                                       ($488,456)

6 |
2021-22 ASD Preliminary Budget Handbook

Budget Development
Student enrollment, or membership, drives the State's funding                 for the school year. The State hasn't changed the Base Student
formula. Projected enrollment numbers and current law are                     Allocation (BSA) since 2017, and it is expected to remain
used to develop the budget. Enrollment data during the first                  unchanged for FY22. The following chart depicts ASD's per-
20 school days in October is used to develop the Average Daily                student revenue during the past 10 years.
Membership (ADM); this confirms the State/local revenue

General Fund Revenue per Student (ADM)                                                                                    Revenue per
                                                                                                         ADM
  $15000
                                                                                                                            Student
                                                                                        FY13            48,493              $11,371
  $12000                                                                                FY14            47,770              $11,410
                                                                                        FY15            47,562              $11,966
   $9000
                                                                                        FY16            47,756              $11,709
   $6000
                                                                                        FY17            47,685              $11,754
                                                                                        FY18            46,964              $12,000
   $3000                                                                                FY19            46,748              $12,086
                                                                                        FY20            45,466              $12,592
      $0
                   3     4     5     6     7     8     9     0     1
                201 Y 201 Y 201 Y 201 Y 201 Y 201 Y 201 Y 202 Y 202 Y 202
                                                                          2             FY21            45,180              $12,693
           FY        F     F     F     F     F     F     F     F     F
                                                                                        FY22            45,266              $12,491

                                                                                   Budget Assumptions
                                                                                   The State's legislative session is scheduled to end in
                                                                                   late April, requiring some assumptions to be made in
                                                                                   order to develop the budget within required timelines.
                                                                                   The budget must be balanced prior to submission to
                                                                                   the Anchorage School Board in February and to the
                                                                                   Anchorage Assembly no later than the first Monday in
                                                                                   March. The following assumptions were used for the
                                                                                   preliminary budget:
                                                                                      • No increase to the State's Base Student Allocation
                                                                                        (BSA) at $5,930. The BSA has remained
                                                                                        unchanged since FY17.
                                                                                      • No changes to the State's Foundation Funding
                                                                                        Formula.
                                                                                      • No decrease in the State's portion of ASD's debt
                                                                                        reimbursement.
                                                                                      • Additional block grant revenue might be available
                                                                                        for targeted educational improvements.

                                                                                                                                            | 7
2021-22 ASD Preliminary Budget Handbook

Personnel Reductions
Nearly 90% of the District's budget is used to pay salaries                 ESSER II funds will be used to maintain staffing levels for
and benefits for employees. As a result, the District's revenue             FY22. The PTR formula divides the total number of students
determines whether the workforce increases or contracts. The                in the school, by grade level, by a ratio (e.g. 1 teacher to 25
District is able to balance the budget with no change to the                students in 1st grade); this determines the total number of
pupil-teacher ratio (PTR) due to the availability of ESSER                  teachers allocated per school.
II federal relief funds. The charts below indicate that the

                                                     FY 2022 GENERAL FUND PTR – Grade Level Groupings
      School Type
                                 K               1              2              3            4–5          6            7–8            9–12
 Secondary Schools                                                                                                                   34.25
 Middle Schools                                                                                        34.25         34.25
 Elementary Schools              25             26             28             29             30          31           31

                                             FY 2022 GENERAL FUND + ESSER II PTR – Grade Level Groupings
      School Type
                                 K               1              2              3            4–5          6            7–8            9–12
 Secondary Schools                                                                                                                   30.25
 Middle Schools                                                                                        30.25         30.25
 Elementary Schools              21             22             24             25             26          27           27
   • Pupil to Teacher Ratio (PTR) is a budget staffing formula, not a class size, nor a class cap.
   • ESSER II funds used to maintain present class size reducing PTR by 4.

School-based Changes Next Year – FY22
                                          Adjustment                                                  FTE                    Cost
 Metric-based Teacher reductions due to enrollment                                                   (48.40)                  ($5,469,000)
 Metric-based Teachers moved to ESSER II Grant                                                       (235.30)                ($26,589,000)
 Metric-based programmatic Teacher additions                                                          44.00                    $4,972,000
 Added staff to open Eagle River Elementary and Gruening Middle schools                               4.62                          $477,000
 Metric-based Counselor, TA, Clerical, Library Assistant, and Noon Duty                              (17.78)                   ($653,000)
 Added Assistant Principal to South High School (Administrative adjustment)                           1.00                          $137,000
 Added AMCS Dual Enrollment Coordinator                                                               1.00                          $130,000
 Virtual Program changes                                                                              2.00                          $206,000
 Charter school changes                                                                               11.21                    $6,460,000

 Total Changes for FY22                                                                              (237.65)                ($20,334,000)

8 |
2021-22 ASD Preliminary Budget Handbook

School Reductions
The following series of charts depict proposed staff allocations,             requirements may be allocated additional staff and other
at all grade levels, needed to standardize the number of                      resources.
staff positions at each school. Some schools with unique
Elementary Schools
The elementary school teacher allocation is being reduced                     will begin the FY22 school year in their newly renovated
by 38.5 FTE teachers overall. Initiatives will be initiated or                building. It was damaged during the 2018 earthquake and
accelerated in order to meet Board goals in reading and math                  all efforts are being made to assure a smooth and timely
outcomes, along with efforts in many areas to increase access to              reopening. ASD will continue to focus and redirect resources
choice programs and schools. Eagle River Elementary students                  toward creating better student outcomes.

                                                                                                             Office
                            Librarians                  Nurses              Kindergarten TA                                    BPO
                                                                                                          Administration
                                                                                   FTE
    Per School                   1                         1                    .44/Class                       2               1
Metrics for staff allocations are a guide. Site factors may change final authorizations at each school.

       Changes
       • Reduce 38.5 FTE teachers due to enrollment, added
         planning time FTE

                                                                                                                                         | 9
2021-22 ASD Preliminary Budget Handbook

Middle Schools
The middle school teacher allocation is being reduced by a                    year. Repairs from the 2018 earthquake are on track and the
total of 5.2 FTE due to enrollment. Gruening Middle School                    staff and students are excited to start the year in their own
is scheduled to relocate from Chugiak High School back to                     school building.
their newly renovated building at the start of the FY22 school

                 Principals              Counselors                Nurses            Office Admin                 BPO              Security
 Metric             400:1                   300:1              1 per school                 3               1 per school               450:1

                                                                   Proposed Allocations                                        Difference

                Total                                               Library                   Office
                            Principals   Counselors   Librarians                Nurses                    BPO       Security   Counselors      BPO
   School      Housed                                                Asst.                    Admin

 Central         399          2.00         2.00         1.00        0.00         1.00           3.00      1.00       1.00          -            -
 Clark           863          3.00         3.00         1.00        0.00         1.00           4.00      1.00       2.00          -            -
 Gruening        553          2.00         2.00         1.00        0.00         1.00           3.00      1.00       1.00          -           0.63
 Hanshew         689          2.00         2.00         1.00        0.00         1.00           3.00      1.00       2.00          -            -
 Mears           738          2.00         2.00         1.00        0.00         1.00           3.00      1.00       2.00       (1.00)          -
 Mirror Lake     631          2.00         2.00         1.00        0.00         1.00           3.00      1.00       1.00          -            -
 Romig           729          2.00         2.00         0.50        0.44         1.00           3.00      1.00       2.00       (0.50)          -
 Wendler         451          2.00         2.00         1.00        0.00         1.00           3.00      1.00       1.00          -            -
 Goldenview      693          2.00         2.00         1.00        0.00         1.00           3.00      1.00       2.00          -            -
 Begich          944          3.00         3.00         1.00        0.00         1.00           4.00      1.00       2.00          -            -
   Totals =     6,690        22.00        22.00         9.50        0.44        10.00        32.00        10.00     16.00       (1.50)         0.63
Metrics for staff allocations are a guide. Site factors may change final authorizations at each school.

       Changes in Staffing
       • Reduce 5.2 FTE teachers due to enrollment

10 |
2021-22 ASD Preliminary Budget Handbook

High Schools
The high school teacher allocation is being reduced by 3.4 teachers FTE due to enrollment.

                Principals                Counselors               Nurses              Office Admin              BPO                 Security
 Metric           400:1                     300:1                1 per school          Principals + 3        1 per school             450:1

                                                                      Proposed Allocations                                   Difference

                 Total                                                                       Office
                             Principals    Counselors   Librarians Library Asst.   Nurses                 BPO     Security   Principals   Counselors
    School      Housed                                                                       Admin

 Bartlett        1,383         4.00          5.00         1.00         0.88        1.00      7.00         1.00      3.00         -            -
 Chugiak          869          3.00          3.00         1.00         0.88        1.00      6.00         1.00      3.00         -            -
 Dimond          1,478         4.00          5.00         1.00         0.88        1.00      7.00         1.00      4.00         -            -
 East            1,750         5.00          6.00         1.00         0.88        1.00      7.00         1.00      4.00         -            -
 Service         1,515         4.00          5.00         1.00         0.88        1.00      7.00         1.00      4.00         -            -
 West            1,767         5.00          6.00         0.50         0.88        1.00      7.00         1.00      4.00         -            -
 South           1,307         4.00          4.00         1.00         0.88        1.00      7.00         1.00      3.00       1.00        (1.00)
 Eagle River      833          3.00          3.00         1.00         0.88        1.00      6.00         1.00      2.00         -
    Totals =    10,902        32.00         37.00         7.50         7.00        8.00      54.00        8.00     27.00       1.00        (1.00)
Metrics for staff allocations are a guide. Site factors may change final authorizations at each school.

         Changes in Staffing
         • Reduce 3.4 FTE teachers due to enrollment

                                                                                                                                                  | 11
2021-22 ASD Preliminary Budget Handbook

Alternative Schools
Reductions or increases at alternative schools are not equally dispersed across each school as each operates differently.

                 Principals           Counselors                 Nurses               Office Admin               BPO                       Security
 Metric            400:1                   300:1              1 per school             As needed              1 per school                 450:1

                                                        Proposed Allocations                                                  Difference

                 Total Principals Couns.            Library        Office                     Teaching                         Office       Teach
                                             Lib.           Nurses             BPO Security            Other Principals Couns.                     Other
    School      Housed                               Asst.         Admin                        Asst.                          Admin        Assist

 King Tech
 High School
                 166       1.00    2.00     0.00 0.00       1.00    2.00 1.00        1.00      2.63            (0.50)   1.00 (2.00)           -        -
 ASD Virtual     174       0.00    0.00     0.00 0.00       0.00    1.00 0.00        0.00      0.00              -        -         -         -        -
 Polaris K-12    484       1.00    1.00     0.60 0.44       1.00    2.00 1.00        1.00      0.88              -        -         -         -        -
 Save I          180       1.00    1.00     0.00 0.00       1.00    2.00 1.00        1.00      0.50              -        -         -       0.50       -
 Steller         285       1.00    1.00     0.40 0.44       1.00    2.00 1.00        0.00      0.00              -      0.40        -         -        -
 AMCS            295       1.00    0.00     0.00 0.00       0.00    2.00 0.00        0.00      0.00    1.00    0.50     (1.00) 1.00           -       1.00
 PAIDEIA         452       1.00    1.00     0.00 0.00       0.00    2.00 0.00        0.00      1.00    1.00      -        -      1.00         -        -
 McLaughlin      55        0.50    1.00     0.00 0.00       0.00    0.50 0.00        0.00      0.00              -        -         -         -        -
 Benson
 Secondary
                 270       2.00    4.00     0.00 0.00       0.50    2.00 1.00        1.00      0.88    1.00      -      2.00        -         -        -

 New Path         9        0.50    0.00     0.00 0.00       0.00    0.50 0.00        0.00      0.00              -        -         -         -        -
   Totals = 2,370          9.00   11.00 1.00 0.88           4.50 16.00 5.00          4.00      5.88    3.00      -      2.40        -       0.50 1.00
Metrics for staff allocations are a guide. Site factors may change final authorizations at each school.

       Changes in Staffing
       • Reduce 3.4 FTE teachers due to enrollment

12 |
2021-22 ASD Preliminary Budget Handbook

District-level Reductions and Changes
The District will continue making advances toward improving      safety (wireless access, intercom upgrades, visitor management
professional development and providing supports at multiple      system) will be expanded at schools across the district in FY22.
levels to meet student needs. Initiatives to improve school

Special Service Changes Next Year – FY22
                                     Adjustment                                            FTE                  Cost
TA positions changed to a Teacher for Blind/Visually Impaired                              (.75)                         (7,000)
Reclassify positions at Whaley and add TAs                                                 1.75                        $117,000
Add SpED Preschool TAs, Teachers, and .5 FTE Clerical                                      10.4                        $845,000
Reclass SpED TAs and Teachers into Counselors                                             (1.75)                      ($111,000)
Reduce .88 FTE ACT Program Clerical to add .5 FTE ACT Program Nurse                        (.38)                         $1,000
Add Supplies / Service / Equipment                                                           -                          $91,000
Reclass Special Schools TAs into ELL TAs                                                     -                    -

Total Changes for FY22                                                                     9.27                        $936,000

Districtwide Changes Next Year – FY22
                                     Adjustment                                            FTE                  Cost
Numerous position reclass/moves to different funding sources                               1.58                         $21,000
Added Finance Technician to meet growth in homeschool workload                              1.0                         $79,000
HR reclassify Clerical to Generalist Position                                                -                          $46,000
Shift funding for Teaching and Learning Senior Director                                   (0.50)                       ($90,000)
Reduce Teaching and Learning substitutes/addenda and increase supplies/services              -                         $664,000
Increase Secondary / CTE Supplies / Services                                                 -                         $293,000
Reduce Assessment and Evaluation Director FTE                                             (0.25)                       ($45,000)
Add IT Analyst, reduce supplies and equipment (ESSER II)                                    1.0                   ($1,385,000)
Personnel adjustments in Maintenance and Operations (eliminate one Director)                .71                        ($96,000)
Reduce Maintenance supplies, add funding for major maintenance                               -                           $3,000
Changes to attrition, ESSER II indirect, insurance, supplies / equipment                     -                        ($701,000)
Pupil Transportation deficit – transfer from General Fund                                    -                        $1,836,000

Total Changes for FY22                                                                     3.54                        $625,000

                                                                                                                             | 13
Anchorage School Board: Elisa Vakalis, President
Margo Bellamy      Dave Donley      Alisha Hilde      Andy Holleman         Starr Marsett   Deena Mitchell
                                   Superintendent: Dr. Deena Bishop

                                @ASD_Info
 AnchorageSchoolDistrict                                  AnchorageSchoolDistrict              AnchorageSD
                                @DrDeenaBishop

    5530 E. Northern Lights Blvd. | Anchorage, AK 99504-3135 | (907) 742-4000 | www.asdk12.org