BENTLEY MOTORS DEVELOPMENT FRAMEWORK AND MASTERPLAN
If your browser does not support JavaScript, please read the page content below:
Bentley Motors Development Framework & Masterplan – Consultation Report 2 APPENDIX 1 PRESS COVERAGE EXAMPLES
Bentley Motors Development Framework & Masterplan – Consultation Report 3 APPENDIX 2 CHESHIRE EAST COUNCIL WEBSITE Following the link on the website took people to the questionnaire as shown below. Bentley Draft Development Framework and Masterplan Consultation runs from January 3 – February 14, 2017 A 'development framework' has been developed which outlines how the long-term future of the Bentley factory in Crewe could look – supporting Bentley as a core component at the heart of Crewe's economy.
Drawn up by Bentley Motors in consultation with Cheshire East Council, the draft framework provides the platform to deliver a modern, advanced manufacturing operation in the future which will be more efficient, secure and productive. This questionnaire, alongside further information about this consultation, can be found here: www.cheshireeast.gov.uk/bentleymasterplan.
You can give feedback either by: writing to us at C/O Bentley Masterplan, Cheshire East Council, Westfields, Middlewich Road, Sandbach, CW11 1HZ; completing this online survey or by completing a paper survey available at public events at Bentley and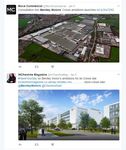 Bentley Motors Development Framework & Masterplan – Consultation Report 4 available from libraries and council offices and returning to the address above. All consultation responses must be received by 5pm Tuesday February 14, 2017. Consultation responses will then be analysed before a final decision is made during the Cabinet meeting later in 2017.
This consultation report will also be published on the council's website. Feedback questionnaire How strongly do you support or object to each of the following proposals? Please tick one box only in each row Strongly support Tend to support Neither support nor object to Tend to object to Strongly object to No opinion / Not sure Growth of Bentley Motors Ltd in Crewe Vision to create an internal campus for Bentley Motors Ltd If you have any comments on the development framework Please write below About you Finally, we would like some information about you. You do not have to supply this information; however, it would be very useful if you did.
Your confidentiality is assured: Any personal information you supply will remain strictly confidential and will be held and used in line with the Data Protection Act 1998. The information you provide will only be used to analyse results to this consultation and inform decision making. We will not pass on your personal information to other departments within the council, or to any other third parties, without your prior consent. 1. If you are responding on behalf of a group, organisation or club please state the name and postcode in the box below (you do not need to complete the rest of the "About you" section): Please write in below Name of group, organisation or club: Postcode: 2.
How are you responding to this consultation? As a... Please tick all that apply Local business owner or small trader Local resident Other (please write in below) 3. What is your postcode? Please fill this in clearly and accurately, it will help us to understand the individual needs of different areas. Please write in Thank you for completing this survey. Please return to C/O Bentley Masterplan, Cheshire East Council, Westfields, Middlewich Road, Sandbach, CW11 1HZ or place in ballot box, by Tuesday February 14, 2017. If you require a copy in larger print please contact the council's customer services on 0300 123 5001.
Alternatively please complete the survey online at: www.cheshireeast.gov.uk/bentleymasterplan
Bentley Motors Development Framework & Masterplan – Consultation Report 5 APPENDIX 3 SOCIAL MEDIA EXAMPLES
Bentley Motors Development Framework & Masterplan – Consultation Report 6 APPENDIX 4 KEY QUESTIONS ANSWERED What is the Masterplan? The development framework provides a platform for Bentley to deliver a more efficient, secure, productive and modern manufacturing facility which can grow and expand in line with the company's aspirations. It represents a long-term vision for what the Pyms Lane site could look like in the future. Why have Bentley Motors produced a development framework? It presents a possible future vision for Bentley Motors, which allows the company to understand and consult on any issues relating to it.
It also provides the basis for future planning applications. What are we being consulted on?
Bentley Motors and Cheshire East Council are keen to hear your views on the future vision for the Bentley site. In particular, we are keen to hear your views on the potential closure of parts of Pyms Lane and Sunnybank Road. A questionnaire will be available when the consultation starts in January and all representations will be taken into consideration. Will the development framework form part of the Local Plan? No. However, when the masterplan has been finalised it will be used a material consideration, when Cheshire East Council determines planning applications that are made on the site.
Does the development framework result in the closure of Pyms Lane and Sunnybank Road opposite Bentley?
The development framework will not result in the closure of the roads at this stage – any closure of the road would require a separate process such as a planning application or a Stopping up Order. However, the framework demonstrates the intention to create a larger campus for Bentley Motors which would require the closure of parts of Pyms Lane and Sunnybank Road. What parts of Pyms Lane and Sunnybank Road are proposed to be within the campus? Pyms Lane, to the west of the existing houses up to the household waste and recycling site at Middlewich Road. All existing houses on Pyms Lane will be able to access their property from Pyms Lane via the Minshull New Road / Badger Avenue roundabout.
Sunnybank Road will be closed to the north of the current railway bridge and will also be included within the Campus. Will any of the houses on Pyms Lane or Ashbank Place be affected? Residential houses are outside of the proposed Bentley campus. Will the future road closures of parts of Pyms Lane and Sunnybank Road put pressure on existing roads?
Traffic modelling has been undertaken by Cheshire East Council to examine the implications on the local highway network of a future closure of Pyms Lane and Sunnybank Road. It shows that there may be a need to strengthen some junctions and make minor highway improvements to certain routes – these
Bentley Motors Development Framework & Masterplan – Consultation Report 7 are identified in the framework. Highway mitigation opportunities at the junctions and links identified as hotspots by Cheshire East Council would be carried out following a planning application proposing the closure of the roads.
Why are there no road improvements identified for the northern end of Minshull New Road? The traffic modelling has taken into account the proposed new 'Leighton spine road' that is planned and will be delivered by the Leighton West site to the north of Bentley. The spine road will provide a link from Minshull New Road to the A530 Middlewich road and Flowers Lane and provide access to Leighton Hospital from Smithy Lane This site is not yet the subject of any planning applications but it is included within the Cheshire East Local Plan Strategy, as a Strategic Site.
Have you consulted with the emergency services about closing these roads? Yes, the police, fire and ambulance services have been consulted and their needs and views will be taken into account before any final decision is made. Will we still be able to access the Girl Guide HQ and Scout hut? Yes, there will still be access to the Girl Guide HQ and Scout hut from the east. Will the closure of these roads impact on future housing development in the area? The development of new housing locally would require additional roads to be built. This would include the proposed north/south 'Leighton spine road' in the Leighton West site to the north of Bentley Motors and a potentially east/west link road between the A530 Middlewich Road and the 'Leighton spine road'.
Is the household waste and recycling centre going to close as a result of the development framework? No, this is an important facility for Crewe. The council's household waste recycling centre at Pyms Lane lies within the long-term ambition for the Bentley campus. However, there are no plans to close this centre and any future change to the facility would have to be consistent with the household waste and recycling requirements of Crewe – and would require a future approval. Will there be any replacement public green space as part of future development? None of the areas identified are currently open public greenspace.
However, any future planning permission could have a requirement for open space.
What will happen to the Bentley Legends sports facility? There is a possibility that this may close over the longer term, however all decisions will need to be made with relevant stakeholders. How can I comment? A questionnaire is available on the website for you to express your views. www.cheshireeast.gov.uk/bentleymasterplan What will happen once the consultation period finishes? The results of the consultation will be collated into a report which will be available on the Cheshire East Website. The report and the Masterplan (revised as necessary) will then be taken back to Cabinet for approval.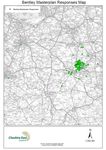 Bentley Motors Development Framework & Masterplan – Consultation Report 8 APPENDIX 5 FULL LIST OF CONSULTATION COMMENTS WITH RESPONSES Bus Routes Representations Received The route should be connected for buses through, and pedestrian and cycle access should be maintained through the site Consideration needs to be given to the bus service 78 which currently serves Pyms Lane and Sunnybank Road - the closure of these roads would lead to some areas losing access to this bus stop which provides important connections to Leighton Hospital, and to schools in Nantwich, Sandbach and Alsager.
To much traffic on Minshull New Road now.
Bus route to Nantwich will have to change Older residents were particularly concerned about the loss of the 78 bus which takes them to the hospital. This bus uses Sunnybank Road and Pyms Lane to access the hospital site. Any re-routing of this bus will make it less accessible to the residents of this area, many of whom are older and do not drive. Parents are also concerned about where school buses will be re-routed. Pupils from this area have to travel to The Oaks Academy which is their designated Secondary school. The bus currently uses Sunnybank Road and then goes on to Pyms Lane.
Also what will happen to the 78 bus service which allows residents of Marshfield estate to get to the hospital etc. easily. Existing bus routes from the Marshfield estate would not be able to use Sunnybank Road where there are a number of elderly people who rely on this service for their everyday needs and also for access to Leighton Hospital That alternative provision is made for ambulances travelling to the hospital and for the number 78 bus route which follows Sunnybank Road and links the estate to Leighton Hospital; Response The bus services have been contacted as part of this consultation, as have the Transport Solution Services.
While any route amendments will need to be considered in conjunction with a detailed planning application it is considered in principle that the bus routes can be amended to ensure that connectivity between the Marshfield Estate and Leighton Hospital remains in place.
Changes to masterplan required No changes proposed as this is a service provision issue. Potential Actions Consulted with TSS over alternative routes that would be available. Will be reviewed in detail in relation to any planning application that is put forward to close the roads but in principle a bus service linking the Marshfield Estate with Leighton Hospital could be maintained. Cemetery Representations Received Concern over access to the Bentley site through a gate at the back of the Cemetery.
Bentley Motors Development Framework & Masterplan – Consultation Report 9 Lastly, there is a concern about the use of the cemetery and maintaining its sanctity.
The artist's impression drawings, that suggested the closure of Pyms Lane and Sunnybank Road, show a road at the rear of the newly built office block which appears to enter the site from a road through the cemetery. The Masterplan shows a planned relief road but this does not seem to match the road on the artist's impression. This concern has been compounded by surveyors who were surveying for the proposed new building for Bentley. Comments too from grave diggers about future uses of the rear of the cemetery e.g a lake, have made residents even more fearful. Residents have loved ones buried there and want to know that it will be respected and not become part of the Bentley plant or have an access road through it.
Response The sanctity of the Cemetery is very important to the people of Crewe, the Council and Bentley Motors. The Masterplan does not directly affect the Cemetery site nor propose access to the site in this location, and the Council will have regard to the sanctity if this site in determining any future planning application. Bentley have not and have no intention of using the cemetery as an access route to the site. Changes to masterplan required No changes proposed as this is a service provision issue. Potential Actions Concerns regarding the interaction of the cemetery and Bentley Motors site have been passed to Bentley Motors and relevant Council Officers.
Car Parking Representations Received Bentley staff also do not utilise the car parks provided and park on the roads. This is unnecessary and frustrating, staff should be encouraged to park within the car parks provided. The major issue with creating a campus is the closing of the roads, and is this really necessary with out alternative provision?
Bentleys employees are already a nuisance to local residents, by hap hazadly parking where ever they want to. 1. Regarding the closure of Sunnybank Rd and Pymms Lane: I have work colleagues who live on the Sunnyband Rd estate, and am aware that Bentley staff park their cars on most roads on this estate, in order to make a 'quick getaway' after work finishes. This is understandable, but very unfair on the residents. All roads leading off Sunnybank Road should be made resident only parking and this should be strictly policed by traffic wardens or Bentley security staff so it is adhered to.
Parking for residents only down Hulme Street and Minshull New Road.
Car parking problems with Bentley workers parking on local roads because it takes to long to get of Bentley car parks. Bentley should be trying to get the respect of locals back and not nailing the final nail in the coffin. Something needs to be done about employees speeding and parking in Minshull New Road and surrounding areas. Try to persuade Bentley to fund an extra car park at the hospital. If sunny bank rd. We're to close it would be a slight inconvenience,but one i would gladly put up with for the future development of Bentley.My concern would be that if a pedestrian access was provided for Bentley employees I and my neighbors have no doubt that our estate would become a CAR PARK! I hope that this would be considered in the future development of Bentley.
If Sunnybank bridge is closed will it still be open for Bentley employees? If it is we can see that all of the roads to the south on the housing estates will be used as a car park for Bentley employees and as a house owner on Primrose Hill this is our main concern. Major concern is for gated area/Minshull New Road/Badger/Pyms Lane HGV parking at gated area if access allowed. Parking of private vehicles workers or reps at access gate. If permits for residents could be discussed.
Bentley Motors Development Framework & Masterplan – Consultation Report 10 Concerns about double yellow lines in front of guide hall, at present we're able to use Bentley car park by side of hall - How that applies if road closed.
Although not within the Bentley planning area, I am a guide leader at the Headquarters at the edge of the planning perimeter. Will we still have access and be allowed to park in the car park at the front of Bentley to the side of the electricity station? If the Sunnybank Road access is closed to car traffic and only have Bentley pedestrians/cycle access then we feel as residents that your staff will park, as they do now, in our residential streets especially Halton Drive, in order to get home quicker at the end of their shifts. If this is the case then we as residents would ask the council to mark the surrounding roads eg Sunnybank Road, Halton Drive, Merrills Ave etc as 'residential parking only' to deter this.
Minshull New Road is a nightmare now so it would be much worse due to these closures and hopefully you have taken this into account and have plans to improve the top end near West Street Current householders are presently plagued by Bentley employees using side streets both as short cuts to the main roads and parking facilities, yet can at least use this road. The closure of it will take away the privilege yet still sill leave the problem; by allowing staff to use the roads, but NOT the public Bentley campus does not mean Bentley estate. The residents of this area do not belong to the company and did not and do not choose or want to live within the campus.
These are our houses and lives and we must be respected. If a Bentley campus is to be created it must contain the Bentley problems. As residents of the surrounding areas we face daily and constant disrespect from Bentley factory workers who do not understand that these are our homes, not their place of work. I.e on multiple occasions we have asked Bentley staff to not park their cars across our streets in front of elderly and disabled residents and we have been firmly told to 'f#%ck off'. There needs to be a mutual respect between the Bentley factory and the neighbourhood if they are to continue to build across our homes.
I live on Minshull new road and the attitude from Bentley motors is awful to us local residents the congestion on the roads is a nightmare we have to plan going out around Bentley coming out otherwise we can't get out of drive , I drive the kids to their school which is on Danes bank avenue and if the road closures goes a head it will put extra miles on my journey which will then put up my insurance premium, and the emergency vehicles need that access as well it seems Bentley and cheshire east council just want to take from us and give nothing in return no : answer to parking no improvements to local area not a thought as most of who is for the closure don't actually live in crewe and it doesn't effect you.
How would you like it if your child became sick and you couldn't get off the drive because a Bentley employee had parked over it and you had to ring school and tell them you were getting a taxi and your trying to get there as quick as possible and yes I'd rang Bentley for help and guess what not a thing was DONE ! And when employee returned later that day he gave nothing but verbal abuse to myself so how are you going to act about this ! !
im a resident of sunnybank road near the bridge they will be closing off my partner has to park her car on the roads as there is no driveway at ours closing the road will cause a lot of issues with residents who park on the road as bentleys will use our road to park on also They do not need to shut roads i live on minshull new road it is a night mare with traffic you get Bentley workers parking on the road they race down here when they finish work I am concerned that if Pyms Lane is closed off to traffic at its Badger Avenue end that Bentley employees will use Minshull New Road as a car park.
Perhaps you could make it residents only parking. I know an option could be double yellow lines but I feel this would be unfair on the residents of Minshull New Road. as im a resident of sunnybank road by where the bridge is i have heard ythey will be closing it off and where my house is i do not have a driveway so have to park on the road and if bentleys close this off it will 100 percent affect us .
Concern over parking by Bentley staff around Minshull New Road. Turning to roads running north-south, Minshull New Road between Pyms Lane and West Street is really a single lane road with large numbers of parked cars. Even buses have had to reverse to avoid gridlock. I have doubts about Bentley's offer to build a residents car park. Aside from residents many surrounding roads are used by Bentley's staff for parking. Both Bentleys and the police have admitted they are powerless to control this. Whether residents would use the off-road parking is open to conjecture and it could not be enforced.
Response Thank you for bringing these concerns to our attention, car parking is provided for Bentley employees on site and this will be emphasised to employees, considerations on deterring employees from parking on residential streets will be considered as part of a highways strategy. Bentley is currently implementing a number of initiatives to alleviate any current parking issues. Recent initiatives implemented by Bentley to alleviate current parking issues include:
Bentley Motors Development Framework & Masterplan – Consultation Report 11  Bentley staff patrolling streets to prevent staff parking.  The installation of "residents parking only" signs on Ashbank Place to alleviate the problems in this area.  In the case of company-leased cars, registration numbers are used to identify the driver and follow up action is taken to prevent reoccurrences.  Over the last past two years Bentley has communicated to all colleagues that they must only park in Bentley car parks while at work. This has been carried out through manager briefings, emails to all users and notices on the company news screens located across site.
The requirement for colleagues and contractors to park in Bentley car parks is included in the company induction for new starters.
A Bentley Cycle to work scheme and new and improved cycle storage to incentivise and encourage sustainable travel.  The implementation of an online car sharing system to encourage shared journeys. Changes to masterplan required Masterplan to be changed to include the Marshfield Estate into the Highways Mitigation measures area, and strengthen the approach to sustainable transport to reduce car parking. Potential Actions This will be determined through the Highways Strategy for any planning application. Bentley Motors to continue to engage staff on these issues. Emergency Representations Received I am also concerned with how the emergency services will be affected in terms of getting access to the surrounding estates, I have an elderly Mother that I look after, so need to be able to get to the hospital quickly if needed.
Huge concern about the amount of traffic that will now have to use Middlewich Road. If an ambulance/fire engine access was needed the present road couldn't cope as the road is too narrow. Make sure Ambulances can get through on new roads How is an ambulance supposed to get to hospital. In addition I have concerns that an alternative route for ambulances will be reduced by closing these roads. 3. Ambulance and Fire services. The closure will also mean that these services could need to travel further to get onto the Estate. Having needed the assistance of the 999 Ambulance Service twice in the past 18 months, we have always travelled down Marshfield Avenue and out on to Sunny Bank Road to go to Leighton.
Middlewich Road in an evening is chaos already, in both directions. Getting off the Estate and anyone wishing to go to Nantwich have to sit in traffic and wait ages, and those going in the other direction once Leighton Hospital Staff finish is a nightmare. I try and plan my days around the arrival and departure of the traffic, which isn't ideal.
This is before emergency service access is considered from Leighton Hospital and how the changes to the road network will impact on response times. Also what happens to the emergency vehicles as if their is an accident on Middlewich road, someone will die ! as the other route down Minshull Road is a nightmare too as only one car at a time can get down there . Very concerned about restricting emergency vehicles route to hospital and the increased length of most journeys from my home. emergency vehicles would be held up.
Bentley Motors Development Framework & Masterplan – Consultation Report 12 If this plan is passed not only is bentleys, but cheshire east are putting lifes at risk, As neather betleys or cheshire east have explained how the emergency.
ambulances are going to get from there station at badger ave to middlewich road and quickly to nantwich, without them having to go down west st, its silly idea there is far more to crewe then bentleys, and there are far more to crewe like nantwich so it about time you thought about them folk and the Disruption that closing pyms lane would bring , , No to proposed closing of any public highways or the Pyms Lane recycling center. On the grounds of limiting acess to Leighton Hospital from our postcode area&limiting acess for emergency services to and from our postcode area.
An unfortunate fact is that to date we have failed to see any of the (three) S.106 improvements as a result of the Parkers Road housing development being granted and this is impacting on 'blue light' access and egress from our Leighton Hospital site, at certain times of the day. Residents are rightly concerned about the closure in terms of the saving of lives. They fear ambulances, which currently use the road to travel to Leighton Hospital, will lose valuable time and lives may be lost. The closure of the roads will mean emergency vehicles will have to use less direct routes. Bentley have consulted with the emergency services but have not disclosed the results of that consultation.
Anecdotal evidence from the meeting would suggest that the closure of these roads would add time to the response time for emergency vehicles. This is a concern to all residents of Crewe, not just those in the immediate area.
It will cause too much inconvenience to the local community, ie causing serious disruption for ambulances, having to take an alternative route to & from the hospital in an emergency & also fire engines. Sunnybank road is the only exit to the north of this Estate so a lot of inconvenience & time,more expense for them to access this side of Crewe. Strongly support the development with the proviso that adequate alternative road improvements are made which both ease existing traffic congestion and prevent future congestion resulting from road closures.
Additionally there needs to be provision to ensure "blue light" services, especially Ambulances to the hospital are not disadvantaged by the road closures.
Improvements ro exisiting roads need to be implemented before any road closures. 2. Emergency vehicles would have less options for accessing Crewe and would therefore result in a less efficient way of dealing with emergencies. Response The emergency services have been consulted as part of this consultation, your comments have been duly noted and dialogue will continue as part of any preparations for a full planning application.
Changes to masterplan required None Potential Actions No further actions required Future Representations Received My only concern is the current political climate and fear that Ill concieved policy & changes (Brexit) pandering to the demands of the the few may alienate foreign investment and talent required to make this happen for the area. Whilst I support the development of a major employer in Crewe I am worried that Cheshire East is becoming too dependent on this one operation. It was not that long ago that there was talk of the new 4x4 being built outside the UK. Thus I am concerned that the ambitions of this company, that may have to change if, for example if Maserati or Aston Martin start to become more appealing to the Bentley buyer, are being put ahead of local needs.
Bentley Motors Development Framework & Masterplan – Consultation Report 13 Whilst I appreciate that Bentley Motors will provide jobs in the short term, it concerns me that when we go through another recession they will lay off all temporary or contract workers because people watching the finances do not buy luxury cars. I hear they are currently using a practice of contract/temp workers and not employing permanent staff which leads credence to this concern. In particular I am interested in the proposal to establish a Museum. Cheshire Archives (Cheshire East/Cheshire West and Chester Council service) is developing proposals to establish a new history centre in Crewe town centre (HLF bid Autumn/Winter 2017) and any proposal which complements this is to be welcomed.
The history centre is to be the home for engineering/manucturing archives from the Crewe area and seeks to bring this core part of the story of the town to life and engage a wide range of residents. The proposal would also seek to develop innovative digital means of engaging with this history and a complementary development would be the opportunity to seek synergies and really push the history of the company and of the area to local people and people further afield.
I attended on of the drop in sessions and found the following. I tend to object due the my comments below:- 2 I believe that Bentley will now be the survival and development of Crewe as there is very little else here any more in the area of manufacture, Once Bombarde go, as it will as it is reducing on a regular basis. Bentley will be the main employer in the area. Response The Council is working hard with stakeholders from across Crewe to ensure a sustainable future for all businesses and communities. We will also be sending this report to the Portfolio Holder and local MP.
Changes to masterplan required None Potential Actions No further actions required Geothermal Representations Received How does this fit with the Geothermal energy initiative that was announced a little while ago.
They appear to occupy the same site? Response The Council is pursuing ambitions for geothermal energy, however the location has not been determined and will be subject to a future planning approvals. Changes to masterplan required None Potential Actions No further actions required Highways Representations Received Very cleverly worded questions to up positive answers in the survey? Grow by all means but do not cause more traffic and longer journey times for everyone to satisfy your own greed (not need)
Bentley Motors Development Framework & Masterplan – Consultation Report 14 Closure of two access roads to the city will be increased car traffic on other roads Crewe have at the moment is congested, we can not drive at normal condition in the city A factory you would be built outside the city Sunny bank road and pyms lane closure is not acceptable. This application should not be accepted I understand the importance of Bentley Motors to the area from a growth and job security perspective, however, I do not think that the repercussions of closing public roads has been carefully thought about or understood.
The traffic around Bentley and the hospital is horrific at certain times of the day and so cutting the choice of journey will only impact on this. I am not sure if the proposed road closures would include closure to emergency vehicles but if it does I honestly think this could be detrimental to health and safety for people living in and around the area. There does not appear to be much to be gained for anybody except Bentley.
Due to the planned proposals for closing Sunnybank road and part of Pyms Lane, what other alternatives are there for private vehicles, public transport and pedestrians to gain access once these closures are in place? How will this effect the residents along Pyms lane and what access to the local amenity tip would be in place. Has the amount of disruption in traffic flow been considered once the two mentioned roads are closed. Has the option of another road to be built along where the brook currently runs, to link up Minshull New Road and Middlewich road been considered? This would also give access to the amenity tip.
If the closures go ahead, are local residents going to be compensated for the upheaval? Why propose to close two important roads in Crewe?
I have grave concerns about the closure of Sunnybank Road and Pyms Lane; this will impact on access to that part of town. It will mean increased traffic and a longer journey on other busy roads in Crewe. Roads such as Minshull New Road already has access and parking issues and the proposed closure of the two roads will impact greatly. Any growth in personnel at Bentley will totally log-jam the already congested roads in the area when Bentley employees leave work at the end of their working day. Surely this will increase the traffic on Minshull New Road, which is already bad enough! People visiting the houses there cannot park now.
I have grave concerns re: Sunny bank road being closed to public as I travel this way to work everyday, the round about by the Beef eater already gets very congested at peak times and now that there will be no other alternative route for me, I will have to come that way. Getting out of work to get to my daughters after school for 5.45 is already an absolute nightmare and with more traffic now having to use middlewhich road, this is going to be horrendous. Also, with the works Network Rail has planned aswell along middlewhich road God only knows I we are going to be able to get to work on time.
Minshull New road is not an option as this is also, very congested with cars double parked all along this road. Why are Bentley being allowed to take over a public road?.
I run a local business with in the area of Bentley. We like them need a strategic plan . It seems that the disruption to traffic on the West side of the Town to accommodate the expansion of Bentley Motors a Globalised company has little consideration for existing businesses or residents. The consultation and Master plan are effectively a PR exercise , with the development already rubber stamped. The increase in traffic on the A532 with the probable parking restrictions will have a direct effect on residents and other businesses in the area. I employ people pay corporation tax like Bentley.
The building of a new link road between the A530 and Minshull New Road in 2032 ? will only exacerbate congestion on this mainly residential road.
Pyms Lane and all roads surrounding it need to be kept open to the public as they form part of the main route to the hospital for those living round the Gainsborough Road area, when either Middlewhich Road or the A532 are blocked for some reason. Our objection to this development is that there will be increasing traffic from Bentley. We live in Badger Avenue and are quite often trapped in our cars by the volume of traffic not allowing us to get out of our cars. There is frequently damage to cars by the pushing through of traffic and we feel things are going to get worse. We have concerns to pedestrians especially children and special need.
I have tried to find out what extra problems this will create They couldn't of picked a worse time with all the major structural work on the surrounding train bridges and this clearly hasn't been thought out by the Council. But this is clearly pointless as the Council clearly have made up their minds to disregard the local say, you can tell this by the way they have worded things on the website and many people who have spoken about it, have bought up the subject 'how much money is the council getting out of this?'!
Just mindful of traffic and rush hour congestion due to road closures, its bad enough!
Bentley Motors Development Framework & Masterplan – Consultation Report 15 I am strongly all for Betley Motors to expand but after reading through all the current documents available regarding "The Masterplan", I do not see anywhere any mention of the detrimental effects on the surrounding local residents who everyday already have to endure the mayhem caused by the massive volume on traffic of workers vehicles and HGV's negotiating the narrow residential road network surrounding the site & main highways.
There have so many Road Traffic incidents, many including children from the local schools, on the residential road network with 95% of them as a result of traffic from the current Bentley Motors Site. The proposed closure of Pyms Lane & Sunnybank Road will undoubtedly cause EVEN MORE chaos for all the local residents surrounding the site, building a new link road we do nothing to alleviate the problem just make it 100 times worse, so with this in mind I STRONGLY OBJECT to the proposed "MasterPlan".
I am very concerned as to how this will affect Minshull new road from the Bentley roundabout to west street this road is already very congested and closing off pyms lane is only going to make it worse. There is a distinct lack of ambition regarding highway development and improvement to support the Bentley plans. The closure of Sunnybank Road to the north of the railway will lead to significant increases of traffic along Minshull New Road. The junction of Sunnybank Road and West Street is adequate, but that for Minshull New Road is extremely restricted as is the width of West Street at this point.
Council should consider by-passing Minshull New Road between West Street and Badger avenue, there is land available to do this, and low value commercial premises at either end could be purchased to allow junctions to be built.
The thing what concerns me is how much more traffic it will create down Badger Ave, I live near the traffic lights that cross Underwood Lane and I have seen wagons mounting the pavement to get pass parked cars and on coming traffic, it's a wonder there hasn't been an accident befor now. Hope there is going to be some sort of way to solve the problem and not create another one Traffic increase around the sounding areas especially down my road. I don't care what Bentley or the council survey says on the local road infrastructure, there will be a major increase in traffic, as there has already been an increase since the new development of the new show room & offices.
I already have trouble as it is getting back and to from work (Leighton Hospital) with the ever increasing traffic, not just cars but also their artic lorries who block up the road and pull out on other cars with no regards to those other road users safety and that can also apply to the staff! It is the most direct route to the main road that links us to the surrounding towns, not just for locals but also emergency services. I have no objection to the growth of Bentley, my objection is to the proposed permanent closure to Sunnybank Road and Pyms Lane. I am a local resident, and I live a few minutes from Bentley, so Sunnybank Road and Pyms Lane are my main route to work at Leighton Hospital.
I believe that the closure will create unnecessary traffic along the other routes to the hospital, especially with the Minshull New Road route going passed the school, which at busy times can be incredibly difficult to get through The Middlewich Road route gets very busy, and this will increase journey times for anyone who works at Leighton You are ruining the infrastructure of Crewe, your job is to make it better.
Pym's Lane is a main route out of Crewe, closing it will force traffic down less suitable roads. Bentley could move their carpark to the old councio depot and expand sideways towards their new showroom instead. Middlewich Road is already bottle necked and now Bentley want to take out the alternative routes. Really ! Getting out of Leighton Hospital is already an absolute nightmare and these proposals will just make it 100% worse, and that it without taking into account all the other traffic using that road. Just because Bentley employs a lot of people does not give them the right to make everyone's life hell and cannot believe that the Council would even consider such a proposal.
They do not need to make it a "Bentley zone" in order to expand. This also does not take into account any further housing developments that may pop up in Crewe. Put the money into supporting the bridge instead. Crewe is about everyone, not just those with money.
I am concerned about the traffic in and around the surrounding area, particularly access from and too Middlewich Road from estates along the North End of Minshull New Road. Plans to put in a new road to the north of the site only gives similar access as is currently provided by Pyms Lane, but the new site will rapidly increase the amount of traffic in that area, incuding a likely hood of more traffic passing Leighton Academy which is already a hotspot area in the morning and mid afternoon. It would also mean that the route past the school would become the primary route for the ambulance service and could cause even more congestion in the area.
Bentley Motors Development Framework & Masterplan – Consultation Report 16 In particular the closure of parts of Pyms Lane and Sunnybank Road to the public will affect those going from Leighton via the Crewe Greenway to Nantwich via foot or cycle. A way needs to be found to allow such foot and cycle traffic to continue Closure of Pyms Lane and Sunny Bank Road to general traffic will cause major congestion along Minsull New Road from the Badger Avenue roundabout to West Street. This road is already too narrow for existing traffic flows and would be the only alternative for traffic wishing to get to the Northern end of West Street from Leighton.
The large number of new houses on Parkers road will only serve to exacerbate this problem. Flowers Lane & Smithy Road roundabout is also extremely busy and queues from the A530 all the way down to the roundabout are common in the evening. A major road improvement for the whole area is essential.
Closing Pyms lane will force traffic for nantwich etc onto the already very busy West St or Bradfield Rd not a good idea ! Why not divert Pyms Lane around the proposed campus ?. Local residents and schools regularly discuss the risks to their children by the sheer volumes of traffic and emergency vehicles in the vacinity of the Bentley site, drive aggressively and far too fast especially on Minshull New road, middlewich road and surrounding side roads. This expansion combined with the rapid increase in new housing development will put pedestrians and cyclist at greater risk and cause traffic chaos.
The area is already choked with vehicles and pollution at peak times, (8am - 9.30am and again between 3pm and 6pm) this is exasperated by the fact that the schools and Bentley all start and finish at similar times. The road closures will also put cyclists and pedestrians at risk as there is no safe alternative route around the proposed site.
The roads in this area are heavily congested and close these two roads is bordering on insanity. Closing of a road in Crewe will create a nightmare. This can be seen every time any road maintenance is carried out. I commute to Leighton Hopsital by bicycle from Wistaston. The increase in traffic around Bentley has made this feel much more hazardous in recent years, and my concern is the new campus will make this situation worse. The closing of Pyms Lane to public traffic will greatly inconvenience us and people living to the east of the factory.This is our main route out of the town and we use it several times a week.
The other 2 main roads out of the north and west of Crewe are already busy ( West Street and Bradfield Road ) and Minshull New Road is always double-parked and therefore difficult to negotiate plus the school traffic on the northern end creates congestion. We are pleased Bentley are doing so well but another solution should be found.Please do not close Pyms Lane.
our only concern is the problem with more traffic on the existing middlewich road. This road is like a car park at some times of the day now and at other times it is almost impossible to get out of your drive because of the heavy traffic. I would object to any plan that would mean an increase of traffic flow onto the middlewich road which already has an impact on my journey time into the hospital at Leighton. Any significant increase would mean me looking for work closer to home. I know this would impact the hospital as it struggles to find workers to fufill a number of positions. I work as a community nurse in Crewe.
By closing Pyms Lane this will cause increased conjestion flowers lane, minshull new road and past Leighton Academy primary school. Traffic around these areas is already extreamly heavy at rush hour. Especially around school drop off times. This section of Minshull new road is often down to single lane due to parking issues in the area. Increased traffic will be dangerous and make an very congested area even more so. It will also make accessing the marshfield estate difficult, again traffic will need to go up minshull new road - again often a single pass road. Emergency access for emergency vehicles will be severley restriced and it will make an already very congested section of crewe worse, especially with all the new developments.
Closing pyms lane to through traffic is a disaster waiting to happen, all the traffic that now uses this route will be diverted down flowers lane, mishull new road.
Fully supportive. However If a link road from A530 connecting the the prosposed Leighton Spine is approved and Bentley have the proposed access point on to the link road, it would mean traffic leaving Bentleys via the link road and then traveling along Minshull New Road , itwould mean there would still be a traffic problem on Minshull Rew Road and would also contibute towards the blocking the access points to leighton Hospital on Smithy Lane. I would therefore suggest that traffic leaving the Bentley campus via the link road is prohibited from turning right onto the link and that all Bentley traffic exiting the site from this access point, should only be allowed to turn left up to the A350 Middlewich Road.
How do we as residents of marshfield est.access badger ave/also refuse centre with out going on to a major road for a short trip. Also buses to Leighton hospital..also do you intend to
Bentley Motors Development Framework & Masterplan – Consultation Report 17 gate sunny bank road bridge for workers in cars to access the new campus or is to be closed to all traffic. Strongly against the closure of Sunny Bank Road, but if road is closed it needs to be closed, it needs to be closed to all motor vehicles, all access. It would be totally unfair for everyone else having to go long way rpund, only for Bentley people to use it at night and morning. Residents on Bilton Way Estate are sick and fed up of Bentley works cutting through estate at high speeds.
If Pyms Lane is closed all, traffic from Bentley side of town ends up going up Minshull New Road and at beginning and end of school day it is already grid locked by parents dropping and picking kids up.
We need clarity on just where all the entrances to the site will. To reduce congestion, off road parking on Minshull New Road, West Street half, West side, behind the houses. Otherwise permit parking should be introduced due to the number of shift start/finish times, the area could be continually congested. To much traffic already on Minshull Road, Look at the bus route to Nantwich As a local home owner I am worried about the increased traffic with the closing of Pyms Lane which will affect Minshull New Road and the response times for the emergency services. The East West senario of traffic at peak times is horrendous.
1 single west east from Rolls Ave is not sufficient due to extra staff now working on site combined with the new proposed housing. Leighton Academy school is already a bottle neck all this needs very careful consideration and not Bentley saying jump and the Council saying how high. What will the traffic be like along West St at the moment it is hoendas will this make it worse Traffic! Traffic! Traffic! If roads close Consideration of the traffic implications along West Street, due to residents and the Church of St Barnabas holding funerals. Parking for West Street, Minshull New Road and Badger Avenue residents only.
Access for the emergency services during peak periods. I object to the road being blocked off on Sunnybank Rd which will allow access for Bentley Staff making Bilton Way and surrounding streets a rat run and I fear even worse than what we have to put up with now.
As I live in Pym's Lane, stopping through traffic would be a benefit to me. However, I cannot see how the present volume of traffic will fit into this plan. Traffic now using Sunnybank Road would be forced down Minshull New Road, which is narrower, clogged with parked cars, and has a difficult exit into West Street. Traffic coming South along Middlewich Road would have to use Flowers Lane or the road opposite Minshull nurseries, both of which are narrow and would not cope. Traffic coming North from Nantwich would go along West Street and up Minshull New Road, or Frank Webb Avenue, also causing major congestion.
You seem to be relying on the nebulous designs for the Leighton West spine road and the West-to-East link road. These are part of the proposed housing development(s) to the North of the cemetery, and there is little sign of them starting. Until traffic flow is sorted, the 'Master plan' is unrealistic. I haven't even mentioned the buses.
Your wording is very clever - people do not object to growth and training - they object to the traffic disruption and utter chaos this will cause. Traffic by Leighton Hospital is bad enough and will get worse if they close off roads As a local resident of Farmleigh Drive. There is already a great amount of traffic on Minshall new road you can't get passed the school now. Traffic at busy times tails back to Farmleigh Drive. I've not against the roads being shut, only that the new relief road should be open first. I also feel Bentley should be the main contributor, as a council tax payer I don't think my money should subside them.
I am also against the closing of Pym's Lane and Sunnybank Road because it provides a major route through from the Ruskin Road and surrounding area to Leighton Hospital which is vital when there are blockages on the Middlewich Road. We need these roads to stay open to get traffic out of the way of emergency vehicles, road works etc.