Designed for Semiconductor Yield Improvement - Printing, Dispensing, Reflow, Cleaning and Thermal Processing Equipment
Page content transcription
If your browser does not render page correctly, please read the page content below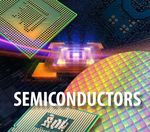 Printing, Dispensing, Reflow, Cleaning
 and Thermal Processing Equipment

Designed for Semiconductor
    Yield Improvement

                             A division of Illinois Tools Works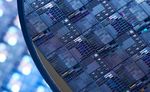 Together in process perfection
ITW EAE brings together the world-leading brands of electronics assembly equipment. Brands
with reputations for advancing process perfection. The combined knowledge and experience
of the ITW EAE group is driving further innovation and speeding the development of next
generation technology. New technology that can dramatically improve productivity and yields
while reducing maintenance and cost of ownership.

In-lined manufacturing for faster delivery
ITW, and all of its divisions, are afforded the opportunity to leverage highly refined manufac-
turing practices that have improved our factory and supply chain operations. This has signifi-
cantly increased our shipment velocities, allowing us to deliver industry leading lead-times
and responsiveness.

Process optimization, training and 24/7 support
We are committed to high-quality products backed by application and process expertise. After
installation we will help optimize your equipment for maximum performance over its lifetime.
We offer operator training, equipment protection and preventative maintenance programs to
ensure 24/7 machine availability. We provide on-site technical support, remote diagnostics,

                                                          Industry 4.0
telephone support and quick access to spare parts.

OpenApps™ for Industry 4.0 interfaces
The operating systems in most ITW EAE equipment feature open architecture source code which
provides customers and third parties the capability of developing custom interfaces in support of
Industry 4.0 initiatives and communication with Manufacturing Execution Systems (MES).
Semiconductor Packaging Solutions

Equipment designed for advanced semiconductor packaging
Advanced packaging and component miniaturization are putting increasingly complex demands on
semiconductor manufacturing that pushes the limits of electronic assembly equipment. Developments
in flip chip packaging, advanced fan-out packages (FOWLP), System in Package technologies and 3D
stacking are being developed to meet next generation market requirements.

ITW EAE plays a major role in semiconductor packaging, including stencil printing solder bumps,
dispensing underfills and encapsulant liquids, thermal processing die attach adhesives, cleaning
before and after wire bonding, solder ball reflow and more. ITW EAE works with the world's leading
semiconductor manufacturers in developing equipment that addresses evolving technical challenges
while also meeting the need for higher throughput, yield and performance.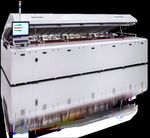 Edison™ Printers

Component miniaturization in the semiconductor market challenges printing equipment with
micro-thin stencil apertures and ultra fine pitch. Stencil printing for advanced semiconductor packaging
applications such wafer bumping, CSPs, BGAs, flip chips and SIPs has been proven as an effective, low
cost solution. The MPM® Edison™ meets these challenges with proven print process capability greater
than 2 Cpk for 0201 metric components. The Edison is the most accurate printer in the market. With a
built-in ±8 micron machine alignment, and ±15 micron wet print accuracy (≥2 Cpk @ 6 sigma, Edison's
wet print accuracy is 25% better than the next best printers.

The most accurate printer in the market,                 Best Performance Closed-loop Squeegee
with advanced technology needed for                      MPM Edison is optimized for ultra-fine pitch
                                                         printing with a transfer efficiency that exceeds
ultra fine pitch and micro aperture                      requirements for the smallest apertures. A single
printing processes                                       high precision load-cell with closed-loop pressure
                                                         control and motor driven system enable precise and
                                                         consistent squeegee force control across the entire
                                                         print stroke in both directions, which helps improve
                                                         yields especially for challenging thin substrate and
                                                         stencil printing applications such as semiconductor
                                                         back-end packaging.

                                                         Optimized Coplanarity
                                                         Innovative machine design achieves ultra-tight
                                                         coplanarity between stencil and substrate enabling
                                                         yield improvement for ultra-thin stencil printing.

                                                         Venturi Adjustable Vacuum System
                                                         The optional venturi high-flow vacuum system holds
                                                         thin substrates securely and flat against the stencil
                                                         which ensures and even more consistent print quality.

                                                   Most Accurate
Designed for Semiconductor Yield Improvement

NEW Paste Height Monitor
The Paste Height Monitor combines advanced soft-
ware and sensor technology to accurately monitor
the paste bead for volume consistency. Upper and
lower limit roll-height monitoring eliminates insuf-
ficient or excess paste volumes. It is a non-contact
solution that can automatically add more paste to the
stencil as it is needed.

Highly Effective Wiping
A super-size 65m paper roll with patented constant
paper tension control, makes 10,000 prints possible
                                                          Key Values of MPM Edison for
before a roll change is needed, reducing downtime
                                                          Semiconductor Manufacturers
                                     and operator
                                     interface.
                                                             The most accurate printer in the market
                                                              
                                     Wiping zone is
                                     isolated from           >2Cpk process capability for 0201 metric
                                     printing zone
                                                             SECS/GEM: ready-made interface package
                                                              
                                     to avoid cross
                                     contamination.          ptimal coplanarity: Innovative machine
                                                              O
                                                              design achieves ultra tight coplanarity
                                                              between stencil and substrate
Unmatched Speed and Throughput
                                                             o print deviation: Single load-cell closed-loop
                                                              N
The Edison has a total throughput that is much
                                                              squeegee-force control eliminates front-to-back
faster than current leading printers due in part
                                                              variation and maintains the set force across
to the highly-efficient parallel processing of the
                                                              the entire board surface
stencil shuttle system, stencil wiping, and vision
alignment system.                                            ighly effective stencil wiping: Patented paper
                                                              H
Faster cycle time leaves room for extra steps that            tension control
improve the quality of semiconductor packaging.              ontamination free print area: Separate wiping
                                                              C
Slower stencil separation for optimal print definition,       and printing zone prevents cross contamination
more frequent wiping and a double print stroke
after wiping all lead to improved quality and yield.         ecured thin substrate for consistent print
                                                              S
                                                              quality: Venturi adjustable vacuum system
Board Staging                                                onsistent printing quality and stencil
                                                              C
Board staging enables three boards in the machine             protection: Large, flat blade-landing zone
simultaneously. Boards are pre-loaded during the
                                                             Minimized changeover: Super-size 65m paper roll
                                                              
                                    print process
                                    resulting in             daptable down to18-inch stencil: Adjustable
                                                              A
                                    reduced trans-            stencil shelf and adapter
                                    fer times and
                                                             Small footprint: Compact design
                                                              
                                    improved cycle
                                    time.                    Industry 4.0 connectivity: OpenApps for
                                                               customizable MES communication interface
Prodigy™ Dispensers

  Camalot offers high-speed, extremely accurate dispensing of underfill and encapsulation molding,
  epoxy adhesives, polymers, photoresist, and flux. Speed, stability, and precision are hallmarks of
  Camalot® Prodigy™ automated dispensing systems. Bedrock stability and advanced 'jetting' tech-
  niques enable the highest level of precision for semiconductor packaging applications. The platform
  design is Semi S2/S8 compliant and can also meet Class 1000 cleanroom requirements by request.

  Innovation, performance and flexibility                      High-Speed and Extremely
                                                               Accurate Dispensing
  designed to meet the needs of                                The Camalot® Prodigy™ dispenser is designed
  semiconductor manufacturers.                                 and built to deliver high-speed, extremely

Smarter, Faster
                                                               accurate dispensing. Advanced linear-drive
                                                               architecture, combined with exceptional frame
                                                               stability enables greater precision at higher
                                                               speeds, resulting in consistently higher yields.
                                                               The Camalot Prodigy boasts a ±35µ 3 Sigma
                                                               dot placement accuracy at full speed.

                                                               Prodigy Dual Lane
                                                               For increased productivity, a dual lane platform
                                                               is available in a compact 830mm wide 4-zone
                                                               system or the larger 1270mm 6-zone system.
                                                               Independent lane width adjustment provides
                                                               the ability to process a wide range of product
                                                               sizes up to 400mm x 254mm.

Designed for Semiconductor Yield Improvement

 IR Temperature Sensors                                                     Automatic Digital Vision Alignment
 A constant product temperature through the dispense process                Powerful optics and processing algorithms
 is critical to ensure process stability and repeatability for under-       allow for sub-pixel definition maximizing
 filling of high I/O count devices such as BGA's, Flip Chips. The           the capability for locating fiducials, and
 new patent-pending IR (Infrared) Temperature Sensors measure               components/pad edges. Fiducial images are
 in "real time" the top-side board temperature which allows the             taught and saved to an onboard library; in
 system to provide closed-loop control to maintain the product              addition, it works as an image recognition
                                                  within the speci-         system so that any unique feature can be used
                                                  fied temperature          for alignment. Camalot's edge detection vision
                                                  range. Tempera-           alignment is the fastest and most accurate
                                                  ture is monitored         positioning method available. A one-snap
                                                  through pre-heat,         operation finds all four edges of a die up to
                                                  dispense heat             25mm square, and automatically adjusts needle
                                                  and post-heat             path for variations in X,Y, and theta placement,
                                                  zones.                    die width, and edge parallelism.

 Advanced pump technology designed by Camalot®
  Dynamic Dual Head (DDH)
  The first and only dual head system that automatically corrects for part to part
  inconsistencies. This patented technology dramatically increases productivity
  with no sacrifice to yield and is compatible with jetting and needle-based pump
  technologies. The DDH option uses an innovative mini XY drive system on a

2 dispensers in one
  second Z-Axis to correct in real-time any part to part variances.

                 Compact, Fast
                         NuJet™
                         "Compact, Fast and Flexible", NuJet eliminates the use of
                         a needle and incorporates a state-of-the-art pneumatic

                    and Flexible
                         actuator that generates an operating frequency of up to
                         300Hz. Controlling the piston with a pneumatic actuator and
                         closed-loop software achieves a high degree of accuracy and
                         repeatability for consistent process results. With a slim-line
                         design and low mass the pumps can be pitched down to
                         28mm apart for optimal dual-head dispensing.

                                   NanoShot™
                                   NanoShot™ offers high speed - up to 600 Hz, and ultra-fine
                                   resolution, with dot sizes < 300 microns, this patent pending
                                   pump features state-of-the-art motion control technology,
                                   simple maintenance and quick changeover.
Reflow
The Centurion™ is a forced-convection reflow system for reflow of ball mounts (bumping) with
tight, closed-loop process control. The patented CATHOX™ (Catalytic Thermal Oxidizer) dramatically
reduces maintenance requirements while keeping a clean process environment that is critical for
Semiconductor processing. It is very effective in removing volatile compounds from the process
tunnel during reflow. In thermal oxidation, organic vapors are converted to hydrocarbons, which
are captured by a filter. With the best heat transfer in the industry, the Centurion is able to run any
profile at the lowest set point possible, which minimizes the thermal differences over the product
and uses less energy.

Best-in-class thermal performance                          Reduced Cost of Ownership
                                                           With an efficient heat transfer design, Centurion
and improved sustainability, meeting                       has a low energy consumption rate. Its reliable
the most critical and demanding                            and robust design, backed by over 20 years of
                                                           experience and capability, ensures high uptime
semiconductor reflow requirements.                         even with the toughest reflow requirements. Our
                                                           patented CATHOX™ (Catalytic Thermal Oxidizer)
                                                           further reduces cost of ownership by reducing
                                                           the maintenance needs through cutting-edge
                                                           flux treatment technology. The new 'idle mode'
                                                           option will further reduce cost of operation.

                                                           Industry-leading
                                                           Thermal Performance
                                                           With Centurion's new design backed by our
                                                           experiences with its prior generations, we
                                                           achieved better thermal transfer even with a
                                                           wider process chamber. Our knowledge and
                                                           experience in process control ensures the
                                                           repeatability across the oven required by the
                                                           most demanding customers and the most
                                                           challenging process requirements in the world.
Designed for Semiconductor Yield Improvement

                                                            Nitrogen Control
                                                            Nitrogen atmosphere is used to reduce oxidation
                                                            of surfaces and minimize voids in the interfaces.
Maintenance and Accessibility                               Centurion's design of chamber in Nitrogen system
                                                            prevents air from getting into the process. It also comes
The patented CATHOX™ (Catalytic Thermal Oxidizer)
                                                            standard with a quick purge system. Optional closed-
dramatically reduces maintenance requirements while
                                                            loop PPM control automatically regulates oxygen levels.
keeping a clean process environment. It is very effective
                                                            Nitrogen recirculation in the Flux Management System
in removing volatile compounds from the process tunnel      significantly reduces nitrogen consumption.
during reflow. In thermal oxidation, organic vapors
are converted to hydrocarbons, which are captured
by a filter. Centurion's design also ensures that when
maintenance is required, you have easy access and can
do the maintenance job with few tools required.

                                                            Traceability, Performance Verification and
                                                            Efficiency
                                                            The Centurion offers smart software solutions that provide
                                                            traceability, performance verification and enhanced
                                                            efficiency. The Management Information System provides
                                                            a log with all settings and actual values for traceability.
                                                            Barcode software has ability to connect to an individual
Closed-Loop Temperature-Controlled                          product and can be used for automatic program
Water Cooling                                               selection. The System Performance Verification System
The Centurion features tight, closed-loop process control
                                                            checks heating elements and fan motors in real-time and
including closed-loop temperature controlled water
                                                            generates an alarm if there is a failure. The new "idle
cooling. This enables semiconductor customers to
                                                            mode" reduces power and nitrogen consumption when
control cooling zones just like heating zones and meets
the special cooling rate requirements for the industry.     the machine is idle reducing power consumption by up to
                                                            35% and nitrogen by up to 40%.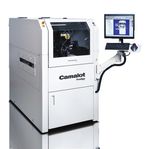 Cleaning Solutions
Electrovert cleaning equipment plays a critical role in semiconductor fabrication and are utilized in
multiple steps, including degreasing, cleaning prior to electroplating and underfill, cleaning after
bumping and wire bonding, and carrier debonding of fan-out packages. Cleaning helps to remove
flux residue, excess adhesive, grease and oils to ensure proper bonding and material distribution and
avoid defects and increase yields. Electrovert cleaners are designed to deal with small, lightweight
semiconductor products such as lead frames, BGAs, wafers and 3D stacked packages.

Designed to provide complete cleaning process
flexibility, superior cleaning and drying perfor-
mance, process monitoring, and reliability.

 Mixed Spray Technology
 The clear advantage of the Aquastorm cleaners is the ability to deliver
 a dynamic combination of chemistry, thermal, and mechanical forms of
 energy at the surface to effectively clean under low stand-off and difficult
 to clean components. Aquastorm utilizes mixed spray technologies
 including high-impact force for tight spaces, oscillating action for low
 pressure applications and complete flooding action for high pressure
 applications. Jet Impact Cleaning with omni-directional spray patterns
 greatly improves cleaning under low-standoff components, and elimi-
 nates shadowing effects. Chemical Isolation provides optimal process
 separation and minimizes chemistry consumption.

 Torrid Zone Drying Technology
 Integrated into the machine cabinet, the Torrid Zone delivers a con-
 trolled dynamic process that effectively removes moisture. Typical
 performance includes drying complex assemblies to within 0.1 gram of
 prewashed dry weight. The technology reduces exhaust requirements by
 44% and uses 15% less power than conventional drying systems.
Designed for Semiconductor Yield Improvement

  Proven Cleaning Performance                                                       Electrovert® Aquastorm® Series
                                                                                    Electrovert Aquastorm is a versatile,
                                                                                    high-performance cleaning system designed
                                                                                    to optimize the your cleaning process while
                                                                                    minimizing overall cost. Precise spray
                                                                                    pressure control for sensitive components
                                                                                    and semiconductor applications. Both the

                                         Versatility
                                                                                    Aquastorm 100 and 200 are ideally suited
                                                                                    to RMA and no-clean de-flux applications
                                                                                    that require chemistry, as well as removal
                                                                                    of water-soluble organic acid flux. It is also
  Electrovert® Aquastorm®                                                           available in stainless steel model.
  FSM (Free Standing Module)
  Aquastorm FSM is a free standing
  additional wash section that can be
  added to any existing in-line cleaning
  process. It is available for a 'straight DI'
  or 'chemical wash with chemical
  isolation' processes.

Lead-Free Process Ready                                                            Electrovert® Aquastorm® 60
                                                                                   Aquastorm 60 in-line cleaning system is ideal
                                    Electrovert® Aquastorm® 50                     for semiconductor cleaning applications in
                                    Aquastorm 50 batch cleaner utilizes            which the manufacturing volume has out-
                                    the same advanced cleaning technol-            grown the capability of a batch type cleaner
                                    ogies found in the Aquastorm in-line           and/or lack the floor space requirements of a
                                    cleaners in a batch footprint.                 typical in-line cleaner. For straight DI aque-
                                                                                   ous cleaning applications the total length is
                                                                                   6'9" (2103 mm) and for chemistry based appli-
                                                                                   cations the total length is 9'3" (2844 mm).

                                                 MicroCel™ centrifugal cleaning system
                                                 The MicroCel cleaner uses centrifugal
                                                 energy for unparalleled penetration,
                                                 solubilization and containment
                                                 removal for advanced packages
                                                 including flip chips, MCMs, SIPs, BGAs,
                                                 CSPs, and hybrid electronics.
Thermal Processing
    Despatch ovens provide clean process, low oxygen, fast cycle curing of adhesives and polymers used
    in high-volume semiconductor packaging and assembly. Despatch ovens have superior temperature
    uniformity of ± 0.5% of setpoint and offer SEMI S2/S8, CE, and SECS/GEM communication. Low partic-
    ulate environmental controls protect from contamination and low oxygen levels prevent oxidation.
    Despatch ovens are used for adhesive bonding and curing, encapsulant curing, underfill curing of
    CMOS optical sensors, die attach and BGA, B-stage adhesive curing, polyimide curing, metallic thin
    film annealing, and photoresist curing.

    Clean process ovens designed for polyimide baking and curing applications
    The Despatch PCO2-14™ electrically heated oven was designed                                              Process Monitoring System:
    to meet the specific process requirements for hard baking poly-                                          The oven features Protocol 3™ software to allow
    imide coatings in an inert atmosphere. This high-performance,                                            for communication between the PC and the oven,
    clean process oven (ISO Class 5/Class 100 recirculated airflow)                                          an Ethernet connection and a 15" (38.1cm) flat
    offers many unique components, including a pressure relief                                               panel display screen. The software communicates
    system, an oxygen control system and a process monitoring                                                directly with the oven's Protocol 3™ controller,
    system which allows the oven to achieve the strict oxygen level                                          O2 controller, O2 monitor and integrated PC to
    and atmospheric requirements involved in polyimide curing.                                               observe and data log entire cycles and provide
                                                                                                             the user with real-time information on set points,
    Pressure Relief System: In the "hard bake" polyimide                                                     actual chamber temperatures and O2 levels
    cure process, residual solvent is removed and desired surface                                            throughout the entire process.
    properties are finalized. The process of removing solvents
    requires that the oven contain equipment to help prevent and
    collect solvent condensation. Despatch designed the PCO2-14™
    with a pressure relief system that includes a removable "cold
    trap", an easy-to-clean condensate trap that helps to prevent
    polyimide buildup in the oven's exhaust.

    Oxygen Monitor and Control System:
    The PCO2-14™ is an inert atmosphere oven which allows the
    oxygen level to be maintained at 20ppm or less to help prevent
    oxidation of the polyimides being cured. The oven contains
    an O2 monitor which is wired to the purge valve and turns the
    nitrogen purge on whenever the oxygen level is above the O2
    monitor set point. Once the nitrogen purge is complete, the O2
    level is maintained at a set point by a controller that operates a
    modulating valve during the curing process. This process mini-
    mizes the nitrogen usage and allows for consistent and repeat-
    able product curing.

ITW EAE is a division of Illinois Tool Works, Inc. It is a consolidation of all of its Electronic Assembly
Equipment and Thermal Processing Technology. The group includes world-class products from MPM,
Camalot, Electrovert, Vitronics Soltec and Despatch.

© 2020 ITW all rights reserved. EAE Overview 08-20                     www.itweae.com