Glen Canyon Dam Low-Head Hydropower Modifications
Page content transcription
If your browser does not render page correctly, please read the page content below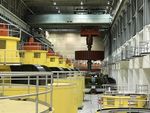 Background: Glen Canyon Dam and Powerplant

              Lake Powell
              23,314,000 ac-ft

                      Spillways
            Intakes

                      Powerplant
                            River Outlets

                             Spillway Flip
                             Buckets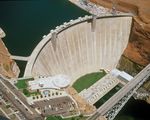 Background: Glen Canyon
Dam
• ROW centerline = 3,374'
  • 30' above designer's estimated
    100-year silt level

• Penstock centerline = 3,470'
  • 45' above designer's estimated
    150-year silt level

• Current silt level of forebay
  is ~3,200'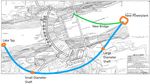 Background: Value Analysis

• Reclamation's Value Program
• Systematic process of reviewing and analyzing the requirements and
  functions of…
  • Facilities
  • Projects
  • Systems
  • Etc.
• Value planning study
  • conducted at the conceptual stage
  • considers various alternatives to meet the identified needs
  • Alternative(s) selected for further analysis/study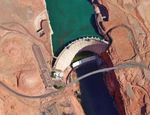 Background: P.L. 117-43

• Extending Government Funding and Delivering Emergency Assistance
  Act
• Reclamation received $200 million for Addressing Drought in the
  West
 • Glen Canyon Bypass and Intake Generation Appraisal Studies due to drought
   conditions - $2 million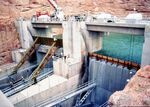 Purpose and Needs
• Develop alternatives to address concerns with
  power generation and water releases at Glen
  Canyon Dam and Powerplant.

• Power revenue from Glen Canyon funds
  Reclamation and WAPA programs.

• Annual releases are determined by Interim
  Guidelines, and per the Law of the River.

• The Minimum Power Pool (MPP) is set based
  on the existing penstock elevations.

• Ongoing western drought is decreasing the
  water pool elevation, and increasing the risk
  of dropping below the MPP.

• The current pool elevation of Lake Powell
  (3522.85) is more than 177 feet below full and
  32 ft above MPP.
Alternatives
1.    New intakes through Glen Canyon Dam
     a)   Low-Level Power Intake with New Low Head Runners
     b)   Mid-Level Power Intake with Existing Runners
2. Outlet Works Powerplant
     a)   New Powerplant, 2 Units
     b)   Existing Powerplant connection
3. Abutment Powerplant
     a)   Left Abutment Underground Powerplant
     b)   Right Abutment In-River Powerplant
4. Adjust Colorado River Basin Operations
5. Refine MPP Operating Limit
6. Invest in Solar or Wind Generation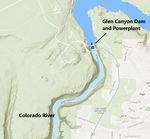 Alternatives discussed but not further considered
• Remove river diversion tunnel plug(s)
  • Downstream sections incorporated into spillway tunnels
  • Inlets buried in sediment (41-ft diameter tunnels)
       • Right invert (bottom) elevation – 3,137.37 feet
       • Left invert (bottom) elevation – 3,170.67 feet
  • Sediment could damage tunnel lining, penstocks, wicket gates, turbine runners
• Modify 2007 interim guidelines
  • Independent effort, already underway
• Re-operate upstream reservoirs
  • Insufficient storage capacity, only a temporary reprieve
• Low level outlet works
  • No power generation, can be incorporated into other alternatives
Alternative 1a: Low-Level Power Intake - New Low Head Runners
Description:
Penetrate through the dam, intake located in current
dead pool, connect to existing penstocks downstream of
the dam. Use existing power generating units with
installation of new low-head runners.
Considerations:
•   New intake @ 3285 ft (or other elevation)
•   Up to 185 ft additional operating range                 Emergency Gate

•   Requires at least 4 units
•   New guard gate and trash rack required
•   Increased risk from penetration through dam
Alternative 1b: Mid-Level Power Intake - Existing Runners
Description:
• (4) new Mid-Level intakes
• Connects to existing penstocks
• Extended Gate/Trashrack

Considerations:
• Uses existing turbine runners and power
  plant
• Operation of power plant limited to elev.
  3445
• New guard gate and trash rack required
• Increased risk from penetration through
  dam
Alternative 2a: Bypass Powerplant (New) – Outlet Works
Description:
• Artist's rendering with PP sited at left
  abutment, near Machine Shop & river OW.
• Four conduits provide flow to new units with
  two conduits providing flow to each unit.
• Extend river OW downstream.

Considerations:
• Releases either through power plant or ROW
  only, not both
• High velocity = large friction loss
• Deep excavation (~100 ft) for substructure
• Low level release provides operational
  flexibility
Alternative 2b: Powerplant (Existing) – Outlet Works
 Description:
 • Use the existing infrastructure (as much as
   possible)
 • Connect 2 of the ROW conduits to existing
   penstocks

 Considerations:
 • Requires bypass operation in addition to power
   plant releases to meet 2007 IG release volumes
 • High head loss requires low-head runners
 • Limited space for construction
Alternative 3a: Left Abutment Underground Powerplant
Description:
• Tunnel through left abutment
• Underground power plant

Considerations:
• Penstock and power plant size can be
  designed to maximize water/power
• Rock mechanics, seepage control,
  construction underground, maintenance,
  cost
• Low level release provides operational
  flexibility
• Increased capacity for HFEs
Alternative 3b: Right Abutment Powerplant
Description:
• Tunnel through right abutment
• Power plant in river bed

Considerations
• Penstock and power plant size can
  be designed to maximize
  water/power
• Rock mechanics, construction in
  river, maintenance, cost
• Low level release provides
  operational flexibility
• Increased capacity for HFEs
Alternative 4: Adjust Colorado
Basin Operations
Description:
Adjust operations on a system-wide basis (Glen
Canyon and Hoover) to maximize power generation
under low flow conditions using existing
infrastructure.

Considerations
• Potentially addressed by ongoing SEIS and post-2026 guidelines efforts
• Lower infrastructure investment
• Does not address lost revenue if no generation below MPP
Alternative 5: Refine MPP Operating Limit

Description:
  • MPP probably due to vortex formation as intake submergence is
    reduced
  • Modeling to simulate flows at reservoir levels approaching and below
    the MPP
  • Potential addition of vortex-suppressing structures

Considerations:
  •   Limited operational benefit, not greater than elev. 3477.5
  •   No structural modifications
  •   Modeling efforts are underway
  •   Low cost
Alternative 6: Invest in Solar or Wind Generation
Description:
• Invest in other renewable energy sources to augment hydro power resources

Considerations:
•   Scalable
•   Requires large land areas
•   Authority – CRSP only authorizes hydropower
•   Expertise – this is not Reclamation's expertise
•   Can be developed independent of Reclamation
     • Customers exploring options
Power Generation and Flow
GCD Maximum Flows
Alternative          Maximum flow,   Maximum flow,   Power Plant flow,   Power Plant flow,
                     >3,490          3,490
Non-power generation considerations
Alternative          Power intake    Augment normal     Increased         Flexibility for water quality
                     elevation       release w/colder   maximum           (dissolved oxygen or other)
                                     water              discharge
Current              3,470           No                 No                No
Alt. 1a (low level   3,285 (or per   Yes                No                Yes
intake)              design)
Alt 1b (mid-level    3,425           Yes                No                Yes
intake)
Alt 2a (bypass power 3,374           Yes                No (>powerplant   Yes
plant)                                                  max discharge)
Alt 2b (ROW to       3,374           Yes                No (>powerplant   Yes
existing PP)                                            max discharge)
Alt 3a & b           3,370 (or per   Yes                Yes               Yes
(abutment PPs)       design)
Other considerations

  • Authority
  • Costs: capital, life cycle and O&M
  • Construction time-line
  • Repayment
  • Environmental opportunities & impacts
    • Temperature
    • Capacity for HFEs
    • Dissolved oxygen & other water quality considerations
Next Steps

  Where do we go from here?

  • Partner and stakeholder briefings
  • Select alternative(s) (spring 2023)
  • Appraisal Study (Reclamation TSC)
    • Schedule: 2023-2024
    • $2M from 2022 CR drought funding
    • Stakeholder participation and input
Next Steps

  Authority and funding would be required to proceed beyond
  appraisal

  • Planning continued…
    • Feasibility Study
    • NEPA
  • Design
  • Construction
  • Operation
QUESTIONS?

Nick Williams
UCB Region Power Manager
(801) 524-3745
nwilliams@usbr.gov