Green Walls
If your browser does not support JavaScript, please read the page content below:
Green Walls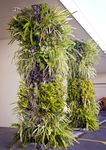 NATURAL HABITATS GREEN WALLS EXPRESSION OF INTEREST PAGE 1 Profile 2 Capability Statement 3 Green Walls 4 Benefits of Green Walls 5 Commercial Green Walls Britomart East Complex 6 Geyser Green Wall 8 Novotel Hotel 10 The Departement store 12 Goodman Offices 14 Puzzling World 16 Residential Green Walls Jeffares 18 Parnell Green Wall 20 St Marks 21 Retail Green Walls Kathleen Kilgour Centre 22 The Village Goldsmith 24 Icebreaker 26 Herne Bay Pharmacy 27 Ponsonby Ultrasound Thin Wall 28 Newshoots Green Blades 30 Civic Green Walls Balclutha Green Wall 32 Wellington City Square 34 Key Personnel 36 Contents
Capability Statement NATURAL HABITATS GREEN WALLS EXPRESSION OF INTEREST NATURAL HABITATS GREEN WALLS EXPRESSION OF INTEREST PAGE PAGE 2 3 Natural Habitats is considered to be at the forefront of environmental innovation, especially in the field of green technology. We strive to make our country greener through ecological and intelligent design. After installing one of Auckland's first large Green Roofs back in 1994, we went on to design and install this country's first Green Wall. We have since been involved in the design and construction of numerous successful green technology projects throughout New Zealand that have stood the test of time.
Our innovations include: Green Walls, Green Blades, Green Screens and Green Roofs featuring our 'EcoPillow' technology. New Zealand is waking up to the advantages of a living skin on buildings and Natural Habitats' green technology is at the leading edge of contemporary landscape design and environmental solutions. Testimonial ""Good design is obvious. Great design is transparent." Joe Sparano Over the last 35 years, Natural Habitats has been renowned for the design, construction and maintenance of landscapes for many of our country's iconic projects.
The success of working with New Zealand's leading building architects, engineers, landscape architects, craftspeople and urban planners for grand results, and the trust we have won with our clients, has been the foundation which has enabled us to build the leading integrated landscape company in the South Pacific.
At the heart of our company is the landscape design team acknowledged for its award winning landscapes including stand-out bespoke design features. Over the past three decades our peers have bestowed more awards on us than any other landscape company in New Zealand including the 2018 Registered Master Landscapers awards where our residential and commercial projects were bestowed with 14 awards – including a premier award for Best Sustainable Project of the year.
Across design, construction and horticulture, the tally is more awards than any other landscaping company in the country. Working from hubs in Auckland, the Waikato, Wellington as well as Christchurch and Central Otago, our nationwide team of more than 100 staff includes experienced landscape architects and designers, horticulturists, gardeners, arborists, landscapers and environmentalists. Together we have a great pride in the quality of our work from initial design input, to build right through to landscape maintenance to ensure our landscapes achieve their full potential as intended by our clients and designers.
That focus on quality work comes from developing our staff to reach their full potential by actively providing training and employment growth opportunities. We have earned the respect of iwi around our significant projects by having an active recruitment and training programme of Maori youth to be employed on these projects. We are also recognised as being leaders in green technology such as green walls and roofs. We designed and built New Zealand's first substantial green roof back in 1995, and have gone onto design and build the largest, as well as intimate, green walls in commercial and residential spaces.
We have even designed and built the southern-most green wall in the world for the Balclutha District Council!
Please browse through our profile to see some of our projects that we have been proud to be involved with. To find out more about us, feel free to visit our website. We look forward to creating grand gardens for you. Natural Habitats Profile
NATURAL HABITATS GREEN WALLS EXPRESSION OF INTEREST NATURAL HABITATS GREEN WALLS EXPRESSION OF INTEREST PAGE PAGE 4 5 Green Walls Green Walls are an innovative way of greening a vertical surface, they increase visual amenity, have proven to have considerable health benefits, contribute towards your green star rating and increase the overall value of your development.
They make a bold visual statement, which will assist you in branding yourself as a leader in sustainability. Our Green Walls are a unique lightweight, automated system. Each panel is fully irrigated and fertigiated allowing for easy maintenance and flexible sizing.
As our Green Walls have no soil, it should not to be confused with a vine growing frame. Having no soil is the principle reason that it is relatively lightweight. The panels are made from Marine grade aluminium and are manufactured to last. Our Green Walls have been certified by Auckland Council. Architects, engineers and developers trust them in multistorey environments. Benefits of Green Walls • Enhanced employee productivity (up to 12% increase) • Results in higher tenant demand and retention • Increases building value • Green star rating points • Savings on energy due to increased thermal innsulation • Cleaner air by absorbing carbon dioxide and releasing oxygen, as well as removing toxic substances from air such as formaldehyde, benzenm and trichloreothylene commonly found in modern buildings.
• Used as a vertical wetland to polish grey and/or black water • Noise dampening • Carbon capture • Enhanced public perception of the company (green branding) • Healthier building and people • Space saving Testimonials "The Green Wall has been the single most outstanding feature of our new work environment. It causes people to stop and take time out to look at the detail of it, which is extremely important in an otherwise rushed corporate environment." Office worker, Britomart East Complex
NATURAL HABITATS GREEN WALLS EXPRESSION OF INTEREST PAGE 7 BRITOMART EAST COMPLEX Location: Britomart Auckland Client: Cooper and Company These eco-artworks are the focal point of the atrium on Takutai in the Britomart precinct. The living walls line the east and west end walls and integrate seamlessly into the building fabric. The 60 custom made panels are an ideal light weight solution to the question of how to differentiate the complex's interior aesthetic. • Natural Habitats extensive expertise in building and maintaining green walls • We can develop green walls on a large scale - largest in NZ!
• The positive benefits green walls offer: improved air quality, acoustics and thermal performance • Green walls not only improve the buildings value, rent received and green star ratings, but they also give office occupants a sense of connection with the natural environment Testimonials "Silver in Garden Management for 'Britomart Greenwall': "a very attractive piece of living art that brings life to an interior commercial space. It is noteworthy that this wall has performed well (and consistently) for several years)." Landscape distinction award, 2014 Green Walls - Commercial
NATURAL HABITATS GREEN WALLS EXPRESSION OF INTEREST PAGE 9 GEYSER GREEN WALL Location: Parnell, Auckland Architect: Patterson Associates LTD Natural Habitats designed and installed this south facing Green Wall onto NZ's first six-star green rated building.
Twenty NZ native species were selected accordingly, so 'light loving' plants were positioned at the top and 'cool shade' species at the bottom. In total there were 2086 plants used, many which are not typically used in landscaping, including the rare Jovellana sinclairii. Geyser also won Best in Category for 2013 NZ Property Award: Green Building. • Natural Habitats are NZ leaders in Green Technology winning Premier Awards for 'Best Commercial Landscape' and 'Special Feature Project' at the 2014 Landscapes of Distinction Awards • NZ native species can thrive in Green Walls • The automated system, which uses harvested rain water, has no soil making it lightweight and stable in the long term • Natural Habitats modular structure enables ease of installation with no structure design or construction required Testimonials "Very original blend of horticultural innovation and aesthetics.
This Green Wall represents progress in the use of the indigenous plants within that technology. It integrates beautifully into the building and contributes tangibly to the courtyard." Judges comments for the Landscaping new zealand Landscapes of distinction awards, 2014 Green Walls - Commercial
NATURAL HABITATS GREEN WALLS EXPRESSION OF INTEREST PAGE 11 NOVOTEL HOTEL Location: Airport , Auckland Client: Auckland Airport The Green Wall was intended to complement the Novotel's distinctive New Zealand theme and act as a focus for the bar area. The 60m2 of vertical vegetation provides both visual interest and environmental benefits, creating a more comfortable environment to work and relax in. In keeping with the hotel's New Zealand theme, our Green Wall features an array of native New Zealand flora. The Wall also has special significance to Tainui, who were a partner in the hotel's development.
Nestled within the wall is Winika cunninghamii - an epiphytic orchid. This orchid grew on a Totara, which was used to make the hull of a sacred waka belonging to Tainui people. They named the canoe Te Winika, after the orchid.
• Green Walls can improve indoor air quality by removing air pollutants and improving humidity levels from air- conditioning • How cultural sensitivities can be incorporated into the Green Walls Testimonials "It's great, really like it." Project Manager, Greenstone Group Green Walls - Commercial
NATURAL HABITATS GREEN WALLS EXPRESSION OF INTEREST PAGE 13 THE DEPARTEMENT STORE Location: Takapuna, Auckland Client: Stephen Marr The centre piece of the Stephen Marr salon on the top floor of the Department is 10 metres long by 2 metres high and boasts well over 2000 individual plants.
The lush wall divides the upper level, promoting unique spaces that can be used for presentations such as fashion shows. The building has had skylights installed to ensure the wall is given as much natural light as possible, and the use of supplementary man-made lighting is kept at a minimum. The investment into this original and breathtaking piece of artwork, aside from supporting Marr's 'green' stance, is a powerful branding exercise.
• New Zealand's first two sided interior Green Wall installed in 2009 Testimonials Number One Retail Concept Store in the world for The Department Store Monocle Magazine Global Retail and Service, April 2010 "Since the inception of the wall in 2009 we have seen a consistently high standard of performance from Natural Habitats in terms of quality, and maintenance. The wall continuously receives both praise and attention." Stephen Marr Green Walls - Commercial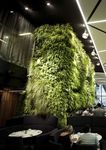 NATURAL HABITATS GREEN WALLS EXPRESSION OF INTEREST PAGE 15 GOODMANN OFFICES Location: Queen St , Auckland Architect: Jasmax Interiors The Goodman NZ office, on the main street in Auckland, boasts four floor-to-ceiling Green Walls, including a two-storied wall in the foyer.
Opaque glass panels silhouette the Green Walls so occupants in the project spaces behind can also enjoy the green ambience. The Green Walls create an oxygenated office environment. • The lushness and fresh feeling, green walls can bring to an office 28 stories up • Green walls become a centre piece of the room • Green walls can still flourish in low light buildings, through careful plant selection Testimonials "The Green Walls create a lovely environment to work in and are often complimented by visitors." Ruth Westlake, Goodman Office Manager Green Walls - Commercial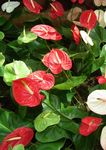 NATURAL HABITATS GREEN WALLS EXPRESSION OF INTEREST PAGE 17 PUZZLING WORLD Location: Wanaka Architect: Jasmax Interiors Puzzling World has been entertaining visitors for over 40 years, and is set amongst 7 acres of rolling lawns, trees and gardens at the entrance to Wanaka. Natural Habitats brief from Sarah Scott Architects, was to construct a curved Green Wall backdrop for Puzzling World's 'Impossible Tap Sculpture'. The modular Green Walls were assembled in Auckland and trucked via a palletised system to Wanaka, where Natural Habitat's staff met the truck and installed the walls.
• Our ability to translate an architects concept into a green wall centre piece • How portable our green wall modular system is • Natural Habitats have developed a comprehensive maintenance manual to support green wall selfcare for remote locations Testimonials "Our intention from the outset was to create a lush, garden environment and incorporate natural light in an awe-inspiring setting.
Our Green Wall certainly meets this brief." Duncan Spear, Marketing/ Operations Manager, Puzzling World Green Walls - Commercial
NATURAL HABITATS GREEN WALLS EXPRESSION OF INTEREST PAGE 19 JEFFARES Location: Freemans Bay, Auckland Client: Peter and Nicola Jeffares Our clients have recently downsized to apartment living and wanted an outdoor space where they could entertain their guests whilst unwind over the amazing views of Auckland city and harbour. Using this as a tool, we looked to capture the space through bold and minimalist design notions that created a sense of drama and accentuated views. The green wall not only acts as a visual amenity to our clients roof top balcony but aids in blocking out the negative views of Auckland city by buffering the foreground views of rooftops to frame the magnificent harbour in the distance, essentially creating a green horizon.
• How it can add to the visual amenity of a confined space whilst enhancing magnificent views • Acting as a buffer to block out negative views Testimonials "The feeling you get when you first walk into the space is 'WOW'. then you realise where you are and what you are looking at. The idea behind the garden is to not take away from the amazing views of Auckland City and Harbour but to enhance and dramatise it" Jasone O'Toole Senior designer, Natural Habitats "If you sit here (in the apartment's kitchen) and look out that way, it's like you're in the forest." Peter Jeffares Green Walls - Residential
NATURAL HABITATS GREEN WALLS EXPRESSION OF INTEREST NATURAL HABITATS GREEN WALLS EXPRESSION OF INTEREST PAGE PAGE 20 21 RESIDENTIAL GREEN WALL Location: Parnell, Auckland Client: CPRW Fisher Ltd A Green Wall installed by Natural Habitats on a limestone brick Parnell residence features many plants from the Hauraki Gulf Islands, including a rare Pimelia which grows on limestone rocks. • Effectiveness of Green Walls as a residential art piece • Success with growing offsite, then installing Green Walls - Residential ST MARKS Green walls earn St Marks' development NZ's first Homestar Innovation Point Location: New Market, Auckland Client: John Harman Soaring five storey green walls have earned St Mark's luxury apartments New Zealand's first Homestar Innovation Point from the New Zealand Green Building Council.
The series of three green walls will also make up the tallest and one of the largest green walls in the country at more than 330 square metres. With more than 5000 predominately native plants, the walls' design pattern features organic swathes of largely native plants with explosions of seasonal colour change. Being installed on inner walls of the development, the vision of property developer John Harman was for a central communal green area to offer a relaxed space for social connection and provide a high quality landscaped ecological and visual amenity Testimonials "Apart from visual benefits for the development's residents, visitors and neighbours, the green walls also will have ecological benefits." Mel Robinson Landscape architect, Natural Habitats.
"The green walls provide a wonderful visual appeal for residents of the rear apartment," says Mr. Harman. "Rather than looking at glass and concrete, they will be enjoying an ever changing landscape of exciting colour and structure." Mr. Harman,XXX Green Walls - Residential
NATURAL HABITATS GREEN WALLS EXPRESSION OF INTEREST PAGE 23 KATHLEEN KILGOUR Location: Tauranga, Bay of Plenty Client: Kathleen Kilgour Centre The Kathleen Kilgour Centre is a private hospital in Tauranga Hospital grounds and is a world class radiation treatment facility for both public and privately-funded cancer patients in the Bay of Plenty.
Mark Fraundorfer, the Centre's managing director and project head, said that the building is a real statement. One of Dr Fraundorfer's favourite features is the fourteen metre high living Green Wall in the atrium which changes its appearance hroughout the year and the plants contribute to the quality of the air within the centre. It is seen as an integral part of the treatment by making the patient experience as comfortable as possible. Created and maintained by Natural Habitats, the Green Wall is an iconic backdrop to the reception area, which patients actually walk through to their consultation rooms.
Linking all three levels is a glass atrium that contains the living wall of plants - 70m² in size. It is fed by six irrigation zones and is highlighted by mega- lighting, which is important for the growth of this interior wall. The 3780 plants that make up the Green Wall are a mix of natives and exotic species to create a soothing, natural effect in the translucent panelled building. Testimonials "It is state of the art and functional, but the centre also creates a positive environment for patients, and there is a real focus on sustainability with climate control, rainwater harvesting and the Green Wall," Mark Read, Senior Designer at Green Walls - Retail
NATURAL HABITATS GREEN WALLS EXPRESSION OF INTEREST PAGE 25 THE VILLAGE GOLDSMITH Location: Downtown, Wellington Client: Ian Douglas / The Village Goldsmith Ever since Village Goldsmith founder Ian Douglas saw his first green wall in Hong Kong, he knew he wanted to incorporate one in the refit of his business premises. After seeing our Green Wall in Civic Square Wellington he got in touch, convinced that Natural Habitats had the experience to achieve what he wanted. Natural Habitats' green wall experts took colour cues from the shop fittings, using plants to accentuate the store's gold and copper elements.
Adjacent is an oversized mirror in a copper frame which doubles the impact of the green wall. The effect is simply breathaking.
• How effective a Green Wall can be at bringing customers through the door in a retail environment - it gets people talking! • How to add a unique edge to your business, and create a healthy and inviting space for customers and staff • The bespoke approach Natural Habitats takes with each green wall recreated Testimonials "The response has been fantastic – it literally stops people in their tracks. We've had people deviate from their journeys on the other side of the road, just to come in and look at it. Almost without exception, people comment on how much they love it, and it's one of their favourite aspects of our new fit-out.
In terms of advertising, it's better than a flashing neon sign!" Ian Douglas, Founder, The Village Goldsmith Green Walls - Retail
NATURAL HABITATS GREEN WALLS EXPRESSION OF INTEREST NATURAL HABITATS GREEN WALLS EXPRESSION OF INTEREST PAGE PAGE 26 27 ICEBREAKER'S FIRST GREEN WALL Location:Riccarton, Christchurch Client: Icebreaker Using our new "thin wall" system for installing green walls, Icebreaker's Riccarton store now has a 1.2 wide floor to ceiling green wall that is attracting a lot of attention with passers-by. The wall features mainly NZ native plants particularly fern varieties and ground covering type plants.
In keeping with the Icebreaker outdoor clothing style, the wall looks like a bit of a green bank or rock face like you might find in the NZ bush.
The benefits of the 'thin wall' system is the slim profile of the support frame, its ease of install, lower cost, and it's also very flexible in size and shape. The green wall has had such a positive impact with customers that Icebreaker is planning to install more in other NZ and Australian stores. Testimonials "The wall is incredible! It's what Icebreaker and NZ is all about, being active in nature. Simply put, it's a showstopper." Lee Burnham, store manager Green Walls - Retail HERNE BAY PHARMACY Location: Herne Bay, Auckland Client: Geraldine Pillips It's amazing the effect that a green wall has had in the Herne Bay Pharmacy.
Measuring just 3m long by one metre high and containing a range of indoor plants, customers just love it and it makes them feel more relaxed and tranquil. Testimonials "You can feel that the air feels cooler and nicer," says Geraldine. "It's growing like mad and it's great to have something green to look at rather than just a wall. We've put a sign outside to come in and see our green wall. At first our customers didn't think it was real, and now they come in especially to look at it!" Geraldine Phillips, Pharmacy's owner Green Walls - Retail
NATURAL HABITATS GREEN WALLS EXPRESSION OF INTEREST PAGE 29 Green Walls - Medical Centres PONSONBY ULTRASOUND THIN WALL Location: Ponsonby, Auckland Client: Horizon Radiology Group Ponsonby Ultrasound on Ponsonby Rd is the first in Auckland to use our new thin green wall system. The wall was installed very quickly and was planted onsite by Natural Habitats' Green Wall experts using a mix of exotic species to create colour, texture and year round appeal. It fills the space beautifully and is flourishing after being installed in its new home. What's more, the owner and clients love it.
• Innovative technology with Natural Habitat's new thin profile green wall system • Responsive solutions to individual client needs Testimonials "The feedback has been enormous, people just love it, which I knew they would!" Mary Gordon, Manager Director, Horizon Radiology Group
NATURAL HABITATS GREEN WALLS EXPRESSION OF INTEREST PAGE 31 NEWSHOOTS GREEN BLADES Location: Albany, Auckland Client: Newshoots Natural Habitats brief was to create an inviting entrance to a new childcare centre. We created two 3-D free standing green pillars. • A cost effective alternative to a complete wall cladding Green Walls - Childcare
NATURAL HABITATS GREEN WALLS EXPRESSION OF INTEREST PAGE 33 BALCLUTHA GREEN WALL Location: Balclutha, Otago Client: Clutha District Council In just two days, a bare concrete wall in Balclutha's newly developed civic square was transformed into a living teaching tool, much to the delight of South Otago High School teacher Christine Elder.
The 29m green wall, planted with a diverse range of native species, is now a valuable part of the technology cirriculum for Year 7 and 8 students. It is also an attractive backdrop for historical information about the Clutha area, and creates a stunning space for locals and tourists to gather.
• Natural Habitats' ability to adapt to unique environmental conditions. We believe this to be the southernmost green wall in the world • Horticultural knowledge, site and culturally appropriate planting • The value that Green Walls can bring to a community; not only aesthetically but also as a teaching tool Testimonials "Our green wall adds real character and vibrancy to an important communal space and the feedback from our residents has been positive. The green wall is a key design feature in Balclutha's new- look main street." Clutha District Council Green Walls - Civic
NATURAL HABITATS GREEN WALLS EXPRESSION OF INTEREST PAGE 35 WELLINGTON CITY SQUARE Location: Civic Square, Wellington Client: Wellington City Council A new 24 square metre green wall in Wellington's Civic Square is the start of the Council's plan to green up the city's downtown.
Wellington's Mayor, Celia Ward-Brown says the wall integrates the natural and built environments. Following on from the successful install of the Civic Square green wall, the urban design team at Wellington City Council has commissioned two more for the historic downtown Hannah Factory Lane connecting Eva and Leeds Streets plus reinvigorating the Masons laneway.
The hanging green walls run 4 metres under the bridge crossing over the lane. Both one metre high, one side faces north. For Trudy Whitlow, Manager Urban Design and Heritage for Wellington City Council, the new green walls are a continuation of her team's plan to "Green the small nooks and cranny's that make Wellington city a great place to live". Natural Habitats is an integral part of this. Testimonials "The wall strengthens the urban and nature links in our city. Civic Square was chosen as the first location due to its high profile and challenging conditions to show that green walls can succeed." Celia Ward-Brown, Wellington's Mayor "The design looks a bit like the bottom of a water fall, with grasses and falling plants to give a draping or flowing affect.
The other side has low light plants and we've created a design that is more of a natural NZ wet cliff face sort of collection of plants." Sam Dixon, Natural Habitats Green Walls - Civic
NATURAL HABITATS GREEN WALLS EXPRESSION OF INTEREST PAGE 36 NATURAL HABITATS RESORT EXPRESSION OF INTEREST Over the past three decades we have won more awards than any other landscape company in New Zealand and were thrilled to add 14 more at the Landscape of Distinction Awards in Hamilton, 2018. OUR AWARDS Premier Awards BEST Sustainable Project of the Year - Blanchard, Muriwai Landscape Design GOLD in Residential Projects - Scragg, Mt Eden SILVER in Residential Projects - Blanchard, Muriwai SILVER in Residential Projects - Waiheke Paradise SILVER in Residential Projects - Jeffares, Freemans Bay BRONZE in Commercial Projects - Rangiriri Paa Reinterpretation Landscape Construction GOLD in Residential Projects - Scragg, Mt Eden GOLD in Residential Projects - Blanchard, Muriwai SILVER in Residential Projects - Waiheke Paradise SILVER in Residential Projects - Jeffares, Freemans Bay SILVER in Commercial Projects - Rangiriri Paa Reinterpretation Landscape Horticulture SILVER in Residential Projects - Blanchard, Muriwai SILVER in Residential Projects - Waiheke Paradise SILVER in Residential Projects - Jeffares, Freemans Bay Graham Cleary Owner & Founder As the business owner and founder, Graham Cleary keeps an oversight with each and every major project Natural Habitats undertakes, to ensure that the values and objectives that the company has built upon are securely upheld.
Mark Read Senior Designer As one of New Zealand's most award-wining and prolific residential landscape designers, Mark is especially talented in producing innovative, creative design solutions with a strong environmental focus and a superb attention to detail. His experience extends across a wide range of landscape design projects including residential, commercial, public, open space, resorts, water features, streetscape, educational landscapes, retirement villages and subdivision developments. Examples of his work can be found in a number of international design publications. Our vision is built with the Client, for the site, with the experience necessary to deliver innovative solutions and project value.
We listen to the Client, we design to the environment and we know deliverability. Key Personnel
Natural Habitats Limited PO Box 11832 Ellerslie Auckland, New Zealand 09 970 3488 info@naturalhabitats.co.nz