Human-crocodile conflict in Solomon Islands
If your browser does not support JavaScript, please read the page content below:
Human-crocodile conflict in Solomon Islands
2 Authors Jan van der Ploeg, Francis Ratu, Judah Viravira, Matthew Brien, Christina Wood, Melvin Zama, Chelcia Gomese and Josef Hurutarau. Citation This publication should be cited as: Van der Ploeg J, Ratu F, Viravira J, Brien M, Wood C, Zama M, Gomese C and Hurutarau J. 2019. Human-crocodile conflict in Solomon Islands. Penang, Malaysia: WorldFish. Program Report: 2019-02. Photo credits Front cover, Eddie Meke; page 5, 11, 20, 21 and 24 Jan van der Ploeg/WorldFish; page 7 and 12, Christina Wood/ WorldFish; page 9, Solomon Star; page 10, Tessa Minter/Leiden University; page 22, Tingo Leve/WWF; page 23, Brian Taupiri/Solomon Islands Broadcasting Corporation.
Acknowledgments This survey was made possible through the Asian Development Bank's technical assistance on strengthening coastal and marine resources management in the Pacific (TA 7753). We are grateful for the support of Thomas Gloerfelt-Tarp, Hanna Uusimaa, Ferdinand Reclamado and Haezel Barber. The Ministry of Environment, Climate Change, Disaster Management and Meteorology (MECDM) initiated the survey. We specifically would like to thank Agnetha Vave-Karamui, Trevor Maeda and Ezekiel Leghunau. We also acknowledge the support of the Ministry of Fisheries and Marine Resources (MFMR), particularly Rosalie Masu, Anna Schwarz, Peter Rex Lausu'u, Stephen Mosese, and provincial fisheries officers Peter Bade (Makira), Thompson Miabule (Choiseul), Frazer Kavali (Isabel), Matthew Isihanua (Malaita), Simeon Baeto (Western Province), Talent Kaepaza and Malachi Tefetia (Central Province).
The Royal Solomon Islands Police Force shared information on their crocodile destruction operations and participated in the workshops of the project. We would like to thank Stanley Riolo, Steve Rex Waiwori and Kerry Sireheti. WorldFish coordinated the survey. We would like to thank Delvene Boso, Shabeen Mohd-Ikbal, Leila Galo, Meere Rubo, Ronnie Posala, Iven Tonafalea, Joseph Ferani, Meshach Sukulu, Grace Orirana, Robert Hagi, John Eke, Regon Warren and Aloysius Aropa for their efforts. We also thank Florine Lim, Sabrina Chong and Chua Seong Lee for their support with drafting the maps and preparing the report.
We are grateful for the advice and support of Grahame Webb and Yoichi Takehara of the IUCN Crocodile Specialist Group. Many other people supported the field activities. We particularly would like to thank Shannon Seeto, Alec Hughes, Henry Kaniki, Leslie Mike, Rudy Bele, Aloysio Manero'ou, Max Totore, Felix Naitoro, Jeremy James, Sharon Mary, Wade Fairly and Aloysio Vola. Our gratitude also goes to the people who kindly hosted the team during the fieldwork and shared information. Human-crocodile conflict in Solomon Islands
3 Contents Executive summary 4 Introduction 5 Background 6 Methods 11 Results 13 Conclusion and recommendations 25 Notes 27 References 30 Annex 1. Field forms 34 Annex 2. Estimated saltwater crocodile population 37 Annex 3. Saltwater crocodile hotspots 39 Annex 4. Educational poster 43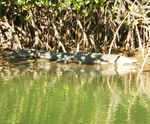 4 Executive summary The Solomon Islands National Biodiversity Strategic Action Plan 2016–2020 identifies the need to develop a management plan for saltwater crocodiles. However, there is a lack of reliable information on the population status of saltwater crocodiles and the extent of human-crocodile conflict in the country.
This report summarizes the results of a nationwide survey that aimed to fill these knowledge gaps. Between April and August 2018, 822 people (472 men and 350 women) were interviewed in 234 villages in seven provinces in Solomon Islands. A total of 225 crocodile attacks on people were recorded. Of these attacks, 83 were fatal (37 percent), including 31 on children. Over the past 10 years, on average, five people per year have been killed by saltwater crocodiles in Solomon Islands.
Since the cessation of commercial hunting in 1993, the saltwater crocodile population has recovered rapidly. It is estimated that there are now between 1400 and 2300 non-hatchling saltwater crocodiles in the country. Breeding has been recorded on every major island. With more and larger saltwater crocodiles present, the number of attacks on people has increased and will most likely continue to do so. Throughout the archipelago, communities are taking preventive measures to minimize the risks of crocodile attacks. People emphasize the need to supervise children, avoid fishing alone and be alert at night and during floods.
Flashlights are considered an effective tool to prevent a crocodile attack. In many villages, crocodiles are killed by local hunters with traps and spears as a precautionary measure or in retaliation of an attack. Cultural restrictions on killing and eating crocodiles remain pervasive throughout the country. Crocodiles are widely regarded as taboo (sacred) animals that need to be treated with respect. Crocodile attacks are often attributed to the wrath of ancestors or to sorcery.
The following steps are recommended to the Solomon Islands Government to enable coastal communities to better prevent saltwater crocodile attacks on people: • Raise public awareness on the risks of living in crocodile habitats. • Destroy problem-crocodiles. • Improve public infrastructure in remote coastal areas, particularly related to healthcare, sanitation and fisheries. • Halt the destruction of mangrove and riparian forests. • Legalize the sale of crocodile products. • Develop a community-based crocodile monitoring program. • Strengthen community-based resource management. These steps can minimize the risks saltwater crocodiles pose to coastal communities and ensure that people and crocodiles continue to coexist in Solomon Islands.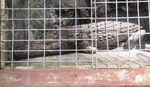 5 Introduction In 2017, following growing public concerns about saltwater crocodile attacks on people, the Ministry of Environment, Climate Change, Disaster Management and Meteorology (MECDM), the Ministry of Fisheries and Marine Resources (MFMR) and WorldFish conducted a nationwide survey to collect detailed information on the extent and characteristics of human-crocodile conflicts. This report summarizes the main findings of the survey. The following sections provide information on the ecology of the species and its cultural significance in Solomon Islands, details on the survey methods, and the main results.
In the conclusion, several practical recommendations have been listed for the national government. The Solomon Islands National Biodiversity Strategic Action Plan 2016–2020 identifies the need to develop a management plan for saltwater crocodiles (MECDM 2016: Strategic Goal C, Target 13B I). However, the lack of reliable information on the population status of saltwater crocodiles in the country, and on the occurrence of crocodile attacks on people, has so far hampered this effort. This report aims to address these critical knowledge gaps and contribute to the development of an effective strategy that enables coastal communities to better prevent crocodile attacks.
Sub-adult saltwater crocodile in Wairaha River, Malaita. Photo credit: Jan van der Ploeg/WorldFish 5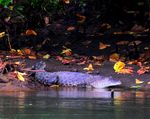 6 Background Ecology The saltwater crocodile (Crocodylus porosus) is the world's largest living reptile, with males recorded in excess of 6 m and over 1000 kg (Briton et al. 2012; Whitaker and Whitaker 2008). The largest saltwater crocodile recorded in Solomon Islands was 5.9 m, on Isabel (Schmidt 1932). The species ranges from the Bay of Bengal, throughout Southeast Asia and New Guinea, to northern Australia. Solomon Islands represents the easternmost breeding population of the species.
There are reports of two species of crocodiles occurring in Solomon Islands. Local people on New Georgia, for example, differentiate between saltwater and freshwater crocodiles (Hviding 2005; Hviding 2015). This mirrors the situation in neighboring Australia and Papua New Guinea (PNG), where the saltwater crocodile occurs sympatrically with the Australian freshwater crocodile (C. johnsoni) and the New Guinea crocodile (C. novaeguineae) respectively. However, freshwater crocodiles have never been recorded in Solomon Islands (Boulenger 1886; McCoy 2006). The color patterns and body shape of saltwater crocodiles can vary remarkably, which could explain why people think there are two species of crocodiles.
Crocodiles from turbid waters tend to be very light, relative to those from clear waters (Webb, personal communication, 2018).1 The species is widely distributed throughout the country, with breeding populations in Western Province, Central Province, Choiseul, Isabel, Malaita, Guadalcanal, Makira and Temotu Province (Messel and King 1990). The presence of saltwater crocodiles in the Santa Cruz Islands highlights the ability of the species for long-distance, oceanic travel (Read et. al 2007; Brackhane 2018). Saltwater crocodiles have been recorded on Vanikoro and Nendo (Messel and King 1990), Utupua (Tennent 2002) and Tikopia (Firth 1970).
Notably, saltwater crocodiles have not been recorded on Rennell and Bellona.2 Saltwater crocodiles inhabit tidal rivers and creeks, freshwater lakes and mangrove forests. They are mobile animals that frequently use the sea to move between river systems. Their movements seem related primarily to changes in social status: males are highly territorial and will chase away subordinate rivals, who then move around in search of suitable habitat and unguarded females (Campbell et al. 2013). These vagrant crocodiles are often the primary cause of human-crocodile conflicts (Nichols and Letnic 2008).
Saltwater crocodile are most active after sunset (Webb and Manolis 1989).
Little is known about the ecology of the species in Solomon Islands (McCoy 2006). In Australia, female saltwater crocodiles lay their eggs in a large mound of vegetation during the annual wet season. In Solomon Islands, however, rainfall and temperature are relatively stable throughout the year. Most rainfall occurs during the northwest monsoon season from January to March. But this general pattern masks large differences between islands and between the wind and lee sides of the main islands, which makes it difficult to make any assumptions on the nesting period of the species in the country.
Mean clutch size in Australia is about 50 eggs, whereas in PNG it is about 60 (Webb et al. 2010). Incubation takes 80 to 90 days, depending on temperature. Female saltwater crocodiles are known to actively defend their nests.
The saltwater crocodile is a large and opportunistic apex predator that hunts a wide variety of animals, including fish, mud crabs, turtles, flying foxes, dogs and pigs (Webb and Manolis 1989). Prey are typically ambushed in or at the edge of the water. Small animals are swallowed whole, while large ones are dragged into deep water, drowned and then torn to pieces. Large adult saltwater crocodiles will also consider humans as prey (Edwards 1998; Caldicott et al. 2005). Culture Humans and saltwater crocodiles have coexisted in Solomon Islands for 30,000 years, and crocodiles play a central role in the cultural history of the country (Laracy and Alasia 1989; Best 1988).
This is perhaps best illustrated by the fact that a crocodile features prominently on the Solomon Islands coat of arms, alongside another man-eating predator in the islands, the shark.
Throughout the archipelago, crocodiles were worshipped as the incarnation of ancestors (Somerville 1897; Ivens 1930; Hviding 2018). The first Europeans to visit Solomon Islands in 1568 saw"many figures of crocodiles, in some little houses where (the natives) pray"(Thomson and Amherst 2010). These crocodile- ancestors protected their human descendants against enemies, but also chastised them for transgressions of cultural norms or rules, such as theft, gossip or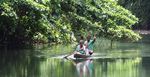 7 adultery. Crocodile attacks were seen as a punishment from ancestors. The British botanist Henry Guppy, one of the first natural historians to travel through the islands, wrote:"The natives of Rubiana [Roviana Lagoon] hold the crocodile in veneration and work without fear in the places with it frequents.
They believe that only faithless wives are seized and carried off by the monster"(Guppy 1887).3 In the historical literature, crocodile attacks on humans are mentioned often, but it is difficult to reconstruct the frequency of such attacks.4 For example, the naturalist Charles Woodford, who would later become the first resident commissioner of the British colonial administration in Solomon Islands, noted the following:"Crocodiles (Crocodilus Porosus) are common, frequenting both salt and freshwater. They are shy and wary, and although I have heard of natives been taken by them, I believe such instances are rare.
Occasionally during my residence at Aola they would come into the village at night and seize a pig"(1890). There were strict restrictions on naming, insulting, touching, killing and eating these taboo animals. The missionary Walter Ivens who lived on Malaita and Ulawa at the turn of the 20th century, wrote:"It was told me that Irobaoa, the chief of Suu [Suava Bay], and his people will not kill a crocodile, and that the crocodiles, in turn, do not kill the Suu people. The abstention from killing crocodiles is easy enough to understand, seeing that they are held to be the incarnations of ancestors; but judging from the habits of crocodiles elsewhere, it is hard to believe that the Suu ones are so kindly disposed towards their so- called human relatives"(Ivens 1930).
Saltwater crocodile along Ro'apu'u River, Malaita. Photo credit: Christina Wood/WorldFish 7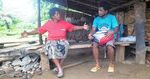 8 The restrictions on killing and eating crocodiles only applied to people from specific cognatic descent groups (so-called"tribes") while people from other tribes were not bound by these customary rules. Moreover, the fact that saltwater crocodiles were considered taboo obviously did not imply that these people lived in harmony with them. As the colonial district commissioner of Malaita, noted in 1962:"the people of Ndai Island are troubled by crocodiles, which bother their fishing on the brackish lakes which in fact take up the whole area.… The Ndai people, though Christians, will not because of'custom'kill these reptiles, but would be pleased to see someone else do so."5 Indeed, when a crocodile attacked someone, every effort was made to kill the man-eater.
Such events were either seen as a violation of the"totemic contract" between crocodiles and their human relatives (Hviding 2018) or as a manifestation of sorcery (Ivens 1930). In both cases, the death had to be avenged: bounties were set for the problem-crocodile and specialist hunters would trap and spear the man-eater. Such practices and beliefs enabled people to coexist with a potentially dangerous predator. Christianity, capitalism and colonial rule have since eroded these traditional beliefs to some extent. However, the notion of crocodiles as taboo animals is still prominent throughout the country.
Population status In 1989, Harry Messel and Wayne King conducted vessel-based spotlight night surveys in 52 localities in eight provinces (Temotu Province, Makira, Malaita, Isabel, Choiseul, Western Province, Central Province and Guadalcanal). They sighted 177 saltwater crocodiles, most of which (76 percent) were seen in 3 areas: Lauvi Lagoon (92 crocodiles) on Guadalcanal, Lake Tatae on Momoluan Island in Central Province (27 crocodiles) and Ghahirahobo Lagoon on Isabel (15 crocodiles). Based on these observations Messel and King estimated there were no more than 720 crocodiles in the country and concluded the following:"the crocodile resource of the Solomon Islands has been severely depleted and only a very small, widely scattered remnant population remains.
Unless urgent and strict measures are taken to protect the species, the saltwater crocodile may soon become extinct in the Solomon Islands"(1990). The skin of the species is highly valued in the fashion industry (Webb et al. 2010). Commercial harvesting for skins was the driving force behind the demise of saltwater crocodiles in the country.6 Saltwater crocodiles were commercially exploited in Solomon Islands by expatriate hunters since the 1950s, often upon the request and with the support of the British colonial government. Professional hunters traveled throughout the country to trap and skin crocodiles.
In the 1970s and 1980s, crocodile hunting intensified dramatically, as local hunters also started to hunt crocodiles to ensure people's safety and to sell the hides. Timothy Skewes (1990) reported the following: "Crocodiles are killed whenever they are encountered. Often nests are plundered and the young are held in small-scale grow-out pens until large enough to kill." In the 1980s, crocodile skin exports, mainly to Japan, were an important source of revenue for rural communities and the national government (Richard et al. 1994). Reconstructing historic trade volumes is difficult. According to Richards et al.
(1994),"In 1989, 7,452 inches (belly-width) of skins valued at SI$187,438 (USD 62,000) were exported, mainly to Japan (Solomon Islands Statistics Office data)."This would imply that the skins of approximately 500 crocodiles were exported that year, assuming an average skin size of 35 cm (Webb, personal communication, 2018). In theory, the Fisheries Act of 1972 regulated the trade so that only crocodile skins with a belly width of more than 50 cm (19.7 inches) could be exported. In practice, however, the export of undersized skins continued unabated (Messel and King 1990). In 1993, following the publication of the alarming results of Messel and King, the Fisheries Act was amended, and the Solomon Islands Government banned the export of crocodile skins (Richards et al.
1994). This contributed to the cessation of commercial crocodile hunting and then led to a recovery of saltwater crocodiles in many parts of the country (MECM 2008; MECM 2009; Webb et al. 2010). In the Arnavon Islands, for example, crocodiles were exterminated in the 1980s, but are now regularly observed (Foale et al. 2017). And in Marovo Lagoon, which Messel and King in 1989 considered"shot out"and"not worth surveying,"crocodile populations have recovered rapidly and are now approaching the same numbers as before exploitation (Hviding 2018). It remains unclear how large the Solomon Islands saltwater crocodile population actually was before the start of commercial hunting in the 1950s.
Saltwater crocodile populations can recover rapidly when wetland habitat remains intact (Fukuda et al. 2011; Amarasinghe et al. 2015).7 In Australia, saltwater crocodile populations are now approaching pre-exploitation levels following protective measures in the 1970s. This also seems to be a plausible scenario for Solomon Islands: when commercial hunting pressure stopped the saltwater crocodile population burgeoned again.8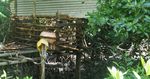 9 Human-crocodile conflicts Caldicott et al. (2005) identify several reasons why saltwater crocodiles attack people, including nest defense, territorial behavior and mistakes. Predation seems by far the most common reason. In Australia, about one third of all saltwater crocodile attacks on humans are fatal. In PNG and Timor Leste fatality rates are much higher, at 80 and 83 percent respectively, though that is most likely the result of a reporting bias (Sideleau and Britton 2013). The chances of surviving a crocodile attack seem primarily determined by the size of the crocodile relative to the victim (Fukuda et al.
2015). Attacks involving children thus typically result in higher fatality rates. Non-fatal crocodile attacks often result in serious injuries, most often deep flesh cuts and fractures on the victim's legs and arms, virulent wound infections and posttraumatic stress disorder symptoms (Gruen 2009; Caldicott et al. 2005). It is widely claimed that the rapid recovery of the saltwater crocodile population in Solomon Islands in the 1990s and 2000s led to an increase in saltwater crocodile attacks on humans. There are regular reports in the national and international media on fatal attacks of saltwater crocodiles on people in the country (see photo 3).
A recent article in the international newspaper The Guardian is illustrative: "A growing number of crocodile attacks is forcing police in the Solomon Islands to shoot the animals and to consider lifting a 30-year ban on exporting their valuable skins in order to control the population. There have been more than 10 crocodile attacks on people this year, as well as dozens of assaults on livestock and domestic animals around the Solomon Islands…. However, the actual number of incidents is probably far greater, as attacks often happen in remote regions of the country where villagers take crocodile control into their own hands and do not report attacks to authorities"(Roy 2017).
Reliable information on the incidence of human- crocodile conflicts in Solomon Islands is, however, lacking (Sideleau and Britton 2013). On the one hand, Front page of the Solomon Star (17 April 2017) and a collection of recent newspaper clippings. Photo credit: Solomon Star 9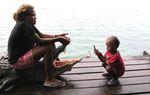 10 it is indeed likely that many crocodile attacks on humans in the remote rural areas of the country remain unreported. On the other hand, the perceived increase in the number of crocodile attacks could be the result of the rapid improvements in telecommunication services in the country. It is important to note that the increase in the number of crocodile attacks on people since 1993 took place after a period in which the saltwater crocodile population was severely depleted, and arguably fewer crocodile attacks took place, and that the human population in Solomon Islands almost doubled over that same period, from 339,000 in 1993 to 628,000 in 2018.
Nevertheless, it seems plausible that the increased numbers of saltwater crocodiles and the greater numbers of large adult crocodiles are leading to more attacks on humans.
Legislation and enforcement Crocodylus porosus is classified as"lower risk/least concern"on the International Union for Conservation of Nature Red List of Threatened Species (2018). Nevertheless, the species is listed in Appendix I of the Convention on International Trade on Endangered Species (CITES), prohibiting all international trade in products of the species. At present, the saltwater crocodile populations of Australia, PNG and Indonesia are included in CITES'Appendix II, which allows ranching and harvesting in the wild.9 Several other countries can legally export skins from captive-bred saltwater crocodile, (Webb et al.
2010). Solomon Islands ratified the convention in 2007. In Solomon Islands, the Fisheries Management Regulations of 2018 banned the export of crocodiles or products derived from them. The saltwater crocodile is also included on Schedule I of the Wildlife Protection and Management Act of 1998, which implies that the species can only be exported for scientific research with a permit issued by the MECDM (Moore 2015). The MECDM and MFMR are the mandated government agencies responsible for the management of saltwater crocodiles in Solomon Islands, but they currently lack the financial support and technical capacity to prevent human-crocodile conflicts.
The Royal Solomon Islands Police Force (RSIPF) is responsible for upholding the law and protecting life and property. Since the withdrawal of the Regional Assistance Mission to Solomon Islands (RAMSI) in 2017, the RSIPF has destroyed problem-crocodiles. In 2017, the RSIPF conducted seven operations in four provinces, killing 27 saltwater crocodiles, upon the specific request of village authorities. Another 29 were shot in the first seven months of 2018. Between 2003 and 2016, RAMSI personnel also shot crocodiles in the country, but it remains unclear how many were actually killed and in which locations.10 Captive crocodile in Gwanaru'u, Malaita.
Saltwater crocodiles are occasionally held as pets in pens, most often under poor conditions. Note the post-occipital scales, which are generally absent in saltwater crocodiles in Australia. Photo credit: Tessa Minter/Leiden University 10
11 Methods Night spotlight surveys to count saltwater crocodiles have proven to be impractical and inaccurate in the dense mangrove forests and shallow, meandering rivers of Solomon Islands (Messel and King 1990). Large adult crocodiles, which are of particular interest in the context of human-crocodile conflicts, are notoriously difficult to detect with spotlight surveys, especially in areas where hunting and fishing occur (Bayliss 1987; Webb et al. 1990; Whitaker 1998). Other standard crocodile survey methods, such as helicopter counts, are prohibitively expensive in the geographically dispersed islands of the country.
Therefore, interviews were used to collect data on the abundance and distribution of saltwater crocodiles and to gather information on cultural beliefs and the incidence of attacks (Pooley 2015; Brackhane et al. 2018).11 A standard methodology, CROCBite (www. crocodile-attack.info/about/about-crocbite), was used to collate this information.
Areas with high probability of human-crocodile conflicts were identified using expert knowledge received during workshops in Honiara (March 2018) and Auki (April 2018). These areas were then visited by survey teams consisting of the MECDM, MFMR and WorldFish. The survey teams visited 65 areas in seven provinces between April and August 2018 (Annex 2) and interviewed a total of 822 people (472 men and 350 women) in 234 villages.12 The teams purposely selected villages in these areas, based on the location, number of people, known crocodile attacks, existing contacts and convenience. A short awareness talk on saltwater crocodiles and the objectives of the survey was given to community members, and consent to conduct the survey was sought from village leaders and customary landowners.
It was stressed that the objective of the survey was to collect information for the national government, not to kill or remove crocodiles. The aim was to interview four people in every village: two men and two women. In some villages, this proved difficult and so fewer people were interviewed. Village leaders were asked to identify knowledgeable respondents. Participation in the survey was voluntary, and no payments were made to the respondents. When possible, respondents were interviewed individually in their own houses, but in many instances other people joined in and provided additional, sometimes contradictory, information.
In the analysis, such group discussions were used as a single respondent.
Francis Ratu interviews Serah Hirimane in Waisisi Bay, Malaita. Photo credit: Jan van der Ploeg/WorldFish 11
12 Juvenile saltwater crocodile along Totoru River, Isabel. Photo credit: Christina Wood/WorldFish 12 Information on the number of saltwater crocodiles was triangulated to estimate the saltwater crocodile population in each area (Annex 3). Respondents were asked to differentiate between small (2 m) crocodiles. For every village, the team used the lowest reported number to estimate the number of saltwater crocodiles in a particular area. In some cases, these numbers were revised downward, based on an assessment of the reliability of the information.
As such, this data should be regarded as an educated guess of the saltwater crocodile population in selected areas in the country, and used with caution.13 For each crocodile attack, detailed information on the location, victim and crocodile was recorded on a separate field form (Annex 1). All interviews were transcribed and encoded in Microsoft Excel. This dataset has been made available on the open repository Dataverse (dataverse. harvard.edu/dataset.xhtml?persistentId=doi:10.7910/ DVN/7ASMDM).
13 Results Crocodile attacks on humans Crocodile attacks on humans were reported in 146 of the 234 villages visited by the teams (62 percent). Respondents reported a total of 225 attacks, 37 percent of which were fatal. The reported number of crocodile attacks on humans has significantly increased over the past 20 years—194 between 1998 and 2017 (Figure 1). The first months of 2018 seemed to confirm this trend, with 13 attacks, of which three were fatal. The number of fatal attacks is also increasing, though much less markedly.14 Most attacks were reported in Western Province (55 cases, 24 percent of all attacks), which at 7500 km2 is the largest province in Solomon Islands, while 51 attacks occurred in Central Province, which is the smallest but most densely populated province in the country.
Both provinces are characterized by numerous small islands and extensive mangrove forests. The reason why the proportion of fatal attacks is higher in Choiseul and Guadalcanal is unknown, and could be a reporting bias. Only one attack was recorded from Makira (Figure 2).
Note: Numbers above the bars indicate the number of attacks in a particular year. The black line represents an exponential trend line, which strongly fits the data (R²=0. 7077; n=194). Figure 1. Reported saltwater crocodile attacks on humans in Solomon Islands (1998–2017). Note: Percentages indicate proportion of total number of attacks. Figure 2. Reported saltwater crocodile attacks by province (n=225). 1 3 4 2 6 9 7 6 9 8 10 8 14 5 10 13 10 15 16 36 R² = 0.7077 5 10 15 20 25 30 35 40 1998 1999 2000 2001 2002 2003 2004 2005 2006 2007 2008 2009 2010 2011 2012 2013 2014 2015 2016 2017 Number of crocodile attacks Year Expon.
(Total) Non-fatal Fatal 24% 23% 18% 13% 11% 11% 0% 10 20 30 40 50 60 Western Central Isabel Choiseul Malaita Guadalcanal Makira Number of attacks Year Non-fatal Fatal
14 Note: Percentages indicate fatality rates within the category. Figure 3. Sex and age of people attacked by saltwater crocodiles (n=225). Seventy-eight percent of the victims were adults (Figure 3), most of whom were men, though fatality rates among women were higher. Fatality rates were typically higher among children (63 percent). Most attacks on humans (45 percent) occurred at night. However, fatality rates were higher in the Note: Percentages indicate fatality rates within the category. Figure 4. When did the crocodile attack happen (n=225)? afternoon (44 percent), compared to attacks at night (29 percent) (Figure 4).
Surprisingly, most attacks (57 percent) occurred in the sea (Figure 5), which suggest the species hunts much more in saltwater habitats than is often assumed (Sideleau et al. 2017). Moreover, attacks in freshwater 20 40 60 80 100 120 140 160 Men Women Boys Girls Adults Children Number of crocodile attacks 71% 60% 44% 26% Year Non-fatal Fatal 39% 44% 29% 20 40 60 80 100 120 Morning Afternoon Night Number of crocodile attacks Year Non-fatal Fatal
15 (lakes, creeks and rivers) were more deadly (46 percent) compared to attacks in the sea or in mangroves.15 More than half of all attacks (53 percent) happened when people were fishing (Figure 6).16 Fortunately, fatality rates of those attacks were relatively low (28 percent).
Typically, people"fight back"and often Note: Percentages indicate fatality rates within the category. Figure 5. Where did the crocodile attack take place (n=225)? Note: Percentages indicate fatality rates within the category. Figure 6. What was the victim doing at the moment of the attack (n=225)?
manage to escape (Box 1). Fatality rates were much higher when people were bathing (45 percent) and playing in the water (53 percent) (Box 2).17 Dugout canoes are the primary way of transport in the coastal areas of Solomon Islands. In 21 incidents, a crocodile attacked a person in a canoe, and in more than half of these cases (57 percent) the outcome was fatal (Box 3). 32% 33% 46% 20 40 60 80 100 120 140 Mangrove Sea Freshwater Number of crocodile attacks Year Non-fatal Fatal 28% 45% 53% 57% 29% 22% 57% 100% 20 40 60 80 100 120 140 Fishing Bathing Playing Canoeing Defacating Other Crossing river Number of crocodile attacks Washing clothes Year Non-fatal Fatal
16 There were only two attacks on women washing clothes in the river, in both instances fatal. Women usually choose a shallow area with clear, fast-flowing water to wash clothes and are often in a group, which minimizes the risk of an attack. The respondents were then asked why they thought a particular attack happened. In most cases (45 percent), people said the crocodile was"maybe hungry" (Figure 7). Twenty-two percent of the attacks were attributed to a violation of kastom, such as adultery Box 1. Fighting off attacks In 2017, Mark Sopamana was spearfishing at dusk in the Opu Channel on Isabel when a crocodile bit his left flipper.
He scared the crocodile away by poking his spear in its eyes. In a similar attack on Isabel in 2000, Bob Tokasoro from Horara was diving at night when he spotted a crocodile coming toward him. He dived deeper and tried to hit the crocodile above him with his spear. He missed but the crocodile swam away. Unfortunately, not everybody escapes unharmed. In 2007, for example, Frank Manedika from Gumbe in Central Province was searching for mud shells in the afternoon, when he accidentally stepped on a 3 m long crocodile in the muddy water. The crocodile bit his left leg. It only released him when he hit it hard on the head with his bush knife (machete).
And in 2017, Milfred Kasi was diving for clam shells on the coral reef in Rendova Harbor in Western Province when a crocodile attacked her from behind. She hit it on the head and managed to escape, but was hospitalized with severe wounds on her thighs, abdomen and right hand. Box 2. Attacks on children In 2008, Don Ricky was playing in the sea with some kids from his village, New Land in Marovo Lagoon, Western Province. At dusk the other kids headed home, but the six-year-old boy went back into the sea to fetch his ball. A crocodile suddenly pulled him under. The villagers never found his body.
Box 3. Dugout canoes In 2017, Simon Barinaba was paddling with his son along the Vachu River in Choiseul when a large crocodile suddenly pulled Simon from his canoe into the water. His son, sitting in the front of the canoe, heard only a splash. Simon's remains were never found.
Box 4. Crossing rivers In 2003, a group of women were crossing Kodoveka River on Isabel after collecting mud crabs and mud shells in the mangroves. A crocodile attacked 12-year-old Consi Aresia and dragged her into deeper water. She drowned before the other women could help. In another attack on Isabel, in 2008, Batholomew Dola went to fetch a canoe on the other side of the Sidu River to ferry a group of women across. He was killed by a large crocodile when he swam across the river. Box 5. Toilet needs In 2013, Ethel Baripapele from Pututu on Choiseul sat on the beach just before dawn to relieve herself when a crocodile bit her in her back and dragged her to the sea.
Luckily, her husband heard her shouts and rescued her. A similar attack took place in 2009 in Central Province when Thomas Rakei went to the sea at night to defecate. When he sat down, a crocodile bit him in his rump. He managed to escape but bled to death.
Relatively few attacks happened when people crossed a river (14 incidents), but such cases were often fatal (57 percent) (Box 4). Incidents also happened when people went to the toilet (14 cases) (Box 5). This is perhaps unsurprising considering that 58 percent of households in Solomon Islands do not have toilet facilities and therefore have to make use of the mangroves or the beach, most often at night (SINSO 2017). The category"Other"mainly includes attacks on people who were sleeping on the river bank, or attacks when someone was trying to kill a crocodile.
17 and trespassing in a taboo site.
These attacks are seen as the punishment of the ancestors, or as the result of sorcery (Box 6). Thirteen percent of all attacks, most of them non-fatal, were attributed to people accidentally stepping on or encountering a crocodile. In 14 cases (six percent) people thought the crocodile mistakenly attacked the person, often because of the presence of dogs, pigs or bleeding fish in the water. The category "Other"includes five cases in which people thought a disturbance of riverine habitat by logging companies caused the attack.
Box 7. Safety in groups In 2004, Hendry Kafa was diving at night for sea cucumbers with his friend Mathew Mae at Kigora Point in Tanade on Isabel when a 3 m crocodile grabbed and pulled him underwater several times. Hendry managed to call for help before losing consciousness. Luckily, Mathew heard his cries and managed to scare the crocodile away and drag Hendry to safety. Despite heavy blood loss, Hendry survived. In another attack, also on Isabel, Griffin Takle and a group of young men were taking a bath in Kapito River after a soccer match in 2013 when a crocodile bit Griffin in his right leg.
He called for help and the other boys managed to pull him out of the water.
Box 6. Sorcery In 2014, a man was attacked at night while spearfishing on the reef in Suava Bay, Malaita. People said the victim stole some sport equipment from the school and was therefore cursed by a priest. Another fatal attack in North Malaita was also attributed to the curse of a priest who"owned the crocodile."The victim allegedly disobeyed church rules and was drinking alcohol in the village on Sunday. A large crocodile attacked him when he was fishing in his canoe at night. Prevention When asked what should be done to prevent crocodile attacks on people, 61 percent of the respondents said it is important to be careful (Figure 8), including not entering the water alone, supervising children and being very cautious at night.
In general, the probability of surviving a crocodile attack increases significantly when people are not alone (Fukuda et al. 2015) (Box 7). People also emphasized the need to be alert during flooding when the water in the river is murky and during high tides.18 Note: Percentages indicate the proportion of the total number of attacks. Figure 7. Why did the crocodile attack (n=225)?
45% 22% 12% 9% 6% 6% 20 40 60 80 100 120 Predation Kastom Other Number of attacks Accidentally disturbed Mistaken identity Territory and nesting Year Non-fatal Fatal
18 Note: Percentages indicate the proportion of respondents Figure 8. How do you prevent crocodile attacks on people (n=822)? 61% 20% 8% 6% 3% 2% 100 200 300 400 500 600 Caution Culling Avoid sites Kastom Nothing Other Number of respondents Interestingly, 92 respondents spontaneously mentioned the importance of using flashlights at night. This simple precautionary measure is possibly an effective way to minimize the chance of a crocodile attack and could be used in communication strategies.
Eight percent of the respondents suggested avoiding areas where crocodiles are known to occur, including deep pools in the river, mangroves and nesting sites. Twenty percent said it is important to kill crocodiles and destroy their nests, and 52 people said that in their village crocodiles are always killed when sighted to avoid attacks.
Forty-nine people (six percent) said they rely on customary practices to prevent attacks from happening. It is, according to the respondents, particularly important to respect sacred sites."Women in their period should never go near the taboo site," explained Peter Albert from Ngorigifau on Malaita. "People should not whisper when they go near a taboo site. You cannot curse with the crocodile name, and when you see a crocodile you need to treat it with respect."It is believed that as long as people adhere to such customary rules, crocodiles will not attack people."The priest has closed the mouth of the crocodiles,"said Josephine Kapua from Pisugha on Makira."The crocodiles will not attack unless someone has done something wrong in the community."On Malaita, fishers eat ginger to repel crocodiles, and on Guadalcanal fishers rely on white leaves to scare crocodiles away.
The category"Other"mainly includes actions the government should undertake to prevent crocodile attacks, including improving sanitation in the villages and lifting the ban on exporting crocodile skins. Most respondents said that crocodiles are killed with spears (46 percent) or baited traps (25 percent), or a combination of these methods (Figure 9). Traps are baited with dogs or cats, or the intestines of a pig. A specific trap consists of pig intestines draped around banana stems and suspended above the water. When a crocodile leaps out of the water to take the bait, it reportedly gets stuck with its teeth in the banana stalks.
In most cases crocodiles are killed by local hunters. Only three percent of the respondents (in 14 villages) said crocodiles were, at any moment in time, killed by the RSIPF or RAMSI.
The primary reason to kill crocodiles is to ensure the safety of people and livestock. Eighty-seven respondents (10 percent) also said that crocodiles are hunted for their meat, particularly on Makira (see below). There were reports of people shooting crocodiles on Choiseul to sell the hides in PNG. Crocodile attacks on livestock Eighty-four percent of the respondents reported attacks on dogs in their village. These are commonly seen as warning signs, and often efforts are made to kill the culprit. Fifty-eight percent of the respondents reported a crocodile attack on pigs. Most respondents (78 percent) consider pens to be the best strategy to prevent such
19 attacks (Figure 10). The respondents who said they do not take any prevention measures were in almost all cases Seven Day Adventists, who do not keep pigs. Crocodile population Based on the information that the respondents provided, there are between 1400 and 2300 non- hatchling saltwater crocodiles in the main crocodile hotspots (Annexes 2 and 3). The largest numbers were reported in Western Province (466–755 crocodiles), followed by Isabel (274–501), Central Province (180– 267) and Choiseul (176–283). Smaller populations were reported in Malaita (145–246), Guadalcanal (90–143) and Makira (54–100).
Eighty-four percent of the respondents thought that there are more crocodiles in their surroundings than 10 years ago, but this average again masks significant Note: Percentages indicate the proportion of respondents Figure 9. How do you kill a crocodile (n=822)? 46% 25% 4% 3% 1% 1% 6% 14% 50 100 150 200 250 300 350 400 Spear Trap Net Police Gun Kastom Other No answer Number of respondents Note: Percentages indicate the proportion of respondents Figure 10. What do you do to prevent crocodile attacks on pigs (n=822)? 78% 1% 1% 0% 20% 100 200 300 400 500 600 700 Pens Culling Other Kastom Nothing Number of respondents
20 differences between provinces. In Choiseul, Isabel and Western Province, for example, most people (>90 percent) perceive an increase in the number of crocodiles (Figure 11). In the other provinces, there is much less consensus, making these claims much less reliable. There seems to be a strong association between the perceived increase in the number of A pig pen in the mangroves on South Malaita. Pens are an effective method to prevent crocodile attacks on pigs. Photo credit: Jan van der Ploeg/WorldFish 20 saltwater crocodiles and human population density. Choiseul, Isabel and Western Province are the most sparsely populated provinces in the country, with fewer than 10 people per km2 .
Malaita and Central Province are relatively densely populated, with 33 and 42 people per km2 respectively. Figure 11. Compared to 10 years ago, are there more or fewer crocodiles? 0% 10% 20% 30% 40% 50% 60% 70% 80% 90% 100% Choiseul Isabel Western Guadalcanal Malaita Central Makira Percentage of respondents Year Less Same More
21 Crocodile nests were reported in 126 villages, and in all provinces, over the past three years (2016–2018). Most nests were reported in Western Province, where respondents from 39 villages reported crocodile nests in their village. On Makira, however, only five villages reported nests. Sixteen percent of the respondents said crocodile eggs are collected for food. Crocodiles as taboo animals The cultural restrictions on eating or killing saltwater crocodiles remain pervasive throughout the country: 58 percent of the respondents said they will not eat crocodile meat, and 38 percent confirmed that crocodiles are"kastom animals."In contemporary Melanesia, customary beliefs and practices are often referred to as"kastom."Many people are reluctant to openly discuss topics such as ancestors, sorcery and sacred sites, as this can be dangerous or is prohibited, or because in some places it is regarded as superstition.
Therefore, a more general question was asked:"Are crocodiles considered kastom animals by people in the village?"(Annex 1). Tellingly, in 130 of the 234 villages (56 percent) visited during the survey, respondents said that people in the village consider crocodiles kastom animals. There are, however, significant differences between provinces. On Malaita and Isabel, for example, more than half of the respondents said that people in the village see crocodiles as kastom animals (59 and 56 percent respectively), while on Choiseul and Makira, the number was much lower (17 percent each). Specific tribes, such as the Barekasi on Vella Lavella and the Kindu on New Georgia in Western Province, the Raropuka in Central Province, the Ausi and Hohopirupiru on Malaita, and the Zote on Isabel, trace their ancestry to crocodiles.
Gabriel Sa from Choiseul, for example, told the following story:"In the past, we had tribal wars. Our tribe had many enemies. One day the enemy tribe came to raid our village. Everyone managed to escape, except for an old lady. She was mauled to death in her hut by the headhunters. The headhunters destroyed the whole village. After the raid was over, my tribe returned to the village and found the old woman in a pool of blood. The villagers carefully picked her up and carried her away to be buried, but then they heard her speak. She told them not to bury her, but cover her body with swamp taro leaves and come back after three days.
After three days, the villagers found out that she had changed into a snake. The snake then transformed into a crocodile and moved into the Vachu River. It is for this reason that we believe that crocodiles are taboo. We believe that crocodiles are our grandmother." A sub-adult saltwater crocodile killed in Suava Bay, Malaita. Photo credit: Jan van der Ploeg/WorldFish 21
22 In many places, saltwater crocodiles are seen as the embodiment of ancestral spirits. Peter Albert from Malaita recounted the following tale:"It was 20 generations ago. There was a man named Gwaofi from the Tolifu tribe. He lived here in Ngorigifau, in Suava Harbor. He got married to a woman from the hills. Her name was Asiangi from the Tolomatanga tribe. One day, the couple came down from the mountains to the seashore. The woman suddenly saw a crocodile along the passage in the mangroves. She admired the beauty of the animal and begged her husband to call her'crocodile'upon her death. Her husband fulfilled her wish, and when she died he called her crocodile.
Surprisingly, one of the crocodiles in the passage suddenly had all the features of the woman: her kastom decorations, her tattoos, her facial appearance and her body shape. Not long after her death, Gwaofi also died. And again, one crocodile suddenly looked like him. When the people saw this, they understood that Gwaofi and Asiangi had turned into crocodiles. This is how the taboo on crocodiles came about in Suava." Throughout the islands, people construct kinship relations with crocodiles. Timothy Rikihanua from Ohio village on Malaita related a similar kastom story:"My grandfather told me this story: A long time ago one of our ancestors had a son.
He and his wife loved their son very much. But one day they noticed something unusual with the boy: their son had a tail. Afraid that the villagers would discover (it), they never allowed anyone into their home. But one day a close relative from another village paid them a visit. The visitor soon noticed that the boy had a tail. He shouted at the boy and questioned why someone with a tail should be allowed to live with humans. He spat at the boy and chased him out, so the boy went to Wairaha River. The river became his home ever since. This was the beginning of our tribe." In principle, these ancestor-crocodiles are benevolent creatures.
Crocodiles ferry their descendants across the river and protect them against intruders on tribal land. They are, according to Paul Bale from New Zealand Camp on Guadalcanal,"the guardians of the river."Crocodiles are known to help their human relatives in times of need."Crocodiles act as a security to those that have links to the animal,"said Maselyn Dioko from Takwa."Crocodiles have the power to save people at sea and bring them home alive when called upon."Sometimes, the ancestor-crocodiles are used Children play with a dead saltwater crocodile in Munda, Western Province. Photo credit: Tingo Leve/WWF 22
23 for less benign purposes."I can send the crocodile to kill anyone if I decide to do so,"said Aloysio Vola from Talaura on Guadalcanal."In fact, I don't want to pass this technique to any youth today because they might abuse it. It could be the case in some of the attacks."Some people have the ability to communicate with crocodiles."People call the crocodiles by a special name and use traditional words and songs to command the animal,"explained Alfred Nabe from Toelegu on Isabel.
Clearly, these ancestors have to be treated with respect. "It is a taboo animal,"said Grace Huaisu from Suhontoro on Malaita."People believe that their ancestors came out from crocodiles, so they cannot eat, touch, go near or hunt crocodiles.
People will no longer use any fire place where crocodile meat has been cooked." Disrespecting the ancestors or violating customary rules can have serious repercussions. According to Francisca Ureihasi from Orimaihura on Malaita,"Killing, eating, touching or going close to crocodiles or where one was killed is strictly forbidden. If you do, you will surely get sick, and there's no cure for that."And Helmer Miller from Popoheo on Isabel explained,"People who honor this animal believe that it's forbidden to swear or say bad things about this animal. If someone does, he or she will be attacked by a crocodile." These kastom rules do not apply to other tribes.
Still many people adhere to these rules out of respect for their neighbors and friends. Moreover, crocodiles are often seen as the protectors of taboo sites. Grace Laku from Lauvi on Guadalcanal, for example, told the following story:"We do not believe that our forefathers came from crocodiles, but our forefathers did worship crocodiles. Crocodiles are the guardians of the lake. Our father gave us instructions concerning the use of this lake. Most of the attacks that occur inside the lake are kastom related: someone had overstepped or disobeyed the rules, and is therefore punished by the guardians of the lake." Rossana Joel in Suava Bay on Malaita told a similar tale: "There was old man who lived a long time ago in Suava.
He had a boil on his thigh. After a few days, the boil burst. But unlike normal boils, this one had a hard object inside. The old man was curious to know what it was. He carefully removed the hard object and kept it safe in his home. After a few days a worm came out. He kept this worm inside an empty clam shell until it grew A saltwater crocodile killed by villagers in Mamara, Guadalcanal. Photo credit: Brian Taupiri/Solomon Islands Broadcasting Corporation 23