UNDER - European Bloodstock News
Page content transcription
If your browser does not render page correctly, please read the page content below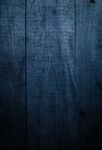 10k &
                                                    E U R O P E A N B LO O D S TO C K N E W S

UNDER
S U P P L E M E N T
                           EUROPEAN BLOODSTOCK NEWS
         is delighted to present this special supplement devoted to flat stallions
             standing in the UK and Ireland at a fee of £10,000 or less in 2018.
It is broken into two alphabetical sections, with the advertised stallions appearing first.

                               2018
    Whilst every care has been taken to trace the qualifying sires, EBN takes no responsibility for errors or omissions.

                         Please note that stallions standing at less than €1,000 are not included.
    All material contained within (excluding supplied advertisements) is the copyright of European Bloodstock News.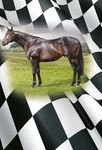 S TA L L I O N S S TA N D I N G F O R £ 1 0 , 0 0 0 O R L E S S I N 2018                    E U R O P E A N B LO O D S TO C K N E W S

                             ADAAY                                                             ALHEBAYEB
            Kodiac – Lady Lucia (Royal Applause)                                      Dark Angel– Miss Indigo (Indian Ridge)
      WHITSBURY MANOR STUD • Fee £6,000, 1st Oct SLF                                       TARA STUD • Fee €5,000

     Whitsbury Manor Stud stallion Adaay will have his first-crop           Alhebayeb was an exceptionally fast and precocious son of
     foals on the ground this year. The son of Kodiac was extremely         Dark Angel. A maiden winner on his debut at two, he soon
     well–supported with a three-figure book of mares in his first          made up into a Stakes performer, finishing second in the
     season, and that level of popularity will surely continue. His         Listed Windsor Castle Stakes at Royal Ascot and winning the
     own sire is a half-brother to breed–shaping sire Invincible            Gr.2 July Stakes on his third start. He demonstrated his
     Spirit and exerts huge influence in his own right as the sire of       versatility by finishing second in the Gr.3 Horris Hill Stakes
     such stars as Gr.1 Cheveley Park Stakes winner Tiggy Wiggy             over seven furlongs on heavy ground later in his juvenile
     and Gr.2 Celebration Mile Stakes winner Kodi Bear. Adaay is            career, and also displayed smart form at three and four years.
     one of his highest–rated sons to stand at stud.                        He defeated 17 individual black-type winners during the
        Adaay was a 240,000gns breeze-up two-year-old purchase, a           course of his career.
     figure that reflects his good looks. He is a half-brother to the          His dam, Miss Indigo (Indian Ridge), also produced the
     lightly-raced multiple Listed-placed sprinter and sire                 classy Gr.3-placed sprinter Humidor (Camacho), as well as
     Mullionmileanhour (Mull Of Kintyre) whilst the second dam,             numerous other winners. The second dam, Monaiya
     Inventive (Sheikh Albadou), was responsible for the Gr.3–              (Shareef Dancer), gave the Listed Pretty Polly Stakes winner
     placed Creative Mind (Danehill Dancer).                                Musetta (Cadeaux Genereux), and a generation further
        Adaay was described by trainer William Haggas as a "very            back the pedigree links to the Gr.2 Play The King Handicap
     talented horse from day one". He defeated subsequent Gr.2 winner       winner and Gr.1-placed Vanderlin (Halling).
     and sire Kodi Bear on his debut and was third in the Listed Rose          With Dark Angel in such fashion, it is unsurprising that
     Bowl Stakes on his final outing at two. He progressed to win the       Alhebayeb has been so well received by breeders, prior to his
     Gr.2 Sandy Lane Stakes the following season, where he defeated         first runners this season. His yearlings last year realised as
     the subsequent dual Gr.1–winner Limato (Tagula), amongst               much as 180,000gns, 120,000gns and 105,000gns at the
     others. Later that season he won the Gr.2 Hungerford Stakes            Tattersalls October Yearling Sales. Lethal Force is another sire
     when stepped up to seven furlongs, and he was Gr.3–placed the          who has recently demonstrated the prowess of Dark Angel as
     following season at four.                                              a sire producer.

                  THE OUTSTANDING
                   SON OF KODIAC
            FIRST
            FOALS
             2018
     ADAAY

                                                                                 ALHEBAYEB
                                                                                  A Gr.2 winner by DARK ANGEL
                                                                                  from a Classic family with speed
                                                                                       His first yearlings stormed the sales
                                                                                             making up to 180,000gns
                                                                                       They sold to the top trainers including:
                         VIEW HIM AT THE                                                Richard Hannon x5, Karl Burke x4,
                       TBA STALLION PARADE                                             Richard Fahey x4, Joseph O'Brien x2,
                                                                                       Andrew Balding x2, Brian Meehan x2,
              Won Sandy Lane Stakes Gr.2 6f                                           Tom Dascombe x2, Johnny Murtagh x2,
                                                                                           Roger Varian, Ger Lyons, etc.
              Won Hungerford Stakes Gr.2 7f
      Enquiries: Phil Haworth or Ed Harper Whitsbury Manor Stud                                            DEREK ICETON
                                                                                                           +353 (0) 87 2323566
               Tel: 01725 518254 Mob: 07778 603691                                                         derekiceton@tarastud.com
                    www.whitsburymanorstud.co.uk                                   TARA STUD               WWW.TARASTUD.IE

ii                                                                                                        CALL: +44 (0) 1638 66 65 12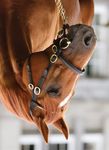 S TA L L I O N S S TA N D I N G F O R £ 1 0 , 0 0 0 O R L E S S I N 2018                            E U R O P E A N B LO O D S TO C K N E W S

                             ANJAAL                                                                BARNEY ROY
  Bahamian Bounty – Ballymore Celebre (Peintre Celebre)                                  Excelebration – Alina (Galileo)
       RATHASKER STUD • Fee €5,000 1st Oct                                         DALHAM HALL STUD • Fee £10,000, 1st Oct SLF

 The Gr.2 July Stakes winner Anjaal (Bahamian Bounty),                         Winner of the Gr.1 St James's Palace Stakes at Royal Ascot last
 whose first crop are yearlings. His first foals last year realised            June in a new course record, with the likes of Lancaster
 up to 38,000gns (for a pair of colts) and his first crop were                 Bomber, Thunder Snow and Churchill in his wake, Barney
 bought by the likes of Peter and Ross Doyle, John Troy,                       Roy was Timeform-rated 126, a mark also attained by his
 Cooneen Stud, Lynn Lodge Stud and Grove Stud. Trained by                      grandsire Exceed And Excel. This made him the joint-highest
 Richard Hannon for Sheikh Hamdan, he was fast and                             miler of his generation last season. Winner by nearly four
 precocious and gained a Timeform rating of 117, higher than                   lengths of his sole start at two, the son of the triple Gr.1-winning
 his sire. The impressive winner of his maiden over five furlongs              miler Excelebration started 2017 with an impressive victory in
 at two, he followed up by beating subsequent Gr.1 winner                      the Gr.3 Greenham Stakes before running second in a muddling-
 Astaire in the Gr.2 July Stakes and then ran fourth to War                    paced Gr.1 2,000 Guineas. Following his Royal Ascot victory he
 Command, Cable Bay and Outstrip in the Gr.1 Dewhurst                          was stepped up to 10 furlongs and was touched off by just a
 Stakes. His best run at three was when he got within three-                   nose in the Gr.1 Eclipse Stakes by Ulysses, in a time which
 quarters of a length of fellow Rathasker Stud sire Es Que                     would have won 129 of the past 130 runnings of the historic
 Love in the Gr.2 Lennox Stakes and he also ran creditably in                  contest. He was then third in the Gr.1 International Stakes on his
 the Gr.2 Joel Stakes.                                                         next start at York in August.
   Bred by Peter and Michelle Morgan's Carmel Stud, he                            On his retirement, trainer Richard Hannon said: "Barney Roy
 realised £105,000 as a yearling when sold to Peter and Ross                   is by far the best colt I have trained and the most athletic horse I
 Doyle. He is out of the two-year-old winner Ballymore                         have seen. We look forward to seeing his yearlings at the sales."
 Celebre (Peintre Celebre), a half-sister to the multiple Gr.3                    Barney Roy is out of Alina, a Galileo daughter of Cheyenne
 winner and South African-based sire Nysaean (Sadler's                         Star, the Gr.3 Ridgewood Pearl Stakes and Gr.3 Brownstown
 Wells) and five other Stakes horses, and there are a several                  Stakes-winning daughter of Mujahid. Her half-sister Boa
 further European and US Group/Graded winners under his                        Estrela produced the dual Champion Irish Older Male Sprinter
 third dam. He is free of Danehill/Danzig blood and should                     Gordon Lord Byron, a Gr.1 winner in Australia, Britain and
 provide a good speed outcross for those mares.                                France.

                       ANJAAL                                                    He puts the Roy
     16.0hh, Bahamian Bounty ex Ballymore Celebre (Peintre Celebre)
                                                                                 into Royal Ascot

           First
         Yearlings
           2018
               Exceed And Excel ex Licence To Thrill

                             €5,000 1      st
                                                Oct
                                                                                                 BARNEY ROY
                  Winner of the Gr.2 July Stakes (6f )
                                                                                         The best miler of his generation.
                     for team Hannon/Shadwell                                                No horse has ever run
           Ideal cross for Danzig and Sadler's Wells lines                                 Ascot's round mile so fast.
                   First foals in 2017 made:                                   NEW £10,000 Oct 1, SLF
         €44,000 to John Troy, 38,000gns to Pier House                         Excelebration – Alina (Galileo)
    38,000gns to Kings Bloodstock, €38,000 to Cooneen Stud
                  €37,000 to Lynn Lodge, etc.                                  Stands at Dalham Hall Stud, Newmarket
                                                                               +44 (0)1638 730070
                                                                                         Click to enjoy his record-breaking
                                                                                          St James's Palace Stakes online.
                                                                                                      Darley
   Contact: Maurice (+353 86 2500687) or Madeline (+353 86 3774430) Burns
   info@rathaskerstud.ie • madeline@rathaskerstud.ie • www.rathaskerstud.com

CALL: +44 (0) 1638 66 65 12                                                                                                                           iii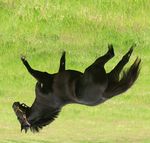 S TA L L I O N S S TA N D I N G F O R £ 1 0 , 0 0 0 O R L E S S I N 2018                    E U R O P E A N B LO O D S TO C K N E W S

                     BORN TO SEA                                                            BRAZEN BEAU
            Invincible Spirit – Urban Sea (Miswaki)                                  I Am Invincible – Sansadee (Snaadee)
            GILLTOWN STUD • Fee €5,000, 1st Oct                                  DALHAM HALL STUD • Fee £7,000, 1st Oct SLF

 Born To Sea's first crop of three-year-olds included the Gr.3-            Returning to Dalham Hall Stud is Australia's Champion
 winning juvenile and Gr.1 Poule d'Essai des Pouliches runner-             Sprinter of 2014-15. Brazen Beau was a dual winner at two,
 up Sea Of Grace, who had been one of his highest-priced                   including in the Gr.2 Champagne Classic, and was a close
 sales yearlings at €260,000.                                              second in the Gr.1 J J Atkins Stakes over a mile on his final
    Last year's three-year-olds also included the Gr.3 Gallinule           juvenile start. His three victories at three included the Gr.1
 Stakes runner-up Born To Play (sold for £500,000 at Goffs                 Coolmore Stud Stakes against his own age-group and the
 London Sale and now in Hong Kong) and the Listed-placed                   Gr.1 Newmarket Handicap, in which he beat Gr.1 winners
 quartet Aurora Butterfly, Born To Be, Born To Be Alive and                Chautauqua, Terravista and Lankan Rupee, who were at
 Star Of Rory, while 80 per cent of his runners to date have               that time the three top-rated older sprinters in the world.
 won or been placed.                                                       He was also second in the Gr.1 Lightning Stakes and, from
    The eleventh and final foal of the Gr.1 Prix de l'Arc de               two runs in Britain that summer, beat all bar the US runner
 Triomphe heroine Urban Sea, he did his best to become her                 Undrafted in the Gr.1 Diamond Jubilee Stakes, going down
 fifth Gr.1 winner, but had to settle for second place behind              by just half a length. In all he won five of his 12 outings and
 triple Classic winner Camelot in the Irish Derby and was                  was second four times, and earned a Timeform rating of
 second in two other Group races. Courtesy of landing the                  127.
 Listed Blenheim Stakes on his juvenile debut, he became the                 He is one of three top-level winners to date by Invincible
 mare's eighth Stakes winner, the best of the rest being the               Spirit's Gr.3-winning son and leading Australian sire I Am
 Champions Galileo and Sea The Stars, Gr.1 winners Black                   Invincible. He is out of the Gr.3-placed Sansadee (by
 Sam Bellamy and My Typhoon and the Classic-placed fillies                 Danzig's son Snaadee) and his grandam is a winning
 Melikah and All Too Beautiful. Having stayed twelve                       daughter of the multiple Australian Champion Sire
 furlongs well – and in very testing ground – he takes more                Bletchingly, to whom he is inbred 3x4, as he is to Danzig.
 after his dam than his sire Invincible Spirit, who has only                 He has a first crop of around 70 yearlings, who sold for up
 sired one winner of a Gr.1 beyond a mile, Lawman in the                   to 68,000gns, 65,000gns and 55,000gns last year, and he
 Prix du Jockey Club.                                                      covered a second six-figure book in 2017.

                      THE AGA KHAN STUDS
                        Success Breeds Success

          BORN TO SEA
            An INVINCIBLE SPIRIT Stakes winning,
                 dual Gr.1 placed half brother to
                SEA THE STARS and GALILEO
                  Sire of dual Stakes winner and
               Gr.1 Classic placed SEA OF GRACE
                   80% of his runners have won                                  The ultimate
                    or placed in the first three
                                                                                dashing hero
                                                                                         Brazen Beau
                                                                                     Gorgeous Champion sprinter
                                                                                                                                     Darley

                                                                           £7,000 Oct 1, SLF
                                                                           I Am Invincible – Sansadee (Snaadee)
                                                                           Stands at Dalham Hall Stud, Newmarket
                                                                           +44 (0)1638 730070
                    www.AgaKhanStuds.com

iv                                                                                                       CALL: +44 (0) 1638 66 65 12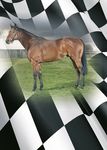 S TA L L I O N S S TA N D I N G F O R £ 1 0 , 0 0 0 O R L E S S I N 2018                           E U R O P E A N B LO O D S TO C K N E W S

          BUNGLE INTHEJUNGLE                                                                        BURATINO
      Exceed And Excel – License To Thrill (Wolfhound)                               Exceed And Excel – Bergamask (Kingmambo)
         RATHASKER STUD • Fee €5,000 1st Oct                                         KILDANGAN STUD • Fee €5,000, 1st Oct SLF

 About to embark on his fourth spring at stud is Exceed And                    Buratino, whose first foals are arriving now, started his career
 Excel's son Bungle Inthejungle, who has a first crop of                       with Mark Johnston, as did fellow young Darley sires
 around 90 yearlings to run for him in 2018. His first yearlings               Fulbright and The Last Lion. The best European two-year-
 were well received last autumn, with a top price of £70,000                   old son of Exceed And Excel, who is already represented in
 paid for a colt by Bobby O'Ryan/Rebel Racing, who is a half-                  the breeding sheds by the likes of 2016 first season sire
 brother to last season's Gr.2-placed juvenile Great Prospector.               Helmet, Buratino was ready first time out to score on the
    "Tough, honest two-year-old, with blistering speed and as                  opening day of the British Flat season in 2015. Never out of
 brave as a lion," was how his former trainer Mick Channon                     the first three in eight juvenile starts, his highlight came
 described the bay. Best at two, he broke his maiden at the                    when following up his Listed (then) Woodcote Stakes win
 second attempt and then scored in a conditions event before                   with a commanding two-length defeat of subsequent three-
 finishing fourth, beaten barely a length, at Royal Ascot. Later               time Gr.1 winner Air Force Blue in the Gr.2 Coventry Stakes at
 that season he went on to land the Gr.3 Molecomb Stakes at                    Royal Ascot. The chestnut went on to finish third in the Gr.1
 Goodwood and was beaten only a half length in the Gr.2                        Phoenix Stakes that August and ended his two-year-old
 Flying Childers Stakes. He ended his two-year-old season with                 campaign being beaten only a half-length when runner-up
 victory over subsequent Gr.1 winner Garswood in the Gr.3                      to the European Champion Two-Year-Old Shalaa in the Gr.1
 Cornwallis Stakes.                                                            Middle Park Stakes. His best run in five starts at three was
    He is a full-brother to the Listed winner Waveband and a                   when finishing fourth behind dual Gr.1 winner Quiet
 half-brother to last year's Gr.1 Golden Shaheen winner                        Reflection in the Gr.2 Sandy Lane Stakes.
 Muarrab and four other Stakes horses, out of the dual winning                    Buratino is the best performer out of the Listed-placed
 Wolfhound mare Licence To Thrill. His grandam is the Group-                   Bergamask (Kingmambo), whose dam Adonesque
 winning juvenile Crime Of Passion and the Gr.1 Poule d'Essai                  (Sadler's Wells) is a Listed-winning and Gr.3-placed half-
 des Poulains winner and sire Style Vendome and his French                     sister to the Champion Irish Two-Year-Old, dual Gr.1 winner
 Classic-placed half-brother Prestige Vendome are further                      and Champion Sire Danehill Dancer and two other Group/
 back in the family.                                                           Listed winners.

   BUNGLE INTHEJUNGLE
      16.2hh, Exceed And Excel ex Licence To Thrill (Wolfhound)

          First
         Runners

                                                                                      That brilliant
          2018
               Exceed And Excel ex Licence To Thrill

                             €5,000 1      st
                                                Oct

              Winner of the Gr.3 Cornwallis Stakes (5f )
                and the Gr.3 Molecomb Stakes (5f )
                                                                                      Coventry win!
                                                                                    Relive it at www.darleystallions.com
       First crop yearlings in 2017 were extremely popular:
                  €80,000 colt to Fabrice Chappet
           £70,000 colt to Richard Spencer/Bobby O'Ryan
                                                                                                  Buratino
                  £56,000 colt to Richard Hannon                                   Same sire line and family as Danehill
                       €55,000 filly to Clive Cox
                                                                                          Dancer – only better!
                                                                                                                                         Darley

          €52,000 filly to Stroud Coleman/Richard Fahey, etc.

                                                                                                  €5,000 Oct 1, SLF
                                                                                    Exceed And Excel – Bergamask (Kingmambo)
   Contact: Maurice (+353 86 2500687) or Madeline (+353 86 3774430) Burns                Stands at Kildangan Stud, Ireland
   info@rathaskerstud.ie • madeline@rathaskerstud.ie • www.rathaskerstud.com
                                                                                                +353 (0)45 527600

CALL: +44 (0) 1638 66 65 12                                                                                                                       v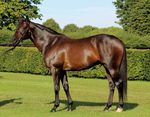 S TA L L I O N S S TA N D I N G F O R £ 1 0 , 0 0 0 O R L E S S I N 2018                    E U R O P E A N B LO O D S TO C K N E W S

                              CAMACHO                                               CHARMING THOUGHT
                Danehill – Arabesque (Zafonic)                                   Oasis Dream – Annabelle's Charm (Indian Ridge)
           YEOMANSTOWN STUD • Fee €7,500, 1st Oct                                DALHAM HALL STUD • Fee £6,000, 1st Oct SLF

 Camacho has proved a reliable source of smart two-year-olds               A 625,000gns yearling purchase by John Ferguson, Charming
 and sprinters. His best progeny to date include the Group-                Thought emulated his sire Oasis Dream in winning the Gr.1
 winning two-year-olds Green Door and My Catch, Group-                     Middle Park Stakes, having previously won in maiden and
 winning three-year-old Puff and numerous Stakes-winning                   novice company. At Newmarket he defeated a field that
 sprinters such as the Group-placed trio Ambience, Humidor                 included the dual Gr.2-winning juvenile and subsequent
 and Winning Express. His 2017 crop of two-year-olds made up               Classic-placed Ivawood, the Gr.2 Gimcrack Stakes winner
 to 125,000gns and 120,000gns at the yearling sales and                    and subsequent Champion Sprinter Muhaarar and the dual
 produced 24 individual winners last season, including the Gr.3            Gr.2 winner Kool Kompany.
 Prix du Bois runner-up Elizabeth Darcy. His daughter Teppal                  Charming Thought is the best performer out of the Listed
 made €105,000 at the Arqana Breeze-Up Sale and is unbeaten                winner and Gr.3-placed Annabelle's Charm (Indian Ridge).
 in two starts. Camacho has reportedly covered his biggest                 Her dam, Kylemore, is a Sadler's Wells full-sister to the Gr.1
 and best books over the past three seasons and last year's                winners and sires Aristotle and Ballingarry, as well as a half-
 yearlings realised up to 110,000gns (twice) and 95,000gns.                sister to the Gr.1-winning sire Starborough and to the dam
 He is also the broodmare sire of last year's Gr.2 Rockfel Stakes          of the European Champion Two-Year-Old and multiple Gr.1
 winner Juliet Capulet.                                                    winner St Nicholas Abbey. The third dam, Flamenco Wave,
   A debut juvenile winner, he scored at Listed level over six             won the Gr.1 Moyglare Stud Stakes.
 furlongs at three and ran second in the Gr.3 Jersey Stakes                   Oasis Dream has sired 15 Gr.1 winners to date and his
 behind next time out Gr.1 winner Proclamation.                            stallion sons among them include the promising South
   His Listed-winning dam has also produced the Gr.2-                      African-based Querari, Arcano (sire of five Group winners)
 winning juvenile and Gr.1 sire Showcasing (Oasis Dream)                   and Power (sire of four Stakes winners in his first crop), plus
 and two other Stakes horses. His grandam is the Gr.1-winning              Gr.2 winner Showcasing (sire of 12 Group winners), with the
 two-year-old Prophecy (Warning), also dam of multiple Gr.1                likes of Champion Sprinter Muhaarar to follow on.
 winner Foreteller and Gr.2 winner Modern Look, and his                       Charming Thought covered a first book of 83 mares last year,
 third dam is the Gr.3-winning Lyphard mare Andaleeb.                      including the dams, daughters or sisters of six Gr.1 winners.

       Camacho                                                                                                        Darley

       NOW SIRE OF
       25 2YO WINNERS
       OF 40 RACES
                                              48wi%nners
                                            2YO ers
                                              / runn
                                                                             He could be the
                                                                            next Showcasing...
                                                                                  Charming Thought
     GAY or DAVID O'CALLAGHAN
     T: 353 (0)87 2565561 (Gay)
                                                                                         Now there's a Thought...
     T: 353 (0)86 8366554 (David)
     www.yeomanstown.ie                                                                       £6,000 Oct 1, SLF
                                                                                Oasis Dream – Annabelle's Charm (Indian Ridge)
                                                                                   Stands at Dalham Hall Stud, Newmarket
                                                                                            +44 (0)1638 730070

vi                                                                                                       CALL: +44 (0) 1638 66 65 12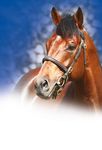 S TA L L I O N S S TA N D I N G F O R £ 1 0 , 0 0 0 O R L E S S I N 2018                               E U R O P E A N B LO O D S TO C K N E W S

                          CLODOVIL                                                                COACH HOUSE
               Danehill – Clodora (Linamix)                                         Oasis Dream – Lesson In Humility (Mujadil)
           RATHASKER STUD • Fee €7,500 1st Oct                                 BUCKLANDS FARM AND STUD • Fee £3,000 1st Oct LFFR

 A stalwart of Rathasker Stud since embarking on his stallion                  Coach House will have his first crop representing him on the
 career there in 2004, Clodovil is the sire of 47 Stakes                       track this year. The son of Oasis Dream was extremely well
 performers led by Gr.1 winners Moriarty and Nahoodh. His                      supported during the early stages of his stallion career, and
 other high class runners include his Gr.2-winning stallion                    that popularity has translated into sales ring success, with his
 sons Es Que Love and Gregorian, the French Gr.2 victrix and                   progeny selling for as much as 125,000gns at the Tattersalls
 Gr.1-placed Laugh Out Loud and the former Italian-based                       October Yearling Sale in 2017.
 Tuttipaesi, who was a Gr.2 winner at Santa Anita and Gr.1                        Coach House was a precocious two-year-old when in
 runner-up at Keeneland after her transfer Stateside. Beacon                   training with Aidan O'Brien. He was runner-up on his debut,
 Lodge won Pattern races in Britain and France and was                         before breaking his maiden in scintillating fashion over five
 Group-placed eight times, Silverfield was a Gr.1 runner-up in                 furlongs at Tipperary. He followed up in the Listed Marble Hill
 France before continuing his career in Hong Kong and the                      Stakes and then finished a fine second in the Gr.2 Norfolk
 German-trained Shining Emerald has won that country's                         Stakes at Royal Ascot. His conqueror that day was the
 top sprint, the Gr.2 Goldene Peitsche, and two runnings of                    subsequent Gr.1 Prix Morny winner and sire No Nay Never.
 the Gr.3 Silberne Peitsche.                                                   On his final outing he finished third in the Gr.2 Railway Stakes
   Boasting a fine 60% winner to runner percentage with his                    behind subsequent Gr.1 Phoenix Stakes winner Sudirman.
 juveniles in 2017, he is by the brilliant Danehill out of a Gr.2-                 The dam Lessons In Humility won the Gr.3 Ballyogan
 winning mare by leading broodmare sire Linamix, and is a                      Stakes and was placed third in the Gr.1 Prix Maurice de
 half-brother to the Gr.3 winner and Gr.1-placed Colombian                     Gheest. She has bred three winners in total so far, and last
 and to the dam of the Gr.1-placed Canndal, while his                          season her daughter Butterscotch (Galileo) was second in
 grandam was a Gr.3 winner and Gr.2-placed as a juvenile.                      the Gr.3 Grangecon Stud Stakes behind subsequent Gr.1
   Clodovil himself was trained by Andre Fabre and was                         Cheveley Park Stakes winner Clemmie.
 unbeaten in two starts at two. At three, he landed the Gr.3                      Coach House is one of an ever increasing number of sons of
 Prix de Fontainebleau before scoring a comfortable victory as                 Oasis Dream now at stud, and the success of the likes of
 favourite in the Gr.1 Poule d'Essai des Poulains.                             Showcasing demonstrate the potency of the line.

               CLODOVIL
                 15.3hh, Danehill ex Clodora (Linamix)                            COACH HOUSE
                                                                                  FIRST 2YOS IN 2018                  ROYAL ASCOT 2YO SPRINTER
                                                                                  Over 70 in training. Yearlings      5f Stakes winner.
                                                                                  realised up to 125,000gns           BY A CHAMPION SIRE
                                                                                  (sold to Roger Varian).             Out of a Gr.1 sprinter.

                                                                                  VIEW HIM AT TATTERSALLS on Thursday 1st February

                                                                                                                    MOST PRECOCIOUS
                                                                                                                    SON OF OASIS DREAM

               Exceed And Excel ex Licence To Thrill

                             €7,500 1      st
                                                Oct

              Multiple Group 1 sire by Danehill

                            Sire in 2017 of:
                  7 new Black Type performers
                   60% 2yo winners to runners
                          10% Stakes horses
                                                                                   Stud Fee: £3,000 October 1st LFFR

                                                                                                    BUCKLANDS FARM & STUD
                                                                                                      Roisin Close M: 07738 279071
   Contact: Maurice (+353 86 2500687) or Madeline (+353 86 3774430) Burns                            Paul Thorman M: 07831 431556
   info@rathaskerstud.ie • madeline@rathaskerstud.ie • www.rathaskerstud.com                        W: www.bucklandsfarmandstud.co.uk

CALL: +44 (0) 1638 66 65 12                                                                                                                      vii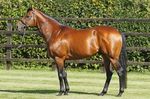 S TA L L I O N S S TA N D I N G F O R £ 1 0 , 0 0 0 O R L E S S I N 2018                          E U R O P E A N B LO O D S TO C K N E W S

                                COULSTY                                                            DRAGON PULSE
                  Kodiac – Hazium (In The Wings)                                               Kyllachy – Poetical (Croco Rouge)
               RATHASKER STUD • Fee €5,000 1st Oct                                       IRISH NATIONAL STUD • Fee €8,000, 1st Oct

  Coulsty, who covered 66 mares in his first season last year,                      Dragon Pulse made a fine start to his second career with 22
  was sharp off the mark, scoring for Richard Hannon in late                        individual winners of 31 races amongst his two-year-olds of
  May on his juvenile debut. He stepped up in trip, taking third                    2016. That first crop went on to produce 47 per cent winners
  in the Listed Prix Francois Boutin two starts later over seven                    to runners at three, headed by the Gr.3 and multiple Listed
  furlongs. He won the Listed King Charles II Stakes on his                         scorer Aethos, and also includes the Listed winner and Gr.2
  comeback at three and finished off his year by taking the Gr.3                    runner-up Legendary Lunch and the Gr.2-placed juvenile
  Prix de Meautry in August. He won his first start for the third                   Magical Fire. 40 per cent of his 2017 two-year-olds were
  year running, the Listed King Richard III Stakes, at four, when                   winners and his third crop of yearlings made up to 80,000gns,
  he was also second in the Gr.2 Hungerford Stakes. In 2016 he                      €90,000 and £65,000 at last autumn's sales.
  won again, though not on his seasonal debut, and he                                  Dragon Pulse won a Leopardstown maiden on his second
  achieved several more Group/Stakes places, ever consistent,                       start at two before defeating the subsequent Gr.1 Dewhurst
  with few poor runs in 26 starts over varied ground and trip.                      Stakes winner Parish Hall in the Gr.2 Futurity Stakes. On his
     His sire, Kodiac, has earned his popularity the hard way, as,                  final outing of 2011, he beat all bar subsequent Gr.1 Classic
  although a Danehill half-brother to multiple Champion Sire                        winner Power in the Gr.1 National Stakes. On the first of his
  Invincible Spirit, he was only Group-placed and many mares                        three runs for Mikel Delzangles, he beat the joint two-year-
  he covered early on were pretty ordinary, so his rise to be a                     old Champion Dabirsim in the Gr.3 Prix de Fontainebleau
  world record breaking sire of two-year-olds is particularly                       before being beaten two and a half lengths in the Gr.1 Poule
  meritorious.                                                                      d'Essai des Poulains.
     Though his three-time winning dam Hazium is by In The                             The highest-rated two-year-old by Kyllachy, he is out of
  Wings, this is the fast family of the sire Lugana Beach, winner                   Poetical (Croco Rouge), who was second behind
  of two Gr.3s and second in the Gr.1 Prix de l'Abbaye, and The                     Alexander Goldrun in a Stakes race at two and Gr.3-placed
  Tatling, who took the Gr.2 (then) King's Stand Stakes and was                     at three. His grandam is a half-sister to seven black-type
  second three times in the Gr.1 Nunthorpe Stakes and placed                        horses, headed by the Gr.1 Middle Park Stakes winner Hayil
  twice in the Abbaye.                                                              (Dayjur).

                       COULSTY
                    16.1hh, Kodiac ex Hazium (In The Wings)                            DRAGON PULSE

                  First
                  Foals
                  2018
                    Exceed And Excel ex Licence To Thrill

                                  €5,000 1      st
                                                     Oct

              By record breaking sire of 2yos Kodiac                                           2017 2YO's 48% winners / runners
                                                                                               2017 3YO's 50% winners / runners
                Winner of the Gr.3 Prix de Meautry
                                                                                          2018 2yo's with K.Ryan, W.Haggas, R.Fahey,
            "Coulsty was a pleasure to train, a high-class                                     M.O'Callagham, R. Hannon, etc...
           sprinter; the model of soundness and honesty."
                         Richard Hannon

        Contact: Maurice (+353 86 2500687) or Madeline (+353 86 3774430) Burns
                                                                                               Tel: +353 (0)45 521251 Fee: €8,000
        info@rathaskerstud.ie • madeline@rathaskerstud.ie • www.rathaskerstud.com

viii                                                                                                             CALL: +44 (0) 1638 66 65 12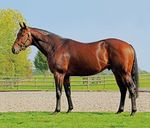 S TA L L I O N S S TA N D I N G F O R £ 1 0 , 0 0 0 O R L E S S I N 2018                     E U R O P E A N B LO O D S TO C K N E W S

                     DUE DILIGENCE                                                   ELUSIVE PIMPERNEL
                   War Front – Bema (Pulpit)                                    Elusive Quality – Cara Fantasy (Sadler's Wells)
             WHITSBURY MANOR STUD • Fee £5,000                                IRISH NATIONAL STUD • Fee €1,000 in advance

 The first son of the popular War Front to retire to a British            Elusive Pimpernel has sired 40 per cent winners to runners
 stud, Due Diligence has been very well supported by                      lifetime, with more than 70 per cent winners to runners at two.
 breeders so far, with his first crop now yearlings. He was a             From relatively small crops, he has sired Listed winners
 winner on turf in the US at two, before transferring to                  Elegant Pose (over a mile) and Elusive Beauty (over seven
 Ballydoyle and the care of Aidan O'Brien at three years.                 furlongs), along with three other Stakes horses on the Flat. His
    He displayed high-class form when trained in Ireland,                 son Ex Patriot has won twice over hurdles, finished second in
 winning the Listed Lacken Stakes in imperious fashion, with              a Fairyhouse Gr.3 and was fourth in the Gr.1 Triumph Hurdle.
 the likes of Gr.1 winner Sudirman and Gr.2 winner Shining                   The son of Elusive Quality had been a smart juvenile,
 Emerald in behind. He followed this run with a most                      following up his debut victory with a win in the Gr.3 Acomb
 unfortunate second–placing in the Gr.1 Diamond Jubilee                   Stakes (subsequent Gr.1 winners Poet's Voice and Vale Of
 Stakes at Royal Ascot, finding only European Champion                    York in arrears) before finding only St Nicholas Abbey too
 Sprinter Slade Power too good. He was crowned Champion                   good in the Gr.1 Racing Post Trophy. He started 2010 with a
 Irish Three-Year-Old Sprinter on the back of such efforts and            four-length success in the Gr.3 Craven Stakes before his fifth
 earned a Timeform rating of 120.                                         in the Gr.1 2,000 Guineas and belied nearly a year's absence
    His dam, Stakes winner Bema, is by Tapit's sire Pulpit, and           to finish third in the Gr.3 Earl of Sefton Stakes. He was Gr.3-
 is also the dam of the Gr.3-placed Ocasta (Cherokee Run).                placed again later that season.
 The next dam is the Stakes winner Dhaka (Icecapade), who                    A half-brother to Gr.3 winner and sire Palavicini (Giant's
 was a prolific winner and a fine producer too. Her son                   Causeway) and Listed scorer Prince Gagarin (Dubawi), he
 Deodar (Woodman) was a Listed-winner in the US and later                 is out of a Sadler's Wells half-sister to Listed winner Lucky
 a sire, whilst another son, Morada Key (Carson City), was                Guest and the Listed-placed Persian Fantasy (Persian
 placed in the Gr.3 Hanshin Cup at Arlington Park. Other                  Bold), grandam of Gr.3 winner and sire Big Bad Bob and
 descendants include the Gr.2 Pocahontas Stakes winner                    the five-time Gr.1 heroine Snow Fairy. The Gr.1 winners
 Dancinginherdreams (Tapit) and the Listed Flying                         Oath, Pelder, Patavellian and Avonbridge are also
 Scotsman Stakes winner Tip To Win (Dark Angel).                          members of the immediate family.

   Higher rated than his Champion Sire
                       WAR FRONT                                              ELUSIVE PIMPERNEL
 DUE DILIGENCE

                                                  FIRST
                                                YEARLINGS
                                                  2018

                                                                                  EXTRAORDINARY VALUE

                                                                                        2017 STAKES HORSES INCL:
                                                                                 Elusive Beauty Won Eternal Stakes (L)
                                                                                  Elegant Pose Won Garnet Stakes (L)
                                                                                Elusive Heights 2nd Glencairn Stakes (L)
                                                                                       3rd Hurry Harriet Stakes (L)
                 First foals passed the test....
    62,000gns, 60,000gns, 40,000gns, 37,000gns,
         34,000gns, €30,000, €30,000, etc.
  Enquiries: Phil Haworth or Ed Harper Whitsbury Manor Stud
           Tel: 01725 518254 Mob: 07778 603691                                       Tel: +353 (0)45 521251 Fee: €1,000
                www.whitsburymanorstud.co.uk

CALL: +44 (0) 1638 66 65 12                                                                                                              ix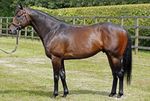 S TA L L I O N S S TA N D I N G F O R £ 1 0 , 0 0 0 O R L E S S I N 2018                     E U R O P E A N B LO O D S TO C K N E W S

                       EPAULETTE                                                                  EQUIANO
              Commands – Accessories (Singspiel)                                 Acclamation – Entente Cordiale (Ela-Mana-Mou)
          KILDANGAN STUD • Fee €7,000, 1st Oct SLF                              NEWSELLS PARK STUD • Fee £8,000 1st Oct SLF

    Last season's European joint third-highest first crop sire by          If 2016 was a breakthrough year for Equiano, who was
    number of winners at 23, Epaulette was represented by four             responsible for seven Stakes winners, 2017 served to reinforce
    Stakes performers in his first Northern Hemisphere crop,               his reputation as a leading speed influence. The Tin Man had
    including the Gr.3 Killavullan Stakes runner-up McMunigal.             been his first Gr.1 winner in the British Champions Sprint and
    His first crop in Australia has already produced December's            added a further Gr.1 success in the Diamond Jubilee Stakes,
    Gr.3 winner Meryl. The bay, who was rated 126 by Timeform,             before finishing third in the Gr.1 Haydock Sprint Cup. Final
    won twice at two and was second at Gr.2 level, then won                Venture won the Listed Achilles Stakes and Lady Macapa
    three of eight at three, including the seven-furlong Gr.1              the Gr.3 Prix du Petit Couvert. Such victories added to earlier
    Golden Rose Stakes (in record time) and Gr.3 Caulfield                 success stories such as the Gr.2 Railway Stakes winner
    Guineas Prelude, though he was only third in the Gr.1                  Medicine Jack and the Gr.3 winner and Gr.1 placed Strath
    Caulfield Guineas itself behind All Too Hard and Pierro. He            Burn (now a sire).
    was later a fine second behind Black Caviar in the Gr.1 T J               Equiano started his racing career in Spain, making all to win
    Smith Stakes and landed a second Gr.1 that autumn in the               the Gr.1 King's Stand Stakes as a three-year-old, beating
    Doomben 10,000, also over seven furlongs, where he was                 Australian seven-time Gr.1 winner Takeover Target. He stayed
    chased home by multiple Gr.1 winners Sea Siren, Buffering              in Britain to be trained by Barry Hills and he later won a second
    and Spirit Of Boom.                                                    Gr.1 King's Stand Stakes and the Gr.3 Palace House Stakes,
      By Commands, sire of nine Gr.1 winners, he is a three-               retiring with a Timeform rating of 127.
    parts–brother to triple Gr.1 winner and fellow Darley sire                A son of Acclamation, also the sire of Dark Angel, he is out of
    Helmet, the Gr.1-placed Gr.3-winning sire Bullbars and the             an Ela-Mana-Mou mare but his progeny are showing more
    Gr.2 victrix Pearls. His third dam is the dual German Champion         speed than stamina, having an average winning distance of just

                                                                                       12                               6
    Anna Paola (Prince Ippi), whose many Group-winning                     over six furlongs. His dam has since produced Evita Peron
    descendants include Gr.1 winners Anna Monda, Ave and                   (Pivotal), a dual Listed winner and twice Gr.3-placed up to a
    National Defense, as well as the Gr.3 winner and Classic-              mile, whilst his half–brother Encore D'Or (Oasis Dream) last
    placed Anna Salai.                                                     season landed the Listed Scarbrough Stakes at Doncaster.

                                                                                   Gr/Stks winners          Gr/Stks 2yo winners
                                                                                           from his first 3 crops inc...
                                                                                     Dual Gr.1 sprinter THE TIN MAN

                                                                                 The leading GB sire of sprinters
           Ireland's leading                                                      in 2017 and the best value
          living first-season
              sire of 2017
                                                                                 Are you in King Equiano's Honours List to win
                                                                                     a Golden Ticket for a free nomination?
                      Epaulette
         Also excelling in Australia: See our                                             Be sure to check your post next week!
          website for his latest successes...
                                                              Darley

                                                                                   Julian Dollar or Gary Coffey +44 (0)1763 846000
    €7,000 Oct 1, SLF

                                                                                                newsells-park.com
    Commands – Accessories (Singspiel)
    Stands at Kildangan Stud, Ireland
    +353 (0)45 527600

x                                                                                                         CALL: +44 (0) 1638 66 65 12
S TA L L I O N S S TA N D I N G F O R £ 1 0 , 0 0 0 O R L E S S I N 2018                           E U R O P E A N B LO O D S TO C K N E W S

                       ES QUE LOVE                                                               ESTIDHKAAR
                Clodovil – Es Que (Inchinor)                                             Dark Angel – Danetime Out (Danetime)
           RATHASKER STUD • Fee €5,000 1st Oct                                             TARA STUD • Fee €5,000 1st Oct

 Es Que Love is by the Rathasker Stud stalwart Clodovil, sire                  Standing at Tara Stud, Estidhkaar was a multiple Group
 of Gr.1 winners Moriarty and Nahoodh, out of a winning                        winner rated 121 by Timeform and a £200,000 DBS yearling
 Inchinor mare who is also the dam of the Gr.1 Hong Kong                       sale purchase. He was a high-class two-year-old, winning
 Vase winner Dominant and the sales race winner Zhui Feng.                     three races in a row, including Newmarket's Gr.2 Superlative
 This is also the family of the Gr.1 Prix de l'Opera winner We                 Stakes by four–and–a–half lengths and Doncaster's Gr.2
 Are and the Group-winning Gr.1-placed Lily's Angel.                           Champagne Stakes, in which he had subsequent Gr.1 winner
   He won five races from two to five, victories which included                Belardo back in fourth, though the tables were turned next
 the Gr.2 Lennox Stakes, beating Gr.1 winners Garswood and                     time in much more testing conditions. At three, he ran the
 Toormore, with Gr.2 winners Anjaal and Glory Awaits and                       Champion Sprinter Muhaarar to a neck in the Gr.3 Greenham
 the multiple Gr.3 winner Amarillo also behind. A high-class                   Stakes, run in a new course record time, before finding some
 performer who won from five to eight furlongs, he was also                    of Europe's top milers too hot in the Gr.1 2,000 Guineas and
 second in the Listed (then) Sandy Lane Stakes to Slade Power                  Gr.1 Prix Jacques le Marois. After a long layoff, he returned to
 as a three-year-old, with subsequent dual Gr.1 winner Lethal                  action in the autumn and rounded off his racing career with
 Force chasing him home. In addition to his Gr.2 win at five, he               a cosy win in the Listed Ben Marshall Stakes over a mile.
 was placed in the Gr.2 Duke of York Stakes (defeating eight                   Amongst the horses he defeated that day were dual Gr.2
 Stakes winners), Gr.3 Abernant Stakes (in front of four Stakes                winner Kool Kompany.
 winners) and the Gr.3 Hackwood Stakes (beating five Stakes                      Inbred 3 x 4 to Danzig, he is by Dark Angel, the sire of five
 winners).                                                                     Gr.1-winning sprinter/milers, who already has several young
   He covered a first book of 68 mares and his first crop, now                 sons at stud, and is a half-brother to Toormore, a Gr.1-
 two-year-olds realised up to £62,000, which was the price                     winning two-year-old and multiple Pattern winner. He is out
 paid for a half-brother to the Gr.2 Maurice Lacroix-Trophy                    of a half-sister to the Gr.3 runner-up Easaar and his third
 scorer Ajigolo by Clive Cox. Other buyers included Bobby                      dam is the Group-winning juvenile Peace Girl (Dominion),
 O'Ryan, Michael Dods, Mick Channon, David Evans, Richard                      while the further family includes the Group/Graded winners
 Knight and Edward Lynam.                                                      Hawridge Prince and Mr Napper Tandy.

           ES QUE LOVE
                   16.1hh, Clodovil ex Es Que (Inchinor)

          First
         Runners
          2018
               Exceed And Excel ex Licence To Thrill                             ESTIDHKAAR
                                                                                Joint highest rated 2yo by DARK ANGEL
                             €5,000 1      st
                                                Oct                                      (with GUTAIFAN) at stud
                Winner of the Gr.2 Lennox Stakes (7f )                                     Multiple Gr.2 winning 2yo sprinter,
                 First crop yearlings in 2017 fetched:                                          rated 121 by Timeform
                      £62,000 colt to Clive Cox
                                                                                      A half-brother to Gr.1 winning TOORMORE
               £37,000 filly to Bobby O'Ryan/John Dance
                    €36,000 colt to Michael Dods                                    Strongly supported by breeders with in excess of
                    €28,000 filly to Mick Channon                                         150 mares covered in his first season
                 28,000gns filly to Michael Dods, etc.

                                                                                                             DEREK ICETON
                                                                                                             +353 (0) 87 2323566
   Contact: Maurice (+353 86 2500687) or Madeline (+353 86 3774430) Burns                                    derekiceton@tarastud.com
   info@rathaskerstud.ie • madeline@rathaskerstud.ie • www.rathaskerstud.com          TARA STUD              WWW.TARASTUD.IE

CALL: +44 (0) 1638 66 65 12                                                                                                                   xi
S TA L L I O N S S TA N D I N G F O R £ 1 0 , 0 0 0 O R L E S S I N 2018                         E U R O P E A N B LO O D S TO C K N E W S

                             FARHH                                                     FASCINATING ROCK
               Pivotal – Gonbarda (Lando)                                           Fastnet Rock – Miss Polaris (Polar Falcon)
        DALHAM HALL STUD • Fee £10,000, 1st Oct SLF                                BALLYLINCH STUD • Fee €10,000 1st Oct

  Farhh's first crop of two-year-olds included three particularly           The first yearlings for dual Gr.1 winner Fascinating Rock are
  promising sons in the unbeaten Gr.3 Acomb Stakes winner                   on the ground this year, and the strength of numbers in his
  Wells Farhh Go, Italian Listed scorer Fa Ul Sciur and the                 first crop bodes well for his future prospects.
  twice Listed-placed Dee Ex Bee. Last year's second crop of                   Trained by Dermot Weld, Fascinating Rock remains the
  yearlings realised up to 375,000gns (filly out of Zee Zee Gee),           highest rated son of Australian super-sire Fastnet Rock. He
  110,000gns (half-sister to Taajub) and 100,000gns (colt out of            was twice a Gr.3 winner at three and ran in the Derby, though
  Telegraphy), while his third-crop son from the family of                  went onto even greater things as an older horse. He finished
  Maraahel was sold for 160,000gns at Tattersalls as a foal.                his four-year-old campaign with a victory in the Gr.1
    Unbeaten at two and three, Farhh landed a competitive                   Champion Stakes at Ascot, beating future Gr.1 Breeders' Cup
  handicap on his debut at four before finishing third in the
                                                                            Turf and Gr.1 Arc heroine Found, whilst the following year he
  Gr.1 Prince of Wales's Stakes. He was later second in the Gr.1
                                                                            added the Gr.1 Tattersalls Gold Cup to his CV. Fascinating
  Eclipse Stakes, the Gr.1 Sussex Stakes to Frankel, the Gr.1
                                                                            Rock was a horse of unusual talent and versatility, as he was
  International Stakes to Frankel and the Gr.1 Prix du Moulin,
                                                                            a Stakes winner at distances ranging from a mile to a mile-
  beaten a head. Restricted to two starts at five, he landed the
                                                                            and-a-half
  Gr.1 Lockinge Stakes by four lengths and the Gr.1 Champion
  Stakes, which culminated in him being crowned Champion                       He hails from a family rich in black-type performers, as the
  Older Horse in Europe over that trip.                                     second dam Sarabah (Ela-Mana-Mou) produced the likes
    The highest-rated son of Pivotal, whose stallion sons                   of German Listed-winner Euro Falcon (Polar Falcon), the
  include Siyouni and Kyllachy, he is a full-brother to the Gr.1-           Listed (then) Acomb Stakes third Saratov (Rudimentary),
  placed Gr.3 winner Racing History, out of the dual German                 the German Listed–placed Mangusta (Shareef Dancer) and
  Gr.1 winner Gonbarda. He is from a top-class German family                the Listed Dragon Stakes placed Basbousate Nadia
  which has also produced the five-time Gr.1 winner and sire                (Wolfhound). A generation further back and we encounter
  Fame And Glory and the Classic winners Grimpola and                       the three–time Gr.2 winner and multiple Gr.1–placed sire
  Legatissimo.                                                              Gothenberg (Polish Patriot).

                          Darley                                                      Fascinating
                                                                                         Rock

                                                                                    FIRST
                                                                                    FOALS
                                                                                   2018

        Outperforming
      Siyouni and Pivotal
                                                                                 • The highest rated son of leading international
                                                                                   sire FASTNET ROCK (TFR 127)
                                                                                 • Dual Group 1 winner & Stakes winning miler
           with his first juveniles...                                           • 31% of his first book were Stakes
                                                                                   horses or dams of Stakes horses
                                                                                 • The perfect outcross for                        Top breeders
                                                                                   Sadler's Wells line mares                         included

                            Farhh                                                                                                 Deerpark Stud,
                                                                                                                               Newtown Anner Stud,

             10% Stakes winners to runners                                                                                      Iverk House Stud,
                                                                                                                                 Rosewell House,
                                                                                                                                 Lanwades Stud,
  £10,000 Oct 1, SLF                                                                        BALLYLINCH                    STUD          etc.
  Pivotal – Gonbarda (Lando)                                                                THOMASTOWN, CO. KILKENNY

  Stands at Dalham Hall Stud, Newmarket                                                     Te l : 0 5 6 - 7 7 2 4 2 1 7
                                                                                            W W W. B A L LY L I N C H S T U D . C O M

  +44 (0)1638 730070

xii                                                                                                                   CALL: +44 (0) 1638 66 65 12
S TA L L I O N S S TA N D I N G F O R £ 1 0 , 0 0 0 O R L E S S I N 2018                     E U R O P E A N B LO O D S TO C K N E W S

                FAST COMPANY                                                        FOUNTAIN OF YOUTH
          Danehill Dancer – Sheezalady (Zafonic)                                     Oasis Dream – Attraction (Efisio)
       KILDANGAN STUD • Fee €9,000, 1st Oct SLF                                  BEARSTONE STUD • Fee £4,500 1st Oct SLF

 After spending time at Rathasker Stud and Overbury Stud,                By the excellent Oasis Dream out of the brilliant Champion
 Fast Company will be at Kildangan Stud for the second year              Two-Year-Old Attraction, the daughter of Efisio who won five
 in 2018 and at his highest fee to date. His first-crop daughter         Gr.1s, including both the 1,000 Guineas and the Irish version
 Jet Setting beat multiple Gr.1 heroine Minding in the 2016              three weeks after, Fountain Of Youth's first crop are now
 Gr.1 Irish 1,000 Guineas and he has also sired the multiple             yearlings. His first–crop foals sold well last Autumn, topping
 Chilean Gr.1 winner Robert Bruce. His Gr.2-winning daughter             out at 45,000gns for a colt (out of a Zoffany daughter of a
 Devonshire ran third in the Gr.1 Irish 1,000 Guineas and he             Gr.3-placed seven-furlong performer) and 42,000gns for a filly
 has sired three other Pattern winners. Last season his runners          (a half-sister to a pair of Stakes-placed runners, out of a
 included the Gr.3-placed Listed winner Downforce and Listed             winning half-sister to Mind Games).
 scorer Doctor Geoff, now racing in Hong Kong. Last year one                 Attraction has since produced the dual Gr.3-placed Galileo
 of his foals was sold for 85,000gns, his top-priced yearlings           filly Cushion and has two-year-old and yearling colts by
 realised 75,000gns and €75,000 and he covered a book of 162             Frankel and Dubawi respectively to follow. Further back in
 mares, a rise of more than 100 from 2016.                               the family are the Gr.1-winning two-year-olds Lord Of Men
    Fast Company's racing record was brief but high-class. He            and Major Emblem, along with the Argentinian Gr.1 winners
 won by three lengths from subsequent Listed scorer                      Have A Champ and Tradizione.
 Redolent on his debut in July 2007, won the Gr.3 Acomb                      Fountain Of Youth, a 420,000gns Tattersalls yearling
 Stakes by three and a half lengths five weeks later and, two            purchase, won his maiden by four lengths at two before
 months after that, ran the Champion juvenile New Approach               finishing a close fourth in the Listed Windsor Castle Stakes at
 to half a length in the Gr.1 Dewhurst Stakes.                           Royal Ascot. Off the track for the best part of a year, he later
    He is by Danehill Dancer out of a half-sister to the twice           won the Gr.3 Sapphire Stakes against older rivals over five
 Classic-placed multiple Group winner Hawajiss. His grandam,             furlongs at the Curragh and ended his career with South
 Canadian Mill (Mill Reef), was second in the Gr.1 Cheveley              African trainer Mike de Kock as part of his team in Dubai. He
 Park Stakes and his third dam is the Canadian Champion and              was described as a "strong colt: smart performer" by Timeform,
 Classic winner Par Excellance.                                          who rated him 111 as a three-year-old.

      Jet Setting & Co                                                         FOUNTAIN OF YOUTH
                                                                                       Group Winning Sprinter
                                                                                By OASIS DREAM - ATTRACTION
                                                                                                                             FIRST
                                                                                                                           YEARLINGS
                                                                                                                             2018

                                                                             His first foals sold for £47,000, £44,000, etc.

             Fast Company                                                    His parents won eight Group 1 races, his Group-
                                                                             winning two-year-old half-brother ELARQAM, a
 Sire of Classic horses and top-class juveniles.                             1,600,000gns yearling, is now among the favourites
                                                                             for this year's 2000 Guineas, and his yearling half-
                                                                             brother sold for 1,350,000gns at Tattersalls Book 1.
 €9,000 Oct 1, SLF
 Danehill Dancer – Sheezalady (Zafonic)                                            94% fertility in his second season
 Stands at Kildangan Stud, Ireland +353 (0)45 527600
                                                                               Enquiries: Bearstone Stud Office: 01630 647197
                      Darley                                             See our 2018 brochure online at www.bearstonestud.co.uk

CALL: +44 (0) 1638 66 65 12                                                                                                            xiii
S TA L L I O N S S TA N D I N G F O R £ 1 0 , 0 0 0 O R L E S S I N 2018                   E U R O P E A N B LO O D S TO C K N E W S

                     FRENCH NAVY                                                               FULBRIGHT
              Shamardal – First Fleet (Woodman)                                   Exceed And Excel – Lindfield Belle (Fairy King)
          KILDANGAN STUD • Fee €4,000, 1st Oct SLF                                 KILDANGAN STUD • €4,000, 1st Oct SLF

 About to embark on his third season is the Darley homebred                 Fulbright, one of the Darley Club stallions, has his first
 French Navy, whose yearlings will hit the sales circuit later              yearlings this year. Tough and consistent, the son of Exceed
 this year. He started his career with Andre Fabre in France,               And Excel raced 20 times at two and three, and 30 times
 winning three races, including the Gr.3 Prix des Chenes, as a              overall, winning nine races up to a mile and on all ground
 two-year-old. He reappeared for Godolphin in August the                    from good-to-firm to soft, as well as on the all-weather.
 following year, beating multiple Gr.1 winner Joshua Tree in                   He was a Listed winner at two and had a particularly
 a Newmarket conditions race and subsequent US Gr.1                         successful season at three, when his six victories included a
 winner Slumber in the Gr.3 Select Stakes. He was a Gr.3                    valuable six-furlong handicap at Newmarket and another
 winner again at six in the Diomed Stakes and at seven in the               against older opponents over a mile at Goodwood. The
 Earl of Sefton Stakes, and also landed four Listed races (one              following month he justified favouritism in Sandown's Listed
 in course record time) from a mile to ten furlongs. He retired             Fortune Stakes and ended that campaign with a win in the
 as the winner of 11 races (including Stakes victories every                Gr.2 Challenge Stakes. He later plied his trade in Meydan,
 year from two to seven) up to ten furlongs.                                picking up valuable place money in three Group contests
    Besides a fine racing record, he is from a good stallion                over a mile that winter and scoring over seven furlongs on
 family. His dual Classic-winning sire Shamardal is responsible             the Tapeta track the following season.
 for Lope De Vega, as well as several others yet to have                       He is the second highest-rated Northern Hemisphere
 runners, and his Listed-winning dam has also produced Gr.3                 stallion son of Champion Exceed And Excel after
 winner Sea Lord. His grandam is a Nureyev half-sister to the               Excelebration and is a three-parts-brother to the dual
 sires Assatis, Razeen and Warrshan, and his third dam is a                 Listed winner, Gr.2 Diadem Stakes runner-up and sire Baltic
 half-sister to Gr.1 winner and sire Private Account and Gr.1               King (Danetime) and the Gr.3 Prix Eclipse winner
 victrix Dance Number. His fourth dam is the multiple Gr.1                  Domingues (Danetime). They are out of the juvenile
 winner and Champion US Two-Year-Old Filly Numbered                         winner Lindfield Belle (Fairy King), while the further
 Account, whose other descendants include the Gr.1-winning                  family includes the Gr.3 winner, Gr.1 Prix Jacques Le Marois
 sire Super Saver.                                                          third and sire Manjam.

 Record-breaking miler and
 Group-winning two-year-old by                                               The Exceed And Excel
 the sire of Lope de Vega and from                                            who was precocious
 an all-time-great stallion family                                                 and progressive

                                                                                             Fulbright
                     French Navy                                                        The Woodcote at two, the
                A true blue Godolphin hero                                               G2 Challenge at three
 €4,000 Oct 1, SLF                                                                             €4,000 Oct 1, SLF
 Shamardal – First Fleet (Woodman)                                               Exceed And Excel – Lindfield Belle (Fairy King)
 Stands at Kildangan Stud, Ireland                                                    Stands at Kildangan Stud, Ireland
 +353 (0)45 527600                                                                           +353 (0)45 527600

                          Darley                                                                 Darley

xiv                                                                                                      CALL: +44 (0) 1638 66 65 12
S TA L L I O N S S TA N D I N G F O R £ 1 0 , 0 0 0 O R L E S S I N 2018                      E U R O P E A N B LO O D S TO C K N E W S

               GALE FORCE TEN                                                                GARSWOOD
           Oasis Dream – Ronaldsay (Kirkwall)                                      Dutch Art – Penchant (Kyllachy)
      IRISH NATIONAL STUD • Fee €5,000, 1st Oct                              CHEVELEY PARK STUD • Fee £4,000 1st Oct SLF

 Gale Force Ten won at the Curragh at two before finishing               Gr.1 winner Garswood will have a first crop of around 72 two-
 placed behind the unbeaten Champion two-year-old                        year-olds running for him this season. They made up to
 Reckless Abandon in the Gr.2 Norfolk Stakes and Gr.1                    75,000gns and 70,000gns at the 2016 foal sales, and realised
 Middle Park Stakes. He went one better at Royal Ascot the               sums up to 140,000gns, 98,000gns and €100,000 last autumn
 following season, landing the Gr.3 Jersey Stakes after his              as yearlings.
 close fourth in the Gr.1 Poule d'Essai des Poulains and second            Described by trainer Richard Fahey as "the fastest horse I've
 in the Gr.1 Irish 2,000 Guineas, and showed enough six-                 ever trained", Garswood broke his maiden at two in the Listed
 furlong speed to finish within five lengths of the winner in            Harry Rosebery Stakes before finishing a head second in the
 the Gr.1 July Cup.                                                      Gr.3 Cornwallis Stakes. Winner of the Listed Free Handicap on
   He is by Oasis Dream, sire of 15 Gr.1 winners to date, out            seasonal return, he later added the Gr.2 Lennox Stakes to his
 of the Listed winner Ronaldsay, whose dam is a winning                  cv. On his final start that year he finished third to Moonlight
 half-sister to the Gr.1-winning two-year-old Bianca Nera                Cloud in the Gr.1 Prix de la Foret and, at four, was placed in
 (grandam of the multiple Gr.1 winner and European                       the Gr.3 Criterion Stakes before defeating 13 rivals in the Gr.1
 Champion Postponed and Gr.3 winners Turning Top and                     Prix Maurice de Gheest. He beat 18 individual Group winners
 Robin Hoods Bay) and the Gr.1-placed juvenile Hotelgenie                during his career and acted best on good ground or softer.
 Dot Com (dam of dual Gr.1 victrix Simply Perfect and                      A Cheveley Park Stud-bred, he is by the dual Gr.1-winning
 grandam of Gr.3 winners Mekong River and the Classic-                   juvenile Dutch Art, also sire of Slade Power, and is out of a
 placed Bondi Beach).                                                    Kyllachy three-parts-sister to the Gr.3 winner and dual Gr.1-
   His first crop have just turned two and number around                 placed Infallible (Pivotal; dam of the Gr.1-placed Gr.2 winner
 140. At last autumn's sales they made up to £60,000,                    Mutakayyef). The grandam is the Listed winner and Gr.3-
 €65,000 and £45,000 and were purchased by the likes of                  placed Irresistible (Cadeaux Genereux) and the stud also
 Peter and Ross Doyle, Con Marnane, Joseph O'Brien, Karl                 owned the third dam, whose daughters produced juvenile
 Burke, BBA Ireland, Blandford Bloodstock and Bobby                      Gr.3 winner Queen Bee and the Listed winner and Gr.1 Prix
 O'Ryan.                                                                 Morny third Parliament Square.

    GALE FORCE TEN

    140 2YO'S
    TO RUN
    Karl Burke
    Joseph O'Brien
    Con Marnane (x3)
    Richard Hannon
    William Haggas…                                                          GARSWOOD
                                                                                Group 1 winning sprinter
                                                                                    by DUTCH ART
                                                                                       Black Type winner at 2, 3 and 4
                                                                                   First crop yearlings at the major sales
                                                                                      averaged over 10 times his fee,
                                                                             fetching 140,000gns, 98,000gns, €100,000, etc.

                                                                                                 Cheveley Park Stud
            Tel: +353 (0)45 521251 Fee: €5,000                                    +44 (0)1638 730316 • enquiries@cheveleypark.co.uk
                                                                                     www.cheveleypark.co.uk • L@CPStudOfficial

CALL: +44 (0) 1638 66 65 12                                                                                                             xv
S TA L L I O N S S TA N D I N G F O R £ 1 0 , 0 0 0 O R L E S S I N 2018                       E U R O P E A N B LO O D S TO C K N E W S

                           GREGORIAN                                                              HELLVELYN
         Clodovil – Three Days In May (Cadeaux Genereux)                               Ishiguru – Cumbrian Melody (Petong)
           THE NATIONAL STUD • Fee £4,500 1st Oct                                   BUCKLANDS FARM AND STUD • Fee £3,000

 Described by trainer John Gosden as "a fine-looking, tough                   Hellvelyn (Ishiguru) enjoyed plenty of success last season,
 and ultra genuine racehorse", Gregorian got over 100 mares                   his ability to sire decent fillies once again highlighted by the
 in foal during his first season, and the resulting yearlings,                likes of multiple winners Quench Dolly and Hells Babe. The
 now just turned two, realised up to €60,000, more than ten                   last named was fourth in the Listed Maggie Dickinson Stakes.
 times his fee, at last autumn's yearling sales.                              Previous star females for the sire include the Gr.3 Dick Poole
    The Rathasker Stud-bred grey ran 25 times, winning six                    Stakes winner La Rioja and Gr.3 Cornwallis Stakes winner
 races up to an extended mile and finishing placed in nine                    Mrs Danvers. La Rioja went on to be a close-up fourth in the
 others, retiring with earnings of more than £430,000. A                      Gr.1 Commonwealth Cup. His best sons include Daily Trader,
 successful two-year-old, he was a one-length third in the                    who finished second to subsequent dual Gr.1 winner and sire
 Gr.1 St James's Palace Stakes and second in the Gr.1 Prix Jean               Caravaggio in the Listed Marble Hill Stakes.
 Prat at three. At four he landed victories in the Gr.2                          On the track Hellvelyn was a tremendously fast two-year-
 Hungerford Stakes and the Gr.3 Diomed Stakes and was                         old, who won his first three racecourse appearances including
 third in the Gr.1 Queen Anne Stakes (in front of Gr.1 winners                the Gr.2 Coventry Stakes. He was then second in the Gr.1
 Elusive Kate and Animal Kingdom), at five, won the Gr.3                      Phoenix Stakes and fourth in the Gr.1 Middle Park Stakes to
 Criterion Stakes and was third behind Slade Power in the                     round out his juvenile career, before beating the dual Gr.1
 Gr.1 July Cup.                                                               winner Nunthrope Stakes winner Borderlescott in the Listed
    By Danehill's Classic-winning son Clodovil, he is a half-                 Beverley Bullet Sprint Stakes as a three–year–old.
 brother to the Listed-placed Manderley, out of the winning                      A 100,000gns sales yearling purchase, Hellvelyn is out of
 Cadeaux Genereux mare Three Days In May. She is a half-                      the Petong mare Cumbrian Melody, who won twice at two
 sister to the Gr.1 Golden Shaheen Stakes runner-up Balmont                   and is a noted producer of four black-type performers. She is
 Mast, as well as the Gr.1 runner-up Crazee Mental (dam of                    also the second dam of black-type winners On Call Now and
 the five-time Gr.2 winner and dual Gr.1-placed Premio Loco)                  Hucking Hot. The Gr.3-winning sprinter and sire Savahra
 and sires Midnight Legend and Wassl are further back in                      Sound is one of several Stakes winners under the Listed-
 the family.                                                                  placed second dam.

              GREGORIAN                                                          IF YOU CAN FIND
          16.1hh, Clodovil ex Three Days In May (Cadeaux Genereux)
                                                                                 A STALLION WHO
                                                                                 HAS SIRED:
                                                                     First
                                                                    Runners
                                                                     2018

                                                                                 - 6 Stakes performers inc.
                                                                                   top 2yo filly Mrs Danvers
                                                                                 - the winners of over
             Standing at
                                                                                   100 races and £1m
             Standing at                                                         - exceptional looking foals
                  Exceed And Excel ex Licence To Thrill                          - and was a 6f
                                                                                   Royal Ascot winner
                               £4,500 1      st
                                                  Oct                            All for a stud fee
                Winner of the Gr.2 Hungerford Stakes (7f )                       of £3,000,
                                                                                 YOU WOULD BOOK
                   First yearlings sold in 2017 included:                        A NOMINATION!
              €60,000 colt to Bobby O'Ryan/Keith Dalgleish
            45,000gns filly to A Bromley/Eve Johnson Houghton
                €46,000 colt to Stephen Hillen/Kevin Ryan                        SO BOOK YOUR NOMINATION
                36,000gns colt to Saeed Manana/James Tate                        TO HELLVELYN NOW
               £37,000 colt to Ed Sackville/Hugo Palmer, etc.
                                                                                 VIEW HIM AT TATTERSALLS on Thursday 1st February

                                                                                                BUCKLANDS FARM & STUD
                    Contact: Madeline Burns +353 (0) 86 3774430                                 Roisin Close T: 01452 849077
                 madeline@rathaskerstud.ie • www.rathaskerstud.com                              M: 07738 279071
         National Stud: +44 (0)1638 675 929 • amy.taylor@nationalstud.co.uk                     W: www.bucklandsfarmandstud.co.uk
        or Tina Dawson +44 (0) 7776 165854 • tina.dawson@tdbloodstock.com

xvi                                                                                                           CALL: +44 (0) 1638 66 65 12
S TA L L I O N S S TA N D I N G F O R £ 1 0 , 0 0 0 O R L E S S I N 2018                                       E U R O P E A N B LO O D S TO C K N E W S

                       HOT STREAK                                                                                INTRINSIC
          Iffraaj – Ashirah (Housebuster)                                                  Oasis Dream – Infallible (Pivotal)
 TWEENHILLS FARM AND STUD • Fee £6,000 1st Oct SLF                                      HEDGEHOLME STUD • Fee £1,750 1st Oct

 The Gr.2 Temple Stakes winner Hot Streak will stand his third             Intrinsic, a speedily-bred son of Oasis Dream, will have
 season in 2018. His foals went for as much as 75,000gns                   his first crop of yearlings represent him in the sales ring
 50,000gns , 55,000gns and €55,000 at the foal sales last                  later in the year. A maiden winner at two, he was sold at
 December, demonstrating his sales ring popularity.                        Tattersalls that autumn and won three in a row for his new
   Hot Streak won four races up to six furlongs, including the             connections the next season – six-furlong handicaps at
 Gr.3 Cornwallis Stakes at two. In his Temple Stakes triumph               Ascot and Goodwood (on soft ground) and then the
 he made all to beat seven seasoned older sprinters. He was                Stewards' Cup, again at Goodwood but this time on good
 also placed five times, including a half-length second in the             to firm ground, in which he beat 23 rivals, including four
 Gr.1 Middle Park Stakes (just a week after winning the                    Group winners.
 Cornwallis Stakes), and was third in the Gr.1 July Cup and                   His multiple Gr.1-winning sire is responsible for 15 Gr.1
 three other Group races.                                                  winners to date and a number of stallion sons, including
   A graduate of the Goffs November Foal Sale and Tattersalls              Showcasing (sire of Gr.1-winning sprinter Quiet Reflection),
 Guineas Breeze-Up Sale, he is a half-brother to a Listed-placed           Power (sire of two Group-winning first-crop juveniles),
 two-year-old and is out of a mare by Housebuster, a triple US             Querari (a Gr.1–producing young sire in South Africa) and
 Gr.1 winner from six to nine furlongs. His second dam, by                 the Champion Muhaarar. His dam Infallible (Pivotal), also
 Lyphard, also produced a dual Graded Stakes winner by                     the dam of the Gr.2 winner and twice Gr.1-placed
 Unbridled and a Listed winner by Red Ransom, and is                       Mutakayyef, won the Gr.3 Nell Gwyn Stakes and finished
 herself a half-sister to the multiple Gr.1 winners and sires              second in two Gr.1s, the Coronation Stakes and Falmouth
 Nashwan and Nayef and Gr.2 winner and Classic sire                        Stakes. The second dam, Listed winner Irresistible (Cadeaux
 Unfuwain.                                                                 Genereux), is also the second dam of the Gr.1-winning
   He is a son of Iffraaj, whose progeny are headed by the                 sprinter and young sire Garswood, the third dam is a full-
 Gr.1-winning two-year-olds Rizeena, Chriselliam and                       sister to a US Stakes winner and the fourth dam, Some
 Wootton Bassett (sire of Almanzor), the Gr.1-winning miler                Romance (Fappiano), won the Gr.1 Frizette Stakes and Gr.1
 Ribchester and middie-distance Gr.1 scorer Benvenue.                      Matron Stakes.

     BEST SPRINTER
     OF HIS GENERATION AT 2
                                                                                        I NTRINSIC
                                                                                         Bay 2010, 16.0, OASIS DREAM – INFALLIBLE (PIVOTAL)

     Gr.2 winner and Gr.1 placed at 2 and 3

                                                First yearlings 2018

                                                                             Fee for 2018:
                                                                             £1,750 (1st Oct)
                                                                             £400 travel allowance when paying
                                                                             the full advertised fee

                                                                                        DEFEATED 8 GROUP/STAKES WINNERS
                                                                                                           TURF RECORD
                                                                                Won 4 races at 3 and 4 years, including Stewards' Cup (6f), and £87,302.

                                                                                   The only son of OASIS DREAM in the North
                                                                                    FROM AN EXCELLENT BLACK-TYPE FAMILY
                                                                             Dam: INFALLIBLE – won 2 races, incl. Gr.3 Nell Gwyn S, 2nd Gr.1 Coronation S,
                                                                              Gr.1 Falmouth S, 4th Gr.1 1,000 Guineas: dam of 5 winners, her first 5 foals, incl.
                                                                               Intrinsic, Mutakayyef (Gr.2 Summer Mile 2016 & 2017, 2nd Gr.3 Darley S, Gr.3
                                                                             Tercentenary S, 3rd Gr.1 International S, etc.), Intimation (Listed Garnet S, 2nd Gr.3
     Foals purchased by Blandford Bloodstock, Damien Burns,                    Snow Fairy S, 2017, 3rd Gr.3 Denny Cordell Lavarack & Lanwades Stud Fillies S).
     Cooneen Stud x2, Glenvale Stud, Howson & Houldsworth x2,
     Jamie Railton, Stroud Coleman x2, Tally-Ho x3, etc.
     Stud Fee: £6,000 Oct 1st SLF      35 foals sold for average £22,416
                                                                                                                 FIRST YEARLINGS 2018
                                                 T: + 44 (0) 1452 700177
                                                   alex@tweenhills.com
                                                                                                     HEDGEHOLME STUD
                                                                                                  WINSTON, DARLINGTON, CO. DURHAM DL2 3RS.
                                                  www.tweenhills.com
                                                                           Enquiries: ANDREW SPALDING • Tel: +44 (0) 1325 730209 • Mob: +44 (0) 7990 518751
                                                                                       e-mail: hedgeholme@gmail.com • www.hedgeholmestud.com

CALL: +44 (0) 1638 66 65 12                                                                                                                                       xvii